Sidecar tours in Paris are a fun and unique way to see the city. You will feel like you are starring in your own old Hollywood movie, as you zip around the "City of Love."
Up to two people can sit in one car on these types of tours, making this a fantastic activity for couples or friends. You can either join a group tour or take a private one and customize it to your liking. Whatever you choose, you're sure to have a thrilling and memorable experience.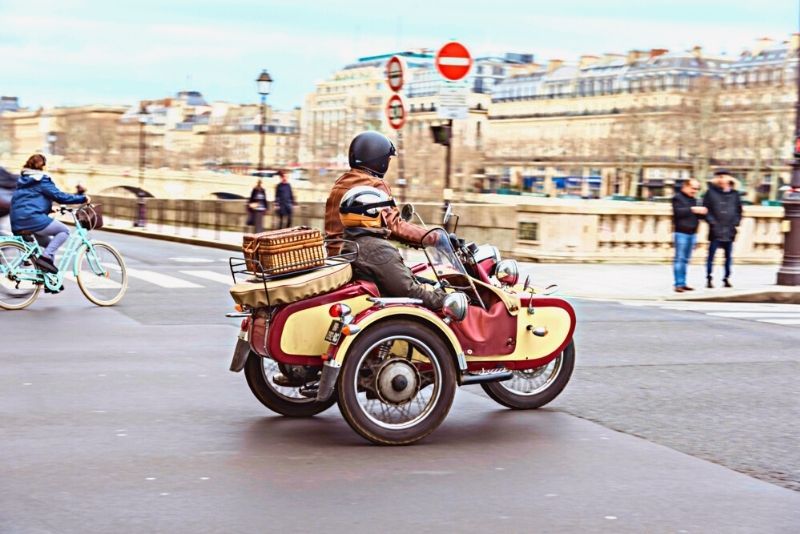 What are the best sidecar tours in Paris?
Classic vintage tour on a sidecar motorcycle
This hour-long tour will take you all around the city. From your vintage sidecar, you'll glimpse many best-known landmarks, including the Arc de Triomphe and the Eiffel Tower. Your local guide will be more than happy to share interesting facts and stories about the city as you go.
Paris sidecar night tour
This private Paris sidecar nighttime tour is the perfect way to see Paris in all its glory. You can choose to ride at golden hour and watch the sunset over the city ,as you cruise around. Alternatively, you can zip through the city by night and see its most famous sights illuminated in the darkness.
This tour includes a free glass of champagne and hotel pickup and drop-off. It's the perfect romantic Paris activity.
Sidecar tour of Montmartre and Latin Quarter
See another side of Paris on this sidecar tour of Montmartre and the Latin Quarter. This Bohemian district is full of character, and you will get to explore it in a unique way.
Your local guide will show you some of the best views of the city, as you zip around on your sidecar. Furthermore, participants in the tour also get to sample some of the delicious food and drink that the Latin Quarter is known for. Since this is a private tour, you can customize it to your liking with the help of the tour guide.
Sidecar tour of Versailles
Explore the town and beautiful Palace of Versailles on this sidecar tour. You'll get to see the stunning grounds and gardens, as well as the magnificent palace itself. In addition, this tour includes a visit to a local food market where you can sample some of the produce on offer.
Your guide will tell you all about the history of the palace and its former residents as you explore. You'll also enjoy a picnic lunch along the Grand Canal, weather permitting.
Vice and violence tour of Paris
Most sidecar tours in Paris focus on the city's romance and charm. However, this adults-only tour offers the chance to dive deeper into the city's checkered past. You'll discover some of the city's darker secrets, including stories of epic battles and underground crime.
As part of this tour, you'll also learn how to saber a bottle of champagne, just like Napoleon's soldiers used to do.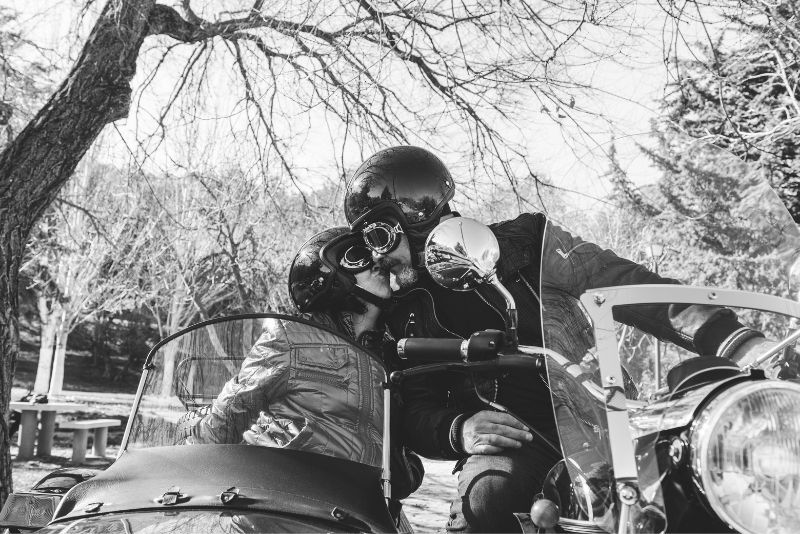 How much do sidecar tours in Paris cost?
The price of sidecar tours in Paris varies according to duration and inclusions. You can expect to pay around €85 per person for an hour-long tour around the city center. A nighttime tour will cost more at around €160 per person for 1.5 hours.
A tour of Montmartre and the Latin Quarter costs €189 for a 90-minute tour for two people. Meanwhile, a tour of Versailles starts at €299 per person for a full-day tour lasting around seven hours.
What is included in a sidecar tour in Paris?
Sidecar tours in Paris include a driver and private guide, as well as a helmet, which is mandatory, and goggles and gloves which are optional.
Many tour options also provide a glass of champagne to enjoy at one of your stops along the way. The price of the Versailles sidecar tour also includes entry to the Palace of Versailles and a picnic lunch.
Where do sidecar tours in Paris start?
Many private sidecar tours in Paris include hotel pickup and drop-off. However, some tours have a meeting point in the city center, close to the Eiffel Tower and the Champs Elysées. Check with your tour operator before booking.
How long do sidecar tours in Paris last?
Sidecar tours in Paris typically last for between one and 1.5 hours. However, a full-day tour of Versailles lasts for seven hours from start to finish, giving you plenty of time to explore the legendary palace.
When is the best time for a sidecar tour in Paris?
Sidecar tours in Paris leave multiple times throughout the day, so you can choose a time that suits you. The morning can be a good time to go, as the streets are quieter and you can avoid the midday heat. However, many people prefer to take a sidecar tour in the evening, so they can see the city illuminated at night.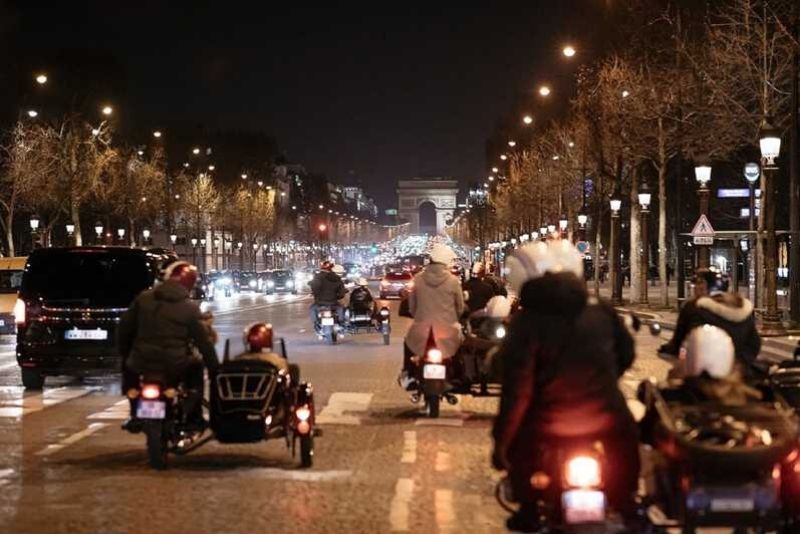 Taking a sidecar tour of the highlights on your first day in Paris is a great way to get your bearings in the city. However, it's an enjoyable and thrilling experience no matter when you choose to go.
Sidecar tours run all year round. The spring and autumn are generally considered the optimal times to visit Paris since the weather is dry and pleasant but not too hot. From February to April, you'll also get to see the beautiful cherry blossom on the trees as the city turns pink.
Is it safe to take a sidecar tour in Paris?
Sidecar tours in Paris are safe. Your driver will be an experienced professional, and you'll be given a helmet to wear. You can also choose to wear goggles and gloves if you prefer.
With that being said, sidecar tours in Paris are not generally recommended for travelers with back or mobility problems.
Travel tips
It's best to avoid wearing skirts or dresses on a sidecar tour as they can be difficult to ride in. Similarly, avoid loose items such as scarves and jewelry that could get caught in the sidecar. You might be asked to take off any accessories that could inhibit your driving skills.
Wear sunglasses and sunscreen, even on cloudy days, as the sidecar doesn't have a windshield. Without glasses, the wind might make it difficult to see at times if you do not want to wear goggles.
Sidecar tours in Paris are very popular, so make sure to book in advance to secure your spot.