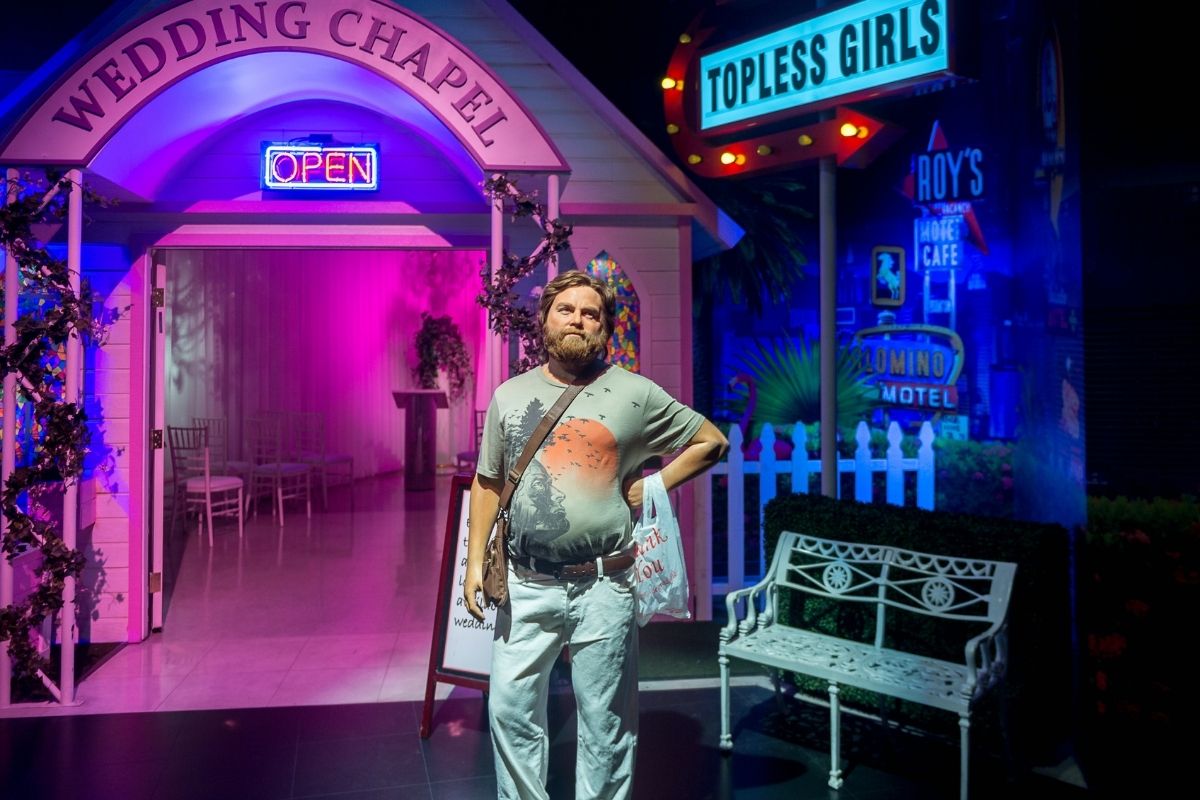 What happens in Vegas, stays in Vegas, right? Donning the moniker of Sin City, this Nevadan party Mecca has long been a magnet for booze hounds, casino hoppers, socialities, big spenders, thrill-seekers, and anyone on the hunt for an overwhelming dose of boisterous mischief.
A hot spot for those looking for a truly wild weekend, with more clubs (of all kinds), bars, entertainment (again, of all kinds), and once-in-a-lifetime opportunities than anywhere else in the country, this neon-lit Mojave desert resort city can dish up a personalized Las Vegas bachelor (and bachelorette) party package to check every box.
Aptly named Sin City is a place where the booze flows round the clock, where the party can be as relaxing or as rowdy as you want it to be. It's where endless memories are created (albeit probably a little hazy, depending on how hard you go), and where you can get your heart racing with adrenaline-pumping thrill rides unmatched anywhere else in the American southwest.
With so many opportunities for debauchery with the boys, it might be hard to narrow down your options when considering all the best Las Vegas bachelor party ideas. To help you out, we've compiled a list of 50 of the best things to do in Vegas for a bachelor party that will have everyone talking long after the wedding bells have rung.
From luxury limo rides popping champagne bottles to wild all-night parties at world-famous nightclubs, to blowing stuff up on shooting ranges, crushing cars in an excavator, or eating steaks bigger than your bachelor's ego, here are half a century worth of ideas to craft an unforgettable last hoorah in Sin City.
So whether it's your bucks weekend or the final days of single(ish) life for one of your closest comrades, it's time to create your very own Hangover experience – with or without tigers and Mike Tyson tattoos, that's up to you.
1 – Cruise around in style with a limousine ride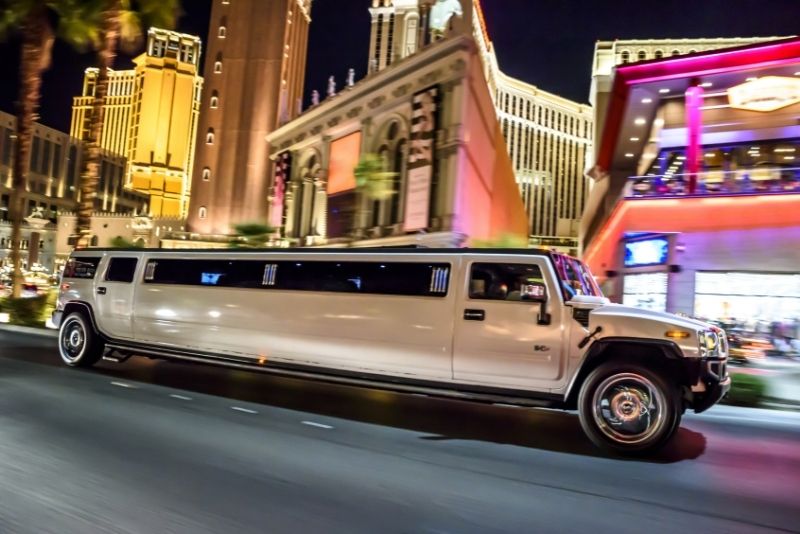 Nothing screams bachelor party like a little does of splurging. And in Vegas, the typical splurge is usually far more affordable than in other cities across the country. Case in point: a luxury limo ride!
With room for you and a dozen of your closest mates, there's no better way to travel the Vegas strip than in high style with your very own chauffeur. Sit back on the leather seats, relax, and enjoy the ride as you down a few glasses of complimentary champagne (and whatever else you bring along for the party) and take in all the energetic sites of Sin City from the tinted windows.
You'll be in control of the music, can carve your own itinerary – stopping off at some of the best places to visit in Las Vegas for bachelor parties like nightclubs, steakhouses, and, of course, casinos – and, most importantly, won't have to worry about a designated driver.
Best of all, whether you want a classic classy ride, a look-at-me Hummer, or something a little more unconventional, you can find some amazing deals on limo services if you book in advance. A limo ride isn't just transport – it's a party in its own right!
2 – Drink, dine, and jump off the side of The Strat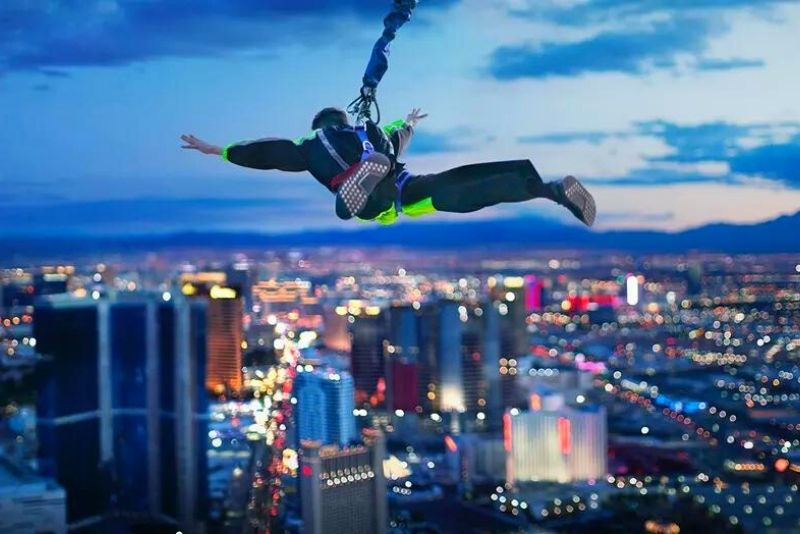 A thrill-seeker's heaven on earth, The Strat is one of the most popular hotels in Vegas for bachelor parties. Situated on the north end of the Vegas strip, beyond its cocktail bars, swanky hotel rooms, and killer observation platform views from 1,000 feet in the air, The Strat offers guests a heart-racing experience with its four heart-in-mouth thrill rides: Insanity, X-Scream, Big Shot, and SkyJump.
Appropriately named and not for the faint of heart, Insanity uses a giant mechanical arm to dangle you 900 feet above the concrete streets below. You'll be flipped upside-down and all around, hitting a stomach-churning three G-force. X-Scream is a giant teeter-totter that will have you propelling headfirst over the edge of the Strat's observation deck, and dangle you 866 feet above the ground.
Big Shot is a rocketing ride up to the top of the Stratosphere Tower where riders ascend the sky-high spire – and then come hurtling back down again at 45 miles per hour! And, finally, for those who are truly brave (or crazy), or if you want to scare your bachelor senseless, there's SkyJump: an outdoor leap-of-faith style that jumps off the side of the building, allowing you to free fall at 40 miles per hours on what – at 108 stories high – is officially the world's highest commercial decelerator descent.
Of course, if none of these tickle your fancy (or if you're not quite ready to face your fears just yet), you can down a few glasses of red with dinner at the Top of the World revolving restaurant or try some fancy cocktails at 108 Drinks.
3 – Race exotic cars at the Las Vegas Motor Speedway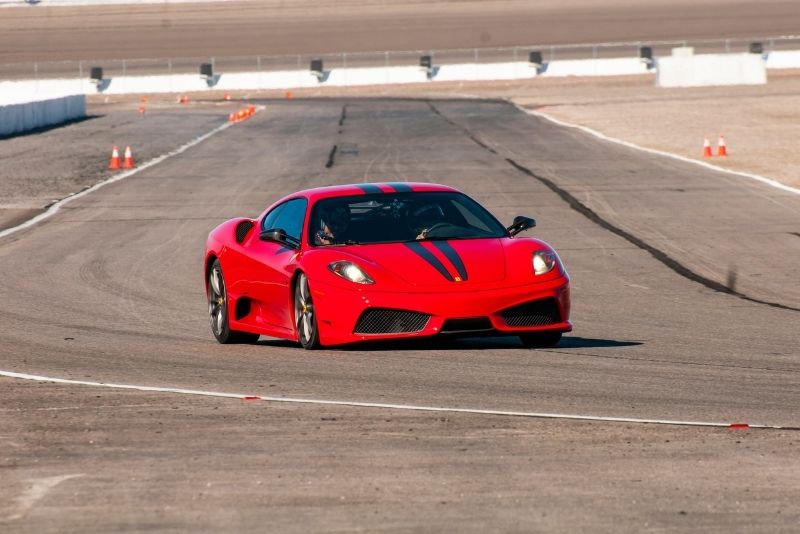 Put the pedal to the metal with an unforgettable heart-in-mouth experience – race an exotic car around the track at the Las Vegas Motor Speedway! Located a little over 30 minutes north of the Strip, this petrolhead paradise is a great excuse to ditch the bars and clubs for a day a scratch that insatiable need for speed.
You and your buddies will get to pick from a fleet of Ferraris, Porsches, Lamborghinis, and more as you zoom around the track at speeds of up to 130 miles per hour. But it's not just about getting behind the wheel of supercars, you can strap into actual race cars too: from NASCAR racers to time trial runs in Indy-style one-seater cars. Whether you're keen on burning your own rubber or riding shotgun as the pros drift around corners (arguably even more blood-pumping than driving, as you never know what will come next), thanks to a plethora of racing experiences, your bachelor is sure to find something that'll get his heart racing.
And if that's not enough excitement for the boys, there are also off-road experiences available where you can put your four-wheeling skills to the test. Just be sure to book your spot in advance – outside of the typical Strip debauchery, these hot laps are some of the most popular things to do for bachelor parties in Las Vegas!
4 – Sling back shots at XS Nightclub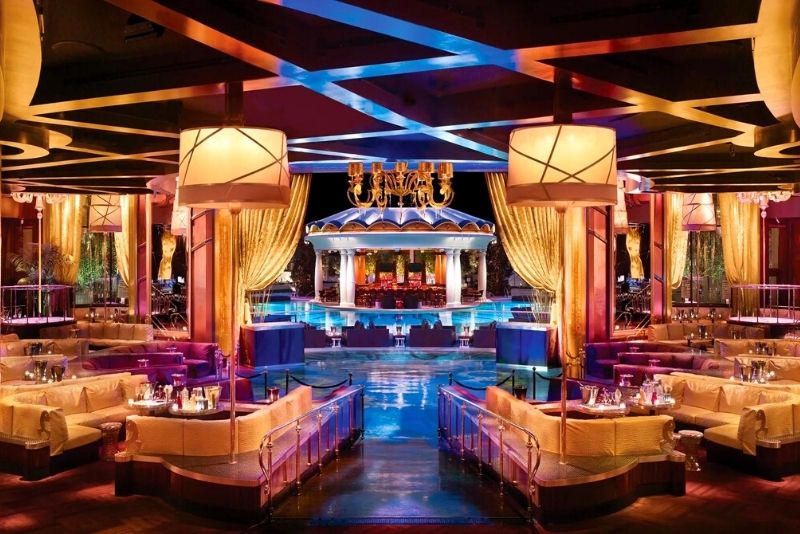 Where the bottles pop, the music blasts, and the reputation precedes it, XS is one of the most popular nightclubs in Vegas – and, with a bounty of world-class DJs on the calendar, a solid choice for a wild night on any bachelor party.
As one of the most sophisticated nightclubs in the world, where opulence and passion meet, it's easy to spend an entire night here indulging in all that's on offer. From the outdoor terrace and its sparkling swimming pool, lined with VIP cabanas and daybeds, to the main club area where world-renowned DJs keep partygoers dancing 'til dawn, there is simply no shortage of things to do at XS.
And if you want to really push the boat out, you can reserve one of their extravagant Sky Boxes which come complete with private butlers, a bevy of bottle service girls, and an unobstructed view of the dance floor below – perfect for people watching (and making sure your bachelor stays out of trouble!).
Situated at Encore, on the Wynn side of the strip, this massive 40,000 square-foot behemoth of a club has long been the highest-grossing nightclub in the country. Open Friday and Saturday nights, and then Sunday nights for the less-chaotic but forever fun "Night Swim,", XS should sit high atop the list for wild weekend warriors.
5 – Fly a stunt plane!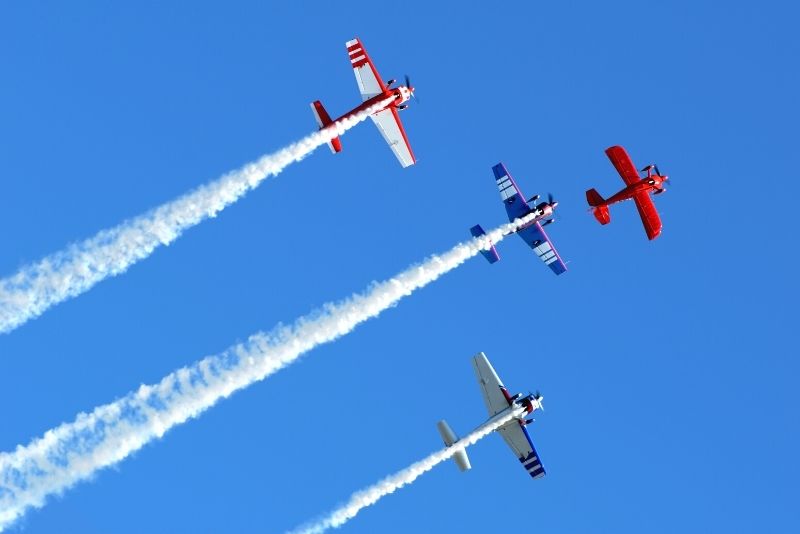 Forget the bars for a day and take to the skies instead! An unforgettable experience that will have you and your friends talking long after the bachelor party is over, flying a stunt plane is one of those Las Vegas bachelor party ideas that, so long as you're not pinching pennies, can take the entire trip to the next level.
After a quick lesson (don't worry, your pilot will be with you every step of the way), you'll be taking off and doing death-defying stunts like barrel rolls, loop de loops, and hammerhead turns – all while getting breathtaking views of the cityscape below.
Created by a former U.S. Air Force fighter pilot who wanted to bring the chaos and craziness of fighter jets to the public, the sky-high combat races offer a few different options: ride shotgun and let the pros handle the controls, take the controls yourself, or compete against your friends in a skirmish of laser tag in the clouds! Or, for all of you history buffs, step back in time and ride in an old-school biplane!
Whether you're looking for an adrenaline rush or just want to enjoy the views, this is one of those unique stag weekend activities that's sure to get everyone pumped up and excited for the certain big night ahead.
Keep in mind: if you prefer a more low-key flight, there's no shortage of scenic helicopter flights over the Strip or airplane tours over places like the Grand Canyon.
6 – See the incredible Absinthe acrobats up close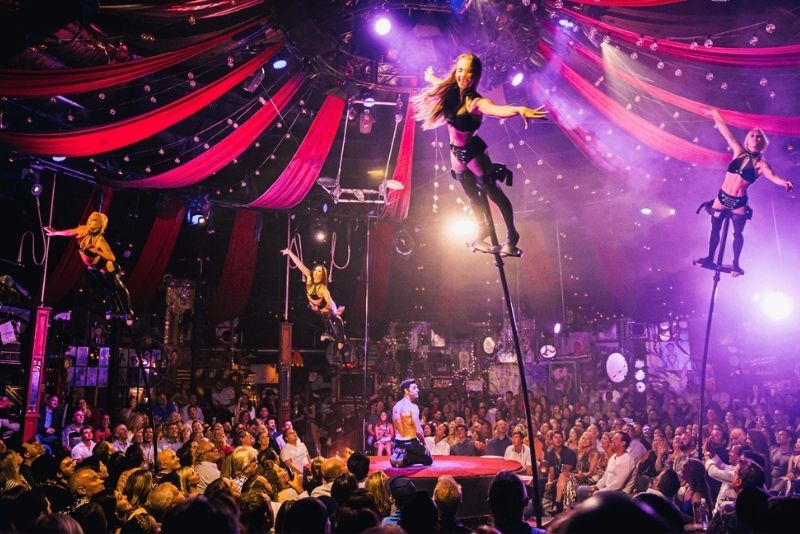 Longstanding and world-renowned as one of the most popular shows on the Strip, this raunchy, adult-themed show is a must-see for any group of guys looking to let off some steam.
Taking place around a tiny circular stage in the middle of the room (which means you'll be far more immersed in the performance than most Las Vegas shows), Absinthe features a variety of different acts – from fire breathing and trapeze artists to clowns and comedians – all while incorporating plenty of audience participation (which, more often than not, leads to some pretty wild moments).
An 18+ show because of the scantily-dressed burlesque and vaudeville nature, this  90-minute-long risqué show takes place in the Roman Plaza at Caesar's Palace. And you know what that means? Once the dancing comes to an end, the debauchery can continue in one of the many clubs, bars, or casino sections located inside the exotic hotel.
7 – Show the boys your golf skills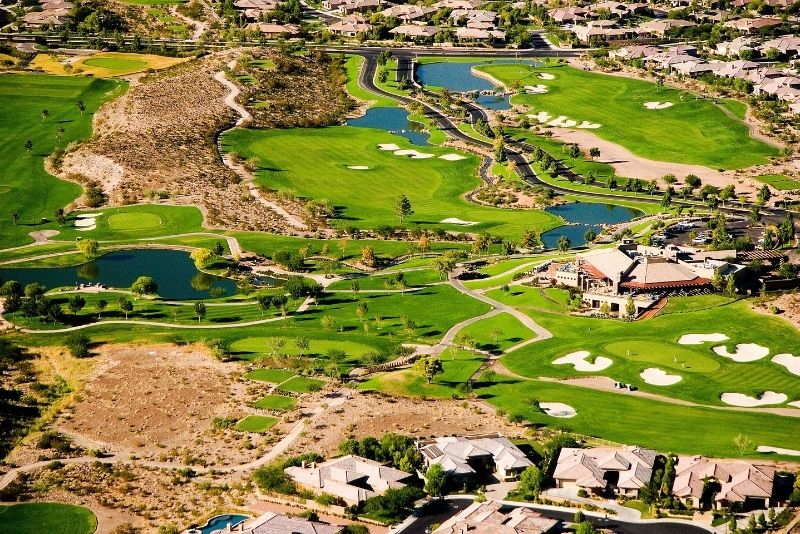 A great daytime addition to any Las Vegas Bachelor party package, a round of good old-fashioned golf on any of Sin City's lush fairways delivers a healthy serving of fresh air alongside a cheeky dose of competitiveness. And, of course, a few beers on the back nine are pretty much a given.
With more than 50 courses within a 40-minute drive of the Strip, you seriously are spoiled for choice. So here are a couple of the crowd favorites to narrow down the selection:
Chimera is your classic dessert course with beautiful mountain backdrop scenery, plus a driving range, bar, and restaurant. At close to 3000 feet in elevation, Angel Park offers spectacular views of Red Rock Canyon and the Las Vegas Valley, while, destined for the pros, the Royal Links Golf Club is played on the British Open rotation!
For convenience, the Las Vegas National Golf Club is located less than 10 minutes from the Strip. Meanwhile, one of the most scenic Sin City golf courses, Rhodes Ranch Golf Club features lush greens, a variety of water features, and even some desert wildlife! With 18 holes including four impressive par 3s – not to mention a fully-stocked pro shop and on-site restaurant, the Ranch House Grille – this is one of those classic afternoon excursions that will keep everyone happy.
Don't want to spend all day on the course? Then consider a couple of hours at TopGolf near the MGM Grand instead. Providing a high-tech twist on the traditional driving range, Topgolf boasts climate-controlled bays (each of which can accommodate up to six people), and fuses augmented reality software with golf, gaming, and socializing (and, of course, no shortage of bartender-crafted drinks and brews on tap) into one great day or evening experience.
8 – Join a raging pool party crawl
A crowd-favorite reprieve from the toasty Mojave desert sun, a pool party is one of the most quintessential Las Vegas experiences; a must for any group of bachelor party-goers.
After all, what's not to love? A few drinks by the pool followed by shots at the bar, some bangin' tunes, maybe even a game or two of volleyball – all while surrounded by beautiful people in scanty and stylish swimsuits.
And if you're looking to make things even more interesting (and let's be honest – who isn't?), consider going on a pool party crawl where you'll get to experience multiple bashes in one day!
From Rehab at the Hard Rock Hotel & Casino, to the infamous Wet Republic at MGM Grand, the Daylight Beach Club at Mandalay Bay, or the Encore Beach Club at the Wynn, you'll find everything from casual poolside cocktails in VIP bungalows to roaring DJ sets, champagne showers, and open bars.
Not to mention the people watching – which is, in itself, a Las Vegas bachelor party activity!
In typical Vegas style, the Bare Pool at the Mirage encourages European-style sunbathing (AKA topless) in a 14,000-square-foot upscale hideaway at the end of a jungle-like path.
9 – Whip up some dust with an ATV adventure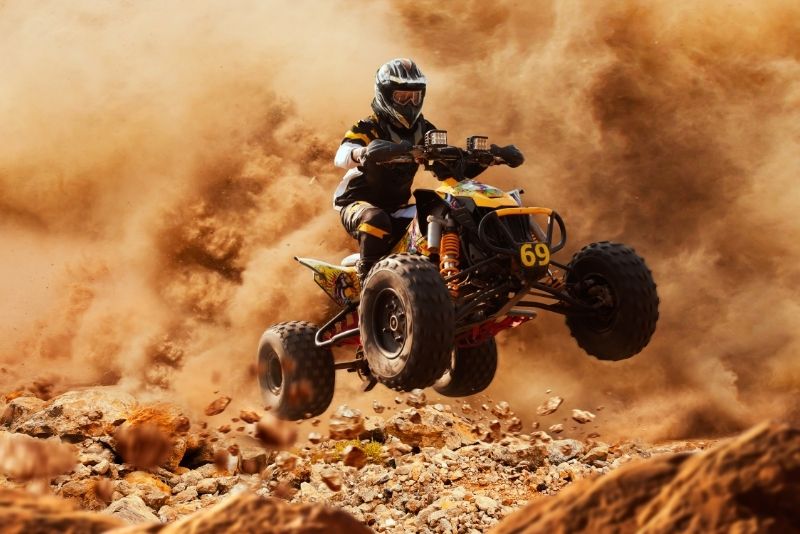 Get off the beaten track and see another side of Nevada with an ATV adventure through the desert!
An exhilarating way to explore, the best Las Vegas ATV tours provide the chance to race across sand dunes, splash through creeks, tear up some dust, and if you're lucky, even catch a glimpse of some local wildlife as you traverse the Mojave.
With a range of dune buggy tours hitting up beautiful natural expanses like Eldorado Canyon and the Techatticup Gold Mine, the Valley of Fire, the Hidden Valley and Primm (the small town straddling the state border between California and Nevada), the Nellis Dunes in Las Vegas, and even the Grand Canyon (often combined with other adrenaline-pumping activities like helicopter or airplane tours) – there's definitely an off-road experience to suit every group.
ATVing in the desert is a must for any thrill-seeker! Just be sure, since you'll be in a large-ish group, to book in advance, as these popular tours often fill up quickly – especially during peak season.
10 – Try your luck at the casinos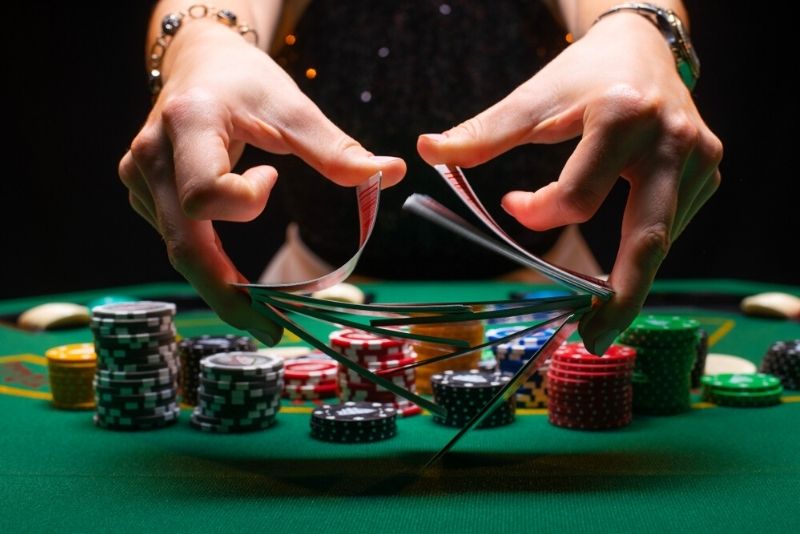 It was only a matter of time, right? Synonymous with Sin City, casinos are practically mandatory for any group of guys looking to let loose in Las Vegas.
And whether you're interested in playing a few hands of poker, trying your luck on the slots, hedging your bets on red or black, or just enjoying the high-stakes atmosphere, there's a casino out there to suit your needs.
For those who want to go all out and immerse themselves in the classic Las Vegas gambling experience, the Bellagio is definitely the place to be. With its iconic fountains, luxurious surroundings, and celebrity chef restaurants, it's easy to see why this is one of the most popular casinos on The Strip. Of equally well-known stature, Caesar's Palace is also definitely worth a visit – especially if you want to check out the famous Colosseum, where A-list performers like Celine Dion, Elton John, and Cher regularly take the stage.
But if you're looking for something a little more low-key (or maybe even off-Strip), there are plenty of other options to choose from, including the Cosmopolitan, Mandalay Bay, New York-New York, and Wynn Las Vegas – just to name a few.
Of course, if you're not interested in gambling at all (or maybe you just don't want to blow your entire budget on casino games), that's totally fine! There are still plenty of other activities to enjoy in Las Vegas casinos — from people-watching to the giant aquariums (at The Tank at the Golden Nugget), to the pirate show at Treasure Island, free circus performances at Circus Circus, to the volcano at The Mirage.
You can also find some great restaurants, bars, and clubs inside most casinos – so even if you're not gambling, you can still enjoy the full Las Vegas experience.
11 – Book tickets for Fantasy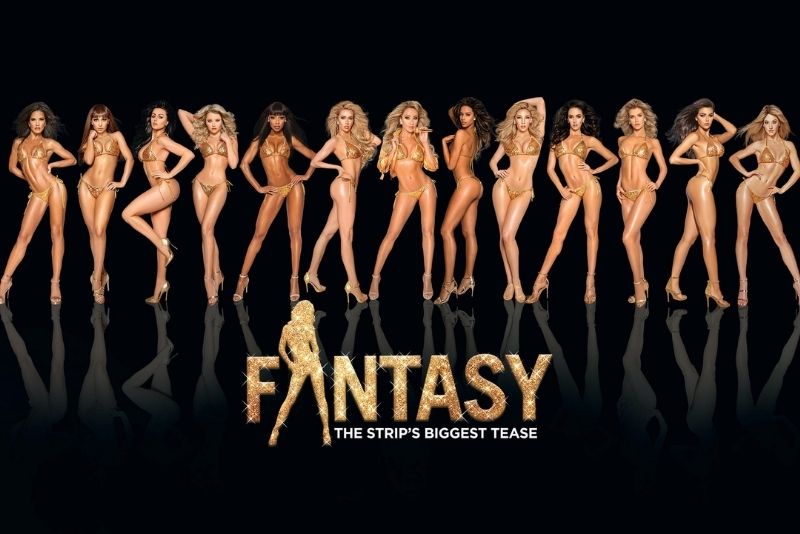 Dubbed 'The Strip's Biggest Tease', the Fantasy show at the Luxor is one of the sexiest, most sensual shows in all of Las Vegas – and for all those boisterous bachelor parties looking for something just risqué enough without breaking any major rules, it's justifiably one of the more popular Las Vegas bachelor party ideas.
Airing nightly at 10.30 pm and featuring a bevy of gorgeous women, the 75-minute production is part burlesque show, part cabaret, and part acrobatic extravaganza – complete with aerialists, dancers, pole dancers, and barely-there bikinis.
While it's certainly not appropriate for anyone under 18 (or anyone who's easily offended), it's perfect for a group of guys looking to enjoy some eye candy while in Sin City. A high-energy show featuring 15 performance numbers set to music by chart-topping artists, Fantasy is known as one of the best Las Vegas shows for the lads, and includes far more than your average Las Vegas revue.
12 – Take to the skies with a helicopter tour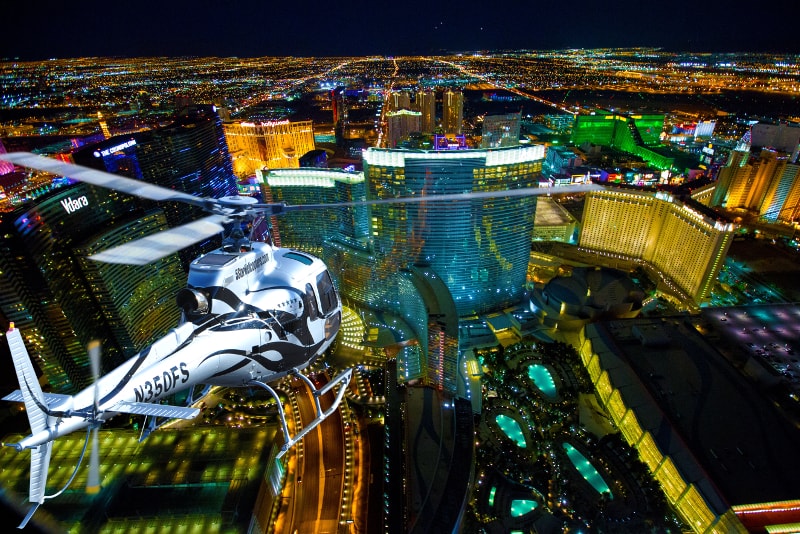 As a desert city lit up in sparkling neon lights, Las Vegas is an absolutely breathtaking sight to behold – and there's no better way to take it all in than from high above with a helicopter tour.
One of the most popular things to do in Las Vegas for bachelor parties or any visit in general, helicopter tours offer visitors a bird's-eye view of all the major landmarks and attractions, including The Strip, Downtown Las Vegas, the Hoover Dam, Lake Mead, and more. And with so many different companies offering tours (and a variety of different pricing options), it's easy to find one that fits both your budget and your schedule.
For the bargain-basement options, a 15-minutes highlight flight over the Strip has got you covered. But if you're not too worried about the cash, then it's impossible to overlook the opportunity to take a scenic trip over the Grand Canyon!
Hot tip: while a Vegas daytime flight is seriously special, at night when the casinos twinkle like diamonds, it's even more magical.
13 – Compete for bragging rights with a go-karting session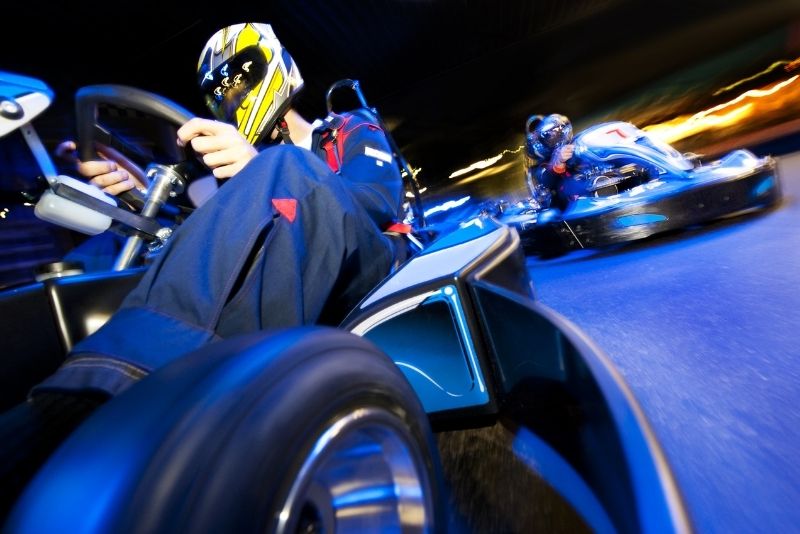 A surefire way to get your stag's heart racing, go-karting fast, furious, and a whole lot of fun. There are plenty of different tracks to choose from (including indoor ones if the weather's not playing ball), meaning you can race around at high speeds regardless of the time of year.
At the SpeedVegas Motorsports Park, for instance, just 15 minutes south of The Strip, you can race 4-stroke gas engine go-karts along a 1,600-foot-long racetrack full of apex corners, hairpins, and 90-degree turns, hitting exhilarating speeds of 45 miles per hour.
Just remember: while this activity might be all about having fun, safety always comes first – so make sure you follow the rules, drive responsibly, and book in a session before you hit up any of the local bars because you'll be breath-tested ahead of starting your engines.
A solid choice to kickstart your last-gasp (before marriage, that is) getaway, go-karting is competitive, high-thrills, and, since you can be in and out in an hour or two, easy to squeeze into any Las Vegas Bachelor party package.
14 – Unleash the inner lumberjack with ax throwing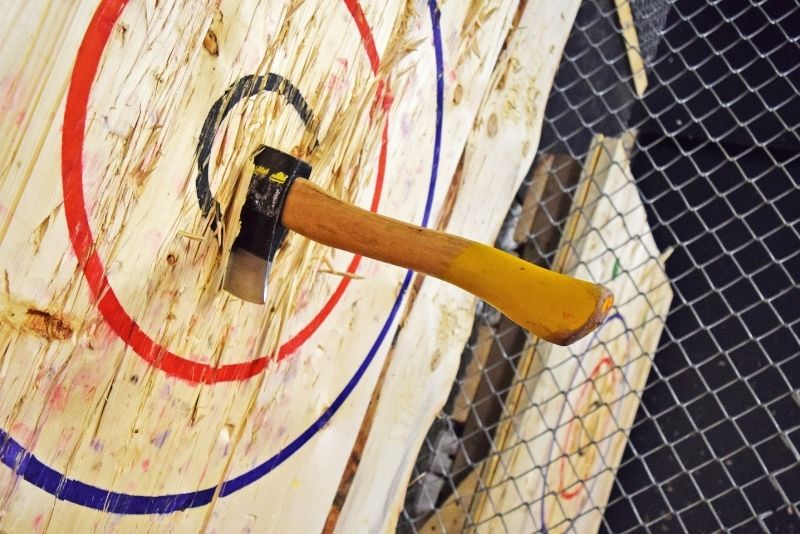 Certainly one of the more underrated and unique experiences that are worth trying, ax throwing is the new 'it' activity for thrill-seeking groups of guys.
Ax throwing bars have been popping up all over North America in recent years, and – yep, you guessed it – there's now one right here in Las Vegas.
At Axehole Vegas, Dueling Axes in AREA15 (where a bunch of wacky futuristic attractions sit side by side), or Axe Monkeys, to name a few, you and your buddies can hurl axes at targets while enjoying a few beers, some snacks, and some seriously good tunes.
While it might not be everyone's cup of tea, if you're looking for some things to do in Vegas for a bachelor party that are a little different from your typical shot-slingin', dancefloor-poppin' activities, then ax-throwing is most definitely worth considering.
15 – Sip cocktails in style at the Legacy Club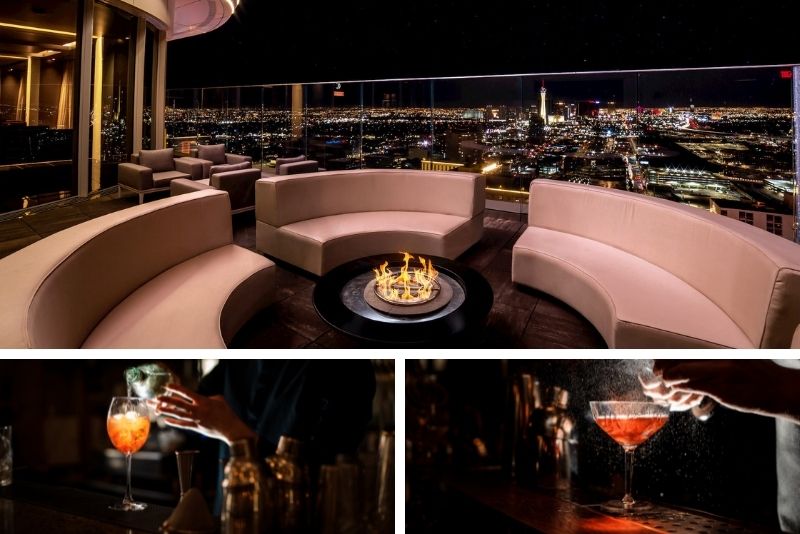 Chic, sleek, and overlooking the bright city light from Circa's 60th floor, the Legacy Club is one of the newest and most talked-about rooftop bars to open in Vegas – and it's ideal for a group of banterous boys looking to start their night off in style.
With an impressive menu of both classic and creative cocktails, as well as a range of small plates (try the chicken wings with honey sriracha if you're feeling peckish), the Legacy Club is the perfect spot to enjoy some pre-party drinks with a view.
You'll find cozy fire pits for those cooler winter evenings, the main lounge that puts on everything from live electro swing to a playlist of modern hits, and a centerpiece bar amock with Insta-worthy cocktails sure to make the bride(or husband)-to-be green with envy.
So if you're looking for upscale places to visit in Las Vegas for bachelor parties as a pre-game before journeying into a rowdier nightclub, Legacy sells itself as an excellent starting point.
16 – Catch a performance at The Colosseum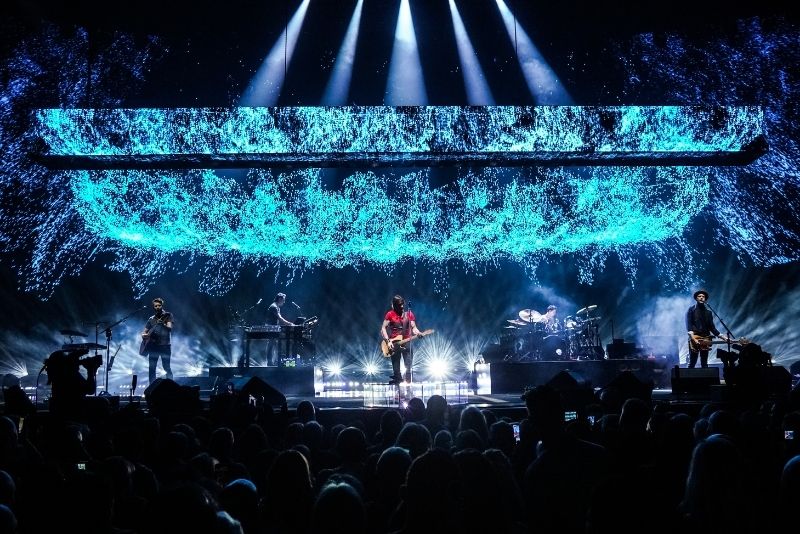 Arguably one of the most iconic venues in Vegas (and, indeed, the world), the $100 million Colosseum venue at Caesars Palace has played host to some of the biggest names in showbiz – from Celine Dion and Elton John, Van Morrison, Adele, Keith Urban, Sting, Chris Rock, Jerry Seinfeld, Cher, and a whole lot more.
So if you and your pals are fans of live entertainment, then catching a performance at The Colosseum — hot tip: also consider grabbing tickets to The Beatles LOVE show — should definitely be on your list of things to do for a Las Vegas bachelor party.
From rock concerts and Broadway musicals to magic shows and comedy nights, there's always something going on at the infamous Colosseum – so whether you want to see world-renowned artists or up-and-coming talents, you're sure to find a performance that suits your groom-to-be's interests.
17 – Go on a scooter tour in Red Rock Canyon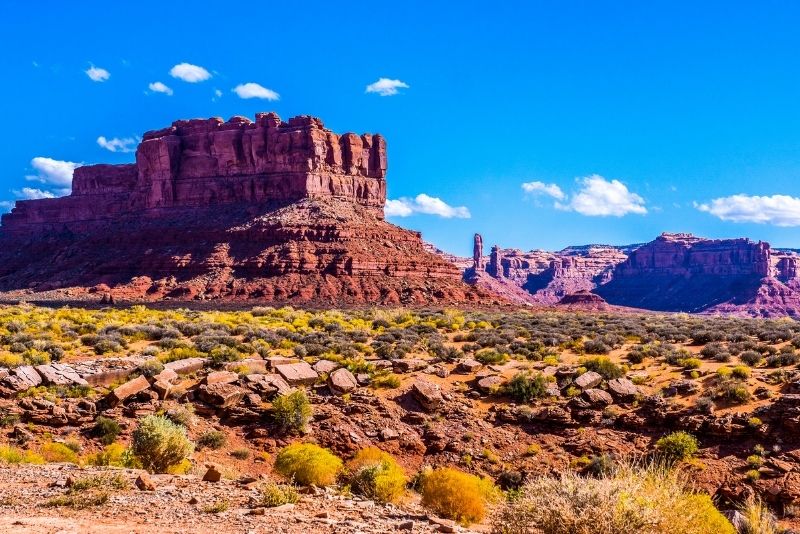 With Vegas sitting a stone's throw from some of America's most gorgeous natural landscapes, it would be a sin to miss out on exploring the Red Rock Canyon National Conservation Area while you're in town for a bachelor party.
And what's the best way to explore this stunning slice of the Nevada desert? On two wheels, of course, by choosing from some of the best Red Rock Canyon tours!
With adventure-focused companies offering everything from Harley-Davidson motorcycles and Vespa scooters to electric bikes and Segways, there's sure to be a mode of transportation that suits your group's size, budget, and interests.
Once you've sorted out the logistics, it's time to hit the road – or rather, the dusty red trails – and explore all that Red Rock has to offer. With towering sandstone peaks, unique rock formations, Joshua tree forests, and even a few petroglyphs (ancient rock carvings) to discover, there's no shortage of things to see and do in this beautiful desert oasis.
Is your groom-to-be a bit sportier? Then there are also a handful of bike tours that explore the great outdoors – be it Red Rock, the Grand Canyon, Valley of Fire, or something in between!
18 – Visit the strip clubs – it is Vegas, after all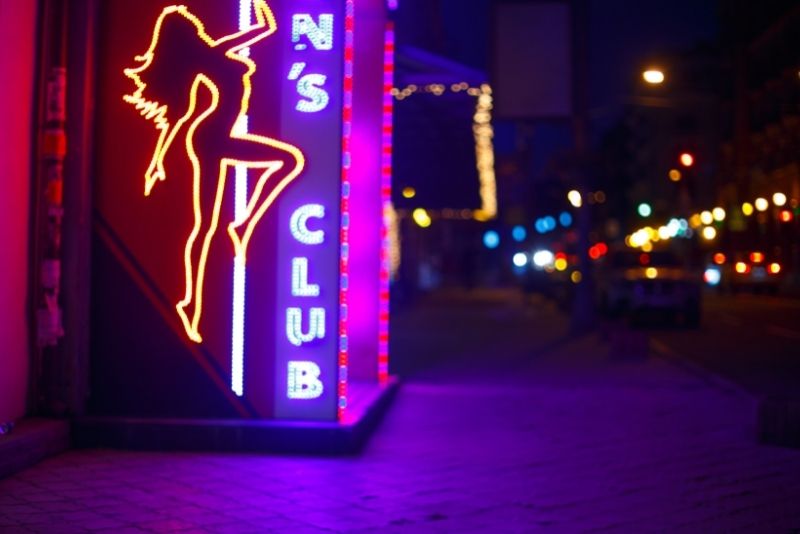 Try as you might, if you're gunning for a 'traditional' bucks adventure, it's hard to put together a Las Vegas Bachelor party package without a trip (or two) to the city's best gentleman's clubs.
If that's your plan of attack, then as Lady Luck would have it, Sin City is home to some of the most esteemed – and most famous – strip clubs in the world. From the world-renowned Sapphire Gentlemen's Club to the more intimate Crazy Horse III, there's sure to be a club that floats your boat.
Consistently voted the best of its kind in the Las Vegas area, and (self) regarded as the 'World's Largest Gentlemen's Club' with more than 400 women spread throughout the Sapphire venue, and 70,000-plus square feet of poles, stages, and private Champagne-filled skyboxes, besides the obvious attractions, this renowned locale is known to throw some pretty epic football watch parties.
Crazy Horse III, on the other hand, boasts a 50-foot-long bar (so you'll never have to wait too long for a drink) and elevated seating, meaning there's not a bad view in the house.
Throw in the Palomino Club, the only strip joint in the Las Vegas Valley to have full nudity and a full bar; Centerfolds, which combines showgirls, burlesque, and aerial acts in its weekend night Touch of Burlesque shows, and Treasures is known for having its own steakhouse on site!
So whether you're looking for opulent surroundings, stunning dancers, or just a good old-fashioned steak dinner with a, erm, view, there's sure to be a Las Vegas strip club that fits the bill.
19 – Feel the thrill of indoor skydiving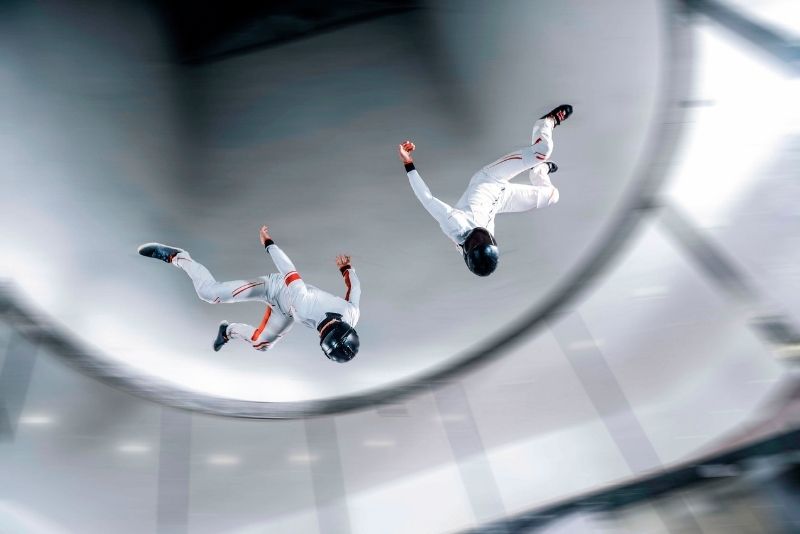 Keen to experience the high-octane thrills of a skydive but not quite ready to take the plunge from 14,000 feet? Fortunately, with some state-of-the-art wind tunnel technology that creates wind speeds of up to 120 miles per hour, you can get your adrenaline fix without ever having to leave the ground (well, you know what we mean).
Welcome to indoor skydiving, folks; a short and sweet activity that's excellent for a group of thrill-seeking buddies looking to add a little excitement to their bachelor party itinerary.
Head to one of the city's main indoor skydiving facilities – Vegas Indoor Skydiving, or iFLY Indoor Skydiving (coming soon as of May 2022) – strap on a jumpsuit, helmet, and goggles, and let the experienced instructors do the rest.
After a quick briefing on how to position your body during freefall, you'll be kitted out with all the gear you need and taken into the wind tunnel where you'll enjoy around two minutes of flying time – while that might not sound like much, comparative to a real skydive freefall, it's actually a little longer.
20 – Party it up at Light at Mandalay Bay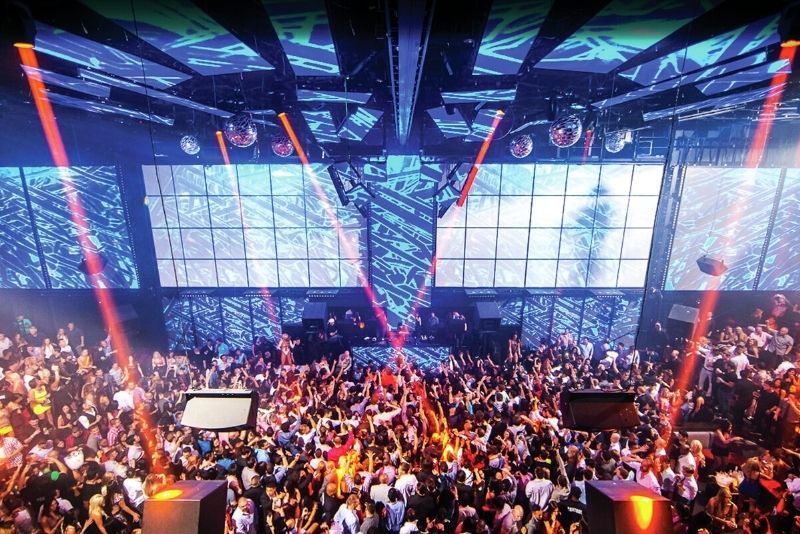 A cutting-edge nightclub always at the forefront of electronic music, Light sells itself as one of the quintessential things to do in Vegas for bachelor parties if your idea of a good time is free-flowing drinks, blasting speakers, and heavy bass drops.
That said, as the first nightclub in the city to be crafted by the masterminds behind Cirque du Soleil, Light isn't your typical clubbing experience.
With its innovative blend of multimedia effects and theatrics, the nightclub feels more like a live show than anything else – think aerialists, dancers, and stilt walkers performing high above the dancefloor while world-famous DJs such as Coi Leray and Skrillex blast out their latest hits.
Throw in top-notch (yet pricey) bottle service, confetti drops, and one of the most impressive sound systems on The Strip, and you've got all the ingredients for an unforgettable night out.
21 – Play a round or two of oaintball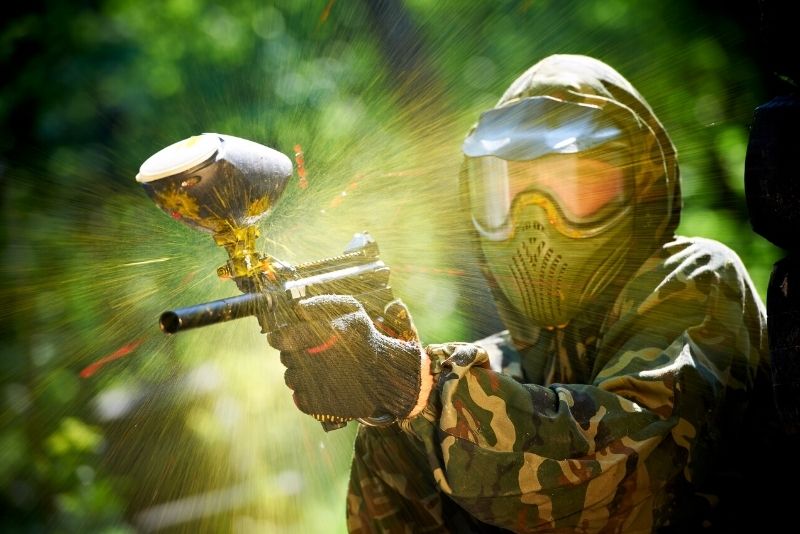 Whether you're a group of friends who love to compete and want to experience your very own Call of Duty reenactment or just a bunch of guys looking to blow off some steam and give your stag a few bruises to remember unmarried life, paintball is a popular daytime activity for a bachelor party – after all, it can't all be about drinking, right?
And with both Combat Zone Paintball and Las Vegas Premier Paintball (with 3 different outdoor fields) located within 20-25 minutes from The Strip, it's easy to get in on the action.
With dedicated Las Vegas bachelor party packages (hint: the 'Bachelor Run' is sure to leave a few marks) as well as a slew of games like cops and robbers, capture the flag, bazooka ball, and more (plus airsoft and low-impact options), you're guaranteed an hour of high-energy, run-for-the-hills action.
22 – Cheer on the Golden Knights at T-Mobile Arena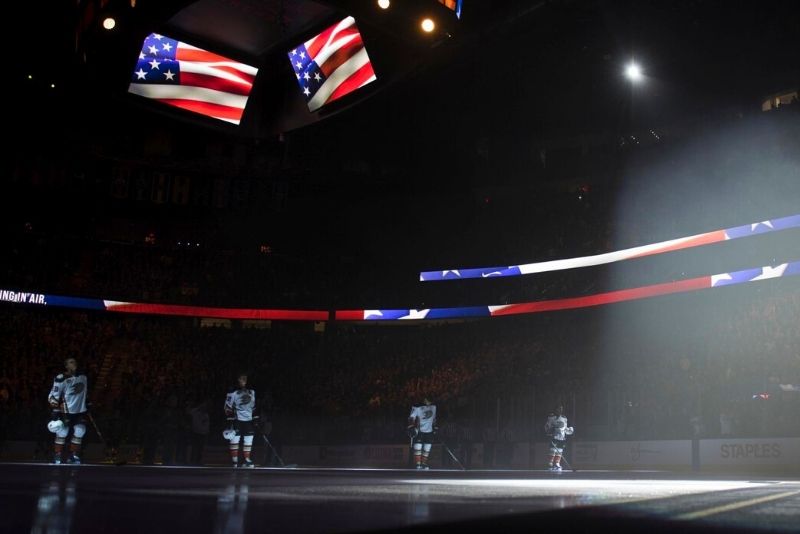 Always fast-paced and exciting, catching a Golden Knights game is one of the best things to do in Vegas for a bachelor party if you and your buddies are big hockey fans.
The Golden Knights are Las Vegas' first (and only) professional sports team, and since joining the NHL back in 2017, they've quickly become one of the league's most successful expansion teams – even making it all the way to the Stanley Cup Finals in their inaugural season.
With an impressive roster of athletes, a roaring atmosphere, state-of-the-art lighting and audio, and plenty of food and drink options — including all-inclusive tickets, a worthy addition to any Las Vegas Bachelor party package – a live Golden Knights game at the T-Mobile Arena is an event not to be missed.
Keep in mind that the season only runs from October to April; outside of these months, there's no shortage of concerts and events if you still want to check out the stadium.
23 – Hop in a kayak for a relaxing day out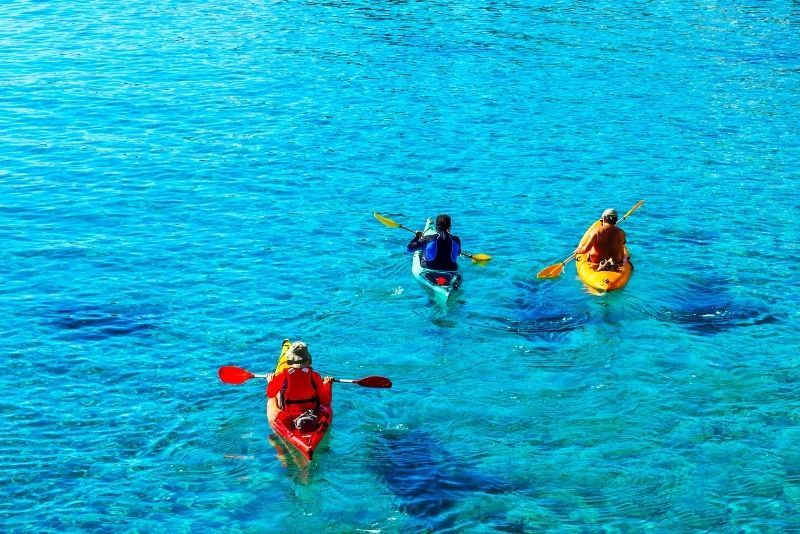 Kayaking, in the desert? Yep, you read that right.
Just a short drive from The Strip (around 30 minutes), Lake Mead is the perfect place to escape the hustle and bustle of city life and get back to nature – even if it is man-made.
Formed by the Hoover Dam, this huge lake spans almost 550 miles of shoreline with plenty of coves, inlets, and beaches to explore; making it a welcomed breath of fresh air after a few days of hitting the town.
And with both kayak rentals and a range of guide-led tours to places like Emerald Cove or the Black Canyon, it's a wonderful and relatively affordable way to spend a few hours on the water with your buddies.
Just be sure to bring sunscreen, hats, sunglasses, and plenty of water.
24 – Be a little teased at X Burlesque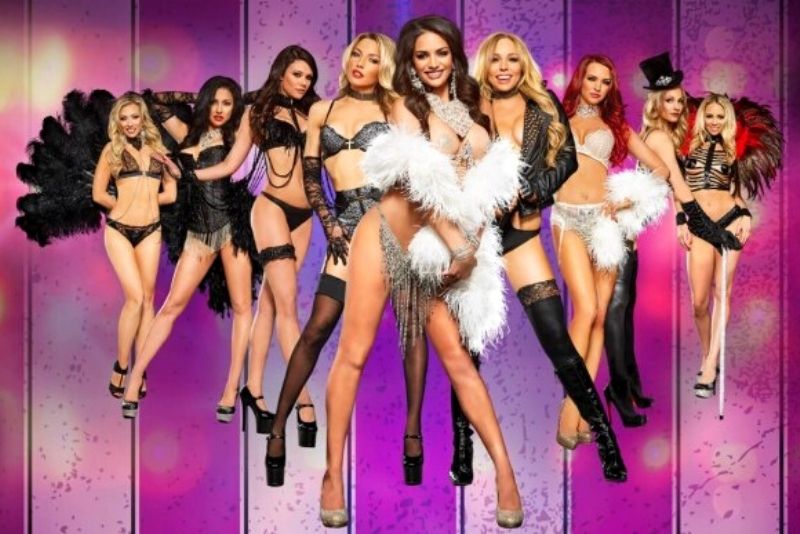 One of the more common Las Vegas bachelor party ideas, X Burlesque is a raunchy and erotic topless revue that's been running at the Flamingo Hotel & Casino for over close to two decades, earning a reputation as one of the premier places to visit in Las Vegas for bachelor parties.
Featuring a rotating cast of beautiful dancers, this 75-minute bare-it-all show is equal parts playful, sensual, and entertaining – think feathers, lace, and not much else.
With sultry renditions of chart-topping hits from artists like Lady Gaga, Bruno Mars, Katy Perry, and more (performed live by a talented onstage band), X Burlesque is the perfect way to spice up your evening.
25 – Brave the early alarm for a sunrise hot air balloon ride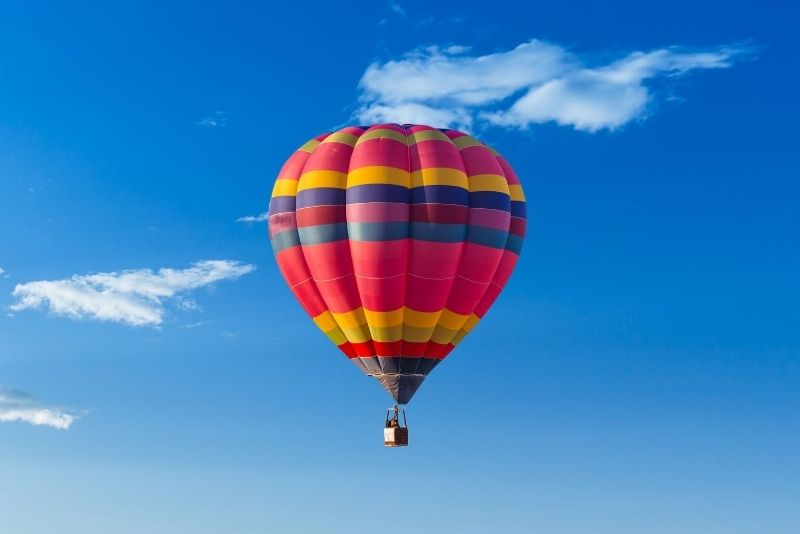 A relaxing and invigorating addition to spice up any traditional Las Vegas bachelor party package, a hot air balloon ride takes in the brilliant birds-eye perspective of the sprawling Mojave desert, highlighting the stark contrast between the casino-laden city from which you've come, and the natural landscape over which you're soaring
So long as you can muster up the willpower to brave an early-morning alarm (better keep the night-before activities to shows and dinners rather than parties and clubs), the wonderful panoramic views are to do for. And with most operators offering a champagne toast upon landing, it's a splendid way to start your day on a high note.
Most sunrise and sunset tours will depart from Pahrump, a small town about 60 miles from Las Vegas, allowing you to appreciate the desert landscape outside of the city from the ground while en route to the departure point too.
26 – Spend an evening at Cirque du Soleil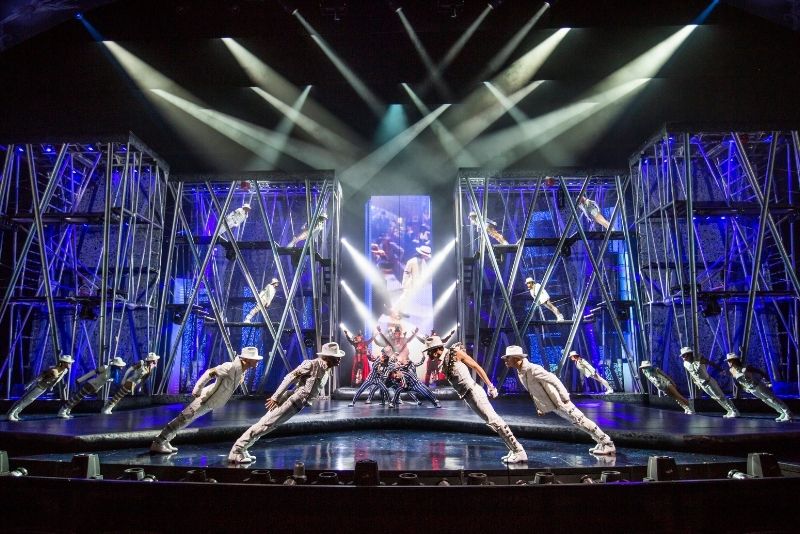 A mainstay on the Las Vegas Strip, Cirque du Soleil has been entertaining tourists and locals alike for over three decades with its unique brand of acrobatic theatre.
With no less than six different shows currently playing in Vegas, there's bound to be one that catches your eye – whether it's the water-based O show at the Bellagio, or the Beatles tribute love story of The Beatles LOVE.
Fans of the King of Pop will adore the Michael Jackson ONE show at Mandalay Bay; those who prefer a cinematic storyline will get a kick out of KÀ at the MGM Grand; the iconic Mystère by Cirque du Soleil at Treasure Island pays homage to all the iconic Las Vegas glitz and glamour; and a new addition to the lineup, Mad Apple dives into all things New York City.
And with tickets starting at around $70 a head, for world-renowned performances, it's not as expensive as you might think.
27 – Mingle with partygoers at Marquee Nightclub & Dayclub
Rowdy, boisterous, and full of cliché Vegas festivities (drinking, dancing, and the whole nine yards) no matter the time of day, Marquee has long been one of those essential places to visit in Las Vegas for bachelor parties.
Found at the underrated Cosmopolitan hotel, Marquee kicks off as a low-key and relaxing pool club by day, before turning into a high-octane nightclub on Monday, Friday and Saturday as the sun goes down.
With a whopping 60,000 square feet of space, there's plenty of room to move here; and with big-name DJs like Dom Dolla and DJ Pauly D often on the decks spinning head-banging EDM and house music (not to mention some of the best cocktails in town), it's easy to see why Marquee is one of those places that always seems to make its way onto Vegas bachelor party itineraries.
28 – Drive an excavator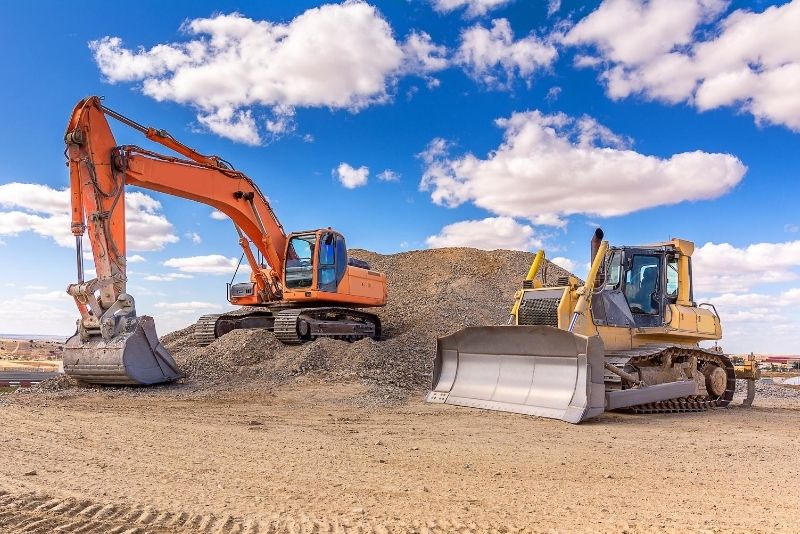 Not your typical Las Vegas activity, driving an excavator is one of those things that's bound to make for some great stories (and Instagram photos) once the party's over.
With Dig This, you can take control of a real 15-ton excavator and have at it in their adult sandbox – yes, that's right, an entire sandbox just for grownups!
After a quick safety orientation and some training from the instructors on how to drive the machine, you'll be let loose to dig trenches, build mountains, and crush cars (yes, real cars!) all under the supervision of the staff. It's not as easy as it looks but boy is it fun.
Not only is it a fantastic way to feel strong and powerful (get that masculine energy into full rhythm), but it's a great opportunity to get the group together and do something completely different from the norm.
See also: Best things to do in Las Vegas during the day
29 – Queue up your song at karaoke!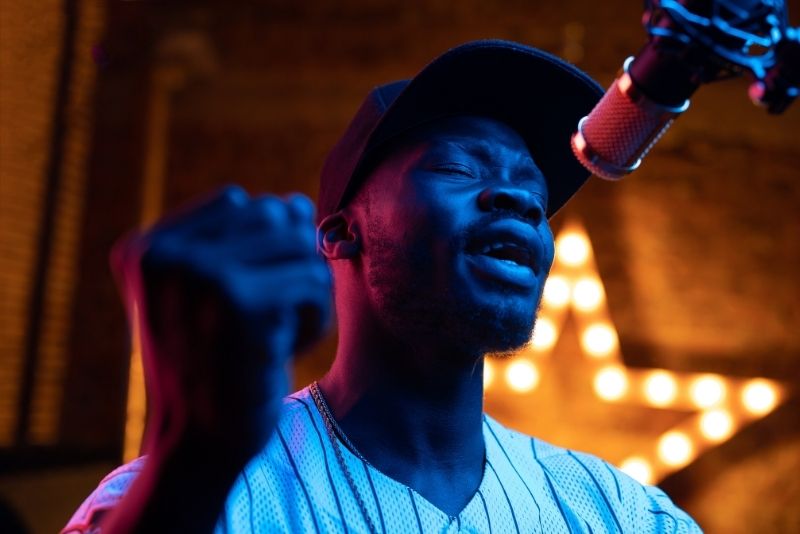 Similar to singing in the shower, everyone loves a good sing-song – especially when they've had a few drinks.
Backstreet Boys? The Killers? Or maybe you're more of an Elton John or Robbie Williams kind of singstar. Either way, with karaoke bars on almost every corner in Vegas, it's easy to find a place to let loose and belt out some classics (or not-so-classics, we're not judging).
A local favorite is Don't Tell Mama; tucked away downtown with 20 different beers on tap and open from 8 pm every night, this New York-esque piano bar has been around for years and is famed for its open mic setup, where you can ask the live pianist to accompany you on your favorite tune!
From oldies but goodies like 'My Way' by Frank Sinatra and 'Piano Man' by Billy Joel, to modern pop anthems like 'Shape of You' by Ed Sheeran or classic Broadway musicals and all that jazz, it's a regular hit.
More private and luxurious, Kamu Ultra Karaoke in the Venetian's Grand Canal Shoppes boasts a range of individually-themed rooms where you can fit up to 15 guests. On Mondays and Tuesdays, Freezone is a poppin' gay bar where the drinks are always cheap and strong, and Gilley's is your go-to for country tunes, welcoming singers on Tuesdays and Wednesdays from 8 pm.
30 – Marvel at the views from the VooDoo Lounge at Rio Hotel
Elegant, glamorous, and with one mighty heck of a view from the hotel's 50th and 51st floors, the VooDoo Lounge at the Rio promises a spectacular evening (or day, if you're feeling brave enough to face the heat!) of drinks, views, good times, and great tunes.
Just below the lounge, which regularly welcomes local and international DJs and which opens at 8 pm every night, you'll find the tantalizing Voodoo Steakhouse; famous for its succulent prime steaks and mouthwatering chops (again, with a pretty special view), this restaurant is sure to satisfy any visiting foodie. And with plenty of beers, wine, and cocktails on the roof to wash it all down afterward, it makes for a solid back-to-back itinerary.
Hot tip: Try the Love Potion or the rum-packed Witch Doctor cocktail, complete with dry ice. And be sure to admire the flair bartenders as they show off their toolbelt worth of behind-the-bar tricks!
31 – Bump into celebrities at the Chateau Nightclub & Rooftop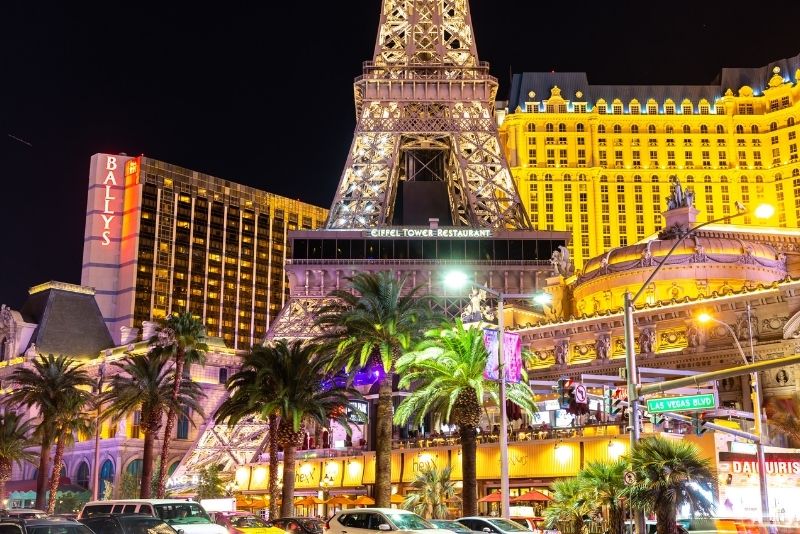 A Paris Las Vegas staple where romance, elegance, and free-flowing drinks come together, sitting under the awning of the iconic Eiffel Tower, the Chateau is one of the best places in Vegas to watch the sunset and lace on your dancing shoes.
With two stories sprawled across 45,000 square feet, an open-air rooftop terrace, and some of the most breathtaking views of the Strip, this is one club that's not to be missed. If you're lucky enough to snag a table reservation (they do fill up fast), you'll also get to take advantage of personal bottle service – talk about living it up like a VIP!
Speaking of which, Chateau is a celebrated celebrity hotspot. And with a reputation to boot, you'll need to make a reservation in advance if you want to experience the electric nightclub vibes and party under the stars.
32 – Practice your aim with a shooting experience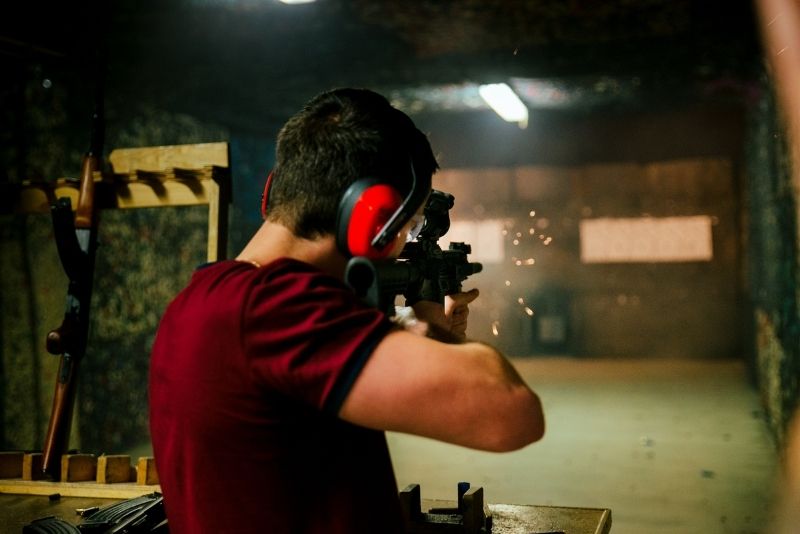 Whether you're after an indoor gun range to practice your pistol technique or an outdoor target field where you can unleash machine guns in the desert, as the Entertainment Capital of the World, rest assured that Sin City has more than enough shooting experiences to tickle whatever firearm fancy you may have.
While the indoor activities typically last less than an hour, the desert adventures – which can include sniper rifles, semi-automatics, and even humvees where you can literally blow stuff up in the middle of nowhere – can turn into an exciting half-day affair with lunch and transport included.
Want to make the most of your day out? Then consider a combination tour that adds outdoor activities like speed boat tours, ATV rides, or helicopter flights — typically, when you add other experiences to shooting, it ends up being a better bang for your buck.
33 – Admire the cowgirls at X Country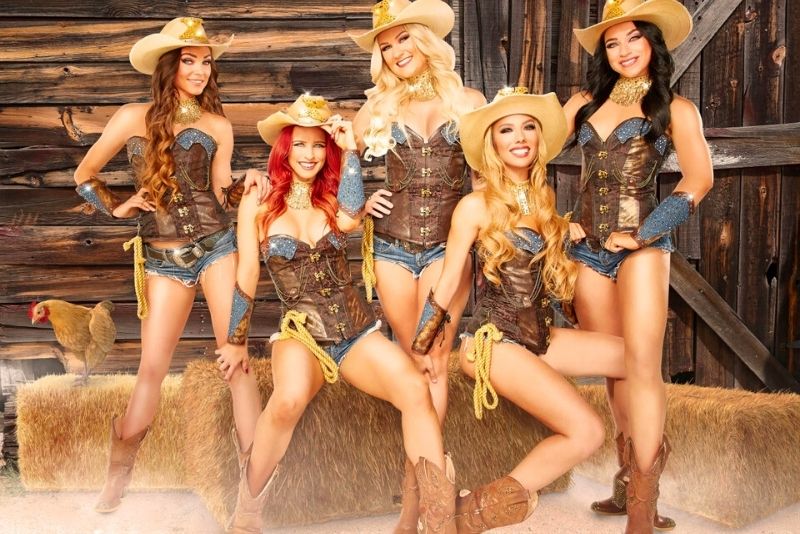 An eccentric mix of cowgirls, seductive dancing, country music hits, and all the tropes of an X-rated Vegas show (read: topless performance sure to delight the bachelor boys), X Country brings the best of country music to the stage in a Las Vegas show that is both sexy and entertaining.
The beloved ladies of X Country sing and dance their way through classic and modern country hits, all while wearing cowboy boots, wide-brim hats, and, well, not a whole lot else.
This racy revue is not for everyone, but if you're looking for a cheeky night out on the town, X Country is definitely worth checking out if you're on the hunt for things to do in Vegas for bachelor parties.
The popular show runs Thursday through Monday at 10 pm at Harrah's, and tickets usually start at $48.
34 – Go ziplining!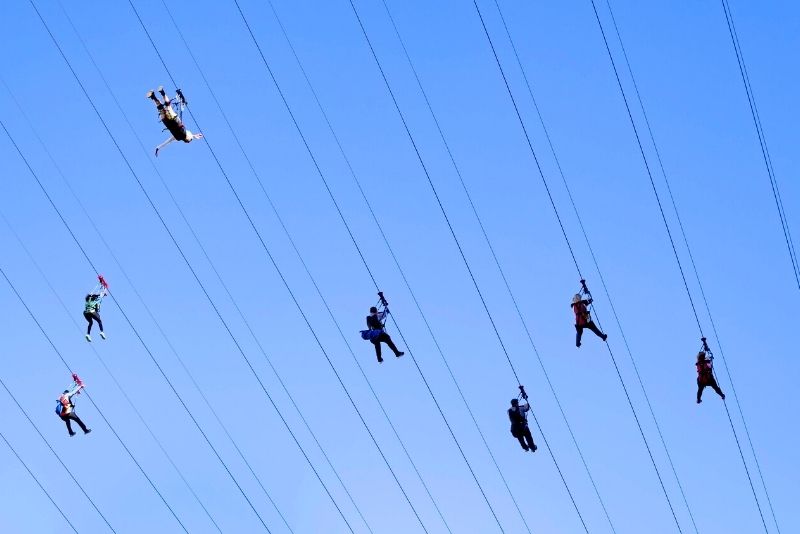 Seize the day with a high-flying adventure on one of Las Vegas' many ziplines!
With options ranging from short and sweet inner-city to long and exhilarating in the scorchin' desert, there's a zipline experience for everyone in Vegas. And with views that span the entire city – not to mention the rush of adrenaline that comes with flying through the air – it's no wonder why ziplining has become such a popular activity in recent years for kids and adults alike.
For the longest and fastest line in the area, look no further than the LINQ Zipline. Located 12 stories above the LINQ Promenade in the heart of the Strip, this heart-racing ride zooms you some 1,100 feet at speeds of close to 35 miles per hour, with killer views of the hotels, shops, and desert along the way.
While not as long or as new, certainly more famous by comparison is the Fremont Street SLOTZILLA, which offers two distinct choices: first, the 77-feet high zipline that starts at the top of the street and ends in the heart of the pedestrian walkway, 850 feet later. Second, taking it up a notch, the Superman-style 114-feet-high Zoomline is 1,700 feet worth of high-octane thrills. Either way, both dish up sweet overhead views of the bright lights, street performers, tourist hordes, and neon-lit casinos.
Want something a little different? Outside of the city limits, a half-day zipline tour of nearby Bootleg Canyon delivers both excitement and a heavy dose of nature… win-win.
35 – Get a little wild at OMNIA Nightclub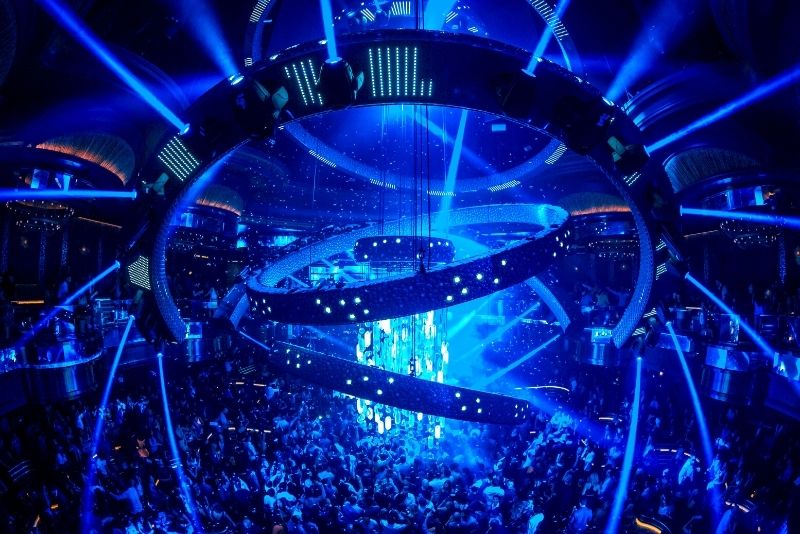 With dizzying lights, pumping tunes, world-class DJs, and plenty of room to whip out all the dance moves, OMNIA Nightclub at Caesars Palace is one of the hottest clubs on the Strip.
The 75,000 square-foot mega-club spans two stories and features multiple VIP areas, including a mezzanine level with its own DJ booth and private bar overlooking the main floor.
While there's a rooftop garden that features panoramic views of the Las Vegas Strip, OMNIA's main floor is where all the action happens, with a massive LED chandelier that serves as the centerpiece of the club dropping from the ceiling while world-renowned DJs keep things going late into the night.
If you're looking for a wild night out at one of the prime places to visit in Las Vegas for bachelor parties, OMNIA should definitely be at the top of your list – but with 2,500 people alongside you, just make sure you dress to impress!
See also: Fun things to do in Las Vegas at night
36 – Play some beer pong at O'Sheas Irish Pub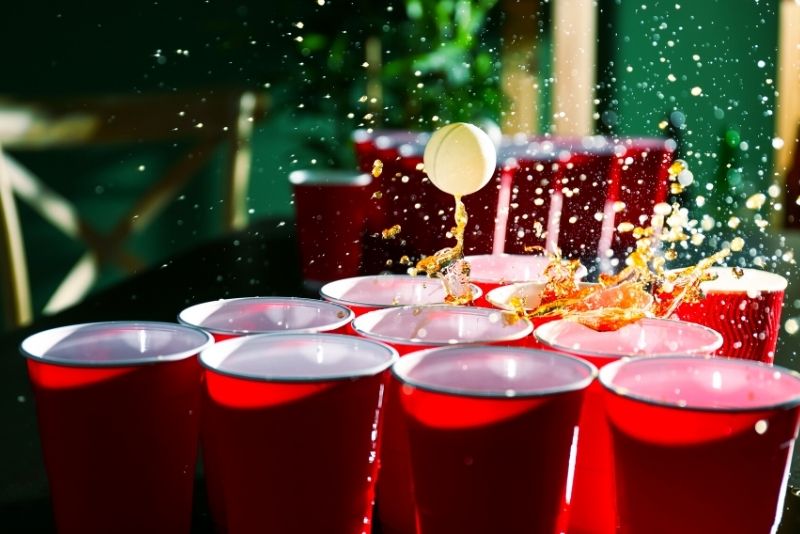 An absolute classic for any bachelor shenanigans, whether you're in Vegas or Venice Beach, beer pong is sure to get the energy up and the blood alcohol level ready for a night of mighty memories.
A beloved local watering hole, O'Sheas Irish Pub at The LINQ seldom disappoints. With a slew of beers on tap (some of which are dyed green), you can soak in the Irish atmosphere with a game of darts or pool, try your luck at blackjack, roulette, and craps (it is Vegas, after all) or catch some live music on the weekends, but most importantly – make sure to keep an eye on that ping pong ball!
So keep your elbows behind the table, practice your trick shots, and add an evening of friendly competitive beer pong at this Irish-inspired party pub to your checklist of Las Vegas bachelor party ideas.
37 – Hit up a new Vegas hit show: Rouge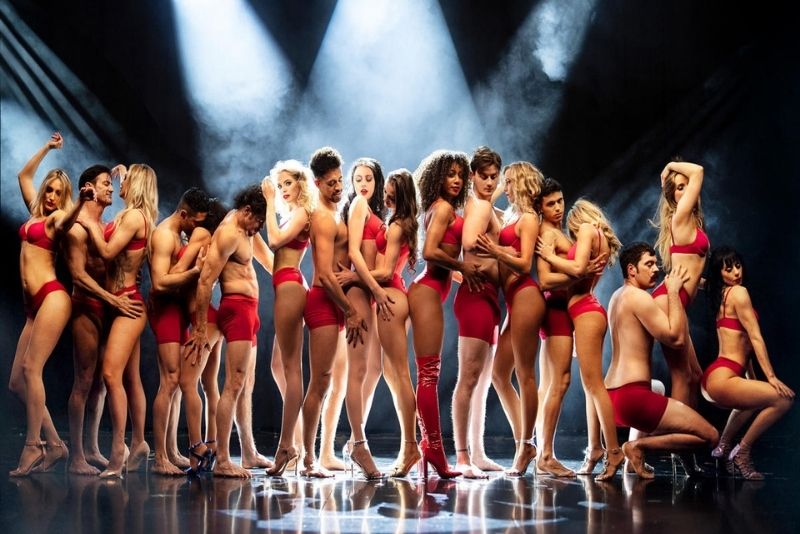 A lesser-known yet no less invigorating Sin City performance, Rouge at the Strat is strictly adults-only. It's seductive, it's sensual, it's topless, and it's oh so Vegas. With a stunning cast of 18 provocative women (and men) to stimulate your senses, the brand-new show (as of 2022) combines erotic dance with fabulous contortionists, comedians, acrobats, aerialists, and a whole lot more; with every scene built around detailed costumes, props, and backdrops — both real and enabled by cutting-edge video, lighting, and sound.
The music is modern, the performers are talented and tantalizing, and the 85-minute show is the perfect length for a bachelor party night out on the town.
38 – Prove your balance by riding a mechanical bull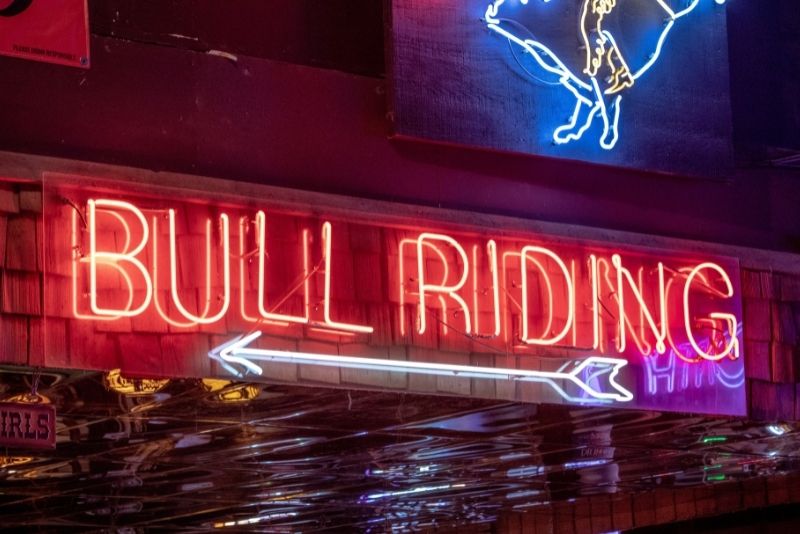 Whether you hit up Gilley's inside the Treasure Island Hotel & Casino – a country hotspot known for its honky-tonk and karaoke – or the PBR Rock Bar inside the Miracle Mile Shops at Planet Hollywood, over-confident men and women alike can take their turn riding a mechanical bull in search of ultimate bragging rights.
An excellent way to break the ice (and any awkwardness) with new groups of friends who've come together for a bachelor weekend, there's nothing like an epic fail – or impressive victory – on a mechanical bull to bring everyone together.
Over at Gilley's Saloon and Dance Hall, which is open for massive dinners and features a show kitchen and custom saddle seats at the bar, you'll also be greeted with live entertainment, line dancing, and of course, the world-famous Gilley Girls – all with top-tier views of the world-famous Las Vegas Strip from the most hootin-scootin place in town.
The PBR Rock Bar, on the other hand, is open during the day for larger-than-life burgers, featuring an expansive Strip-side patio, two DJ booths that often come alive as the day turns to night, and a specialty frozen drink bar in a venue that's a little bit rock-n-roll, and a little bit country.
39 – Take the lads on a beer tasting tour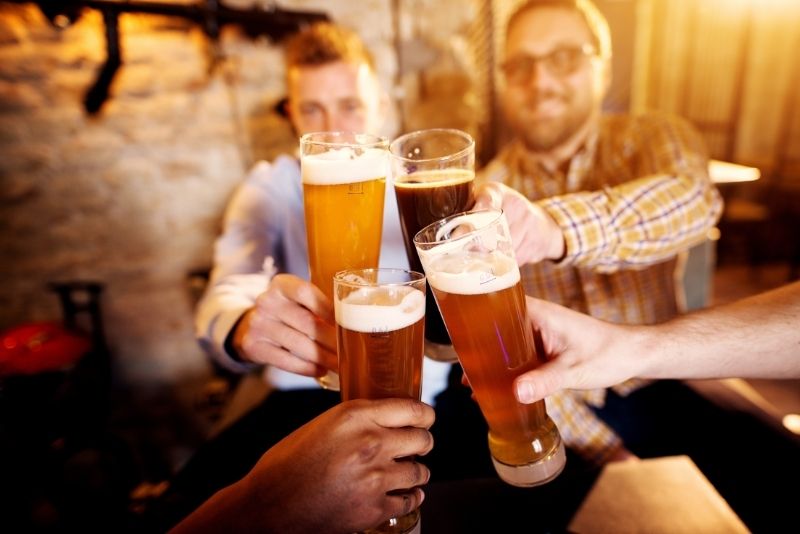 A quintessential item in any Las Vegas bachelor party package, meeting new people over a few drinks is practically a rite of passage in Sin City.
And what better way to do it than with a beer tasting? Whether you're sampling local Nevada brews at the Aces & Ales Tenaya location or checking out the international flavors at Beerhaus inside the New York New York, there's nothing like sipping on some suds and learning all about the ins and outs of the local brewery scene to ease everyone into party mode.
If you're after craft brews, make your way to any of the HUDL Brewing Company (with 22 locals on tap), the Trustworthy Brewing Co. in the Grand Canal Shoppes (with brews changing every three months), the husband-and-wife-run CraftHaus Brewery, or Banger Brewery (surrounded by the bright lights of Fremont Street).
Of course, who says you have to choose just one? Fortunately for all stag parties (and all travelers, in general), you'll uncover no shortage of bar-hopping walking tours, beer-tasting pub crawls, and thirst-quenching multi-brewery packages during which a designated driver will whish you all across the city.
40 – Soak in the serenity of Lake Mead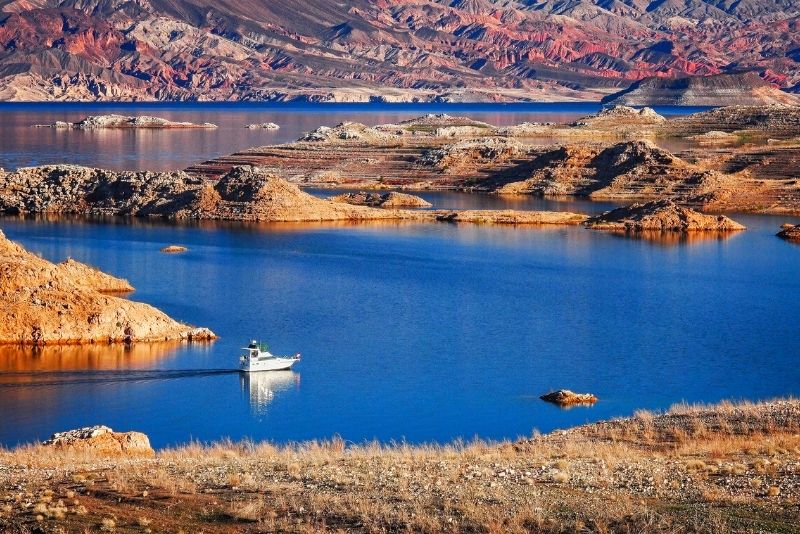 Did you ever consider watersports when putting together your list of Las Vegas bachelor party ideas? Despite Sin City's tunnel-vision focus on nightclubs and go-go-go parties, there's actually far more diversity to the region than meets the eye. Case in point: the sparkling gorgeous blue waters of Lake Mead.
Located about 40 minutes from the hustle and bustle of The Strip (to the west arm of the Lake; the other arms are further and quieter), Lake Mead is a massive man-made reservoir that boasts more than 550 miles of diverse and wildlife-abundant shoreline to explore.
And whether you're into fishing, swimming, waterskiing, or simply want to relax in the sun with a cold one (or two), there are plenty of opportunities to do so at this outdoor oasis. Not to mention that it's considered one of the top freshwater lakes in the U.S. for scuba diving!
In addition to boating and watersports, Lake Mead is also home to several hiking trails – perfect for those who want to get away from it all and explore the great outdoors. For something truly unique, consider taking a hot air balloon or a helicopter ride over the lake for a new perspective, and try to squeeze in a visit to the Hoover Dam while you're in the area!
Keep in mind: during peak season, if you're thinking about renting a boat or jet ski, try to do so in advance.
41 – Hear world-class DJs at Hakkasan Nightclub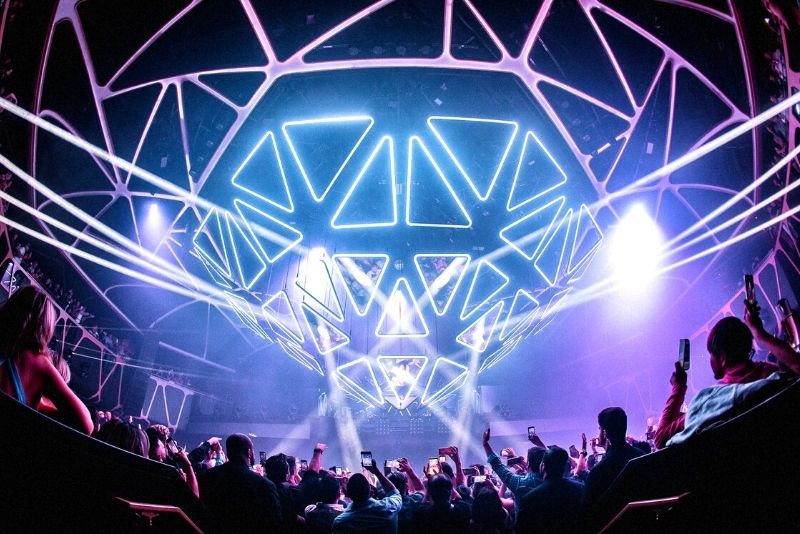 A world-class stomping ground for elite-level DJs and electronic dance music lovers, Hakkasan Nightclub at the MGM Grand is one of the most popular clubs in all of Las Vegas – and for good reason, epitomizing the notion of go big or go home.
As you enter this 80,000 square-foot venue, you'll be greeted by a gorgeous main room that's illuminated by hundreds of thousands of LED lights, as well as an expansive dance floor that's flanked by state-of-the-art surround sound speakers.
The fun doesn't stop there: make your way to one of the VIP tables or private skyboxes for an even more exclusive experience. And if you get hungry, no worries – just head to the onsite restaurant for some delicious Chinese cuisine (don't miss the crispy duck salad and dim sum platter).
Don't forget to dress to impress, and on nights where the entertainment is top-level, you might want to book your tickets in advance, as the biggest names – think Calvin Harris, R3hab, and Tiesto – often sell out.
Spread across five floors in total, each with different styles of music and diverse atmospheres, at Hakkasan you can bring the boys for dinner and stay all night partying – best of both worlds!
42 – Enjoy an age-old pastime: bowling!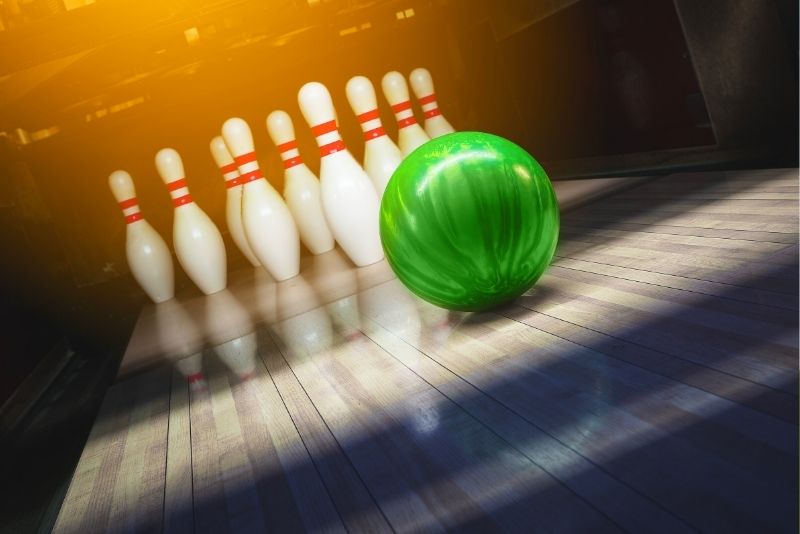 A favorite pastime of locals and visitors alike, bowling is always a good shout when looking for indoor activities to beat the heat – and makes for a great bachelor party activity if you want a break from the booze (that said, most bowling alleys, in typical Vegas style, do boast their own fully-stocked bars…).
Whether you're looking for an upscale experience (complete with gourmet food and drinks) or just want to roll some balls and have some fun, there are plenty of options to choose from.
For those who want to go all out, head to the high-end Brooklyn Bowl at The LINQ Promenade, which features 32 lanes of bowling, live music performances, and a menu crafted by the NYC's acclaimed Blue Ribbon.
Or if you're on a budget (or just feeling nostalgic for no-frills ten-pin), check out Sunset Station's Strike Zone Bowling Center — with no less than 72 lanes, it's officially the largest Las Vegas bowling center. With 72 lanes of its own (albeit a little smaller), Red Rock Lanes uses augmented reality and projections in its Cosmic bowling offering to complement the classy lounge and bar open from midday.
Not to be overlooked, The Orleans Bowling Center and Santa Fe Station Bowling Center are less likely to be crowded, given they're off the Strip.
43 – Feel like a VIP at the Waldorf Astoria's exclusive SkyBar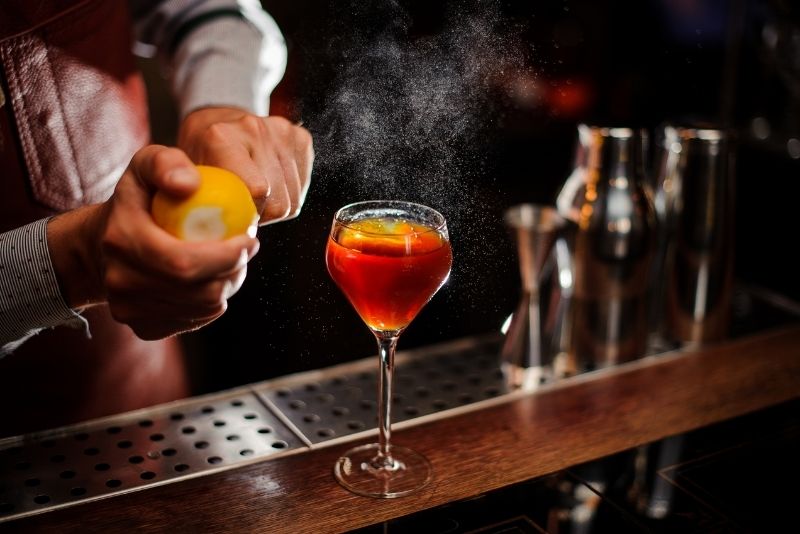 Slinging handcrafted signature cocktails from the 23rd floor of the Waldorf Astoria (a name synonymous with luxury), the appropriately named SkyBar boasts a reputation as one of the city's more classy and chic nightlife venues (partially due to the hotel's non-gaming status), and therefore one of the more sophisticated things to do in Vegas for bachelor parties.
Typically welcoming an older crowd who come in search of floor-to-ceiling windows with Strip views and an air of exclusivity, the SkyBar pairs fine wines with delicious light bites, providing a relaxing space to enjoy high-quality drinks till 2 am on weekends (or 1 am during the week).
The cocktail list, put together by the city's most expert mixologists, is extensive and it's hard to go wrong. If you're not sure where to start though, order a Sinatra: curated with Jack Daniels Sinatra, Amaro Nonino, lemon juice, and mesquite honey, the drink pays homage to the music icon who was a Las Vegas fixture for 43 years.
44 – Stuff your face at one of the city's best steakhouses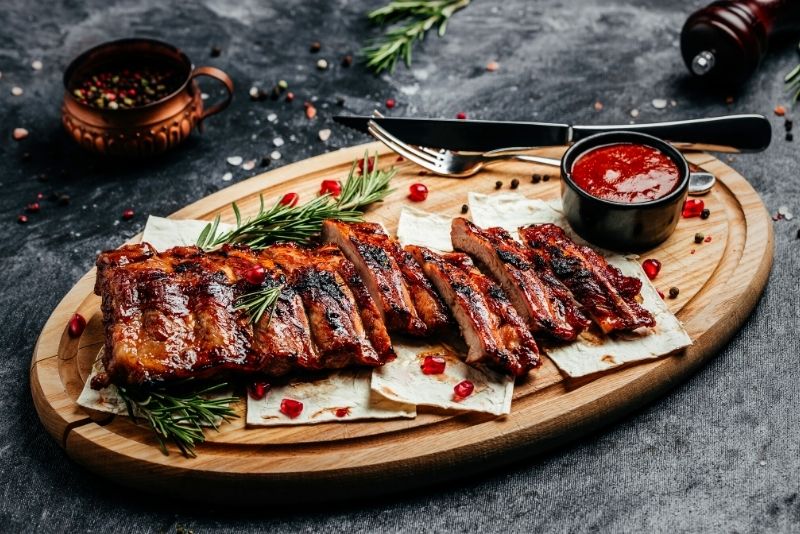 Foodies, listen up. Boys gotta eat, right? So why not eat at the very best eateries in town? As a town that's been a magnet for celebrity chefs (Gordon Ramsay has three restaurants alone), as you'd expect, Sin City isn't shy when it comes to fabulous food.
But with so many world-class eateries to choose from, where do you begin? Bazaar Meat by José Andrés in Sahara Las Vegas, for one, offers a creative approach to traditional meat dishes: think make-your-own bison tacos and foie gras cotton candy.
With over 500 wines on the menu, CUT by Wolfgang Puck has to-die-for cuts (it's hard to beat the Japanese Wagyu) and to-die-for blends to match. Over at the MGM, Bavette's Steakhouse & Bar is dimly lit and all class with velvet wingback chairs and Nouveau-style mirrors, serving up a wide selection of succulent steaks.
As one of just 10 restaurants in the U.S. registered with Japan's Kobe Beef Federation, the SW Steakhouse in the Wynn is as swanky as they come, while the Jean Georges Steakhouse at the Aria complements its top-tier menu with a roaming Japanese whiskey cart.
Rather than making food an afterthought, if you book a table at some of the city's prime steakhouses, dinner can fit perfectly into any Las Vegas bachelor party package as one of the highlights.
45 – Treat the boys to a sunset tipple at Commonwealth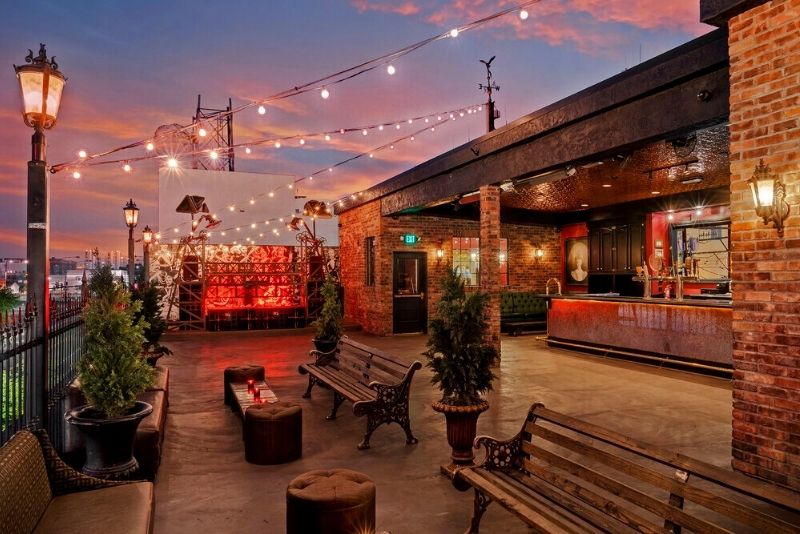 An airy rooftop cocktail bar with a charming atmosphere fostered by fairy lights, red brick features, traditional lampposts, and – the main event – a stellar view over Downtown Las Vegas, Commonwealth is a new-to-the-scene locale that's inspired by pre-Prohibition era design and has quickly earned a reputation as a must-visit.
While relaxing by afternoon, as the sun goes down, the popular, 6,000-square-foot (the perfect size for mingling with new people but never being overwhelmed by crowds) double-decker tavern turns into a popping nightclub with resident DJs turning up the volume.
With a drink menu that features both classic and contemporary concoctions, if you're not sure what to order, ask the bartenders for their recommendations – they won't let you down.
As one of the more sophisticated nightspots around, Commonwealth is ideal for anyone looking to escape the hustle and bustle of Las Vegas Boulevard without sacrificing style or quality. And, it goes without saying (but we'll say it anyway) that the views are out-of-this-world.
If you want to make your bachelor party an event to remember, then be sure to include Commonwealth in your plans!
46 – Dance till the sun comes up at Tao Nightclub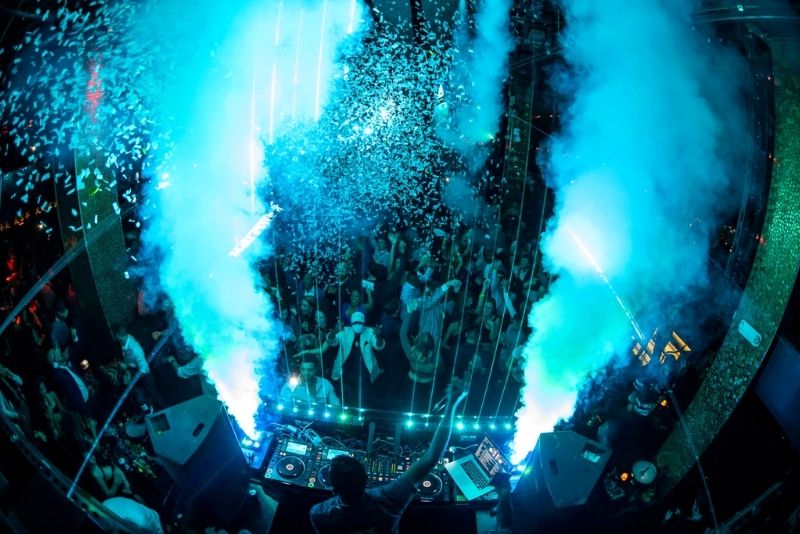 With a luxurious atmosphere that's fit for A-listers (and wannabe A-listers), Tao Nightclub is one of the hottest nightspots in all of Las Vegas. An award-winning venue located inside The Venetian, the multi-story club is themed around an "Asian City", with a state-of-the-art sound system, top-notch lighting design, and three full bars to keep partygoers hydrated (read: tipsy).
Regularly welcoming top-grade DJs and performers from near and far, from internationally known names like Steve Aoki and Brody Jenner to local favorites like DJ Five and Justin Credible, the music is always pumping and the energy is always high.
While the drinks are flowing and the tunes are thumping, and while the bathtub models are doing their thing, take some time to explore all that Tao has to offer, including the giant Buddha statue, an outdoor terraces overlooking the neon-lit Strip, and an esteemed restaurant serving Pan-Asian cuisine should you get peckish.
No matter what your taste or style, Tao Nightclub will have something for you – making it a great choice as far as places to visit in Las Vegas for bachelor parties are concerned!
47 – Chill and chat at one of Vegas' cigar lounges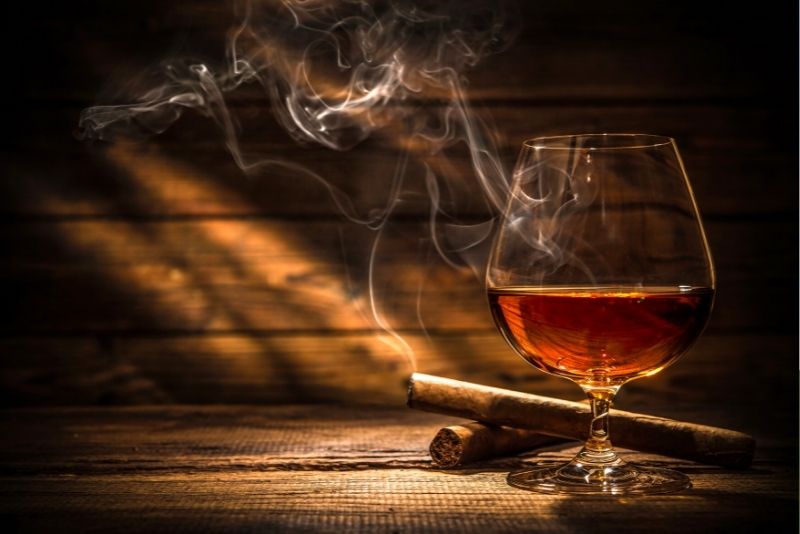 On the hunt for more low-key things to do in Vegas for bachelor parties? Even if just for the novelty, the groom-to-be can enjoy a good cigar at one of the city's many cigar lounges.
Whether you're looking to relax with a glass of bourbon in hand or want to take part in a cigar and scotch pairing, there's sure to be a lounge that meets your needs.
Popular choices include The Montecristo Cigar Bar inside Caesars Palace, which stocks over 1,000 different varieties of cigars from all around the globe. Just around the corner, the Casa Fuente Cigar Bar (also at Caesars Palace) allows you to bring your own cigars for free.
Other great options include Napoleon's Lounge in Paris Las Vegas (while not technically a cigar lounge, it has a dedicated cigar room), Davidoff of Geneva Cigar Bar at the Fashion Show Mall, the Chicago Brewing Company Cigar Lounge at 4 Queens, and the new kid on the block, the Eight Cigar Lounge at Resorts World.
48 – Admire the views from the Foundation Room terrace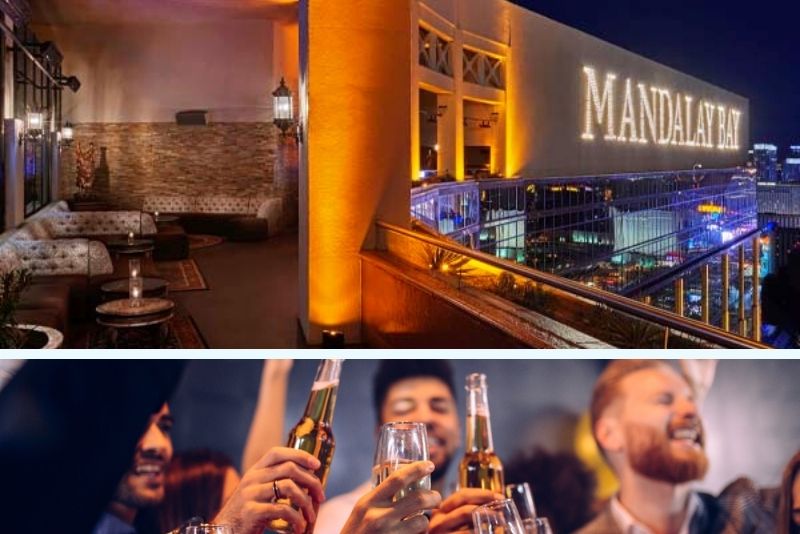 Perched atop the Mandalay Bay Resort, overlooking the hustle and bustle of the Strip far below from 63 stories high, the Foundation Room is all about sophistication, luxury, and decadence — yet while it feels exclusive, it's open to all (provided you meet the suave dress code) and therefore earns its reputation as one of the most underrated yet impressive nightspots in all of Las Vegas.
Visitors can enjoy stunning views of the cityscape from the outdoor patio, or head inside to mingle with the beautiful people at one of the many bars and dance floors.
With a focus on live music and entertainment, the Foundation Room is constantly hosting world-renowned DJs and musicians, so you're sure to hear some great tunes while you're there. And, if you haven't got dinner plans, consider booking a table at the celebrated restaurant before starting the party.
No matter what your taste or style, the upscale Foundation Room is a great choice – especially if you're planning a bachelor party for someone who appreciates the finer things in life.
Keep in mind: on most nights, unless you're on a guest list or arrive early, general admission will start at $20 for men and women, potentially increasing on weekends depending on who's gracing the DJ booths.
49 – Take a party bus and crawl all over the Strip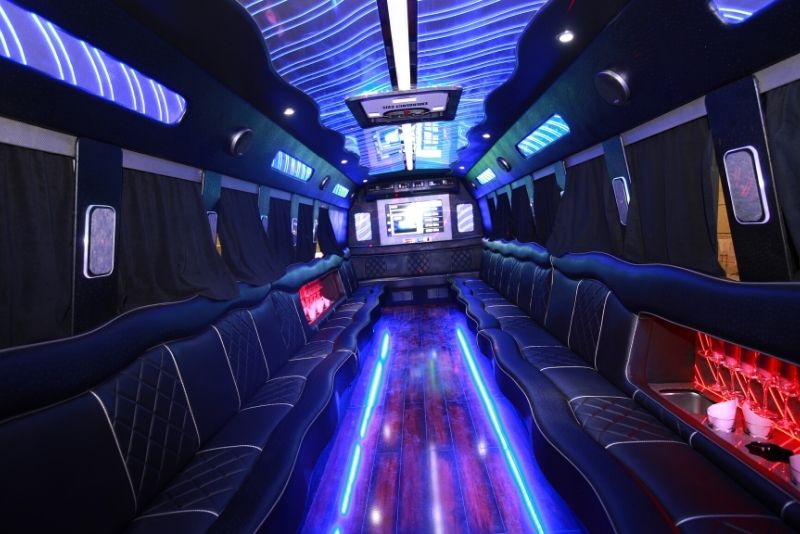 Can't decide where to wet your whistle? Then why not leave the Las Vegas bachelor party ideas to the experts — by booking a party bus crawl, you'll get to hit up a bevy of the city's most iconic venues (pool parties, nightclubs, or breweries, depending on what you're going for). Liquored up between venues, you'll paint the town red without having to worry about driving, and — best of all — do it with a whole group of your buddies by your side.
Not only will the party bus companies take care of the logistics (like getting you skip-the-line access into some of the hottest clubs), but they'll also provide you with your own personal host/guide to help make sure your night runs smoothly.
If you want to keep things within the group, a private excursion is more expensive but certainly more intimate. On the flip side, if you want to meet a few new friendly faces, grabbing a bunch of individual tickets for a small group tour could be your best bet!
50 – Book one of the best suites in Las Vegas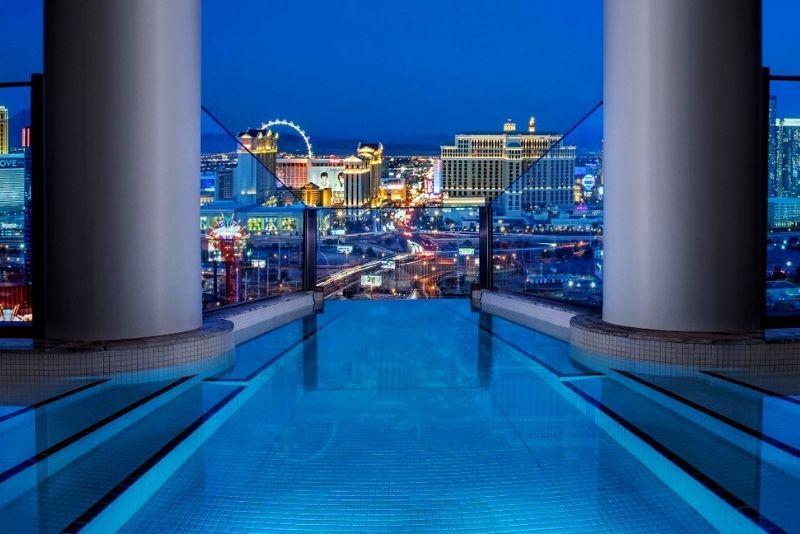 We've covered bars, activities, clubs, raunchy shows, helicopter tours, and just a peppering of cliché sightseeing. Oh, and plenty of extra booze throughout. But to really make your Las Vegas bachelor party package complete, you need a swanky pad.
And make no mistake, if you're willing to dish up the cash, you can score over-the-top rooftop suites fit for royalty that will have all the boys' jaws hitting the floor.
At 3,000 square feet, The Rio's Voodoo Collection Suite boasts a rooftop pool that's off the chain. Starting at $2,250 per night, which includes complimentary limo service to and from the airport, it's one of the more affordable A-lister suites in town.
At about the same price, starting at $2,155 nightly is the ultimate man-cave. Complete with pool tables, ping pong, foosball, air hockey, 1,800 square feet, and 180-degree views of the Strip, the Planet Hollywood Boulevard Suite is sure to evoke jealousy for the guys who weren't invited.
Then there's the Lanai Villa at the Mirage – with a 24-hour private chef, a private pool, a gated entrance, and meticulous details to feel like you're sleeping in a tropical Hawaiian paradise, it's luxury on steroids. At $1,500 to $2,500 per night, it's cheaper than many others on this list too…
Moving up the price tag, at $6,000 per night, the opulent Presidential Suite at the Bellagio is as incredible as you'd imagine: think fireplace, private bar, complimentary limo service, your own solarium, and a whirlpool tub that overlooks the city.
Spread across 9,500 square feet, with your own theater room complete with massage chairs, multiple fireplaces, a grand piano, private elevators, and 24-hour butler service the Marcus Aurelius Villa at Caesars Palace is almost unmatched in luxury.
The Hardwood Suite at the Palms Casino Resort is full of amenities, but the half-size regulation basketball court is what really takes the cake. And at $25,000 per night, you better believe that the 24-hour private butler will bring you anything and everything you could ever need. Taking it up another notch, with million-dollar views to boot, is the two-story Sky Villa suite. The price tag? A cool $35,000 per night on the weekends. Thankfully, there's a 15k discount if you book midweek. Chump change, right?
Undeniably the most expensive in the Palms Casino Resort building, and the most expensive in the city (except for a handful of invite-only suites whose costs remain confidential to the billionaires of the world), The Empathy Suite at Palms Casino Resort cost a whopping $100k per night. What does that get you? A private game room, a 13-seat bar, salt relaxation room, display cases of famous artwork (including 6 exclusive art pieces by Damien Hirst), a private pool, an aquarium tank that contains two bull sharks; a butler, chauffeur, VIP entrance, and $10,000 in resort credit.
 Final thoughts
Well, there you have it, lads. If you were after a variety of things to do in Vegas for bachelor parties, we hope this comprehensive list has given you some inspiration. And if not, there's always the old standbys of gambling, drinking, and clubbing 'til you drop – which, to be honest, is what most Vegas bachelor parties are all about anyway.
Whatever route you end up taking for your Las Vegas bachelor party, we wish you the best of luck. Just remember: what happens in Vegas stays in Vegas!
What are some of your favorite Las Vegas bachelor party ideas? Let us know in the comments below!
Looking for more fun things to do on your trip to Sin City? There are 90 things to do on the Las Vegas Strip as well as 50 of the city's best shows to browse (don't worry, they're not all topless).
And remember, what happens in Vegas, stays in Vegas!