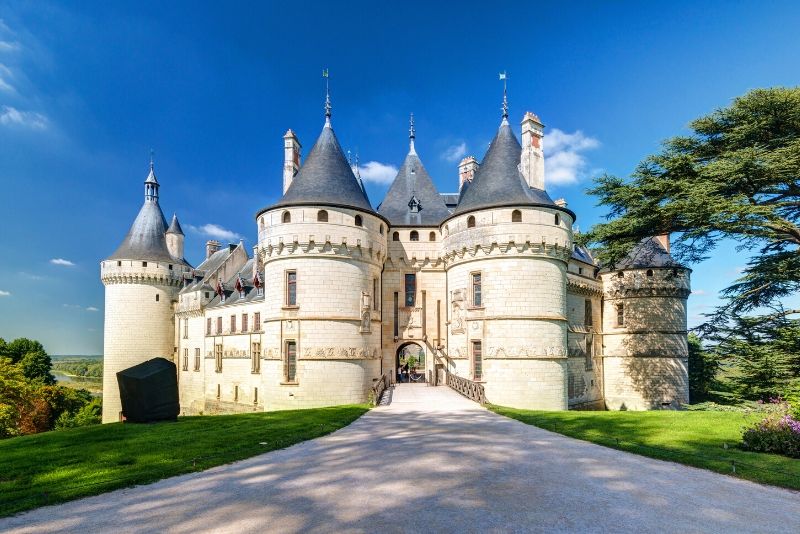 Europe is beautiful for so many reasons, but its castles really do set it apart from the rest of the world. And the best castles in Europe allow you to step back in time while admiring their magnificence.
Wars were fought, kingdoms created and alliances formed in castles across Europe. If you fancy yourself as a history buff, or simply want to marvel at their spectacular designs, you've come to the right place.
Raise the drawbridge and discover the 100 best castles in Europe to visit at least once in a lifetime.
1 – Alcázar of Segovia, Spain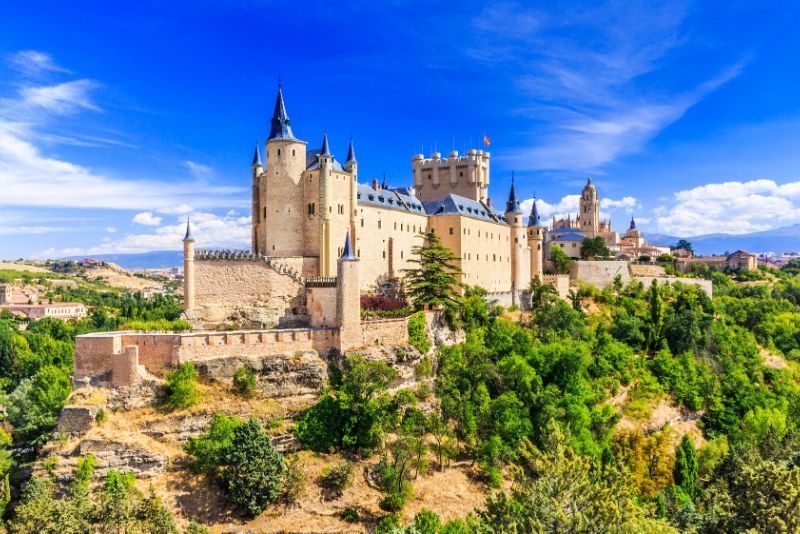 Located in the city of Segovia, Alcázar of Segovia is a medieval alcázar and UNESCO World Heritage Site. It's shaped like the bow of a ship, which makes it one of the most distinctive castles in Europe.
2 – Bodiam Castle, England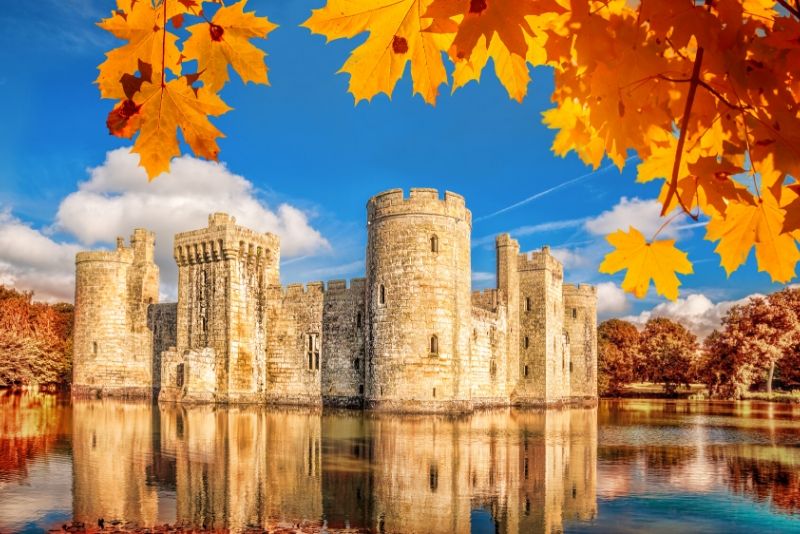 Bodiam Castle is a 14th-century moated castle in West Sussex. It was built by a former knight of Richard III and used to defend the English against a French invasion during the hundred years' war. Today, it acts as a majestic castle made of fairytale stuff.
3 – Aragonese Castle, Italy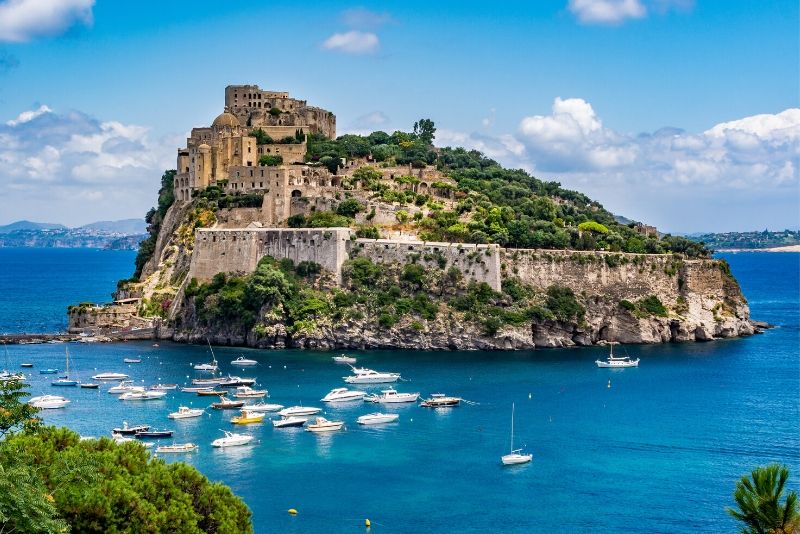 Sat next to Ischia, at the northern end of the Gulf of Naples, is where you will find Aragonese Castle. It stands on a rocky volcanic islet and adds to the stunning natural beauty of Ischia. Make sure that you take plenty of pictures on your visit.
4 – Château du Haut-Kœnigsbourg, France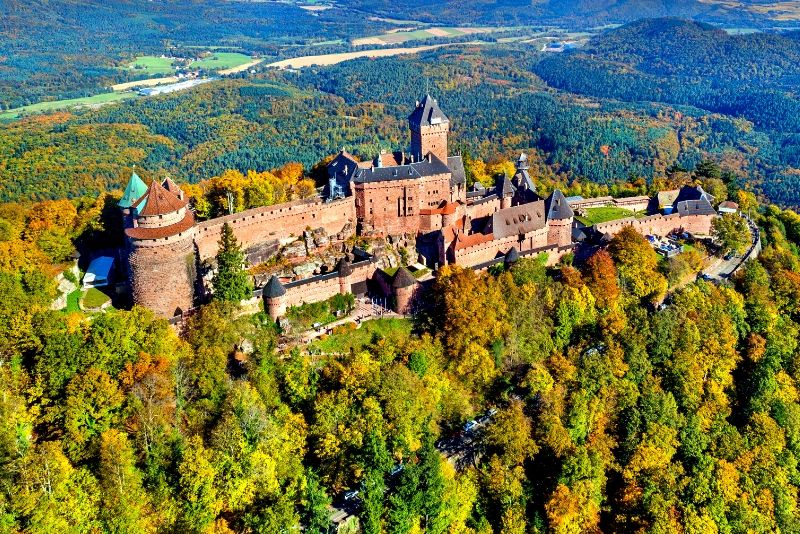 Located in the commune of Orschwiller in the Bas-Rhin département of Alsace, Château du Haut-Kœnigsbourg is a medieval castle that features nine centuries of history. It has witnessed European conflicts and rivalry between lords, kings, and emperors.
5 – Edinburgh Castle, Scotland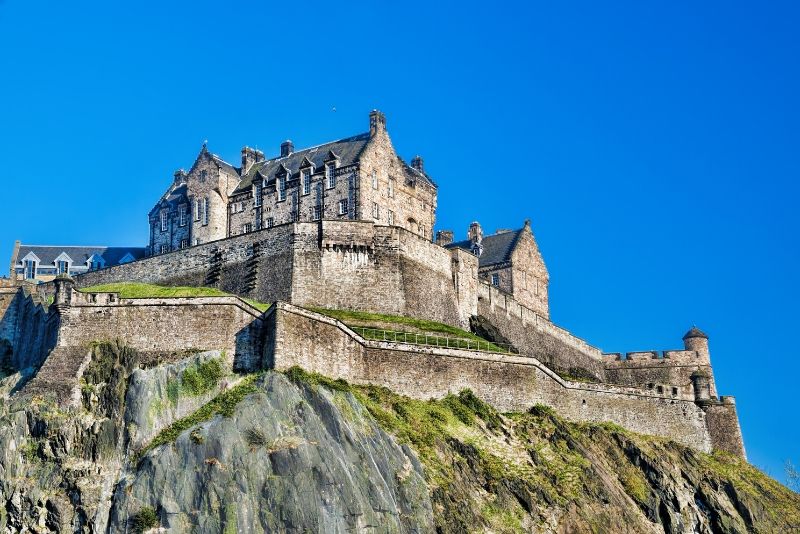 Sat perched on Castle Rock, above the city, Edinburgh Castle dominates the skyline. The historic fortress was voted the UK's top historical landmark and is Scotland's number one paid-for tourist attraction. The oldest part, St Margaret's Chapel, dates back to the 12th century.
Learn about Edinburgh Castle tickets price.
6 – Château de Chambord, France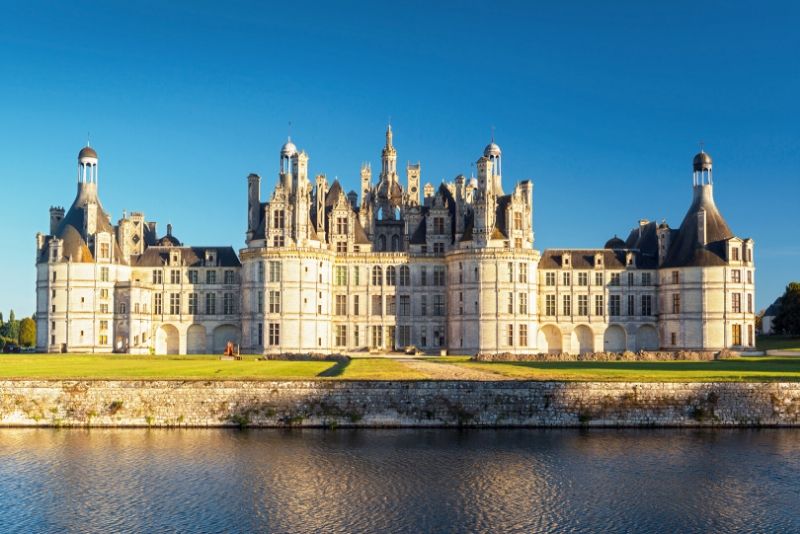 Château de Chambord's distinctive French Renaissance architecture makes it one of the most recognised chateaus in the world. It was commissioned by King Francis I and imagined by the great Leonardo da Vinci.
7 – Heidelberg Palace, Germany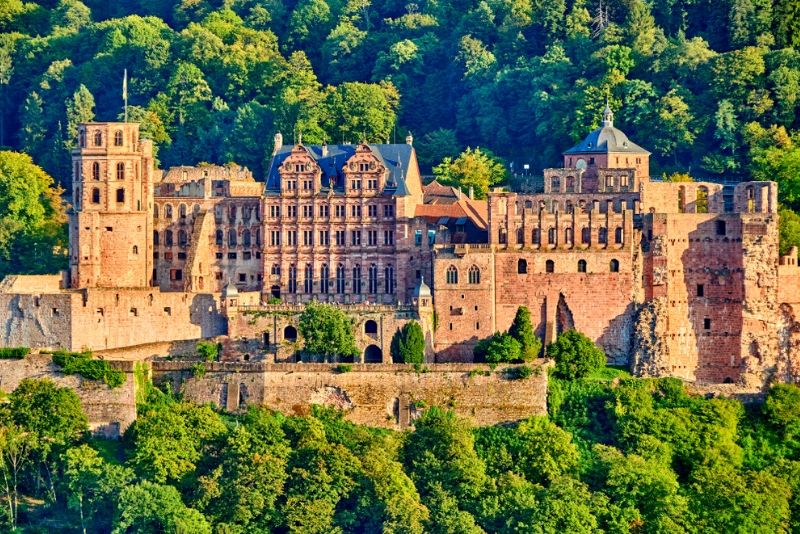 Demolished in the 17th and 18th centuries, Heidelberg Palace is a ruinous landmark in Heidelberg. The impressive ruins are marked as one of the most important Renaissance structures in the northern Alps, and a visit today includes the chance to see The Ottheinrich Building.
8 – Doge's Palace, Italy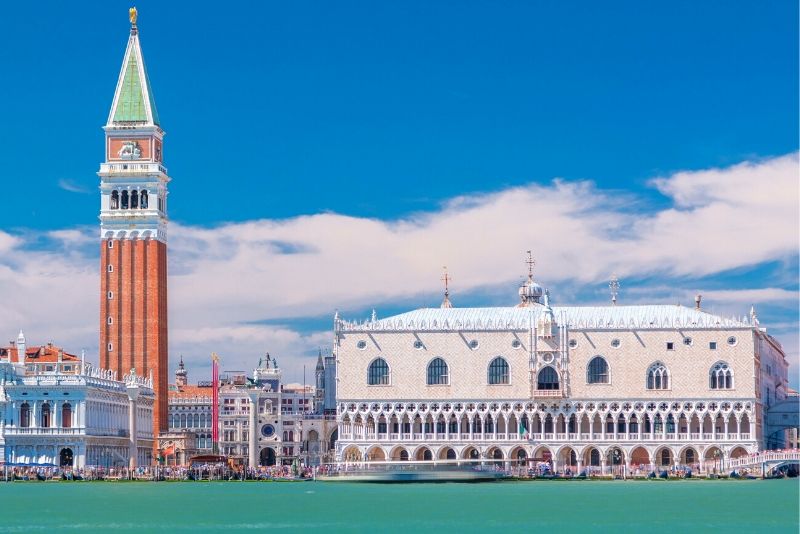 Constructed in Venetian Gothic style, Doge's Palace is a popular landmark in the city of Venice. There are rooms and chambers to discover at Doge's Palace, many of which represent Venetian administration and political history of the Venice Republic.
Read and learn how to book Doge's Palace tickets.
9 – Dublin Castle, Ireland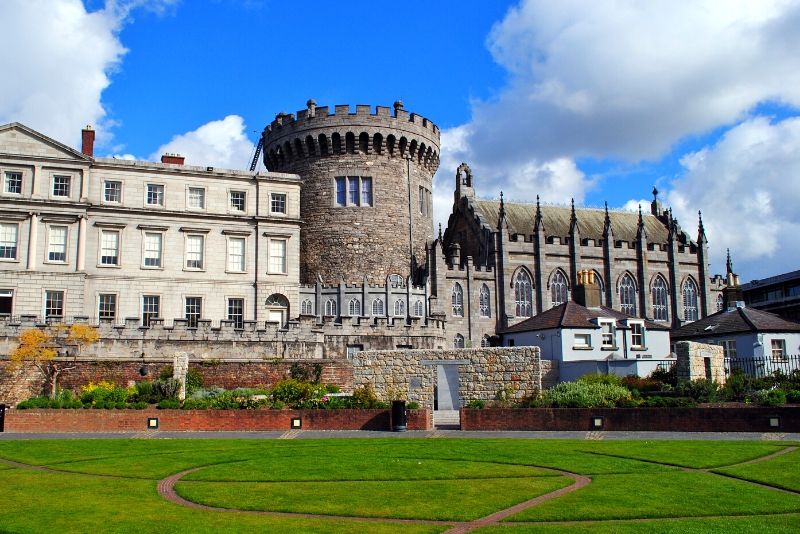 A major Irish government complex, Dublin Castle is a key tourist attraction in Ireland. It was built in the early 13th century and has state apartments, a medieval section and a Chapel Royal.
10 – Winter Palace, Russia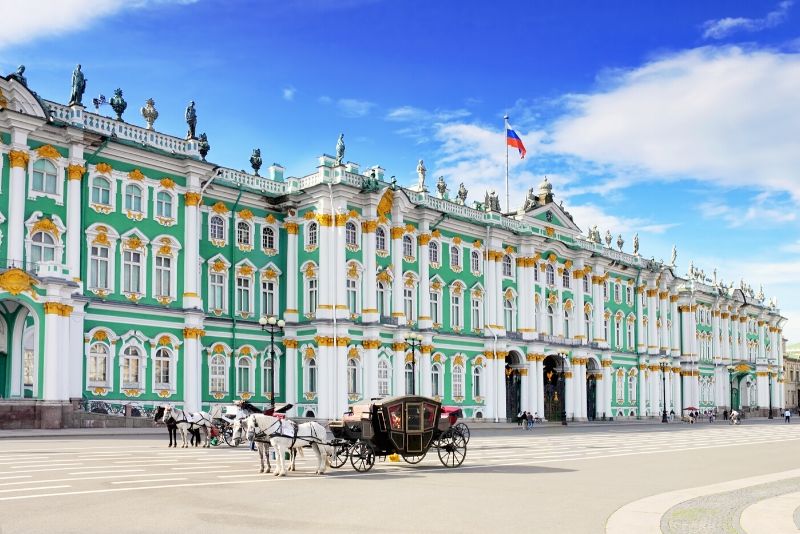 Official residence for Russian emperors between the 18th and 20th century, Winter Palace is the most famous building in St. Petersburg. Part of the State Hermitage Museum, it's also one of the city's most visited tourist attractions.
11 – Spiš Castle, Slovakia
A UNESCO World Heritage Site, the ruins of Spis Castle make up one of the largest castles in Europe. A visit to Spis Castle with an audio tour lasts for around 90 minutes and details a storied history that dates back to the 12th century. It's one of Slovakia's most popular attractions.
12 – Tower of London, England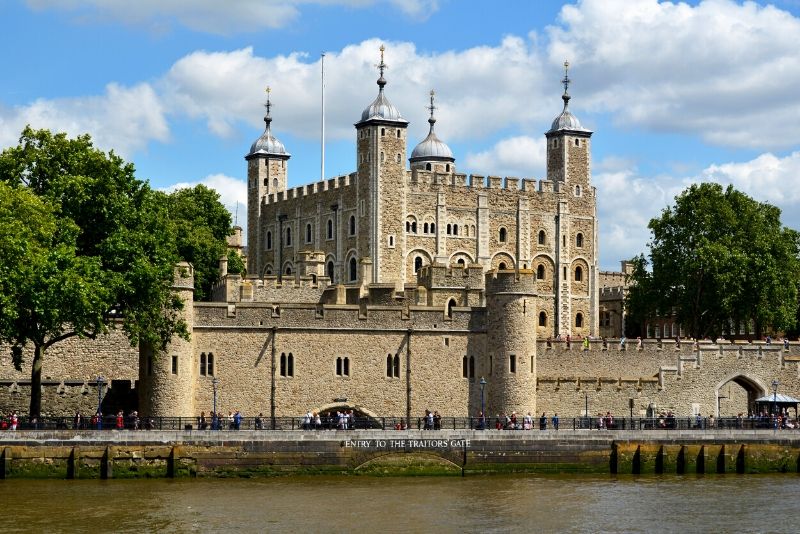 The Tower of London sits on the north bank of the River Thames and holds command of the London skyline, which it's done so for more than 1,000 years. Visit this architectural wonder to see the world-famous crown jewels and learn about the castle's haunted history.
Read and learn to book Tower of London tickets.
13 – Queluz National Palace, Portugal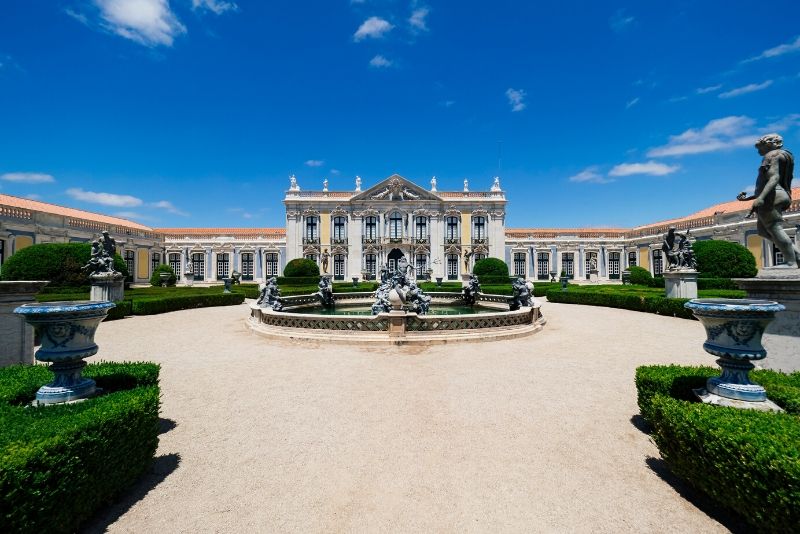 Located in the Lisbon district of Queluz, The Palace of Queluz is an 18th-century building that was once the official royal residence. The Baroque provides grand designs and features several lavish staterooms, including the impressive Throne Room.
14 – Hohenwerfen Castle, Austria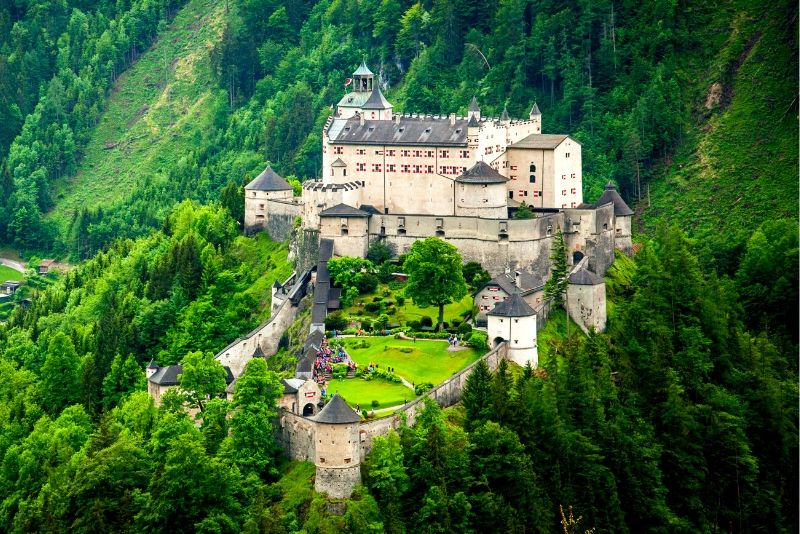 The medieval castle of Hohenwerfen is located in the Austrian market town of Werfen. Surrounded by lush green hills, the rock castle sits 623 metres above Werfen and has done so for more than 900 years. A tour at Hohenwerfen will see you discovering the hidden corners of the castle.
15 – Palace of Westminster, England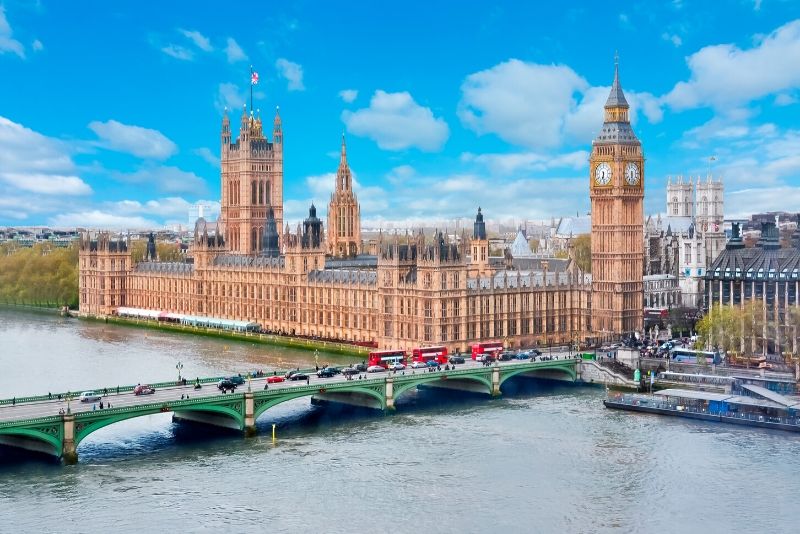 Better known as The House of Parliament, the Palace of Westminster is one of London's most iconic buildings. It has stood firm for more than 900 years and sees more than one million visitors each year.
16 – Real Alcazar of Seville, Spain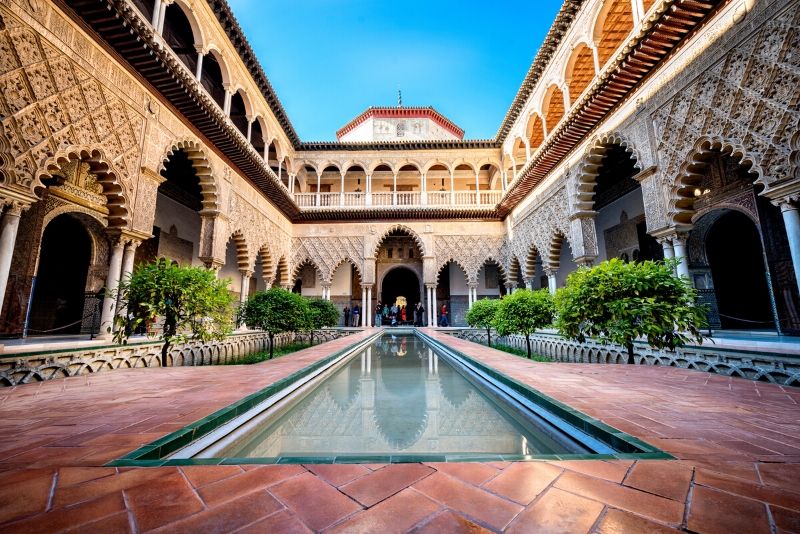 This royal palace is historically known as al-Qasr al-Muriq, commonly known as the Alcázar of Seville, and officially known as Real Alcazar of Seville. The masterpiece is located in Seville and was registered as a UNESCO World Heritage Site in 1987.
Learn about Real Alcazar of Seville tickets price.
17 – Peleș Castle, Romania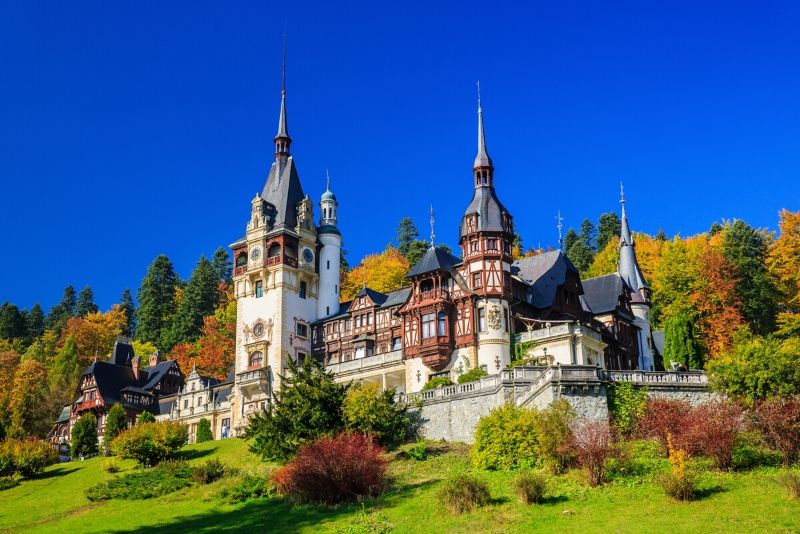 The picturesque town of Sinaia is the home of Peles Castle, one of the most stunning castles in Europe. It was the first-ever castle to have electricity, and each room is decorated in a different style or theme. The Music Room, for example, is carved entirely from teak.
18 – Castel del Monte, Italy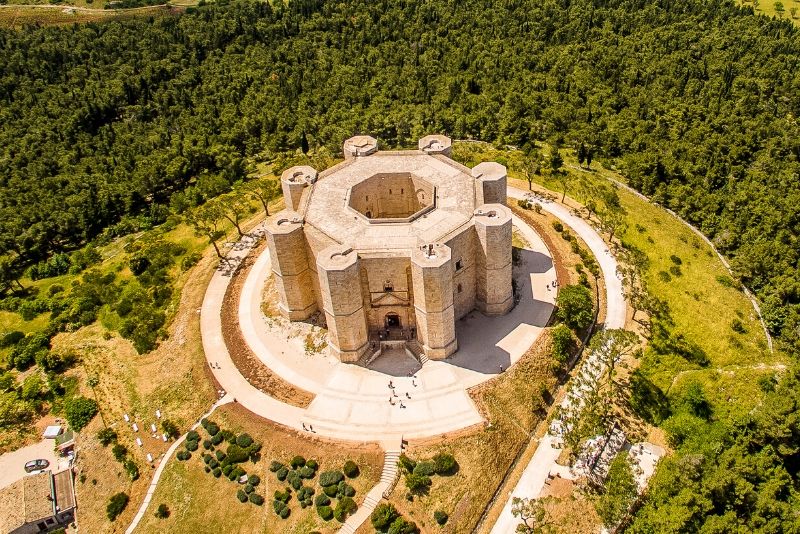 Castel del Monte is a citadel and castle in Andria in the Apulia region of southeast Italy. The masterpiece features medieval architecture and was built in an octagonal shape, with each of the eight corners featuring an octagonal tower.
19 – Caernarfon Castle, Wales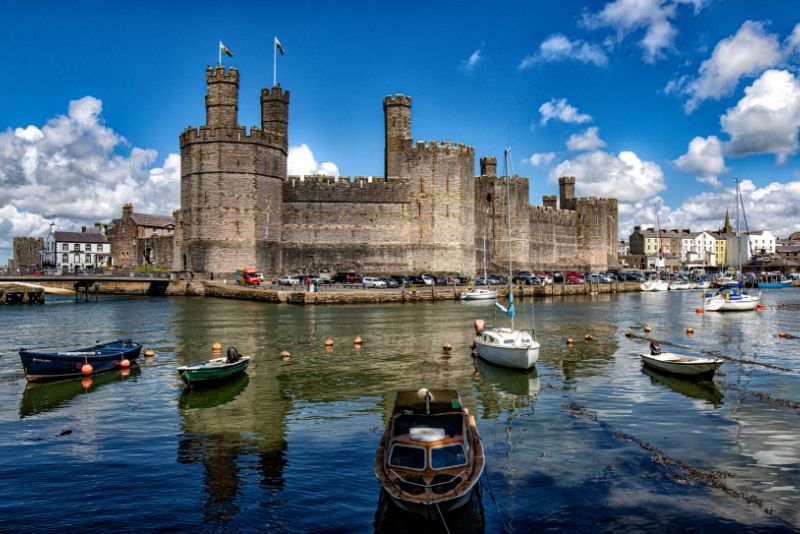 Recognized as one of the greatest buildings of the Middle Ages, Caernarfon Castle sits on the banks of the River Seiont. The building took 47 years to make and cost £25,000, which translates to £17.3 million in today's money.
20 – Buda Castle, Hungary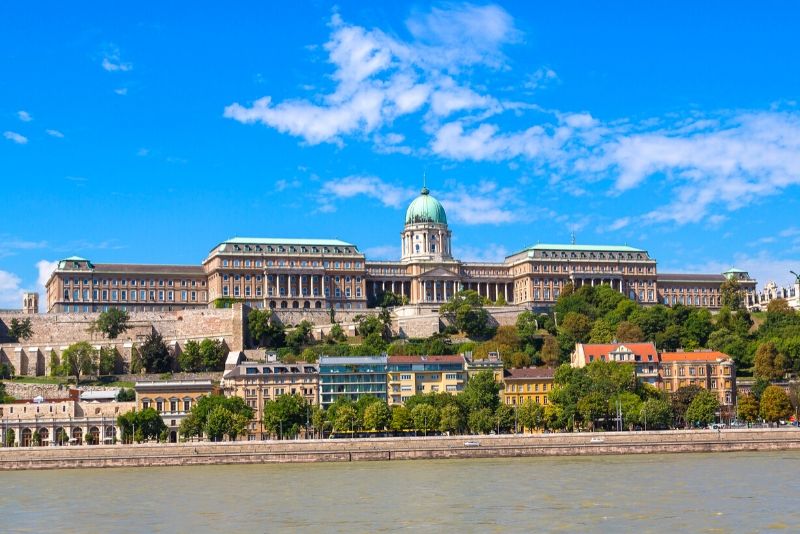 A historical castle and palace complex of the Hungarian kings in Budapest, Buda Castle is a huge complex with plenty to discover. From the castle, you can see the river Danube and views of Parliament — plus learn plenty of history about Hungary.
21 – Buckingham Palace, England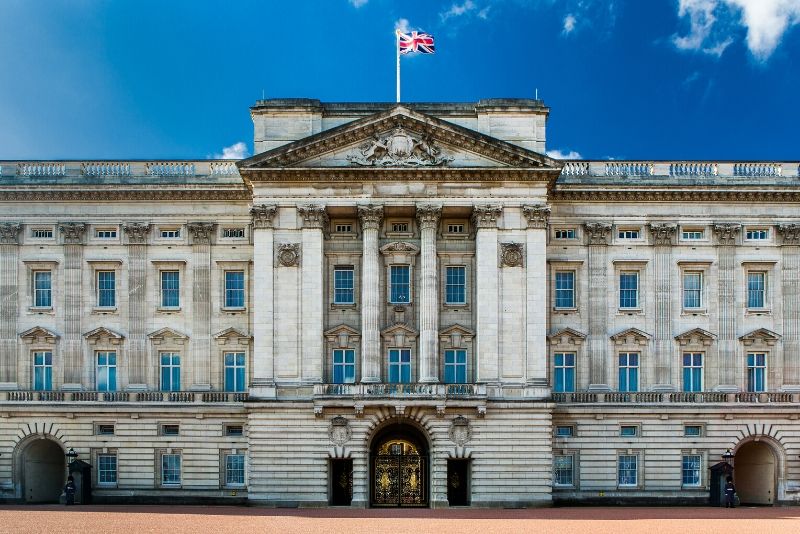 The other residence of Queen Elizabeth II, Buckingham Palace is one of the most famous palaces in the world. It's located in London and sees around 15 million visitors per year, most of which come to observe the world-famous Changing of the Guard.
Learn how to book Buckingham Palace last minute tickets.
22 – Český Krumlov Castle, Czech Republic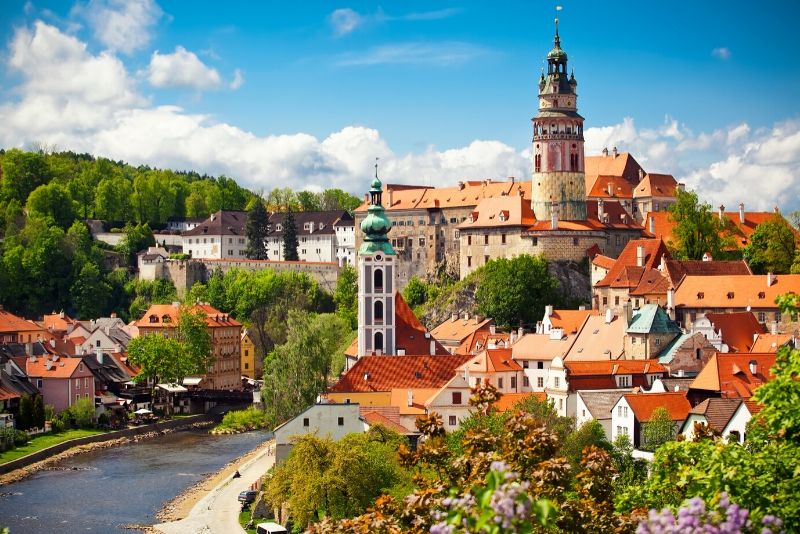 Hidden in a remote corner of South Bohemia is Cesky Krumlov Castle. It's one of Europe's most important monuments thanks to the preservation of its original layout, which dates back to the 14th century.
23 – Château Comtal de Carcassonne, France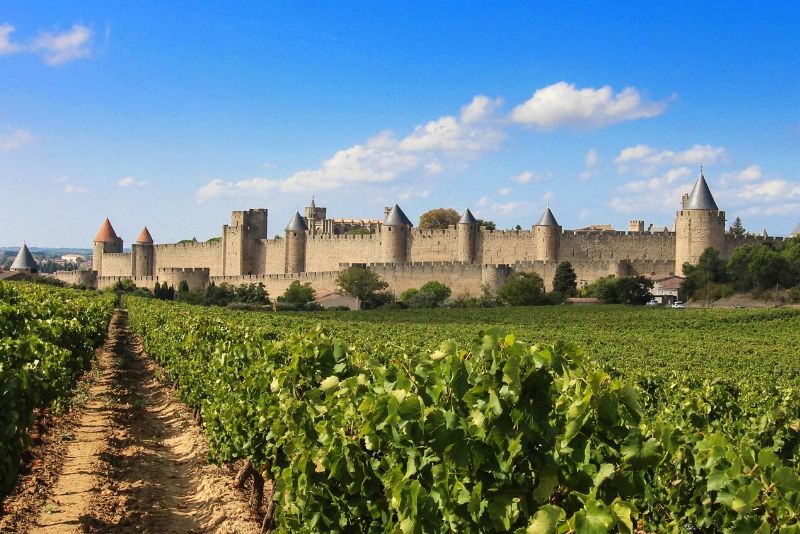 The restored 12th century Château Comtal de Carcassonne sits atop a hill and features a museum so you can explore its history. A visit here will see you learn about Lady Carcas, a legendary character from the city of Carcassonne.
24 – Gravensteen Castle, Belgium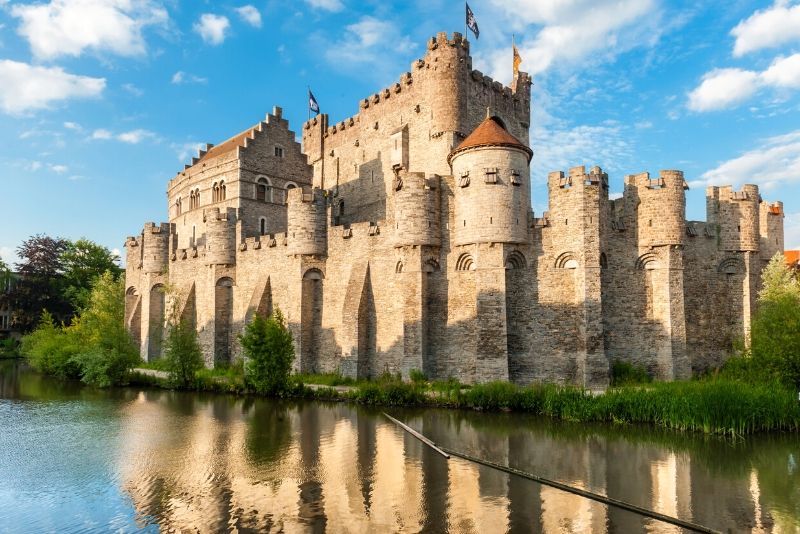 The mysterious "Castle of the Counts", otherwise known as Gravensteen Castle, is steeped in political and social history and is the only remaining castle with a moat in Flanders. Visit the Gravensteen and discover its unique torture equipment. Don't worry, though — it's inactive.
25 – Linderhof Palace, Germany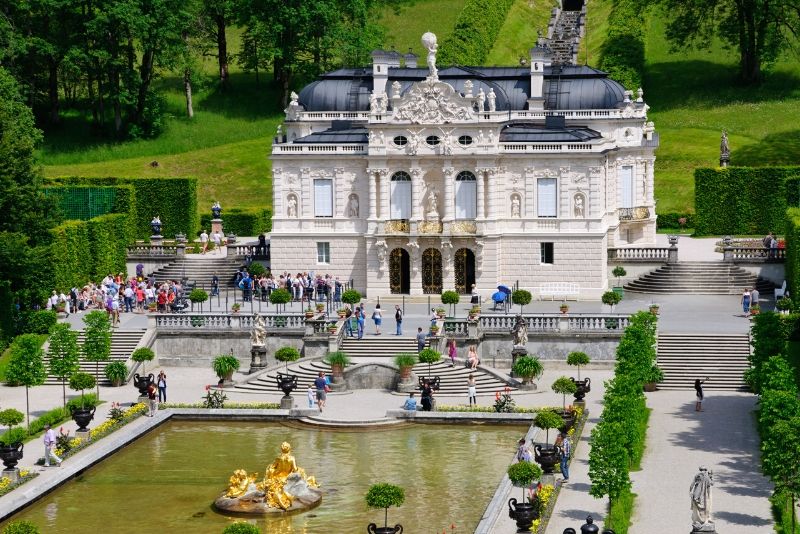 Ludwig II, King of Germany in 1864, had a knack of commissioning castles. Linderhof Palace didn't go to initial plans but ended up being a spectacular Bavarian palace with its landscaped gardens and extravagant bedroom.
26 – Nesvizh Radziwiłł Castle, Belarus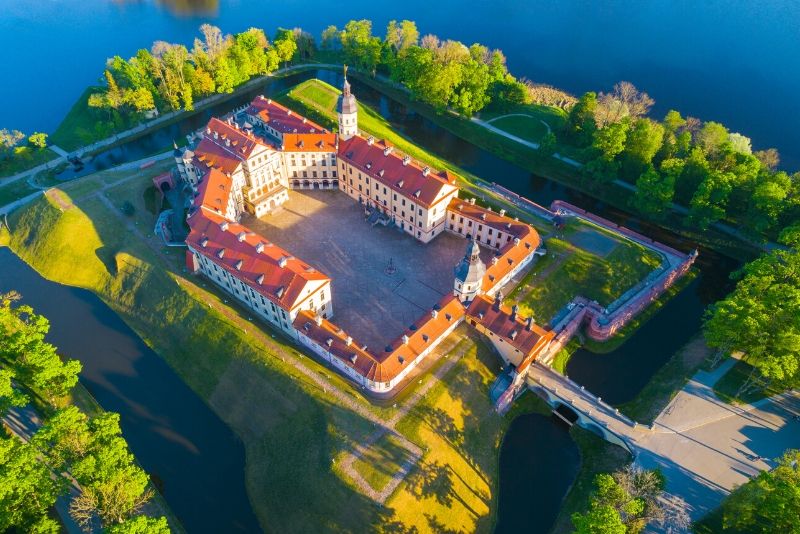 If you're looking for stunning, diverse architecture, head to Nesvizh Radziwiłł Castle. It's considered Belarus' most beautiful palace and has a charming garden that makes it one of the most visited tourist attractions in the country.
27 – Drottningholm Castle, Sweden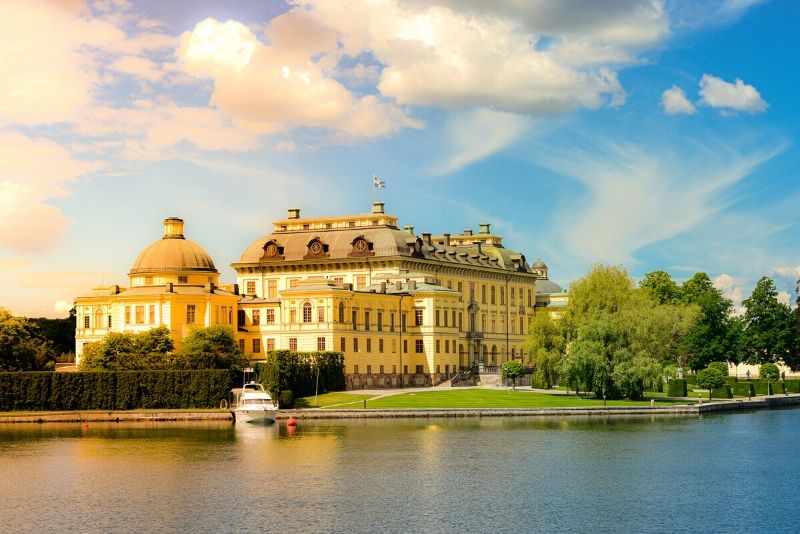 A trip to Drottningholm Castle is the chance to visit a UNESCO World Heritage Site. Marvel at the exotic Chinese Pavilion pleasure palace, the palace theatre and the palace gardens during your visit.
28 – Miramare Castle, Italy
Set on the Gulf of Trieste near Trieste, Miramare Castle is a 19th-century building and overlooks the sea. It's surrounded by a huge park that is full of rare and exotic tree species.
29 – Malahide Castle, Ireland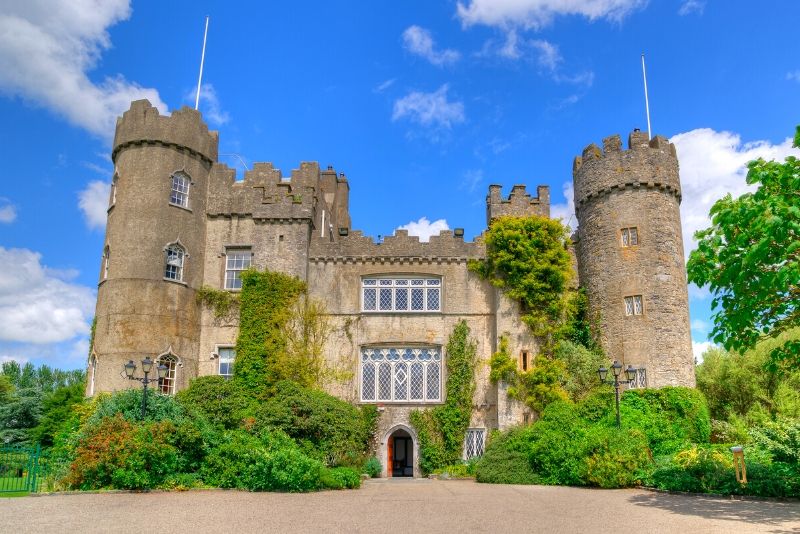 Malahide Castle is just 30 minutes from Dublin and has over 800 years of heritage. The medieval castle has private rooms and collections to explore, not to mention tales to hear from the Talbot family who calls Malahide Castle home.
30 – Alhambra, Generalife and Albayzín of Grenada, Spain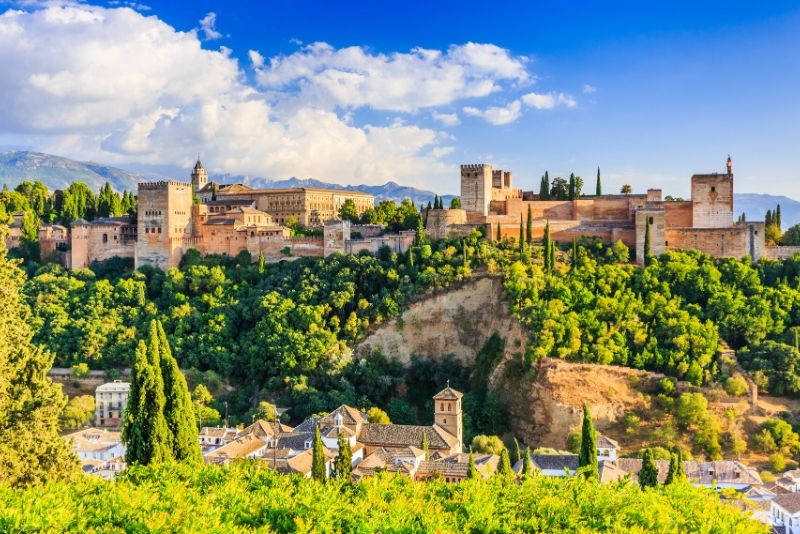 The Alhambra, otherwise known as the Red Fortress, features beautiful gardens of the Generalife, which are located outside the fortress. Adjacent is The Palacio de Generalife, which was once the summer palace and state to The Alhambra.
Learn how to book Alhambra last minute tickets.
31 – Bamburgh Castle, England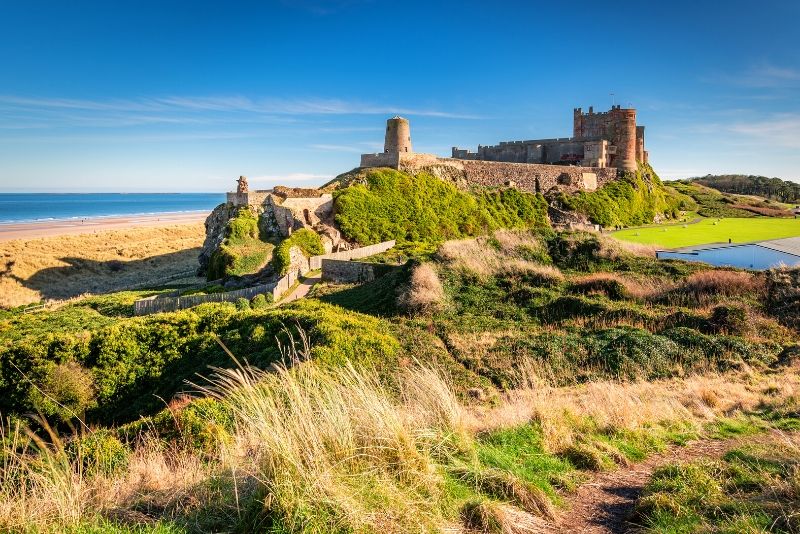 Located in the village of Bamburgh, on the northeast coast of England, Bamburgh Castle is a Grade I-listed building and a royal fortress. Visit today to hear ghost stories, legends and myths of a castle that has stood strong since the 11th century.
32 – Château de Chenonceau, France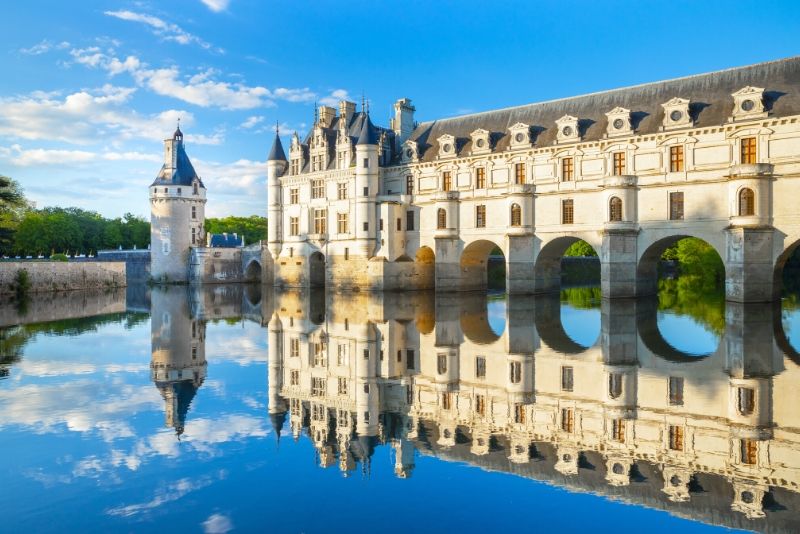 You'll find the Château de Chenonceau near a small village called Chenonceaux, in France. There's a picturesque garden to explore, plus the chateau itself — which is a Renaissance masterpiece – clearly, one of the most beautiful castles in Europe to visit.
33 – Karlštejn Castle, Czech Republic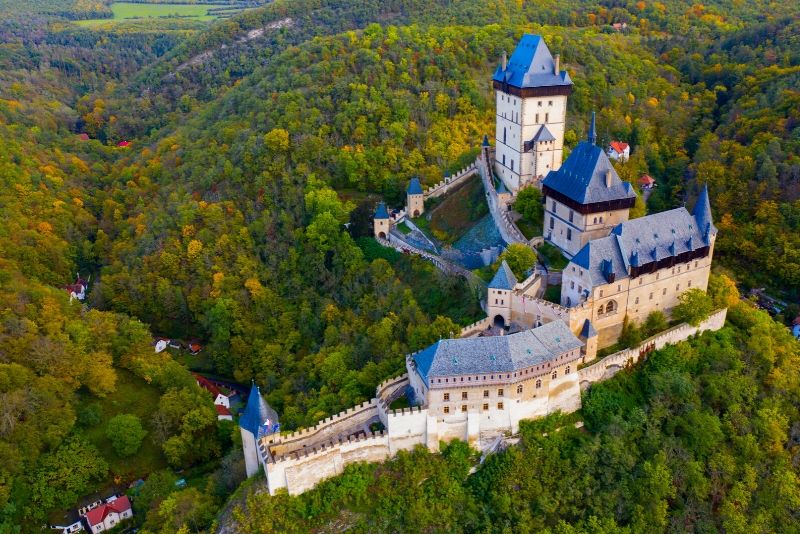 The Gothic Karlstejn Castle was founded in 1348 by Charles IV and was a safe place for the Bohemian crown jewels and holy relics. A trip to the castle today is a chance to learn about its past royal treasures.
34 – Herrenchiemsee New Palace, Germany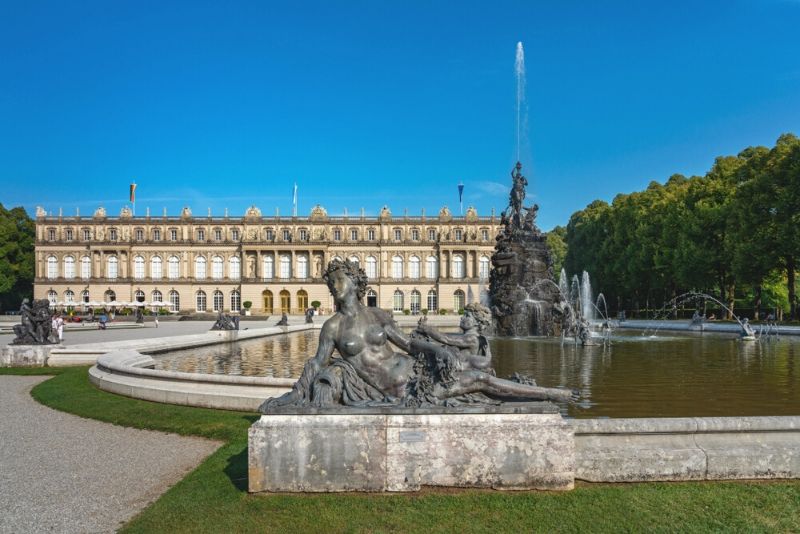 Modeled on Versailles, Herrenchiemsee New Palace was designed as a "Temple of Fame" for King Louis XIV. Today, the large staterooms are among the highlights, as is the Great Hall of Mirrors.
35 – Leeds Castle, England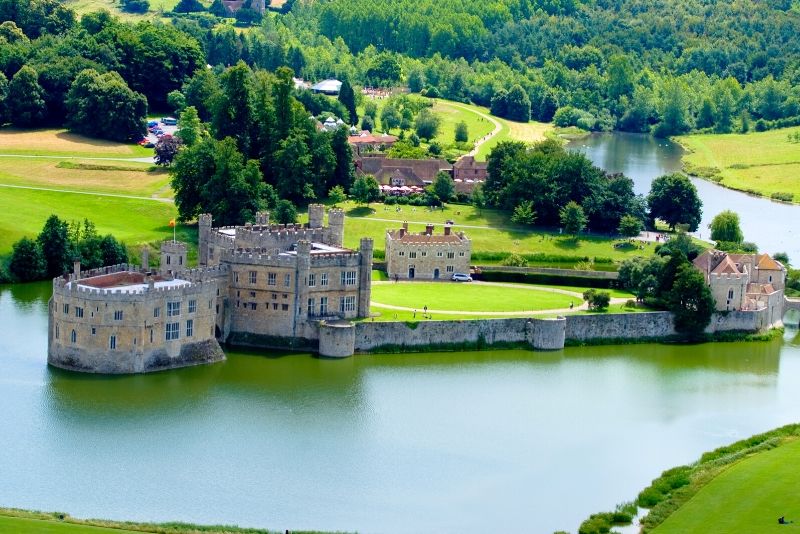 Contrary to popular belief, Leeds Castle isn't located in the city of Leeds. You'll find it in the county of Kent, where you can enjoy its beautiful surroundings that include the islands in a lake formed by the River Len.
36 – Malbork Castle, Poland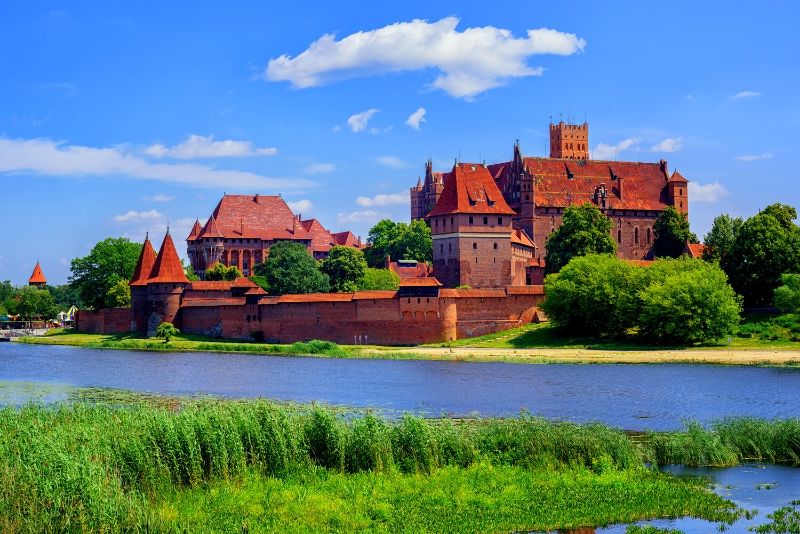 One of the world's largest castles, Malbork Castle is located in Poland, in the coastal city of Gdansk. The castle covers more than 52 acres and is considered the largest brick structure ever built by humans. Try a night tour and enjoy seeing the medieval walls illuminated in all their glory.
37 – Palace of the Grand Master of the Knights of Rhodes, Greece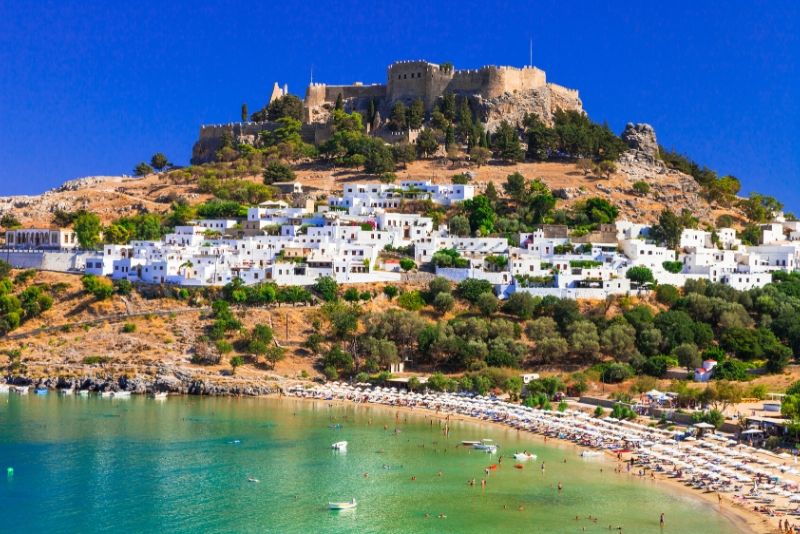 Also known as Kastello, the Palace of the Grand Master of the Knights of Rhodes is a medieval castle and one of the few examples of Gothic design in Greece. Previously a citadel, today it's a top tourist attraction with 24 rooms open to the public.
38 – Château de Chillon, Switzerland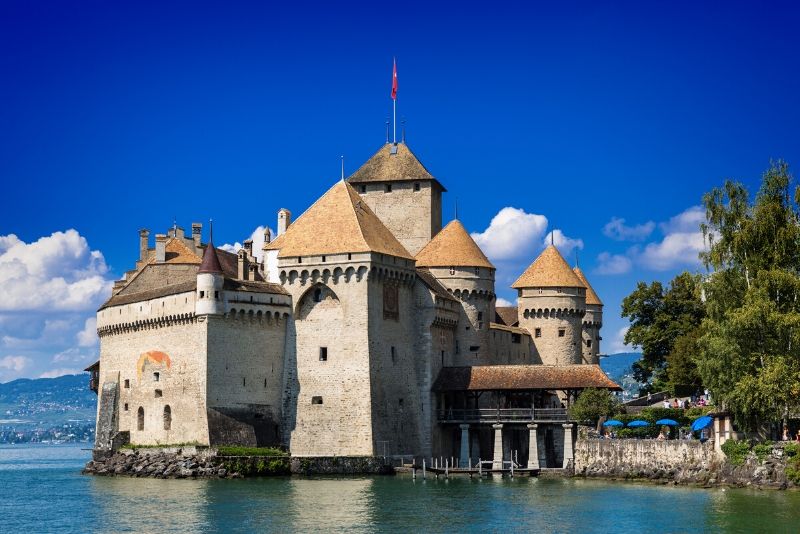 Located on a rock on the banks of Lake Genova near Montreux, Château de Chillon is a romantic island castle. Dating from the 11th century, it is the most visited historic building in Switzerland.
39 – Schönbrunn Palace, Austria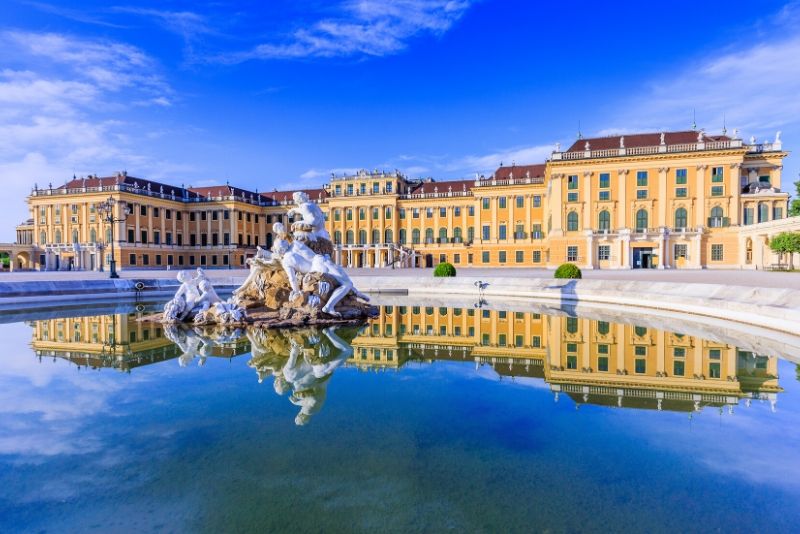 Once the principal summer residence of the Habsburg rulers, today Schonbrunn Palace is a premier tourist attraction in Vienna. It features 1,441 rooms and is known as one of the most important architectural, cultural, and historical monuments in Austria.
Read more about Schönbrunn Palace tickets.
40 – Neuschwanstein Castle, Germany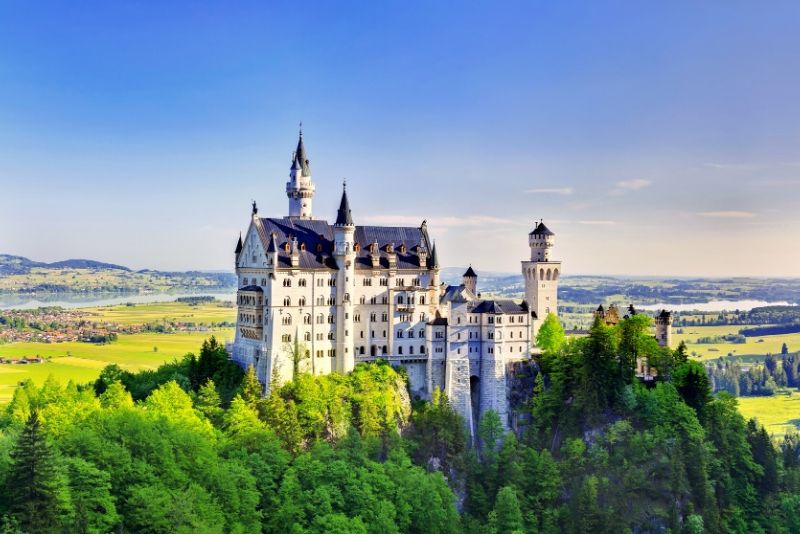 One of the world's most famous castles, Neuschwanstein Castle was built in the 19th century and was commissioned by Ludwig II of Bavaria. It sits on a hill in the German alps and looks like something straight out of a Disney movie. It is one of the most famous castles in Europe to visit.
Learn more about Neuschwanstein Castle tickets price.
41 – Royal Palace of Brussels, Belgium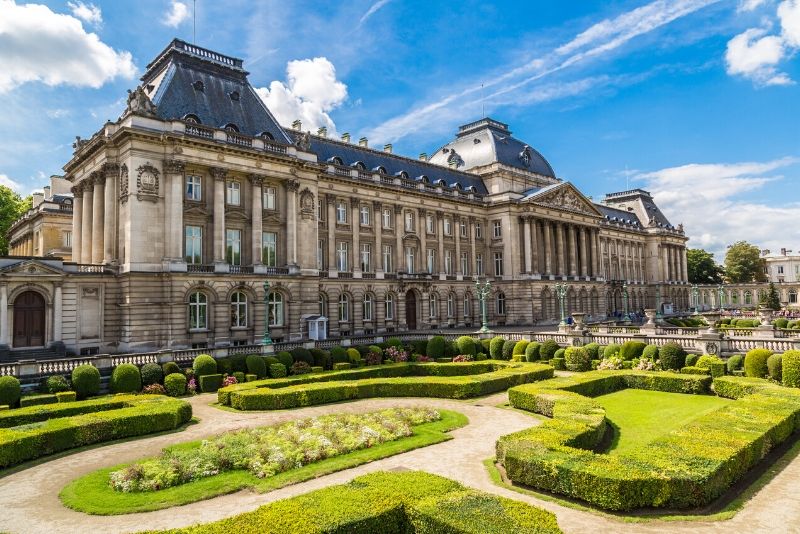 The Royal Palace of Brussels signifies constitutional monarchy. It also happens to be a popular tourist spot, thanks to its grand rooms that include the Empire Room, Large Antichamber, and Main Stairway. It's free of charge to visit between July and August.
42 – Rosenborg Castle, Denmark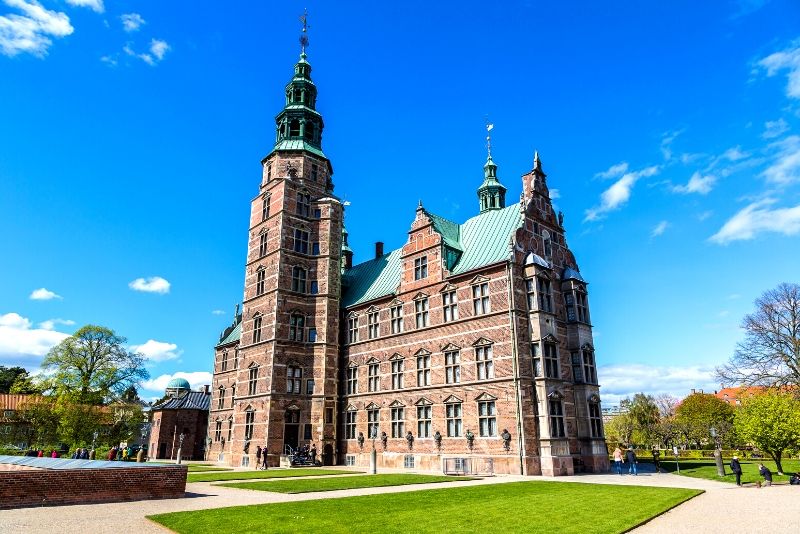 Located in Copenhagen, Denmark's capital, Rosenborg Castle dates back to 1606 when it was a country summerhouse. If you're visiting, make sure you see the Knights' Hall, which features coronation thrones and three life-size silver lions standing guard.
43 – Trakai Island Castle, Lithuania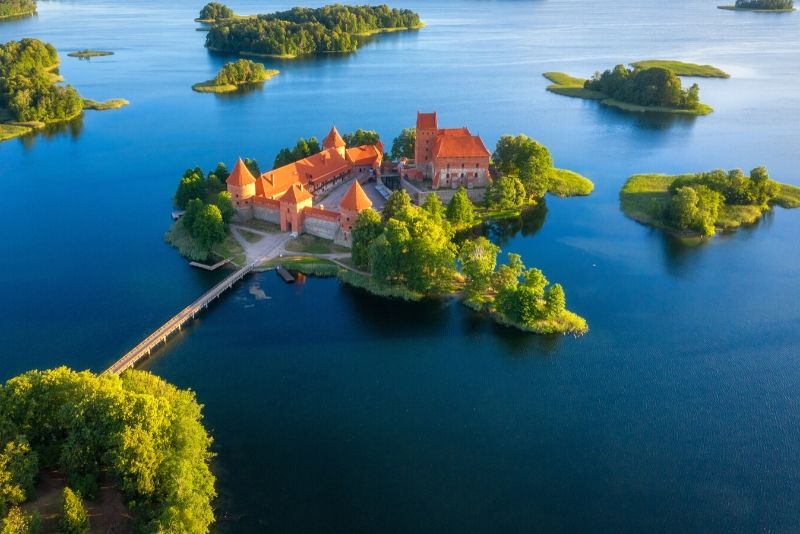 Lake Galve surrounds Trakai Island Castle. Constructed in the 14th century, today the castle has museum exhibits that are open to visitors. It also hosts concerts and festivals.
44 – Château de Versailles, France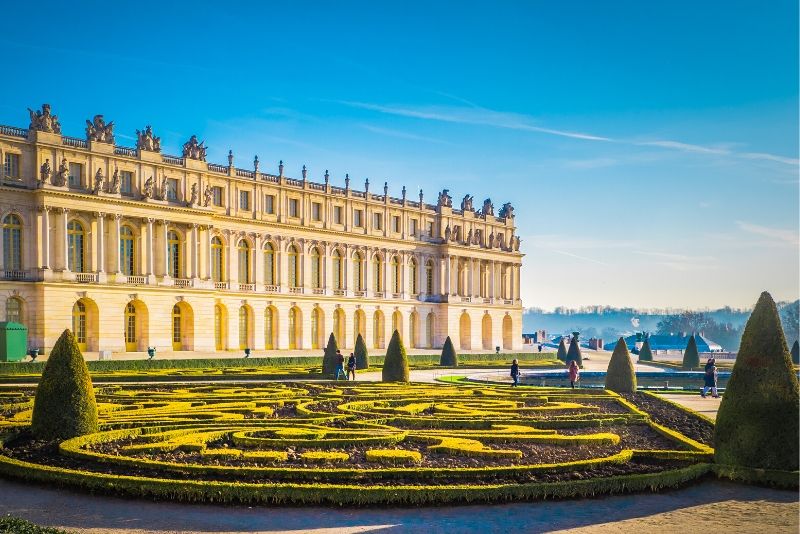 In English, Château de Versailles is known as the Palace of Versailles and is located on the outskirts of Paris. A visit here is the chance to see The Hall of Mirrors, its prestigious art collection, and The Grand Chapel. The Château de Versailles is one of the best castles to visit in Europe for first-time visitors.
Learn more about Versailles Palace tickets price.
45 – Orava Castle, Slovakia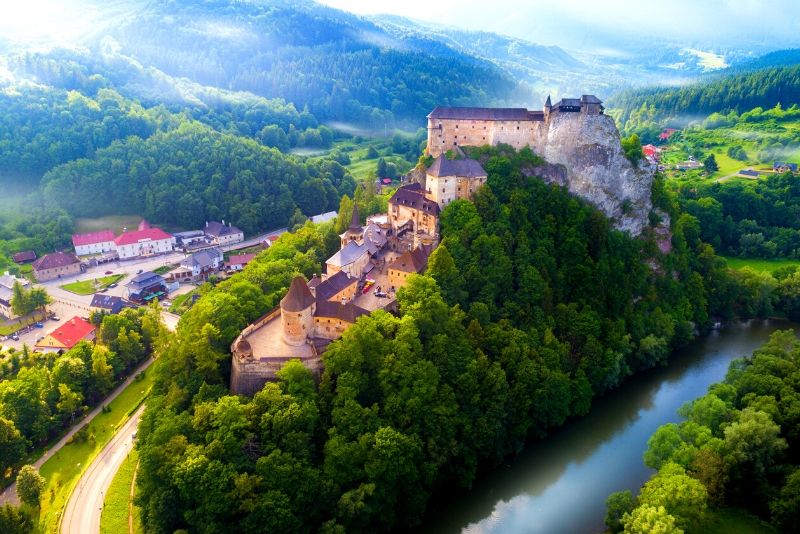 Situated on a high rock above the Orava River in the village of Oravský Podzámok, Orava Castle features Romanesque architecture and is considered to be one of the most beautiful castles in Europe. A trip here involves furnished rooms, large courtyards, torture rooms, and weapon collections.
46 – Mir Castle Complex, Belarus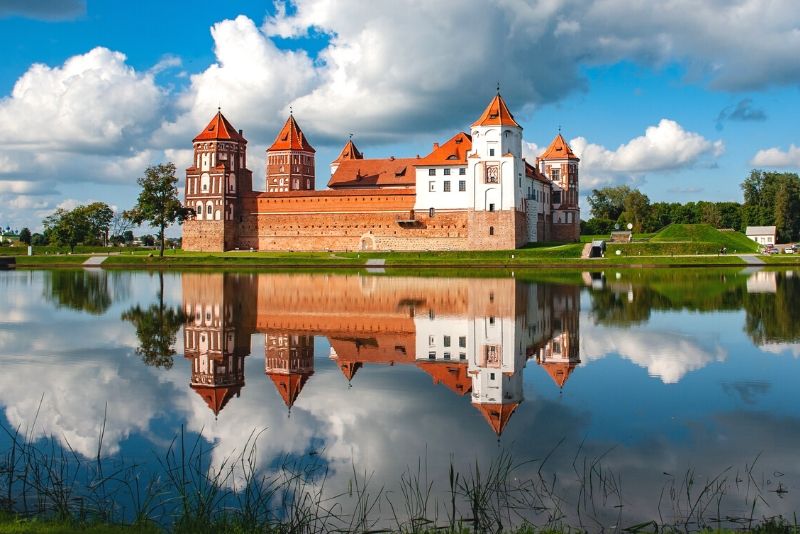 Mir Castle Complex is a UNESCO World Heritage Site and is located in the Grodno Province of Belarus. It was built in the 15th century with a Gothic, Baroque and Renaissance design. The complex was later updated in the late 19th century to include surrounding landscaped gardens.
47 – Castle Lednice, Czech Republic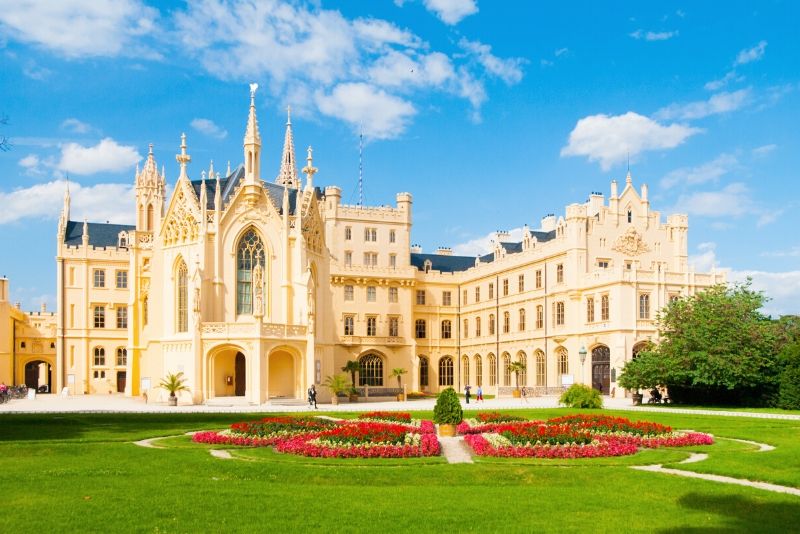 Castle Lednice was built in the 1800s as a Renaissance château. Visitors will enjoy several tour routes, which include royal apartments, rooms of the small princes and princesses, and the Puppet Museum.
48 – Château de Vaux le Vicomte, France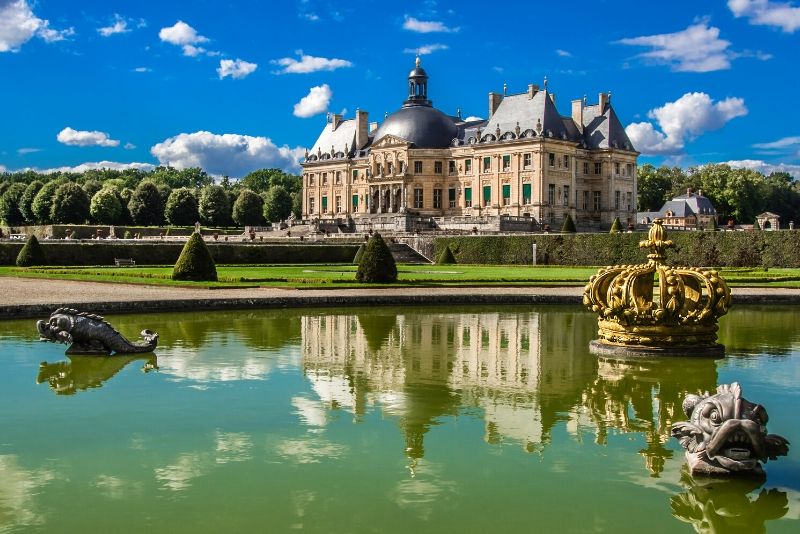 Château de Vaux le Vicomte is a Baroque French chateau 55km from Paris. Its garden was the inspiration for Versailles, and the chateau is the largest private estate listed as a Historical Monument in France.
49 – Vianden Castle, Luxemburg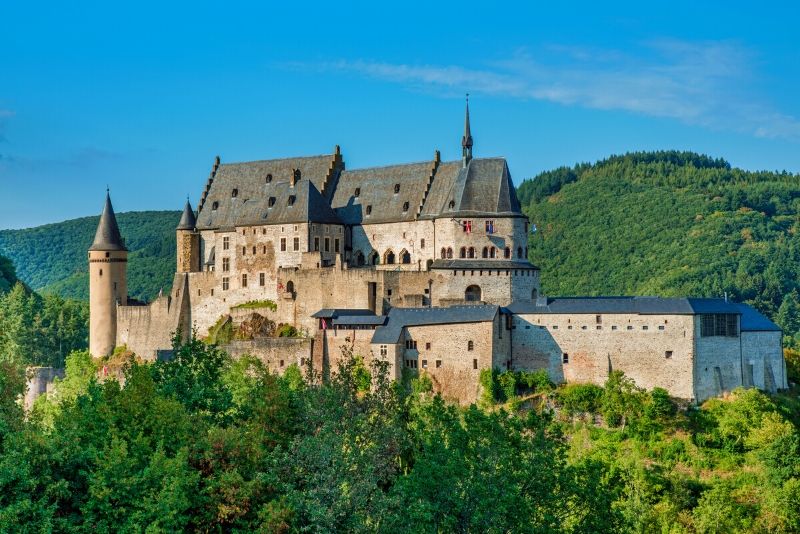 One of the largest fortified castles west of the Rhine, Vianden Castle was built in Romanesque style between the 11th to 14th centuries. Explore the many rooms and enjoy breathtaking views of the local countryside during your visit.
50 – Castle De Haar, Netherlands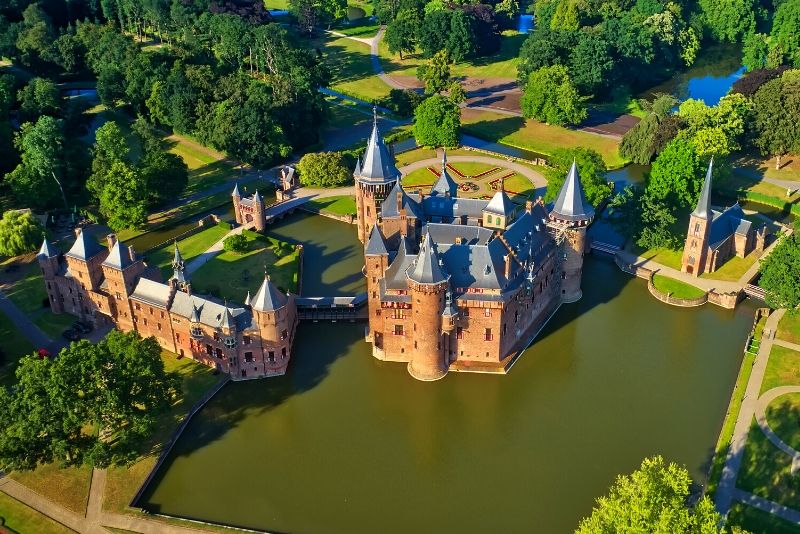 Situated just outside Utrecht, the Castle De Haar is the largest castle in the Netherlands. Visit this magical castle and its spectacular gardens, and feel like a trip back in time.
51 – Eilean Donan Castle, Scotland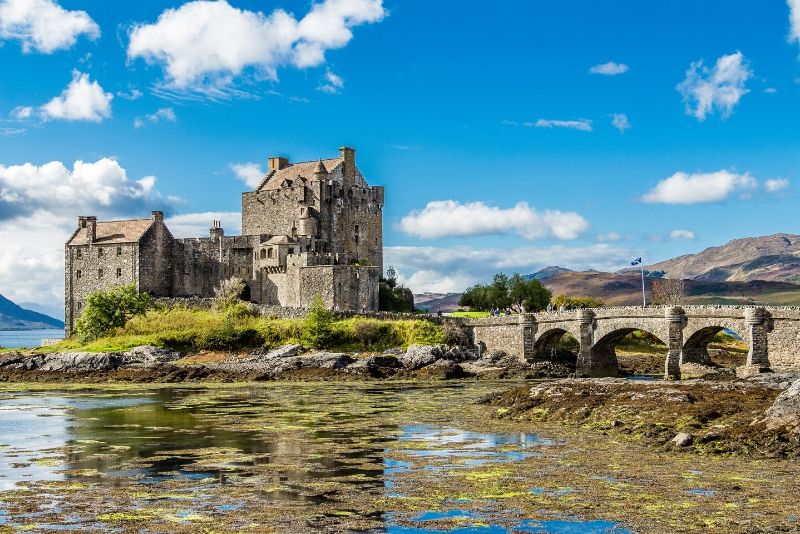 Situated in the Scottish Highlands, Eilean Donan Castle is probably one of the most iconic monuments to visit in Scotland. Spectacularly sited on a small island at the head of Loch Duich, a visit of the Eilean Donan Castle will embark you on a journey through time and history.
52 – Sforza Castle, Italy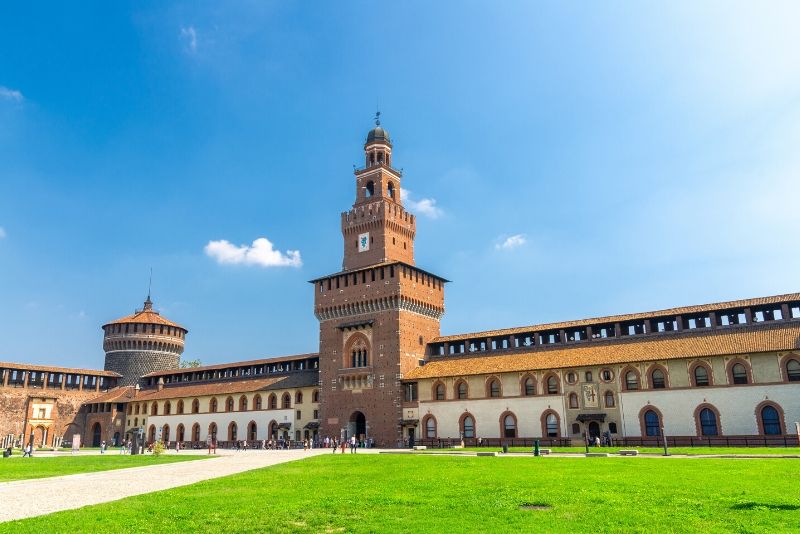 Sforza Castle is located in Milan, Italy's capital, and was built in the 15th century. A visit there today provides the chance to see the magnificent architecture and several of Milan's museums and art collections that are housed in the castle.
53 – Moszna Castle, Poland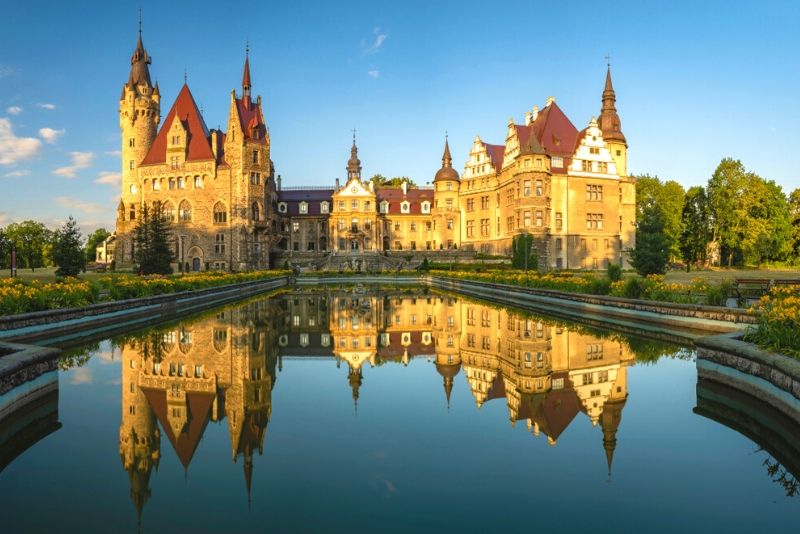 Dating from the 17th century, Mozna Castle is one of the most beautiful castles in Europe to visit. With its fairy-tale style, Mosna Castle is a must-see castle for any travelers visiting the region.
54 – Corvin Castle, Romania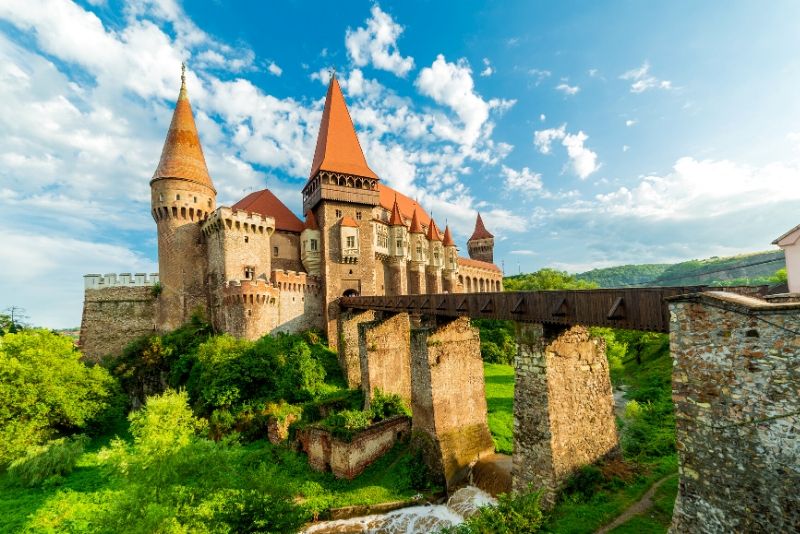 Located in the heart of Transylvania, Corvin Castle is one of the most spectacular Gothic-style castles and an important cultural landmark of Romania. For the ones looking for dark stories, the castle has been connected with the history of the unfamous Vlad the Impaler – the real Dracula.
55 – Castillo de Coca, Spain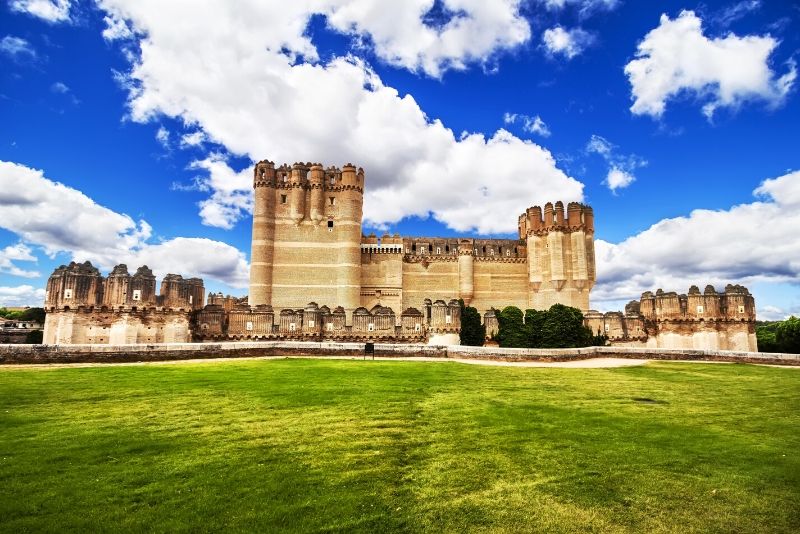 Castillo de Coca is probably the best example of Arab Spanish fortifications in Spain. The castle dates back to the late 15th century and is a masterpiece of Mudejar and Gothic military architecture.
56 – Château de Chantilly, France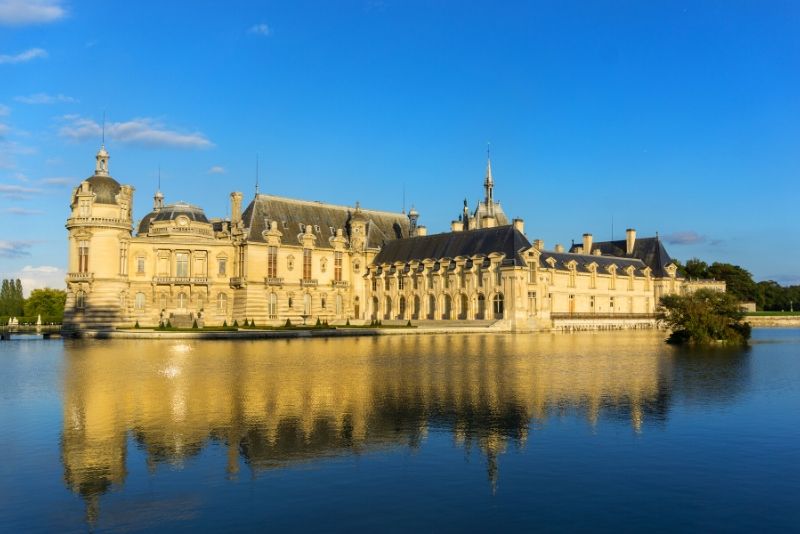 Château de Chantilly is located 50km from Paris, in the town of Chantilly. It's known as one of the finest jewels in the crown of France's cultural heritage and has the second largest collection of antique paintings after the Louvre.
57 – Prague Castle, Czech Republic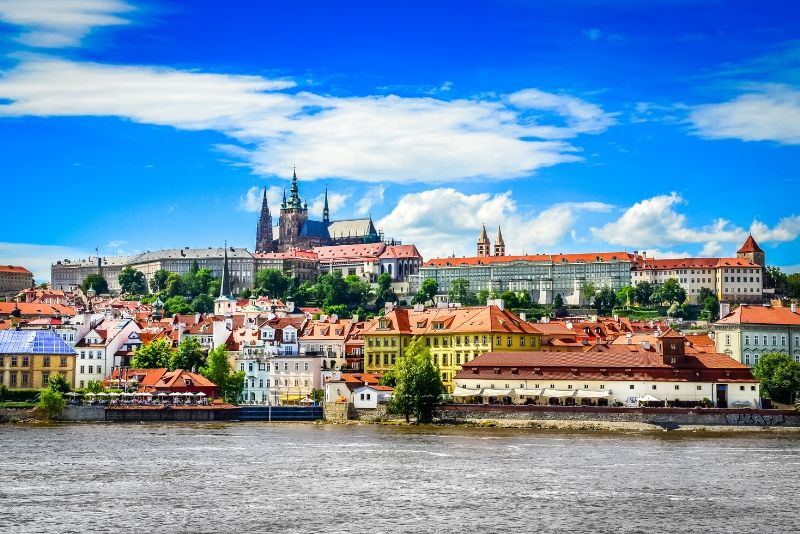 Founded in 880, Prague Castle is an ancient symbol of the Czech Republic. It's the largest coherent castle complex in the world, with an area of almost 70,000 m². It's also a UNESCO World Heritage Site.
Learn more about Prague Castle tickets price.
58 – Windsor Castle, England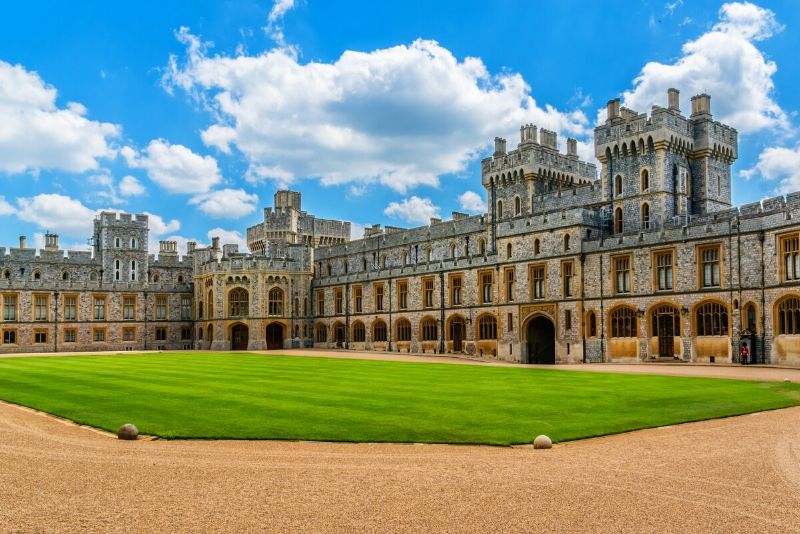 Windsor Castle is one of the most famous castles in Europe and is home to Queen Elizabeth II. It's located in the English county of Berkshire and receives more than one million annual visits per year, thanks to its association with the royal family.
59 – Predjama Castle, Slovenia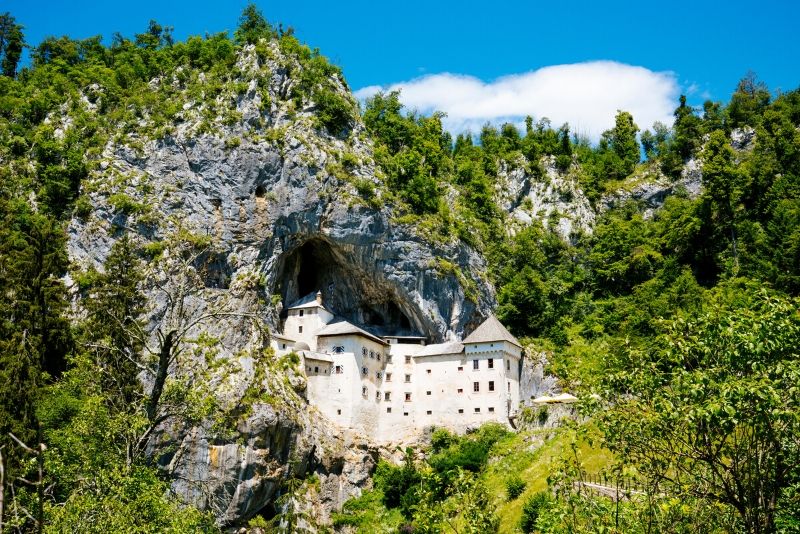 Predjama Castle is a Renaissance castle built within a cave mouth and is perched on the edge of a 123-metre high cliff. During your visit, make sure you discover the secret tunnels and medieval marvels of this historic castle.
60 – Royal palace at Aranjuez, Spain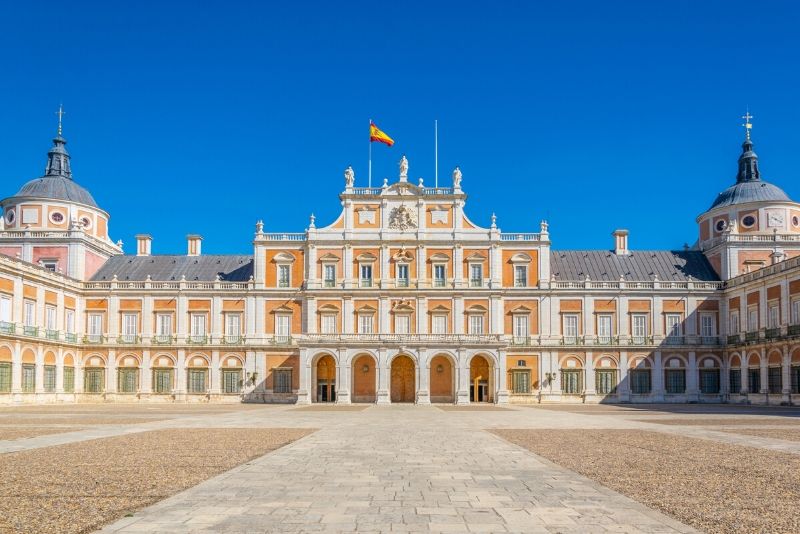 The official residence of the Royal Family, the Royal Palace of Madrid features an impressive 135,000 square foot of floor space. It has almost 3,500 rooms and is the largest-functioning palace in Europe.
61 – Conwy Castle, Wales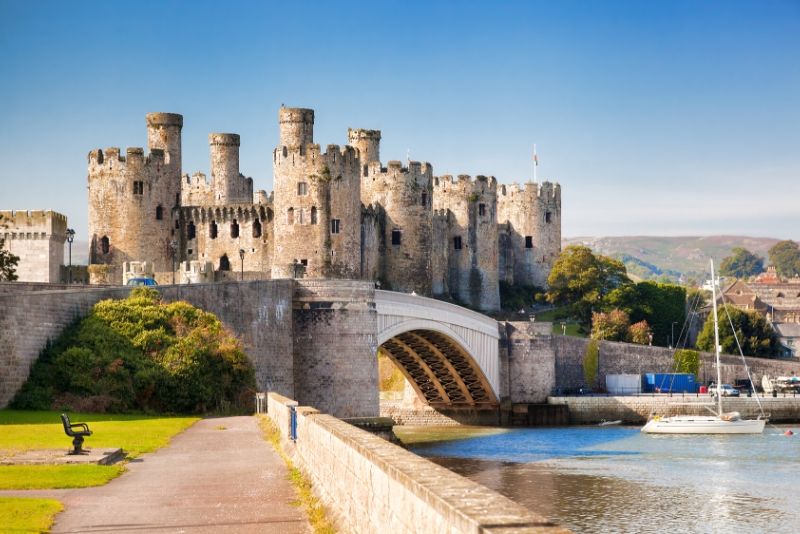 Head to Conwy Castle and walk the complete spiral staircases to discover this 700-year-old castle. You can see the mountains of Snowdinia in the distance from what is known as one of the most impressive medieval castles in Europe.
62 – Hohenzollern Castle, Germany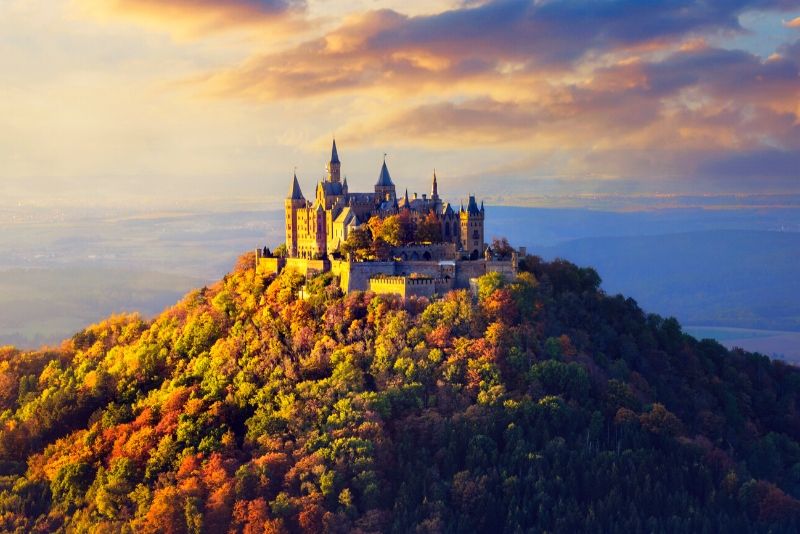 Hohenzollern Castle is the ancestral seat of the imperial House of Hohenzollern and is the third of three hilltop castles built on the site. Located in Württemberg, Hohenzollern Castle features many grand showrooms where you can marvel at its history.
63 – Castelo dos Mouros, Portugal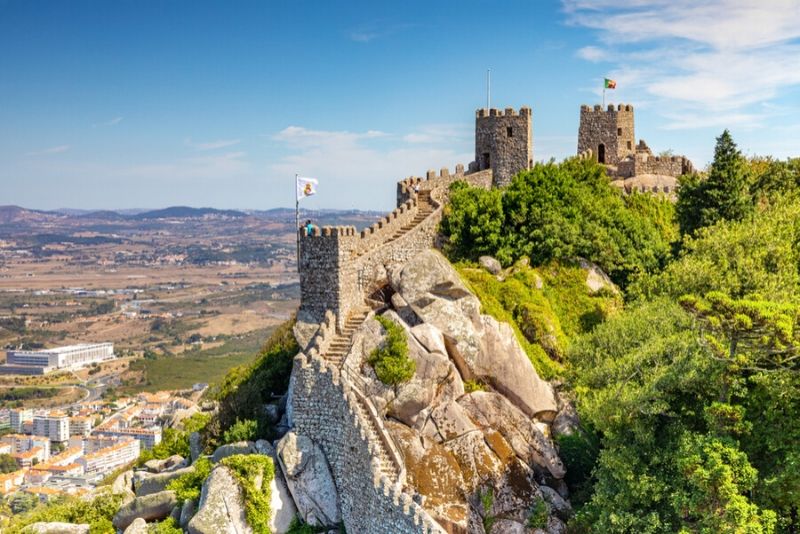 Perched on a high hilltop above the town of Sintra near Lisbon, Castelo dos Muros, also known as Castle of the Moors in English, is an ancient fortress that played an important role in Portugal's road to independence.
64 – Caerphilly Castle, Wales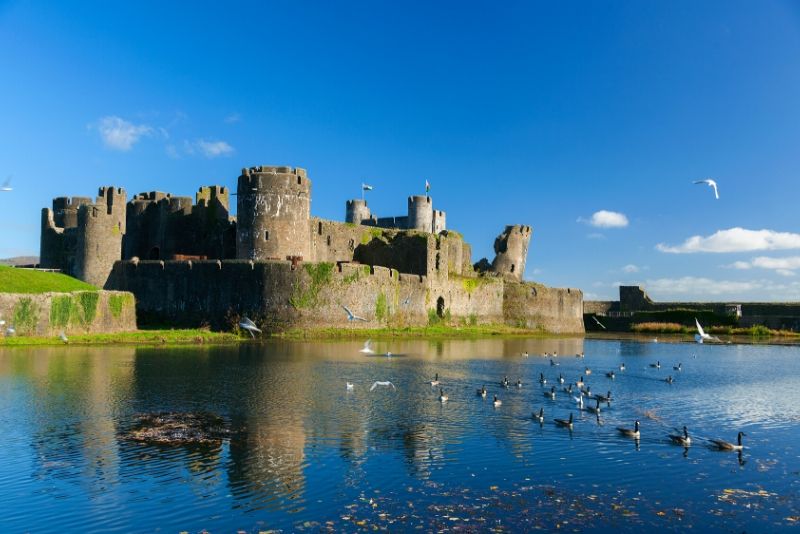 Located in South Wales, Caerphilly Castle is a spectacular medieval fortification. The castle is one of the biggest fortresses in all Europe, and also the second-largest in Britain, just behind the famous Windsor Castle.
65 – Château d'Amboise, France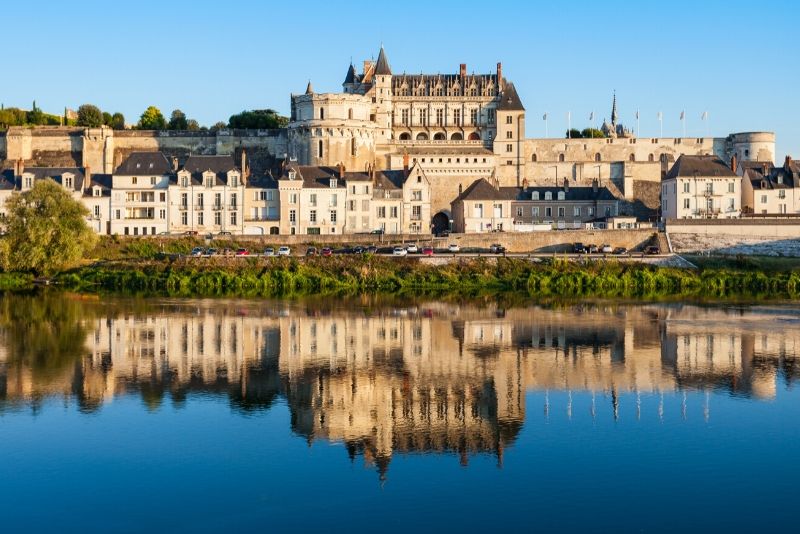 From the 15th to 19th century, Château d'Amboise was a place of residence for French kings. The chateau is an expression of French royal luxury and is located in Amboise. Leonardo da Vinci's tomb is preserved at the castle.
66 – The Royal Castle in Warsaw, Poland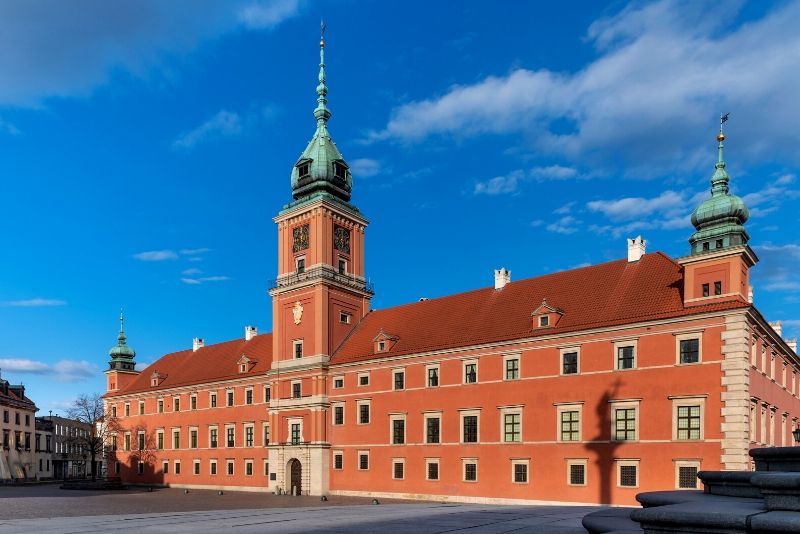 The Royal Castle in Warsaw has been the official residence of the Polish monarchs throughout the centuries. It is a must-see monument for every travelers visiting Poland.
67 – Royal Palace of La Granja of San Ildefonso, Spain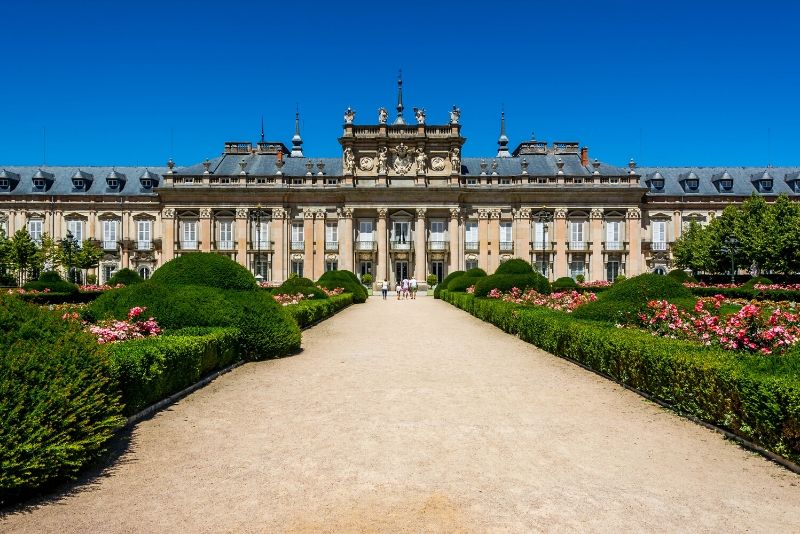 The Royal Palace of La Granja of San Ildefonso is an early 18th-century building and royal landmark. A trip here is the chance to see the Glass Factory and the spectacular, Versailles-like gardens. Both are icons of the majestic palace.
68 – Eltz Castle, Germany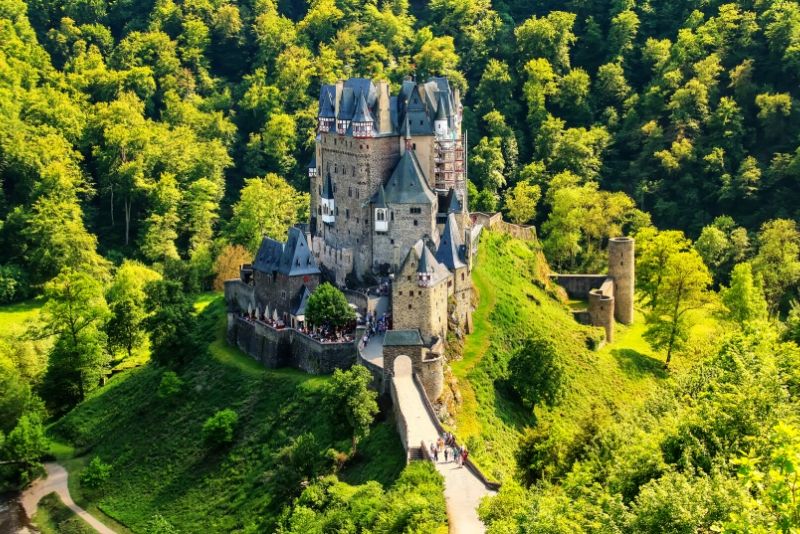 Sat in the hills above Moselle River between Koblenz and Trier, Eltz Castle is a majestic gem surrounded by an enchanting forest. The castle is still in its original condition and was untouched by wars. Since its construction in 1157, Eltz Castle has been owned by the same family.
69 – Norman Palace, Italy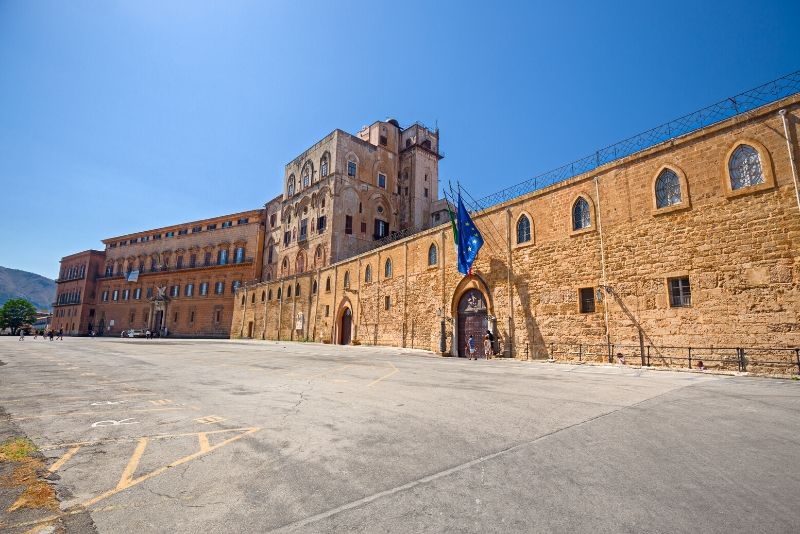 Once the seat of the Kings of Sicily, Norman Palace is a royal palace in Palermo. It has a 17th-century courtyard and the Palatine Chapel. Norman Palace also enjoys UNESCO World Heritage status.
70 – Beaumaris Castle, Wales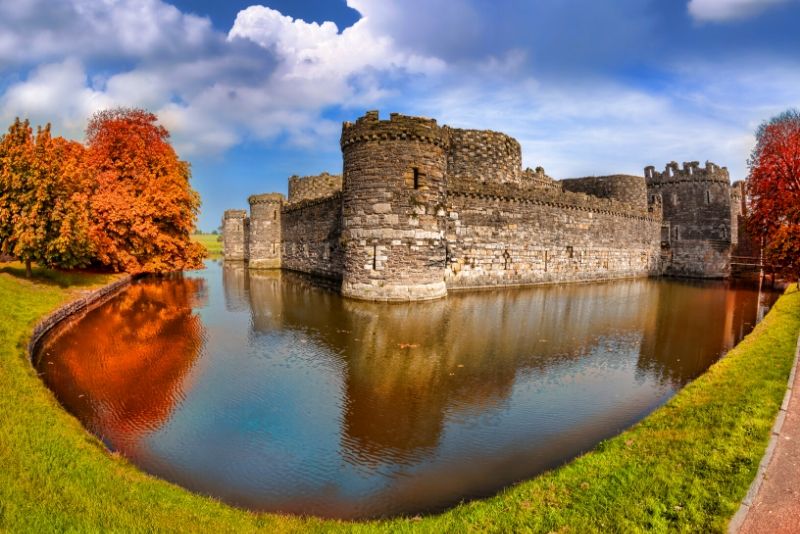 Built as part of Edward I's campaign to conquer north Wales, Beaumaris Castle remains as architectural beauty. The fortress is unfinished but still manages to reflect an example of near-perfect symmetry that visitors can enjoy.
71 – Kalmar Castle, Sweden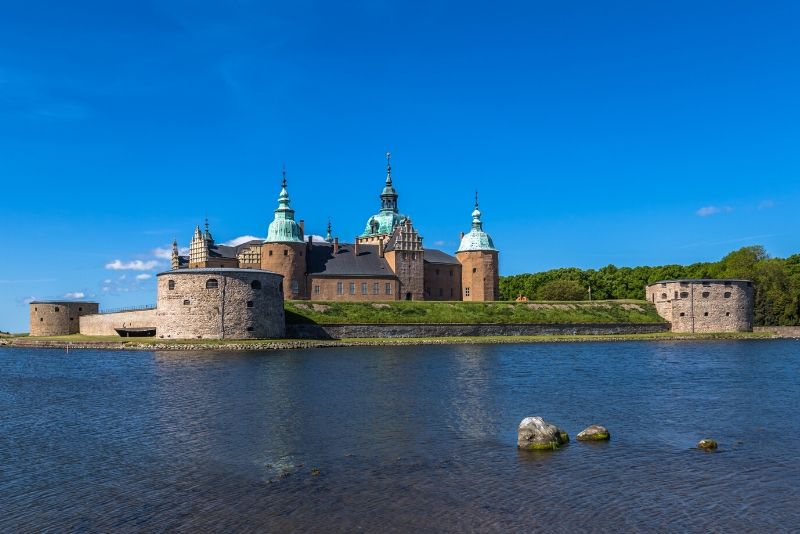 Kalmar Castle has been standing strong for more than 800 years and has plenty of history to discover. Exhibitions at the castle include the chance to see extravagant costumes from previous eras and the rooms that brought the castle to life.
72 – Wartburg Castle, Germany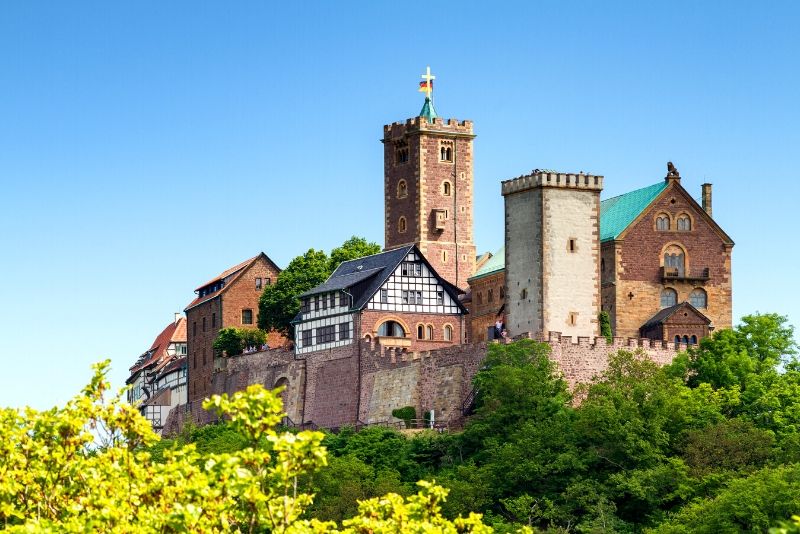 Located in the town of Eisenach in Thuringia, Wartburg Castle is the first-ever UNESCO World Heritage designated castle in Germany. Visitors to the castle will get the chance to explore over 1,000 years of German history.
73 – Royal Palace of Madrid, Spain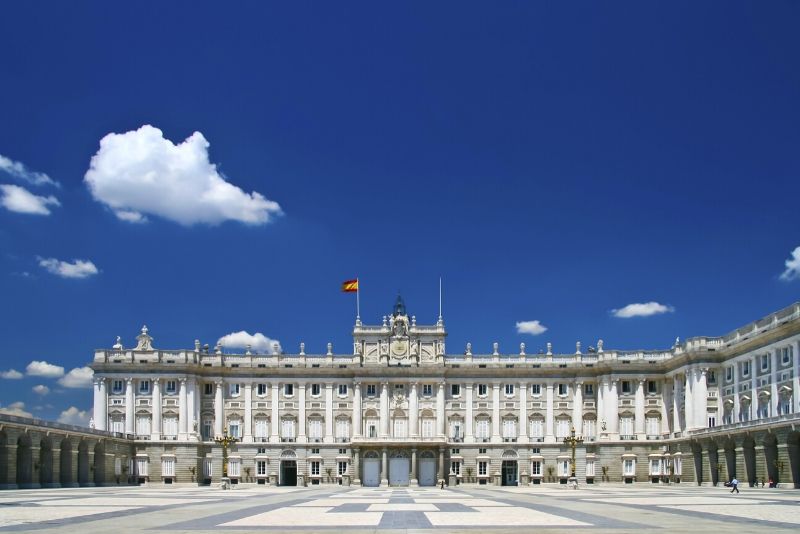 The official residence of the Royal Family, the Royal Palace of Madrid features an impressive 135,000 square foot of floor space. It has almost 3,500 rooms and is the largest-functioning palace in Europe.
Learn more about Royal Palace of Madrid tickets price.
74 – Castel Nuovo, Italy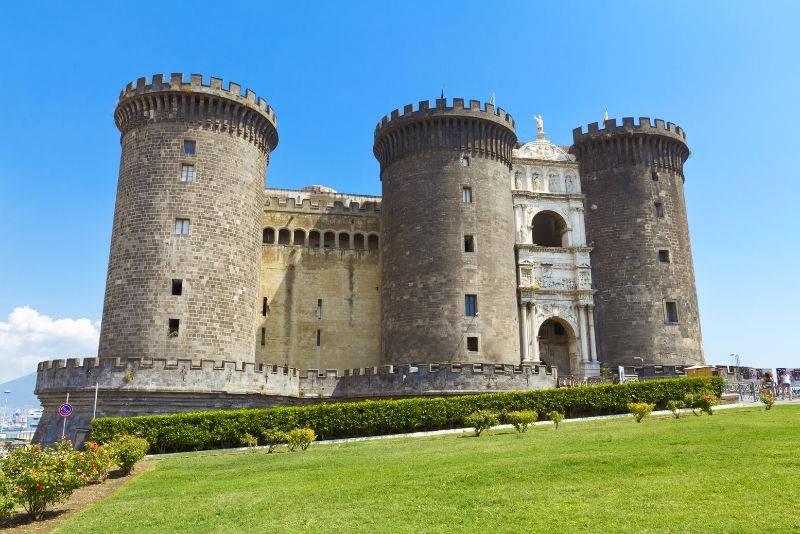 Typically referred to as Maschio Angioino, Castel Nuovo is a medieval castle in Naples. Its imposing size and scenic settings make it one of Naples' most recognizable landmarks.
75 – Ludwigsburg Palace, Germany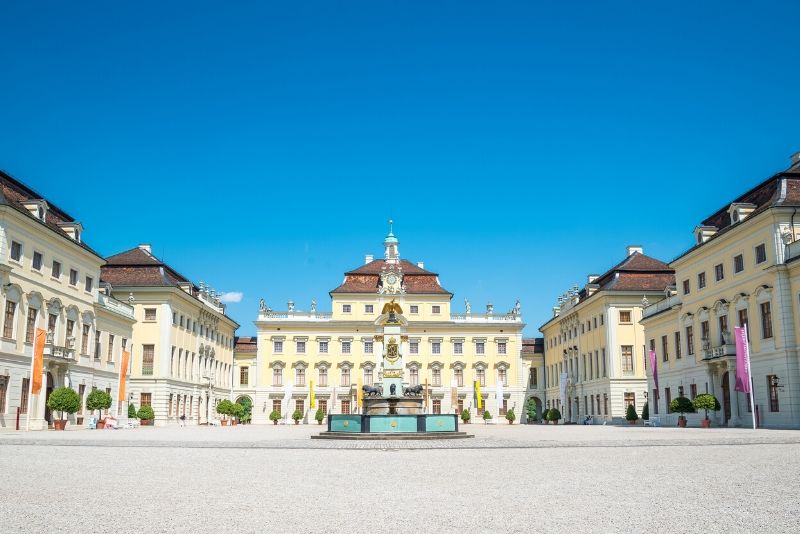 Ludwigsburg Palace is a 452-room palace complex in Ludwigsburg and spans across 18 buildings. It's the largest palatial estate and features scenic gardens which bring the overall size to 79 acres.
76 – Château de Cheverny, France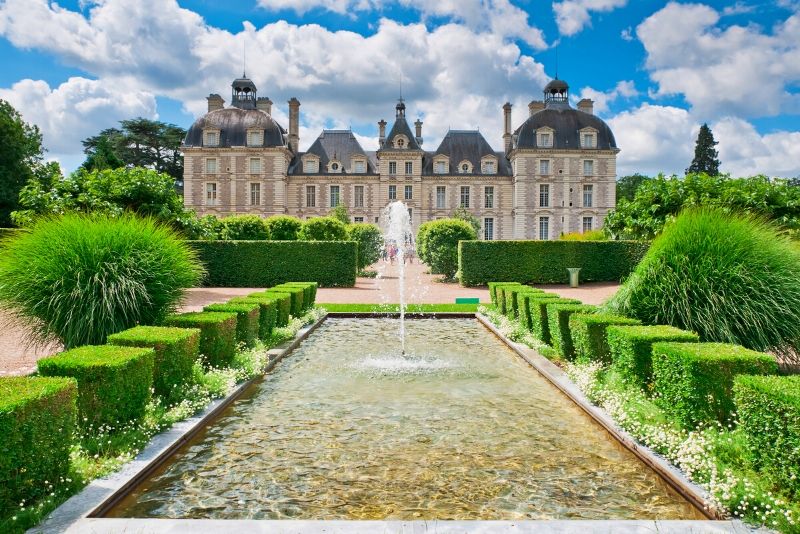 First opened to the public in 1922, Château de Cheverny has been in the same family for more than six centuries. Visitors will enjoy its richly furnished interior and its throwback to the old way of French life.
77 – Kronborg Caslte, Denmark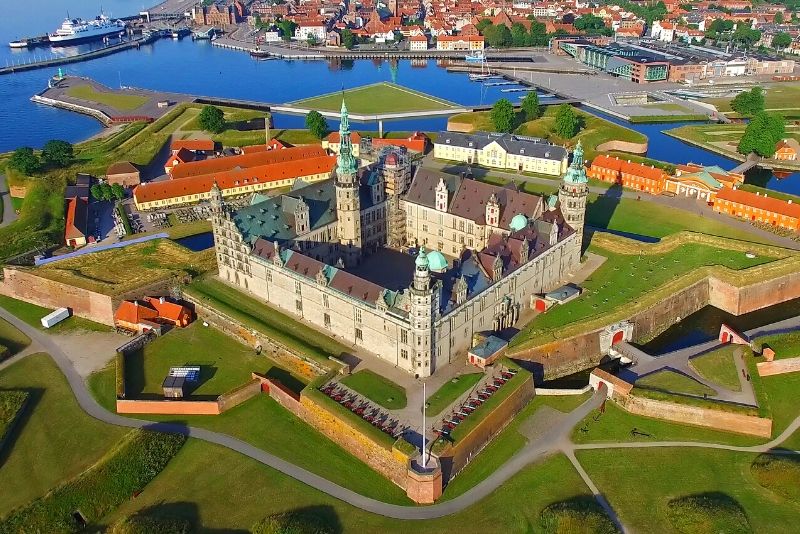 Another Renaissance fortress, Kronborg Castle sits above a narrow peninsula between Denmark and Sweden. The castle is known for its recognizable spires, towers, columns, sandstone, and copper roofs. It's no surprise that this stunning place is a UNESCO World Heritage Site.
78 – Palace of the Popes, France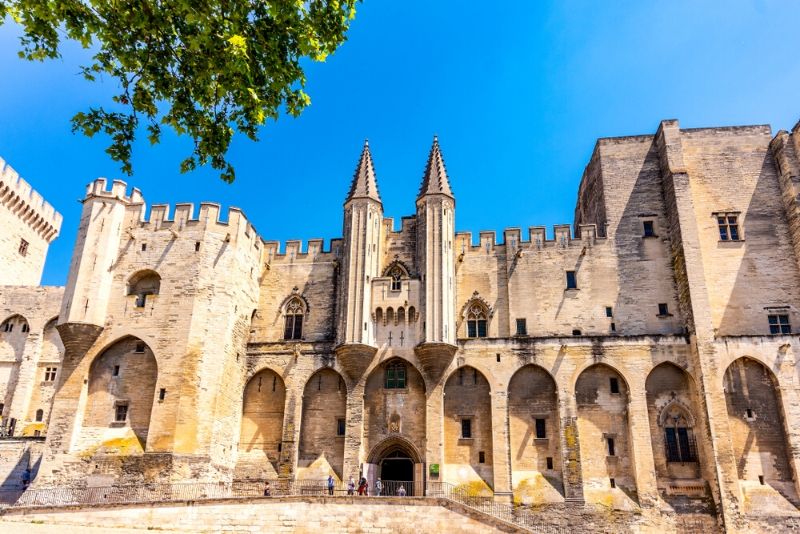 Avignon in Southern France is where you will find the Palace of the Popes. It's one of the largest medieval Gothic buildings in Europe and served as a fortress and palace. It was the residence of the popes for over six decades.
79 – The State Chateau of Hluboká, Czech Republic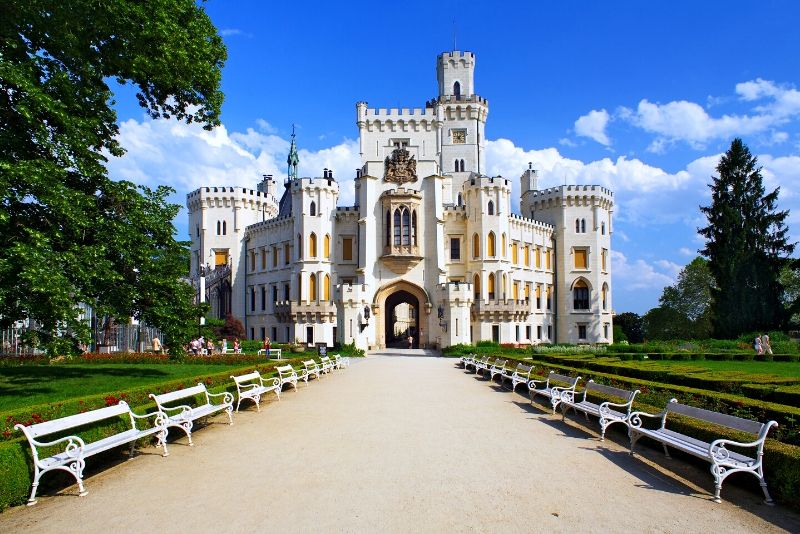 Explore the complex at The State of Chateau Hluboka and soak up its charming character, original furnishings before strolling the scenic park. It's known as one of the most romantic sites in Europe.
80 – Alnwick Castle, England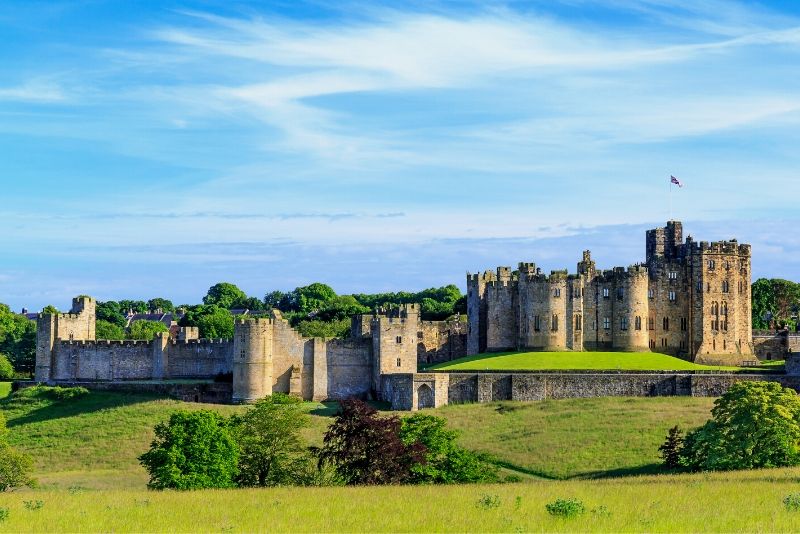 Alnwick Castle is a fortress and country house in the county of Northumberland. It's home to Harry Potter-inspired events, dragon quests and a fascinating history that dates back to 1096.
81 – Stirling Castle, Scotland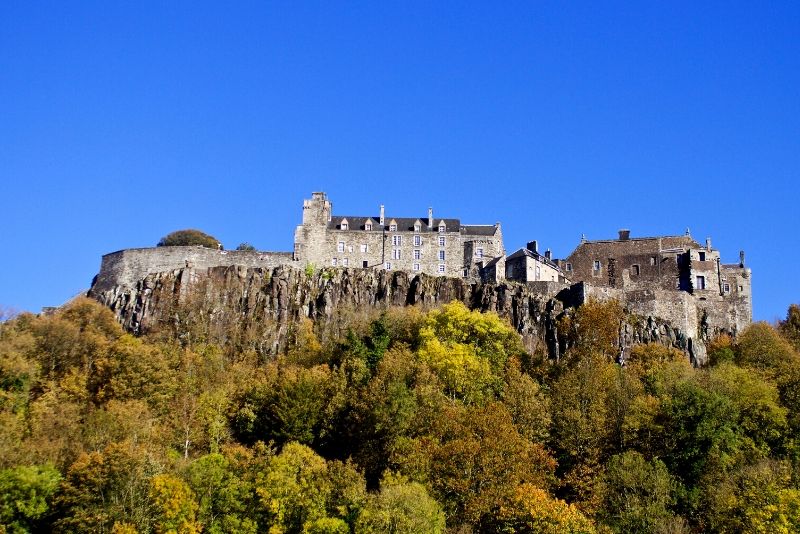 One of the largest castles in Europe, Stirling Castle is also one of the country's most important sites. Knights, nobles and foreign ambassadors indulged in the castle's extravagance, which is now a tourist hotspot where you can see the grand designs and meet lively costumed characters.
82 – Würzburg Residence, Germany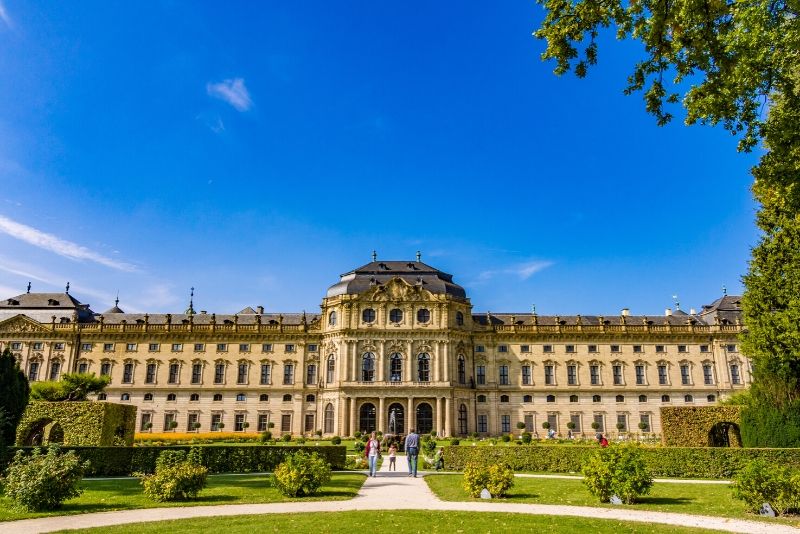 Viena, Paris, Genoa, Venice and Amsterdam all inspired the Würzburg Residence. There are a total of 40-period rooms open to the public, as well as court church. Expect to see an array of furniture, tapestries and paintings during your visit.
83 – Château de Vincennes, France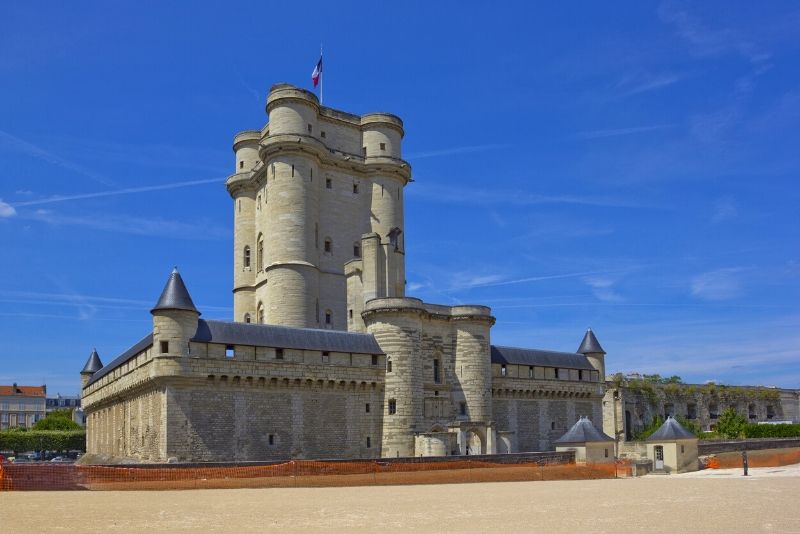 Located in the town of Vincennes, to the east of Paris, Château de Vincennes is a 14th and 17th century French royal fortress. A wander around the chateau is a chance to immerse yourself in French history.
84 – The Moscow Kremlin, Russia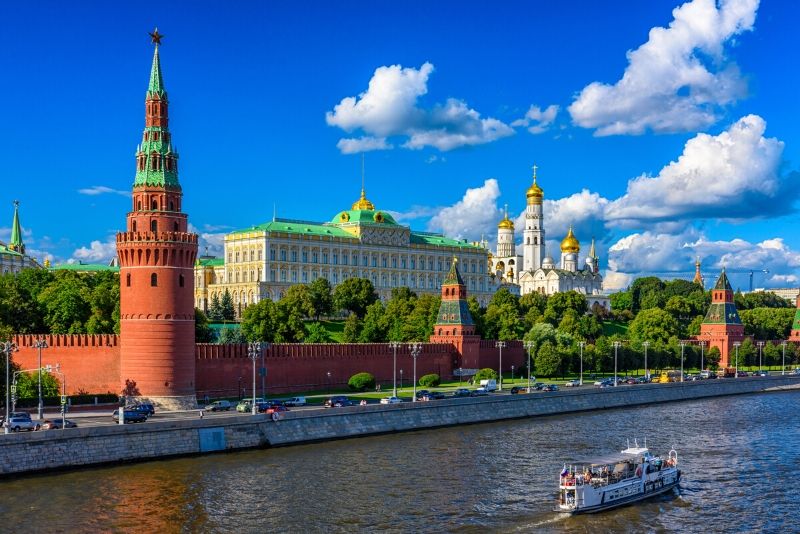 The fortified complex of The Kremlin is one of Russia's most noticeable landmarks and a top tourist attraction. It included five palaces, four cathedrals, and the famous Kremlin Wall. Today, the Kremlin serves as the official residence of the Russian president and sees 2.5 million visits per year.
Learn more about Kremlin of Moscow tickets price.
85 – Royal Palace of Caserta, Italy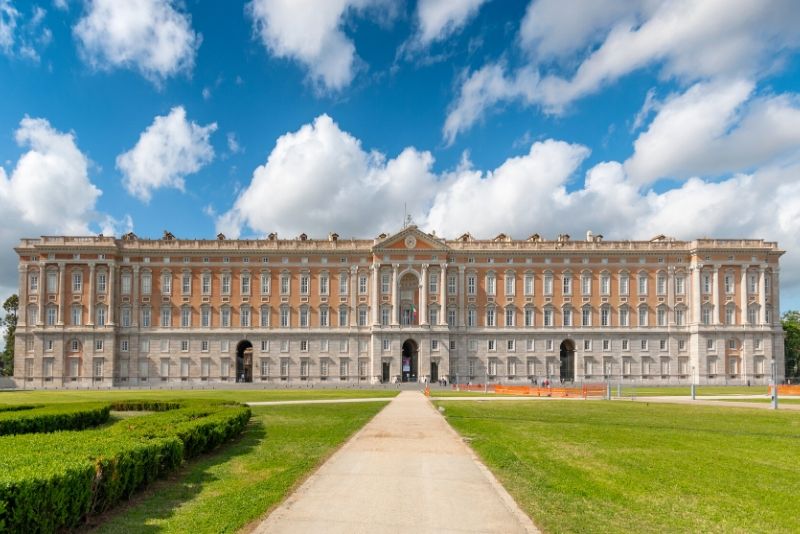 The Royal Palace of Caserta is a former royal residence and was one of the largest palaces constructed in Europe during the 18th century. It revolutionized world architecture, and many people visit today to marvel at its structure.
Learn more about Royal Palace of Caserta tickets price.
86 – Sanssouci Palace, Germany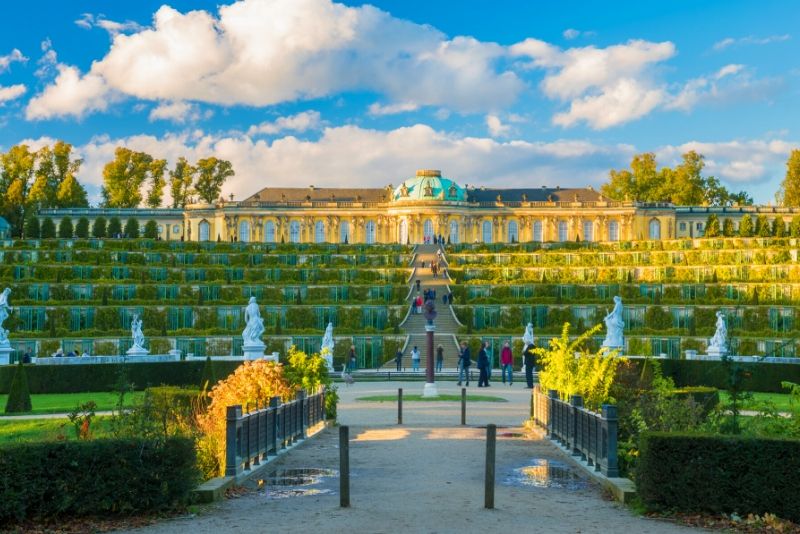 Another UNESCO World Heritage Site, Sanssouci Palace reflects an era of Prussian kings and queens. The palace sits beside a vineyard and features 18th-century interior decoration full of elegance and style.
87 – The Hofburg, Austria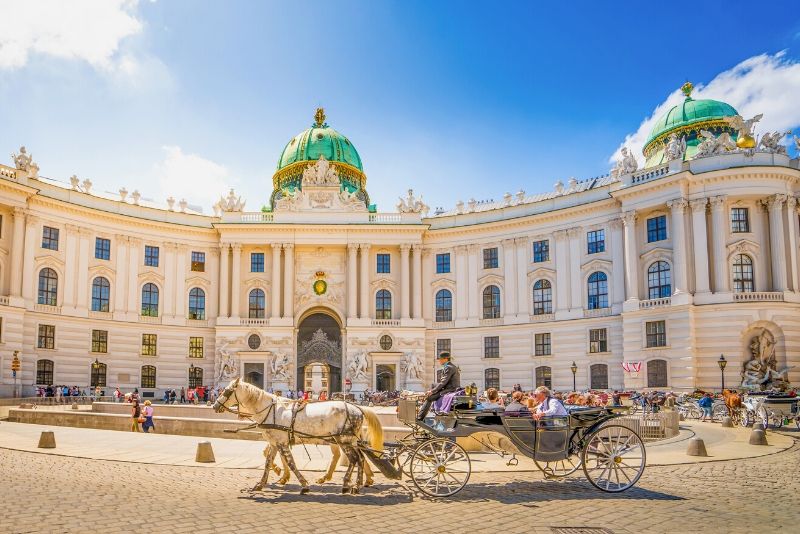 The Hofburg is located in Vienna and is the official residence of the president of Austria. Visitors can marvel at its 13th-century architecture and visit an on-site museum that details the history of The Hofburg.
88 – Château d'Angers, France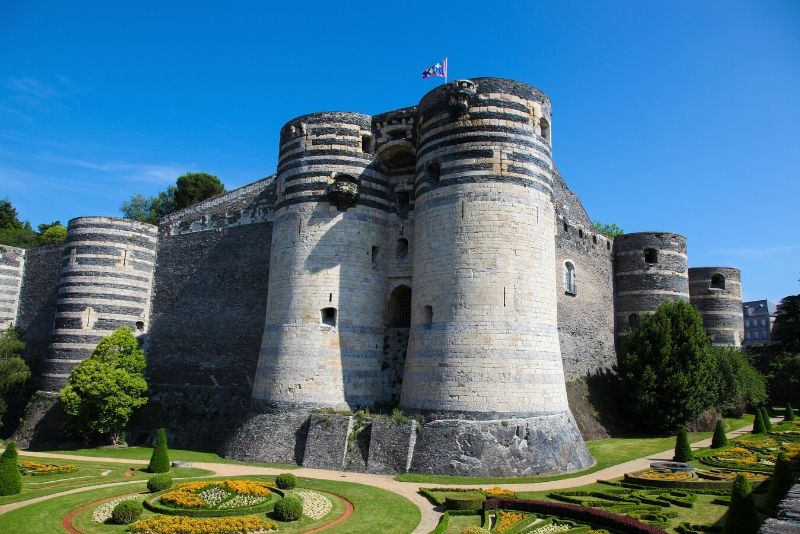 The bands around the 17 towers at Chateau d'Angers are unique in that they feature tufa, which doesn't appear at any other chateau. There's also a tapestry, which is called the Tapestry of the Apocalypse and is a major piece of medieval art. This is one of the best medieval castles in Europe to visit.
89 – Dinant Citadel, Belgium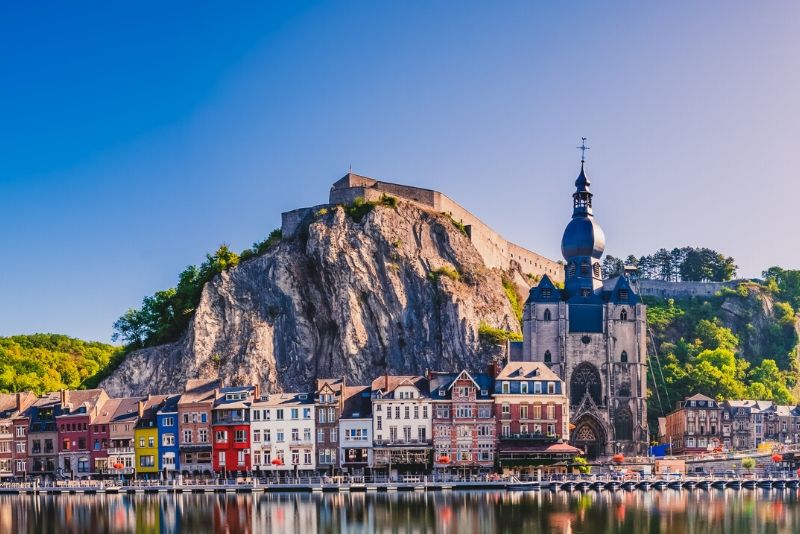 Located on a rocky outcrop is where you will find the citadel of Dinant, a 9th-century castle in the province of Namur. A trip to Dinant offers spectacular panoramic views over the Meuse Valley. So get your camera ready.
90 – Château de Bonaguil, France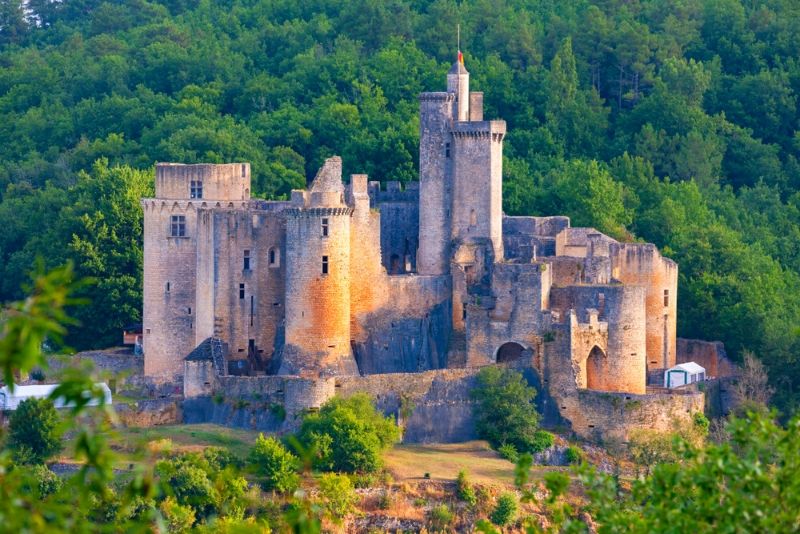 Château de Bonaguil was classified as a Monument Historique in 1862 and has been ever since. In other words, it's a pretty big deal. It's just two hours from Bordeaux and Toulouse and is regarded as an outstanding state of conservation.
91 – Warwick Castle, England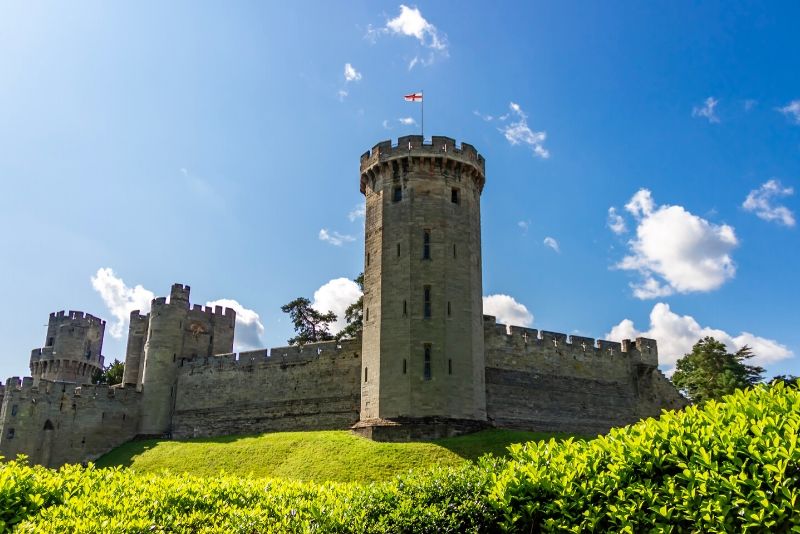 One of the UK's most popular castles, Warwick Castle is over 1,000 years old and was built by William the Conqueror. Visitors can choose to stay overnight and learn all about the castle's storied history, which includes great battles and ancient myths.
92 – Loket Castle, Czech Republic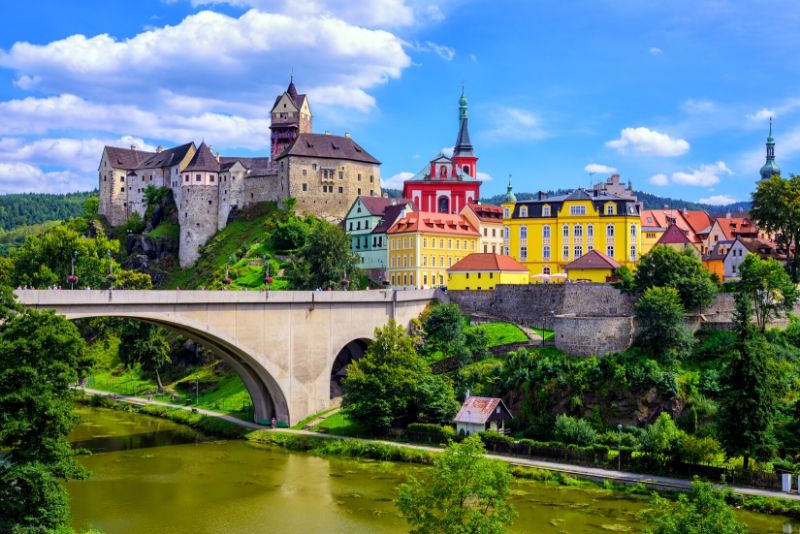 Situated near Karlovy Vary, Loket Castle is a Gothic-style castle dating from the 12th century where the Czech kings came to rest and enjoy hunting.
93 – Bran Castle, Romania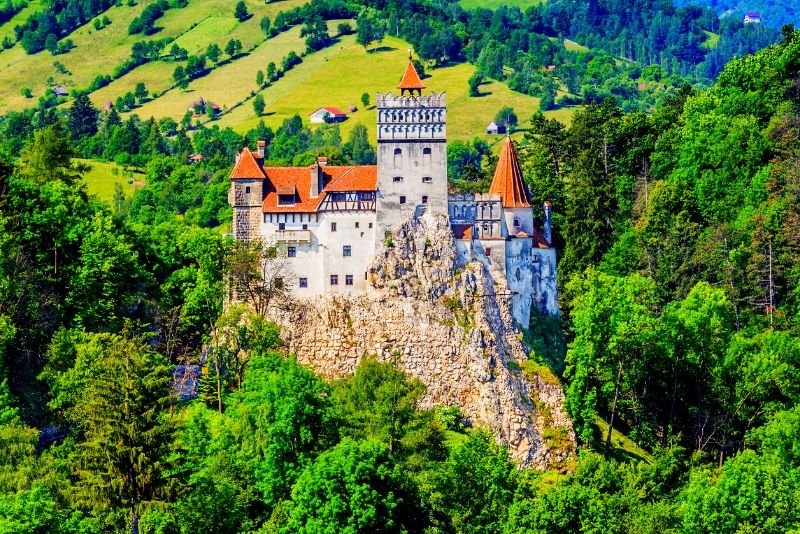 You will find one of the world's most famous castles perched dramatically on a hill in Transylvania. Bran Castle, otherwise known as the home of Dracula, was the inspiration for the fanged vampire, who was created by novelist Bram Stoker. The castle sees more than 800,000 visitors per year.
94 – Pena Palace, Portugal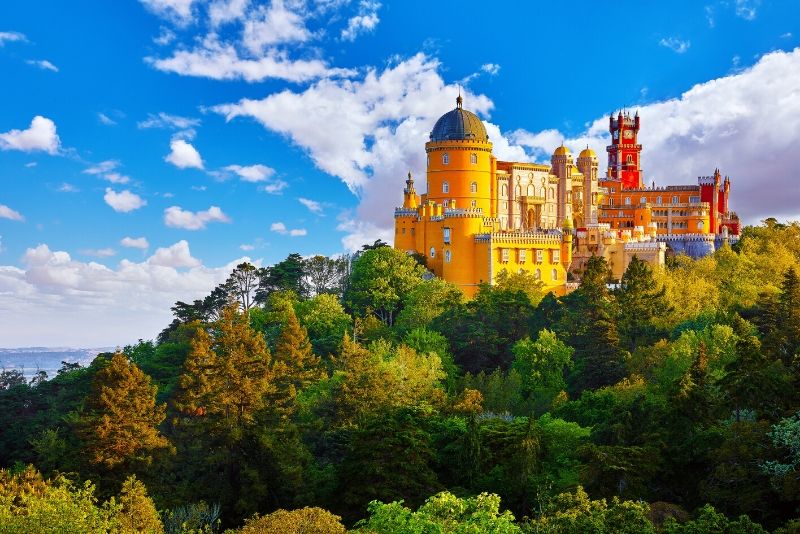 Pena Palace is less than half an hour from Lisbon and is perched atop a sprawling green hill. Since its construction in the 19th century, the palace has cemented itself as a popular landmark. A visit here is a chance to see one of the most extravagant and opulent palaces in Europe.
Learn more about Pena Palace tickets price.
95 – Hampton Court Palace, England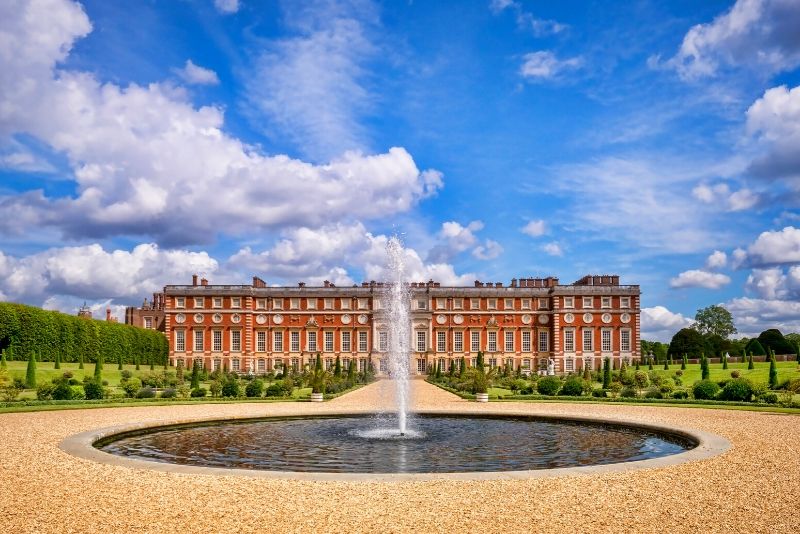 Another royal palace (there's a fair few in the UK), Hampton Court Palace is located in the borough of Richmond Upon Thames and was a favourite with King Henry VIII. Visitors can learn plenty about the former king during a visit thanks to his Great Hall and the Tudor Kitchens.
96 – Louvre Palace, France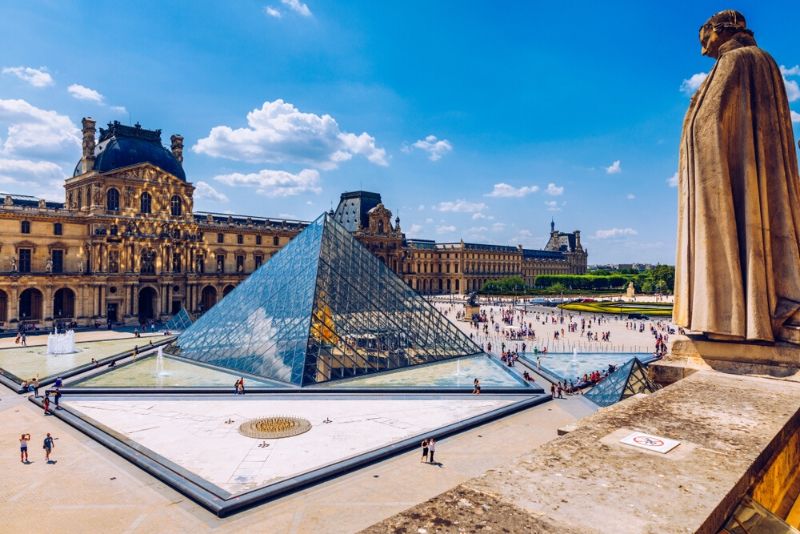 The Louvre is one of Paris' most prominent landmarks and is a former royal palace. It's located on the Right Bank of the Seine. Popular attractions include The Winged Victory of Samothrace, The Raft of the Medusa, and The Coronation of Napoleon. it is one of the most visited castles in Europe.
Learn more about Louvre Museum tickets price.
97 – Kilkenny Castle, Ireland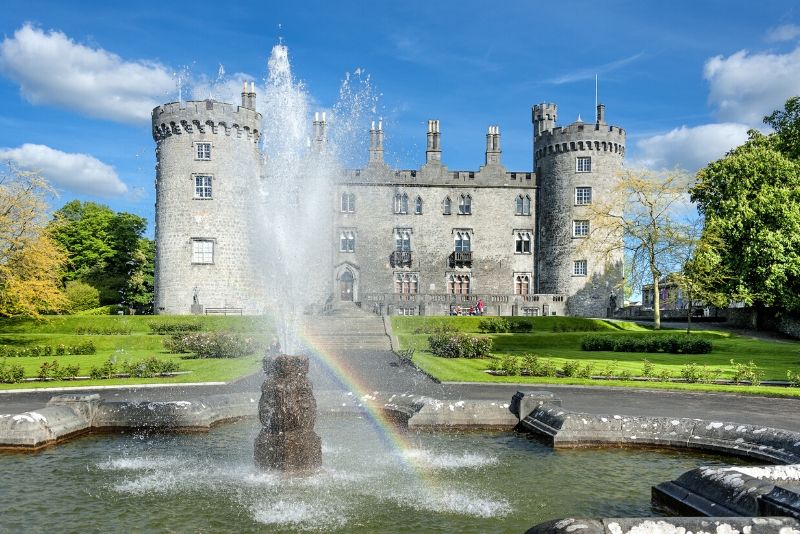 Built-in 1195, Kilkenny Castle is the primary tourist attraction in the medieval town of Kilkenny. Plenty of people flock to the castle to see its grand country house and 50 acres of parkland.
98 – Amalienborg Palace, Denmark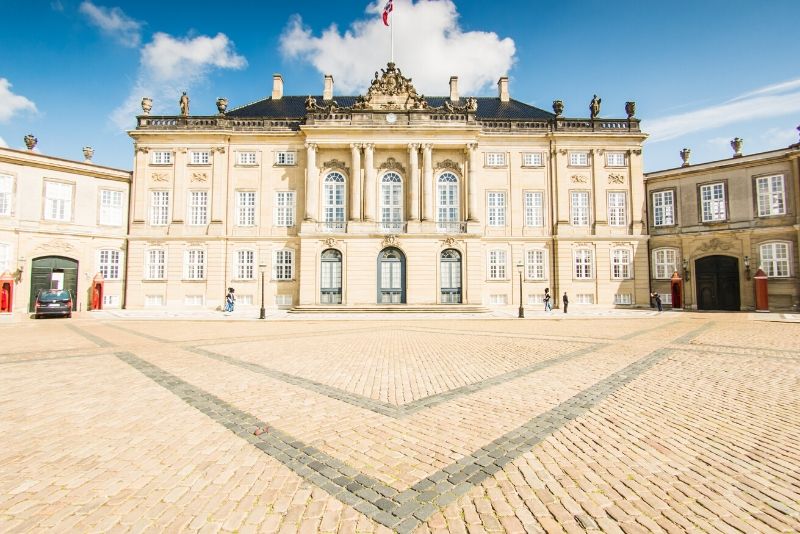 Home to the Danish royal family, Amalienborg is located in Copenhagen and features four identical classical palace facades with rococo interiors around an octagonal courtyard. The main attraction, however, is the Royal Guard, who are called Den Kongelige.
99 – Bojnice Castle, Slovakia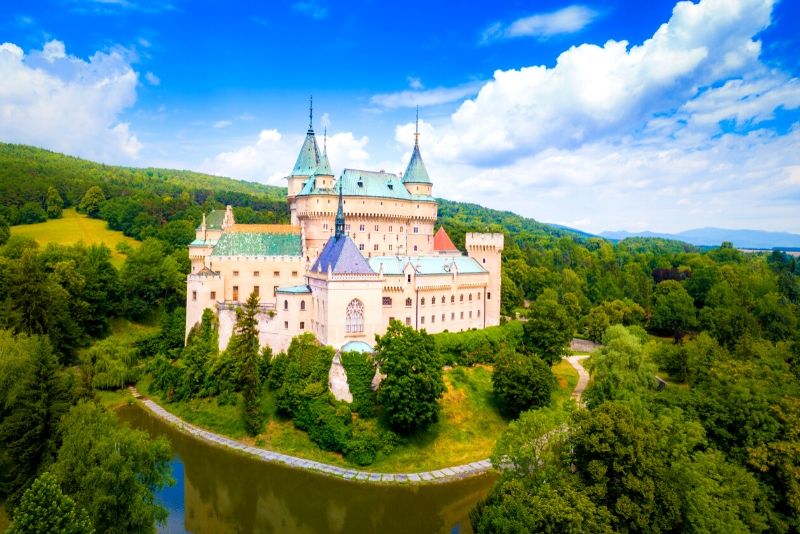 Located northeast of Bratislava, the fairy-tale Bojnice Castle is one of the most beautiful castles in Europe to visit. Built in the 12th century, visitors will enjoy its stunning Gothic and Renaissance elements.
100 – Lichtenstein Castle, Germany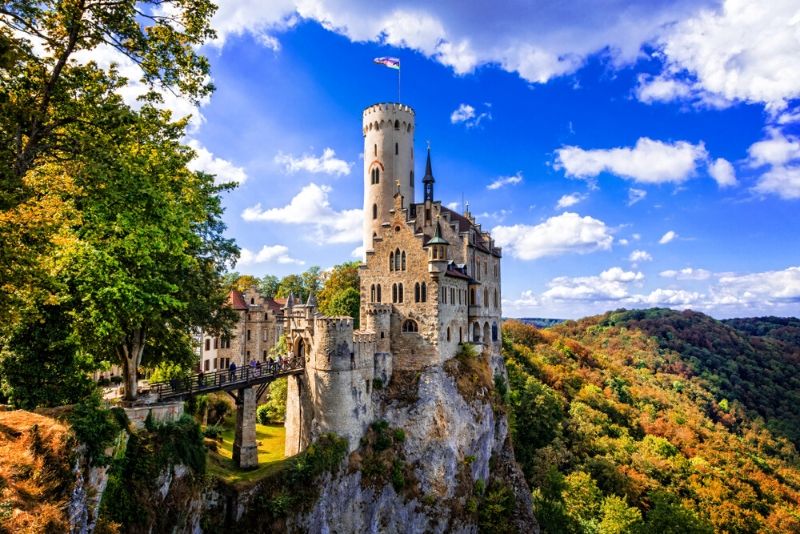 Lichtenstein Castle is a privately owned tourist attraction in the Swabian Jura in southern Germany. It was designed in the neo-Gothic style and is known as a "fairytale" castle. In fact, it was inspired by the romantic novel Lichtenstein.
We hope you enjoyed our selection of the best castles in Europes to visit. Don't hesitate to comment below and tell us what are your favorite ones 🙂