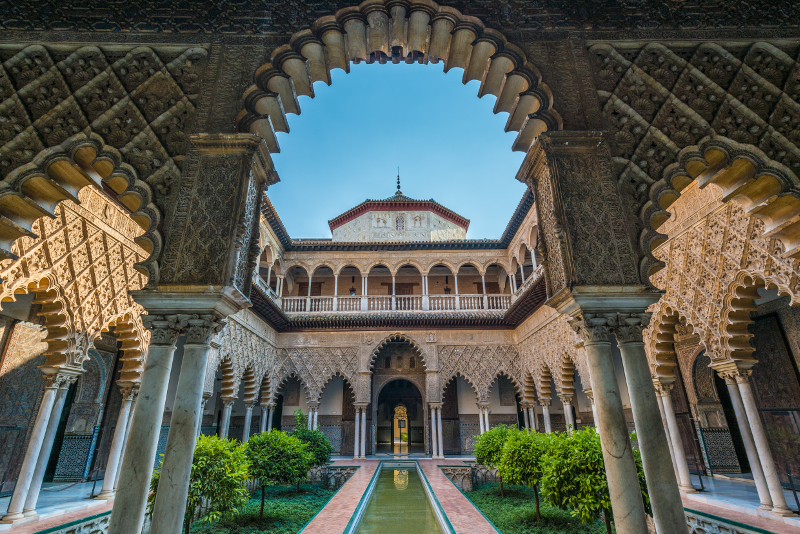 Looking to book Real Alcazar of Seville tickets? Discover everything you need to know about the Real Alcazar in Seville with this ultimate guide; ticket price, discounts, how to skip the line, guided tours, and more.

On this post, you will find a complete guide to getting tickets for the Real Alcazar in Seville, including:
A trip to the Real Alcazar is truly unforgettable. As the oldest royal palace still being used in Europe, the magnificent structure captures the fascinating history of the city. Explore the complex weave of cultures and civilisations that have left their mark on the palace, see the iconic interiors that have been immortalised through Hollywood, and fall in love with the stunningly opulent architecture and serene gardens.
Click on the following link if you wish to book Real Alcazar tickets now.
How much do Real Alcazar tickets cost? Who is eligible for a discount?
There are three types of Real Alcazar tickets. Please find below ticket prices and details for each option.
1- Real Alcazar entrance ticket

This is the general entrance ticket for the Real Alcazar.
– General ticket price is 12.5 €.
– Discounted ticket price is 4 € for retired people (+ 65 years) and students aged between 17 and 25 years old.
– Free ticket for disabled people, people under 16 years old, residents or born in Seville, and unemployed people.

Entrance ticket + Audioguide
Add 6 € per ticket if you wish to book an audioguide.
2 – Real Alcazar entrance ticket + Cuarto Real Alto
This option include a visit to the Royal Alcazar plus the access to the upper Royal apartments.
– General ticket price is 22 €.
– Discounted ticket price is 13.50 € for retired people (+ 65 years) and students aged between 17 and 25 years old.
– Discounted ticket price is 10.50 € for disabled people, people under 16 years old, residents or born in Seville, and unemployed people.
General tour + Audioguide
Add 6 € per ticket if you wish to book an audioguide.
3- Dramatized night visit (in Spanish only)
Join a unique theatrical night tour of the the Real Alcázar of Seville. Groups are small and only for people aged over 8 years old.
– General ticket price is 14 €.
Please note that phone & online ticket purchases are subject to a 1 € per ticket processing.
How do you book Real Alcazar tickets online? How do you skip the line?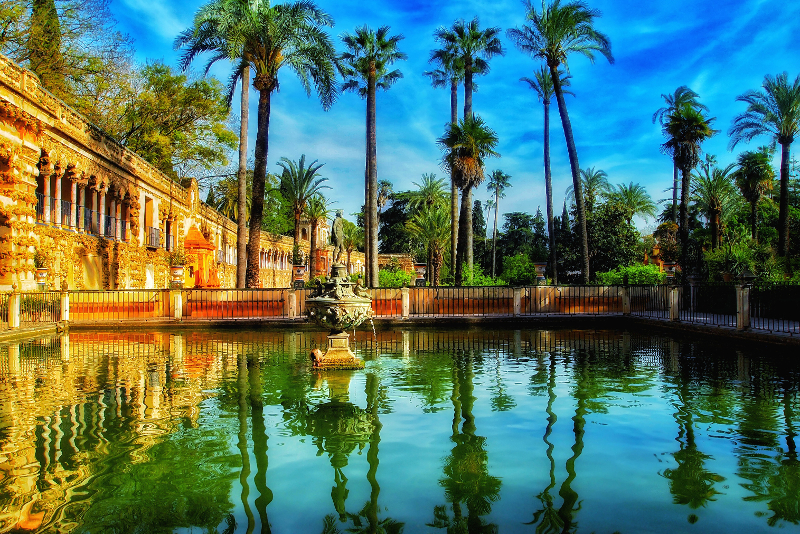 You should book your Real Alcazar tickets online and in advance so you avoid long waiting time at the entrance gate. The Real Alcazar of Seville is a very busy attraction and the waiting line can be very long during certain periods of the year.
You can either book your tickets online from the official site or from an online travel agency so you can skip the line when you arrive. It is best to compare prices between several providers before booking as discounts and deals are often available and can save you some money.
Are there any combined tickets including Real Alcazar tickets and other attractions?
Get the best value for your trip to Real Alcazar by buying a combined ticket – this can be a great way to experience more amazing sights, and even get exclusive insight into special attractions. Why not try one of these combined tickets:
Are there any Real Alcazar guided tours? Are they worth it?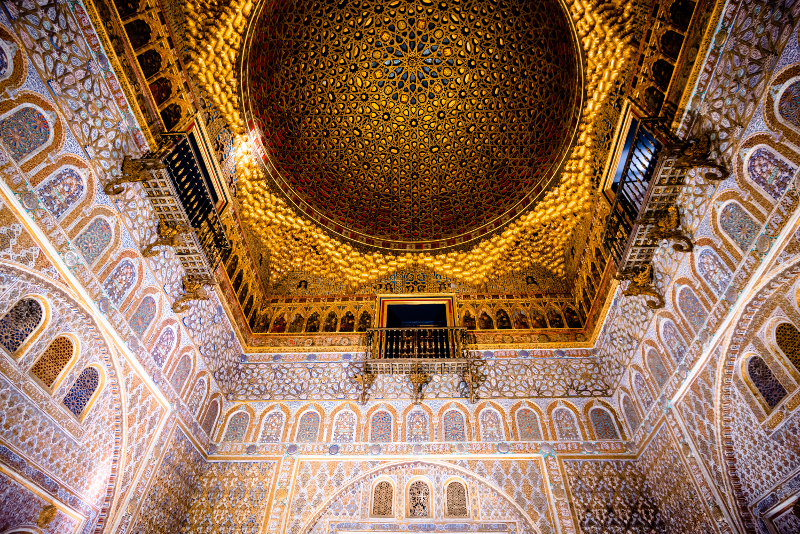 A guided tour can be one of the most rewarding ways to visit Real Alcazar, as your guide will often give you insight into the fascinating history and intriguing stories behind the monument, as well as ensuring that you don't miss out on any of the important attractions within. Booking a guided tour ahead of your trip means you can enjoy:
Skip the line access: there's nothing worse than spending valuable vacation time waiting in boring lines, so make the most of your stay by booking a tour that will let you go straight into the entrance, without having to wait at all.
See the most important parts: having your own guide means that you won't miss the most important works of the Real Alcazar. Get a special insight into the stories behind each areas.
There are a lot of guided tours available. The most popular ones are:
Real Alcazar small group tours: with a dedicated guide and a small group, you can explore the Real Alcazar at ease, without worrying about busy crowds. It is also the most budget friendly option.
Real Alcazar private tours: this is a fantastic way to learn more about the place. Ask all the questions you may have to your tour guide.
Is it possible to visit the Real Alcazar for free?
The Real Alcazar offers free entry on every Monday, and it is possible to book tickets in advance of your visit for free admission, through the official website.
What will you see?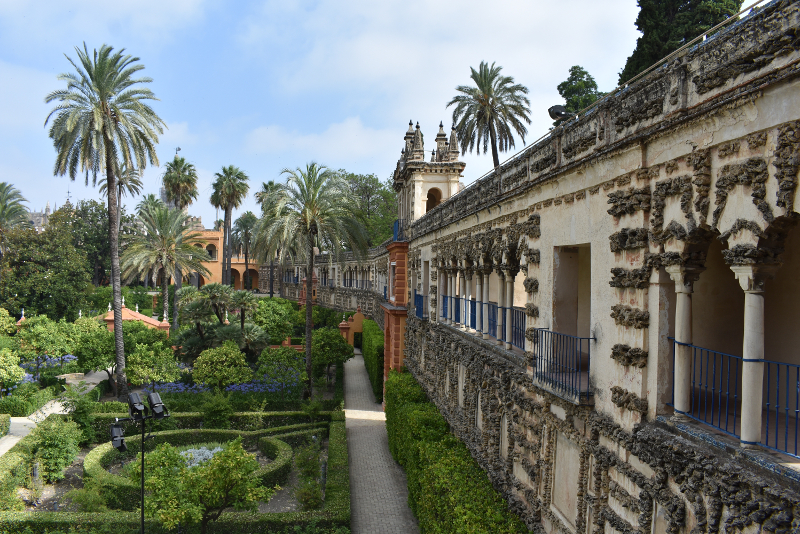 The Real Alcazar of Seville is a royal palace, and one of the oldest in the world – with a complex and multi-layered history, that demonstrates the diverse cultures and civilisations that have shaped the country. The site dates back to the 10th century and over the many centuries since, it has passed hands and changed its appearance to meet the styles and beliefs of Seville's ruling classes.
The palace shows the different influences from both Christian and Mudéjar architectural influences, beginning from its earliest form as a Cordoban fort, before being enlarged and transformed into a palace, called Al-Muwarak, in the 11th century. When the Christian king, Fernando III captured the city in 1248, it was once again taken over, and it has continued to be a serving royal palace for the Spanish Royal Family, to date.
Entering the palace will give you your first glimpse of the palace's Moorish heritage, with some of the oldest parts of the site on display in the Patio del Yeso. With elegant arches, this part of the building was modelled after the famous Mezquita in nearby Cordoba. As you explore the palace, you will be able to see the range of architectural styles that reflect each incarnation the palace has taken on – from the vast Gothic vaults in the underground chambers, to the enchanting Palacio Mudéjar, which features beautiful gardens, courtyards and tapestries. Look through the halls and chambers within, to see fascinating artefacts, tapestries and collections of items that will take you back in time.
The palace is a UNESCO listed attraction, and one of the most breath-taking and majestic sights to see in the city. Sharp eyed fans will also recognise it for its role in contemporary culture – as a location in the popular Game of Thrones TV series!
Are Real Alcazar tickets included in any attraction city passes?
Entrance to Real Alcazar is included with the Sevilla City Pass. The pass allows you to enjoy skip the line, priority access, as well as free entrance and discounts at several other museums and attractions.
The pass also includes a 24 hour ticket for the hop-on, hop-off bus, a cruise on the Guadalquivir River, and private taxi transfer from Seville Airport to your hotel.
What is the best time to visit the Real Alcazar? How can you avoid the crowd?
The Real Alcazar is busiest during high season – predominantly during Easter Week, between April – May and in September. To avoid lengthy lines and crowds for tickets, it's a good idea to pre-purchase your entrance tickets.
During visiting hours, it is least busy first thing in the morning, or after 3pm. This is often the best time to enjoy the garden, especially during warmer months.
What are the Real Alcazar opening hours?
The Real Alcazar is open every day from 9:30 am to 5 pm between March to October, and every day from 9:30 am to 7 pm between April to September.
It is closed on the 1st and 6th of January, Good Friday and 25th of December.
Travel tips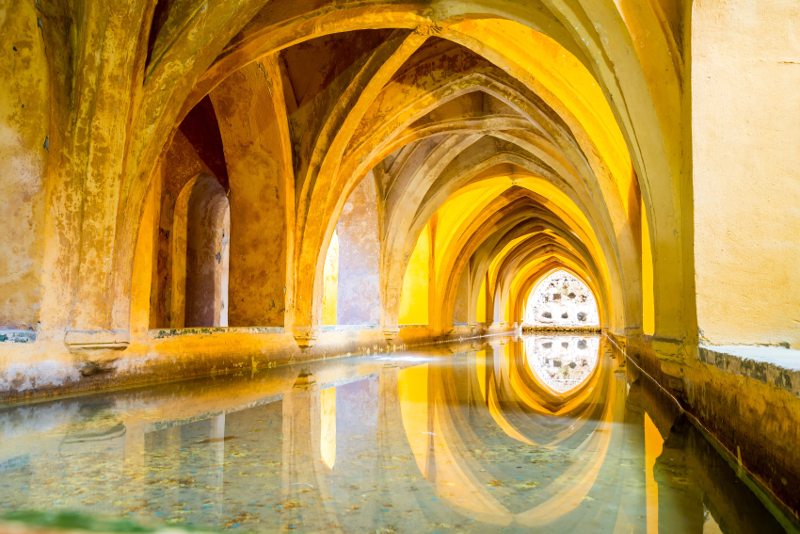 Visiting the Alcazar takes around 3 hours and involves a lot of walking so make sure to wear comfortable shoes.
Don't forget to bring a hat, sunscreen and a bottle of water.
It's a good idea to purchase the guide book before going in, so that you have a good idea of where the main attractions are and can get to them easily. There are also few rest rooms within the main area, and tend to have extensive lines to get in, so it's good to plan around this, especially if you are travelling with children.
Many shops, bars and restaurants, especially those that are small or independently run, may not accept card payments, so be sure to carry sufficient cash around for all your daily needs. For places where you are able to pay by card, you may be asked to present photo ID, so keep this handy.
Seville is a great city to walk around but also easy to get around with public transport, with extensive bus connections, the Sevici rent a bike scheme, and taxis. Be sure to have small change available for the taxi if you are taking this, as they cannot break large notes.