Settled approximately 2,200 years ago, Seville is said to have been founded by the Roman hero Hercules himself. With such a long-standing history, the city is brimming with ancient buildings, serene parks and fascinating sculptures.
One of the best ways to see everything the city has to offer is on a segway tour in Seville. In just a few short hours, you'll see a myriad of the city's most iconic landmarks, all without breaking a sweat.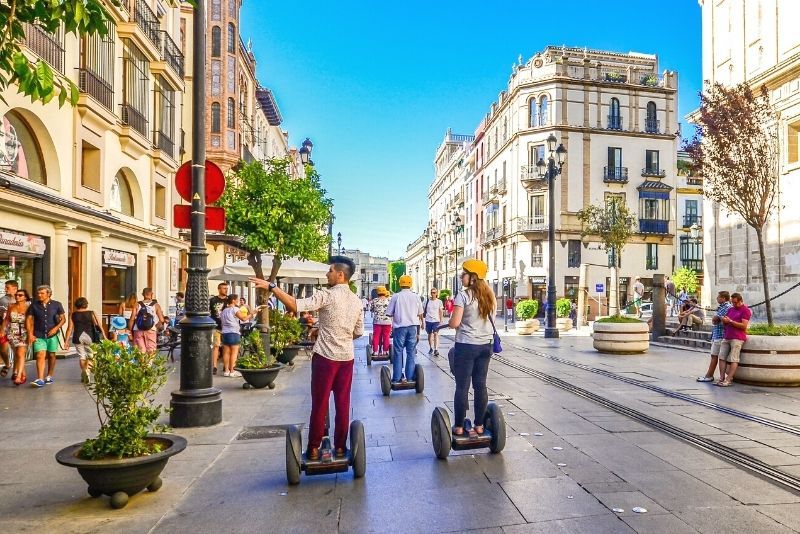 Here's all you need to know about segway tours, one of the most fun sightseeing activities in Seville.
What are the best segway tours in Seville?
Panoramic segway tour in Seville
Those with little time to spare can opt for an hour-long segway tour to gain an introduction to the city.
Itinerary
After learning the basics of riding a segway, you'll set off for a whirlwind tour of the city's main attractions.
You'll admire the spectacular architecture of the Seville's Cathedral, as well as its adjoining Giralda, which was built during Islamic rule. Stop at the crowning jewel of the city — the Real Alcázar of Seville — which has an interesting history during both Christian and Islamic rule, as well as the lofty Torre del Oro.
Other sightseeing attractions on this tour include the Parque de María Luisa, which was once the gardens of the Palace of San Telmo, and the Old Tobacco Factory, which dates back to the 18th century.
3-Hour segway tour in Seville
On this more complete Seville city tour, you'll cover more ground and learn more about the background of this Spanish destination.
Itinerary
Starting your tour at the Real Alcázar of Seville, you'll discover the roots of the palace, built for King Peter of Castille in the 14th century upon an older Islamic site.
You'll also explore the Plaza del Triunfo, which surrounds the palace and was named after a devastating earthquake hit the city, avoiding everyone who attended mass at Seville's cathedral.
See the intricate sculptures atop the Old Tobacco Factory and inhale the floral scents of jasmine from the Murillo gardens as you roll past. Make your way through the tranquil Parque de María Luisa to the Plaza de España before continuing on to the Torre del Oro.
Moving effortlessly through the city on two wheels, you'll also pass by the Triana neighborhood, as well as the Alameda de Hercules and Monasterio de la Cartuja. The final destination on this tour is the largest wooden structure in the world, the Setas de Sevilla.
Square of Spain and riverside segway tour in Seville
Riverside segway tours in Seville allow you to enjoy the city from a new perspective.
Itinerary
Before departing on your segway excursion, you'll speak with your dedicated guide to agree on a route that suits your own personal interests. From there, you'll take off on a 1.5-hour exploration of the Guadalquivir river and the attractions that line its banks.
Moving swiftly through the streets you'll see the city cathedral, as well as its famed Giralda, and the historic Archivo General de Indias. Depending on the route you choose, you may see the Old Tobacco Factory, the Puerta de Jerez and the prestigious Hotel Alfonso XIII.
Which places are visited?
Real Alcázar of Seville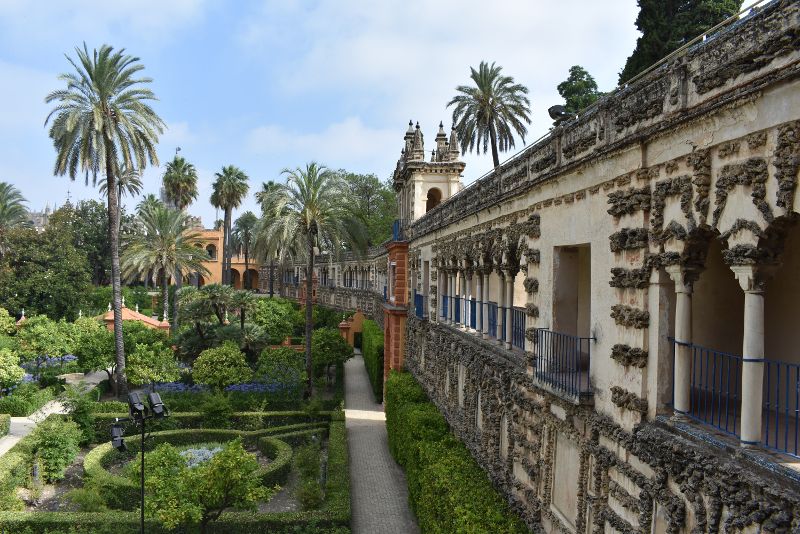 The Real Alcázar of Seville is a UNESCO-listed World Heritage site and was built on the site of the Abbadid Muslim Alcázar. This older Islamic building was destroyed when Christians captured the city in the 13th century and a new palace was built atop for the young King Peter of Castille.
The Real Alcázar of Seville features a medley of architectural influences, including Romanesque, Baroque and Renaissance elements in its design. The palace is famed for its abundance of intricate majolica and arista tiles.
Throughout history, the Alcázar has served as a residence for several royals, including Don Pedro I of Castille and Alfonso XII.
Old Tobacco Factory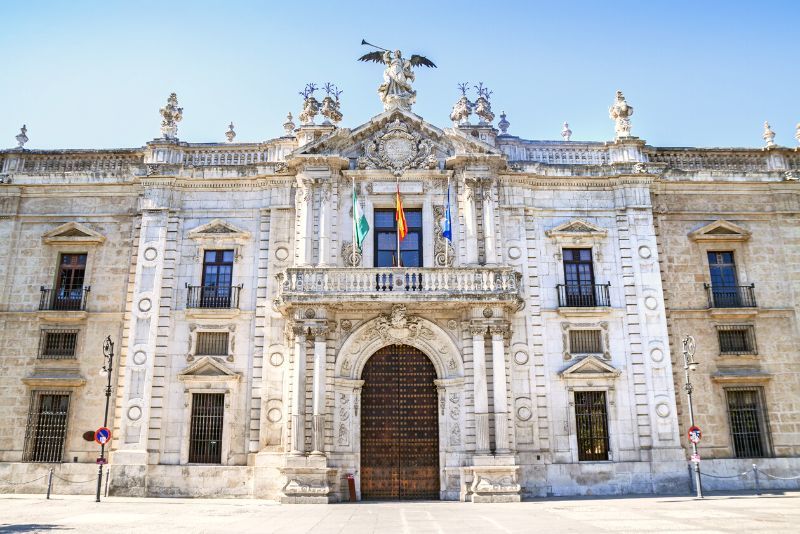 The Old Tobacco Factory was built in the 18th century in order to manufacture tobacco products and was known to be the finest institute of its kind. In the 1950s, it was taken over as the official seat of the University of Seville's rectorate.
When the Old Tobacco Factory was constructed, it was the second-largest building in Spain after El Escorial — the king of Spain's royal residence.
When the factory first opened, the demand for its cigars was high. However, over time, the reputation of Seville cigars suffered after quality issues, which led to the slow decline of the city's trade.
How much do segway tours in Seville cost?
Hour-long segway tours in Seville typically cost between €30 and €40 per person, while riverside tours cost around €50 per participant. You can expect to pay around €70 per person for a more comprehensive 3-hour Seville city tour.
What is included?
Seville city tours aboard a segway always include a knowledgeable and usually local guide to show you around the best districts, and fill you in on each monument. They will also teach you how to operate a segway and be on hand to help you if you lose control of your vehicle.
Where does it start?
Segway tours in Seville meet at a variety of destinations, depending on which part of the city you'll be exploring. These are usually well-known destinations in a central district, which are easily reached by public transport.
You have the option to see the starting location of each tour before booking so that you can arrange any necessary transportation ahead of time.
How long does it last?
Seville segway excursions last between 1 and 3 hours, making them easy to fit into most visitors' itineraries.
While hour-long tours don't cover as many sites as longer segway rides do, they still enable you to see the city's most popular and celebrated landmarks. However, if you do have additional time to spare, opt for a longer tour to gain a well-rounded view of Seville's history.
When is the best time for a segway tour in Seville?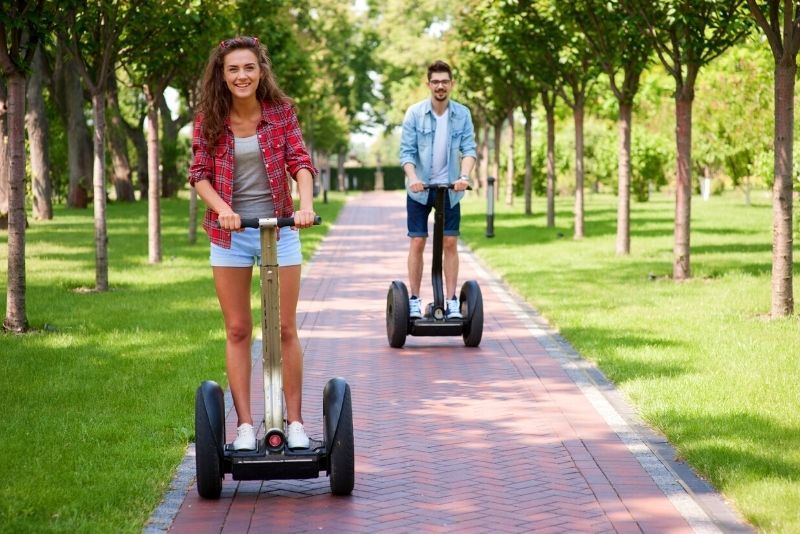 You can participate in a segway ride through Seville at any time of day, meaning you can slot it in between other planned activities as needed. These excursions are the perfect introduction to the city, and as such, you should consider booking one for your first day in Seville.
While the Spanish destination is magnificent at any time of year, the best times to visit are during the spring months — from March to May — or the fall months of October and November. During these times, you'll experience comfortable temperatures that range from 20 to 26 degrees Celsius and fewer crowds than in the height of summer.
Is it safe?
Yes, segway tours in Seville are safe, as they provide expert guides and safety equipment. If in doubt about participating with a specific medical condition, check with the tour provider before booking.
Are children allowed?
Segway tours in Seville allow children aged 9 and above, with an accompanying adult.
Travel tips
Wear flat shoes to stay safe on your segway tour in Seville.
Most tour operators enforce weight restrictions because of the segway's limitations. You'll typically need to weigh between 30 and 110 kilograms in order to book an excursion.
Don't be put off of a segway tour if you've never operated one of these electric scooters before. All excursions are aimed at beginners, meaning no prior experience is required before stepping on your easy-to-control segway.