Straddling the gorge of El Tajo, the iconic cliffside town of Ronda is known for its dramatic landscapes and rich cultural heritage. But there's much more than meets the eye when it comes to this captivating destination.
From picturesque vantage points to vibrant markets and historic monuments, it's no wonder that day trips to Ronda from Seville are becoming more popular by the day. And with a guided tour, you can relax and let someone else take care of the driving and logistics.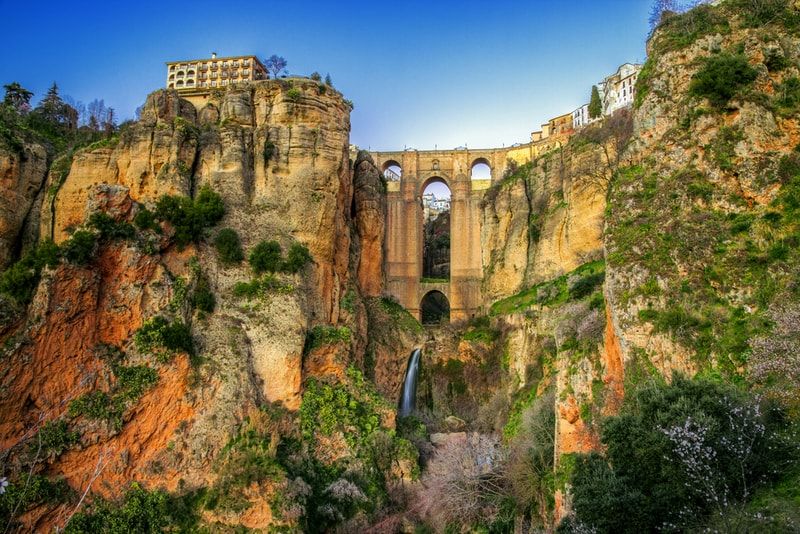 Here's all you need to know about Ronda, one of the most exciting day trips from Seville.
How to get to Ronda From Seville?
Ronda is a historic Spanish town located in the province of Malaga, Andalusia. It's about 130 kilometers away from Seville, just over halfway between Seville and Malaga, and can be reached by car or public transportation.
From Seville to Ronda by car
If you're planning to drive to Ronda from Seville, it's an easy and straightforward journey. Simply take the A-375/A-374 motorway towards Cadiz, and after about 2 hours you'll arrive in Ronda.
The route is well-signposted, and the roads are generally in good condition. Just be aware that parking in Ronda can be challenging, especially during peak tourist season, so plan accordingly.
From Seville to Ronda by public transport
Getting to Ronda from Seville by public transportation is a bit more complicated but still doable.
The easiest option is to take a bus from Seville to Ronda, which takes around 2 hours and 20 minutes and doesn't require any transfers.
Alternatively, you can also take a train from Seville to Ronda, which takes around 2.5 hours (not including transfer time) and requires a transfer at Antequera-Santa Ana station.
Both options are affordable and offer scenic views of the Andalusian countryside.
Guided tour to Ronda from Seville
As the most popular and straightforward option, a guided tour to Ronda from Seville offers several benefits for travelers. First and foremost, it takes the stress out of planning the trip yourself, as everything from transportation to sightseeing is taken care of.
A knowledgeable guide can also provide insights and information about the history, culture and landmarks of Ronda, as well as the Andalusian countryside en route, making for a more enriching experience. Additionally, most guided tours offer the convenience of hotel pickup and drop-off, making it a hassle-free option for travelers.
Both private and small-group tours are available, so you can choose the option that best suits your needs and budget. And if you're looking to experience more of the region, several combination tours also offer stops at nearby towns such as Jerez or Arcos de la Frontera.
What is the typical itinerary?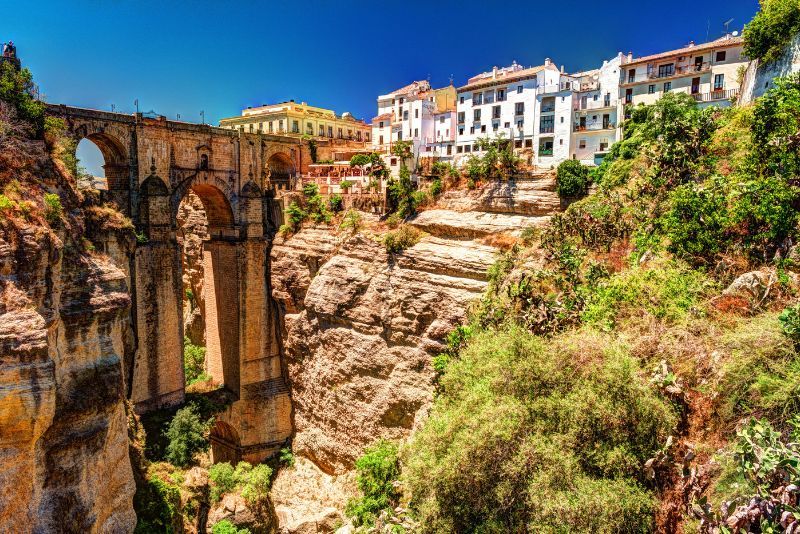 While every itinerary is different, depending on the tour operator, most tours will follow a similar route.
Generally, a guided tour to Ronda from Seville usually lasts around 10 hours and includes several highlights of this historic town in Andalusia. The tour typically starts with convenient pickup from your hotel in Seville in the morning, followed by a comfortable ride to Ronda in an air-conditioned coach or minibus.
During the journey, your guide will provide you with interesting facts and insights about the history and culture of Andalusia.
Upon arrival in Ronda, the first stop is usually the iconic Puente Nuevo bridge, one of the most famous landmarks in the town. The bridge spans the El Tajo and offers spectacular views of the surrounding countryside. Afterward, the tour might visit the Plaza de Toros bullring, one of the oldest and most impressive in Spain, where you'll learn about the history and traditions of bullfighting.
Next, you might head to the Mondragon Palace, a beautiful building that dates back to the 14th century and now houses a museum of Ronda's history. Here, you can explore the palace's exquisite gardens, fountains, and courtyards, and admire the elegant architecture and decor.
Finally, there's usually some free time to explore Ronda's charming streets, shops and restaurants on your own, before heading back to Seville in the late afternoon. Overall, a guided tour to Ronda is an excellent way to experience the beauty and culture of Andalusia and learn about its fascinating history from a knowledgeable guide.
What kinds of tours are available to go to Ronda?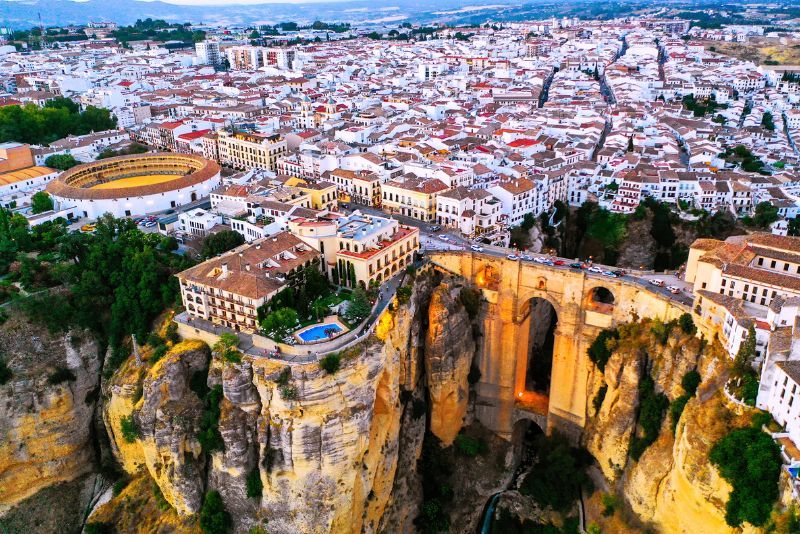 There are several kinds of guided tours available to the Ronda, ranging from small group excursions to private tours, combination tours and more. Here's a quick look at the various tours that you can choose:
Ronda and Pueblos Blancos day trip from Seville
Explore the beautiful town of Ronda and the the Pueblos Blancos, or White Villages, of Andalusia on this guided tour.
Led by a friendly, local guide, you'll learn all about the region's history and traditions while admiring stunning countryside views. Depending on your tour, in addition to Ronda, you might pop by other Pueblos Blancos, such as Vejer de la Frontera, Olvera, Grazalema, or Zahara de la Sierra, to name a few.
Ronda and Setenil de las Bodegas day trip from Seville
In addition to seeing the beautiful mountaintop village of Ronda, on this tour you'll get to discover the unique cave houses and stunning rock formations of Setenil de las Bodega. Located just 20 minutes away from Ronda, this unique town is famous for its houses, which are literally built into the side of the rocky mountain.
With pickup and drop-off included, a guide will accompany you on your journey and give plenty of insight into the region's rich history and culture.
Ronda and wine-tasting day trip from Seville
Suited to wine lovers, this tour combines a visit to Ronda with a chance to taste some of the region's finest blends — most famously, the sweet, fortified wines.
After visiting Ronda's main attractions, you'll be taken on a guided winery tour and tasting in one of Andalusia's most stunning valleys. Here you'll usually spend around 2 hours at the winery where can learn about local grape varieties and sample some delicious wines, accompanied by tapas and snacks.
Since transport is included in these tours, you don't need to worry about having a designated driver!
Private Ronda day tour from Seville
Ideal for couples, families and small groups who are seeking a more personalized experience, private tours offer the chance to tailor your itinerary and explore Ronda at your own pace.
Get a knowledgeable guide exclusively to yourselves, plus the convenience of being picked up and dropped off right from your accommodation in Seville.
Private tours are usually flexible so you can adjust the route on the day according to what interests you — meaning you can spend more time at attractions like the Plaza de Toros, or visit another nearby town or village instead.
How much does a day trip to the Ronda from Seville cost?
The cost of a guided Ronda tour varies starts at around €80 per person but can vary depending on the type of tour you choose. A small-group Ronda and Pueblos Blancos day trip from Seville costs around at €80 per person, while a private tour can cost around €225.
For a Ronda and Setenil de las Bodegas day trip, expect to pay around €200 to €500 for a private tour — prices vary depending on the number of people in your group. Meanwhile, a Ronda winery tour from Seville costs around €450 but includes all of the transport, food and wine.
In general, private tours are typically more expensive compared to group tours, ranging between €225 and €500. However, these are usually per vehicle, so it may not be as expensive as it first appears if you're traveling as a group. Double check these prices before you book to make sure you're getting the best value for money.
What will you see and do?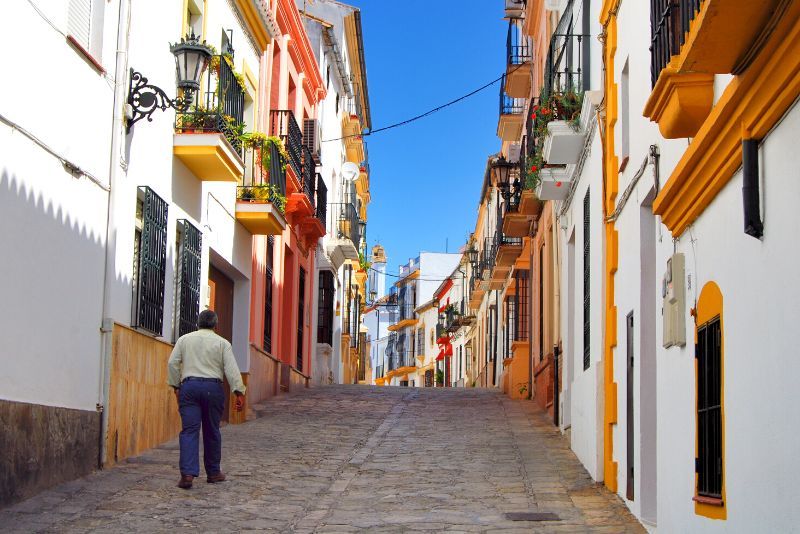 Ronda is a must-visit town in the Andalusian region of Spain, offering a unique blend of history, culture, and natural beauty. Whether you're keen to admire awe-inspiring views or delve into Ronda's fascinating past, there is something for everyone here.
Climb up to the Puente Nuevo, the majestic bridge that stands tall over El Tajo, and admire the views of this breathtaking landscape. One of the town's most famous attractions, the Puente Nuevo bridge was built in the 18th century and spans the 100-meter-deep Tajo Gorge.
Discover the ancient bullring in Plaza de Toros, a captivating monument that stands as a testament to Ronda's long-standing relationship with bullfighting. The Plaza de Toros bullring is another must-see attraction, famous for its unique architecture and its role in the history of bullfighting.
Visitors can also explore the old town's narrow streets, picturesque squares, and beautiful gardens, as well as the town's many historic landmarks and monuments, such as the Church of Santa Maria la Mayor and the Arab Baths.
For art lovers, the Joaquin Peinado Museum of Contemporary Art and the Ronda Bullfighting Museum offer fascinating exhibits that showcase the region's rich cultural heritage.
Finally, Ronda is surrounded by beautiful natural scenery, making it an ideal destination for outdoor activities such as hiking excursions, biking tours, and horseback riding tours. Whether you're interested in history, culture, or nature, Ronda offers something for everyone.
If you opt for a combination tour, you may also visit some of the follow destinations:
Setenil de las Bodegas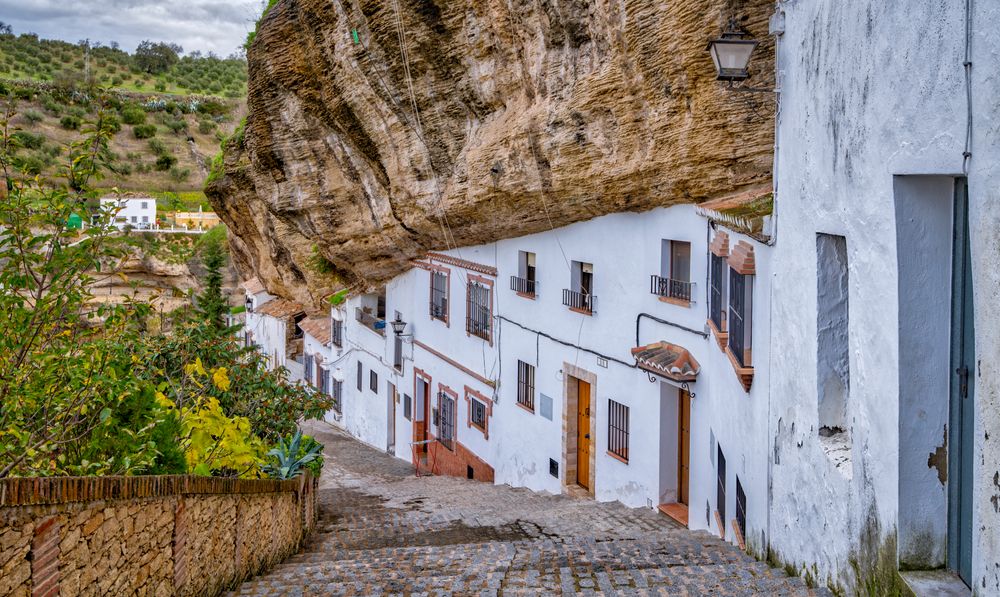 Built into the side of a large rock formation, the unique village of Setenil de las Bodegas is a unique display of nature and man-made construction. Here you can explore its winding streets, lined with traditional whitewashed houses and overhanging rocks.
Pueblos Blancos (White Villages)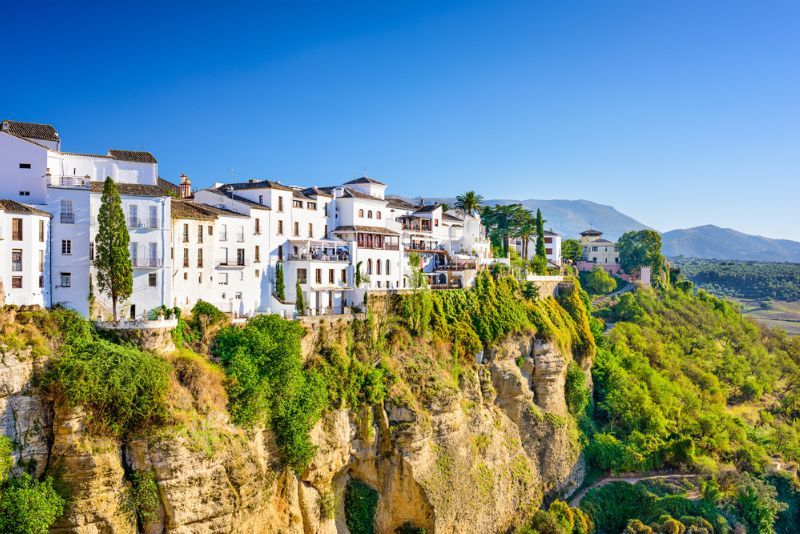 A group of 19 beautiful villages perched high in the mountains of Cadiz, Pueblos Blancos is a great place to take in the traditional Andalusian culture and architecture. Highlights include Grazalema, Zahara de la Sierra, and Olvera — plus Ronda, of course.
Andalusian wineries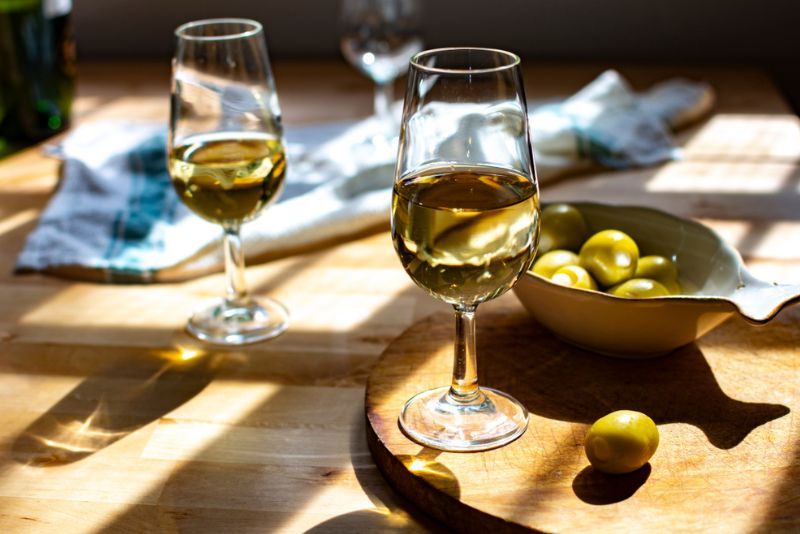 The southwest of Spain is home to some of the most renowned wineries in Europe, producing world-class wines such as sherry and Manzanilla. A guided tour will provide a fascinating insight into the region's wine production and tasting culture — plus you'll get to sample a few tipples along the way!
When is the best time to visit Ronda?
The best time to visit Ronda in Spain is during the spring (April to May) or fall (September to October) when the weather is mild and pleasant. Summer months can be very hot and crowded, while winter months can be chilly and rainy, although the town's charming atmosphere is worth a visit year-round.
As for time of day, it's recommended to start early in the morning so that you can make the most of your day trip!
Are there any tours to the Ronda from other cities in Spain?
Yes, there are tours departing from other cities in Spain:
Travel tips
Wear comfortable shoes as Ronda has many hills and steep streets.
Bring a water bottle and sunscreen, especially in the summer months.
Try the local cuisine, such as the gazpacho or the pork dishes.
Book your tour online and in advance  to avoid disappointment. Similarly, for the best bang for your buck, consider a combination tour.