A tiny village built bordering a biodiverse national park, El Rocio is a religious sanctuary to which devout Catholics embark on a pilgrimage every year after Easter.
However, this destination is not reserved for believers, everyone can marvel at the white-washed architecture and traditional way of life in the village.
El Rocio day trips from Seville enable you to discover this charming part of Andalucia for yourself, as well as the lush green haven that surrounds it.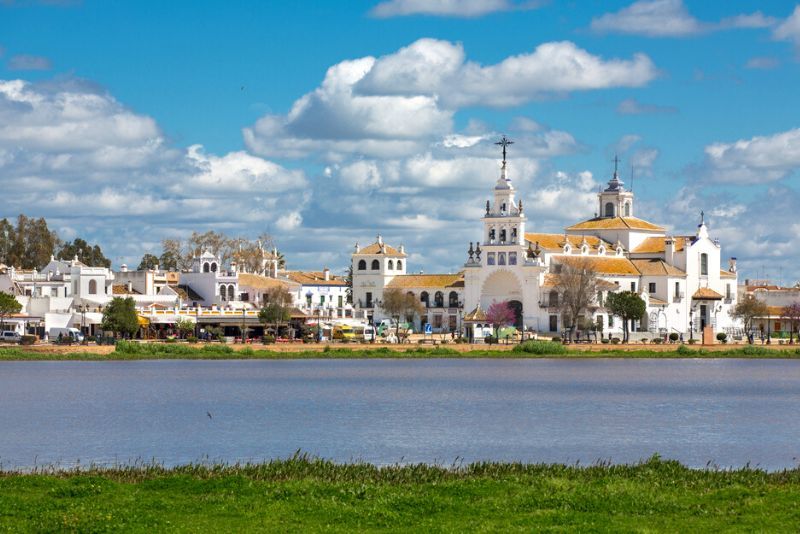 Here's all you need to know about El Rocio, one of the most exciting day trips from Seville.
How to get to El Rocio from Seville?
El Rocio is located in the Huelva province of Andalucia, Spain. It is just over 80 kilometers from the city of Seville, in a southerly direction.
From Seville to El Rocio by car
The easiest way to make the journey to El Rocio from Seville is by car. The drive takes just over an hour and follows the A-49 south of the city. After approximately 50 kilometers, you'll take the exit for the A-483, which leads you to the village.
From Seville to El Rocio by public transport
Another option is to make the jaunt to El Rocio via public transport. You can take a direct bus between the two destinations, and the journey takes just over 1.5 hours. Buses run twice daily, in the early morning and mid-afternoon.
Guided tour to El Rocio from Seville
Alternatively, allow all the details to be arranged for you by booking a guided excursion to El Rocio. These day trips typically last between 8 and 11 hours, and their start times vary from 6:30 AM to 10 AM.
What is the typical itinerary?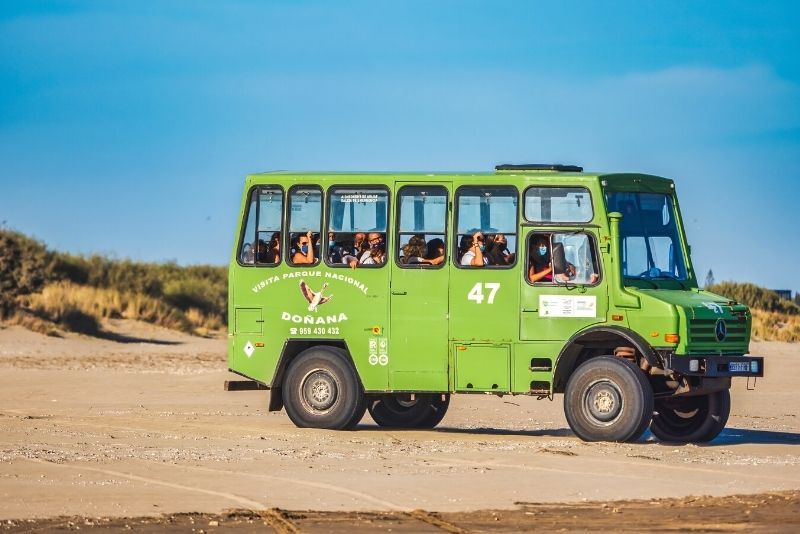 Most El Rocio day trips offer a complimentary accommodation pickup and drop-off service, so you'll simply need to wait in the lobby of your hotel at a pre-determined time on the morning of your excursion.
Once you've met your friendly guide, you'll head south in the direction of El Rocio.
Along the way, you'll stop at the Doñana National Park, where you'll have the opportunity to search the skies for the 300 bird species that live in the area or peek through the trees to find an abundance of land animals.
After exploring this slice of paradise, you'll continue on to El Rocio, where you'll have free time to spend as you choose, admiring the quaint village.
While some El Rocio day tours visit these two sites in this order, others flip the itinerary around, heading to the village before the national park. From here, you may return to Seville, or alternatively, sink your toes in the sand at Matalascañas Beach.
What kinds of tours are available to go to El Rocio?
There are a couple of different options for those wanting to embark on a day trip to El Rocio. The excursion you choose will greatly depend on your preferred travel style and your group size.
Guided tour to El Rocio plus Doñana National Park from Seville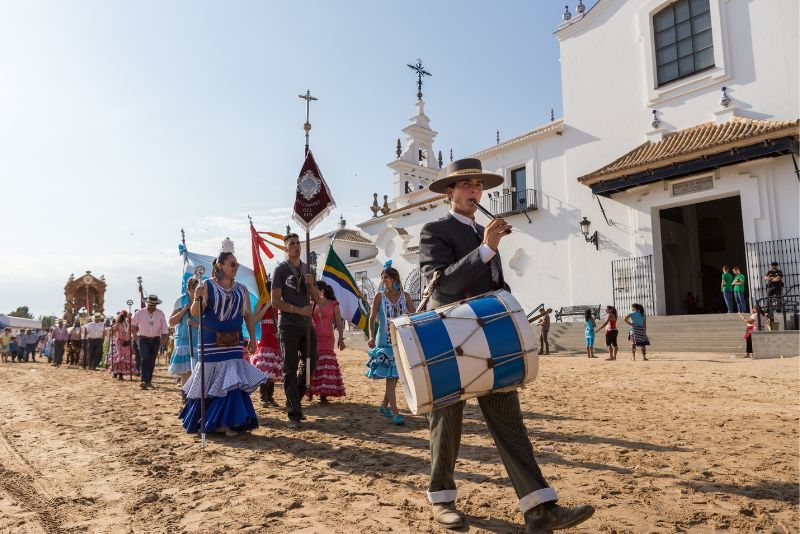 Most day trips to El Rocio include the UNESCO-listed natural wonder — Doñana National Park — which is located close by.
Along the way, you'll stop at several villages and landmarks where you can admire the bountiful birdlife that calls this region of Spain, such as Puebla del Río.
Continuing to El Rocio, you'll be transported back to centuries past as you explore the historic village and stroll along next to horse-drawn carriages.
Moving on, you'll participate in an energizing hike through Doñana National Park, following the trails of Spanish red deer, wild boar and Iberian lynx, before returning to Seville.
Private tour to Doñana National Park plus El Rocio and Matalascañas from Seville
By selecting a private El Rocio day tour, you can guarantee a more personalized service. You'll make the journey to Doñana National Park, where you'll board a 4x4 Jeep tour for a safari through its verdant forests and diverse marshlands.
Visit the holy village of El Rocio, which is famed for its annual pilgrimage. Here, you can marvel at the town's white-washed hermitage and wander its traditional streets.
Lastly, take a relaxing stroll along the golden sands of Matalascañas Beach, feast on local cuisine and dip your toes in the frosty Atlantic Ocean.
How much does a day trip to El Rocio from Seville cost?
A typical day trip to El Rocio costs approximately €90 per person, which includes round-trip transportation and a professional guide.
Alternatively, you can book a private tour, which costs €530 each.
On this excursion, you'll benefit from a 4-hour private 4x4 tour of Doñana National Park, with a knowledgeable guide who will explain the diversity of flora and fauna in the nature reserve.
What will you see and do?
El Rocio is a small village with a large amount of culture running through its streets. The town is most famed for its pilgrimage, which happens each year on the second day of Pentecost — the 50th day after Easter Sunday.
This tradition began in the 17th century after the Virgin of Las Rocinas was named the patron saint of Almonte.
Since that time, the martyr has been known as the Virgin of El Rocio instead. Pilgrims begin their journey in the town of Almonte and make their way through the countryside, ending up at the Hermitage of El Rocio where mass is held.
This hermitage was built in 1951, although its roots go back to the 13th century when the original building was constructed by King Alfonso X of Castille.
However, legend tells of another origin behind this famed monument. Locals speak of a hunter who saw an image of the Virgin Mary when traveling through the marshlands.
After this event, the people became devoted to the religious figure and decided to build the hermitage in the spot she appeared to the hunter.
When is the best time to visit El Rocio?
The best time to plan a day tour to El Rocio is during March or April when its annual pilgrimage is in full swing. At this time, you can expect balmy daytime temperatures that hover around 20 degrees Celsius and plenty of festivities to keep you occupied.
Travel tips
El Rocio reaches high temperatures of 36 degrees Celsius during the summer months. If you travel to the village at this time of year, be prepared with sunscreen and a sunhat.
Most El Rocio day tours include a fair amount of walking. For this reason, you should consider wearing comfortable shoes and clothing.
If you have no religious beliefs, you may wish to visit El Rocio during June or September when you'll experience lower prices and fewer crowds.