Escape the city heat and head out to sea on a refreshing Dubai snorkeling trip. You can jump overboard and meet the residents of the mysterious marine kingdom as you float above rocky reefs with the sun on your back.
Snorkeling tours in Dubai are fun for all the family, with friendly fish and fabulous views to keep you entertained. Here's the lowdown on all the best snorkel excursions.
What are the most popular snorkeling tours in Dubai?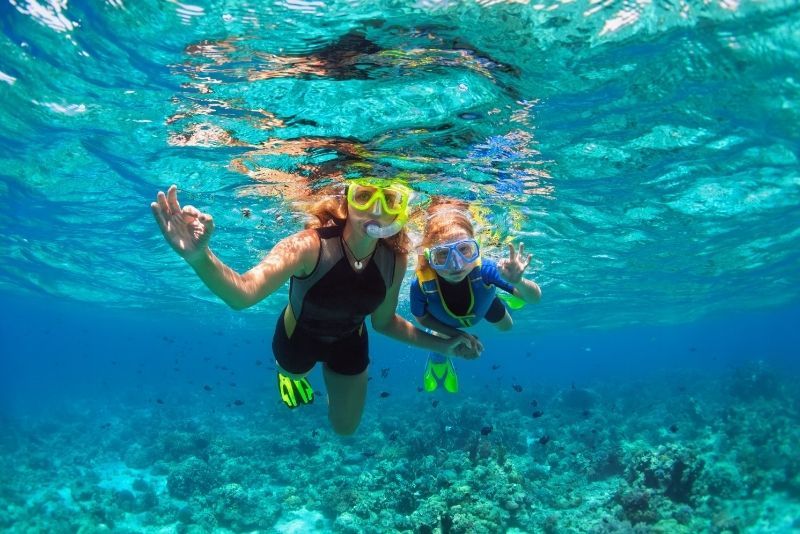 Whether you want to snorkel in a controlled indoor environment or fancy a day splashing around at sea, there are Dubai snorkeling tours to suit everyone.
Small group Dubai snorkeling trips with transfers
The most popular snorkeling tours in Dubai take you to the Gulf of Oman for a full day out. You will enjoy transfers and a boat ride, as well as snorkeling at several different locations. Trips generally include lunch on board before returning you to the city.
Aquarium snorkeling tours in Dubai
These indoor taster snorkeling sessions are ideal for beginners, or those who want to jump into the heart of the action as soon as they enter the water.
You will be swimming with parrotfish, rays, and even sharks in the Ambassador Lagoon at The Lost Chambers Aquarium. No prior experience is required and participants over 6 years are welcome.
Cage snorkeling tours
Feel safe while submerged in a strong metal cage at the Dubai Mall Aquarium. You will come face to face with over 70 different marine species, including sand tiger sharks and giant groupers. A short snorkeling orientation is included for beginners.
How much do snorkeling tours in Dubai cost?
For snorkeling tours in Dubai that last a full day, prices range from $99 - $233 per person depending on the boat type and capacity. Lunch is included on most tours.
The snorkel session in The Lost Chambers Aquarium at Atlantis, The Palm costs $76 per person for 30 minutes in the water. Shorty wetsuits and flotation jackets are provided.
Cage snorkeling at the Dubai Mall Aquarium is $133 per participant and includes equipment and instruction.
What to expect on snorkeling tours in Dubai?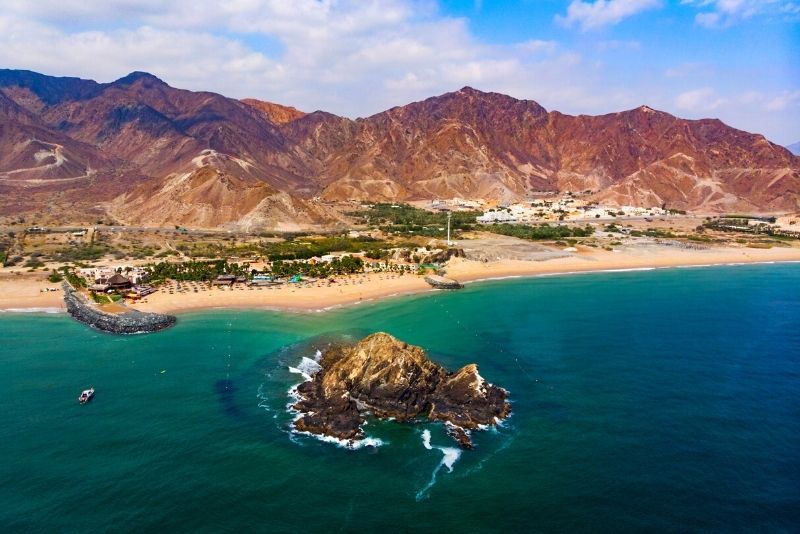 While some snorkeling experiences take place in tanks at indoor venues such as The Lost Chambers Aquarium, and the Dubai Mall Aquarium, the majority of trips head out to sea. This is what you can expect on the most popular Dubai snorkeling tours.
Departure
Snorkeling excursions in Dubai usually last a whole day so plan for an early start. You will be picked up from your hotel after breakfast and transported by air-conditioned vehicle to Fujairah, where the boat will be waiting.
Sitting in the Gulf of Oman on the eastern coast of the United Arab Emirates, Fujairah is just south of the beautiful Musandam Peninsula. Famed for its beaches and stunning views of the Hajar Mountains, Fujairah is the perfect place for snorkeling tours in Dubai.
Boat trip
On board the boat you will have a safety briefing and get kitted up with snorkeling gear. Then it's time to set sail and find those coral reef sites and tiny islands where shoals of colorful fish dart about the rocks. Your guide will teach you some tricks if it's your first time snorkeling.
Most of these snorkeling excursions in Dubai visit a couple of sites so you can enjoy the different underwater scenery.
Lunch and return
The day-long Dubai snorkeling trips often provide a delicious barbeque buffet lunch on board the boat. You can tuck in while the captain sails back to port.
After your day out on the water, you will be transferred by land back to Dubai in time for dinner.
How long does a snorkeling tour last?
Dubai snorkel tours generally last a full day, giving you plenty of time out on the water. A handful of half-day tours are available too if you are on a tight schedule.
The indoor snorkeling tours in Dubai Mall Aquarium and The Lost Chambers Aquarium at Atlantis, The Palm are half an hour.
Where do snorkeling tours leave from?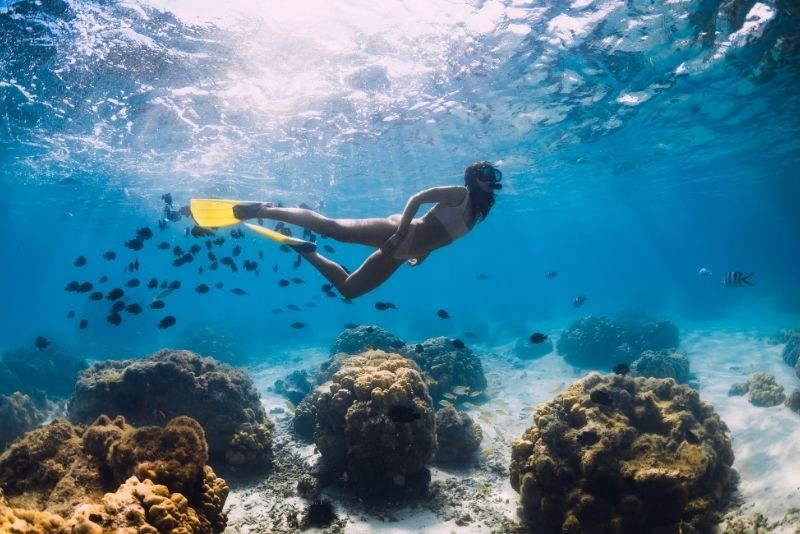 Most snorkeling tours in Dubai take place in Fujairah, and hotel pick-ups are included in the trip price.
For the snorkel experience in the Ambassador Lagoon at The Lost Chambers Aquarium, you will need to make your own way there. This is very easy to find as it's at the Atlantis, The Palm hotel. The best way to get there is by taxi.
The meeting point for the cage snorkeling experience is at the Dubai Mall Aquarium, not far from the Burj Khalifa.
When is the best time for a snorkeling tour in Dubai?
You can enjoy snorkeling tours in Dubai at any time of year, and indeed the refreshing water is a pleasant respite from the heat of the city. Most trips depart in the morning, giving you a full day out and about.
Most people prefer to visit Dubai during the winter between November and March when temperatures are pleasant, and more activities can be enjoyed. In the summer the mercury soars, making many outdoor experiences uncomfortable.
Which other water activities can be done in Dubai?
Travel tips
Pack your swimming gear, towel, and sunscreen for the outdoor snorkeling tours in Dubai.
You should arrive 30 minutes before your tour starts if you are traveling independently to the departure point.
It's a good idea to book your Dubai snorkeling tours online in advance so you can search for the cheapest price on your chosen date.
Tours to Fujairah require you to carry your passport on the day for ID purposes.
Photography is not permitted inside the Atlantis aquarium, although professional photographers are available to take your picture at an additional cost.