Feel an adrenaline rush as you skim across the ocean by jet ski, under the watchful eye of the imposing Dubai skyline. This is one of the most popular water sports to try in the city, with no prior experience required.
There are lots of jet ski tours in Dubai to choose from, including beach rides and marina jaunts. You can join a group trip or blaze your own watery trails on a self-guided adventure.
What are the most popular jet ski tours in Dubai?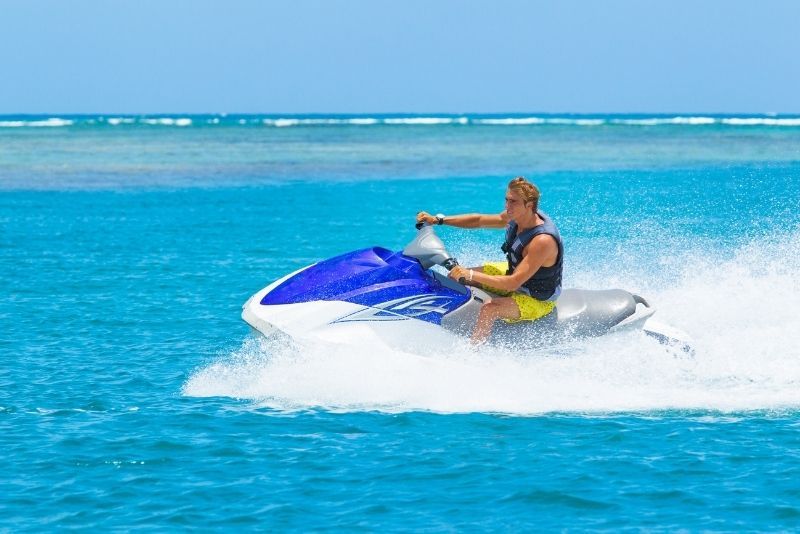 Jet ski trips in Dubai usually take place off one of the city beaches, with group tours and independent rentals both available. Read on to discover which excursion best suits your needs.
Small group guided jet ski tours
After a short safety briefing and guidance on how to operate the jet ski, you will set out on your sightseeing adventure. Following an instructor at a pace suitable for the group, you will ride through the waves, enjoying views of the spectacular city skyline.
There will be plenty of time for photo stops on all jet ski tours in Dubai. Some guides take photos for you, so your camera can be left safe and dry on shore.
Both shared and single-seater jet ski experiences are available.
Private jet ski tours
Want to ride along at your own pace rather than having to stay with a group? Then choose a private Dubai jet ski excursion and enjoy bouncing through the water on your own terms.
You will have a personal guide to show you the ropes and point out the landmarks. They will be on hand throughout the tour in case you need a helping hand.
Self-guided jet ski rentals
Dubai jet ski rentals offer you the chance to explore independently. After a private transfer from your hotel, you will receive a full briefing, before jetting off into the marina and along Dubai Beach.
This experience is suitable for beginners and experts alike.
How much do jet ski tours in Dubai cost?
Prices for sightseeing jet ski tours in Dubai start at $87 for 30 minutes, $123 for an hour, and $175 for 2 hours. These are shared group excursions and include a guide.
Private jet ski trips in Dubai cost between $145 and $159 per person for an hour on the water. 30-minute sessions are $88 - $120, and some include refreshments.
Jet ski rental in Dubai for self-guided excursions is around $195 per person for 30 minutes and $250 for an hour. Private hotel transfers are provided.
Safety equipment and instruction are included in all tours. Some also provide bottled water and offer free photos and videos taken by your instructor.
Which places are seen on a jet ski tour in Dubai?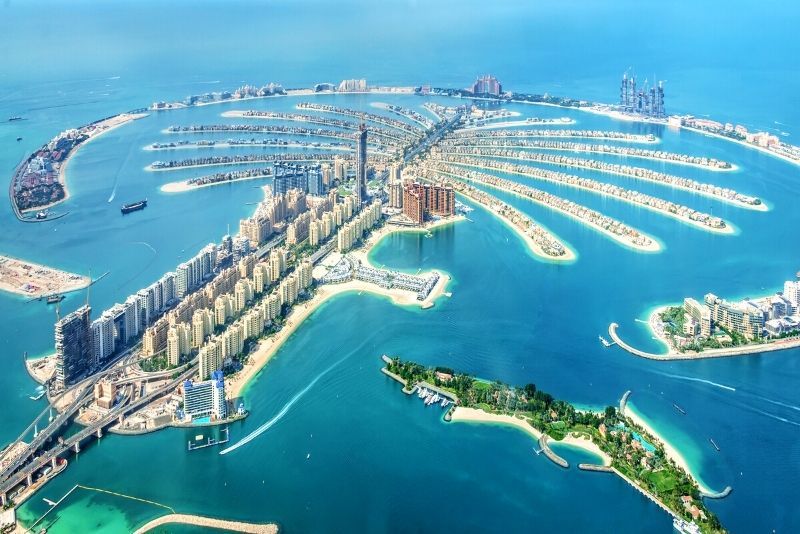 A jet ski trip in Dubai is a fun way of seeing some of the city's major landmarks from the water. Here's what to look out for:
Dubai Marina
Some jet ski excursions take in the Dubai Marina, which is resplendent with luxurious residences and restaurants. The promenade is a pretty place for a waterside stroll after your tour – don't forget to admire the superyachts at the Marine Club.
The beaches here are long and golden, making for a great place to relax after your jet ski tour in Dubai. Visitors love to come here for sunbathing and camel riding!
Burj Al Arab
This sail-shaped hotel is one of the great architectural icons of Dubai and a popular sight on many jet ski rides. You can stop right in front of the building and pose for photos while floating on the water!
Famed for its opulent interiors and glamorous clientele, the Burj Al Arab is a favorite landmark among international visitors. It's constructed on a man-made island and looks like a ship sailing out to sea.
For an indulgent end to your vacation, book a room or dine in one of the world-class restaurants here.
Palm Jumeirah
The Palm Jumeirah is one of the first sights you'll recognize from the plane on arrival in Dubai. This eye-catching artificial archipelago is formed in the shape of a tree, with exclusive villas, luxury hotels, and sandy beaches making this the ultimate outdoor playground.
During your jet ski excursion in Dubai, see if you can spot Atlantis The Palm Hotel, and the Aquaventure Waterpark.
How long does a jet ski tour last?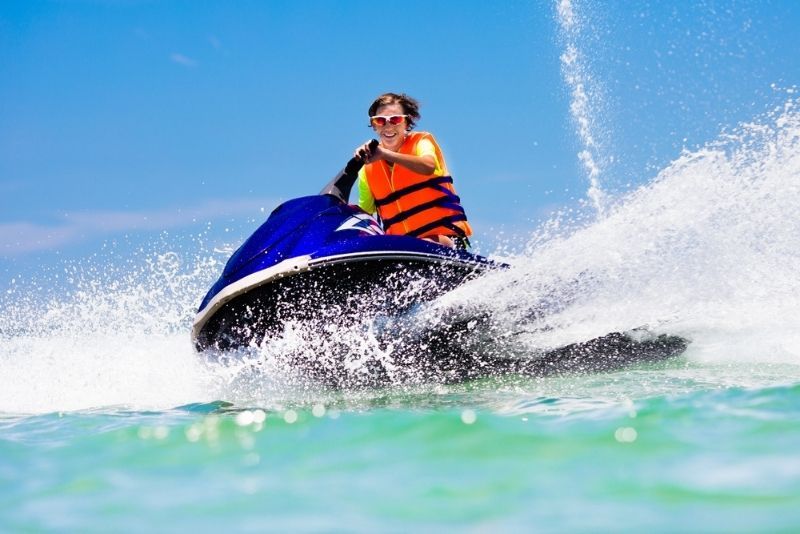 Most Dubai jet ski tours last between 30 minutes and an hour, although there are a few that give you a little longer on the water. Given that you will be traveling at speed, this is ample time to skim along the shore, taking in the magnificent city skyline.
You can rent a jet ski for an independent adventure for either 30 minutes or an hour.
Where do jet ski tours leave from?
A few tours offer hotel pick-ups, but most ask you to make your own way to the meeting point. Nearly all of the jet ski tours in Dubai depart from the provider's water sports base, so check your joining instructions for directions.
The majority of trips leave from the marina at the Fishing Harbour, which is located just off Jumeirah Street. A few also launch from Lar Mer Beach.
The jet ski tours finish in the same location as they started.
When is the best time for a jet ski tour in Dubai?
Jet ski tours in Dubai are available all year round, with a choice of departure times so you can easily fit a session into your schedule. Most excursions run during the morning.
The best time to visit Dubai is over the winter from November to March. This is when the weather is in its prime, with warm sunny days that are great for outdoor activities. During the summer temperatures soar, making it too hot for anything but the swimming pool.
Which other water activities can be done in Dubai?
Travel tips
To secure your chosen time slot, we recommend booking your jet ski tour in Dubai ahead of your visit. This activity is popular, and places fill up fast.
Wear swimming gear and take a towel and change of clothing as you will be getting wet. Sunscreen and sunglasses are a good idea too.
Pack a camera to capture the magical moments and the Dubai skyline. Pop it in a waterproof bag for protection.
Take your passport as most operators will ask for ID before beginning the tour.
There will be a minimum driver age on each trip – this is usually 16 years.