Want to do something a bit different on your vacation? Fishing trips in Dubai give you the best of both worlds, with adventure on the high seas as well as unrivaled views of the most iconic city landmarks.
Deep sea fishing is fun for everyone, whether you're a pro or a complete beginner. This is your chance to catch a whopper while enjoying the sun on your back. What will you reel in?
What are the most popular fishing trips in Dubai?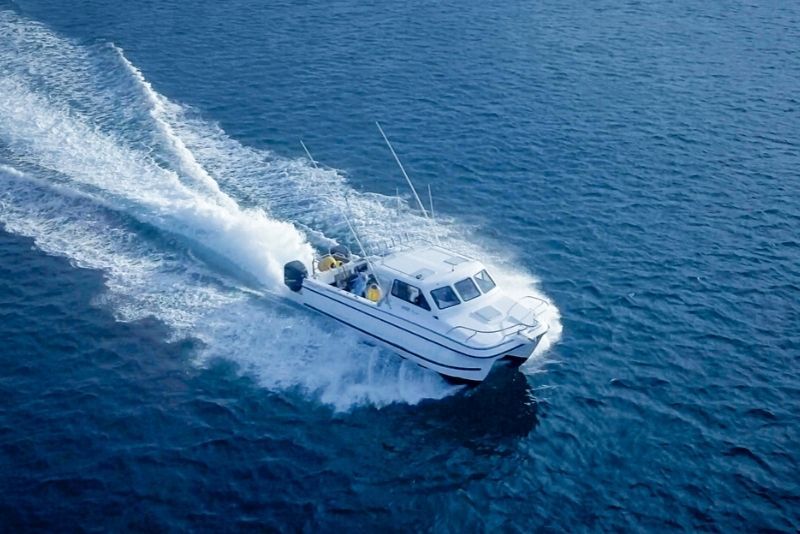 All Dubai fishing tours follow a similar format, beginning with an ocean cruise and anchoring at different locations for multiple casting sessions. You can choose from shared or private experiences, according to your preferences and budget.
Small-group deep sea fishing trip
These shared fishing trips in Dubai are a fun introduction to this exhilarating sea sport. There is usually a maximum of around 10 participants, so personal attention is guaranteed. Suitable for beginners and experts alike, these tours take you to all the best fishing spots.
You will cruise out to sea on a comfortable motor yacht and enjoy spectacular views of the city skyline. Then it's time to cast those lines and see what you can catch. Help is always on hand if it's your first time!
Barracuda, grouper, and snapper are regular prizes, with kingfish and sea bream often making an appearance too.
Private yacht fishing excursion
Private Dubai fishing trips are perfect for experts who want to concentrate on landing a particular type of fish. These tours are also great for beginners wishing to pick up new skills and enjoy undivided attention from the deck crew.
Some private excursions include both regular line fishing and trolling, which is when lures are dropped from the rear of the boat while the vessel continues moving forward. This is a popular way to bag fish like king barracudas, cobia, and queenfish. If you want to eat your catch afterward, a few tours will grill the fish right there on deck!
During summer, you can try and catch small sharks if you want some real bragging rights.
How much do fishing trips in Dubai cost?
Dubai fishing excursions differ in price according to the length of the tour and the number of passengers. Most tours do not include hotel transfers, although some offer this as an add-on option.
Shared small-group fishing trips in Dubai start at $89 per person for a 4-hour adventure. Rods and bait are supplied, and some packages also offer water and soda.
Private Dubai fishing trips cost from $324 for 2 hours, $420 for 4 hours, and $534 for 5 hours. These excursions often include snacks and water as well as all fishing equipment and personal attention on board. Prices are per boat, which usually allows between 5 and 8 passengers.
What to expect during a fishing trip in Dubai
How the trip works
You will head out to sea early in the morning when the fish are at their most active. If it's your first time deep sea fishing, the boat crew will show you the ropes, and teach you how to cast your line like a pro. They will always be on hand to help when needed, and each participant has their own rod.
Once offshore, the skipper will stop at several different fishing grounds so you will have lots of opportunities to practice your skills. If you have prior fishing experience and wish to try and catch a particular species, let the captain know so the trip can be tailored to your requirements.
You can have your photo taken with your haul, and on some boats, the crew will even grill a fish for you to try. It doesn't get fresher than that!
The different types of fishing
Most fishing trips in Dubai focus on traditional line casting, where you sling your hook over the side of the boat and wait for something to bite. This method allows you to catch small and medium-sized fish, like catfish, grouper, sea bream, barracuda, and trivially. During summer, small sharks are often reeled in too.
Some tours also feature trolling, which is a technique used to bag the bigger pelagic fish. Lures are dropped off the back of the boat while it carries on traveling forward at a slow speed. You then watch the lines, and when one tightens up you know there's something on the end of it. This is a popular way of catching fish like king barracudas, cobia, queenfish, and kingfish.
Some bonus sightseeing
Fishing trips in Dubai generally depart from the glitzy marina, so you'll see many of the famous city sights as you head out to sea.
While you wait for the fish to take the bait, keep your eyes peeled for the sail-shaped Burj Al Arab Hotel, one of the great architectural icons of Dubai. Meanwhile, over on Bluewaters Island, you will see the world's tallest observation wheel – the Dubai Eye – standing proudly on the skyline.
You'll also pass the Palm Jumeirah and The World Islands as you sail off on your Dubai fishing trip. You may have spotted these artificial archipelagos from the plane as you flew into the city.
How long does a fishing trip last?
Most fishing trips in Dubai last around four hours, which gives you enough time to practice your newfound skills as well as soak up the sights.
If you're short on time, there are 2-hour Dubai fishing tours available. These concentrate on fewer sites to increase your chances of catching something epic.
Want to spend longer on the water? Then opt for the 5-hour package where you'll have time to try two different methods of fishing.
Where do fishing trips leave from?
Most fishing tours depart from the Dubai Marina, and you will usually have to make your own way there. Nearby landmarks to look out for include the Al Rahim Mosque, and the Signature Hotel Apartments. You can take a taxi from your hotel to the marina.
Pick-ups from central hotels are occasionally offered in the tour price, so check the joining instructions for further details.
When is the best time for a fishing trip in Dubai?
Dubai fishing trips run throughout the year, but most people visit the city between November and March when the weather is at its best. This is an ideal time for spending time on the water and topping up that tan.
During the summer months, temperatures regularly rise above 109˚F. The hot and humid conditions can make this an uncomfortable time to travel, although you will be cooler fishing out at sea! A big plus is that room rates are often cheaper during this time.
Dubai fishing excursions usually depart early in the morning to take advantage of the best conditions.
Which other water activities can be done in Dubai?
Travel tips
It's a good idea to book fishing trips in Dubai online in advance of your visit. Tours are popular and places do fill up fast.
Some excursions have a minimum passenger age of 12 years, so check this with the provider before booking. Many vessels do accept infants if they sit on an adult's lap.
Wear flat shoes for walking about on deck, and don't forget your sunscreen and sunglasses to protect from those intense rays.
Make sure your camera batteries are fully charged the night before so you can capture the moment you land that whopper!