When it comes to history and culture, Athens takes the stage. Yet once you've ticked off the Acropolis and toured Ancient Agora, it's time to head out of the city for a new adventure.
These 3-day trips from Athens show you some of Greece's other treasures. The tours are perfect if you only have a few days to spare but want to pack in some of the country's top sights.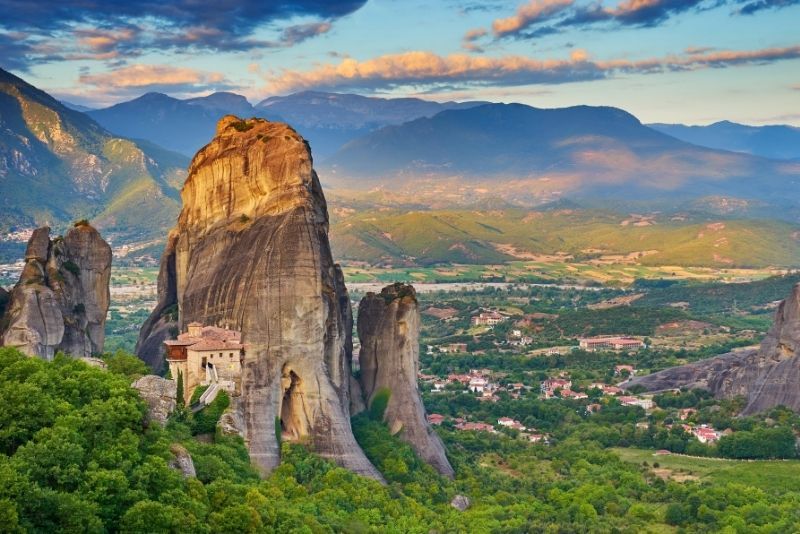 Here's all you need to know about 3-day trips, some of the best multi-day trips from Athens.
3-Day Trips from Athens: Meteora and Delphi
What is the typical itinerary of a 3-day trip to Meteora and Delphi from Athens?
You can travel by either bus or rail on these 3-day tours from Athens. Either way, you'll enjoy guided tours at the archaeological site of Delphi and the mysterious mountain monasteries of Meteora. The schedule runs something like this:
Day 1 – Delphi
Your adventure begins with a journey through rural Greece, passing by Thebes, Levadia and Arachova on the way. After arriving in Delphi at midday, you'll be treated to a tour of the ruins, where the Temple of Apollo steals the show.
The evening is yours to explore the modern town, with free time to stroll the streets and soak up the vibe. Then it's time to head to your hotel for dinner and a well-earned rest.
Day 2 – Meteora
Fuel up for a packed day of sightseeing with a delicious local breakfast at the hotel. Then hop back on the tour bus and let the adventures continue. You'll ride through the heartlands of Greece, pausing briefly in historic Lamia for a leg stretch and photos.
Watch the countryside unfold as you traverse the Thessalian plain before you finally arrive in the small town of Kalabaka. This is where you'll be spending the night, and it's right in the shadow of mighty Meteora.
Enjoy a leisurely evening surrounded by some of Greece's most dramatic scenery, with dinner at your hotel.
Day 3 – Meteora and Thermopylae
Today is all about the Meteora monasteries, and you'll have the chance to visit a couple during a guided excursion. Pull on your comfy walking shoes for the climb up those precipitous sandstone towers.
The view from these rocky pinnacles is the highlight of all 3-day trips from Athens, so remember to pack your camera.
After exploring Meteora it's sadly time to depart for your journey back to Athens. Those traveling by road will stop for a break in Thermopylae to see the ancient battleground and famous hot springs. You'll arrive back in the capital during the early evening.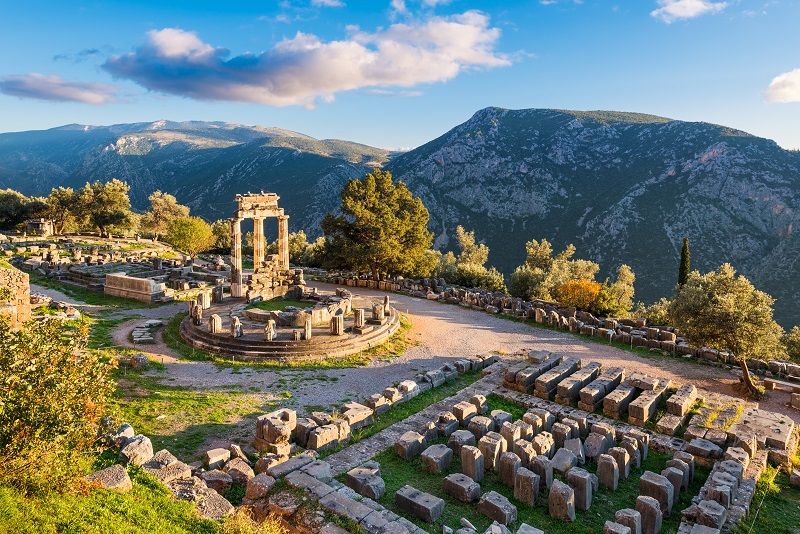 Which places are seen during a 3-day tour to Meteora and Delphi from Athens?
Delphi
Delphi is a hotly anticipated stop on this epic 3-day tour from Athens. The historical settlement sits on Mount Parnassus, with sweeping views across the valley. This is a sacred place, and home to the famous Temple of Apollo, built in honor of the god himself.
The sanctuary was a pilgrimage site for centuries and is still held with certain reverence today. The devout used to travel for hundreds of miles to hear prophecies from the legendary oracle of Delphi, relayed by the high priestess.
You can explore the ruins, which include a stadium and a theater, and get a taste of ancient Greek life. Don't miss the museum, which is home to artifacts that were discovered here at Delphi.
Meteora
Meteora is one of the most unusual sights in Greece, and a popular stop on 3-day trips from Athens. This is a land where mountain monasteries keep watch over the realm from the top of rocky pinnacles. It's a spiritual place, and you can't help but be moved by a visit to Meteora.
Some of the Byzantine monasteries are still in operation, and you can climb up to check a few of them out. The views are otherworldly and haven't changed much since the original monks built their strongholds here back in the day.
Before you leave, wander along some of the hiking trails that crisscross the valley – you never know what you might discover. Secret churches and hermit caves are fun to explore, and there are panoramic overlooks aplenty for taking enviable vacation snaps.
Thermopylae
Some road trips to Meteora and Delphi from Athens make a stop at Thermopylae. This legendary battlefield was a turning point in Greek history, with the King of Sparta pitting his wits against the Persians.
The museum is well worth a look, as it charts the action and its long-lasting impact on the western world. This area is known for its thermal springs too, which were once believed to be the way into the underworld. Today, people just come here for a soak in the healing waters.
Which types of 3-day trips to Meteora and Delphi are available?
Road tours: The easiest 3-day trips from Athens are by road. You'll travel by air-conditioned coach with seamless transfers between the destinations featured on the itinerary.
Rail tours: On some overnight tours from Athens to Meteora and Delphi, you'll be journeying by train. Transfers to and from the railway stations are included, as well as onward bus transport to the historical sights.
Group tours: The most popular visits to Meteora and Delphi from Athens are enjoyed on a group basis. This is a cost-effective and sociable tour, with guided excursions and free time at each site. The size of the group does differ between operators, so check before booking if this is important to you.
Private tours: For the ultimate sightseeing experience, book a private 3-day tour from Athens. You'll have an exclusive guide and vehicle, and the schedule can often be tailored to your interests.
What is the price of a 3-day tour to Meteora and Delphi from Athens?
Three-day excursions from Athens to Meteora and Delphi start at €350 for a road trip and €370 per passenger for a rail tour. These tours are on a group basis and include transport, guided excursions and hotel accommodation. Entrance fees to Delphi and Meteora are not usually covered and are payable onsite.
For a private 3-day trip from Athens, expect to pay €900 per person. This is a chauffeured tour by sedan or minivan, with a dedicated driver, hotel accommodation and bottled water. You can arrange guided walks at the archaeological sites on request.
3-Day Trips from Athens: Epidaurus, Mycenae, Olympia and Delphi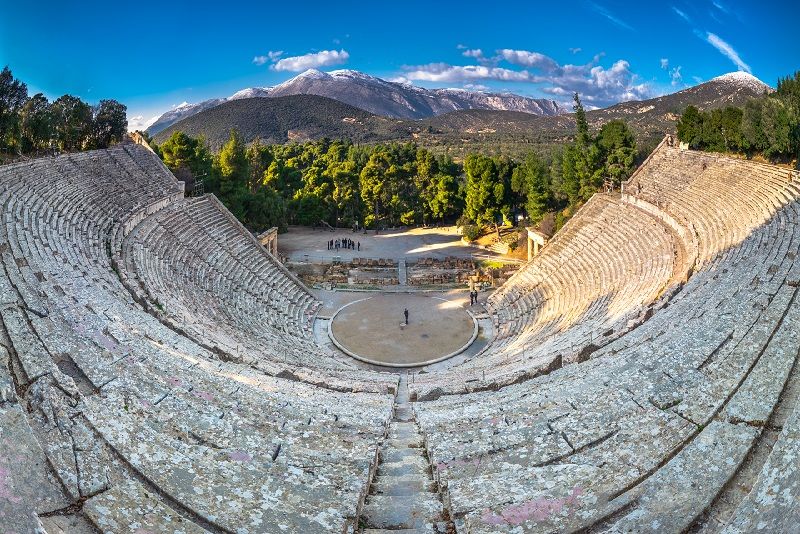 Three-day trips from Athens to Epidaurus and beyond show off the best of classical Greece. You'll visit multiple archaeological ruins and delve deep into the country's long history. It's a whistle-stop tour with all the trimmings you could wish for.
Highlights include seeing the theater of Epidaurus, Agamemnon's tomb in Mycenae and the site of the original Olympic Games. Here's all you need to know about booking these overnight tours from Athens.
What is the typical itinerary of a 3-day trip to Epidaurus, Mycenae and Olympia from Athens?
These tours are usually undertaken by bus or minivan, for easy transfers between the different destinations. An expert guide will show you around the sites and you'll be staying in comfortable hotels overnight.
Day 1 – Epidaurus, Mycenae and Corinth
You'll be picked up at your hotel bright and early in the morning, ready for a fun-filled few days. Traveling across rural Greece, you'll take in the countryside scenery that changes with every mile.
The first stop of the day is Epidaurus, where you'll explore the ancient amphitheater and visit the museum. Next up is Mycenae where the tomb of Agamemnon is a popular sight.
In the afternoon you'll swing by the famous Corinth Canal before heading to your hotel for the night.
Day 2 – Olympia
After a delicious breakfast, it's time to hit the road again. This day focuses on one of the country's most iconic archaeological sites – Olympia. Many people say it's the highlight of a 3-day tour from Athens.
You will visit the museum and wander around the historic complex – this is where the first Olympic Games were held! Your guide will help you make sense of it all, with anecdotes and a bit of a history lesson from a local perspective.
Continue to Delphi this evening for dinner and an overnight stay.
Day 3 – Delphi
Some might say that the best has been saved until last – Delphi is a rather special place after all. You'll be driven to this hillside sanctuary after breakfast, with a tour and free time to get to know the sacred site.
All too soon this 3-day trip from Athens is over, and the bus will take you back to the city in the afternoon.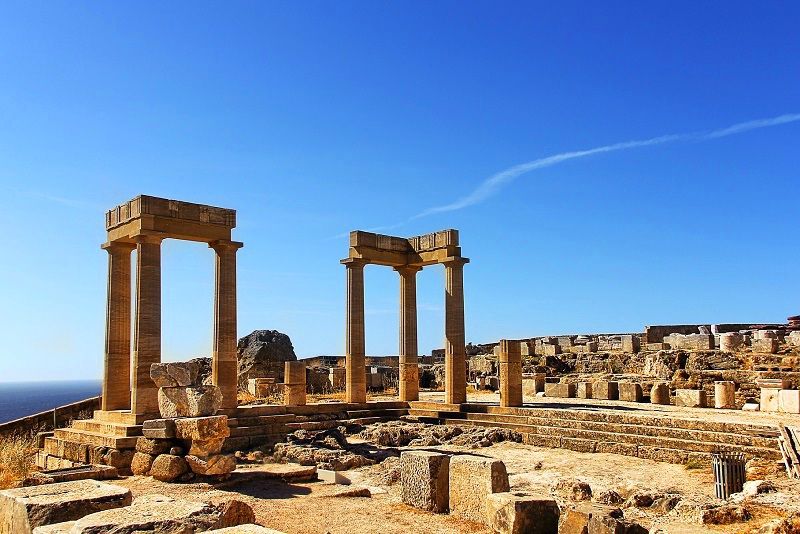 Which places are seen during a 3-day tour to Epidaurus, Mycenae and Olympia from Athens?
Epidaurus
Ancient Epidaurus is home to one of the best-preserved theaters in Greece. Located in the Peloponnese, the striking settlement of Epidaurus is a favorite stop on 3-day excursions from Athens.
The theater was used to stage ceremonial events to honor Asclepius, the god of healing. The views across the valley are a photographer's dream and you might even catch a performance if you visit during summer.
Mycenae
Mycenae is another historical city in the Peloponnese. It was once the center of the Mycenaean civilization and home to the legendary Greek king, Agamemnon.
You can still see the imposing city walls, the treasury and the famous Lion Gate. There are tombs too, including the final resting place of Agamemnon himself. Pop into the archaeological museum to discover the story behind this popular tourist destination.
Corinth Canal
The Corinth Canal is the sort of place you learn about in history lessons at school. That's because it's an incredible feat of engineering and quite a sight to behold – it's the deepest canal in the world!
Carved through the rock, this narrow passage connects the Ionian Sea with the Saronic Gulf. It was built so that ships could avoid the long and perilous sea journey around the peninsula, saving time and probably lives too.
Olympia
Sitting pretty in the western Peloponnese, Olympia is one of the most-visited sites in the country. This remote complex was where the very first Olympic Games were held, to honor Zeus, the king of all Greek gods.
The ancient stadium remains relatively intact, and you'll be able to imagine the sporting scenes that once took place here. You can visit the Temples of Zeus and Hera, as well as a workshop and the old gymnasium complex.
Delphi
Delphi was a sacred mountainside sanctuary, visited by pilgrims from across the Mediterranean. They came here to listen to the prophecies of Apollo, which were conveyed by a priestess through the famous oracle of Delphi.
The archaeological ruins are fascinating and photo-worthy, but it's the views across the valley that will have you grabbing for your camera.
Which types of 3-day trips to Epidaurus, Mycenae and Olympia are available?
Road tours: Traveling by bus or minivan is the smoothest way to journey between these classical Greek sites. Hotel pickups make for seamless transport logistics.
Group tours: These 3-day trips from Athens are the most cost-effective way to travel. You will be exploring in the company of like-minded adventurers, with guided excursions at most sites.
Private tours: For something more exclusive, opt for a private overnight tour from Athens and have the vehicle and driver all to yourself. These trips cost more, but you'll have freedom and flexibility throughout your visit.
What is the price of a 3-day tour to Epidaurus, Mycenae and Olympia from Athens?
Group trips from Athens to Olympia, Epidaurus and beyond cost around €335 per passenger. Travel is by bus, and the package covers accommodation, a guide, breakfast, dinner and most entrance fees.
Private 3-day tours to Epidaurus and Mycenae from Athens start at €800 per person. This includes transport, accommodation, breakfast and bottled water. Guided excursions at the different archaeological sites are available on request, and the entrance fees for each location are payable in person.
3-Day Trips from Athens to Santorini and Mykonos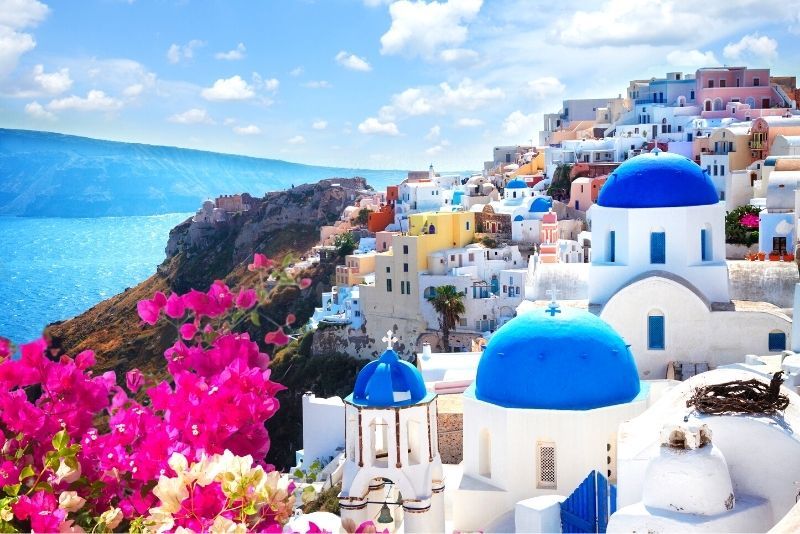 If you've ticked off all the major mainland sights and fancy heading out to the islands, then Santorini and Mykonos are waiting to welcome you. They are easy to reach on a 3-day trip from Athens, with plenty of time to explore and enjoy a bit of island life.
You'll be picked up from your hotel and driven to Athens airport, for a flight over to Santorini. After arriving on the island, enjoy a transfer to your accommodation and spend the rest of the day at leisure. Popular excursions include a sunset cruise in the caldera, visiting ancient Akrotiri and exploring the traditional village of Oia.
On day two you'll take the fast ferry across to Mykonos, with hotel transfers to make the journey hassle-free. A boat trip to Delos is a fun way to spend the afternoon if you like historic sites and swimming. You'll return to Athens by ferry on the third day, arriving back in the capital during the afternoon.
3-Day Trips from Athens to Hydra, Spetses Island, Epidaurus and Mycenae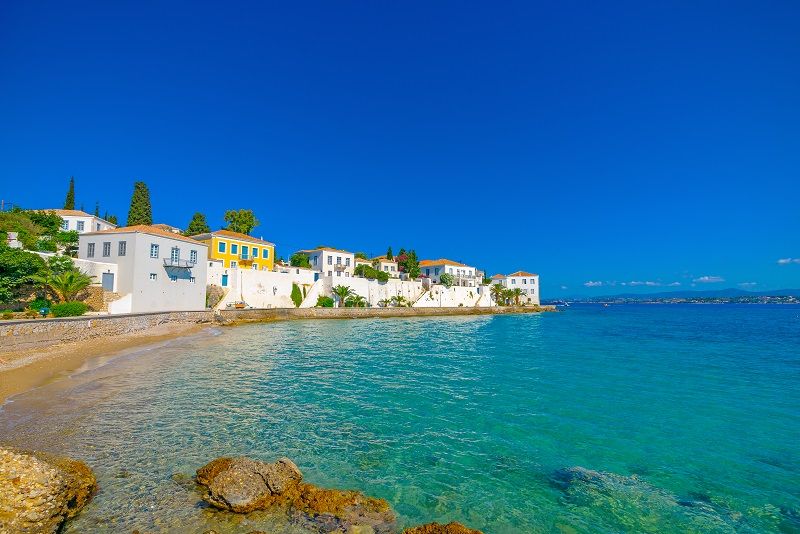 This 3-day jaunt from Athens mixes things up a bit by combining archaeological classics with a couple of Greek islands. You'll be exploring the Peloponnese ruins at Mycenae and Epidaurus before heading out to sea for a couple of days.
Day one begins with a hotel pickup and a scenic drive to Epidaurus. Then it's on to Mycenae with a bonus stop at Palamidi Castle in Nafplio for sea views and Old Town adventures. You'll spend the night on the mainland in the town of Ermioni.
Your second day sees you take the ferry to Hydra for another day of island exploration. The ride takes around 25 minutes. Once on the car-free isle, you can visit historic Hydra Town, pop into the museum or walk up to hillside villages and monasteries.
After spending the night on Hydra, you'll hop on a boat to Spetses to admire the grand mansions and old harbor. Spend the day at leisure before returning to Athens by ferry.
What other multi-day tours can you do from Athens?