Once a strategically important city in ancient Greece, today the historic town of Epidaurus is one of the country's top archaeological gems.
The Sanctuary of Epidaurus is the main event, with temples, a stadium, and a museum to discover. There's also an impressive 4th-century theater which is one of the best-preserved in Europe.
You can take a day trip from Athens to Epidaurus to explore this famous site – here's how.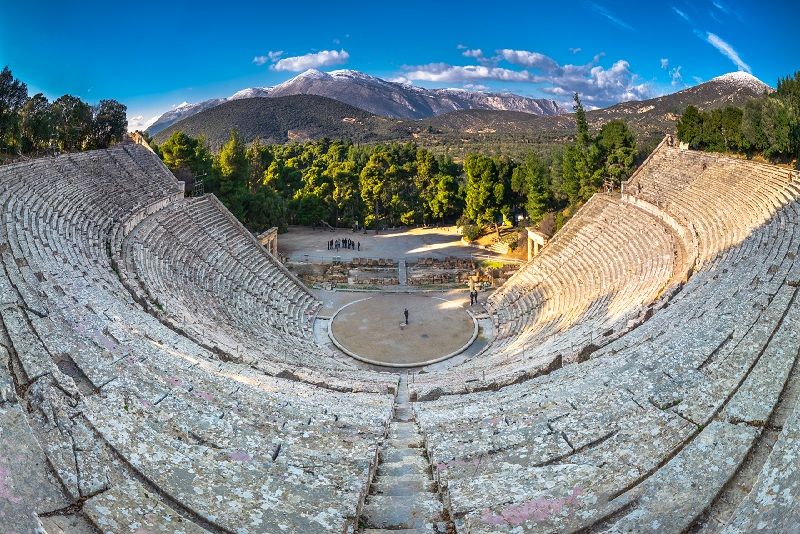 How to get to Epidaurus from Athens?
You'll find Epidaurus on the eastern finger of the Peloponnese peninsula, on mainland Greece. It's easy to reach on a day tour from Athens, independently, or on an organized excursion.
From Athens to Epidaurus by car
It takes two hours to journey to Epidaurus from Athens, and navigation is relatively simple.
Just drive west along the National Highway until you reach the Corinth Canal. Then take the Corinth-Epidaurus road and follow signs for the theater.
From Athens to Epidaurus by bus
Daily buses run between Athens and Epidaurus. Some are direct while others go via the pretty town of Nafplio. Departures are from the Kifissos KTEL Bus Station in the western part of Athens.
Guided tour to Epidaurus from Athens
For a relaxing experience, taking a guided day tour to Epidaurus from Athens is always a good idea.
All transport logistics are taken care of, so you can just sit back and enjoy the sites. Both shared and private excursions are available.
How much does the entrance ticket to Epidaurus cost?
Ticket prices for entry into the Epidaurus Sanctuary vary according to the time of year. The fees are as follows:
April – October: €12
November – March: €6
The tickets are valid for the archaeological site, the theater, and the museum.
Free entry is available to travelers under 25 years from EU member states on presentation of an ID card or passport.
Children under 5 can visit for free – take a passport for age verification.
What is the typical itinerary of a day tour to Epidaurus from Athens?
Your day will begin with a pick-up from your hotel in Athens. Most tours last a full day so be prepared to depart after breakfast.
You'll enjoy a ride in an air-conditioned minivan down onto the Peloponnese peninsula, crossing the Corinth Canal on the way.
Spend time exploring the archaeological site at Epidaurus, then head off to discover other popular visitor destinations in the area. Many Epidaurus excursions from Athens also take in historical sites such as Mycenae and Nafplio.
Lunch is enjoyed at an authentic local restaurant, often with spectacular sea views. Your driver will then return you to Athens before dinner.
What kind of tours are available to go to Epidaurus?
Epidaurus is a popular day trip destination, so you have a lot of choices when it comes to tours.
Door-to-door hotel transfers are provided, and travel is by minivan or car.
Guided tour to Epidaurus from Athens with other Peloponnese highlights
This small-group day trip to Epidaurus from Athens is a real corker, as it takes in other sites too. It's a fun way to see a lot in just a single day. Stops can include Mycenae, Nafplio, the Corinth Canal, Olympia, and Cape Sounion.
Prices are competitive as costs are shared with your fellow travelers.
Private day trip to Epidaurus from Athens with other Peloponnese highlights
This tour is for travelers looking for something a bit more exclusive. You'll have your own car and driver on your Epidaurus jaunt, and the schedule can be tailored to your interests, with flexible departure times on request.
Visits to Mycenae, Corinth, and Nafplio are often included.
2-day tour to Epidaurus from Athens plus Mycenae
If you want to slow the pace down, then consider an overnight trip. This will remove the time pressure, giving you a more leisurely and relaxing experience.
A night in a hotel and most meals are provided on the tour.
3-day tour to Epidaurus from Athens plus Mycenae, Nafplio, Olympia & Delphi
Check out the best destinations in the Peloponnese on this multi-day trip to Epidaurus from Athens.
As well as admiring the famous theater, you'll travel to the site of the original Olympic Games, see the Delphi ruins, and explore the charming town of Nafplio.
Both shared and private tours are available, and some also take in Hydra and Spetses.
4-day tour to Epidaurus from Athens with Mycenae, Olympia, Delphi & Meteora
The 4-day Epidaurus excursion adds a stop at the famous Meteora monasteries. This classic trip is ideal for those who want to see the highlights of Greece for the first time.
If you want a longer tour, there are also options for 5, 6, and 7-day adventures. Additional destinations visited include Zakynthos Island.
How much does a tour to Epidaurus from Athens cost?
Small-group shared Epidaurus day tours from Athens start at €56 per person. This includes transport, while lunch and entrance fees are usually extra.
For a private day trip to Epidaurus from Athens expect to pay €150 for an exclusive car and driver.
The 2-day tours cost €152 per person, including hotel accommodation and some meals.
3-day trips are €336 for a group tour, and €799 for a private excursion. Accommodation, meals, and sometimes a guide are provided.
The 4-day tour to Epidaurus from Athens is priced at €499, or €1221 if you want to go private. For 5 days it's €599 for a group experience and €1555 for an exclusive trip.
What will you see and do at Epidaurus?
The Sanctuary of Epidaurus is one of the most remarkable archaeological sites in the country, with several different elements to explore. Spread across the hillside with views to die for, the complex has many highlights:
Theater of Epidaurus
Epidaurus day trips from Athens all take in the ancient theatre. It's a true architectural wonder, with astonishing acoustics that are famed throughout Greece. Built in the 4th century B.C, the theater remains largely intact and is in use today.
During summer, traditional Greek plays are performed on stage here to celebrate the works of ancient wordsmiths.
The Stadium
Sporting competitions were regularly held in the stadium at Epidaurus, and you can still see the stone seats, tracks, and starting blocks.
Constructed back in the 5thcentury B.C. this ancient stadium was used as a platform to honor Asklepios, the god of healing.
Sanctuary of Asklepios
Renowned as a sacred center of healing, the Sanctuary of Asklepios was a pilgrimage site for the sick. People would come from near and far to have their illnesses cured by Asklepios who visited them during their dreams.
This sanctuary and the Temple of Asklepios came first, with the theater and stadium following in an effort to pay tribute to the gods.
The Archaeological Museum
Most day trips to Epidaurus from Athens allow enough time to visit the Archaeological Museum too. Sitting beside the theater, the small museum is home to many fascinating artifacts discovered during the site excavations.
When is Epidaurus open over the year?
Epidaurus is open throughout the year. The entry times are as follows:
April: 8 AM – 7 PM
May - August: 8 AM – 8 PM
September: 8 AM – 7 PM
October: 8 AM – 6 PM
November - March: 8 AM – 5 PM
When is the best time to visit Epidaurus?
You can enjoy a day trip to Epidaurus in all seasons, thanks to year-round mild weather. The site can get busy during the peak summer season when temperatures are at their hottest.
To avoid the crowds come in spring or fall, or time your visit for the early morning or late afternoon.
Travel tips
Try and book your Epidaurus day tour from Athens ahead of your visit so you can find the cheapest deals online.
Make sure your camera batteries are fully charged so you can snap the site from all angles.
Take some water with you to keep hydrated, especially during summer.
You can buy lunch at a local restaurant if it isn't included in the price of your tour.
The terrain can be uneven so wear sensible footwear and leave the heels at home.