Lying in the Argo Saronic Gulf, Hydra is one of Greece's most serene islands. There are no cars here, with boats, donkeys, and hiking being the preferred way of traveling around.
Hydra is scenic and sleepy, with dazzling blue bays and sunbaked mansions dotted around the steep hillsides.
Day trips to Hydra from Athens are popular, as the island is only a short boat ride away. Here's how you can visit from the capital.
How to get to Hydra from Athens?
Hydra is in the Aegean Sea, just a short distance from the Peloponnese mainland. To get to Hydra from Athens, you'll need to take the ferry or go on a guided boat tour.
From Athens to Hydra by ferry
If you want to travel independently, there are two daily ferry crossings between Athens and Hydra. They depart from the port of Piraeus and take around 1.5 hours.
To get to Pireaus, you can book a transfer from your hotel in Athens.
Guided tours to Hydra from Athens
Guided day trips to Hydra are one of the best ways to visit the island. Hotel pick-ups from selected hotels in Athens are usually included to take the hassle out of your excursion. Some tours ask you to meet at the departure point in Pireaus.
The boat journey to Hydra doesn't take long, giving you plenty of time to explore the island.
What is the typical itinerary of a day tour to Hydra from Athens?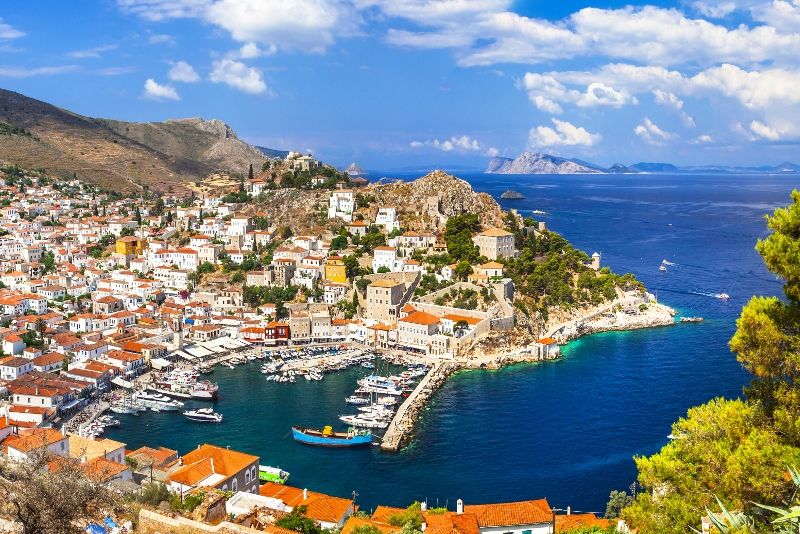 Most Hydra day trips from Athens begin with a hotel pick up, followed by a half-hour road transfer to Pireaus port. For some tours, you will need to make your own way to the designated departure point in Pireaus.
You'll then board the yacht, ship, or rib boat and travel to Hydra, which takes an average of 1.5 hours. Speed boats are faster.
Once on the island, you will have free time to wander. Walking tours and other optional activities are available. Lunch can be purchased at taverns on Hydra.
After your adventure, you will return to Athens in the evening.
What kind of tours are available to go to Hydra?
There are heaps of Hydra excursions to choose from, each one offering something different.  
Guided tour to Hydra from Athens
The most popular Hydra day trips from Athens are guided boat excursions. You can join a small-group tour on a yacht or be accompanied by a guide on a larger cruise ship. Boat capacity varies between vessels.
After the crossing from Athens, you will spend a full day discovering Hydra. Guided walks and excursions are often available at an additional cost.
Day tour to Hydra plus Poros and Aegina from Athens
Combine a day trip to Hydra with visits to the nearby Saronic islands of Poros and Aegina. You will have free time to discover the islands, as well as opportunities for swimming and snorkeling.
Lunch can be purchased on the islands or enjoyed on board if you opt for a luxury cruise.
Private day trip to Hydra from Athens
For the ultimate Hydra jaunt, choose a private day tour and sail to the island in style. You will have an exclusive vessel, and there is often flexibility in the itinerary.
Sailing yachts and luxury speedboats are both available.
Private day tour to Hydra plus Poros and Aegina from Athens
This private Hydra day trip from Athens also stops at the islands of Poros and Aegina so you can make the most of your time at sea. Choose from luxury rib boats and traditional yachts.
3-day private tour of Hydra plus Mycenae, Nafplio, Epidaurus, and Spetses Island
This multi-day adventure shows you the best of Hydra, as well as taking in some of Greece's other gems.
Highlights include the archaeological site of Mycenae, the city of Nafplio in the Peloponnese, and the ancient Epidaurus theater. Glamorous Spetses Island finishes off the tour in style.
5-day private tour to Hydra plus Peloponnese and Spetses
This fun private jaunt combines boats and boutique hotels for a slick multi-day vacation.
You will sail to the islands of Hydra and Spetses with free time to explore on land. Then it's on to the Peloponnese to discover historical mainland sights.
6-day trip to Hydra, Delphi, Olympia, Epidaurus, Sounio, Poros, Aegina from Athens
If you have the time, this 6-day trip to Hydra from Athens takes in some of the best landmarks in Greece.
Top picks include Delphi's Temple of Apollo, the site of the original Olympic Games at Olympia, and the Temple of Poseidon at Sounio.
Private helicopter transfer to Hydra from Athens
Up the luxury with a Hydra helicopter transfer. You will arrive at the island quicker than by boat, giving you more free time to explore.
How much does a tour to Hydra from Athens cost?
The price for small-group Hydra day trips from Athens starts at €98 per person.
Costs for private day trips to Hydra vary, according to your group size and the vessel type. Expect to pay from €261 per person for a yacht excursion, or €550 for a journey on a fast rib boat.
For the public day tour to Hydra, Poros, and Aegina, the price ranges from €104 - €171 depending on the boat capacity. Upgrade to VIP tickets which start at €245 – these include a walking tour in Hydra, and a visit to the ship's bridge to meet the captain.
The private day trip to the same islands starts at €259 per person. Get there quicker by speedboat, which costs €1500 for up to 6 passengers.
3-day tours cost €807, 5-day trips are €1191, and 6-day adventures start at €2233 including half-board accommodation.
Private helicopter transfers to Hydra from Athens are €2940 for a one-way charter, including hotel pick-ups.
What will you see and do in Hydra?
Hydra Port
The charming port is your first stop on all Hydra excursions. The laid-back vibe will have you running on island time the instant you set foot ashore. Watch yachts and fishing boats bobbing around in the harbor, and pop into boutique shops for souvenirs.
Quintessential white and blue houses line the narrow streets, and sunny plazas make great spots for soaking up the atmosphere. Enjoy lunch in a traditional restaurant then visit the 17th-century Church of the Assumption.
Museum of Hydra
This is a must on all day trips to Hydra. The island played an integral role during the War of Independence and in 1821 was the site of a fierce battle against the Turks. You can see old cannons dotted around the port that were used to defend Hydra's inhabitants.
Inside the museum, military uniforms and weapons give a glimpse into the island's past.
Kamini and Vlychos Villages
Kamini and Vlychos are hidden gems worth checking out on your Hydra jaunt. These fishing villages are the most beautiful on the island and can be accessed by a hiking trail from Hydra Town.
It's less crowded here, and you'll see local fishermen getting their boats ready for work. This is Hydra at its most authentic.
Prophet Elias Monastery
It takes a couple of hours to hike up to the monastery, but the views are worth the effort. Sitting on Mount Eros, Hydra's highest peak, the monastery is home to some stunning frescoes.
When is the best time to visit Hydra?
You can visit Hydra at any time of year, but if you're after some sun, try and come between April and October.
To avoid the crowds but still enjoy the warm temperatures, we recommend booking a Hydra day tour in spring or fall.
For swimming, June – August are the best months.
Travel tips
Book tickets for your Hydra day trip in advance. It's a popular destination, and tours do sell out during peak season.
Take comfortable footwear for wearing on the boat and hiking around the island.
Pack sunscreen, sunglasses, and a sunhat to avoid getting burned out on the water.
Food can be purchased on Hydra and water is usually available on board the boat.