Sprawling across the slopes of Mount Parnassus, the archaeological site of Delphi keeps watch over the Gulf of Corinth. The views from the ruins are superb, making a day trip to Delphi from Athens an absolute must!
According to both myth and science, Delphi is the center of the earth. It became an important religious site for pilgrims who journeyed here to listen to the prophecies from the god Apollo.
How to get to Delphi from Athens?
Taking a Delphi day tour from Athens is easy thanks to a range of transport options available.
From Athens to Delphi by car
The journey to Delphi from Athens by car takes around 2.5 hours. You will need to drive along the E75 highway before turning onto the EO48 at Kastro.
Be aware that the final part of the route will be in the mountains with winding narrow roads to negotiate.
From Athens to Delphi by bus
You can catch a bus to Delphi from the KTEL Station in Athens. They run about six times a day, and the trip takes around three hours.
Arrive early in summer when the route is very busy because purchasing a ticket in advance does not guarantee a seat.
Guided tour to Delphi from Athens
For a stress-free adventure, book an organized day trip to Delphi from Athens. Hotel transfers make the whole experience seem effortless, and some tours come with a guide for some fascinating insider insights.
How much does the entrance ticket to Delphi cost?
Tickets for the Delphi archaeological site are €12 per person. This includes entry into the museum too.
Visitors aged 6 – 25 years from outside the EU receive a 50% discount, making tickets just €6 each.
EU visitors under the age of 25 can visit for free with a passport or valid ID.
What is the typical itinerary of a day tour to Delphi from Athens?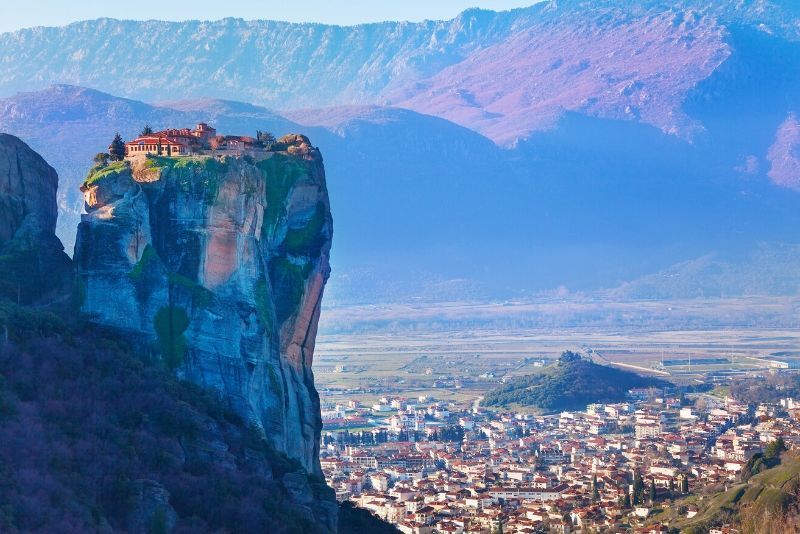 After being picked up from the lobby of your hotel in Athens, it's time for the adventure to begin.
Travel is by coach or minivan, taking you on a scenic 3-hour journey through the Greek countryside. Rest stops are sometimes included in the town of Levadia.
Once at the archaeological site you can explore at leisure or take a guided tour. There will be time for lunch too.
On the return journey, enjoy a photo stop at the pretty mountain village of Arachova. Your day trip to Delphi from Athens ends with a transfer back to your hotel in the evening.
What kind of tours are available to go to Delphi?
There are several different types of Delphi day trips to choose from if you're staying in Athens. All tours offer hotel transfers for a door-to-door experience.
Guided tour to Delphi from Athens
These shared group excursions to Delphi from Athens are a cost-effective way of exploring this famous site.
Tours last a full day due to the distance traveled, with lunch available as an optional extra.
Private day trip to Delphi from Athens
This exclusive Delphi jaunt from Athens is for those who like a bit of privacy and flexibility on their tours.
You will have a car and driver just for your group, with a more personalized experience than on the other trips.
2-day tour to Delphi from Athens plus Meteora
Enjoy a more relaxed sightseeing pace on this overnight tour to Delphi and Meteora. You will stay in a comfortable hotel and have the services of an expert guide throughout.
3-day rail tour to Delphi from Athens with Meteora
This fun multi-day tour is a favorite with independent travelers, who want to visit some of Greece's top sites by public transport.
You will use a combination of trains, buses, and taxis to explore Delphi and Meteora, with the schedule all planned out for you. Accommodation is not included but breakfasts are.
4-day trip to Delphi from Athens with Epidaurus, Mycenae, Olympia, & Meteora
See some of Greece's most revered UNESCO World Heritage Sites on this epic 4-day tour to Delphi from Athens.
You'll take in the archaeological ruins at Epidaurus and Mycenae, with a stop at Olympia to see where the original Olympic Games were held. Finish up with a visit to the mountain monasteries at Meteora.
Accommodation, some meals, and a guide are included.
How much does a tour to Delphi from Athens cost?
Guided Delphi day trips from Athens start at €61 per person and include round-trip transport. Entrance fees and lunch are usually at your own expense.
A private day trip to Delphi from Athens costs €112, with an exclusive car and driver.
The 2-day tour to Delphi from Athens that includes a visit to Meteora is €179. Accommodation, breakfast, dinner, a guide, and most site admissions are taken care of.
For the 3-day rail tour expect to pay €370. This covers all transport, and breakfast, but not accommodation.
4-day tours to Delphi and the other classical sites are €499 per person. Hotels, most meals, and a tour guide are included.
What will you see and do in Delphi?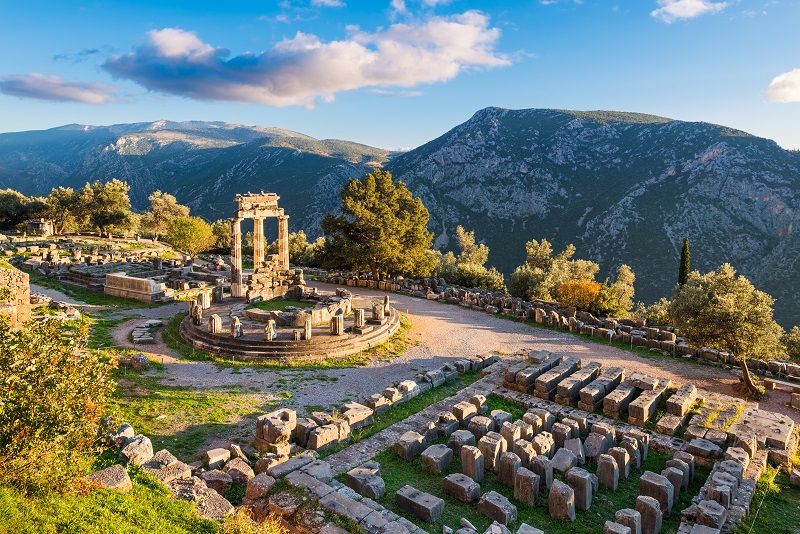 Delphi was a sanctuary dedicated to Apollo, and the monuments here have a connection to the god of prophecy and light.
Apollo Temple
The famous oracle of Delphi is the reason for the site's existence. Pilgrims from across the Mediterranean came to hear prophecies from the god Apollo, which were relayed by the high priestess of his temple.
The Apollo Temple boasts the most prominent position at Delphi, making the panoramas just as breathtaking as the pillars.
The Amphitheater
If views are your thing, you'll love exploring the amphitheater. Overlooking a valley of olive trees and situated above the temple, this ancient theater has capacity for 5000 people!
Today, traditional plays and cultural performances are held here during the summer.
The Stadium
Perched up on the hillside, the stadium is a highlight of any day trip to Delphi from Athens. Thousands of spectators would gather here to watch the Pythian and Panhellenic Games.
You can still see the tracks and seating areas, making it one of Greece's best-preserved stadiums.
Athena Pronaia Sanctuary
Get your cameras ready for the Athena Pronaia Sanctuary, with its temples, treasuries, and altars.
Look out for the unusual round Tholos structure too. Made of marble with carved scenes from the War of Titans, the function of the Tholos is a bit of a mystery.
Delphi Museum
This delightful museum is home to several unique artifacts, including a bronze charioteer, a statue of Antinous, and the Naxian Sphinx. It gives an intriguing glimpse into ancient Greek society.
What are the opening times for Delphi?
Delphi can be visited throughout the year. The opening times for the archaeological site and museum are from 8.30 AM to 3.30 PM. Last admissions are at 3.10 PM.
The site is closed on some public holidays including Christmas Day, New Year's Day, and Easter Sunday.
When is the best time to visit Delphi?
Summer in Delphi is hot, with temperatures reaching 35˚C. If you want to avoid the heat, consider visiting between March and May, or in September and October for cooler temperatures and great weather.
Beat the crowds by coming first thing in the morning, or later in the afternoon if you can.
Travel tips
We recommend booking tickets for your day trip to Delphi from Athens in advance of your visit. Tours are popular and places do sell out at peak times.
Check your excursion details to see if lunch is included. Take some cash with you if it isn't as there will be opportunities to purchase food along the way.
Wear footwear suitable for exploring archaeological sites where the ground will be rough in places.
Pack water and sunscreen to ward off the heat during the height of summer – there isn't much shade at Delphi!