Mycenae is known as the kingdom of Agamemnon, the mythical Trojan War king who featured in Homer's epic tales. This is one of the most significant Bronze Age sites in Greece and gave its name to an entire civilization.
You can still see the ancient walls and buildings that have stood here for centuries. Take a day trip to Mycenae from Athens to find out what the fuss is all about!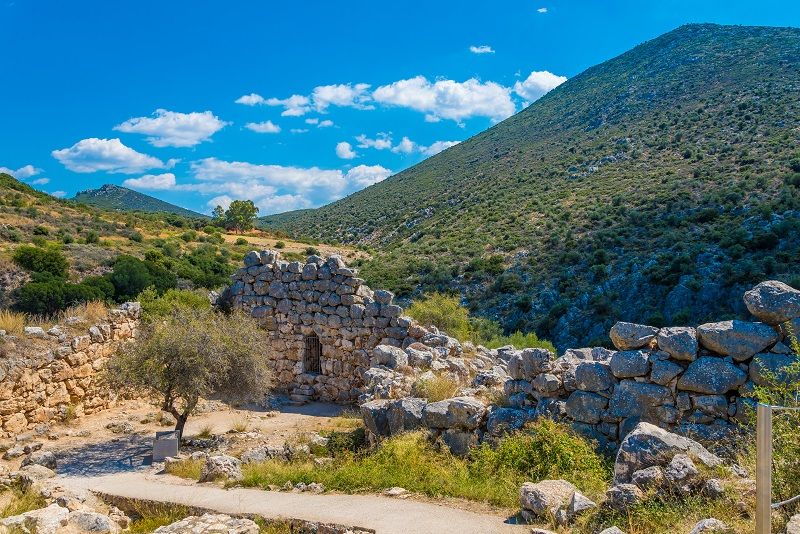 How to get to Mycenae from Athens?
The archaeological site of Mycenae is located on the eastern edge of the Peloponnese, not far from the town of Nafplio. The journey from Athens to Mycenae is straightforward and scenic.
From Athens to Mycenae by car
If you want to drive, you'll need to take the National Highway towards the Corinth Canal. Then turn onto the road to Tripoli, following signs for Nafplio for 15 miles until you see the exit for Mycenae.
From Athens to Mycenae by bus
There are daily buses running to Mycenae from Athens, with the trip taking 1.5 hours. Buses leave from the Kifissos Station.
Guided tour to Mycenae from Athens
A guided day trip to Mycenae is the best way to visit the site, with convenient hotel transfers for a stress-free excursion.
Most tours last a full day, and some visit other archaeological landmarks too.
How much does the entrance ticket to Mycenae cost?
Tickets for the Mycenae archaeological site vary according to the time of year. Prices are as follows:
April – October: €12
November – March: €6
Visitors under 25 years from EU member states can enter free of charge on presentation of an ID card or passport.
Children under 5 from any country can visit for free. A passport will be required for age verification.
What is the typical itinerary of a day tour to Mycenae from Athens?
Your day trip to Mycenae begins after breakfast with a pick-up from your hotel. A scenic drive follows, winding along country roads and crossing the Corinth Canal onto the Peloponnese Peninsula.
Next up is free time to wander around the Mycenae archaeological ruins. Some day tours to Mycenae include a guided visit.
Then you'll stop at the other destinations mentioned on your itinerary, for a full day of ancient Greek discovery. Lunch is enjoyed in a local restaurant along the way, and you'll be returned to your hotel in time for dinner.
What kind of tours are available to go to Mycenae?
There is a staggering choice of Mycenae tours on offer – here are the most popular options:
Guided day tour to Mycenae from Athens plus Epidaurus
Small group guided day trips to Mycenae and Epidaurus are a great way to explore this famous historical site. Prices are competitive, and you'll be traveling with like-minded explorers.
Hotel transfers are usually included, and travel will be by air-conditioned coach.
Day trip to Mycenae plus other Peloponnese highlights
If you want to pack in even more sites on your Mycenae day tour from Athens, this is the option for you. Popular stops include the Corinth Canal, the coastal city of Nafplio, and the ancient stadium at Epidaurus.
Private day tour to Mycenae from Athens with other Peloponnese favorites
Have the car and driver to yourself on this exclusive day trip to Mycenae. After being collected from your Athens hotel you'll visit some of the most popular places in the Peloponnese, as well as the iconic Corinth Canal.
2-day tour to Mycenae plus Epidaurus
Multi-day tours to Mycenae from Athens are for those who like to travel at a slower pace, spending longer at the main sites. Accommodation and most meals are included so you can just sit back and enjoy the adventure.
3-day tour to Mycenae plus Epidaurus, Nafplio, Olympia & Delphi
This Mycenae trip takes in multiple Peloponnese destinations. A highlight is Olympia, the site of the original Olympic Games. Back across the Gulf of Corinth, you'll explore the Delphi ruins and the famous Temple of Apollo.
Private tours are available too and include visits to the islands of Hydra and Spetses.
4-day tour to Mycenae from Athens with Epidaurus, Olympia, Delphi & Meteora
The 4-day tour follows the itinerary of the 3-day excursion but adds a stop in Meteora to see the mountaintop monasteries. This is the perfect trip for first-time visitors wanting to see some classic highlights.
Longer multi-day trips to Mycenae are also possible and include places like Zakynthos Island for a fully rounded mini-expedition.
How much does a tour to Mycenae from Athens cost?
Small group guided day tours to Mycenae from Athens with a visit to Epidaurus start at €87. Some tours also include stops at Nafplio and the Corinth Canal, as well as lunch. Site entrances are usually extra.
Private Mycenae excursions from Athens cost €150 if you want to include Epidaurus and Nafplio. Throw Corinth into the mix and it is €204.
The 2-day tour to Mycenae and Epidaurus is €152 per person. A 3-day trip that additionally visits Nafplio, Olympia, and Delphi is priced at €336. These tours include accommodation, entrance fees, and most meals.
3-day private jaunts to Mycenae with stops at Nafplio, Epidaurus, Hydra, and Spetses Island cost €792. Lodging, pick-ups, breakfast, and lunch are provided.
The 4-day adventure starts at €499 and includes Meteora as well as some of the other classic sites.
A 5-day private tour around Greece is €2097, or €2214 if you fancy visiting Zakynthos Island as well as many of the above destinations.
What will you see in Mycenae?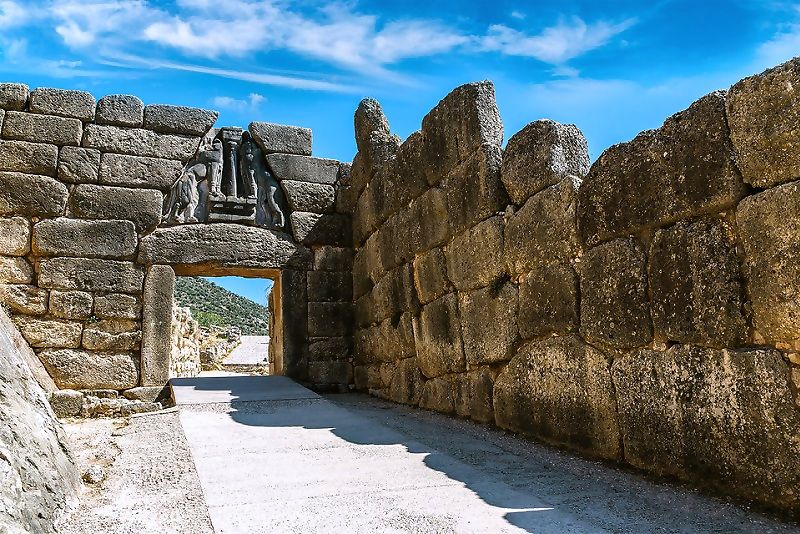 The former military town of Mycenae was discovered in the 19th century. Following extensive excavations, the mysteries of one of Greece's most famous archaeological sites have been revealed. This is what you'll discover as you explore:
Lion Gate
Probably the most iconic site in Mycenae, the entrance gate to the citadel still has two majestic lions on top of it. These were symbols of power, warning intruders away in times of strife.
Clytemnestra's Tomb
All good archaeological sites come with a tomb, but this one will take your breath away. This vaulted building dates to 1200 B.C. and is believed to have belonged to Queen Clytemnestra because gold jewelry was discovered inside.
Treasury of Atreus
Another highlight of a day trip to Mycenae from Athens is the Treasury of Atreus. This is the revered tomb of King Agamemnon, and archaeologists think that he was buried with riches that have since been looted. Rare colorful paintings can be seen inside on the walls of the tomb.
Ancient walls
The walls at Mycenae are enormous, made from rocks too big for humans to lift. Rumor has it that the walls were constructed by the giant one-eyed Cyclops.
Whether or not you're a believer, these Mycenean fortifications are pretty impressive to behold.
Mycenae Archaeological Museum
To learn more about what you're seeing, pop into the museum and check out the artifacts that have been unearthed from the site. Jewelry, ceramic vases, and weapons are some of the highlights.
When is Mycenae open over the year?
You can visit Mycenae at any time of year. The opening times are as follows:
April: 8 AM – 7 PM
May - August: 8 AM – 8 PM
September: 8 AM – 7 PM
October: 8 AM – 6 PM
November: 8 AM – 5 PM
December – March: 8.30 AM – 3.30 PM
The site is closed on New Year's Day.
When is the best time to visit Mycenae?
You can enjoy a day trip to Mycenae from Athens at any time of year – the weather is wonderful in all seasons. Come in spring or fall if you're not a fan of the heat.
Visit during the early morning or later in the evening to avoid the crowds.
Travel tips
Book your Mycenae day trip in advance so you can compare online prices and find the best deals.
Wear comfortable footwear suitable for walking on uneven ground at the archaeological sites.
Lunch is included on some tours but on others you will need to buy your own, so take some cash.
Take some water as many of the sites are exposed and can be hot, especially during summer.
Charge those camera batteries the night before, you're going to be taking hundreds of photos!