The Saronic Islands are the closest archipelago to Athens, and with year-round mild weather they're a popular day tour destination. Some of the islands are uninhabited while others are picture-postcard perfect with whitewashed villages and turquoise coves.
Take a day trip to the Saronic Islands from Athens and discover what the fuss is all about. There's everything from Byzantine churches and colorful harbors to forest hikes and snorkeling on offer.
How to get to the Saronic Islands from Athens?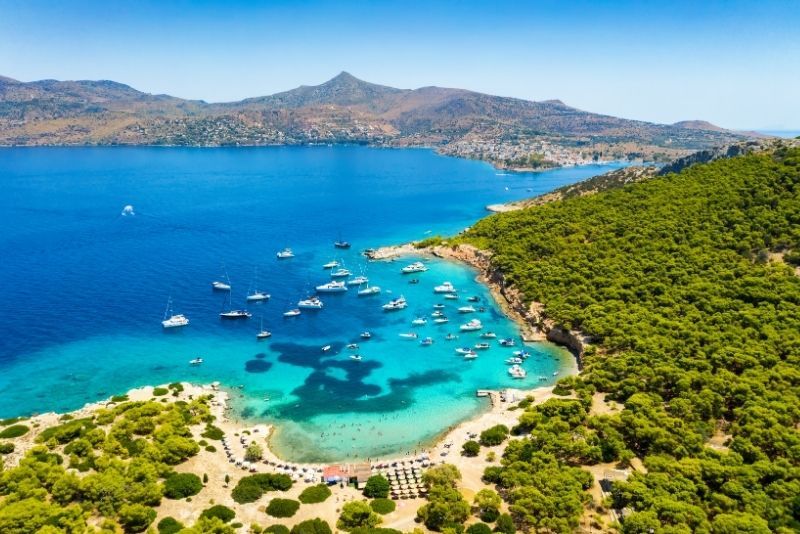 The Saronic Islands lie just off mainland Greece, and are easily accessed from Athens by boat.
From Athens to the Saronic Islands by ferry
You can journey to the Saronic Islands by public ferry if you wish to travel independently. High-speed boats are also an option if you want to shorten the sea voyage.
Ferries depart from Pireaus so you need to first book a land transfer from Athens. There are regular sailings, depending on which island you wish to visit, with Hydra being the most frequently served.
Guided tour to the Saronic Islands from Athens
For a stress-free Saronic Islands day trip from Athens, book a guided tour and let someone else do the work. Hotel pick-ups and transfers are included.
Sailings take between 40 minutes and 2 hours depending on which islands you wish to visit. Many of the tours stop at multiple islands before returning you to Athens.
What is the typical itinerary of a day tour to the Saronic Islands from Athens?
Saronic Islands excursions begin with a transfer from your Athens Hotel to the Pireaus port. The journey takes half an hour and is usually by minivan or luxury vehicle.
After boarding your boat, it's time to set sail on an adventure. Some Saronic Islands day tours stop at multiple destinations, while others focus on just one.
You will have free time to explore, with some tours offering guided excursions. There will be opportunities for swimming and snorkeling in the scenic bays, and lunch can be enjoyed at a local tavern. You will arrive back in Athens during the evening.
What kind of tours are available to go to the Saronic Islands?
When it comes to Saronic Islands day trips from Athens, you are spoiled for choice. Here are our top picks.
Guided tour to the Saronic Islands from Athens
The most popular day trip to the Saronic Islands is on a guided boat tour. Joining a small-group excursion is a great way to keep costs down and meet like-minded travelers.
The boat capacity varies, with prices reflecting the group size. For a more intimate experience, opt for a smaller vessel.
Private tour to the Saronic Islands from Athens
Revel in the luxury of your own private yacht on this relaxing Saronic Islands jaunt. There will be stops for swimming, snorkeling, and paddle boarding in the turquoise bays.
Schedules are flexible, so you can relax onboard or take to the hiking trails and explore the islands.
3-day sailing excursion to the Saronic Islands from Athens
Fully discover the region on a multi-day tour to the Saronic Islands. You will be staying in your own private cabin on the yacht, and meals are eaten on board too.
The itinerary includes lots of time for discovering the islands on foot, with hiking trails and ancient monuments to check out. Swimming and snorkeling are all part of the adventure.
6-day tour to the Saronic Islands plus Santorini and Delphi from Athens
This fun Saronic Islands tour from Athens includes visits to other important locations in the region. You will cruise to Hydra, Aegina, and Poros, before exploring some of the ancient sights in Athens.
Other highlights are Delphi's Temple of Apollo and a sunset cruise to Santorini. Hotel accommodation is provided.
7-day tours are also available and include the Meteora monasteries and the Acropolis in Athens.
How much does a tour to the Saronic Islands from Athens cost?
Round-trip hotel transfers are usually included in all Saronic Islands day tours.
Small-group day trips to the Saronic Islands from Athens range between €90 and €163 per person, according to boat type and capacity.
For a private day tour, prices start at €660 for yachts, and €1115 for a faster rib boat. Most include snorkel and paddle board rental, and some offer snacks and drinks.
The multi-day Saronic Islands tours are a cost-effective way to explore the wider area. 3-day group sailings start at €425 per person, while a 6-day private adventure costs €1329. These tours include meals and accommodation, as well as some excursions.
What will you see and do in the Saronic Islands?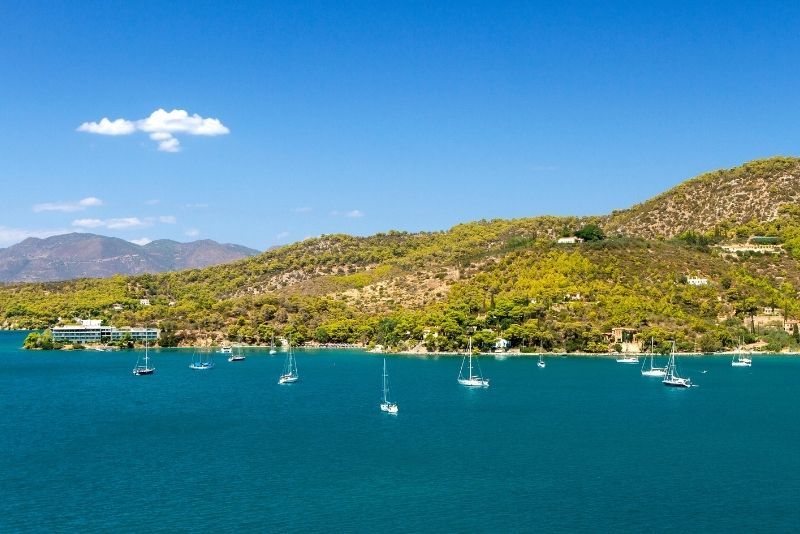 Aegina
Aegina is one of the most popular destinations on a Saronic Islands day trip from Athens. The pretty port is your first stop, with charming alleys and Neoclassical buildings to admire. Don't miss the Temple of Aphaia which dates to 500 BC, or the Saint Nektarios Monastery.
Curious explorers love hiking to the ghost town of the former capital, Palaechora. Here you'll discover Byzantine churches and enjoy panoramas over the Saronic Gulf.
Poros
The island of Poros is about as close to mainland Greece as you can get. Lying just off the Peloponnese, this small forested favorite is home to quaint restaurants, colorful mansions, and winding alleyways.
Pop by the famous clock tower, go for a ramble or breathe in the sea air while strolling around the marina.
Hydra
Hydra is a jet-setter's paradise, with quaint settlements and a bustling port to explore. Many people visit Hydra on a day trip, and it's certainly worth lingering here a little longer.
The island has no cars and feels like it hasn't changed for centuries. Wander around the harbor, tuck into local delicacies in the tavernas, or hike to hidden fishing villages.
Agistri
Agistri is a bit of a hidden gem and isn't as developed as the other islands. The highlight here is Aponisos beach, where the turquoise water invites you in for a dip.
You can also walk through the old town of Megalochori, which is the island's capital. Check out the ancient churches as you explore the charming streets.
When is the best time to visit the Saronic Islands?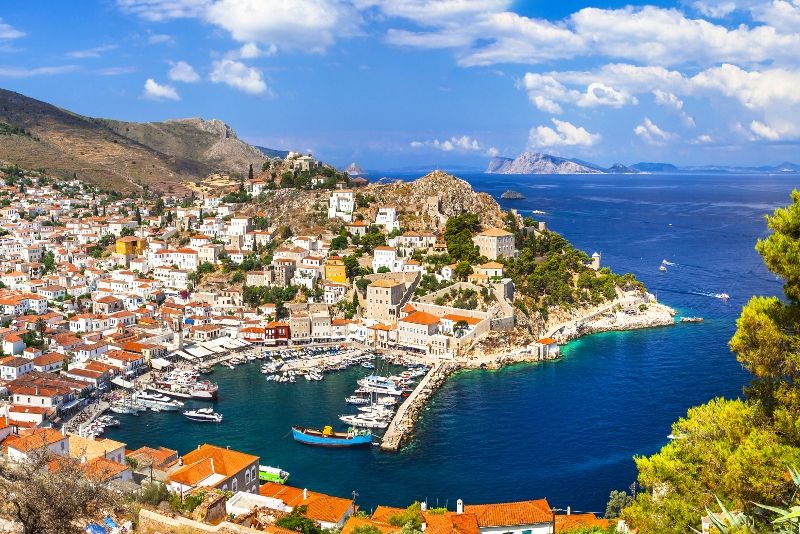 You can take a day trip to the Saronic Islands from Athens at any time of year. However, the weather is warmer during the summer. Come in spring or fall to avoid the crowds.
Swimming is most enjoyable in July and August when sea temperatures are at their highest.
Travel tips
Reserve tickets for your Saronic Islands day trip from Athens in good time, as they can sell out in peak periods. You can do this online to search for the cheapest deals.
Pack swimming gear and a towel if you want to swim or snorkel.
Take a windbreaker too as it can get breezy out on the ocean.
Sunscreen, sunglasses, and sunhats are essential to prevent sunburn out on the water.
Carry a bit of cash so you can purchase food and souvenirs on the islands.