The mountaintop monasteries of Meteora adorn many a postcard, thanks to their sheer beauty and precarious perches. A world away from the bustle of the capital, a day trip to Meteora from Athens is a real adventure.
This is a world where the mysteries of geology and religion have formed an alliance to offer one of the most breathtaking experiences in Greece. Here's how you can visit this famous UNESCO World Heritage site.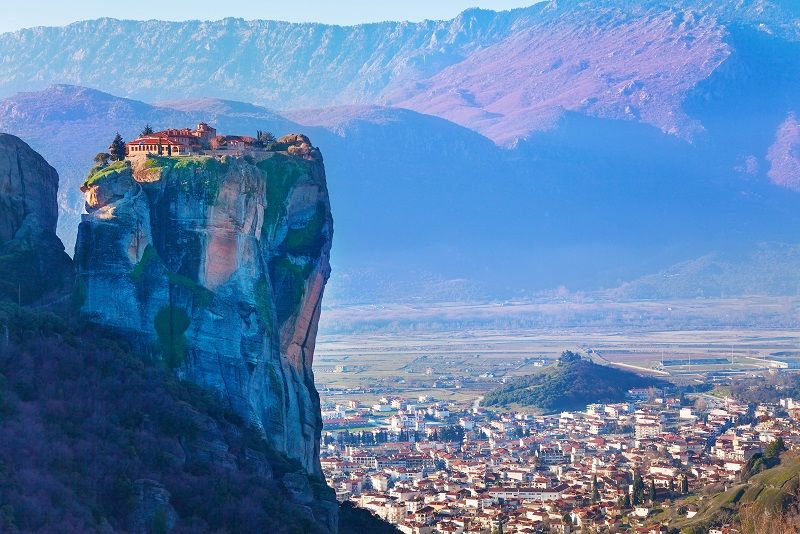 How to get to Meteora from Athens?
The monasteries of Meteora are found in central Greece, a few hours north of Athens by road.
From Athens to Meteora by car
If you are confident driving abroad, you can make the 222-mile journey from Athens to Meteora by car. It takes around four hours.
Bear in mind that parking can be an issue for those who don't arrive early enough.
From Athens to Meteora by train
Traveling to Meteora by train is convenient and scenic, with rides taking four hours.
The trains run between Larissis Athens Railway Station and the Kalambaka Station at Meteora. Remember these names when making your reservation. Tickets sell out fast so try and book your seat as early as possible.
Guided tour to Meteora from Athens
Go easy on yourself and take a guided day trip to Meteora. Many include hotel pick-ups and last a full day.
Another advantage of an organized Meteora day tour is that your guide will have current information about monastery opening times.
How much does the entrance ticket to Meteora cost?
There is an entrance fee of €3 per person at each monastery visited, so take some cash with you. Children under 12 years are free.
What is the typical itinerary of a day tour to Meteora from Athens?
There are two main types of Meteora day trips – those by road, and those by rail.
The former includes hotel pick-ups and drop-offs for a smooth door-to-door experience. If you are traveling by train, you will enjoy an independent journey before being met at Meteora by your guide.
You will then have free time to explore some of the monasteries and visit the best viewpoints for photos. Snacks can be purchased on site, but you may prefer to take your own lunch.
After a few hours at Meteora, it's time to return to Athens in the same way you came.
What kind of tours are available to go to Meteora?
When it comes to choosing a day trip to Meteora from Athens, you have several options.
Guided rail tour to Meteora from Athens
These popular tours are a fun way to visit the monasteries while keeping costs down.
You will travel independently by train, and a guide will meet you at the station in Kalabaka (Meteora) to begin your sightseeing.
Overnight rail tour to Meteora from Athens
Linger longer at the monasteries on this 2-day tour to Meteora from Athens. Travel is by train, with hotel accommodation, a half-day Meteora excursion, and a sunset tour to sweeten the deal.
Private road tour to Meteora from Athens
Avoid the hordes and enjoy a luxury day tour to Meteora with a private car and driver.
You will be collected from your hotel and taken straight up to the monasteries for a day of exploring, before being returned in the evening.
2-day road tour to Meteora plus Delphi from Athens
This overnight Meteora excursion also includes a visit to the archaeological site at Delphi.
You'll enjoy round-trip road transport by air-conditioned bus and stay overnight in Kalambaka with stunning views of the Meteora rocks.
3-day rail tour to Meteora plus Delphi from Athens
This fun Meteora jaunt from Athens is aimed at individual travelers looking to visit two of Greece's most important historical landmarks.
You will use a combination of train, bus, and taxi to reach your destinations, with your itinerary planned out so you don't need to worry about logistics.
4-day trip to Meteora plus Epidaurus, Mycenae, Olympia & Delphi from Athens
Check out some of the country's iconic sites on this multi-day adventure by luxury bus.
You will walk in ancient footsteps at Meteora, Mycenae, Delphi, and Epidaurus. A visit to Olympia where the original games were first held is also on the cards.
How much does a tour to Meteora from Athens cost?
Guided day tours to Meteora from Athens start at €85 per person, including train tickets and transfers to the monasteries.
The overnight rail tour to Meteora costs €175 with accommodation, breakfast, transfers at Kalampaka, and a sunset tour provided.
For a private day trip to Meteora from Athens, expect to pay €244 for round-trip road transfers.
The 2-day tour to Meteora and Delphi is €179, including road travel, accommodation, some meals, and entrance fees.
A 3-day rail adventure to Meteora and Delphi costs €370 with accommodation, train tickets, and Kalampaka transfers provided. The 4-day multi-site excursion is €499 and includes road travel, entrance fees, hotels, and most meals.
What will you see and do in Meteora?
The otherworldly site of Meteora is home to six monasteries, each perched precariously on top of towering rock pillars. "Meteora" means "suspended in air", and that's exactly how these monasteries appear! This is still an active site of worship and visiting feels like traveling back in time.
The holy monasteries of Meteora are Greece's largest archaeological site and were first inhabited in the early Christian period. Each monastery varies in size, and you'll usually have time to see between two and four during your day trip to Meteora from Athens.
The monasteries
The Monastery of Great Meteoron is the largest and oldest of them all and boasts some exquisite frescoes inside the church. There's a museum too, with priceless religious icons on display.
Meanwhile, the Monastery of Varlaam is home to several artifacts such as oak barrels and pulley systems which were used by the first monks. Highlights in the museum here include holy vestments belonging to Byzantine priests.
Roussanou Monastery is a little lower than the others, so it's more accessible. Today it's a convent for nuns, and the views of the other monasteries and surrounding cliffs are superb.
Old hermitages and caves
The monasteries originated in the 10thcentury when hermit monks arrived in Meteora searching for solitude. Hermitages were established in caves, and you can still see their remains today.
The old Monastery of Ypapanti and the Hermit Caves of Badovas are well worth a look. It's quite something spotting them hidden among the colossal Meteora cliffs.
When is Meteora open over the year?
You can visit Meteora all year round, with different opening hours during summer and winter.
What are the opening times?
The opening times for the Meteora monasteries are as follows:
Summer (April – October): 9 AM – 5.30 PM
Winter (November – March): 9 AM – 4 PM
The six monasteries each have a different closing time, with some shutting as early as 1 PM so do check and plan your day accordingly.
Each monastery is closed to the public on a particular weekday. However, this is done on a rotational basis so there will always be several open during your trip.
When is the best time to visit Meteora?
The ultimate time of year for a day trip to Meteora from Athens is between March - May or September - November when it's less crowded.
If you do visit in summer, come early, and see the largest monasteries first.
Winters are cold and it often snows making the scene even more magical!
Are there any tours to Delphi from other cities in Greece?
Yes, there are other tours departing from another city in Greece:
Travel tips
Meteora is one of the most popular tourist sites in Greece, so book your tickets in advance to avoid missing out.
The monastery opening hours do change quite frequently, so check these before departing.
Dress appropriately for entry to the monasteries. Sleeveless clothing, shorts, and mini skirts are prohibited. Shawls are available at the entrance if you need to cover up.
The monasteries are accessed by walking uphill and then climbing steep steps, so a decent level of fitness is required.
Pack some food and water as there are no restaurants or cafes on site, just a few snack canteens.