Aegina is one of the closest islands to Athens, so makes a great side trip from the city. Home to archaeological sites, pretty beaches, and chocolate box villages, historical Aegina ticks all the boxes when it comes to idyllic Greek islands.
Whether you're checking out temples, or munching on traditional island pistachio nuts, you'll have an experience to cherish.
Read on to find out how to take a day trip to Aegina from Athens.
How to get to Aegina from Athens?
Located in the Saronic Gulf, Aegina is a popular destination for easy getaways from Athens. The island is only accessible by water, so you'll need to take a ferry or join a guided tour.
From Athens to Aegina by ferry
If you want to go it alone, there are daily ferries that journey to Aegina from Athens. The trip takes between 45 minutes and 1 hour and 15 minutes, depending on the vessel type. There are departures every hour from the Port of Piraeus.
If you want to do a spot of island hopping, you can also take in favorites like Hydra and Poros along the way.
Guided tour to Aegina from Athens
For a chilled island experience without any transport logistics to figure out, we recommend taking a day trip to Aegina from Athens. Some tours offer hotel pick-ups for convenient door-to-door transfers.
Most guided excursions last a full day so you can make the most of your time on the island.
What is the typical itinerary of a day tour to Aegina from Athens?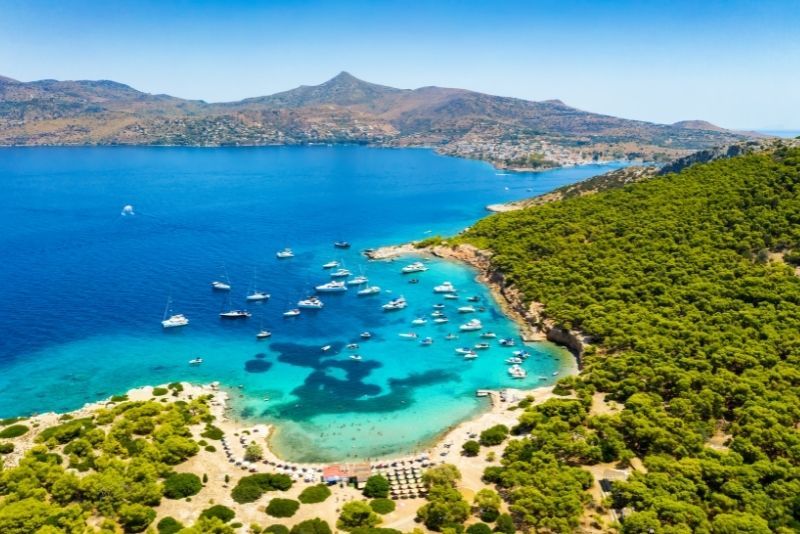 Your day begins either with a hotel pick-up by minivan, or collection from a pre-arranged meeting point at the Port of Piraeus. You'll then board the ferry, motor cruiser, or speedboat and set off on your journey to Aegina. This takes up to an hour and 15 minutes, giving you time to enjoy the scenery and sea breeze.
Once on the island, you'll have free time to explore and eat lunch at leisure. Some Aegina day trips from Athens also offer guided tours.
Several excursions also stop at other places like Hydra, Poros, Agistri, or Moni before returning you to Athens in the evening.
What kind of tours are available to go to Aegina?
There are lots of Aegina day trips from Athens to choose from, depending on your preferred travel style and budget. Some give you the option of visiting other islands too.
Guided tour to Aegina from Athens
These small-group excursions to Aegina from Athens are very popular as they allow you to see the sights without breaking the bank.
Some offer hotel transfers while others ask you to meet at the dock. Boat rides are by public ferry or cruise boat, and swimming stops are sometimes included.
Private tour to Aegina from Athens
For a more exclusive experience where you will have a guide all to yourself, choose a private day tour to Aegina from Athens.
Land transfers are just for your group, but the sea journey can be either by public ferry or charter boat. Do check the details carefully, so you know what to expect.
Day trip to Aegina plus Hydra and Poros from Athens
If you want to bag several Saronic Islands in a single day out, then this Aegina jaunt is a great choice. It includes a stop to explore the old town on Poros, and swimming in the clear waters off the coast of Hydra.
Some of these tours offer a buffet lunch on board.
Day tour to Aegina plus Agistri and Moni from Athens
Another multi-island tour, this fun excursion takes in Agistri and Moni, as well as Aegina. You'll be able to swim and snorkel off the boat, and there will be free time to check out the ancient settlements on each of the islands.
Buffet lunches and sunbathing on the beaches are also included.
How much does a tour to Aegina from Athens cost?
Guided day tours to Aegina from Athens start at €98, including ferry tickets and a walking tour. For excursions with private land transfers, expect to pay €200.
Private Aegina tours in a fast RIB boat are €450 per person. This includes transfers, snorkel equipment, and towels. For €1600 you can rent a private catamaran for up to eight passengers.
Day trips to Aegina, Hydra, and Poros range from €100 - €265 per person, depending on the inclusions. The more expensive tours offer lunch, a meet and greet with the ship's captain, and fast lane embarkation.
The day tour to Aegina that also visits Agistri and Moni costs €135, including lunch and drinks.
What will you see and do in Aegina?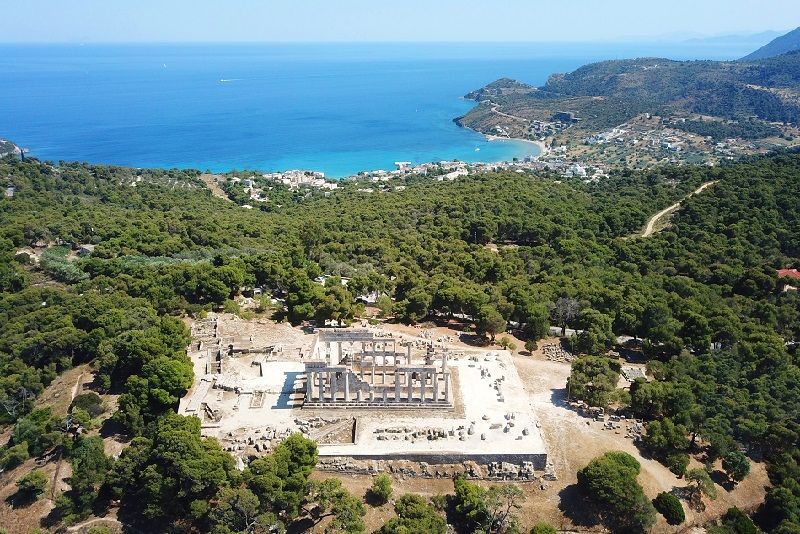 You will have plenty of free time to explore Aegina, so here's what you shouldn't miss as you discover the island.
Aegina Town
You can wander around the colorful alleyways and sleepy squares where Neoclassical buildings and charming cafés encourage you to linger. Check out the 17th-century watchtower of Markellos, which stands proudly in the center of town with its distinct pink façade.
Down below, fishing boats bob around in the harbor, and market vendors sell pistachio nuts to hungry passers-by.
Temple of Aphaia
Hike up the small hill and behold the eye-catching Doric Temple of Aphaia, known as one of the best-preserved classical monuments in Greece.
Dating back to 500 B.C., the temple has superb views out over the island. This will be a highlight of your Aegina day trip from Athens.
Temple of Apollo
Just a short walk from the port is the Temple of Apollo, which was dedicated to one of Greece's most famous gods.
Overlooking the town from the hillside, it's one of the first things you'll see as you sail into the harbor. A lone column and a few walls are all that remain today, but the views are worth the climb.
Archaeological Museum
There's an archaeological museum too, showing what life was like here centuries ago. Inside you'll discover findings from ancient sites across the island, including the two temples.
Funerary stones, traditional vases, and marble statues are the must-sees.
When is the best time to visit Aegina?
You can enjoy a day tour to Aegina from Athens at any time of year, with each season having its merits. Come in summer for the sun, or spring and fall to avoid the crowds.
Winter can be fun too, with cheaper prices, mild weather, and even fewer tourists.
Travel tips
Take some swimming gear if your Aegina day trip includes a snorkeling stop off one of the islands. Check if towels are provided on board the boat.
Light clothing and sunscreen are a must during summer, although take a warm top in case it gets breezy out on the water.
Book your day tour to Aegina online so you can compare prices and bag the best deals. Reserve well ahead as excursions can sell out in peak season.
Make sure your camera or cell phone batteries are fully topped up – the photo opportunities on Aegina are endless.