Thanks to its strategic location, the ancient town of Corinth was once one of the richest trading settlements in Greece. Today, reminders of the past stand proud in the form of temples, fortresses, and forums.
Taking a day trip to Corinth from Athens is the best way to appreciate this impressive archaeological site. The monuments are among the best-preserved landmarks in the country.
How to get to Corinth from Athens?
Corinth lies about 50 miles west of Athens, on the far eastern side of the Peloponnese peninsula. The ancient town is four miles from the modern city with the same name – it's the old one you want!
From Athens to Corinth by car
The journey to Corinth from Athens takes just over an hour by car. It's an easily navigable route as you can follow the A8 National Highway west, all the way to your destination.
From Athens to Corinth by bus
Buses to Corinth from Athens depart half-hourly from the Kifissos Terminal in the west of the city. The trip takes about 90 minutes.
Guided tour to Corinth from Athens
By far the easiest way to discover this ancient city is to take a day trip to Corinth from Athens.
Most tours last a whole day to give you more time at the site, with hotel transfers making the whole experience hassle-free.
How much does the entrance ticket to Corinth cost?
Standard entry to Ancient Corinth is priced at €8 per person. The ticket includes access to the archaeological site and the museum.
Young people aged 6 – 25 years from non-EU countries are eligible for a 50% discount, making tickets €4 each.
Free entry is available for EU visitors under the age of 25 on the production of a passport or valid ID.
What is the typical itinerary of a day tour to Corinth from Athens?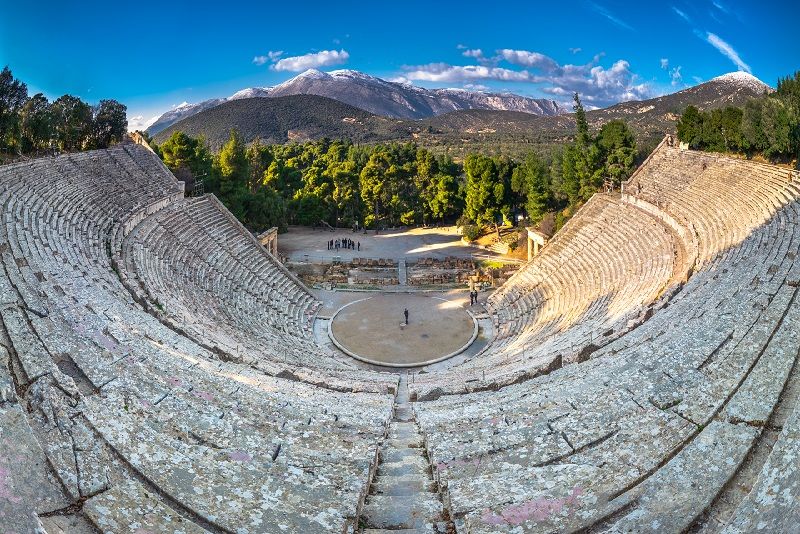 You'll be picked up from your Athens hotel and driven down to Corinth in a comfortable minivan or car. Enjoy the rural scenery along the way!
Most Corinth day trips stop at the famous canal for photos, before continuing to the archaeological site. Some excursions include guided tours around the ancient city, while others give you free time to explore at leisure.
There will be a stop for lunch at a local café or restaurant since most trips last a full day. Many tours then continue to other sites in the Peloponnese, before returning you to Athens in time for dinner.
What kind of tours are available to go to Corinth?
You are spoiled for choice when it comes to picking a day trip to Corinth from Athens. Here are some of the different types available:
Day tour to Corinth from Athens
Join a small-group tour and explore Corinth without breaking the bank. Both half- and full-day trips are available. Some include a guide while others give you time to walk around the site independently.
Hotel pick-ups and mini coach travel are provided.
Private day trip to Corinth from Athens plus other Peloponnese highlights
Want a jam-packed day out? Then choose a Corinth excursion from Athens that also visits other iconic destinations in the Peloponnese. Top sites include Epidaurus, Nafplio, and Mycenae.
Private day trip to Corinth from Athens plus Cave of Lakes & Odontotos Railway
Get off the beaten track and explore some unusual Peloponnese destinations on this epic day trip. You'll begin with a drive through vineyards, before visiting the mystical underground Cave of Lakes.
Next up is a ride on the historic Odontotos Railway and a wander around Ancient Corinth. A traditional meze lunch in a mountain village is included.
Private wine tour of Corinth from Athens
Add a delicious twist to your Corinth day trip with a visit to the village of Nemea. You'll discover the art of winemaking and get down to some serious tasting too.
Swing by Nemea's ancient stadium and the Temple of Zeus before you leave.
2- or 3-day private tour to Corinth plus other Peloponnese gems
Choose a multi-day tour to Corinth from Athens if you want to pack in several sites. You will visit places like Olympia, Mycenae, Epidaurus, and Nafplio, as well as Ancient Corinth. The ruins at Delphi feature on some tours too.
Hotel accommodation and most meals are provided.
How much does a tour to Corinth from Athens cost?
A shared group day trip to Corinth from Athens starts at €62 for a 6-hour tour. Transport is included, but entrance fees are at your own expense.
For a private Corinth tour with stops at other Peloponnese sites, expect to pay €129 for 5 hours, and €150 for 8 hours. You will have your own driver and car.
The private Corinth jaunt from Athens that visits the Cave of Lakes, and the Odontotos Railway is €160 per person, including lunch.
Exclusive Corinth wine tours cost €204 per person plus €15 for entrance to the winery.
2-day Corinth tours start at €414 while 3 days will cost €627. Accommodation and some meals are included.
What will you see and do in Corinth?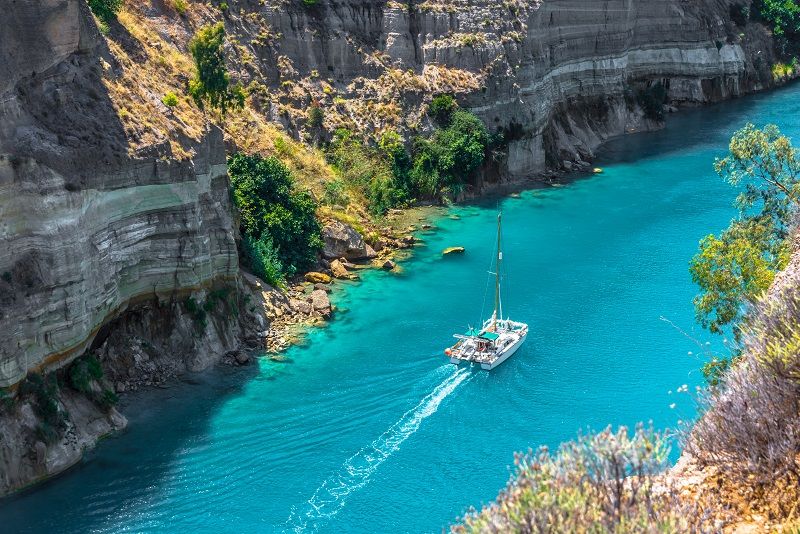 There is plenty to see on a Corinth day tour from Athens, from engineering marvels to saintly stones. Here are the sights you shouldn't miss:
Acrocorinth
This towering acropolis looms over the old city of Corinth. It was used to defend mainland Greece from invasion by way of the Peloponnese peninsula.
Buildings and castle earthworks from all eras can be seen here, including the Byzantine and Venetian periods.
Temple of Apollo
This eye-catching temple is a fine example of Doric architecture and sits to the north of the acropolis. Built to reflect the power and prosperity of the city, the Temple of Apollo could be seen for miles.
Today several columns still stand tall, making for some striking photos.
Bema of St. Paul
St. Paul lived and preached in Corinth around the 1st century A.D. – he stayed for a couple of years. Not everyone welcomed his presence, and he was taken to trial at the Bema in the Roman Forum, charged with illegal teachings.
The Bema was a stone rostrum, which can be seen during a tour of the archaeological site. If you want to walk in the footsteps of a saint, this is the place to come!
The Corinth Canal
First used in 1893, this iconic waterway runs for four miles, connecting the Gulf of Corinth with the Saronic Gulf. Slicing through the narrow Isthmus of Corinth, the manmade canal was once an important route for traders.
The ships of today are too large to fit down this slim passageway, but it's still quite a sight to see local vessels giving it a go.
What are the opening times of Ancient Corinth?
The archaeological site is accessible all year round, every day of the week. The opening times vary according to the season.
April: 8 AM – 7 PM
May - August: 8 AM – 8 PM
September: 8 AM – 7 PM
October: 8 AM – 6 PM
November: 8 AM – 5 PM
December – March: 8.00 AM – 5 PM
During the second half of December, the site closes at 3 PM and is shut on Tuesdays.
Ancient Corinth is closed to visitors on some public holidays.
When is the best time to visit Corinth?
You can enjoy a day trip to Corinth from Athens at any time as the weather is pleasant with warm temperatures throughout the year.
Summers can be hot and busy. So, come in spring or fall if you want some peace and quiet, or don't fancy sizzling.
Travel tips
Reserve tickets online for your Corinth day tour from Athens so you can bag the best deals for your chosen dates.
Take money for lunch if this is not included on your tour – you will be able to stop at a local restaurant or café.
It's a good idea to carry a bottle of water with you as the sites are exposed and can be hot in the sun.
Don't forget your camera – make sure those batteries get fully charged the night before.