After spending a few days getting to know Athens it's time to explore further afield. After all, no trip to Greece is complete without visiting some of the cultural sites and dreamy islands for which the country is famed.
Short on time? Then these 2-day trips from Athens will fulfill your wanderlust without being too demanding on your schedule. Whether you're into archaeological wonders or boat rides in volcanic calderas, there's something here for you.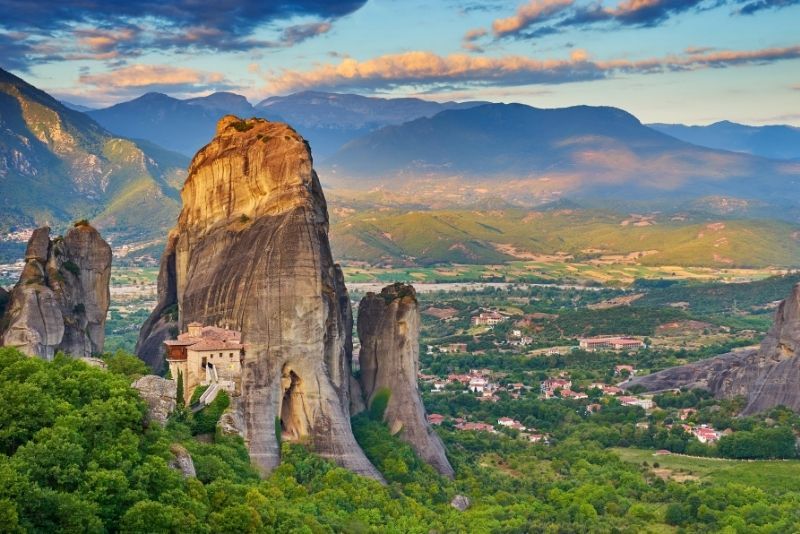 Here's all you need to know about 2-day trips, some of the best multi-day trips from Athens.
2-Day Trips from Athens: Delphi and Meteora
What is the typical itinerary of a 2-day trip to Delphi and Meteora from Athens?
These 2-day trips from Athens take in historical and natural sites at both Delphi and Meteora. Some tours also swing by the ancient battlefield at Thermopylae. Here's what you can expect during your excursion:
Day 1 – Delphi
You will depart Athens in the morning, traveling by either coach or train. If you are journeying by rail, you'll be picked up by car when you disembark at your destination. Either way, you'll enjoy the countryside scenery as you pass through rural Greece.
The main event today is Delphi – one of the most famous archaeological sites in the country. This ancient town sits on the slopes of Mount Parnassus and was considered by ancient Greeks to be the center of the world. You can explore the ruins of the temple, theater and stadium while learning about the history of this revered sanctuary.
After visiting Delphi, a few tours also take in the historic battlefield of Thermopylae. Enjoy a stroll around the valley and check out the museum to discover how this site changed the course of Greek history.
You will then be transferred to your hotel for the night, which could be in either Kalambaka or Kastraki.
Day 2 – Meteora
The final adventure on your overnight excursion from Athens is Meteora. After a hearty breakfast at the hotel, you'll be driven to this popular tourist destination for a guided tour of the cliff-top monasteries.
There will be time to explore parts of the valley as well as the monasteries and learn about the historical significance of this unusual site. A highlight will be taking in the sweeping countryside views from the rock towers.
Enjoy lunch in a traditional Greek taverna before heading back to Athens by bus or train. Those traveling by rail will be transferred to the station, ready for the onward journey. You will arrive back in the city during the evening after a fun-packed couple of days in the heartlands of Greece.
Which places are seen during a 2-day tour to Delphi and Meteora from Athens?
Delphi
Delphi is one of the most famous archaeological sites in Greece and is often the first stop on 2-day tours from Athens. Sprawling across Mount Parnassus, Delphi was a sacred sanctuary built in honor of the god Apollo. Pilgrims would journey here from near and far, eager to hear the prophecies of Apollo which were delivered through the famous oracle of Delphi.
You can still see the Temple of Apollo today, as well as an amphitheater and an ancient stadium where the Pythian Games were once held. There's an archeological museum too, full of artifacts and statues that have been found here on the site.
The surrounding landscape is just as spectacular as the ruins themselves. Take a moment to soak up the rural views – the mountainside olive groves make for pretty pictures!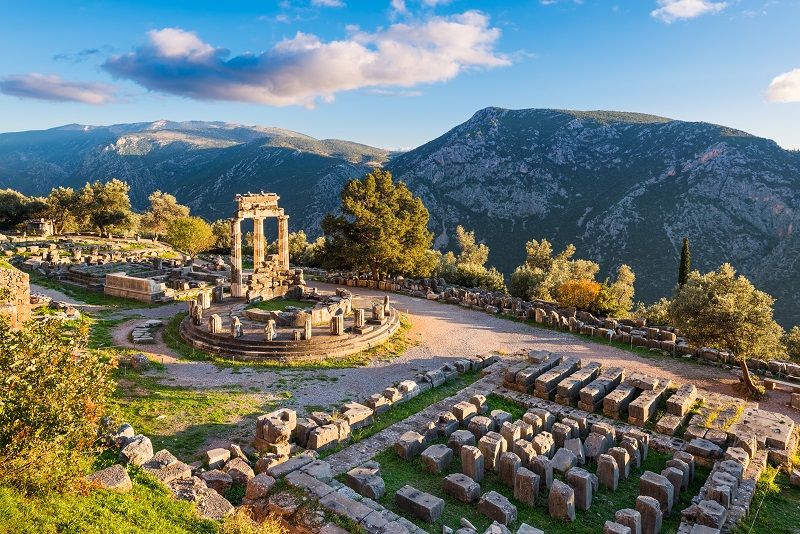 Meteora
Meteora is one of those places that has to be seen to be believed. Byzantine monasteries perch precariously on top of towering rock pinnacles, dotted around a lush green valley in northern Greece. They were built here in splendid isolation – for peace, spirituality and safety.
Several monasteries are still in operation, and you can visit a few during your tour. There will be a lot of climbing up steep steps to reach the plateaus so make sure you're wearing sensible shoes!
Back down in the valley, there are hiking trails that take you to secret churches and dramatic viewpoints. Don't forget your camera!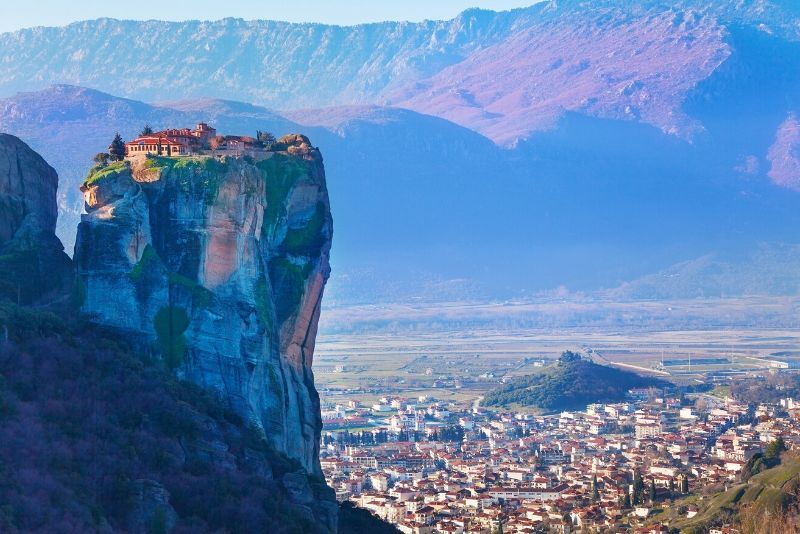 Thermopylae
A few overnight tours to Meteora and Delphi from Athens add on a visit to Thermopylae as a bit of a bonus stop. A great battle was fought here in 480 B.C. between King Leonidas of Sparta and the Persian Empire.
The outcome shaped the future of Greece as well as the western civilization that we know today. There's a small museum for those who want to learn more, and a sculpture of Leonidas to behold.
This area is also renowned for its hot sulfur springs, which the ancient Greeks believed were the entrances to the underworld of Hades. Today the springs are seen as far less ominous, and visitors can enjoy a dip in the therapeutic waters.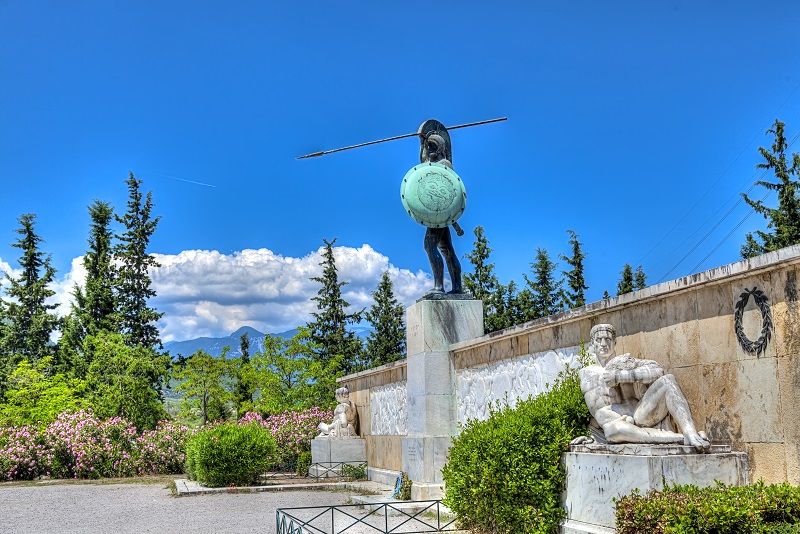 Which types of 2-day trips to Delphi and Meteora are available?
Road tours: For easy door-to-door transfers, 2-day trips from Athens are best enjoyed by road. You will be traveling by coach or minivan and taken directly to your destinations.
Rail tours: Some 2-day excursions to Meteora and Delphi take you on a rail journey through the Greek countryside. After traveling independently by train, you will be picked up at the station by your guide, ready for the onward adventure.
Small group tours: These are the cheapest and most sociable way to enjoy an overnight tour from Athens to Delphi and Meteora. Group sizes do vary so check with the operator before booking so you know what to expect.
Private tours: If you prefer to travel with your own guide and vehicle, these private 2-day tours from Athens offer more exclusivity. Prices are higher, but this is reflected in the experience. The itinerary is often flexible too.
What is the price of a 2-day tour to Delphi and Meteora from Athens?
Two-day trips from Athens by road cost around US$180 per person, with coach travel, a guide, entrance fees and accommodation provided. Hotel pickups are not included on these group tours.
The rail tour costs approximately US$170. This covers train tickets, road transfers to Delphi and Meteora plus guided group tours at the historic sites. Accommodation is at your own expense.
Private overnight tours from Athens to Delphi and Meteora start at US$380 per person. This includes transport, hotel pickup and guided tours. To include accommodation and breakfast, expect to pay US$670 for the trip.
A private rail excursion costs close to US$390 per person. This is the full package and includes accommodation, dinner, a guide, train tickets, hotel pickups and snacks.
2-Day Trips from Athens to Mykonos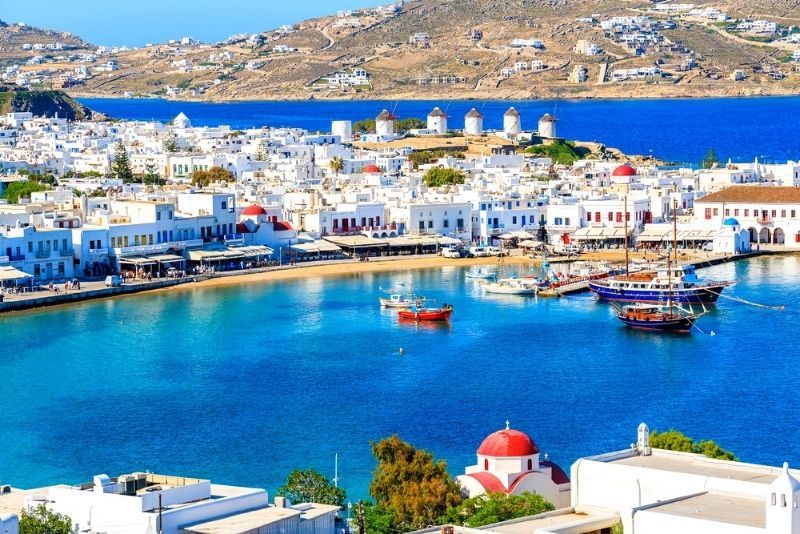 If you're craving a slice of island life, then 2-day trips from Athens to Mykonos hit all the right spots. This popular Aegean island boasts pristine beaches, buzzing nightlife and all the whitewashed houses you could wish for. The food scene here is one of the best in Greece and there are plenty of historical sites to satisfy your cultural curiosity.
You'll travel from Athens to Mykonos by boat, with return hotel transfers to the port of Piraeus for hassle-free logistics. After a 4-hour cruise, you'll arrive on the island and will be whisked off to your hotel. The afternoon and evening will be spent at leisure, whether you want to check out windmills or swim in the sea.
After spending the night in Mykonos, you'll have more free time to explore the island. Walking tours and boat rides are both up for grabs. Or you can enjoy a morning tour to Delos – a nearby island famed for its archaeological ruins. You'll cruise back to Athens in the afternoon, arriving in Piraeus in the early evening.
2-Day Trips from Athens to Santorini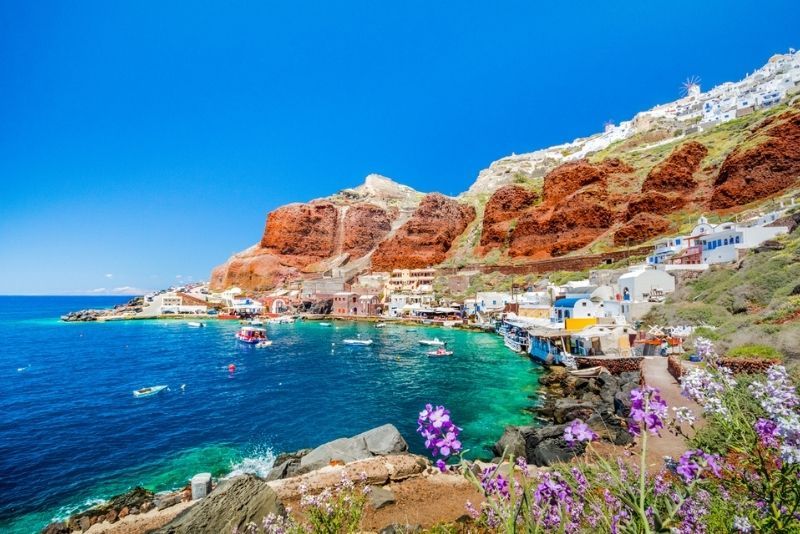 Volcanic Santorini is probably the most famous island in Greece, thanks to its iconic caldera and jaw-dropping sunsets. If you haven't got time to spend a few days here, an overnight tour to Santorini from Athens is the next best thing. You'll get to see what all the hype is about and enjoy some of the island's quintessential experiences.
Your adventure begins with a hotel pickup and a boat ride over to Santorini. You'll arrive in the afternoon ready for a few hours of independent sightseeing. Highlights on offer include the ancient city of Akrotiri, wine tasting tours and of course sunset from the village of Oia.
You'll stay overnight in a comfortable hotel, with more leisure time to explore the next morning. Take a boat tour to Thirassia Island, go kayaking or try a horseback ride on the black sandy beaches. Just remember to book well ahead as these excursions are popular.
The ferry departs Santorini late in the afternoon, taking you back to Athens in time for dinner.
What other multi-day tours can you do from Athens?