​​With its unique volcanic landscape, archaeological wonders and rich heritage, the island of Santorini is the jewel of the Aegean Sea.
Be entranced by the contrast of colors— from the red, black and white beaches to the blue domes atop ancient churches.
Set sail for a multi-day trip to Santorini from Athens with splendid sights, sumptuous cuisine and breathtaking sunsets on this iconic Greek island.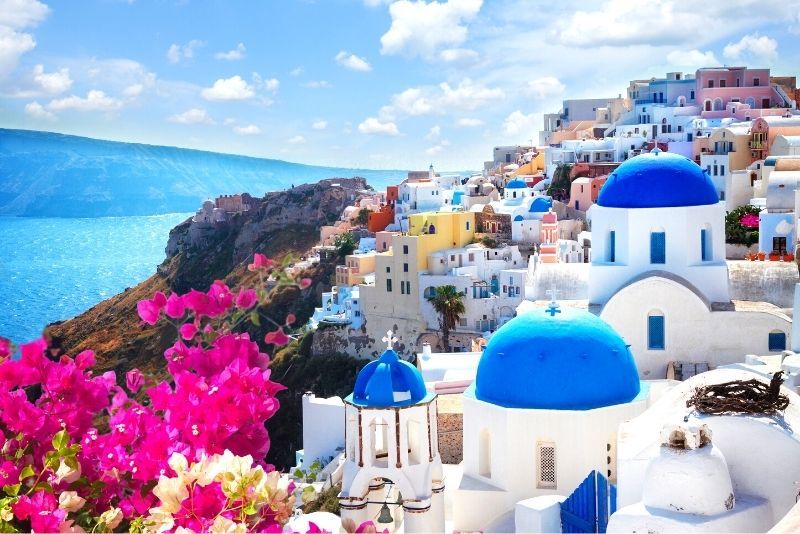 You will find below everything you need to know about Santorini, one of the best destinations for multi-day trips from Athens.
How to get to Santorini from Athens?
The island of Santorini is situated around 300 kilometers southeast of Athens in the Aegean Sea. It is part of the Cyclades island archipelago and can be reached by sea or air.
From Athens to Santorini by ferry
Ferries leave from Athens Piraeus Port throughout the day. The port is 15 kilometers south of the city center and is reachable by taxi and the metro. The fastest ferry takes five hours and the slower ones can take up to eight hours.
From Athens to Santorini by plane
The island of Santorini is one of the most popular destinations for multi-day trips from Athens. Several airlines fly there throughout the day, and the first flight departs at 6 AM, taking around 50 minutes to reach Santorini. You can catch a train from Athens city center to the International Airport in about 40 minutes.
What is the typical itinerary of a multi-day tour to Santorini from Athens?
5-day trip — the most popular multi-day trip to Santorini
Visitors typically take a 5-day tour to Santorini from Athens, which is enough time to see the sights, relax on the wonderful beaches and explore the restaurants, bars and boutiques. The trips also spend a couple of days on the island of Mykonos.
Day 1
Start your Santorini adventure with a boat ride by hydrofoil to the popular island of Mykonos. See the elegant Old Port with its famous whitewashed buildings lining the hillsides. It's here you will meet your driver who will transport you to your hotel.
Spend the rest of the day relaxing or exploring the sites before a meal in one of the fantastic local restaurants.
Day 2
Spend another day on Mykonos exploring the sights or just visiting the beaches and bars. You'll have plenty of free time to see whatever takes your fancy on this fun and lively island.  
Day 3
Set sail towards the island of Santorini for a whole day of sightseeing, swimming and relaxing. Check out the sunset from the town of Oia and then hit the restaurants and bars in Fira to see Santorini by night.
Day 4
Take a guided tour of the crescent island of Santorini and see its famous volcanic caldera, along with the island of Nea Makri. Enjoy dinner in a local restaurant with sunset views over the water.

Day 5
Spend the day shopping, sightseeing and relaxing before catching the return ferry to Athens via Mykonos.
What kinds of tours are available to go to Santorini?
There's a selection of Santorini day trips from Athens, from single-day jaunts to packages that offer a whole week in the sun.
The broad selection allows you to decide how much of the excursion you'd like to be guided and how much you'd like to explore the island at your leisure. These tours take care of the hassle of logistics, accommodation and planning
Day trip to Santorini from Athens
Pick a Santorini private tour if you're pressed for time and have six hours to spare. Tour the enchanting island of Santorini in an air-conditioned car to see the highlights, including Oia, Firostefani and Akrotiri. Round your day with a wine tasting before being dropped off at your hotel.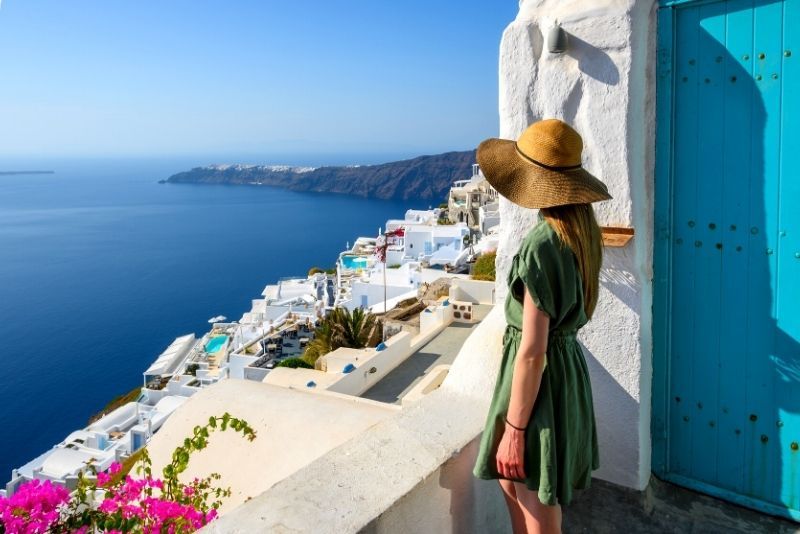 2-day trips to Santorini from Athens
These independent 2-day self-guided tours are ideal for those who like to travel at their own pace, with all travel and accommodation included. You'll be collected from your hotel in Athens and cross the Aegean sea by ferry.
Upon arriving, you can swim, sunbathe and savor Greek hospitality, as you watch the sunset from one of many excellent restaurants. Spend the following day winding through the narrow streets of Fira or examining the prehistoric ruins of the city of Akrotiri at your leisure.
A 2-day Santorini trip from Athens often includes transfers to and from the ports, an overnight stay in Santorini and transport by ferry. It does not usually include a visit to Mykonos. These tours are ideal for those who have limited time for a visit.
3-day trips to Santorini from Athens
Enjoy 3-day Santorini tour filled with adventure and relaxation – with transport, accommodation, breakfast and bottled water included. On this private tour, you'll take the ferry from Athens and acclimatize to laid-back Santorini.
The next day, you'll go island-hopping and gaze at the volcanic landscapes of Nea Kameni, dip in hot springs on Thirassia Island. Take it easy on the third day before heading back on the ferry.
Multi-day trips to Santorini from Athens
Multi-day options also range from 4-day trips up to 7 days, allowing you to experience culture-rich Athens and the enigmatic island of Santorini. Take a private tour of the ancient sites of Athens – including the Parthenon and a walking tour of Plaka.
Then, travel to Santorini to swim in the warm spa-like waters of the famous volcanic pool. Conclude another splendid day with a sunset cruise on the Aegean Sea. There'll be downtime to peruse the island at your convenience, or you can opt for a guided tour of the highlights.
Visit some of the Cyclades most popular islands, such as Mykonos and Delos, and spend plenty of time on Santorini with these multi-day trips. Enjoy guided tours to historic sights, as well as free time to discover the island's best locations.
All tours include accommodation, breakfast, return transport tickets and pickup costs. Many of these tours can be customized according to travelers' requests to visit specific highlights of Santorini.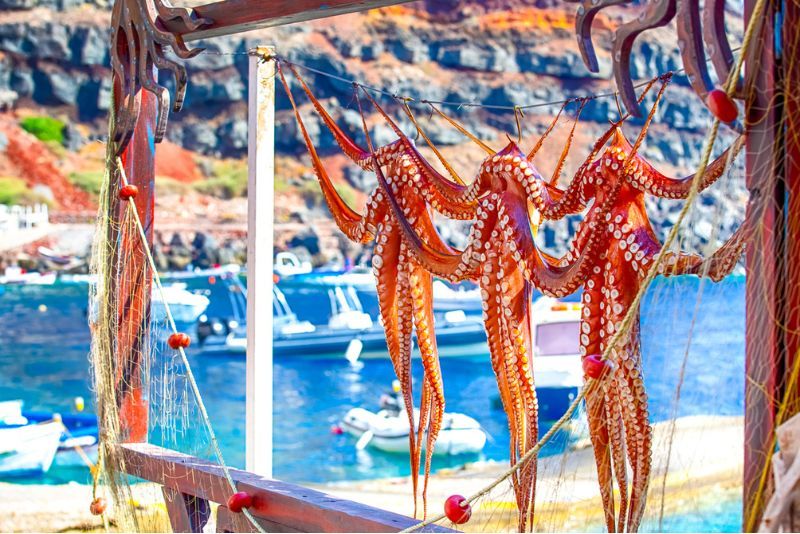 How much does a tour to Santorini from Athens cost?
A single-day private Santorini tour from Athens starts at €290. The cost of a 2-day trip is between €320 to €390. For a 3-day trip, prices range up to €850 for a small-group, personalized option.
Multi-day group trips cost from €900 to €1,300 depending on what activities you choose to include.
What will you see and do on a Santorini day trip?
​​Oia
The fabulously photogenic village of Oia clings to the clifftop of the Santorini caldera. Follow the donkeys through its spiraling streets of whitewashed houses with signature blue domes. Splendid sunsets are almost guaranteed.
Fira
Fira (also known as Thera) is the island's capital and offers a blend of history, culture, nightlife and shopping. There are cathedrals to visit, gift shops to gander and traditional Greek cuisine in which to indulge yourself.
Nea Kameni
Visit the uninhabited volcanic island of Nea Kameni on a boat trip from Santorini. It's an easy climb to the top for panoramic scenes of mountains jutting out from the seas.
Hot springs on Palea Kameni
While island-hopping, dip in the warm volcanic waters bubbling from the nearby islet of Palea Kameni. Locals say it's full of healing properties that can do wonders for the muscles, joints and skin.
The Archeological Site of Akrotiri
Stare into the past as you explore this fascinating excavation of prehistoric life dating back almost 4,000 years. It's one of the best preserved archaeological sites in Greece, and it's still being excavated.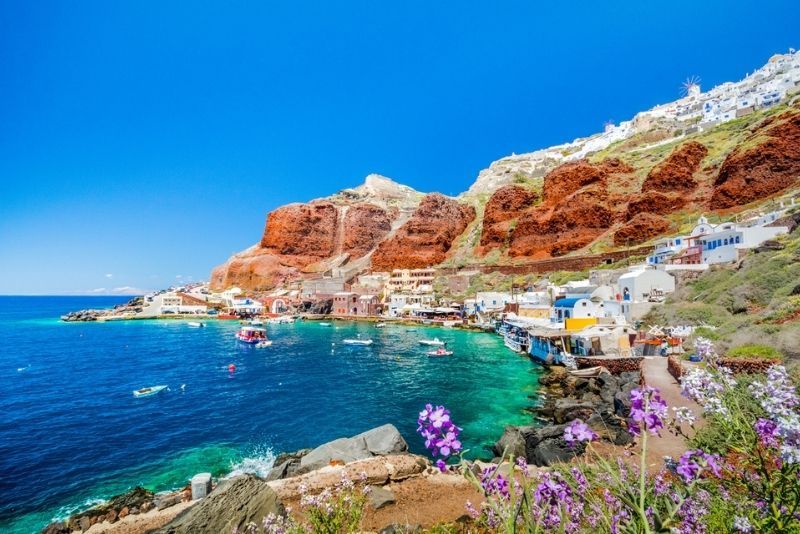 When is the best time to visit Santorini?
Santorini enjoys a Mediterranean climate of mild winters and hot summers, with its warmest and finest weather between June and September. If you prefer to dodge the crowds, visit from April to May or September to October.
Are there any tours to Santorini from other cities in Greece?
Yes, there are other tours departing from other cities in Greece:
Travel tips
On average, summer temperatures in Santorini are a comfortable 25 degrees Celsius. A hat, sunglasses and sunscreen are necessities.
Remember to drink plenty of water and avoid sightseeing in the hottest part of the day.
A camera is essential to capture those perfect snaps of the island's phenomenal views.