Plaka is the oldest neighborhood in Athens, where the winding cobblestone streets lead to cute cafés and delicious restaurants. The area consists of two main pedestrian roads that intersect beside the Acropolis.
Visiting Plaka is a great way to see the colorful Mediterranean culture of Athens without having to escape to the Grecian isles. A tour of Plaka is a perfect break from the city attractions, as it's filled with picturesque buildings, floral decorations and bustling shops.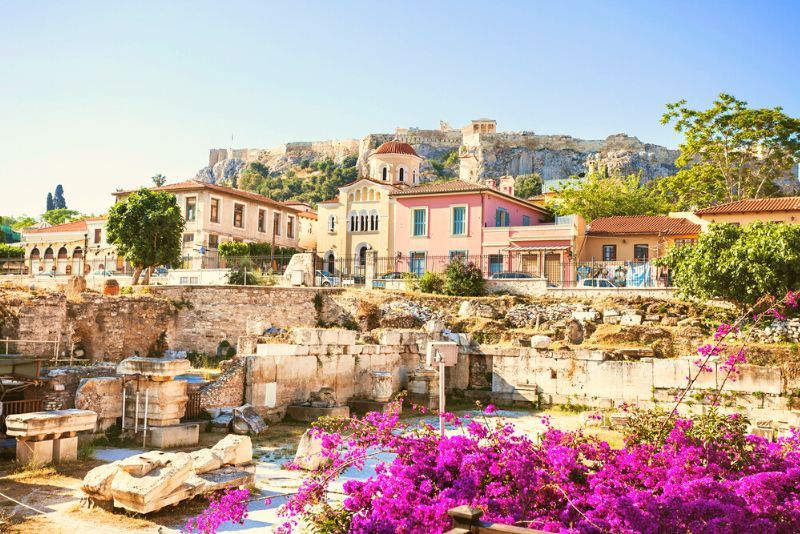 Where is Plaka located?
Plaka is situated in central Athens, Greece, beginning from the slopes of Acropolis and extending to Syntagma. The center of Plaka is at the intersection of Kidathineon and Adrianou streets, one block from Constitution Square.
You can easily get to Plaka from anywhere in Athens with just a short walk. The old neighborhood sits between the Acropolis and the National Garden, making this Athens's sightseeing experience accessible to all.
Once you get to the historical area, there are plenty of taverns, gardens and courtyards to explore. The best way to investigate is with a professional guide who can lead you through the winding streets of the ancient village.
What are the best things to do in Plaka?
Plaka lies at the foothills of the Acropolis, making it the perfect place to relax after touring Athens's most famous attractions. Walking distances are short on the curving streets, providing beautiful views and opportunities to shop and dine.
While touring Plaka, there are dozens of opportunities to stop in museums to learn more about the rich culture of Athens. The Museum of Greek Folk Art is spread throughout the neighborhood in four different annexes that contain fascinating historical artifacts.
Traditional food tasting
Plaka is known for its traditional Greek tavernas that offer the perfect pairing of local dishes with Mediterranean scenery. These small family-owned restaurants are an important part of Athens culture and offer a cozy atmosphere while dining.
Otherwise, there are many food tours available that range from street vendors to upscale experiences. Make sure to try souvlaki grilled meat skewers, moussaka, spanakopita spinach pie and Greek salad while making your way through the old town.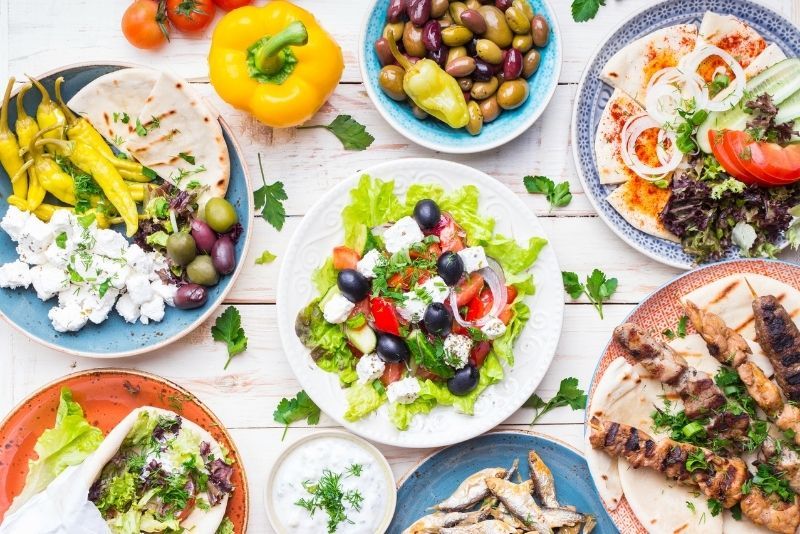 The neighborhood of Plaka is home to some of the finest jewelry shops in Athens, as well as stores that sell handmade leather goods. Cherefontos Street is the best area to browse through crafts made by local artists, whereas Adrianou street boasts fashion boutiques.
Although there are plenty of souvenir shops in Plaka, more unique items are also easy to find, and a shopping tour is guaranteed to take you to unique stores and markets.
Nightlife
Plaka is the perfect place to experience Athens's nightlife, as the narrow streets are filled with wine bars and music venues. Join pub crawls and stop by small cafés to hear local musicians playing jazz and Latin tunes.
What are the best tours to visit Plaka?
There are several different options to choose from when taking a tour of Plaka. Many excursions will include food and wine tastings, while others will prioritize exploring the cobblestone village like a local.
Walking tour in Plaka
The best way to experience Plaka like a resident is by a guided walking tour. You'll have the chance to examine tucked-away areas around the Acropolis, while learning about the prosperous history of the neighborhood.
At a relaxed pace, you'll pass by shops, restaurants and cafés before visiting the white-washed homes of Anafiotika.
Private walking tour plus tasting
For a quieter excursion, opt for a private walking tour of Plaka that includes a food and wine tasting. On this trip, you'll avoid heavy crowds while still learning about the vibrant Athens village.
Eat and drink your way through Plaka, as you enjoy a Greek-tasting workshop with items like kasseri cheese and olives. Pair your snacks with some traditional Grecian wine before ending the day with a celebratory aperitif.
Greek dancing tour with 3-course meal
Visit a traditional Plaka taverna on this three-hour adventure, where you'll eat and drink as the locals do. With convenient hotel pickup, you'll drive through the bustling neighborhood before arriving at your location.
Indulge in a 3-course Grecian meal while folk dancers and musicians perform before your eyes.
Cat tour of Plaka
Calling all cat lovers! Discover the old town of Plaka by following the tracks of its famous felines through a self-guided walking tour. Peruse through the quaint streets to find the city's legendary cat hotspots at your own pace.
While on the tour, you'll see all the best parts of Plaka while learning about the city's ancient love for felines.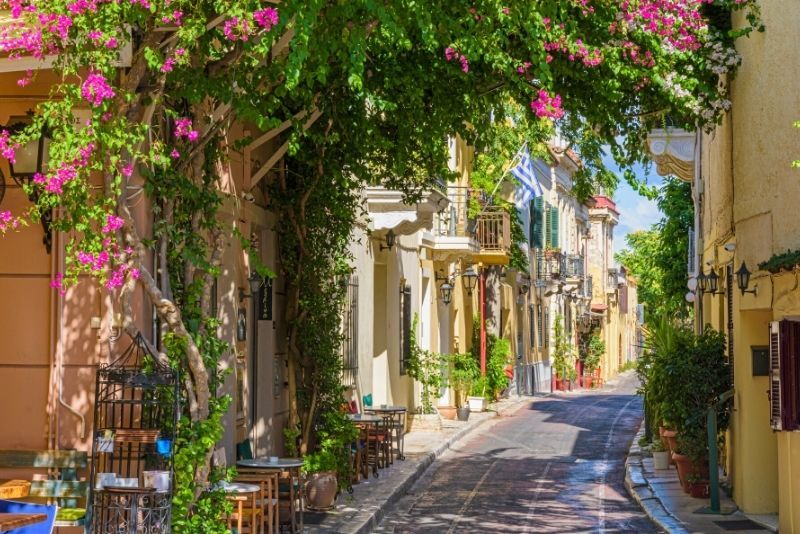 What are the prices of Plaka tours?
Walking tours of Plaka can start at less than €10 a person, and for those with an expert guide, you'll pay between €30 and €100 for each person. On the other hand, private excursions through the ancient old town will cost you between €100 and €200 per person.
If you're looking to enjoy food and wine tastings while exploring the charming village, expect to pay around €150 a person, but all cuisine will be included in the price.
For an evening of live music and folk dancing that features a 3-course meal, prepare to pay around €80 per person.
A self-guided cat tour of Plaka costs less than €10 for an hour-long jaunt around town.
Where do Plaka tours start?
Many tours of Plaka begin at the Acropolis, as it's just a short walk from the city's center to the old town. Some will begin at Anafiotika, the white-washed homes that bring a Greek Isle-feel to Athens.
For private tours and experiences that include dinner out, you can expect pickup and drop-off at your hotel or place of residence.
Self-guided excursions will begin wherever you so choose, but tickets will include a map for easy navigation.
When is the best time to visit Plaka?
The most popular time to visit Plaka is in the summer months, which are June, July and August though prepare for a heat wave as temperatures can rise to 35 degrees Celsius.
Spring and fall in Athens are great times to escape large crowds while also enjoying cooler temperatures. In the winter months, prices are much more manageable for an extended stay.
Travel tips
Most tours in Plaka include walking, as the streets are pedestrian access only. Make sure to pack comfortable shoes.
Tours of the old town are quick to book, so purchase tickets ahead of your trip.
If you choose a tour that includes tastings, arrive with an empty stomach so you can enjoy the Grecian delicacies.