Join a walking tour in Athens to be immersed in history, surrounded by priceless landmarks and subjected to delectable cuisine. Explore the age-old city like a native, climbing rocky pathways to stunning panoramic views and striking landscapes.
From visiting monuments to enjoying traditional Greek dishes, you have many options to have a remarkable walking tour in Athens.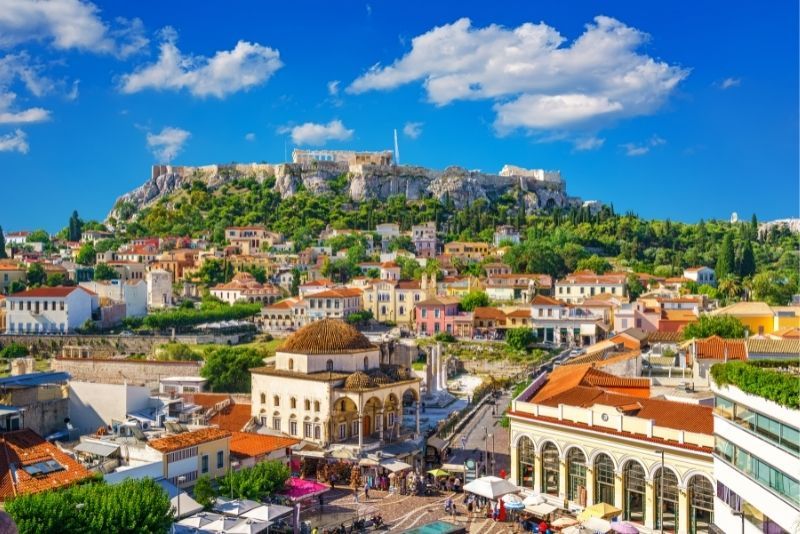 What are the best walking tours in Athens?
Athens Acropolis walking tour with guide
Walking tour of the Acropolis is one of the most popular sightseeing experiences in Athens, where the Parthenon sits as the centerpiece of the city. An expert guide will lead the way through ruins allowing for breathtaking views.
Some tours also include a visit to the Acropolis Museum, a jaunt through old Athens and a trip to the Theatre of Dionysus and the Temple of Athena before wrapping up for the evening.
Athens gourmet food walking tour
If you want a taste of Mediterranean delicacies, embark on a food walking tour of Athens, where you'll try some of the finest cuisines the city has to offer. This four-hour excursion will roam through cafés, restaurants and street vendors galore, allowing you to learn firsthand about Greece's culinary heritage.
While exploring like a local, you'll have the opportunity to try regional dishes like Greek koulóuria bread, cheeses, wine, coffee and homemade loukoumades, otherwise called sweet donuts.
If you've had enough of the regular sightseeing tours in Athens, opt for an off-the-beaten-path jaunt through the classic city. A private guide will lead you through quaint neighborhoods filled with cafés, art galleries, bookshops and public gathering spots where the Grecians spend their days.
Before wrapping up, you'll stop at an authentic Athens bakery where you'll be able to try a traditional tasty treat.
Athens nighttime guided walking tour
On this walking tour of Athens, you'll be spared the heat of the Mediterranean sun and, instead, discover the rich nightlife of the capital city. You'll begin your journey with a stroll down the oldest road in the world before discovering neighborhoods, restaurants and bars that will pique your fancy.
You will eat and drink as the Athenians do and have the opportunity to mingle with the locals at their hotspots.
Athens street art walking tour
You've seen the artworks of antiquity, now check out the best of modern Athens on a street art walking tour. Take a guided excursion with a local artist around Athens's most colorful and vibrant neighborhoods. Discover the city's best murals and graffiti artworks on these unique and fun tours.
Athens mythological walking tour
If you're fascinated with Greek mythology, a walking tour that includes storytelling of the ancient myths is perfect for you. A knowledgeable guide will explain the connection between the magnificent ruins and the rich lives of the deities that were worshipped in Grecian temples since antiquity.
Athens mythological walking tours also stop at the Acropolis, Theater of Dionysus and the Acropolis Museum, where age-old artifacts can be treasured.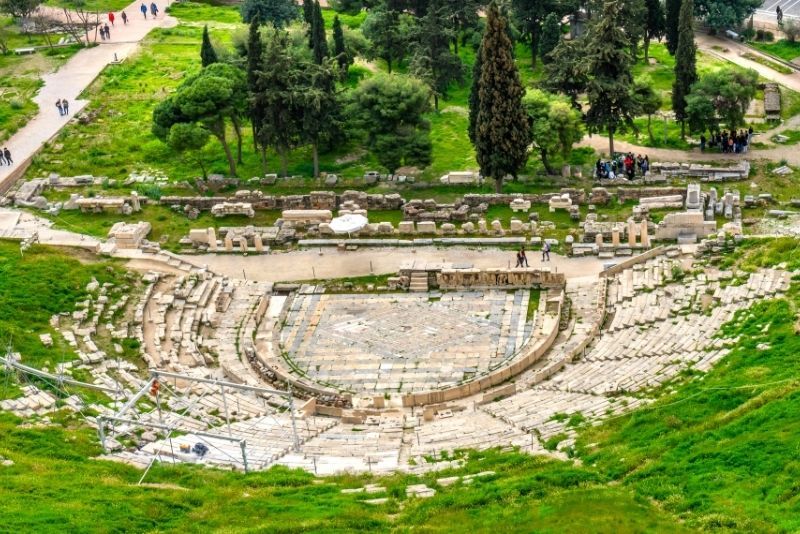 Private Athens half-day walking and Trikke tour
If you're concerned about an excess of walking while on your tour of Athens, consider taking a combo excursion with a Trikke, an electric personal vehicle like a scooter but with three wheels.
After spending the first half of the trip visiting the Acropolis and ruins by foot, zip around Athens on a Trikke to explore places like the National Garden and Zappeion Hall.
By choosing the Trikke combo ride, you will be able to save time and see more of Athens while on your journey.
How much do walking tours in Athens cost?
Athens walking tours of the Acropolis will include an expert guide with pre-reserved tickets that allow you to skip the line. You can expect to pay between €50 and €80  per person for a tour of this kind.
If you've decided on a gourmet food walking tour of Athens, you'll indulge in around eight to 10 traditional delicacies while exploring where the locals eat. You can prepare to pay between €60 and €80 per person for a tour of this nature, but all tastings will be included.
A hidden gems walking tour will forgo the main attractions of the city in exchange for a more unique and economical experience for around €30 per person.
For an evening walking tour of Athens, you'll pay just around €20 per person to hop to bars and restaurants.
A four-hour private mythological walking tour, including skip-the-line tickets with an expert archaeologist, will cost around €350 per person.
What is included in a walking tour in Athens?
On walking tours in Athens, you can expect entry to the Acropolis, all museums and landmarks to be covered, and it will often provide quicker access by skipping the line.
When it comes to tours that offer food, eight to 10 tastings that equal the size of lunch will be included in your ticket price. Some walking tours also provide alcoholic beverages as part of the package, but others may ask you to pay for them separately.
Private walking tours of Athens will include an expert guide, often an archaeologist, who can provide priceless information regarding the ancient city. These tours will also include any snacks supplied along your journey.
Where do walking tours in Athens start?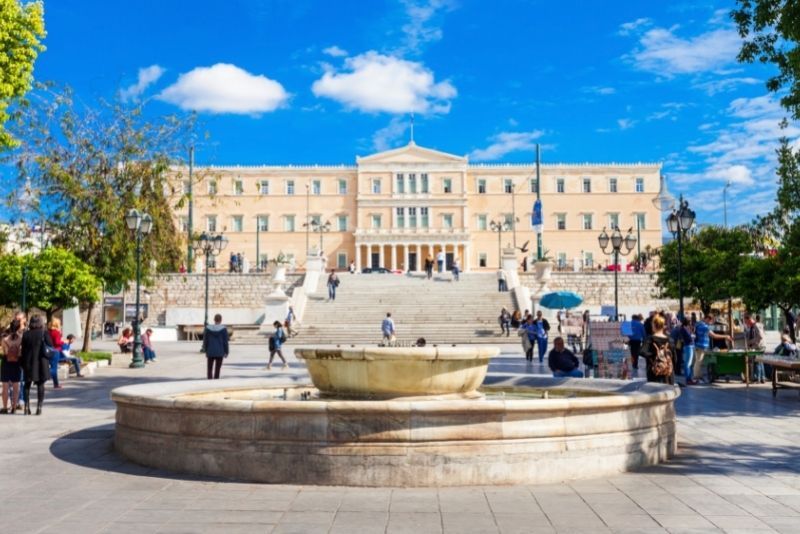 Most walking tours of Athens will meet just a few blocks from the Acropolis. Even tours that bypass the major landmarks will convene in that area, as it is a central point of Athens. Nighttime walking tours will typically gather in Syntagma Square for easy access to the nightlife.
How long do walking tours in Athens last?
Travelers can expect a walking tour of Athens to last between one and six hours, depending on the route and attractions desired. If you're looking for an in-depth lesson on the history of the ancient city, it might be wise to select a longer trip with an experienced guide.
When is the best time for a walking tour in Athens?
A walking tour of Athens can be done at any point in the day, so it's best to choose your adventure based on your own schedule.
Morning excursions will end in the early afternoon providing ample sunlight to see the ancient citadel. Evening walking tours will allow you to immerse yourself in the nightlife of Athens.
If you're opting for a walking tour that includes the major landmarks, it's best to book your tour for the beginning of your trip. You can join a walking tour with food, nighttime or off-the-beaten-path options to close out your vacation, as you take part in Grecian culture.
Travel tips
Walking tours in Athens will require at least two hours of walking, often up hills and rocky landscapes. You should wear comfortable shoes.
Some walking tours aren't able to cater to wheelchair users, so make sure to check whether yours is suitable before purchasing.
Walking tours that include food tastings will provide at least 10 samples, so start your day with an empty stomach to get the best experience.