City tours in Athens offer a closer look at the rich history, architecture, food and culture of the ancient capital.
Explore the Acropolis, Parthenon and surrounding temples left standing from the fifth century B.C. While visiting the ruins, you will experience first-hand how life was lived in antiquity.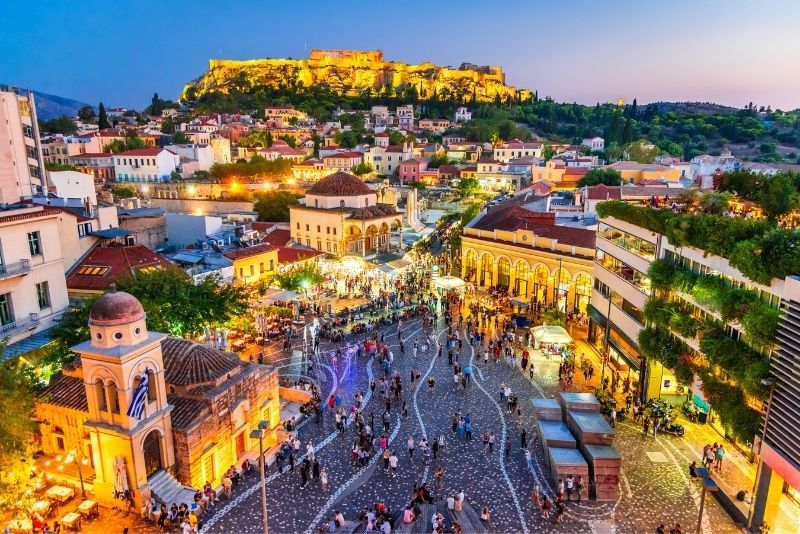 What are the best city tours in Athens?
Guided walking tour in Athens
This nearly six-hour walking tour is an ideal sightseeing experience in Athens if you want to know what life was like as an ancient Grecian. A professional guide will lead your group through some of the most important attractions in Athens, including the Acropolis and Acropolis Museum.
The excursion begins with a meetup in the morning in the center of town. You'll then proceed to see the Changing of the Guards ceremony in front of the Hellenic Parliament and the Presidential Mansion. You'll pass by the National Gardens and the Zappeion before arriving at the central city landmarks.
Some tours include skip-the-line access to famous sites, making crowded entryways the last of your concerns. You can also purchase attraction tickets during your tour and enter with your tour guide without having to go through the ticket office.
Dutch bicycle tour of Athens city highlights
If you're looking to get farther on your tour with greater ease, embark on a Dutch bicycle tour of Athens. On this three-hour jaunt, you'll ride at a leisurely pace through some of the most beautiful neighborhoods and have the opportunity to check out the city's finest monuments.
You'll begin your tour with a cycle through several of the most interesting Athens streets, stopping at the central market and for some pristine photo ops. While on your ride through the National Gardens, you'll hear fascinating stories about Greek life before breaking for a snack of delicious yogurt.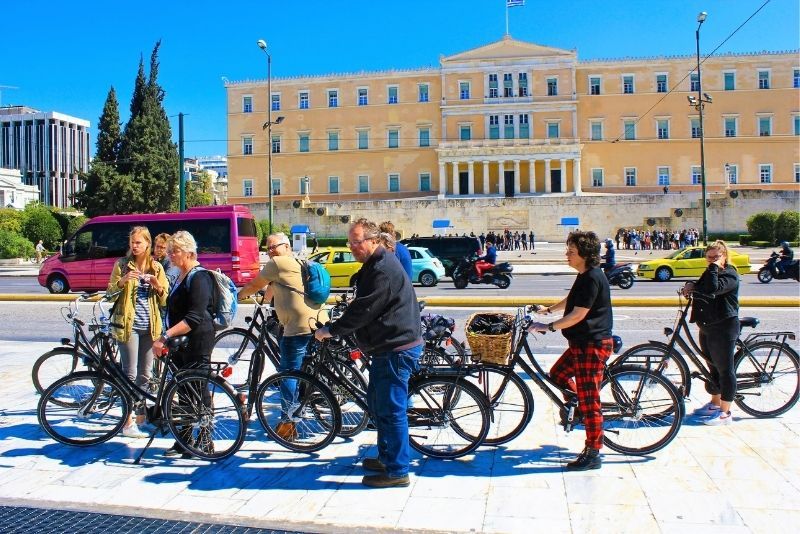 Eco-friendly TukTuk private city tour
To get a more one-on-one tour of the city of Athens, opt for an adventure on an eco-friendly TukTuk. On this private ride, a professional guide will drive you to stops at the Acropolis, Hadrian's Arch and the top of Mount Lycabettus before perusing some of the best neighborhoods of the city.
The three-hour excursion includes hotel pickup before heading out on an electric vehicle that whips with ease on the narrow Athens avenues.
As a bonus on this private trip, you'll have the opportunity to stop at one of the city's finest flea markets for a shopping experience.
Electric scooter tour in Athens
An alternative mode of transportation for your Athens city tour is a ride on an electric scooter with an expert guide. On this Athens scooter jaunt, you'll glide through the ancient streets while enjoying the picturesque communities of the nation's capital.
You'll have the opportunity to taste Greek delicacies while on your trip, bypassing the major landmarks for a visit to the Central Market.
How much do city tours in Athens cost?
City tours in Athens range from €30 to €80 per person, depending on the length of the trip and what is included, whereas multi-day trips can cost up to €700 a person.
For a walking tour of the city with an expert guide, you can expect to pay around €60 per person, but you'll be able to skip the lines for quicker entry to the attractions. A city highlights tour on a Dutch bicycle will be a bit cheaper, averaging €30 per person, but the trip will be much shorter and more concise.
A private city tour in Athens by electric TukTuk vehicle will begin at €80 per person and will include hotel pickup for your ease. An electric scooter tour with food tastings included will also cost around €80 per person, though you will bypass the major landmarks for a closer look at the city neighborhoods.
What is included in a city tour in Athens?
Many city tours of Athens will pass through the National Gardens and quaint cobblestone neighborhoods, where you'll see streets filled with lush floral arrangements and outdoor cafés.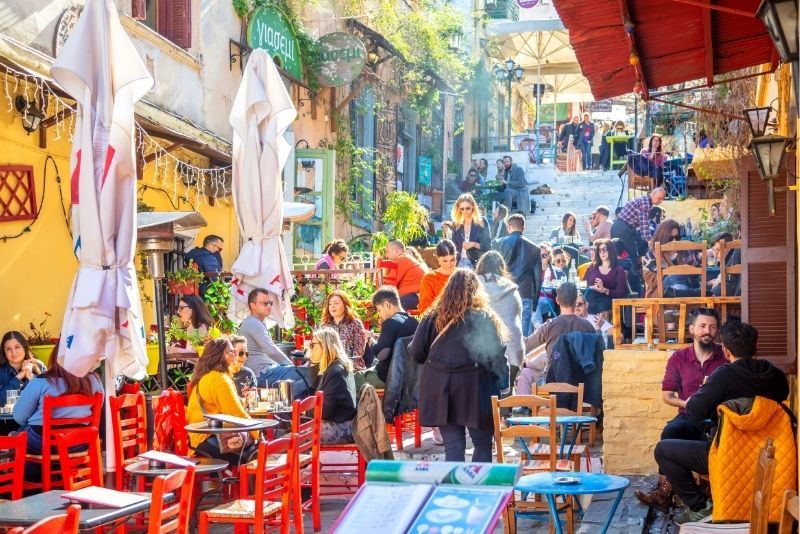 On some tours, you'll have the opportunity to visit the most notable Athens attractions like the Acropolis and the Parthenon. While on your journey, you'll get to taste some of Greece's finest foods, like delicious yogurt, authentic cheeses, fresh produce and other Athens delicacies.
Many city tours will include a stop in the Central Market for some shopping before heading back for the evening.
Where do city tours in Athens start?
Chances are your tour will begin somewhere near the Acropolis Museum in the center of town. Some walking excursions will commence at the Syntagma Metro Station, where a guide will be standing with a bright sign awaiting your arrival. Private tours offer hotel pickup and drop-off, adding convenience to your journey.
How long do city tours in Athens last?
City tours of Athens can last anywhere from 3 to 10 hours, depending on how much of the ancient capital you would like to cover during your visit. Walking trips will typically run no longer than six hours, while those including stops for meals and museums could extend an entire day.
When is the best time for a city tour in Athens?
Head on your city tour of Athens at the beginning of your trip so that you can check off the most important sights at the start. From there, you can explore the rest of the capital with confidence.
Start your tour in the morning to catch the best daylight, or opt for a sunset excursion to enjoy a more romantic view of Athens.
Are there any combos available with city tours in Athens?
There are a couple of combined sightseeing excursions available, which may save you time and money on your Athens city tours.
Athens city tour plus multi-day trip to Cape Sounion and Delphi
For an added adventure, choose a city tour of Athens that includes a journey to Delphi, where you can see the most important oracle from Classic Greece. This 2-day trip begins with visits to the Athens monuments before continuing on a half-day to Cape Sounion.
On Day 2, you'll be picked up by a coach to continue to your third destination in Delphi, dedicated to the god Apollo. The journey includes stops at traditional Grecian restaurants and visits to the Delphi Archeological Museum.
Athens city tour plus day trip to Cape Sounion, Mycenae and Epidaurus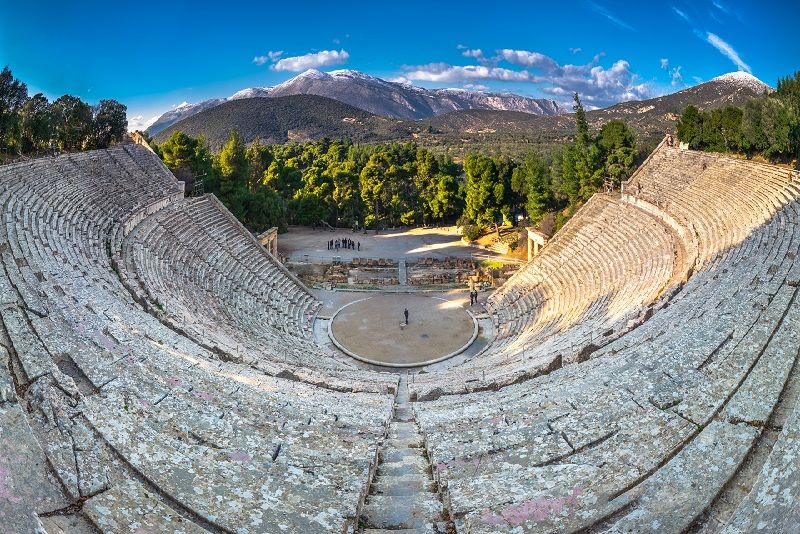 If history is your primary reason for visiting Greece, take a city tour that includes a day trip to Mycenae and Epidaurus. After spending the morning exploring the Athens city landmarks, you'll head to Cape Sounion's Temple of Poseidon to catch views of the Aegean Sea.
On the second day, you'll explore ancient ruins, including the Tomb of Agamemnon in Mycenae, before touring the Great Theatre of Epidaurus.
Travel tips
City tours of Athens normally include walking, so make sure to wear comfortable shoes!
The weather in Greece, especially in the summer, is very warm and sunny. Bring sunscreen, sunglasses and a hat for protection.
Carry some money for any drinks or food purchased outside of the tour. Often, entrance fees will be an additional price.
Make sure to bring a camera to snap photos of the sights. The sunset overlooking the city is a breathtaking experience!