On these 4-day trips from Athens, you'll visit some of the most coveted tourist spots in Europe. First up is the dreamy Peloponnese peninsula, where you'll walk in the footsteps of ancient gods and legendary kings. It's a humbling experience!
Then delve deep into the past as you venture north through central Greece. The mysterious monasteries of Meteora are like nowhere else on earth, while the archaeological site of Delphi has a heritage as old as time.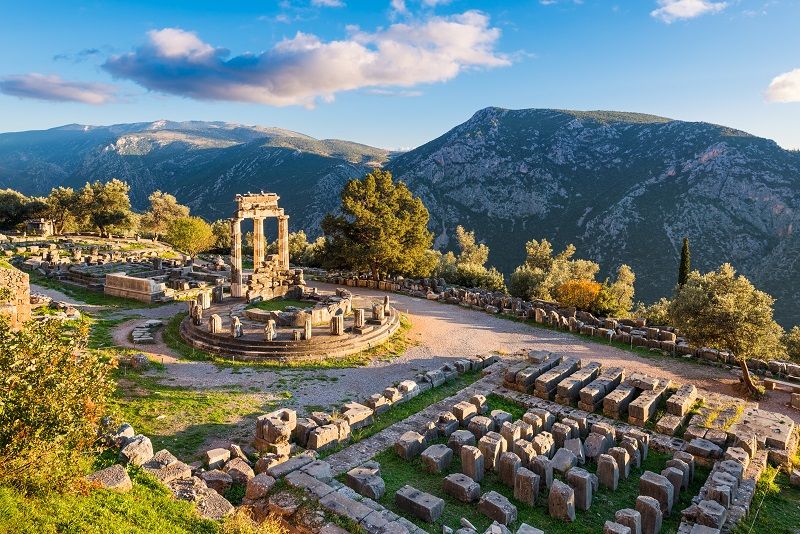 You will find below all you need to know about a 4-day trip itinerary, one of the most complete options for multi day trips from Athens.
4-Day Trips from Athens: Peloponnese, Delphi and Meteora
What is the typical itinerary of a 4-day trip to the Peloponnese, Delphi and Meteora from Athens?
Day 1 – Epidaurus, Mycenae and Corinth
Enjoy a convenient hotel pickup to begin your 4-day tour to the Peloponnese from Athens in style. It'll be an early start as you have a lot to pack in. You will be driven across to the Peloponnese peninsula, where the next couple of days promise plenty of adventures. The whole tour is by bus or minivan.
First on the agenda is Epidaurus, with its famous amphitheater and archaeological museum. Then it's on to Mycenae to pay your respects to King Agamemnon.
The final point of interest today is the mighty Corinth Canal, which carves its way from sea to sea. You'll spend the night in the coastal city of Nafplio.
Day 2 – Olympia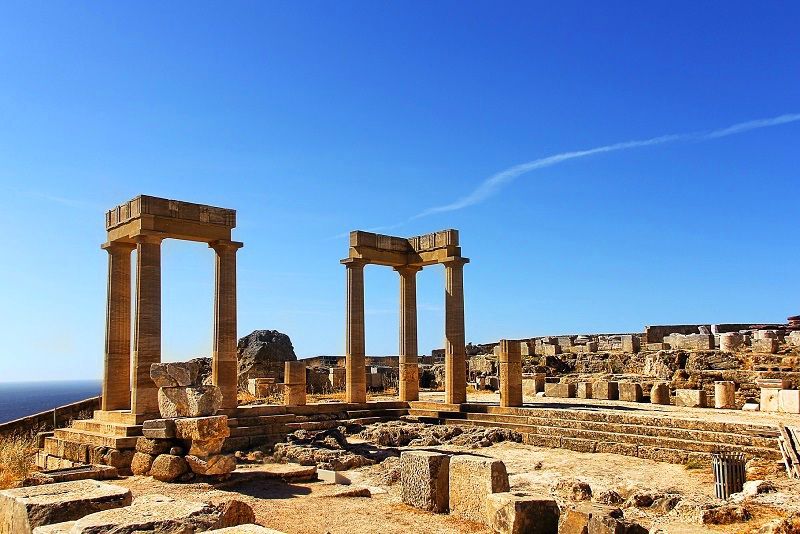 The focus of day two is the ancient site of Olympia, where the original games were first held. You'll enjoy a scenic drive across the peninsula and spend a few hours exploring the complex with your guide.
Retire to your comfortable hotel for the night and enjoy dinner with your travel companions.
Day 3 - Delphi
Today's delight is Delphi, which is back in central Greece. It's a long drive but the views will keep you entertained. Delphi is one of the most popular stops on a 4-day trip from Athens, so make sure you charge up those camera batteries.
Once at the site you'll discover dramatically situated temples and learn about the significance of Apollo in ancient Greek culture.
You'll enjoy a final night in a hotel close by, ready for your final day on the road tomorrow.
Day 4 – Meteora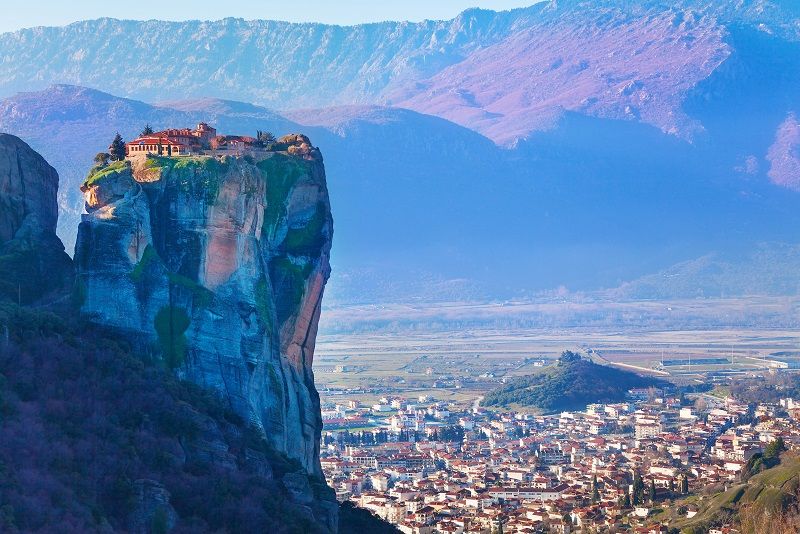 Your last day on this epic multi-day tour from Athens offers a change of scenery. Yes, there's history, but it's the geology of Meteora that will blow your mind.
After breakfast at the hotel, you'll be transferred to Meteora for a guided tour of the monasteries. There will be a bit of hiking to reach these mountain sanctuaries, so make sure you're wearing comfortable shoes.
On the return journey to Athens, you'll stop at the statue of King Leonidas for a short break. Then you'll continue the drive, arriving in the city during the evening.
Which places are seen during a 4-day tour to the Peloponnese, Delphi and Meteora from Athens?
Epidaurus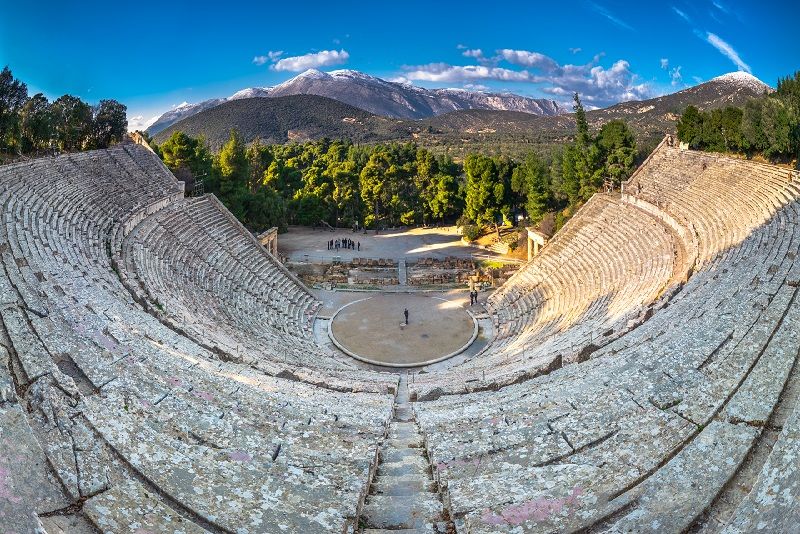 The star of the show at Epidaurus is the theater. It's one of the best-preserved stages in the country and is still used for performances in the summer. You might even see one if you time your visit right!
If there's no show scheduled during your excursion, you can still take a seat and enjoy the panoramas out towards the mountains. Stage backdrops don't come more beautiful than this!
Olympia
The original Olympic Games were held right here at this remote site. Much of the stadium can still be seen, so it's easy to imagine the Greek athletes wowing the crowds back in the day.
You can stroll around the arena and visit the Temples of Hera and Zeus too. Don't miss the gymnasium remains or the ancient workshop as you explore the complex.
Mycenae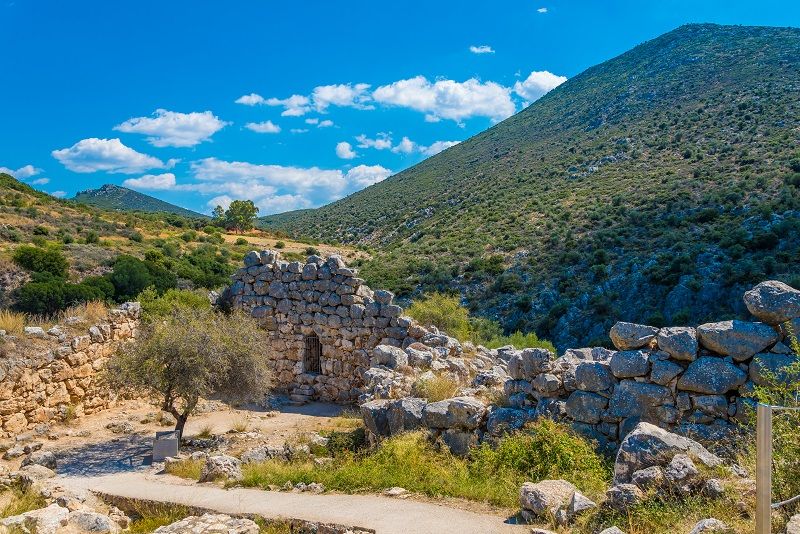 This archaeological site was once the beating heart of the Mycenaean civilization. It's also where King Agamemnon was buried, after his legendary role in the Trojan Wars.
As you wander around the settlement, you can admire the high city walls guarded by huge stone lions, as well as tombs and a treasury.
Delphi
The most famous sight in Delphi is the Temple of Apollo. It was from here that the prophecies of the god himself were revealed, by a high priestess speaking to devout pilgrims. During your visit, you can discover the temple remains, as well as the stadium and amphitheater.
Delphi enjoys a picturesque setting on the slopes of Mount Parnassus. The views over the valley are tremendous and the lush landscape makes for showstopping photos.
Meteora
Meteora is known for its unique Byzantine monasteries, which sit precariously on top of lofty stone pinnacles. Some are still in operation, and you'll visit a few during a guided tour. The steps up to the summit are often steep, so a head for heights is a must!
The sweeping vistas from the monasteries are the icing on the cake. You can see for miles, with churches and otherworldly rock towers setting the scene. This is one of the top stops on a 4-day tour from Athens.
Which types of 4-day trips to the Peloponnese, Delphi and Meteora are available?
Road tours: You'll be covering a lot of distance on these 4-day excursions from Athens so traveling by road is the best way to explore. Most operators provide hotel pickups, with tours by either bus or minivan taking you directly to your destinations.
Group tours: These 4-day trips from Athens offer the best value for money, with larger group sizes keeping costs to a minimum. You'll have guided visits at many of the archaeological sites. The number of participants on tours varies greatly, so if you'd prefer to travel in a smaller group, check the operator details carefully before booking.
Private tours: If you would rather travel a little more exclusively, then private tours from Athens are the answer. You'll have a car or minivan for just you and your party, and some tours offer a personal guide too. Some flexibility in the schedule is allowed too.
What is the price of a 4-day tour to the Peloponnese, Delphi and Meteora from Athens?
For a group trip, expect to pay €500 per traveler. This is the full package, with transport, hotels, pickups, entrance fees and some meals included. You will also have a guide at most sites.
Private 4-day trips to the Peloponnese from Athens cost €1,750 per person. Luxury hotel accommodation, breakfast, transport and hotel pickups are provided. You will need to pay entrance fees on site, and you can hire local guides here as well if required.
4-Day Trips from Athens: Mykonos and Santorini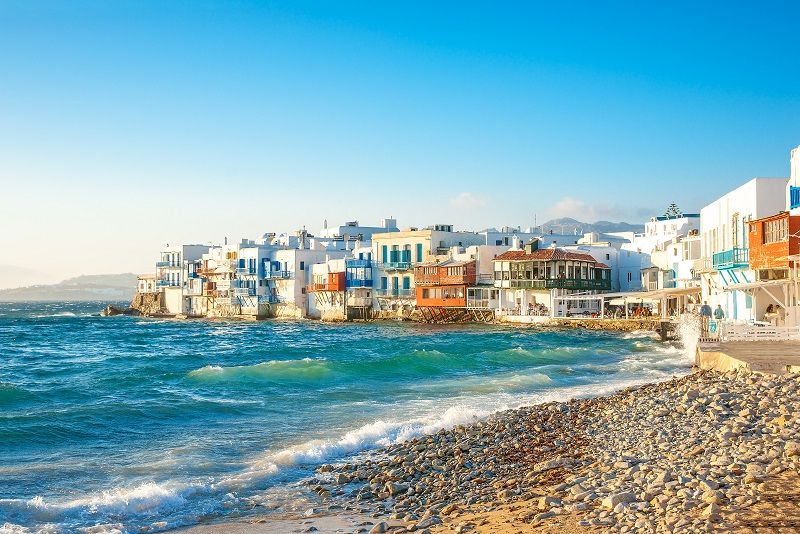 Once you've had your fill of classical mainland sights, why not head out to the islands for some relaxation – Mediterranean style? These 4-day tours to Santorini and Mykonos from Athens show you the best of Greek island life. If you've always wanted to experience traditional villages, vibrant nightlife and turquoise coves, then this is the excursion to book!
This trip is self-guided, but all your transport will be taken care of, so you can just sit back and enjoy the ferry rides. The first couple of days focus on Mykonos, where photogenic windmills and whitewashed streets will soon capture your imagination.
Then it's on to Santorini for caldera boat adventures and sunsets from the village of Oia. You can spend time at the beach, go on a wine tasting tour or explore ancient Akrotiri. The schedule is up to you. After your adventures, you'll return to Athens by ferry.
Some 4-day excursions from Athens mix things up a bit with bonus visits to other islands. Paros and Crete are the most popular additions to the itinerary.
What other multi-day tours can you do from Athens?