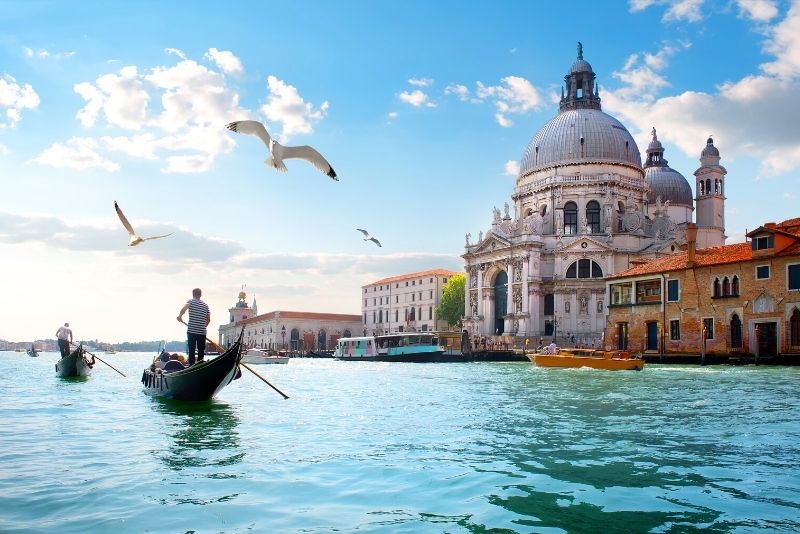 Whether you know it as the City of Water, City of Masks, or City of Bridges, there's one thing that can't be debated: Venice is nothing short of extraordinary.
With centuries worth of fascinating history, hundreds of bridges and canals, world-class art museums, and a water-centric lifestyle unlike anywhere else in the world, the floating city deserves to sit high atop any traveler's bucket list.
If you're looking for things to do in Venice, you'll truly be spoiled for choice.
1 – Feel like a king at the Doge's Palace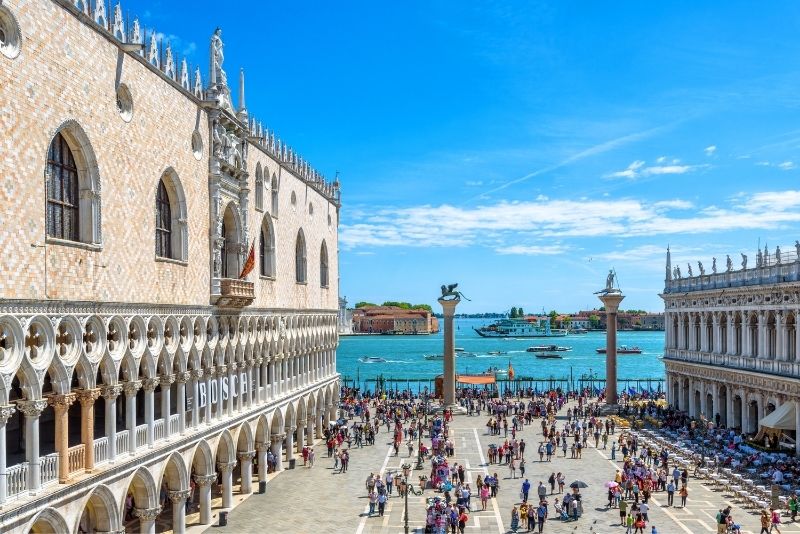 One of the main landmarks of this glorious, floating city, the Doge's Palace is an essential stop on any Venetian itinerary. Built originally in 1340, not only does this centuries-old palace portray a detailed history, but it also boasts some of the most exquisite art, architecture, and furniture (fit for a king) in the city.
During those busy summer months, opt for a skip-the-line pass.
Read more about Doge's Palace skip-the-line tickets.
2 – Catch a show at La Fenice Theatre
A theatre as beautiful as the city in which it stands, La Fenice hosts the marvelous Venitian opera.
But the show is only half the wonder; the architecture — a Baroque masterpiece brimming with gold decor — and the artwork are masterpieces in their own right.
To see it in all its might, opt for a guided tour (or, if you're feeling fancy, a VIP private tour).
3 – Stare at St. Mark's Basilica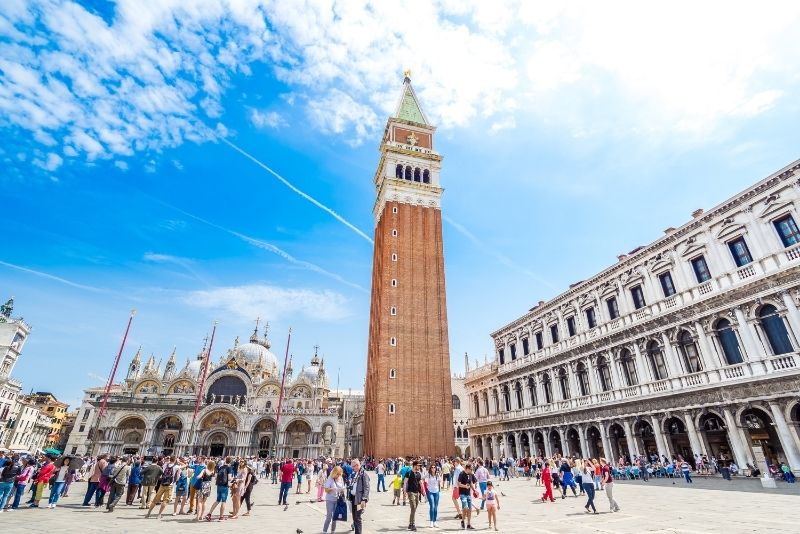 Flanked by pigeons, gelaterias, snap-happy tourists and street artists, St. Mark's Basilica is arguably the architectural focal point of Venice.
While entrance to St. Mark's Basilica is free (and definitely worthwhile), a skip-the-line ticket is a great investment during busier times.
Similarly, the adjacent St. Mark's Bell Tower is a worthwhile attraction, offering sweeping views of the canaled city.
4 – Take a romantic Gondola ride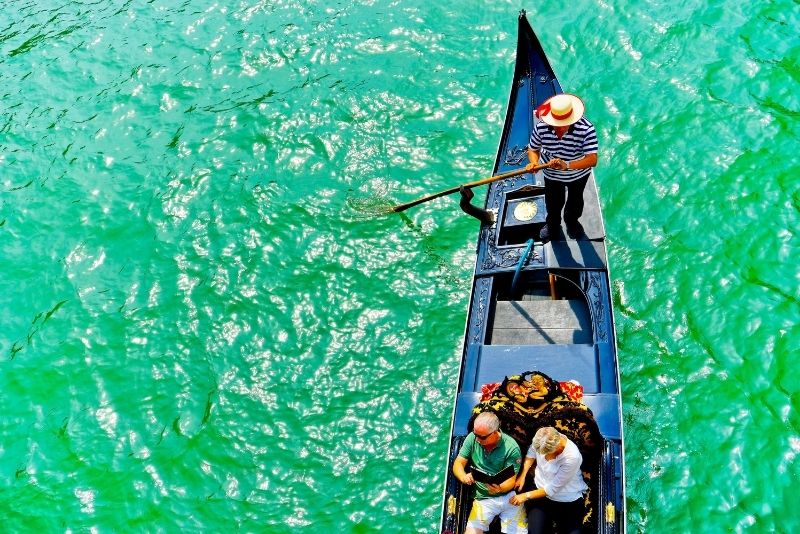 The most quintessentially Venetian activity imaginable, a ride down Venice's charming waterways is one of the non-negotiable things to do in Venice.
With a local gondolier sharing tales, tips, and tidbits, there's plenty of enjoyment to be had.
For the romantics amongst us, consider the extra addition of a serenade session and onboard dinner.
5 – Visit the islands of Murano, Burano, and Torcello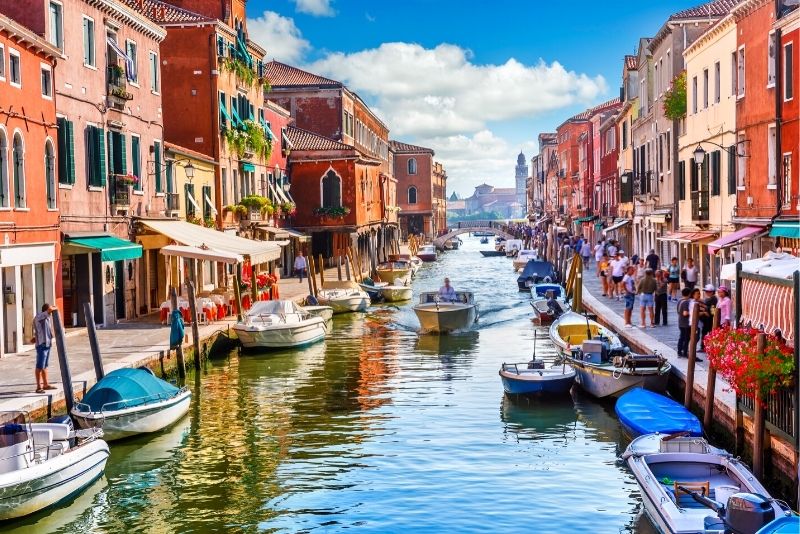 While most tourists tend to stay on Venice's main island(s), any savvy traveler knows that some of the area's true gems lie outside of the tourist-trodden main squares.
Over in Murano, Burano, and Torcello — three distinctly beautiful islands in the larger Venitian lagoon — you'll find glass-blowing factories (and the Museo del Vetro Glass Museum), brightly-colored fishermen's houses, and plenty of wonderful eateries and shops.
6 – Sign up for a Mysteries of Venice tour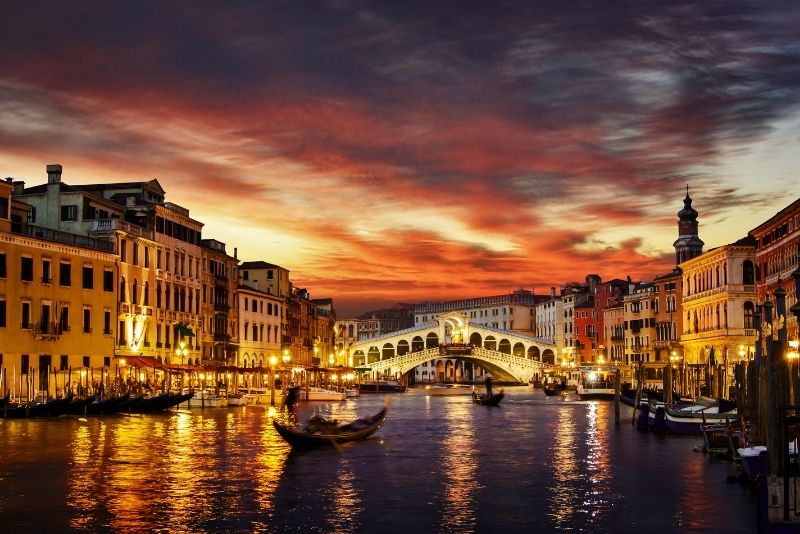 Venice might be famous for its waterways and canals, but behind its charming facade lies a dark history, one littered with mysteries and haunted tales.
To uncover all of the floating city's most exciting, spooky stories, and to hear first-hand the legends about the Venice of old, join a walking tour that crosses through the lesser-seen streets — it's a surefire hit for anyone brave enough!
7 – Race against the clock with a scavenger game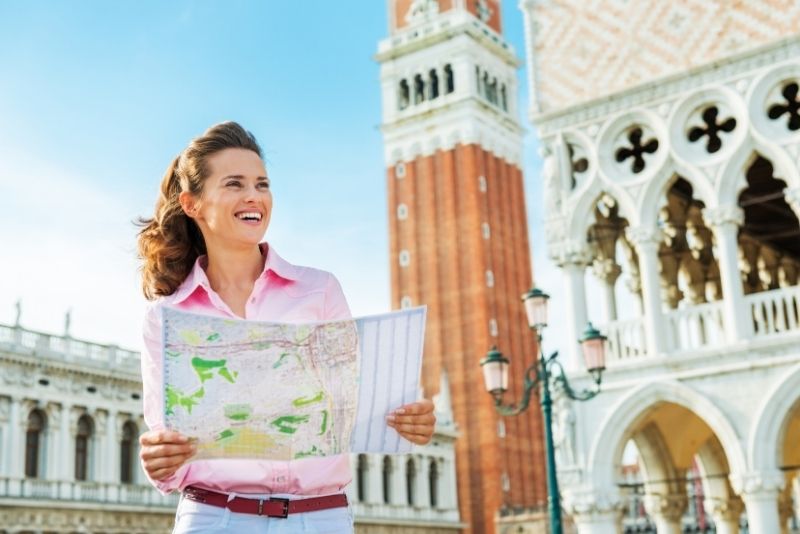 When strolling around town becomes a little repetitive, why not take the adventure up a notch with a competitive, fast-paced scavenger hunt?
As you venture to a handful of Venice's most famous landmarks — including St Mark's Square — you'll explore not only the tourist-trodden areas, but also gain a new perspective thanks to riddles and challenges that take place off the beaten track.
8 – Admire the Venetian Villas on a Brenta Riviera cruise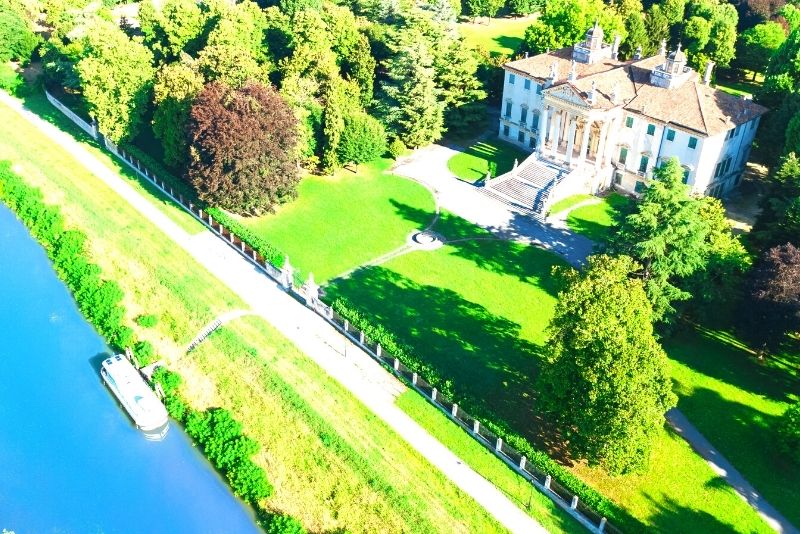 The perfect blend of romance, sightseeing, and relaxation, a cruise down Brenta Riviera toward Padua is one of the best things to do in Venice.
Besides the chance to admire more than 50 breathtaking villas that sit on the banks of the river, tours also include a hearty lunch at a local restaurant and entrance to three of the most celebrated villas.
9 – Tantalise the tastebuds with a food tour!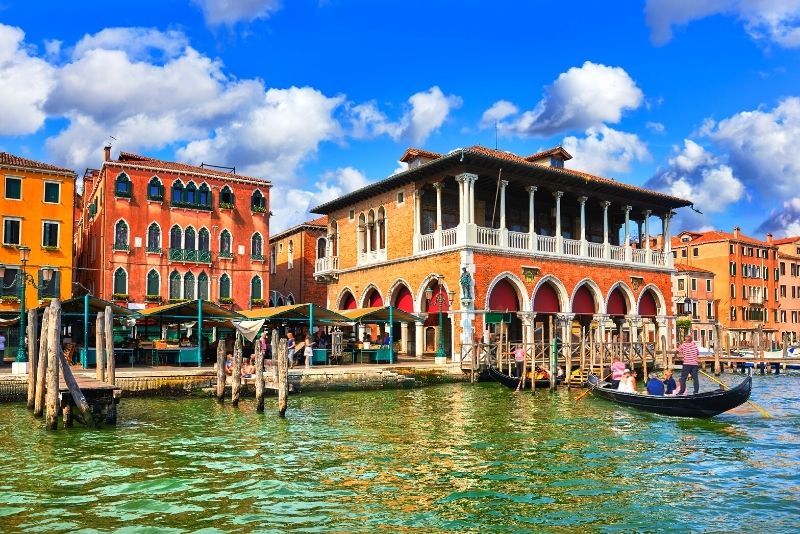 Foodies, rejoice! Home to some of Europe's — scratch that, the world's — most tantalizes dishes, Venice is heaven on Earth for gastronomy lovers.
While there's never enough time to try every dish at every restaurant, a locally-led food tour — one that takes you to both crowd favorites and hidden gems — is the next best thing.
As you wander through places like the Rialto Market, gear up to sample some delicious Cicchetti and wash it down with a Spritz or two!
10 – Enjoy a dinner cruise on a Galleon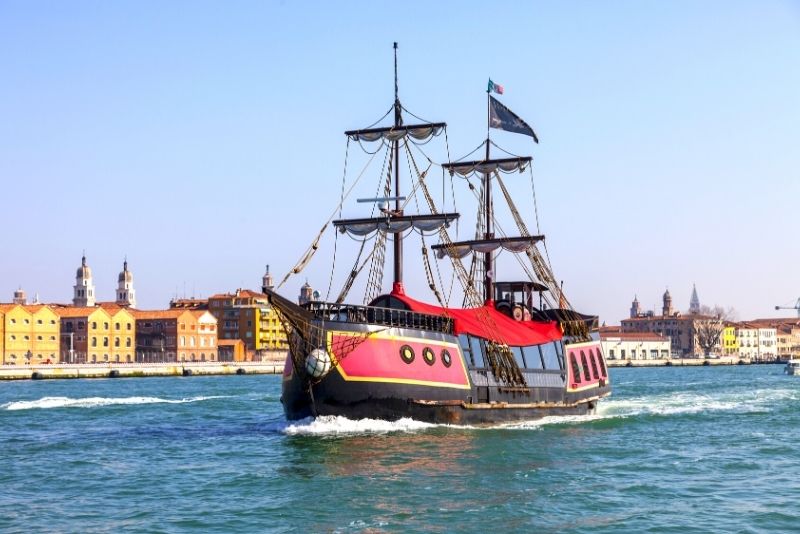 What's that, there are other boats in Venice besides gondolas?
That's right, and not only can you set sail on a marvelous, historic Galleon ship, but you can also enjoy a candlelit gourmet dinner and soak in the breathtaking views.
Or, if you're up for something a little more lively, why not check out the Carnival Party cruise?
It's a great way to meet fellow social travelers!
11 – Float down the Grand Canal on a boat tour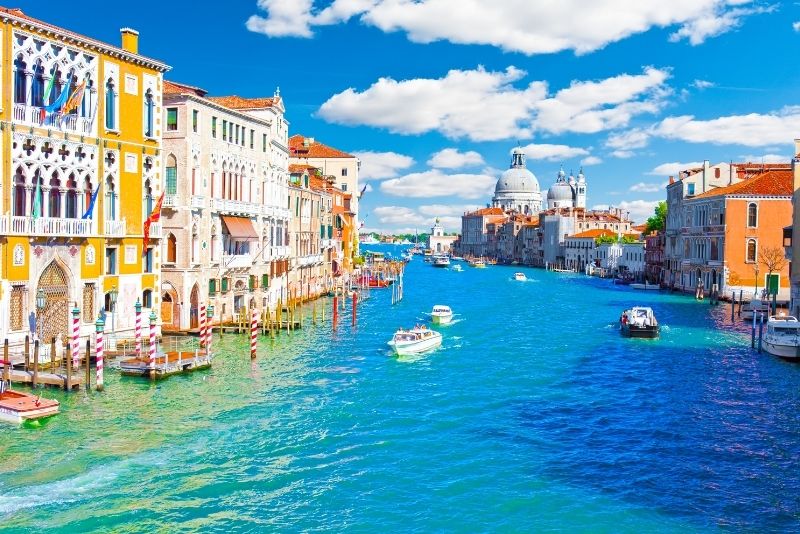 Venice's grand canal, curving through the city in the reverse shape of an S, is arguably the most beautiful waterway in the world.
No matter which method you take — be that a water taxi (Vaporetto), motorboat, sunset cruise, gondola ride, dinner cruise, or hop-on-hop-off boat — make sure to add a Grand Canal tour to your Venetian bucket list.
If you're around on the first Sunday of September, check out the traditional Regata Storica rowing event.
Read more about boat tours in Venice.
12 – Explore nearby Lido Island with a bike tour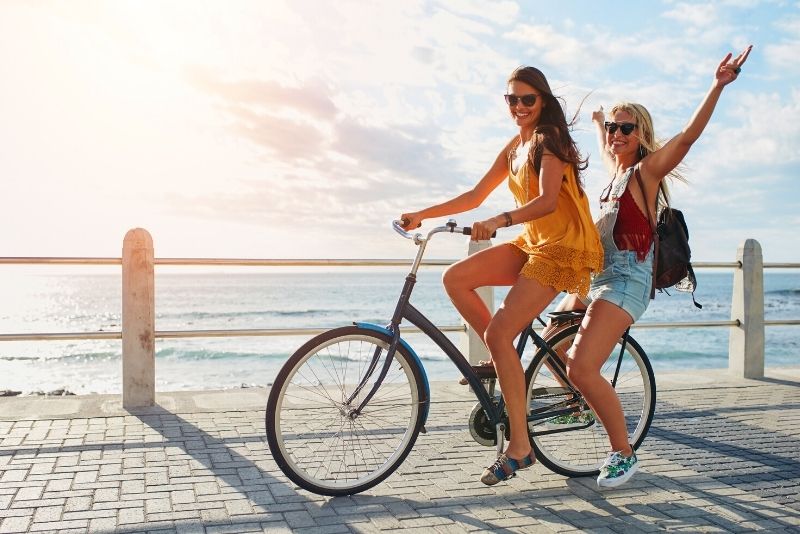 Bike tours… in Venice?
Yep, you heard that right. Off of the main island, on the less-visited but equally impressive Lido Island, plenty of fun awaits with a bike tour.
Besides the chance to escape the crowds, you'll be greeted by amazing restaurants (and gelaterias, of course), quiet beaches, and notable landmarks such as the old Jewish cemetery.
Rent your own bike or join a guided tour — whatever suits your style!
13 – Kayak through the canals!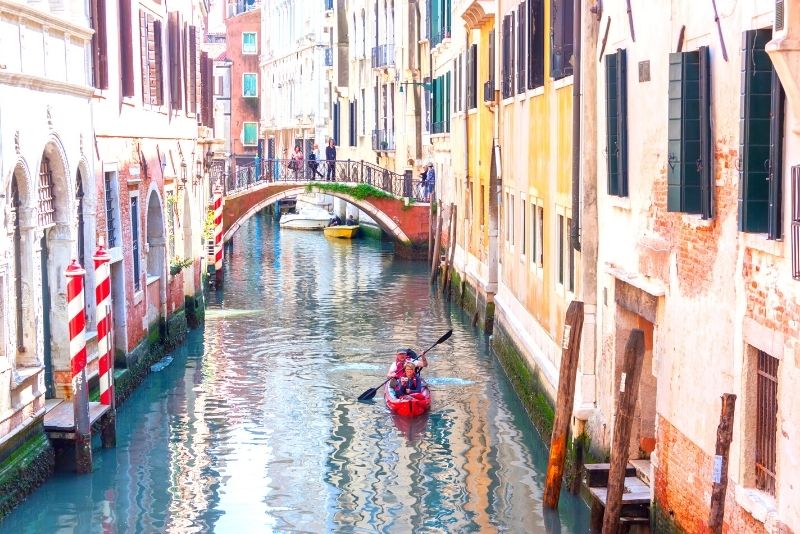 While a kayak might not carry the same esteem (and stereotypical image) of a gondola, it's a more practical, engaging, and affordable way to travel through the canals open-air style.
With guided tours ranging from two to four hours, there's plenty of time to soak in the skyline of Venice from afar and check out places like the Sant'Andrea fort and the lagoon islands of Sant'Erasmo and Vignole.
14 – Satisfy your sweet tooth with a chocolate tasting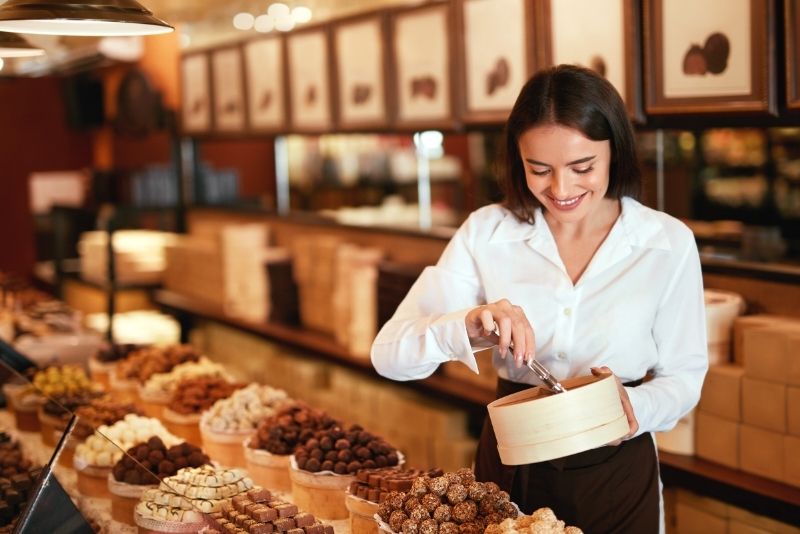 Ideal for youngsters and anyone with an unrelenting sweet tooth, a chocolate tasting experience is a surefire hit for the whole family.
A tastebud delight, tours include samples of Dragées, chocolate covers, pralines, truffles, chocolate beans, and a chocolate drink to wash it all down — yum!
With tastings lasting just 40 minutes, it's an easy addition to any itinerary.
15 – Soar over the city in a helicopter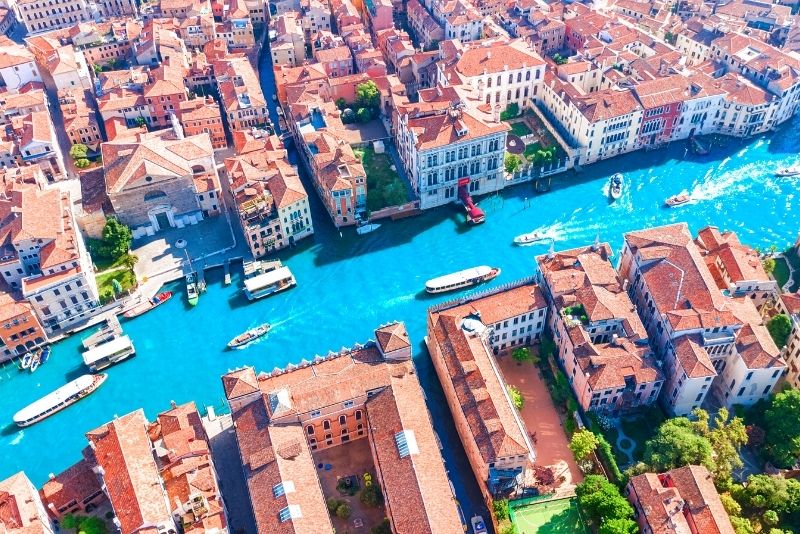 Venice boasts more than 400 bridges, and there's no better way to see them littering the area than from above, strapped into the seat of a private helicopter.
Choose from 10, 20, or 30-minute flights; make sure the camera batteries are charged, and simply sit back and enjoy the breathtaking view!
16 – Visit the Jewish Museum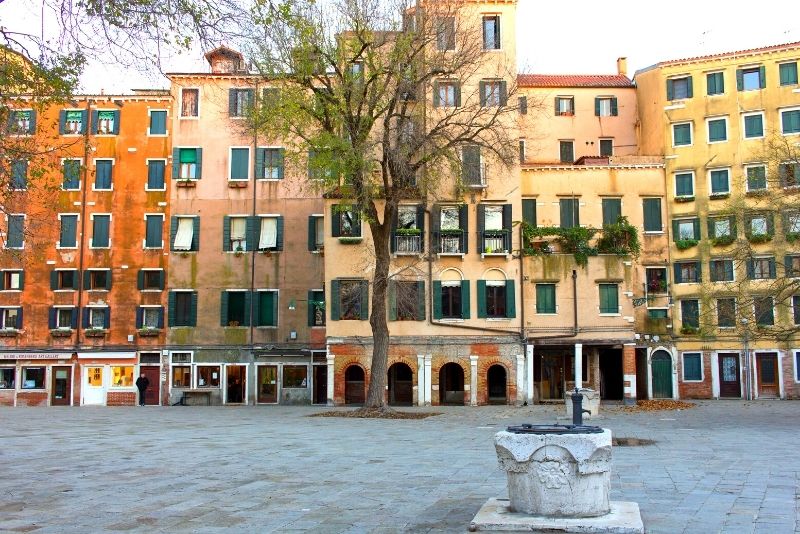 Founded in 1953 by the Jewish Community of Venice, this museum in the heart of the Venetian Ghetto might be small in stature, but its contents are as powerful and moving as anywhere.
With stories and artifacts dating back all the way to the middle ages, plus an eye-opening focus on WW2, it's a must for travelers looking to learn more about Jewish history.
17 – Check out the art at the Peggy Guggenheim Collection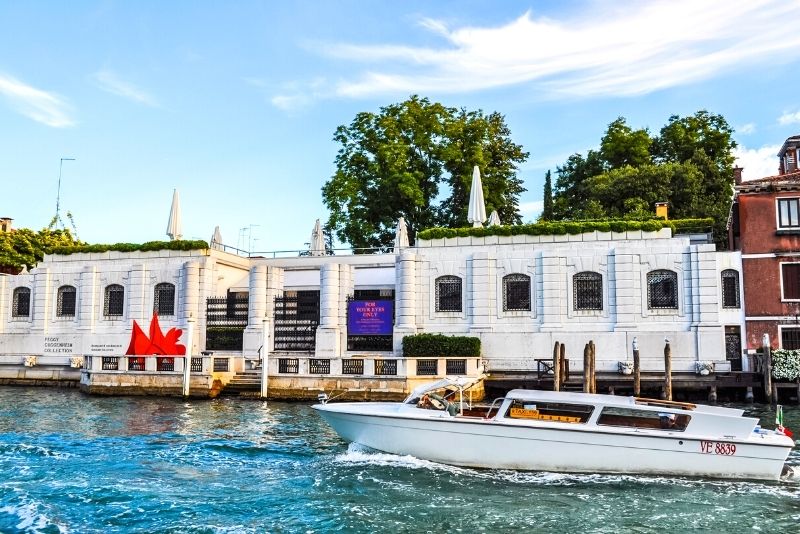 A popular modern art museum straddling the bank of the Grand Canal, the Peggy Guggenheim Collection provides deep dives into European and American art of the 20th century — focusing on genres such as Cubism, Surrealism, and abstract expressionism, as well as showcasing statues.
For art afficianodoes, it's undoubtedly one of the best museums in Venice.
18 – Sample Prosecco after Prosecco on a wine-tasting tour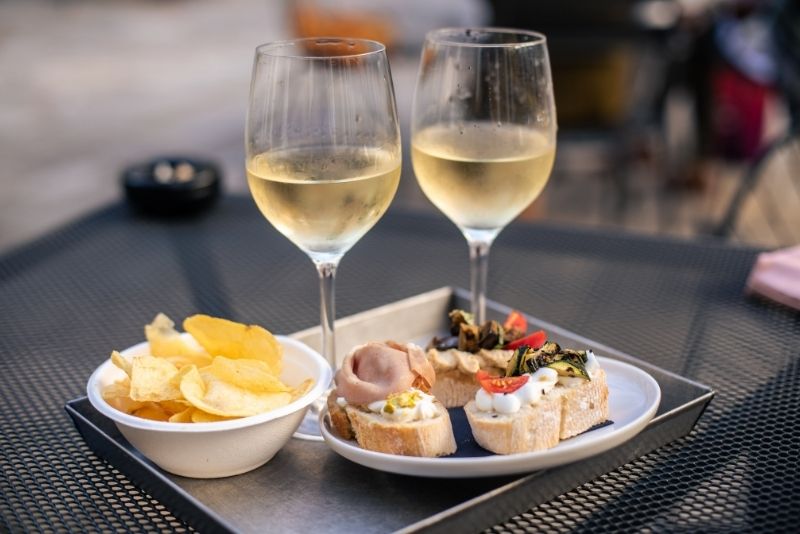 No trip to Italy is complete without wine — it's as simple as that.
The best and most hassle-free way to try all of the local favorites is on a guided wine tasting tour.
With an expert local leading the way, you'll have the chance to try at least four quality Veneto wines (including Prosecco), paired, of course, with some traditional Venetian Cicchetti (appetizers).
19 – Take a day trip to the Dolomite mountains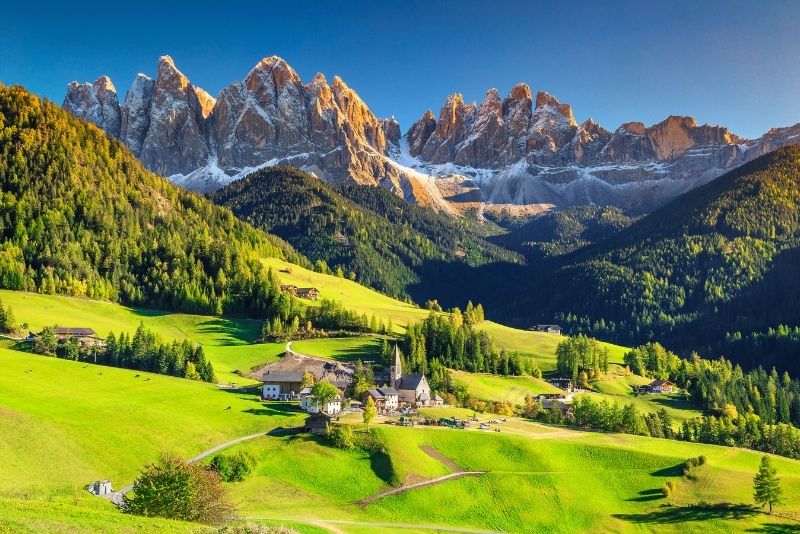 With 18 peaks spanning everything from icy glaciers to lush, green forests; the Dolomites are a welcomed change of pace from the hustle and bustle of Venice (especially during peak tourist season).
While you can rent a car (the journey's about two hours, there and then back), the most cost-effective and hassle-free method is a pre-organized day trip!
20 – Sign up for a cooking class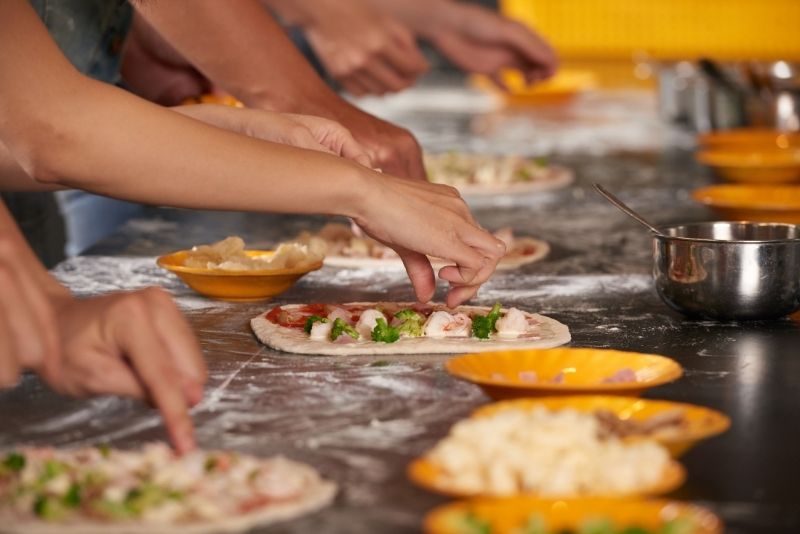 After sampling all of the best dishes the city has to offer, how can we take our creations back home?
Easy — just learn the recipe!
Led by professional Venetian chefs, these visitor-friendly (taught in English) cooking classes teach you how to make traditional Italian meals, with plenty of prosecco to go around; and only using only high-quality and local ingredients!
21 – Try stand-up paddleboarding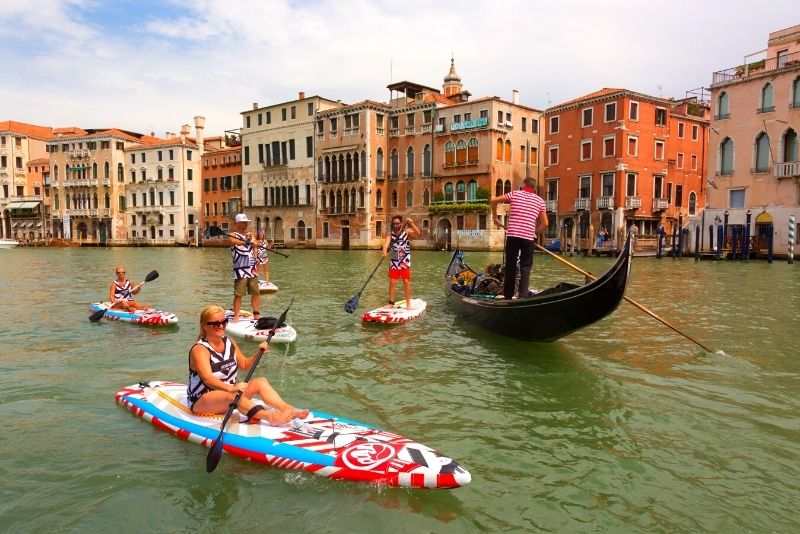 Whether you're a complete novice or a seasoned veteran, a couple hours' gliding down the Venitian waterways on a stand-up paddleboard is a great activity for the whole family.
As the friendly, local guide takes you to all of the area's hidden gems — including historic palaces and churches — they'll also share unique travel tips and insights into Venice's culture and history.
It's a perfect summer activity!
22 – Sit front row at a classical music concert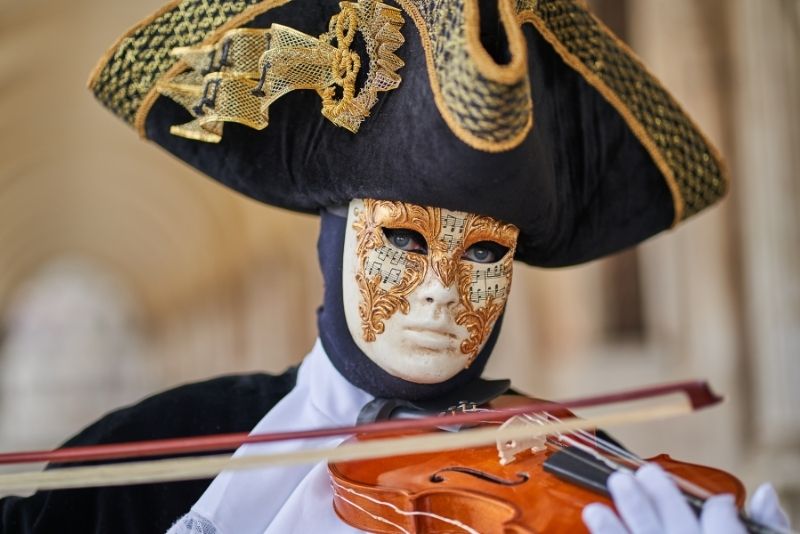 A delight for the ears, tourists and locals alike can't get enough of Venice's music scene, where classical melodies echo down the canals.
Take your show to the next level with a ticket that includes a romantic three-course dinner; check out I Musici Veneziani (home of Antonio Vivaldi's magnificent 'Four Seasons'), or witness the powerful Baroque music at Interpreti Veneziani.
23 – Climb St Mark's Campanile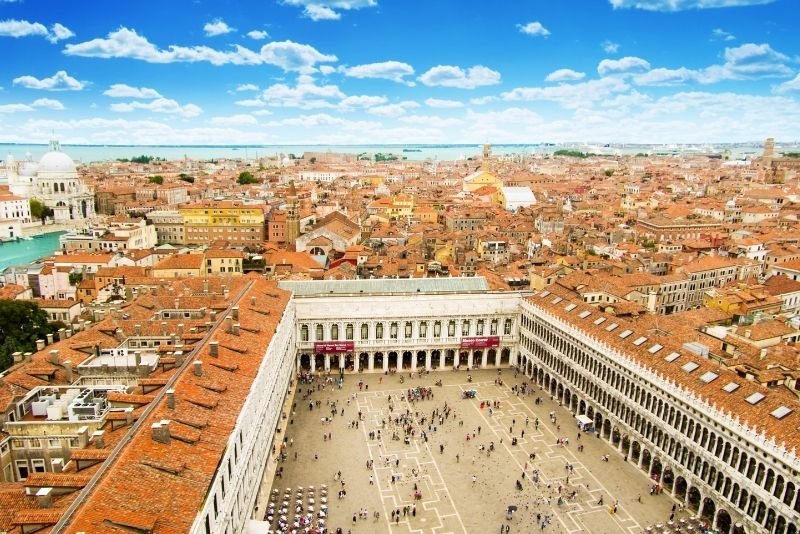 One of the most popular things to do in Venice (read: avoid peak times, go early in the morning if possible to avoid the crowds), St Mark's Campanile offers up sprawling, panoramic views of the rest of Venice.
At just shy of 100 meters tall, while it might not compare to most Western skyscrapers, it does hold the claim to fame of being the tallest structure in Venice.
24 – Grab a scoop (or three) at Gelatoteca Suso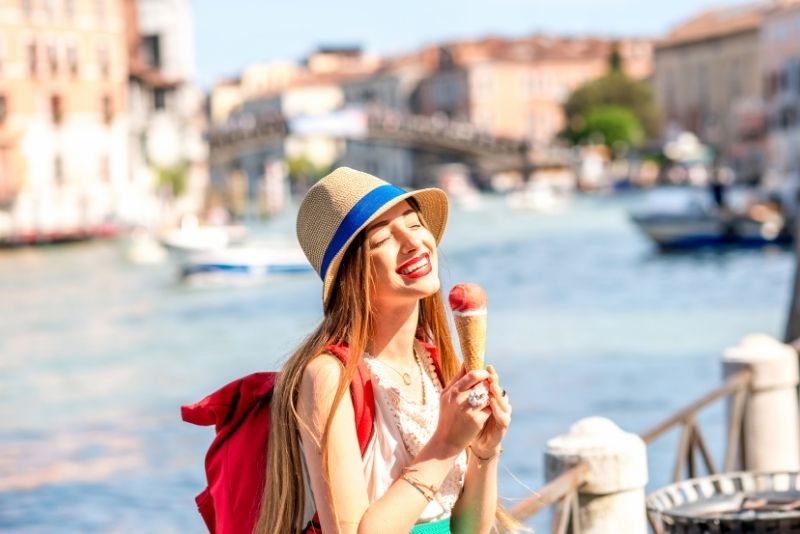 Easily one of the most quintessential things to do in Venice, no trip is complete with at least one serve (per day?) of mouth-watering gelato.
While it's honestly near-impossible to find a bad scoop anywhere in the city, the crowd favorite is always one of the most popular gelaterias.
With more than two-dozen Instagram-ready flavors piled high, infused with real aromatic fruits, it's a delight for all the senses.
25 – Admire the sculptures at Chiesa di Santa Maria Assunta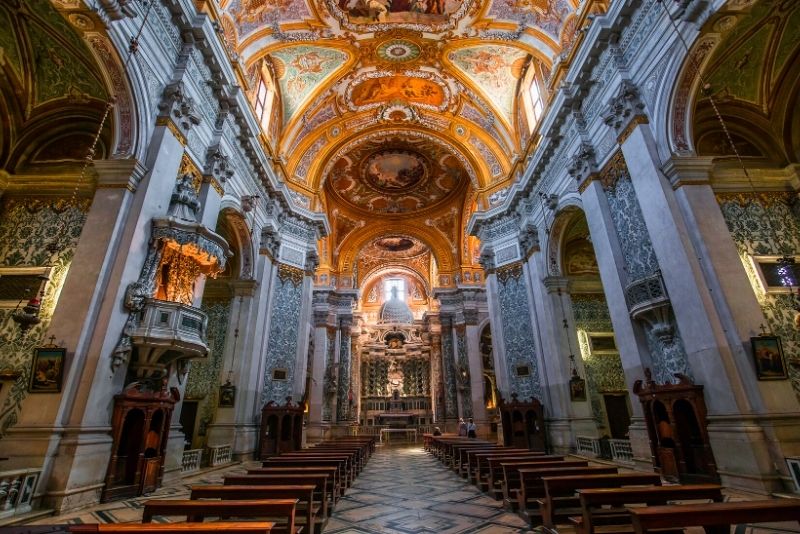 Another stunning Baroque church, this one in the Cannaregio district, Santa Maria Assunta dishes up incredible artwork and architecture, both inside and out.
Travelers particularly love the sculptures of the Archangels by Giuseppe Torretti in the altar area.
26 – Design your own souvenirs in a mask-making workshop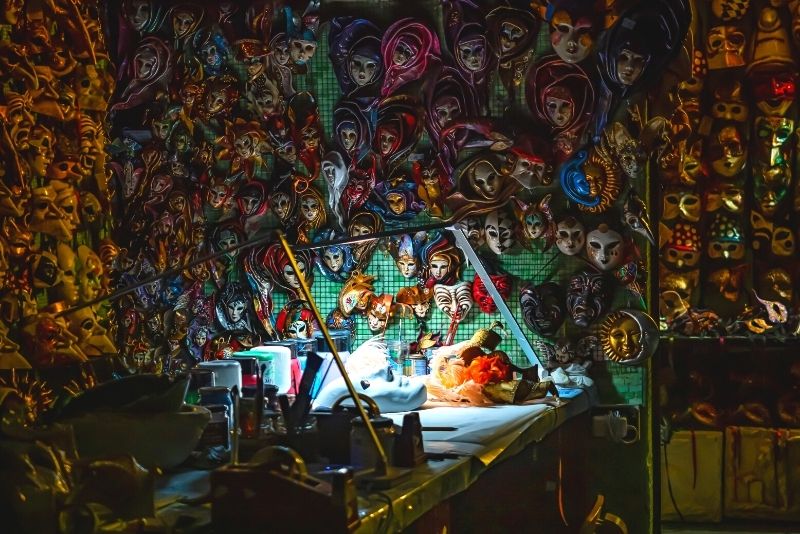 Why just buy a typical Venetian mask as a souvenir when you can make and decorate an authentic, one-of-a-kind paper maché version instead?
With a local expert showing you all the tricks of the trade, a mask-making workshop provides a unique insight into the Italian city's culture and history.
Best of all, you can take it home with you!
27 – Spend the afternoon at the Correr Museum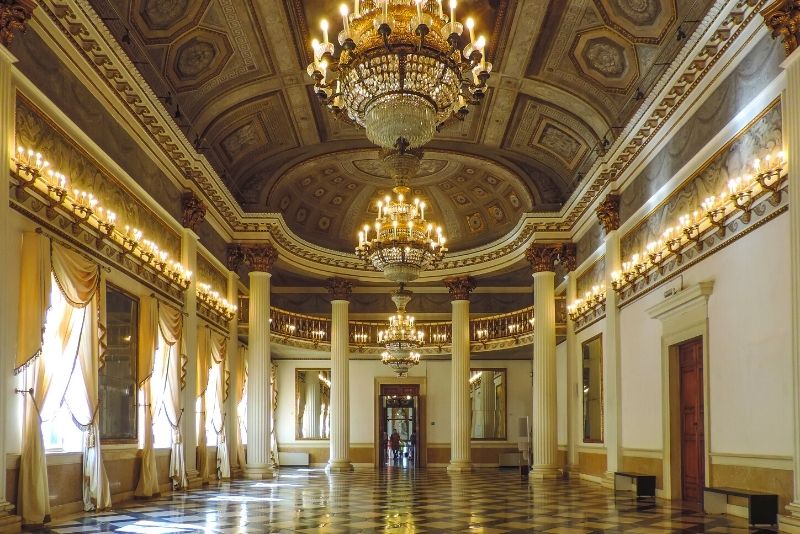 Located amongst the hustle and bustle in St. Mark's Square, the Correr Museum is one of the best things to do in Venice for art and history lovers.
With rooms focusing on the neoclassical era, all the way up to more modern times, this museum is as diverse as it is high-quality.
A typical crowd favorite is the picture gallery, highlighted by the works of famous painter Lorenzo Veneziano.
28 – Grab a book at the Marciana National Library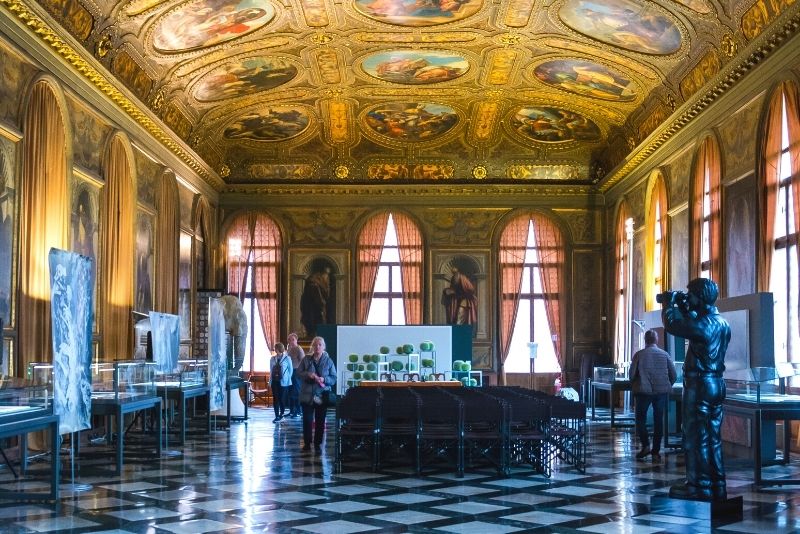 One for the bookworms, the Marciana National Library is considered one of the world's oldest public libraries, dating back to the late 1500s.
Besides its vast collection and impressive architecture, Marciana also boasts one of the world's most significant collections of classical texts.
Thanks to its location in St Mark's Square, it's a quick and easy addition to any afternoon wander through Venice's main haunts.
29 – Snap a selfie in front of the Palazzo delle Prigioni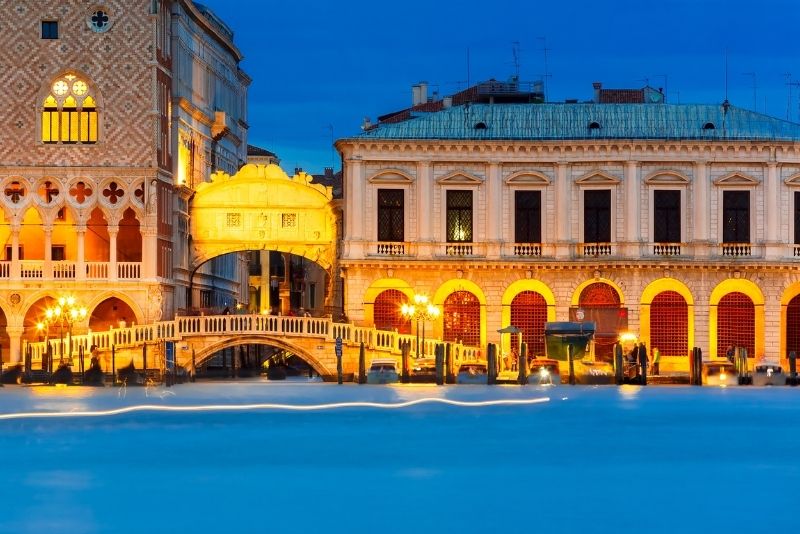 Otherwise known as the Prisons' Palace, this iconic structure dates back to the 16th century, with the claim to fame as coming from the same genius architect (Antonio Da Ponte) who designed the Rialto Bridge.
No longer a prison, these days it serves as a gathering spot for cultural events — check the calendar to see what's on and grab tickets before they run out!
30 – Visit the National Archaeological Museum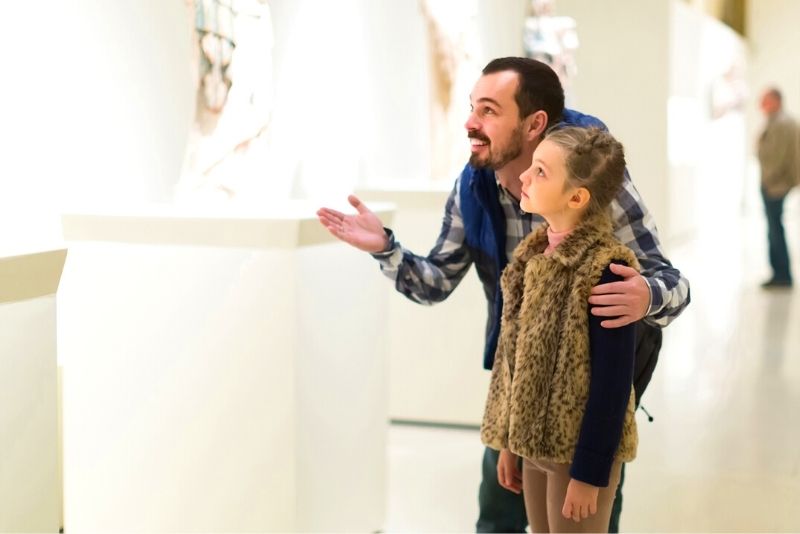 Established way back in 1523, this museum, remarkably, boasts artifacts dating back even centuries earlier — all the way to the 1st century BC.
With a vast collection of Greek and Roman sculptures, as well as ceramics, ancient coins, and unique stones, among plenty more, there's no shortage of fascinating relics on display.
31 – See real inventions at the Leonardo da Vinci Museum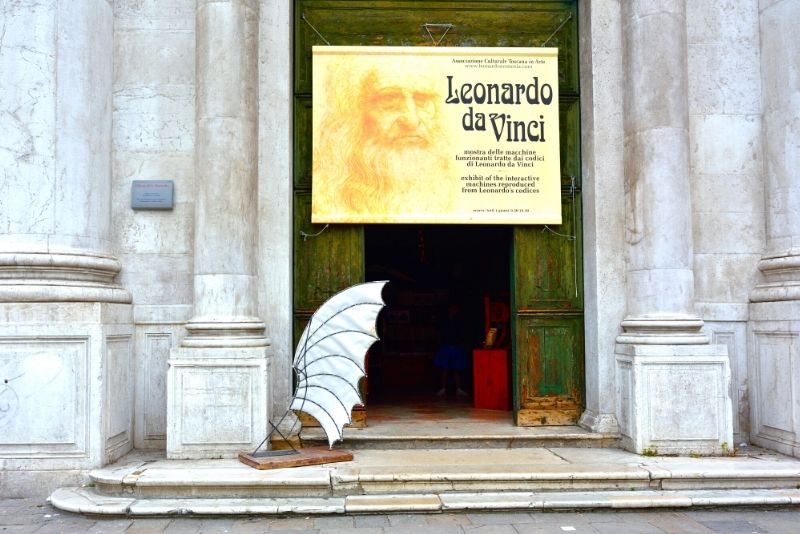 As far as things to do in Venice go, it's hard to overlook the Leonardo da Vinci Museum as one of the best.
This exciting, interactive collection showcases da Vinci's life and masterpieces through a mix of interactive equipment, videos, educational labs, infographics, and plenty more — arguably none more exciting than the replica inventions (including the flying machine).
32 – Climb the spiral staircase at the Palazzo Contarini del Bovolo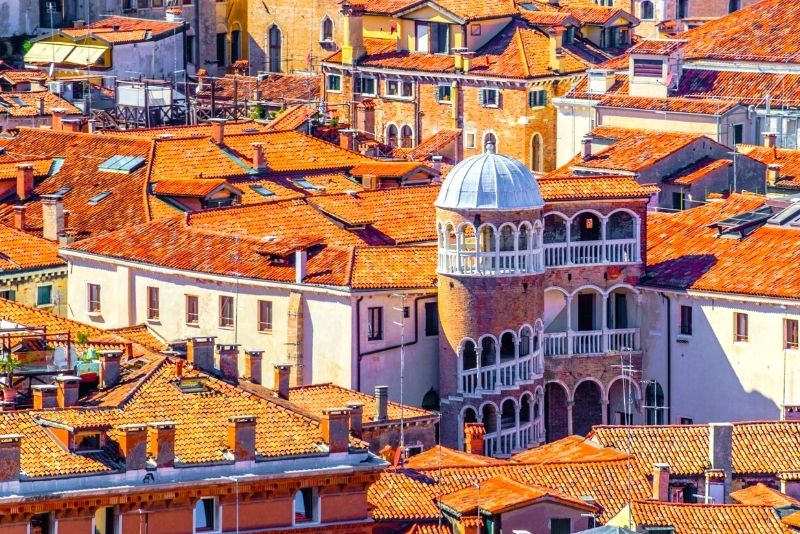 Famous for its beautiful spiral staircase (known locally as the Scala Contarini) and picturesque archways, the Palazzo Contarini del Bovolo (which has stood, impressively, for over 5 centuries) is one of the most iconic pieces of architecture in the city.
Whether you plan to ascend its stairs or snap a selfie from the bottom, it's a must-visit.
33 – Step inside the Church of San Giorgio Maggiore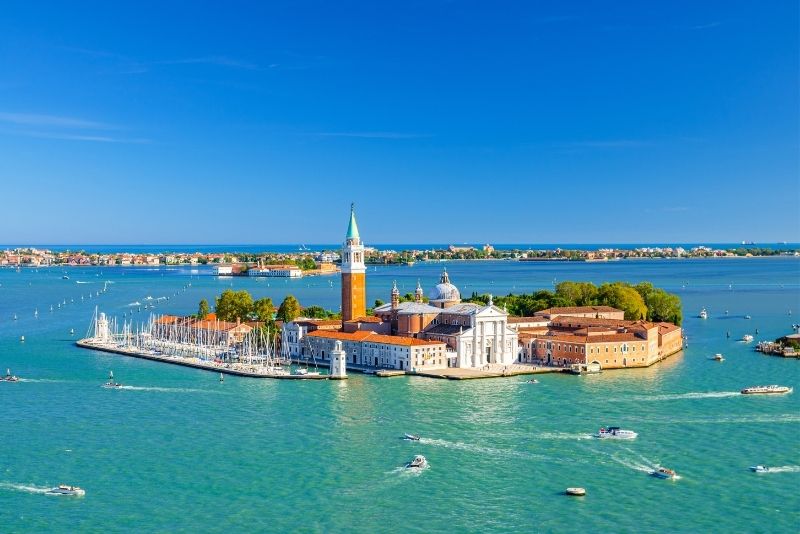 Designed originally in 1566, this iconic, white, art-filled church sits on its namesake island (so you know it's important!).
Located within view of the Doge's Palace, on the other side of the canal, San Giorgio Maggiore is open every day to the public.
While entry to the church is free, keep a few euros on hand if you plan of climbing up the bell tower.
34 – Join an underground ghost tour (if you dare)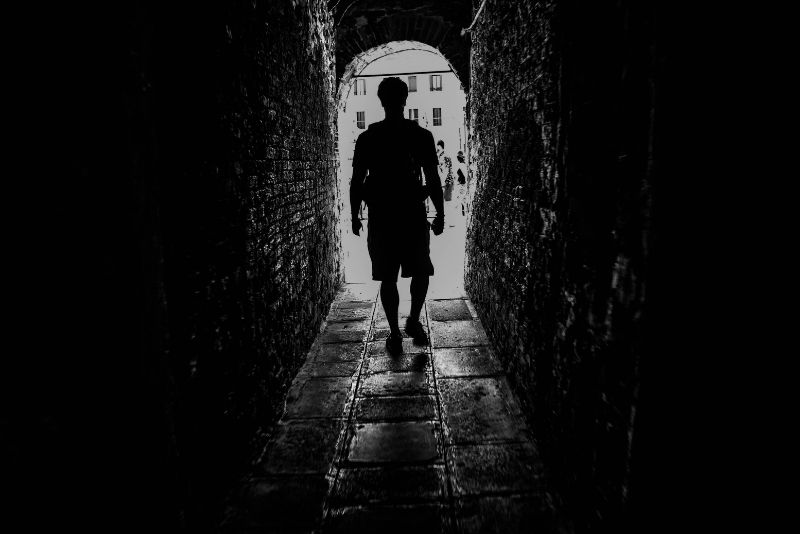 If you're on the hunt for things to do in Venice that are a little out of the ordinary, look no further.
With a convoluted history of floods, plagues, war, and quarantine, the Venetian underground is no stranger to unique and oft-eerie stories.
For an engaging, fun way to learn about it all, sign up for a walking tour!
Perhaps it's better to leave the kids at the hotel for this one — with a candlelit tour of an abandoned crypt, shivers will jolt the spine.
35 – Get cultured at the Ca' Pesaro Museum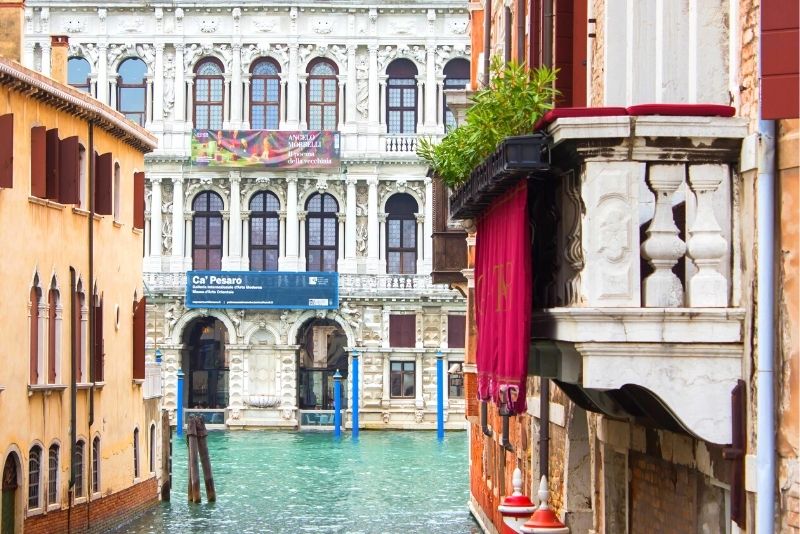 Housing both the International Gallery of Modern Art and the Oriental Art Museum, Ca' Pesaro should be high atop any art-lover's Venice bucket list.
Besides Prince Enrico's collection of Japanese Edo art, and a multitude of 19th and 20th-century paintings, sculptures, drawings, and photographs, thanks to its location facing the Grand Canal, Ca' Pesaro also boasts spectacular waterside views.
36 – Experience art and great views at the Ca' Rezzonico Museum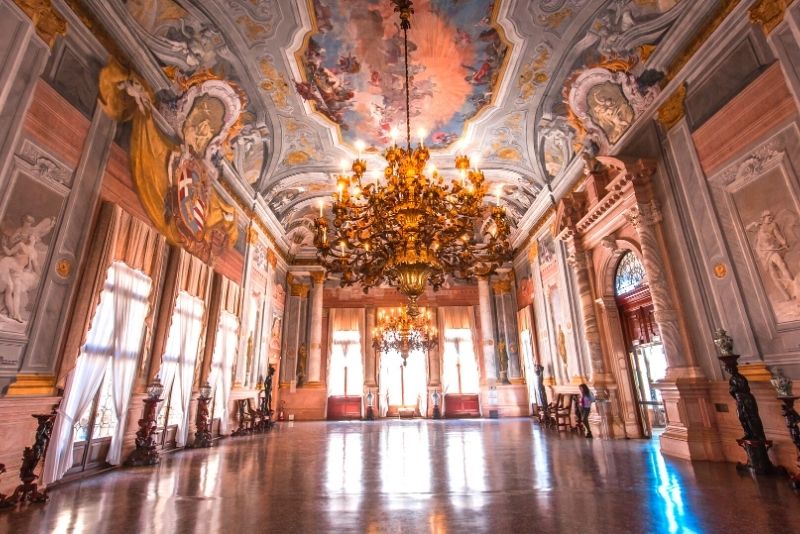 Dedicated to 18th-century Venice and overlooking the sparkling Grand Canal, the Ca' Rezzonico Museum is one of a number of museums showcasing classical interiors typical of Venice's elite and esteemed — and, is commonly regarded as the best of the bunch.
The on-site audio guide is recommended, likewise the terrace and cafe for excellent Canal views!
37 – Get romantic on a Casanova tour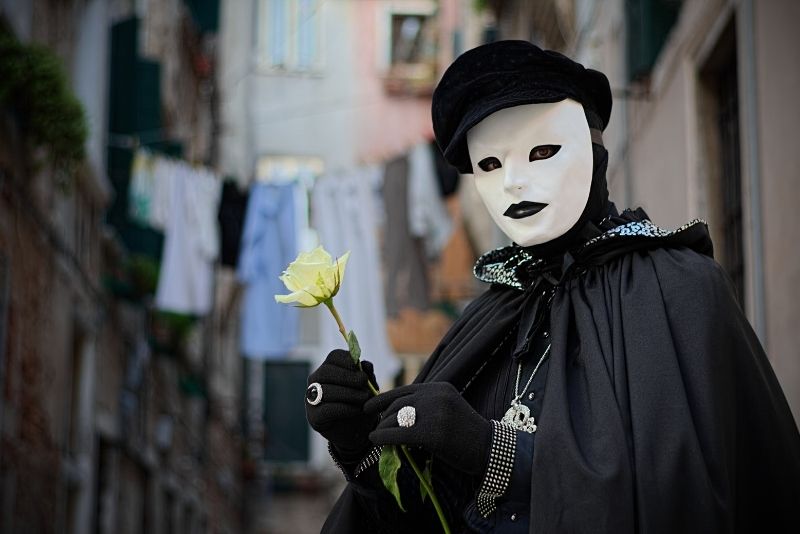 As one of the most renowned people to ever call this shimmering city home, a Casanova-themed tour — be it public or private — is an essential activity for anyone interested in history, literature, romance, or all of the above.
Besides his reputation as one of the most famous romantics (read: womanizers) in history, the Venetian was also a scam artist, alchemist, spy, and church cleric — and you'll hear all about it on the unique tour.
38 – Check out the costumes at Palazzo Mocenigo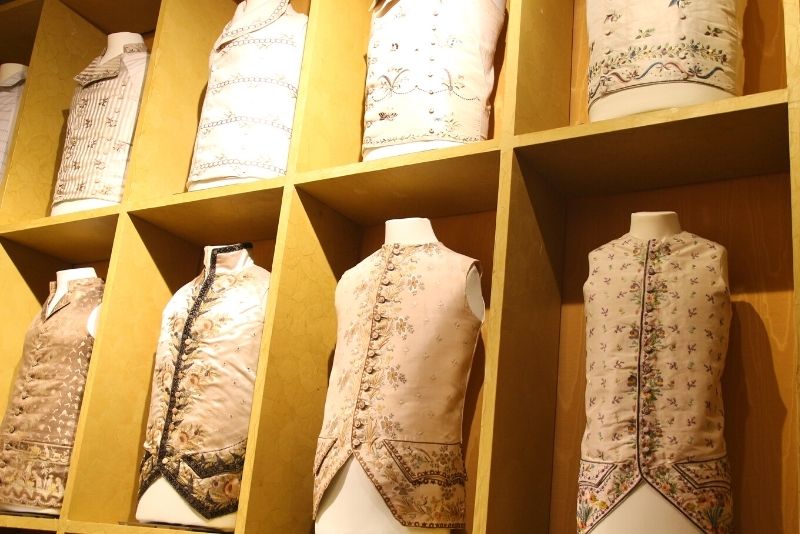 Housing a fine selection of rare textiles and costumes, often embellished with intricate lace patterns and embroidery, as well as a collection of valuable 18th-century artworks, the Palazzo Mocenigo is one of the more unique museums in the area.
Make sure to check out the new "Play with Arts & Culture" exhibition, a hands-on collaboration between the museum and Google.
39 – People watch at Caffè Quadri in St. Mark's Square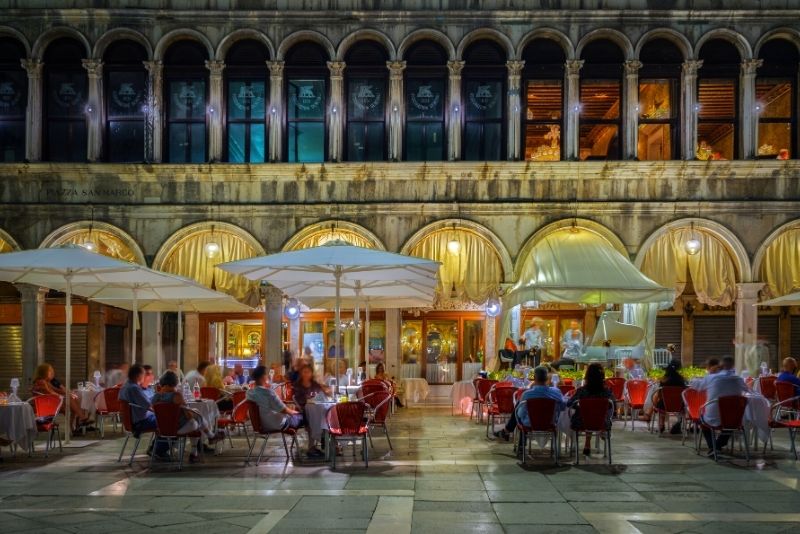 With a rich history dating back to its first opening in 1638, this ancient, exclusive coffeehouse; located amidst the main haunts in St Mark's Square, is a famously elegant yet welcoming locale to sip an espresso or glass of wine, or dine into a hearty meal.
If you're looking to sit back and people watch for an hour or two, there's no better place.
40 – Join a Cannaregio walking tour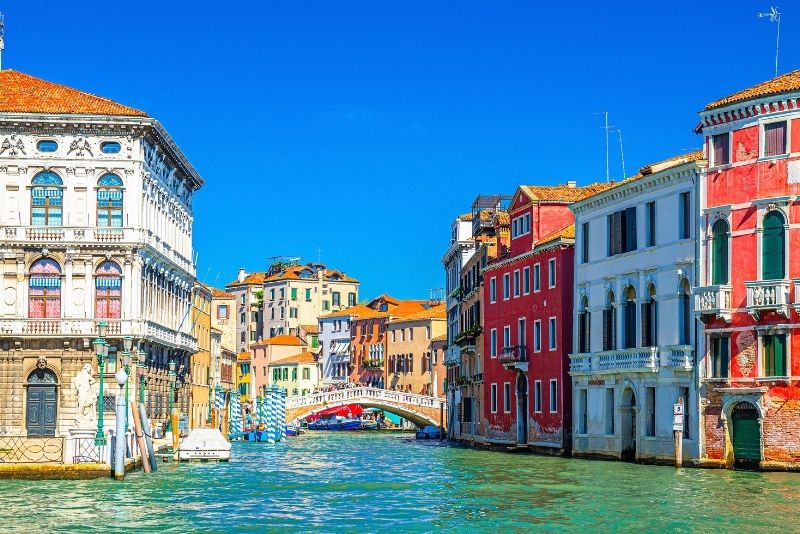 The northernmost of Venice's six historic districts (or, as the locals call them, "sestieri"), Cannaregio blends fascinating history — the location of the Jewish Ghetto, housing 500 Years of Jewish Life — with modern restaurants and plenty of typical Venetian charm.
While any Cannaregio walking tour is sure to educate and fascinate, those feeling peckish could combine it with a food-tasting tour.
41 – Explore beautiful Dorsoduro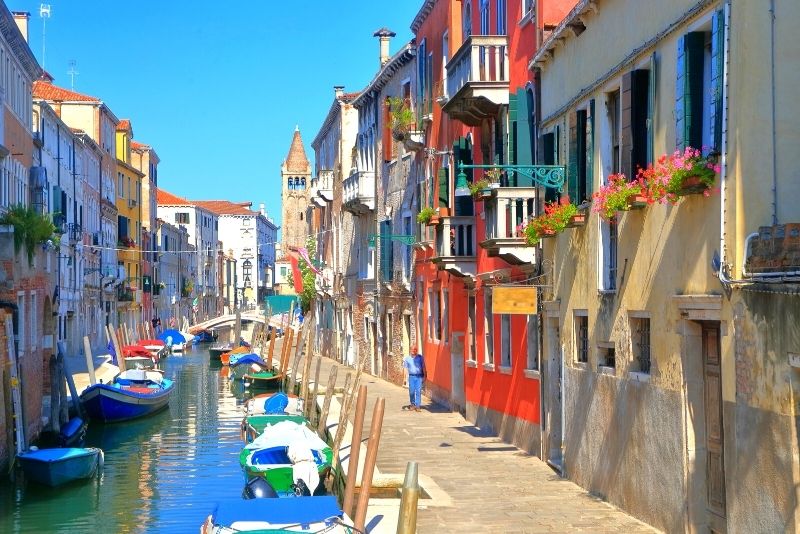 With art galleries and hidden gem attractions to boot, Dorsoduro is often considered the more beautiful of all of Venice's districts — and that's saying something!
Lined with stunning and historic architecture, quaint alleyways, plus restaurants, cafes, and bars, Dorsoduro is overflowing with things to do; best of all, away from the crowds of the town center.
42 – Step inside the Basilica S.Maria Gloriosa dei Frari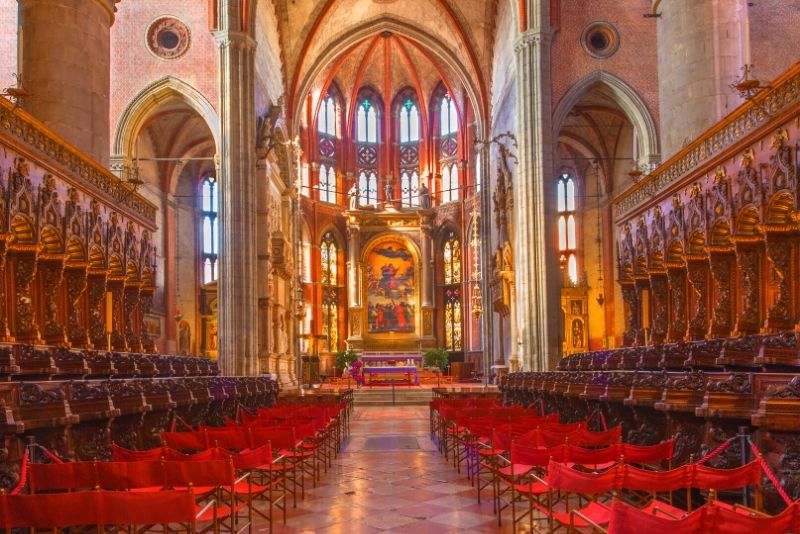 Sitting at the heart of the San Polo district, this beautiful Gothic Venetian church has been standing since the 14th century.
While its facade might be rather minimal, once you step inside you'll be dazzled by the intricate, stunning architecture — with works by Titian, Bellini and Vivarini hung upon the walls, this underrated landmark can compete with most of the city's major museums.
43 – Walk across as many famous bridges as you can!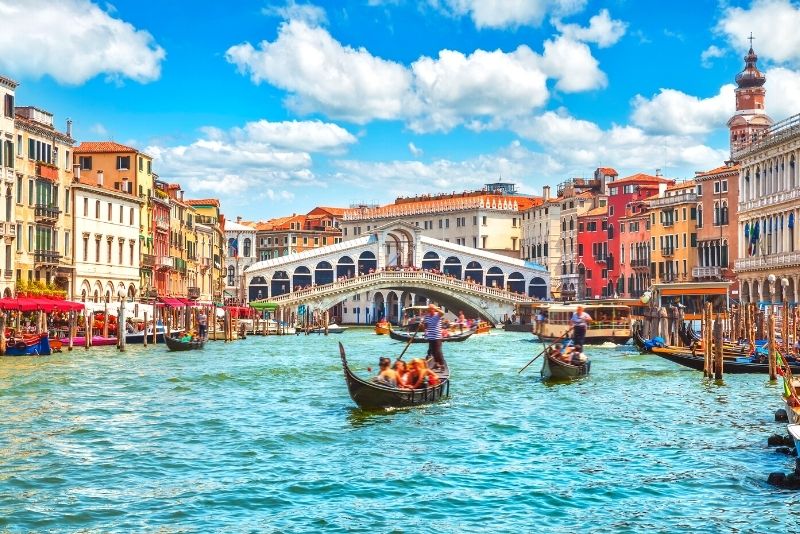 Over 400 bridges link Venice's islands to one another, and while there are many, only a select few have been crowned iconic.
On walking tours, be sure to check out as many as you can of the following:
The Bridge of Sighs, adjacent to the Doge's Palace (best viewed from the nearby Ponte della Paglia); The Rialto Bridge, the main pedestrian crossing over the Grand Canal; the elegant stone Scalzi Bridge, and the high-arched Academy Bridge.
Short on budget? Check out the free walking tours in Venice.
44 – Visit the Scuola Grande di San Rocco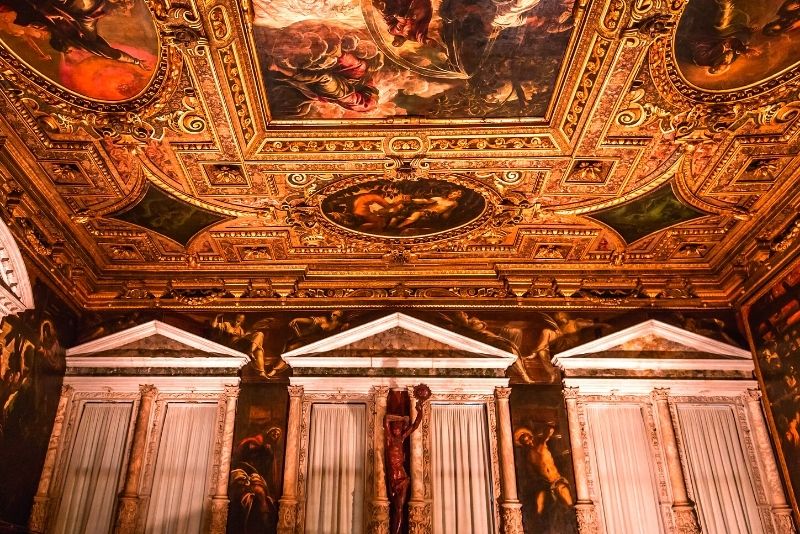 Famous for its pristine collection of Tintoretto paintings and its picturesque facade, the Scuola Grande di San Rocco carries more than five centuries of history within walls, long-serving as a confraternity.
Considering that this building that undergone hardly any renovations since its inception in the 1400s, stepping inside its walls is like a step back in time.
45 – Go shopping at T Fondaco dei Tedeschi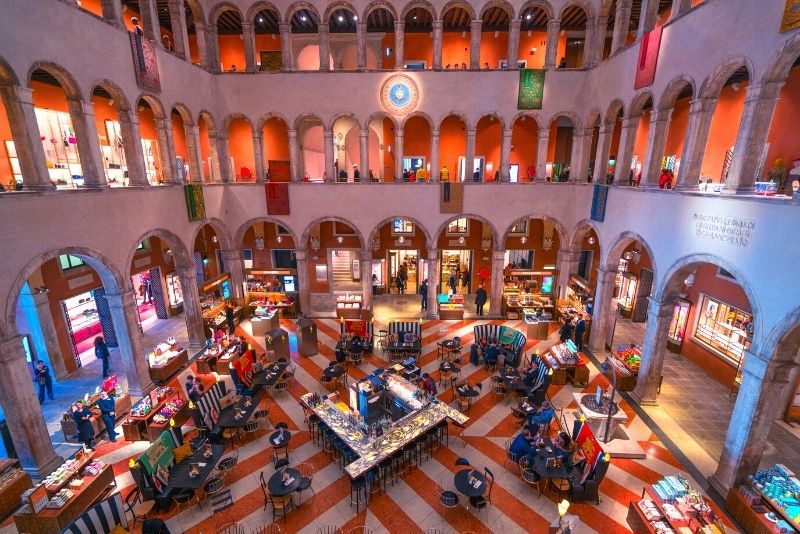 A haven for shopaholics, this iconic building sits on the Grand Canal near the Rialto Bridge, making it an easy addition to any afternoon itinerary.
As you walk around the 7000 square meters of high-quality fashion, jewelry, cosmetics, food, wine, and more, you'll see both Italian and international brands.
Once you're all shopped out, don't forget to check out the rooftop terrace, where panoramic views of Venice await.
46 – Grab a book at the charming Libreria Acqua Alta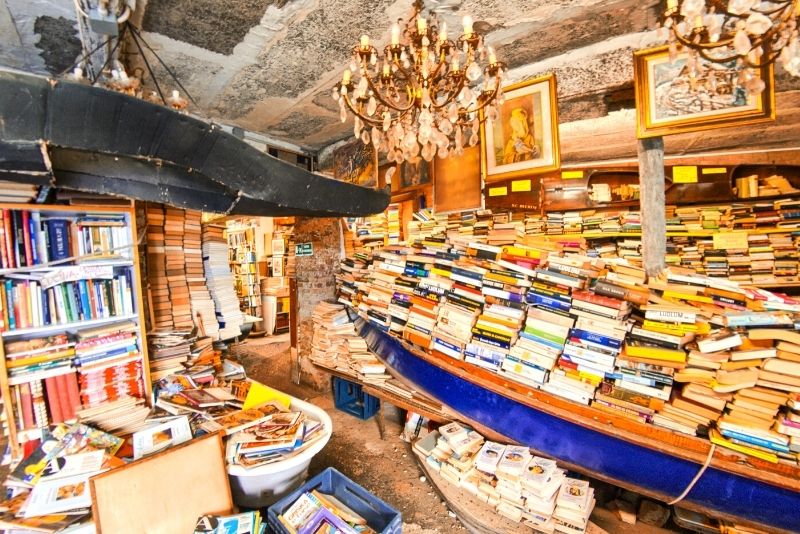 As the most famous bookshop in Venice, Libreria Acqua Alta is a must-see, not just for bookworms, but for everyone!
Besides its collection of novels, the store is unique in the sense that it's often subject to flooding, meaning that you very well could be wading through inches of water while you look for your next Stephen King novel!
The charming bookstore also features a staircase made of old books and a resident sleeping kitty.
47 – Walk under St Mark's Clocktower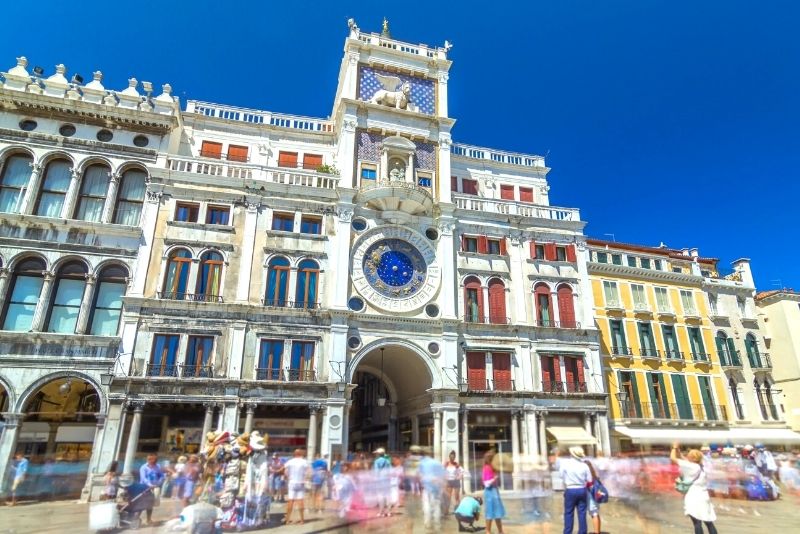 Known locally as the Torre dell'Orologio, a photo in front of St Mark's Clocktower is a quick addition to any stroll through St Mark's Square or Doge's Palace.
Besides telling the time (in case you forget your watch on the gondola), the Renaissance clocktower also displays the winged lion of Venice and the current sign of the zodiac. It's truly a remarkable clock.
48 – Get artsy at the Gallerie dell'Accademia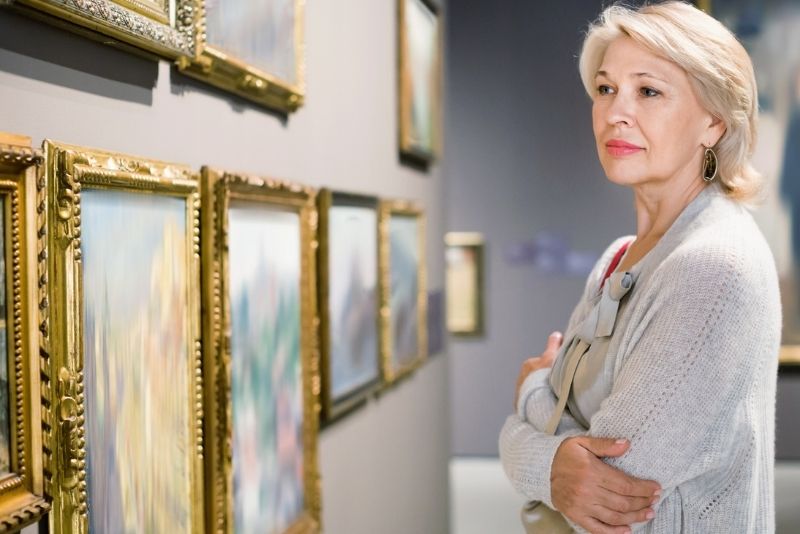 With a brilliant collection of pre-19th-century artwork including pieces by Bellini, Titian, and Mantegna, the Gallerie dell'Accademia has long been a popular attraction for locals and tourists alike — particuarly on those rainy days.
While you can walk around and just browse, the 6€ extra for the audioguide is highly recommended.
49 – See ancient ships at the Venice Naval Historical Museum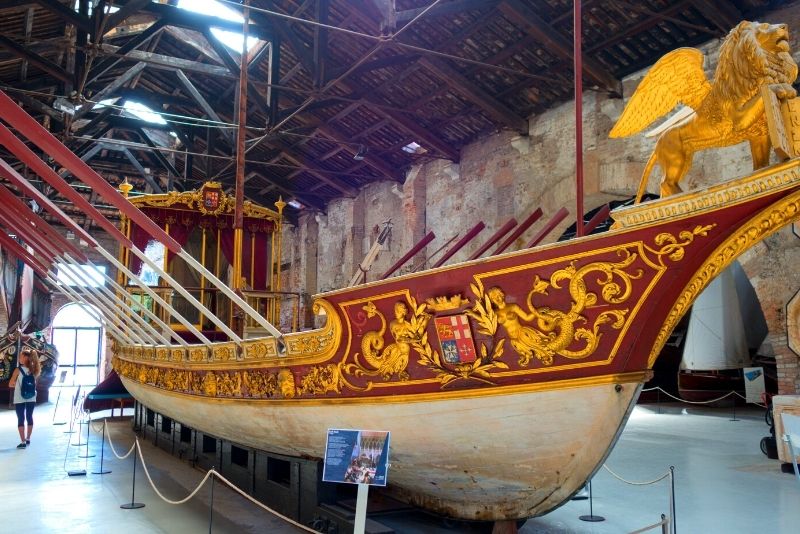 Nested in the Castello district near the Venetian Arsenal, this museum tells the story of the longstanding maritime traditions of the city and beyond.
With four floors dotted with interesting maritime objects, model ships, uniforms and equipment, and a separate section dedicated to actual ships, it's easy to spend a couple of hours enjoying the displays.
50 – Stroll past the Basilica di Santa Maria della Salute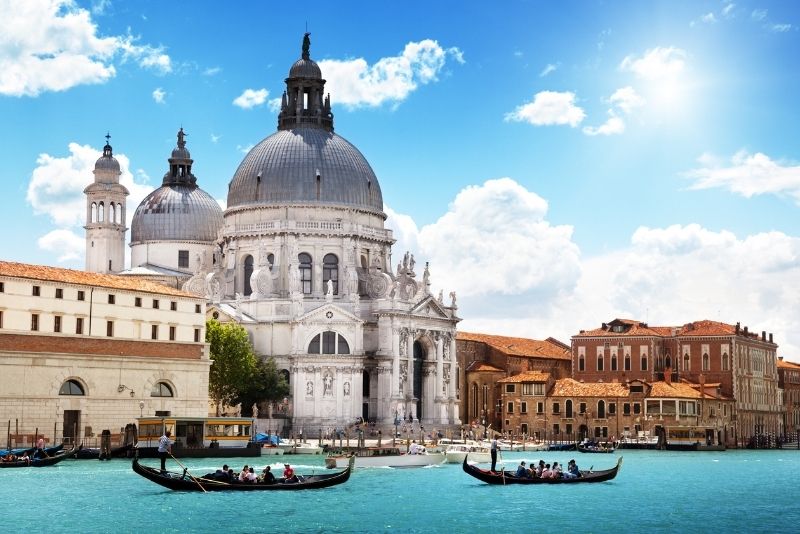 As one of the best-known buildings in Venice, with a dome that's visible from all over the city, the Basilica di Santa Maria della Salute is nothing short of iconic.
Thanks to its white stones, 125 detailed statues, and brilliant exterior, it's an architectural masterpiece, and a location well worth a visit.
51 – Dine at the Grand Canal Restaurant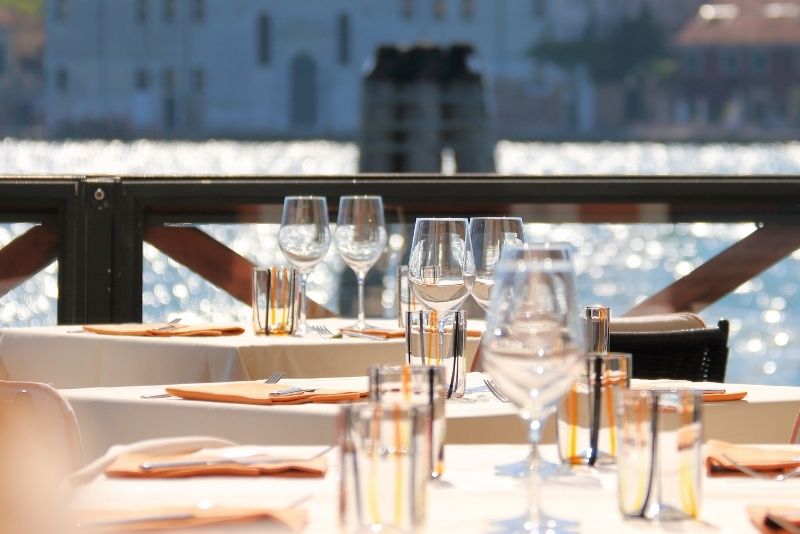 Considered one of Venice's most esteemed eateries, the Grand Canal Restaurant is by no means budget-friendly, but its seafood, pizzas, and desserts are delicious, and its setting is arguably even more spectacular, making it worth every penny.
When the weather's on your side, be sure to grab a table on the terrace — the canal views won't disappoint!
52 – Catch a cabaret dinner show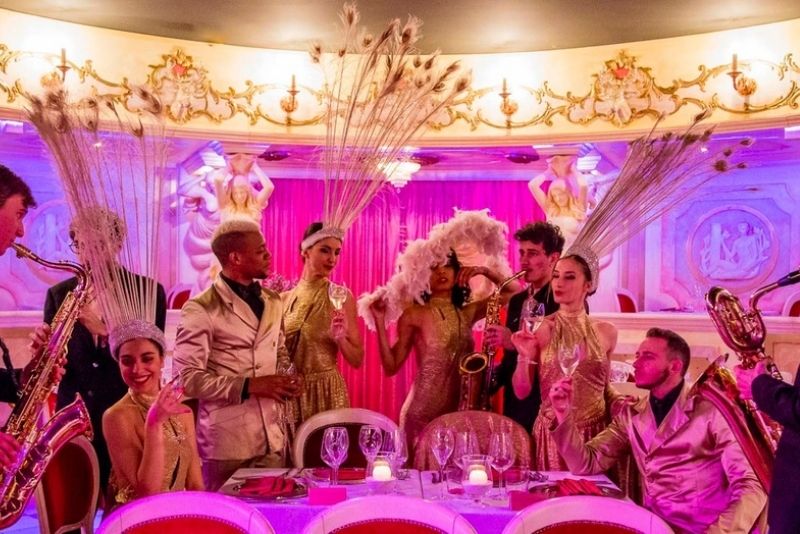 An unforgettable dinner full of laughs, dance, magic, contortionists, and a little bit of adult-rated flair, the cabaret show is always a great option for visitors.
But the performance is only half the show! Besides great entertainment, you'll also receive a mouth-watering, multi-course meal; a glass (or three) of Italian wine, and plenty of coffee and desserts.
53 – Enjoy the immersive Traveling Opera performance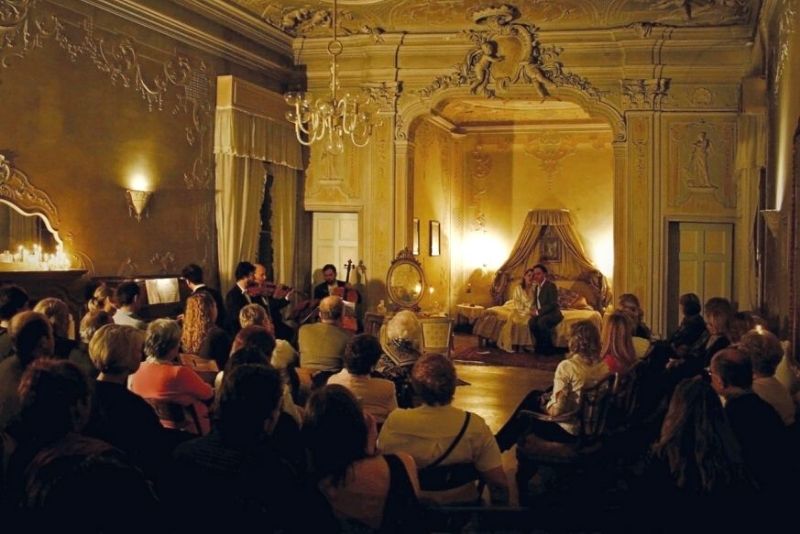 Rotating through different locations — but nearly always inside one of Venice's fascinating palaces — the traveling opera is a unique entertainment experience; unlike most performances, here, the cast immerses themselves within the crowd.
Simply choose your favorite opera: La Traviata, The Barber of Seville, or Rigoletto — then sit back, sip your wine, and enjoy the show!
54 – Soak in the sunset views at Restaurant Terrazza Danieli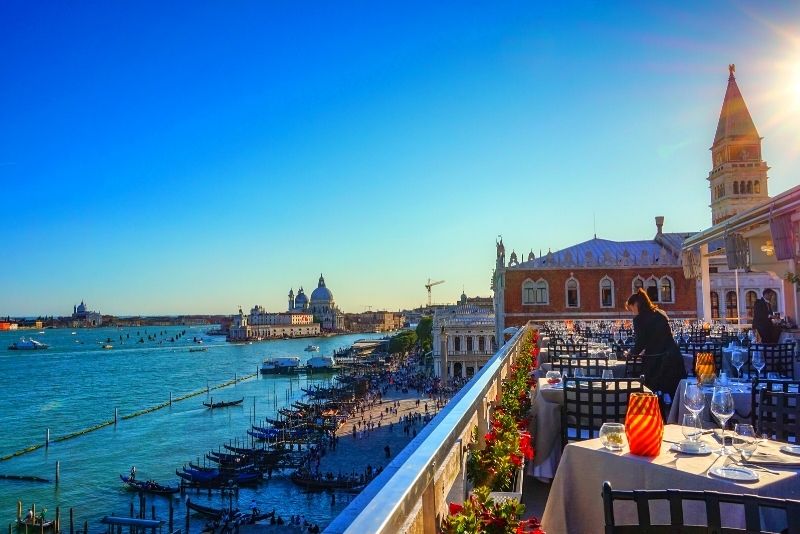 With countless award-winning restaurants and a near endless list of tantalizing dishes available at every corner, choosing any one spot to eat isn't always straightforward.
However, if you're in need of a single recommendation — one where rooftop sunset views are nothing short of serene — then head to Restaurant Terrazza Danieli.
The Water and Earth Tasting Menu is a great option if you'd love to sample everything on offer, while the luxurious Bar Dandolo presents as the perfect place for a nightcap (or the pristine setting for a romantic date).
55 – Let loose on a Venetian-style pub crawl!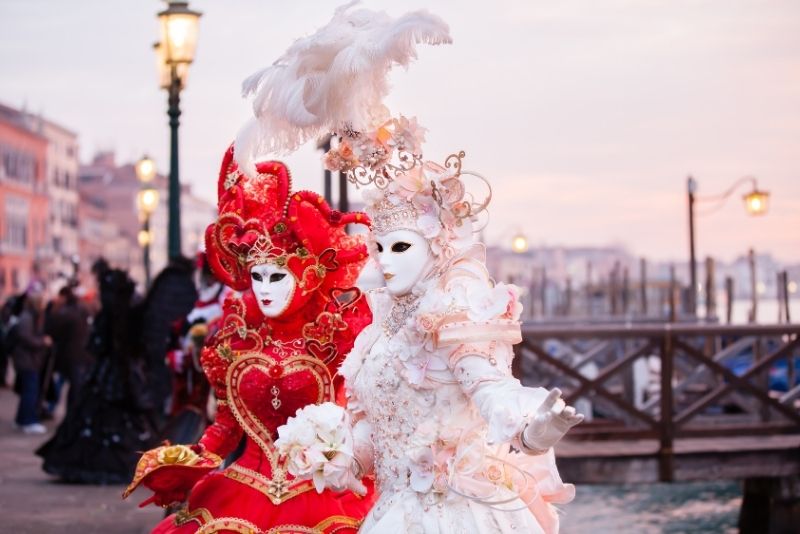 Let's hit pause on the history, food, and romance for a minute — it's time to let your hair down!
A bar crawl like no other, in Venice you'll dress up in traditional outfits and you skip across the city; sampling spritz, wine, and more.
For solo travelers or those looking to meet people, a few glasses of Prosecco is always the perfect icebreakers!
Need an airport transfer?
If you're looking for a budget option to get from Marco Polo international airport to the main tourist area, the shuttle bus is a great choice. On the other hand, for something a little more VIP (you're on vacation, after all), why not opt for a private water taxi? Either way, it's recommended to book a transfer in advance for the most hassle-free experience.
You can compare all the airport transfer options right here:
Stopping in Venice on a cruise ship?
Besides our long list of things to do in Venice, there are also a large number of activities catered specifically for cruise ship guests. Whether you're looking for adventure, relaxation, shopping, or food, there's a shore excursion suitable for every kind of traveler. Check them out right here:
Thanks for checking out our list of all the fun and exciting things to do in Venice. If you have any other suggestions, feel free to leave a comment below.
Where to travel next? There are plenty of nearby cities also worth a visit. Make sure to have a look at our selection of the best places to visit in Italy.
Happy travels!