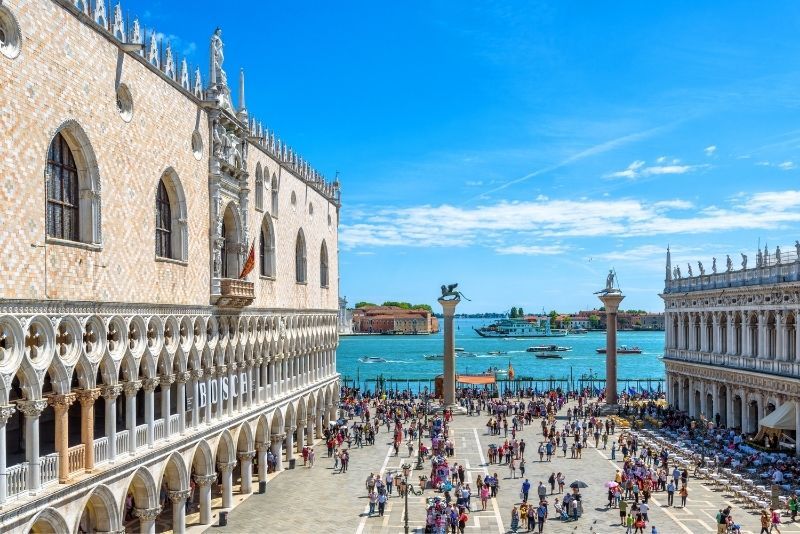 The shining star of most Venice tours is the Doge's Palace, which sits regally on Piazza San Marco overlooking the lagoon. It was a fitting residence for the leader of the Venetian Republic, with Gothic architecture and grand halls waiting around every splendid corner. During a palace visit, you'll see government chambers and courtrooms as well as stately apartments.
You can also cross the famous Bridge of Sighs that links the Doge's Palace with one of the oldest jails in Europe on a special palace prison tour. It's an eerie experience, but nothing compared to what the inmates must have gone through.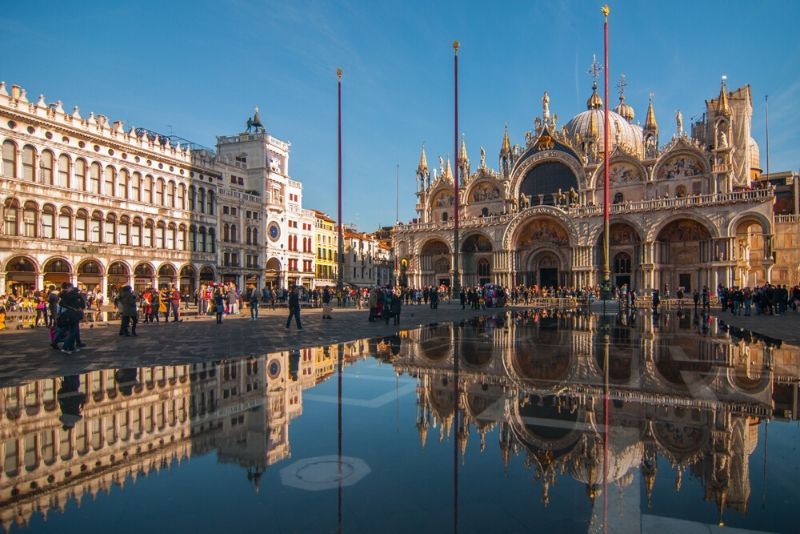 Next up on your Venice itinerary should be the world-renowned St. Mark's Basilica, which is another grand attraction on the main square. Dating back to the 9th century, this early Christian church is resplendent with its Italian-Byzantine architecture, which means lots of gold, both inside and out.
The ornate façade makes for stunning photos but save some of your camera battery for the interior, where marble floors and towering pillars will take your breath away. Don't forget to look down and see the symbolic animal mosaics beneath your feet, representing characteristics such as courage, strength, and immortality.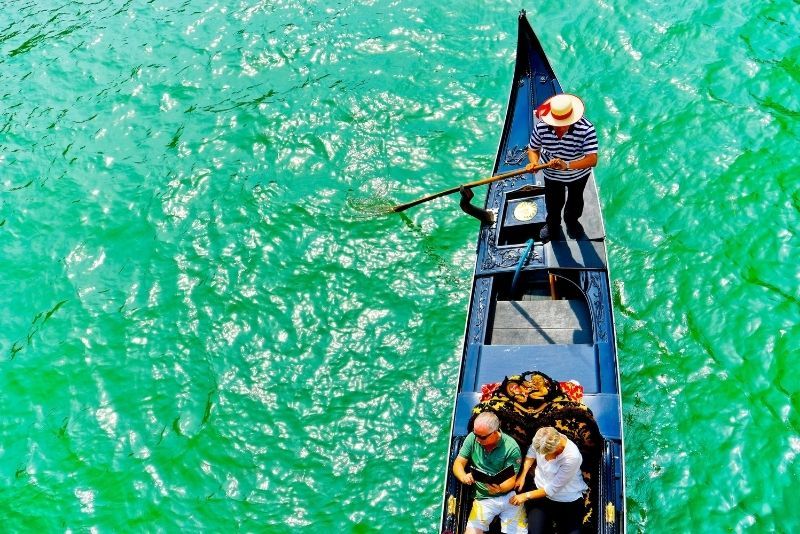 Romantic or cheesy, whatever your feelings on a gondola ride in Venice, it's just something you have to do! Many Venice tours end with a trip along the canal in one of these iconic boats, propelled by your very own authentic gondolier. And yes, singing, and accordion playing can be arranged for that quintessential gondola experience.
This is a relaxing way to explore the city by water, just as it was meant to be seen. You'll glide down quiet canals away from the main thoroughfare, for a glimpse of the real Venice. Remember to wave to the envious tourists standing on the bridges as you pass by.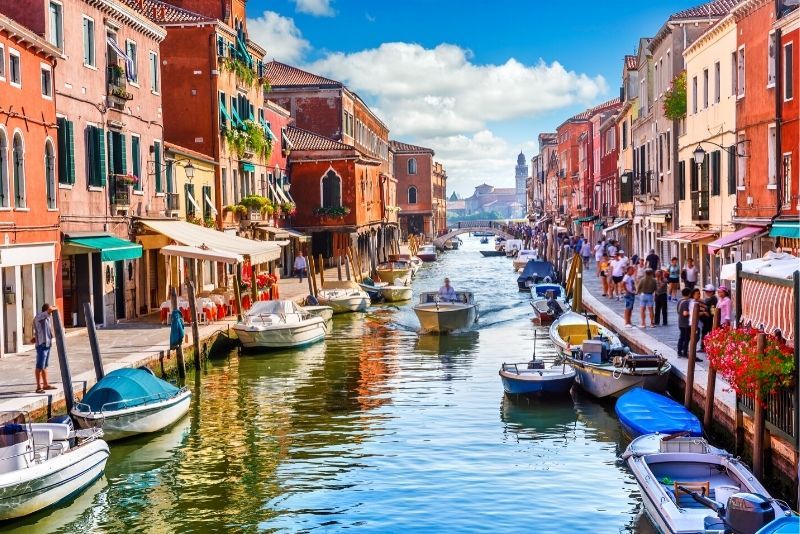 For a pop of color, book onto one of the Venice tours that take in the islands of Murano, Burano, and Torcello. Sitting out in the lagoon, these tiny isles are easy to reach by water taxi from central Venice. On Murano you'll visit the famous glass-blowing factories and have a go at making something yourself. It's harder than it looks!
Over on the fisherman's island of Burano, it's all about lace, and the brightly painted houses that line the canals. Enjoy a wander at leisure before heading on to Torcello for Byzantine mosaics and bell tower views.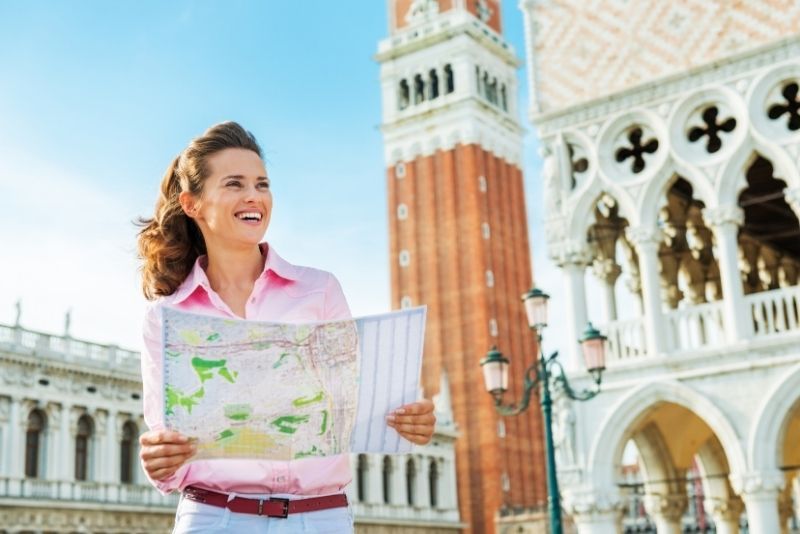 The best way to explore Venice is on foot, with every foray out into the city turning into a new adventure. Navigating can be a little confusing, which is why guided Venice tours are so popular, especially the free walking tours! It's a fun way to get your bearings and have an introduction to this unusual floating city.
Most tours concentrate on a particular sestieri (district), each with a different ambiance. Popular locations include San Marco, San Polo, and Santa Croce, where you'll find many of the major landmarks. Book onto a Venice mystery tour for a spooky slant on your sightseeing, or head to the Jewish Ghetto in the Cannaregio area for a dose of history.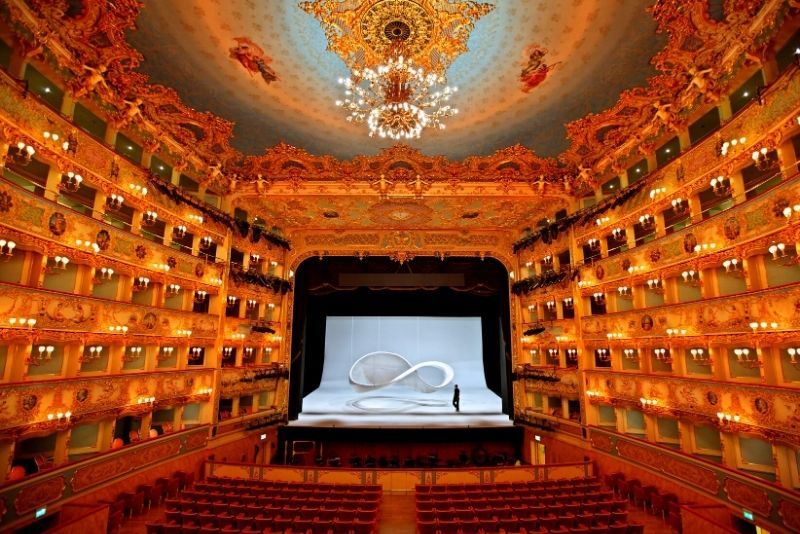 You don't have to be into opera to enjoy a visit to La Fenice Theatre, but it certainly helps! This opulent building is almost as famous as Venice itself and was once at the center of the city's high society. Baroque in style with enough gold ornamentation to have you grabbing your shades, La Fenice will transport you back to the classical age of Italian opera before the performance has even begun.
You can tour the decadent auditorium during the day, or book tickets for an evening show that will be sure to hit all the right notes.
Lend your gaze to a few Picassos and Pollocks as you wander around the show-stopping Peggy Guggenheim Collection. The lady herself was a bohemian American art collector, and this museum is packed with masterpieces she acquired from around the world. It's one of the top modern art exhibitions in Europe, featuring everything from Cubism to Surrealism.
There are both permanent and temporary galleries to explore, where works by greats like Dali, Magritte, and Calder take pride of place. Before leaving, stroll through the sculpture garden beside the Grand Canal and picture yourself in the company of some of these famous artists.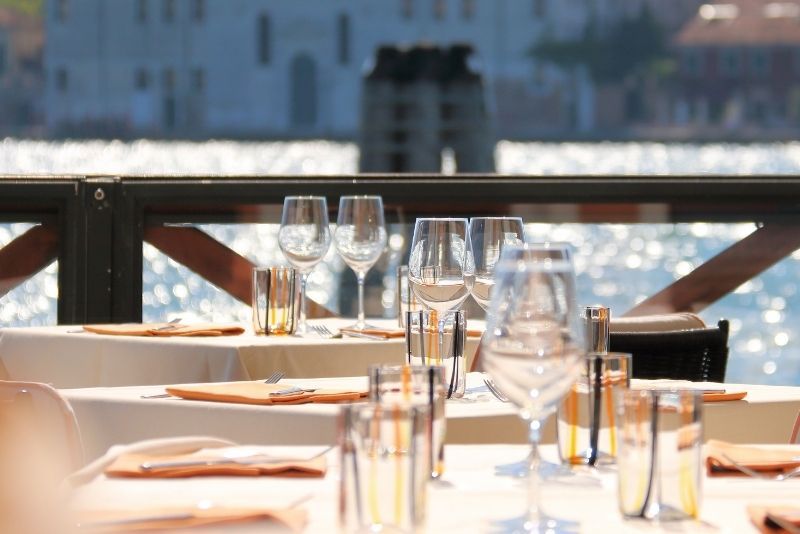 Many of the best Venice tours involve food because after all, it's something that Italy has down to a fine art. There's nothing more rewarding than wandering through the maze of streets, stopping at the bustling Rialto Market, and popping into taverns to try some Venetian delicacies.
For something a bit different, head to Cannaregio and join a food tour in the Jewish Ghetto. Here you can hang out with locals at cicchetti bars, and tuck into tasty morsels that are always washed down with a glass of vino. There are dedicated wine tasting tours too for those who appreciate the nuances of a good grape.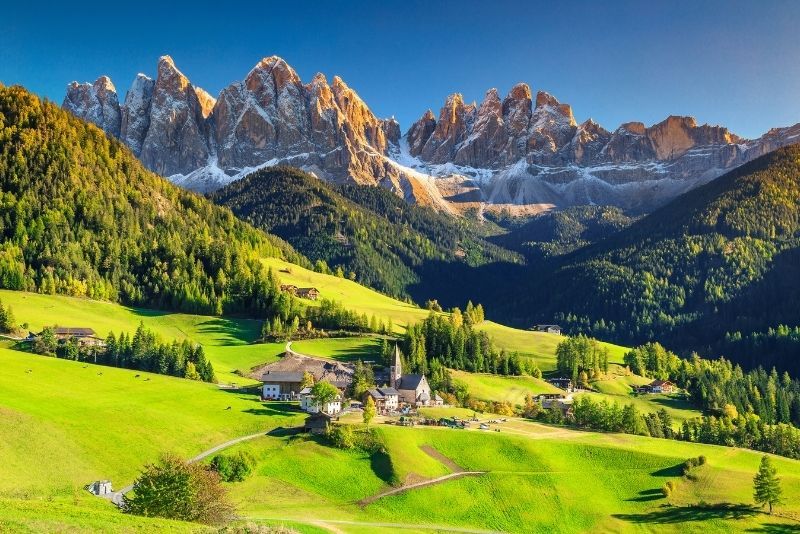 From terracotta streets to alpine peaks, a day trip to the Dolomites is a real breath of fresh air. You can enjoy all manner of adventures in this idyllic mountain region, with hiking trails and via ferrata climbing all on the table for intrepid souls. Exploring the rocky pinnacles, lush forests, and icy glaciers is a world away from Venice.
The countryside is punctuated with quaint villages and towns, where you can learn about mountain culture and enjoy a traditional lunch with a view. Swap your sandals for sturdy walking shoes so you can make the most of this jaw-dropping landscape.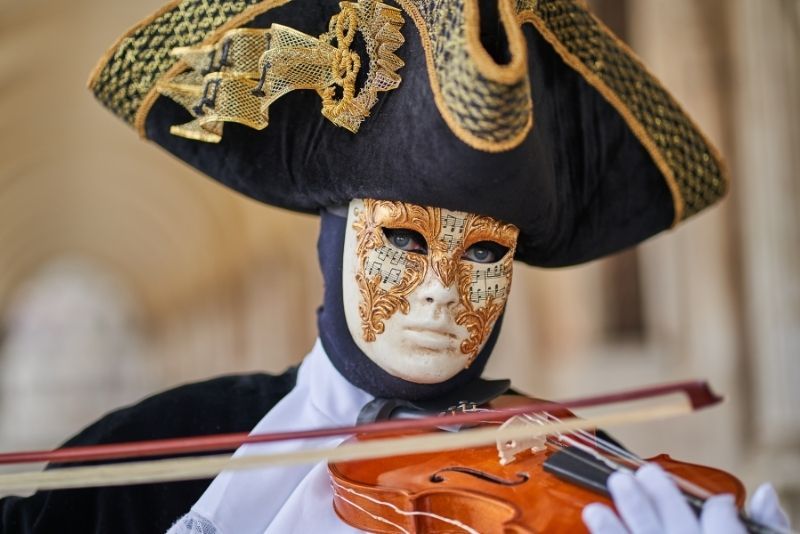 Music aficionados will enjoy a powerful performance of Vivaldi's Four Seasons at I Musici Veneziani. Set in the Scuola Grande di San Teodoro, this concert brings the Baroque period to life with traditional costumes and a period backdrop. The Interpreti Veneziani is a good bet too, with authentic chamber sessions bringing the work of Bach and Handel to life.
For a truly memorable evening out, take in a performance by the Traveling Opera at the historic Palazzo Barbarigo Minotto. Each act takes place in a different hall, giving a whole new meaning to set changes! Choose from La Traviata, the Barber of Seville, or Rigoletto.
Planning your visit to Venice
About Venice
There's nowhere in the world quite like Venice. Made up of 118 islands, this floating Italian city is a delightful maze of backwater canals and narrow streets. Pretty bridges link the charming neighborhoods so it's easy to explore on foot, with sleepy squares and quaint churches hidden around every corner.
Venice tours will peel back the cover on this unique vacation favorite, taking you deep into the heart of the city as well as checking off the major sights. Whether you want to explore palaces, sightsee by gondola, or be dazzled at the opera, Venice is waiting to welcome you.
Good to know before arriving
Once you've enjoyed a smooth airport transfer and arrived in Venice, you can forget about transportation hassles as everything here is done by foot, or by boat. There are regular water taxis servicing the islands so it's easy to plan a day of sightseeing.
When it comes to accommodation, we recommend staying centrally in San Marco or San Polo if it's your first visit. Cheaper hotels can be found further out in Castello and Dorsoduro. Be aware that space is at a premium in Venice, so expect hotel rooms to be smaller than you're used to in places like Rome or Naples.
Places and experiences that cannot be missed
Once you've enjoyed the main Venice tours, it's time to scout out the experiences that will really get you talking. Venice mask painting workshops are good fun and you'll come away with an authentic souvenir. Art fans will love the Accademia Galleries and the Leonardo da Vinci Museum, while outdoor enthusiasts should try a canal kayaking tour.
For enviable photos, climb the spiral staircase at the Palazzo Contarini del Bovolo, or if you want a meal to remember, enjoy a dinner cruise on the Venetian lagoon by galleon! Finally, when you need a break from canals and churches, take a day trip to Cortina, Padua, or Verona for a contrasting city experience.