Brimming with history and artistic heritage, Padua is a charming Italian city – which is older than Rome – packed with unmissable sites and landmarks that can easily fill your visit.
Day trips to Padua from Venice offer plenty of time to explore the Basilica of St. Anthony, awe-inspiring churches and magnificent frescoes in a single day. Leave behind the San Marco Piazza and the Grand Canal, and take a step back in time to medieval Italy.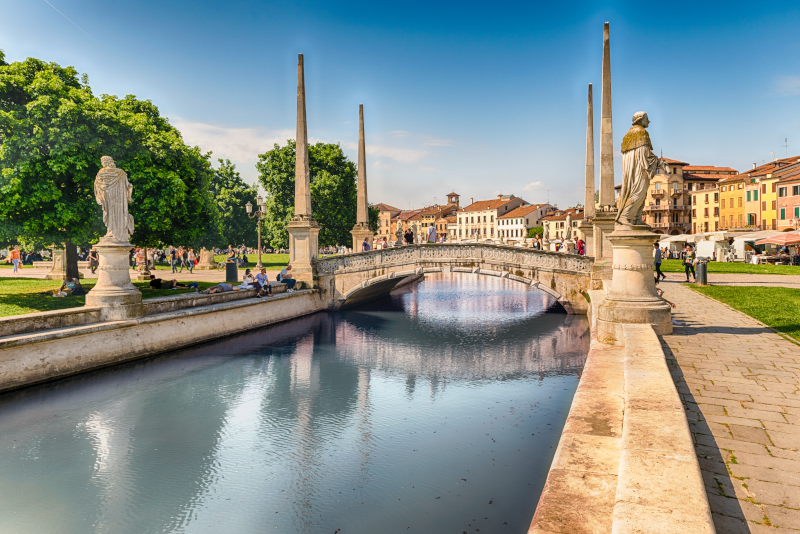 Here's all you need to know about visiting Padua, one of the most emblematic destination for day trips from Venice.
How to get to Padua from Venice?
Located in the Northern Italian region of Veneto, Padua is approximately a 40-minute drive from Venice airport. The best way to reach Padua from Venice is by public transportation or guided tours.
From Venice to Padua by car
The most direct drive from Venice to Padua is on the Autostrada 4 or E70 highways, which take around 45 minutes. The route is scenic and fairly easy to navigate, though drivers should bear in mind that roads can get congested during rush hour and bank holidays.
From Venice to Padua by train
Traveling by train is a popular mode of transportation to Padua from Venice, as it is one of the quickest and easiest options, with a number of high-speed trains available each day.
The journey usually takes about 20 minutes. Board the train at the Venezia S. Lucia in Venice for a direct train service to Padova train station in Padua.
Guided tours to Padua from Venice
Choosing a Venice to Padua day trip package is a good option for those who want a comfortable and hassle-free journey. On guided tours, you can relax knowing that all the minor details of your transportation needs have been taken care of.
Many guided tours offer a pickup and drop-off from a centrally located meeting point in Padua, most notably the Piazza Garibaldi.
What is the typical itinerary of a day tour to Padua from Venice?
Day trips to Padua from Venice last between 3 and 11 hours. Day tours usually begin at a pre-determined meeting point in central Padua and include round-trip travel from the city center.
The journey from Venice to Padua is typically by train and usually takes around 20 minutes each way, traveling through jaw-dropping Italian natural landscapes. Upon arrival at Padua, you'll embark on a sightseeing adventure on foot and visit the most popular attractions and monuments in this enchanting city.
Discover diverse cultures from across the globe along Padua's narrow alleys and cobbled streets, as you reach the historic center. Make stopovers at bustling piazzas and market stalls, and take in stunning views of the Palazzo della Regione.
Many guided tours come with local food and wine tastings, including homegrown pastries and other Paduan delicacies. You will then return to the same departure point in Venice.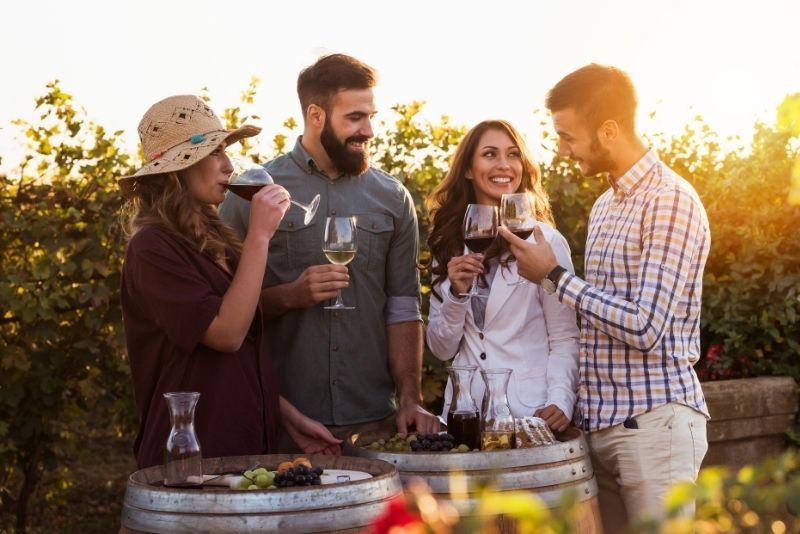 What kinds of tours are available to go to Padua?
There are different guided tours available from Venice to Padua. These usually include collection from a centrally-located meeting point to ensure a smooth and comfortable journey.
Half-day tour to Padua from Venice
If this is your first time visiting Padua, then you can't go wrong with guided tours. With a knowledgeable guide to show you the best spots only locals know about, you're guaranteed a stellar introduction to the city.
Take in the stunning architecture of St. Anthony's Basilica and wander around Scrovegni Chapel – one of Italy's most expansive public squares. Marvel at Medieval town halls, and delve into the culture and history of ancient palaces and museums. At the end of your day, you will take a train journey back to Venice.
Private tour by train to Padua from Venice
Make the most out of your holiday with a private tour to Padua, as you have a professional guide to answer any questions or queries that may arise as you discover Padua's treasures.
Visit the famed 18th-century literary cafe, stroll along the historic headquarter of the University of Padua, and gawk at the emblematic Torre dell' Orologio with its iconic astrological clock.
Take as long as you want for obligatory photo opportunities as you allow yourself to be captivated by the city's world-class statues, museums, and monuments.
Day trip to Padua plus Brenta Riviera cruise from Venice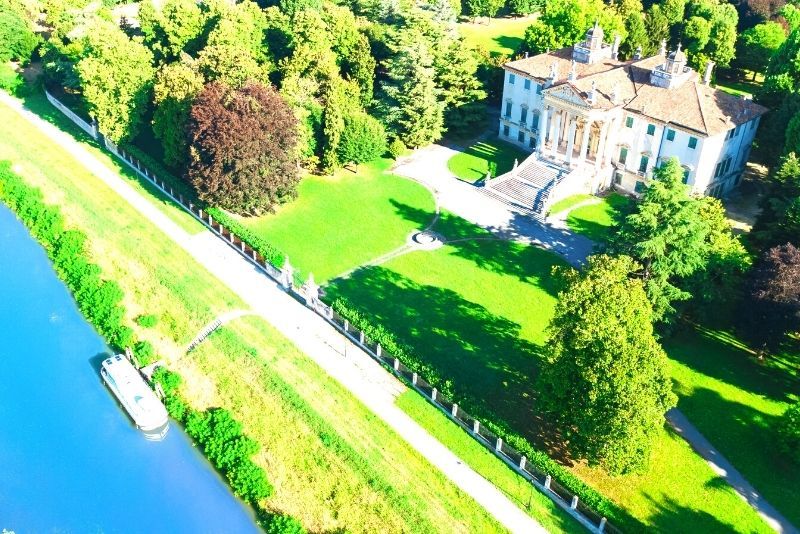 On this one-way boat tour from Venice, you'll hop aboard a Burchiello boat as you pass through locks en route to Padua from Venice. You'll make a stopover at the magnificent multicolored Venetian villas, as you take in the stunning views of Villa Pisani, Villa Widmann and Villa Foscari.
After your cruise, you'll have time to explore the village of Oriago at your own leisure where you can enjoy a spot of lunch. The tour provides transportation back to the departure point in Venice.
How much does a tour to Padua from Venice cost?
Day trips from Venice to Padua vary in cost depending on the duration of your excursion, the mode of transportation you decide to take, and what you plan on visiting during your trip.
Half-day guided tours to Padua from Venice cost around €100 per person with a maximum of 15 participants.
Private tours to Padua from Venice by train start at €160 per person and include round-trip train transportation from Venice, a 2-hour guided tour and an admission fee for entrance to the botanic garden.
Day trips to Padua plus Brenta Riviera cruise from Venice cost approximately €110 per person and includes a multi-lingual expert guide and air-conditioned vehicle transportation with a restroom onboard.
What will you see and do on a Padua day trip from Venice?
This medieval city-state boasts an array of picturesque city squares, bustling markets, a charming medieval town hall and one of Italy's oldest universities.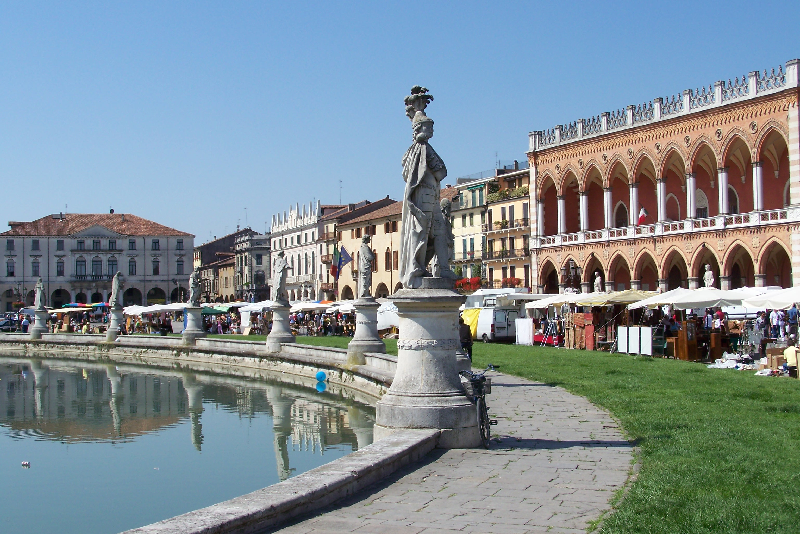 Palazzo della Ragione
Take a moment to admire Padua's former town hall, the Palazzo della Regione, built in 1218 and expanded in 1308.t The upper floor of Salone (the great hall) has an astounding series of frescoes that depict the influence of the stars.
University of Padua
Observe the campus life with Padua's vibrant student population who make the city center come alive in the evenings. The University of Padua is the city's educational crown jewel and the second-oldest university in Italy.
On a number of guided tours, you can gain a sense of the site's rich history, where you can marvel at the first permanent anatomical theater, as well as visit the very classroom that Galileo Galilei lectured.
Basilica of St. Anthony
The construction of St. Anthony's Basilica began in 1232 and has continued for centuries. Most famously known as a pilgrimage destination and the burial site of St Anthony of Padua, the church features soaring eastern domes atop a Gothic brick structure packed with beautiful frescoes and Renaissance treasures.
Riviera del Brenta
Get a glimpse of the beautiful, kaleidoscopic villas that seem to cling to the shorelines, as you cruise on a boat along the Venetian canal. On some day trips, you'll visit three prestigious ancient residences that are bound to transport you to the Venetian Republic times.
A visit to the Riviera del Brenta offers fantastic photo opportunities where you'll want to snap at the villa's stunning facade, as well as its jaw-dropping interiors.
Vincenza
This UNESCO World Heritage site is the mastermind of one genius – Palladio. In his early years, the modest stonecutter escaped an oppressive employer in his hometown of Padua. He was lucky to have had his talents recognized by a local count who sent him to study the ruins of Rome in the 1520s.
Years later, upon returning to Vincenza, he began to produce extraordinary buildings and structures that transformed both the city and the history of European architecture.
When is the best time to visit Padua?
The best time of the year to visit Padua is in the summer, from July to August. This is when days are often filled with sunshine and temperatures are usually balmy.
However, if you want to steer clear of some of the peak season summer crowds, visit the city in spring, from March to May, when you can still enjoy a pleasant climate for sightseeing and boat cruises.
Travel tips
Book in advance, particularly if your day trip falls during the weekend, as these tours are incredibly sought-after and tend to fill up quickly.
If you're visiting the Basilica of Saint Anthony, dress appropriately. Shoulders and knees must be covered – shorts or vests are prohibited.
Pack sunscreen and a sunhat if you are visiting in the warmer months of the year.