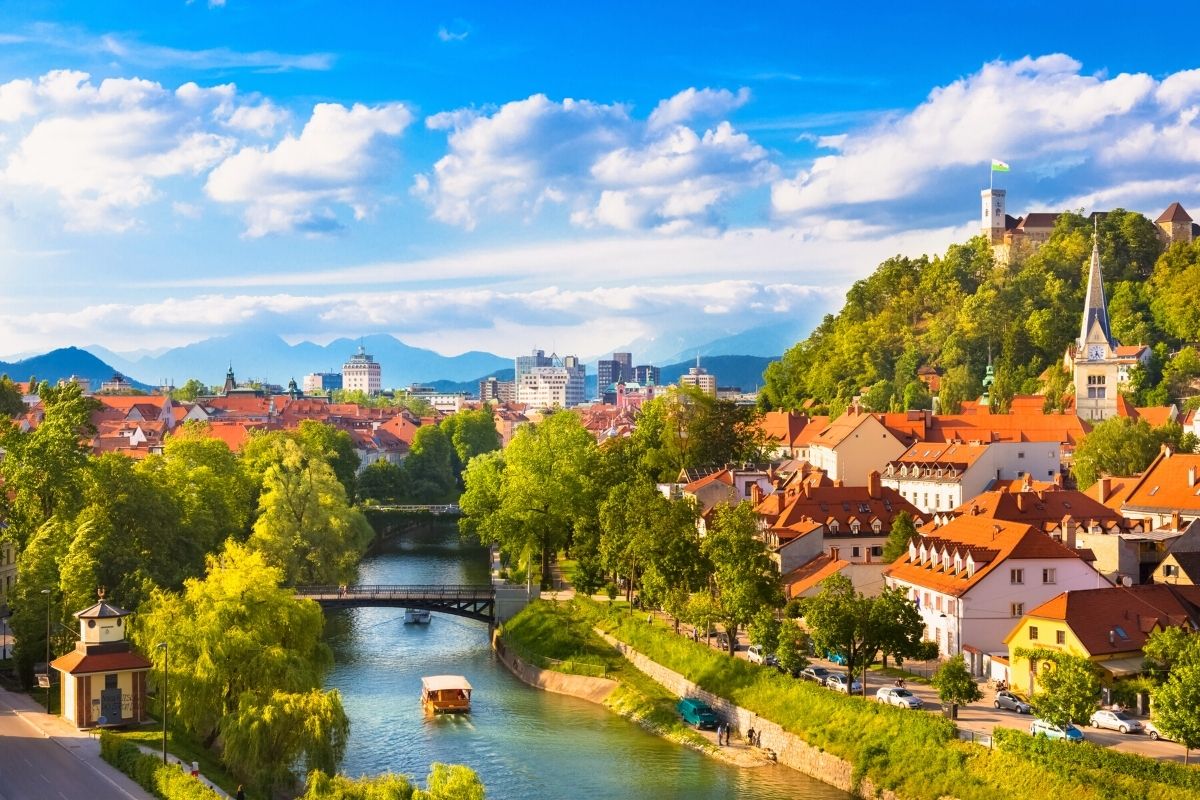 With charming historical buildings, breathtaking mountain views, and a tranquil river running right through the middle of everything, Ljubljana is a quintessential European town.
But Slovenia's capital also boasts a distinctive character and lively atmosphere all its own!
Medieval monuments and cutting-edge art comfortably coexist with beautiful forests, quirky tourist attractions, and plenty of thrilling outdoor activities.
There are also tons of great opportunities to eat, drink, and be merry, with globally renowned cuisine and local favorites all mixed together in one great package.
So grab your map and brush up on your Slovenian, as we discover some of the terrific things to do in Ljubljana!
1 – Roam around Ljubljana Castle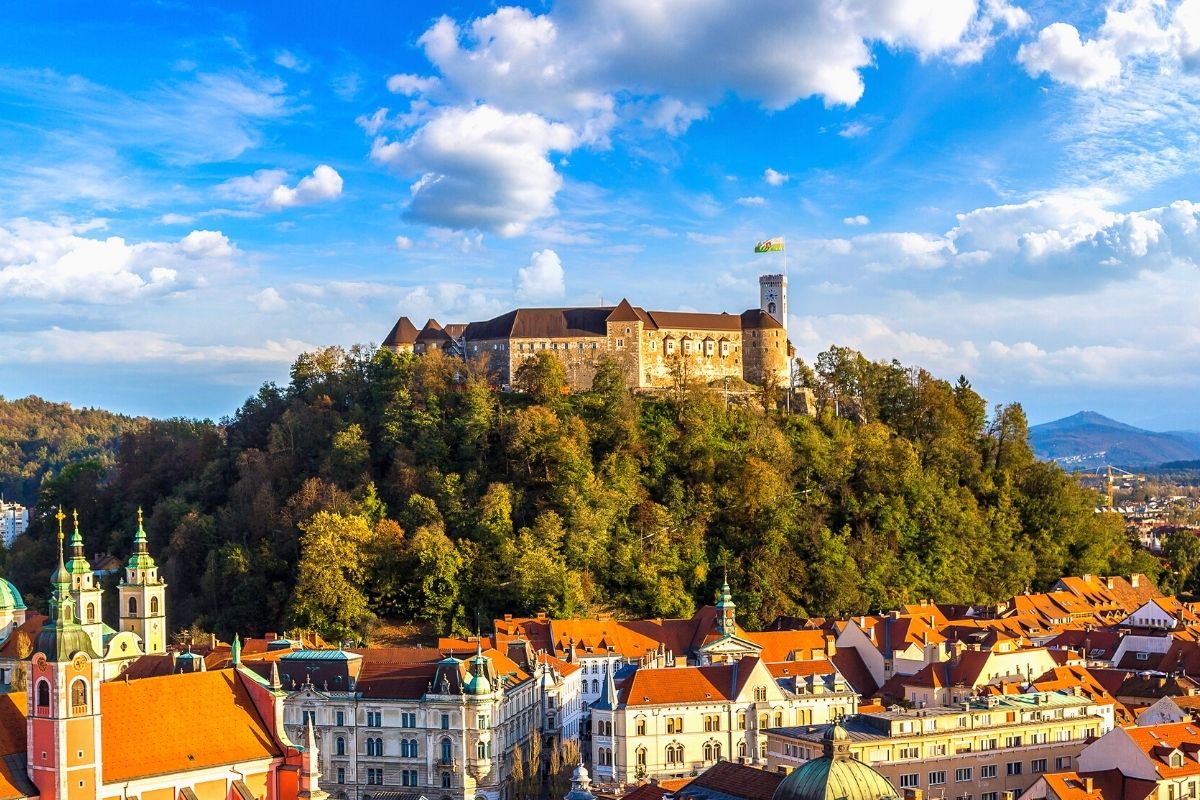 Like so many neighboring cities and villages, the capital features an impressive castle to explore. But this gorgeous building has a distinctly Slovenian style – and a fascinating story to match!
Dating back to the 11th century, this medieval marvel sits on a hilltop overlooking the town, where it served both as a home for royalty and a protective measure against invading enemies.
Today, it's a great place to explore the city's history at length, with every brick and room telling its own unique story from centuries of life. For an especially fun excursion, take the funicular to the top!
Part transportation, part observation post, this lovely little vehicle will cruise straight up the side of the hill – with stellar views all the way!
2 – Greet the guardians of Dragon Bridge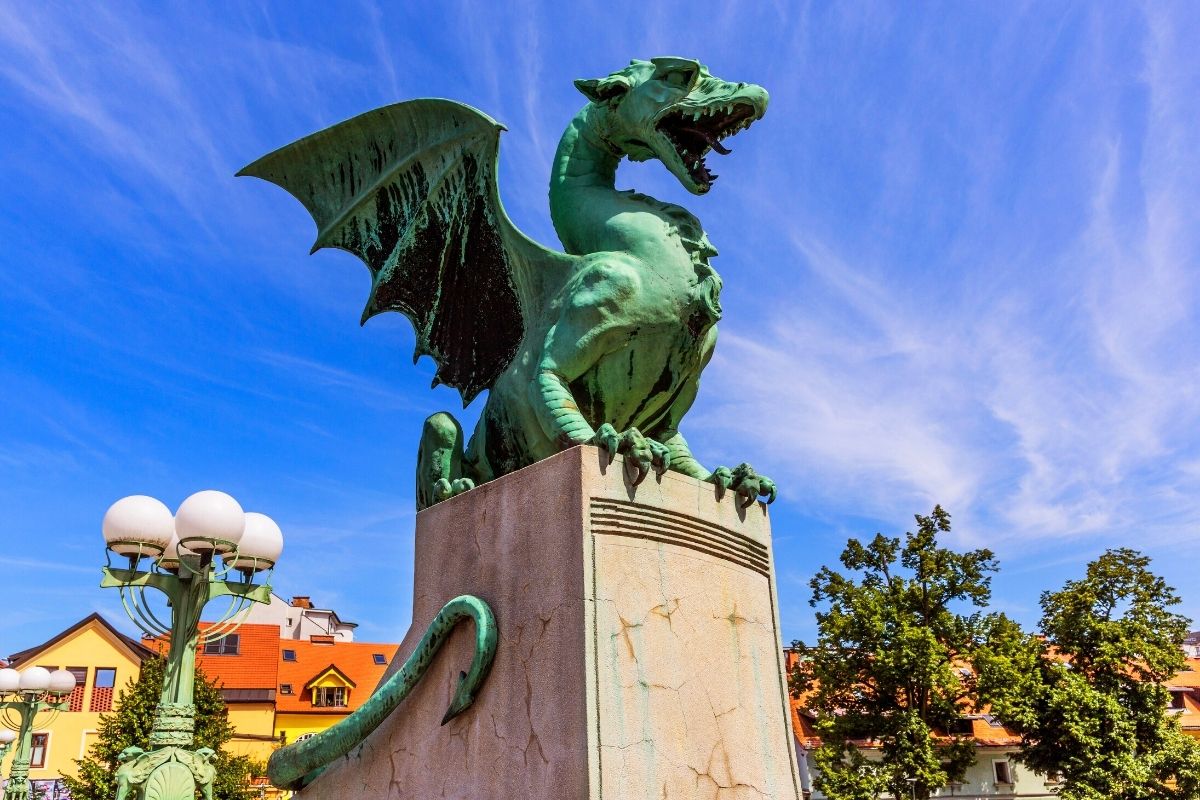 When you see the statues flanking each side of Dragon Bridge, you may think you've stumbled into a fairytale! After all, with the river flowing steadily below it, and massive green dragons (hence the name) greeting passers by, it's certainly got a fantastical feel.
But the structure is actually a 20th century creation, and was an early symbol of progress in the city – in fact, it was the first reinforced concrete bridge in town! Swing by and admire the designs for yourself… just watch out for the fire-breathers!
3 – Stroll around Prešeren Square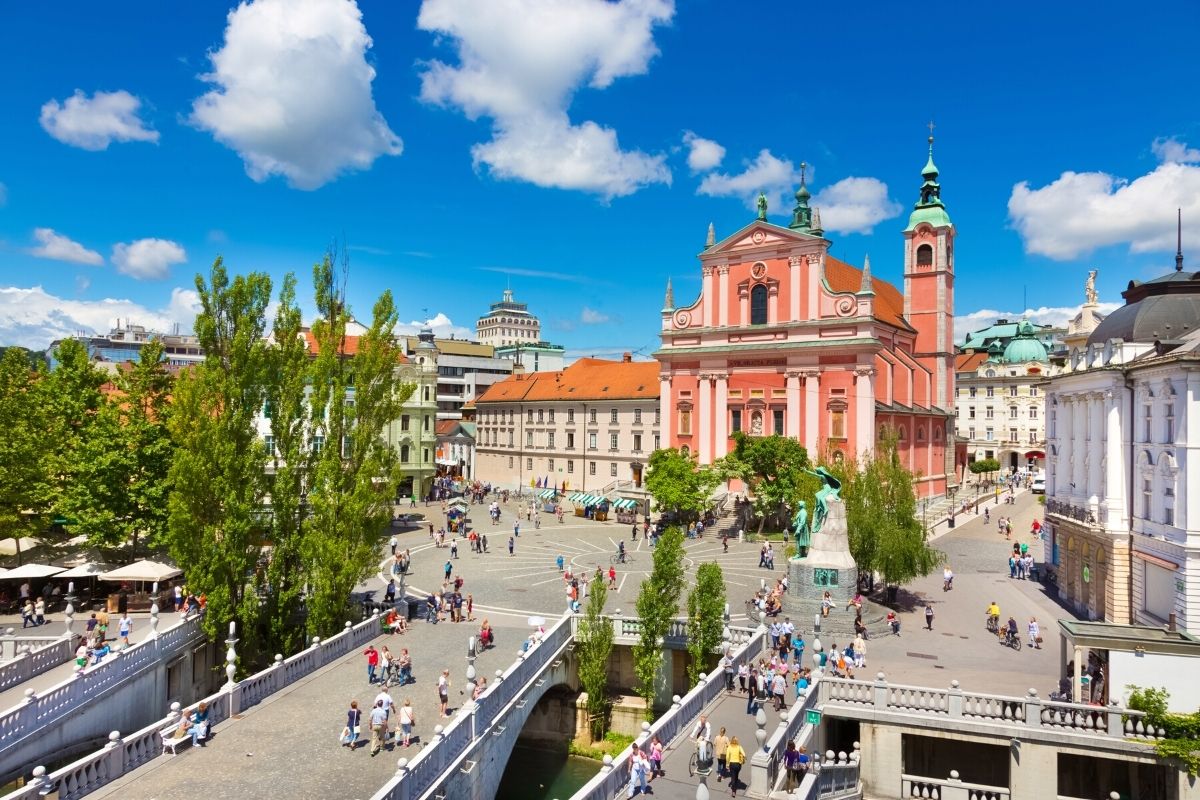 Smack dab in the middle of town, this lovely public area is perfect for strolling around and getting a feel for the city. Festooned with palaces, bureaucratic buildings, and shops, it's been a focal point of public life since the 1600s, connecting the past and the present in fine fashion.
One of its most notable landmarks is the statue of the square's namesake, the renowned local poet France Prešeren.
While you're in the area, you can also check out the massive pink monolith of the Franciscan Church of the Annunciation, and the intersecting paths of Tromostovje (the Triple Bridge).
While you can enjoy all of these wonders by yourself, there are tons of great walking tours available to provide added context for these treasures.
4 – Take a day trip to Lake Bled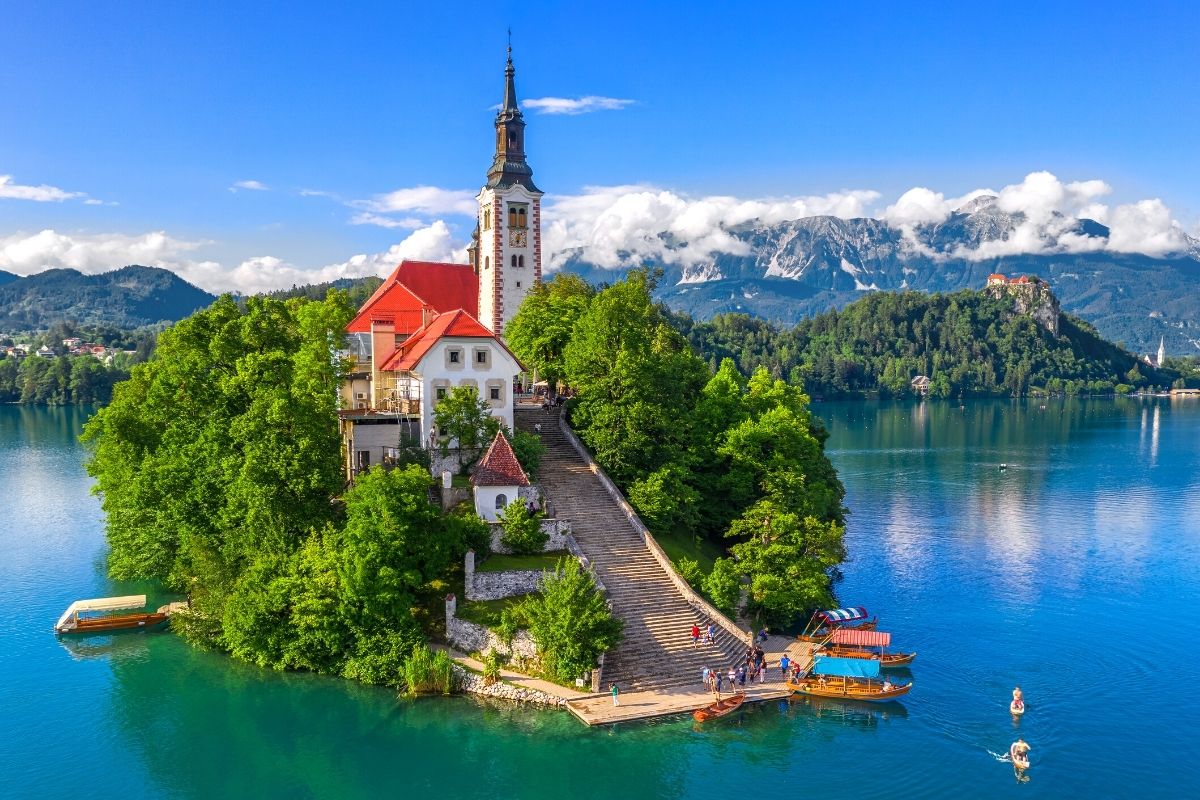 Just an hour and a half from the city, Lake Bled offers a slice of the picturesque nature that Slovenia is known for.
As if the pure blue waters and surrounding mountain ranges weren't magical enough, it also features a particularly notable piece of architecture: an authentic castle, perched on a beautiful little island in the middle of the water!
You can explore the area further aboard a pletna boat, a traditional wooden vessel that dates back to the 1100s! You'll soon see why this lake's name translates to "Image of Paradise"!
If you want to keep exploring various outdoor treasures, you can easily combine these excursions with a trip to the Vintgar Gorge, where you can hike over gorgeous river views and marvel at the Šum Waterfall.
5 – Admire the designs of Ljubljana Cathedral (Church of St. Nicholas)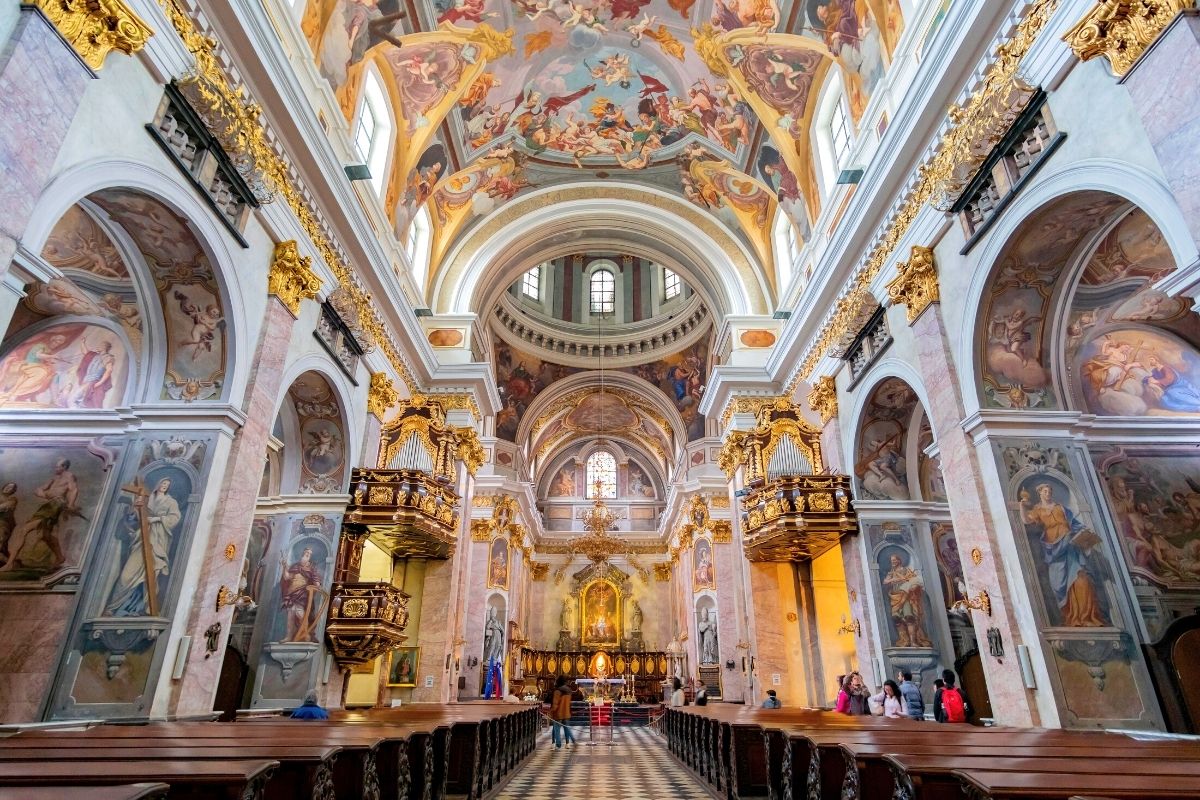 Since it was first constructed in the 1700s, this stunning space has drawn worshippers and visitors alike to marvel at its architecture and religious artifacts.
It's perhaps best known for its incredible collection of art, including decorated naves, intricate carvings, and a spectacular fresco painted across the main dome.
The outside of the building is equally impressive; with its towering bellfries and elegant green dome, it's a beloved part of the local skyline.
6 – Get artsy at the National Gallery of Slovenia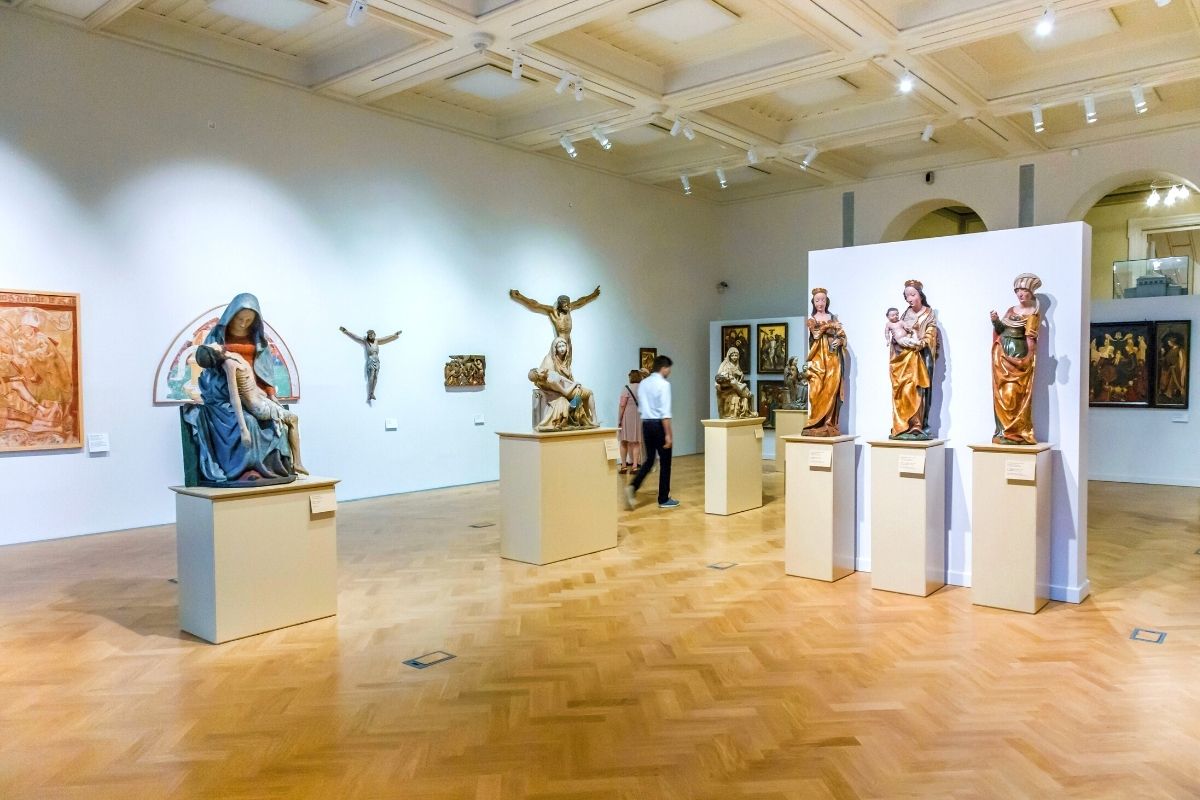 Filled with masterpieces that transcend decades and ideologies, a day of wandering the National Gallery of Slovenia is one of the best things to do in Ljubljana for art lovers!
With a collection that spans all the way from the 1200s all the way up through the 1900s, it's the perfect place to explore the nation's fantastic cultural heritage in-depth, with plenty of international works as well.
Stroll past pieces by masters such as Zoran Mušič, Anton Dietrich, and Catarino Veneziano, witnessing in real time the evolution of art and cultural norms over time.
It's a fascinating glimpse into some of Europe's most creative minds!
7 – Get two adventures in one with a trip to Postojna Cave & Predjama Castle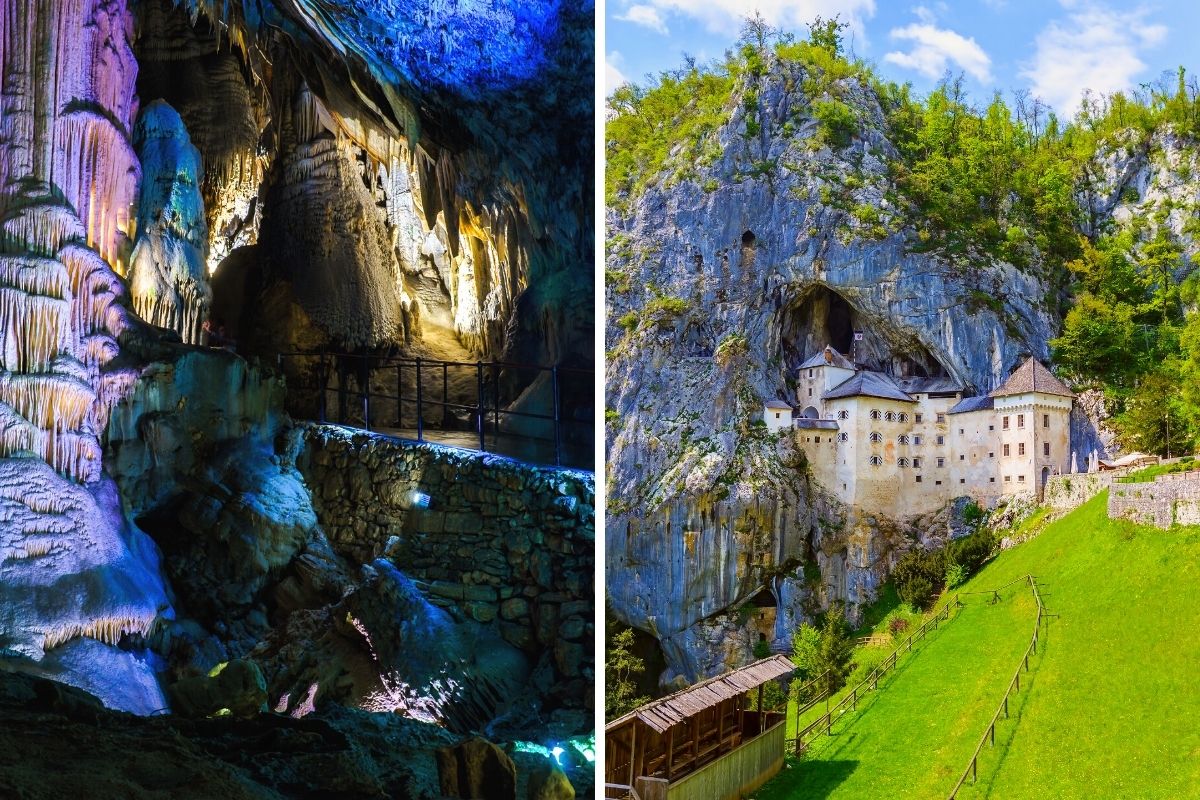 When you're not busy admiring the human-made towers in town, head out to Postojna Cave and check out some geological versions!
This fascinating complex of caverns features an impressive assortment of stalagmites, each showcasing millions of years of history and science in every crevice.
This unique ecosystem also includes scenery and creatures unlike anything you'd find aboveground, from blind salamanders to stunning chambers that open up into cathedral-like rock formations.
Trips to this spectacular site are often combined with journeys to Predjama Castle, a compelling complex tucked under a cliff face that's filled with mysterious rooms, winding staircases, and all manner of unique features.
8 – Make yourself part of the attraction at the House of Illusions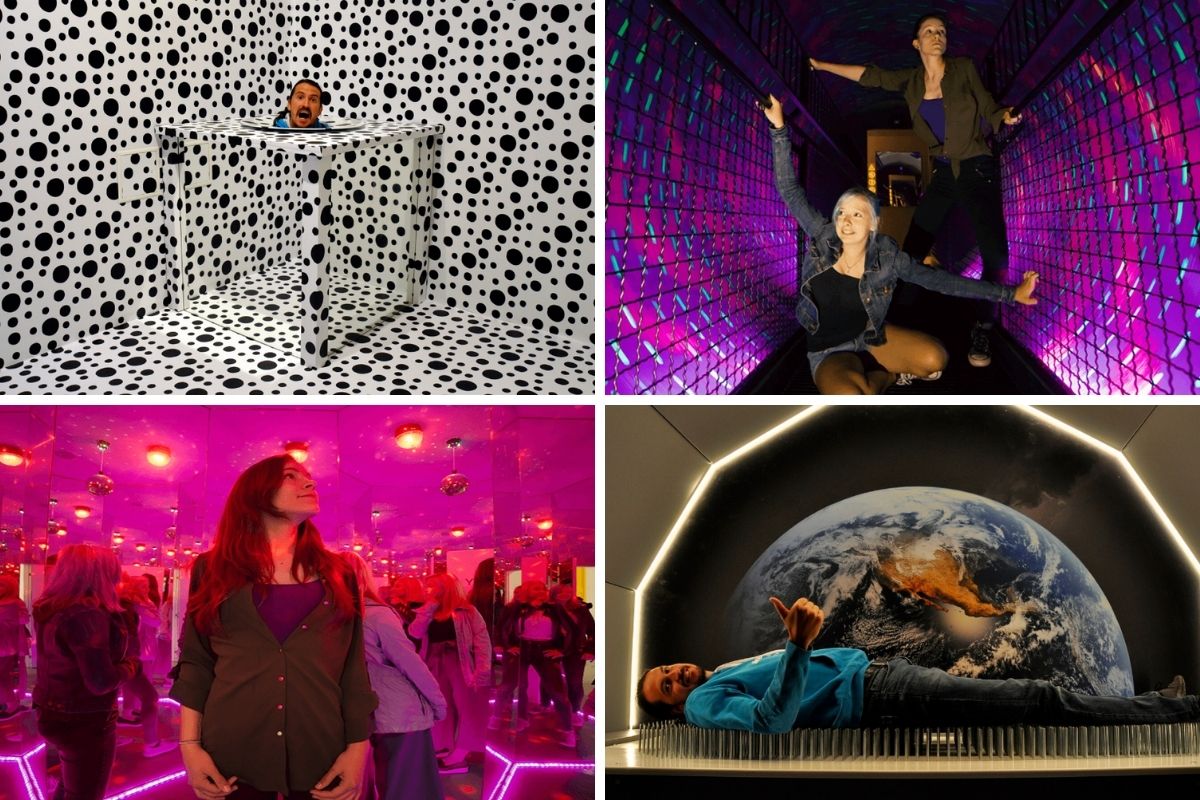 When you're ready for a more modern sort of strangeness, head back to town and take a spin through the House of Illusions!
Packed with surreal optical tricks, funky photo opportunities, and mind-bending exhibits that the whole family will love, this delightful spot will challenge your mind and body at every turn.
Float upside-down (with the help of some camera tricks), see the world in new ways through a kaleidoscope, and wander through a gallery full of eerie pictures – some of which just might change position while you watch!
It's a weird, wonderful attraction that will keep you thinking long after you've exited its multidimensional halls!
9 – Explore the charms of the Town Square and Old Town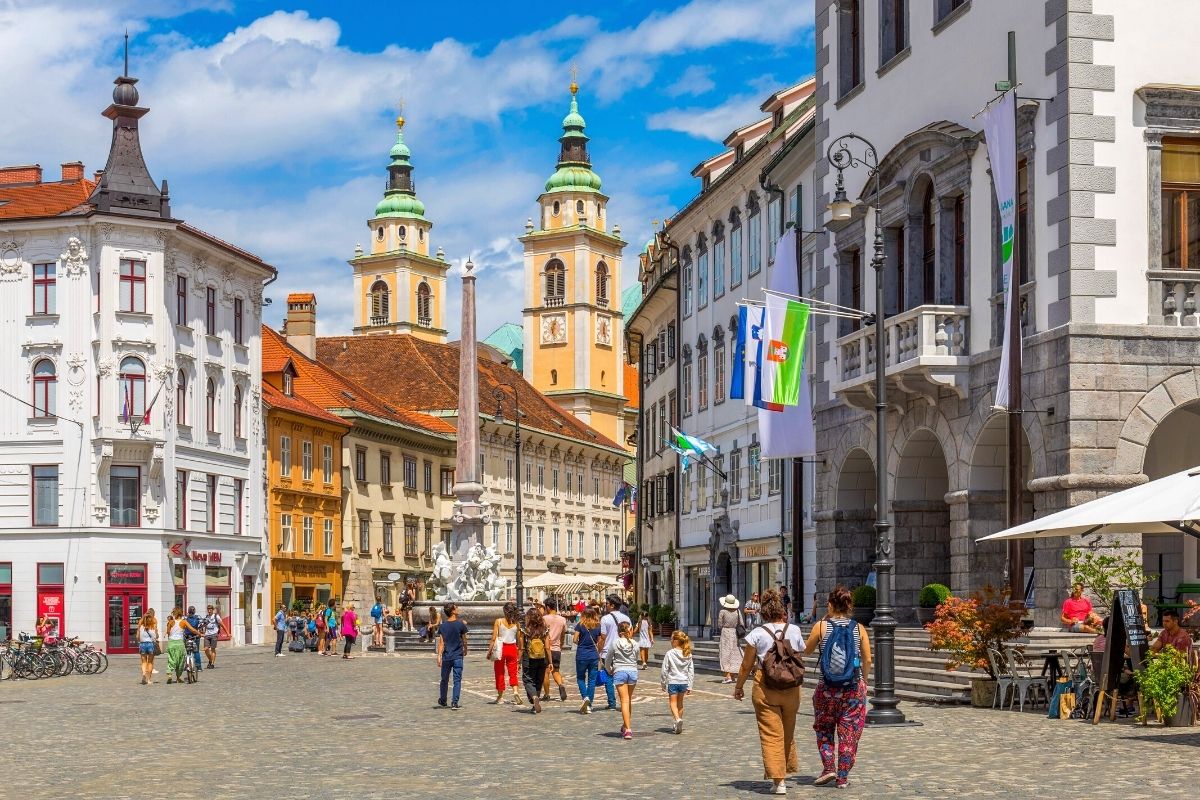 Even by the rich historical standards of the rest of the city, the Old Town area stands out.
From the stately Town Hall to the lively Križanke Summer Theatre and the gorgeous campus of the National and University Library of Slovenia, the neighborhood bursts with beauty and energy, all focused around its historic attributes.
Don't miss the Robba Fountain while you're in the area; patterned after the traditional water features of Rome, its Baroque designs and three godly statues – said to represent the local rivers -, it's a great place for photos!
While the area is great for walking tours, you can also book an electric scooter tour for an even more unique experience!
10 – Dive into global cultures at the Slovenian Ethnographic Museum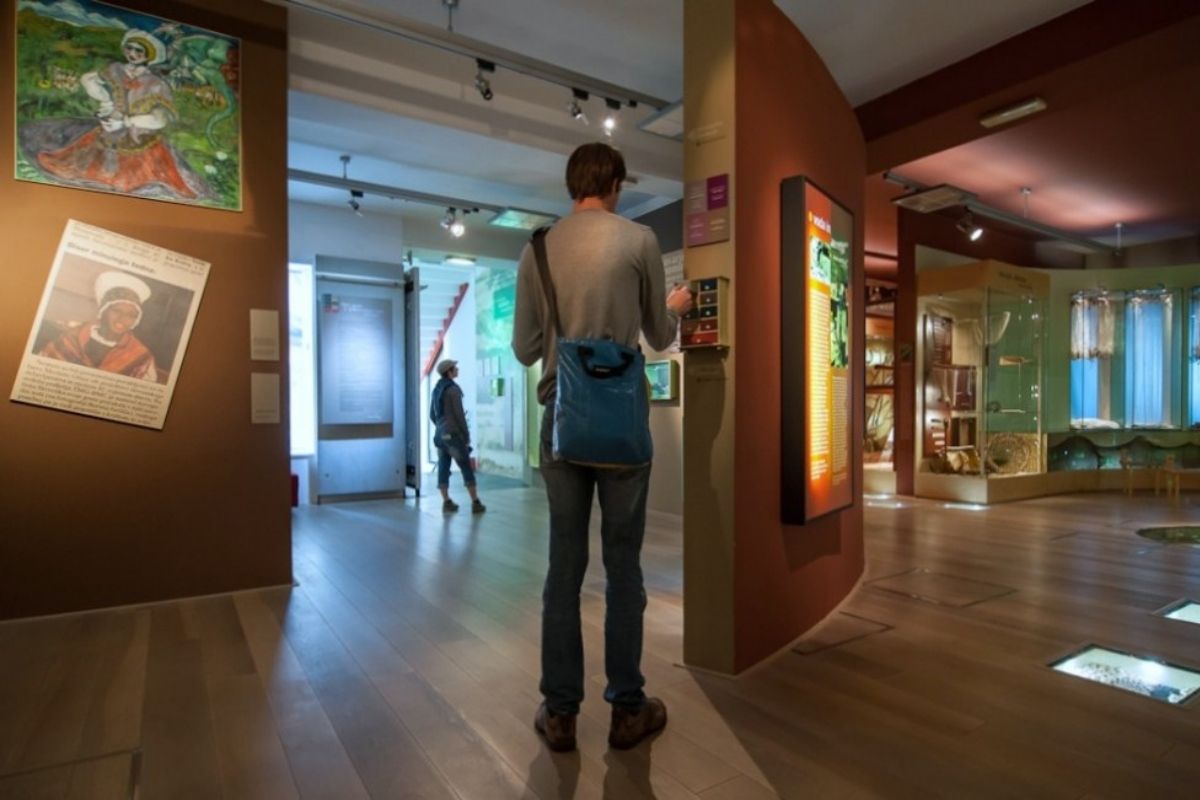 While there are ample opportunities to explore Slovenia's culture while you're in the capital, this acclaimed institution offers a broader view of the world around us… with fascinating results!
For 100 years, the Slovenian Ethnographic Museum has celebrated the uniqueness of societies all over the world, with thousands of artifacts from every era of human history.
Along with a massive collection of Slovenian pieces that showcases the geographic and social diversity of the country, there's also an amazing assortment of objects from dozens of other cultures.
Celebrating the past, present, and future in equal measure, this space challenges visitors to explore the broad spectrum of humanity – and discover our common connections!
11 – Test your minds in an escape room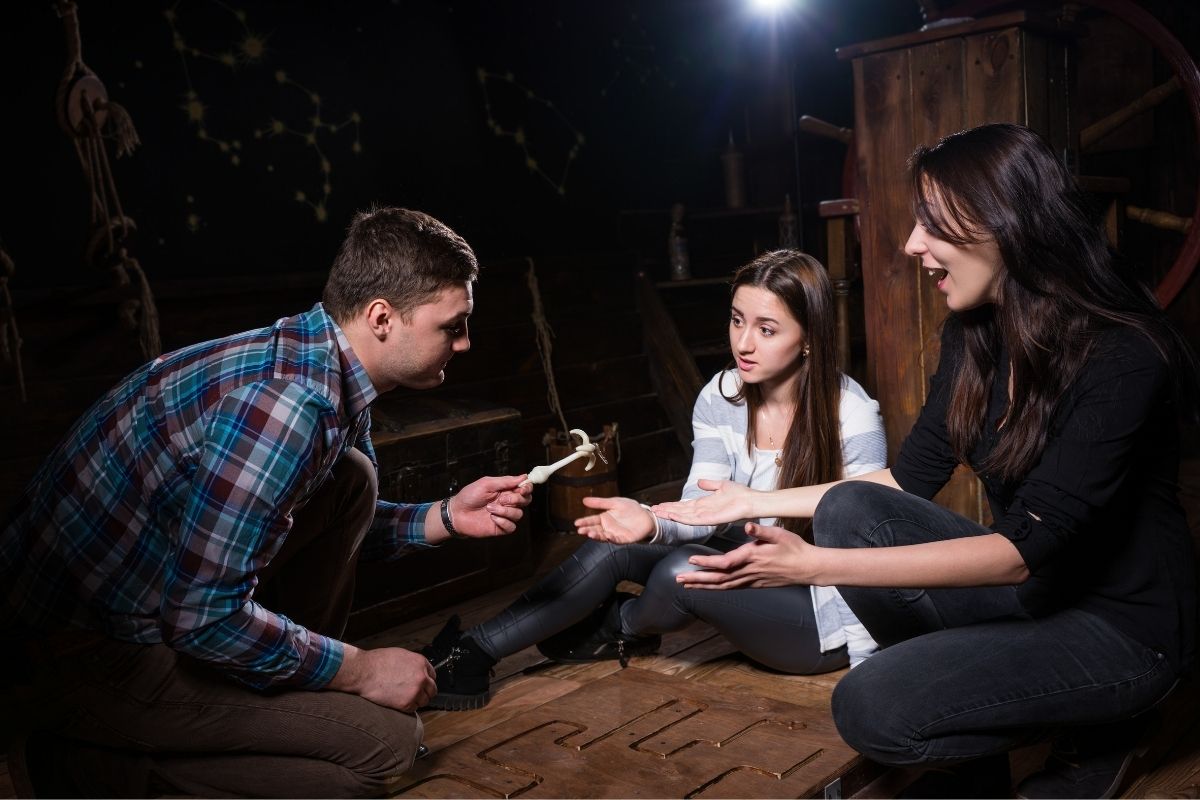 Ready for a different kind of adventure? Grab your family or friends and make your way out of some escape rooms!
Wildly inventive and intellectually stimulating, these popular attractions offer all the players a chance to test their minds in creative, immersive environments.
Snoop around an eerie haunted home, or make your way through the circus to locate a missing elephant! And if you'd like to throw some sightseeing in the mix, try the outdoor courses, where you can use clues and mysteries to explore popular spots around town.
With plenty of unique details and suitably strange puzzles, this is the perfect option for groups seeking a challenge!
12 – Go stand up paddleboarding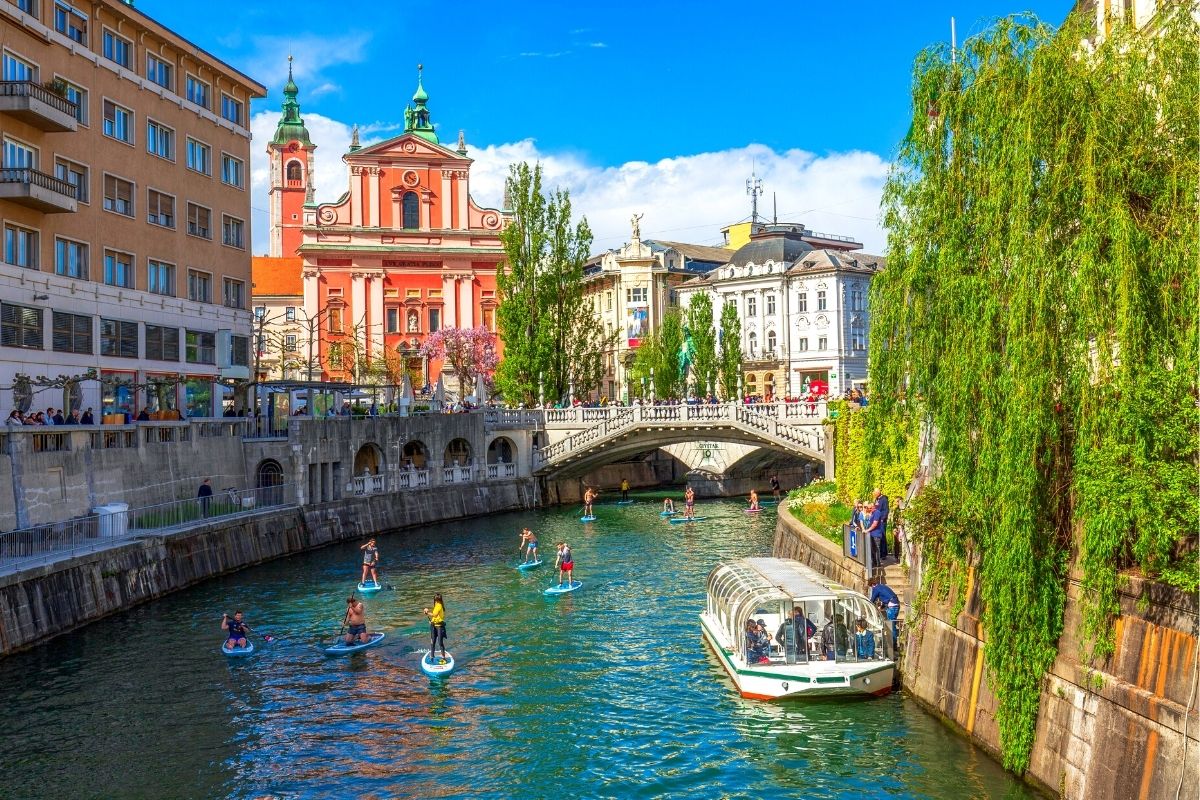 Ok, you've walked around the city, you've segwayed, you've taken a spin on the funicular…. What's next? Well, how about stand-up paddle boarding?
This beloved watersport is easy to learn, and a great way to take in your surroundings… especially in a river-centric city like Ljubljana! Follow your guide on a winding tour of the city, paddling along and enjoying some fresh air.
It's a great way to get active and see the lovely capital from a different vantage point!
13 – Enjoy nature's finest in Triglav National Park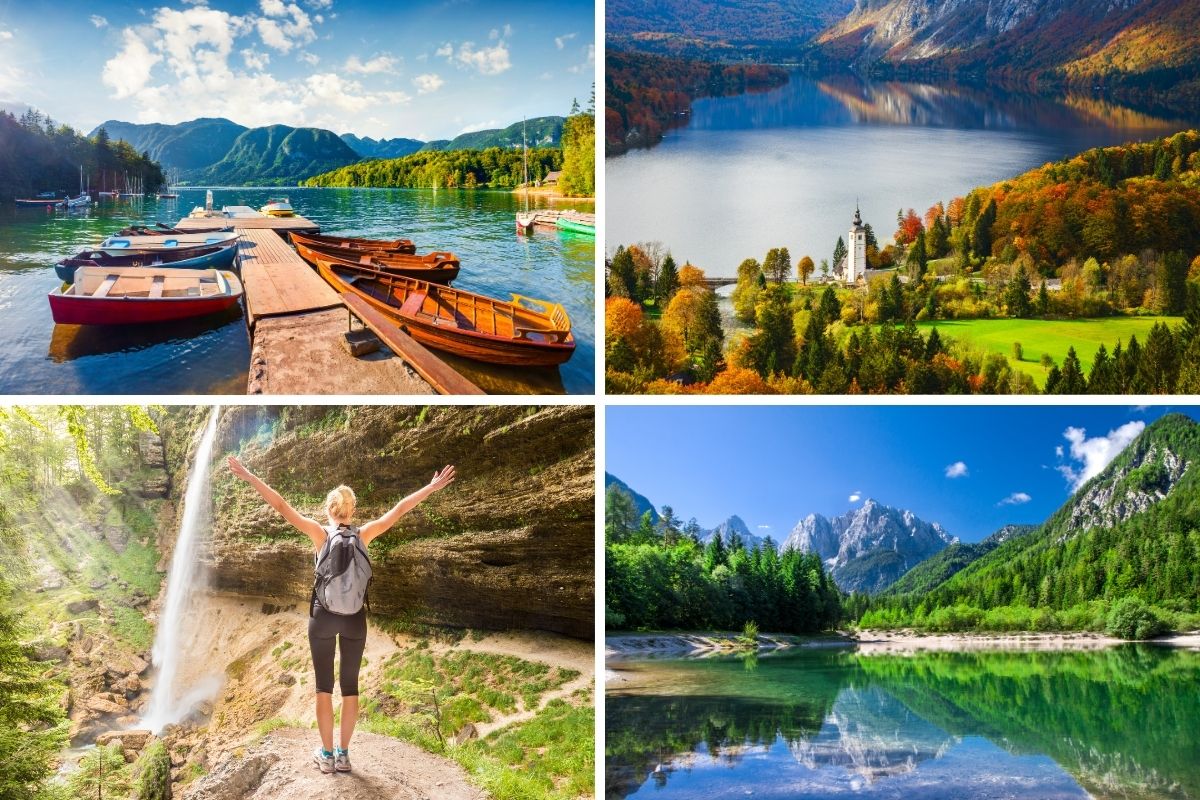 Another great day trip option for outdoorsy types, Triglav National Park offers gorgeous views and ample activities… no matter the season!
This alpine gem is the ideal area to spend a day outdoors, with renowned hiking trails, stunning natural swimming holes, and breathtaking views.
You'll also have the opportunity to explore Viševnik, a popular peak that boasts thrilling trails and equally stunning views. And if you're visiting in the colder months, you can enjoy the same scenery draped in its winter finery during a snowshoeing trip!
If you have time, be sure to check out the nearby Bohinj Valley, a gorgeous region best known as the home of the magnificent, massive Lake Bohinj – the biggest lake in the nation!
14 – Enjoy some gorgeous Art Nouveau Architecture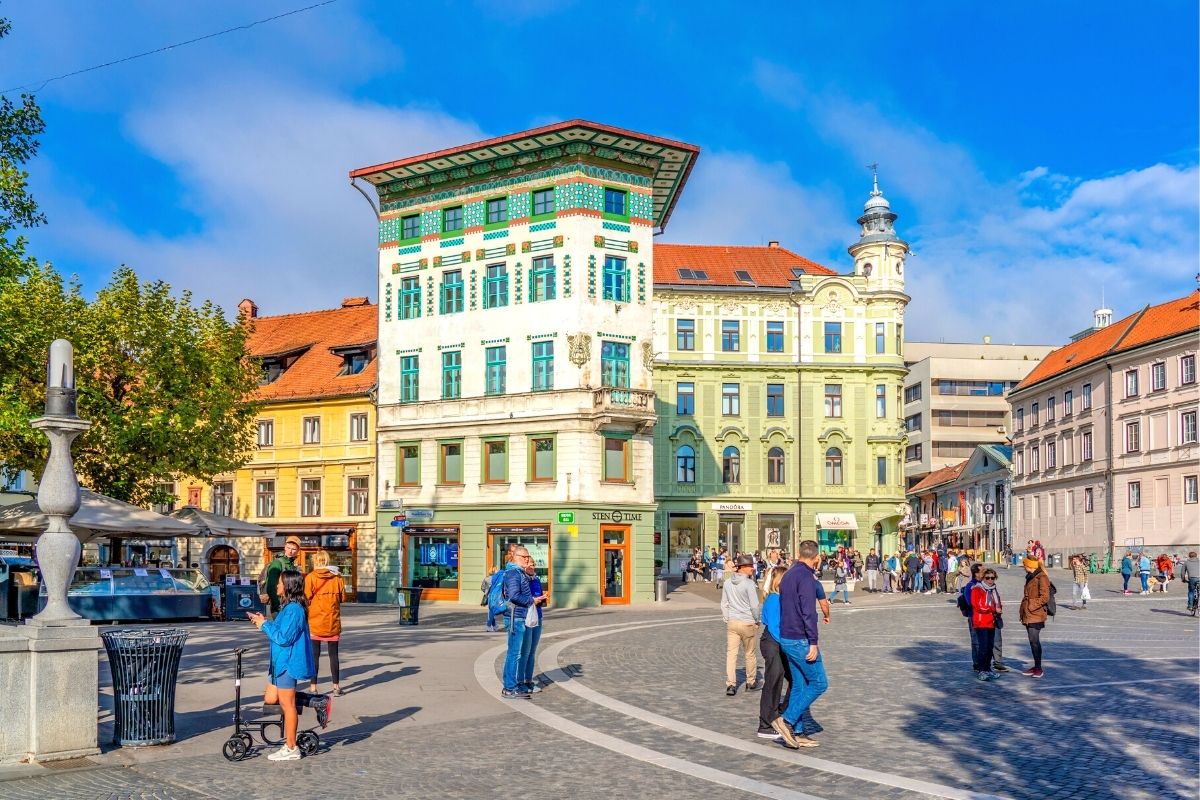 While medieval buildings tend to get a lot of the attention here, there's a more recent movement that is prominently showcased throughout town… and it's a famously beautiful one!
The Art Nouveau movement of the late 1800s and early 1900s was famed for its elegant designs and ornate structures, and it was a major cultural force in many European cities – including Ljubljana.
Today, you can see remaining structures from this period all over town, including two particularly striking structures.
Hauptmann House dates back to 1873, but it got an artistic renovation in 1904, resulting in the bright green ornamentation that still draws visitors today.
And don't miss the charms of Vurnik House, now serving as a bank building, which is festooned in wild, colorful murals that perfectly capture the creative spirit of the era.
15 – See amazing creatures (and learn all about them) at the Ljubljana Zoo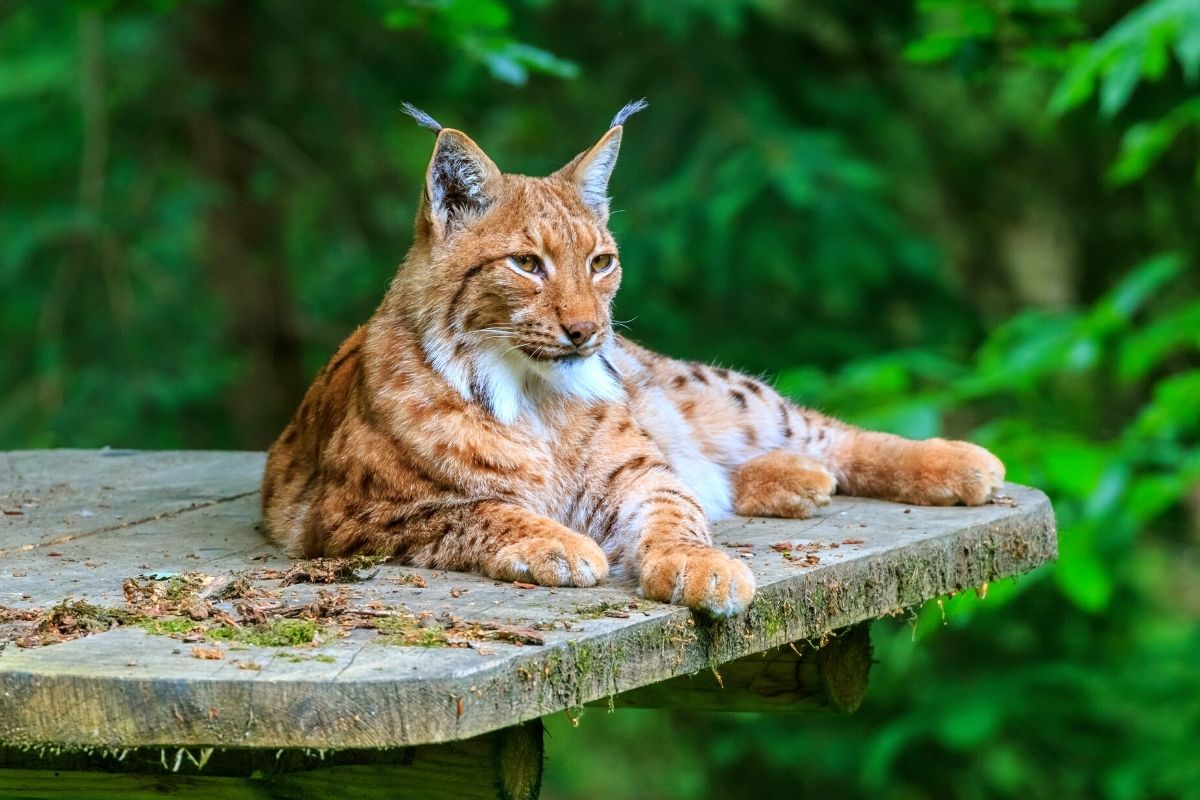 Animal lovers will find plenty to love at the fantastic Ljubljana Zoo, where you can get up close and personal with a cross-section of the world's coolest creatures.
Ostriches, cheetahs, wolves, kangaroos, and monkeys are just some of the 119 species that live here, many of which you can learn more about during feeding and education sessions.
And while there's definitely a joy in simply admiring the various critters, this zoo goes above and beyond, with a heavy focus on conservation and scientific research.
And if you're traveling with kids, be sure to check out the "zookeeper for a day" program, where your little ones can learn all about caring for the various animal residents – and even feed some of them!
16 – Take a soothing boat tour on the Ljubljanica River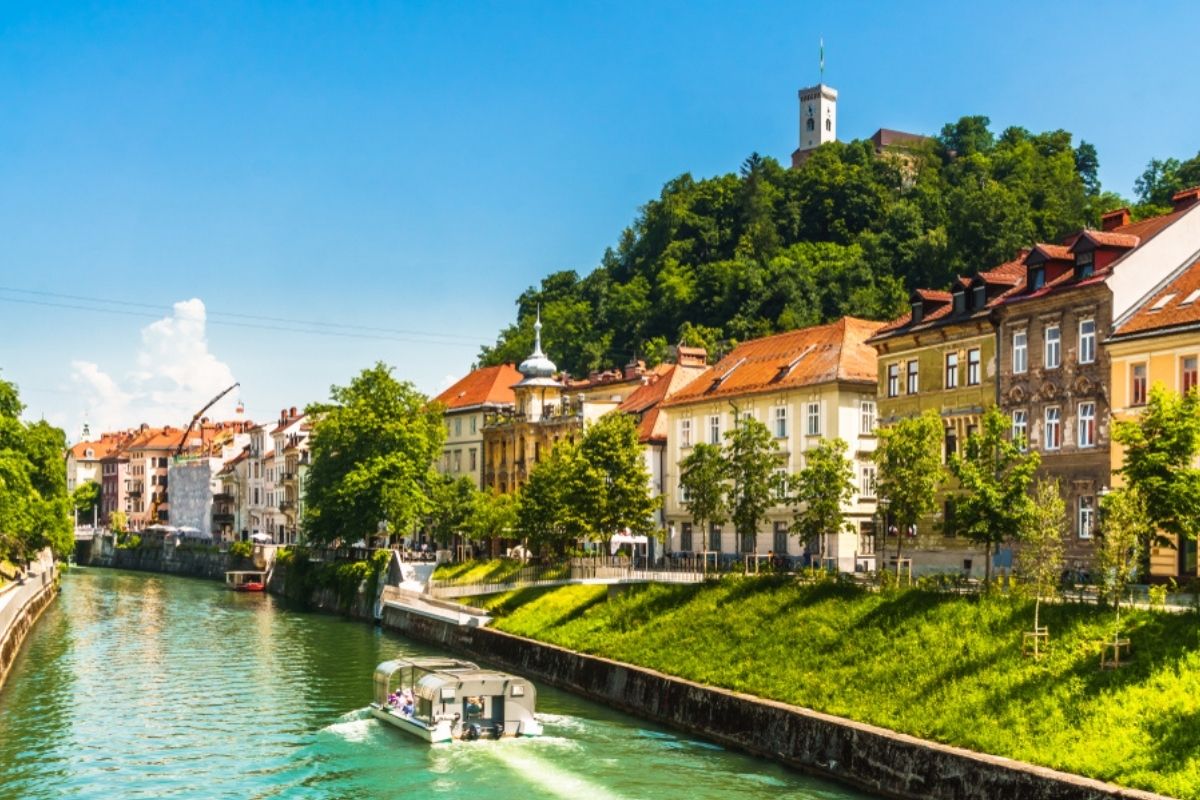 As the name suggests, the Ljubljanica River is a literal and cultural center of city life, running right through the middle of town.
Festooned with beautiful bridges and filled with archaeological treasures, it's a body of water that offers rich historical intrigue alongside its natural beauty. And there's no better way to admire it than on a boat tour!
A perfect companion to the local walking tours, this mellow, fact-filled cruise provides plenty of views and cool information, as well as a nice chance to appreciate the river more in-depth.
It's another wonderful way to explore the city!
17 – Get some beach time in with a trip to Piran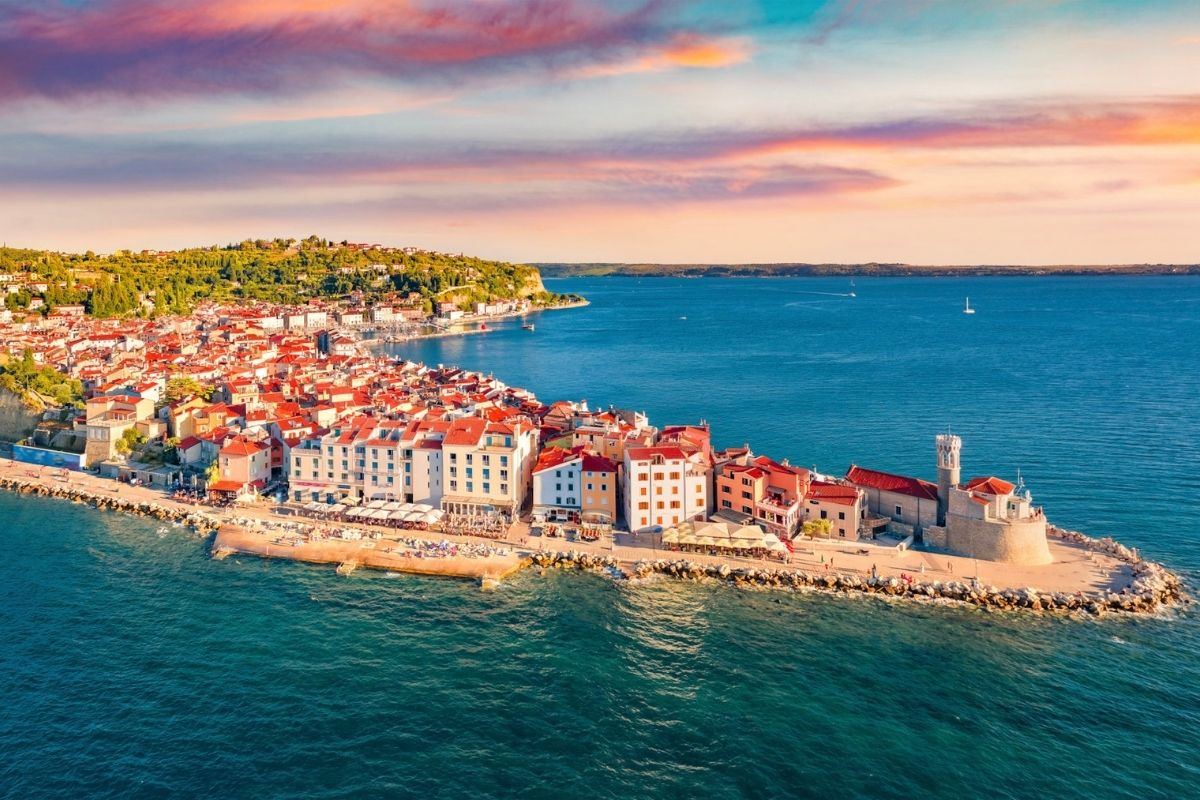 With its beautiful beaches, classic buildings, and laid back charm, Piran is an ideal place to soak up the wonders of the region.
Boasting plenty of well-preserved architecture and design details from its medieval days, it's the perfect place to hang out, enjoy delicious regional meals, and wander around to admire the many churches and historic residences around the main square.
If you like what you see, you can keep on exploring the other wonders of the Slovenian coast, with lovely towns and stunning seascapes offering plenty of fun in the sun!
18 – Brush up on the recent masterpieces at the Museum of Modern Art Ljubljana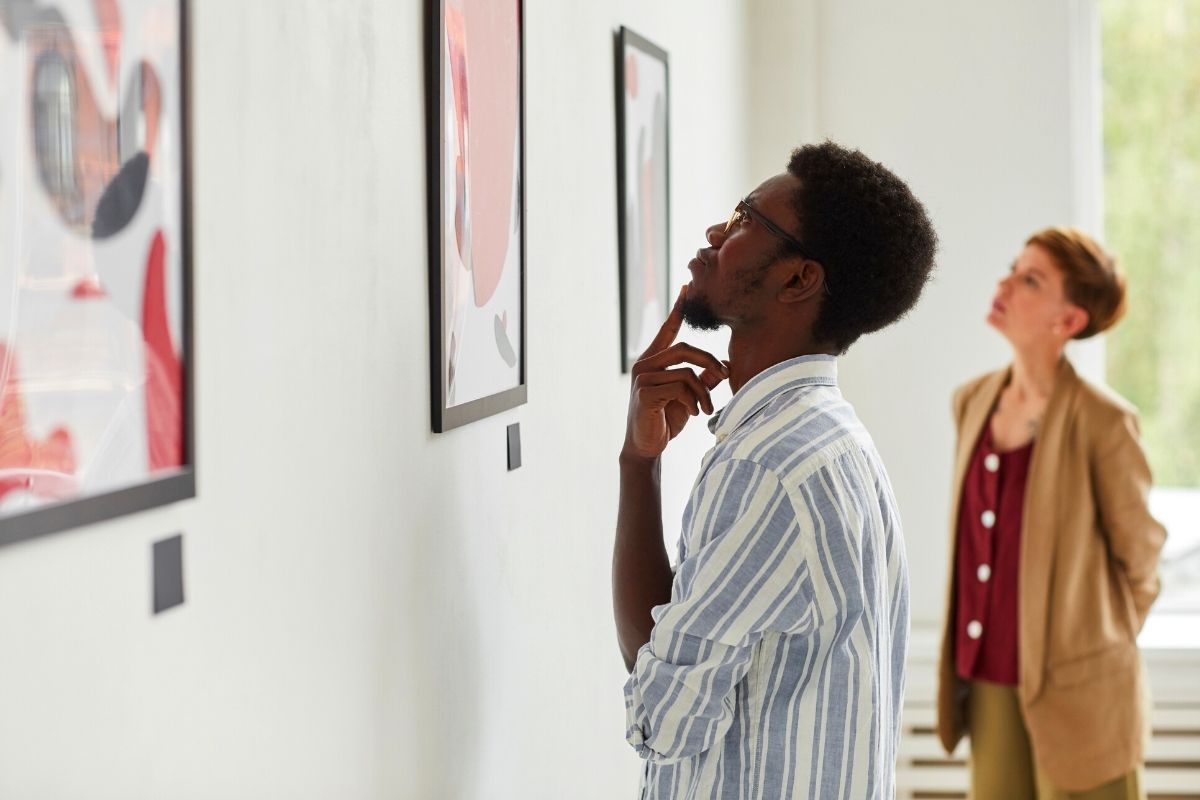 For a more contemporary take on the local creative scene, check out this marvelous space! Filled with pieces from the 20th and 21st centuries, it offers all manner of fascinating pieces, many by Slovenian artists.
The Museum of Modern Art Ljubljana also focuses on diving deeper into the works and movements themselves, with a mixture of educational activities and research opportunities to help visitors see beyond the canvas.
It's a wonderful place to get a little cultured!
19 – Explore the wider area on some bike tours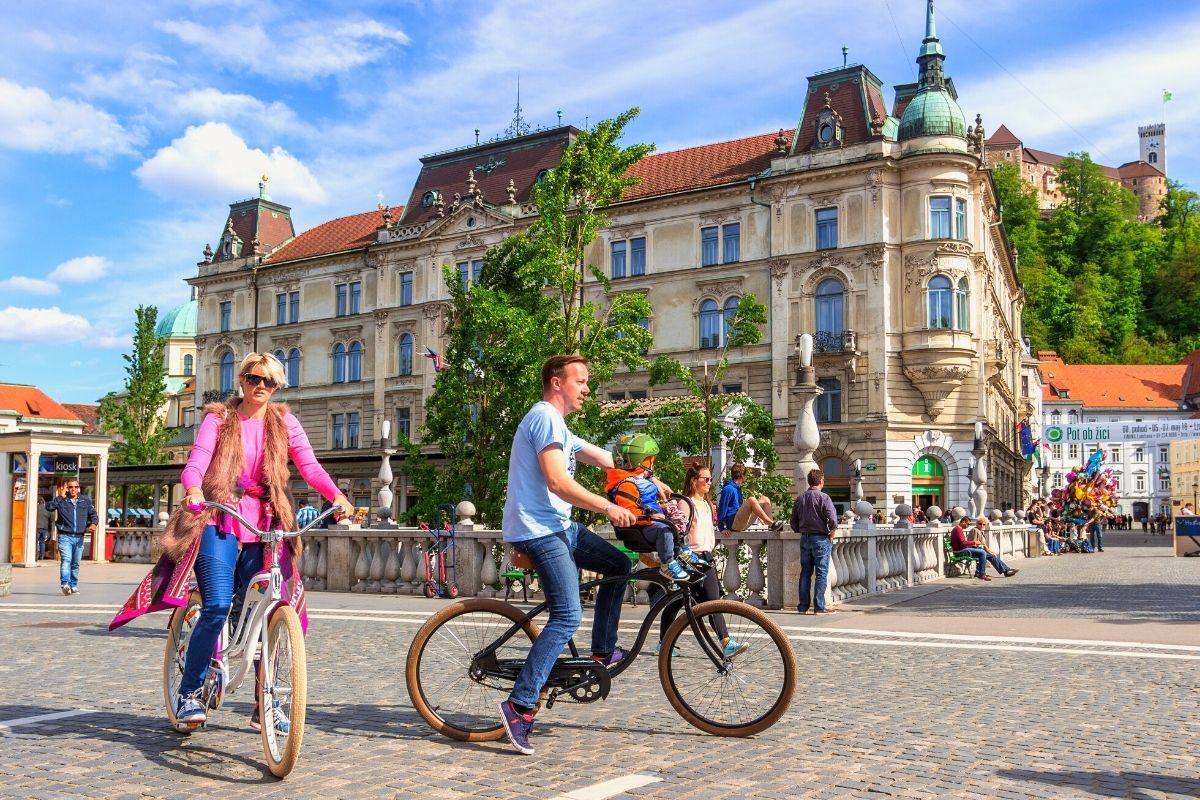 Another lovely and leisurely option for sightseeing, bike tours are the perfect way to explore some of the scenic areas just outside of town. From gorgeous lakeshores to the lush marshes that form an ecosystem all their own, there's no shortage of attractive scenery to absorb as you pedal along.
There are even multi-day excursions if you really want a bike's eye view of the country! And if you're pressed for time, you can always take the tours in the capital itself; it's a great way to explore the city streets!
20 – Shop and sample your way through Central Market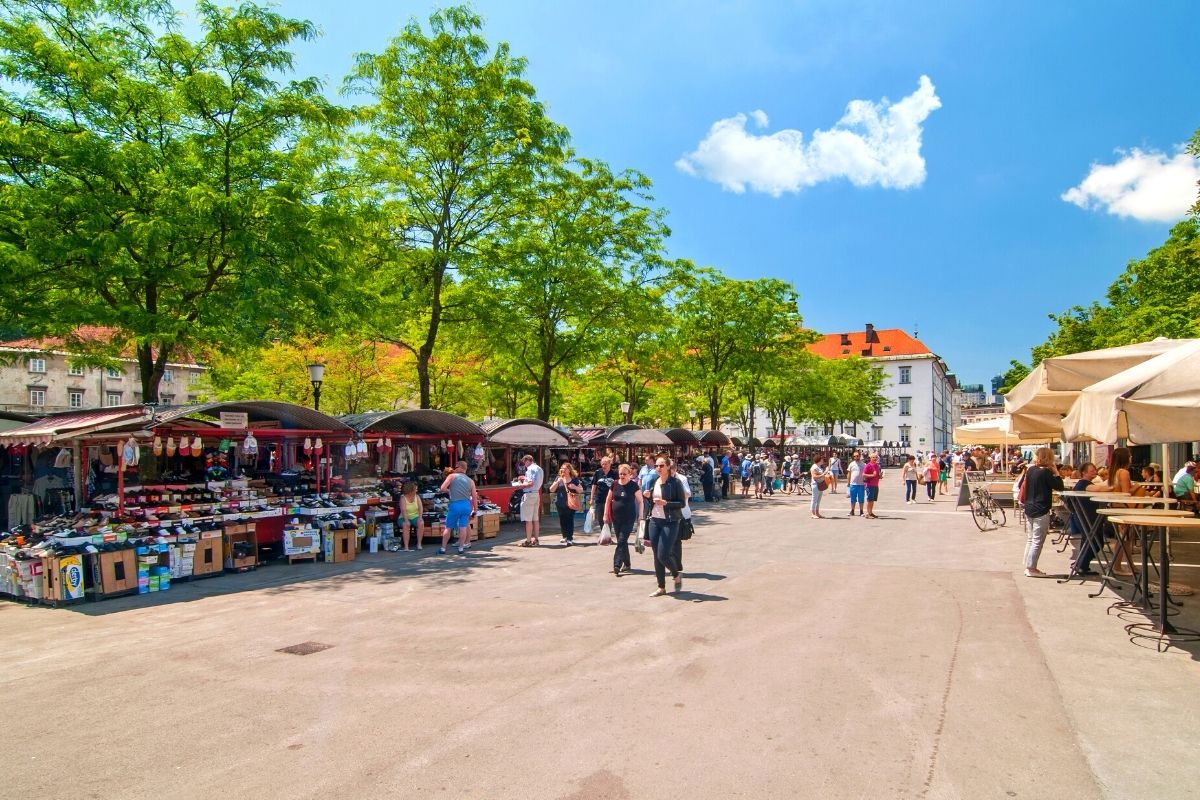 If snacking is a vital part of your trip, you'll love winding through the stalls at Central Market!
Not only does this massive maze of vendors offer some of the freshest and most delicious foods around – from produce and meats to fish, fruits, and cheeses – but its popularity with the locals makes it an attraction in and of itself.
Stop by to sample some sweet and savory delights, as well as cuisine from around the world, all expertly prepared by some of the city's top chefs. It's one of the liveliest things to do in Ljubljana!
21 – Dive deeper into the capital at the City Museum of Ljubljana (Mestni muzej Ljubljana)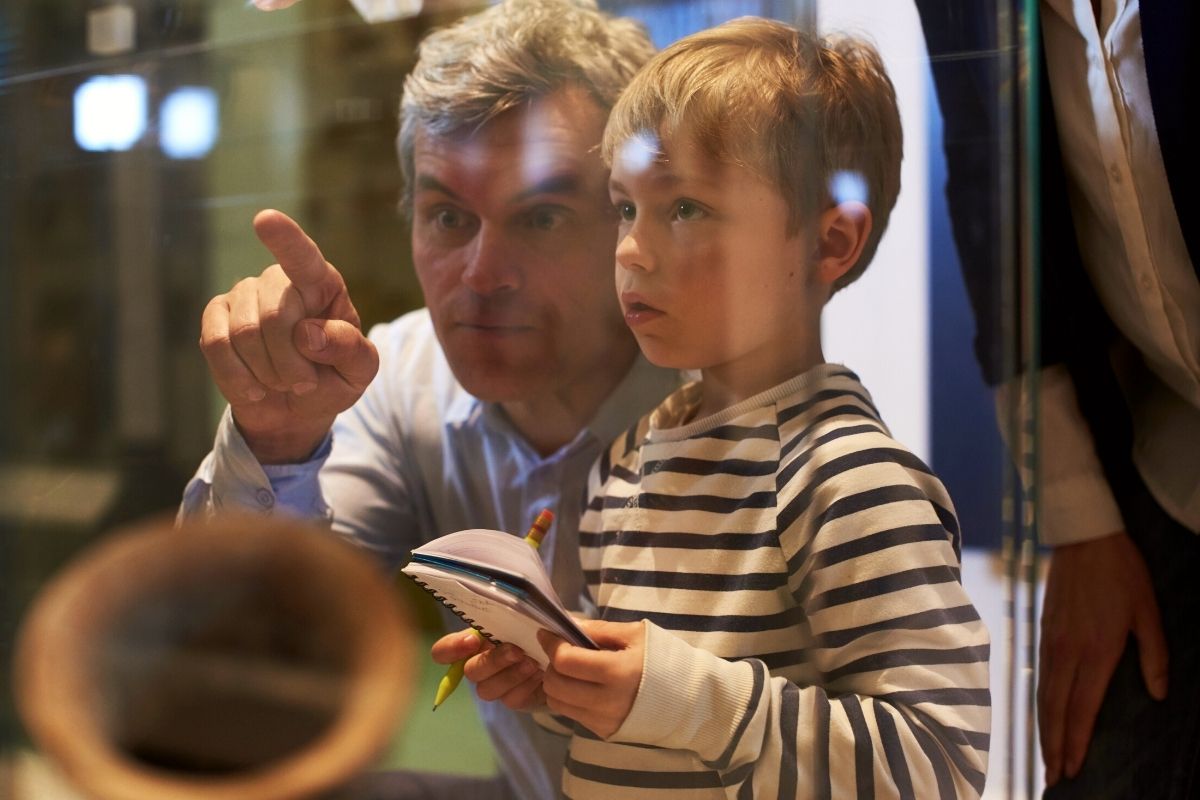 Packed with history, cultural artifacts, and beautiful artworks, the City Museum of Ljubljana is the kind of place that redefines what a museum can be.
Housed in the magnificent Auersperg Palace – which once home to one of the country's renowned royal families -, the museum's collections are a smorgasbord of culture, dating all the way back to prehistoric civilizations!
Give yourself plenty of time to enjoy these spectacular holdings; from documents to fascinating items from previous tenants of the ancient eras, each piece tells part of the story of the city – including the venue itself!
22 – Wander through the magnificent Škocjan Caves on a Karst Region day trip
Back in the subterranean world, you can check out the massive wonderland of Škocjan Caves – the largest system of its kind in Europe!
Follow the winding path of an underground river as you gaze at remarkable rock formations, gently cascading waterfalls, and even an  enormous underground canyon!
You'll truly feel like you're on an alien planet – and you'll love every second of it!
And that's just one of the many delights you'll experience on a trek through the Karst Region, including the historic town of Štanjel and some marvelous views of the aboveground variety.
23 – Stop and smell the flowers (literally) at the Ljubljana Botanical Garden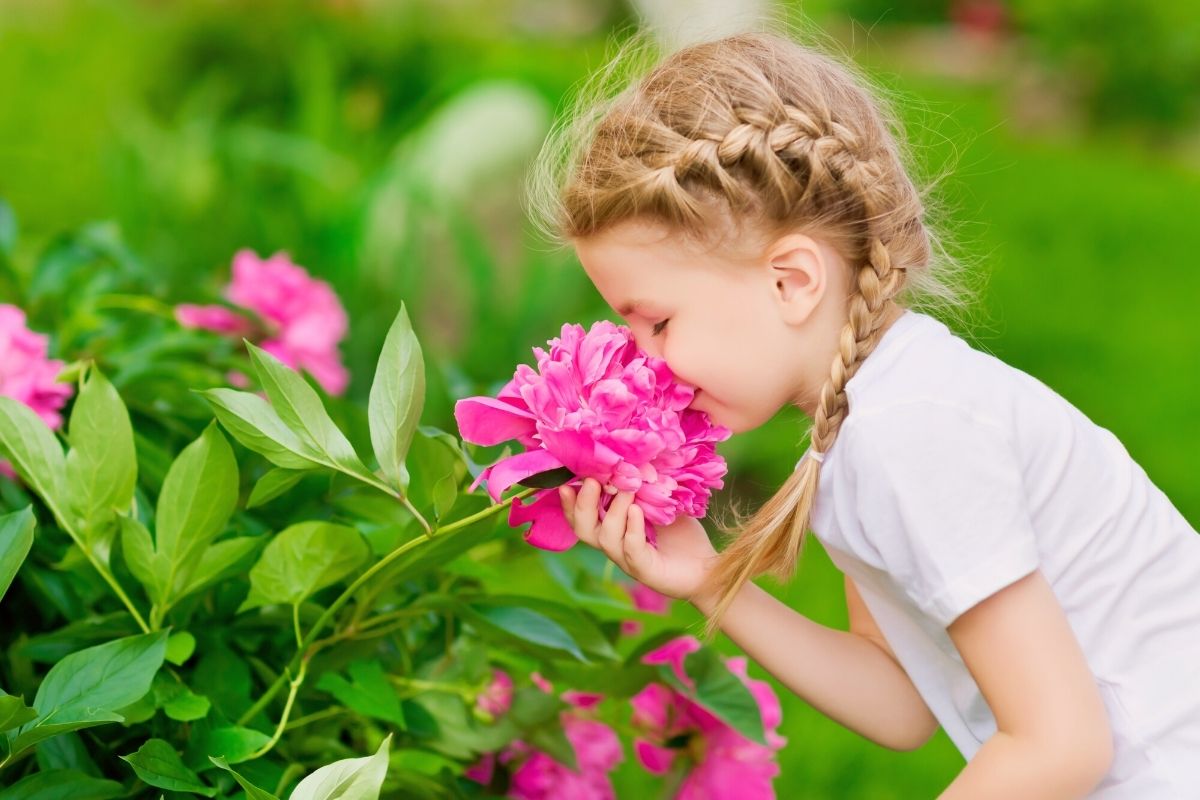 No matter the season, you can expect beautiful blooms and peculiar plants at the Ljubljana Botanical Garden.
For over 200 years, this beloved spot has been drawing visitors from all over town – and the world! – with its gorgeous mix of flora.
Stroll through the spectacular greenhouses, which are home to some remarkable tropical specimens; they'll make even the bleakest winter days feel warm!
Then take some time to check out the thousands of other diverse species scattered throughout the grounds, from cacti and colorful flowers to beautiful native trees.
24 – Channel your inner scientist at The House of Experiments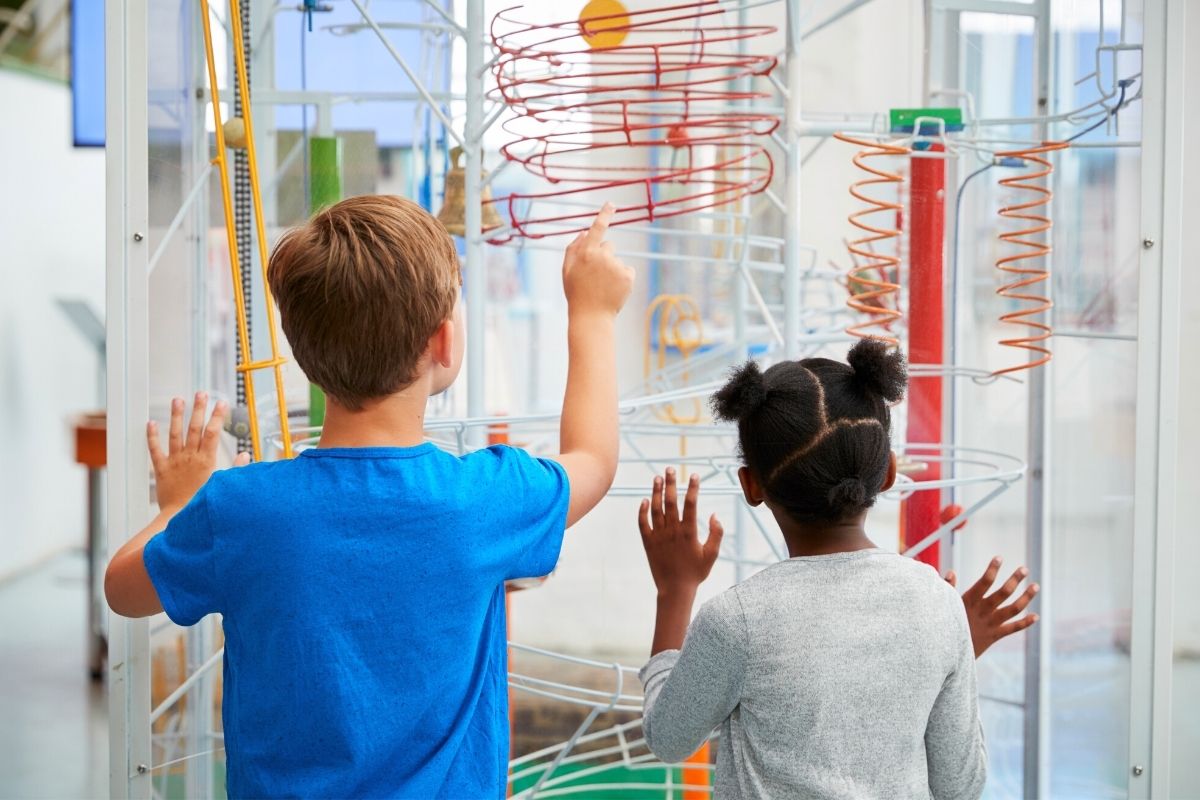 If you want to keep your youngsters entertained – and have a little bit of fun yourself! -, tap into your inner mad scientist at The House of Experiments!
With more than 60 different exhibits, this dynamic science museum is a great place to learn and grow, no matter your age! Mix and match chemicals, race around on virtual bikes, or use interactive areas to explore everything from ecology to medicine.
There are also tons of great demonstrations and shows throughout the day, so keep an eye on the schedule and check out some awesome scientific moments in action!
With hands-on engagement at every turn, it's a wonderful family-friendly outing!
25 – Try some action-packed rafting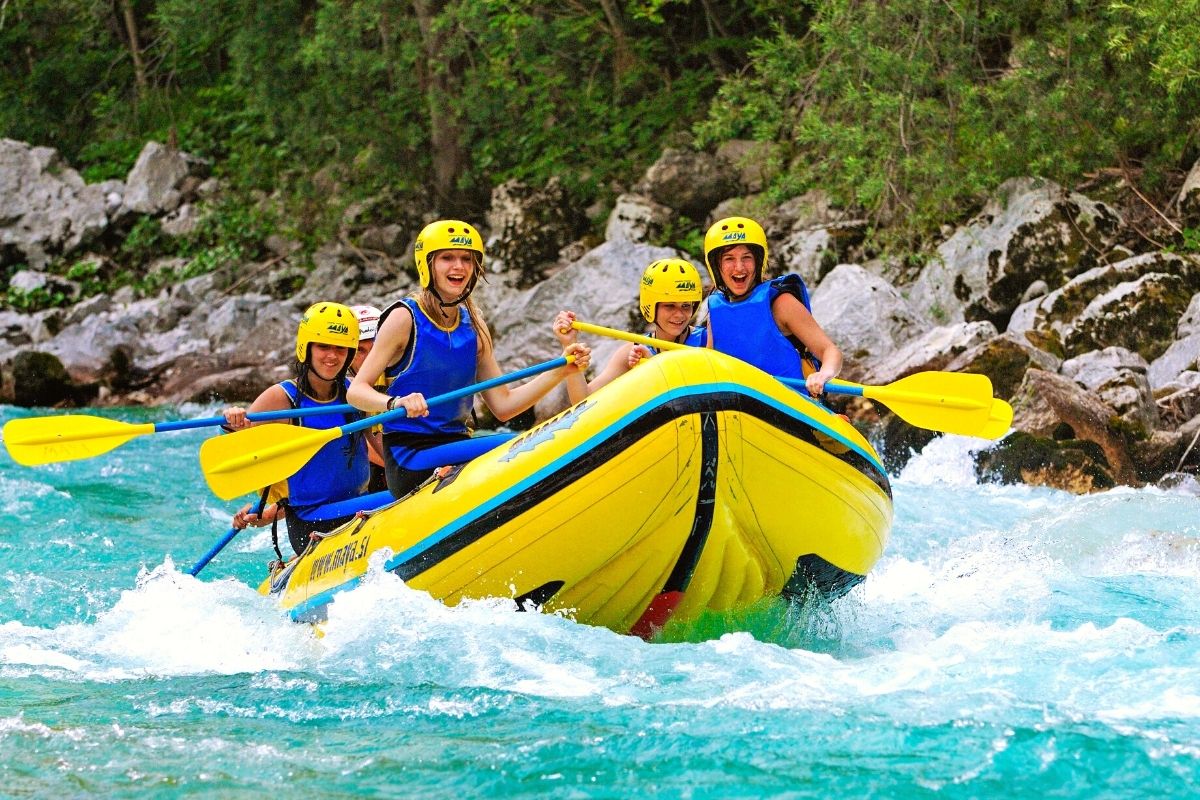 After all of those beautiful, peaceful lakes, you may be ready for some more adventurous watersports. Luckily, there's tons of great rafting in the area to your pulse racing!
No matter how much experience you've had navigating rapids, there are some great trips in store for you, including a great mixture of wild currents and mellower stretches where you can enjoy the magnificent scenery.
Check out the Class II-IV waters of the Sava River, which winds through thick stretches of old-growth forest as it dips, drops, and bubbles, promising a wonderfully wild ride.
Or soak up the vibrant colors and equally impressive views of the Emerald River, where craggy rock formations, open meadows, and soaring mountain ranges make for an incredible vista as you paddle.
You'll feel like a proper river rat by the time you're through!
26 – Picnic, play, and learn like a local at Tivoli Park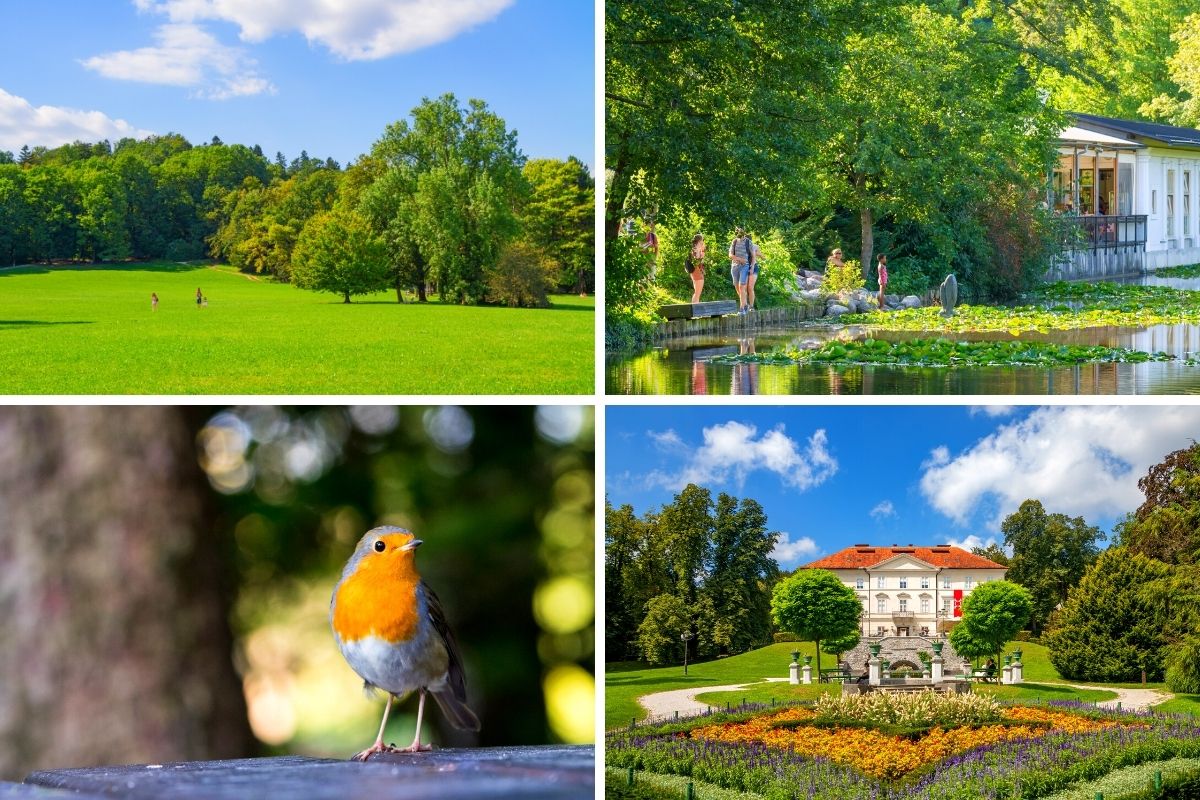 If you want to try a bunch of the best things to do in Ljubljana all in one place, grab your best walking shoes and head over to Tivoli Park!
As the largest and most beloved green space in town, it's an iconic piece of public life, and has plenty to offer for visitors as well. Stroll under the shade of chestnut trees past rows of colorful flower beds, keeping an eye out for any number of decorative statues and fountains along the way.
Or let your kids blow off steam on some of the many playgrounds, then unwind with a picnic at the ornamental ponds. And when you're ready to head inside for a while, there are two world-class institutions worth checking out.
At the National Museum of Slovenia (Narodni muzej Slovenije), you can admire everything from suits of armor and religious sculptures to historical documents and instruments built by Neanderthals!
And at the International Centre of Graphic Arts, you can delve into the world of contemporary creativity, with the country's biggest catalog of post-World War II artworks, including thousands of prints from the best modernist artists in Europe.
This spectacular park is practically a vacation in its own right!
27 – Taste the culture on a food tour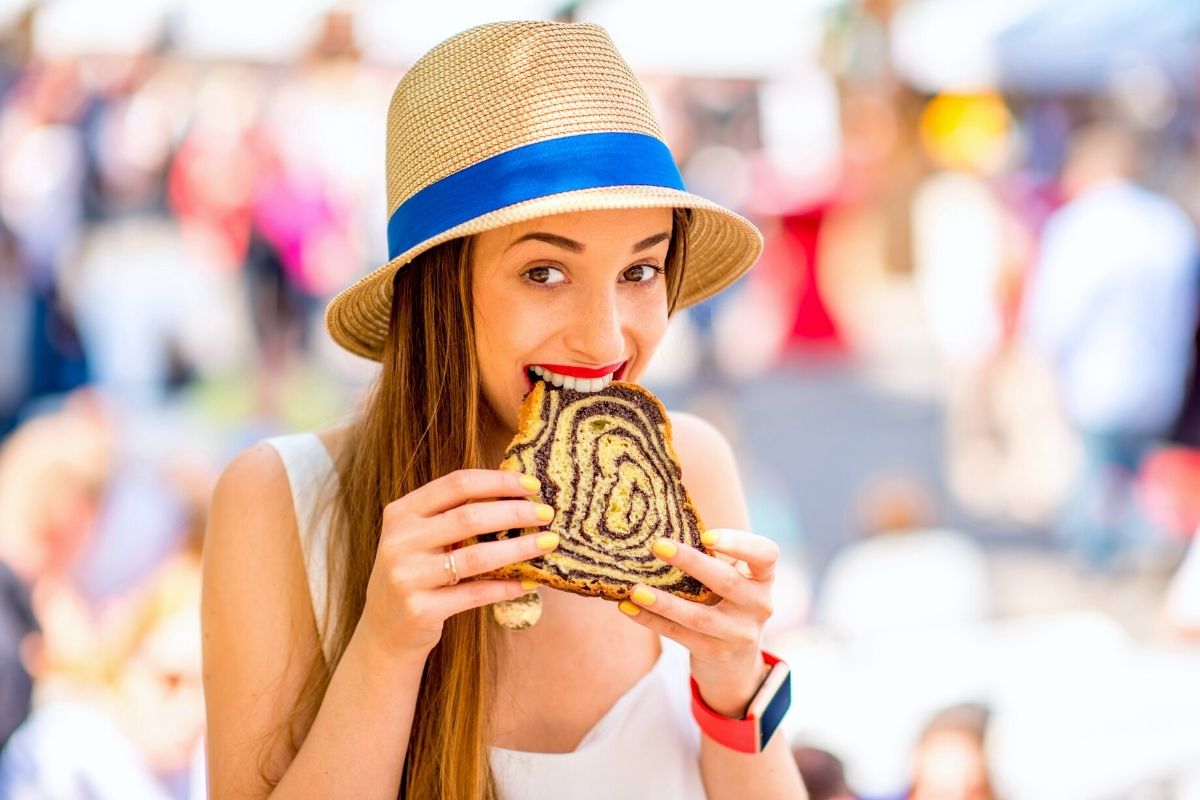 As you wind through town, be sure to save some time for a snack – or several! Food tours are one of the best ways to engage with the local culture, with delicious meals as part of the bargain!
Stroll through prominent markets and public squares, sampling local delicacies as you soak up the ambience of the area. From savory sausages and fresh local honey, each bite offers its own unique flavor and cultural lesson – a truly stellar blend!
And if you'd like to add more to your trip, there are plenty of combo tours available! Sip some regional wines, or earn your calories with a hike beforehand. Whichever option you go with, delicious bites are guaranteed!
28 – Indulge in some fun and games at WOOP! Arena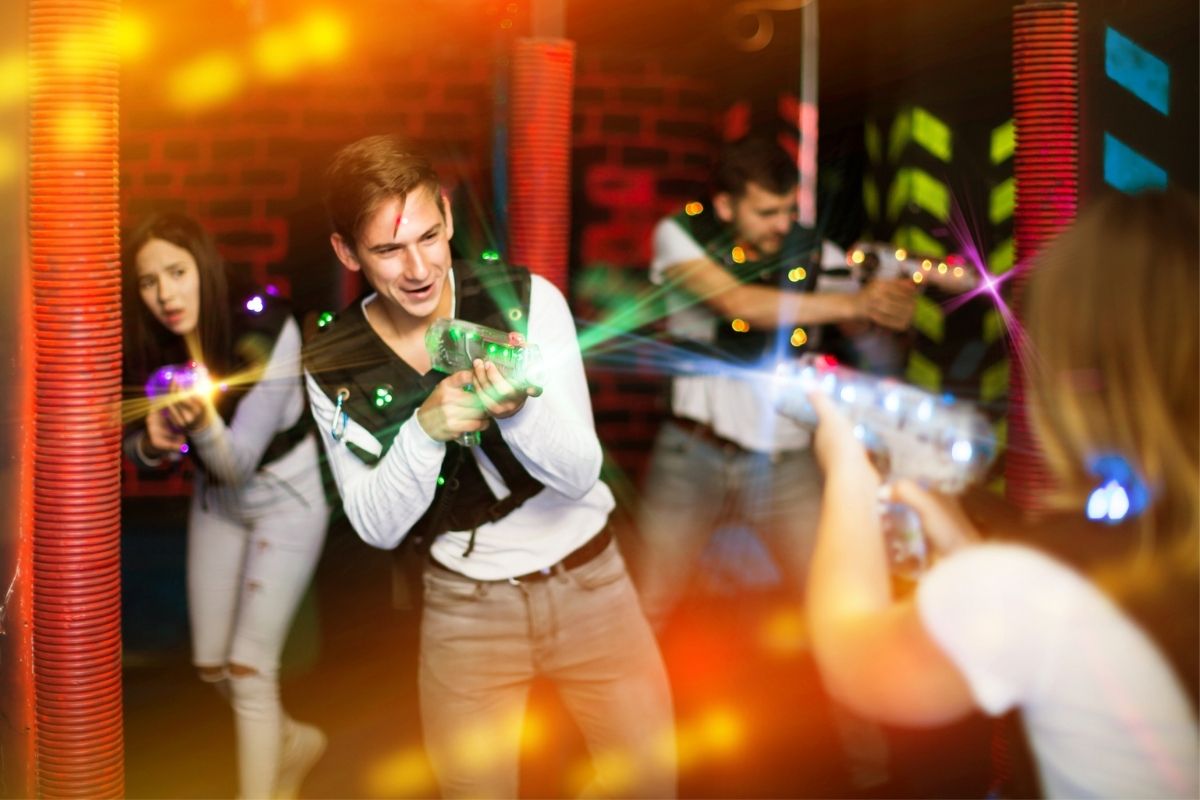 With a name like WOOP!, you're pretty much guaranteed a good time! This wacky family fun center truly offers something for everyone, with games and activities that will keep you on your toes.
Zoom around on go-karts, or enjoy some surreal fun with a round of glow-in-the-dark mini golf. You can also bound across rows of trampolines, explore new worlds in the VR section, or enjoy some fast-paced interstellar action with a laser tag session.
With attractions spread across four locations around the city, the entertainment possibilities are endless!
29 – Search for some unusual keepsakes at the Sunday Flea Market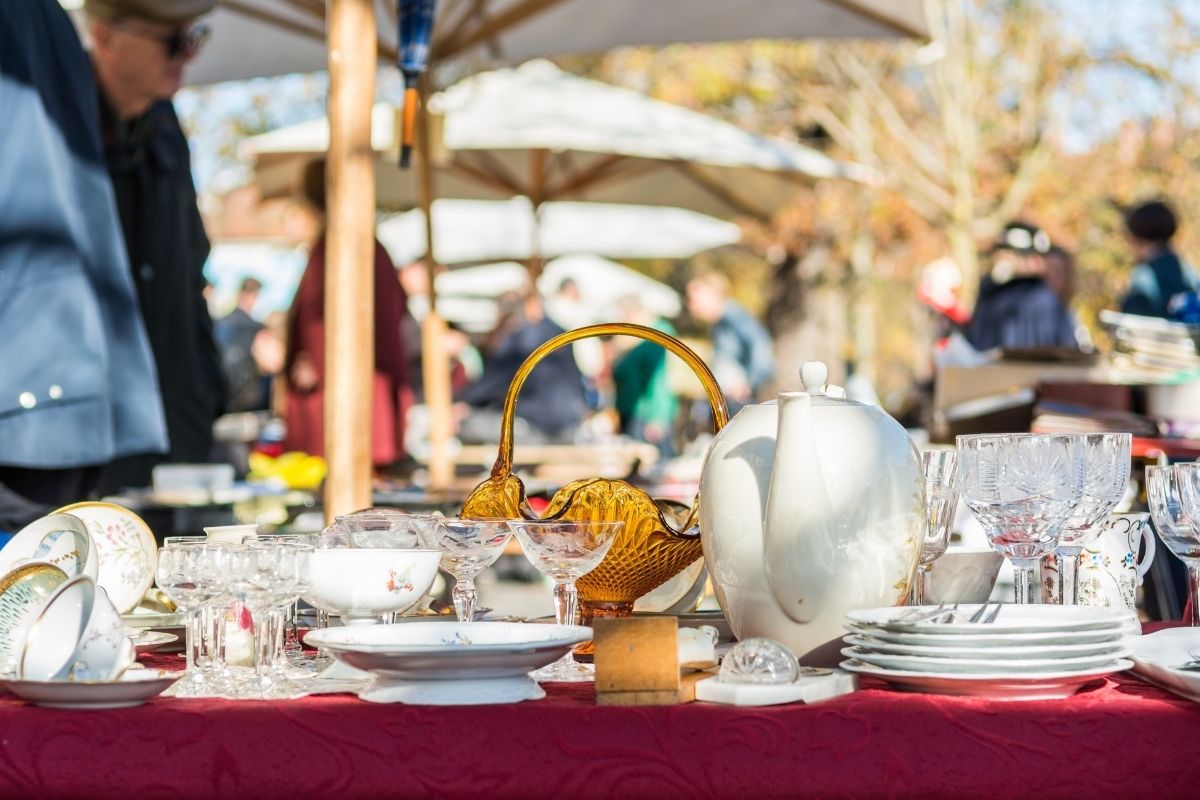 A staple of weekend life in the city, this bustling commerce hub is great for casual browsing and serious shopping alike! It's especially famous for its more historical offerings, with some top-notch antiques from all over the region on display.
Rare stamps, antique furniture, and diverse knick knacks that defy description are just some of the treasures on display here, and each week yields new and exciting finds.
If you really get sucked into the shopping, there are tons of other open-air markets throughout the week, including a popular art fair on Saturdays.
30 – Soak, slide, and more at Atlantis Vodno Mesto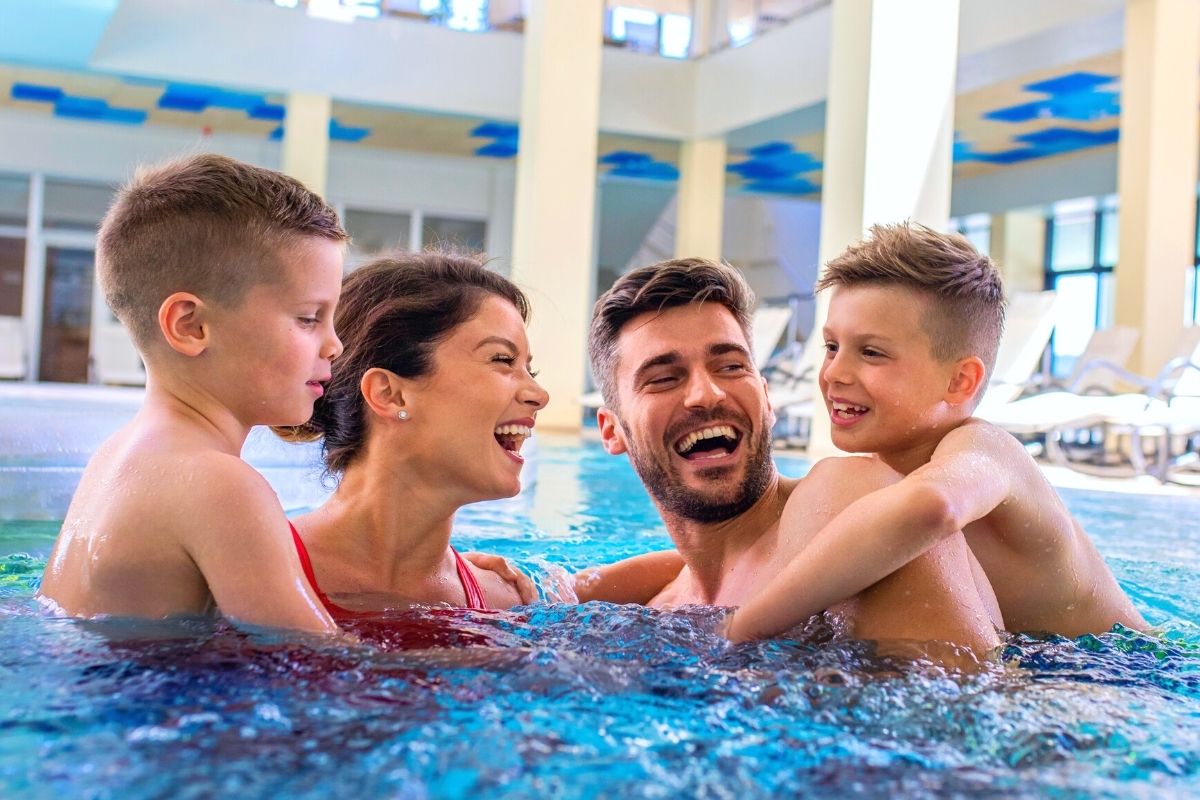 For a nice blend of the action-packed and the relaxed, you simply can't beat the magic of Atlantis! The main attraction here is the spa section, with top-notch massages, a variety of saunas, and plenty of other places to relax and pamper yourself.
But with its plethora of swimming areas, it's a great stop for families, too! Practice laps in the pool, whoosh your way through the waterslides, or watch your little aquanauts frolic in a variety of splash play areas and kid-friendly pools.
It's the perfect place for everyone in the family to make a splash!
31 – Take a jaunt to Maribor
With its mixture of cosmopolitan charms and pristine vineyards, Maribor is a must-see when visiting Slovenia!
Unsurprisingly, the vino is the big draw in the country's second-largest city along with the sightseeing, many of these trips include tours through some of the local wineries, where you can learn all about the cultivation of the crop – and sample some pretty delicious results!
These tours also include a stop in Ptuj, Slovenia's oldest town; with its beautiful castle and remarkable historic buildings, it offers a fascinating glimpse into the nation's illustrious past.
32 – Hop from booth to booth at Open Kitchen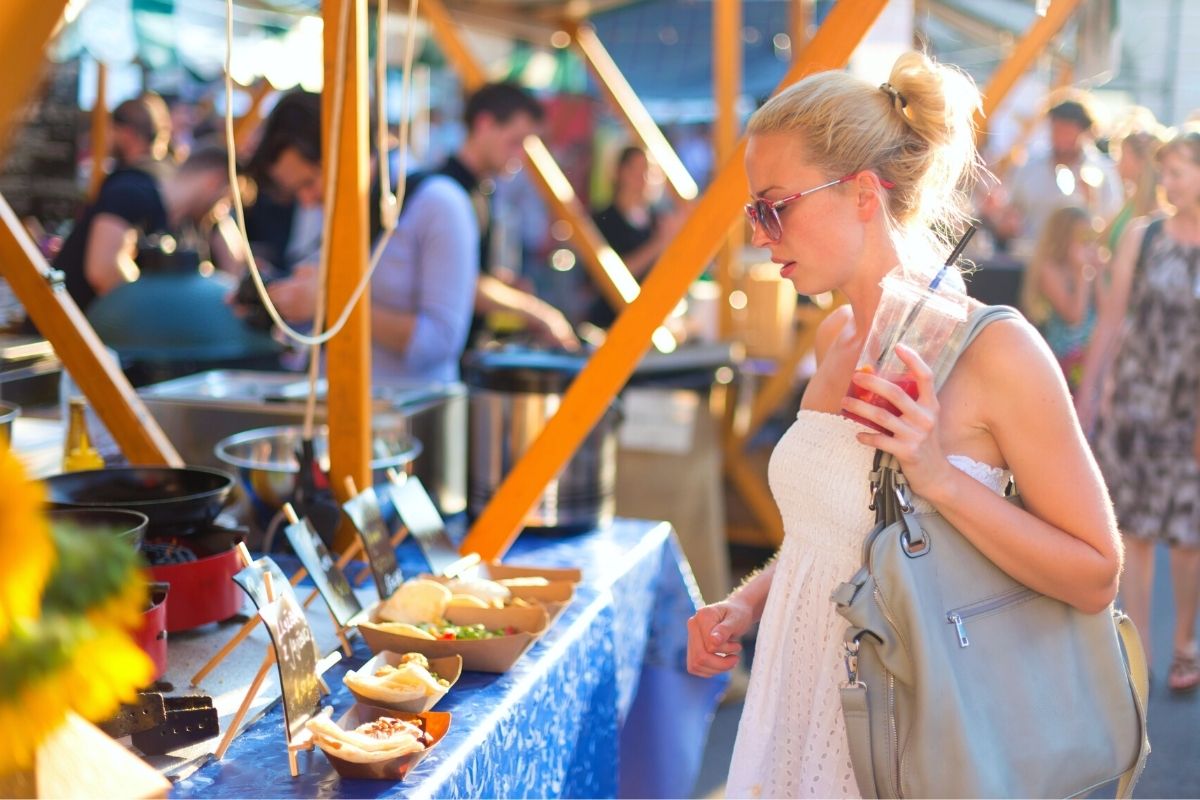 If all of those culinary tours left your mouth watering for more, don't miss the iconic street-food festival – Open Kitchen!
Held every Friday in Pogačarjev Square, the market features high-end culinary experiences from all over town, with a nice mixture of traditional dishes and unique fusion offerings.
With a focus on "gourmet street food," you can be sure that any dish you try will be top-notch, with a casual flourish – and best of all, it benefits the local community!
33 – Peek into the Plečnik House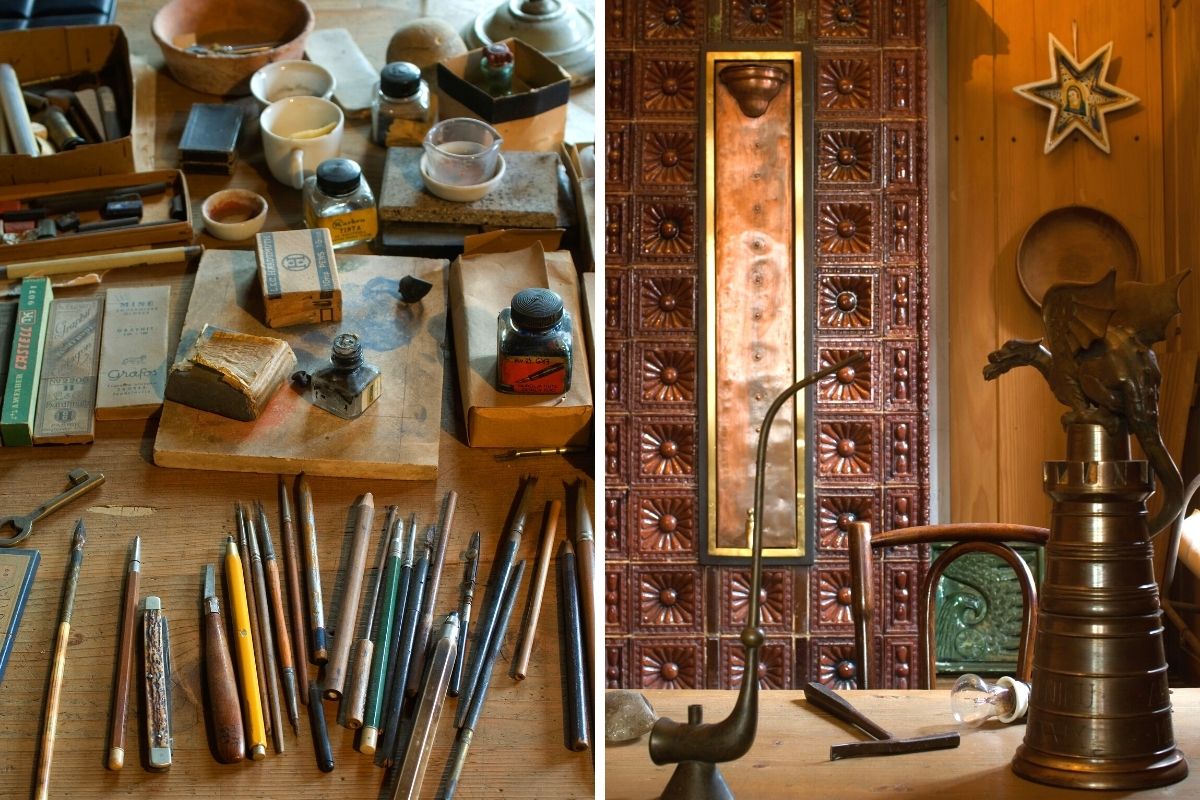 Another historical residence with oodles of stories, this gorgeous residence sits at the juncture of history and design in the city.
As the former home of local architect Jože Plečnik, the Plečnik House is filled with authentic items and furniture from his years inhabiting the space, as well as fascinating exhibits that chart the course of his life and career.
Explore the perfectly preserved rooms and lovely grounds, and get an in-depth glimpse into life in the city in the early 20th century, as seen through the eyes of one of its most prominent citizens!
34 – Kick back and people-watch at Congress Square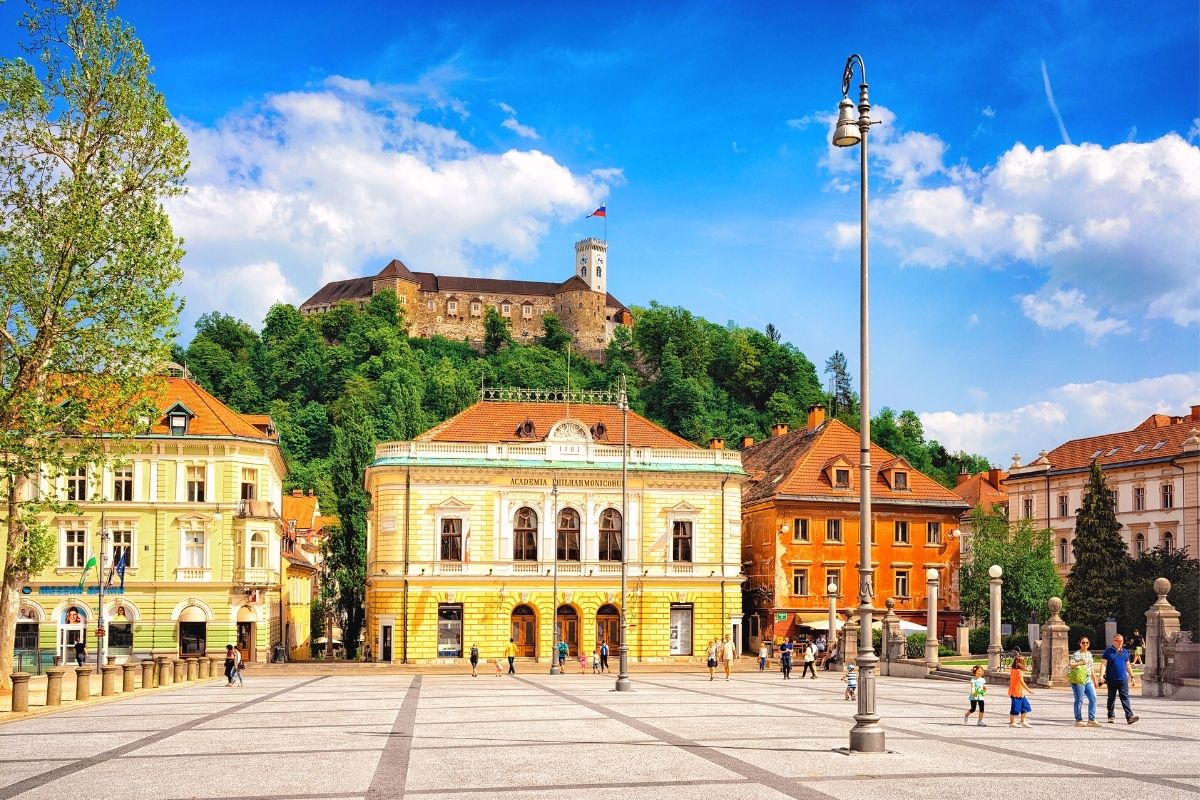 Originally established in 1821, this is another great place to enjoy the conjunction of culture, history, and local life. A spacious public green offers lots of spots to stroll and relax, while the surrounding buildings provide great views and fascinating stories in every brick.
It provides particularly great views of Ljubljana Castle, which is even more impressive when seen as part of the larger cityscape. And with tons of concerts and festivals taking place in the area throughout the year, there's always something exciting to see.
35 – Find fabulous fossils at the Natural History Museum of Slovenia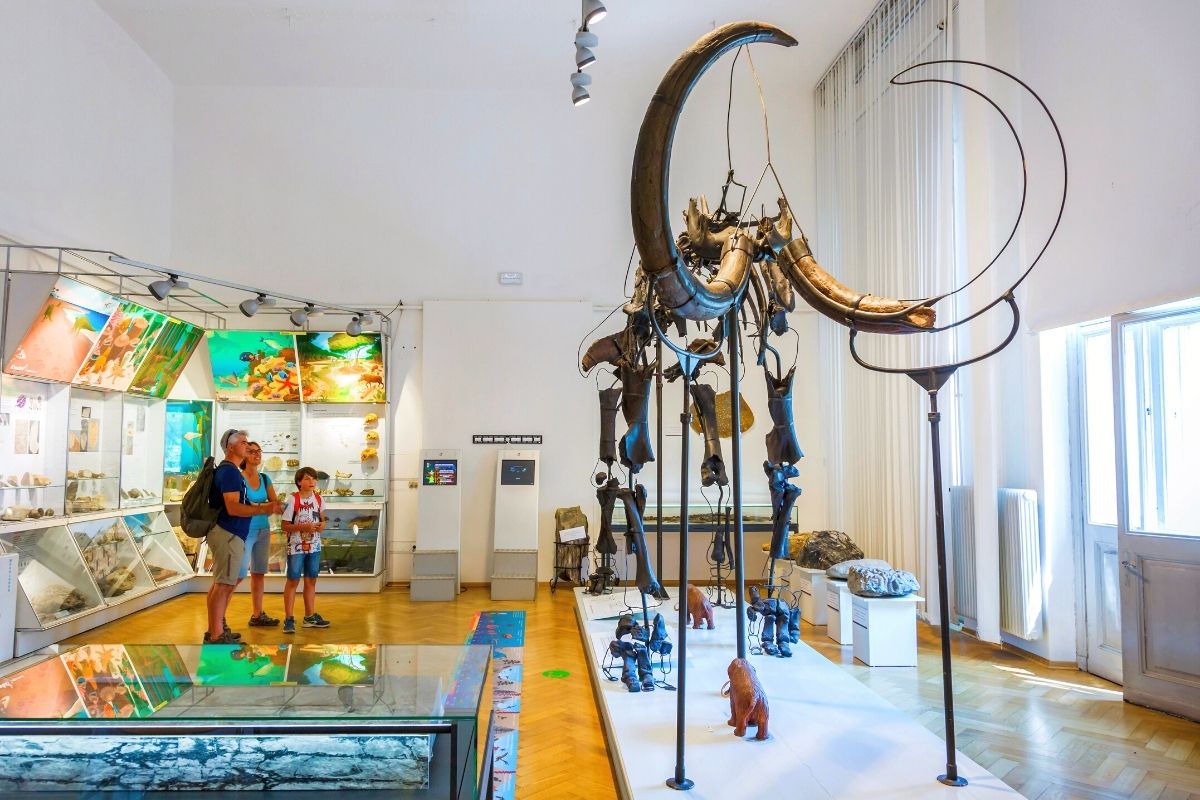 If your trip to the zoo left you wanting more animal action, check out the impressive collections at the Natural History Museum of Slovenia! From taxidermied reptiles to massive mammoth skeletons, it's the perfect place to explore the natural wonders of the past and present.
Be sure to check out the reconstructed Slovenian environments when you visit; from the forest to the swamp to the high mountain ranges, it offers an incredible glimpse into the biodiversity that makes the country such an outdoor adventure powerhouse… and offers plenty of inspiration for your next excursion!
36 – Skip the plane and try indoor skydiving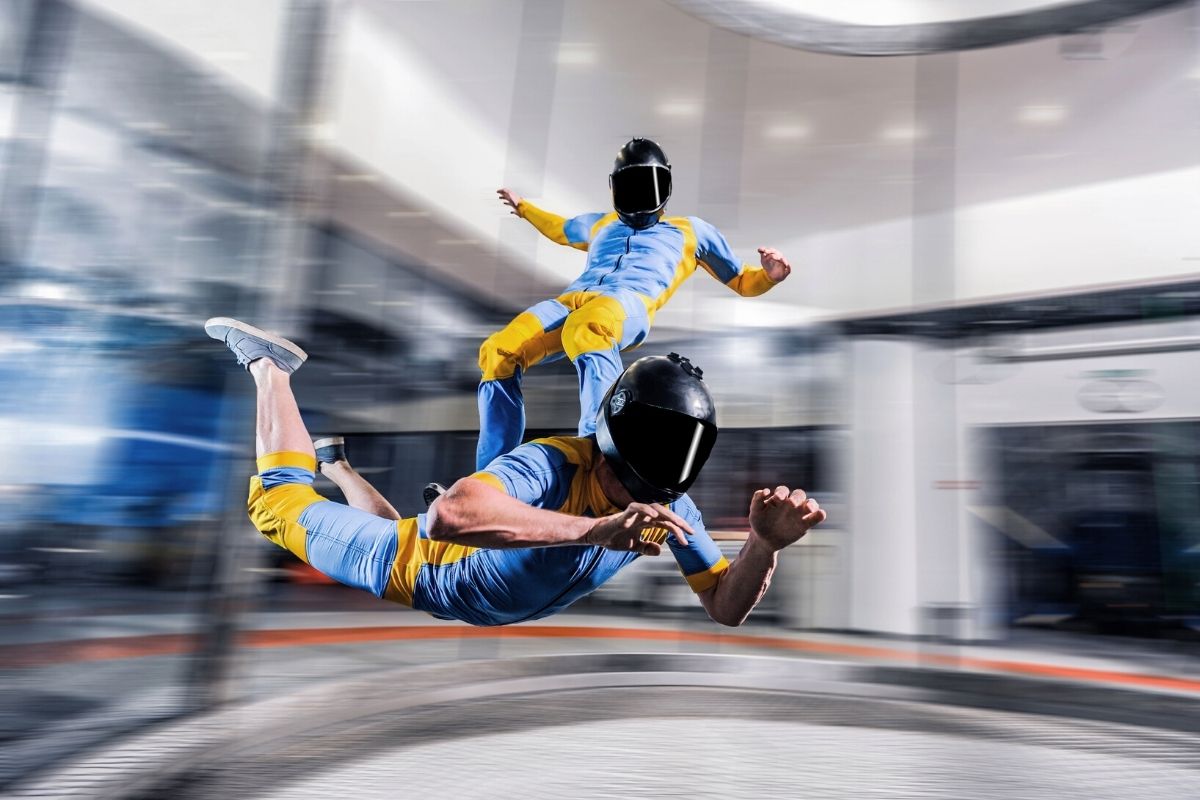 If you're looking for another unusual adrenaline-based activity, strap on a suit and embark on a round or two of indoor skydiving! This unusual and addictive sport offers all of the thrill of a big leap… without having to hurl yourself out of an actual plane!
After a quick briefing, you'll enter the main chamber and achieve the sensation of flight, courtesy of the massive fans below you. It's a unique and thrilling adventure, and a great way to practice the sport!
37 – Enjoy a relaxing wine tasting tour
While wine tastings are often bundled with other excursions, they also make for a great adventure in their own right!
With centuries of viticultural excellence, the region has become known for its high-quality strains of wine, and your tour will offer the chance to compare and contrast several varieties.
Along with the delicious drinks themselves, you can enjoy a world-class info session about the history and culture of the area, as well as some spectacular views while you sip and nosh.
38 – Check out the industrial specimens of the Slovenian Railway Museum
The sound of the train whistle draws your attention. You see the steam cloud getting closer. And then, around the bend, chugs a… tiny train?
Yes, at Slovenian Railway Museum, you won't just learn about locomotives… you can even ride a scaled-down version!
Along with these pint-sized charmers, you can stroll around and admire full-sized, wonderfully preserved engines and cars, while also exploring the larger history of the Slovenian railroad system.
So listen for the toot, and climb aboard!
39 – Hunt for clues and knowledge with some scavenger games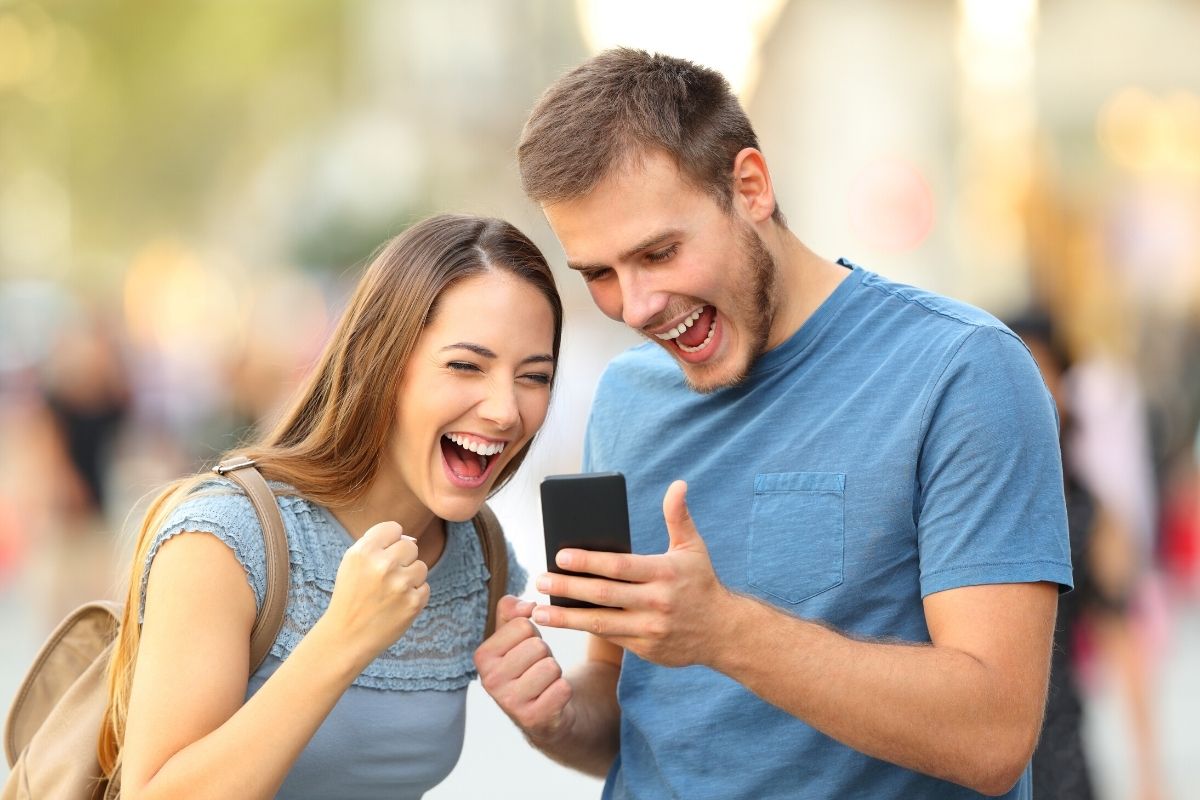 Inventive and interactive, scavenger games are a great way to explore the city, learning and having fun all at once! Several of the games are paired with audio tours, so you can receive a steady stream of additional information as you explore.
And there are also some adventures that focus around more specific themes, such as the city's eco-friendly side. If you've ever dreamed of trying to be a spy, now's your chance!
40 – Get a different side of the story at the National Museum of Contemporary History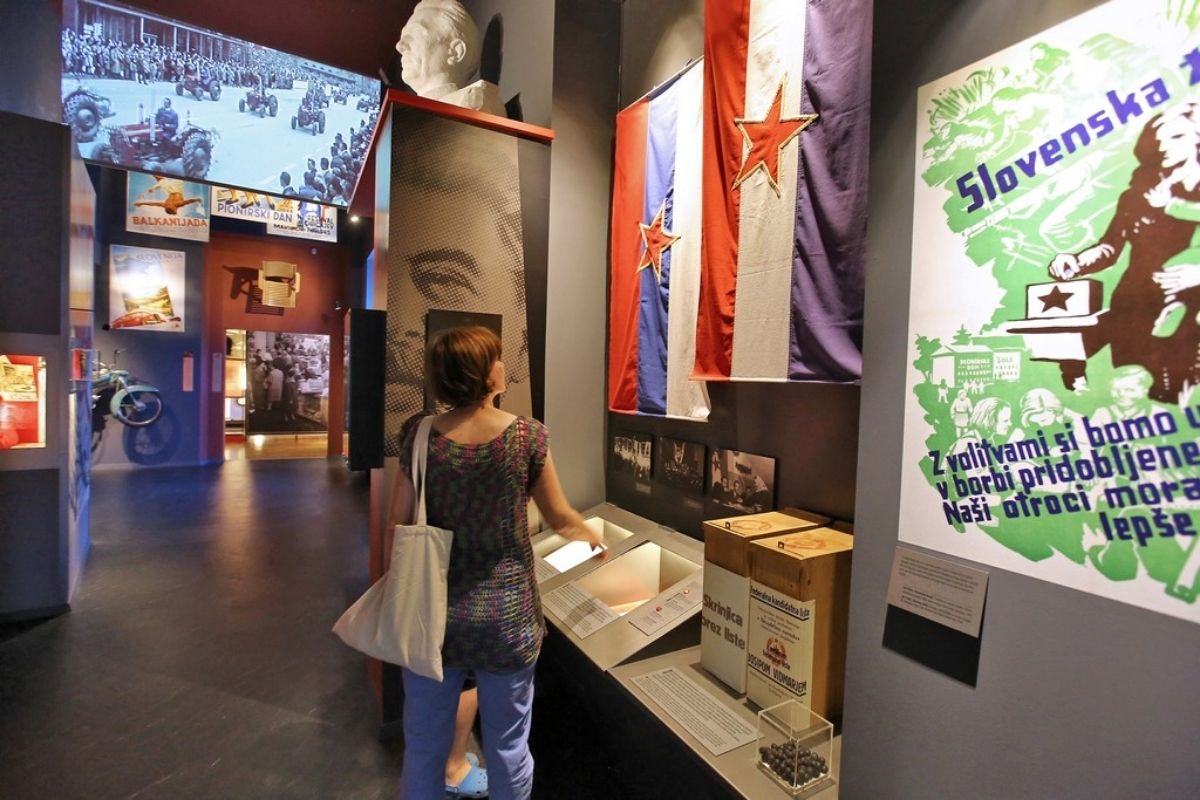 If you'd like a slightly more modern perspective on the country's political and social stories, don't miss this phenomenal museum!
Focusing on the massive impacts of the 20th century and beyond, the National Museum of Contemporary History showcases the fascinating developments in the country's culture and politics, from the wartime years to technological progress and seismic societal shifts
With a collection that includes everything from weapons and furniture to personal belongings from victims of concentration camps, you'll have ample opportunity to understand the nuances of that complicated era.
41 – Enjoy the smorgasbord of Metelkova Art Center and the street art scene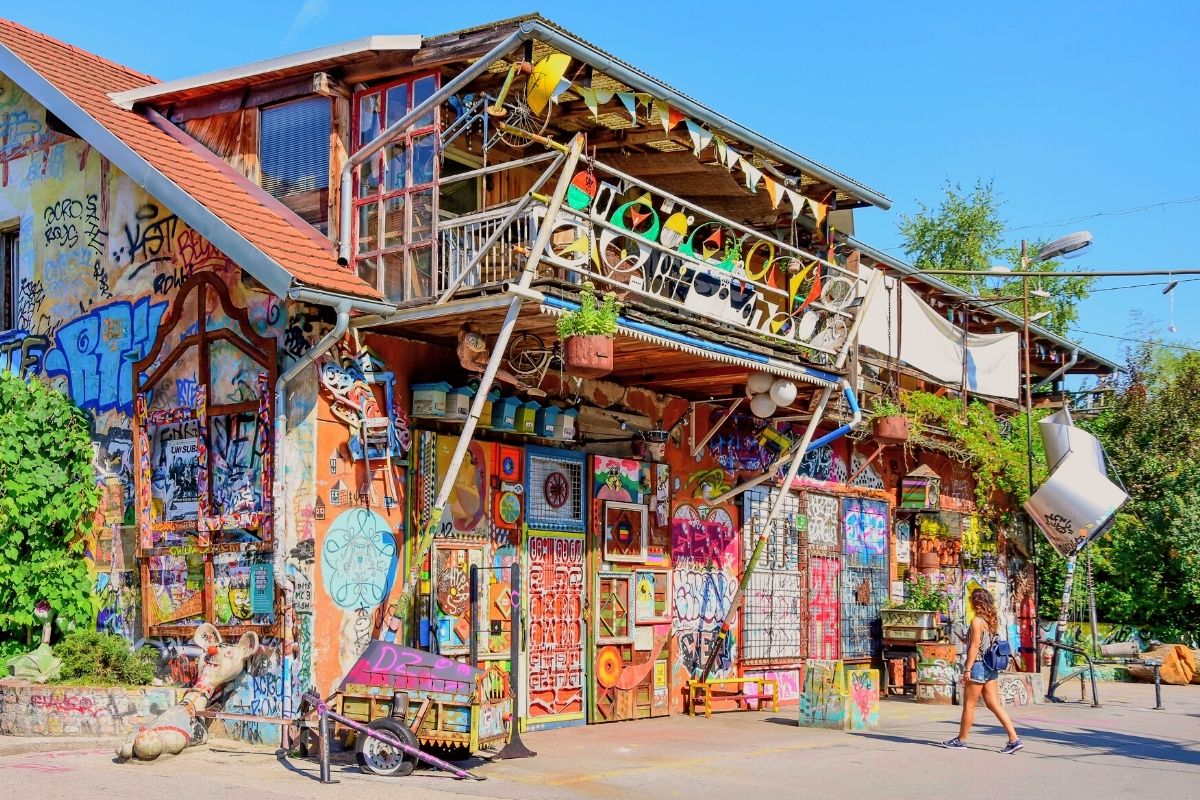 In a great example of creative repurposing, locals took some abandoned army barracks and transformed them into a thriving hub of art and endeavors.
From gallery shows and innovative programs to live shows, DJ sets, and unique performances, there's a never-ending smorgasbord of sights and sounds to enjoy at any given moment.
On top of all of that, it's a pivotal player in the city's vibrant street art scene; its walls are decorated with magnificent murals that echo the awesome pieces on buildings all over town.
Trubarjeva Cesta is another great place to explore some street art, with eye-catching pieces interwoven between traditional, elegant buildings.
42 – Take in a traditional dinner & folklore show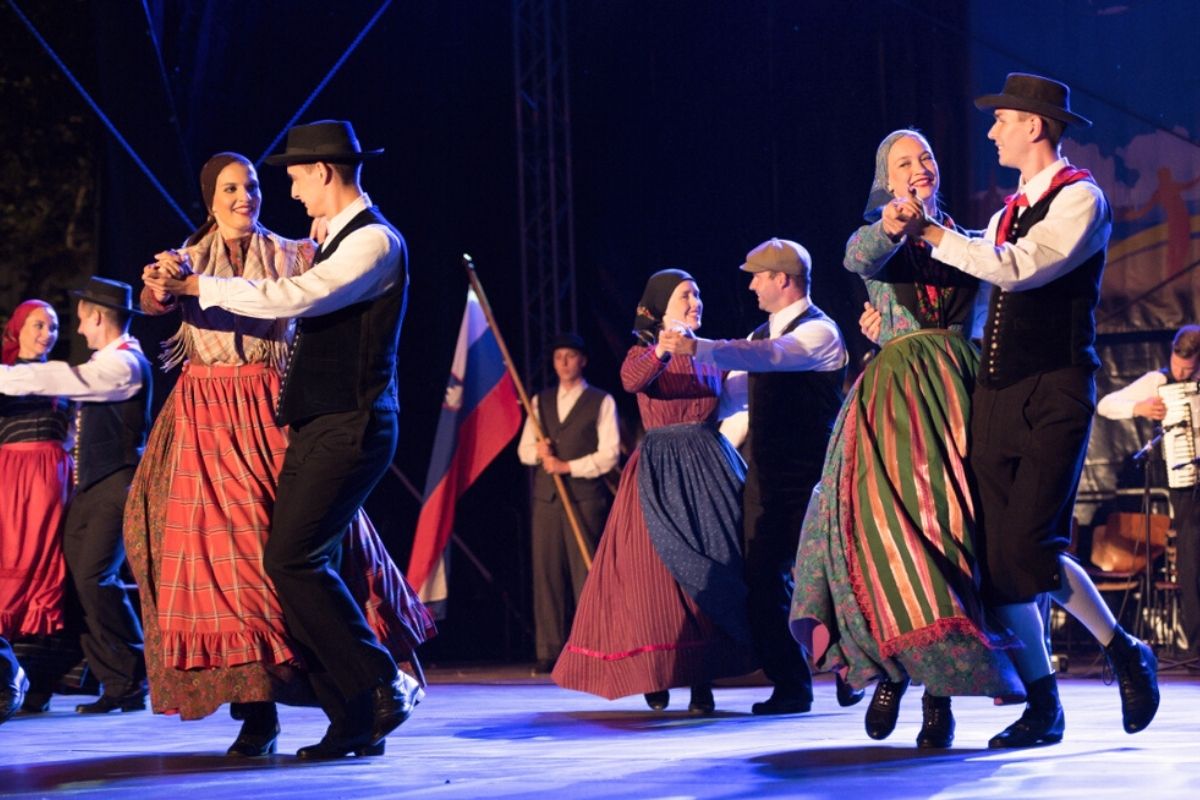 Offering the best of both worlds, the capital's dinner and show experience is a wonderful way to indulge in the culture through two of its coolest avenues: performance and food!
Enjoy a delicious assortment of fruits, meats, and beverages, as you take in some of the lively dances that have played a role in Slovenian life for generations.
But this isn't just about watching; you'll also get the chance to play some traditional games after your meal! It's a lively, lovely way to explore the local customs, filling both your belly and your brain!
43 – Catch a world-class performance at the Slovenian Philharmonic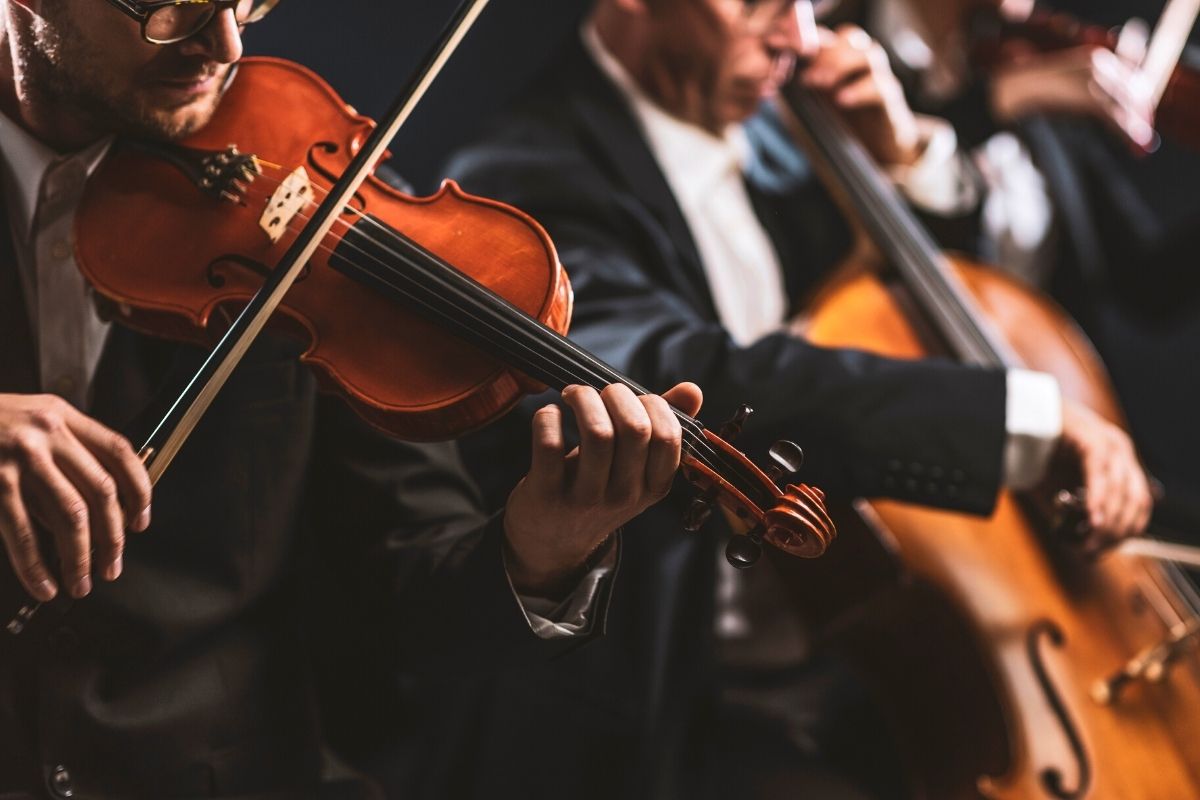 Whether you're crazy for classics or a total novice, a trip to the Slovenian Philharmonic is sure to be invigorating. This acclaimed orchestra, which dates back to the 1700s, is known not just for their professional excellence, but also the breadth and depth of their offerings.
While there are plenty of traditional classical concerts, they also offer unique takes on more modern artists, education programs, and kid-friendly works. Grab a seat, close your eyes, and enjoy the soothing sounds of the masters at work!
44 – Expand your palate with some cooking classes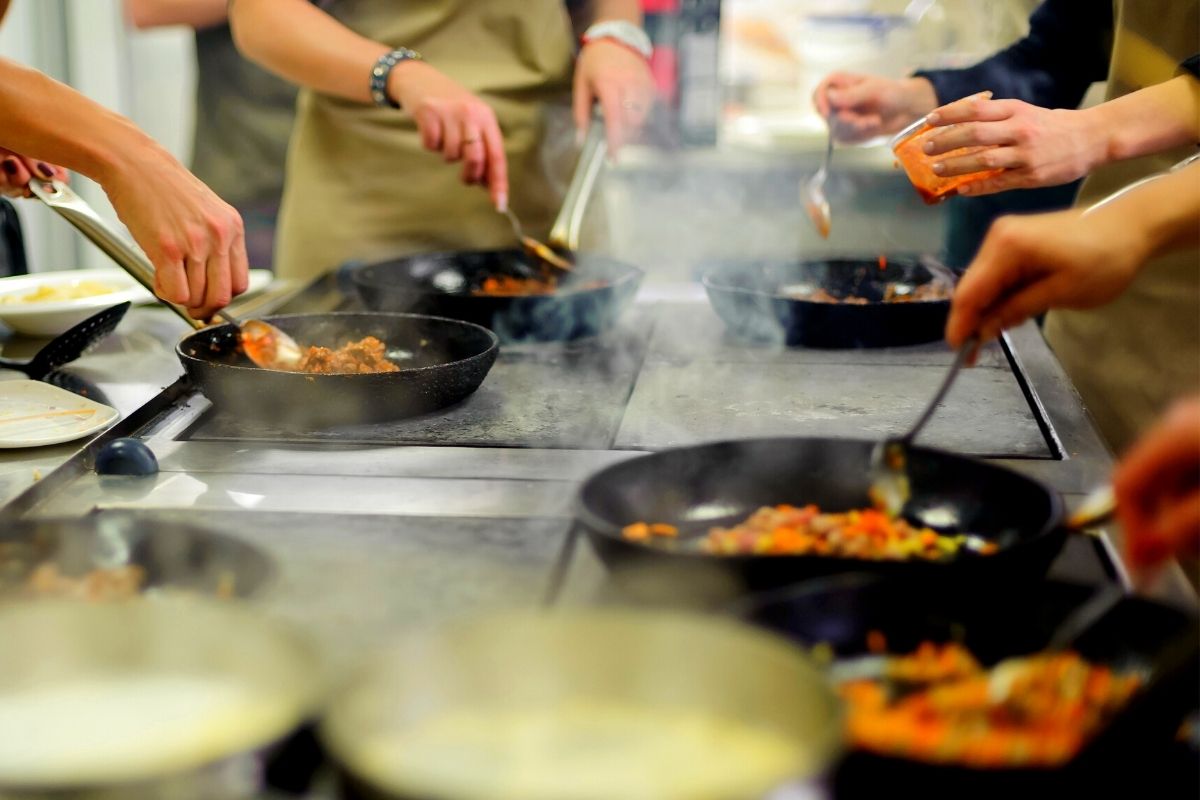 Once you've toured and sampled your way through the capital's food scene, the next natural step is trying to make some of these goodies yourself!
When you enroll in a cooking class, you won't just learn how to prepare your own marvelous Slovenian meals at home ; you'll also get to meet professional chefs, who can provide awesome cultural lessons along with the basic technical steps.
Test your skills with four different courses, then enjoy the fruits of your labor with a scrumptious dinner at the end of class.
It's truly the gift that keeps on giving!
45 – Treat yourself to the best restaurants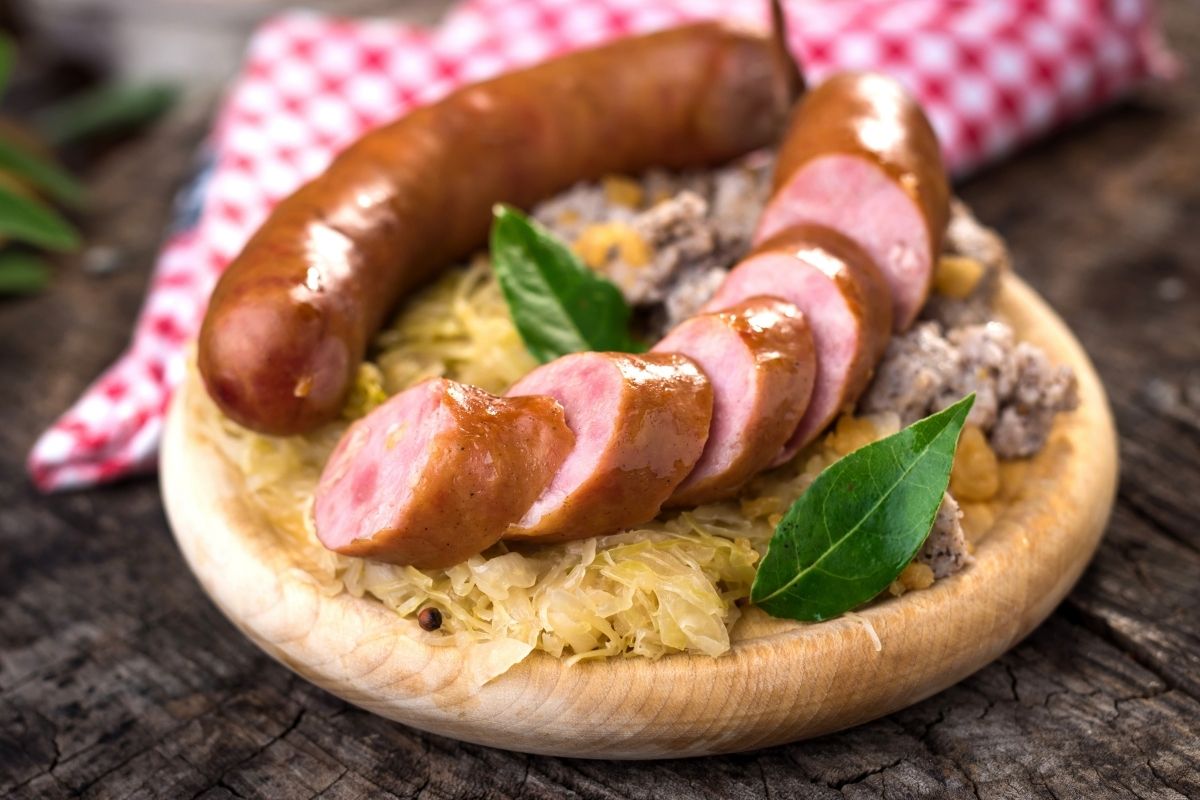 A perfect follow-up to those homemade meals, the city's fine dining establishments are the perfect place to spoil yourself, with world-class meals and excellent service to match.
Grab a bite at the outdoor patio of Julija, or tuck into the seafood dishes at Špajza Restaurant. Enjoy a luxurious brunch at EK Bistro, or combine convenience and deliciousness with the soups and sausages of Gostilna Sokol, which is right near City Hall.
Or enjoy the riverside charms of Restavracija Most, which boasts an elegant menu featuring salads, meat platters, and a great wine selection. And if you want to get really classy while you're in town, indulge in some decadent Michelin-starred meals at Restavracija Atelje or Restavracija Strelec.
46 – Add a padlock to The Butchers' Bridge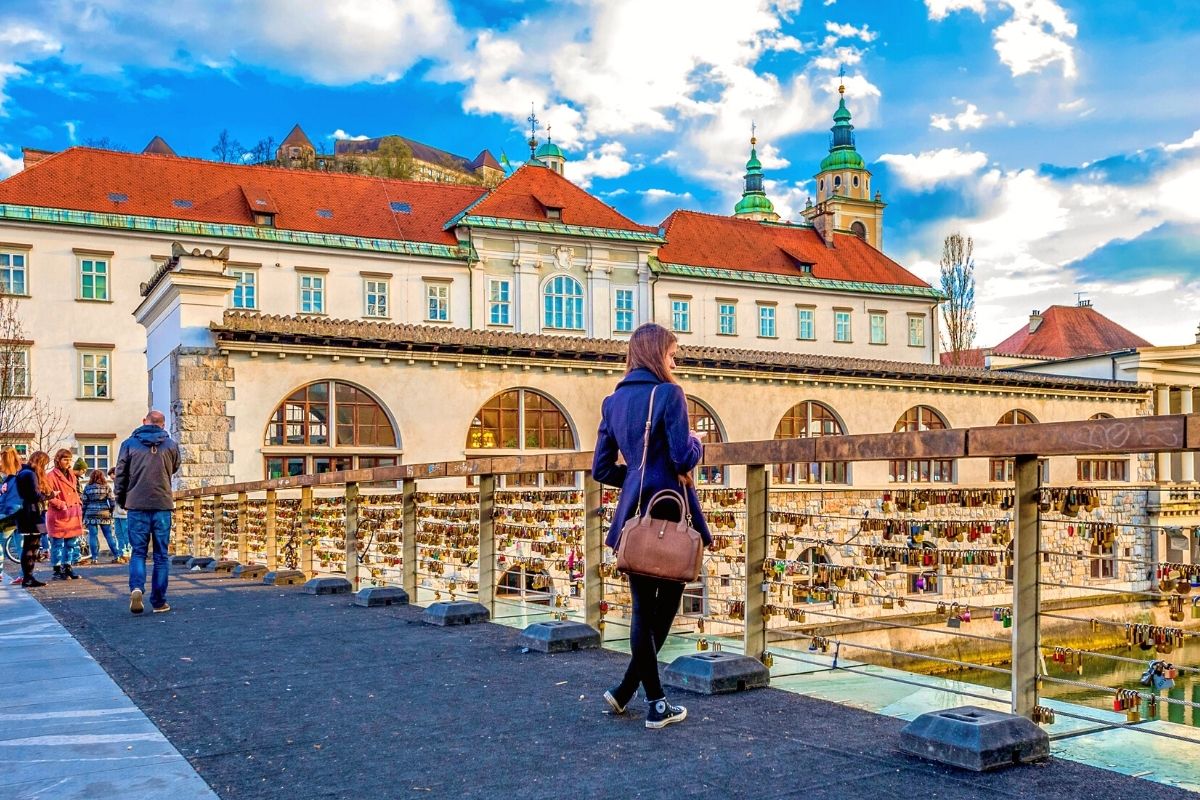 Even by the high standards of the area's beautiful bridges, this charming structure really stands out; indeed, it offers one of the most romantic things to do in Ljubljana!
This lovely footpath offers great views of the river as you stroll, as well as some awesome contemporary design elements from its architects, including glass areas and striking sculptures.
But it's perhaps best known for the piles of padlocks attached to its chain links, each of which was placed there by an amorous couple on a walk.
While the names and origins of these couples are generally lost to history, the physical testaments of their love help make this bridge a special part of the city scenery. Drop by to enjoy it in person…and maybe even leave a memento of your own!
47 – Go out for a bout of beer tasting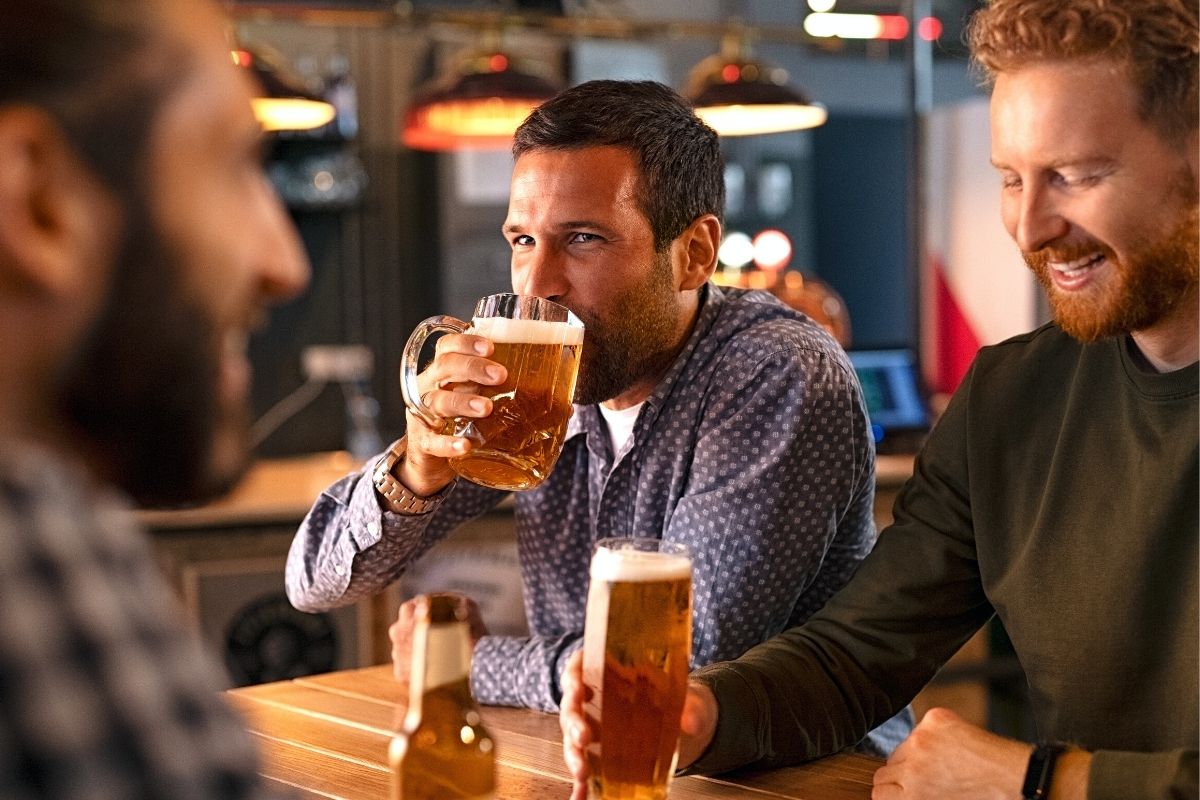 If you're a big fan of suds, grab a stein and enjoy some of the local beer tasting tours!
From traditional hops to the zesty flavors of the booming craft brewery scene, there's no shortage of varieties to enjoy around town; and the tours themselves are a great way to meet new friends!
Lift your mug, enjoy the atmosphere, and toast this fabulous town!
48 – Enjoy a stirring performance at the Ljubljana Opera House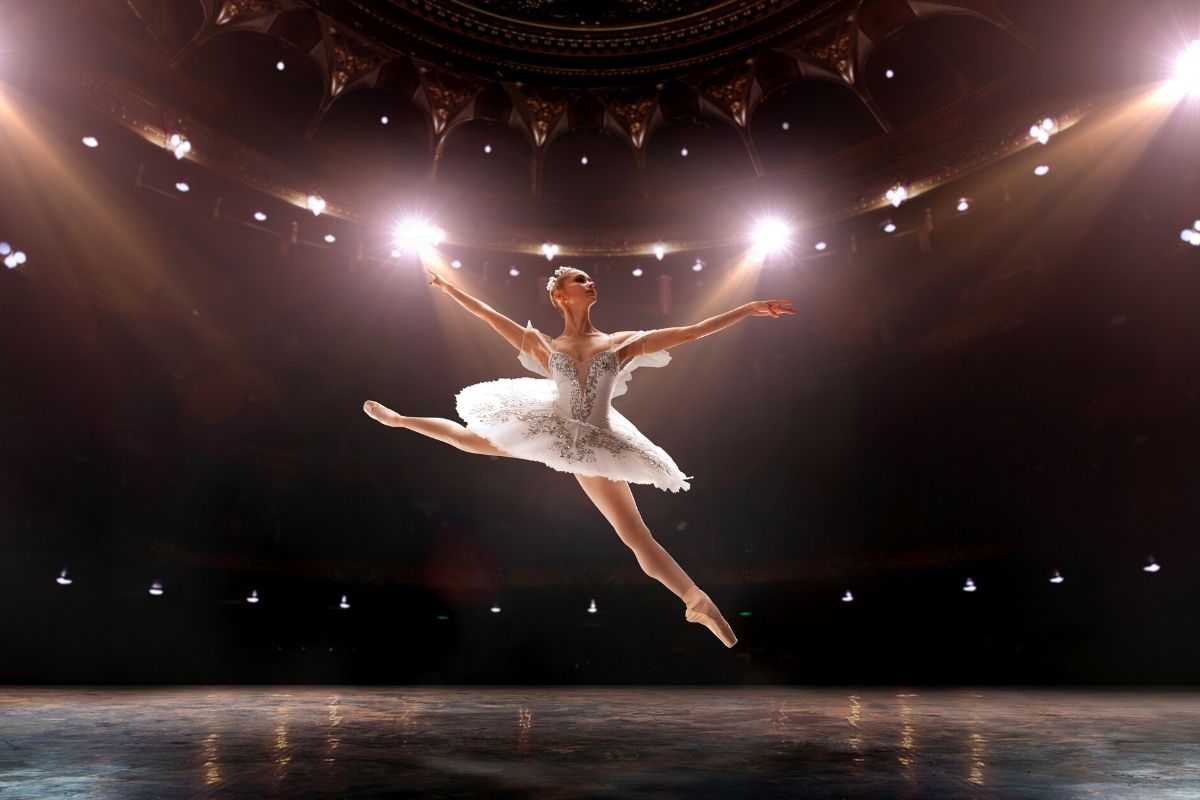 If you want to enjoy two elegant cultural excursions in one, check out this amazing space, which is home to both the national opera and the country's premier ballet company.
With such artistic heavyweights in the house, you can be sure of quality performances every time you visit, from classic opera performances to wonderfully athletic dancing feats.
For over 100 years, the Ljubljana Opera House has focused on promoting the arts from a distinctly Slovenian point of view; and as you take in the latest masterpiece, you'll be able to see the country in a whole new light!
49 – See what's on at Cankar Hall (Cankarjev dom)
Tucked behind the Republic Square, this charming space is another wonderful place to sample the city's vibrant arts scene. From plays and dance performances to concerts, cinematic screenings, and public readings, there's a steady stream of creative endeavors to enjoy at Cankar Hall.
There are also some excellent permanent exhibitions throughout the space, offering perspectives on topics as diverse as natural history, early photography, and more. Stop by to enjoy some great artistic offerings – they even provide kid-friendly programming!
50 – Go wild on some pub crawls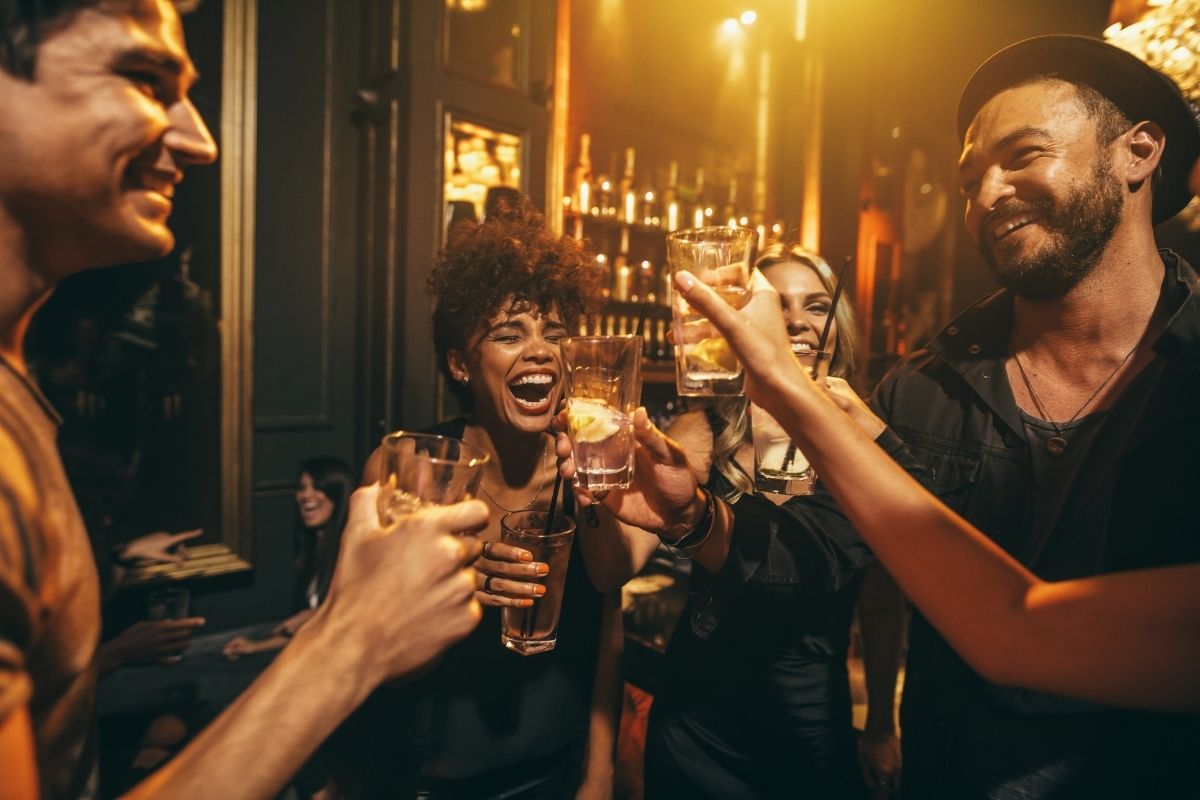 If you seek a slightly rowdier outing, you're in luck; the capital is packed with awesome pub crawls! Drink your way through some of the city's best establishments, with expert guides keeping you on track – and a whole new bevy of friends and drinking buddies to hang out with!
And if you want to explore some of these awesome bars more in-depth, you have no shortage of options. Enjoy the spacious surroundings and vast array of beers at Premier Pub, or the live music and memorable murals at Žmauc.
Sip some cocktails and enjoy the DJs at Centralna Postaja, or the diverse lineup of entertainment at Cutty Sark's, which features everything from dancing to stand up comedy. Or get a little classier at the Opera Bar, which caters to the city's avant-garde community, and offers upscale beverages like champagne and cognac.
51 – Take it all in from the Nebotičnik Skyscraper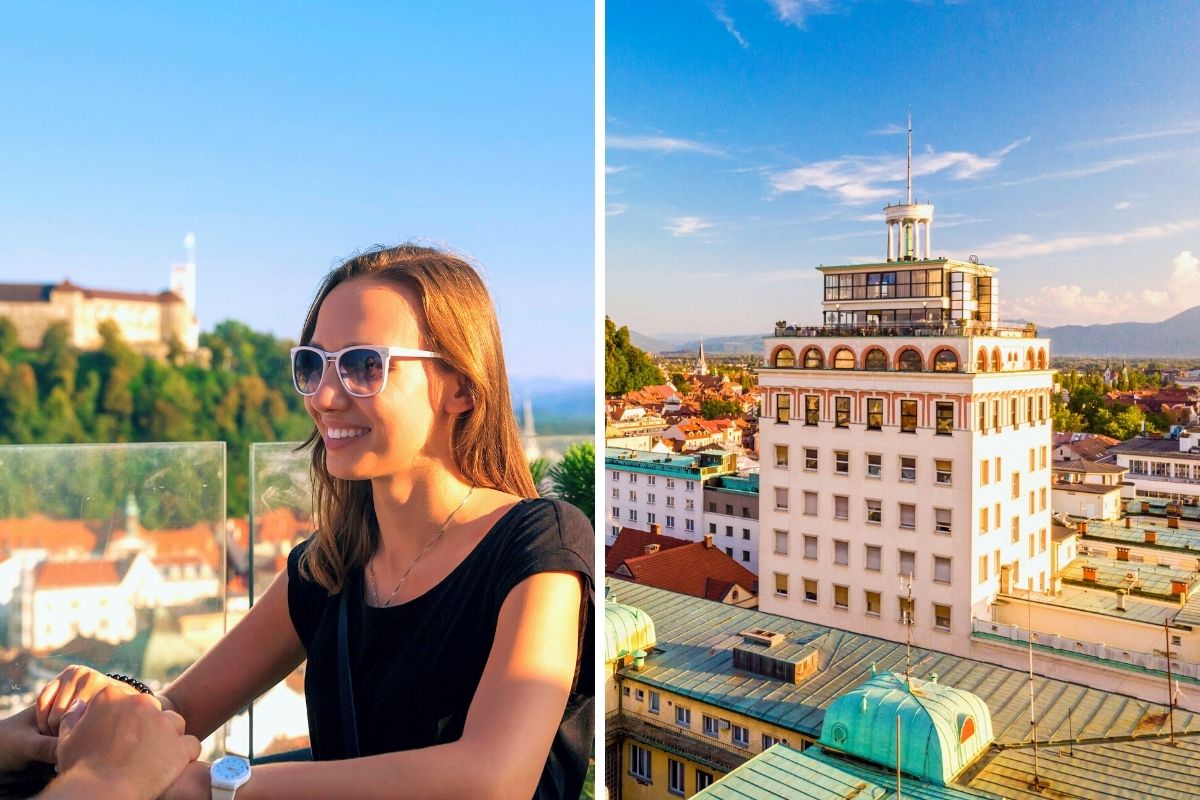 Soaring 229 feet above the skyline, the impressive Nebotičnik Skyscraper has long been a claim to fame for the city. When it first opened in 1933, the building was the ninth-tallest in Europe, and the tallest in the entire Balkans region.
While others have long since surpassed it, it remains a focal point of city life, with apartments and shops scattered throughout its many floors. There's even a bar and cafe at the top, where you can kick back and enjoy unparalleled panoramic views of the area.
Whether you're starting or finishing your trip, it's the perfect place for a cocktail!
How to get to Ljubljana?
While many domestic and international trains run through the capital, Ljubljana Airport is a great option for flyers.
And since nobody wants to waste time haggling with taxis or navigating the city streets, there are plenty of excellent airport transfers to get you to and from the city with ease.
Choose between group or private transportation, and let the drivers take care of the rest!
Where to stay in Ljubljana?
At InterContinental – Ljubljana, you can enjoy the luxuries of a world-class hotel – including a rooftop restaurant and comprehensive spa – combined with easy access to Old Town, Tivoli Park, and other local treasures.
And at Best Western Premier Hotel Slon, the gym, buffet, and gorgeous garden will have you feeling like a millionaire – with wonderfully accessible prices!
Radisson Blu Plaza Hotel Ljubljana, you can easily explore the city center on foot or go for a dip at neighboring Atlantis Water Park, or just kick back and enjoy the elegant rooms and great views.
And City Hotel Ljubljana provides great meals, a charming library, and an unbeatable centralized location that makes it easy to alternate between relaxation and exploring.
You can also enjoy a top-notch stay at the Holiday Inn Express – Ljubljana, where the rooms are comfortable, the food is delicious, and the terrace and garden offer a perfect place to rest on sunny days.
Visiting Ljubljana on a budget?
Sure, you want to see and do it all on vacation… but that doesn't mean that you have to spend it all! There are tons of excellent options for curious travelers looking to enjoy the area's sites without emptying out their wallets.
Free walking tours are packed with entertainment and culture, offering great perspectives on local sites from the people that know them best… the locals!
Remember: while the tour is free, the guides do work for tips, so bring some cash with you!
And if you're more focused on visiting the various attractions, you can purchase a Ljubljana Card, which offers amazing discounts and a convenient combo ticket, all in one.
Along with admission to renowned galleries and museums, it serves as a bus pass, castle entry, and funicular ticket… and it even includes a free ride to the airport! It's the best of the city's culture and sightseeing, all rolled into one!
Where to go next?
The country's centralized location makes it a prime spot to branch out and explore other parts of Europe… and boy, is there a lot to see!
Head west to Italy to try all of the wonderful things to do in Venice, from historical tours and art shopping to trips along the famous canals. If you want a shorter excursion, take advantage of the many excellent Venice tours from Ljubljana – after all, they're only a few hours apart!
You'll also find plenty of things to do in Milan, where art and fashion meld perfectly with excellent restaurants, historic residences, and world-class shopping.
To the south, you can enjoy the mixture of culture, nature, and fascinating history that makes up the country of Croatia. Enjoy the striking monuments and cosmopolitan charms of Zagreb, or the sumptuous wines and ancient Roman architecture of Pula.
You can also enjoy the delightful museums and gorgeous seaside atmosphere of Zadar, or the hiking, delicious meals, and unique buildings of Split.
Or you can head north to the culture-packed Austrian cities of Salzburg and Vienna; the Slovakian capital of Bratislava, bursting with art and political sites; or the lovely spas and active nightlife of Budapest.
Final thoughts
From the natural wonders surrounding its borders to the vibrant history and bustling arts scene around every street corner, the Slovenian capital has no shortage of wonders to explore!
While there's no end to the phenomenal things to do in Ljubljana, it's also the kind of the city that invites a slower, more relaxed mode of exploration.
Whether you're rafting, feasting, critiquing art, or just relaxing in the grass at a public park, a trip to this beautiful burg will refresh you, body and soul!