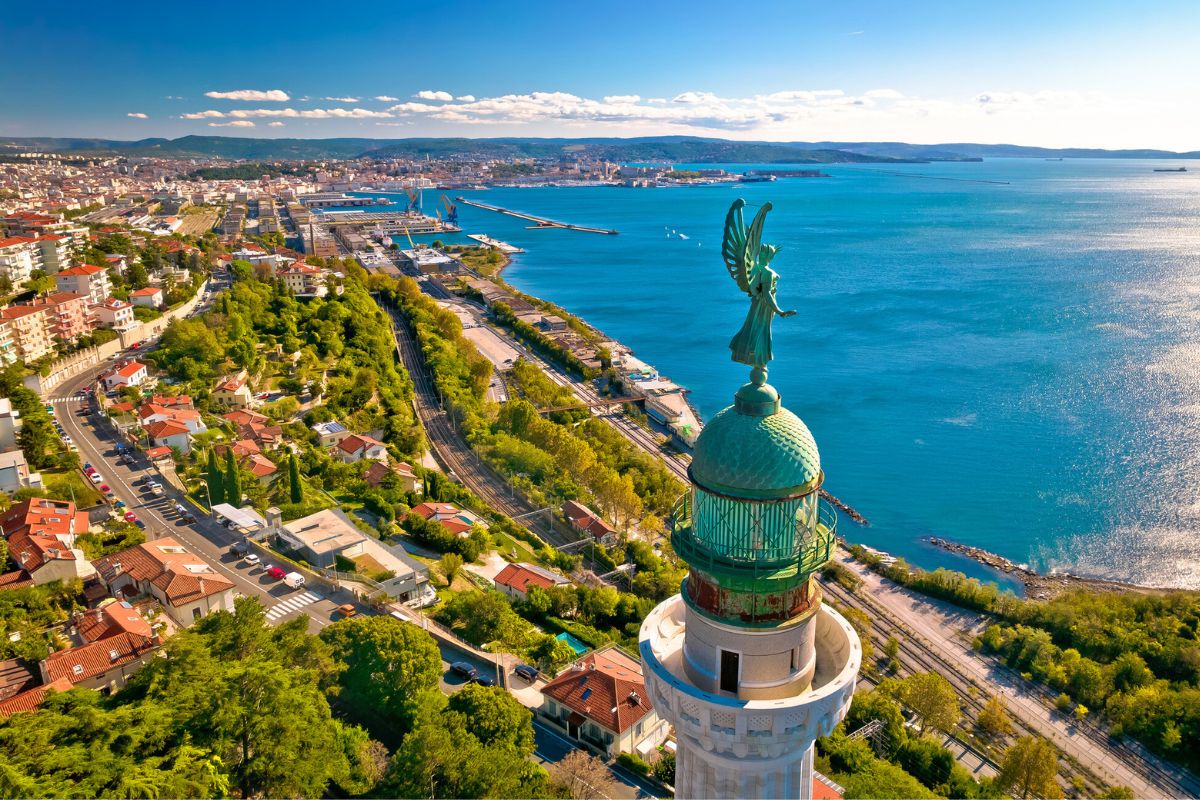 It counts a gaggle of other countries as its closest neighbors, and has certainly borrowed plenty of traits from other parts of Italy; but this city has cultivated an atmosphere that is entirely its own!
As one of the country's biggest and most active ports, it has often served as a link between various nations, resulting in a wonderfully hybridized culture that continues to intrigue and surprise visitors.
And while you're out exploring, you'll encounter an endless array of museums, wineries, beautiful outdoor areas, and bustling public spots that let you get even better acquainted with how this unique town operates.
So come and enjoy a cross-section of the Adriatic, and check out the awesome things to do in Trieste!
1 – Hang around Piazza Unità d'Italia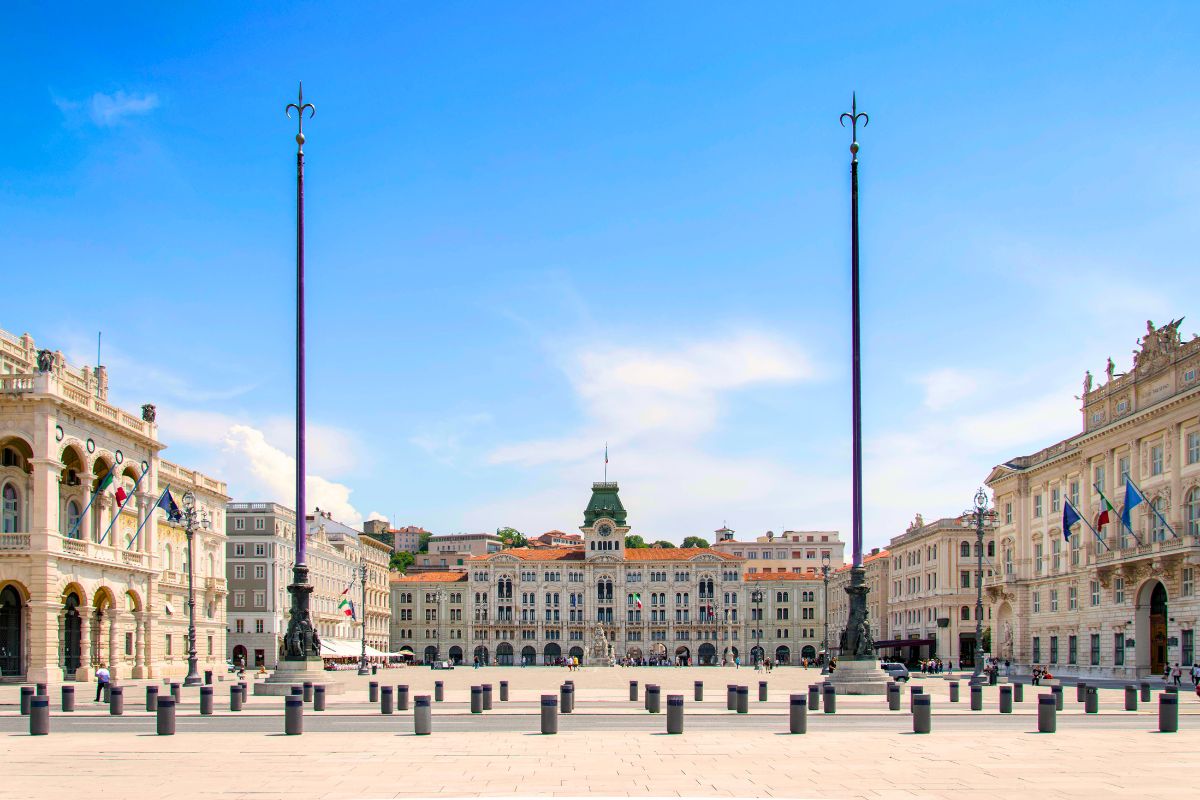 As you start orienting yourself, you'll pretty quickly become familiar with this lovely square, the largest and most popular in town.
Home to City Hall and the imposing Palazzo del Governo, it's the perfect spot for a bit of people-watching, and its many beautiful buildings tell a remarkable story of the city's perpetual evolution.
And it's also close enough to the harbor to give you a taste of the nautical world that helped build this city… and still keeps it running!
2 – Take a leisurely stroll past Canal Grande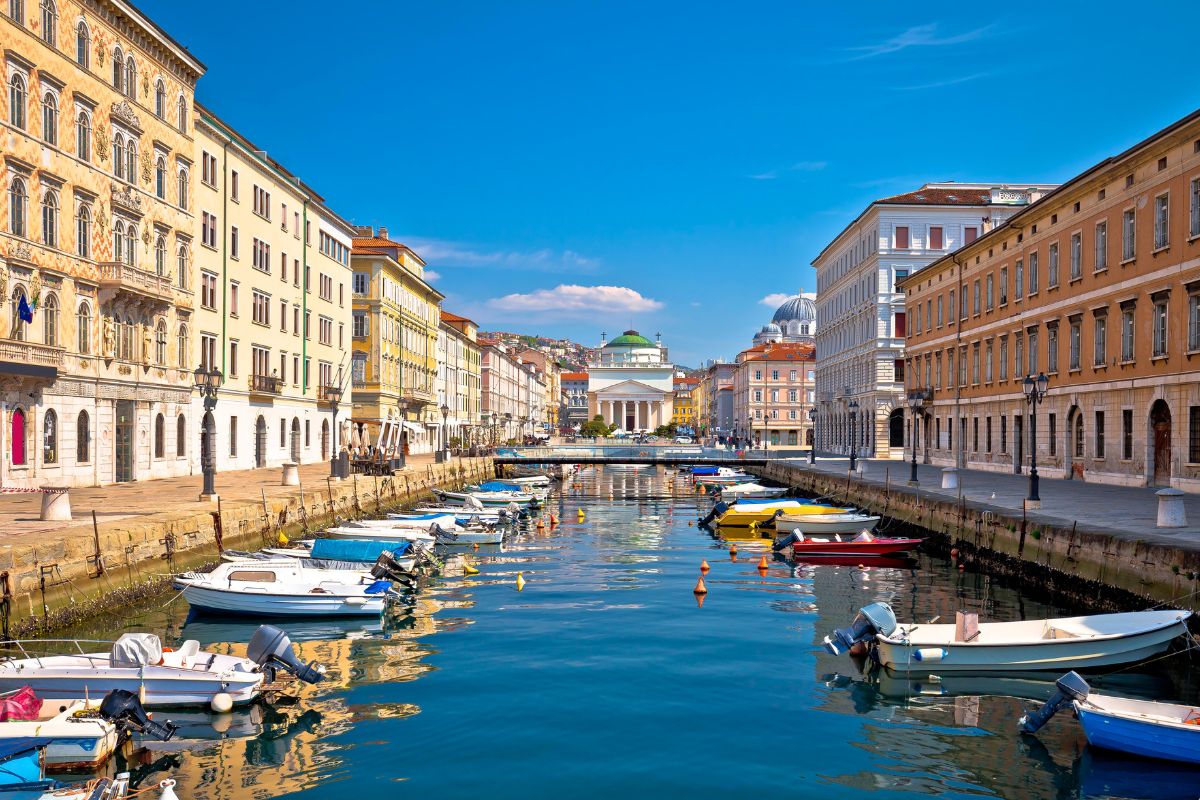 This is certainly a town that loves its waterways, and the aptly named canal that cuts right through the middle of town is one that you simply can't miss… and won't want to!
Built in the 1750s, it was originally designed to help move commerce forward, bringing boats right into town with ease.
These days, it tends to get more recreational boats, but it still has that sense of liveliness, helped in no small part by all of the markets, museums, and little cafes that still line its shores.
And if you'd prefer to experience it from the land, there are tons of walking tours that run right alongside the water!
3 – Get a taste of past luxuries at Miramare Castle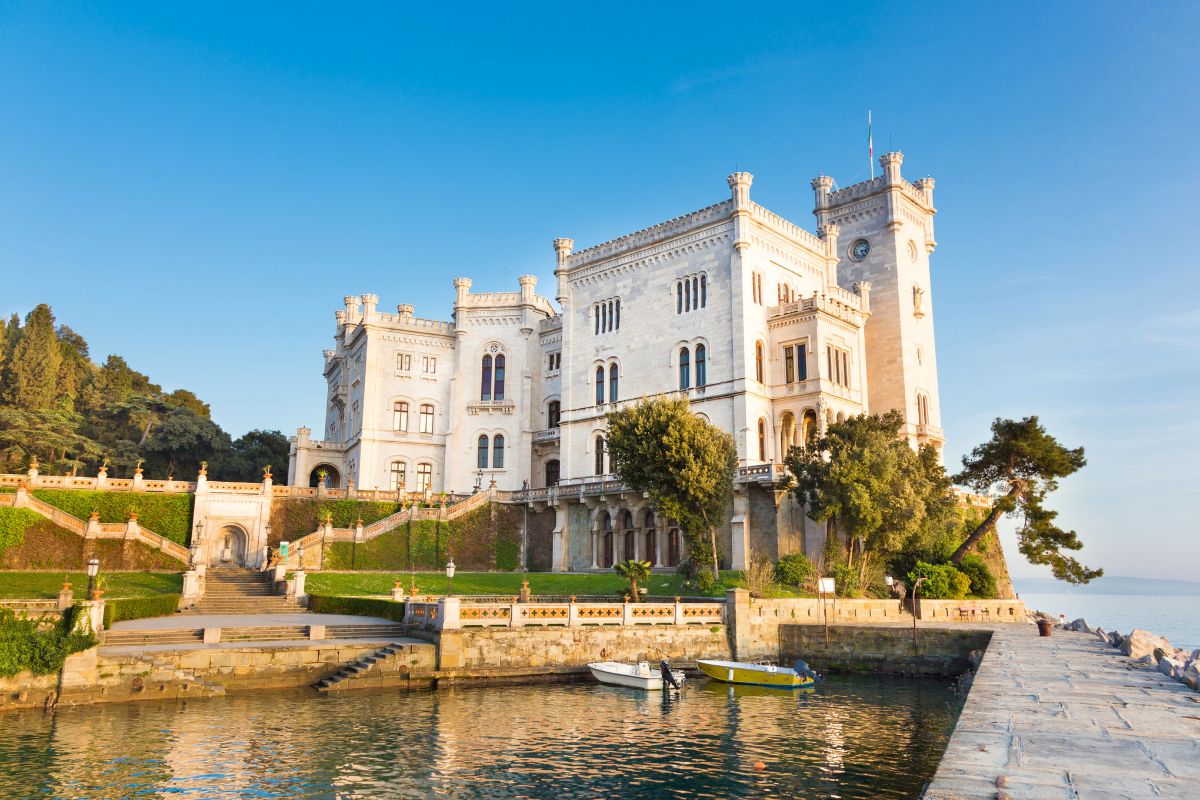 How's this for a bit of cultural crossover: a palace in Italy… for an Austrian noble… that once ruled Mexico?
Archduke Maximillian, who would later serve a stint as the emperor of the distant Latin American country, once called Trieste home; and the stately realm of Miramare Castle Park is a lasting testament to his influence in the region.
Commissioned for his wife, Charlotte, the castle was brought to life in 1860; and with its beautiful green spaces, stunning architecture, and jaw-dropping views of the sea below, it was certainly better than your average romantic gift!
Outside, you can savor 22 hectares (54 acres) of lovely manicured gardens and magnificent strands of trees, including several species of pines, and even some mighty sequoias.
And inside, the perfectly preserved rooms give you a sense of how nobility operated at that time – and the decor is still as stunning as the day it was installed!
4 – Explore every angle of Castello di San Giusto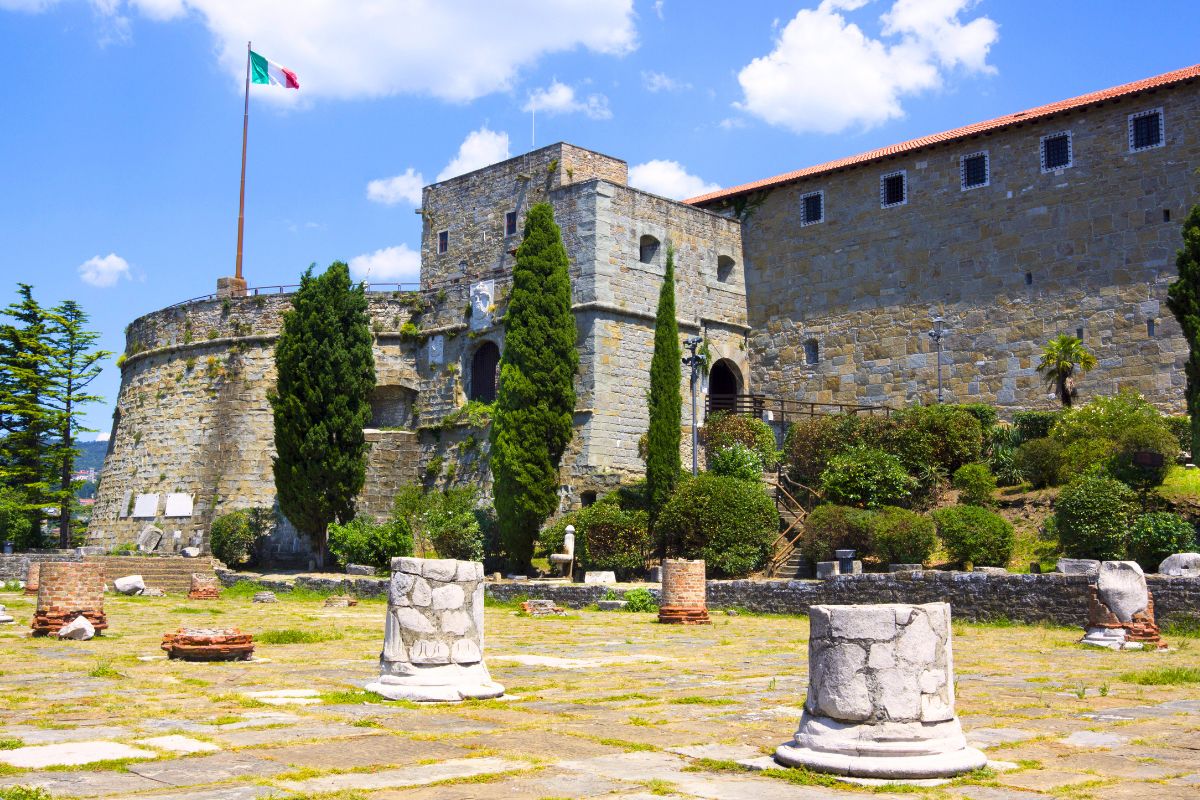 Yes, it's another hilltop castle with Austrian connections; but Castello di San Giusto has its own distinct, fascinating character!
For starters, it's a fair bit older – construction started all the way back in 1468, though it took until 1636 for it to be fully completed.
And instead of one romantic gesture, it was part of a larger political mechanism, designed to protect against attacks and help its inhabitants exert influence over the city they ruled.
High on a hill, it served strategic and symbolic purposes, its many historic collections and impressive rooms still offer up plenty of options for exploration – and you'll even get to stroll across a drawbridge to get there!
Check out the extensive collections of antique weapons in the armory or amazing relics from the city's early political and religious scenes, then enjoy the same views that once greeted scores of nobles.
5 – Stop by the Trieste Cathedral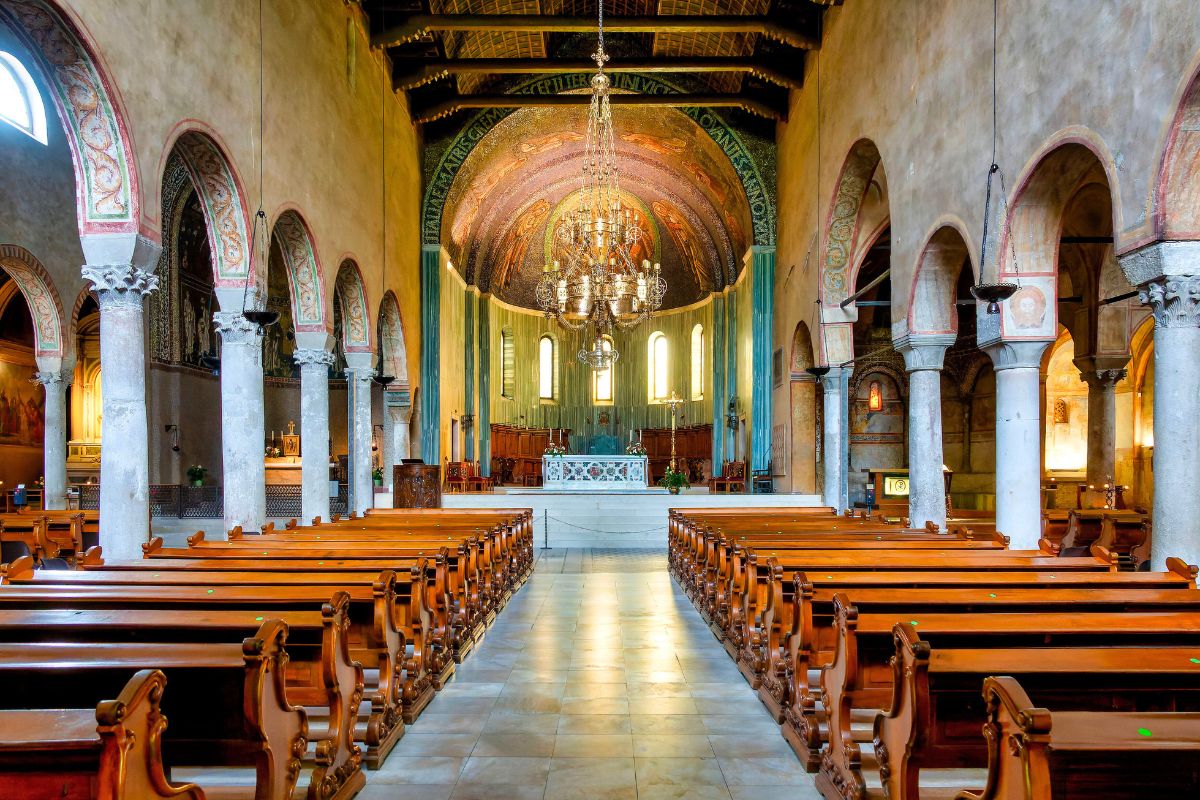 One of the region's earliest religious figures, Saint Justus, was killed in 293 because he refused to worship the Roman gods; and with such a dramatic background, it's little wonder that the church built in his honor has become such a vital part of the town!
In 1385, it opened its doors to worshippers, and from its echoing bell tower to its terrific works of art, every inch of the space remains a welcome sight for people of any religion.
Drink in the colors of the rich mosaics, and take a peek at the relics tucked deeper within the walls; they all speak to the ongoing prominence of this gorgeous gem!
6 – Settle in and learn tons on a bus tour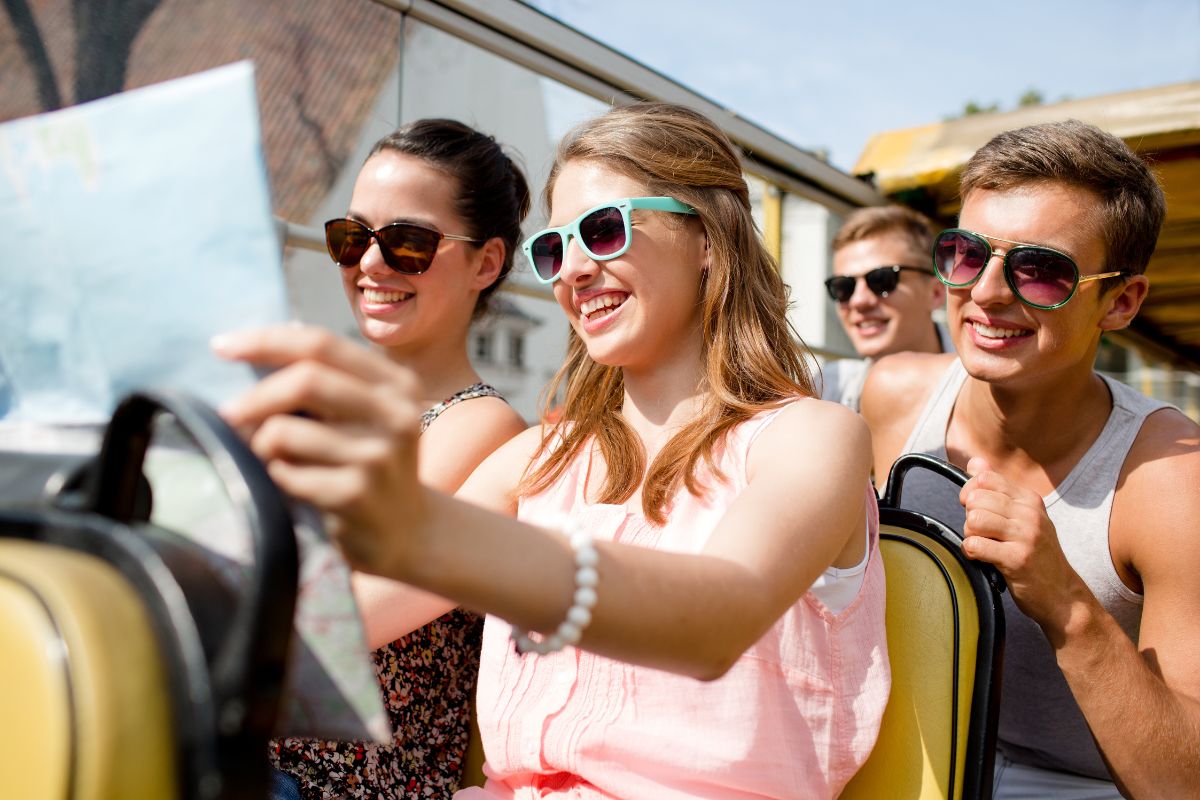 There's so much to see and do here, so why not make it easier with some vehicular assistance?
The bus tours in Trieste are so much more than just a nice way to get around; they'll bring all of the best sites to you with no effort.
Churches and public squares, the bustling harbor around Molo Audace and the Grand Canal will all unfurl before you; and with some expert commentary on-board, you can learn all about the beautiful things just outside your window.
It's a wonderful way to get yourself oriented… or learn a few new surprises!
7 – Indulge your sophisticated side at the Revoltella Museum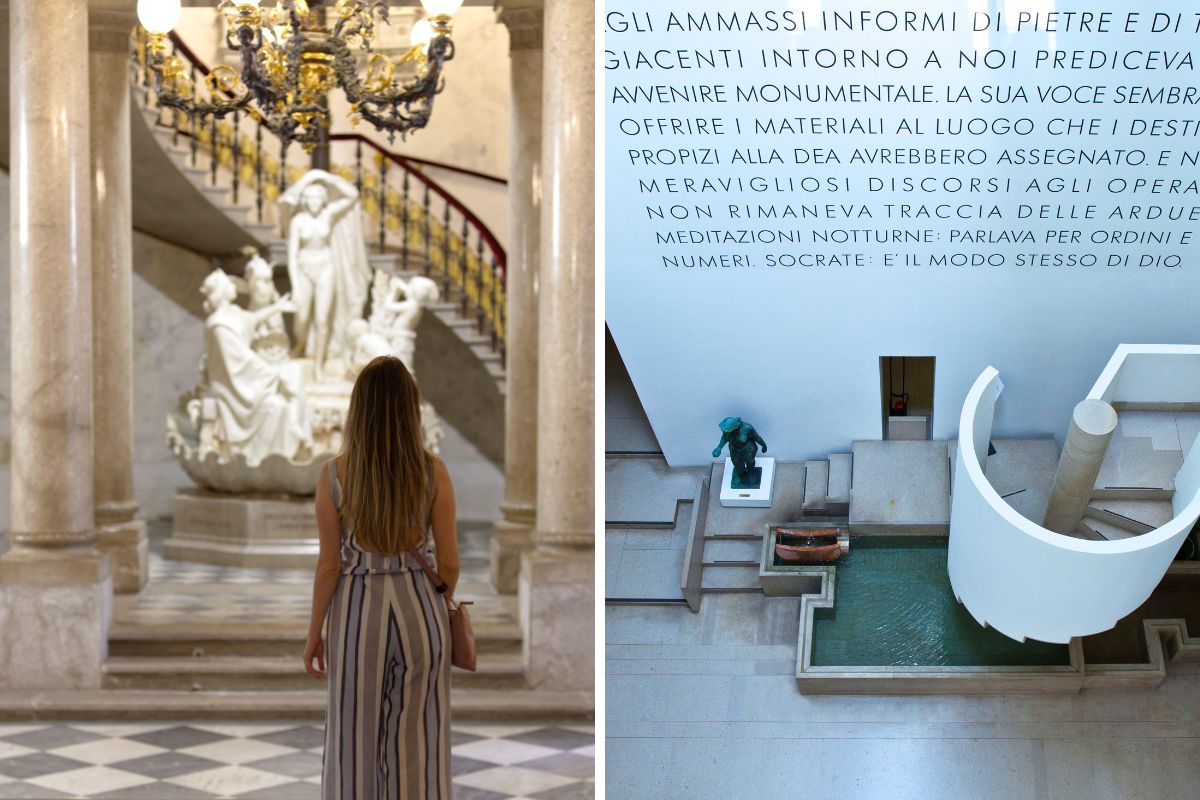 Since it opened in 1872, the Revoltella Museum has been a haven for the contemporary arts – and of course, the collection has evolved right alongside the city!
You'll find pieces here by renowned geniuses like Lucio Fontana, Mario Sironi, and Giorgio De Chirico, along with scores of other prominent 20th century Italian artists, as well as plenty of amazing works from the 1800s.
Walking through here is an amazing retrospective on a country and an era, and better yet, the pieces remain as fresh and thought-provoking as when they were created.
Take some time to savor all of the nuances of the masterpieces here – and maybe learn a bit about the local art scene along the way!
8 – Soak up the seafaring ambiance at Molo Audace and Trieste Harbour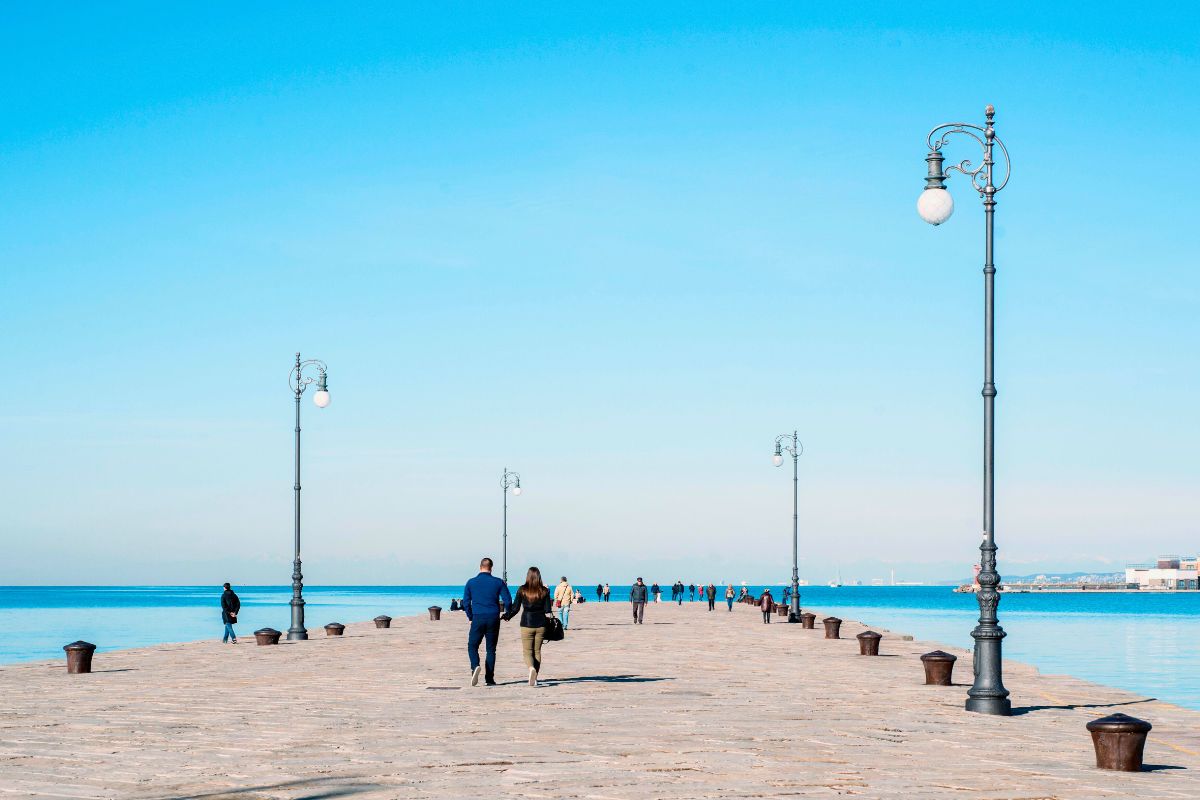 With its centralized location, the Molo Audace pier is hard to miss… and it has a pretty amazing (and slightly gruesome) backstory.
If you happened to look in the water beneath the structure, you'd see more than just the standard pilings and barnacles… you might also spot the weathered ruins of a shipwreck!
That's all that remains of the San Carlo, which sunk in the harbor in 1740; rather than try to remove it, the town just built right over the top, creating a distinctive part of the waterfront that is still popular with pedestrians to this day.
Of course, the harbor itself is filled with other intriguing sights, including the Scala Reale ("Royal Stairway"), which is decorated with a memorable statue of a soldier grasping a flag.
You can also see a softer side at the adjacent Le Ragazze di Trieste, a charming pair of statues depicting two girls hard at work on their sewing.
9 – Delve into the complicated legacy of Risiera di San Sabba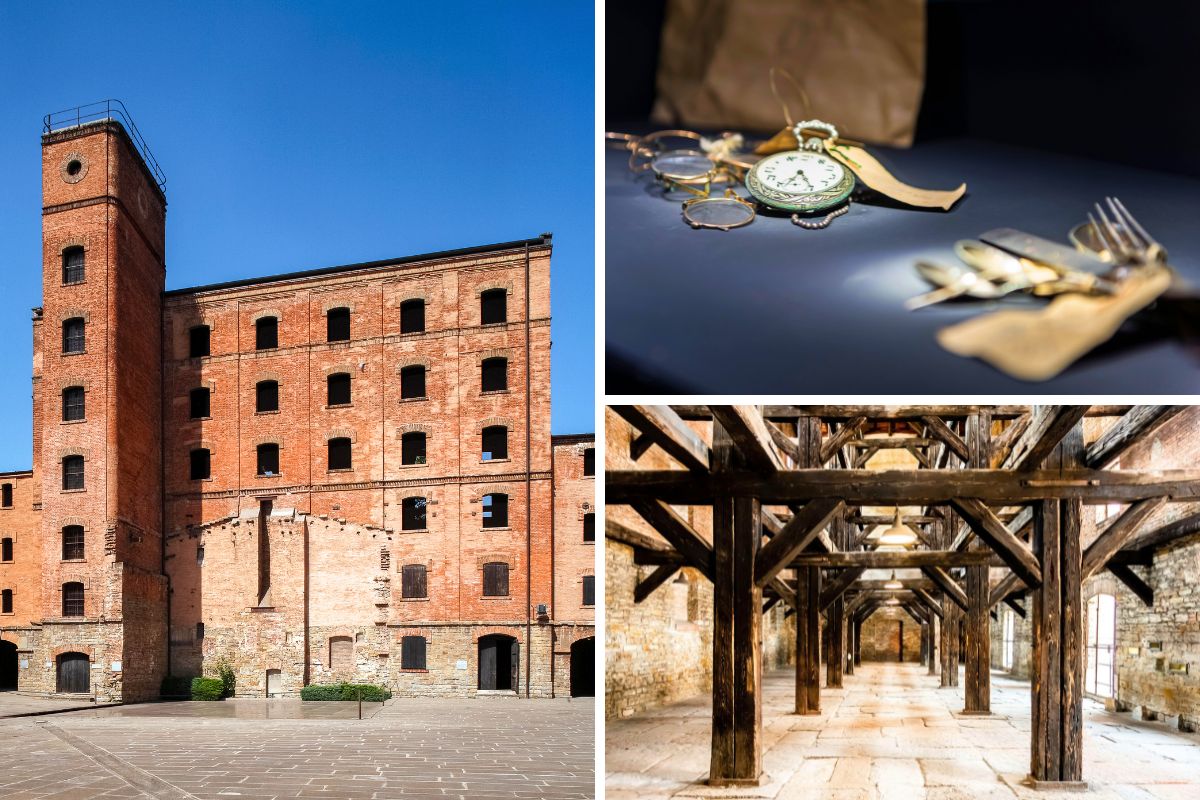 This imposing building had fairly straightforward industrial origins, but it was its later repurposing that brought it fame – and notoriety.
In the late 19th and early 20th centuries, the mill processed rice for consumption, and served as an active part of the city's factory infrastructure.
But after it shut down in 1934, it was gradually used for more military purposes, particularly as World War II began to impact the region.
Unfortunately, things took a dark turn when the Nazis invaded, as the massive complex was turned into a detention camp; but after the war, it pivoted in another, more beneficial direction, providing transitional housing for refugees escaping Communist nations.
Today, the building serves as a stark reminder of the realities of wartime – and the ways in which communities rebuilt in the aftermath.
Sponsored placement
Experience a live concert by candlelight in Trieste
Catch live performances on piano, violin and cello of classical music and tributes to your favorite modern bands and musicians. Candlelight concerts take place in scenic venues across the city that don't typically host concerts and events for an unforgettable backdrop to live renditions of your favorite tunes.
10 – Soak up the history of Piazza della Borsa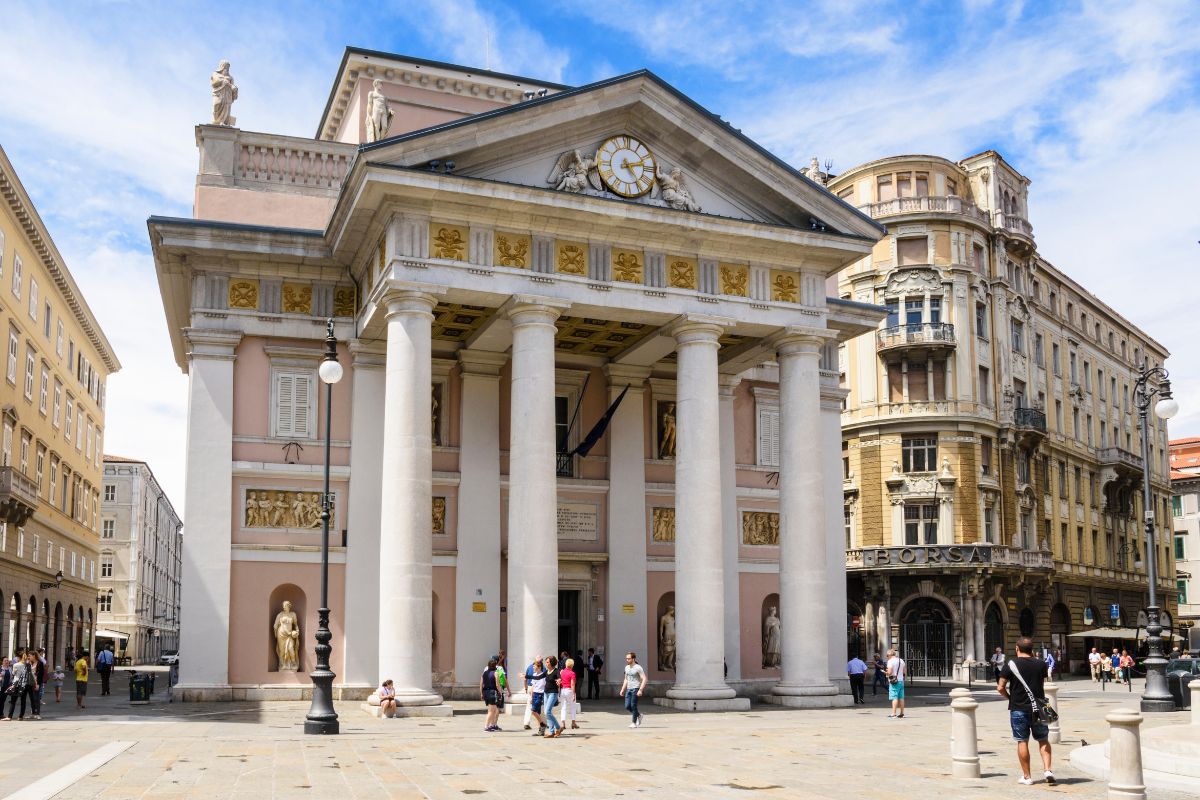 This is another one of those great public squares that brings the history right up in conjunction with the present; and whether you're doing an educational excursion or just enjoying a leisurely stroll, you'll always be able to find something exciting!
For many years, this spot served as the town's financial hub, home to its customs house and its bustling stock market.
And it still plays a significant role today with its lineup of preserved buildings,, including the Palazzo della Borsa Vecchia, a former stock exchange turned cultural space.
There are still banking facilities as well, and plenty of shops; enjoy the remarkable facades of the buildings that house them, then take some time to relax in the main square itself!
11 – Get into the reds and whites with a wine tasting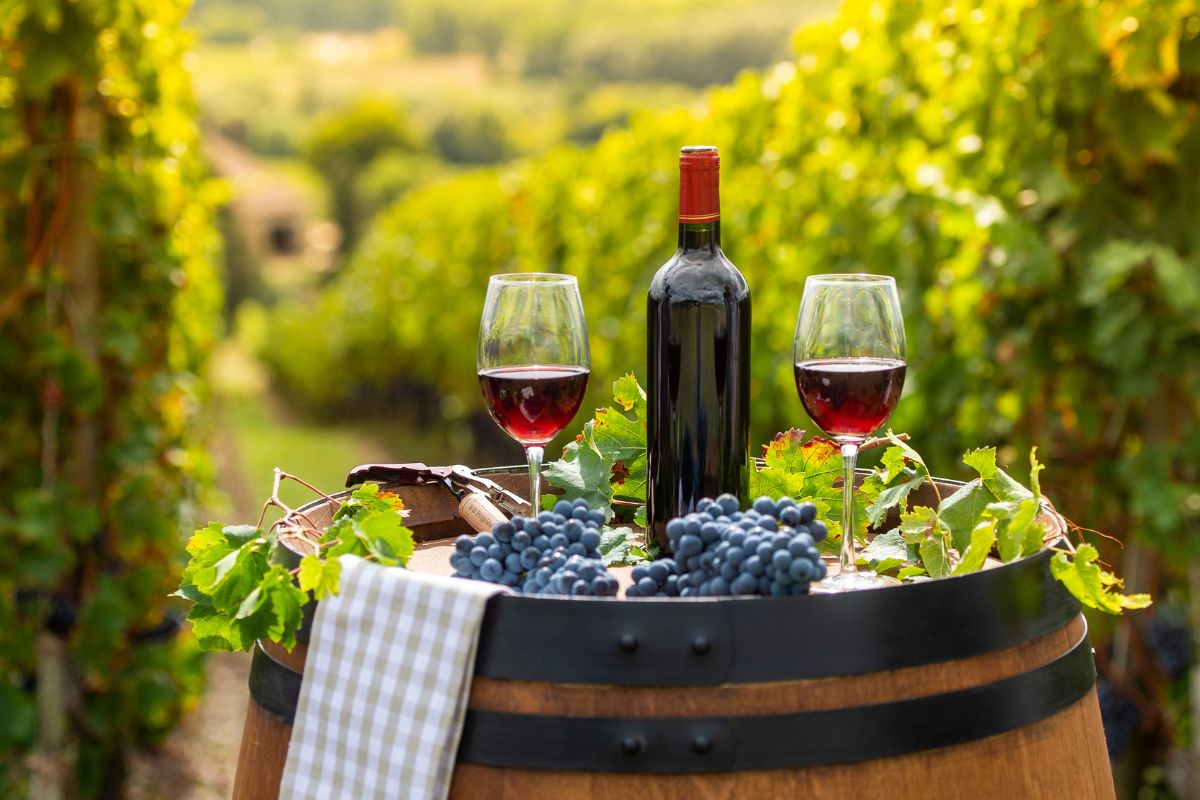 This is one of the many places in Italy where you can enjoy a wine tasting – but just like the rest of the city, the opportunities here are unique!
The stunning Karst Region, which surrounds the town, has long been known for its distinctive terrain and the products that it yields, including a certain bubbly beverage that may tempt your palate.
Head out to the village of Prosecco, and enjoy a glass or two of the wonderfully fizzy vino that has been carefully developed in this very spot.
You can learn all about the unique picking and manufacturing process, and how the light, fun flavor is intimately tied to the land that nurtures it.
And while you're in the area, you can delve into a different side of the area's vibrant culture with a Cividale del Friuli day trip, an ancient city and UNESCO World Heritage Site that was built by Julius Caesar himself, and was once a crucial part of the economy around the Collio vineyard region.
12 – Meet some marvelous creatures at the Civic Museum of Natural History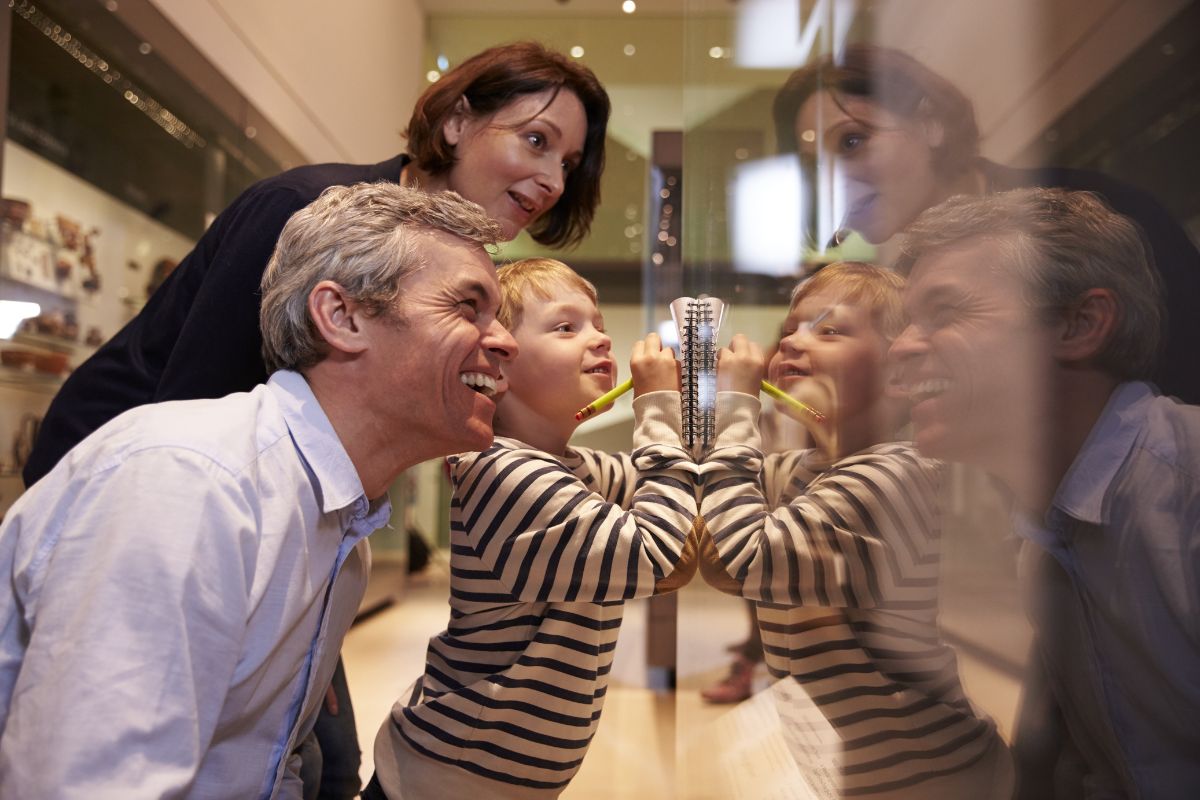 You'll always meet interesting folks when you're in a new town… but how about hanging out with a dinosaur?
Antonio the Tethyshadros is one of the city's oldest and most fascinating locals; he was discovered right here in town, and remains one of the most complete dinosaur fossils ever found in Italy.
And he's in good company, because the remarkable Civic Museum of Natural History is home to quite a few other record holders, including the world's largest preserved great white shark (she goes by Carlotta), and a 6,400-year old human jaw that shows off some extremely early examples of dentistry… using beeswax!
As if all of that weren't awesome enough, you can also explore millions of other specimens that make up the collection – everything from cave bears and rare algae species to glistening minerals, a narwhal skeleton, and an entire gallery dedicated to the eggs, seeds, and other elements that help incubate life on this beautiful planet.
It's one of the city's oldest museums… and one of its best!
13 – Venture out to explore Postojna Cave and Predjama Castle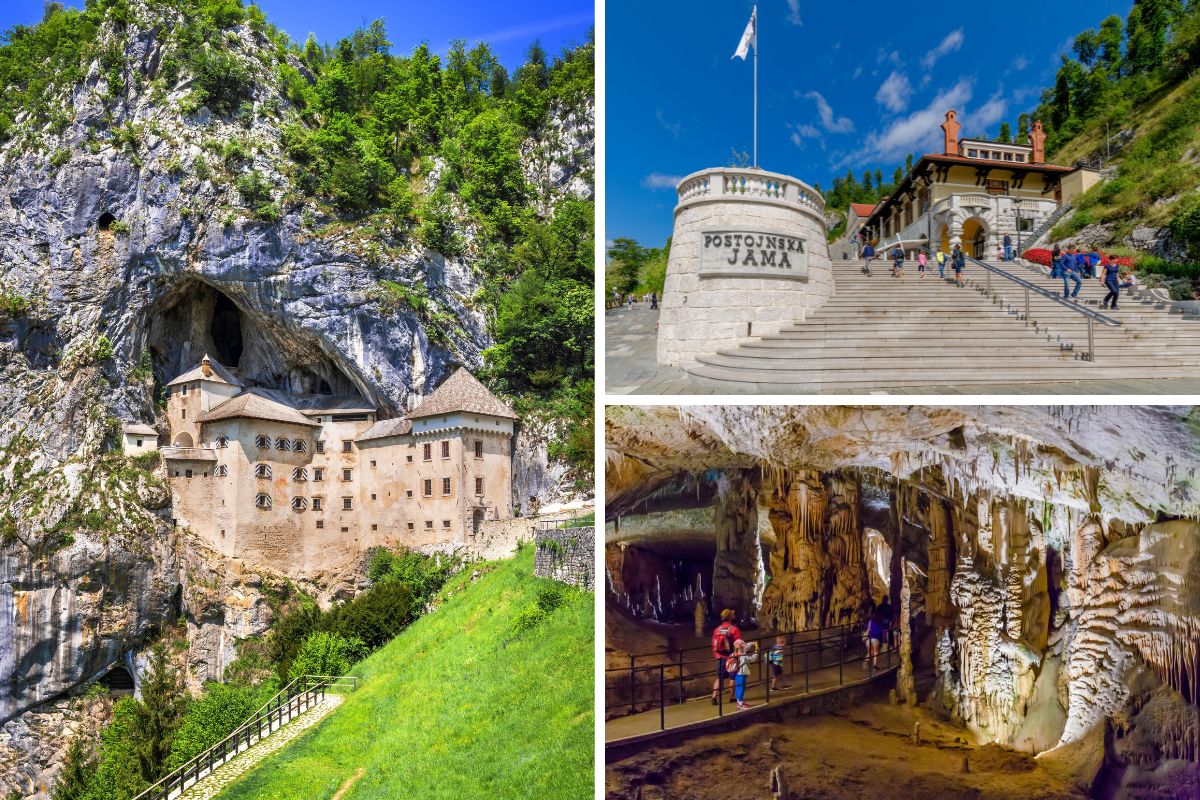 This is the perfect two for one excursion: a wonder of architecture, and a wonder of nature!
And best of all, they offer the chance to venture into another country for the day!
Because of its unusual position, Trieste is the perfect starting point for trips into Slovenia; and trust us, the treasures that this forested nation holds will definitely tempt you to brush off your passport and venture over!
On the cultural side of things, Predjama Castle combines traditional architectural beauty with some truly stunning environmental adaptations; it's built directly into the surrounding cave, and is the only structure of its kind still standing in Europe!
Over 800 years ago, it was carefully built by locals seeking safety; and with its clifftop perch and cavernous surroundings, it certainly made for a powerful defensive spot!
And of course, no subterranean adventure would be complete without a trip to Postojna Cave, a massive and magnificent system of tunnels and chambers that will make you feel like you've entered another planet.
It's one of the country's most beloved spots, and certainly one of its most compelling, with an endless array of adventures to be had within its ancient stone walls.
There's even a train that you can ride around the space!
14 – Pay your respects at the Victory Lighthouse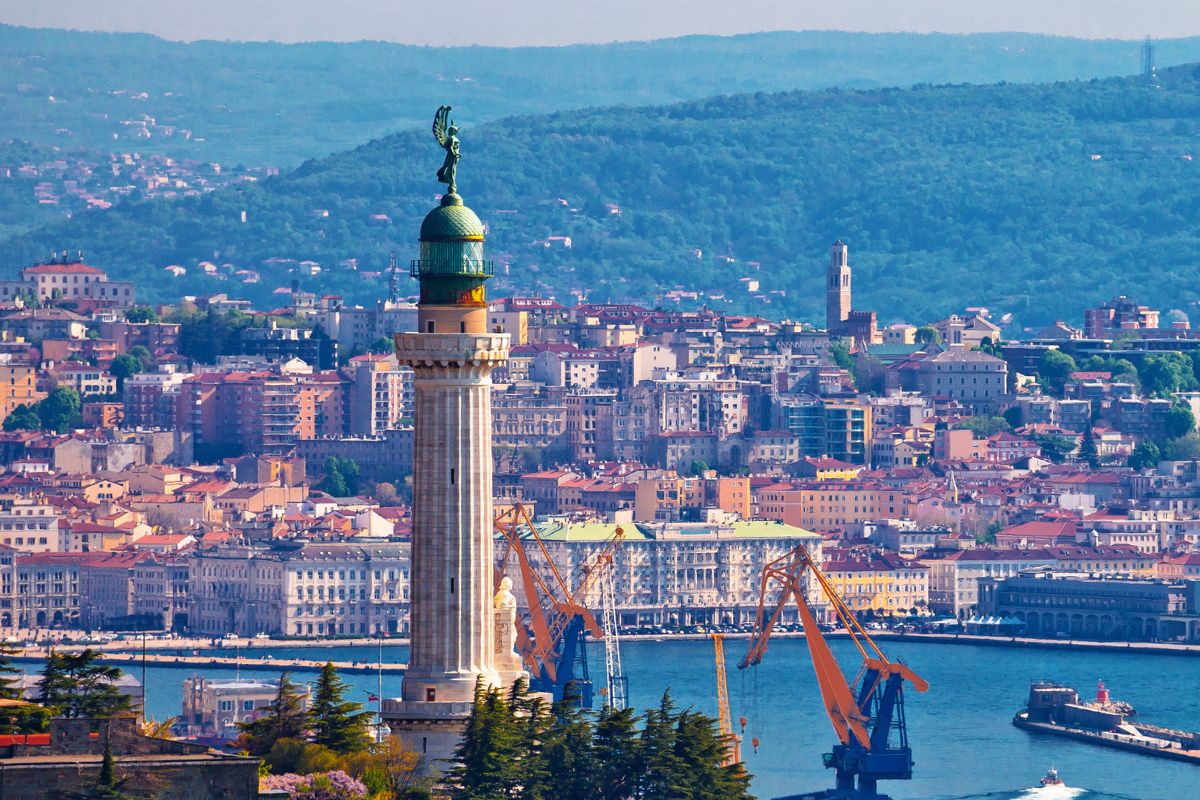 The name of this beautiful beacon isn't just poetic; it's also a reference to its origins in the wake of one of the region's greatest crises.
Established in 1927, it pays tribute to the Italian forces that served during World War I, particularly the lives that were lost during various naval battles.
Crowned by a winged sculpture that represents military victory, it's also something of a design triumph; as one of the tallest lighthouses on the planet, it has the perfect vantage point to keep an eye on passing ships.
And it even has some of the town's older foundations worked into its structure as well; the base of the structure was once part of an Austrian fort!
15 – Wander through the Roman Theatre of Trieste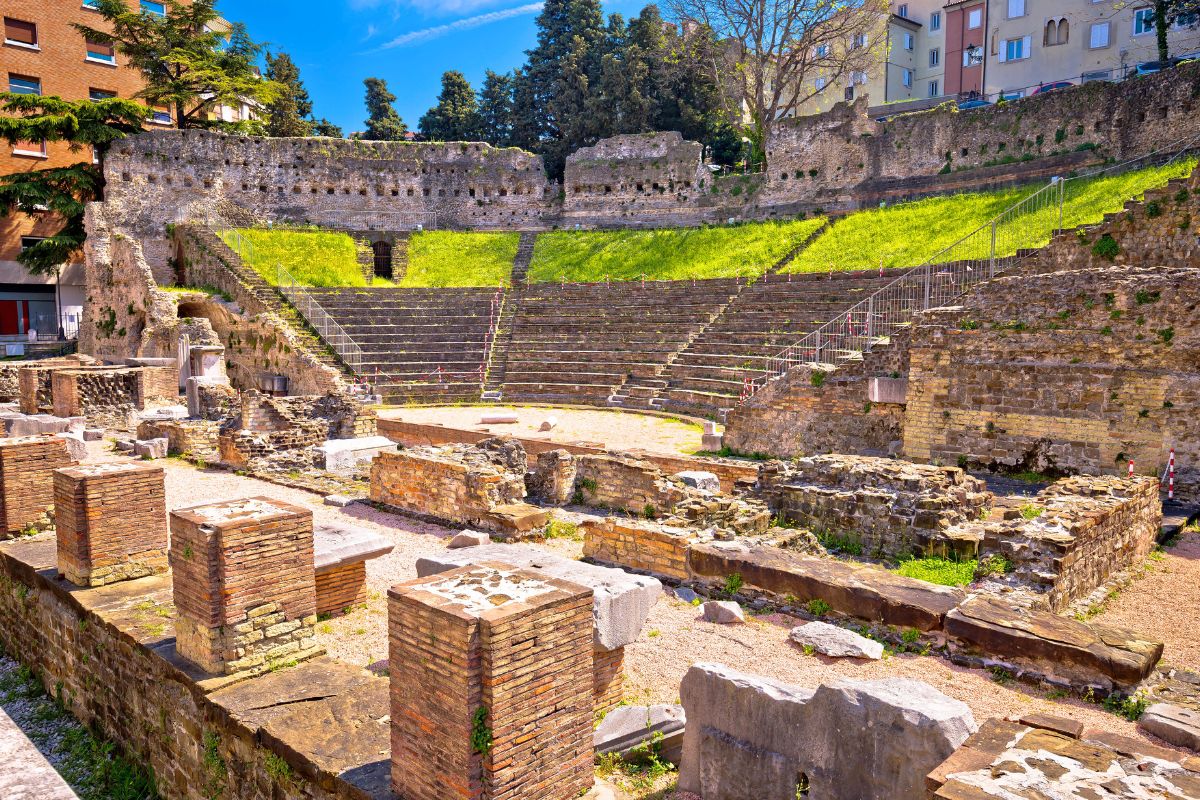 For all of its multicultural trappings, there are still some vivid traces of Italian impact in town; and a visit to this ancient site is one of the most fascinating things to do in Trieste if you want to get a sense of the deeper influences!
If you happened to be visiting this area 1,000 years ago, you probably would have heard and seen plenty of action around this space; in its heyday, the theater could hold 3,500 people!
And like so many other similar models, it had a consistent lineup of shows that kept the local arts scene alive and well.
While it may not be quite as active as it was back then, you can still enjoy some amazingly well-preserved structures, from the rows of seating to the general layout of the stage itself.
Stand here a while, and try to imagine the lines that once floated through the air!
16 – Enjoy the beauty of Lake Bled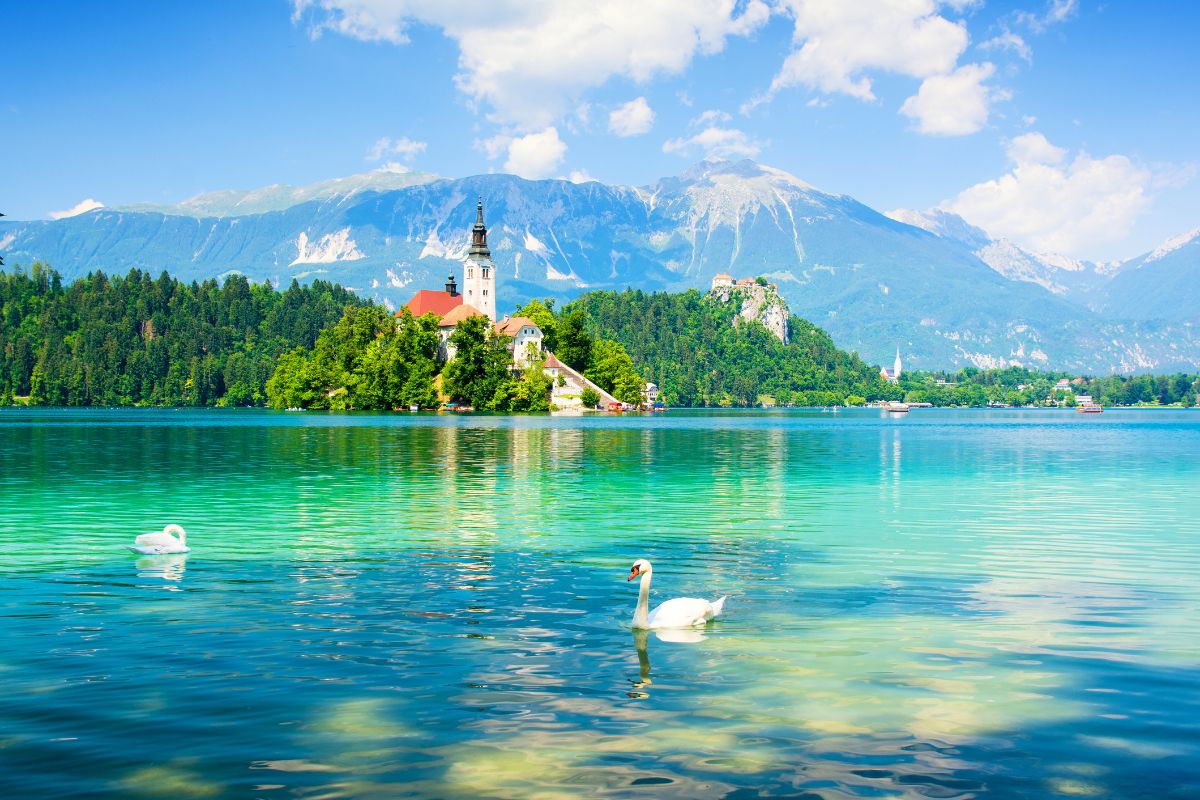 Back to Slovenia we go for another look at some natural wonders – this time, of the aquatic variety!
Lake Bled is one of those picture-perfect places that only gets better in person; a vast, dizzyingly beautiful glacial specimen, with its crisp, blue waters made even more vivid by the trickling springs that feed into it.
And this appeal is only magnified by the lovely little features scattered around, including its own little island… complete with a church!
This is also a great opportunity to stop by Ljubljana, the capital and largest city, where the medieval and the modern combine… and create a magical space!
17 – Have a dozen caving adventures in one at Grotta Gigante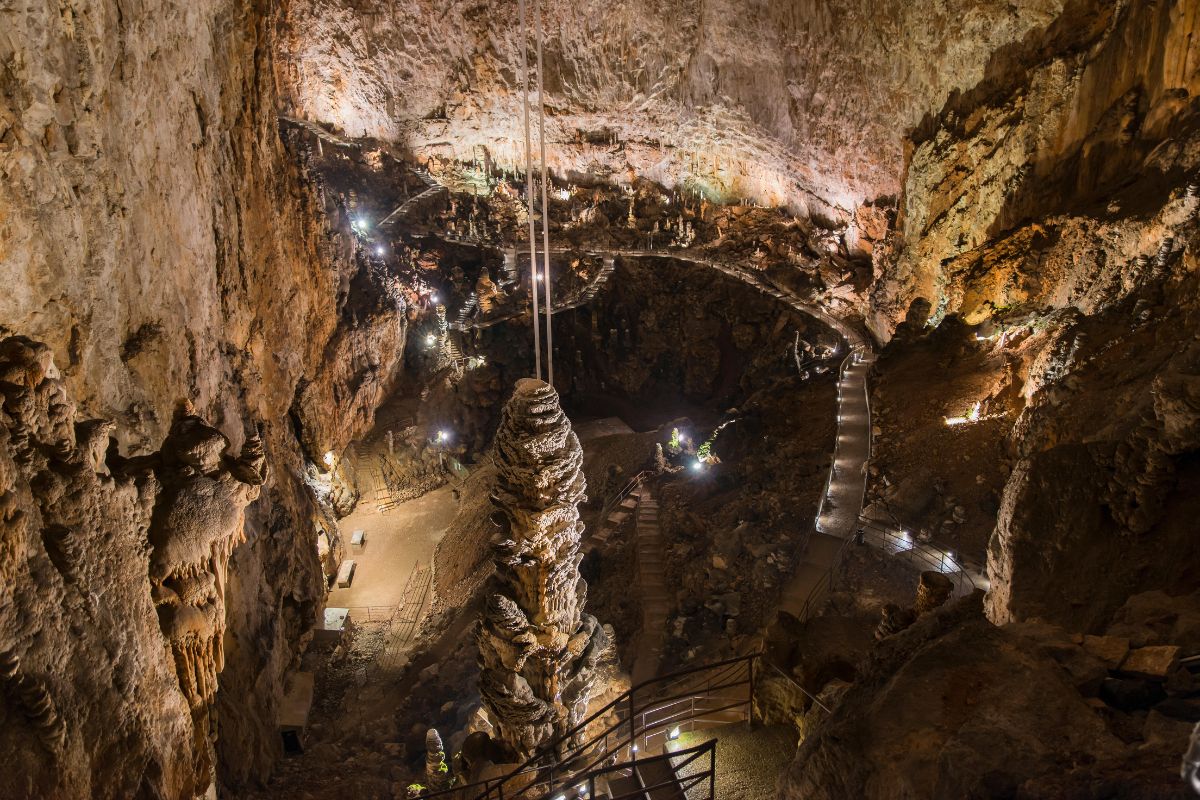 Time for a spelunking experience that's a little bit closer to home… and it's quite an impressive display!
Grotta Gigante is one of the largest explorable caves in the world, and each corner has some sort of wonder to offer up: surreal stone formations, massive chambers, and forests of stalagmites and stalactites that have developed steadily over millions of years.
Enjoy the dazzling beauty of the small and mighty formations, and learn about the old civilizations that once had their own connections to this wondrous space.
If you're feeling particularly adventurous, you can go on a full-fledged spelunking adventure, climbing and shimmying through some of the more secretive tunnels and routes.
And if you prefer a more gourmet experience, you can even indulge in a tasting experience, where you'll sample different foods and wines in the surreal settings of the cavern… talk about an "underground" tasting experience!
18 – Enjoy the unusual sights inside Skocjan Caves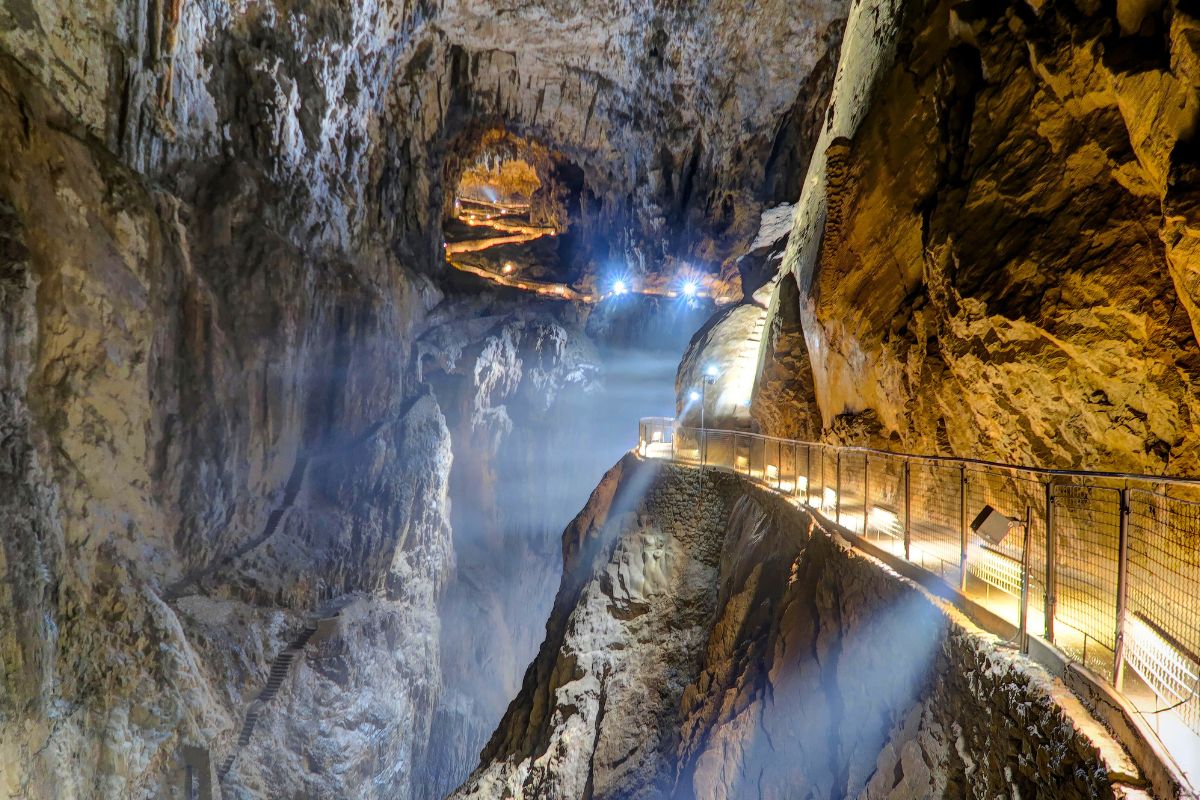 But wait, there's more!
This time, you can get even deeper into the unique natural climate of the world below our feet, as you find the lush environments flourishing in Skocjan Caves!
This is one of those places where the wonders have their own wonders; not only is the cavern system stunning, but it's also home to a massive underground canyon, adding another layer to this complex, ethereal world.
Gaze at the stone walls that perfectly pair with the ones soaring above you, and follow the gentle current of the Reka River, which flows straight through the space.
Back at ground level, you can enjoy a different sort of natural splendor with a trip to Lipica Stud Farm, home to the famed Lipizzan horses.
Pure white, well-trained, and utterly majestic, these noble steeds have long been known for their exceptional grace and talent, and this farm is one of the oldest in the region, with a long history of preserving the breed.
Spending some time in the company of these gorgeous animals as they roam through their tranquil surroundings will surely make a horse fan out of you!
19 – Take in the architectural triumphs of the Temple of Monte Grisa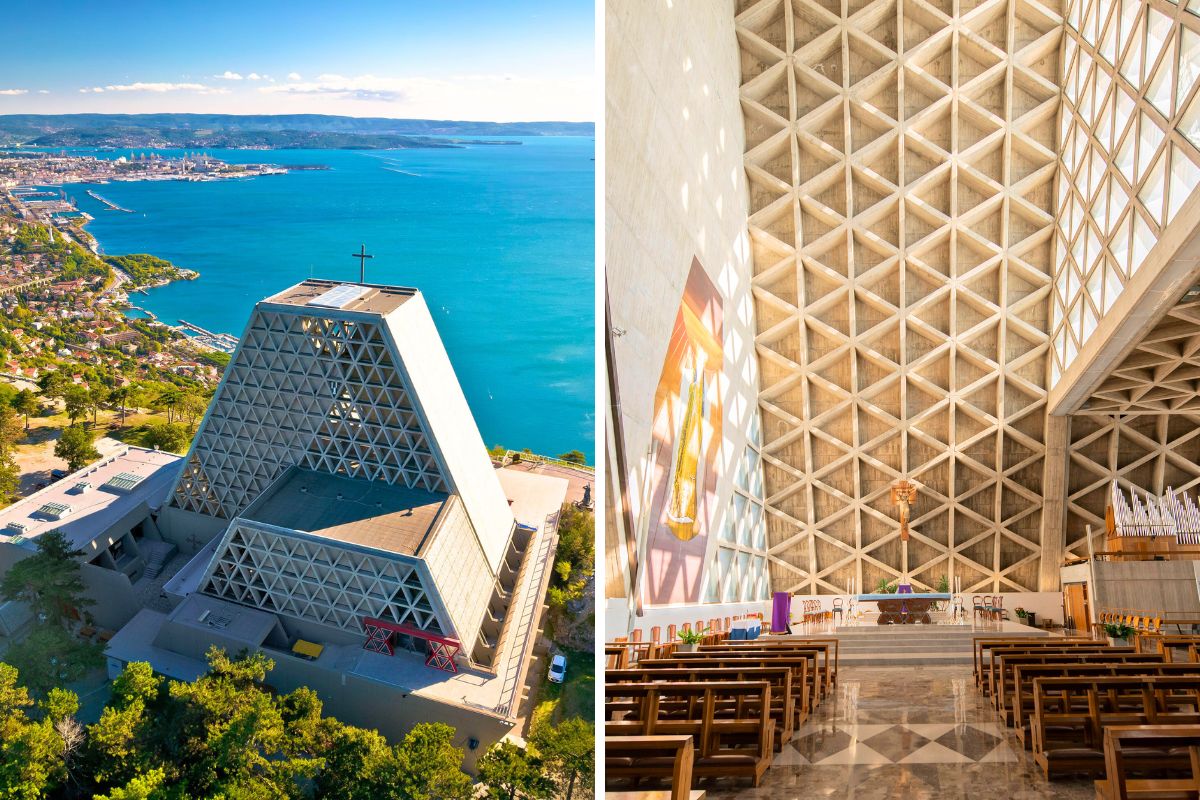 At first glance, this swooping triangular building and the smaller models that flank it might seem like some sort of secret villain lair; but they actually make up one of the most popular spiritual institutions in town!
While there are lots of things to do in Trieste for religious types, a visit to this stunning display can appeal to secular types as well – after all, its origin story lies in a pretty significant triumph.
Although it opened in 1966, its origins stretch back to the tumultuous days of World War II, when local bishop Antonio Santin swore to build a magnificent new church if the town made it through the conflict unscathed.
The magnificent structure is built in the abstract form of an M, representing the Holy Mary, to whom this beacon of peace was dedicated.
And every inch of its design pays homage to different symbols and stories, from the suffering of Jesus on the cross and the transcendence of the Holy Trinity to the majestic, intricate patterns of a beehive.
Regardless of your affiliation, it's a moving place to visit!
20 – Get your forest fix at Pinewood of Barcola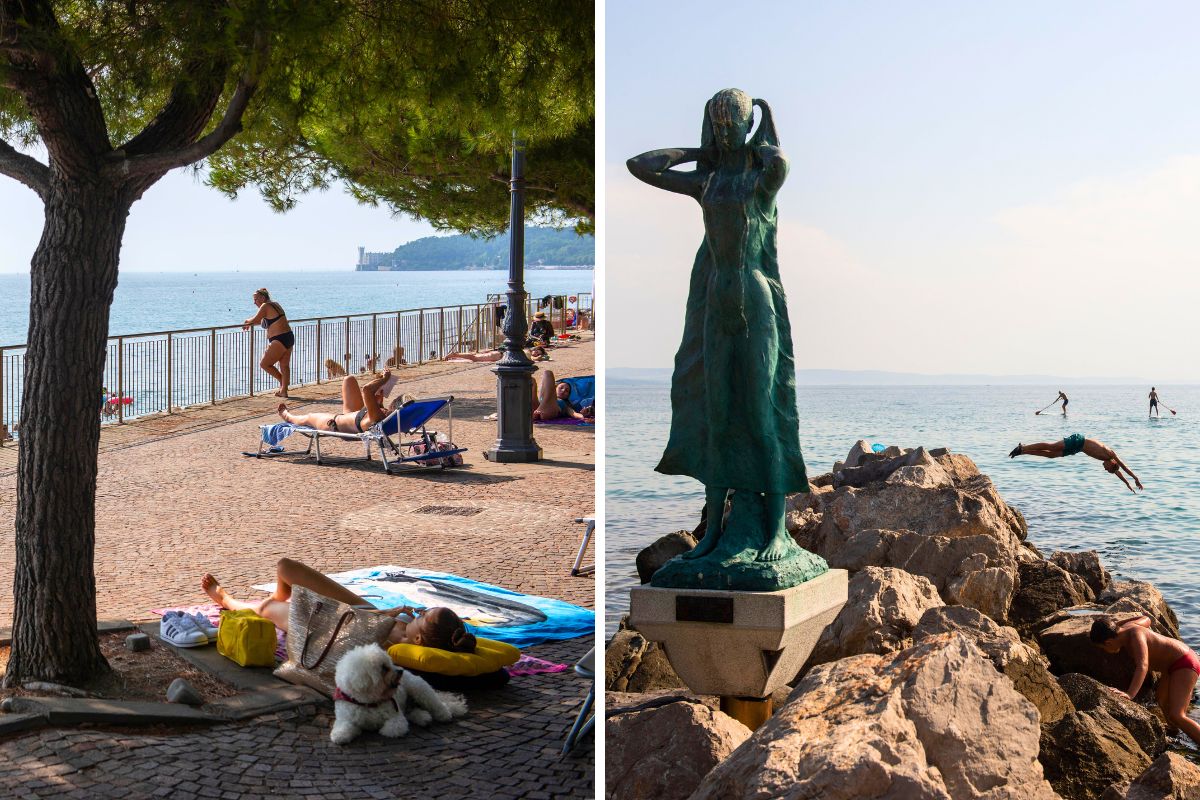 When you're ready for a little bit of the soothing power of nature, you can enjoy the peaceful atmosphere of this magnificent forest, which runs perfectly alongside the beach.
For most of the town's history, this area has been a beloved place of refuge; in Roman times, it was a popular spot for upscale homes, and even a spa or two.
Over time, different getaways and recreational areas started to fill the area, all interwoven with the beautiful strands of oaks and pines that make up this urban woodland.
Whether you're wandering through the foliage or splashing around at nearby Barcola Beach, you'll feel like you're really getting away from the hubbub… without having to go far at all!
21 – Enjoy some chill beach time in Piran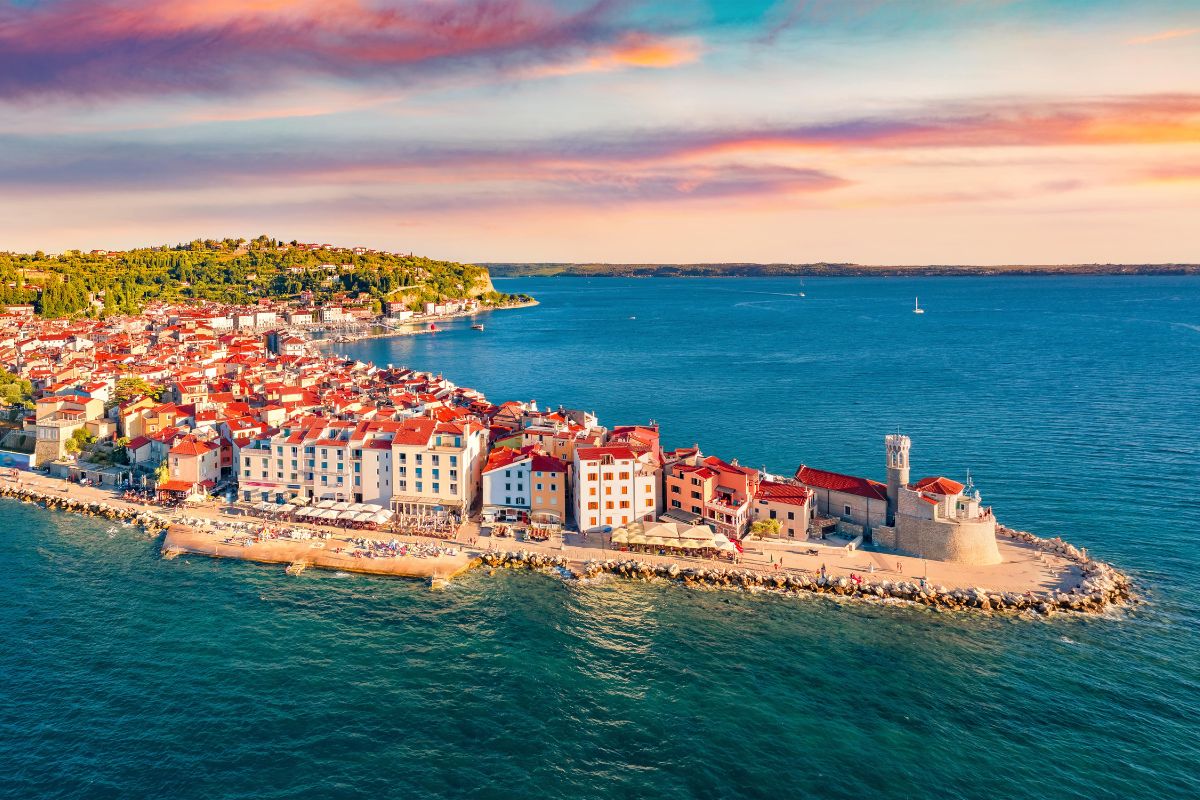 From caves to lakes to the open sea… Slovenia really has the perfect day trip for everyone!
The coastal areas are just as stunning as their inland counterparts, and there's nowhere quite like Piran to start exploring.
Funnily enough, you'll actually see plenty of architectural influences from a different Italian city; it was once part of the Venetian Republic, and many of the buildings still bear signs of those opulent days.
But it also has a delightful character all its own; you can spend some time roaming the quiet streets and enjoying the laidback local culture, enjoying some authentic Slovenian cuisine, or visiting some of the lovely little monuments, including one dedicated to Giuseppe Tartini, a renowned violinist who was born in the town.
22 – Hang out like a local at Villa Revoltella Park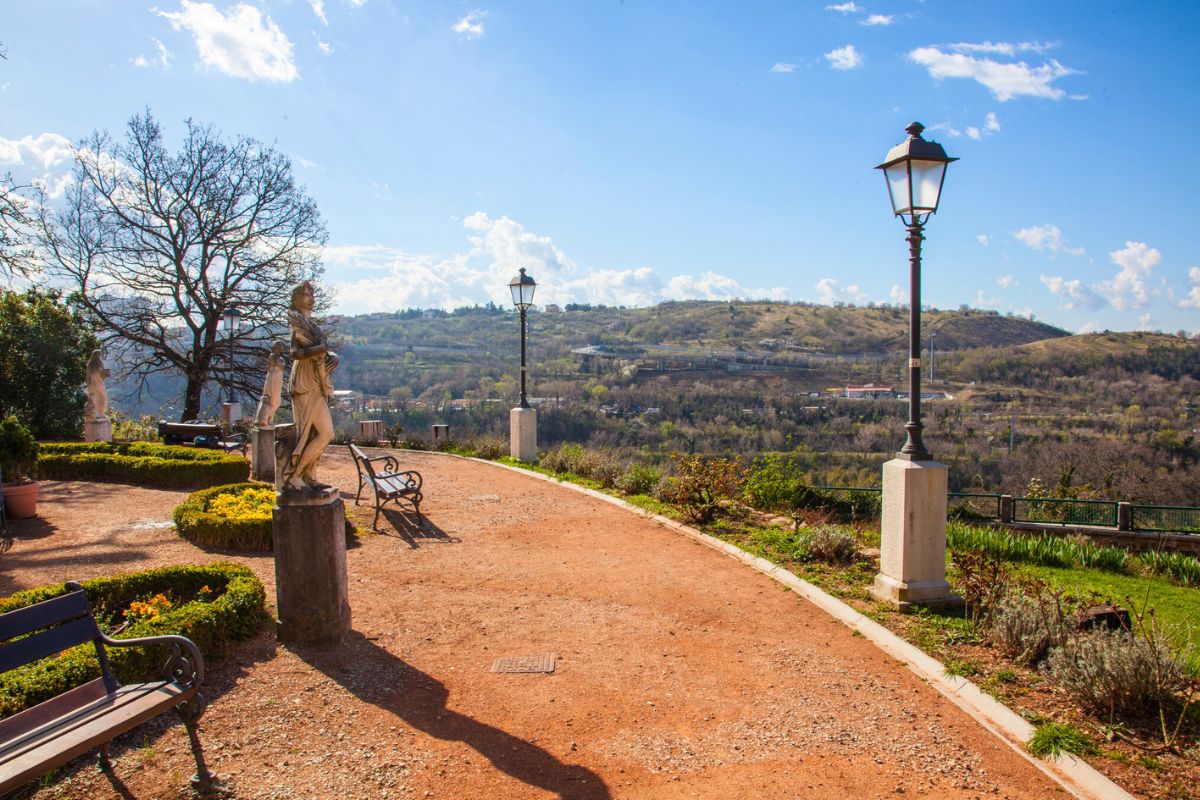 Amble along the hillside, peek into a fish pond, and count the different types of flowers around you… and don't forget about the topiaries!
This is one of the loveliest green spaces in town, with a sense of nobility that hearkens back to its roots as the private grounds and home of local businessman Pasquale Revoltella.
He donated the property to the city upon his death, and the result is a gorgeous spot that has grown more and more into a public playground, offering lots of relaxing spots with a little bit of whimsy thrown in.
Bring your little ones to the playground, or take some time to amble past the historic mansion, the curated gardens, and the little church built in honor of Saint Pasquale.
And for athletic types, there's an ice skating rink, basketball court, and plenty of sporting fields that will help you break a bit of a sweat before retreating to enjoy the beauty.
23 – Take a look around Aquileia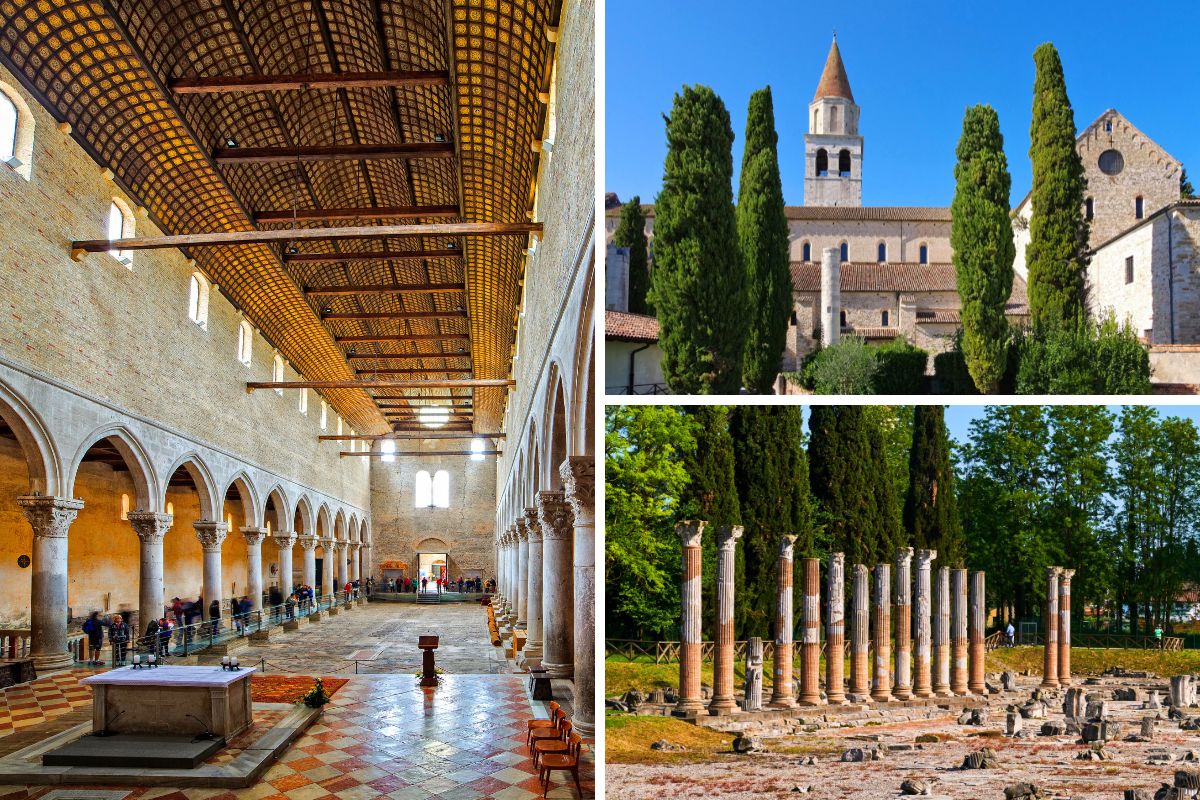 In the heyday of Roman rule, you'd likely find a whole holiday's worth of adventures in Aquileia; once a cosmopolitan center with a lively culture and a powerful port, it was one of those places that served as both a strategic outpost and a lively cosmopolitan hangout.
And while the age of sailors and parties is long gone, the town itself is still merrily chugging along – and you can still catch a glimpse into how the town once operated as you tour some of its ruins!
Admire the elaborate Christian paintings in the Crypt of the Frescoes, and the floor mosaics in the basilica, still boasting their own vivid colors.
And as you weave your way through the old town, you'll see the river port, the necropolis, and even the remains of once-bustling markets, all telling the fragmented but fascinating story of one of antiquity's swingingest towns.
Then it's off to neighboring Grado, a lovely little fishing village with some neat ruins of its own… plus the sort of stunning views that only an island can provide!
24 – See another side of the culture at Saint Spyridon Church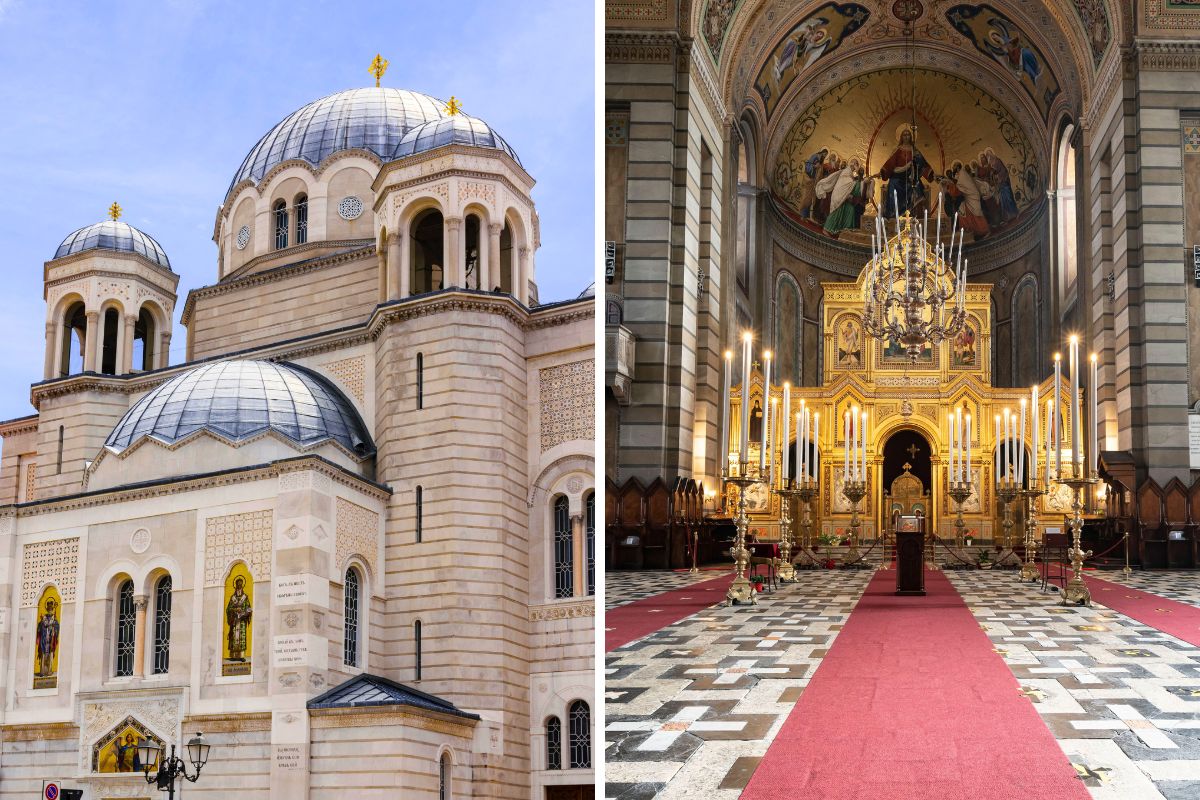 With its cheery domes and soaring structure, this Serbian Orthodox church is another bit of the city's rich cultural tapestry… and it's pretty nice to look at, too!
It first came on the scene in 1756, providing a spiritual home for the waves of immigrants that arrived after the advent of religious freedom earlier in the decade.
And while the current structure was actually built in 1868, it contains all sorts of intriguing artifacts from the original space, as well as various art pieces and old documents.
You can also enjoy the beauty of the exterior, which is both lovely and deeply inviting.
25 – Get experimental at Science Center Scientific Imaginary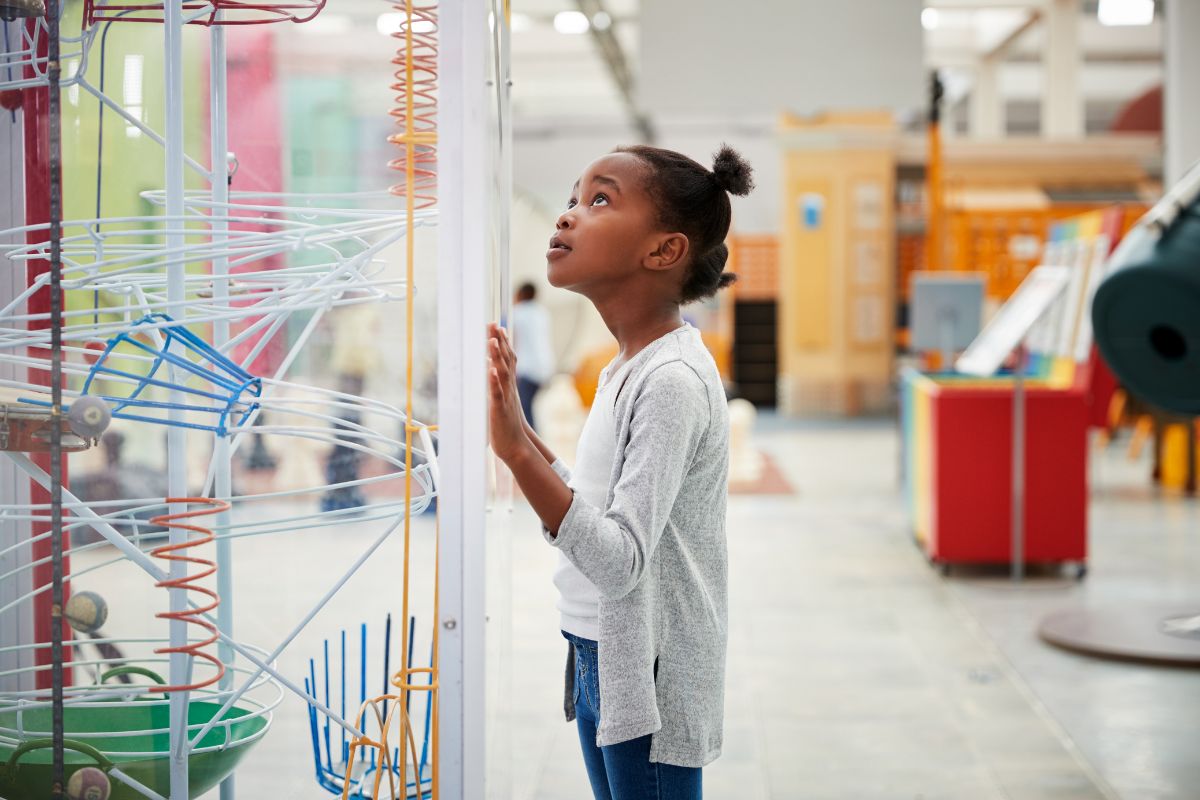 This is one place where you can learn by doing – no matter your age!
The wonders of Science Center Scientific Imaginary reveal themselves immediately, in the form of interactive displays and in-depth exhibits that probe the great questions of the universe around us.
Get in a staring contest with a giant model of the human eye; practice a bit of robotic coding; or settle into the planetarium for a glimpse of the cosmos in all of their bright, ever-changing glory.
There's also a fascinating section that explores specific scientific research taking place in the city, and brings it vividly to life for the public.
In this wonderfully innovative space, anybody can be a scientist.. If only for a few hours!
26 – Serve up some fun with a few cooking classes
When you sign up for cooking classes, you might expect sumptuous aromas, fun mixes of ingredients, and some wonderful treats to try at the end.
And while these courses will certainly offer all of that, you'll also get the chance to spend some time with the very chefs that know these dishes best: the locals!
Meet some friendly faces at their homes, and learn how all of the components of these dishes come together into something magical and sustaining.
Pastas, produce, fresh fish, and vibrant cheeses and meats – there's something for every palate here, and half the fun is in learning how to put it all together.
The other half, of course, is sitting down and enjoying it with your newfound friends!
27 – Take a walk (or climb) on the wild side at Val Rosandra Nature Reserve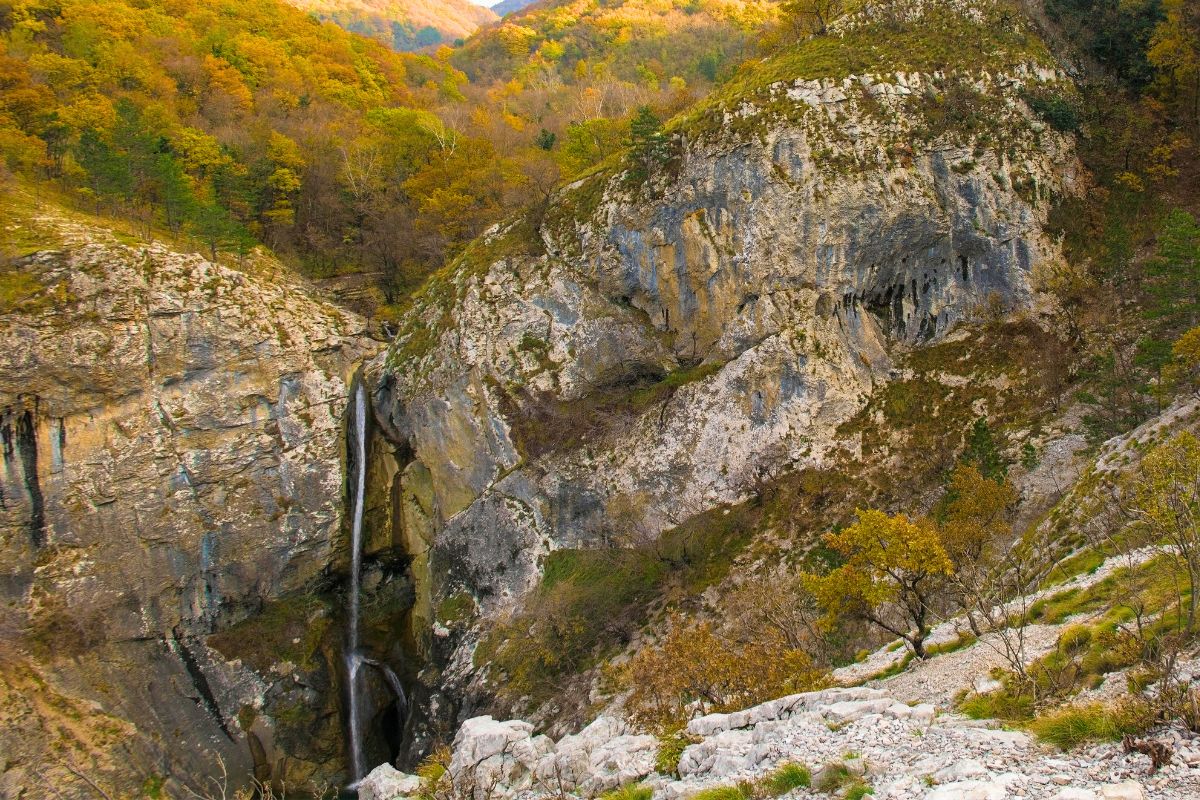 Another one of the Karst region's most spectacular spots, this picturesque valley is perfect for a hike, bringing you into contact with some of the coolest plants, creatures, and rock formations around!
Follow creeks and forested paths past old mountain huts, natural pools, little churches, and a wonderland of geological treats, from fossils and caves to calcified stones.
And of course, you'll see signs of life all around you!
The trees perpetually rustle in the breeze, changing color and form with the seasons; and if you're lucky, you might spot creatures from hedgehogs and wild boar to bats, birds, and all sorts of reptiles and amphibians.
There are also plenty of different adventures to try after your walk; you can book a stay in a historic inn, or strap on some shoes and get to know the boulders a little differently; after all, this is one of the best spots around to try a bit of rock climbing!
28 – Sample the many flavors of Istria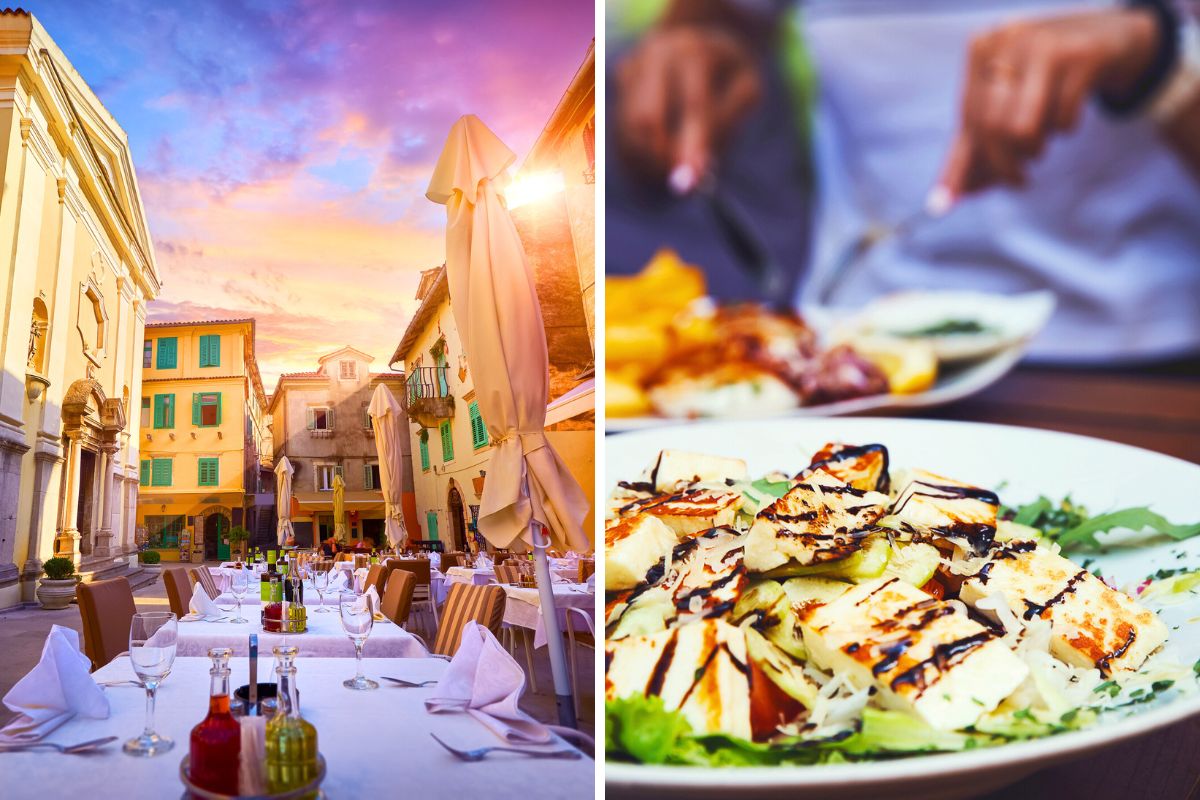 Take a bite… take another… take several!
While you'll find something delicious everywhere you look here, the wonderful peninsula region of Istria is especially noted for its great cuisine – so why not stop by for some samples?
Along with some things you might recognize from the broader area, such as fresh olive oils and whatever delicious vegetable happens to be in season at the time, you'll get to try all sorts of unique spices and seasonings, as well as some of the many plants that have been used in recipes for centuries.
Roam from one lovely little village to the next, trying all of the best delicacies, and seeing how the beautiful coasts and lush inland areas have helped nurture this flourishing food community.
And you'll love tasting the lip-smacking results!
29 – Grab a mug and linger in the historic coffee houses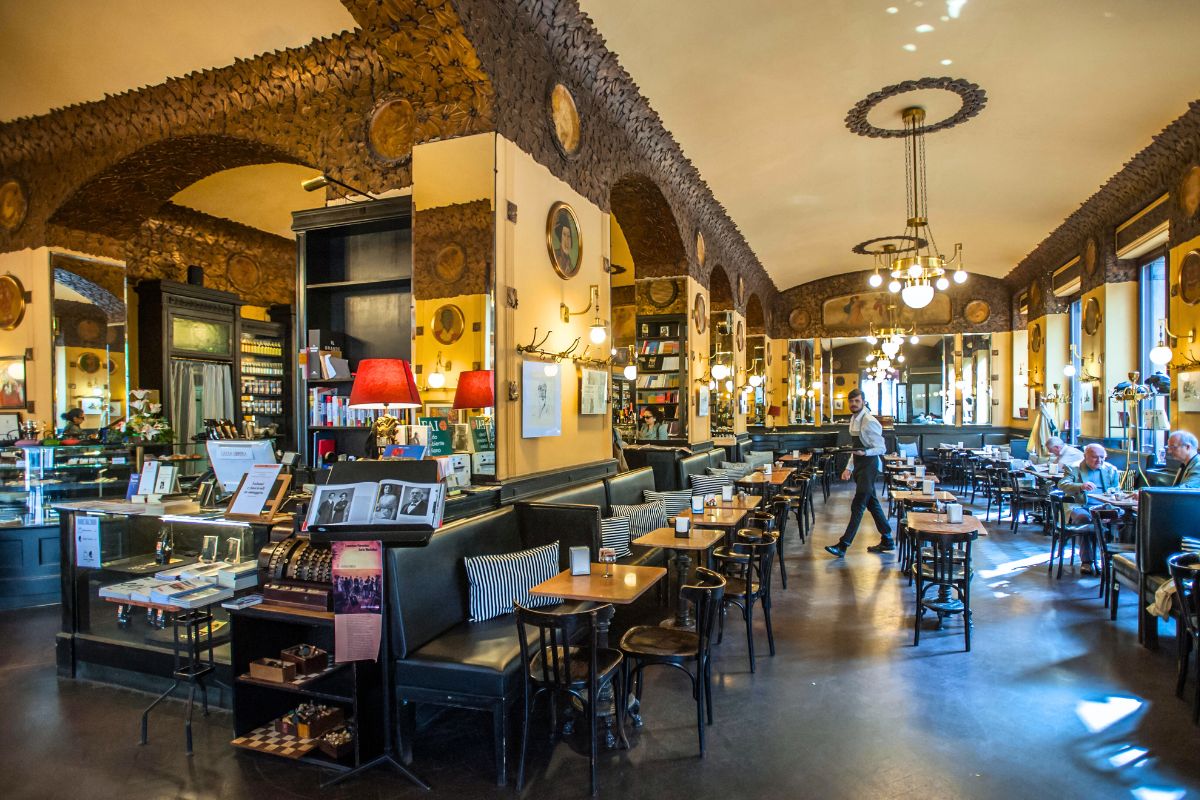 Around these parts, even a caffeine break can offer a look into the culture!
These traditional cafes are one of the most vibrant remnants of the Austro-Hungarian Empire, when the coffee culture of Vienna made its way into the city with gusto.
Far more than just a spot to grab a cup of joe, these spots became community hubs, helping to facilitate the active coffee trade in the region, and offering refuges for citizens to read, chat, work on artistic projects, or watch the world go by.
For all you know, the chair you're occupying may once have been sat in by famous former patrons like Franz Kafka or James Joyce!
Caffè San Marco is among the most famous spots, known for its ornate Art Deco setting and amazing pastries; but you can also soak up the vibes (and the great flavors) at Caffè Tommaseo, the oldest of the bunch; Caffè degli Specchi, which was once a popular writer's hangout, and now offers up some amazing chocolates; or Antico Caffè Torinese, which is chock full of glamorous touches… including a chandelier!
Take your time to soak up the experience of these iconic hangouts!
30 – Dine at a local's home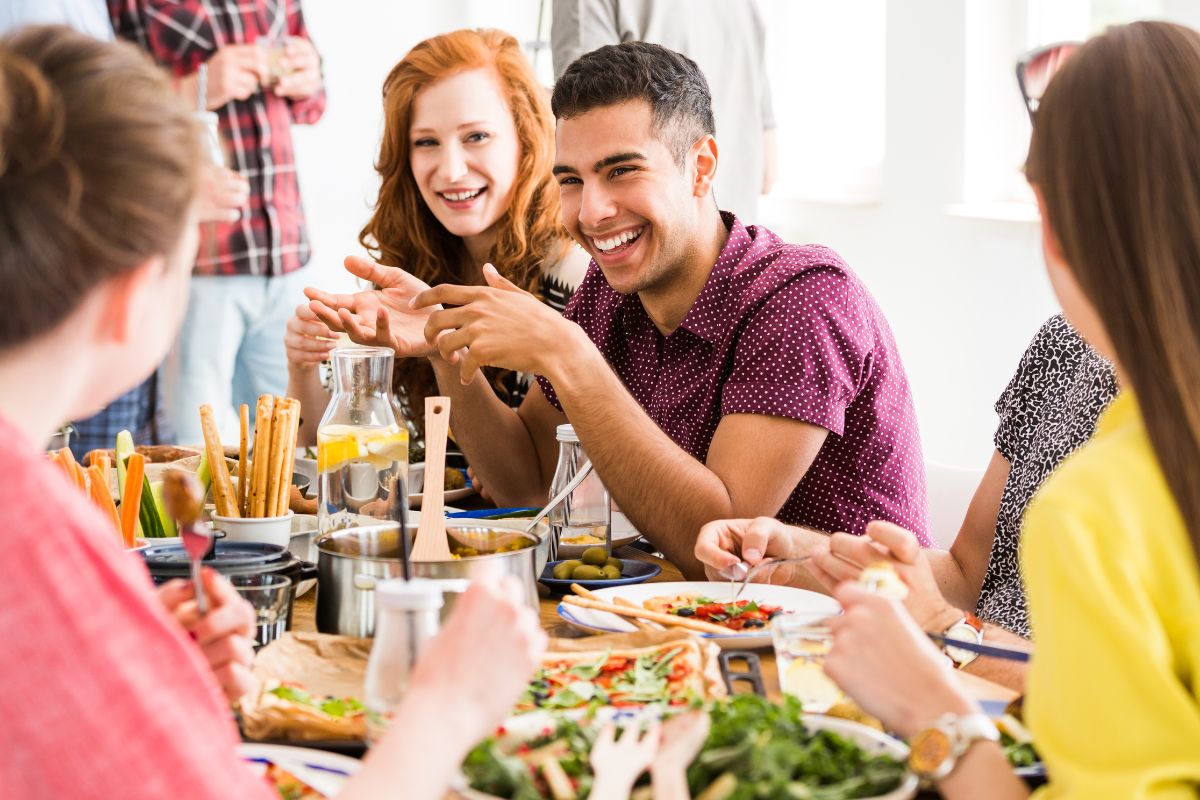 If the cooking courses have gotten you excited to explore the culinary scene, there's an even more immersive option: eating with a local!
Dinner experiences in Trieste offer the unique chance to really savor a meal and the connections that come with it, as you join friendly locals and see how they live day to day… and how they eat!
Watch how they prepare these traditional dishes, and enjoy course after course of delicious cuisine as you converse with your hosts.
It's the perfect way to get to know this city all the better: relaxed, informal, and full of great sensory moments!
31 – Make the most out of your meals at the best restaurants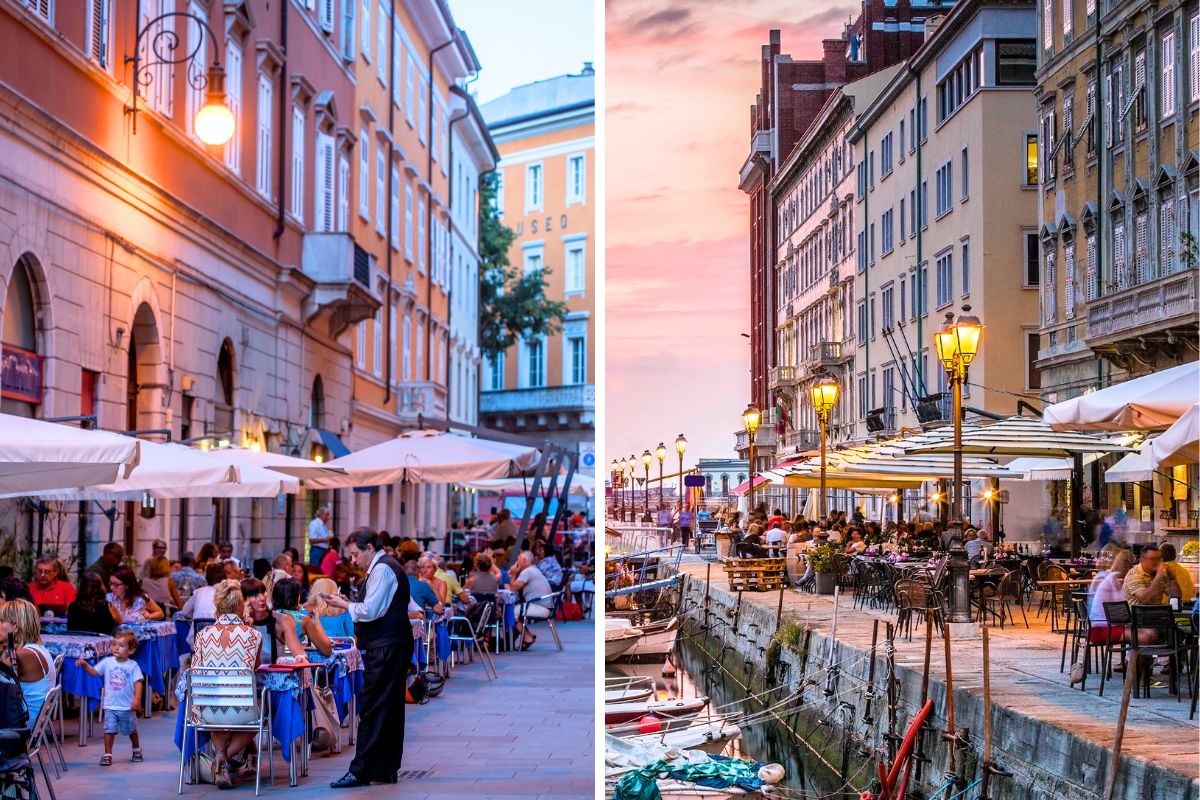 And for yet another wonderful dining experience with a little more ambience, munch your way through the best restaurants in Trieste!
You can go fancy or relaxed, or somewhere in between; but you'll always get some delicious meals, which showcase the mixed cultures and mouth-watering ingredients of this wonderful realm.
Head to Novo Foraperfora for a delicious and eclectic menu that ranges from schnitzel and gnocchi to breaded sardines, or enjoy all sorts of tantalizing seafood at the cozy Osteria "El Cassetin" di Milos Marco.
Try a nice bit of breakfast or some lovely vegetarian options at Home Sapore Di Casa, or get a little more adventurous with the blind tasting menu at Bracerie Venete, which also serves up excellent steaks.
And don't miss the feast at Buffet Clai, where you can spend the whole meal grazing on an endless array of snacks, fish, and veggie dishes… plus plenty of delicious wine to wash it all down!
How to get to Trieste?
There are some excellent airport transfers that will whisk you easily to and from Trieste Airport, sparing you the nuisances of navigating unfamiliar transit systems.
And it's also a great option if you're visiting other nearby cities, such as Ljubljana and Venice.
Just sit back, relax, and get excited for your trip!
Where to stay in Trieste?
At Grand Hotel Duchi d'Aosta, you'll find yourself in the lap of luxury, whether you're enjoying a nice meal at the Michelin-starred restaurants or doing some luxurious laps in the glamorous indoor pool.
And at Savoia Excelsior Palace, you can enjoy the extensive gym and the gorgeous decor, unwind with a nice massage, or amble out into town and enjoy all of the nearby historic sites.
Urban Hotel Design lives up to its name with its cool minimalist trappings, and also puts you in the perfect spot to enjoy Piazza Dell'Unità and the nearby harbor.
And if you stay at Hotel Citta' Di Parenzo, you'll have beaches, castles, and public squares all waiting outside the door, and a great lounge and bar that will keep you happily entertained in the evenings.
You can also unwind and soak up the seashore in style at Tre Merli Beach Hotel, where the water isn't just your backdrop… it's your backyard!
Visiting Trieste on a budget?
This city certainly has many faces, and there's no better way to explore them than with your own two feet!
Whether you want to delve into the vibrant cafe scene, uncover the horrors of Nazi occupation, or explore the fascinating conjunctions between Austrian and Italian culture, the free walking tours in Trieste will satisfy your curiosity – and they'll keep your wallet happy, too!
There's a certain intimacy to discovering a town by strolling through it, and it's made all the better when you're accompanied by an enthusiastic guide with a real love for the city – and a deep understanding of its secrets and complexities.
Just be sure to bring some extra cash to tip them for a job well done!
Where to go next?
Sure, you can get a sampler platter of cultures in town – and it's no surprise that the nearby destinations are equally diverse!
If you want to stay in Italy, you can take a quick two hour jaunt along the edge of the Adriatic to Venice, the magical city where art and romance mingle with great empires and even greater minds… and gondolas, of course.
Or you can see even more of Ljubljana, from bridges festooned with mythical creatures and lively flea markets to gorgeous outdoor areas and an endless array of traditional meals to enjoy.
Or scoot south to Croatia, where a trio of stellar towns await you!
In Rijeka, you can enjoy the quiet charm of a beach town with a bustling port, amazing old buildings, and a wonderfully funky vibe… including one of the best Carnival celebrations around!
Meanwhile, in Pula, you can find a magnificent set of Roman structures to remind you of the past, and plenty of great cafes and bars to show you all that it has to offer in the present.
And of course, there's always Zagreb, the country's capital and one of its most prominent cultural hubs, where the architecture, the art, and the unique museums all form an unforgettable metropolitan hub that will have you falling in love in no time.
Final thoughts
You'll feel the difference in this town as soon as you arrive, but it isn't until you start really diving into the amazing things to do in Trieste that you'll understand just how special this place truly is.
It's a place where some of Europe's great civilizations and its most beautiful landscapes come together to create an intoxicating atmosphere that always offers surprises.
So pack your bags and get ready to discover them!