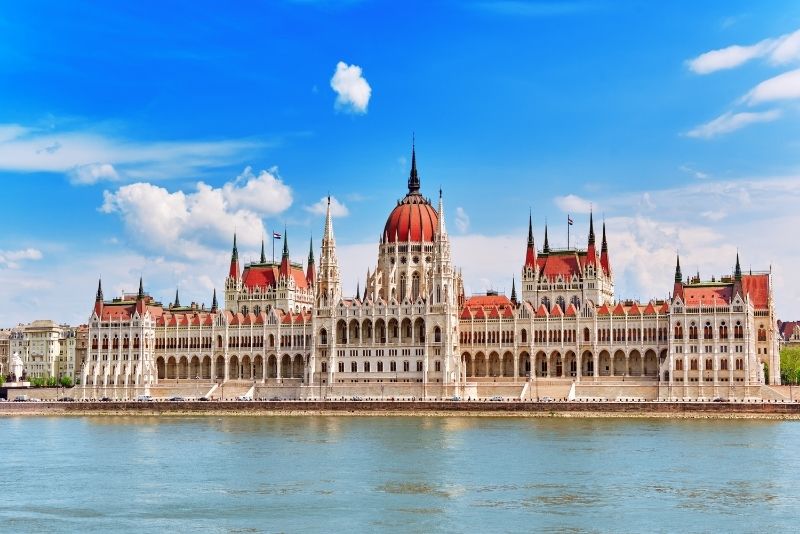 Undisputed as one of the most photogenic cities on the continent, the Pearl of the Danube is racing up the tourist ranks, quickly establishing itself as the premier eastern European capital (sorry, Prague, not this time).
From its Disney-esque riverside Parliament Building to its collection of marvelous basilicas, trendy ruin bars, relaxing spas, mouth-watering restaurants, and non-stop entertainment, the list of things to do in Budapest never ends.
As a comparatively cheap destination (up against the western European metropolises of London and Paris), even budget travelers can treat themselves to a slice of luxury in Budapest.
So, where to begin? We can help with that.
1 – Check out Buda Castle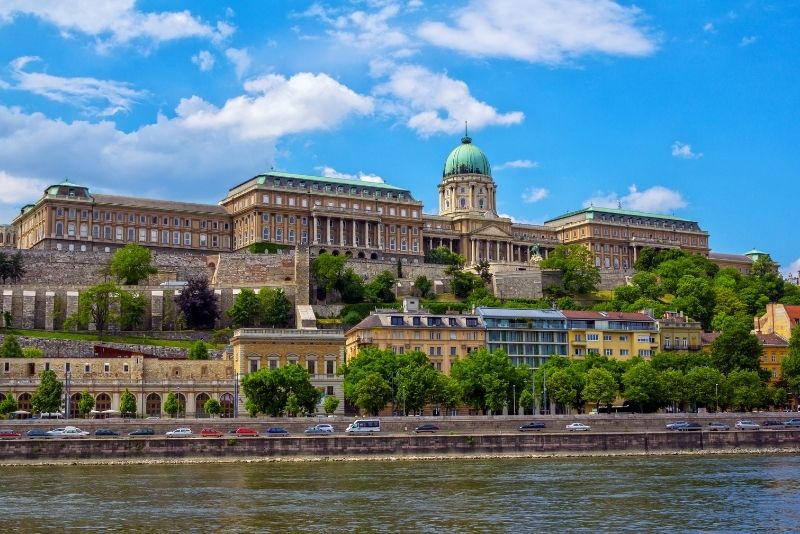 You simply can't miss this grand royal residence at the center of Budapest!
For 800 years it has undergone plenty of facelifts and renovations, so taking a guided tour to hear the secrets hidden in every wall and every room of the palace (and the surrounding Várhegy district) is considered a quintessential tourist activity.
If you're feeling snackish, swing by nearby Ruszwurm for a famous sweet pastry!
2 – See the changing of the guards at Parliament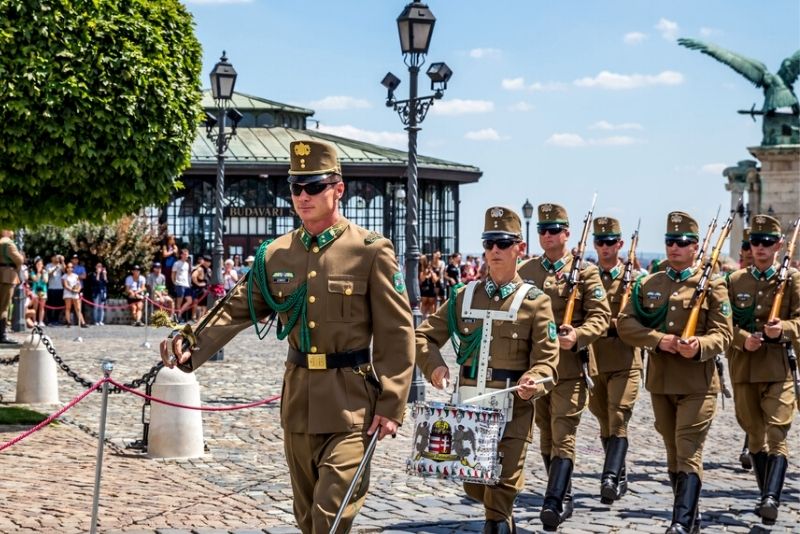 With the royal crown jewels, plenty of artistic prowess, and 40 kilograms of gold on site, there are few buildings anywhere in the world that can rival this masterpiece on the Danube.
If the building isn't striking enough (inside and out), the daily changing of the guards ceremony includes rifles, drums, and sublime choreography ought to do the trick!
Read more about Hungarian Parliament tickets price.
3 – Take in the view from St. Stephen's Basilica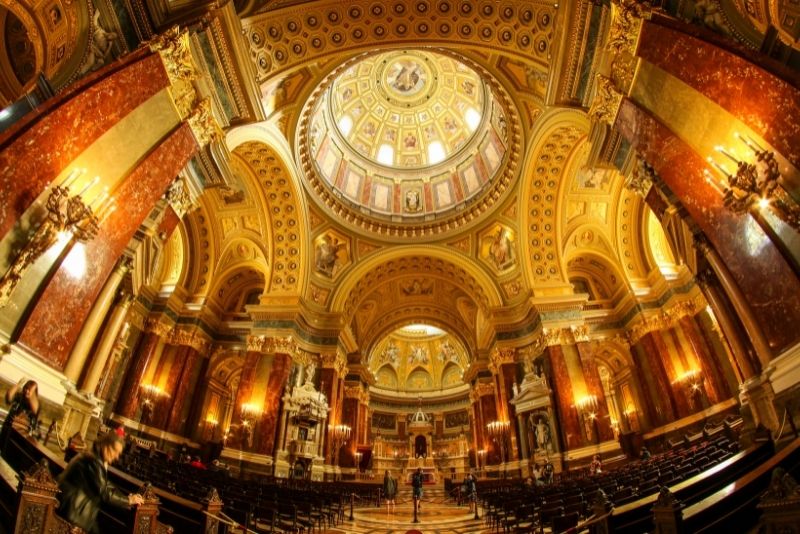 Filled with fine art, a mummified hand, and an antique organ for classical music concerts, this vibrant building is more than just a famous religious site — it's also Budapest's tallest building!
So, of course, make sure to take the elevator up to the terrace and snap a perfect Instagram post.
Many of the city's free walking tours will stroll past this landmark, however, to appreciate its true energy, an organ concert ticket is highly recommended.
5 – Cruise down the Danube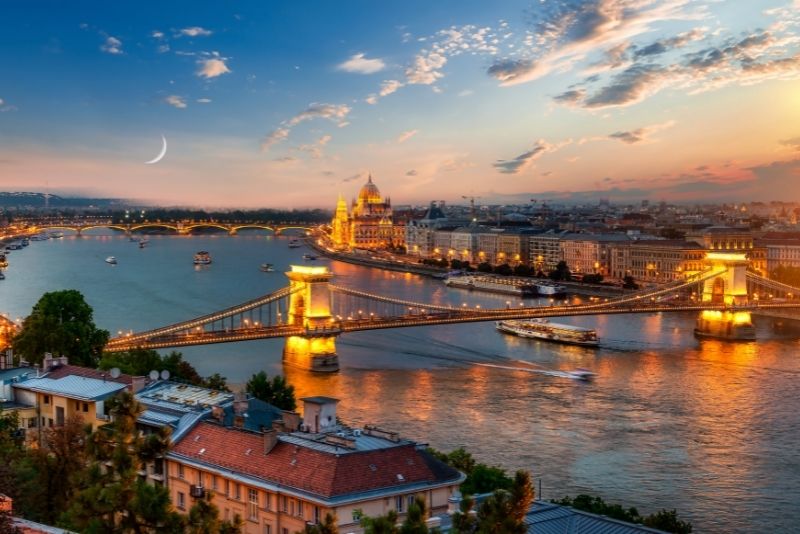 Whether seated on the open-air deck or behind the comfort of the glass, cruising down one of Europe's most famous rivers is a great way to see Budapest.
By day, enjoy a cup of coffee and listen to the live narration about the passing landmarks; by night, sip on a cocktail surrounded by romantic ambient candlelight; or even join a boat party.
Any cruise is a memorable experience, so pick your preferred style and add it to your list of things to do in Budapest!
Read more about the best Budapest river cruises.
5 – Find the Tree of Life in the Jewish Quarter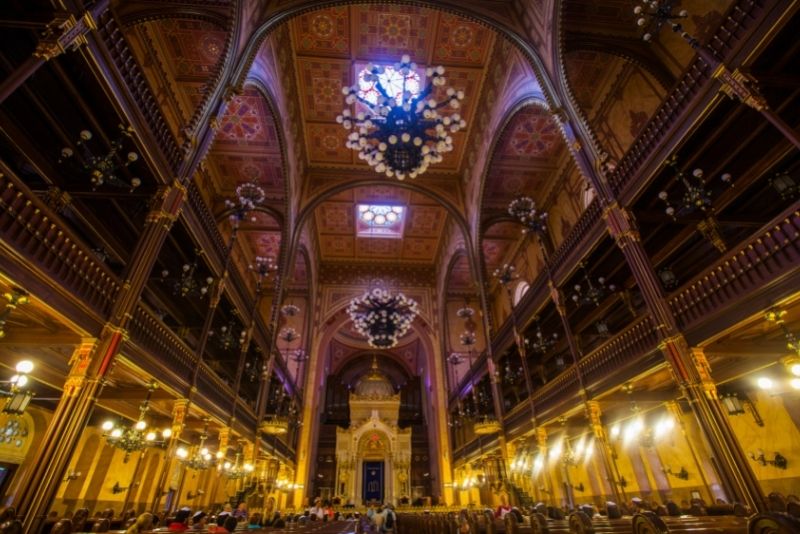 Budapest's multifaceted Jewish Quarter has nightlife for party-goers, great restaurants for foodies, and dynamic tales for history buffs!
Dohány Street Synagogue is a marvel and the second-largest synagogue in the world, a mainstay attraction in private tours of the area.
The Tree of Life, another unmissable landmark, sits is in the Raoul Wallenberg Memorial Park, commemorating World War II and the heroes who defied the German occupation.
6 – Take a hop-on hop-off bus tour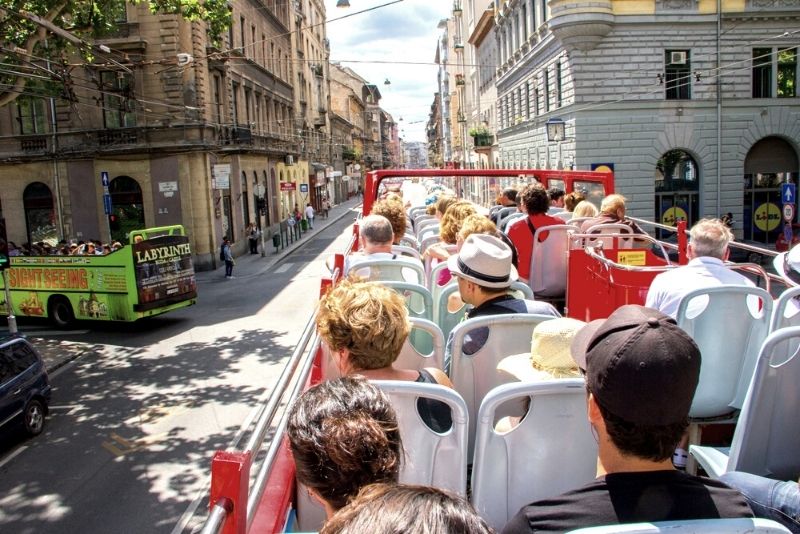 With so many things to do in Budapest, boarding an open-top double-decker bus with detailed audio commentary is a great way to see all the best attractions (without tiring out those legs)!
There's always another bus around the corner to take you to your next stop, so you'll never have to worry about racing against the clock.
For those staying for at least a few days, the recommended deluxe ticket also includes a Danube River cruise and night-tour of the city.
7 – Tour the Royal Palace of Gödöllő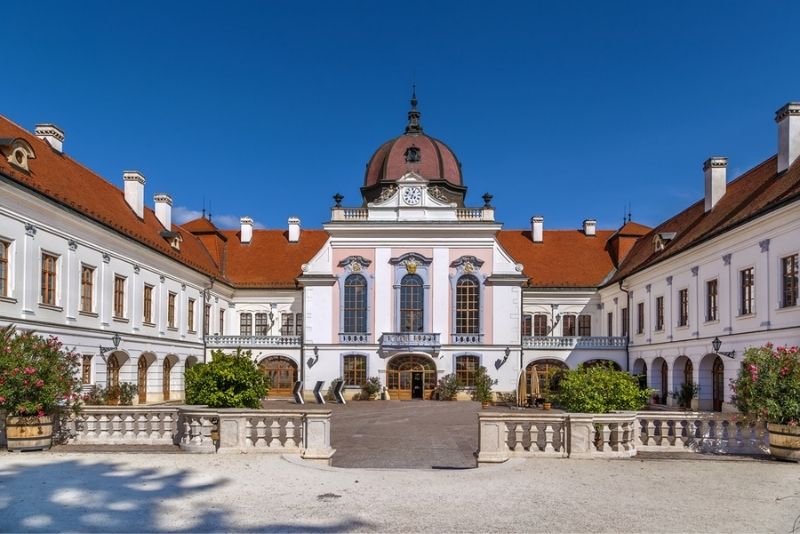 About 40-minutes from the hustle and bustle of Budapest awaits a holiday house fit for a king!
The royal palace is a testament to Hungary's rich history; combining the charm of old Budapest with the Italian village vibes of Szentendre, a colorful riverside town known for its museums.
Hot tip: if traveling with youngsters, take them to the nearby Lipizzan farm, home to animals and an amazing horse show!
Read more about the best day trips from Budapest.
8 – Put on your sneakers for a free walking tour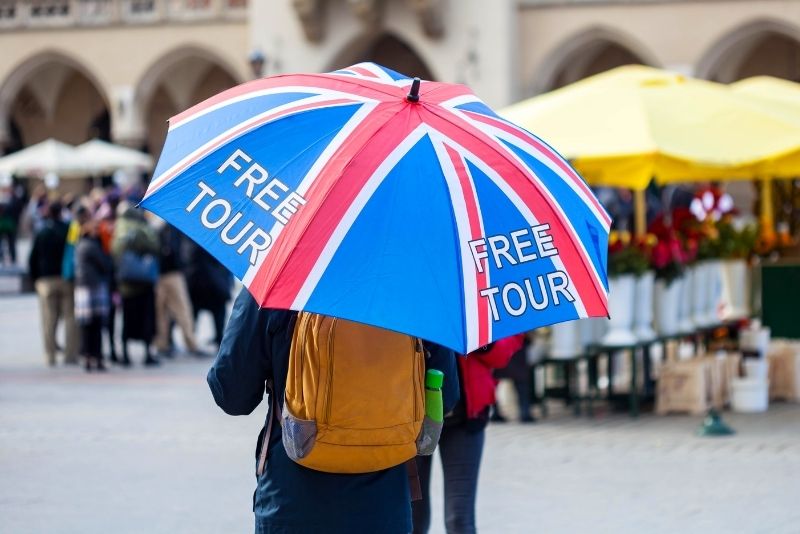 With so much to see in this sprawling, historic metropolis, it's often hard to decide where to begin.
Travelers often choose to start their trip by walking the vibrant streets on a free walking tour, with a knowledgeable guide who will delve into the culture, history, and gastronomy of the lively city.
Although the tour is free, have a few forints (or euros) ready for a tip.
Since the guides rely on tips, the energy is always high, they're happy to provide practical tips for public transport, currency exchange, and activity recommendations.
Read more about Budapest free walking tours.
9 – Zip through Budapest at night on an e-scooter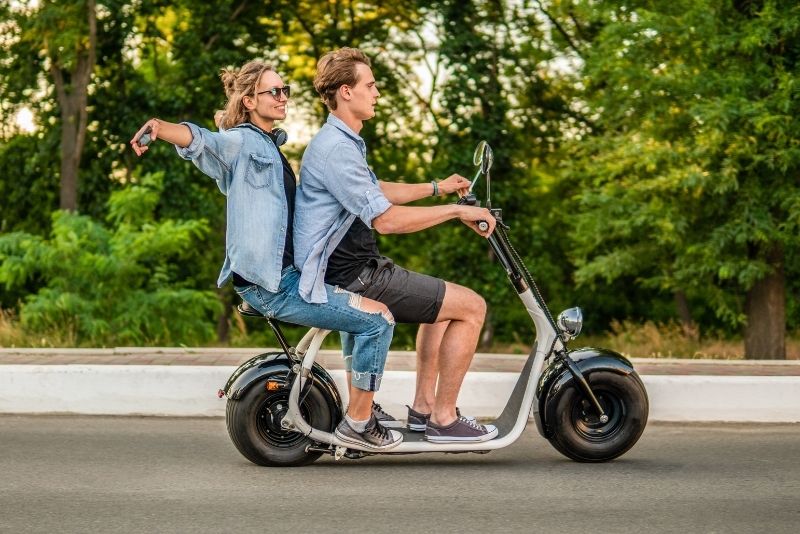 A scooter tour is a unique way to quickly see Budapest's main attractions and hidden gems all in a night's work!
For an experience you won't get on any run-of-the-mill tour bus, e-scooter adventures allow guests to see the city shine at night, with discounts offered at restaurants and bars across town.
Best of all, there's often complimentary goulash and drinks!
10 – Take a trip back in time on a communism tour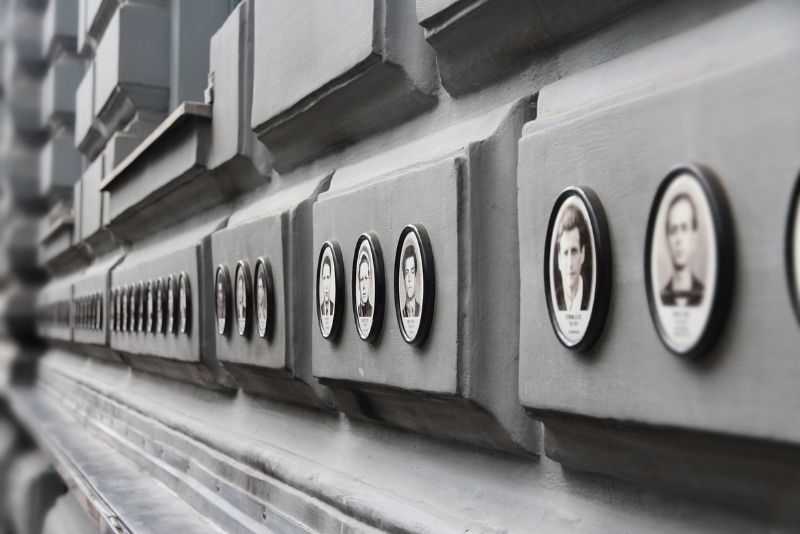 History buffs, listen up.
Uncover Hungary's turbulent 20th century with a historical tour of a city that spent the Cold War being pulled between East and West.
Budapest is full of buildings, bullet holes, and brilliant stories from this era, all of which will be presented by a knowledgeable guide who will make the sites and sounds of the past come alive.
11 – Solve an Escape Room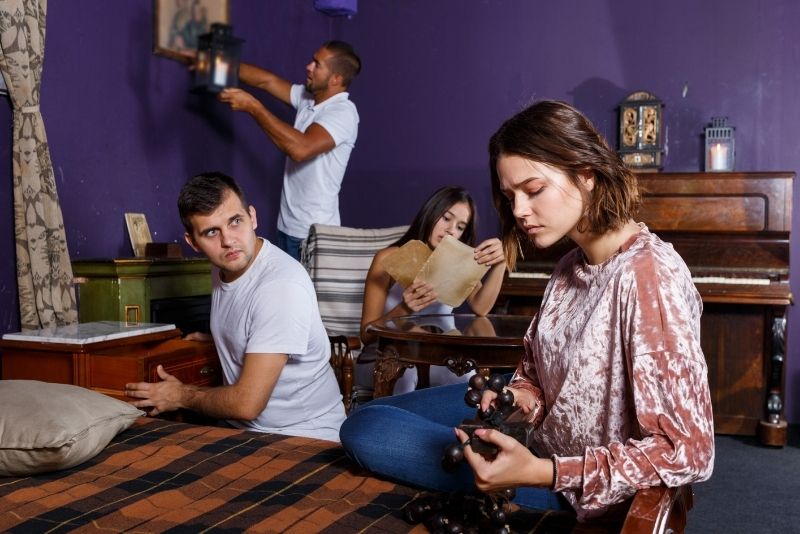 Grab your hostel buddies, get your detective hat and your magnifying glass, and try to solve the puzzles at one of the many escape rooms around the city.
As the door locks behind you in the fully interactive rooms, the clocks start to tick — with only an hour to uncover the clues, not everyone has what it takes to escape in time.
A popular choice is the Gingerbread House room, where challengers must solve the puzzle for a recipe to endless chocolate!
12 – Explore Budapest's creative side on a street-art tour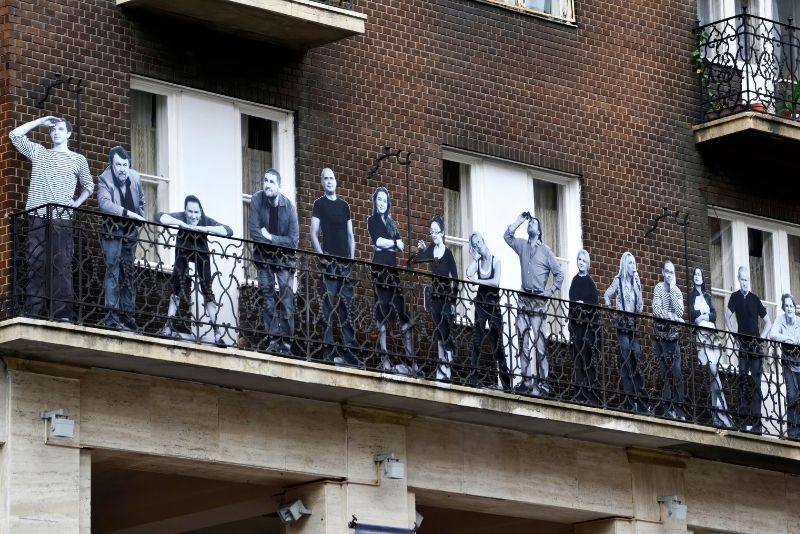 Admiring the bustling bohemian street-art is a really cool way to discover the city's creative side, as well as understand the lesser-known issues and themes affecting the locals.
Tour groups are usually limited to small numbers, so it's also a great way to meet a handful of like-minded travelers and check out some parts of town off the beaten path in District 7 and the Jewish Quarter.
For the cherry on top, free drinks at a ruin bar are usually included too.
13 – Go hiking around Danube Bend and Esztergom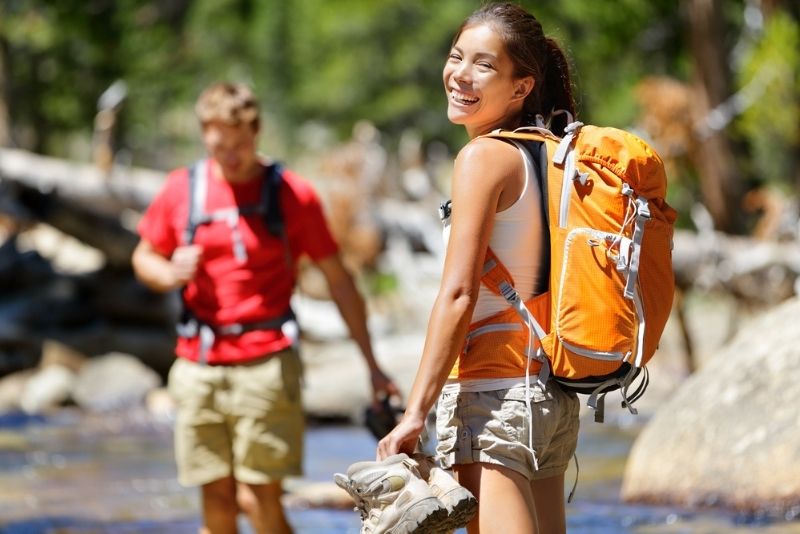 A few hours out of Budapest, the picturesque city of Esztergom was once Hungary's capital and today boasts stunning views of the mighty Visegrád Castle, the Danube River, and the sprawling European countryside.
For the adventure-seekers, set out on foot to the river for vistas of volcanic hills, waterfalls, and canyons!
While you could rent your own car, a pre-organized tour is the easiest and most popular choice.
14 – Visit the galleries at Szentendre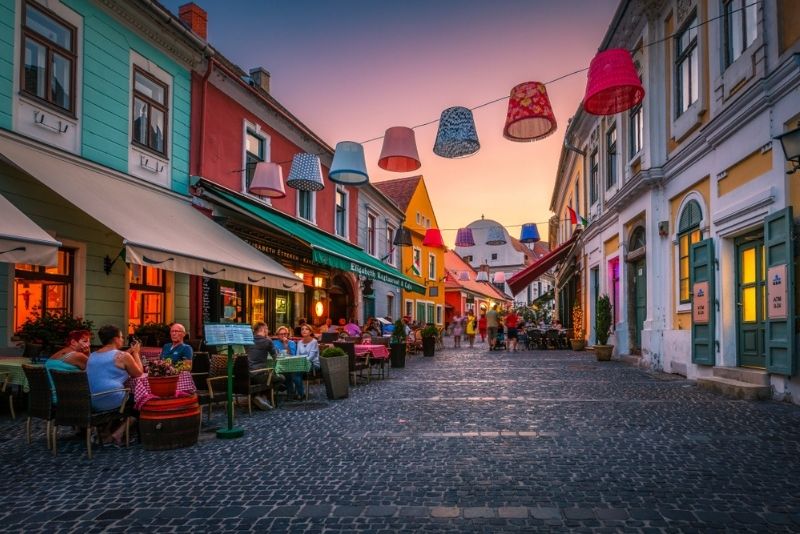 Known as the Artists' Village, Szentendre is just beautiful.
The Old City's famous galleries and museums are diverse, sure to excite any art-lover; while the cobblestone streets are vibrant and artistic in their own right!
Many travelers couple it with the Royal Palace of Gödöllo; so sign up for a day trip, let the knowledgeable guides lead the way, and simply enjoy yourself as the 18th and 19th centuries come alive around you!
15 – Get a little tipsy on a wine-tasting tour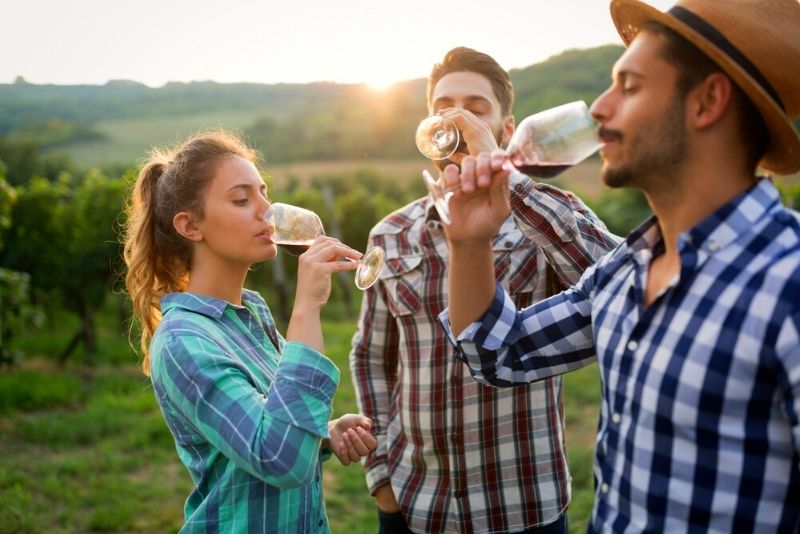 Anyone thirsty? As you'll quickly discover, Hungary definitely holds its own in the wine department!
A couple of regions worth checking out are the Tokaj region, which specializes in sweet white Tokaji wines, and Etyek, which specializes in Hungarian 'Champagne' with more acidity.
There are plenty of tours that escort you to those regions (designated driver included) and, of course, allow you to sample the blends to your heart's content!
16 – Take a day trip to Lake Balaton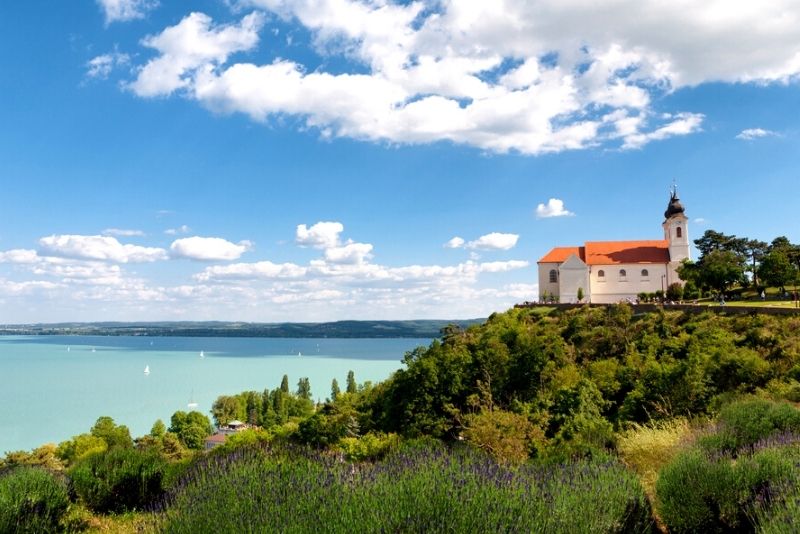 Missing the beach? The expansive, shimmering Lake Balaton is where landlocked Hungarians longing for a swim go to take a dip!
At any time of year, it's a beautiful spot to visit, with travelers particularly fond of the promenades of Balatonfüred and the famous porcelain factories of nearby Herend.
Most visitors prefer to take the hassle out of the trip and simply book a tour. It's often the most affordable option too (unless you go for the VIP experience).
17 – See a horse show in the Puszta region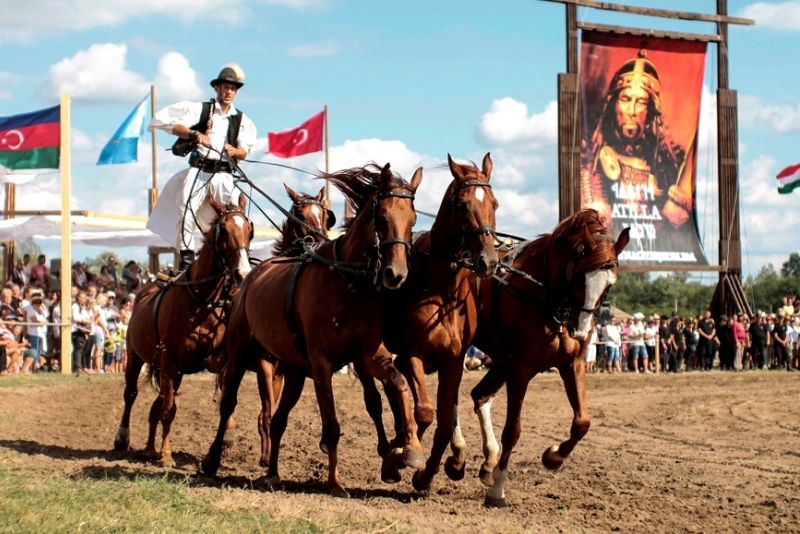 Around the nearby historic city of Kecskemét, the fabulous fields of Puszta really know how to put on a show!
After sampling a traditional barack pálinka and pogácsa (apricot schnapps and a salty scone), you'll ride in a retro horse carriage to a stunning equestrian display that features a range of jaw-dropping stunts.
Post-performance, why not take up the chance to ride a horse yourself?
18 – Keep your balance on a Segway tour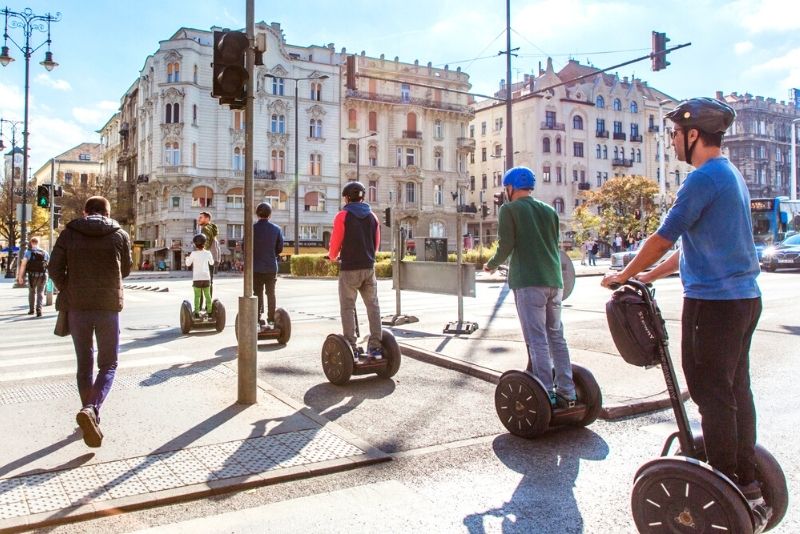 Don't worry, with a quick introduction to your zippy ride you'll be a natural!
On a segway tour — of which, throughout this beautiful city there are many — you'll be part of an intimate group of travelers, shadowing a local guide who will give you the lowdown on all the essential tourist sites, eateries, and hidden gems.
By the end, you'll know all the ins and outs of the city!
19 – Dine in style on the river
The only thing more intoxicating than the complimentary glass of champagne you get as you board a river cruise is the view of Budapest's skyline (particularly the majestic Parliament building) reflecting off the water.
With live Hungarian music playing in the background and a scrumptious four-course dinner, it's a surefire hit for romantics.
20 – Get on a bike!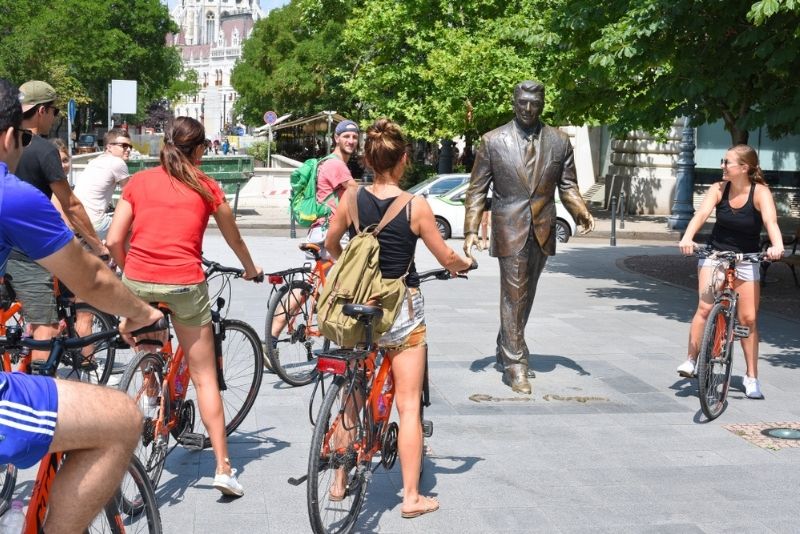 What's more European than exploring a city on two wheels? Exactly.
Plenty of tours offer the opportunity to zip through the bike-friendly town with a local guide — a wonderful way to get into the smaller streets and alleyways, ditch the tourist crowds, and discover those little-known gems that hide in between all the major attractions.
If you prefer exploring solo, self-guided bike tours are also available.
21 – See Budapest from above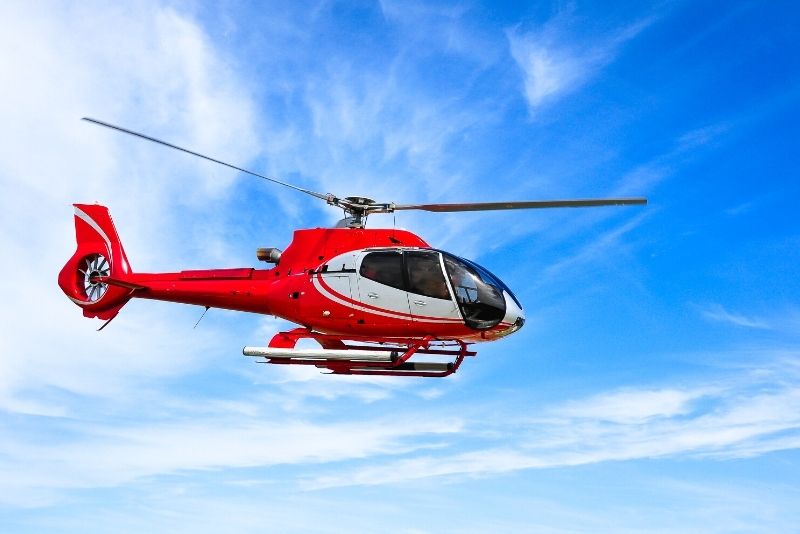 Unless you're scared of heights, an aerial view of the Hungarian capital city is essential. The only decision you have to make is whether you'll get that view in a plane, helicopter, or both?
Flights may include a guided audio tour, hotel transfer, and complimentary drink.
Make sure to snap an unforgettable picture as you fly by the sites!
22 – Go stand-up paddleboarding at sunrise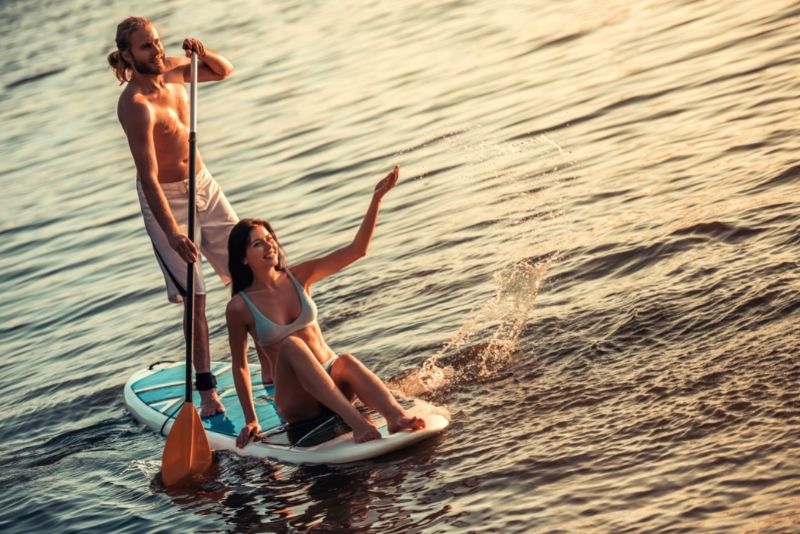 What's more relaxing than a gentle paddle on calm water? We'll tell you: doing so at sunrise on the Danube, before the city wakes, in the crisp, fresh Hungarian air.
For any total newbies, there's minimal river traffic in the morning, making it a great opportunity to try it for the first time!
Set that alarm and make yourself a coffee, it'll be worth it.
23 – Feel the wind in your hair on a speedboat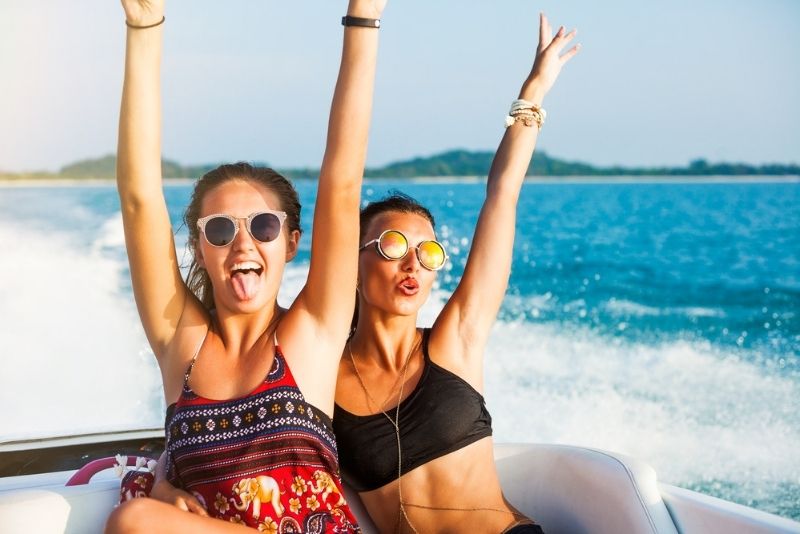 For a new way to see Budapest, try seeing its famous cityscape and major attractions from the Danube River on a high-speed, hair-raising jet boat!
One moment you'll be peacefully admiring the lights of Chain Bridge; the next, the boat's captain lets loose on the throttle and you'll be holding on for dear life!
It's the perfect combination of sightseeing and adventure, especially in the summertime.
24 – Delight your taste buds on a foodie tour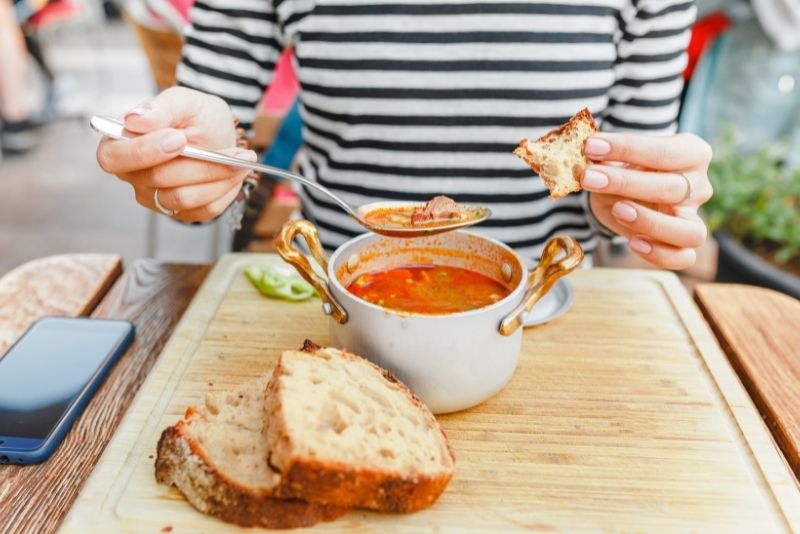 No trip to Hungary is complete without trying a hearty goulash soup, its local wine and cheese pairings, or lángos (deep-fried flatbread with cottage cheese).
For the meat-lovers, take it up a notch with local smoked duck breast, water buffalo salami, Mangalica pork sausages, and grey beef sausages with traditional pickled vegetables on the side!
Whatever your preferred palate, there's a food-centric tour for everyone.
25 – Take a cooking class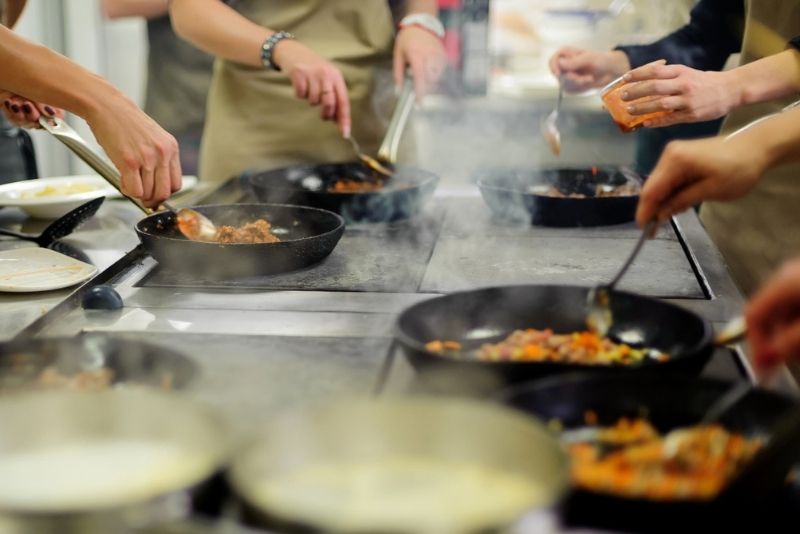 Travelers love the local cuisine, so learning a few recipes to take home is a surefire way to impress the family and friends back home.
Led by a local chef, you'll learn about both the flavors and stories behind the country's treasured dishes, while sampling fresh ingredients and strong drinks the whole way through.
If you can perfect the goulash, we promise your future dinner-party guests will be… Hungary for more.
26 – Indulge in some self-care at the spas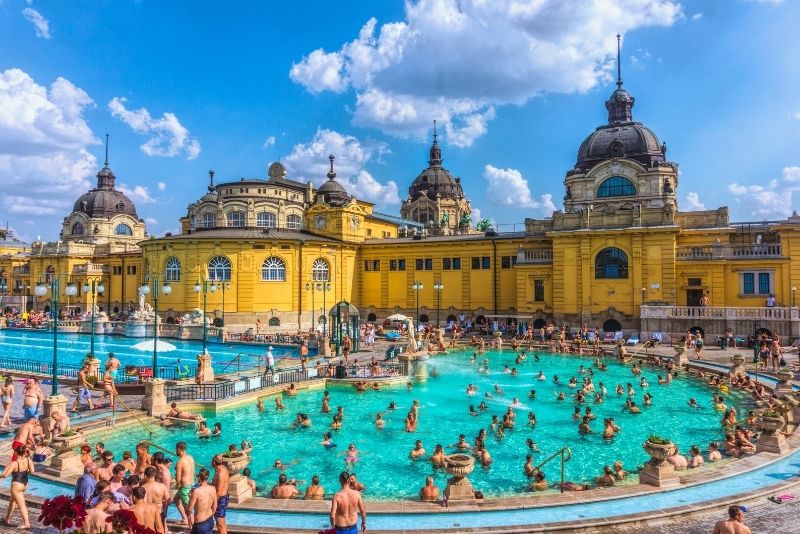 After spending so much time exploring Budapest, putting your feet up at either Széchenyi Spa or Gellért Spa is a great way to unwind. While there are countless spas around the city, these two are the most popular among tourists.
The indoor Gellert is known for its art nouveau-style architecture, while the indoor-and-outdoor Széchenyi is one largest spa baths in Europe.
Thermal pools, massage, and spa sessions are available to soothe any sore muscles (or help with headaches from the ruin bars the night before).
27 – Find a bargain at the Grand Ecseri Flea Market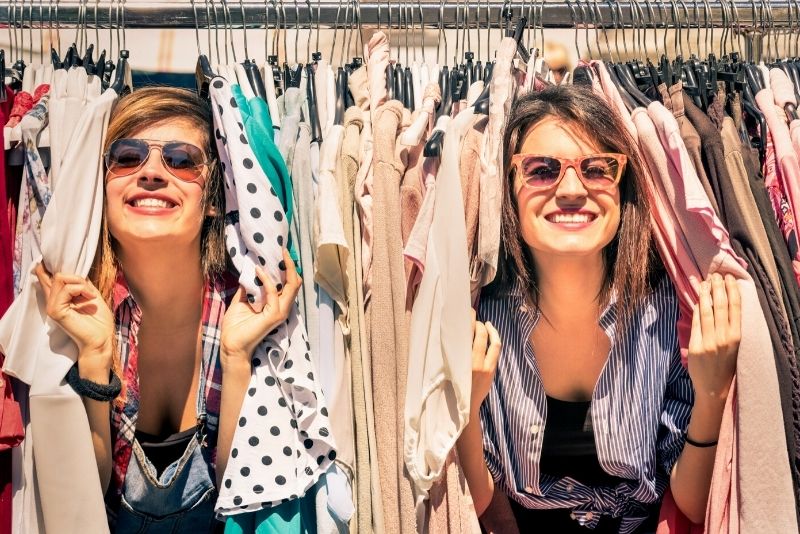 This expansive flea market has more collectibles, knick-knacks, and quirky items than anywhere else in central Europe!
There are a mix of serious stalls and lone traders trying to offload a few things — either way, it's great for a souvenir if you can haggle the price down!
Hot tip: Bring cash (so you can haggle) and come early before the best items get swept up.
28 – Drive a Trabant through Budapest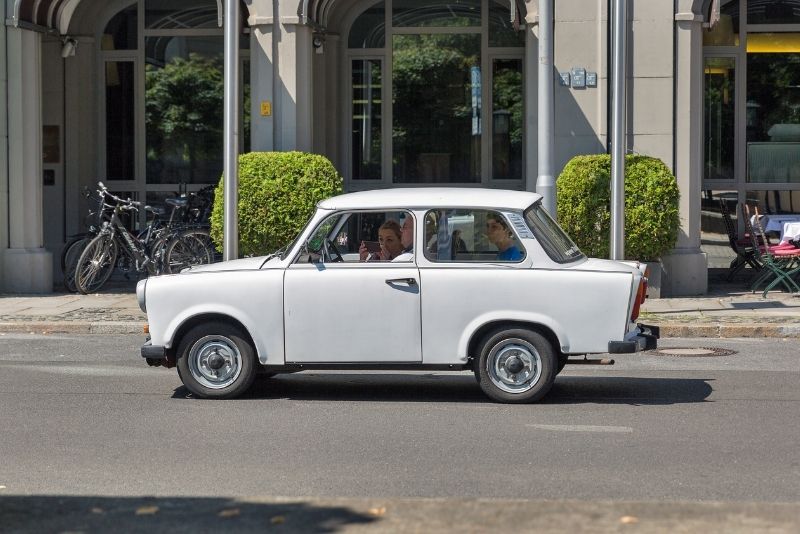 Known as the paper Jaguar, the quirky 1960s Trabant 601 was the car of choice for Communist-era Hungarians.
So, riding one through the preserved period neighborhoods inside of your very owm paper Jaguar is sure to take you back to the Budapest of a by-gone era.
While cute, they're not exactly fast: with its roaring 26-horsepower engine, this bad boy goes from 0-60 kilometers per hour in 21 seconds!
29 – Try not to tilt at the Budapest Pinball Museum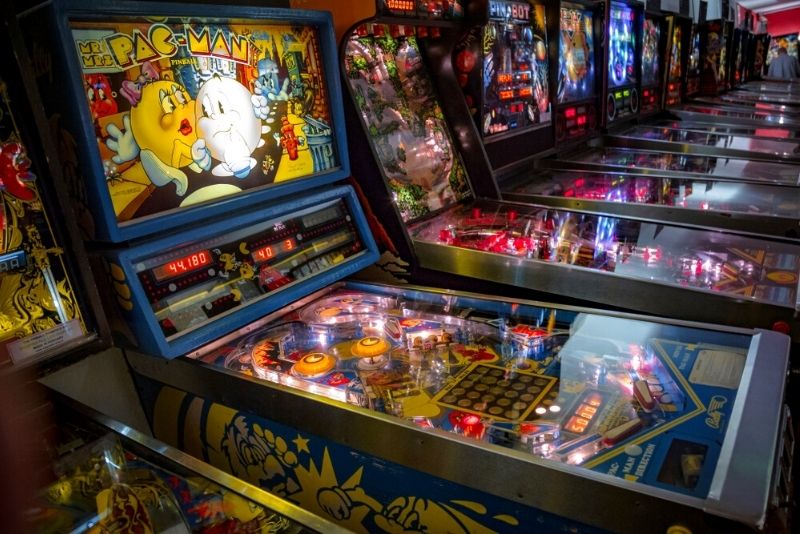 Gamers, get excited. With over 150 pinball machines from the 1800s until today available to play —including the first-ever machine with flippers — Budapest's Pinball Museum is a delight for kids and adults alike
So grab something from the snack bar and entertain yourself the way they used to before Minecraft and PlayStation came around.
30 – See all of Budapest at the Miniversum Museum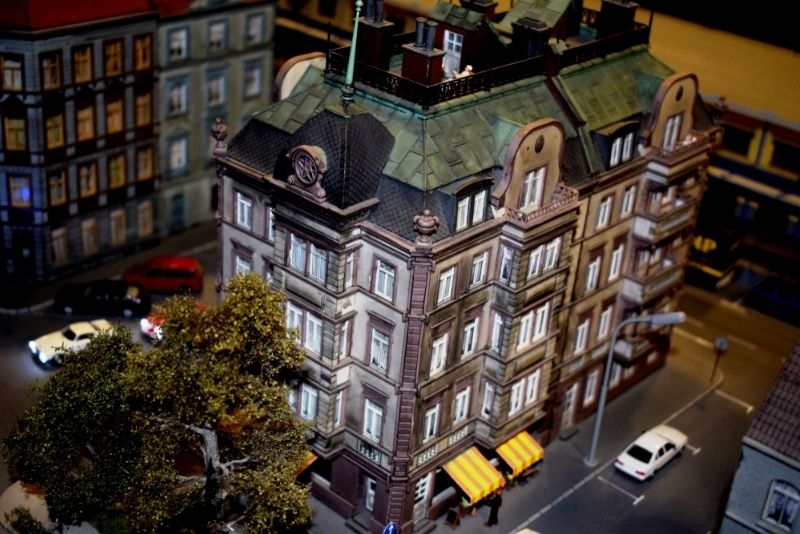 How can you see an entire city in an afternoon? Miniversum!
This unique installation offers a perfect 1:100 scale model of Hungary, complete with interactive screens, sounds, and lights bringing it all to life!
With lots of interesting information about the area and its history, it's a solid option for a rainy or snowy day.
There's also a full-sized playhouse for the kids, making it one of the more family-friendly things to do in Budapest.
31 – Treat yourself at the Chocolate Museum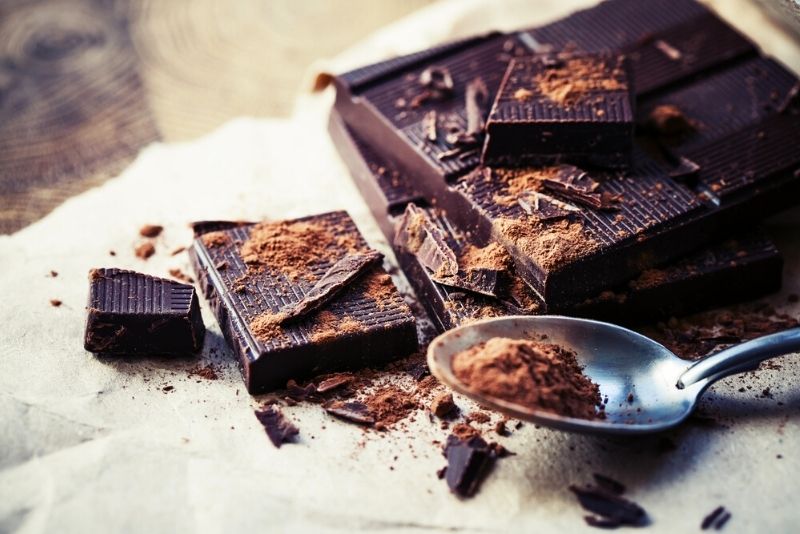 Now this is a museum you'll want to sink your teeth into!
Indulge in chocolate tasting, get an introduction to how chocolate is made, make your very own sweet treat, and watch films about the history of chocolate with a hot mug of cocoa in hand!
If you're not already full of cavities, don't forget to pass by the gift shop for a few souvenirs!
32 – See Portrait of a Young Man at the Museum of Fine Arts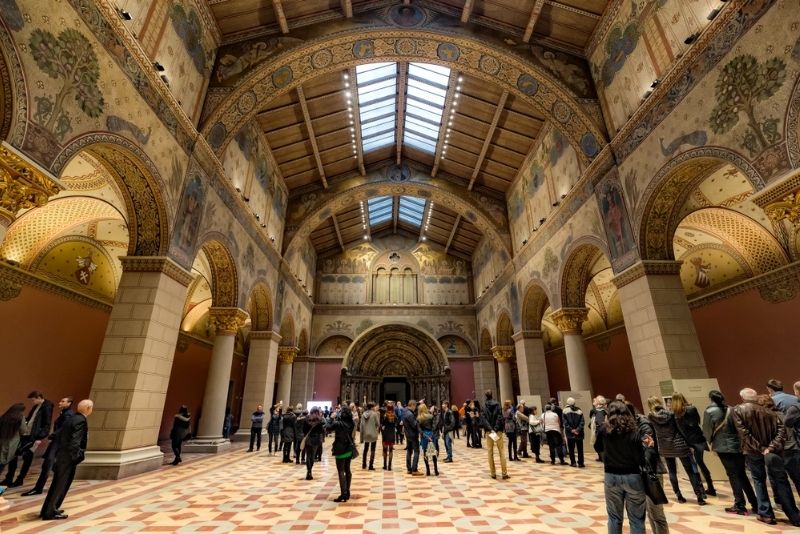 With over 100,000 pieces of art from across all time periods, this striking building that focuses on fine art and sculpture is an art-lover's paradise!
While notable pieces line each and every wall, one particularly emotive piece is Giorgione's self-portrait, a priceless work stolen from the museum in 1983 and recovered by police in Greece.
That, along with the Esterhazy Madonna also on display, are two of the crowd favorites.
33 – Visit the Hospital in the Rock Nuclear Bunker Museum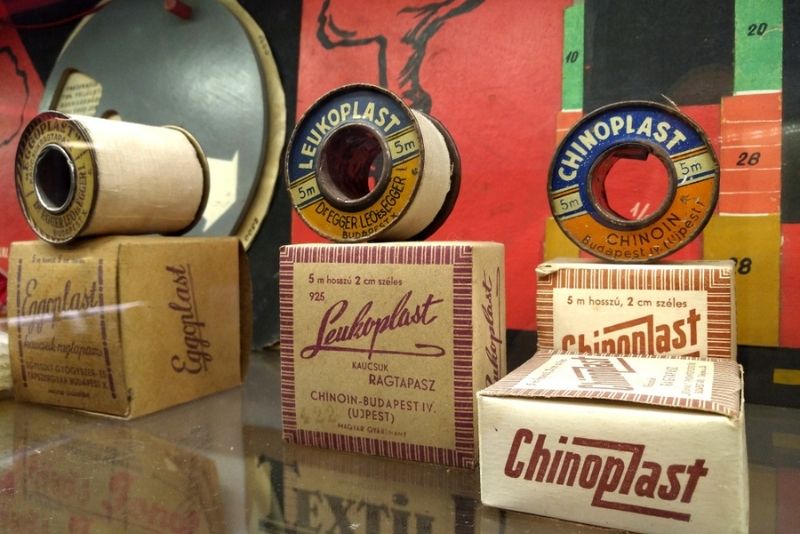 This is no regular museum: it started life as a hospital and bomb shelter during World War II, during which it was filled to 10 times its capacity during the 1944-45 Siege of Budapest.
After that, it was briefly a prison before quickly becoming a nuclear bunker.
Clearly, it's a fascinating story — the museum's dramatic displays give visitors a glimpse into all of its chapters.
34 – Admire the view from Fisherman's Bastion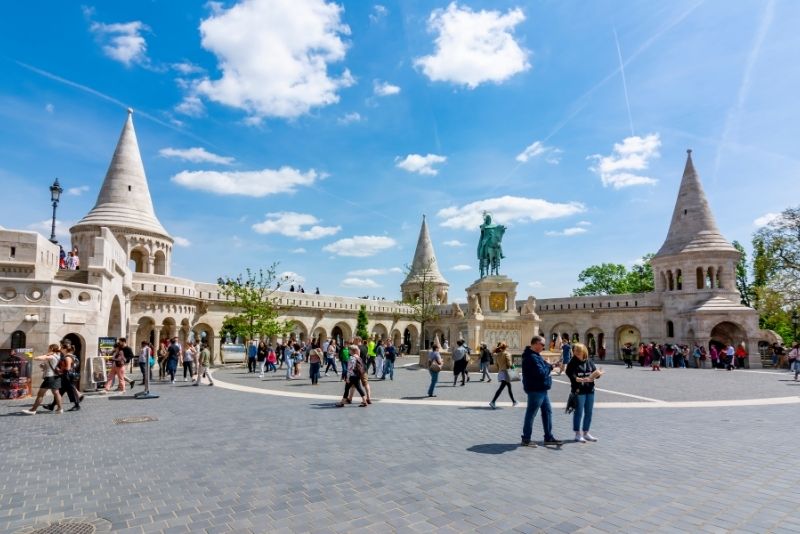 The locals call it Halászbástya, tourists call it Fisherman's Bastion, but after checking it out first-hand you'll be calling it the best view of Budapest!
After snapping a few selfies, nearby, the stunning Matthias Church is worth checking out too —  fitted with stained glass windows and a colorful roof, and housing the tomb of King Bela, it adds to the ambiance of this truly unique city.
35 – Pay your respects at the Shoes on the Danube Bank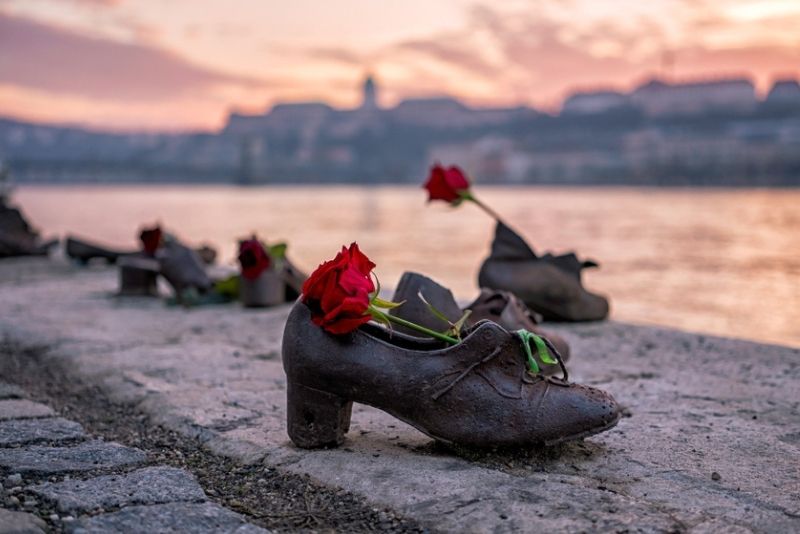 One of Budapest's most tragic tales occurred during World War II when 3,500 people, including 800 Jews, were ordered to remove their shoes and stand by the river, after which they were executed.
The poignant and powerful memorial along the Danube river immortalizes the shoes left on the riverbank — a stark reminder to never forget the past.
36 – Take a dip at Margaret Island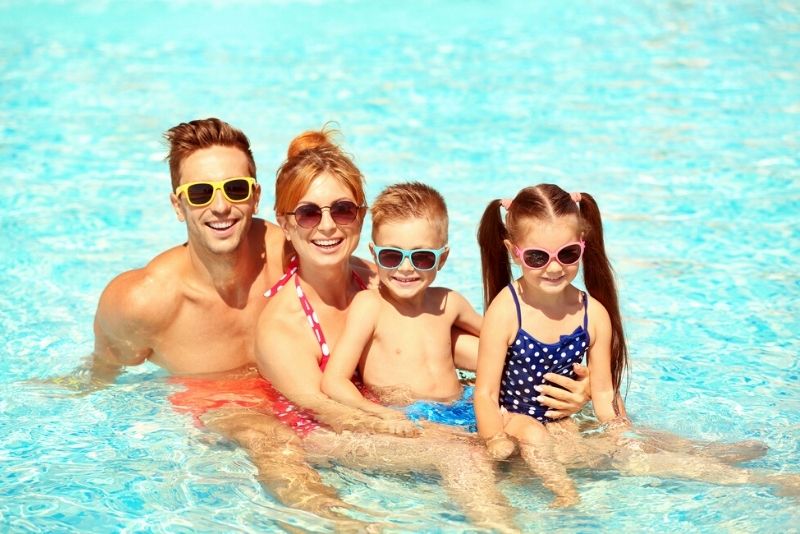 This island in the middle of the Danube river is a treasure trove of rose gardens and archaeological ruins (not to mention all of the fuzzy squirrels!).
On a hot summer's day, head to Palatinus Strand to cool down in the swimming pools, wave pools, water slides, and kids pools — there's plenty of fun for adventurers of all ages!
37 – Climb to the top of Gellért Hill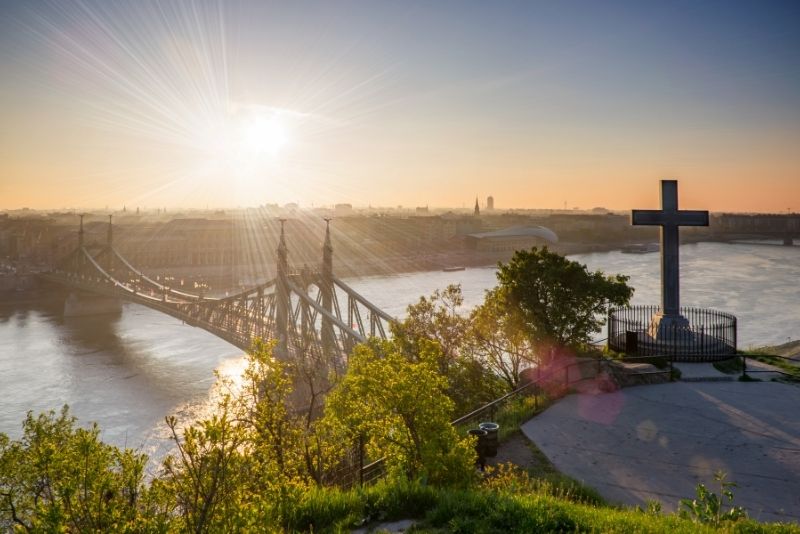 At 235 meters high, looking over the sparkling city from the 1st and the 11th districts, Gellért Hill is the perfect excuse to lace on those hiking boots!
After tackling the scenic hike, enjoy the view and keep an eye out for a unique church in a cave.
At the top, the Citadella fortress is worth exploring, and if time permits, make sure to hang around for sunset!
38 – Walk across the Széchenyi Chain Bridge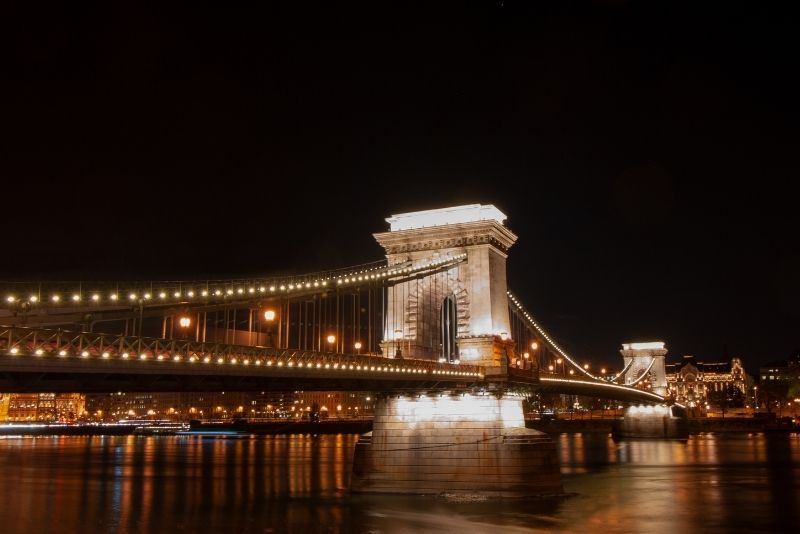 One of Budapest's most iconic landmarks actually has a rather sad backstory.
Originally, the bridge was conceived by a man who could not cross the river to see his father;  years later, during the War of Independence, The Austrians unsuccessfully bombed the bridge.
Then, a century later, the Germans did so successfully in World War II.
Incredible views aside, walking across the bridge is a walk through history itself!
39 – Hear the bell ring at Matthias Church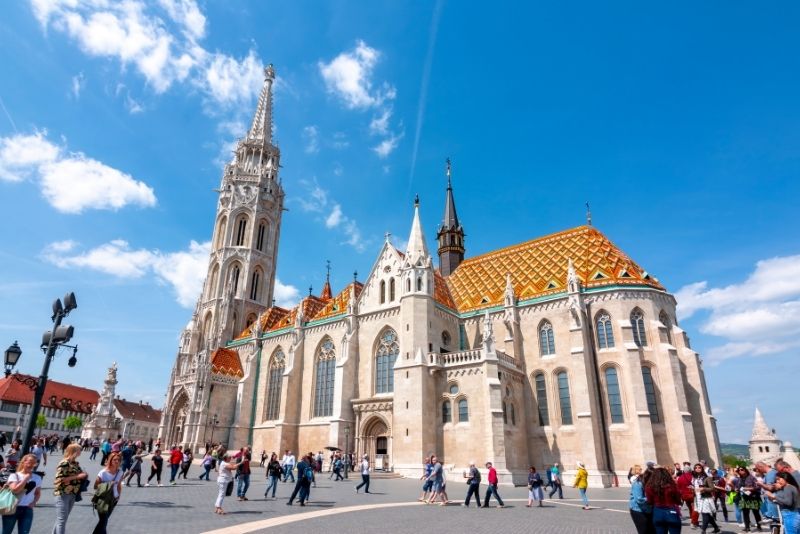 As well as hosting occasional Friday night organ concerts, this over-500-year-old church has orchestral bells that ring out every day at noon!
But there's plenty to see as well as hear: inside, you'll find a plethora of frescos, stained-glass windows, decorative roof-tiling, and a throne used to coronate kings!
Before leaving, be sure to climb to the top for more breathtaking Budapest views.
40 – See Dracula at Vajdahunyad Castle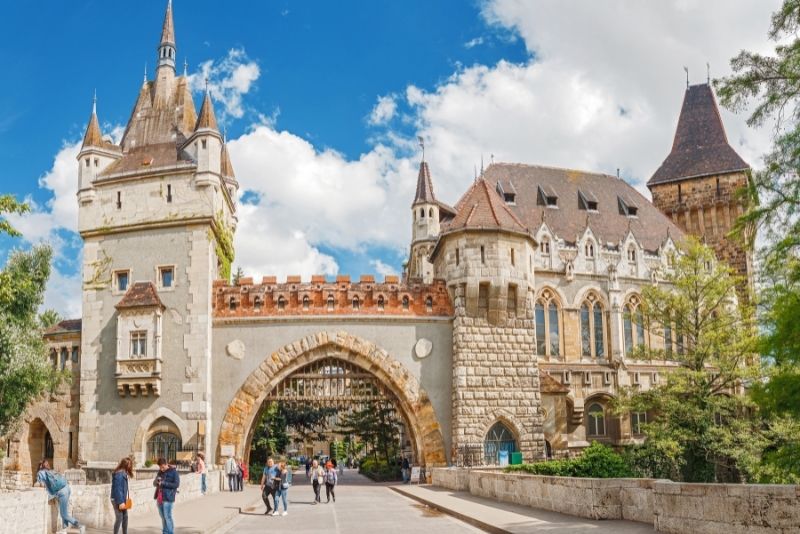 Believe it or not, there was actually a real Dracula, and his name was Vlad Dracul the Impaler!
Born in Budapest's Vajdahunyad Castle, which holds spooky tours for any history buffs or vampire-enthusiasts (or Team Edward supporters), Vlad's reputation is now etched into history.
Besides the fangs and black capes, in the courtyard you'll find a statue of Anonymus  — Hungary's first history author — and an informative exhibit on Hungarian architecture.
41 – See the Komodo dragon and wombat at Budapest Zoo & Botanical Garden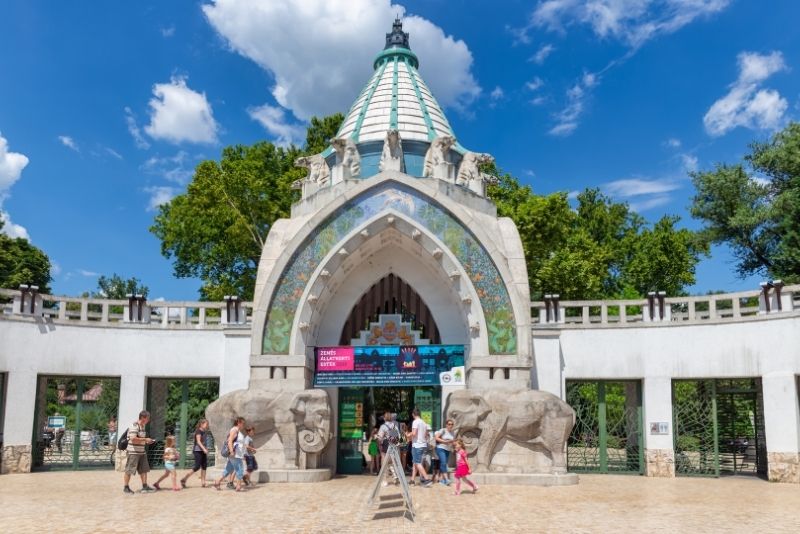 A surefire hit for visitors young and old, the popular zoo boats over 1000 different animals and over 2000 species of plant from Australia to the Americas and everywhere in between!
While the wombats and tigers are always exciting, visitors also love the shimmering colours of the butterfly garden and the cute creatures of the Madagascar Zone.
If the zoo is a little busy, the Botanical Garden is a quieter spot to relax or reflect among the greenery.
42 – Follow your nose (and your stomach) at Central Market Hall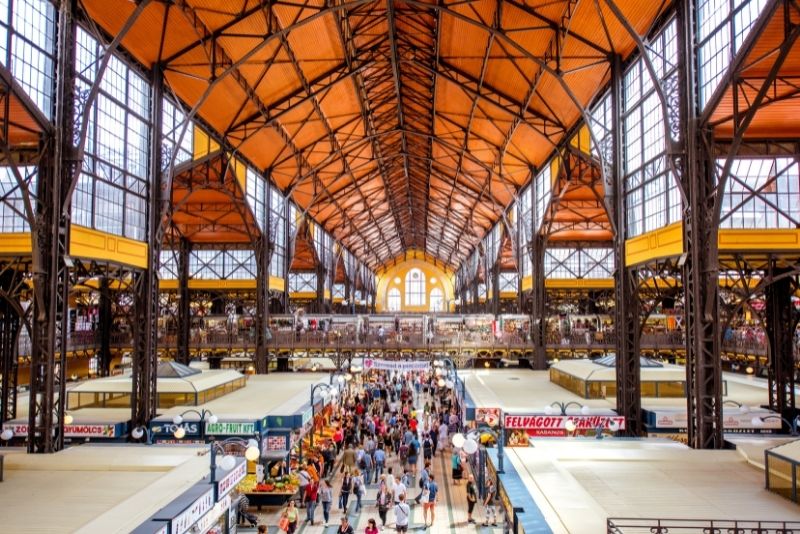 Enthusiastic foodies are obsessed with the Central Market Hall — 5 minutes inside and you'll see why.
There are plenty of opportunities to smell and sample the freshest Hungarian ingredients and dishes; feel free to grab a few for a picnic in one of Budapest's pristine parks — and don't forget to pick up a bottle of wine and a hand-crafted souvenir!
For the ultimate foodie experience, combine it with a cooking class or VIP tasting tour!
43 – Pet the stingrays at Tropicarium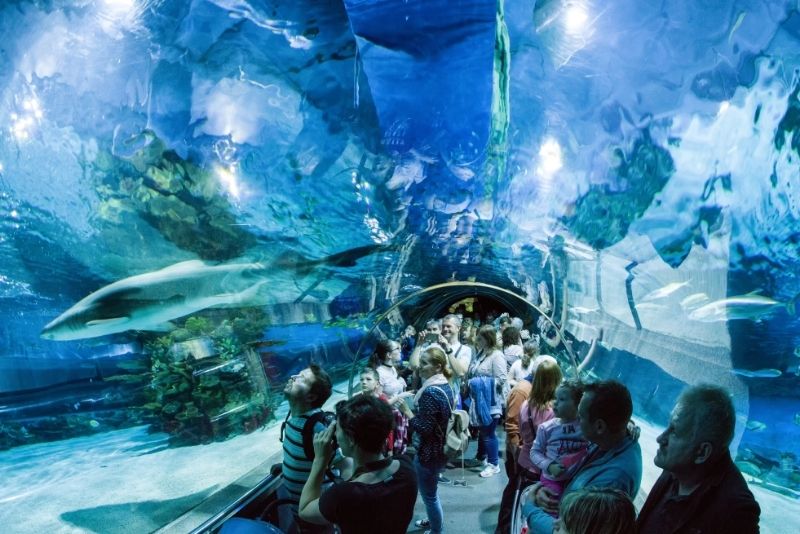 Tropicarium is not just an aquarium!
Tucked away in Campona Mall with shopping and a food court, it also has animals from alligators to little swinging monkeys!
Visitors love the giant shark aquarium where brave handlers hand-feed the sharks, and the rays touch tank where the friendly rays rub up against your arm!
44 – Catch a show at Hungarian State Opera House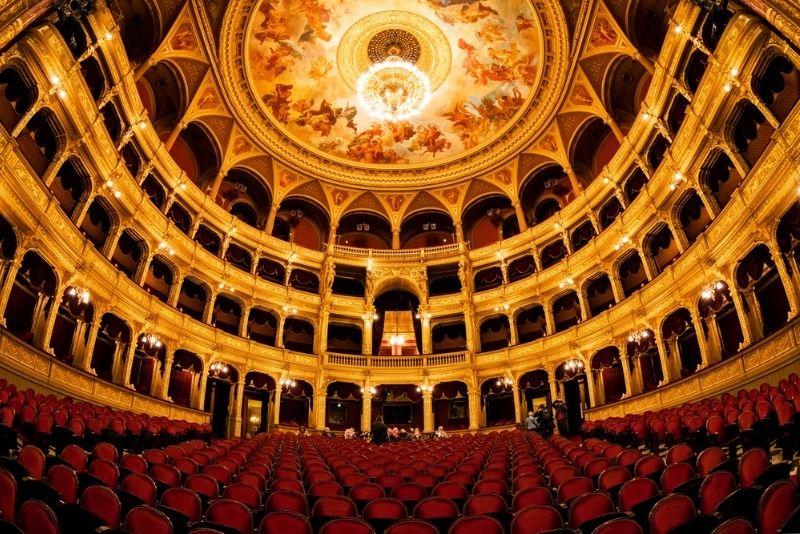 Before the show even starts, the Opera House captivates its audiences with its glimmering marble staircases, bright chandeliers, and striking architecture.
The likes of Gustav Mahler have conducted here, so it doesn't matter if you catch an opera, ballet, or classical music performance; you're in for a world-class performance with world-class acoustics!
45 – Get a selfie with Lenin at Memento Park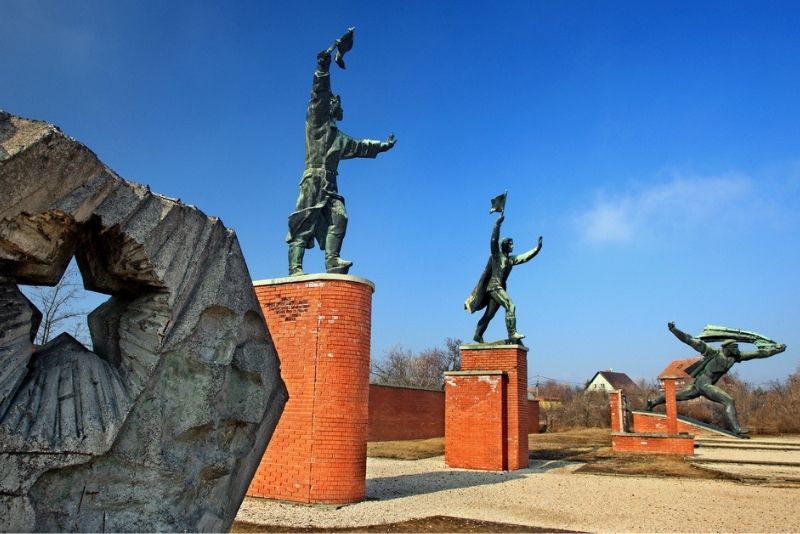 At the fall of the communist regime, Budapest preserved most of its totalitarian statues and symbols at Memento Park.
These days, it acts as a large, open-air museum perfect for locals and tourists to pause and reflect, while bringing the old relics to life.
Travelers often take a moment to appreciate the symbolism of the statue of Lenin, sitting next to the retro Trabant car.
46 – Browse through the Hungarian National Museum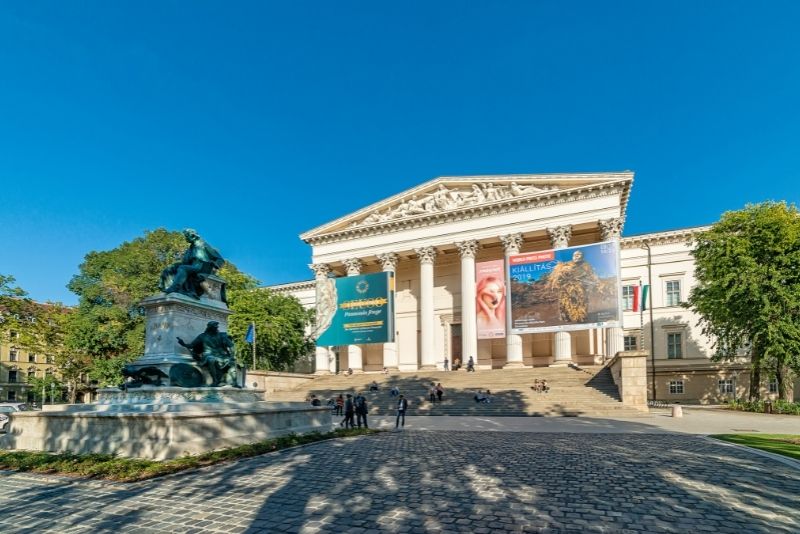 Hungary's vast, grand, and often turbulent history needs a museum every bit as vast and grand as it is; luckily, their National Museum fits the bill!
With exhibits spanning from ancient times through the middle ages, focusing on themes like the Hungarian struggle for independence, its submission to totalitarianism, and its current state of freedom, there's plenty to be learned within these walls.
47 – See a real torture chamber at the House of Terror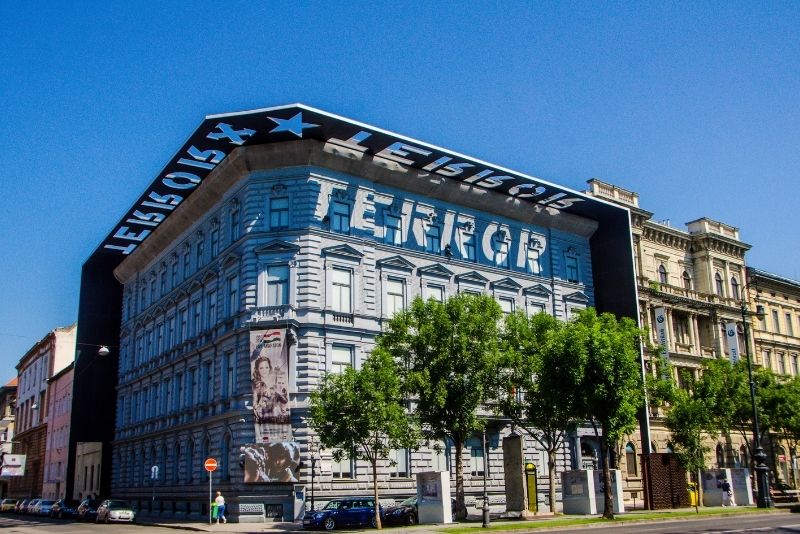 The House of Terror lets visitors discover the dark side of the Hungarian dictatorships.
With no shortage of eye-opening displays, the torture chambers, jail cells, and execution room make for confronting yet fascinating viewing for visitors who want to understand what it was really like living under an iron fist.
48 – See the Millenium Monument at Heroes' Square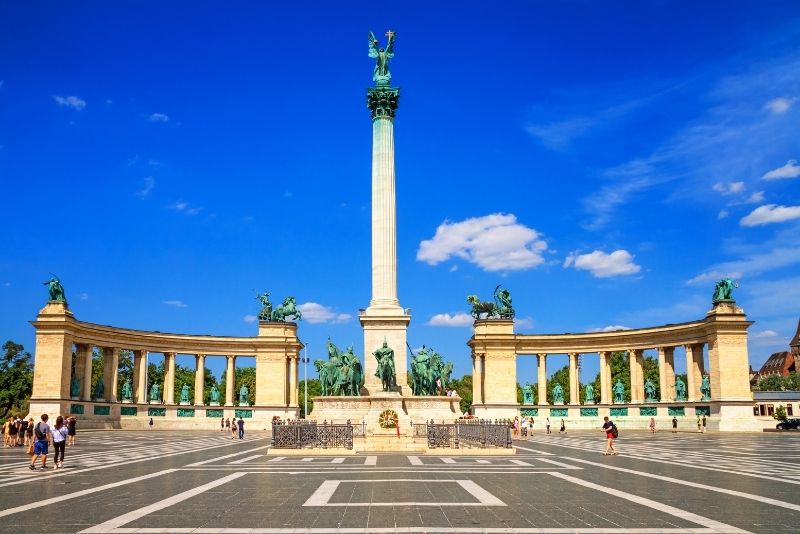 The focal point of Budapest's biggest town square is the 36-meter pillar topped with the Archangel Gabriel — you can't miss it.
Locals love taking their picnics to dine under the grandiose statues of former statespeople and rulers, while tourists often put this iconic spot at the top of their list of things to do in Budapest due to the unbeatable views of the river below.
49 – Lose yourself at Szimpla Kert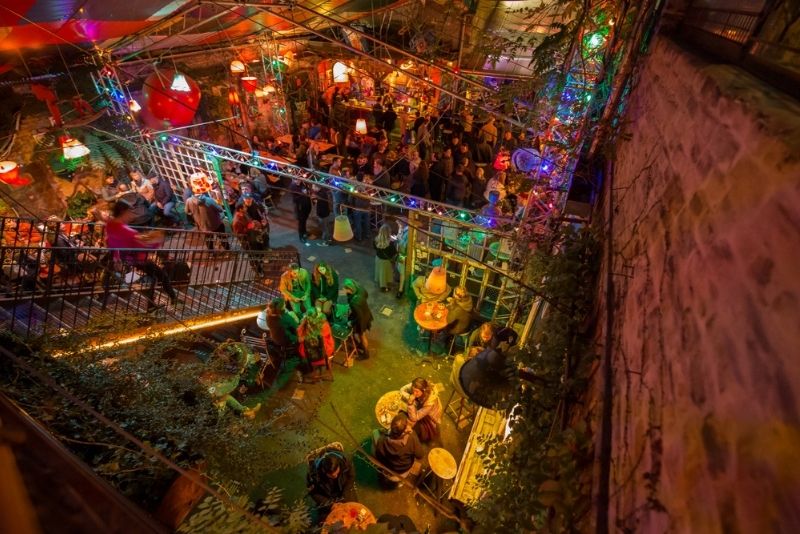 What started as a pub in an old factory is quickly becoming the heartbeat of the city.
This bohemian center still slings drinks but also screens movies, hosts concerts, displays art, contains a library, and turns into a market!
Hot tip: make a point of visiting on different days and times because it always has something different happening!
50 – Pub crawl through the ruin bars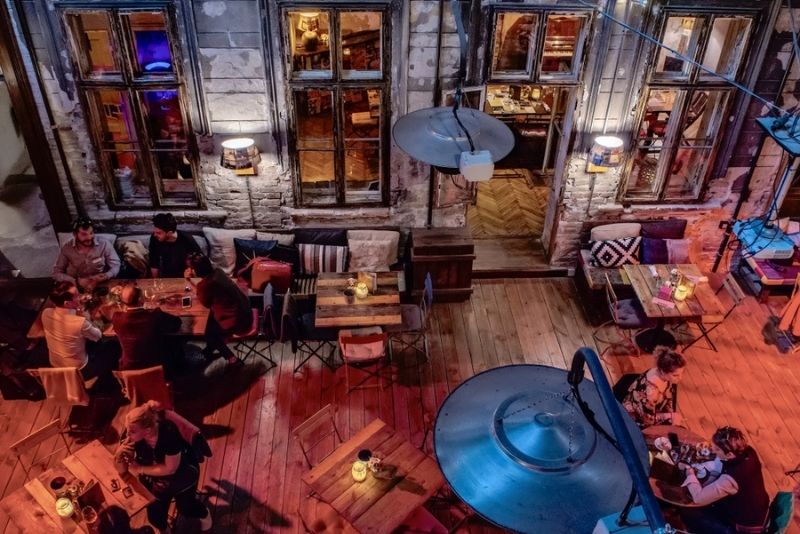 The recent craze in Budapest is the ruin bars, built in the ruins of abandoned buildings like stores and factories.
Many of them look like normal homes, so a guided tour with a local guide is the best way to discover them!
With drinks flowing — cheap drinks, we might add — it's a fantastic chance to meet other party-goers, score a few free shots, and let your hair down!
51 – Sip coffee at New York Cafe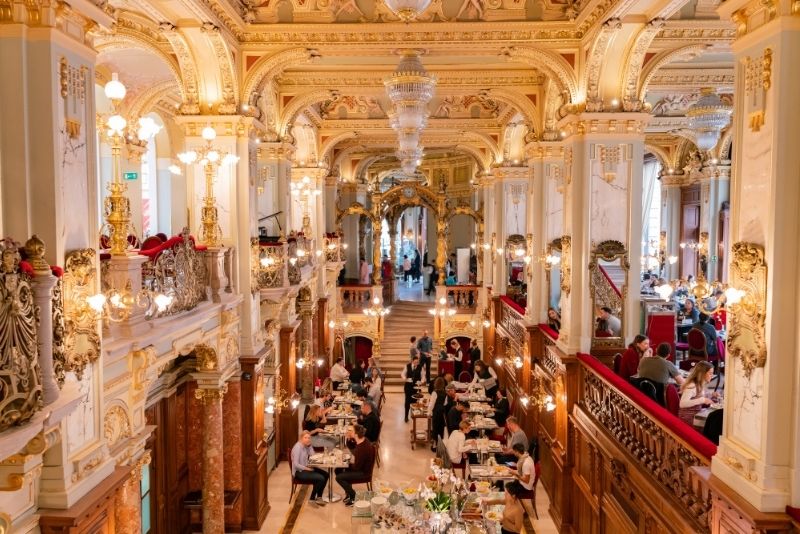 Ever wondered, "what if the Sistine Chapel was a coffee house?" Wonder no more!
The world's most dazzling cafe, found in one of the world's premium luxury hotels, will leave you in awe — you'll be gazing in every direction at marble columns, elegant paintings, and sculpted angels in this grand Rennaisance-themed cafe.
The good coffee is just a bonus.
Consider getting the Budapest Card
If your Budapest bucket list is long, and if you plan on getting around town using mostly public transport, then the Budapest Card might just be the best option for you.
The tourist card includes free public transport all over the city, offers discounts to some of the city's premier attractions, free entry to 12 museums (like the Museum of Fine Arts and Budapest History Museum), and also slashes prices on a range of spas and restaurants.
Arriving at the airport?
Forget about trying to decipher Hungarian and haggle with cab drivers. For the most seamless, hassle-free arrival experience, it's recommended to book an airport transfer in advance.
And hey, there's no better way to start your vacation than with a ride in a private limo, right?
That's all for now! We hope you've loved our list of exciting things to do in Budapest, Hungary! If you have any other must-see or must-do suggestions, feel free to let us know in the comments! As always, happy travels.