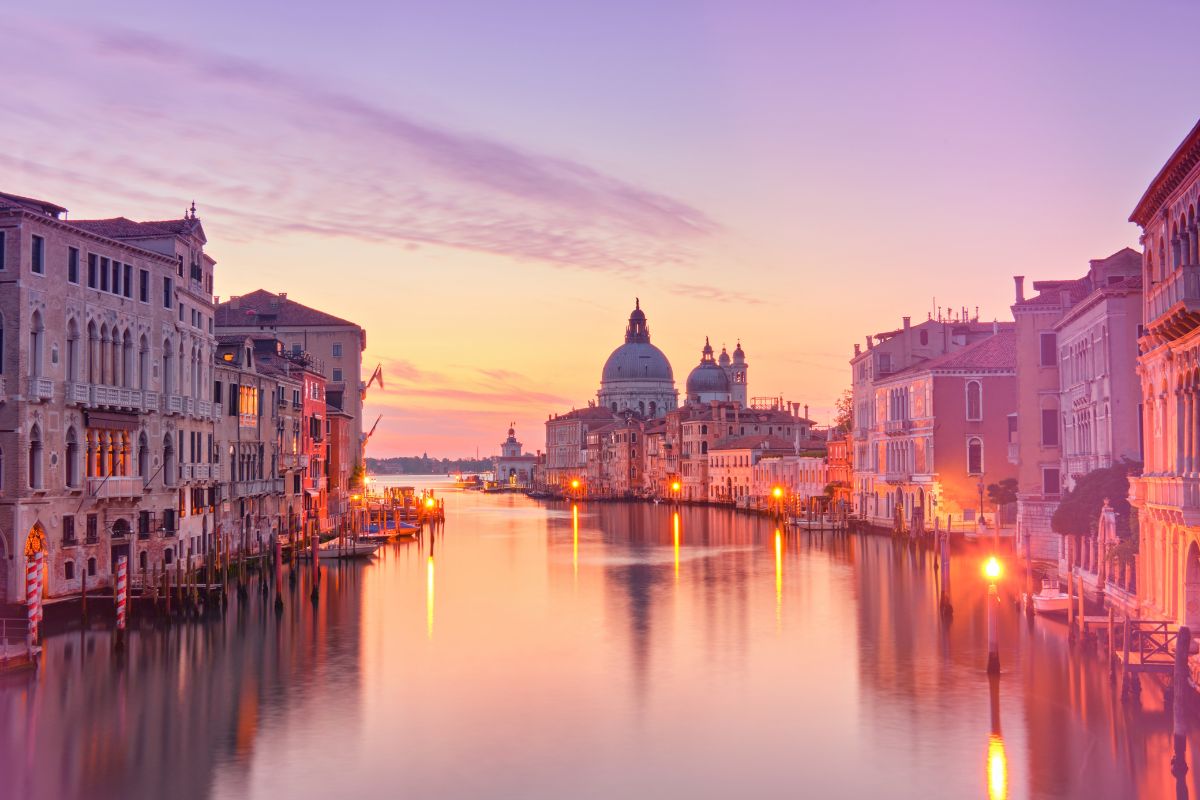 A magical city full of canals and winding streets, beautiful buildings, and fascinating stories of royals and artists… it's little wonder that people travel from all over the globe to try the phenomenal things to do in Venice!
And these attributes also make it a perfect place to take your special someone; from classy dinners to dazzling structures, every part of the town is tailor-made for an amorous getaway.
Light the candles and book a gondola, because there are heaps of romantic things to do in Venice for couples… and you won't want to miss out on a second!
1 – Stroll around Doge's Palace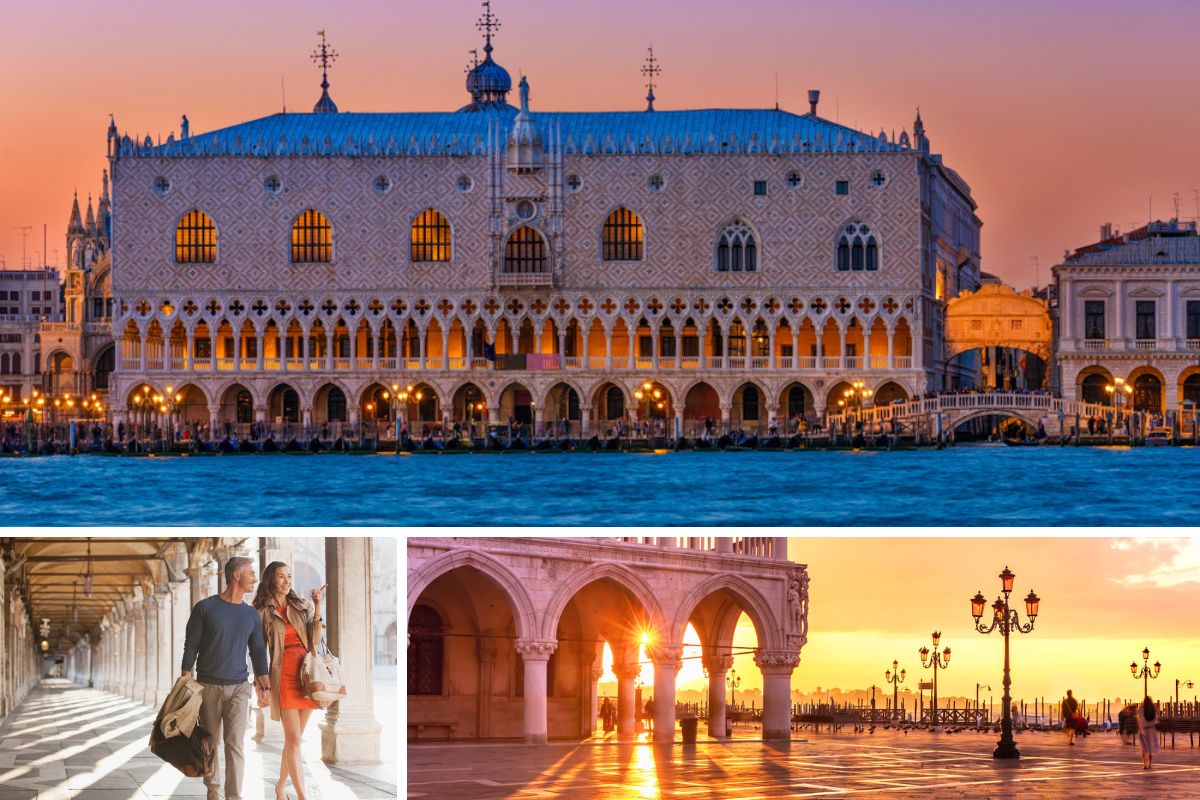 Of course, any trip to town will include a stop at Doge's Palace, the stunning spot that was once a major hub for local political life.
But along with its rich history, the beauty of the building and its elegant designs – from the massive frescoes to the opulent Golden Staircase – make it a perfect place for a romantic stroll.
And no promenade would be complete without crossing over the Bridge of Sighs, whose gorgeous limestone designs and fantastic views – plus an amazing evolution from a footpath for prisoners to a coveted spot for lovers to stroll  – only add to its intrigue.
Hot tip: Learn how to book Doge's Palace skip-the-line tickets.
2 – Go for a Gondola ride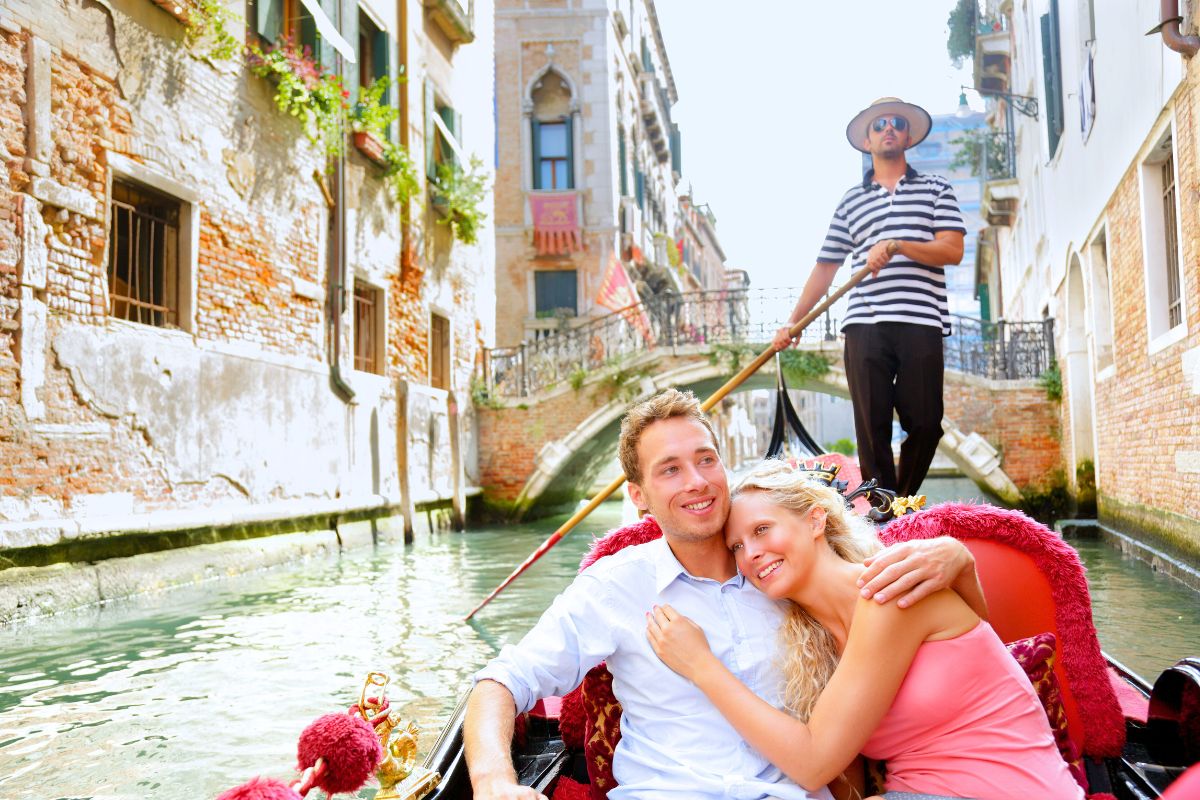 Time for another icon – maybe the most well-known of all the things to do in Venice!
It's easy to forget that the city is actually made up of 118 little islands – that is until you set out on the network of canals that keep things running!
And there's no better way to experience these unique paths through town than on a gondola ride, with all of the city's gorgeous buildings laid out before you, and the gentle rhythm of the paddle guiding you along.
Of course, this also makes it an irresistible option for couples seeking a romantic tour; just sit back, relax, and enjoy one of the world's most charming experiences!
3 – Take in the beauty of Rialto Bridge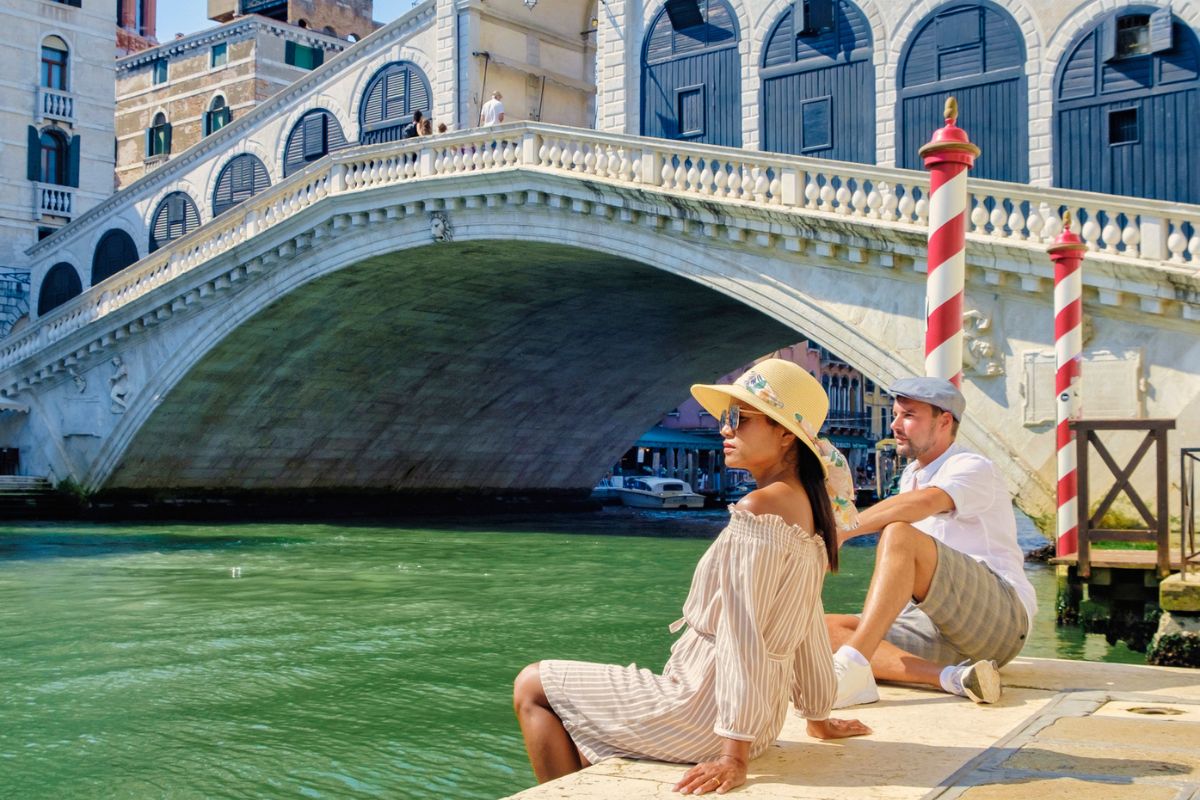 Another marvelous bridge, another set of great views… you're certainly spoiled for choice here!
A popular stop on many walking tours, this footpath arcs up and over the Grand Canal, making it perfect for people-watching (or boat-watching).
As the city's oldest bridge, it dates all the way back to 1173, and though it has had numerous facelifts and remodels over the years, it has remained a prominent fixture of the town, with a remarkable style all its own.
Take some time to enjoy the view from every angle!
4 – Get some amazing keepsakes with a romantic photoshoot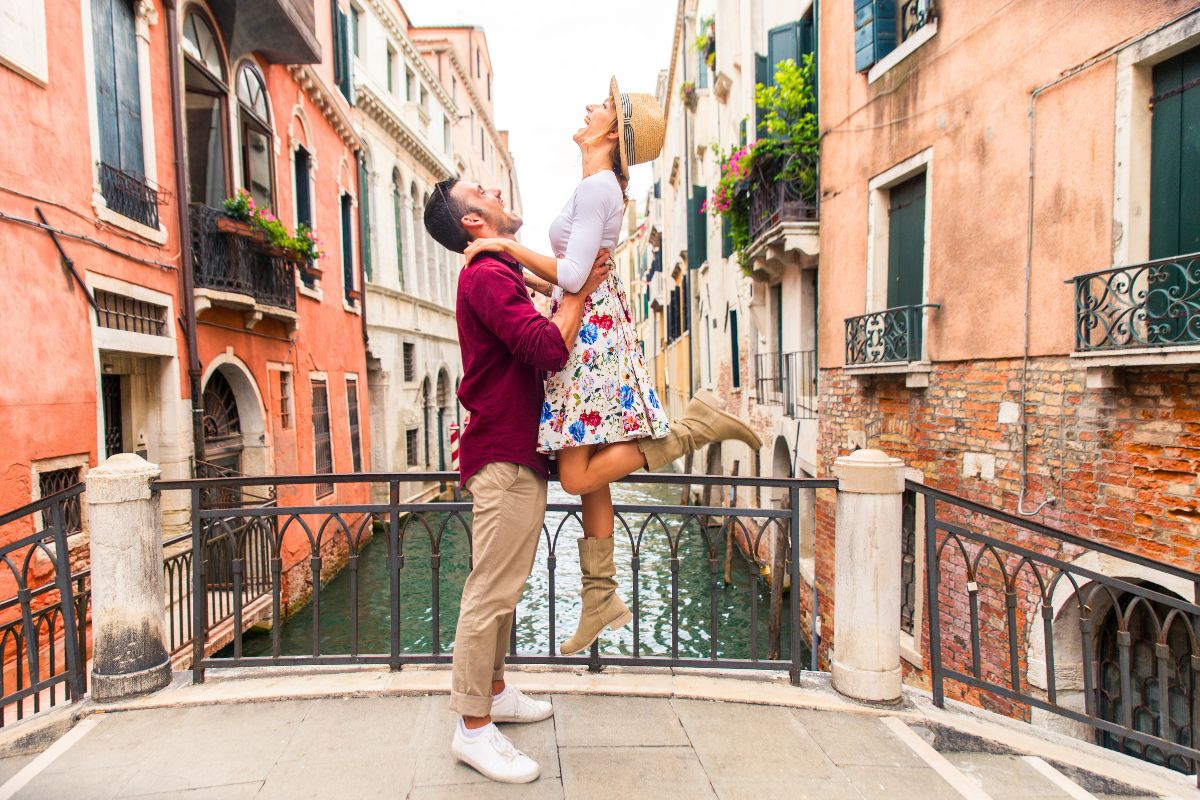 Naturally, you'll want a few souvenirs of your amorous trip… so why not bring home pictures worthy of any professional studio?
With so many gorgeous spots around town, you'll have no shortage of options for photoshoots,… starring some truly phenomenal and historic backdrops!
Head over to St. Mark's Square to get shots from every angle of the busy public square, especially the magnificent Byzantine accents of St. Mark's Basilica.
And don't forget to try some equally stunning settings courtesy of the other best tourist attractions in Venice, from palaces to churches and everything in between.
5 – Enjoy an old-fashioned caffeine break at Caffè Florian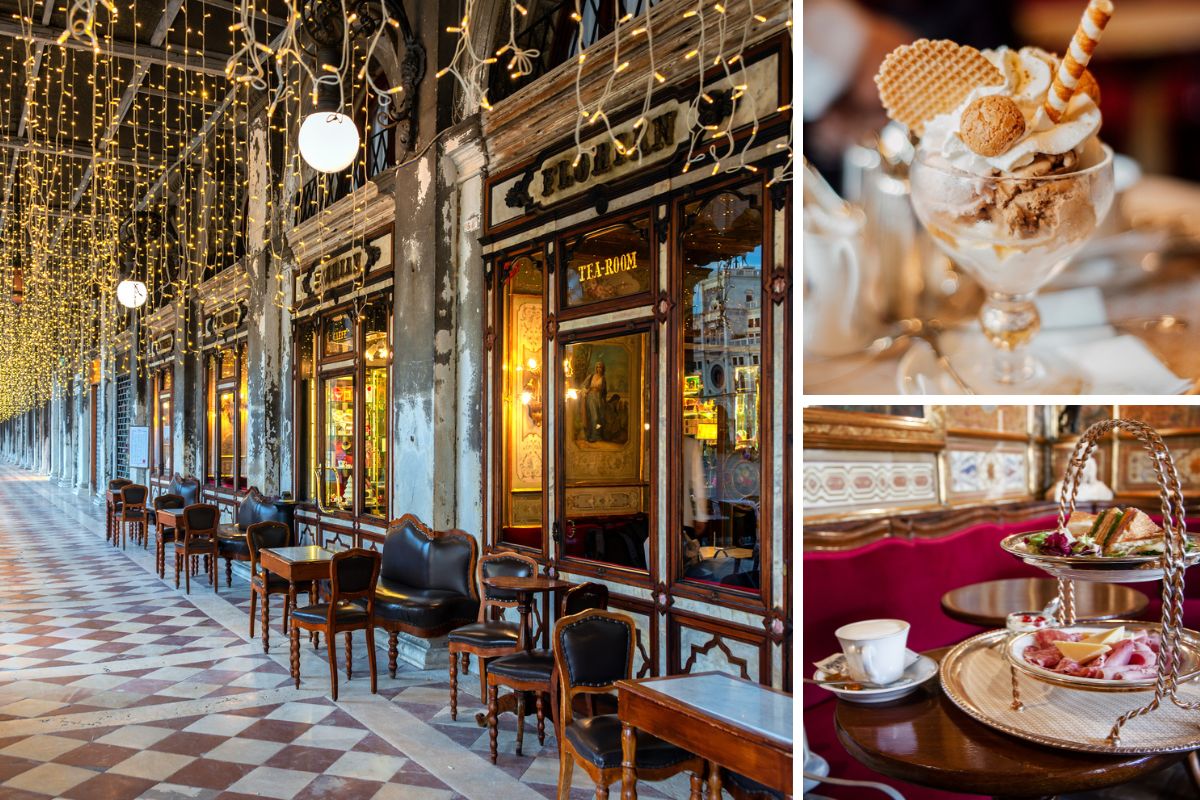 When you're ready to relax and reconnect over a nice cup of coffee, why not stop in at a place with some experience… several hundred years' worth, in fact?
In 1720, Caffè Florian first started serving up fine java in an equally luxurious atmosphere; and the tradition of beautiful settings and quality drinks continues to this day!
A staple of the local cafe scene, this is the sort of place where one cup turns into two or three, with plenty of time to explore its many opulent rooms filled with gold accents, magnificent portraits, and lavish decor.
6 – Savor an enchanting candlelight concert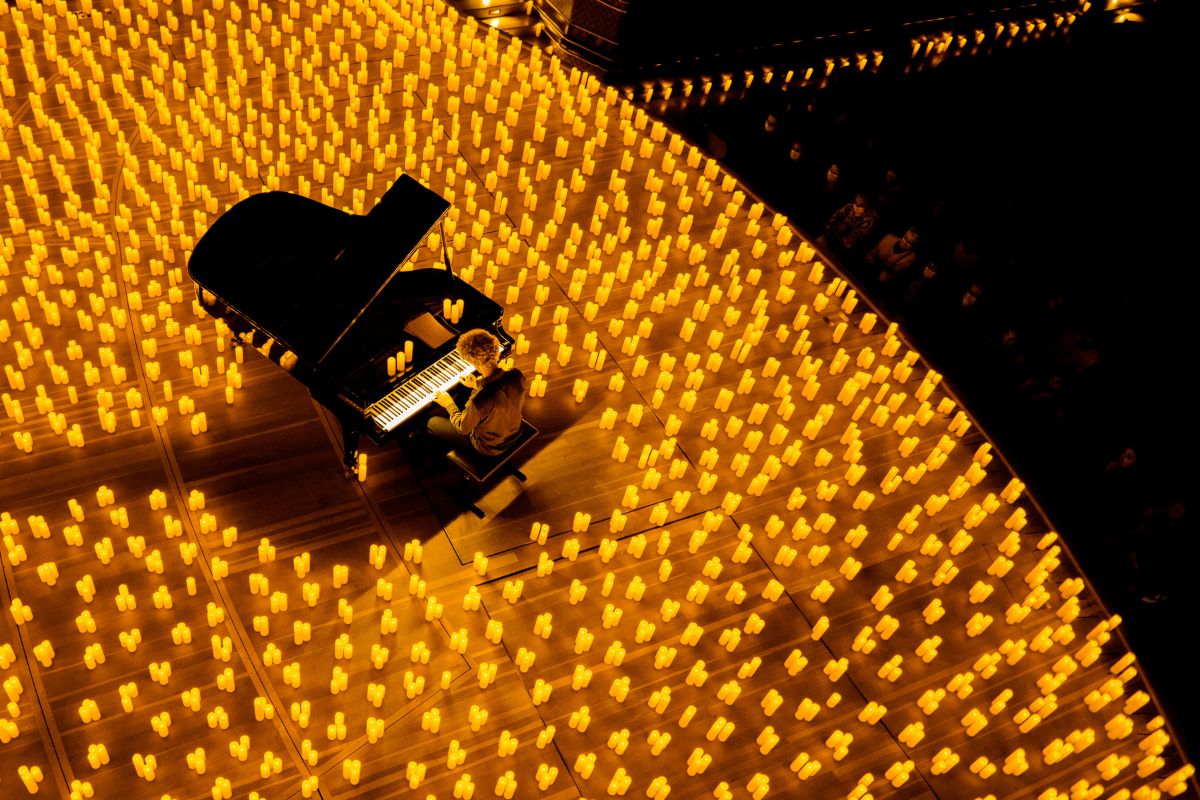 Candles are romantic, music equally so… so put them both together, and you get an unforgettable evening!
The beauty of the candlelight concert series is the way that it cultivates an atmosphere of total relaxation, with gently flickering flames framing the stage.
And on that stage, you'll find top-notch musicians putting classical spins on film scores, rock bands, and symphonic pieces.
Sit back and enjoy the whole scene!
7 – Celebrate the ongoing history of opera at La Fenice Theatre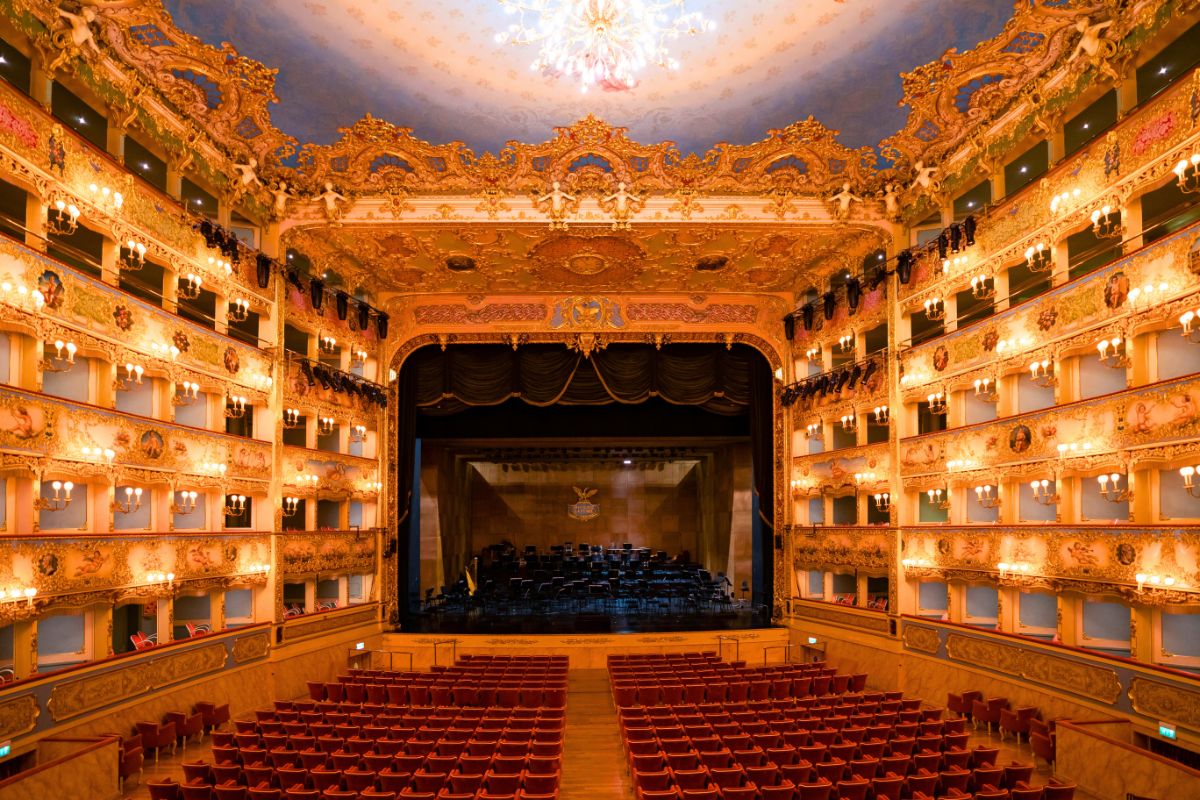 Brimming with beauty in both its designs and its performances, La Fenice Theatre will take your breath away!
Ever since it opened in 1792, this magnificent Baroque space has anchored the city's thriving opera scene; and even if you're not taking in a show, the tours of this ornate space are well worth your while!
From the gorgeous carvings and lavish seating area to the impressive stage itself, this is a place that will evoke your wildest sense of romance… and of course, the shows are pretty great too!
8 – Go for a dinner cruise on a Galleon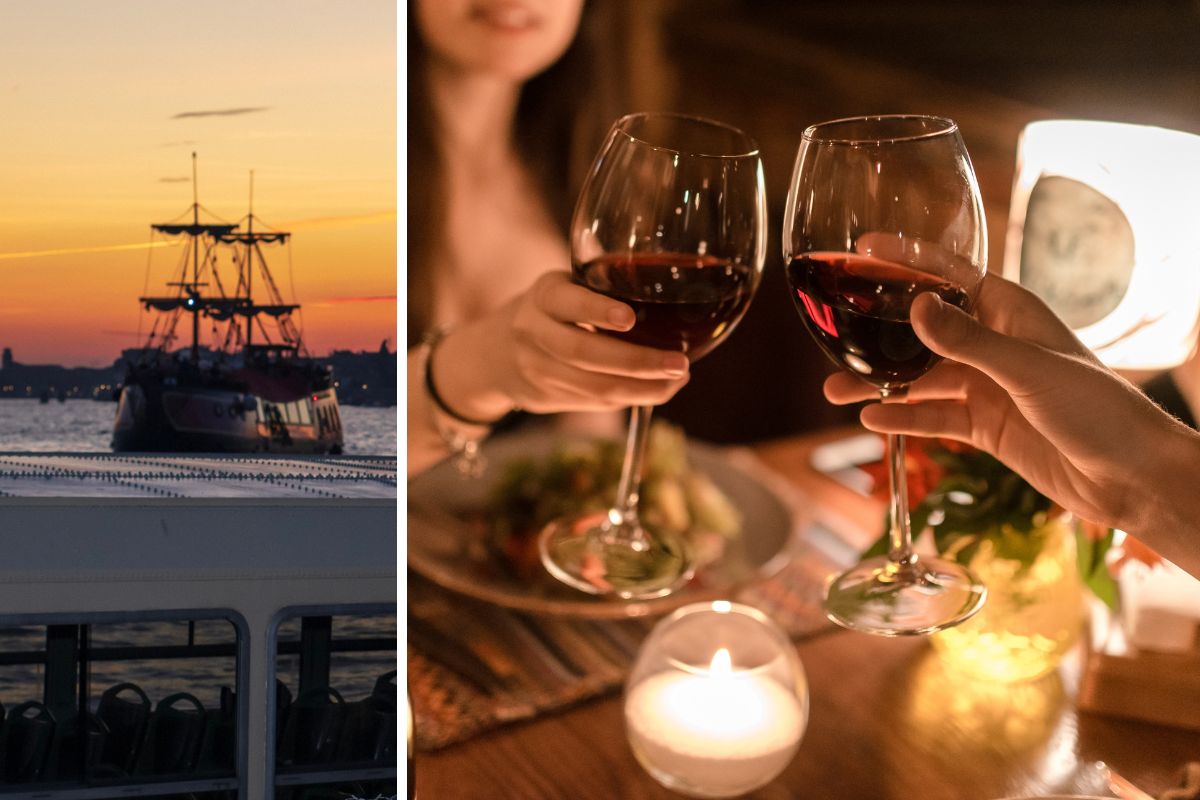 Sure, gondolas are great, but they're far from the only way to enjoy some time on the water!
And if you want to really get a sense of the most enchanting elements of the city, try some dinner cruises!
With the vibrant colors of evening and the slow arrival of lights in the city, this is one of the most charming and romantic things to do in Venice for couples.
Enjoy great information from your guide, scenery that's unparalleled, and some of that world-famous Italian cuisine… oh, and each other's company, of course!
9 – Wander around the Dorsoduro District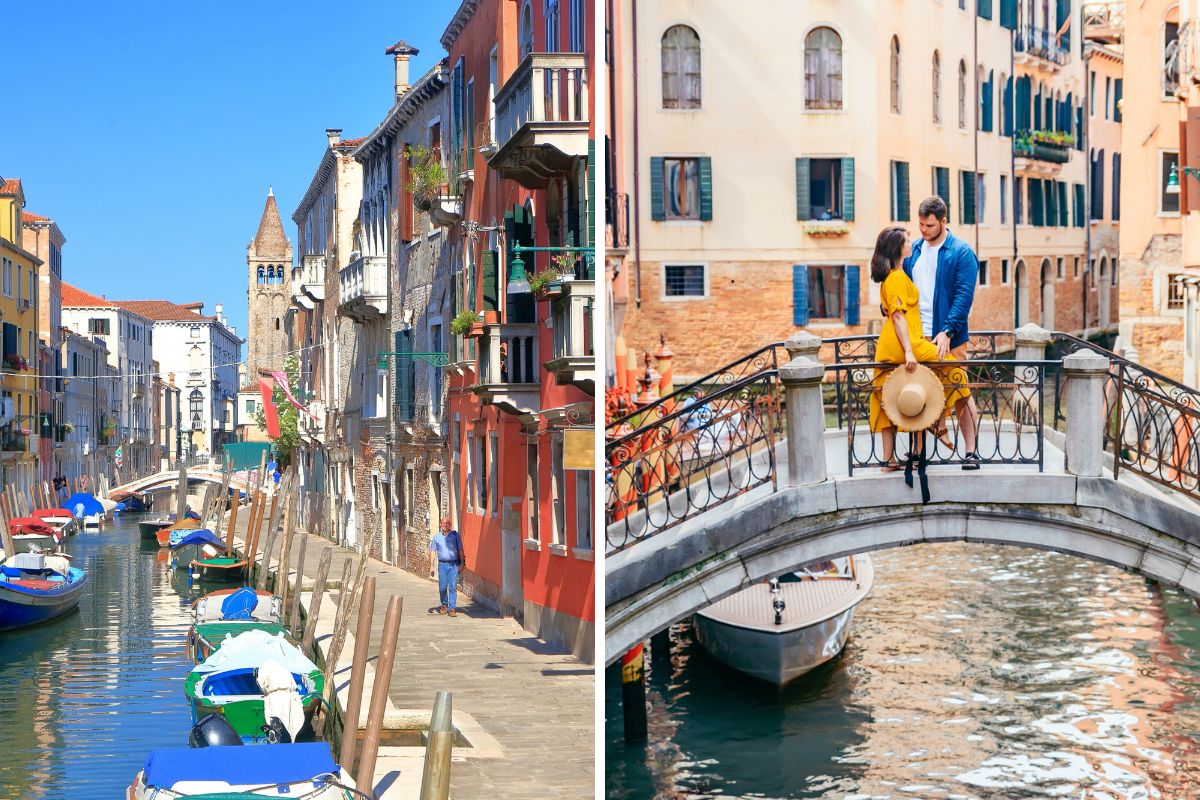 With its endless nooks and crannies and galleries packed with hidden treasures, the Dorsoduro District will remind you of the beauty and mystery that ancient cities can cultivate… and even more so with a private tour!
Every step brings you in contact with another charming feature of this unique town – a gondola workshop here, and a set of secluded alleys there.
Take in masterpieces and poke around possibly haunted buildings as you stroll through this endlessly intriguing neighborhood!
10 – Have a romantic lunch at The Gritti Terrace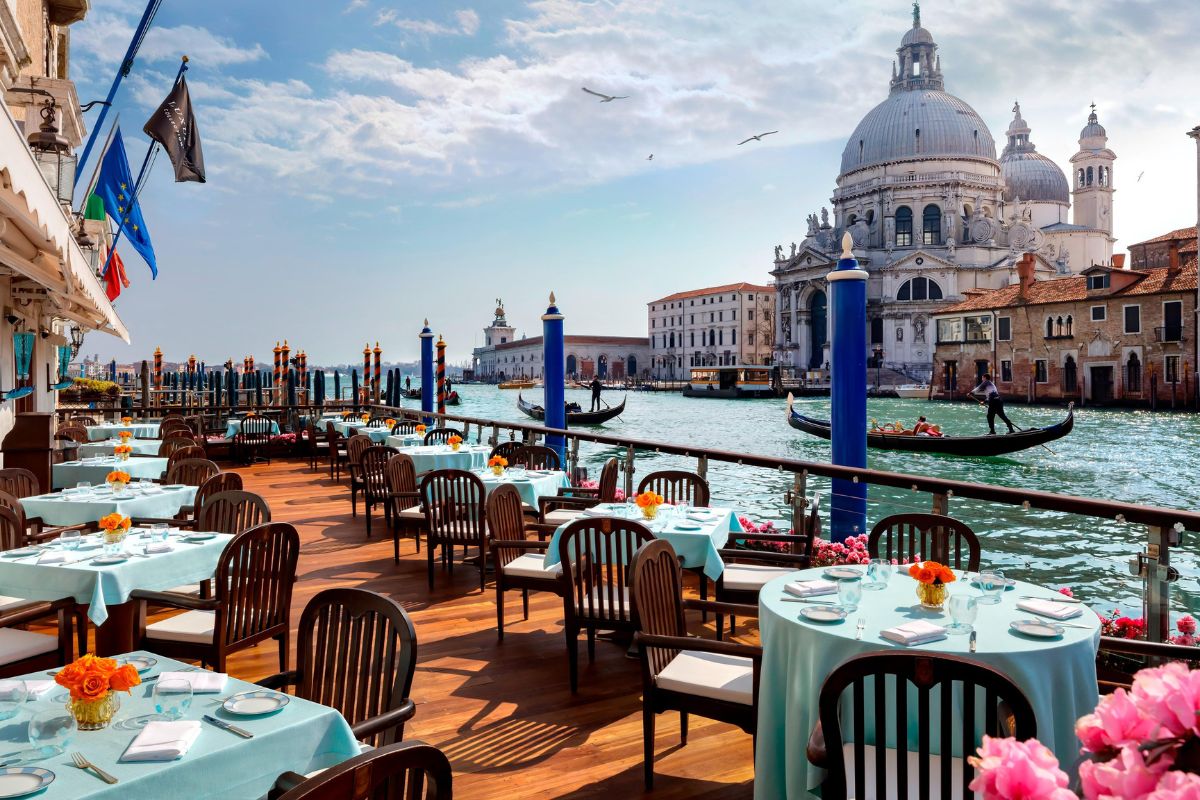 You're never far from a good meal around here, and if you want plenty of atmosphere, there's nothing quite like a seat at The Gritti Terrace… oh, and the food is pretty good too!
Settle in on the patio and enjoy stunning views of the Grand Canal in all its bustling glory, while feasting on excellent dishes like lobster or ravioli… and a glass of wine, of course!
11 – Get a little cultured with a classical music concert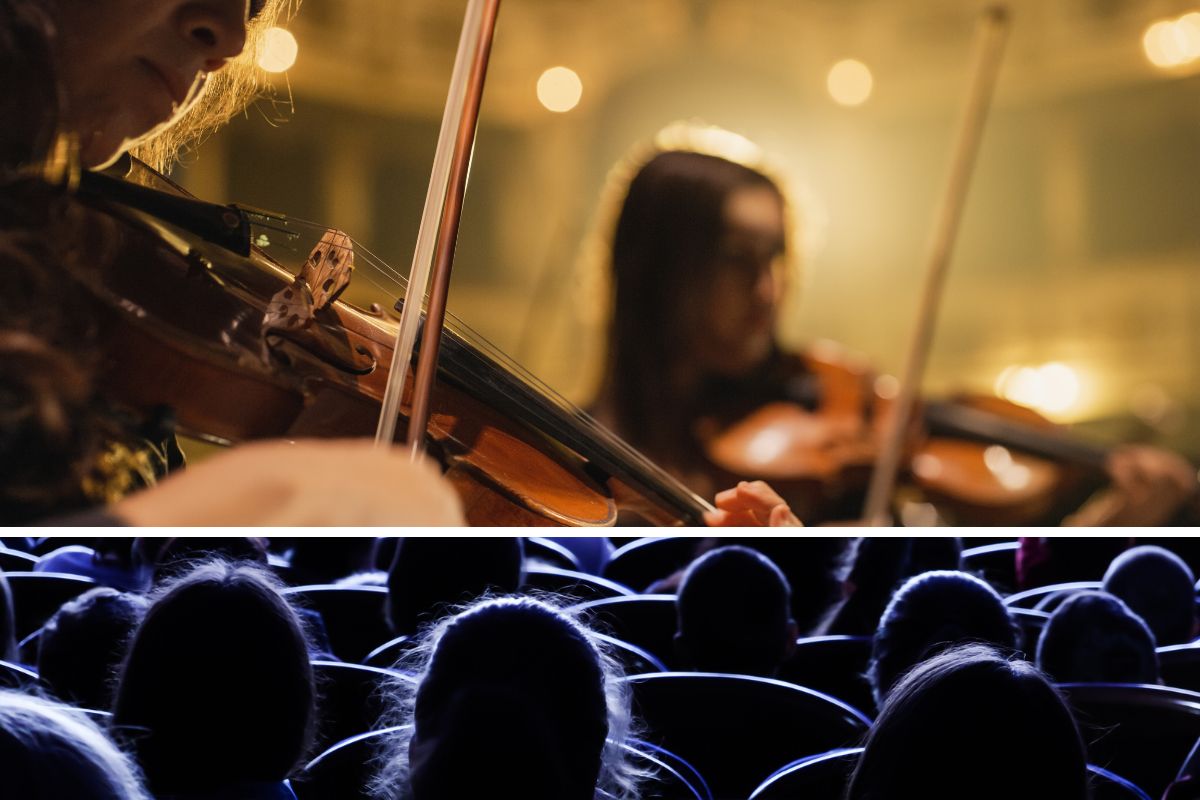 If you still haven't gotten your fill of soul-stirring tunes, never fear…. there are tons of classical music concerts waiting to fill your ears and hearts with joy!
Take a romantic trip back to the 1700s with a trip to Musici Veneziani, famed for its Baroque costumes and stunning Vivaldi recitals.
Or enjoy the lively ensemble work of Interpreti Veneziani, where cellos, harpsichords, and violins bring the works of Mozart and company back to life with pizzazz.
It's time travel and classical education, all rolled into one… and a memorable evening out beside!
12 – Share some new snacks on a food tour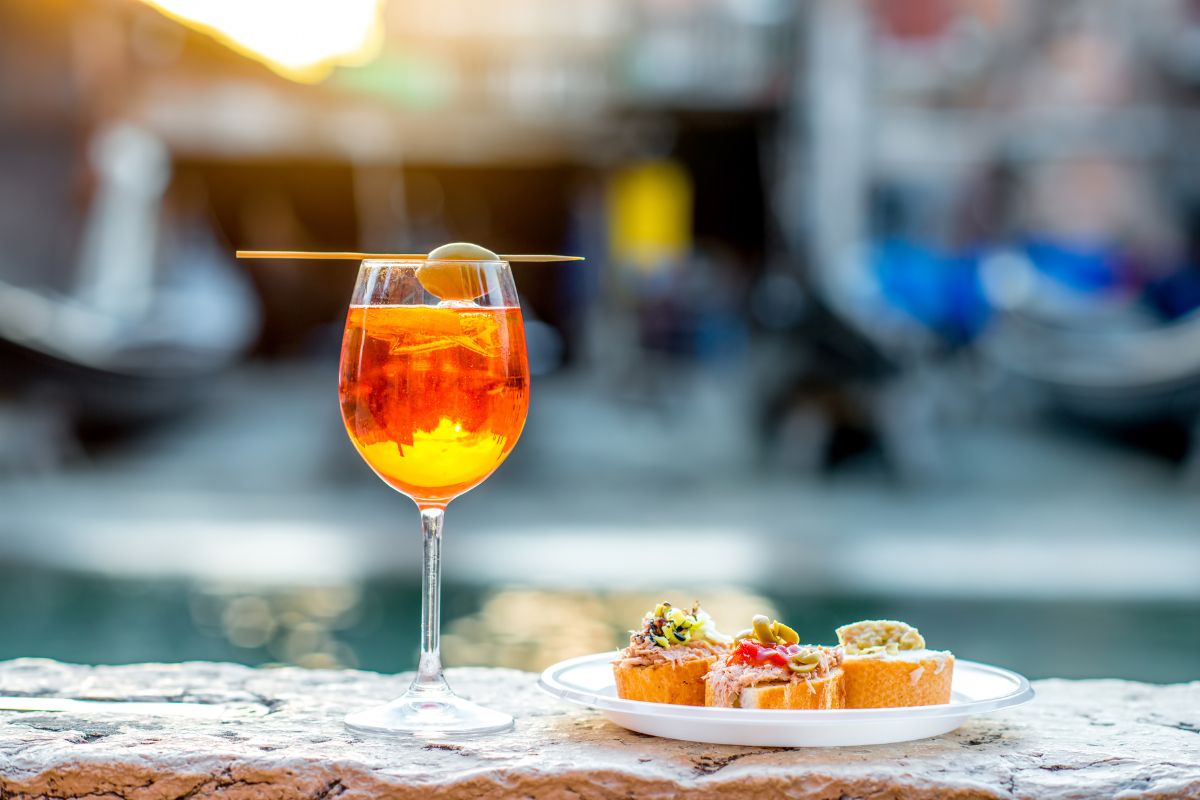 If you want to take your romantic meal to the next level, turn it into a rotating feast, and sample all the treats with your sweetheart!
With exciting new options at every stop, the local food tours are perfect for getting to know the city in all of its flavors… literally!
Rialto Market is a perfect place to start, filled with everything from pastries and olives to fresh produce and fish.
And don't miss out on Cicchetti, the lovely little dishes that are perfect for sampling – and sharing!
Covering everything from small sandwiches to meatballs, this classic Venetian mini-meal will thrill you with every bite!
13 – Turn the city into your own lover's lane with some romantic private tours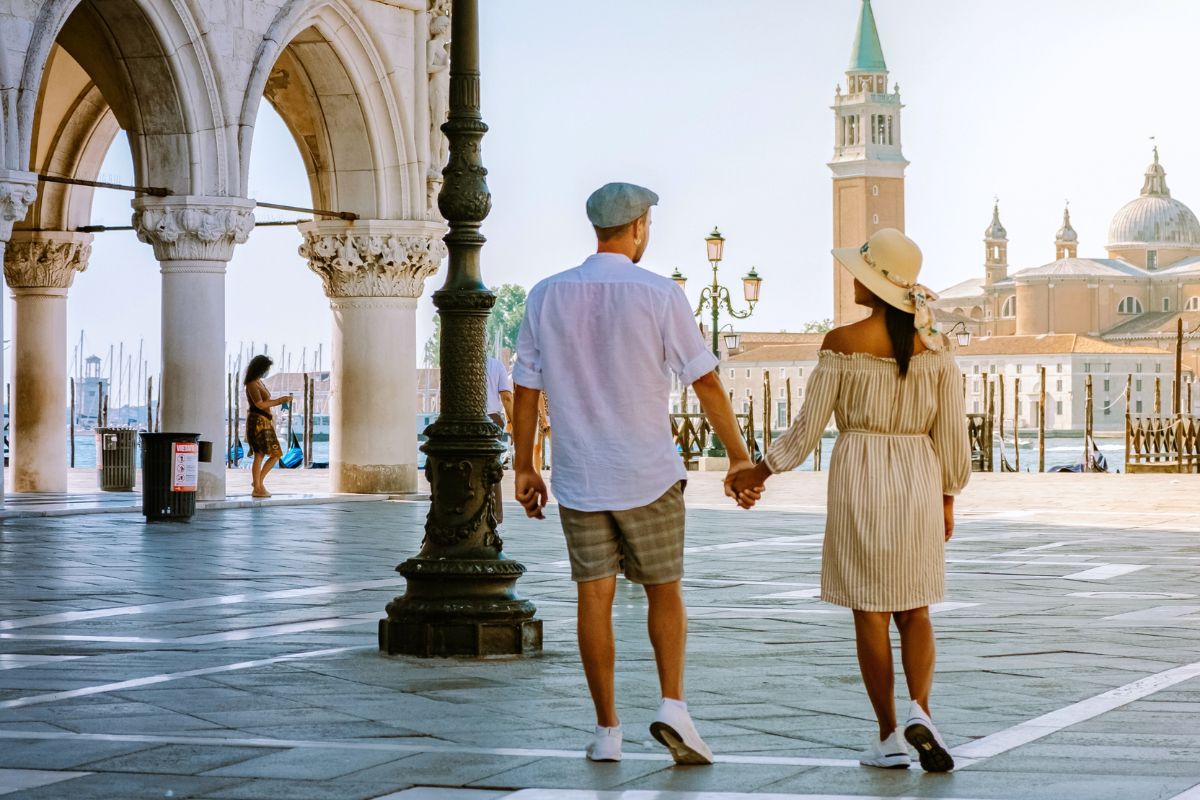 While this may be one of the most heavily visited cities on Earth, you'd never know it when you embark on a private tour!
You and your plus one will feel like true VIPs as you see all the sights around town, enjoying boat tours, gondola rides, and insightful journeys around hotspots like Doge's Palace (see #1).
Or enjoy the ultimate intimate experience of the town on an early-morning tour, seeing the city slowly unfold in these quieter hours.
You can even venture further and enjoy tours of wineries or the spectacular Dolomites (see #14)!
Of all the fantastic things to do in Venice for couples, these trips will offer some of the greatest sights – you'll truly feel like you're in a fairytale!
14 – Discover the glorious Dolomite Mountains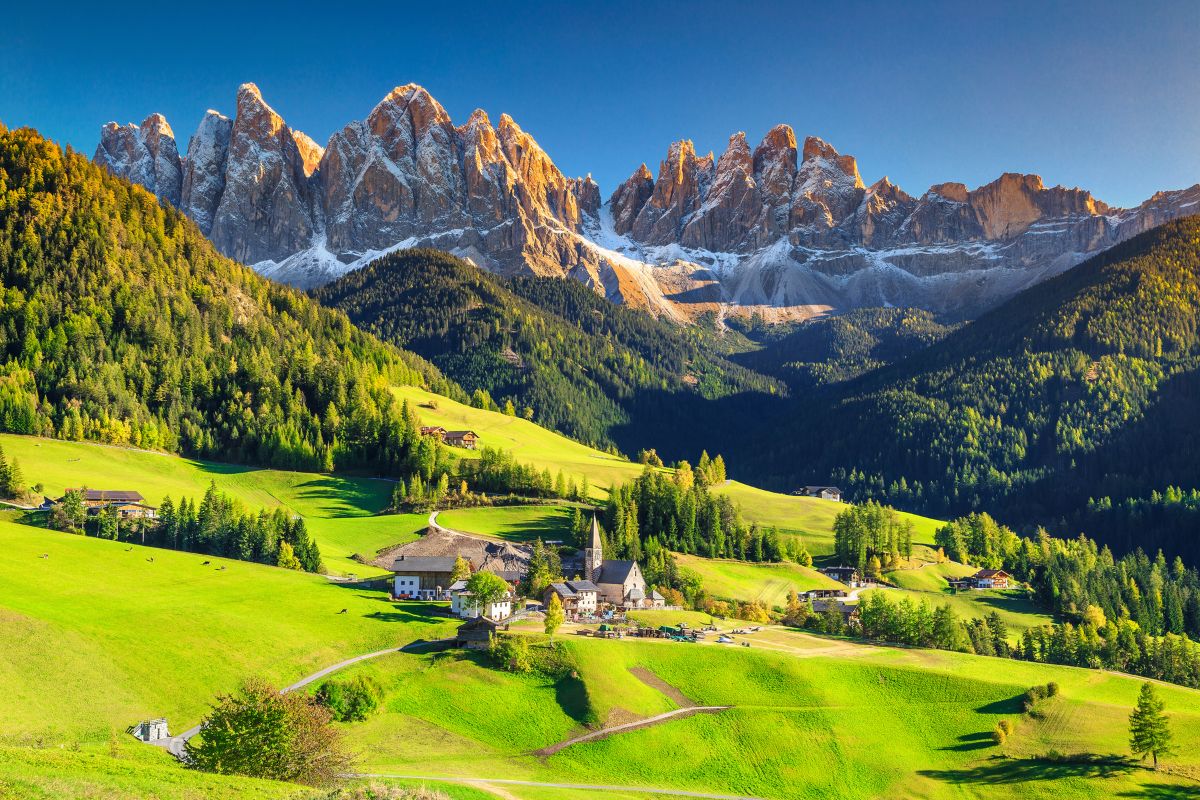 Though it's just a simple day trip away, the Dolomite Mountains feel like another world – and one with unforgettable scenery that provides the ultimate romantic backdrop!
In place of waterways and weathered buildings, you'll get soaring, rocky peaks, perfectly framing the villages and lakes below.
Along with the UNESCO-listed mountains themselves, you can enjoy the lovely little burg of Cortina, where great views and charming slices of authentic culture lie around every corner!
15 – Indulge in a three-part adventure to the Islands of Murano, Burano, and Torcello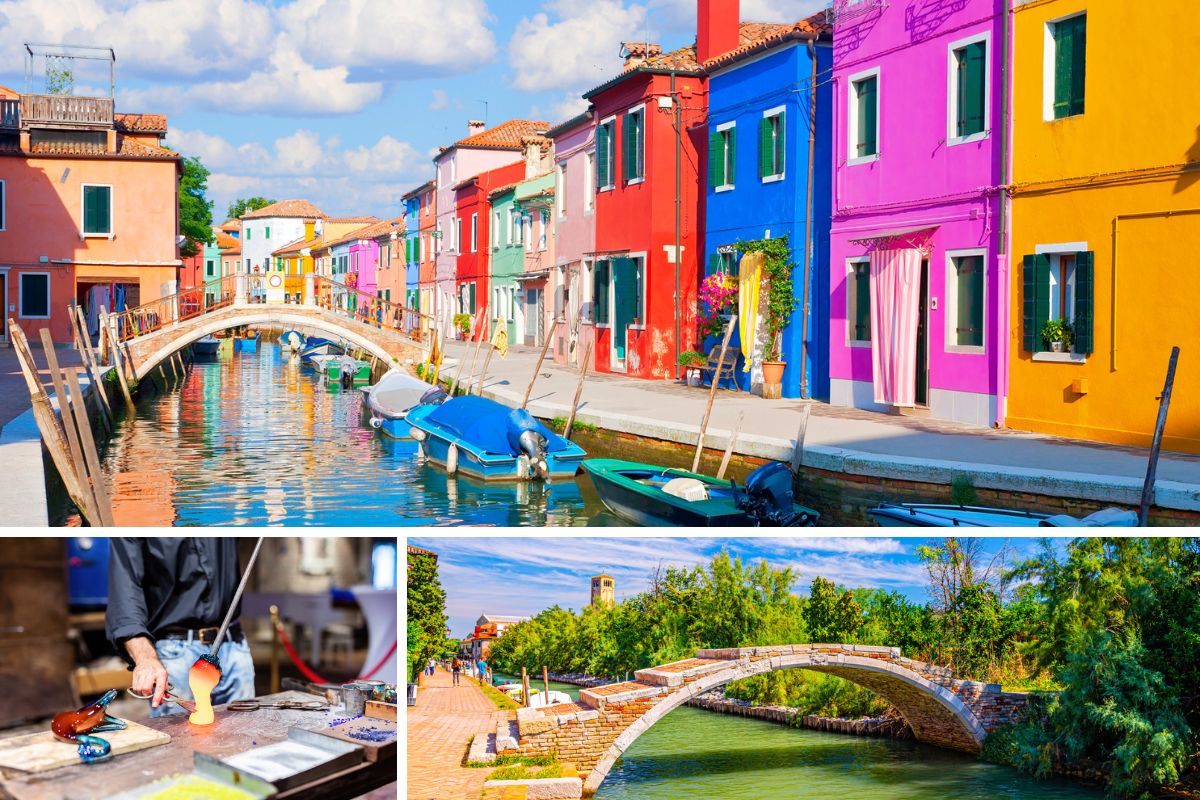 If you want a romantic keepsake, you'll find plenty at the famous Glass Factory of Murano…. and lots more when you go island-hopping!
This is one of the most famed industries in town, with centuries' worth of insight going into each colorful piece – the ultimate souvenir of your time in this idyllic world.
But don't forget about the neighbors!
From the lace shops of Burano to the colorful mosaics of Torcello, you and your significant other will get to adventure into the heart of some of Italy's finest artistic offerings!
16 – Explore Palazzo Contarini del Bovolo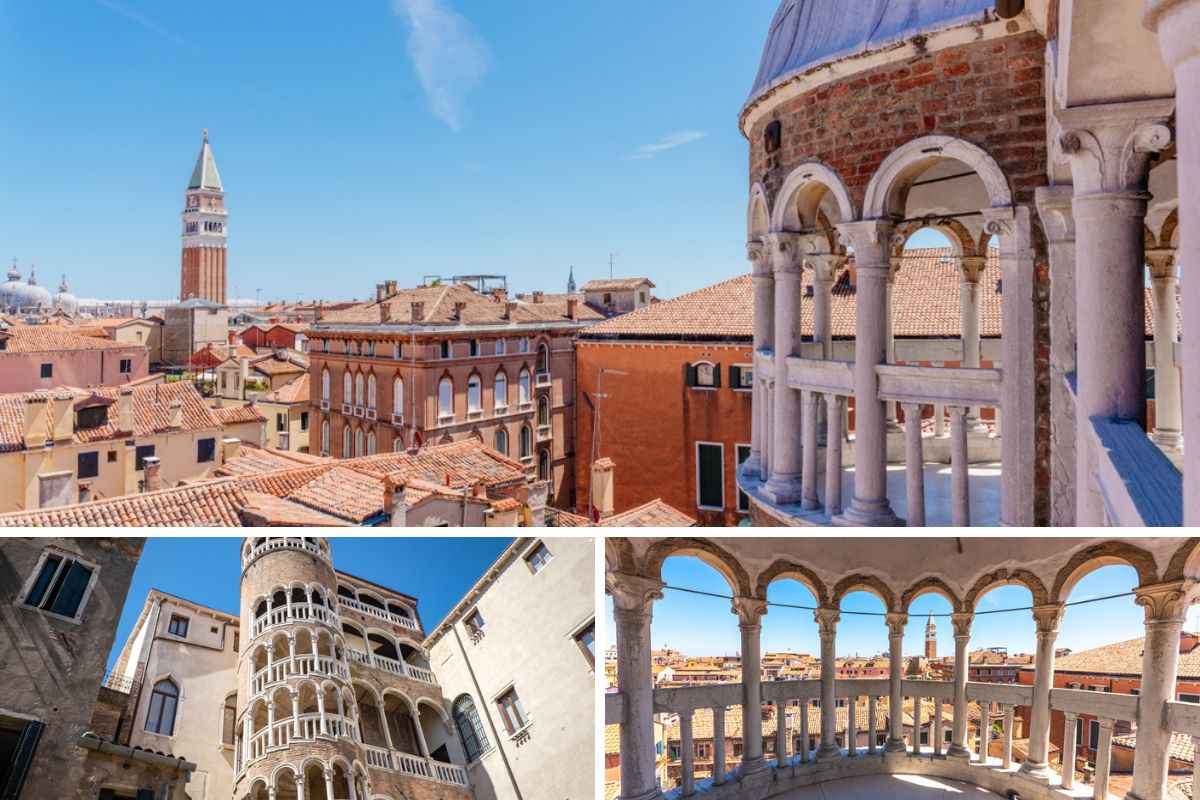 It's starred in movies and various historic events – and pretty soon, Palazzo Contarini del Bovolo will be starring in your wildest fantasies!
Famed for its hodgepodge of Byzantine, Renaissance, and Gothic details,  this marvelous space is known for its art – inside and out!
Along with its prayer hall and paintings, the most famous feature here is certainly the spiral staircase twisting all the way up the outside of the building; along with being a major part of city life, it once starred in Orson Welles' film production of Othello!
17 – Get to know the waterways together on a boat tour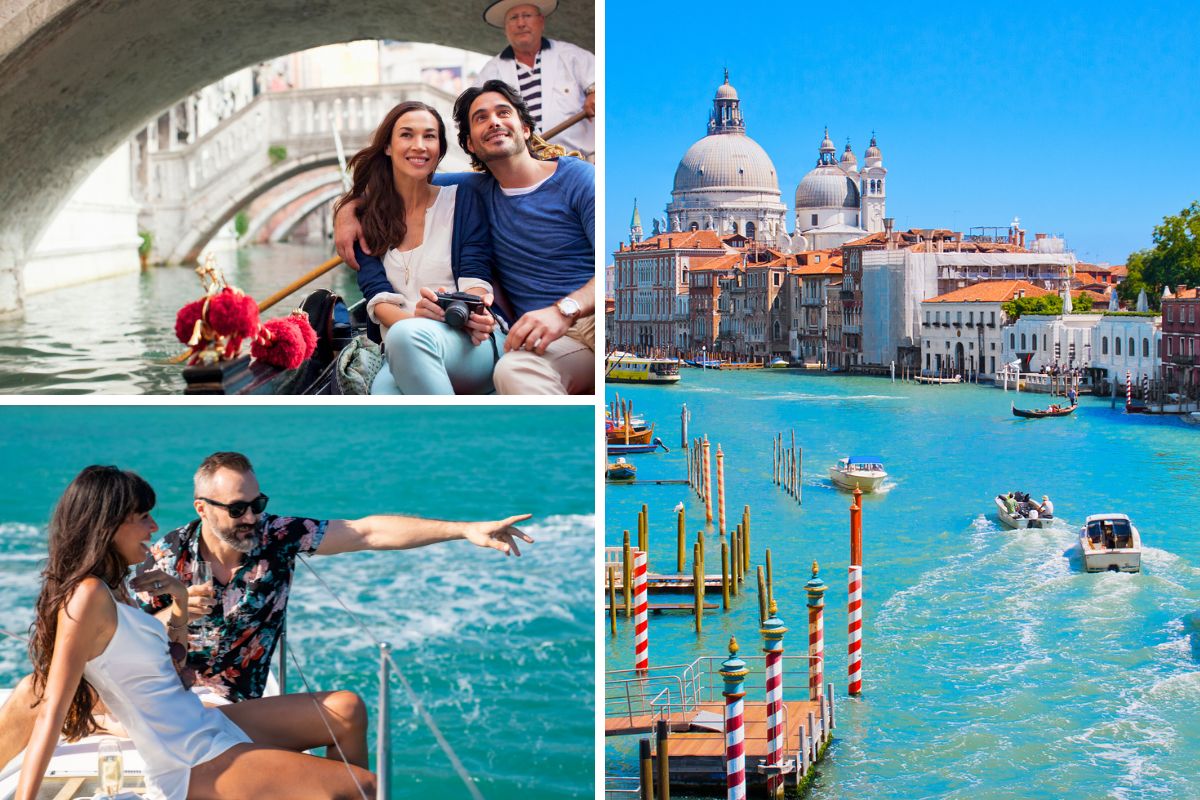 No matter the time of day or type of vessel, there's nothing like a boat tour to cultivate a romantic atmosphere… and see the best places in town!
Cruise around the canals and the lagoon at large, absorbing the rich history of the town with your sweetheart by your side.
And if you're having trouble deciding where to start your voyage, check out our article Venice Boat Tours – Which one to Choose?
18 – Indulge in a few romantic dinners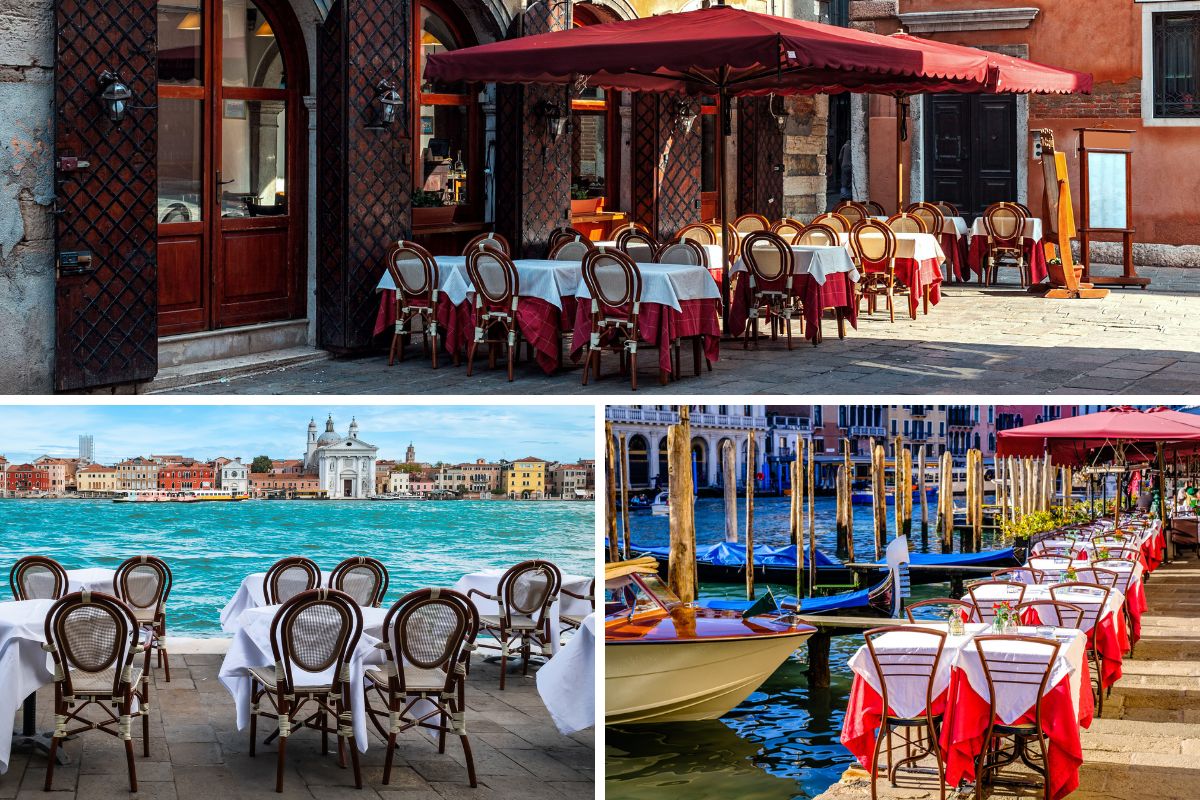 When it's time to unwind for the evening, you can't skip the iconic (and delicious) activity of dinner… in style!
And while any meal can become a romantic one, there are some eateries that go above and beyond, mixing high-class surroundings with impeccably prepared meals.
Alle Corone Restaurant will spoil you rotten with its seasonal dishes, decadent sweets, and pasta made entirely from scratch.
And at L'Alcova Restaurant, you'll have perfect waterfront views and glimpses of Rialto Market to enjoy vivacious seafood, mouthwatering wines, and more.
19 – Day trip to Verona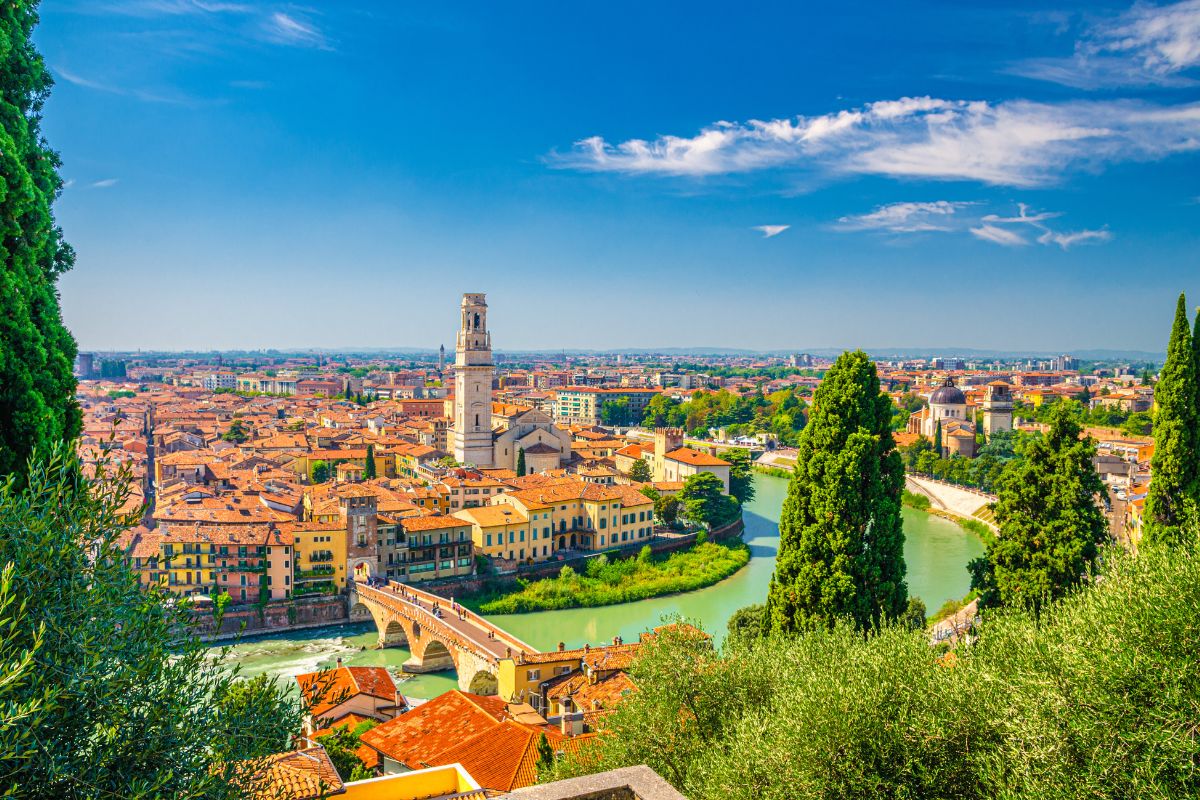 Sure, there are tons of romantic things to do in Venice for couples; but no visit to this area would be complete without stopping by the hometown of two of history's most famous fictional lovers!
Famed as the setting of Romeo and Juliet, Verona still bubbles over with that same enchanting feel; you can even visit the balcony that was rumored to have been the influence for one of the play's most famous scenes!
But there are tons of other amenities that make it worthy of a jaunt, from elegant architecture to the bountiful wineries nearby.
Read more: Fun things to do in Verona
20 – Bask in the splendor of the basilicas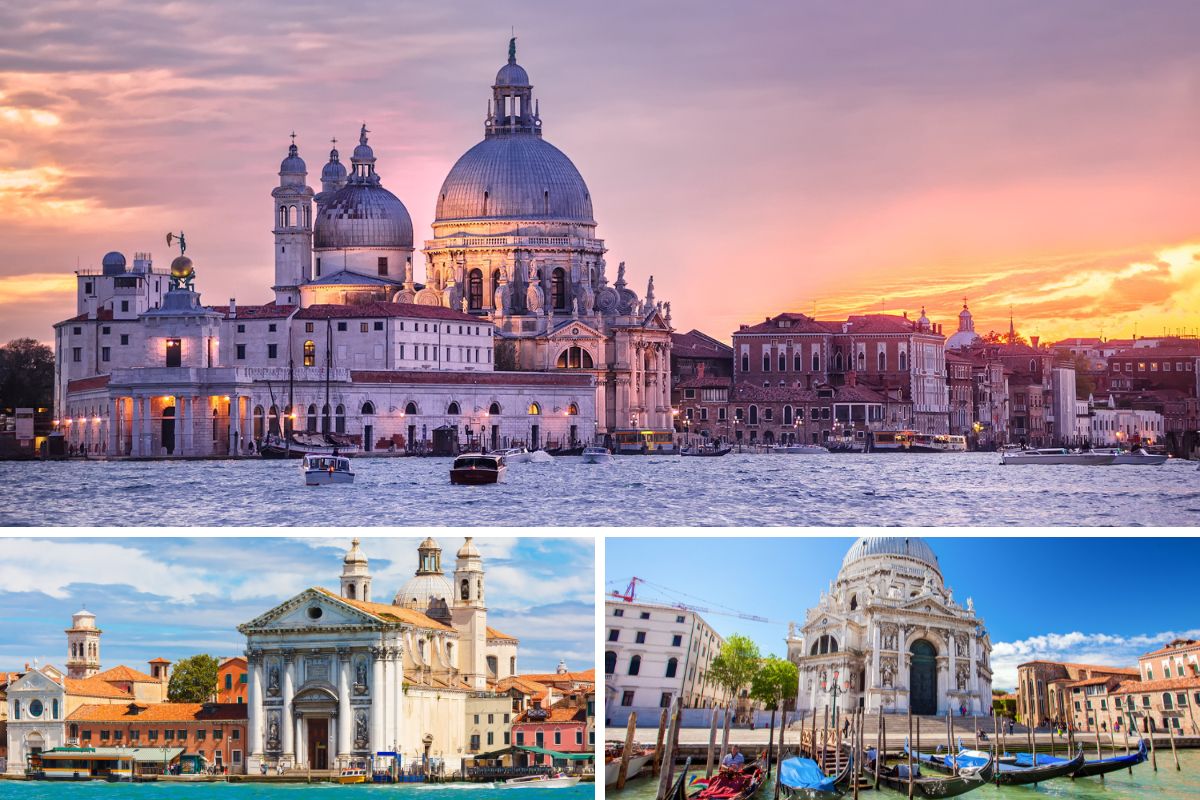 They may have been built for religious purposes, but the local basilicas are also so stunning that they can also easily serve as the setting for your latest romantic stroll!
There's Basilica di Santa Maria della Salute, a double-domed wonder built in the 1600s in gratitude to the Virgin Mary for supposedly saving the city from the plague; or Basilica di Santa Maria Gloriosa dei Frari, famed for its art collection, which has kept watch over the canals since the 1200s.
You can also enjoy the glory of Basilica dei Santi Giovanni e Paolo, an incredible structure from the 1300s that serves as the final resting place for many of the city's prominent politicians.
21 – Start the evening out right with a night cruise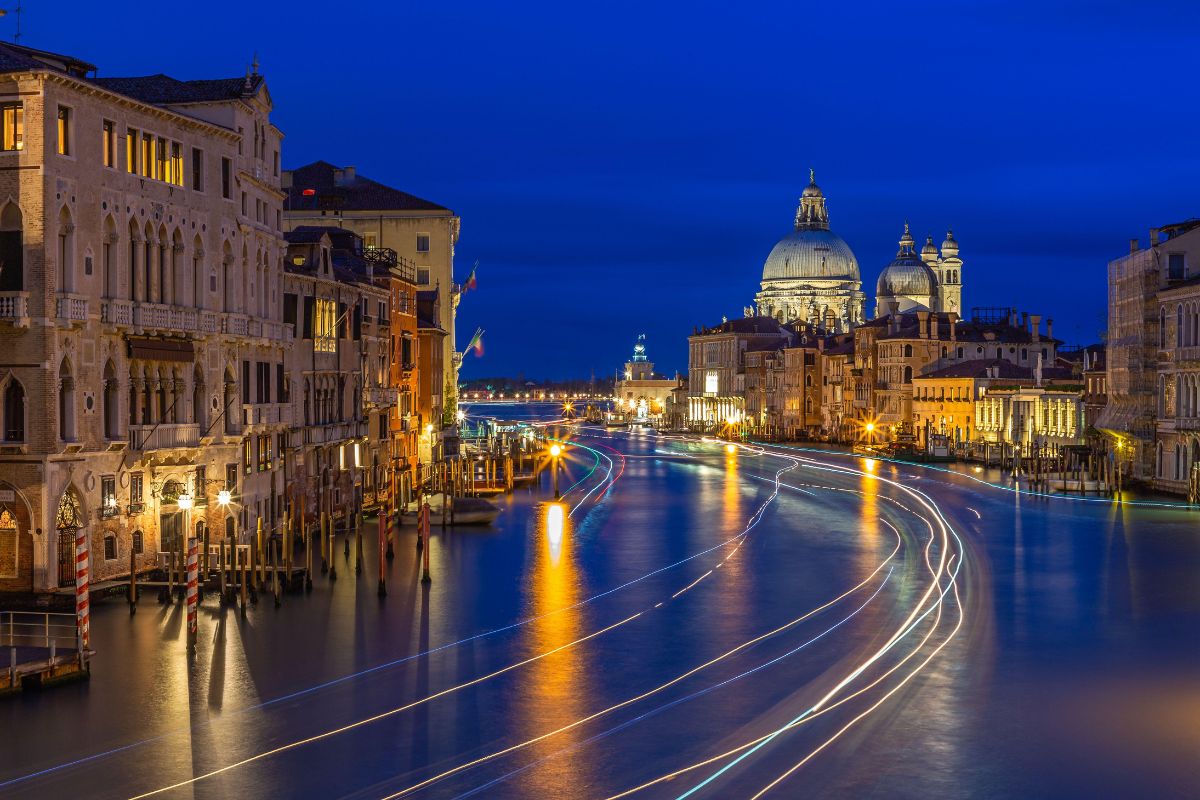 Ok, you've enjoyed the endless visual wonders of the daytime, you've had a romantic dinner… what's next when you're looking for a romantic boat ride?
A night cruise, of course!
This is when you'll get to see a whole different side of the city, with twinkling lights and the gorgeous lagoon showing off all their nocturnal finery.
And with the stunning monuments illuminated before you – plus lovely additional touches like live music on some voyages -, you'll be able to celebrate both small and large moments with your love in style!
22 – Get some green time at Giardini Papadopoli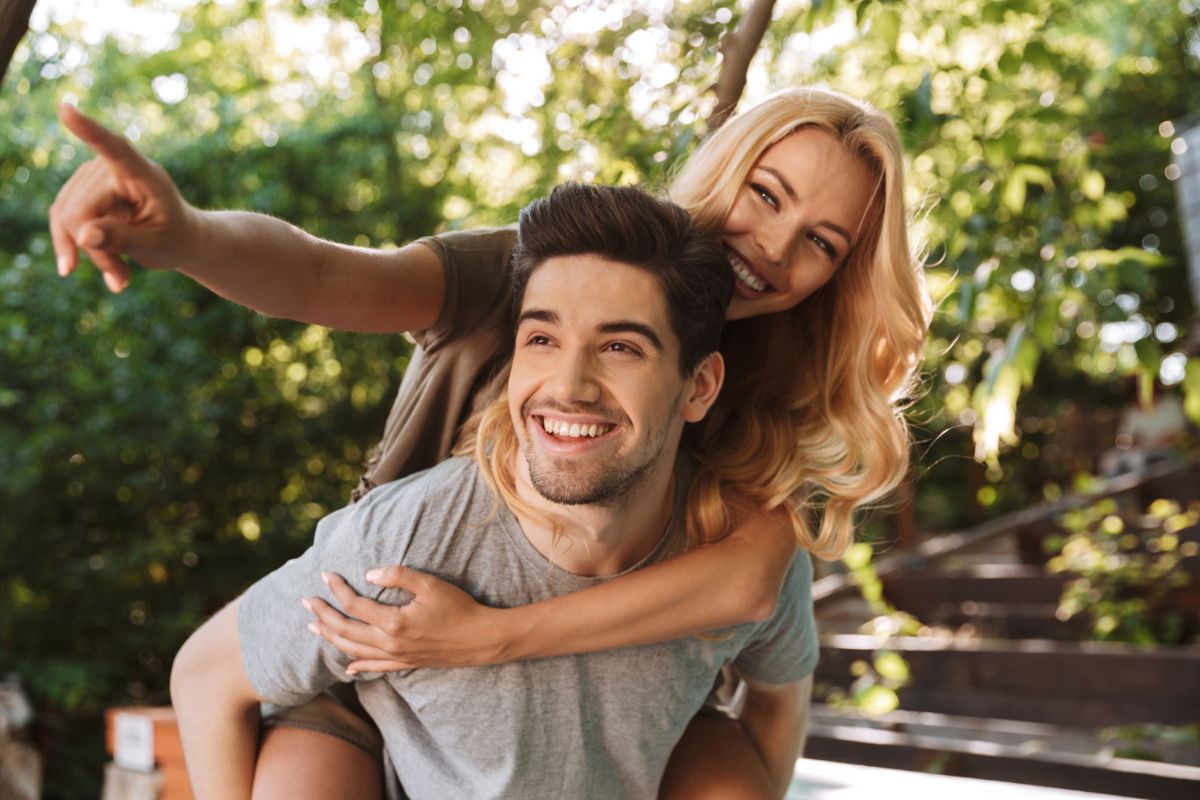 Taking a romantic walk in the park to the next level, this beautiful stretch of land proves that there's no end to amazing things to do in Venice… even the seemingly mundane ones!
Built over the remains of a former monastery, the gardens offer an incredible insight into the landscaping traditions of the region, with forested groves and vivid flowers that bring a different sense of beauty to the town.
Take some time to enjoy the plant life, the scenery… and each other!
23 – Take everything in from above on a helicopter tour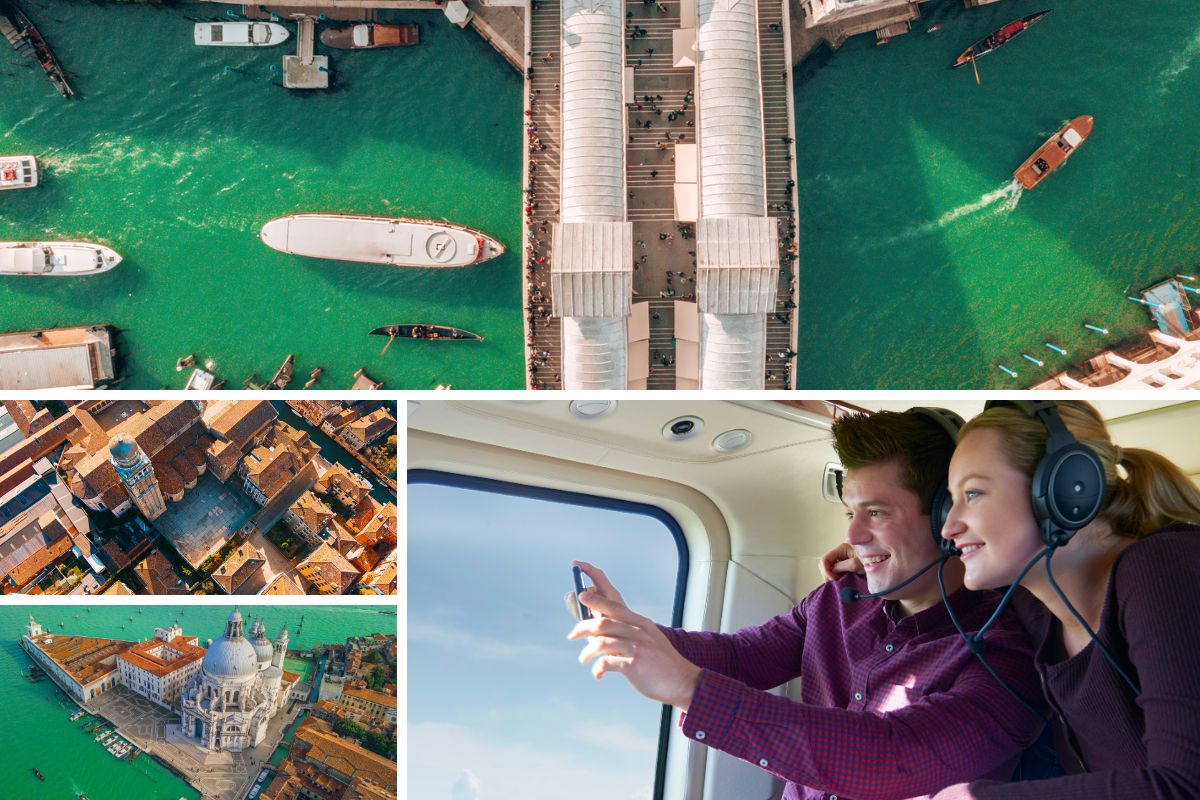 Being in love certainly makes you feel like your head is in the clouds… but with a helicopter tour, you really will be flying high!
And of course, this is a great way to see the full scale of the city and the surrounding natural areas, with new and thrilling angles of all the waterways, monuments, and even the surrounding islands.
This is one view that's truly breathtaking!
24 – Enjoy some sugary surprises with a chocolate tasting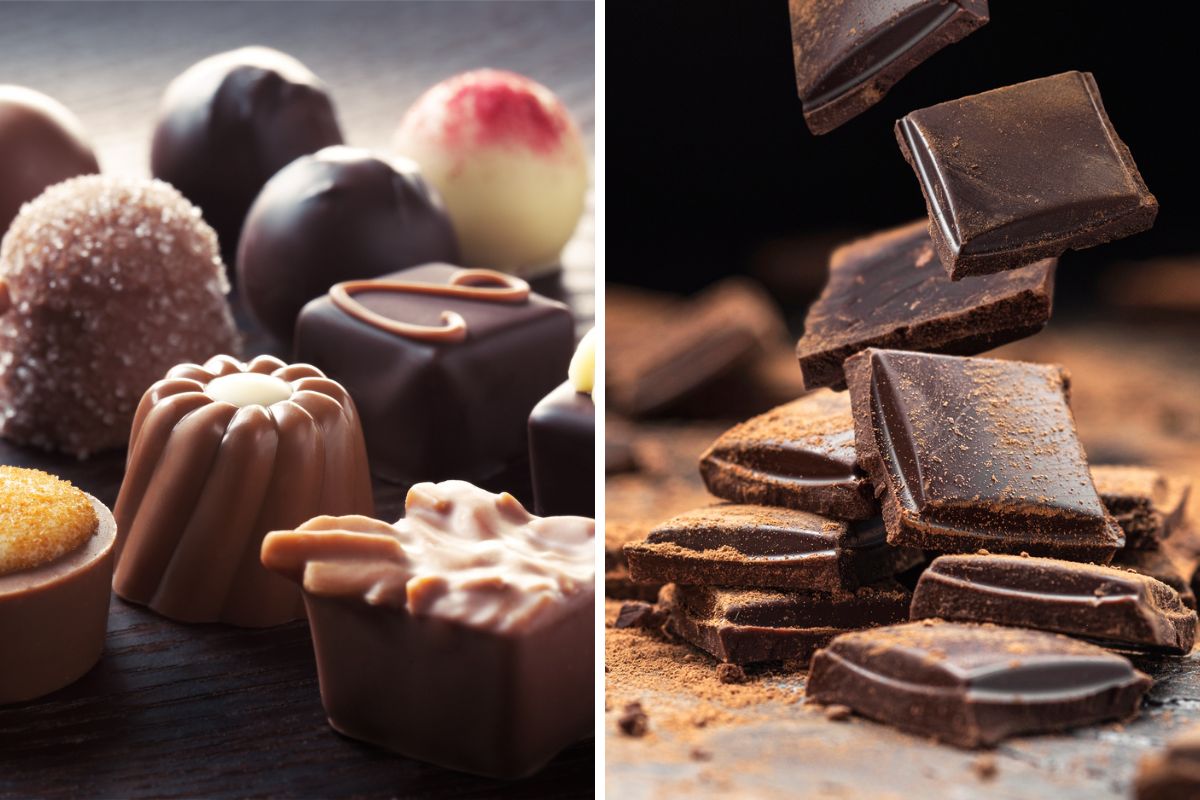 Back on the ground, tuck into the sweeter side of things with a couple of chocolate tastings, where the hardest choice will be deciding which little delicacy to nibble on next!
There's a surprisingly robust chocolatier scene around here, giving you plenty of options to try new sweets with your sweetie.
And of course, you get a little bit of history with each scrumptious sample!
25 – Get caught up in the action at the Traveling Opera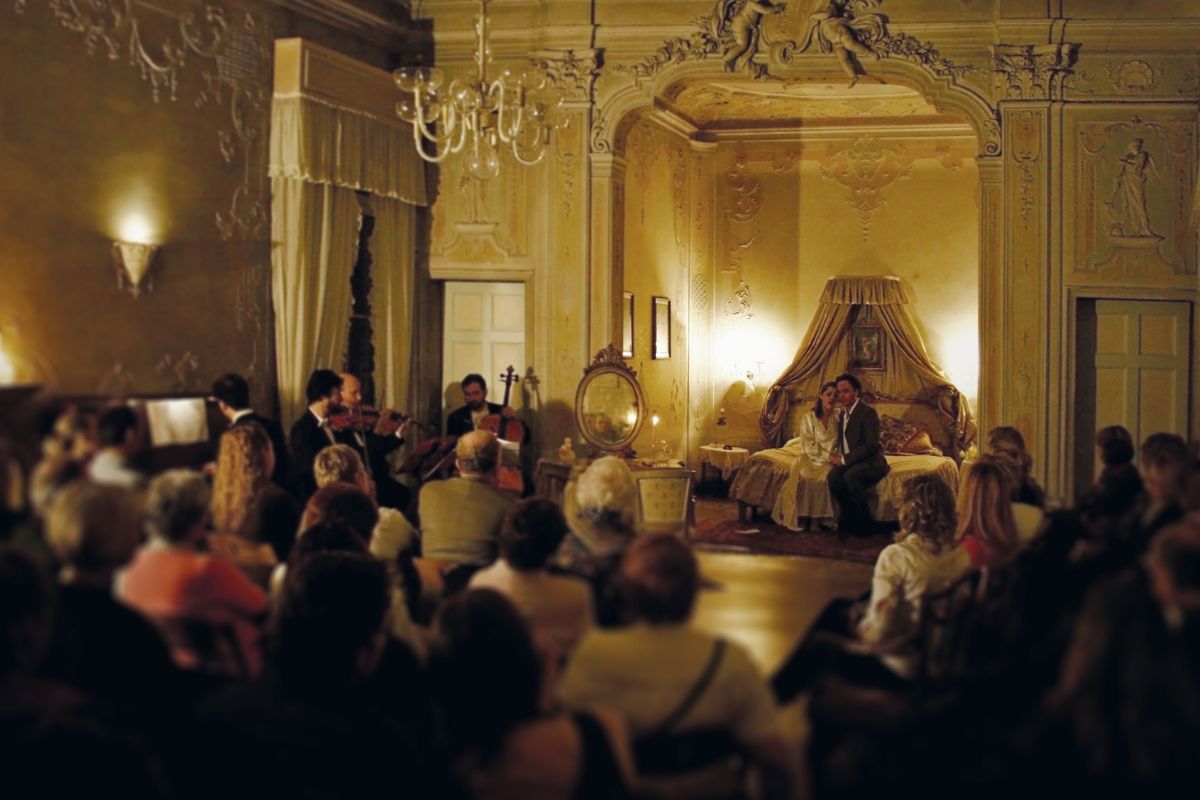 Dating back to the 1800s, the Traveling Opera is just what it sounds like: an acclaimed troupe of performers put on a show at different venues around town, creating a unique melding of art and location for each new production.
And while you're in town, you'll be able to sample this fantastic show in an equally gorgeous setting!
Move from room to room of the gorgeous Palazzo Barbarigo Minotto, enjoying a different variety of classic songs in each space as the actors bring the works to life all around you.
It's one of the most amazing ways to see this powerful art form!
26 – Embrace your intellectual sides at the best museums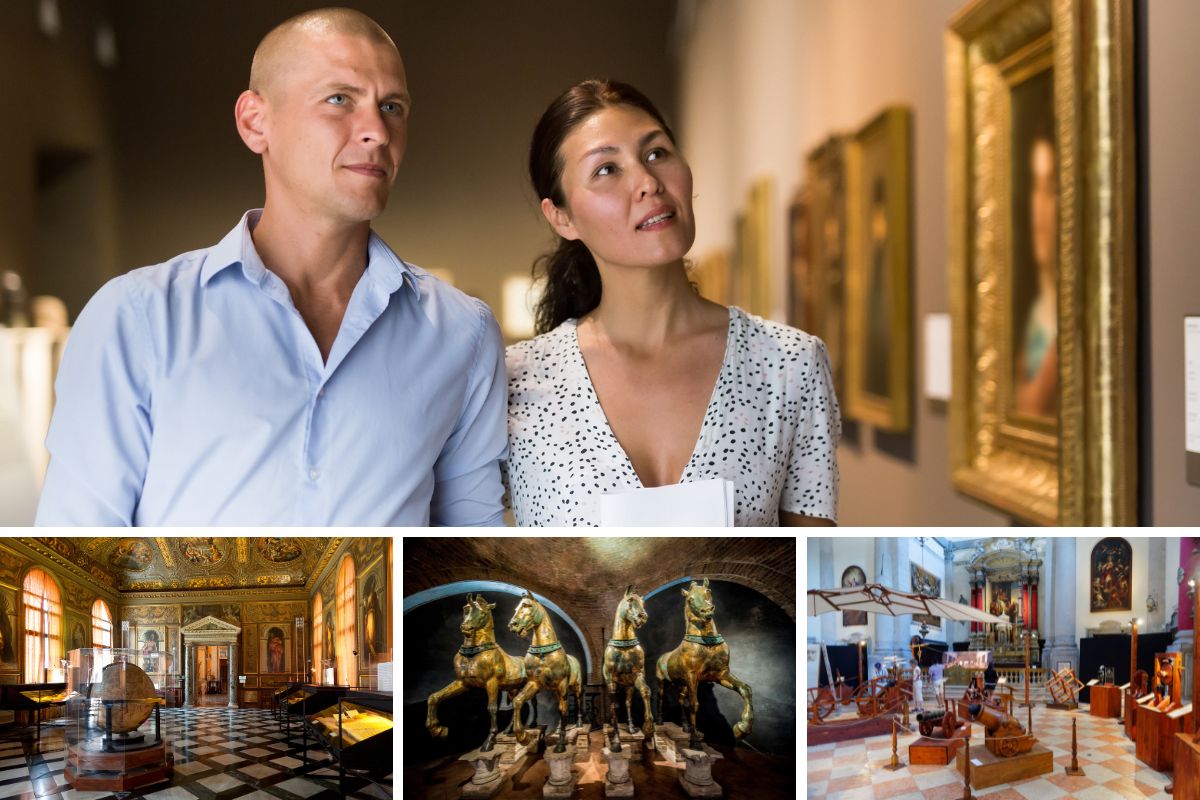 Take some time to learn something new together…. Anything from history to technology and everything in between!
Take in the spectacular artworks of the Peggy Guggenheim Collection, or the fascinating inventions and designs of one of the Renaissance's greatest minds at the Leonardo Da Vinci Museum.
Enjoy the paintings and antique furniture of the Ca' Rezzonico Museum, or the remarkable works from all over Asia at the Ca' Pesaro Museum.
And that's just the tip of the iceberg; after all, the best museums in Venice are so diverse and distinguished that you could easily spend your whole holiday just roaming their fascinating halls!
27 – Try a wine tour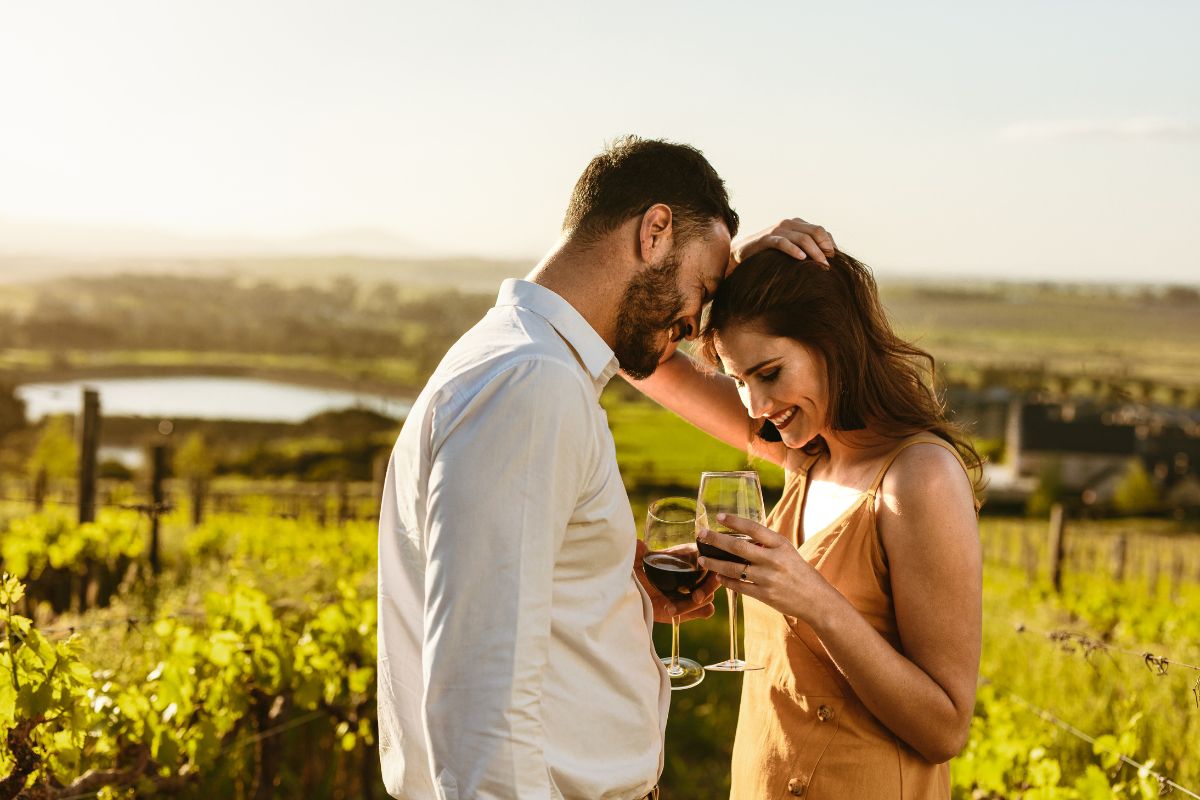 Raise a glass to each other – or heck, maybe a couple of glasses!
Another one of the region's iconic offerings, wine-tasting tours are a great way to luxuriate in culture, natural beauty, and delicious beverages, all in one go!
Sip your way through some of the finest bars in town (with views to match), or head out into the countryside to get to the source with tours of some picture-perfect vineyards.
Red, white, or prosecco, you'll always find something to delight your palate – and you can even round out the experience by throwing in some cheese tastings!
28 – Get a little artistic at a Carnival mask-making workshop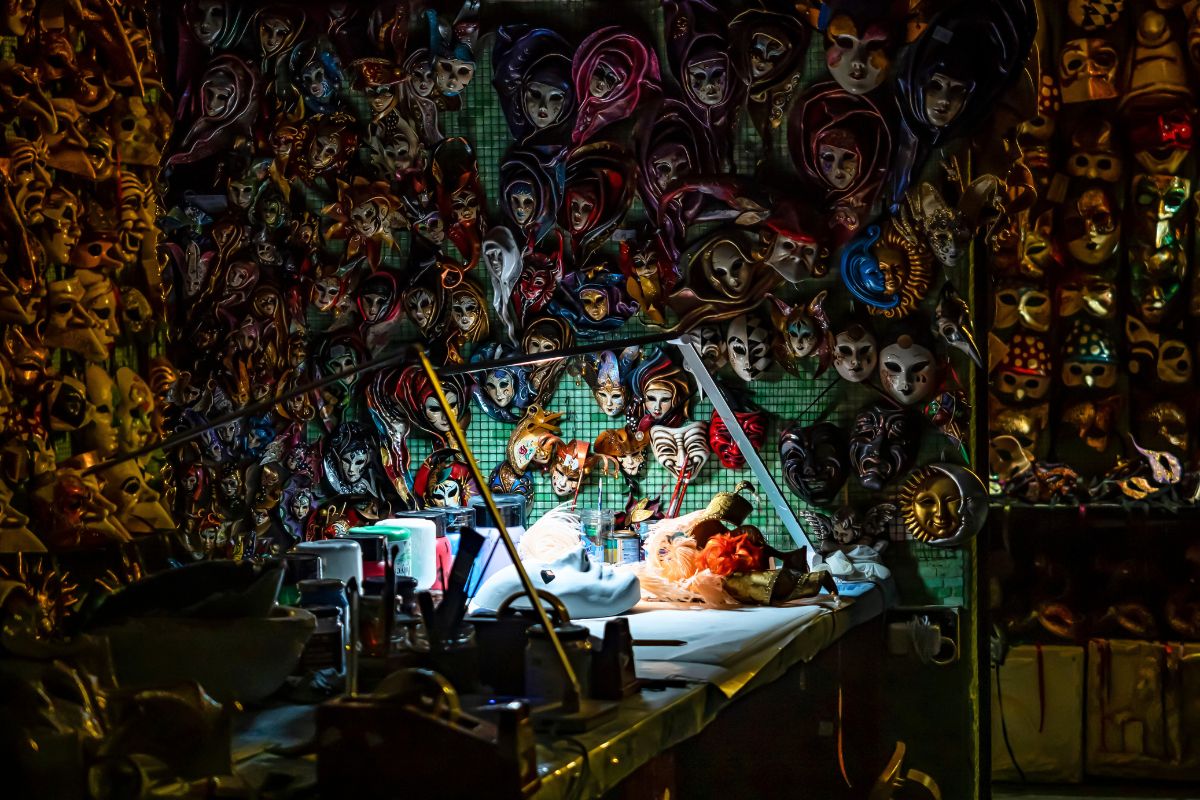 If you're the type of couple that likes to take on projects together, why not try out one of the most classic arts and crafts activities in town?
Every year, the Carnival of Venice turns the town into a wonderland of parades, music, and revelry, complete with great costumes.
And at a carnival mask workshop, you can try your hand at creating your own version of the classic masks that partiers wear – the more colorful and creative, the better!
With endless styles and decorative bits to choose from, you'll have oodles of fun making your masterpieces!
29 – Take a Casanova tour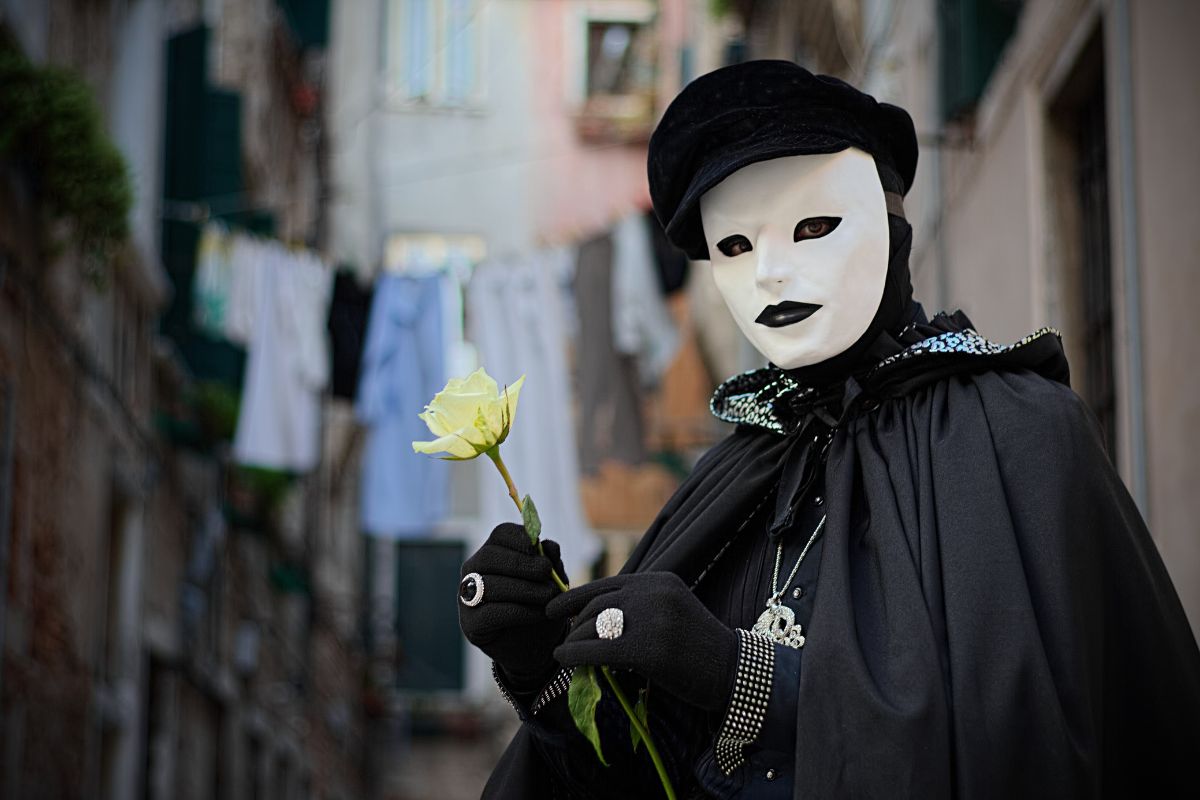 Along with the fictional lovers that have called this area home, you can celebrate the legacy of one of history's most famous romantic figures… although perhaps not a great relationship model!
While he may be famed for his adventurous dating history, Casanova was also a fascinating figure in general: a writer, renowned traveler, and one of the most famous social butterflies in Europe.
He was also a Venetian, and as you trace the route of his unusual life through the streets, you'll get to know this legend like never before… and that includes his wonderfully wild love affairs!
30 – Go dancing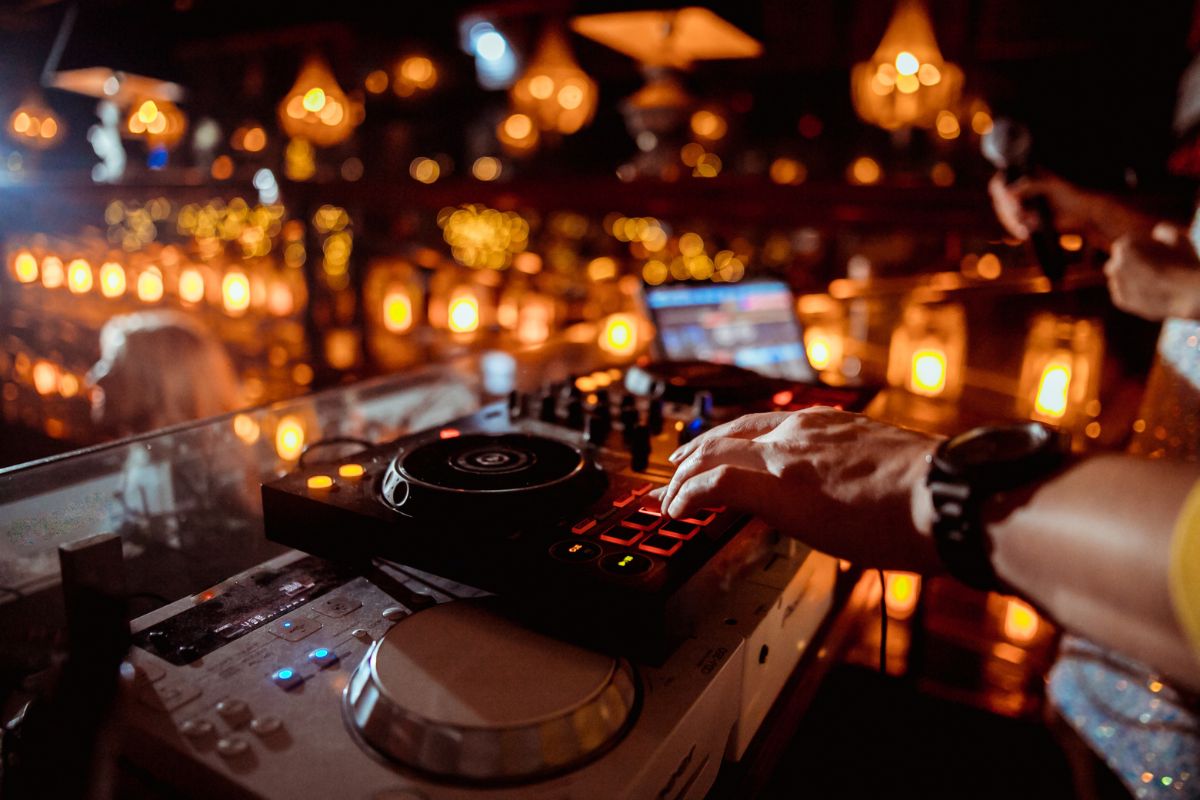 Grab your best dancing shoes and keep your energy up, because when you hit up the best clubs for couples in Venice, the party never ends…. and it can take on many forms!
Take things to a high-class place at The Club, where live music and an exclusive guest list will show you the glamorous side of the city in full force.
You can choose between a whole range of craft beers at Il Santo Bevitore, or enjoy a quiet cocktail along the canals at Birreria Zanon, a favorite local hangout.
And if you'd like to skip straight to the dancing, check out the lively vibes and perpetual parties at Aurora Beach Club, or boogie all night at Pachuka Beach Nightclub, where the music is top-notch and the views are to die for!
31 – Pay a visit to Scuola Grande di San Rocco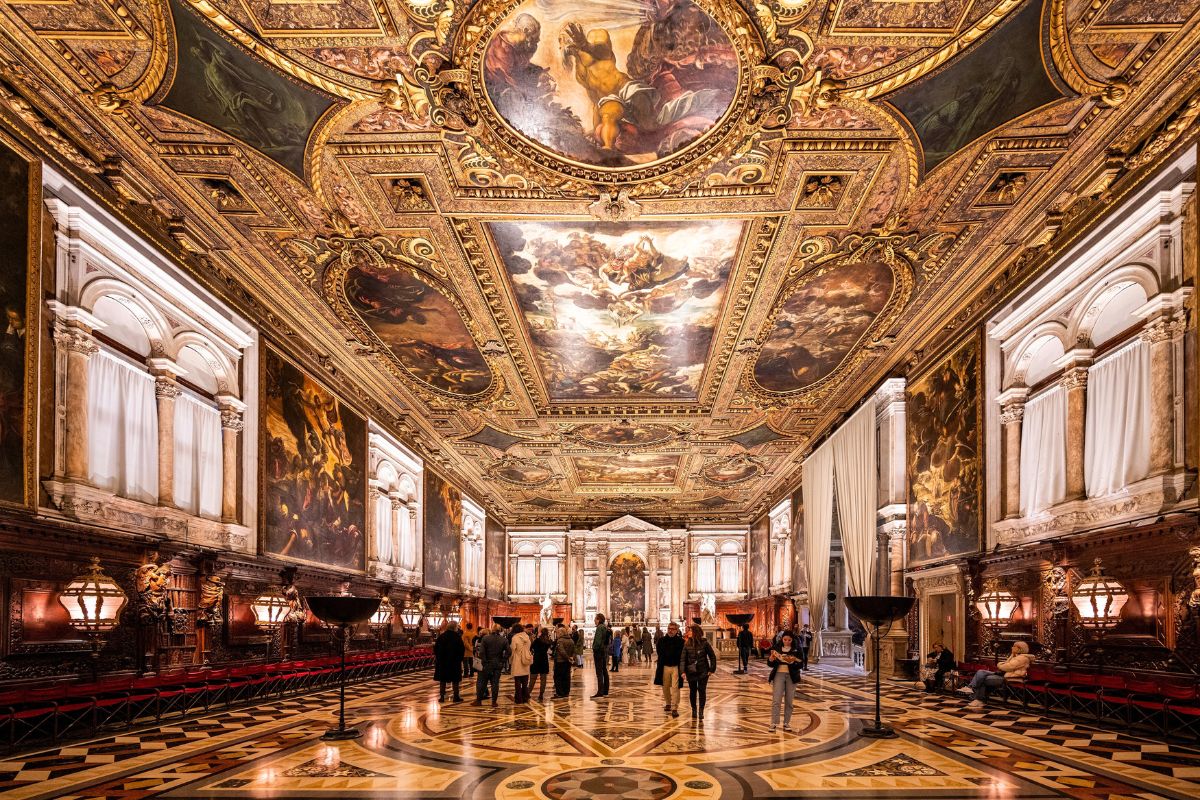 Beautiful artworks, a unique history, and elaborate decorations in every space…. Scuola Grande di San Rocco is certainly a dazzling destination!
The organization that runs the space was founded all the way back in 1478, and in the hundreds of years since, they have remained a cultural powerhouse in the city, particularly in its collection of paintings.
Over 60 pieces reside in this beautiful building, which is also filled with elegant chambers and halls where the religious order carries out its business – truly a gallery space that's as impressive as its collection!
32 – See more of the region on a Brenta Riviera cruise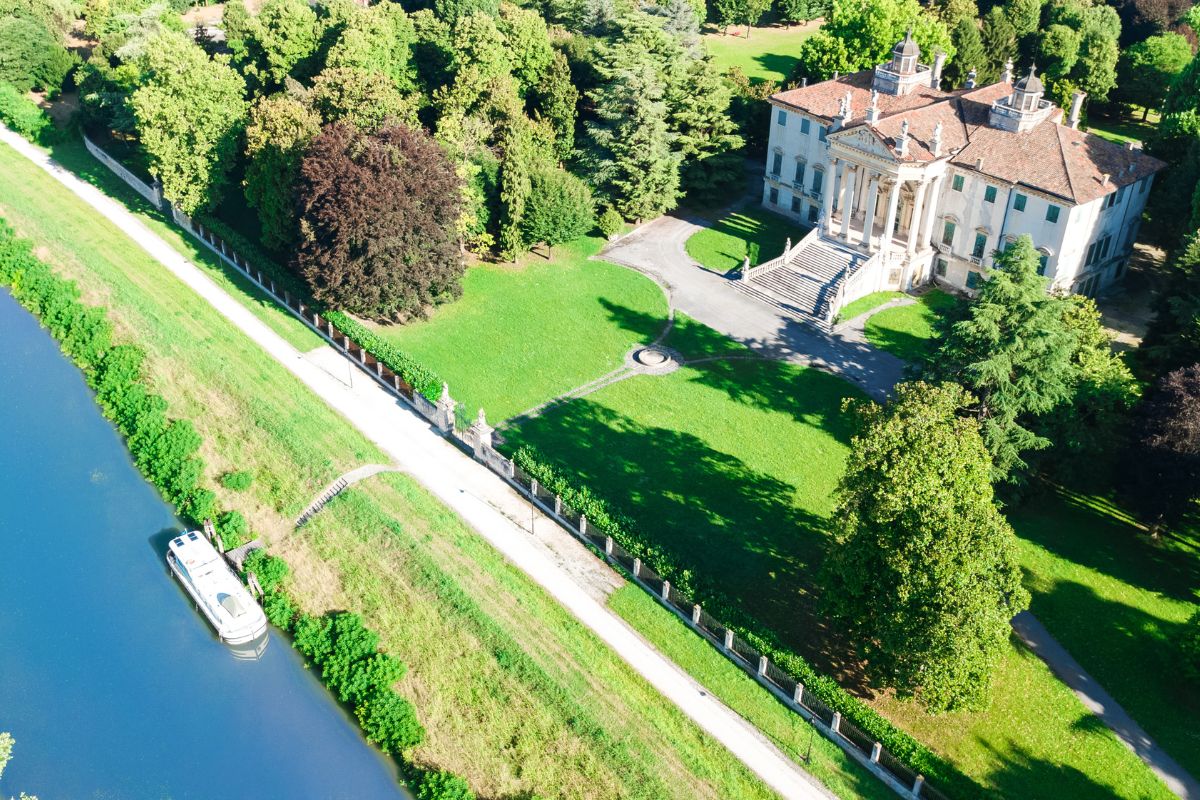 Just a bit out of town, Brenta Riviera is easily one of the prettiest waterways around – and a bona fide transit option as well!
This little cruise will show you even more of the beauty outside of town; as you make your way to the equally lovely town of Padua, passing by bridges and disembarking to explore some of the remarkable mansions along the riverbanks.
33 – Try out the best restaurants
Food is part of the Italian experience, and the best romantic restaurants in Venice certainly deliver… both in terms of food and scenery!
Housed at an upscale hotel, Giardino d'Inverno provides a great wine list and amazing views of the city all around you, while Terrazza Sommariva offers plenty of salads and pasta on its lovely terrace.
Enjoy an ocean's worth of seafood at Trattoria Dona Onesta, or head to Gio's for gelato and savory traditional dishes… plus amazing sights of the canals!
And don't miss Impronta Cafe, a charming little nook where you can enjoy a leisurely meal whilst watching the busy action of the street beside you.
34 – Make some delicious memories with a cooking class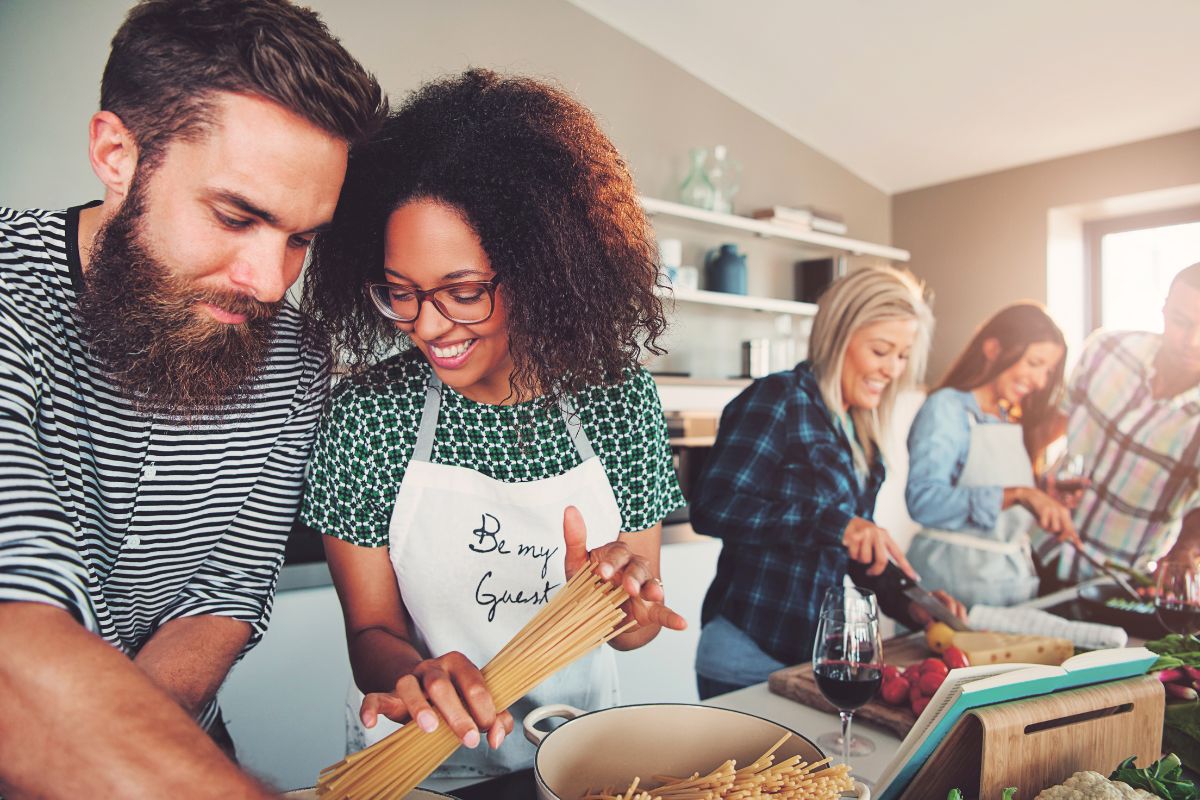 And if you're inspired by all of that great food, why not try preparing some of that yourself?
The cooking classes in Venice give you the chance to recreate some of the amazing food you've been trying, including tiramisu and pasta.
Let's face it: there are few things more romantic than having a nice new recipe to bring home!
35 – Browse through the gorgeous Libreria Acqua Alta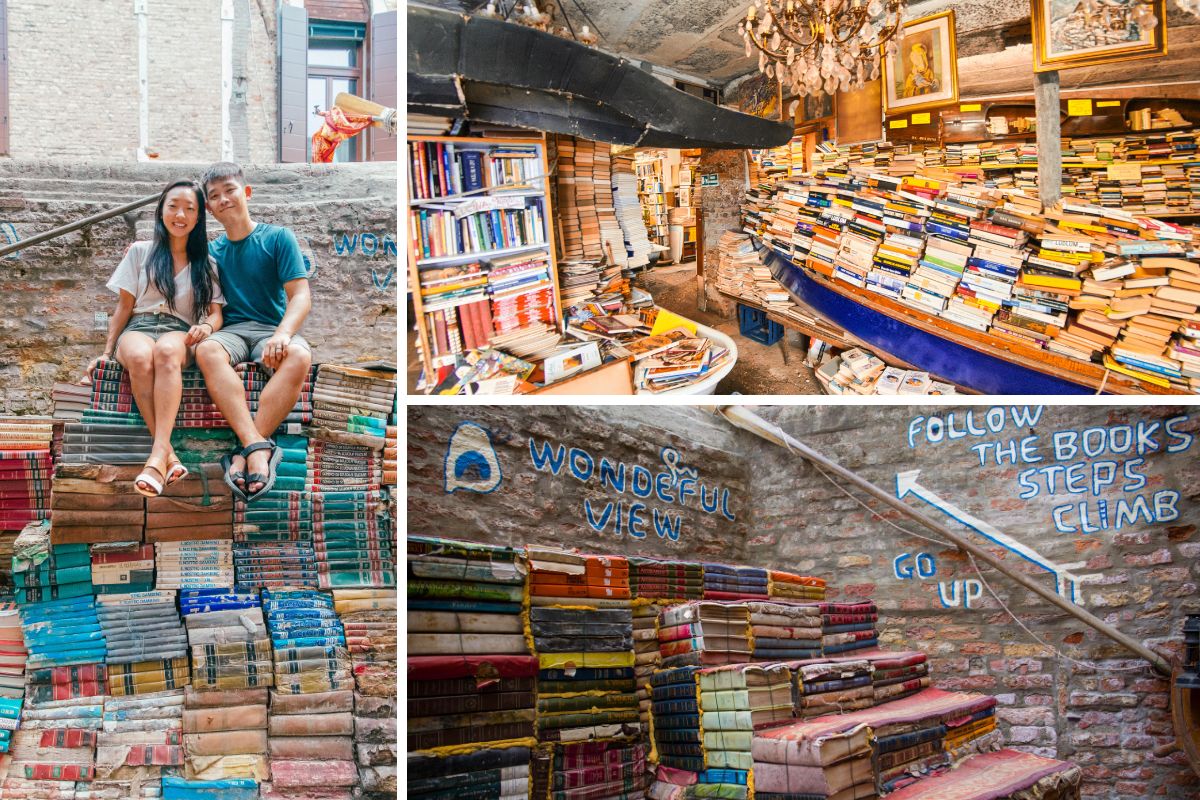 Take some time to indulge your reading side with a trip to this little book nook, where the atmosphere is just as important as the volumes inside!
While being right along the canals makes it a popular option, it also leaves the place open to frequent bouts of flooding; and as you weave through the pleasantly crowded stacks of books, you'll find many of them sitting in some unusual waterproof vessels… including a gondola!
Pick up some new reading material and enjoy a truly Venetian experience!
36 – Pair your drinks with perfect scenery at the best rooftop bars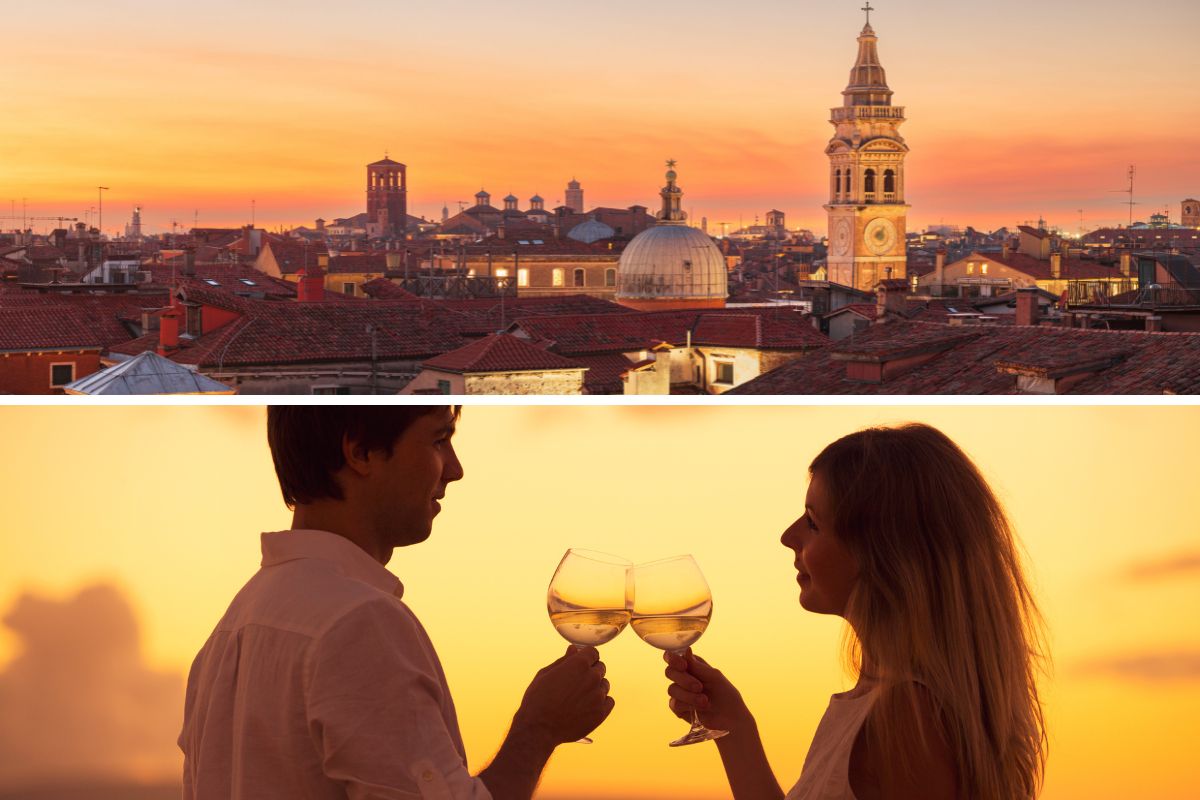 The lush colors of sunset, amazing views of the city sparkling below, and a delicious cocktail in hand… the best rooftop bars in Venice have all the ingredients for a delightful and romance-filled evening!
Settle in on a sofa with a nicely mixed beverage at Skyline Rooftop Bar. At Terrazza Panoramica, you can enjoy unspoiled views of the canals at any time of day; and at Blind Spot, you can enjoy even more panoramic scenery and a constantly changing menu.
37 – Sleep in a palace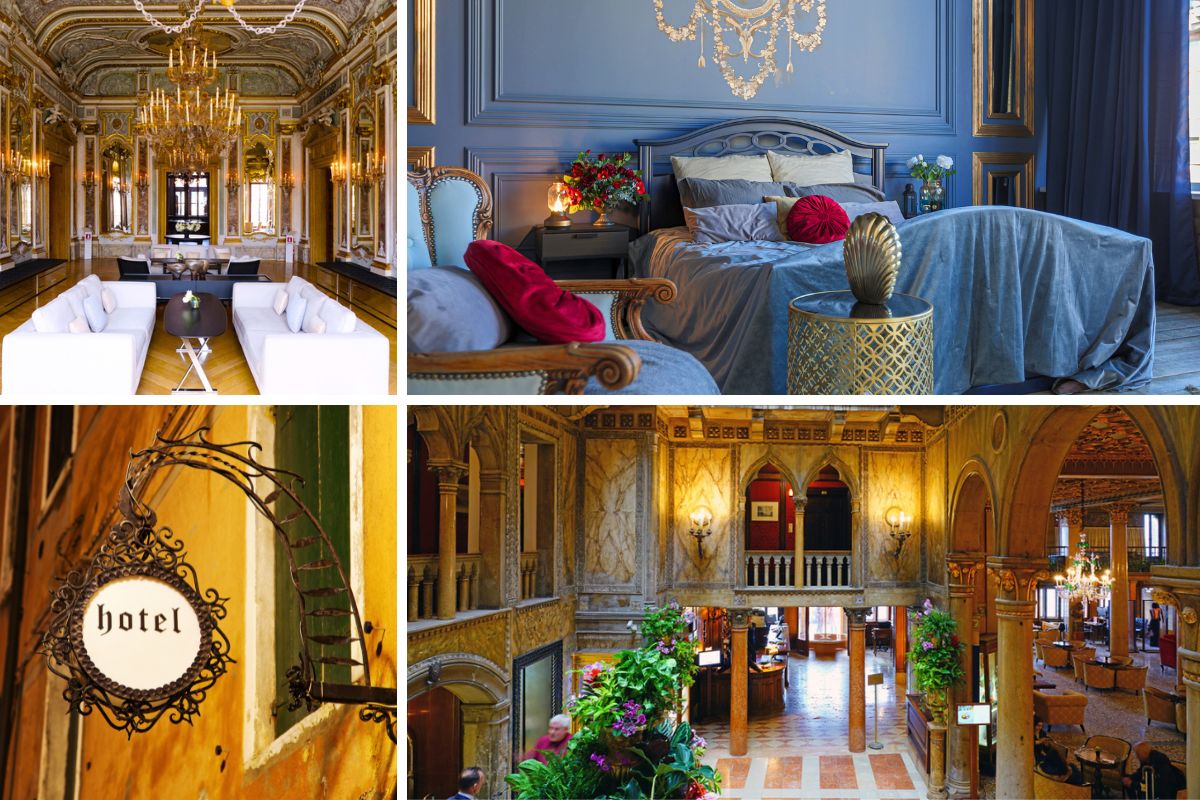 After all of the day's fun trying the romantic things to do in Venice, you'll want to find a suitably luxurious spot to sleep; and you can take things to the next level by resting your head in an actual palace!
You can get a nice mixture of modern interiors and traditional exteriors at Palazzina Grassi, or step into one of the many upscale rooms of Ca' Pisani Hotel, a charming, colorful old building that boasts plenty of charming little touches.
Or indulge your artsy side with a stay at Ca' Sagredo Hotel, with gorgeous paintings on the inside, and a sculpture by the renowned artist Lorenzo Quinn on the outside wall!
And whether you want to relax in the spa at Ai Reali or enjoy the stunning views of The Gritti Palace – which were once enjoyed by celebrities like Ernest Hemingway -, you and your plus one will be treated like the royalty you are!
Where to stay in Venice?
Perfectly tucked near St. Mark's Square, Palazzo Veneziano provides a fantastic place to relax each evening, with its lovely bar and great views.
And if you want to embrace the artsy side of town, book a stay at the lovely Al Theatro Palace, conveniently located right next to La Fenice!
At Hotel L'Orologio, you and your sweetheart can enjoy views of the Grand Canal and stroll straight over to Rialto Bridge for even more romantic views.
And at Carnival Palace, you'll get a great taste of the Jewish neighborhood and all of the hip surrounding areas, plus some lovely modern designs all through the space.
Meanwhile, artistic types can enjoy the beauty of Ca Dell'Arte, with elegant rooms that will whisk you right back to the city's heady days of creative splendor.
Visiting Venice on a budget?
Believe it or not, you can still have a wonderfully romantic trip without breaking the bank!
Of course, there are tons of free walking tours in Venice, and they're one of the best ways to get to know this magical maze of a city and its many unique neighborhoods more intimately; just be sure to bring cash to tip your guide!
And if you want to enjoy the many other delights in town, there are some great combo passes to help you out!
Try the Venice City Pass for discounts on monuments and churches all over town, or the Venice Museum Pass if you want to focus on the cultural institutions.
And if you want to make your way around the city with ease, snag an ACTV Transport Pass, and enjoy easy (and discounted) access to boats, buses, and more… the best way to get around in style!
Final thoughts
Whether it's an anniversary, a first trip, or a "just-because" excursion, this is a city that welcomes and rewards the celebration of love.
And with so many romantic things to do in Venice for couples, you'll be on cloud nine with every forkful, side trip, and gorgeous sight you encounter… and there will be many!
So let Cupid be your guide, and enjoy!