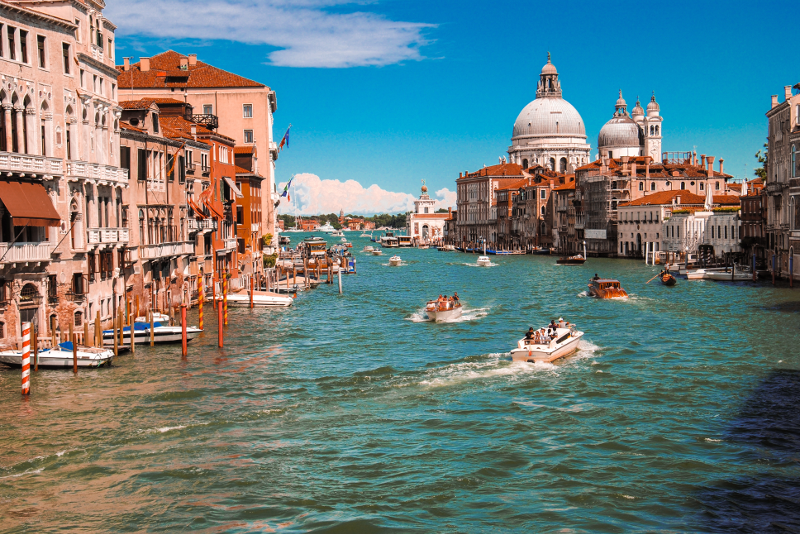 Historically known for its architecture and artwork, Venice is a city built on water, composed of 117 islands and more than 400 bridges. It is known for being a major traveling spot for a lot of tourists all over the world.
So, what better way to visit this amazing city than by taking a boat tour? Indeed, boat tours are one of the best ways to admire Venice's countless charms!
If you want to know more about Venice boat tours and how to purchase your ticket, this article is for you!
Don't feel like reading ahead? Book your tickets now.
Which boat tour should I choose?
Whether you're looking for a complete 4 hours tour of the city or a quick 30 minutes tour, there is several options for you to choose from. To know more about what type of boat tour are there in Venice, please read our top 8 best boat tour here below.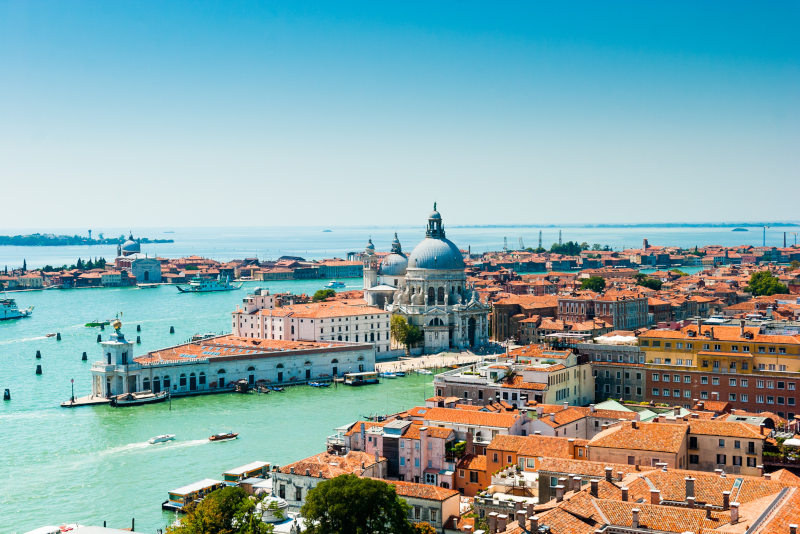 This tour is the standard way to visit Venice by boat in a short amount of time, while crossing the Grand Canal, the biggest channel of the city.
You can share (or not) the boat with other tourists and enjoying the view of the city, be it by morning or night. A private motorboat could also be a great choice if you want to have more privacy.
Price range: from €30 to €300 approximately
Duration: 1 to 4 hours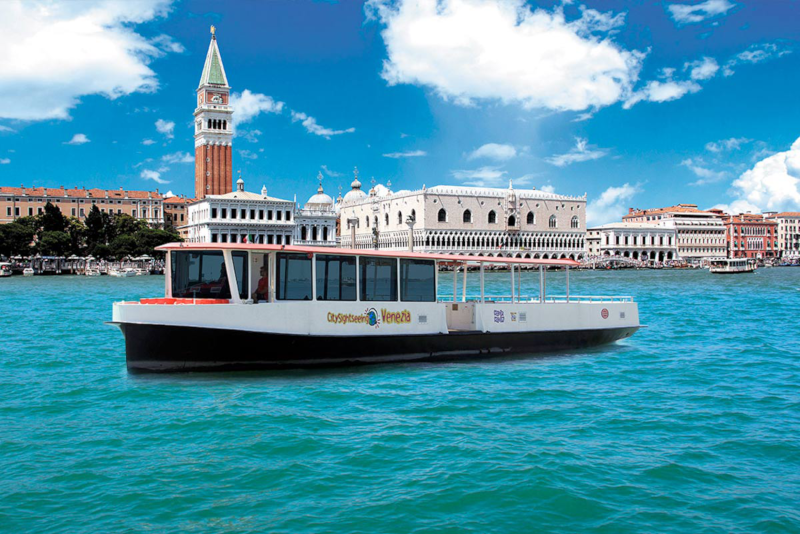 If you're looking for a complete tour, you can choose a cruise tour, that can last from 2 to 4 hours, depending on your preferences. A tour can include a visit of the Burano and Murano islands, or simply a Grand Canal, the Venice's main channel, tour.
Price range: from €20 to €100
Duration: 25 minutes to 1 day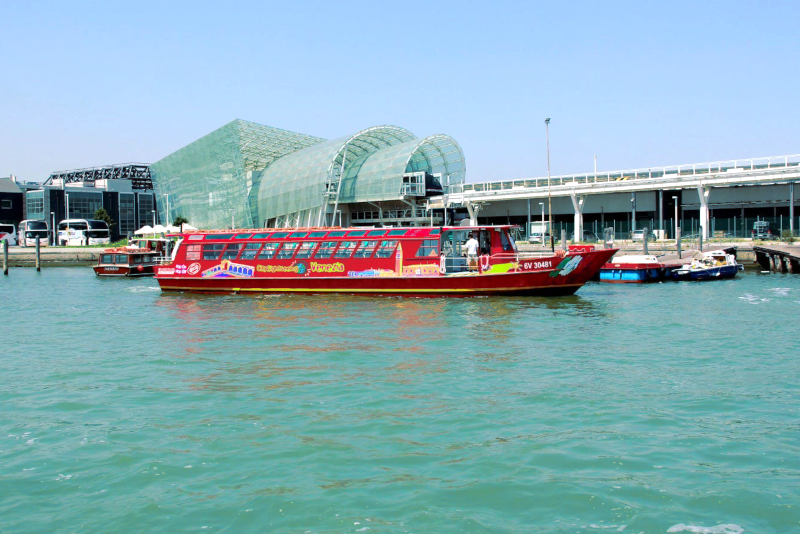 Choose this option if you want to enjoy a boat tour, all while hopping on and off to visit the major spots in Venice at your convenience.
Price range: from €18 to €70
Duration: 2 hours to 2 day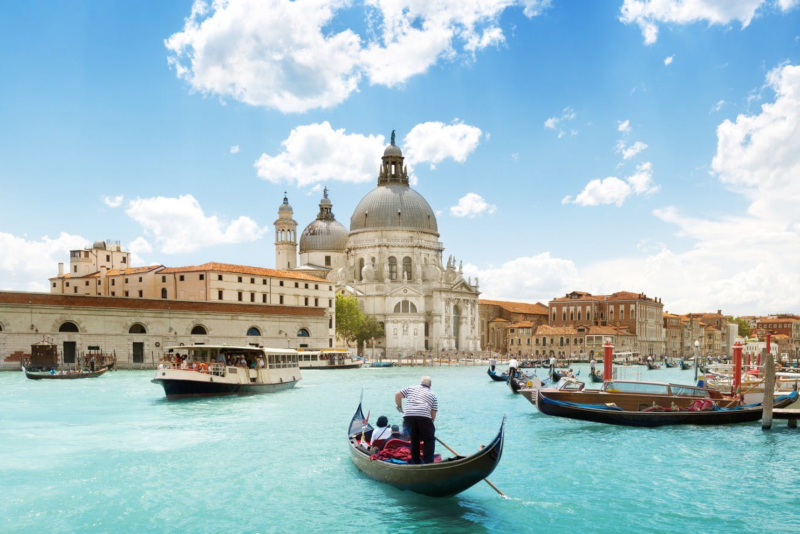 A gondola is a traditional Venetian boat drove by a Gondoliere, who gives a fairly quick tour of the city by passing through the bridges of Venice. Although it is a very authentic (and romantic!) way of visiting Venice, it might be an expensive option, so we advice you to book your ticket online for more chances to find discounts.
Price range: from €19 to €100 (up to €200 if dinner is included)
Duration: 30 minutes to 3 hours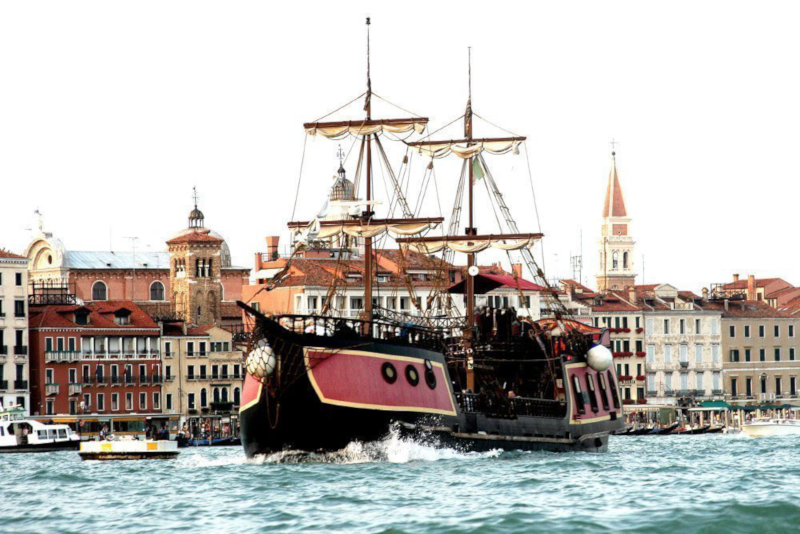 If you want a romantic activity in Venice, we advice you to choose this ticket. It includes a tour by galleon, a traditional Venetian cruise, and dinner. This way you'll be able to discover the City of Love at night.
Price range: approximately €100
Duration: usually 3 hours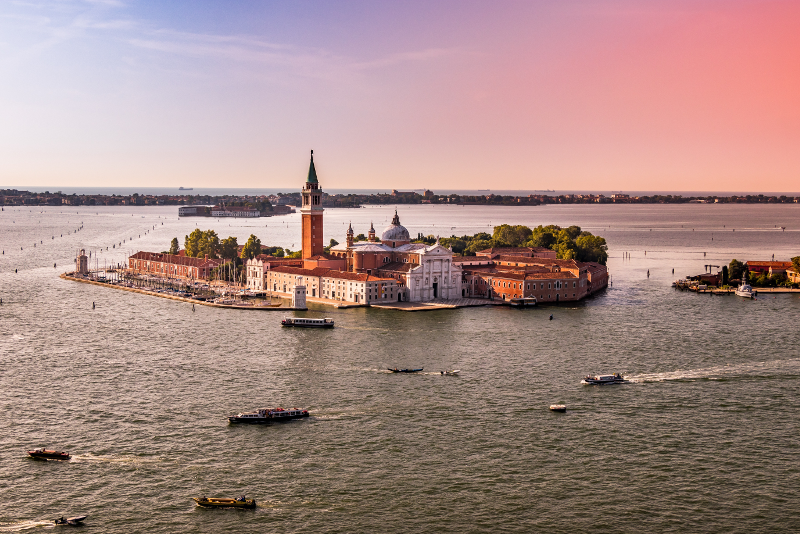 Get a full tour including Venice and the islands of the Venetian lagoon, part of the Unesco World Heritage. Visit Murano, Burano and Torcello and see their charms, traditions and history.
Price range: from €20 to €500 (for a private boat)
Duration: 2 to 6 hours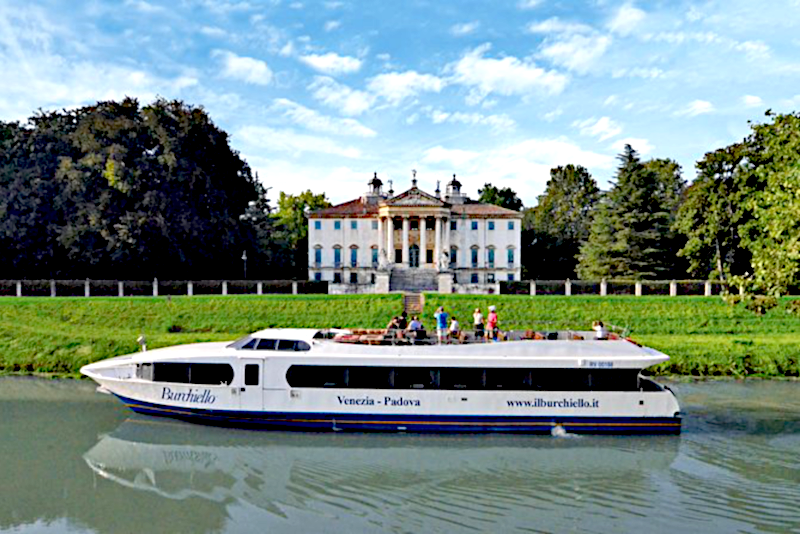 Thanks to this ticket, you'll be able to admire the beautiful Venetian landscape in a Brenta river cruise tour. You'll also visit Padua, a charming and underrated city in the Veneto's region.
Price range: from €98 to €300
Duration: 6 hours to 1 day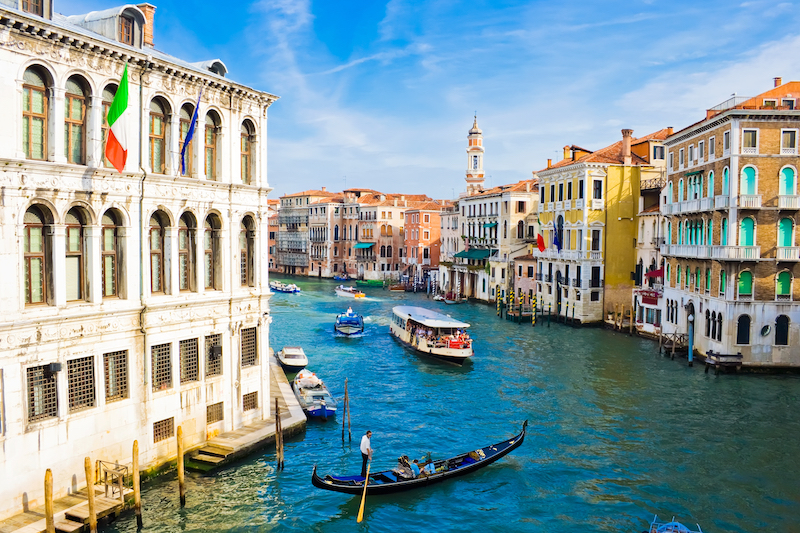 Waterbuses (or vaporetti in Italian) are the public transportation of Venice held by ACTV. It allows you to move freely and visit the city at your own pace. To skip lines and save time, we advice to book your tickets in advance online and choose a pass!
Price range: from €8 to €20
Duration: a pass can last 1 to 7 days
The price for a boat tour depends on the duration of the tour, but also the route chosen. That might mean a simple 30 minutes motorboat tour of Venice, a 4-hour cruise tour or a Hop on Hop off tour! Choose what is more convenient for you and don't be afraid to explore the city and its surroundings.
How to book your boat tour ticket online?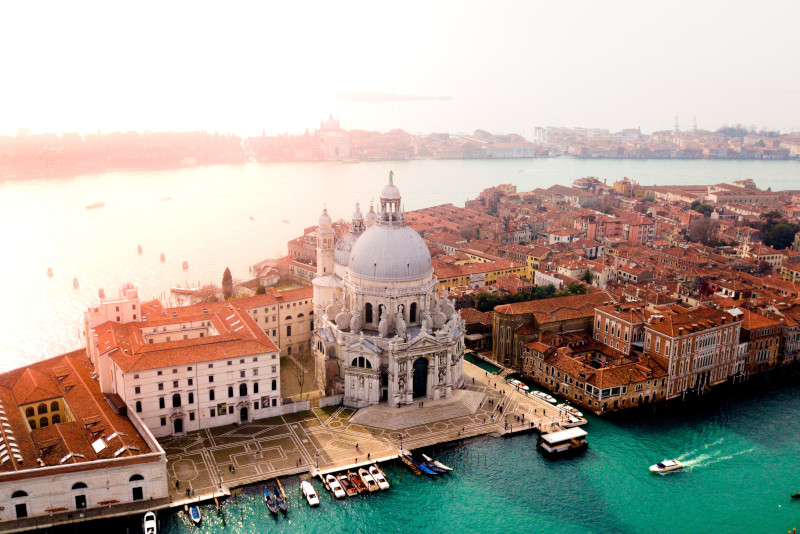 Purchasing tickets online allows you to avoid long waits, but also to save some coins and benefit from discounts and advantages.
For tickets, passes and discounts you can look at websites such as GetYourGuide, Viator or Musement. To simplify your research, we suggest you to use Tourscanner, that gathers all the websites' offers for attractions, boat tours, guided visits and more, all in one place.
Are boat tours included in some Venice passes?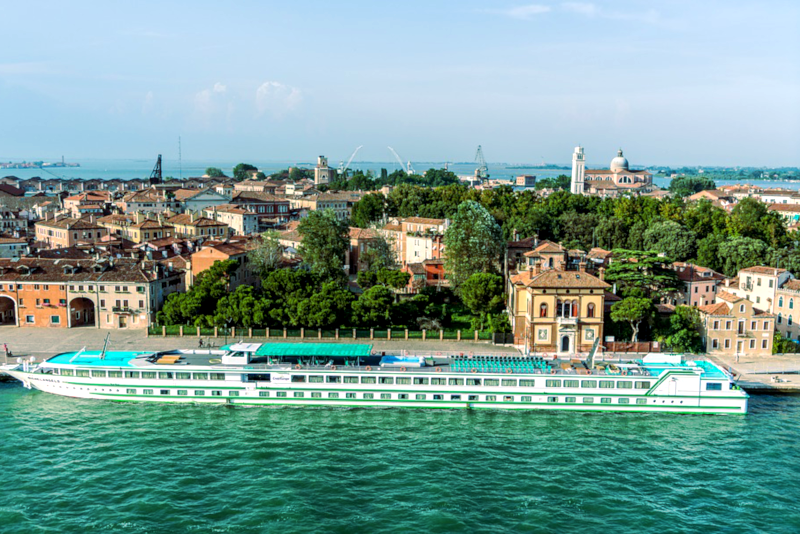 There are several Venice's passes that can allow you to have some discounts and entry for both boat tours and attractions, all included in one pass card.
Venezia Unica city pass
You can choose three major options for this pass: Silver, Gold and Platinum city pass. All three offer a ticket for ACTV public transportation in the vaporetto and/or a lagoon tour. Moreover, they offer a number of entries to selected museums and tourist attractions in Venice (such as the St. Mark museum).
Venezia turbo pass
It offers you free entry to the best attractions, such as Doge's Palace and Leonardo Da Vinci Museum. Also, it offers a tour on the Grand Canal, or a Gondola Ride, and skip the line priorities for the Doge's Palace. To get around the city and islands, you can take an optional travel card.
Are there any combined tickets?
Venice is a city rich of history and traditions, so if you want a complete tour you should definitely opt for a combined ticket! It allows you to save time and money and combines the best places to visit in Venice in one ticket.
Some examples could be:
Don't miss on the Doge's Palace history and architecture and choose this ticket to get a boat tour and Doge's Palace entry!
Enjoy a boat tour and a visit of a glass factory in Murano, known for its traditional glass production. You'll see a "glass blowing" demonstration, a traditional glass making technique of the city of Murano.
This ticket is a great combo to visit the city by boat through the Grand Canal and also the St. Mark Basilica's Tower and Bell (Campanile).
To benefit from a complete tour and a visit of the famous Leonardo Da Vinci Museum, this combo could be a very great deal.
What will I see in Venice?
We have listed below some of the best things to see in Venice.
Rialto Bridge and Bridge of Sighs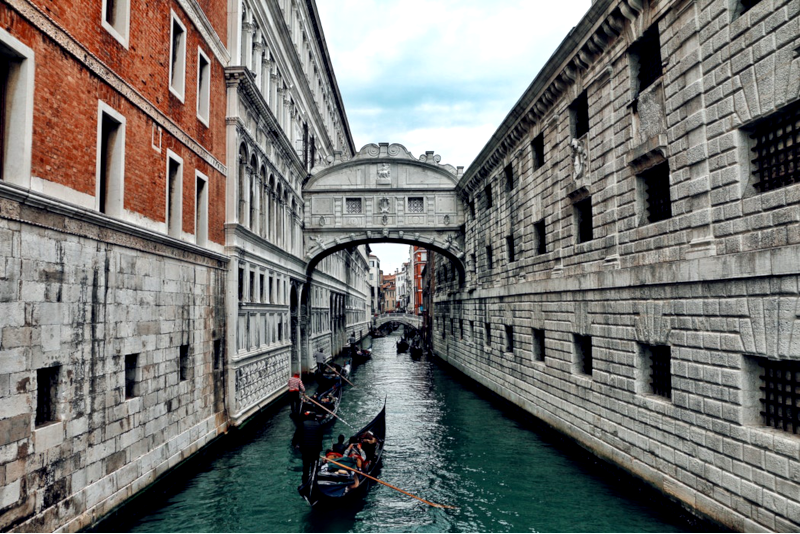 As you already know, Venice is made of islands connected by bridges. Some of them are very well known, as for example the Rialto Bridge (Ponte di Rialto), one of the oldest bridges of the Grand Canal. Another iconic bridge would be the Bridge of Sighs (Ponte Dei Sospiri) that connects the New Prisons to the Doge's Palace. While visiting the city by boat, you'll surely to pass under one of those!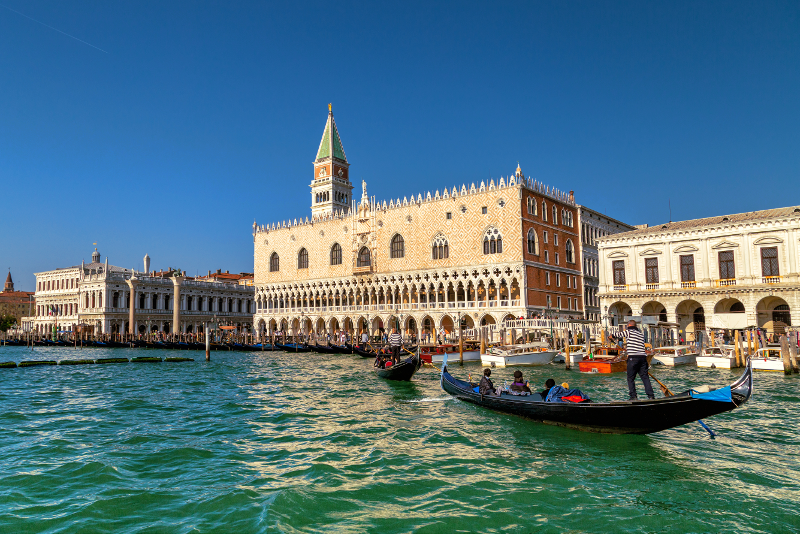 One of the most iconic architecture of the city is the Doge's Palace (Palazzo Ducale), a Venetian Gothic style palace. It was the residence of the Doge of Venice during the Venetian Republic. It is now a symbol of Venice and a must-see for visitors.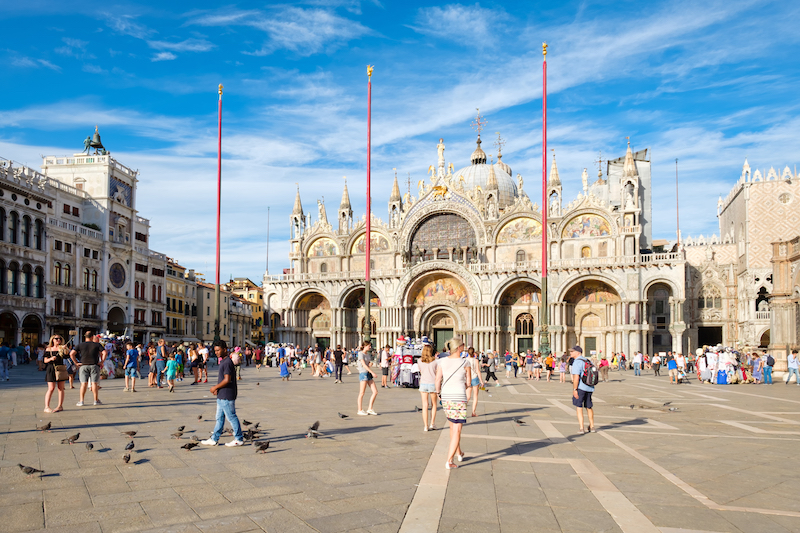 Another famous building in Venice is the St. Mark cathedral basilica, an example of Italo-Byzantine and Gothic architecture. This church and its square are one of the most visited places in Venice. During the Carnival of Venice, the square becomes a colorful and festive place, where you'll see people wearing traditional Venice's Carnival masks and costumes.
The Carnival of Venice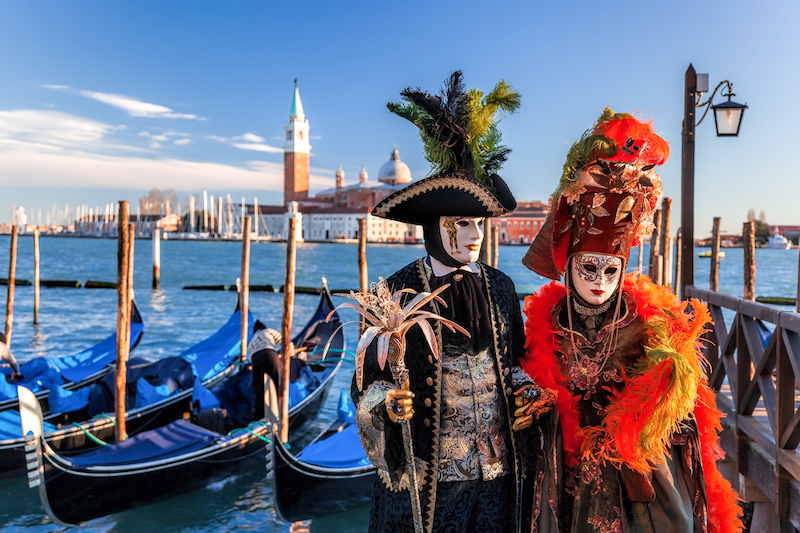 3 million people attend this festival each year to witness the colorful parades and traditional masks and costumes. It's a tradition that has been perpetuated for years and is now one of the best period of the year in Venice.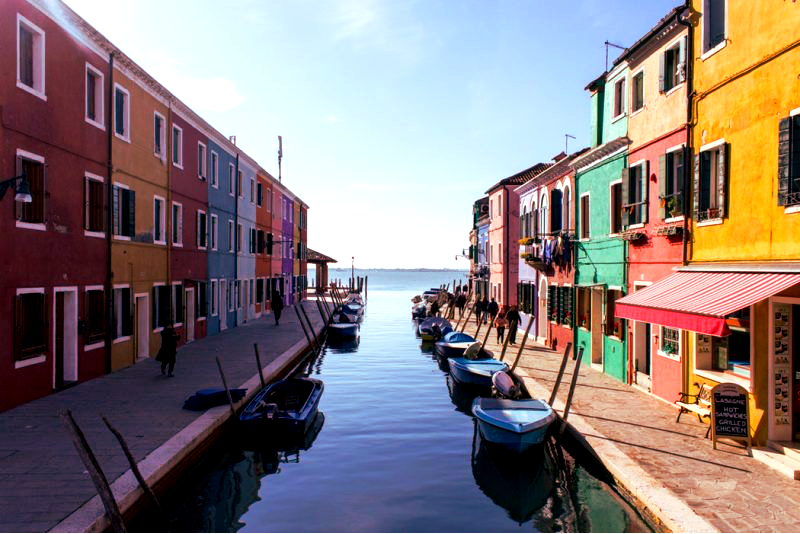 While there, it might be interesting to visit the nearby islands of Venice, in the Venetian lagoon, known as Burano, Murano and Torcello. Burano is known for its colorful houses and lace work, whereas Murano is known for traditional glass making. Moreover, Torcello is one of the first settled island from which Venice was populated.
One of the most famous theatre in the history of opera and known for its annual Venice New Year's Concert.
For more tours and attractions to see in Venice, please check Tourscanner.
When to visit Venice
Because of its popularity, tourists are present all year round in Venice. However, because of the unpleasant cold weather,  the city tend to be less crowded and more quiet during the winter season. We advice you then to avoid cold seasons and the aqua alta (flooding caused by high water) that usually takes place during the autumn and winter season.
The best time to visit is during the start of spring, when the weather is warm (or at least pleasant enough).
If you are not able to visit the city during mid-spring, you can always choose to go in September, when the summer heat is gone, the weather is more bearable and the tourists are less.
If your goal is to experience the Carnival of Venice, then book your tickets for February and check the Carnival's date (it changes every year). It may be full of tourists, but we promise, it will be worth it!
Venice travel tips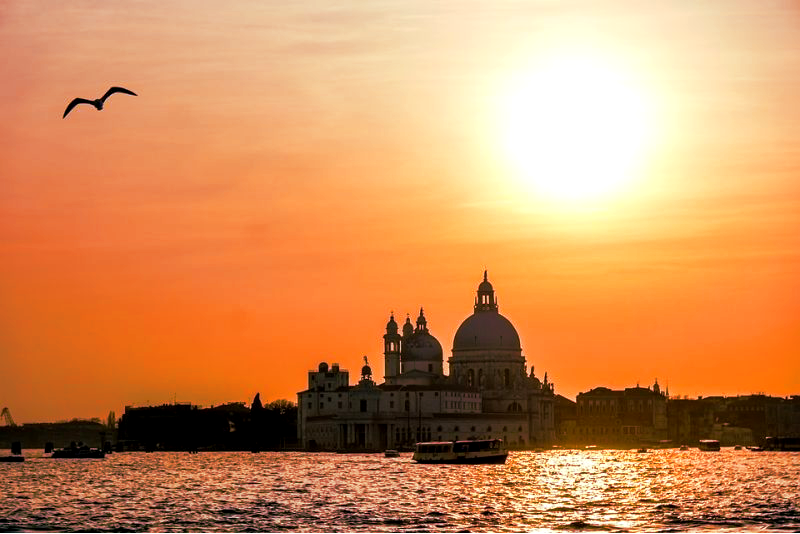 Be sure to not be seasick or have any medical conditions that will not let you enjoy your boat tour.
Don't forget to bring comfortable shoes! Venice has very narrow streets and taxis are not present within the historical center of the city. You will need to walk a lot, so make sure to wear good shoes.
Don't be afraid to get lost while exploring the city by foot. You will be surprised how enjoyable it is to get lost and how you'll easily find your way. This way, you'll also be sure to see the real city's charm.
If you are planning to go to St. Mark cathedral, make sure to wear modest clothes. To skip lines and avoid waiting for long periods, we suggest you to book your tickets online.
To experience Venice like a local, try Venetian food and typical regional dishes. In order to try authentic food, you might want to look for restaurants where locals usually go. You'll be less likely to encounter tourists and you'll avoid tourist-directed scams.  Also, you'll be sure to taste original Venetian dishes, as for example the risotto, pasta e faxioi, fegato alla veneziana or the famous fritole, typical Carnival desserts.