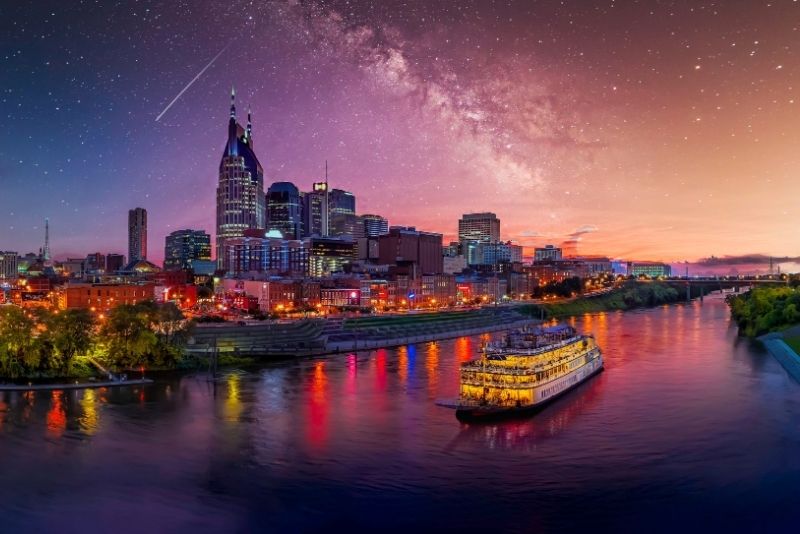 The heartbeat of American country music and a beacon of Southern hospitality, Nashville is a charming city that has a lot to offer. From its world-renowned music scene to its delicious food, there's something for everyone in Music City.
Infamous for its tantalizing Southern fare, with a reputation for some rather wild partying (looking at you, Printers Alley), contrasted by a long and rich history, and you'll find that the Tennessee capital can deliver a smorgasbord of activities to keep you entertained.
From the ever-buzzing Downtown area to the quieter neighborhoods that line the Cumberland River, Nashville delivers a far more diverse experience than its music-centric reputation might have you believe.
Outside of the infamous music scene, adventure and nature lovers can rejoice; the Tennessee State capital is within striking distance of some of the most picturesque hiking trails and outdoor adventure activities in the area – from the Cheatham Wildlife Management Area and Harpeth River State Park on the west to the Great Smoky Mountains National Park a few hours drive east, there's plenty of opportunities to get off the beaten path and explore.
Throw in independent museums (The Country Music Hall of Fame and Museum and the Johnny Cash Museum are both quintessential), a slew of galleries, and the world-renowned Grand Ole Opry, and you've got the makings of a perfect city break.
Country music enthusiast or not, Nashville is sure to charm and surprise you with its unique blend of history, culture, food, and fun. So whether you're on the hunt for adventure, food, music, or moonshine, as you'll quickly find out, there's by no means a shortage of diverse things to do in Nashville.
1 – Kickstart your trip with a street-art tour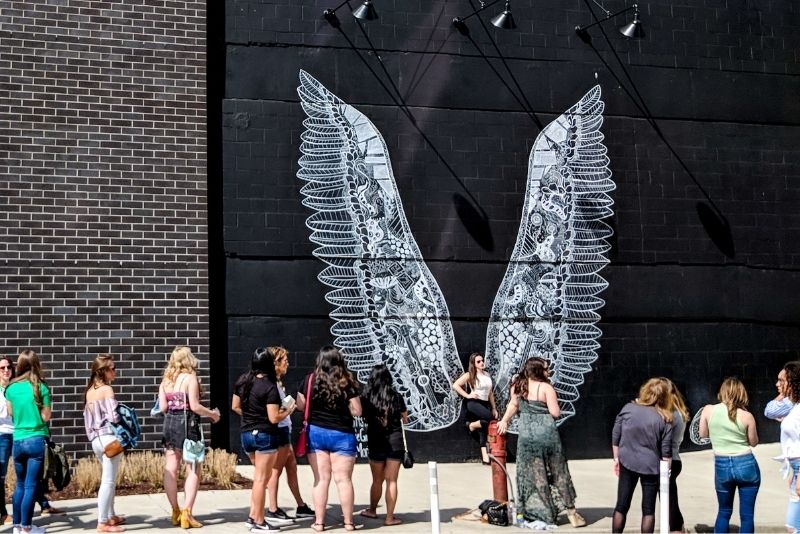 As a city that oozes artistic talent and creativity, it's no surprise that Nashville is home to a vibrant and ever-growing street art scene. And what better way to explore it than with an in-the-know local leading the way and showing off all of the city's hidden gems?
Whether you jump on an open-aired golf buggy, wander by foot, or combine the two, with several different companies offering tours through hipster districts like East Nashville, you're sure to get your fill of stunning murals, graffiti art, and Instagram-worthy backdrops (including the iconic WhatLiftsYou Wings Mural).
And while East Nashville is, without doubt, brimming with the best street art in the city, don't limit yourself to just one area – other districts such as Germantown (very walkable, and with a fabulous foodie scene to boot) and 12South are also home to some incredible pieces that are sure to light up the social media feed.
Not only is it a great way to explore the city and learn about its vibrant arts scene, but it's also a whole lot of fun! And with most tours lasting between 2 and 3 hours, it's the perfect activity for a sunny afternoon.
2 – Step inside the incredible Ryman Auditorium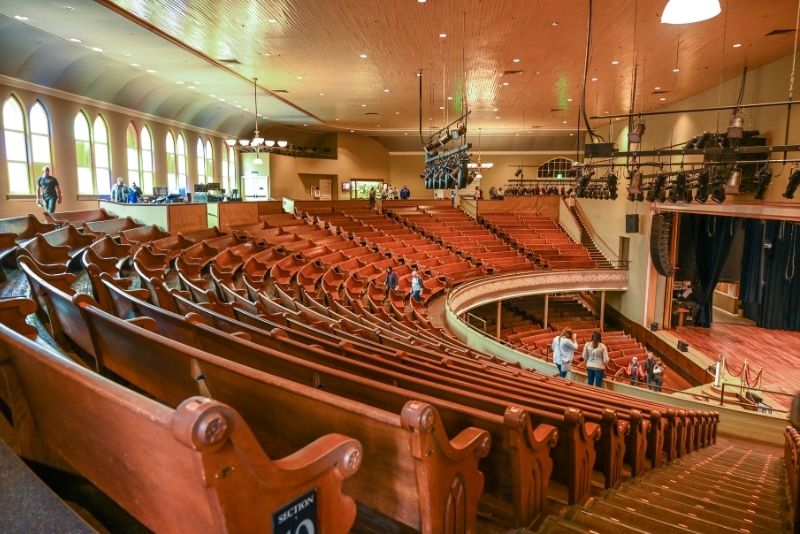 If country music is Nashville's soul, then the Ryman is the 'Mother Church of Country Music'.
This iconic concert venue was first opened in 1892 and has seen some of the biggest names in music grace its stage, including the likes of Johnny Cash, Patsy Cline, Garth Brooks, and Billie Holiday.
A tour of this historic building is a must for any music lover, with guided tours taking you through the auditorium itself as well as sharing stories and anecdotes about the people who have graced its stage.
You'll also get to see the dressing rooms, green room, and some of the iconic memorabilia on display, arguably none more famous than Dolly Parton's dazzling rhinestone-studded jacket that she wore during her legendary 1973 performance.
Don't miss the on-site museum either; showcasing 125 years of history (including its era as the home of the Grand Ole Opry), the immersive attraction uses a rare and captivating mix of special effects, holograms, and archival footage to present country music stars including Darius Rucker and Shery Crow. Even if country music isn't your thing, thanks to the auditorium's architecture and rich history, a tour of the Ryman is sure to be a highlight of any trip to Nashville.
And, obviously, don't forget the roster of live shows! With events almost every night, simply check the calendar to see who's gracing the stage during your stay.
3 – Get a taste of Nashville on a food tour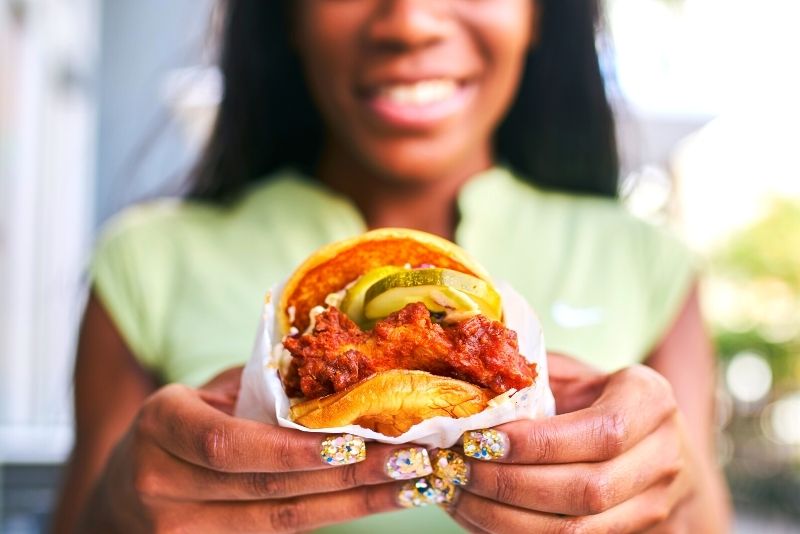 Nosh in Nashville will make your mouth water — it's just a fact. The Southern state prides itself on its delectable slow-roasted barbecue and hot chicken, as well as local beers and signature cocktail: the Bushwater!
But those are just the tip of the iceberg. Dig a little deeper and you'll discover a melting pot of culinary influences, from Cajun and Creole to Italian and Mexican – and, of course, no shortage of Southern comfort food.
The best way to sample all that Nashville's culinary scene has to offer is on a food tour, which will not only introduce you to some of the city's best eats but also give you a behind-the-scenes look at how they're made.
From learning about the history of hot chicken and sampling some of the city's best at Hattie B's or Prince's (depending on the tour) to indulging in a sweet treat or two (or three) on the Downtown dessert crawl (keep room for a scoop at Mattheessen's), there's a tour to suit every taste.
One of the big drawing cards of a locally-led food tour; besides stopping into a handful of the fan-favorite eateries (and passing by quintessential landmarks like the capitol building, Cumberland River, Germantown, and Nissan Stadium along the way), friendly guides will show you the low-key stops that only the locals know about.
4 – Make your way to the Country Music Hall of Fame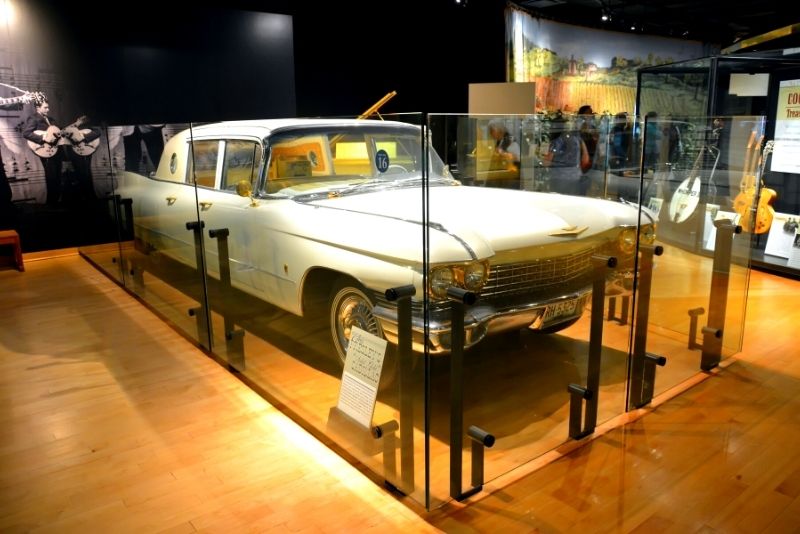 Put on your cowboy hat, follow the story of country music's humble folk roots before it shot into stardom, and find all sorts of memorabilia along the way! From Elvis' Cadillac limousine to instruments belonging to the likes of Taylor Swift and Carrie Underwood, plenty of selfie opportunities await!
Moreover, the Hall of Fame – one of the world's largest dedicated American music museums – is brimming with modern musical artifacts and interactive multimedia elements to bring the music to life. Ideal for both kids and adults, this is one place where you can easily spend an entire afternoon.
The Country Music Hall of Fame is open every day from 9:00 am until 5:00 pm, and till 6 pm on the weekends. It's located right in the heart of SoBro, a stone's throw from the main haints in the Arts District.
So if you're planning on also checking out the Ryman Auditorium, the Johnny Cash Museum, the National Museum of African American Music, the Walk of Fame Park, or any of the other music-focused downtown attractions, they make for convenient back-to-back stops.
5 – Take a memorable train trip with the Tennessee Central Railway Museum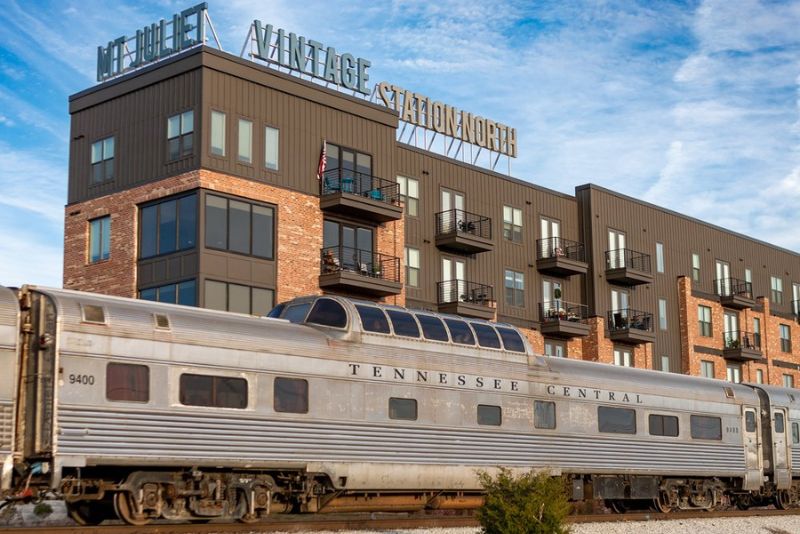 The whistle sounds. The wheels clack. The landscape rolls by, with a beautiful machine cutting through it. There's nothing like a train trip, and you can get a feel for it at the Tennessee Central Railway Museum, which showcases some of the finest machines of yesteryear.
This charming, volunteer-run museum is filled with remarkable memorabilia and well-preserved items from decades past. It's especially well-known for its collection of historic railway vehicles, from engines to cargo cars to cabooses.
While there's a little bit of everything here, the collection specializes in cars from the "Silver Age" of recreational railway travel in the 1940s and 50s. And the best part is that you can do more than look at the trains… you can ride them!
The museum runs regular jaunts for certain holidays, including Mardi Gras, Easter, and the Christmas season. And there are plenty of other fun adventures throughout the year, from wine tastings to moonshine tours.
You can even go way back in time with a murder mystery, where your train ride becomes the chance to solve a mysterious crime, Agatha Christie style. It's a ride on the rails that you won't soon forget!
6 – Take an insightful trolley tour through the city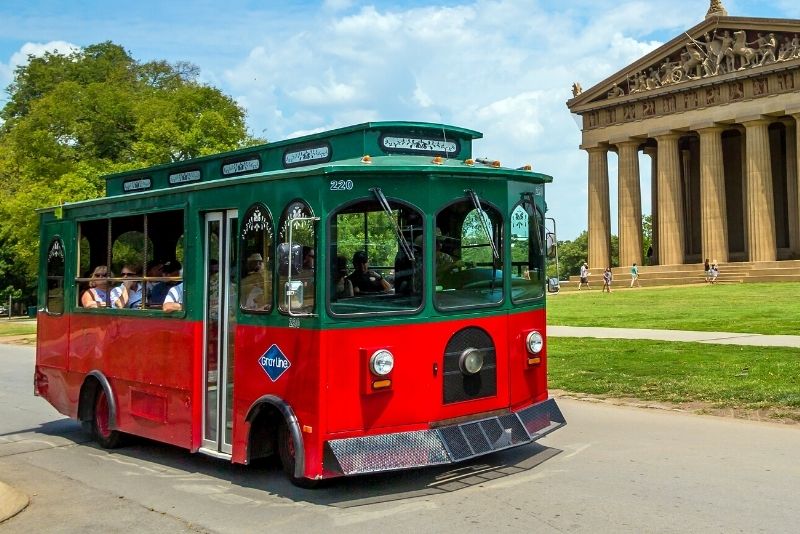 Most major cities around the world have those cliche double-decker red busses rolling around – the hop-on, hop-off kind that allows tourists to sightsee at their own pace. While Nashville has one of those too, it's a far more unique, and charmingly Southern alternative: the old-school trolley.
Dating back to the late 1800s, these vintage-style cars offer an authentic – not to mention picturesque – way to tour the city and learn about its history and culture. And unlike other sightseeing options, you won't have to worry about hoofing it up hills or battling for sidewalk space with fellow pedestrians.
A step back in time, these green and red vehicles offer an authentic look at what public transportation used to be like. History lesson aside, by jumping onboard one of Nashville's quaint trolleys, you'll learn all about the city's top attractions, landmarks, and sights.
Tours typically last around 90 minutes, featuring live commentary on over 100 points of interest along the way, including the State Capitol, the Hermitage (home of Andrew Jackson), Broadway, the Gulch, and more.
Ideal for first-time visitors, the informative excursion is a great way to start your trip and discover the slew of things to do in Nashville. Plus, with a 20-minute stop at Bicentennial Capitol Mall State Park (a historic square with a regular farmers' market), you can grab a quick snack or drink to recharge before rolling into the next neighborhood.
7 – Roll a Segway through downtown Nashville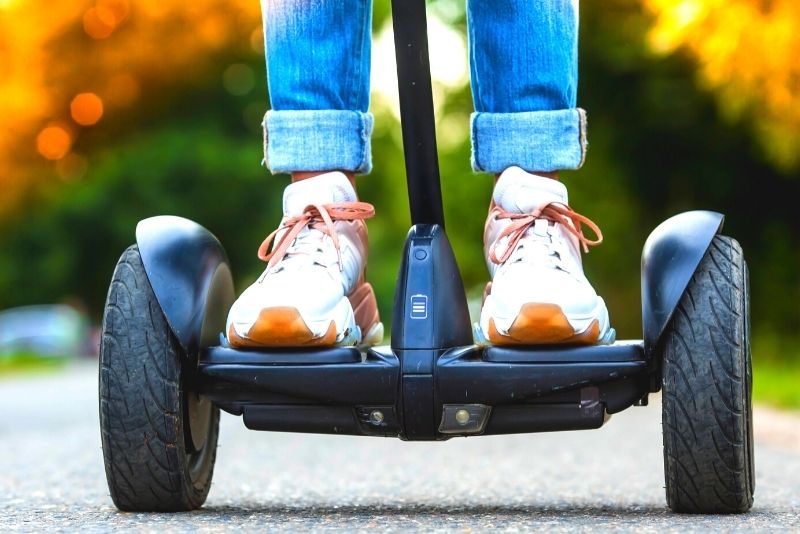 For the uninitiated, combining the fun and freedom of riding a scooter with the convenience and stability of walking, segways offer an innovative (and eco-friendly) way to explore the main haunts of Nashville without getting too exhausted in the process.
By joining one of the myriad segway tours that zoom through downtown and the surrounding areas (each with its distinct character), you can see top sights like the State Capitol, Legislative Plaza, Bridgestone Arena, Nissan Stadium (home of the Tennessee Titans), and much more.
Most operators will give you a quick training session before setting off on your adventure, so even first-timers should have no problem getting the hang of things. And with small groups and knowledgeable guides, you can be sure to get the most out of your experience from an educational perspective too.
While every tour is a little bit different, on the longer ones (roughly 2.5 hours) you can expect to cover close to 5 miles of Nashville's highlights, covering must-see landmarks (in addition to the aforementioned) like the Schermerhorn Symphony Center, Country Music Hall of Fame, Bridgestone Arena, Fort Nashborough and the Bicentennial Mall. What's not to love?
8 – Spot A-listers on a celebrity bus tour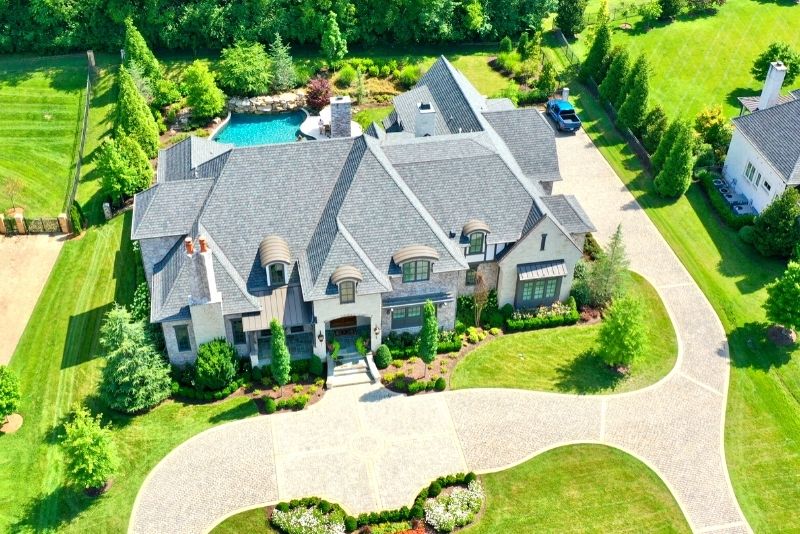 The Tinseltown of the MidSouth; with deep-seated music and entertainment roots, it's no wonder that celebrities – both homegrown and imported – often flock to Nashville.
From A-listers attending the Grammy Awards or CMA Music Festival to up-and-comers filming movies and TV shows in town, there's always a chance you might spot a celeb while strolling down Broadway or enjoying a Nashville night out.
Of course, the best way to see if any celebrities are currently in town (and get a behind-the-scenes look at some of Music City's most popular resident A-listers' homes) is by taking a celebrity bus tour.
A starpower explosion, these tourist-friendly buses will take you through the affluent neighborhoods where, if you're lucky, you can spot the likes of Taylor Swift, Kid Rock, Dolly Parton, Garth Brooks, Toby Keith, and Jared Followill from Kings of Leon — just to name a few! Even if you don't see a famous face, the chance to witness their (lavish) houses and learn about their lives in Nashville is reason enough to grab a ticket.
9 – Step back in time with a Civil War history excursion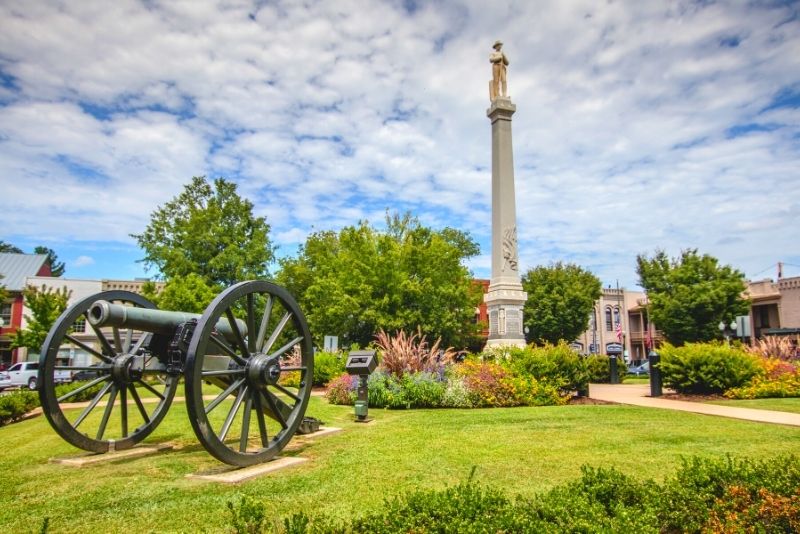 Music aside, the Tennessee capital is also renowned for its role in the Civil War, with over 150 major battles and skirmishes fought in the state.
A fascinating part of American history, a guided tour focusing on this period unveils the (often hard) truths about this tumultuous time, as well as the pivotal role Nashville played in the Union's victory.
Expect to see battlefields, cemeteries, monuments, and more while learning about key events like the Battle of Franklin (one of the war's bloodiest – renowned as being the five most intense hours of the war) and President Abraham Lincoln's visit to Nashville shortly after its fall to Union forces.
At the time, the Carter House was Federal headquarters and the Lotz House was a field hospital, both with bullet and cannonball holes in their walls until this day. Each of these houses are mainstay stops on civil war tours, with myriad stories, artifacts, and personal accounts brought to life by expert guides between each point of interest.
10 – Spend the afternoon at the Tennessee State Museum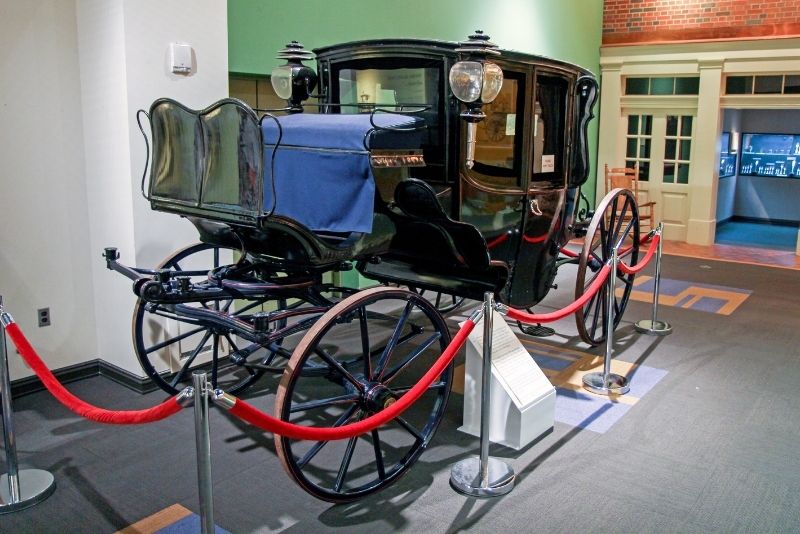 Like stepping back in time – to multiple eras in this state's loaded history – a visit to the Tennessee State Museum brings Tennessee's rich and diverse bygone generations to life. The arguable highlight, the Tennessee Time Tunnel presents an interactive timeline that succinctly captures the region's dramatic past, covering everything from the state's pre-Colonial days right through to the Civil War and Reconstruction, with plenty of multimedia exhibits and old-school artifacts (like cars) to gawk at.
However, for a different historical lens, check out the 'Tennessee Transforms' exhibit: through photography, fashion, technology, and music, it covers how the state has changed drastically since World War II.
Throw in permanent exhibitions dedicated to First Nations, Natural History (both plants and animals), and Change and Challenge, as well as a constant roster of rotating exhibitions to complement, and you've got yourself one of the more educational things to do in Nashville!
The family-friendly attraction is located at the top end of the Bicentennial Capitol Mall State Park, right next to the Nashville Farmers' Market. And the best part? It's free!
11 – Check out some Candlelight concerts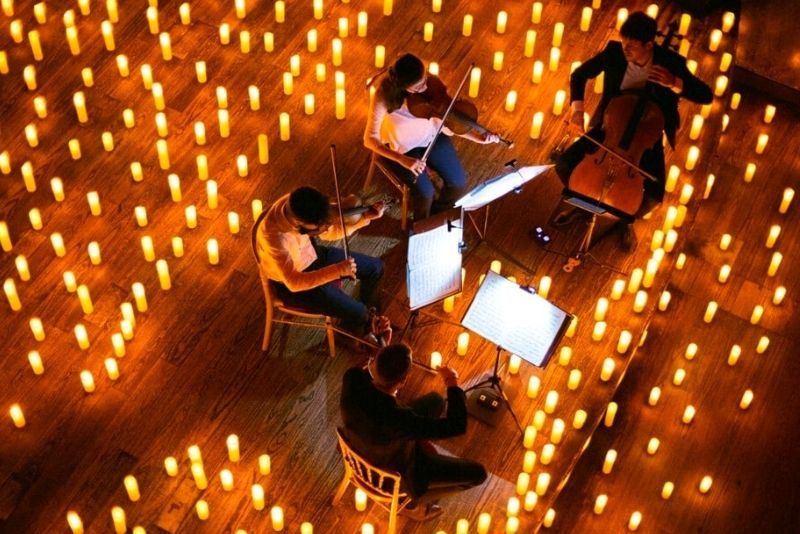 When you think of Nashville, you inevitably think of country music. But there are tons of other great genres to enjoy during a night out in the city!
From John WIlliams film scores to The Nutcracker, you never know what your ears will be treated to. And with the Candlelight Concerts series, you can enjoy a venue that matches the glory of the tunes!
This popular set of events, which has become a hit in cities around the world, seeks to combine world-class musical performances with an intimate atmosphere, and the effect is truly magical.
Settle into your seat surrounded by the flickering flames of hundreds of candles, as world-class musicians serenade you with gorgeous works.
While there are lots of traditional orchestral pieces, you can also vibe to interpretations of more modern artists such as Coldplay and Beyonce. And if you're visiting during the holidays, there are some excellent themed concerts, offering the perfect soundtrack for Christmas cheer or a cozy Valentine's Day.
Best of all, the shows take place at various venues around the city, so you'll have plenty of opportunities to enjoy the historic architecture and world-class acoustics that this musical metropolis has to offer.
12 – Compete for bragging rights in an escape room!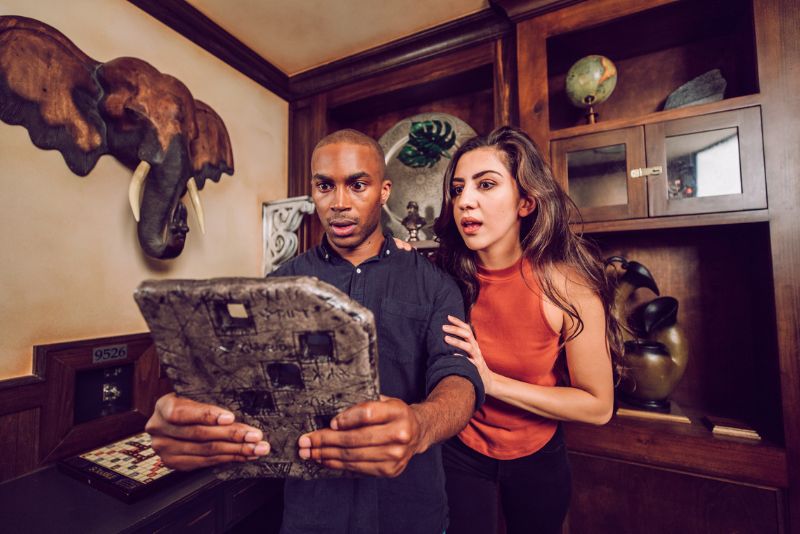 Are you ready for that "I Escaped!" feeling? Put your sleuthing skills to the test by trying to beat the clock in an escape room!
Here's how it works: At The Escape Game, you and your team will work together to find clues, solve puzzles, and complete a mission. Each game has multiple rooms to explore.
With multiple rooms and themes to choose from – transport yourself into the jungle, deep space, a prison, or in the middle of an art heist – you're sure to find an adventure (or two) that piques your interest.
Ask your Game Guide for as many hints as you want! Our games are designed to be epic for everyone – from the experienced gamer to the newbie who's never played. Each experience is thrilling, family-friendly, and a guaranteed good time!
You might escape… you WILL have fun!
Hot tip: If you're traveling in a large group (bachelor(ette) party, perhaps?), split in half and race against one another for the ultimate bragging rights!)
13 – Brose the historic RCA Studio B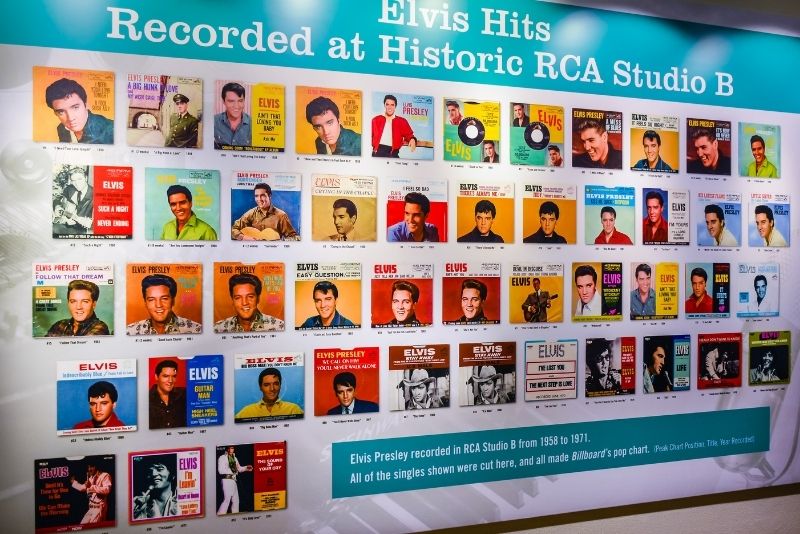 Music aficionados will want to add a visit to RCA Studio B to the top of their Nashville must-do list.
As one of the earliest recording studios in Nashville, it has been used by some of music's most prolific names, including Elvis Presley, Dolly Parton, Willie Nelson, and Chet Atkins – just to name a few.
Most famously, however, this little studio at 1611 Roy Acuff Place is the birthplace of the iconic 'Nashville Sound', instantly recognizable by its backing vocals and strings.
Follow the superstars who walked the halls; the infamous artists who took country music – and Nashville – to the top.
A guided tour of the studio offers visitors a behind-the-scenes look at where these legends recorded some of their most famous tracks, as well as an insight into the music recording process. As you walk the recording studios you'll be dying to belt out a number!
Hot tip: Nashville is a web of musical landmarks, with every notable studio, bar, and live music venue having its own place in history. So rather than just visiting Studio B, consider a more comprehensive experience that combines a few of these iconic spots – like the Country Music Hall of Fame and Hatch Show Print – into one.
14 – Taste the iconic whiskey at Jack Daniel's Distillery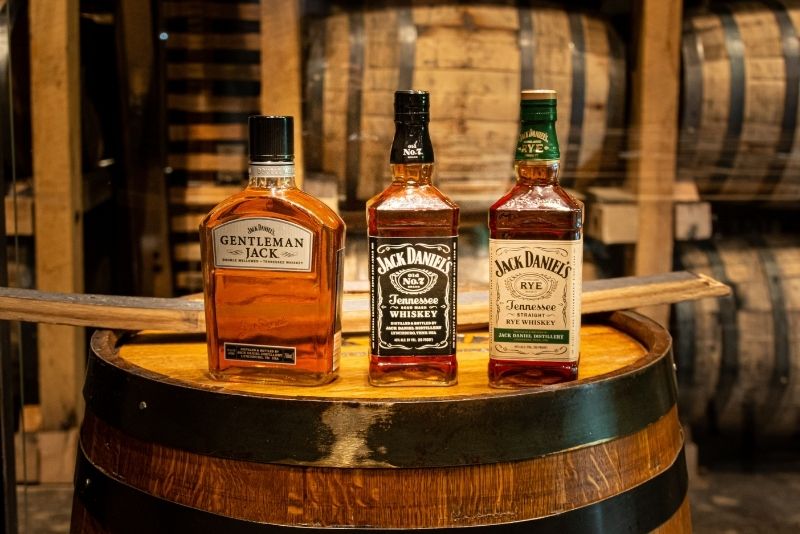 One for the thirsty travelers (you're on vacation, after all), a visit to Jack Daniel's Distillery sells itself as one of the quintessential things to do in Nashville.
As the oldest registered distillery in the United States (dating all the way back to 1866), a tour here is as much about the history and heritage as it is about the whiskey itself.
Due to its location in Lynchburg, about an hour and a half drive south of Nashville, most people opt to take a tour as part of a day trip from the city.
On the tour, you'll learn all about the whiskey-making process (and the difference between bourbon and whiskey), see first-hand how Jack Daniel's is bottled and distributed, and – of course – sample a few glasses of the good stuff at the same time. Choose a tour that combines all this goodness with a BBQ lunch and some live entertainment for a day well spent.
Fun fact: the distillery is actually located in a dry county, so, until rather recently when laws changed, you couldn't do a sample on-site. Fortunately for whiskey fans, that's all changed, and not only can you taste the very best of Jack Daniel's during your tour, but you can pop into the gift shop on site to stock up on a couple of bottles (or even your own barrel of whiskey that will get you around 240 bottles of Jack) before heading back to Nashville.
15 – Go walking in Memphis on a day-trip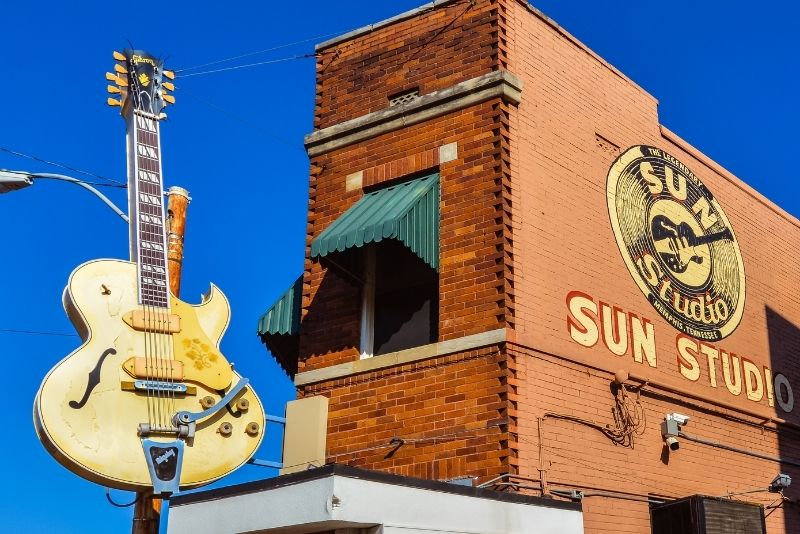 Just a short drive away from Nashville (about four hours), Memphis – the birthplace of rock 'n' roll – is the perfect day-trip destination for those looking to get off the beaten path and explore a little more of what Tennessee has to offer.
This vibrant city on the Mississippi River is best known as the home of Elvis Presley and Graceland, but there's so much more to see and do here.
Wander down Beale Street – the heart and soul of Memphis' music scene – and pop into one of the many bars and clubs that line the street, walking in the footsteps of names like Johnny Cash, Roy Orbison, and Jerry Lee Lewis. Or learn about Memphis' fascinating civil rights history with a trip to the National Civil Rights Museum. For something a little different, take a walk through Elmwood Cemetery, one of America's most beautiful burial grounds, or explore the city's unique food scene with a Memphis barbecue tour.
Whatever you do, make sure to leave some time to explore Graceland, one of the most popular tourist attractions in the United States. This Elvis-themed complex includes the 14-acre mansion where The King lived, as well as his gravesite, a museum dedicated to his life and career, and even a replica of his private jets – a must-visit for any music fan.
Tourist tip: rather than planning your own getaway, take the stress and hassle out of the planning process by opting for a pre-planned Memphis tour from Nashville that takes care of all the logistics for you.
16 – Admire the gardens and sculptures at the Belmont Mansion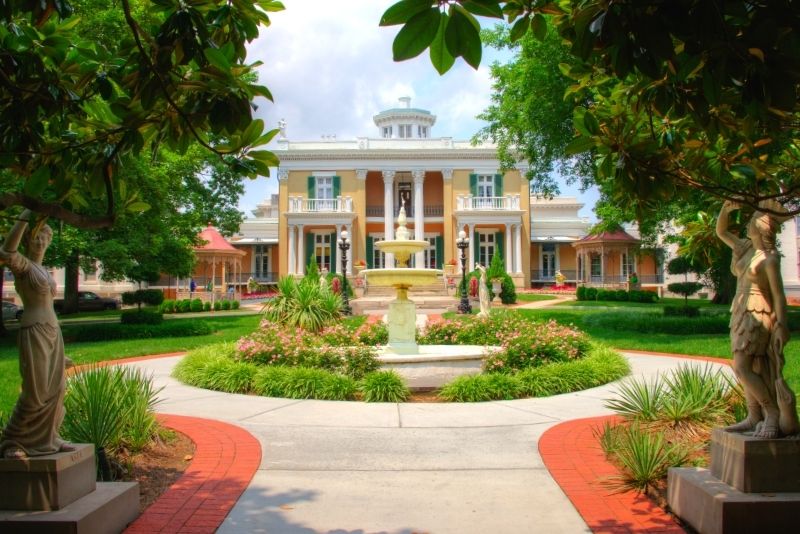 An iconic Italian-esque villa stepped in history and beauty, and measuring an impressive 18,000 square feet (with 36 rooms) on Nashville's Belmont University campus (making it Tennessee's biggest house).
The Belmont Mansion was once the summer home of wealthy slaveholding couple Adelicia and Joseph Acklen – after Joseph died, Adelicia became known as one of the wealthiest women of the antebellum South. This home is one of the rare few that follows a woman's story.
A visit to this 1850s-era home feels like stepping into a time capsule to life in Tennessee before the Civil War; with docents scattered around to tell of the history, the tour takes you through some of the most opulent rooms in the house – like Adelicia's Bedroom, the mostly unaltered Library (featuring a 20th-century gramophone), the light and airy French-style Drawing Room, and more – with fascinating clocks scattered throughout.
You'll also learn about the Acklen's extraordinary lives, their philanthropy, and their roles in the slave era.
The gorgeous Italian-esque villa in its heyday boasted expansive gardens, a fine art gallery, a bowling alley, and a zoo! Today, the house hosts functions and events, so check the website to see if anything special's on during your visit; but the main attraction remains the peaceful, sculpture-lined gardens.
17 – Race around Nashville on a scavenger hunt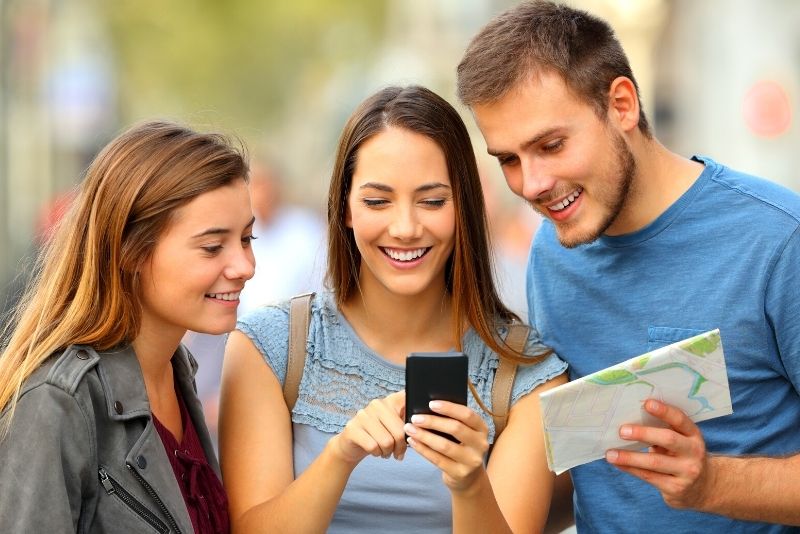 Fed up with those run-of-the-mill, slow-paced walking tours? Want to ditch the tourist crowds and see what the real Nashville is all about? If you consider yourself an adventurer at heart (or are just looking for a unique way to spend an afternoon), then a fast-and-furious scavenger hunt beckons.
With challenges ranging from finding local landmarks to completing fun photo tasks, solving puzzles and cracking riddles, and more, this is a far more interactive way to see the city from a whole new angle – and prove your sleuth skills in the process.
Not only will you get an insider's look at some of the city's most popular areas (like Broadway, The Gulch, and 12South), but you'll also discover a bounty of hidden gems that even locals don't know about.
While each tour is different – you can specialize in certain themes or regions if you like – most are hosted from your smartphone and battle you against the clock as you skirt your way through the city's major drawcard.
With over 75 categories of hunts to choose from, you'll never run out of detective options.
Hot tip: since you'll be covering a lot of ground, be sure to wear comfortable shoes and come armed with plenty of water (and maybe even a snack or two).
18 – Sign up for a private pontoon boat cruise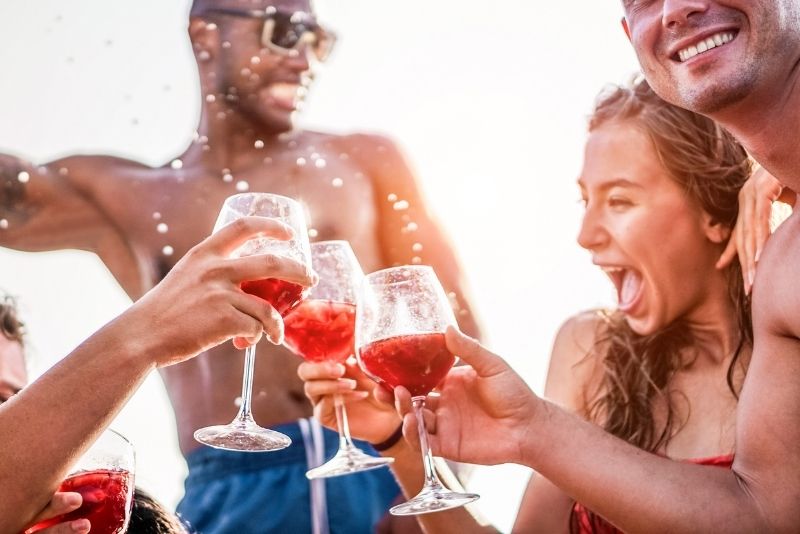 While a river cruise (see #56) is always a delight, if you prefer to have a little more privacy and control over your own Nashville experience, then a private pontoon boat rental is the way to go.
Ideal for anything from family gatherings and birthday celebrations to corporate events and bachelor/ette parties, these boats can come complete with their own captain so all you need to do is sit back, relax, and soak up the incredible views of the river banks downtown or the bounty of Nashville's azure lakes (Radnor Lake, Percy Priest Lake, and Old Hickory Lake being the three main ones nearby).
If you opt for a party boat on the Cumberland River, the vessel is all yours and equipped with speakers and coolers filled with ice so you can BYO drinks and snacks. On the flip side, if you rent a boat on a lake, you'll likely also get to organize complimentary water-sports activities for your time on the lake – think waterskiing, wakeboarding, and tubing.
Regardless of how you spend your day, be that relaxing and working on the tan or quenching that thirst for thrills (or drinks), make sure to stick around for the sunset!
19 – Scratch that automotive itch at the Lane Motor Museum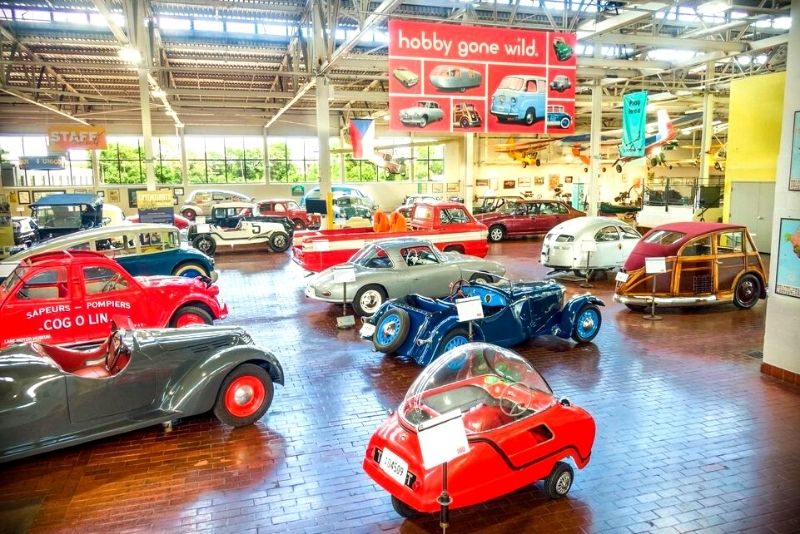 A petrolhead paradise, the Lane Motor Museum is a must-visit for anyone with an interest in cars – and even if you don't consider yourself a gearhead, it's still a fascinating place to explore.
With everything from microcars and motorcycles to military vehicles and trucks on display, culminating in more than 150 vehicles in total, there's plenty to see. And in a region that's headstrong on Americana, this international slice of culture provides a well-appreciated change of pace.
While the majority of the cars on show date back to pre-1960, there are also a handful of more modern vehicles dotted around the museum too.
The family-friendly attraction, which you'll find over in South Nashville (about 15 minutes drive from downtown) makes itself unique with quirky exhibits and off-beat cars including a propeller cars exhibit, and the 'hobby gone wild' series which boasts peculiar vehicles you won't find anywhere else.
Boasting the title of the largest collection of European cars and motorbikes in the nation, rev-heads are quick to add this to their list of things to do in Nashville!
20 – Zipline through the treetops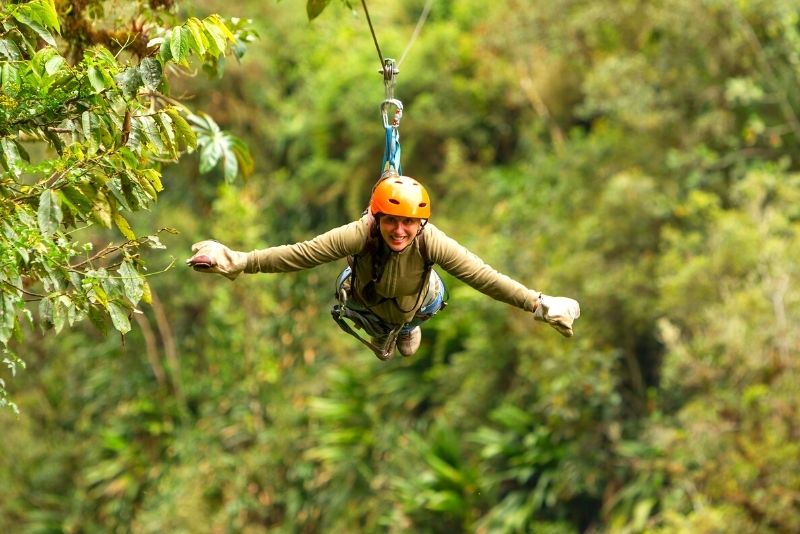 While Fontanel is tucked away on the northern outskirts of the city, thanks to its lush canopies, sprawling vineyards, and picturesque setting among the rolling hills of Tennessee, it feels like a world away from busy downtown Nashville, with nine ziplines that stretch up to 700 feet long and 85 feet high, spread across over 1.5 miles of glorious greenery.
Among the old forest stands Fontanel Mansion — a giant yet quaint log-cabin-style mansion that completes the scenery. While it will set you back around $20 to tour the former celebrity abode (Barbara Mandrell), as the only Nashville celebrity home that you can actually step inside, many visitors like to tag it as the cherry on top of a day of outdoor adventure.
Keep in mind: if you're ziplining with Adventureworks at Fontanel, the outdoor adventure specialists also operate another tour in Kingston Springs along the Harpeth River – just as, if not more impressive.
And if you want to combine your zipping with some splashy fun, Nashville Shores makes an ideal vacation spot! Located just outside of town, this fun-filled complex has something for tree fans and water lovers alike.
Explore the gorgeous forest canopy, and then go flying through it, with three high-octane courses to try. Along the way, you'll get to try out some other awesome treetop adventures, including rope swings, hanging bridges, and obstacle courses.
Back on the ground, you can keep your adrenaline up with the slides and wave pool at the waterpark, then settle in for the night at one of the cozy cabins on the property.
21 – Peruse the Picasso pieces at the Frist Art Museum
This monolithic museum on the site of Nashville's grand ole 1930s post office, the famous Frist Art Museum is an artistic masterpiece in and of itself. Listen on the National Register of Historic Places and encompassing more than 24,000 square feet, the art museum is one of the largest in the United States.
And it's not just the building that's impressive; the rotating exhibitions are top-notch too. The museum has no permanent collection, instead, it prides itself on securing the best of traveling exhibitions from around the world and bringing them to Nashville!
Covering every type of theme, from thought-provoking paintings to avant-garde sculpture, historic knights in shining armor, contemporary Cuban art, medieval art, American Art Deco, British Art Nouveau, landscape paintings of the American West, and a near-endless list of everything in between.
Traveling with kids in tow? Be sure to pop into Martin ArtQuest (MAQ) – the only permanent facility in the museum. Interactive and designed to get the creativity flowing, ArtQuest sports painting, drawing, and printmaking stations, a zoetrope, a shadow theater, and a stop-motion animation tool, among plenty more.
Found at 919 Broadway, it sits just a 10-minute walk from the main haunts of Honky Tonk Highway – easily combined into any day of exploring Downtown and/or The Gulch.
22 – Go kayaking down the Cumberland River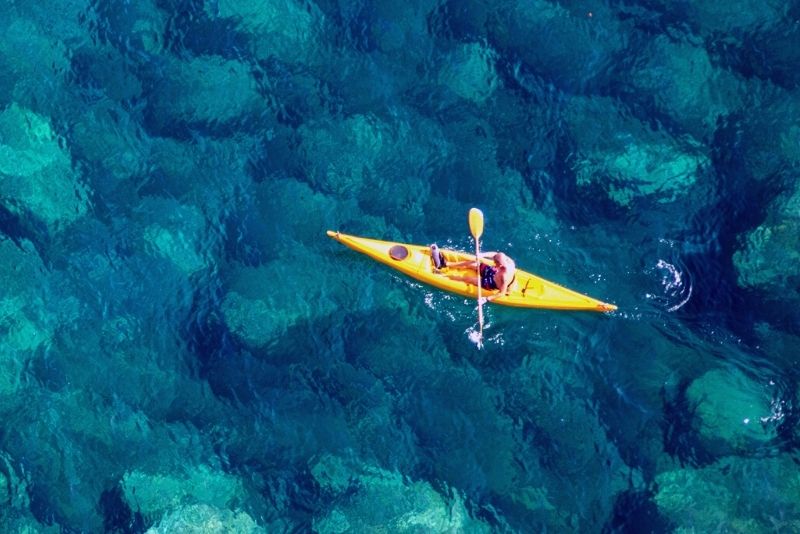 Floating or paddling downstream on the Cumberland River through downtown Nashville and ending up in the thick of Broadway is, without a doubt, a fabulously unique way to see the city.
As you wade your way along the river, you'll be greeted to picturesque views of the Nashville skyline and Riverfront Park, where you can admire the architecture of the pedestrian bridge, the Shelby Street Bridge, the AT&T Building towering over the busy streets, and plenty more.
While it's easy to rent your own kayak (check out riverside haunts like River Queen Voyages or Cumberland Kayak), many travelers prefer to join a tour instead. Why?
After meeting your guide at a pick-up point (from whom you'll learn fascinating tidbits about the city's history and culture), they'll shuttle you over to the launch point before you can paddle your way back to downtown at a leisurely pace. This way, you can see more of the area compared to what you would if you were treading water with a same-location pickup and return point.
23 – Join the excitement of the Great Big Game Show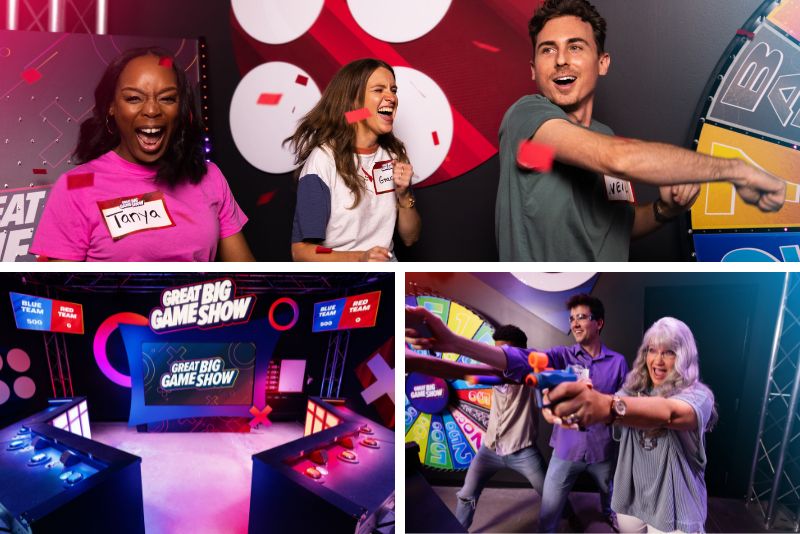 Live the adrenaline-pumping experience of being on a televised game show without the nerve-wracking prospect of millions of viewers.
In the immersive live-action Great Big Game Show, experience the thrill of bright lighting, exciting music, interesting questions, and prop challenges. All participants need is a friend, family member, or colleague to participate in the fun.
Rounds are explained in short videos and moderators walk you through each step. Gameplay is diverse, encompassing trivia, prop challenges, and speed tests, ensuring each round brings something new.
The Great Big Game Show is infinitely replayable, with new content guaranteed each time, whether you're trying different game themes or replaying your favorites.
Participants play only with their own group and never with strangers, providing a relaxed and personal experience.
The Great Big Game Show is perfect for parties, with groups competing in fast-paced game show rounds, ensuring a memorable and exciting celebration of this unique event.
24 – Toast champagne at sunrise in a hot-air balloon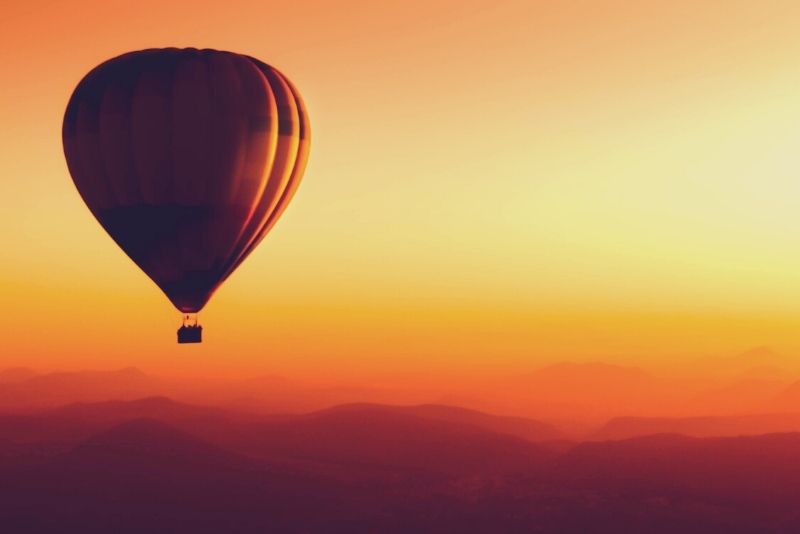 With posh estates of country music superstars juxtaposing the Nashville Skyline and endless forests, the diverse landscape around Nashville is truly astounding. From street level, it regularly impresses with its pretty parks and riverfront views – but, for a real bird's eye perspective (quite literally), there's no better way to see it than from high above in a hot air balloon.
So long as you can brave the pre-dawn alarm clock, seeing the wide expanses of rural Tennessee, kissed by vibrant reds and oranges or the sunrise, is like something out of a postcard. Best of all, you'll be able to cap off your morning with a complimentary glass of champagne.
Some flights depart from the lively and historic nearby town of Franklin, while others take off from Murfreesboro. Each is spectacular in its own right – but if you want something truly unforgettable, plan a weekend trip to the Smokey Mountains and take off from there.
25 – Snap a few selfies at Madame Tussauds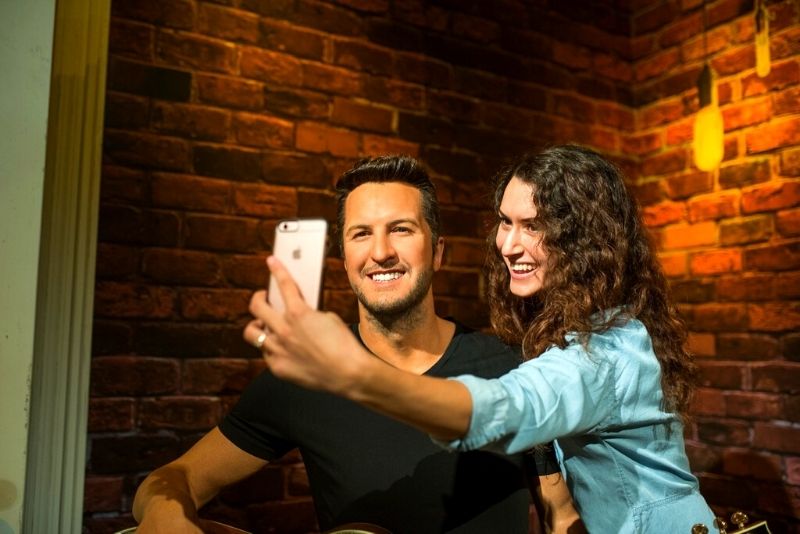 A worldwide institution, Madame Tussauds needs no introduction. The world-famous chain of wax museums has outposts in all corners of the globe – and, as of April 2017, that now includes Nashville.
The latest addition to the Music City's already impressive roster of attractions, Madame Tussauds Nashville is located on Broadway in the heart of the city's bustling downtown district. And, differentiating this location from those across the country: The Music City's gallery is all about — yep, you guessed it — the local music scene!
Visitors can expect to see (and snap envy-evoking selfies) with incredibly lifelike wax models of some of the biggest names in country music, including Dolly Parton, Johnny Cash, Carrie Underwood, and Keith Urban. There are also figures of wider pop-culture icons like Taylor Swift, Justin Bieber, and Oprah Winfrey.
Make sure to swing by the wax museum's soul lounge and jazz bar exhibits, and join in on the interactive exhibits too: jam with Jimi Hendrix, join Elvis on stage, or belt out a performance of your own. And cap it all off with a wine-tasting with 5 sweet and savory blends from the Amber Falls Winery (not for the youngsters, obviously).
26 – Let the youngsters loose at the Adventure Science Center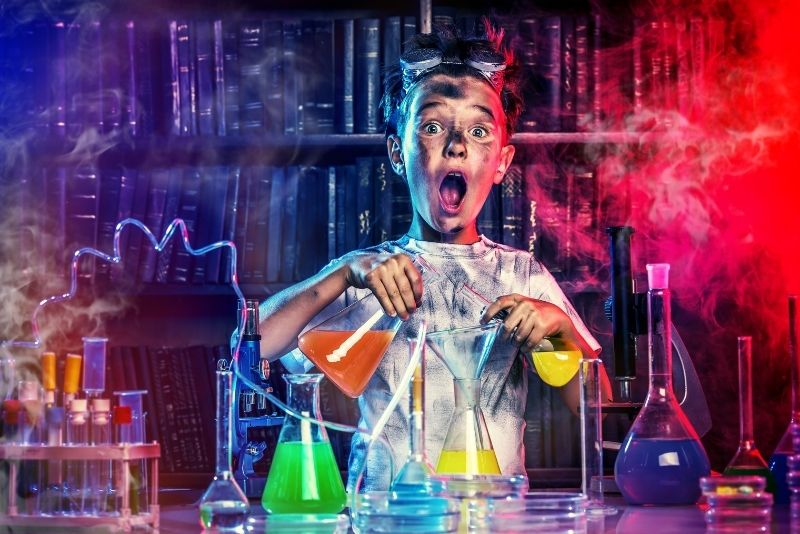 With over 175 interactive activities and a breathtaking full-dome planetarium show for visitors of all ages, the Adventure Science Center – found right next door to Fort Negley, just south of Downtown – is the ideal place for youngsters to discover their inner scientists and inventors.
A surefire way to spark curiosity and creativity in kids and adults alike, the sprawling center (at 44,000 square feet!) covers fascinating topics such as space, the human body, medicine, ecology, and physics through a series of permanent and temporary exhibitions (spanning themes like Rubik's Cubes or National Geographic, to give you a taste), with hands-on activities and special scientist shows that make learning a whole lot of fun.
Among the crowd favorites is the Sudekum Planetarium, where you can explore the cosmos in a jaw-dropping 63-foot digital theater; be sure to check the show times in advance as tickets do tend to sell out fast! And if you get hungry during your visit (or just need some caffeine to power through all those exhibits), there's a cafe on site too.
Learn about the wonders of flight before making a popsicle stick biplane; feel what it's like to walk on the moon; play with magnets, try your hand at the augmented reality Tetris game, and see what you can create using a 3D printer! All in all, an easy way to pass 3 or so hours on a rainy day.
27 – Spend a couple of hours at the Musicians Hall of Fame and Museum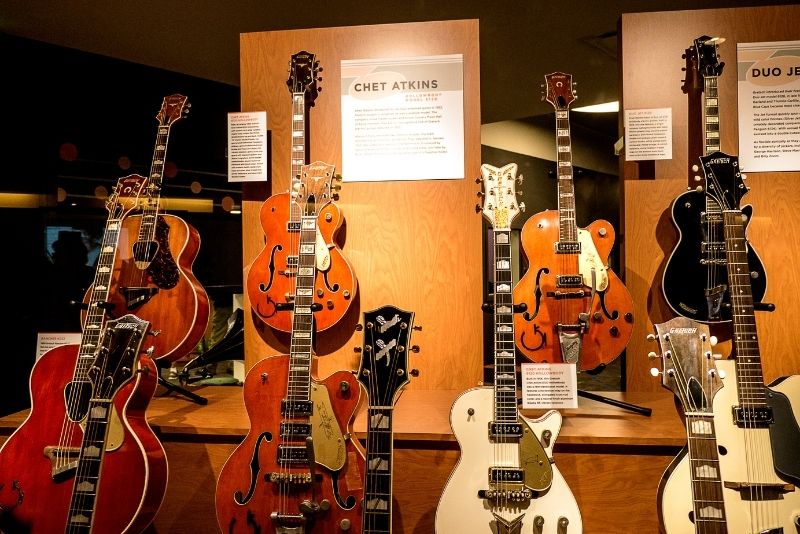 Found smack-bang in the middle of downtown, right next to the Tennessee State Capitol
and Victory Park (a great spot for a post-museum stroll, in fact), the Musicians Hall of Fame and Museum (or the MHOF for short) is, unsurprisingly, one of the most popular points of interest in Nashville for music history fans of all ages.
The museum first opened its doors in 2006 as a way to honor the incredible musicians – both local and international – who have helped make Music City what it is today. From country and gospel to rock 'n' roll and soul, the museum celebrates all genres of music and the artists who have shaped them.
With multiple floors of interactive exhibits, there are bucketloads to keep music-lovers occupied here. You can explore the history of country music through hands-on displays, admire iconic instruments used by legends like Elvis, Ringo Starr, and Jimi Hendrix, and more recent beloved musicians like Garth Brooks.
What sets this particular institution apart is its ability to unveil the curtain; tourists can learn all about the craftsmen behind the label – the unsung heroes who played on hundreds of hit records but aren't as well-known to the public.
You've heard the songs, so come see the instruments and the studios used to make them! Plus, with a slew of interactive exhibits for songwriting, recording, and DJing, it's something the whole family is guaranteed to enjoy.
28 – Play detective at the Dinner Detective Murder Mystery Dinner Show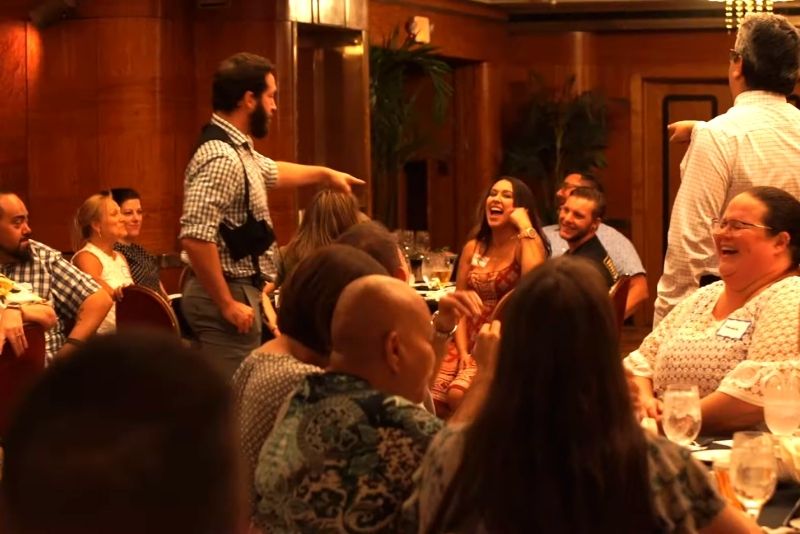 A classic whodunnit with a dash of humor and multiple platefuls of tantalizing Southern fare, the Dinner Detective Murder Mystery Dinner Show deserves to sit high on your list of things to do in Nashville if you're the type of person who loves a good puzzle – or just a good meal.
This is not your average dinner theater experience; there are no zany costumes or over-the-top acting here. Instead, what you can expect is a thoughtfully crafted mystery complete with plenty of twists and… by the end of your four-course dinner, you tell us!
Follow the clues and interrogate your fellow diners to find the imposters and undercover actors – but don't be alarmed if you discover that you're the prime suspect!
Held inside the Franklin Marriott Cool Springs, this popular event sets itself apart with its chef-prepared cuisine, which includes dishes like roasted chicken, salmon fillet, and quinoa ragu with potato gnocchi.
With the claim to fame of being America's largest interactive comedy murder mystery dinner theatre show, rest assured that this award-winning evening experience will give you a taste of detective work in a hilarious, interactive, and quizzical fashion.
And with a bar on site, it serves as a perfect precursor to a Saturday night out on Beale Street.
29 – Sample local wine at the Belle Meade Mansion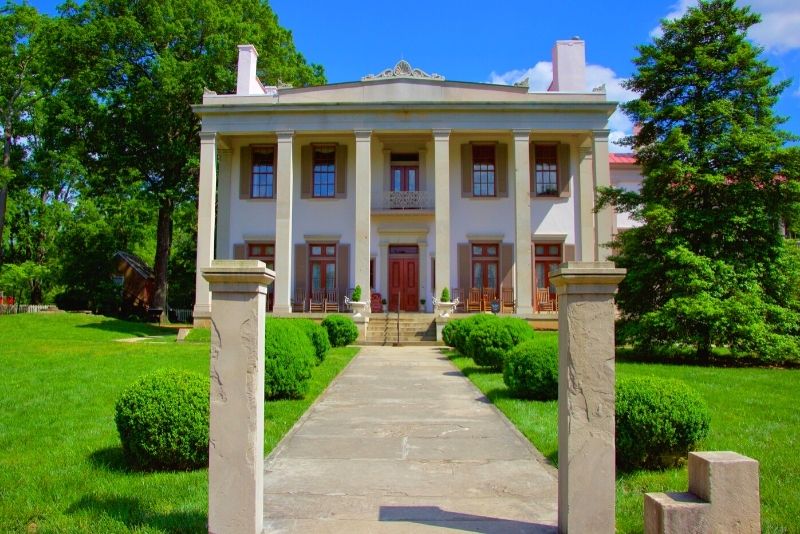 Dating all the way back to 1853 and once set across roughly 5,400 acres (closer to 30 these days), this strikingly posh Greek Revival mansion remains hands-down one of the largest and wealthiest in town.
With its elegant architecture and stunning gardens (which contain a game court, horse farm, and on-site winery offering samples to visitors), any tour of the mansion and its grounds is a delightful experience. Aesthetics aside, this mansion – being a former plantation – is also steeped in history. With bullet holes peppered in its walls from the Civil War, it's a walking museum with myriad stories to tell – which your guide will be more than happy to share with you.
Tours of Belle Meade Mansion typically last about 45 minutes, during which time you'll get to explore the main house, grounds, and outbuildings – including the carriage house, stables, smokehouse, gardener's house, slave cabin, and ice house – all while learning about what life was like on a pre-Civil War plantation.
But it's not all about the history; after your tour, be sure to enjoy a wine tasting at the on-site vineyard and pick up a bottle or two of your favorite varietals to take home with you. Or, for that extra luxe experience, consider booking the Chef-Inspired Food & Wine Pairing.
30 – Order the Legendary Burger at Hard Rock Cafe Nashville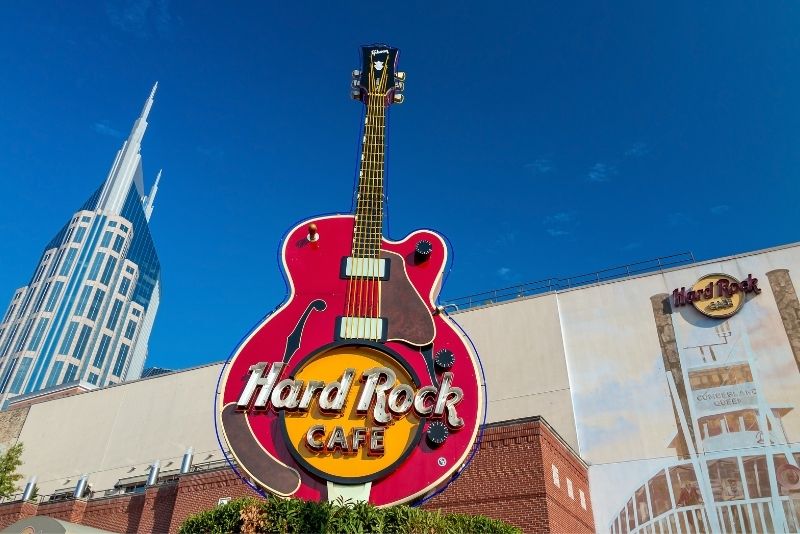 Here, at the intersection of Broadway and 2nd Avenue, you'll find Hard Rock Cafe Nashville. And while the menu here is chock-full of American classics like the Legendary Burger, it's the setting that really makes this spot a must-visit. Personified by the giant guitar on its facade, this is where the famous Music City meets the famous music restaurant!
The contemporary All-American eatery offers great food and a gallery of music memorabilia belonging to more legends than you can count, from Johnny Cash to Bon Jovi.
And with a stage that regularly plays host to live music performances (for the most part, local country acoustic sets), as well as a rooftop bar with one of the best views in town, this is one restaurant that's definitely worth a visit.
No night at the Hard Rock is complete without popping into the gift store next door – you'll find everything from t-shirts and shot glasses to mugs, keychains, and even actual guitars, so seldom does anyone walk away empty-handed (or on an empty stomach).
31 – Learn all about Nashville's story at the Historic Travellers Rest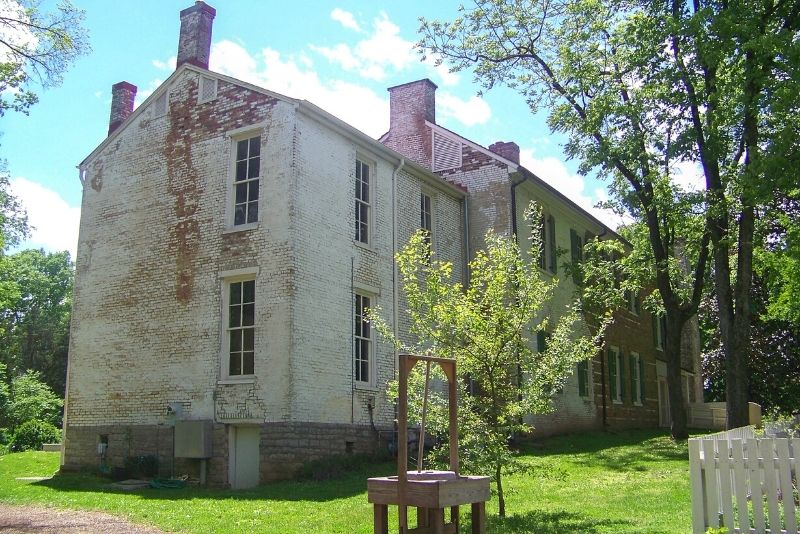 Dating back to 1799, this former plantation has the claim to fame of being the city's oldest historic house museum; a longstanding monument to the rich and often enigmatic history of Nashville.
Set on 10 acres of beautifully landscaped gardens about 8 miles south of Downtown, near the Nashville Zoo at Grassmere (although, originally, covering over 1,000 acres), the two-story plantation offers visitors a chance to take a step back in time and experience what life was like on a working farm in the early 1800s.
Take a guided tour of the main house, which is furnished with antiques from the period; stroll through the garden; explore the outbuildings, and learn all about the people who lived and worked here over the generations with a fascinating guided tour.
Be sure to stop by the on-site museum too, which contains artifacts from the plantation as well as other local historical sites. A stroll through the various displays allows curious guests to see what the city was like before European settlement, then see it turned upside-down (twice) during the brutal American Revolution and Civil War.
With myriad relics and educational displays, you'll also learn about its industrial boom, and the rapid urbanization and development that saw it become the incredible city we have today.
32 – Head backstage at the infamous Grand Ole Opry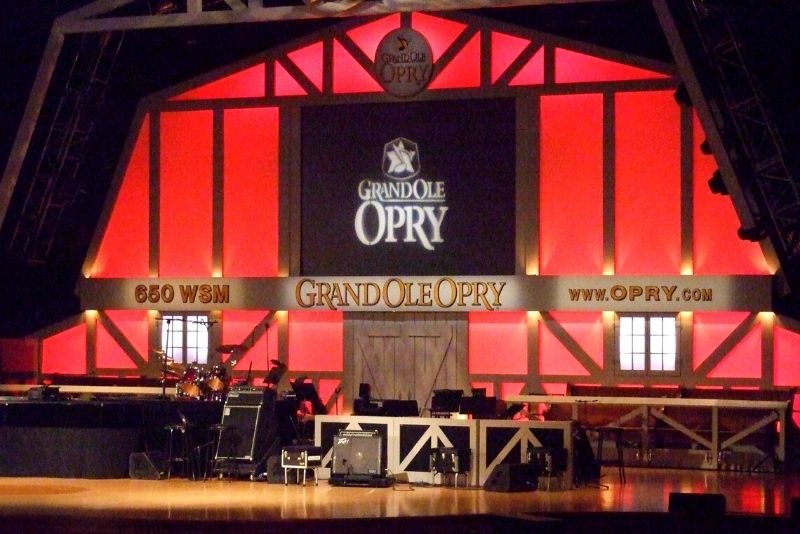 A famous name that echoes around the world, the Grand Ole Opry is one of Nashville's – and America's – most iconic music venues, standing proud since 1925. Located just 20 minutes outside of downtown on Opryland Drive, this is where legends like Dolly Parton, Hank Williams, Garth Brooks, Loretta Lynn, and Patsy Cline have cut their teeth.
A selfie out the front is a non-negotiable, but for the full monty, follow the footsteps of countless country music superstars who have performed on this legendary stage by opting for a backstage tour!
Led by a local music expert, these insightful tours provide a rare glimpse into what really happens behind the curtain – meander through the dressing rooms, the green room, and all the backstage nooks and crannies, then take a deep breath before you walk through the artist's entrance and step out on the world-famous arena!
Of course, nothing beats the chance to sit front row at one of the weekly live shows; featuring a mix of local and international talent performing a variety of genres, from country and bluegrass to old-time rock 'n' roll and contemporary pop. Simply check the schedule to see who's playing when you're in town.
33 – See the glorious Greek Parthenon in Centennial Park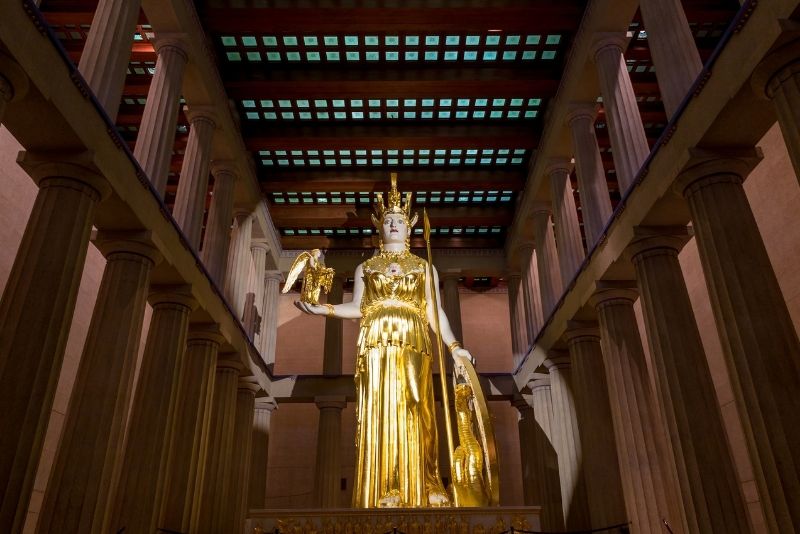 A full-scale replica of the original Parthenon in Athens, this is one of Nashville's most iconic landmarks. Built back in 1897 for Tennessee's Centennial Exposition, today it serves as a monument to what is considered the pinnacle of classical Greek architecture – and houses an art museum inside. With a permanent collection of 19th- and 20th-century American art and a bounty of temporary displays to complement, no two visits are the same.
As you explore the buildings' interiors, be sure to look up; the ceiling paintings and plaster replicas of the friezes that adorned the pediments of the ancient temple are particularly impressive. The 42-foot statue of Athena that presides over all from her position atop the acropolis is also quite something to behold!
When you're done exploring the Parthenon and appreciating its grandeur, take some time to stroll around Centennial Park – at 132 acres, it's one of the largest urban parks in the United States. With beautiful Lake Watauga, a one-mile walking trail, a beautiful sunken garden, a dog park, playgrounds, and picnic areas, it's easy to while away an afternoon here. And when the occasional festivals and live music roll into the bandshell, an evening too!
34 – Take the family to the Nashville Zoo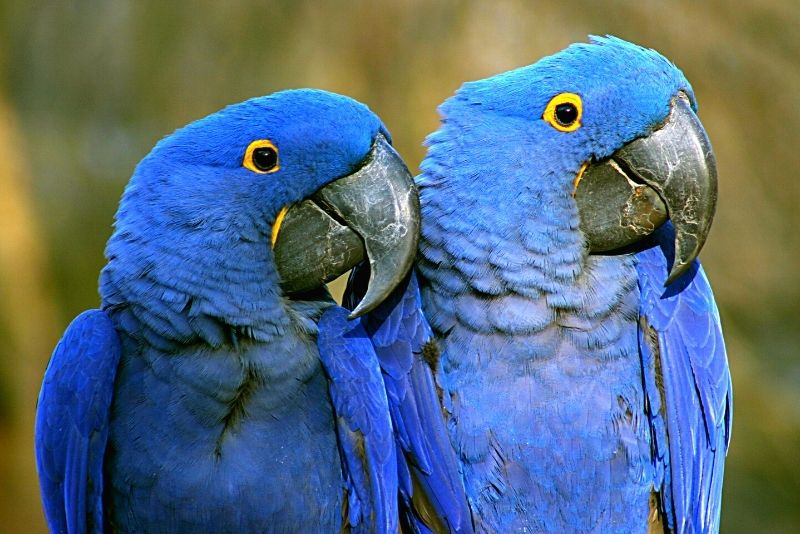 A surefire hit for vagabonding families (delighting both kids of age and kids at heart), Nashville Zoo is located just 6 miles southeast of downtown. With over 300 species of animals, and more than 6,000 individual critters in total, there's plenty to see and learn about at this beloved Grassmere attraction.
From the endangered Tennessee Hollow Bats and Amur tigers to the red pandas, Masai giraffes, and Humboldt penguins, you'll find critters big and small, soft and scaley, from all corners of the globe.
Like taking an international safari, a walk around the shaded paths will take you from one natural outdoor habitat to another, with the Andean bears, Sumatran tigers, Aussie kangaroos, and clouded leopards among the most popular local residents.
While there are plenty of ways to explore, including the Soaring Eagle zipline and cart tours, visitors who want that next-level experience opt for the early morning Rise & Shine with Rhinos experience, or the overnight Zzzoofari Slumber.
Don't forget to pop into the Adventure 4D Theater (with screenings every 15 minutes), check out the Grassmere Historic Home (built in 1810), and for when the legs get a little tired, take a spin on the Wilderness Express Train.
35 – Check off the main Nashville highlights with a golf cart tour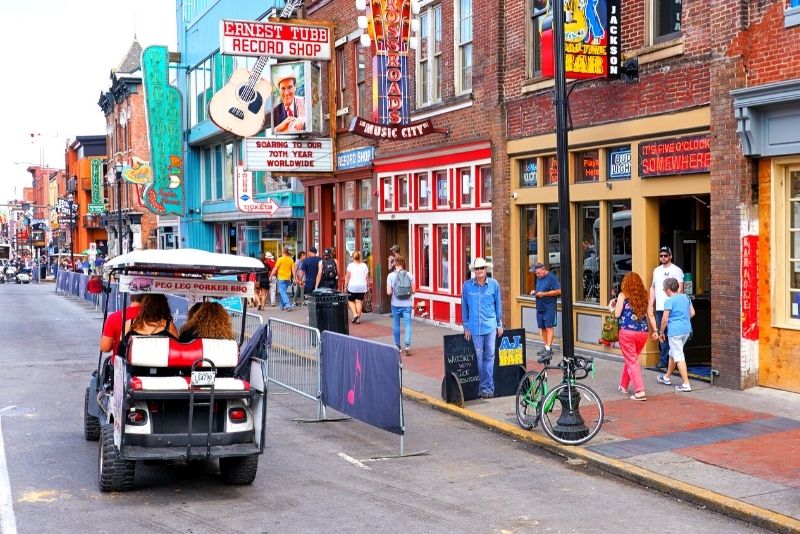 If you're looking for a unique way to explore Nashville, look no further than an open-aired golf cart! Perfect for a warm summer's day, a slew of businesses offer unique tours of the city in these comfortable buggies; as you make your way through the main haunts and neighborhoods (like Music Row, Midtown, Downtown, and the banks of the Cumberland), you'll learn all about the city's storied past and present and from your friendly and knowledgeable local guide.
With a range of different tour options available – including Downtown highlights, brewery hopping, street art crawls, shopping tours, and even Pokemon Go tours – there's something to suit everyone's interests. And with each tour lasting around two hours, you'll have plenty of time to take in all the sights and sounds (not to mention photo ops!) along the way before moving on to something else for the afternoon.
Hot tip: to get the most out of your tour (and trip in general), make sure to ask your guide for the local secrets: where to eat, dance, and explore off the beaten track
36 – Go spelunking in Mammoth Cave National Park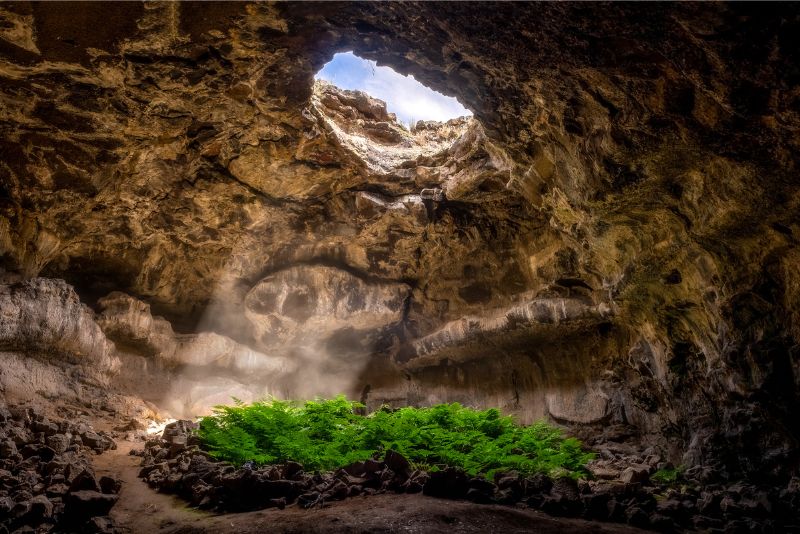 Very different to your typical nature-focused day trip getaway (think: hiking trails through forests and mountains), Mammoth Cave National Park — which stretches almost 53,000 acres — is all about, well, caves!
As the world's longest known cave system (with more than 400 miles of explored caverns), Mammoth Cave offers an array of activities and tours for all ages and abilities, from the half-mile Historic Tour to the more challenging six-hour Grand Avenue Tour.
With so much to explore, including waterfalls, underground rivers (and the Green and Nolin Rivers – perfect for kayaking and boating), and some of the world's most incredible rock formations, Mammoth Cave is a great place to spend a day (or two) if you're looking for something a little different.
Throw in horseriding excursions, over 80 miles of hiking trails, and a handful of ranger-led programs, and you've got a nature lover's paradise. And, if you happen to be visiting in the evening, don't miss the chance to join one of the stargazing trips – an experience you're unlikely to forget any time soon!
Found in west-central Kentucky, Mammoth Cave sits about an hour and 20 minutes drive north, making it an easy there-and-back day trip. Along the way, the Days Gone By Museum in Portland is a treasure trove of old-school vehicles worthy of a quick detour.
37 – Join a brewery and distillery party tour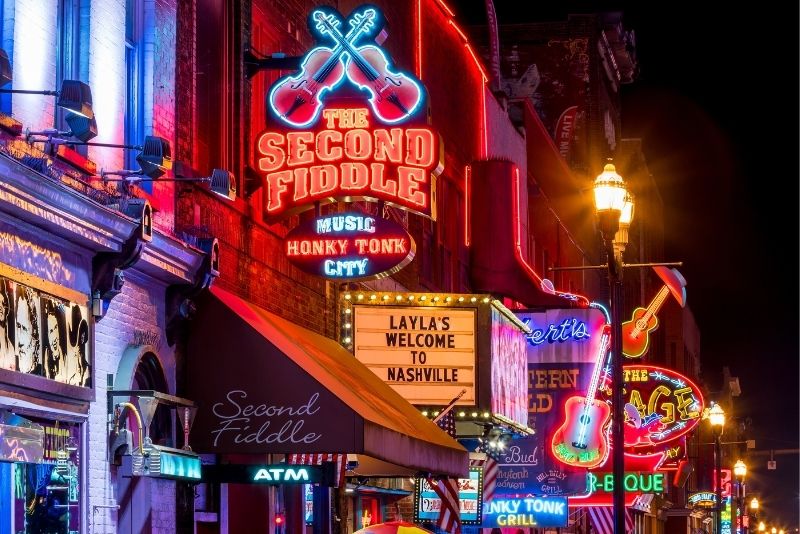 It's not exactly a secret that lively Nashville knows how to party. The city's nightlife scene is world-renowned, and its bars, clubs, and live music venues attract visitors from all over the globe. But who says we have to wait till sundown for the party to start?
Take the guesswork out of finding the best spots to drink by joining one of Nashville's many brewery and distillery tours. These informative (and boozy) excursions will take you behind the scenes at some of Music City's most popular watering holes.
Not only will you get to sample craft beers and local spirits, but you'll also have the chance to meet the people who make them and see where all the magic happens. You'll learn all about the history and process of making Tennessee whiskey, bourbon, beer, and more.
Try the smooth whiskeys at Nelson's Green Brier Distillery, or sip some fine vodkas and other expertly crafted spirits at Big Machine Brewery & Distillery. Get into the hillbilly mindset with the various moonshine flavors at Smith Creek Distillery, or kick back with a craft beer at Yee-Haw Brewing Company.
Enjoy some local craft beers (and occasional live music) at Tennessee Brew Works, or sample the taproom treats at Bearded Iris Brewery, known for its wide variety of IPAs and pale ales. With options this good, you'll want to hire a designated driver!
Pro tip: many of these tours offer discounts if you book online in advance, so be sure to do your research and save yourself some cash!
38 – Sample some moonshine on a Tractor Party Wagon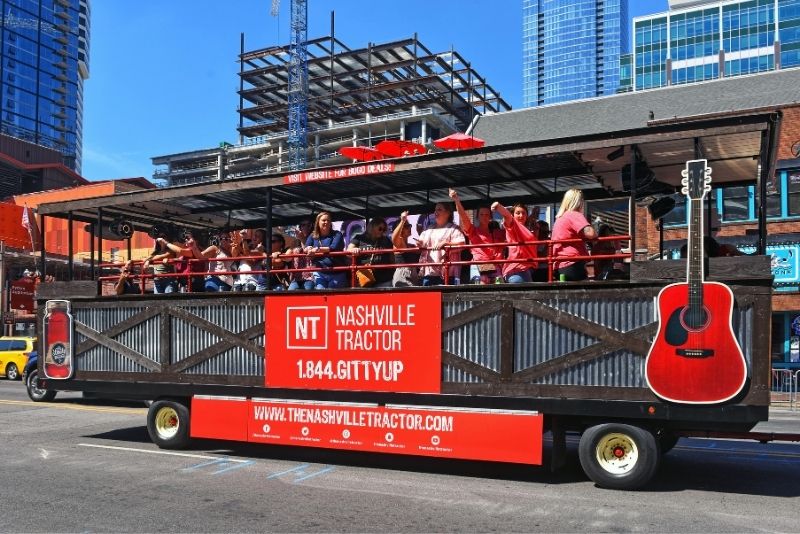 A city-circle bus tour, but not like you've ever seen it before; the Tractor Party Wagon is a tractor-powered, open-air pub on wheels that makes its way through the heart of downtown Nashville. Slow and steady, with ample time to appreciate the landmarks (like Ryman Auditorium and Music Row) while the onboard DJ spins the decks, or the hilarious comedy guide waxes lyrical about the city (choose from party tractors, comedy tours, or a little bit of both).
On the tractor wagon (which has got more than its fair share of media attention for good reason) you'll find a light-up dance floor, an on-board bartender to serve you ice-cold drinks from the cooler (and depending on your tractor tour of choice, potentially some of the city's best moonshine), and room for up to 40 likeminded thirsty travelers; with BYOB an option too, all in all, these social celebrations ensure the good vibes are always flowing.
39 – Check out the Rollin' Jamboree Comedy Country Sing-Along Bus Tour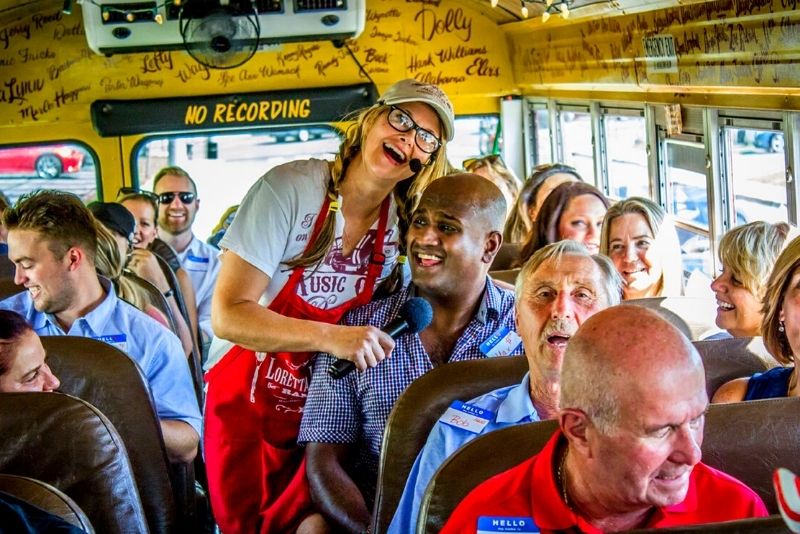 Fusing stand-up comedy with quintessential sightseeing, the Rollin' Jamboree is a party bus tour like no other. Departing from downtown Nashville, you'll be treated to a 90-minute side-splitting comedy show as you make your way around the city, with toe-tapping live music and plenty of audience participation thrown in for good measure.
With songs ranging from current country chart-toppers to classic hits, there's something for everyone on this rollicking tour, which is led by some of Nashville's most talented (and hilarious) comedians.
As you roll your way around town with a couple dozen new friends, beer in one hand, microphone in the other, you'll pass by renowned landmarks such as the Ryman Auditorium and Lower Broadway (a.k.a. Honky Tonk Row), before making a quick stop (usually) at the Country Music Hall of Fame to stretch your legs and learn more about the city, all while belting out your favorite tunes at the top of your lungs.
Just be warned: this is not your average bus tour. It's rowdy, it's raucous, and it's a whole lot of fun. With reviews calling it the "best 1.5 hours we spent in Nashville", it deserves serious consideration.
40 – Shop till you drop at the city's many malls!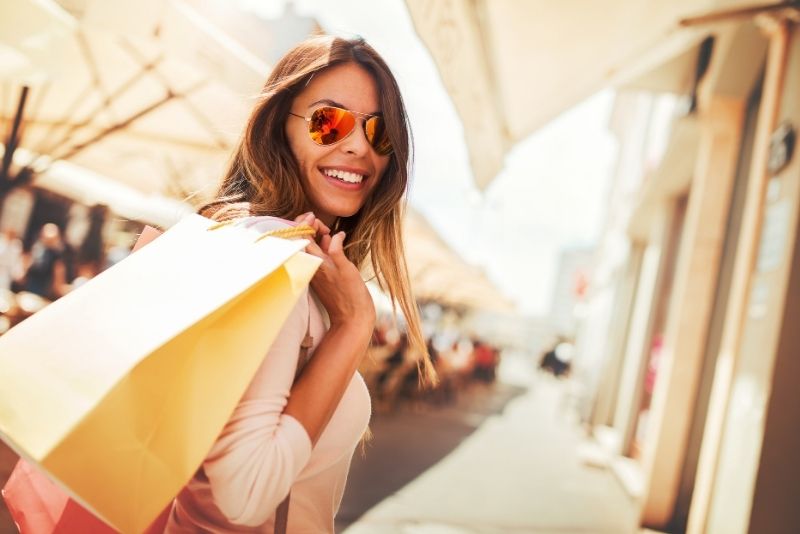 With outlet malls, designer brands, vintage stores, independent boutiques, and everything in between, it's no surprise that shoppers love Nashville!
But where to begin? The gentrified Fatherland District, which is found on the northern side of the Cumberland, is a maze of more than 20 local, charming, indie-owned shops with a little of everything (although particularly clothes and coffee shops).
If you're wandering through downtown, don't miss the historic Arcade. Dating back to the early 1900s, this indoor shopping mall is one of the oldest in the city, and home to a number of local businesses, including a handful of great places to eat.
For designer labels and high-end brands, head to The Mall at Green Hills. With over 100 stores, including Nordstrom, Michael Kors Outlet, Polo Ralph Lauren, Tiffany & Co., and Louis Vuitton, it's a shopper's paradise. Meanwhile, and the 8th Avenue Antique Mall is your one-stop option for antiques
And finally, for the ultimate in Nashville shopping experiences, make your way to Opry Mills – Tennessee's largest outlet destination. This massive discount mall has more than 200 stores, plus an aquarium restaurant, the Amber Falls Winery and Cellars, an escape room, and Madame Tussauds — meaning you could easily spend an entire day here.
Hot tip: If you need help getting around with all that shopping, book a shopping tour; golf cart and personal shopper included!
41 – Stop to smell the roses at the Cheekwood estate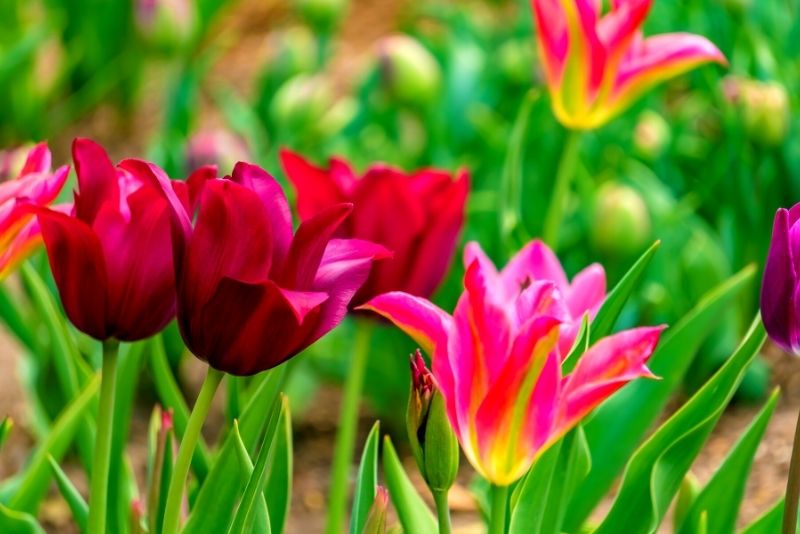 The 55-acre Cheekwood estate is an enchanting escape from the hustle and bustle of Nashville, located just a short drive away in Bellevue.
This former private home has now been transformed into a gorgeous public garden and museum, complete with art galleries, botanical gardens, sculptures, and an 18th-century, 30,000-square-foot Georgian-style mansion that you can tour.
It includes a Museum of Art with painting and sculpture exhibits, highlighted by the largest collection of William Edmondson sculptures, and Andy Warhol and Jamie Wyeth's portraits of one another.
Plus, with fine pieces by American impressionist Childe Hassam, a slew of furniture, textiles, silver, and books, and the ever-popular TRAINS! exhibit with delicate model trains running through a playhouse based on 'The Little Engine That Could' (a surefire delight for the kids), there's plenty to explore inside the mansion.
But, it's the outside gardens that will really take your breath away. Wander through the incredible grounds solo or as part of a self-guided audio tour, taking the time to soak in the Botanical Garden – eleven lush gardens display various brightly-colored flora and fauna, including fragrant camellias, bright roses, and Japanese maples.
Periodically throughout the year, Cheekwood also offers special events like outdoor concerts, holiday light displays, a Christmas wonderland for December visitors, and art classes for kids, so check the website to see if anything special is on during your trip.
While you're here: you're not too far from the Belle Meade Historic Site & Winery, so consider crossing off these two beautiful locales back to back.
42 – Pop into the National Museum of African-American Music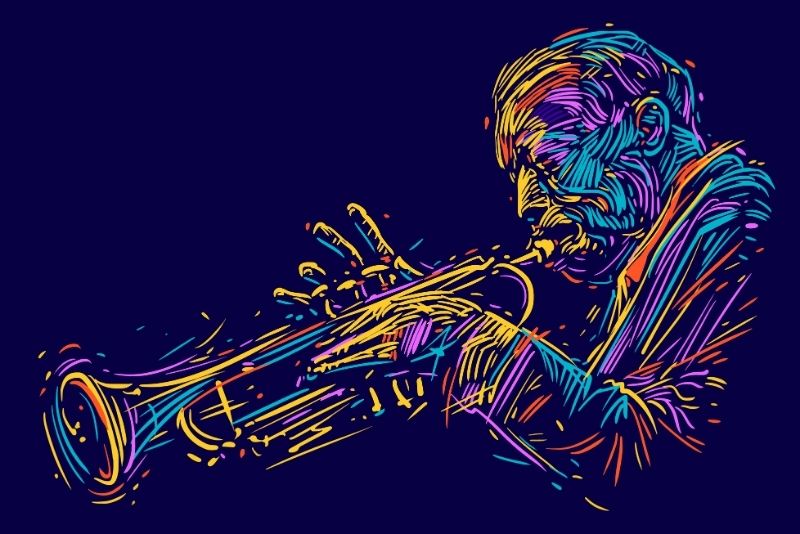 A shining light on the contributions of African-American musicians to the world of music, the National Museum of African American Music (NMAAM) is one of Nashville's newest and most exciting attractions.
Housed in a stunning 56,000-square-foot facility in downtown Nashville, right next door to the Ryman Auditorium, the museum tells the story of how African-American music has shaped and influenced virtually every genre, from blues and gospel to R&B, rock 'n' roll, and hip-hop.
With interactive exhibits that tell fascinating stories of famous names and events of bygone decades, film screenings, live performances, and more, the NMAAM is a must-visit for music lovers of all ages. And with a location right on historic Music Row, it's also perfectly placed for anyone interested in exploring Nashville's rich musical history.
Craving more? Check out the Sips and Stanzas events to rub shoulders with music professionals while emerging artists perform, or get your boogie on at the heARTBEAT Saturdays with DJ Casanova.
43 – Get a custom print souvenir at Hatch Show Print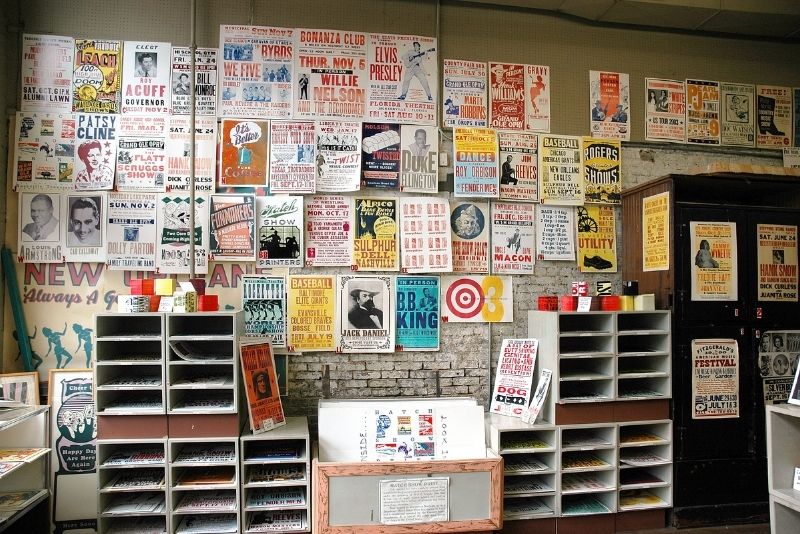 Calling all designers and artists! For almost 150 years (dating back to 1879), Hatch Show has been designing iconic posters, reproduced a million times over. A name as famous as the artists they've worked with and the country music stars they've printed, Hatch Show Print is one of America's most historic and well-loved print shops.
As part of the Country Music Hall of Fame, Hatch Show Print offers tours as well as workshops where you can learn about the history of the company and create your own masterpiece. With a huge range of artwork on display, from original hand-carved blocks to finished prints, it's a great place to get inspired.
White the store cut its teeth in old-school country music posters, creating legendary depictions of names like Jonny Cash and Elvis Presley, modern names like Kacey Musgraves and Dolly Parton also feature. And, beyond music, you'll find illustrations of Nashville, motivational quotes, and a slew of vintage (often rare) creations to buy – not to mention custom requests.
And if you're looking for a uniquely Nashville souvenir, look no further than the on-site store which stocks everything from apparel and badges to unique postcards and gifts.
44 – Join a moonlit haunted ghost tour (if you dare)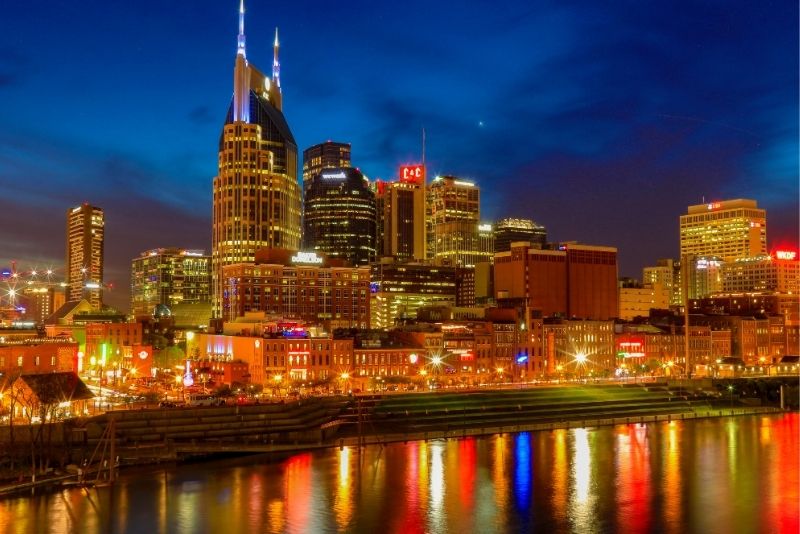 By day, Nashville is a bustling, vibrant city – but by night, some say it's home to more than just country music stars. If you're looking for something a little different (and a little spooky), why not go on a ghost tour?
There are plenty of companies offering tours of Nashville's most haunted places, and each one has its own unique twist. Whichever tour you choose, you're sure to hear some fascinating (and sometimes chilling) stories about Nashville's most chilling residents, diving deep into murders, the mob, and more.
You'll explore the mysterious maze of tunnels that crisscross beneath Nashville's streets; learn about the alleged spirits inhabiting Broadway, and wet your whistle at the bar where the ghost of Hank Williams, Sr. still drinks (so they say)!
Expect to pass by Skull's Rainbow Room, the Ernest Tubb Record Shop once a Civil War-era hospital), and hear tales of Nashville's Red Light District at the Hard Rock Cafe- which was, unsurprisingly, home to plenty of hauntings.
Rounding out the list, the now empty Tennessee State Prison and the Two Rivers Mansion antebellum estate each have their own spine-tingling tales to tell (although, being a little of the beaten track, you might need to visit these ones solo).
For something a little different, consider a ghost-themed bar crawl, where booze and boos and served in equal measure.
45 – Take a thrilling joyride in a monster truck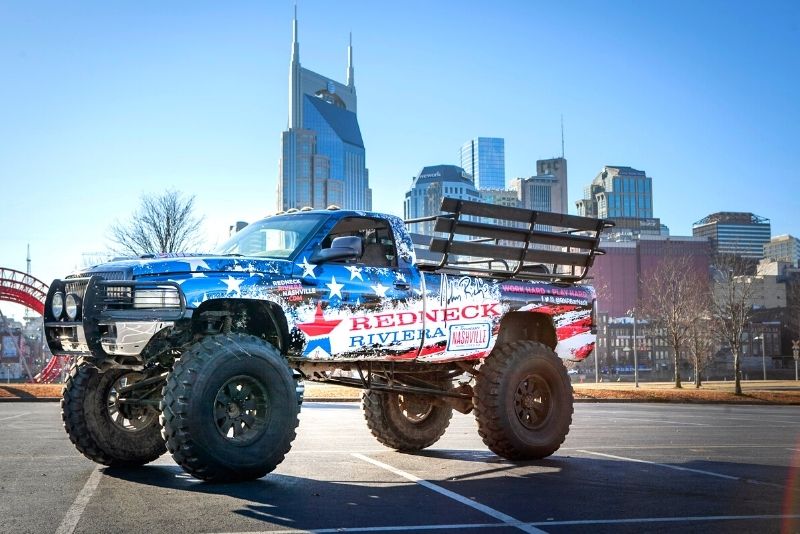 That's right, sit shotgun and feel the power on a jacked-up 4×4 monster truck riding through Nashville!
Over the sound of the engine roaring, your driver and tour guide will fill you in on the sights, history, people, and culture of the great Music City as you pass by all the quintessential landmarks and locations like the buzzing Broadway strip, the Country Music Hall of Fame, Nissan Stadium (home of the Tennessee Titans), Printers Alley, Marathon Village (the old Marathon Motor Works factory where you'll find stores, breweries, and the Marathon Motor Works museum), Bicentennial State Park, beloved Music Row, and a whole lot more.
Typically lasting between one and two hours, and with room for up to 12 people per truck, you can bring the whole gang. Don't forget to snap a picture in front of the monster truck before you go!
46 – Spend a couple hours at the Johnny Cash Museum & Cafe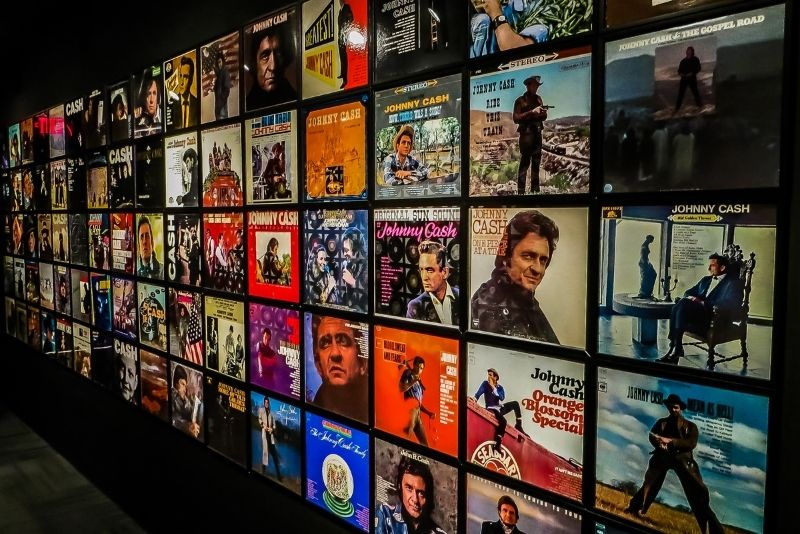 Sitting on 3rd Ave, right next to the heart of all the Broadway music action, the Johnny Cash museum is an ode to "The Man in Black" himself.
As you walk in the red-brick entrance, you're greeted by a life-size statue of the music legend and are then ushered into a room where his original Nashville recording studio still stands.
From there, you'll learn all about his incredible life story through interactive exhibits, artifacts, memorabilia, and video footage of Cash on stage and behind the scenes; whose music famously contains themes of dejection, redemption, and heartache.
If you're (literally) hungry for more, grab some food at the Cafe – known for its hearty sandwiches, hot breakfasts, and its invigorating Man in Black coffee! When you're done chowing down, browse the on-site store for some Johnny Cash merch to take home.
Pro tip: combine the Cash Museum with a visit to the Nashville Music Garden and Tennessee Sports Hall of Fame – two popular attractions just a couple minutes away on foot.
47 – Step back in time at Andrew Jackson's Hermitage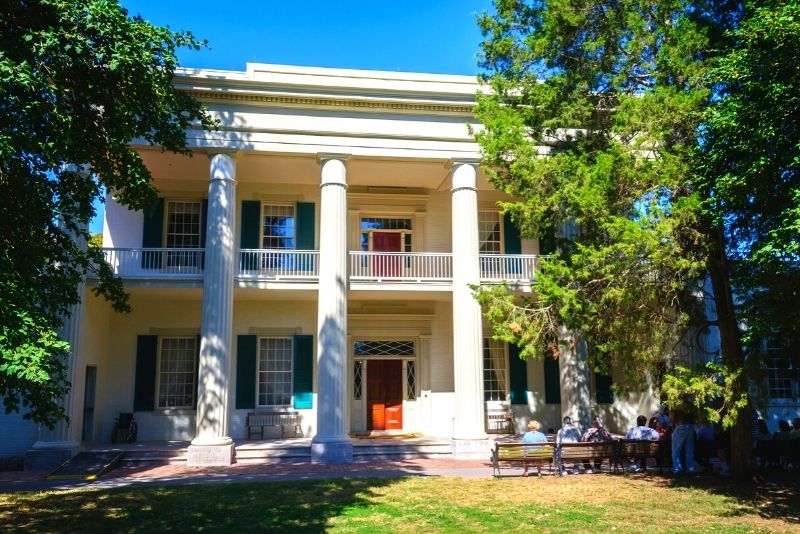 The former home and current resting place of seventh U.S President, Andrew Jackson, this beautiful whitewashed mansion is located just outside of Nashville in Hermitage, Tennessee.
A visit to The Hermitage will take you back in time as you tour the grandiose Greek revival mansion, complete with original family belongings and furniture. Learn about Jackson's life on the plantation where he enslaved over 95 people, as well as his military successes (including the Battle of New Orleans), and his controversial Presidency between 1829 and 1937.
After you've explored the mansion, following along the informative costumed guides, take a stroll through the manicured gardens, visit the tomb where Jackson and his wife are buried, or explore one of the several outbuildings on the plantation grounds, including a log cabin, kitchen, smokehouse, and more. At 1,120 acres all up, with several historic buildings and seas of colorful flowers inhabiting the gardens.
While the premises are visually stunning, they carry a dark history of slavery and fire that can't be ignored – best learned about at the on-site museum.
Hot tip: Make sure you see 'The Duel: The Art of the Southern Gentleman' for the full experience.
While you're in the area, Long Hunter State Park is a wonderful spot to stretch the legs. Boasting 20 miles of hiking trails and peaceful lake views, it's the perfect place to unwind after a day of touring.
48 – Witness Nashville from above on a helicopter tour!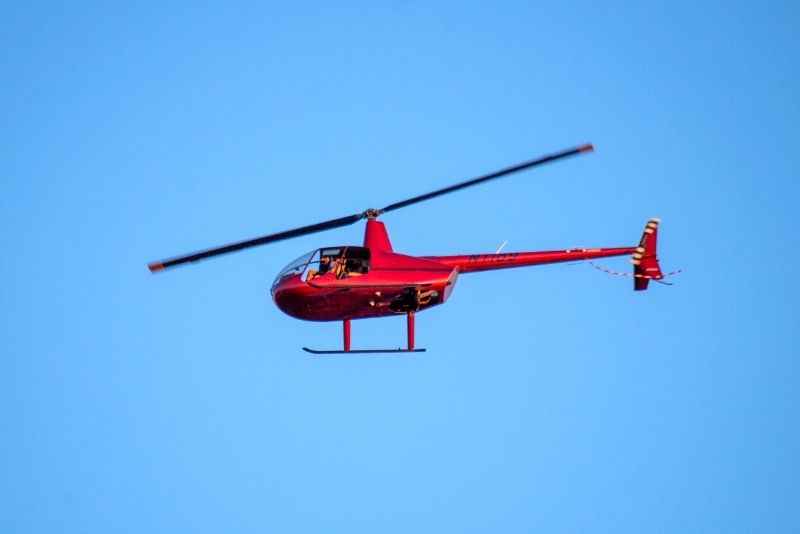 From street level, Nashville is already a pretty city. But, from above? The view is even better.
For a brilliant bird's eye view of this lovely city, book a seat on a Nashville helicopter tour – an experience that promises to be both thrilling and educational (thanks to your friendly and knowledgeable pilot).
There are lots of different companies and types of tours to choose from, but they all offer breathtaking views of the cityscape, the country music mecca that is downtown Nashville, and the lush Tennessee countryside beyond.
Besides the Cumberland River twisting its way through town, and the rolling hills in the distance, you might even spot some famous landmarks like the Parthenon, the Grand Ole Opry, and Nissan Field. Ask nicely and your friendly pilot will point out some of the lesser-known things to do in Nashville too, as you admire them from a new perspective.
Most companies offer both private and group tours, with both daytime and sunset flights to choose from. So whether you're looking for a romantic outing or a fun adventure with friends, there's a flight tailor-made for you.
49 – Cheer on the Nashville Predators at Bridgestone Arena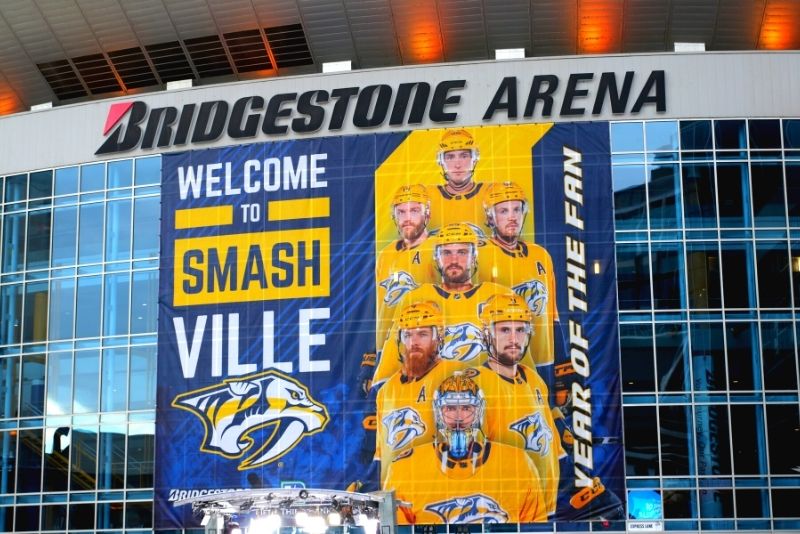 Sports fans, listen up! Bridgestone Arena is home to 'the Preds',
one of the National Hockey League's more modern arrivals. Despite only being in existence since 1997, the Predators have amassed a surprisingly large and powerfully vocal fan base that flock to the arena to watch their team take on some of America's (and Canada's) best between October and June.
But it's not just sports that make this atmospheric arena so popular. The stadium regularly hosts huge musical acts (think: Taylor Swift, Garth Brooks, Michael Bublé, My Chemical Romance, The Lumineers headline the neverending list of performers) as well as comedy nights, other big events like the NCAA Men's Basketball Tournament, Disney on Ice, the Nashville Stampede Days, and high-octane Monster Jams.
With dozens of bars and concession stands (Pete & Terry's Tavern as well as the Barrel House are crowd favorites) throughout the arena, you won't go hungry (or thirsty) either.
Located right in the heart of downtown, right next to the Country Music Hall of Fame and a 4-minute walk from the Ryman Auditorium, Bridgestone Arena is easy to get to whether you're driving or taking public transport; and if you want to keep the night going after the match or show, the slew of Honky Tonks and bars on Lower Broadway are just around the corner.
50 – Catch the Tennessee Titans in actions at a packed-out Nissan Stadium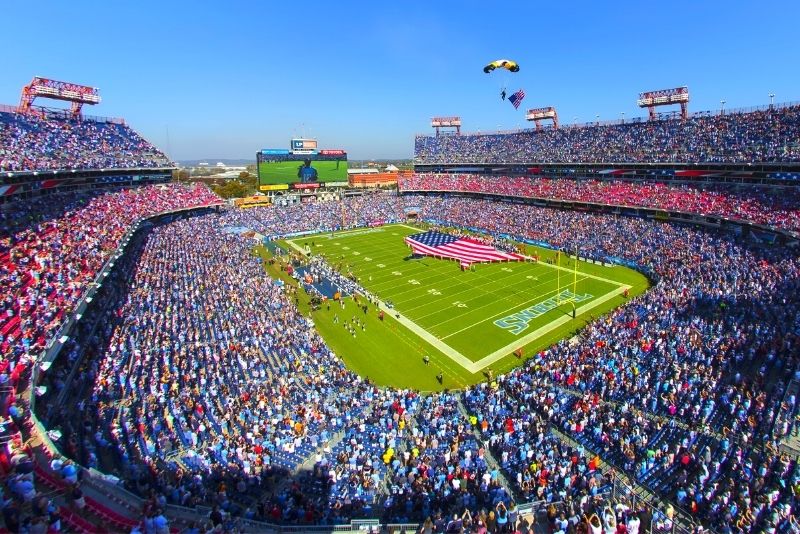 Presenting an atmosphere that can only be described as electric, Nissan Stadium is home to the NFL's Tennessee Titans and is one of the best places in Nashville to catch a live sporting event.
The stadium can hold up to almost 70,000 fans, making it one of the largest in the NFL (the biggest is NYC's MetLife, in case you were wondering), and features state-of-the-art facilities, a slew of concession stands and bars, and – the best part – plenty of Titans swag.
If you're not in town for a Titans game, don't worry – there's still plenty to do at Nissan Stadium. Check out a concert (some big names that have played here include the Red Hot Chili Peppers, Elton John, and Jada Vance), take a tour of the facilities, cheer on the Nashville SC MLS side, or pop into one of the occasional festivals (if you're in town in October, the Nashville Beer and Bacon Festival is hard to beat).
Hot tip: Travelers in June should catch the beloved annual CMA festival, where the Music City hosts one of the nation's premier music extravaganzas!
51 – Follow the Duke Boys at Cooter's Nashville!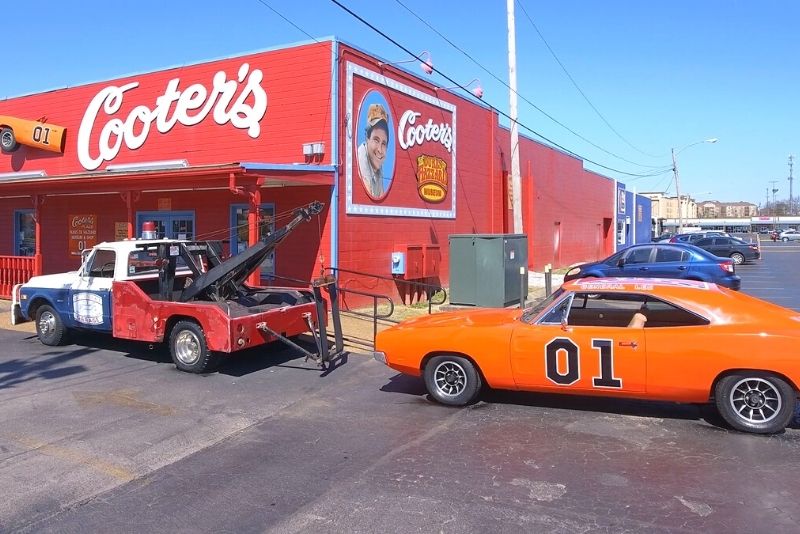 Crazzzzzy Cooter coming at ya! Come one, come all fans of The Dukes of Hazzard to Nashville's only Dukes of Hazzard museum and shop!
A treasure trove of all things Dukes, Cooter's Place is a must-stop for anyone who grew up watching the Duke boys and their orange '69 Dodge Charger, The General Lee, tear around Hazzard County.
Fans of the show will love seeing Cooter's tow truck, Daisy's jeep, and a 1969 Dodge Charger among tons of memorabilia and props (yes, you can take a picture with the Dodge Charger).
Run by Ben Jones, who played ol' Cooter Davenport in the iconic series, this museum and shop is a can't-miss for anyone visiting Nashville – especially those with an affinity for all things '80s.
Open daily from 9am to 7pm, Cooter's Place is located at 2613 McGavock Pike – outside of Nashville's main haunts in Music Valley (about a 20-30 minute drive from Downtown). While you're in the area, make your way to the staple Grand Ole Opry, Madame Tussauds wax museum, and (on the hot days) SoundWaves waterpark at Gaylord Opryland.
Fun fact: the museum is run by run by Ben Jones, who played ol' Cooter Davenport in the iconic series.
52 – Hear the Nashville Symphony Orchestra at the Schermerhorn Symphony Center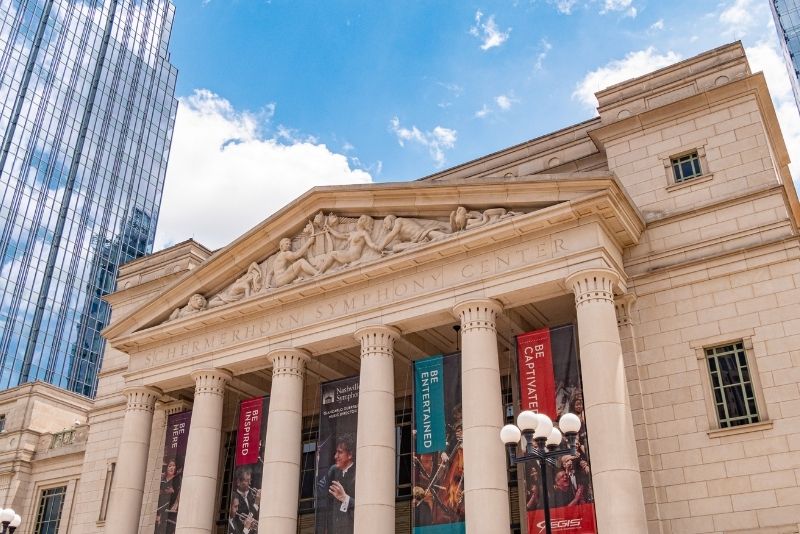 It's a no-brainer for music lovers, but even if you're not into classical music, the Grammy-winning Schermerhorn symphony center is glorious.
Starting with the actual building itself – an acoustically perfect, 800-seat concert hall that was opened in 2006 – the Schermerhorn is one of those places where it's impossible not to have a good time.
Designed by architect David M. Schwarz and inspired by both European opera houses and Southern plantation homes – with its facade looking like a mesh between the New York Met Museum and the Parthenon – the center is as beautiful inside as it is out, with stunning chandeliers that hang from the ceiling and a gorgeous organ that's on display on the back wall of the shoebox-shaped auditorium.
Beyond the building's beautiful facade and entryway, the interior is intricately designed with symbolic imagery: spot Tennessee's State flower – the iris – along with horseshoes and coffee beans; with displays that help you hear the stories behind these and their relation to the conception of the center.
And of course, the music is top-notch too; as the home of the Nashville Symphony Orchestra, the Schermerhorn has played host to some of classical music's brightest stars over the years. If you're in town when they're playing, head down to the SoBro neighborhood, snag a ticket, and enjoy an evening of beautiful music in one of Nashville's most iconic buildings. For one honky-tonks are too rowdy, there's no better place to be.
53 – Sip whiskey and catch a comedy show at Marathon Village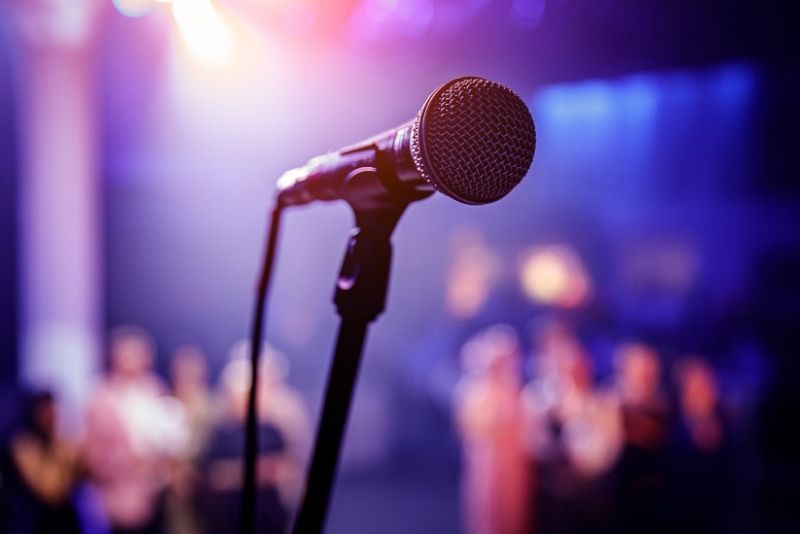 A unique piece of Nashville history, the old 1910s brick-and-mortar car-manufacturing buildings – the former Marathon Motor Works factory – have been revalidated.
Once a bustling production site for over 600 cars a day (back in its heyday), the now-defunct factory has been turned into a haven for all things shopping, dining, drinking, and entertainment, with an always-exciting collection of ambient wineries, distilleries, a live music venue, and a comedy club!
Third Coast Comedy Club has weekly improv shows and a training center; Marathon Music hosts every genre of live music; both Nelson's and the Tennessee Legend Distillery curate award-winning bourbons, offering free tastings every day; and Grinder's Switch Winery has great wines to match!
Feeling pecking? There are plenty of great places to grab a bite too; head to Southern Engine Deli
for sandwiches as big as your head, Orleans Avenue dishes up a top-notch gumbo, and Bang Candy Company is known city-wide for its scrumptious artisanal caramels and chocolates.
With over 40 different businesses now housed in the Marathon Factory (including Antique Archeology, owned by the creator of TV show "American Pickers"), it's easy to spend an afternoon (or evening) exploring everything this unique spot has to offer – especially if you love supporting local businesses!
54 – Try your hand at flyboarding in Percy Priest Lake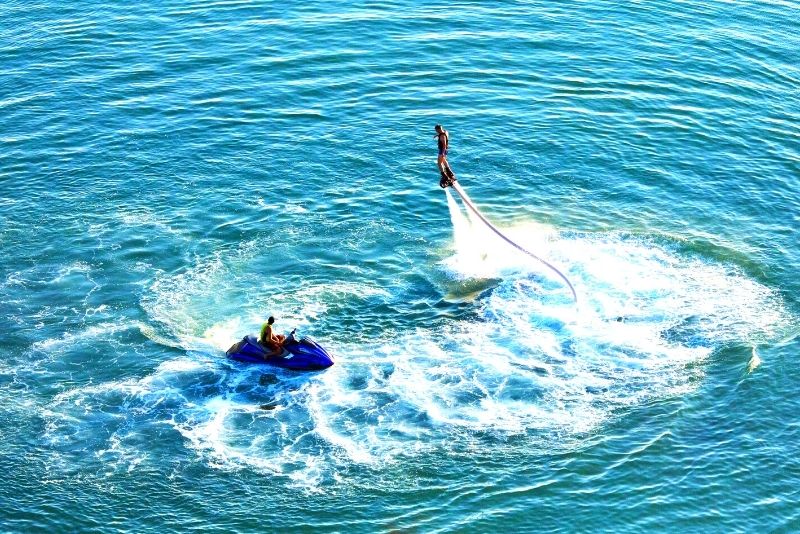 Looking for an adreniline rush that'll leave you feeling on top of the world? Then look no further than flyboarding, where you can strap on a futuristic love child of a jetpack and hoverboard (the flyboard) and soar high above the flat waters.
Under the careful instruction of a certified flyboarding instructor, you'll be kitted out in all the necessary gear before taking to the skies; and with the help of a jet ski towing you around, you'll be flying high in no time, allowing you to propel up to 30 feet in the air or dive like a dolphin through the water below.
It's an experience unlike any other, and one that's sure to leave you feeling exhilarated; not to mention giving you some seriously impressive Instagram photos.
And what better place to try it out than Percy Priest Lake – an idyllic body of water about 10 miles east of Nashville that's perfect for all sorts of outdoor activities, from swimming and fishing to boating and, of course, flyboarding.
At 42 miles long and spanning over 14,200 acres, this relaxing slice of nature has plenty to offer; take a hike along one of the many trails that wind through the woods, have a picnic on the shore, or go for a swim in the crystal clear waters (in the designated areas). Just be sure to leave some time to fly!
55 – See a little bit of everything at Nashville Municipal Auditorium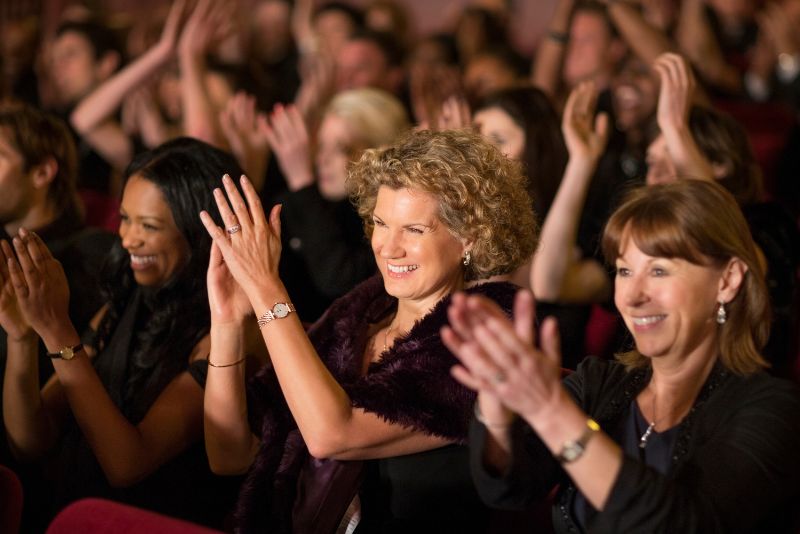 Whether you want to check out some cool automobiles, a high-profile concert, or the latest circus act, Nashville Municipal Auditorium has something for everyone. Opened in 1962, it offers 17,052 square feet of entertainment space (32,928 square feet without the side seating), and a massive arena that can seat almost 10,000 people.
With so much space, there's no telling what kind of cool events will be running during your visit. Trade shows? Check. Basketball games? Check. Rock shows, standup comedians, and dynamic touring performers? Check, check, and check.
And it comes with a distinguished history as well, having hosted everything from shows by David Bowie and Elvis to bull-riding, figure skating, and even gymnastics events for the 1994 Olympics!
Even if there's no major event during your visit, you can still stop by to see the Musicians Hall of Fame and Museum, which celebrates every branch of the field. Check out the instruments played by some of history's biggest stars, and learn about the impressive artists that have been honored by the institute. As you explore this world, you'll start to feel like a rock star yourself!
56 – Meet the locals at the Nashville Farmers' Market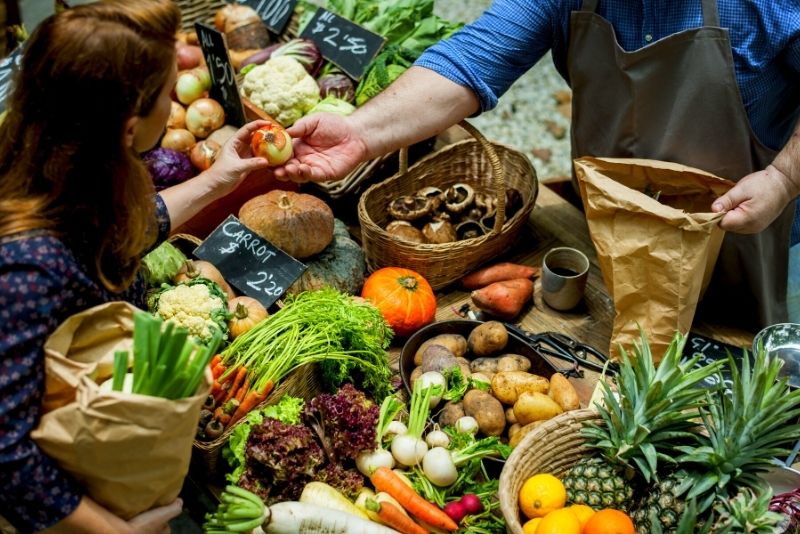 Get your wallet ready! An authentic insight into the local food culture, the Nashville Farmers' Market is where you can find everything from fresh produce to artisanal cheeses to handmade soaps, coffee, and mouthwatering fudge. And with over 150 vendors selling their homegrown goodies at the Farm Sheds, there's plenty to choose from and tantalize the tastebuds.
The market dates back to the 1800s when farmers would sell their goods downtown; and today, it's still very much a community affair, with many of the vendors being multi-generational family businesses. Not to be forgotten, the Gardens of Babylon boasts an 18,000-square-foot nursery with countless plants and friendly staff on site offering tips, should you need them.
Open seven days a week, there's always something going on; on Saturdays, for instance, you can catch live music performances, cooking demonstrations, and other fun events. And if you're looking to do some people-watching, the market is always bustling with locals coming and going. Keep in mind, on the third Friday of every month, the Night Market adds more live music and craft beer to the menu too.
So whether you're looking to do some shopping or just want to soak up the atmosphere, be sure to head on down to the Nashville Farmers' Market on the western side of Bicentennial Capitol Mall State Park – you won't be disappointed.
57 – Dine on the General Jackson Showboat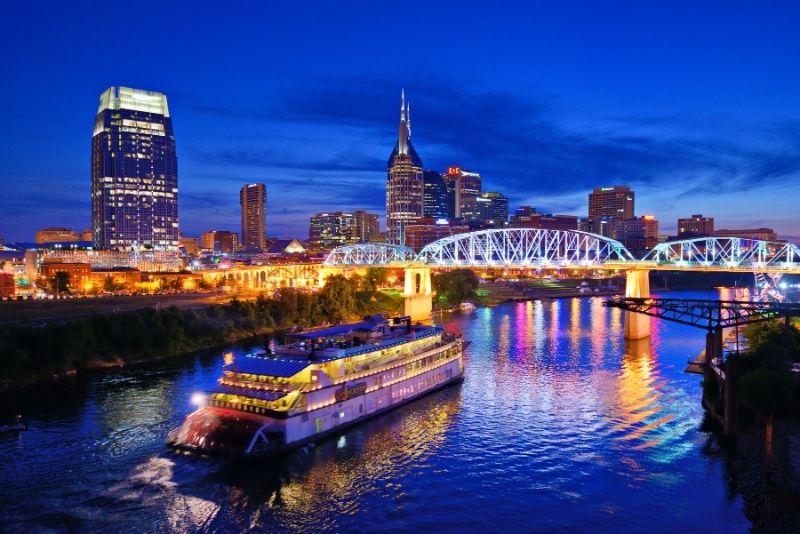 Epic by day, romantic by night, and quintessential no matter the time of day, a cruise on the General Jackson Showboat is one of those unmissable Nashville experiences.
Launched in 1985, this 300-foot-long riverboat has room for up to 1,200 passengers, and is decked out with all of the old-world charm and elegance you would expect from a vessel of its size.
As well as offering lunch, dinner, and brunch cruises – typically combining barbecued meats, with appetizers like macaroni-cheese and indulgent desserts – that come complete with live music and entertainment comprising of comedy, a live orchestra, and choreographed dancers, the General Jackson Showboat also hosts a number of specialty cruises throughout the year.
These include everything from Father's Day BBQs and Mother's Day High Tea to Murder Mystery Dinner Theatres, so there really is something for everyone. No matter which cruise you choose, you're in for a treat – just make sure to book your tickets in advance!
58 – Pedal as you party on the Sprocket Rocket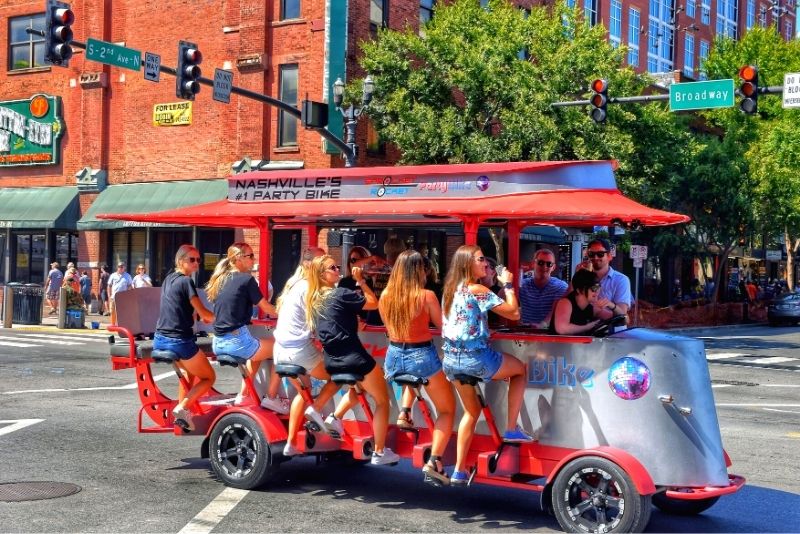 Socialites, this one is for you! Part party bus, part bike, the Sprocket Rocket is a unique way to see the city and get some exercise in too (although the calories you'll burn will likely be offset by those in the beers – but hey, can't win 'em all).
Boasting its own onboard bar, sound system, and state-of-the-art party lights, the Sprocket Rocket is a 15-seater bike that can be rented for private parties or public tours of the city, fusing your classic sightseeing tour of Broadway (with a stop halfway to stretch the legs) and its surroundings with a raucous party on wheels!
And the best part is, you don't have to do any of the pedaling! There's a motorized assist that helps you along as you cruise past some of Nashville's most popular attractions, bars, and restaurants – all while enjoying a frosty beverage or two (note: it's BYOB, so bring all the beers and seltzers you like).
If you're looking for a pre-game before hitting up Honky Tonk Highway, look no further.
59 – Test your driving skills at Fairgrounds Speedway Nashville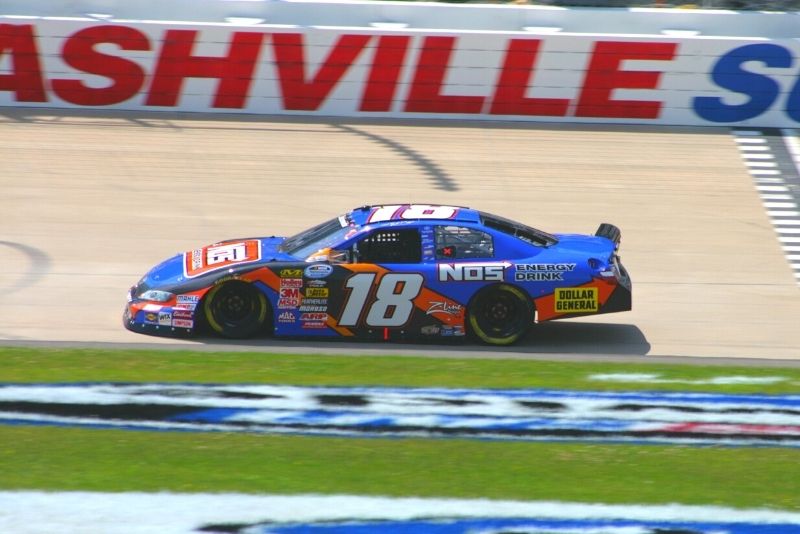 Travelers, start your engines! At Nashville Fairgrounds Speedway, the fun and adrenaline are never-ending. This thrilling racetrack has an equally exciting history; it dates all the way back to 1904, when the only things racing were horses and carriages!
Over the years, it continued to be a hit on the circuit, and consistently hosted NASCAR races from the 1950s to the 1980s. And while you can still see the sport there (along with IndyCar races), there's something even cooler that you can do here: get on the track yourself!
If you've ever dreamed of being a high roller, then you'll love a supercar driving experience; from Mustangs and Lamborghinis to Corvettes and Ferraris, there are tons of classy vehicles for you to take for a spin.
Xtreme Xperience and DreamDrive Exotics are two excellent companies for this endeavor, with an amazing stable of cars to choose from. And, of course, you can even take a spin in an actual race car!
You can ride in the passenger seat while a pro driver shows you all the moves, or, if you're feeling really daring, you can take hold of the wheel yourself. Wherever you're sitting, you're guaranteed the thrill of a lifetime!
60 – Practice your swing at state-of-the-art Topgolf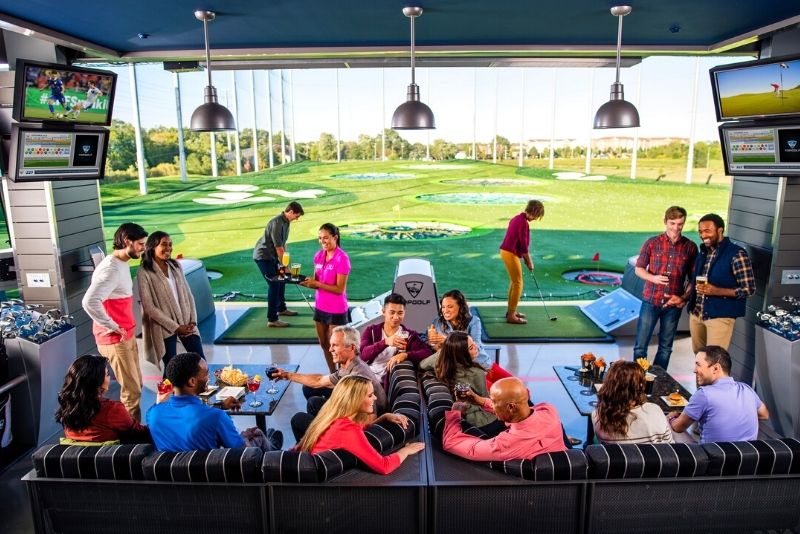 All the fun of golf, without any of the pesky task of finding your ball in the weeds or the lake – that's what Topgolf is all about.
A cross between a driving range, bowling alley, and arcade, this unique entertainment complex has taken the world by storm in recent years, and Nashville is lucky enough to have its very own location. With over 100 climate-controlled hitting bays spread over three floors, it's the perfect place to while away a few hours on a rainy day (or any day, for that matter).
Whether you're a seasoned pro or have never even held a golf club before, you'll be able to enjoy yourself here. Hit balls at targets in one of the several AR games (like Angry Birds) and let the micro-chipped golf balls keep score by themselves, take part in one of the many competitions and challenges, or just relax with a couple drinks and some food in hand at the onsite bars and restaurants – it's entirely up to you.
If you're looking for things to do in Nashville that combine physical activity with great food and drinks, look no further. You'll find this modern-day indoor driving range on the East Bank, with the bonus prize of sublime skyline views from across the river.
61 – Eat world-famous biscuits at Loveless Cafe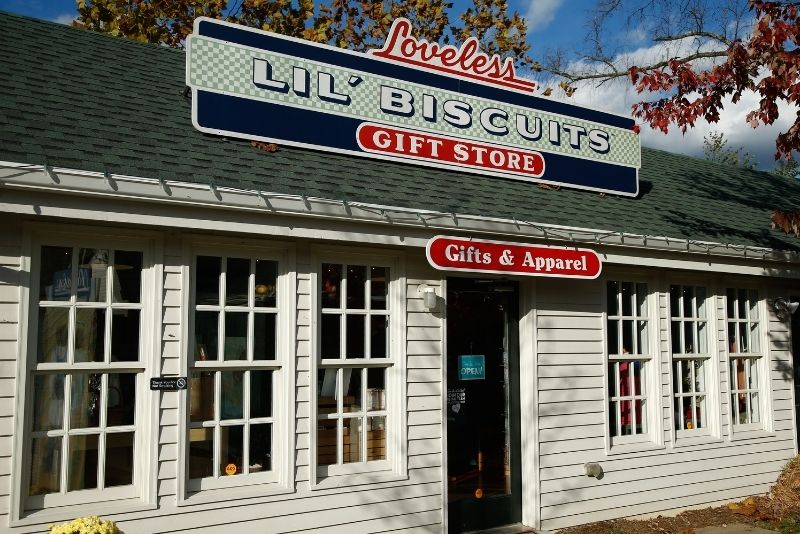 Despite the name, you'll fall in love with the biscuits at this Nashville staple — served as a side to every meal, all day long!
Welcoming (nay, delighting) both locals and tourists since 1951, Loveless Cafe is an unpretentious Southern eatery located about 25 minutes outside of Nashville (in the little town of Pasquo) famous for its home-cooked-style meals in generous portions – not to mention the hearty all-day breakfast (ideal for the day after a night on Honky Tonk Highway, perhaps?).
A must-try is their world-famous fried chicken (using the same recipe since the 50s), but the menu also features a variety of homestyle entrees like hot chicken, pulled pork BBQ, and Country Fried Steak. Don't forget to complete your meal with a slice of homemade pie from their rotating selection – locals recommend the fudge pie and chess pie, but honestly, it's hard to go wrong.
Overate and need a nap? There's an attached 14-room motel for overnight guests, personified by an iconic neon sign that's been standing for as long as the restaurant itself, which welcomes more than half a million selfie-snapping visitors a year.
Hot tip: Make sure to also try the country ham and red-eye gravy, and pop by the store to take something home with you – whether that's the famous biscuit mix, some locally-made jams and preserves, or the succulent smoked meats.
62 – Catch a show at Ascend Amphitheater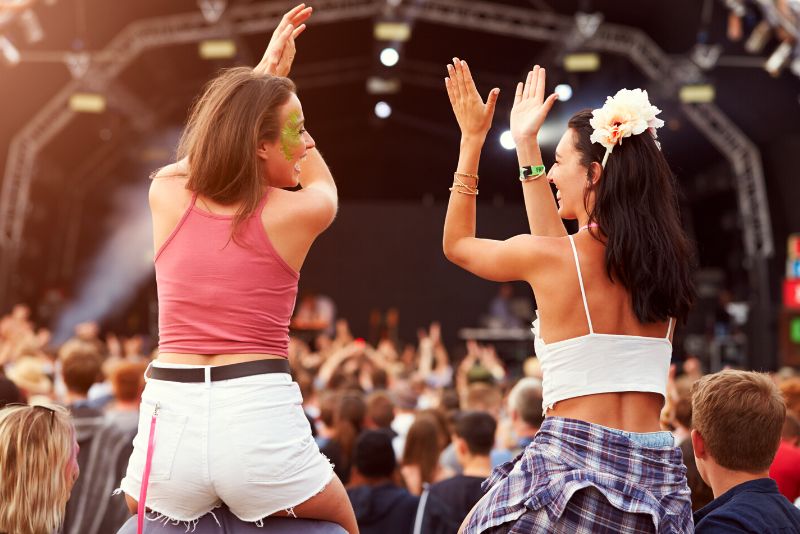 What's the only thing better than some live music? Live music outdoors, of course! With its 6,800 seats and spacious stage, Ascend Amphitheater, which sits in Riverfront Park, is almost as memorable as the shows it features.
This is the ideal spot to catch the latest headlines, from rock and indie to country (naturally). And if you're feeling fancy, you can even book a spot in the VIP section, and get up close to your favorite musicians!
Enjoy some top-notch food and cocktails as you watch the show, with the kind of views most people only dream of. Before you catch the concert, it's well worth wandering around the park, which is an experience unto itself.
Along with some gorgeous views of the water, the beloved local space, which opened in the 1980s, offers some fascinating historical insights into the region's river-trading years.
As you stroll around, you can learn all about the traders that first navigated these waters in the 1780s, and how their early settlements and trade routes blossomed into the vibrant city you see today.
And best of all, the area is surrounded by great restaurants and shops, so you'll have plenty of opportunities to live the high life before or after your concert!
63 – Explore the peaceful Radnor Lake State Park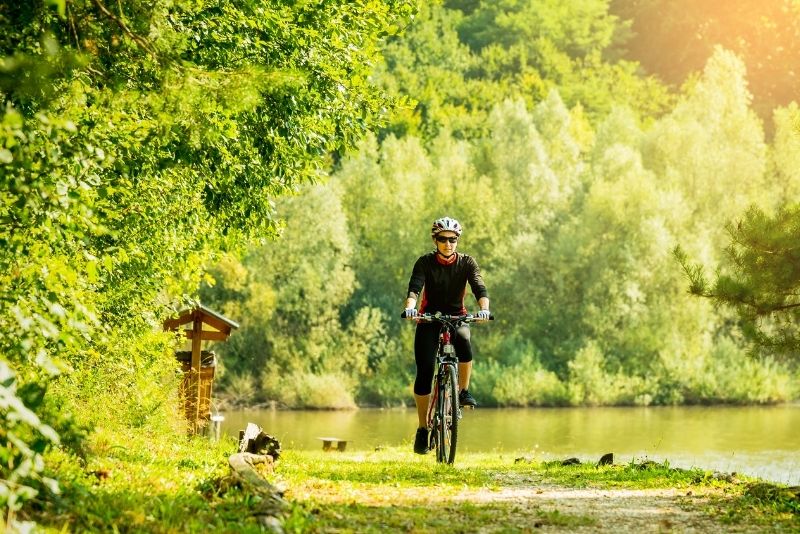 Looking for a taste of nature in the city? Then look no further than Radnor Lake State Park, one of Nashville's most beloved outdoor spots.
Situated about 8 miles south of Downtown in Oak Hill, right next to the Historic Travellers Rest (did someone say back-to-back activities?), this peaceful, pristine park is perfect for a leisurely stroll or hike, with countless scenic picnic spots and lookout points to enjoy along the way.
Brimming with wildlife across its 1,300 acres, you'll find a half-dozen easy-to-tackle hiking trails on the menu – namely, the Otter Creek Road trail which is pet and bicycle-friendly.
As you wander your way through the park, look out for the owls, herons, waterfowl, mink, and otters; alternatively, head to the park at night for an astronomy night hike and some sublime stargazing – the Vanderbilt Dyer Observatory sits conveniently on its western edge.
If your schedule lines up, try to visit on Wednesdays between 10 am and 1 pm – that's when the Barbara J. Mapp Aviary Education Center is open to the public.
64 – Get buzzed on a Nashville pub crawl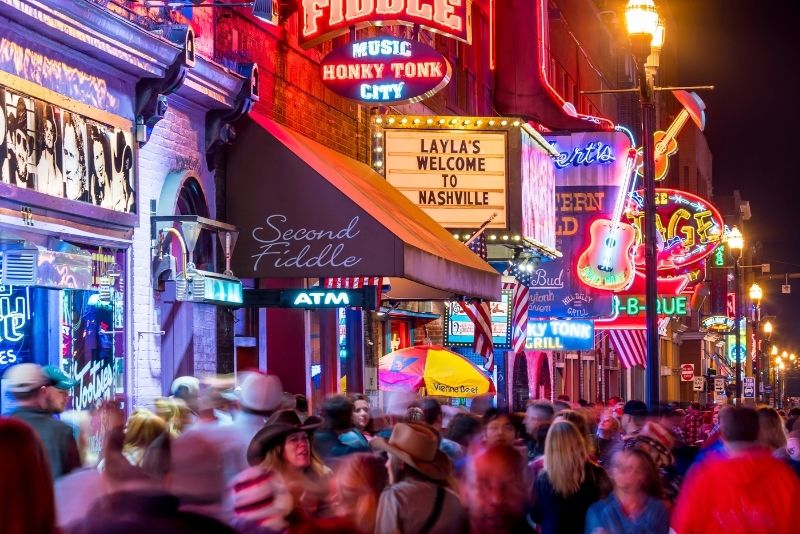 It's no secret that Music City knows how to party, and what better way to experience that than on a pub crawl on Honky Tonk Highway?
There are plenty of different companies leading the charge when it comes to getting Nashville's nightlife scene, but no matter which one you choose, you'll be guaranteed to walk away with new friends, new memories, and a newfound love of fried pickles.
Led by charismatic locals who know how to break the ice (and know the best spots in town so you don't have to!), organized pub crawls will take you to some of the city's most happenin' bars where you can revel in live music, cheap drinks, some free shots, and a whole lot of dancing.
While each tour is slightly different depending on the night and the theme (heck, there are even haunted ghost crawls if that's your jam), you might start at Alley Taps, in a building that dates back to 1895 in the historic Printers Alley, before heading up Broadway for the best honky-tonks!
Thereafter, make a beeline for Tootsies Orchid — a bar frequented by celebs like Chris Pratt and Pink — and Wildhorse Saloon, where local craft drinks are paired with signature fried pickles.
65 – Enjoy the summer concerts at Public Square Park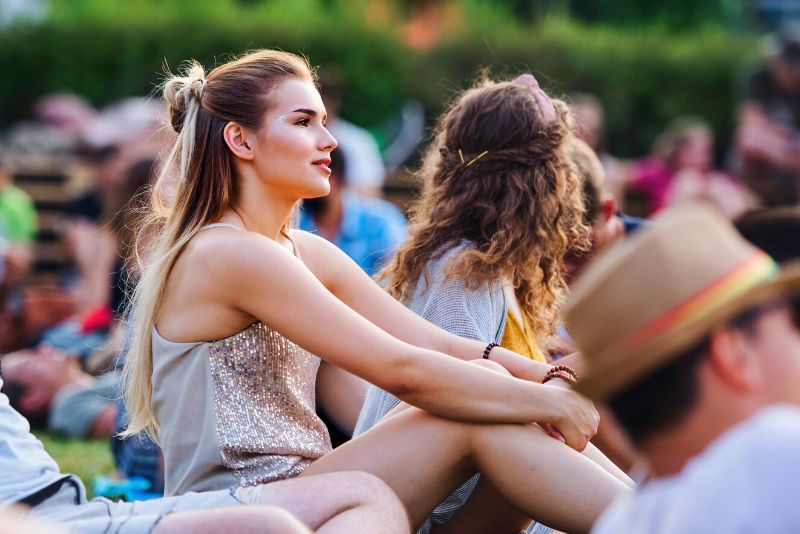 If you're a music fanatic looking for things to do in Nashville, you'll have your choice of options. And if you're visiting during the summer, it's well worth heading over to Public Square Park for some of their renowned concert series.
Beautifully laid out in front of the city courthouse, this lovely green space has some nice places to stroll around and enjoy the scenery, including some lovely reflecting pools and a monument to the Indigenous tribes of the region.
But it's the massive lawn that really steals the show; along with being a great place to kick back on nice days, it's the perfect place to enjoy large public events, from Pride festivals to holiday celebrations. And live music is definitely the big draw here; from cover bands to today's top touring acts, there's no telling what sort of talent you'll be treated to.
If you're in town over Labor Day weekend, don't miss Live On The Green, a massive music festival bursting with energy. This is a great chance to see top musicians from all genres in a relaxed, warm weather setting… and best of all, it's completely free!
66 – Find vintage fashion at the Nashville Flea Market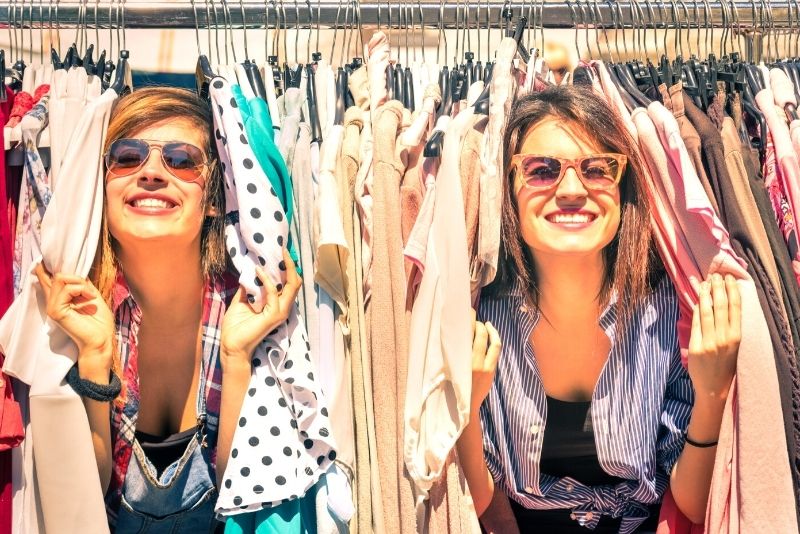 Shopaholics, listen up! A local favorite that's been welcoming bargain-hunters and antique-lovers for over 50 years (since 1969), the Nashville Flea Market is held on the fourth weekend of every month at The Fairgrounds Nashville (easily accessed by the 52 from Downtown) and regularly delivers a lively, friendly, authentically local atmosphere.
Between 800 and 1200 vendors from 30 states set up at the market every month to sell anything and everything you can imagine: antiques, dishware, clothes, jewelry, leather goods, and all kinds of knick-knacks.
As you meander your way around the market (which occupies several buildings as well as an outdoor area), you'll also find a whole host of food trucks on-site to keep your energy levels up. It's best to get in early before some of the premium items are sold, and remember to bring cash and haggle!
Often spoken of as one of the top ten flea markets in the country, if your dates coincide, this second-hand Mecca is unquestionably one of the best things to do in Nashville (even if you walk away empty-handed, purely for experiencing the sheer size and diversity of the market).
67 – Consider a stay at the Gaylord Opryland Resort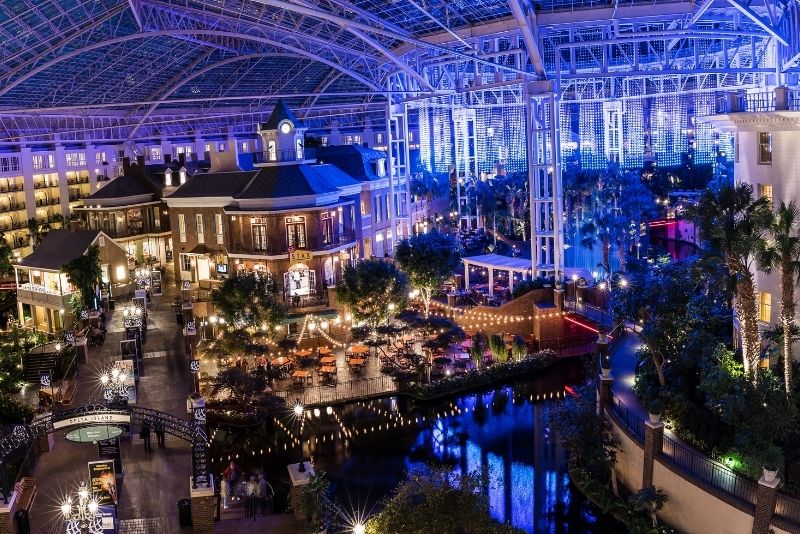 Merging luxury with southern hospitality, the Gaylord Opryland Resort & Convention Center is one of Nashville's most iconic hotels. Located just minutes from downtown and the airport, this expansive property boasts an incredible nine acres of indoor gardens complete with waterfalls, rushing rivers, and a whole host of entertainment options within striking distance.
For a relaxing day, jump on a boat and kick back at the Soundwaves water park; here, you'll find Nashville's only double FlowRider® (so you and your special someone can surf side by side), the classic Lazy River, a host of heart-racing water slides ( the Rapid Remix and Stage Dive are two justifiably popular choices), and an adults-only pool. If you're feeling brave, tackle the rock climbing wall; if you just want to relax, rent a cabana and while away the day with a good book!
Once you've worked up an appetite, there are plenty of restaurants on-site to choose from, whether you're in the mood for some good old fashion Southern fare, or more modern Mexican, Italian, or Japanese concoctions.
Needing a pamper? Gaylor boasts its own full-service spa too. Throw in a selection of cafes, the Old Hickory Steakhouse, the only Jack Daniel's restaurant in the world, a little shopping mall, and the Grand Ole Opry right next door, and you'll struggle to find reasons to leave the resort at all!
When it comes to accommodation, there are nearly 3000 rooms with something for everyone; from traditional rooms and suites to riverside villas with their own balconies and hot tubs. No matter where you stay, though, you'll be treated like royalty.
How to get to Nashville?
When you have a fun Southern vacation in store, the last thing you want to worry about is getting to and from the airport.
Luckily, there are tons of transfers from Nashville International Airport that will bring you straight to your hotel, or drop you off in the downtown area to get the party started even faster!
Need a place to stay?
If the Gaylord Opryland Resort is a little out of your price range, or you want to be a little more central, don't worry — there are plenty of other great hotels in Nashville to choose from! Ranging from opulent 5-star abodes to more affordable (but still perfectly comfortable) options, you're sure to find something that suits your needs. Here are a few of our favorites:
The Hermitage Hotel: A historic and timeless hotel located in the heart of downtown Nashville on 6th Avenue, the 5-star Hermitage offers unrivaled luxury accommodation, fine dining, and a whole host of modern amenities to juxtapose into 1910 charm.
The Union Station Hotel: A stylish and contemporary hotel located in a converted 1900 train station, right next to the Frist Art Museum, The Union Station Nashville Yards blends past with present unlike any other accommodation, sitting just a 10-minute walk from Honky Honk Highway.
The Hutton Hotel: A chic and modern 4-star hotel located in Midtown, The Hutton is just minutes from some of Nashville's best shops, restaurants, and bars, and is known for its creative energy, daily live music in the lobby, and on-site music venue.
The Kimpton Aertson Hotel: With contemporary art pieces lining the walls, this chic and trendy, airy hotel is a little off the beaten track, close to the Vanderbilt University campus in Midtown, offering great value compared to many others.
The Russell: Built into a 115-year-old former church, with its stunning stained glass windows and soaring ceilings, The Russell is a truly unique place to stay in Nashville. Sitting on the East Bank, it's quieter than those Downtown yet still close enough to the action.
Penny-pinchers, you'll find no shortage of hostels too (Music City Hostel is cheap as chips; Moxy Hotel Downtown is where the party's at). If you're looking for something a little different, why not try one of Nashville's unique Airbnbs? From treehouses and yurts to converted school buses and renovated barns, there are plenty of unusual places to stay in Music City!
Where to next?
Where to go next? Once you've smashed through the Nashville bucket list, make sure to check the list of fun activities in the nearby cities too!
Chattanooga, a 2-hour drive southeast, is known for being one of the most scenic cities in the US, with amazing outdoor activities like hiking, rock climbing, and zip-lining. If you're looking for a bigger city feel, Memphis is only a few hours' drive away and is home to world-famous attractions like Graceland (the former home of Elvis Presley) and Beale Street (a historic music district).
Gatlinburg (in the Great Smoky Mountains) and Pigeon Forge (home to Dollywood theme park) are chock-full of family-friendly fun and are both less than 5 hours drive from Nashville. Over in Alabama, Birmingham (3 hours south), offers a rich history as the city synonymous with the Civil Rights Movement, as well as a lively food scene and plenty of activities for all the family.
Atlanta, Georgia; a 4.5-hour drive or 1-hour direct flight, boasts The World of Coca-Cola, a slew of notable museums, and a barking mad sporting culture (tailgating, anyone?). Renowned for its 630-ft. Gateway Arch, Michigan's St. Louis is about 5 hours away, offering weeks' worth of museums, zoos, music, and theatre to enjoy.
3 hours north, Louisville in Kentucky is known for its Kentucky Bourbon Trail, the Louisville Mega Cavern, and, of course, Kentucky Fried Chicken. Obviously, if you prefer not to drive, all of New Orleans, Charleston, Orlando, and Washington DC are less than a 2-hour journey by air.
Final thoughts
We hope that you've enjoyed reading about all of the fun and exciting things to do in Nashville, Tennessee! If you have anything to add to the list, feel free to let us know in the comments.
Whether you want to party, eat amazing meals, or check out some cool history and culture, Music City will capture your heart – and your ears!
As always, happy travels!