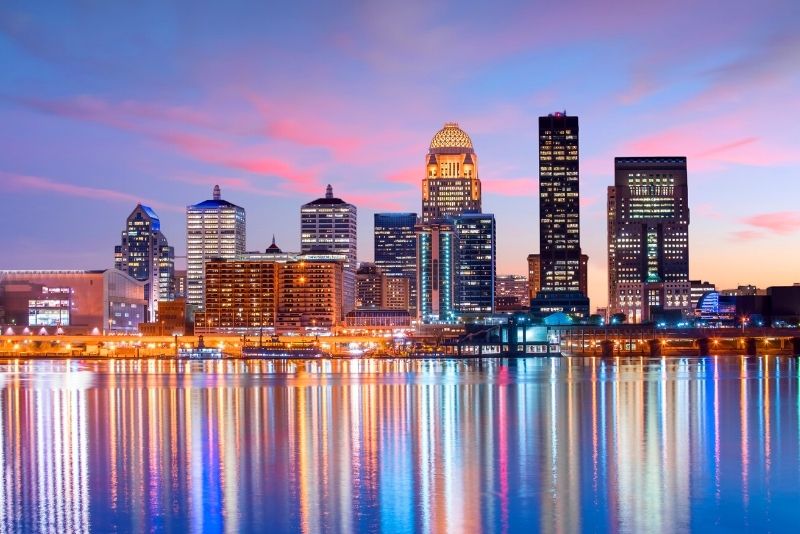 An amalgamation of rich history – from its bourbon heritage to stunning Victorian architecture – distinct culture, a sports-oriented culture full of diehard fans, and an exciting art presence that continues to surprise visitors year after year, Louisville is a city that has a little slice of something for everyone.
Straddling the southern bank of the Ohio River, a stone's throw from Indiana, Louisville has long welcomed curious visitors as the Gateway to the South – impressing with its variety of flavors, long list of educational and entertaining museums, and abundance of outdoor activities and lush green spaces.
From the family-friendly Louisville Zoo and Louisville Mega Cavern to the fascinating Slugger Museum or the scenic Waterfront Park, not to mention the Muhammad Ali Center and Churchill Downs racetrack (home of the infamous Kentucky Derby), the variety of activities in this riverfront city regularly surprises and delights.
So get ready to sample some delicious Kentucky bourbon at one of the many distilleries around town, embark on a journey back in time in the historic Old Louisville neighborhood, and check out all of the most exciting, entertaining, and unique things to do in Louisville, Kentucky!
1 – Gaze at gorillas at the Louisville Zoo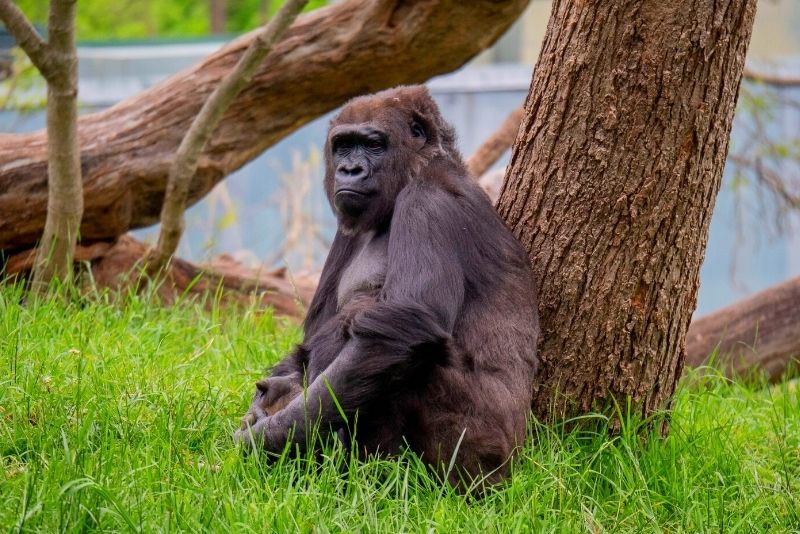 Home to more than 1,700 animals, big and small, adorable and intimidating, and from all corners of the world, the Louisville Zoo is a family favorite for locals and tourists alike, delighting guests with its daily educational shows, keeper talks, and animal feedings to boot for over half a century and counting.
Tucked away on 134 acres in the Poplar Level neighborhood, an easy 15-minute drive (or about 35 mins if you jump on the #43 bus), this animal oasis plays host to hundreds of different species across eight fascinating major exhibits: Glacier Run, Lorikeet Landing, Wallaroo Walkabout, South America, Gorilla Forest, Africa, Herpaquarium (where you'll find over 100 species of reptiles, amphibians, and fish, including an albino alligator) and Islands.
A particular highlight is their African Exhibit. Based on the expansive African Serengeti, this crowd favorite section displays both African and Asian elephants alongside one another (a very rare feat), complete with zebras, giraffes, ostriches, and more — where you can learn all about the animals' ecology and natural habitat.
Don't forget to check out the calendar too; events like Wild Lights at the Louisville Zoo and The World's Largest Halloween Party make this popular family attraction all the more exciting.
2 – Check out the Kentucky Derby Museum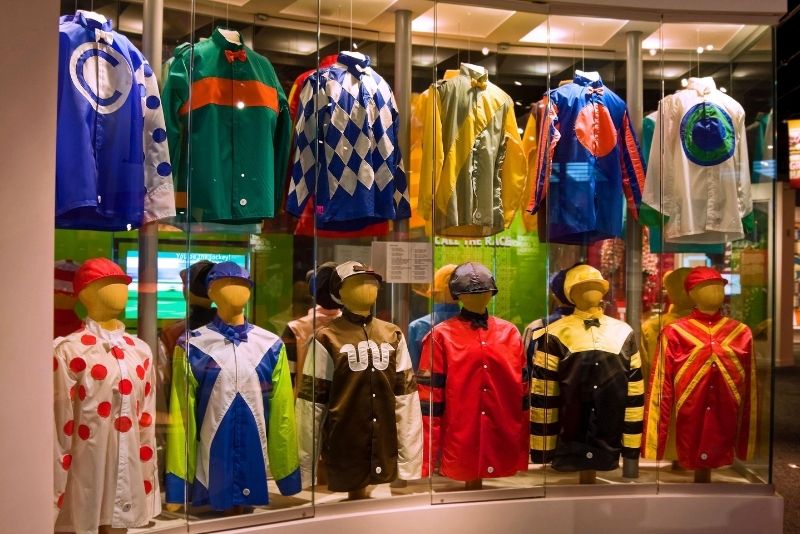 Arguably the nation's most famous horse race, the Kentucky Derby draws in sports fanatics, gambling gurus, horse-lovers and fashionistas alike come May of every year, with spectators donning their best hats and seersucker suits to watch the two-minute event that's been ongoing since 1875.
If you happen to be visiting during the race, grab a ticket for a once-in-a-lifetime event and roaring atmosphere — with over $3 million in prizes, the crowd gets mightily riled up.
Regardless of the time of year, however, a visit to Louisville isn't complete without a stop at the Kentucky Derby Museum, where you can learn all about the history of this thrilling annual event.
The museum offers a self-guided walkabout and a 30-minute guided tour of the Churchill Downs, as well as intriguing exhibits on topics like jockeys, trainers, owners, fashion, and a whole lot more — there's even an immersive 18-minute, 360-degree film that places you right in the midst of all the action on race day, and you can browse through the archives to watch heart-stopping races from as early as 1918.
With a range of unique tour options – Bourbon and Bridles (where you'll learn about the odd relationship between Louisville's signature drink and horseracing; Barn and Backside (which takes you into the stables), and twilight excursions – there's something for everyone to enjoy.
3 – Join a guided tour of Churchill Downs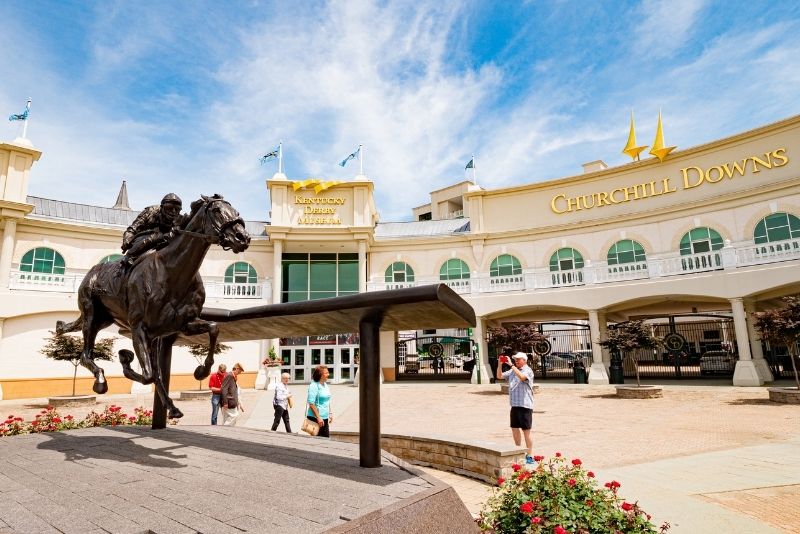 Right around the corner from the Kentucky Derby Museum, a quintessential Louisville attraction awaits; one doused in history and cultural significance, and site of that annual two-minute horse race.
Churchill Downs is America's most legendary racetrack, having first opened its doors back in 1875 (just in time for that first Derby), and today it stands as a National Historic Landmark open year-round for public tours and thoroughbred races. While on most days it seats up to 50,000 people, on that famed Derby Day, crowds can soar above 150,000.
On the tour (which is run by the Kentucky Derby Museum, see #2), you'll get to go behind the scenes of this iconic institution, learning all about what goes into putting on not just the Derby, but the dozens upon dozens hold racing days they host annually — from the stables and paddock areas to Millionaire's Row (a VIP section with some of the best views in the house) where celebrities and high rollers mingle come race day.
With a sleuth of events throughout the summer, be sure to check the calendar to see what's on during your visit.
4 – Go underground at the Louisville Mega Cavern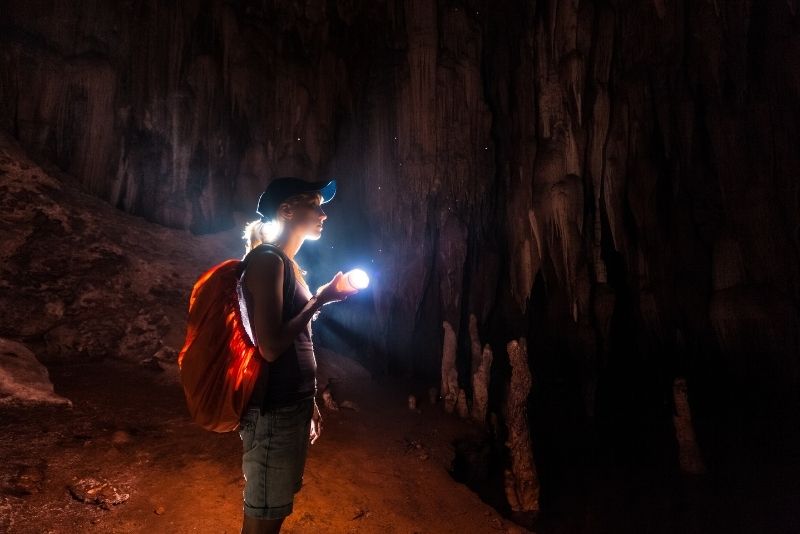 For a taste of the underground, the Mega Cavern is justifiably one of the most popular things to do in Louisville. If, for no other reason, because it wields the title of hosting the world's only underground zip line adventure tour!
A former limestone mine that's been turned into an underground playground, the Mega Cavern now delights visitors of all ages with its adventure-focused activities: from the six different zip lines that zoom 100 feet over the cavern floor to not-as-easy-as-it-looks Mega Quest ropes courses (with no less than 76 challenging elements), historical tram and e-bike tours (offering a comparatively relaxed cavern experience) and more, making it a top pick for outdoor enthusiasts, thrill-seekers, and families alike.
With 17 miles of underground passageways that traverse beneath the city streets, and an annual Lights Under Louisville holiday season tradition which sees the caves light up dazzlingly and festively with over 2 million lights, it's a must for any off-beat bucket list.
To top it all off, visitors can also find a historic replica of a Cold War fallout bunker, and have the chance to check out a worm recycling and tasting room. You'll find the entrance to this unique wonder over in the southeast corner of Louisville, just across from the Louisville Zoo (back to back activities, anyone?)
5 – Create a personalized bat at the Louisville Slugger Museum & Factory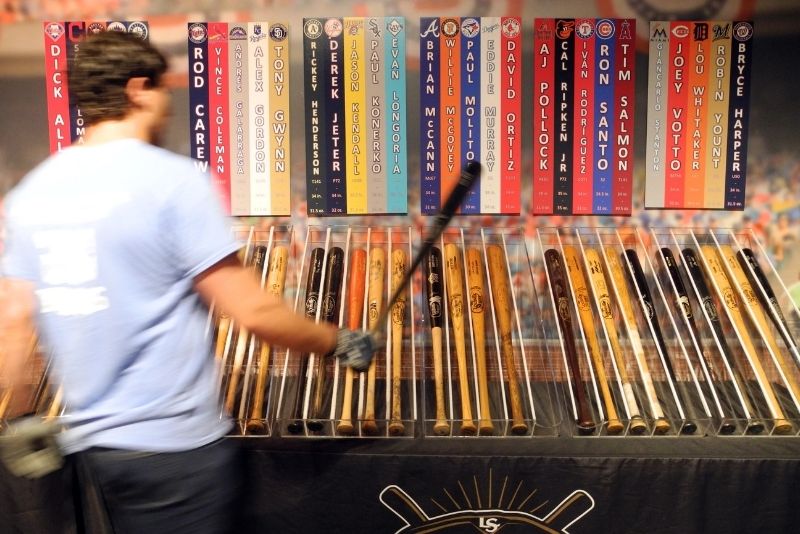 An ode to a beloved American pastime, the Louisville Slugger Museum & Factory has long stood as one of the most beloved attractions in town, detailing the process of handcrafting the infamous and sturdy bats that quickly become industry-standard nationwide.
Founded all the way back in 1884, Louisville Slugger has been hand-crafting baseball bats for close to 140 years, and today their factory still stands in Downtown Louisville on the aptly-named Museum Row, churning out new bats every day.
On the museum side of things (which takes about 2 hours to properly browse), visitors can explore the history of this all-American pastime through a range of interactive exhibits (like getting your own player profile card made or creating your very own personalized bat), as well as admire some iconic artifacts like Babe Ruth's bat.
The Signature Wall, which shows off thousands of signatures from players who signed contracts with Louisville Slugger, and the unmissable World's Biggest Baseball Bat, are just the tip of the iceberg when it comes to notable sections.
Of course, no visit would be complete without picking up your very own mini Louisville Slugger bat – a wonderful souvenir included with every 30-minute factory tour.
6 – Wander around peaceful Waterfront Park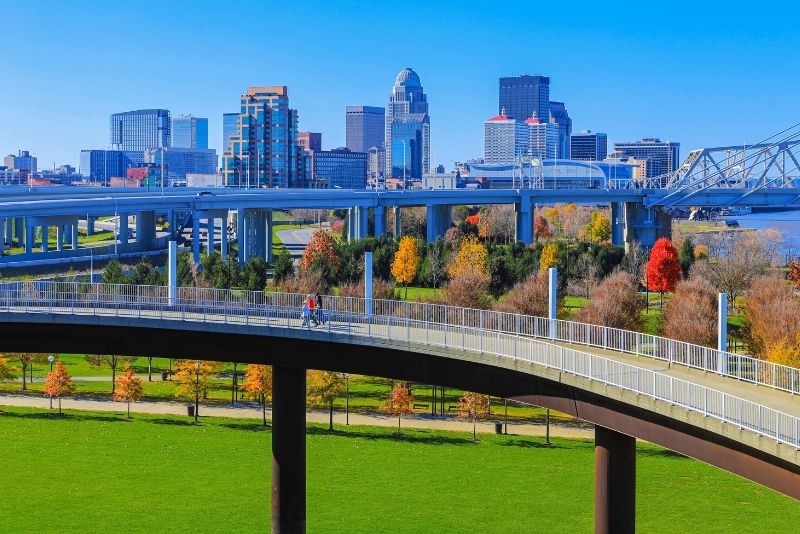 Offering a well-earned breath of fresh air to complement any day of museum visits, underground adventure, or checking off tourist activities, Waterfront Park is one of the best things to do in Louisville for those who love the great outdoors.
A sprawling, 85-acre park situated right along the banks of the Ohio River, Waterfront Park is a prime spot for taking a stroll, enjoying a picnic lunch, or simply soaking up some Vitamin D and enjoying downtown Louisville's spectacular skyline views.
The historic Big Four Bridge – a former railroad bridge built way back in 1895 that has since been turned into a pedestrian walkway – links the park to Indiana's Jeffersonville on the other side of the river (definitely worth crossing over for), while The Belvedere provides an elevated vantage point from which to take in the panoramic city views.
There are also plenty of playgrounds and splash pads for kids, as well as several sports fields and courts for anyone feeling active, not to mention a sleuth of eateries and bars within walking distance, making it the perfect place to while away an afternoon or two.
7 – Learn a thing or two at the Kentucky Science Center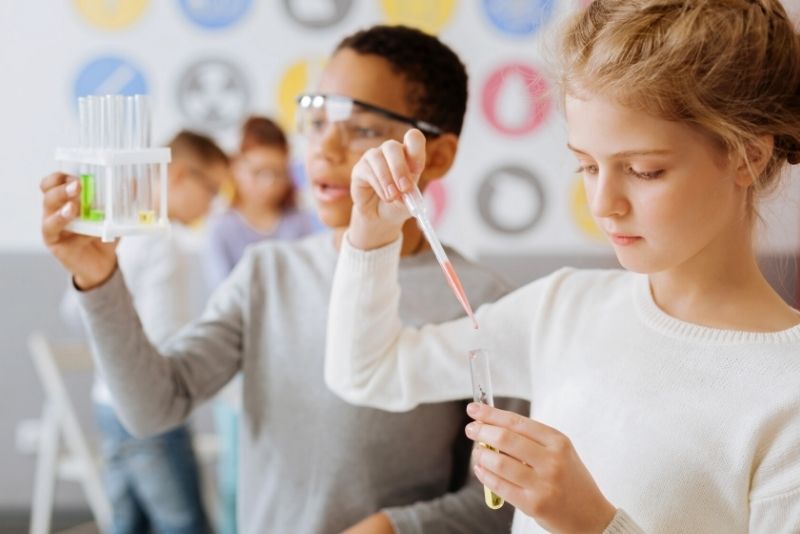 Calling all budding scientists, history buffs, and anyone who loves a good hands-on learning experience – the Kentucky Science Center fuses education with entertainment in a spectacular fashion that few other museums can match.
Located over in Downtown's West Main District on Museum Row in the historic five-story Alexander Building, right around the corner from the Slugger Museum, the Kentucky Science Center is all about making learning interactive, with exhibits that are designed to engage and educate visitors of all ages for hours on end.
From exploring the themes of Thinking, Feeling and Identity in the Unique Human section to learning about aviation, our big blue planet, engineering (with plenty of hands-on creating to boot), and a kid-favorite giant pillow fort-building section, not to mention taking part in live science demonstrations, there's definitely no shortage of things to inspire curious minds at this family-favorite locale.
Don't fancy donning the lab coat? No worries! The center also boasts an IMAX theater for those who want to catch the latest Hollywood blockbusters or educational documentary films on the big screen.
8 – Satisfy the inner creative at The Speed Art Museum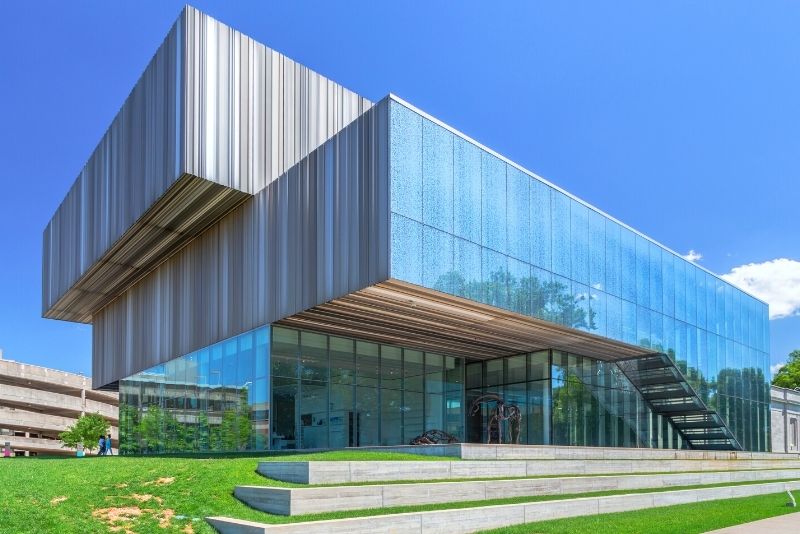 Found right next to the University of Louisville (a beautiful campus that is worth a stroll if you have the time), as the largest and oldest museum in the city, the notorious Speed Art Museum is one of the most popular attractions in town for culture vultures.
The Speed underwent a huge $50 million expansion and renovation back in 2016, and now boasts an impressive permanent collection that includes everything from contemporary art and photography to African sculptures, Native American craftwork, a section dedicated to celebrating Black artists of the past, the present, and the future, and so much more – all spanning 6,000 years of human creativity and housed within a classic 1927 Beaux-Arts building.
With a range of rotating exhibitions on offer throughout the year – covering topics as diverse as fashion design, political cartoons, Kentucky women, European Impressionists, ancient Egyptian artifacts, and glassworks – there's always something new to see at this beloved art museum.
And if you work up an appetite while perusing the galleries, never fear! The on-site cafe is definitely worth a stop, likewise on cinema if you want to chill out for a quick flick.
9 – Don't miss the Muhammad Ali Center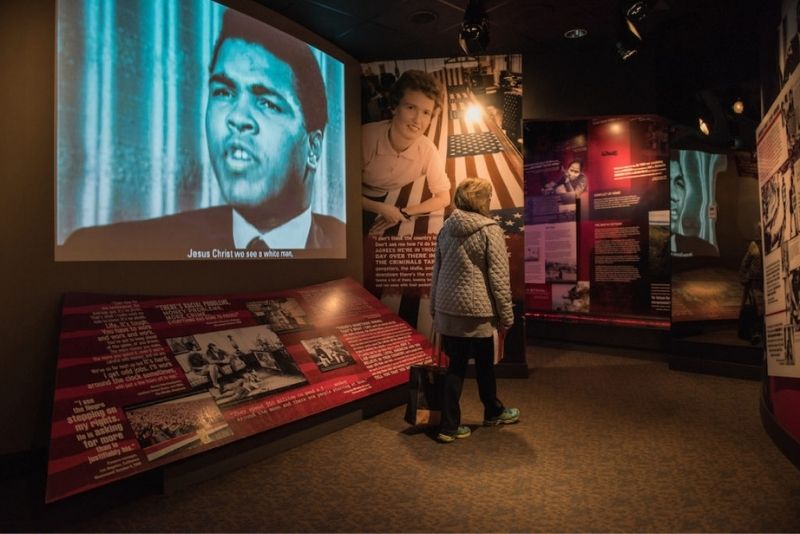 This world-renowned museum is an absolute must-visit for anyone with even a passing interest in the life and career of one of Louisville's – and indeed the world's – most iconic sporting figures, the late Muhammad Ali.
Born and raised in Louisville, Cassius Marcellus Clay Jr. first found fame as an Olympic boxer before going on to become a three-time World Heavyweight Champion, eventually changing his name to Muhammad Ali after converting to Islam.
The center itself is located in downtown Louisville's historic west end neighborhood on the riverfront (Museum Row, as they call it) – which was once home to many of the city's African American residents, including Ali himself – and aims to tell the story of The Champ's incredible life through three levels of interactive exhibits, multimedia displays, and historic artifacts, while focusing on spreading the importance of Ali's six core principles: confidence, conviction, dedication, giving, respect, and spirituality.
There are also a number of educational programs on offer, including workshops, humanitarian lectures, and films, all designed to inspire visitors of all ages to be the very best that they can be.
10 – Go off the beaten track at The Waverly Hills Sanatorium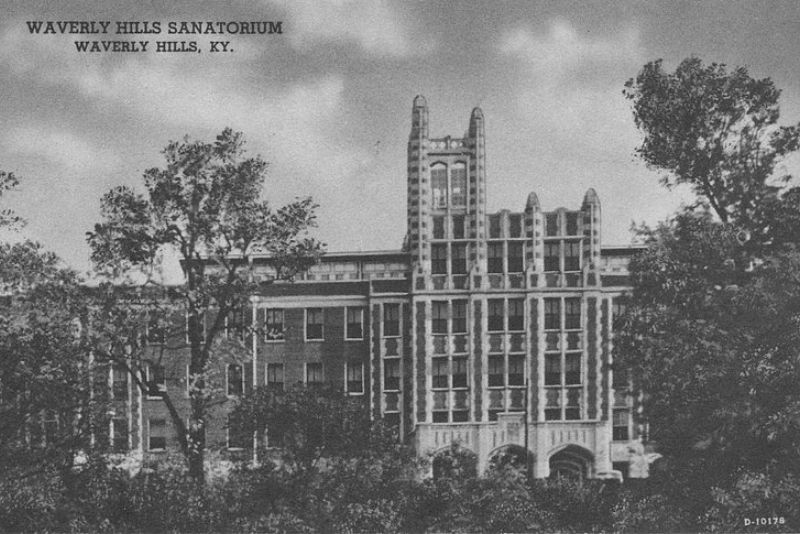 A dream destination for any dark tourist, this historic landmark was once a state-of-the-art facility for the treatment of tuberculosis, but now stands abandoned and rundown, having been closed for over 50 years. Its reputation, however, has remained strong and eerie ever since.
A truly fascinating place with a dark and troubled past, where it's said that nearly It's 50,000 people lost their lives within its walla, the Waverly Hills Sanatorium is justifiably considered to be one of the most haunted places in the world, and has been featured on numerous paranormal TV shows over the years, including Ghost Hunters, Ghost Adventures, Most Haunted, and A Haunting.
If you're brave enough to venture inside this spooky old building (which is said to be home to several ghosts), you can take a guided tour and meet some of the local residents (there's a story about a boy named Timmy who roams the halls looking for someone to play with).
And if you're really keen on unpacking the paranormal, consider a public or private overnight session – although, don't take this lightly, it's not for the faint of heart.
11 – Throw down a picnic rug at Cherokee Park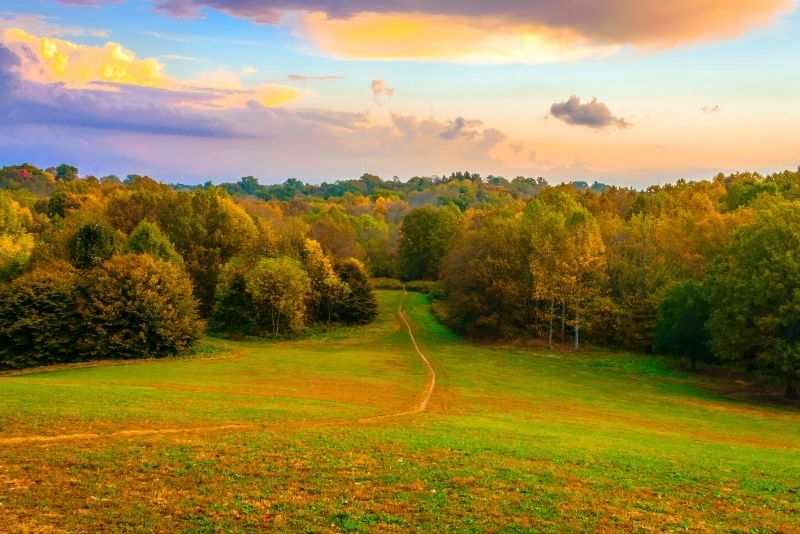 Far more chipper, bright, and outdoorsy is beautiful Cherokee Park, which spans a whopping 400 acres of forested land in the Highlands neighborhood – a beautiful slice of fresh air full of open meadows and towering trees of Beargrass Creek Valley that change colors with the seasons.
This lovely spot is perfect for a nature hike or BBQ lunch and is also home to a number of sculptures by local artists, as well as a golf course, basketball courts, an archery area, tennis courts, a playground (and a sprayground!), horse-riding routes, and no shortage of spots ideal for throwing down the picnic rug.
Whether driving or hiking, the 2.4-mile Scenic Loop is quintessential. In the winter months, you can even go sledding and cross-country skiing; a veritable natural wonderland year-round!
12 – Ride waterslides at the Kentucky Kingdom & Hurricane Bay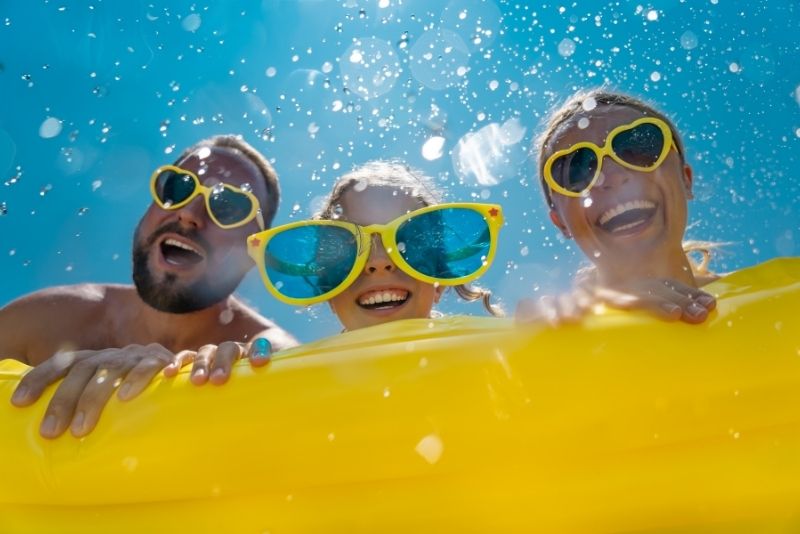 A day at the splashtastic Kentucky Kingdom is the perfect way to beat and embrace the sizzling summer heat.
This locally adored amusement park, found right next to the airport, about 15 minutes drive from Downtown, is packed full of stomach-churning roller coasters and adrenaline-pumping rides, as well as a water park (Hurricane Bay) with slides, lazy rivers, splash zones, and family-favorite wave pools to boot
Of the huge list of over 70 rides and attractions, if you're looking to stay dry and quench that need for speed, any of the five world-class roller coasters will do nicely – including the all-new Lightning Run, which packs a mean 100-foot, 80-degree drop!
Meanwhile, if you're a thrill-seeker ready to make a splash, Hurricane Bay plays host to the world's tallest body slide, Deep Water Dive!
With a sleuth of more low-key entertainment options too, like live shows featuring playful seals and birds, a stunt dog show, and a 5D cinema, it's a Louisville landmark the whole family will enjoy!
13 – Watch a show at the outdoor Iroquois Amphitheater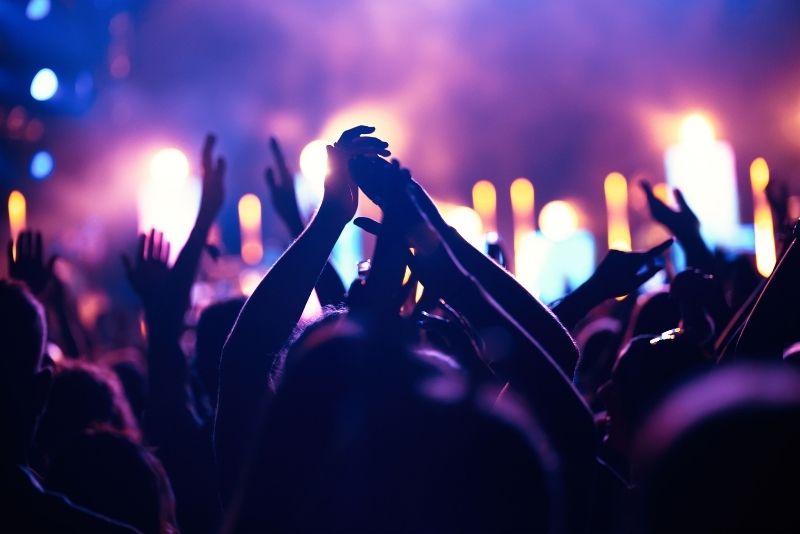 Tucked away inside the Iroquois Park — 739 acres of lush greenery that sits about 25 minutes drive from Downtown and holds the title of one of Louisville's largest and most underrated parks — the eponymous amphitheater is a gorgeous, open-air theater that first opened its doors (well, metaphorically) back in 1938.
A favorite spot for both local and touring musicians, the Iroquois Amphitheater has seen the likes of Hozier, ODESZA, Billy Idol, the Alabama Shakes, Arctic Monkeys, Skrillex, and a whole lot more.
Diverse musical lineup aside, more recently it's also become a popular spot for hosting outdoor movie screenings – both classics and modern blockbusters projected on the big screen come summertime.
The amphitheater can accommodate up to around 2300 people, making it the perfect venue for a family-friendly night out under the stars, or a high-octane concert with your favorite traveling band!
Plus, with so much to see in the surrounding park, including hiking trails, a playground, picnic spots aplenty, and even a golf course, you can make a whole day of it.
Hot tip: make your way (on foot on by car) to the Iroquois Park overlook for a wonderful view sure to light up any social media feed.
14 – Pop into the Frazier History Museum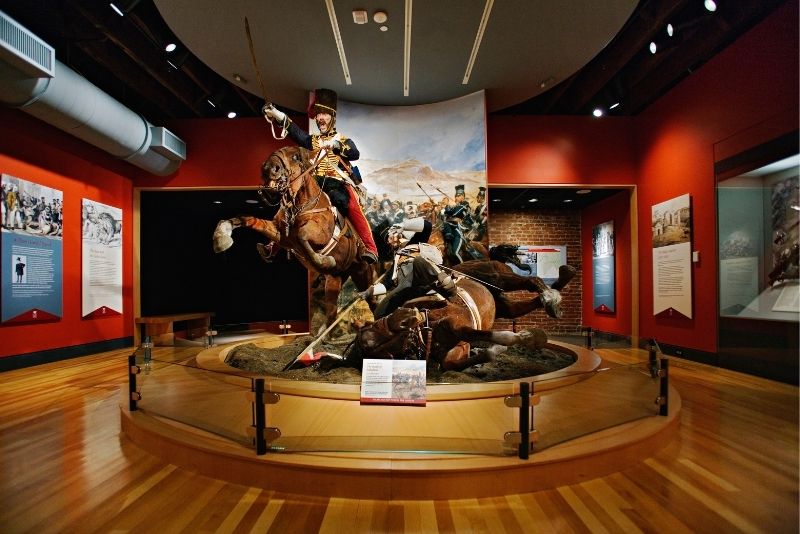 A crowd favorite among local and traveling history buffs, the Frazier History Museum, another one making its grip on Museum Row in downtown Louisville, is a state-of-the-art museum that provides a wonderful and rich overview of the culture, traditions, and way of life in Kentucky – today and in decades gone by.
Dedicated to preserving and celebrating the state's unique history, the Frazier Museum houses tens of thousands of artifacts across three floors of exhibitions — diving into everything from the Civil War to the Bourbon and tobacco industries, clothing and old-school textiles, locally-created works of art, and insights in the lives of Kentuckians — as well as hosting regular talks, events, and educational programs throughout the year.
A genuine highlight, the Charles W. Stewart Historic Miniatures Collection showcases one of the finest collections of rare historic toy soldiers on the planet, with no less than 30,000 figurines on display!
Don't miss The Spirit of Kentucky exhibition – divided into three themed rooms, it explores the state's love affair with Bourbon. Feeling thirsty yourself? As the official starting point of the Kentucky Bourbon Trail, a tipple is never too far away either! With guided tours aplenty, it's a wonderful spot to follow an hour of education with a drink or two.
With a focus on hands-on and interactive displays, the Frazier Museum is the perfect place to spend a few hours if you're looking to learn more about Louisville's past.
15 – Practice your flips at the Altitude Trampoline Park of Louisville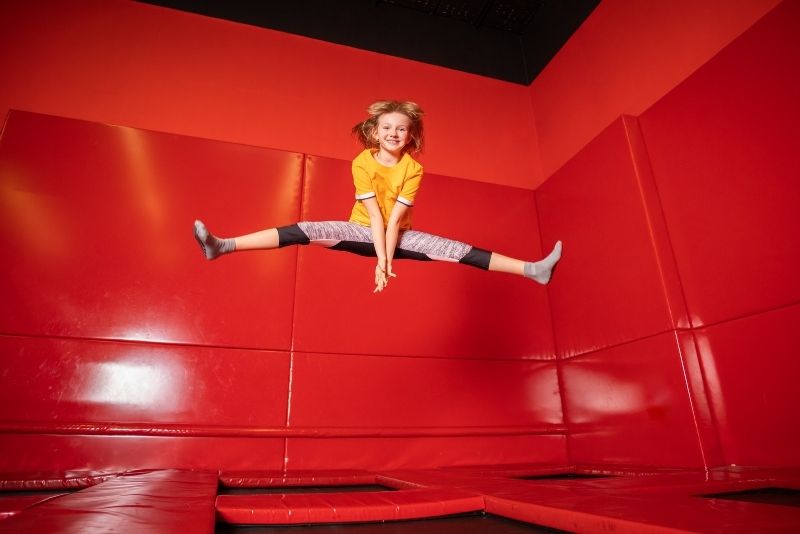 A surefire way to burn a few calories for kids and adults alike (trust us, it's far more tiring than it looks), trampoline parks are all the rage right now – and Louisville's very own Altitude Trampoline Park is up there with the best of them.
With around 41,000 square feet of interconnected wall-to-wall trampolines, an enormous foam pit to dive into, dodgeball courts, basketball hoops, gymnastic tumble tracks, and a whole lot more, it's the perfect place to come whether you're looking to practice your flips and tricks, compete for bragging rights in the dodgeball zone, or just want to have some good old-fashioned fun.
There's also a dedicated toddler area for the little ones too!
A great option whatever the weather (it gets hot in Kentucky come summertime!), Altitude Trampoline Park is located about 10 miles southwest of Downtown, not too far from Iroquois Park.
16 – Take a stroll down Historic Frankfort Avenue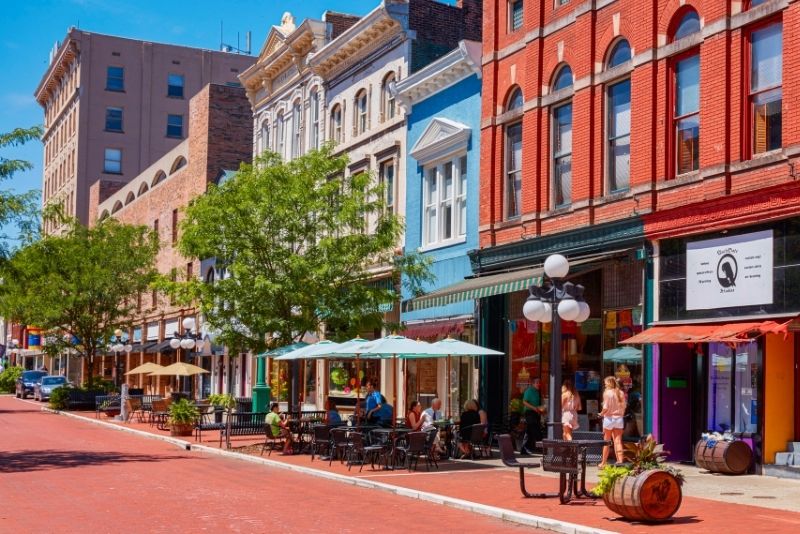 A mecca for all things arts and culture, Frankfort Avenue is one of Louisville's most vibrant and exciting streets.
Home to a whole host of independent boutiques, galleries, antique stores, and some of the city's best bars and restaurants, the edge and vibrant "Avenue" (as the locals call it) meanders its way through St. Matthews, Clifton, and Crescent Hill, selling itself as the perfect place to come whether you're looking to do some shopping, people-watching, or simply want to soak up the unique atmosphere and obvious charm.
Don't miss The Clifton Center – an events venue that regularly plays host to everything from live music performances to comedy shows and art exhibitions.
Carmichael's Books draws bookworms like moths to a flame, while 5-0-Lou presents as the perfect stop if you're on the hunt for unique and locally-made souvenirs. Grab an artisan brunch and perky coffee at the Blue Dog Bakery check out Bourbon Barrel Foods for all your souvenir Bourbon-enhanced culinary delights!
Hot tip: jump on the Trolly Hop in the evenings for a historic ride from the top to the bottom of the Historic Avenue.
17 – Play tennis at E.P. Tom Sawyer State Park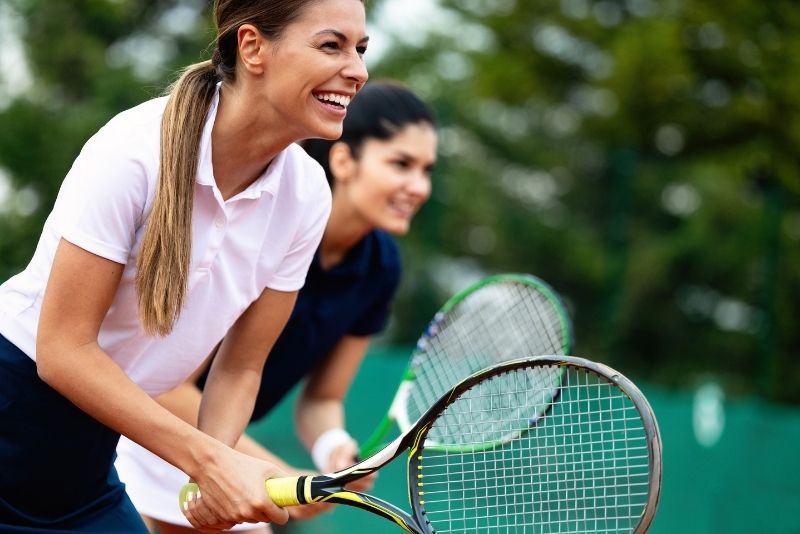 Well and truly off the beaten path, over in the Freys Hill neighborhood east of Downtown, E.P Tom Sawyer State Park is a great spot to come for a picnic, a casual trail hike, a hit of tennis, or simply to enjoy some time outdoors.
Popular with locals for its relaxing atmosphere yet little-known to visitors, the park stretches well over 500 acres, offering two playgrounds, no less than a dozen tennis courts, three picnic shelters for public use, a public archery range, a calendar of interpretative walks, one of just six Supercross BMX tracks nationwide, and miles of scenic hiking trails that are perfect for exploring on foot or by bike.
To really immerse yourself in this park's natural beauty, tackle the 1.25-mile Goose Creek nature trail. Mostly flat and easy enough for the entire family, the route meanders through open meadows before transitioning into a semi-wooded area along Goose Creek.
During those toasty summer months, as the home of the largest public outdoor swimming pool and splash park in Louisville, where else would you rather be?
18 – Cross the Big Four Bridge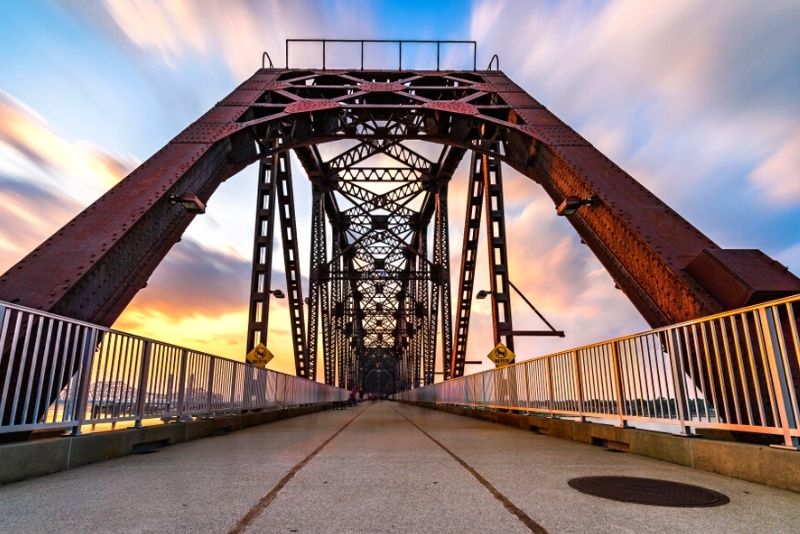 One of Louisville's most iconic landmarks, the Big Four Bridge is a former railroad turned pedestrian bridge that links Louisville Waterfront Park with Jeffersonville in  Indiana.
A popular spot for walkers, runners, and cyclists (it's part of the Louisville Loop!), the bridge spans some 2,520 feet in length and provides stunning views of the riverfront area on both sides – and has been doing so since its inception in the late 1880s.
By day, the views of the city and Waterfront Park are marvelous; by night, when Big Four is illuminated with colorful decorative lights, it's nothing short of magical (lights operate daily from twilight until 1 am).
The Big Four Bridge is open 24 hours a day, 365 days per year and best of all, it's completely free to use.
While many visitors like to wander over the structure at their own pace, snapping a few selfies along the way, for history buffs and curious minds, consider signing up for one of the waterfront's guided walking tours – led by an in-the-know local, you'll learn all about the bridge's fascinating past as well as get some great tips on other things to see and do in the area.
19 – Cruise along the river on the Belle of Louisville riverboats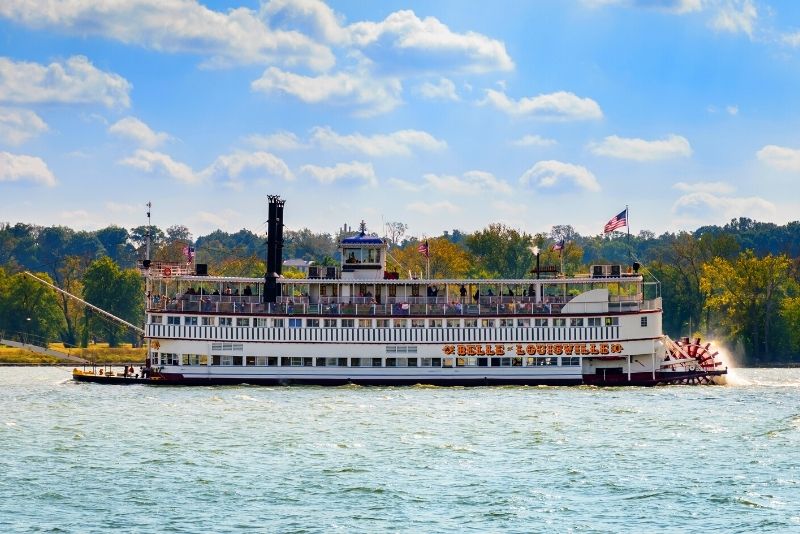 The Belle of Louisville is a steamboat that has been plying the Ohio River waters since 1914, making it not only the oldest operating Mississippi River-style steamboat in America but also one of Louisville's most iconic and beloved landmarks.
A National Historic Landmark, the Belle offers a variety of public cruises throughout the year – from lunch and dinner cruises to sightseeing excursions and special event charters – giving visitors an up-close-and-personal look at Louisville from a perspective few ever get to experience, as well as a journey that feels like you've stepped back in time.
Whether you choose to enjoy a leisurely meal as you cruise past some of downtown Louisville's most famous sights or simply want to sit back with a refreshing drink in hand as you take in the fresh river air, there's no doubting that a ride on this historic, beloved steamboat — which departs on Fridays, Saturdays, and Sundays from Memorial Day weekend through late October (with occasional wid-week trips; check the calendar) — is one of the most fun things to do in Louisville, Kentucky.
20 – Admire the art at the KMAC Museum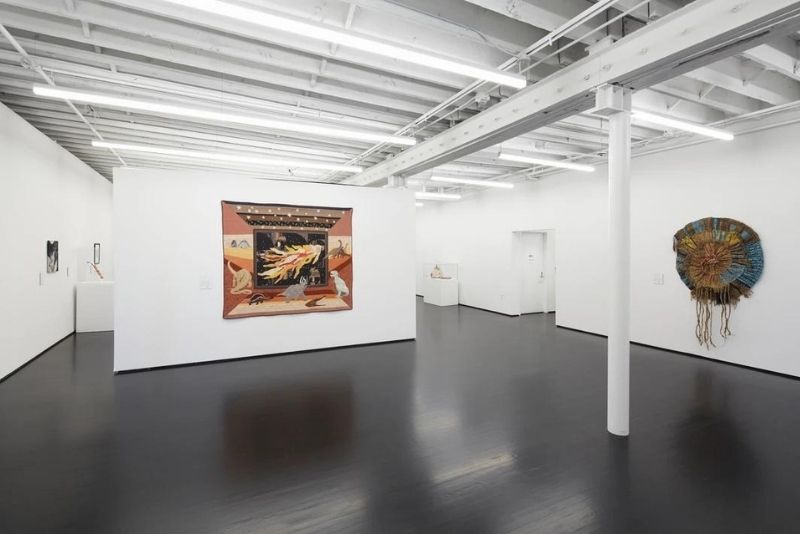 A must-visit for any wandering culture vulture, KMAC Museum is a brilliant arts and education center that's dedicated to celebrating all the wonders of contemporary art, craft, and design.
Operating with the aim to educate and inspire, KMAC showcases rotating exhibitions featuring both local and international artists – everything from paintings to tapestries and youth-created sculptures – as well as offering a range of studio art classes, educational programs, poetry slams, and special events throughout the year sure to keep both kids and adults entertained.
The exhibits are constantly changing, meaning that no two visits are alike; and be sure to pop into the gift shop, where a sleuth of quirky and colorful crafts await.
Tucked away on Museum Row, you'll find KMAC a stone's throw from the likes of the Kentucky Science Center and the Louisville Slugger Museum & Factory, making the small yet impressive non-profit museum a worthy addition to any day of waterfront walkabout.
21 – Visit the Thomas Edison House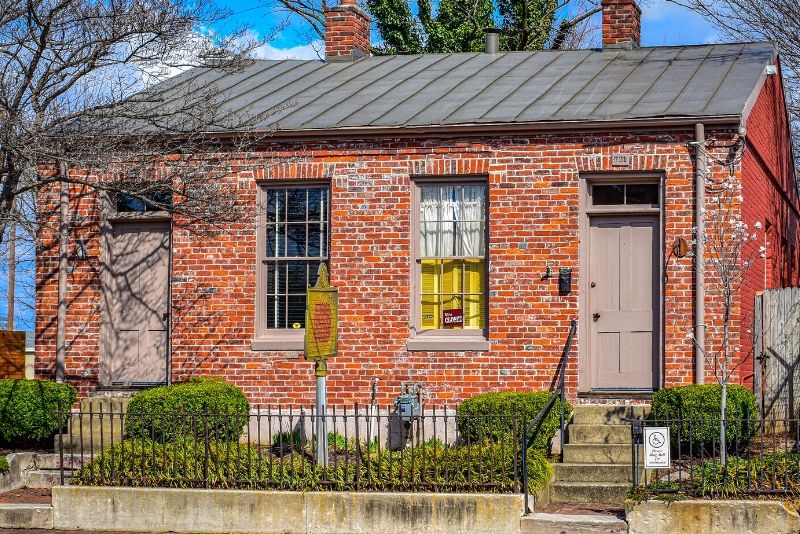 True to its name and drawing many an engineer and history buff through its front door, the Thomas Edison House was once the home of famed inventor and businessman and American icon, Thomas Edison.
These days, the home serves more like a museum; the structure has been beautifully preserved and features many original artifacts, including some of Edison's inventions and drawings.
Located in Louisville's historic Butchertown, a neighborhood that has been known as the city's center for meat production for over 200 years, the Thomas Edison House is a National Historic Landmark that was built around 1850 and served as the family home of the Edisons in the late 1860s.
Open Tuesday through Saturday from 10 am to 2 pm, at just $5 for adults, it's an affordable walk-through history in a neighborhood few out-of-towners would usually see. Visitors can take a self-guided tour of the house or participate in one of the guided tours offered by the staff.
22 – Relax for an hour at Central Park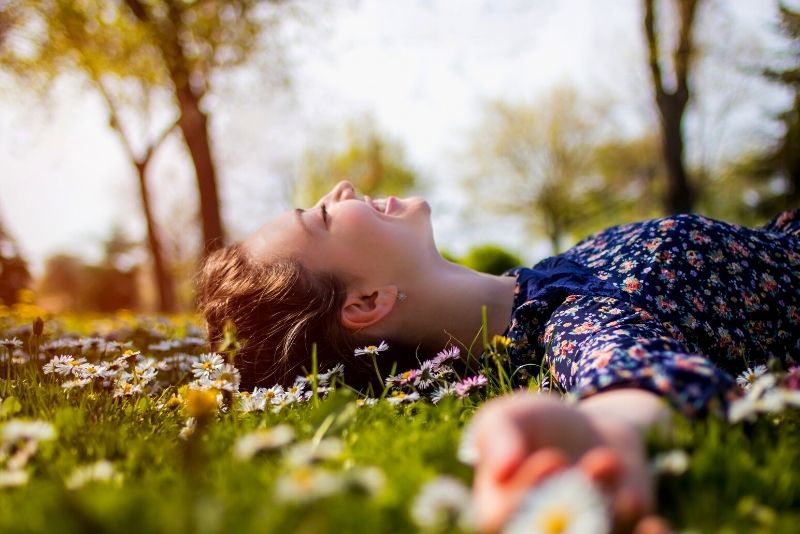 A small yet beautiful green space in the heart of Old Louisville, Central Park is perfect for a leisurely stroll or a picnic lunch on a warm day.
The park covers nearly 17 acres and is home to numerous monuments, fountains, and sculptures, as well as a playground (and sprayground ideal for the summer days), tennis courts and volleyball courts, and an amphitheater that hosts a variety of events throughout the year like Shakespeare in the Park.
While you're in the area, don't miss the Conrad-Caldwell House Museum as well as the Witches' Tree, a spooky-looking black gum tree that's adorned with eerie trinkets and delivers one seriously sinister photo backdrop come sunset!
23 – Catch a show at the Louisville Palace Theatre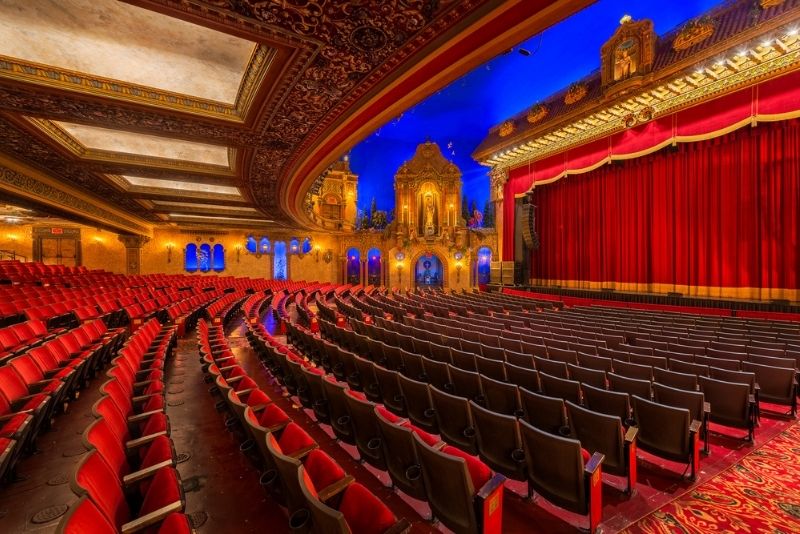 Looking for a lovely evening of entertainment? Look no further than the Louisville Palace, a stunning theatre and highlight of the theater district on Fourth Street that first opened its doors in 1928 and today operates as a performing arts venue showcasing all manner of stage productions, from live music concerts of the who's-who in the industry to charming ballets, side-splitting stand-up comedy shows, and a whole lot more.
The interior is just as beautiful as the exterior. Step inside and you'll find an awe-inspiring Baroque design with detailed plasterwork, ornate ceilings featuring nearly 140 carvings, plaster busts of Socrates, Beethoven, Dante, and more; and an incredible imitation nighttime sky on the ceiling!
Tickets for events at the Louisville Palace can be purchased online or by visiting the box office; simply check the website to see who's gracing the center stage during your trip!
24 – Cheer on the Cardinals at the KFC Yum! Center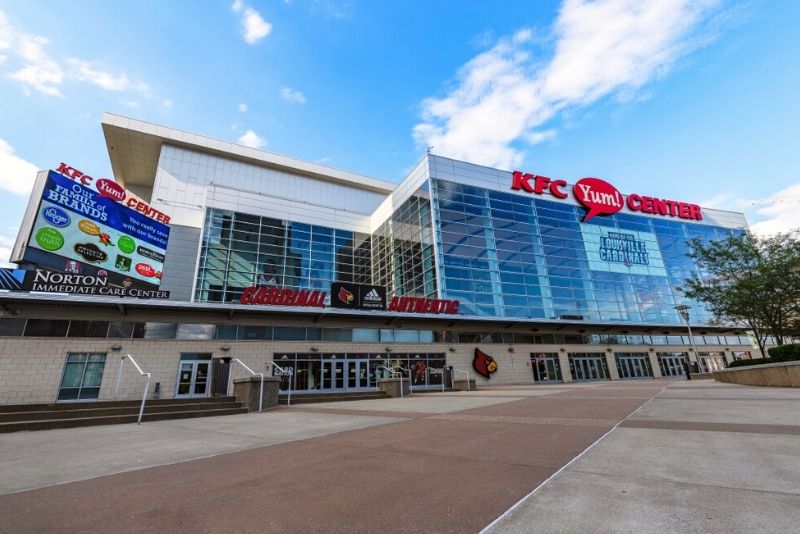 The Downtown stomping ground of the University of Louisville's Cardinals basketball team, the KFC Yum! Center is a 22,000-seat multi-purpose arena that also plays host to an ever-exciting roster of big-name concerts and events throughout the year.
Over the years it's hosted some seriously big-name artists over the years from Billie Eilish to Cher, Luke Combs, and Celine Dion; and it isn't just music – you can also catch family-friendly shows (think Disney on Ice), comedy performances by the likes of Kevin Hart and Dave Chappelle, as well as wrestling and other special events.
Besides the main entertainment, there's also a restaurant overlooking the Ohio River, no shortage of spots to grab a tipple (with eight inviting bars and lounges), and a host of KFC outlets (obviously), while outside of the main stadium sits a 3,000-square foot UofL Hall of Honor.
Check the website for an up-to-date schedule of what's happening during your stay!
25 – Ollie and kickflip at Dave Armstrong Extreme Park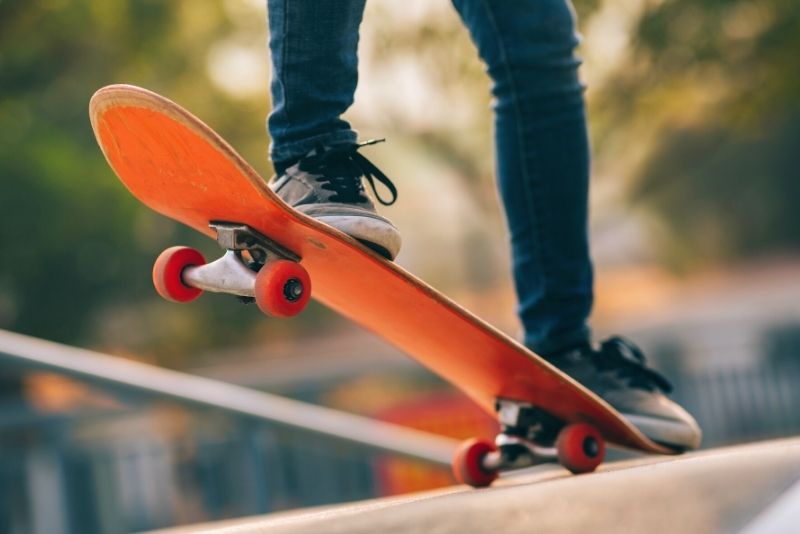 Heaven on Earth for all the budding Tony Hawks out there, Dave Armstrong Extreme Park is a 40,000-square-foot skate park boasting all manner of ramps, quarter pipes, and other obstacles for skaters to enjoy.
The main features are the concrete bowls which come in all shapes and sizes – some as shallow as four feet while others plunge down to nearly ten feet, but there's also a great street course area with all sorts of nooks and crannies to explore. There are rails to grind, ledges to slide, and all sorts of other jumps and turns to keep you busy for hours on end.
Best of all? It's completely free to enter and open 24/7! Just be sure to bring your own board and safety gear.
26 – Smell the flowers at the Louisville Nature Center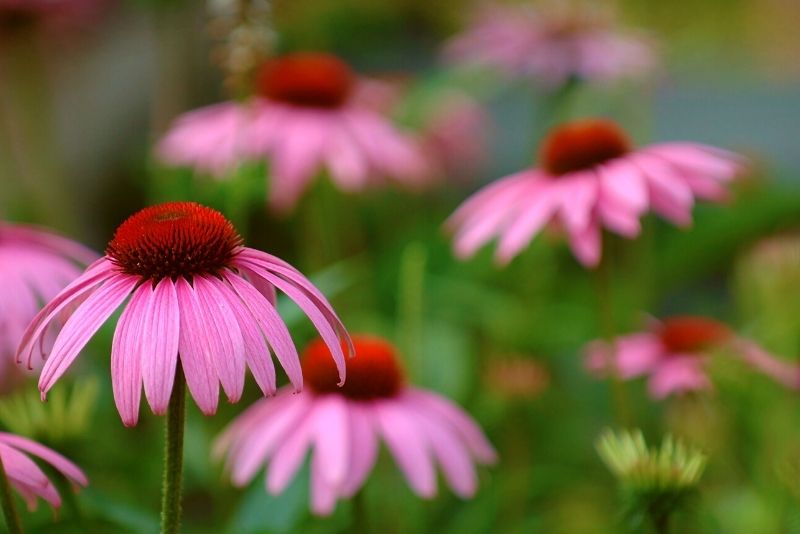 Relaxing and peaceful, the Louisville Nature Center is a great place to come to appreciate some of Kentucky's gorgeous natural scenery.
The center itself is home to a small museum with interactive exhibits on wildlife (including meet and greets with birds and salamanders!), a nature gift shop, a library, and classrooms; but it's the great outdoors that really make this place special.
To stretch the legs and soak in that fresh air, two miles of hiking trails twist their way through the woods and wetlands of Beargrass Creek Nature Preserve; there's a wildlife garden, a pond (keep your eyes peeled for turtles), a butterfly garden, an impressive bird blind, and a 41-acre urban forest with colorful flowers around every corner.
The beloved attraction is open six days a week (closed Sundays), and presents as one of the noteworthy off-the-beaten-bath things to do in Louisville – it's not too far from the Louisville Mega Cavern either, if you're looking to make a day of it.
27 – Plan a visit to the Whitehall House & Gardens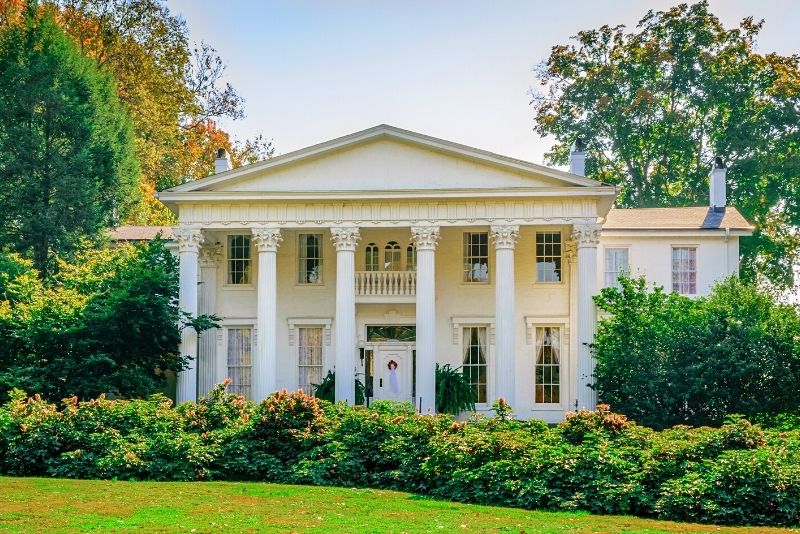 An essential stop for architecture and history buffs out in the city's eastern suburbs, Whitehall House & Gardens is a beautiful and historic estate that embodies all the best bits of early 20th-century architecture.
Built back in 1850 as an Italianate-style farmhouse, the landmark home was transformed sixty years later in 1909 into the mansion that draws myriad tourists today, stuffed with French and American antiques along the way.
The mansion itself is a great example of Classical Greek Revival architecture with a grandiose façade, while the grounds are home to beautiful gardens (the Rose Garden is especially lovely in full bloom), an arboretum, the Specimen Garden, Formal Florentine Garden (noted for its wonderful array of re-blooming hydrangeas), and the Woodland Fern Garden
Inside, there are over a dozen opulently decorated rooms to explore, each one more incredible than the last; and if you want to learn more about the estate's fascinating history, then be sure to join one of the guided tours which typically operate Monday through Friday at 11 am and 1 pm.
Or, if you simply want to browse the well-manicured gardens, they're open from sunup to sundown for a leisurely stroll and picnic except during private events.
28 – See what's on at Locust Grove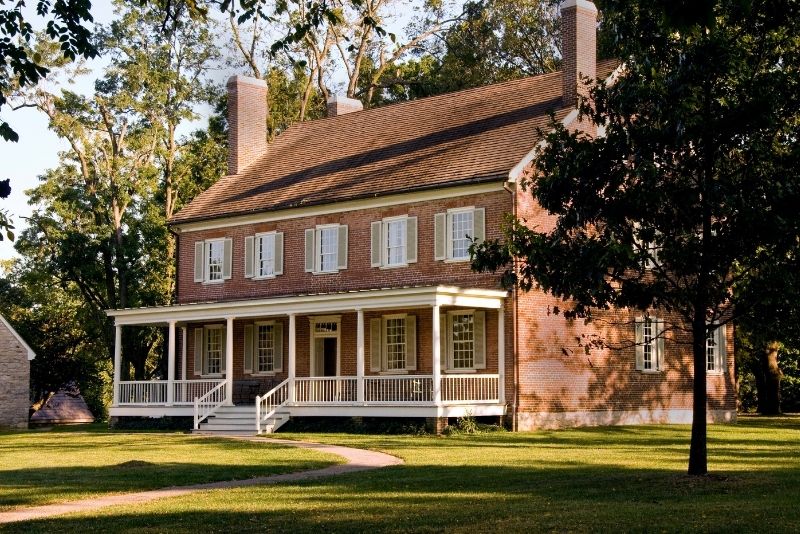 A National Historic Landmark doused in history, one which has seen presidents, (James Monroe and Andrew Jackson) iconic explorers (read: Lewis and Clark), and famous athletes (Cassius Clay, for one) wander its halls; Locust Grove is a 55-acre historic site and museum that should definitely be on your radar.
Once the home of General George Rogers Clark, the founder of Louisville, today Locust Grove is a beautiful example of Federal-style architecture that is open to the public for visits, events, and educational programs.
The house itself is incredible and historically detailed, but it's the gorgeous grounds that will really take your breath away; filled with towering trees, flowers, gardens, and picnic spots – it's easy to spend a couple of hours here just exploring the serenity this place has to offer.
If you're eager to learn more about early American history (or General George Rogers Clark in particular), then be sure to join one of their regularly scheduled guided tours.
Hot tip: check the events calendar; with everything from antique markets to book swaps, war reenactments, performances that tell the stories of slaves, lectures, and a notable Juneteenth Emancipation Celebration, there's always something going on.
29 – Admire the Cathedral of the Assumption Louisville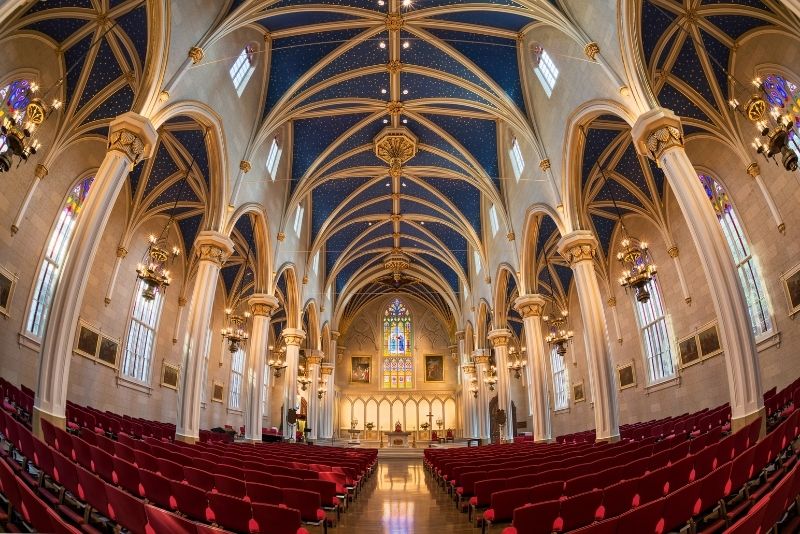 Dating all the way back to 1852 (making this towering church officially the fourth-oldest public building in the city), the Cathedral of the Assumption is one of Louisville's most iconic and beautiful landmarks.
A stunning example of Gothic Revival architecture, both inside and out, with meticulously decorated stained glass windows highlighted by the Coronation Window, grandiose ceilings, and an ornate alter; it's easy to see why this is not only one of the most famous temples in the city, one of the most popular tourist destinations in Kentucky.
And, if you're interested in learning more about the Cathedral and its rich history – including its role in Bloody Monday and the resurgence thereafter – guided tours are available by appointment, and are free of charge.
Thanks to its central location on Fourth Street, the Cathedral of the Assumption is just a short walk away from many other notable Louisville landmarks, restaurants, and bars, so it makes for an easy addition to any day of downtown walkabout.
30 – Be mesmerized by the annual Lights Under Louisville celebration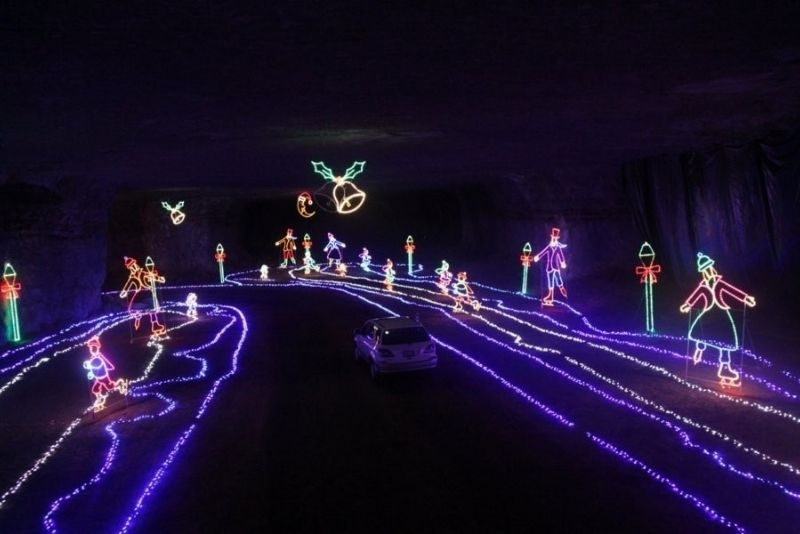 One of the most unique things to do in Louisville is also one of the most popular tourist attractions around Christmas time, and that's taking a trip underground to see the spectacular Lights Under Louisville.
As the only underground light show of its kind in North America, making its way through the Mega Cavern, this is an enchanting attraction you won't find anywhere else; and it's an incredible way to see the juxtaposition of nature's beauty and human ingenuity – you'll see first-hand how limestone caves are formed alongside and get a taste of Louisville's underbelly.
While the cave itself is impressive (and enormous), the real reason people come from all over is to take the 30-minute driving tour through its jaw-dropping array of holiday lights which adorn every inch of the cavern walls.
With over 850 individual character displays, 40 themed areas, 10 mapping projections, and no less than three million lights in total, it's truly a sight to behold.
31 – Muster up the courage for a ghost tour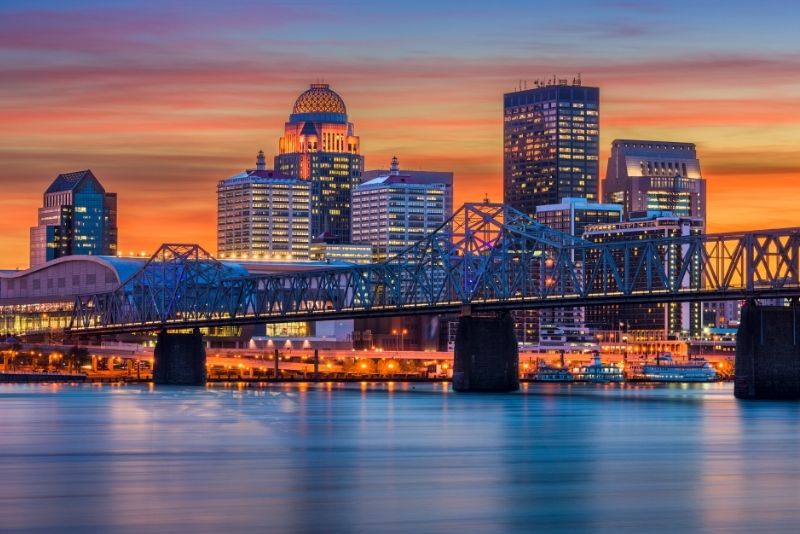 Got an inkling for the paranormal? Then a ghost tour just might be the perfect activity to get the blood curdling and the adrenaline rising.
As one of the most historic and well-preserved neighborhoods in the country, it's no surprise that Old Louisville is also one of the most haunted – with tales dating back to the Civil War era. Having been blessed with the moniker of "the most haunted neighborhood in America", don't say we didn't warn you.
If you're brave enough to venture out after dark, you'll hear stories of ghosts, ghouls, and eerie experiences from guides who are experts on all things otherworldly; passing by eerie landmarks like Witches' Tree, the so-called lady in the stairs, the hanging man, the Henry Clay home, and the sinister James Carroll murder house.
Just be sure to bring your camera; as many people have reported capturing strange orbs and other unexplainable phenomena in photos taken during the tour…
32 – Stop by the Louisville Water Tower Park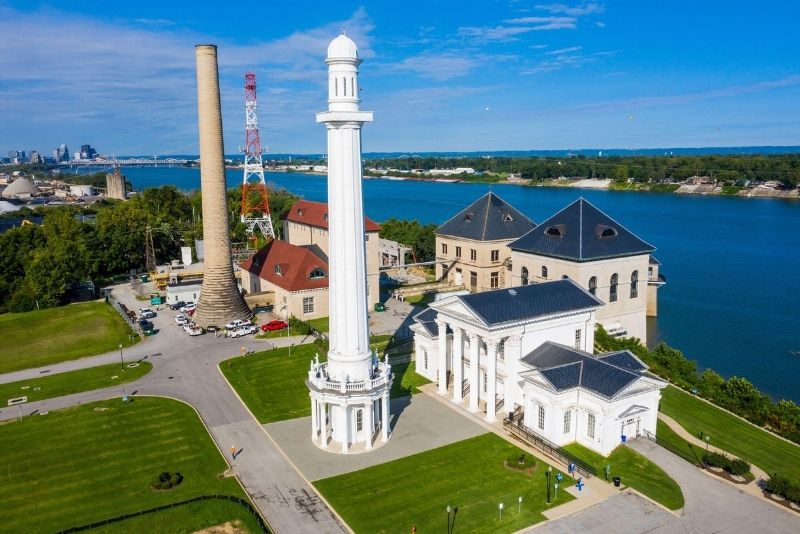 The oldest ornamental water tower in the world and one of Louisville's most beloved landmarks, the Louisville Water Tower is a beautiful example of Victorian Gothic architecture that has been meticulously preserved.
Completed in 1860 and surrounded by no less than 10 statues by its base, the tower was originally built to produce 12 million US gallons of clean water per day – a much-needed resource following multiple prior cholera outbreaks.
After serving its purpose today, it stands as an elegant icon and centerpiece of Water Tower Park, a serene oasis in the heart of Louisville.
The park itself is also home to a number of other historic landmarks and features, including an old pumping station (now converted into a museum), 10 acres of land full of fountains, walking paths, and sculptures.
It's the perfect place to come for a peaceful stroll or picnic lunch on a nice day – and makes for a wonderful backdrop for any major event or wedding ceremony (not to mention the stunning Grand Hall space complete with early-1900s spiral staircase)!
33 – Visit Riverside, the Farnsley-Moremen Landing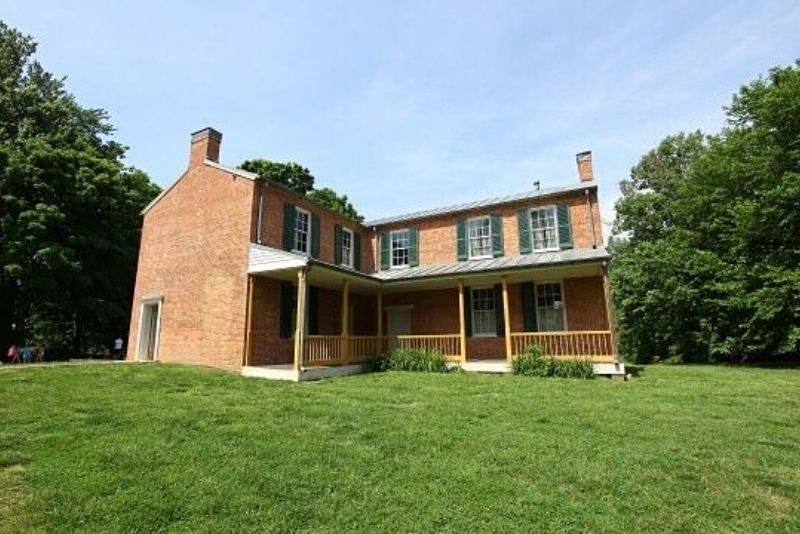 Listed on the National Register of Historic Places, Riverside, the Farnsley-Moremen Landing is a beautiful riverfront farm atop a gentle rise that offers both stunning views of the Ohio River and 300 sprawling acres of greenery to explore.
But this serene spot is more than just a pretty face; it's also steeped in history, having been built back in 1837, and being the site of a former plantation and landing for flatboats traveling up and down the river.
Today, visitors can take a leisurely stroll along the river on one of the walking trails, relax in the shade of a tree with a good book, hear a guest speaker in the auditorium, wander through the historic museum exhibits, or pick up a souvenir at the on-site store before enjoying a picnic lunch surrounded by nature.
Besides the docent-led guided tours of the grounds (typically lasting about an hour) there are also several events and festivals held here throughout the year, so be sure to check the calendar before you visit.
34 – See what's happening at the Kentucky Exposition Center
Home to a sleuth of events year-round, the Kentucky Exposition Center is the perfect place to go for a day of family fun.
With over 1,300,000 square feet of space, it's one of the largest facilities of its kind in the country (officially the sixth biggest, in fact) and plays host to a variety of events throughout the year, including conventions, trade shows, sporting tournaments (like archery or cheer), the National Farm Machinery Show, North American International Livestock Expo, and so much more.
But the real draw for visitors is the Kentucky State Fair, an 11-day festival extravaganza that celebrates local and statewide heritage held here every August.
This massive event attracts hundreds of thousands of people from all over the world and features rides, games, food vendors, live music, and agricultural showcases, and that's just the tip of the iceberg.
If you find yourself in Louisville during the fair season (or any other time), be sure to meander 15 minutes south of Downtown to check out this one-of-a-kind facility – and once you're done, the University of Louisville campus and Hurricane Harbor waterpark are just around the corner.
35 – Step back in time at the Farmington Historic Plantation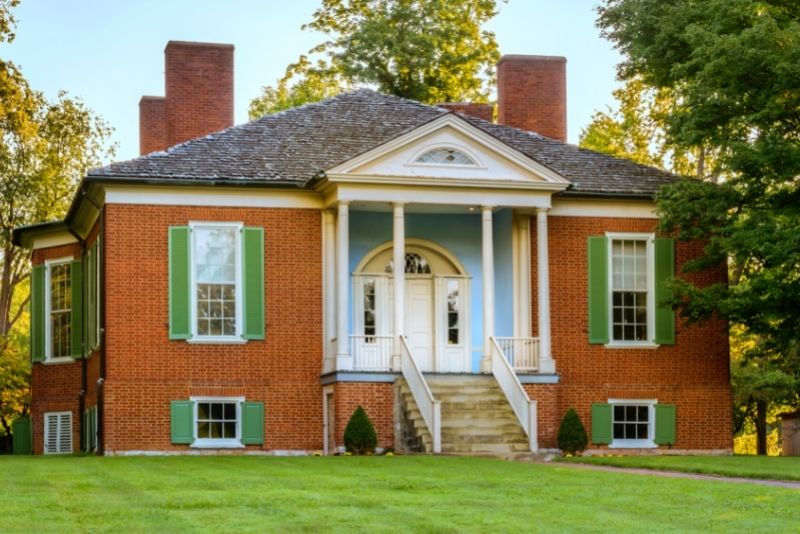 For a glimpse into the past, look no further than the Farmington Historic Plantation.
This stately 19th-century Federal-style estate (dating all the way back to 1816) was once home to a 550-acre hemp plantation belonging to John and Lucy Speed (and is thought to have been based on a design by Thomas Jefferson).
Today it stands as a living history museum that offers an immersive experience into what life was like on a pre-Civil War plantation where more than 60 slaves worked and learn about its connections with Abraham Lincoln.
Visitors can take guided tours of the main house (led by knowledgeable docents and featuring period furniture, art, and textiles), explore the outbuildings and grounds, or participate in special events and workshops (like an Abraham Lincoln Birthday party, garden sale, and Derby Day breakfast) held throughout the year.
In addition to being an excellent educational opportunity, Farmington is also a popular spot for weddings and other private events thanks to its serene setting and beautiful gardens, making it the perfect place to step back in time for a day.
36 – Sit front row for a performance at The Kentucky Center for the Performing Arts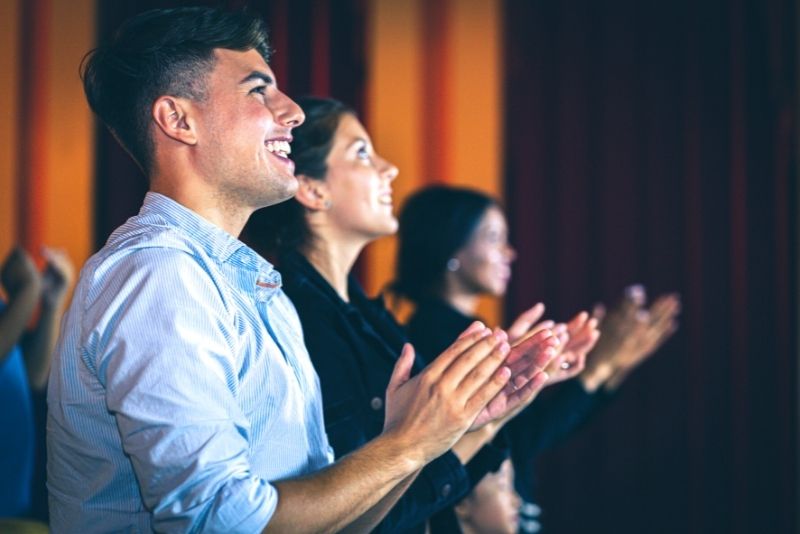 A stone's throw from the downtown waterfront The Kentucky Center for the Performing Arts (or just The Kentucky Center, for short) is the state's premier venue for live music, theatre, and dance performances, and is one of the main reasons why Louisville is regularly considered as one of the best cities in the country for arts and culture.
With over 100 shows on its calendar each year across its three main theaters – The Brown Theater, The Kentucky Center, and Old Forester's Paristown Hall – there's sure to be something to suit every taste, whether you're into touring Broadway extravaganzas, classic rock concerts, stand-up comedy, ballet, opera, or chamber music ensembles.
So if you're on the hunt for some fun things to do in Louisville after dinner, whether that be a front-row seat to Hamilton or an enchanting showing by one of the resident groups – Kentucky Opera, Louisville Ballet, or Louisville Orchestra – you're sure to find it here at the locally loved Kentucky Center.
37 – Journey into the suburbs for live music at The Bard's Town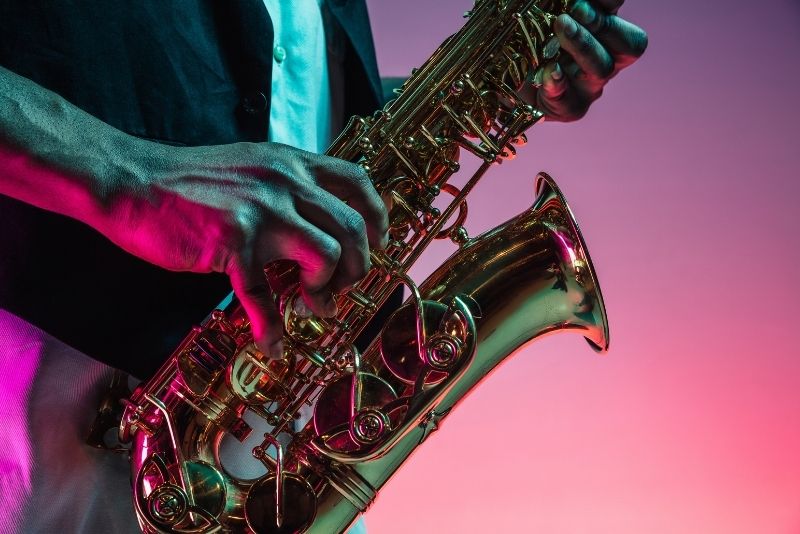 Speaking of theater and nighty entertainment, The Bard's Town is a local theater company found well and truly off the beaten track (meaning barely any tourists!) that puts on a variety of shows throughout the year, ranging from original works to adaptations of classic literature, comedy nights, toe-tapping jazz performances, and some good old fashioned karaoke and improv for anyone who wants to find themselves in the limelight for a few minutes.
But what really sets The Bard's Town apart is its dinner theater format, which means you can enjoy a delicious made-from-scratch meal (and a cold pint or specialty-themed cocktail) in this unassuming pub while you take in a show.
With its intimate setting and talented performers, a night at The Bard's Town is the perfect way to enjoy some authentic Louisville culture and see a different part of town without having to travel too far from the hotel.
38 – Revel in the energy of the Kentucky State Fair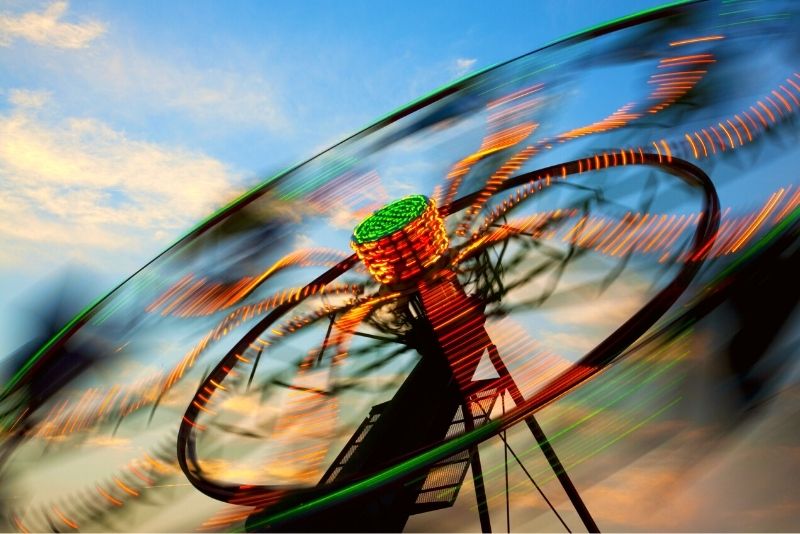 We touched on this briefly in #34, however, the Kentucky State Fair deserves its own spot on this list.
As the largest fair in the state, it's 11 days of non-stop Southern (and Midwest) action where travelers, Louisville locals, and rural community members all come together to celebrate the end of summer with some good old fashioned fried food, live music, carnival rides, agricultural competitions, and general all-round revelry.
Held at the Kentucky Exposition Center just south of Louisville International Airport (SDF), the Kentucky State Fair is one of the best things to do in Louisville in August if you're looking for a unique cultural experience (or just want to eat your weight in ice cream).
Wander around the farming exhibits and you'll uncover a treasure trove of western insights, with displays dedicated to horsemanship, cutting, reining, halter, hunter under saddle, equitation, barrel racing, showmanship, and more.
The cowboys and steeds, however, are just one part of the blockbuster equation. Kids will love the petting zoos, Ferris wheel, and carousel, while music lovers can rejoice in the handful of free daily concerts put on by the Texas Roadhouse.
At just $10 per person, it's an affordable and vibrant way to uncover the tastes, sites, culture and beverages that are uniquely Kentucky.
39 – Spend the afternoon at OVRDRIVE with racing, ax-throwing, VR, and a rage room!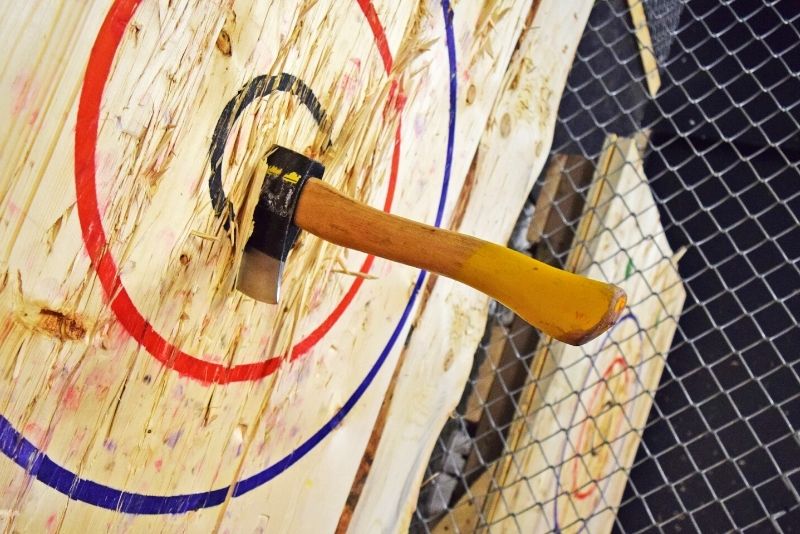 Part sports bar, part entertainment mecca, OVRDRIVE is a new entertainment complex in Louisville that's perfect for anyone looking for an adrenaline-pumping day out.
Start your visit by taking a spin on the indoor racing circuit; a state-of-the-art system that makes the most of virtual reality experiences and motion simulators, and will have you feeling like you're driving around corners on a real-life race track!
Then unleash the inner lumberjack with an ax-throwing session before smashing and crashing in the on-site rage room! With so many hair-raising activities, it's the perfect place to let off some steam, whether you're on vacation or just need to unwind after work.
And if you get hungry (or thirsty) during your visit, OVRDRIVE also has its own full-service restaurant and bar serving up American comfort food classics with a twist as well as an impressive selection of local craft beer.
40 – See historic interiors at the Conrad-Caldwell House Museum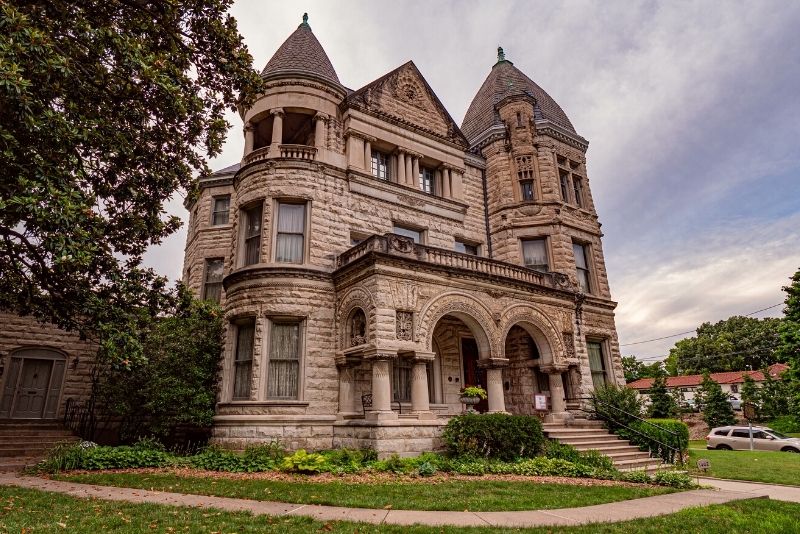 Located in the heart of the city's historic Old Louisville neighborhood, the Conrad-Caldwell House Museum is a stunning Victorian-style mansion that was designed and built by renowned architect Arthur Loomis in 1893 and has impressed passersby with its grandeur ever since.
A beautiful example of Richardsonian Romanesque architecture, the house is now open to the public for tours where you can learn about the history of the building and see some incredible examples of late 19th-century interior design, notable the beautiful woodwork, massive archways, intricate stone designs, and colorful stained glass windows.
The museum also hosts a variety of temporary exhibitions throughout the year, so even if you've been before there's always something new to see.
Tours typically operate on Wednesday through Sunday at 1 pm and 3 pm, with an extra viewing on Saturday morning at 11 for all of you early birds.
41 – Get outta town with a day at The Parklands of Floyds Fork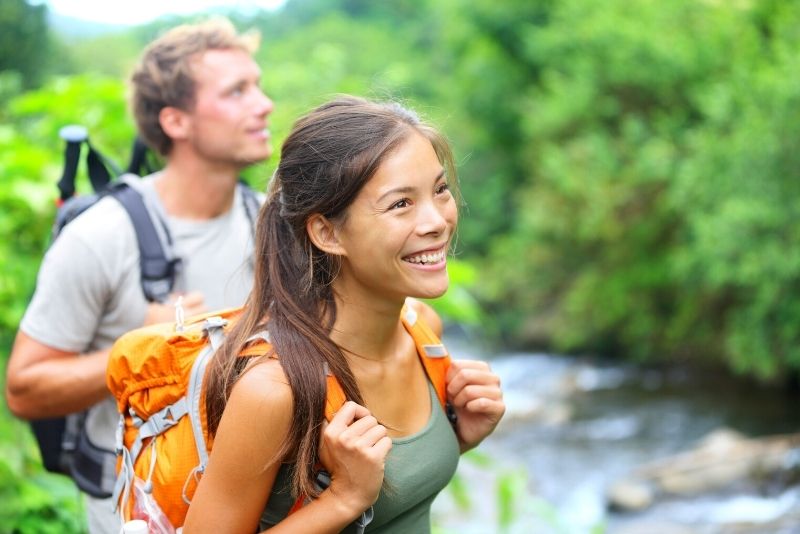 An enchanting green space located 15 miles east of downtown Louisville The Parklands of Floyds Fork is a nearly 20-mile long park system that runs along the Floyds Fork river in eastern Louisville, offering close to 4,000 acres of blissful relaxation and untouched scenery ideal for anyone looking for a break from the hustle and bustle of the big smoke.
A nature lover's paradise, The Parklands is made up of four different sections (as well as The Strand). There's Beckley Creek Park, which boasts both paved and natural trails that wind along the glistening creek;
Pope Lick Park, home to the John Floyd Fields and the Park Administration Building; Turkey Run Park, an open space of meadows and forests where deer and wild turkey roam free; and Broad Run Park, where you'll uncover waterfalls, hardwood forests, lookout points, and stunning wildflowers.
If you're looking to get your heart rate up, there are plenty of hiking and biking trails to explore, or you can rent a canoe or kayak and paddle your way down the river. And in the summer months, you can cool off with a dip in one of the two Olympic-sized pools!
But The Parklands isn't just for those who enjoy being outdoors; there's also The Gheens Foundation Lodge, an impressive event space that can accommodate up to 300 people for weddings, corporate functions, and more – one of nearly a dozen different venues around the Parklands.
42 – Appreciate paintings galore at Art Sanctuary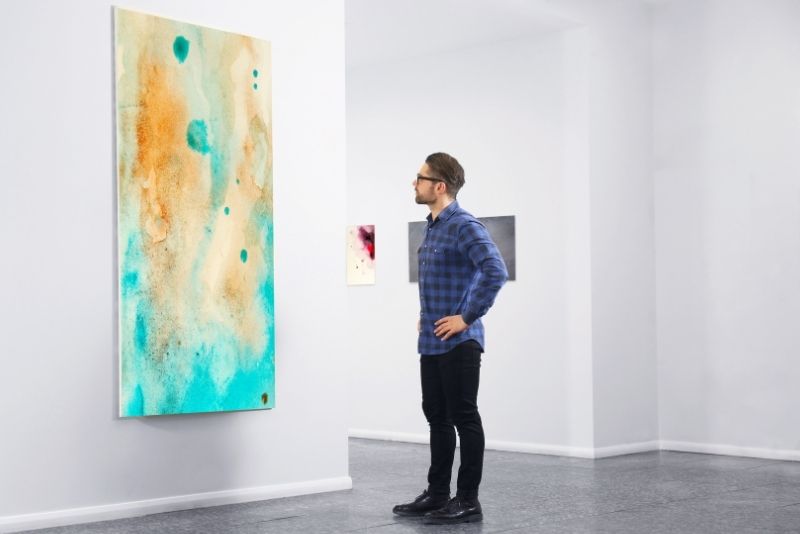 Found over on Shelby Street, Art Sanctuary is a non-profit arts organization that's dedicated to supporting homegrown artists by providing a space where locals can exciting and perform for the wider community to see, all while promoting the appreciation of contemporary art.
The organization offers a range of different programs including gallery exhibitions, live performances from bands and singers, artist talks and workshops, film screenings, and educational outreach initiatives that seek to engage the local community with art in all its forms.
And if you're looking to buy some original artwork to take home with you, Art Sanctuary also has an on-site gift shop selling everything from jewelry and pottery to paintings and sculptures, not to mention that the majority of paintings shown in the gallery are also for sale (ranging from the hundreds to the thousands depending on the piece). Perfect for picking up a one-of-a-kind souvenir or gift.
43 – Watch college football at Cardinal Stadium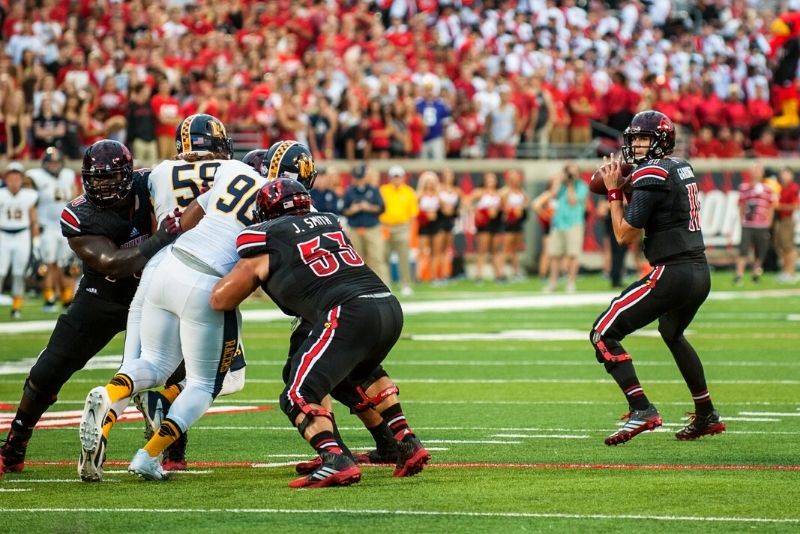 The ever-packed and ever-exciting stomping ground of the University of Louisville's football team, the Cardinals, Cardinal Stadium is an impressive 63,000-seat arena that opened back in 1998.
If you're not around during football season (or just not into sports), don't worry – the stadium also plays host to several other events throughout the year, from concerts where the bass thumps and the lights light up the skies of Louisville to soccer matches to Nitro Circus and the Bands of America Louisville Regional Championships.
And, of course, it wouldn't be a day of college football without a bit of tailgating, right? As per tradition in many American cities, tailgating is taken very seriously in Louisville, with fans arriving hours before the game to set up grills and coolers full of food and drink in the parking lot.
44 – Become a glassblower at Flame Run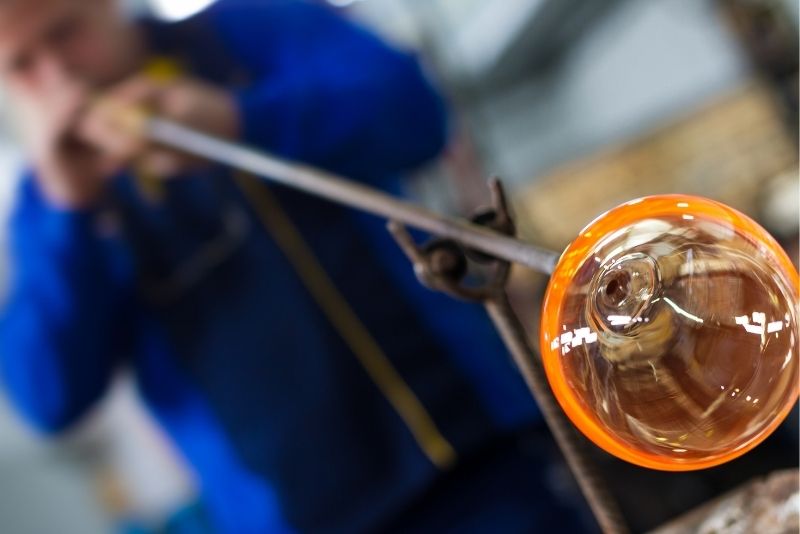 Art-lovers and culture vultures, this one is for you. A glassmaking workshop and gallery rolled into one and sitting smack-bang in the middle of Museum Row – right next to the Slugger Museum – the Flame Run Glass Studio and Gallery is a local favorite, known for being one of the most unique glass art studios in the country.
Encouraging visitors to get a little artistic themselves, the studio offers both public and private glassblowing classes where you can learn how to make everything from simple drinking glasses to more complex sculptures – the "Blow Your Own" experience is a crowd favorite, during which guests can try their hand at sculpting their own glass-blown creations alongside an artist and teacher.
And even if you're not interested in getting your hands dirty, it's still worth stopping by to check out the gallery which houses an ever-changing collection of beautiful blown glass artwork ranging from jewelry and vases to sculptures and chandeliers.
45 – Race around town with a scavenger game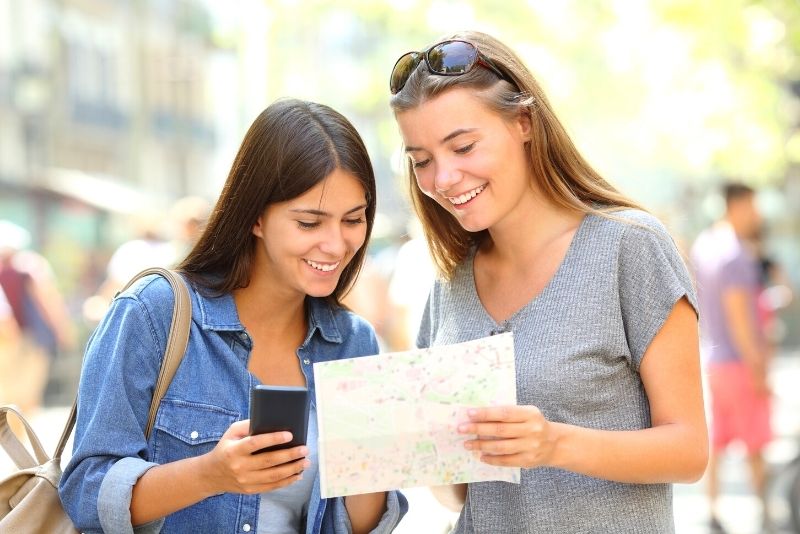 Consider yourself a Sherlock Holmes, ready to uncover all the hidden secrets and treasures of Louisville?
If so, then you'll want to put your skills to the test with one of the myriad high-tech scavenger games that take you on a city-wide hunt for clues using your smartphone.
As you solve puzzles, decode messages, and race against the clock (and other teams depending on your package of choice), you'll leave the slow-paced walking tours in your dust and discover the city's underrated hidden treasures to which most run-of-the-mill tourists remain oblivious.
Not only is it great fun, but it's also an awesome way to explore different parts of the city that you might not have otherwise seen while learning a little bit about Louisville's history and culture along the way!
46 – Dance with DJs at The Mercury Ballroom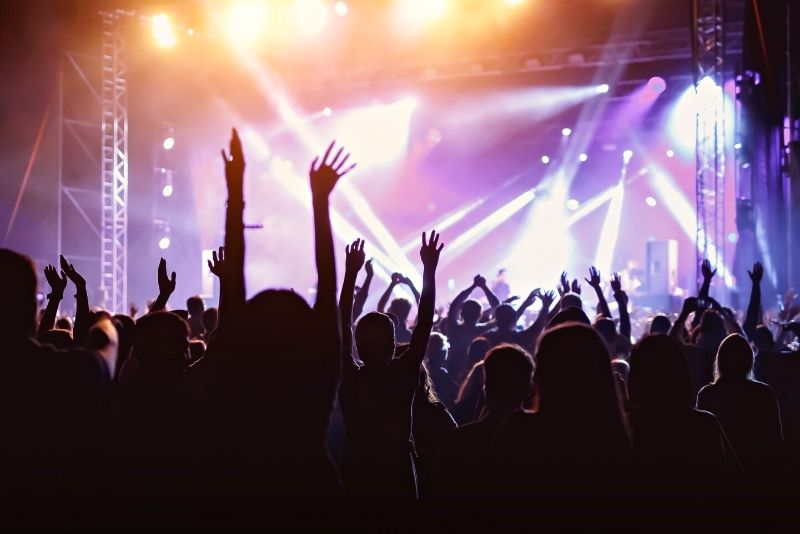 Never shy to show off its eclectic side, Louisville is home to several interesting and unique venues, but none quite as funky as the Mercury Ballroom.
A favorite among locals for both its prime downtown location on South 4th St (just around the corner from the historic Louisville Palace Theatre) and diverse line-up of musical acts that range from up-and-coming local bands to world-renowned DJs, the Mercury Ballroom is a must-visit for music lovers (and those who just want to let loose on the dance floor).
The two-level, 16,000-square-foot party haven in the former Wright & Taylor Building hosts a variety of events such as concerts, dance parties, stand-up comedy, and private functions.
While names like Lord Huron, 21 Savage, Walk Off The Earth, Parkway Drive and Plain White T's (to name but a few) have graced the stage over the years, the Mercury Ballroom is also available for rent for private events.
47 – Book a lane at Executive Strike & Spare Family Fun Center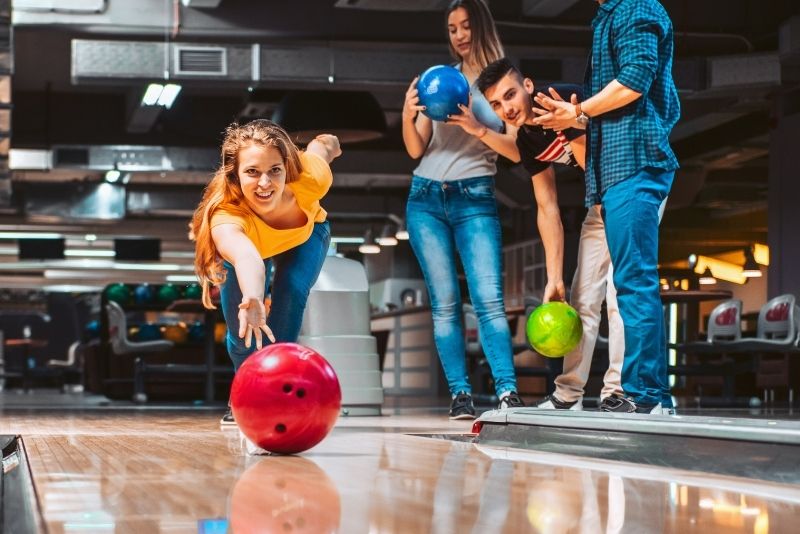 The go-to Louisville spot for family-friendly fun, Executive Strike & Spare Family Fun Center has been a local favorite since it first opened its doors back in the early '70s.
A haven for both kids and adults alike, this huge entertainment complex has something for everyone with its 52 lanes (!) of bowling, a full-service restaurant serving up all the classic American grub, full-stocked bar, wall lined with arcade games, pool tables, and karaoke nights.
Whether you're looking to host a birthday party or corporate event or just want to spend a few hours knocking down some pins with the family on a rainy day (and competing for ultimate bragging rights along the way), Executive Strike & Spare – tucked away right next to the airport – is always a good time.
48 – Meet local vendors at the Logan Street Market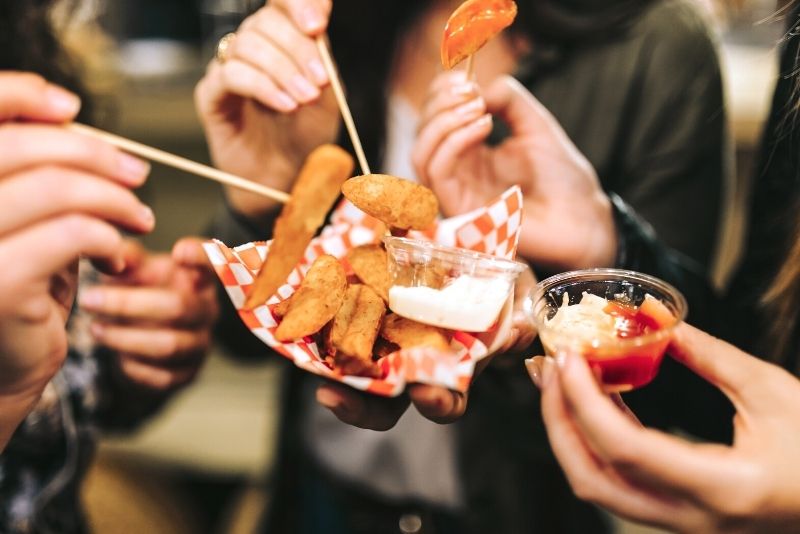 Whether you're a foodie or just love browsing local artisan goods, you'll want to make a stop at Logan Street Market the next time you're in town.
Open every day bar Monday throughout the year with the aim of bringing together the best of Louisville's food, art, music, and culture scene under one roof, Logan Street Market features over 30 vendors selling everything from farm-fresh produce and handcrafted jewelry to gourmet coffee (don't miss Safai specialty coffee roasters) and delicious international cuisine.
And if that's not enough to get your creative juices flowing, there are also cooking classes, live music performances, and other events like St Patrick's Day and Mardi Gras parties, and chili cook-offs throughout the year!
Fancy a tipple? You're on vacation, after all. If so, head down to the Wild Hops microbrewery, where you'll find a diverse flight of flavors spanning Mexican Lagers to NEIPAs and everything in between.
49 – Uncover the city's history at the Kentucky Center for African American Heritage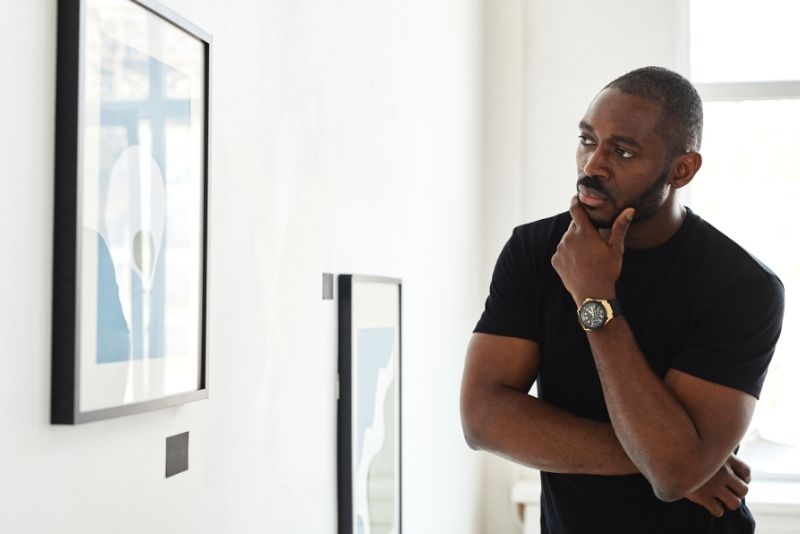 Paying homage to the significant contributions African Americans have made to Louisville and Kentucky's history, culture, and arts scene, the Kentucky Center for African American Heritage is a must-visit for all.
With an ever-changing lineup of spoken word events, as well as installations, interactive exhibits, and provocative works by both visual and performing artists, a visit to this cultural institution sells itself as one of the most important things to do in Louisville.
Housed in a beautiful building in the West End of Louisville on Muhammad Ali Blvd – which served as an important stop on the Underground Railroad – the museum features a range of permanent and temporary exhibitions that showcase both local and national African American artists, as well as interactive displays detailing key moments in African American history.
Best of all? When open from 10 am – 4 pm, Monday-Friday, the gallery is totally free to enter.
50 – Test your wits at the Locked In Escape Room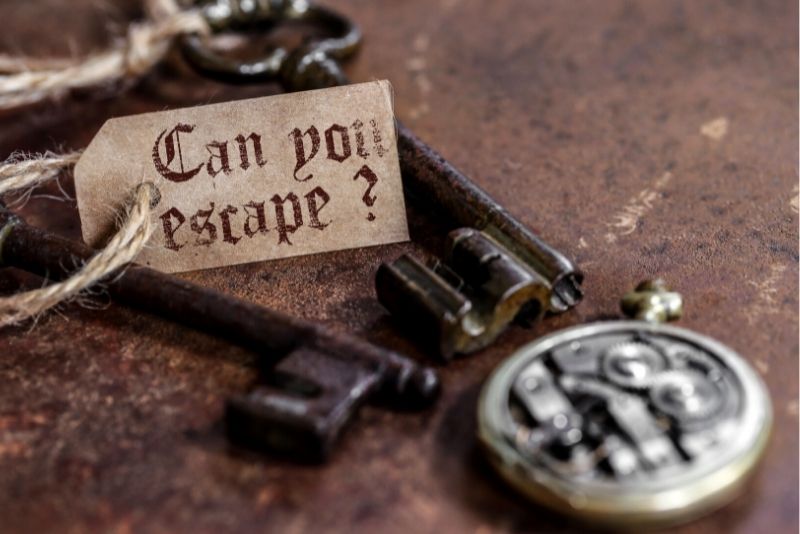 Think you've got what it takes to solve a mystery? You can put your detective skills to the test at Locked In, an escape room game located in downtown Louisville.
With multiple rooms – or 'missions' – to choose from, you and your team will have 60 minutes to crack the code and solve the puzzles in order to find your way out.
With themes like Museum, The Classroom, The Laboratory, The Warehouse, and The Battleship, there's sure to be a challenge that's just right for you and your group.
So round up some friends (or go it solo!) and see if you can make it out before time runs out…
If you're a first-timer, The Museum is the easiest of the bunch, with 75% of people making it out before time runs out. On the other hand, if it's a serious challenge you're after, only 25% of would-be detectives can break out of the abandoned schoolhouse in The Classroom.
51 – See a different side of Louisville at the Portland Museum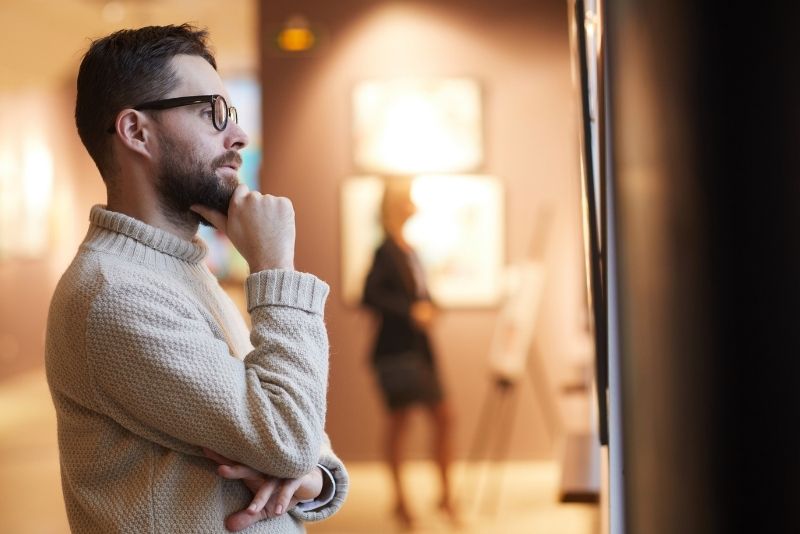 Situated in the historic Portland neighborhood – an area that once served as an independent town in the early 1800s before eventually merging with Louisville as the city gentrified – the Portland Museum is dedicated to preserving and sharing the rich history of this important little pocket of Louisville.
Founded in 1978, the museum features a range of exhibits on topics such as African American heritage, immigration, industry, and daily life in Portland through the years, a lot of which revolved around its Ohio River shipping ports.
A fascinating collection of newsreels shows what life was like after the great flood that devastated the city in 1937, while the story of steamboat captain Mary Miller is sure to inspire.
With an on-site art gallery, as well as plenty of hidden gems scattered around the area, from charming old churches to quaint little parks and a treasure trove of Victorian-era houses, the Portland neighborhood is definitely worth a visit – and the museum is the perfect place to start.
52 – Dig in for a hearty meal at The Old Spaghetti Factory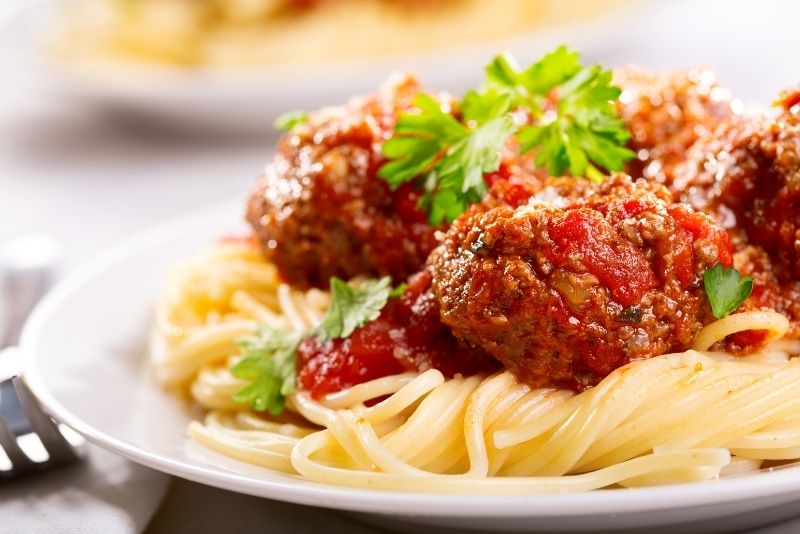 We've all gotta eat, right? For a truly unique dining experience, head to The Old Spaghetti Factory in Louisville.
This family-friendly restaurant is located in an old converted clothing store (in the historical Levy Building) and features a range of classic Italian dishes sure to tantalize the tastebuds. From hearty lasagna to delicate hand-made pasta, there's something for everyone.
But the real star of the show is the restaurant itself, with its high ceilings, exposed brick walls, stained glass window, antique furnishings, and an old-fashioned trolley car for guests to dine in, a dinner at The Old Spaghetti Factory is like stepping back in time.
You'll find the popular family eaterie in the heart of Downtown on West Market Street, just a 10-minute walk from the picturesque Louisville Riverwalk – a great spot to work off all those carbs!
53 – Snap a selfie in front of the Heigold House Facade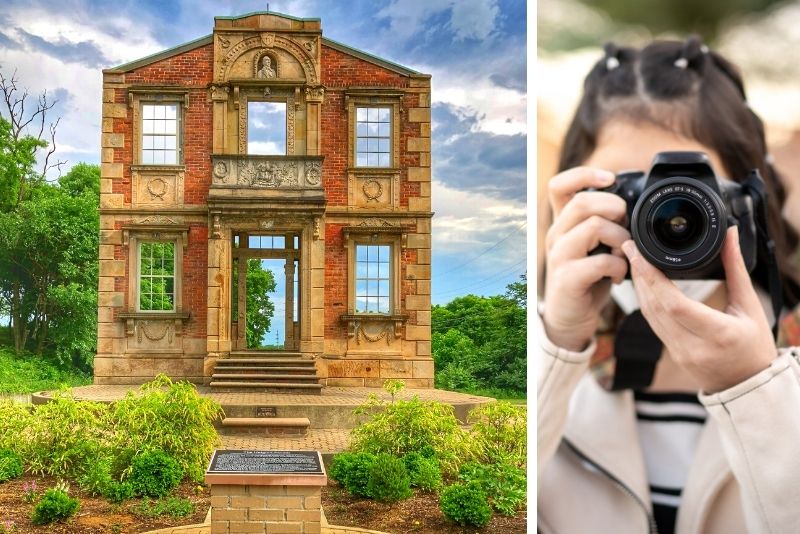 If you find yourself close to the Big Four Bridge or strolling through the peaceful fields of Louisville Champions Park, keep your eyes peeled for the Heigold House Facade at River Road and Frankfort Avenue – a fascinating symbol of Louisville's multicultural history.
This rare piece of architecture is all that remains of what was once a grand Italianate mansion built in 1853 by German immigrant August Heigold.
The house managed to survive over 175 years of Louisville's history, through the Civil War, Prohibition, and even the 1937 floods that devastated so much of the city. However, it was finally demolished in 2007.
But all is not lost – Heigold's original front porch and pediment were carefully preserved and moved as a memorial to this important piece of Louisville history.
Above the entranceway are sculpted scenes depicting George Washington surrounded by figures with the words "Hail to the City of Louisville" – just one of the standout features of what's left of this mansion.
54 – Enjoy the exhibits and the architecture of the Howard Steamboat Museum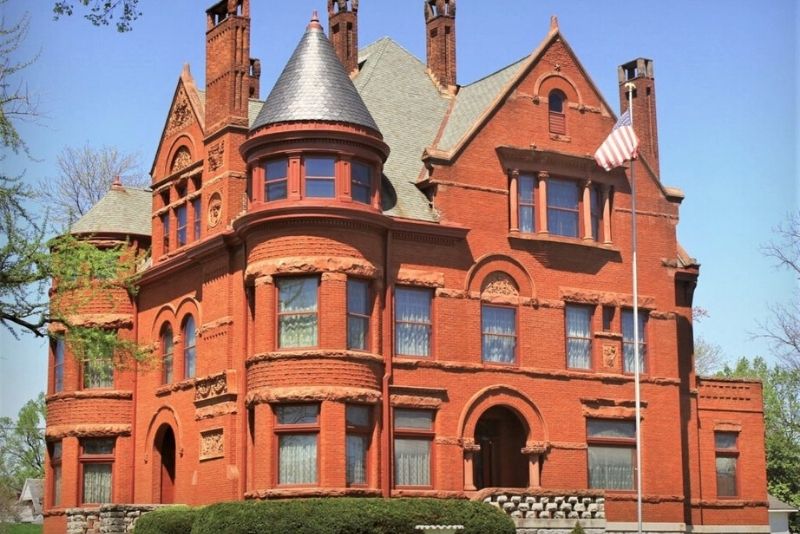 One of the quintessential things to do in Louisville – well, technically, it's locked in Jeffersonville, across the river – for water-babies and history buffs alike is to visit the Howard Steamboat Museum, an insightful locale dedicated to preserving the history of riverboats on the Ohio River.
Showcasing a range of artifacts, from old photographs and paintings to steamboat models and old-school tools used to create them, as well as the original blueprints of some of the most famous riverboats ever to sail the Ohio, the museum is a fascinating look into Louisville's past.
But the real star of the show is the museum's building itself – a piece of art in its own right. Built back in 1894, the orange-hued mansion boasts 22 opulent rooms, a centerpiece walnut grand staircase (modeled after one which appeared on a steamboat), and an impressive array of stained glass windows and 90% original furnishings.
Open year-round with both guided and self-guided tours, and at just $10 entry for adults, it makes for a worthwhile reason to venture across state lines.
55 – Check off the main highlights with a ride on the Trolley de 'Ville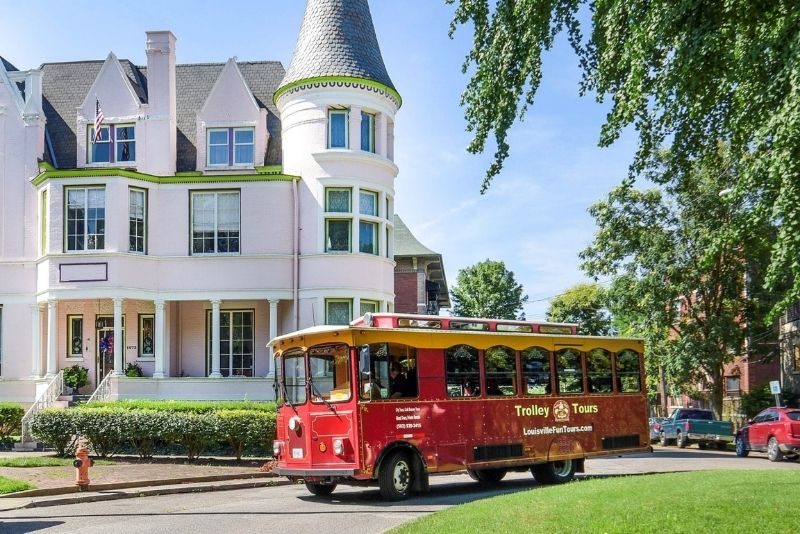 Whether you're short on time is simply want to rest your legs for a little while, a wonderful way to check off a few of Louisville's main attractions in one go is to take a ride on the old-timey Trolley de 'Ville.
This vintage trolley car makes its way around the major sites of downtown including the KFC Yum!, Center Downtown Arena and the Louisville Slugger Museum, before making its way to must-see locales like the Ohio River Wharf, the architecturally brilliant Old Louisville neighborhood, the University of Louisville campus, Whiskey Row, the Big 4 Bridge, the trendy NULU district, and much more – all with educational and entertaining narration along the way!
Hot tip: for a classic trolley tour with a bit of a twist, consider joining one of the Bourbon Tours! Led by friendly locals, you'll be able to immerse yourself into the sumptuous flavors of Kentucky's favorite drink and America's Native Spirit, stopping at a slew of different distilleries along the way for some top-notch tastings.
56 – Decide between cup or cone at Dairy Kastle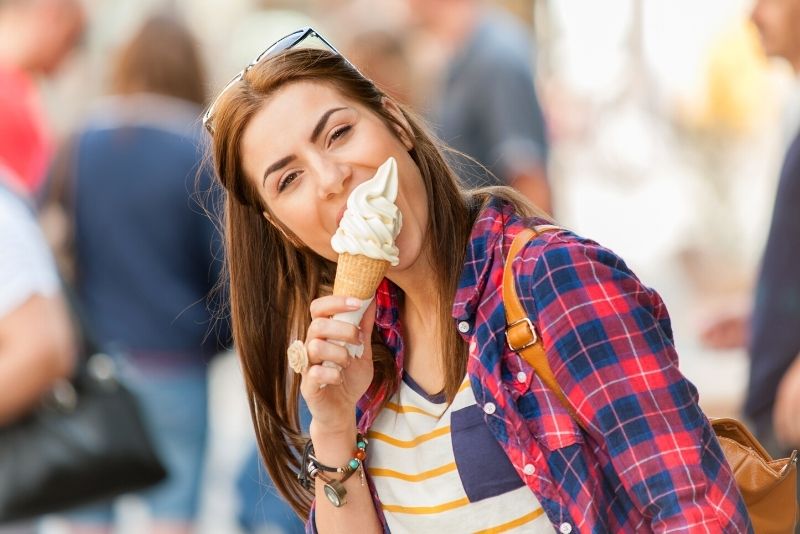 A longstanding and beloved Louisville institution, Dairy Kastle has been serving up delicious old-fashioned ice cream for more than 40 years and is considered the top go-to spot for soft-serve ice cream in Louisville!
With a huge range of both classic and innovative soft serve flavors on offer – plus delicious add-ons like being bolled in Oreos, nuts, or sprinkles – as well as all the sundae flavors you could dream of, it's easy to see why this place is such a hit with locals and visitors alike.
Even better? Vegan options are available and it's open until 9 pm every night, making it the perfect spot for a late-night sweet treat.
If you're not so much of an ice-cream fan, the peanut butter chocolate shakes are to die for, likewise the chili dogs with black bean chili, pulled pork sandwich, and extra-cheesy nachos!
Keep in mind: this place does things the old-fashioned way – it's cash only and tax is included in the serious bargain ticket prices.
57 – Visit the enchanting Idlewild Butterfly Farm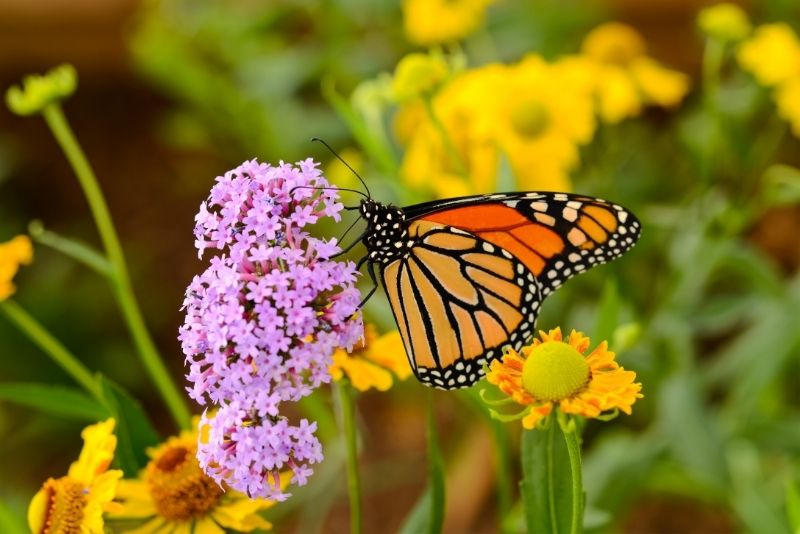 A truly unique and delightful experience, and the city's beacon for everything bug and butterfly, the Idlewild Butterfly Farm is a magical must-visit for nature lovers of all ages.
Hidden away in a nondescript house right next to the Logan Street Market, the Idlewild Butterfly Farm is home to thousands of beautiful butterflies, as well as a variety of other live insects and framed taxidermy.
As well as being a delightful place to while away an afternoon, the Idlewild Butterfly Farm is also a working farm and educational facility, with a focus on sustainability and conservation.
They offer tours, workshops, and classes for all ages throughout the year, making it the perfect place to learn about these amazing creatures – and get up close and personal with them and other creepy crawlies too!
58 – Pick up a unique souvenir at The Flea Off Market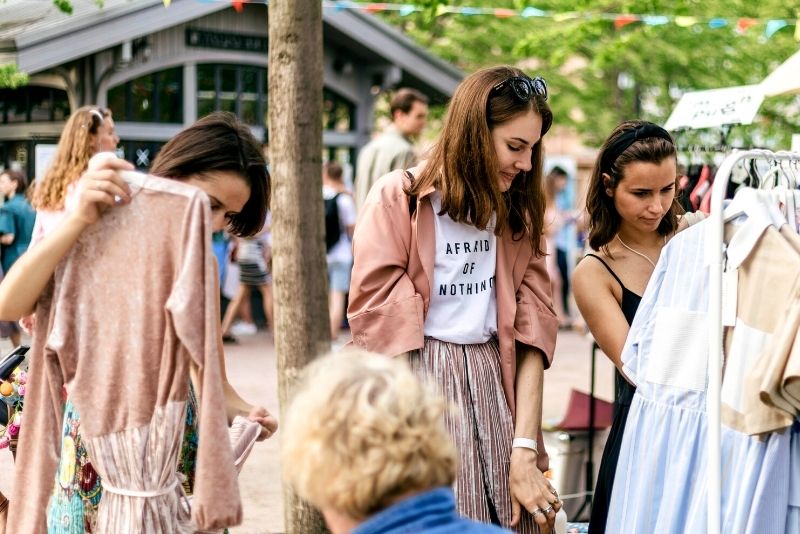 A Louisville spring staple, operating annually in March and April, the Flea Off Market is a giant open-air market held in the vibrant and edgy NuLu neighborhood, just east of downtown.
With up to 200 local vendors offering everything from vintage and antique goods to handmade arts and crafts, plus live music and delicious food trucks, locally-brewed craft beer, seasonal cocktails, a host of hands-on workshops, and the occasional open-air movie screening, it's the perfect place to spend a sunny Saturday afternoon.
And with many vendors having a strong focus on sustainability – think: upcycled, recycled, and repurposed goods – you can shop safe in the knowledge that you're supporting local businesses and doing your bit for the environment too.
59 – Go for dinner at Joe's Crab Shack
Who's hungry? Famous for their seafood boils – think crab pockets, stuffed shrimp, and juicy lobster, all cooked up in a giant pot of spices and served with corn on the cob and potatoes – as well as their buckets o' beer, Joe's Crab Shack is a relaxed and laid-back spot perfect for big groups.
With an extensive menu that also offers chicken, steak, burgers, salads, and more – not to mention a kids' menu, a full bar, and a gift store – there's something for everyone at this popular chain restaurant. And, thanks to its riverside location, the view is beautiful.
It's worth noting that the portions here are huge so come hungry! And if you're feeling brave (or maybe just a little bit crazy), why not try the All You Can Eat option (typically offered during the Thunder over Louisville festival)? Just make sure you leave room for dessert…the key lime pie is scrumptious.
60 – Party into the night at Fourth Street Live!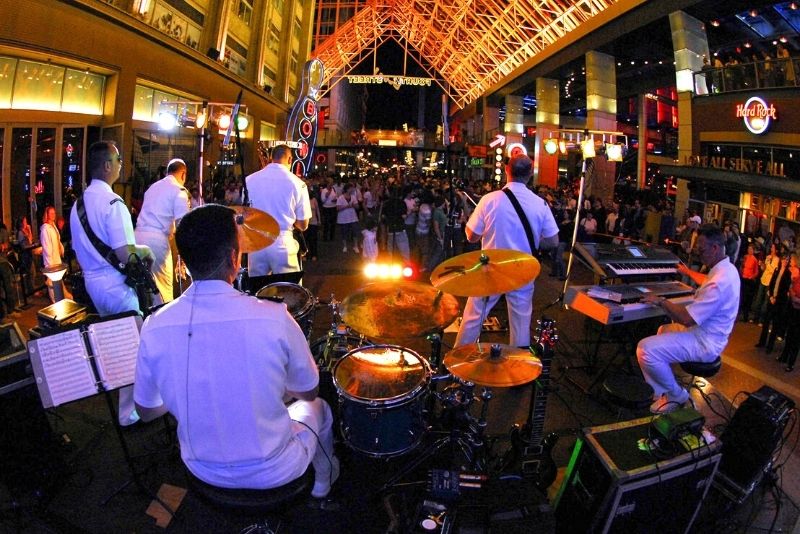 The beating heart of Louisville's nightlife scene, Fourth Street Live! is an open-air pedestrian mall packed with bars, restaurants, live music venues, and a whole host of other entertainment options.
With something for everyone – from country music fans to sports lovers to those who just want to dance the night away – it's no wonder that this place is always buzzing. And, thanks to its central location, it's easy to get to whether you're staying downtown or further afield.
And if you get hungry, you'll be spoiled for choice with a range of restaurants offering everything from pizza and burgers to Mexican food and sushi.
So whether you're looking for a fun night out or just somewhere to grab a bite to eat, Fourth Street Live! is definitely worth checking out. Just be sure to wear your dancing shoes!
61 – Hit the moshpit at Howl at the Moon Louisville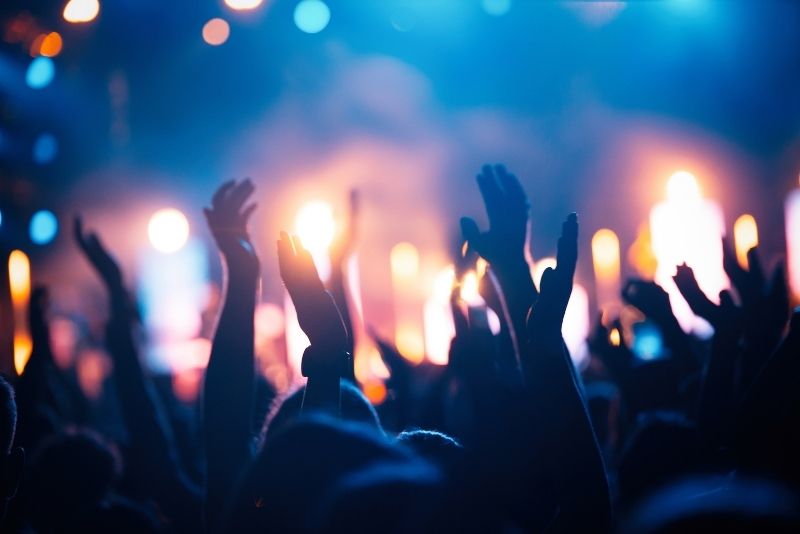 Party animals, this one is tailor-made for you.
Howl at the Moon Louisville is the perfect place to let your hair down and have a good time. With live music Thursday through Saturday and regular events throughout the rest of the week, the atmosphere is buzzing nightly.
Packed to the brim with socialites, dancers, and booze-hounds, this revered locale boasts a full bar, plenty of space to dance, and a lineup of live music that spans everything from 80's rock to 90's pop and the EMD beats of the 2020s – with all this and more (plus 86oz. buckets of booze!), it's easy to see why this place is so popular.
Found in the middle of Fourth Street Live!, this beloved nightlife venue is the perfect place to start – or end – your night out on the town, especially when its iconic dueling pianos are in full swing!
62 – Consider staying at the 21c Museum Hotel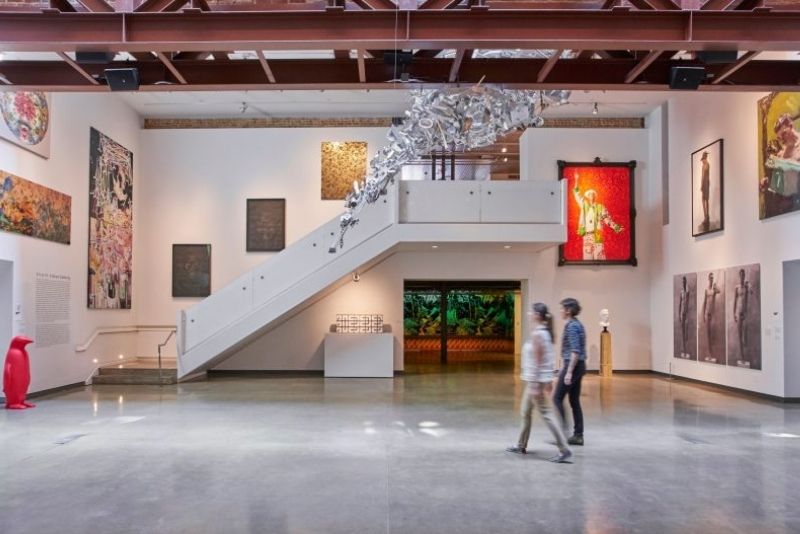 As an esteemed 4-star hotel and multi-faceted tourist attraction all rolled into one, a unique and luxurious hotel experience awaits you at 21c Museum Hotel Louisville.
With its contemporary art museum (highlighted by Serkan Özkaya's 30-foot tall statue of David, inspired by Michelangelo), a coveted on-site restaurant, spacious rooms, quirkily decorated and opulent suites, and top-notch service for each and every guest, this historic West Main Street accommodation presents itself as one of the premier places to stay, whether you're in town for business or pleasure.
Sure, it's a stone's throw from all the quintessential landmarks on Museum Row, but that's not all – the hotel also boasts the delectable Proof on Main restaurant, an award-winning eaterie led by executive chef Jonathan Searle (even if you're not staying here, it's worth making a booking).
Throw in a fitness center, a rooftop terrace with stunning views of the city, and top-notch hospitality to boot. So if you're looking for somewhere special to stay during your time in Louisville, 21c Museum Hotel should definitely be near the top of your list.
63 – Pamper yourself with a spa day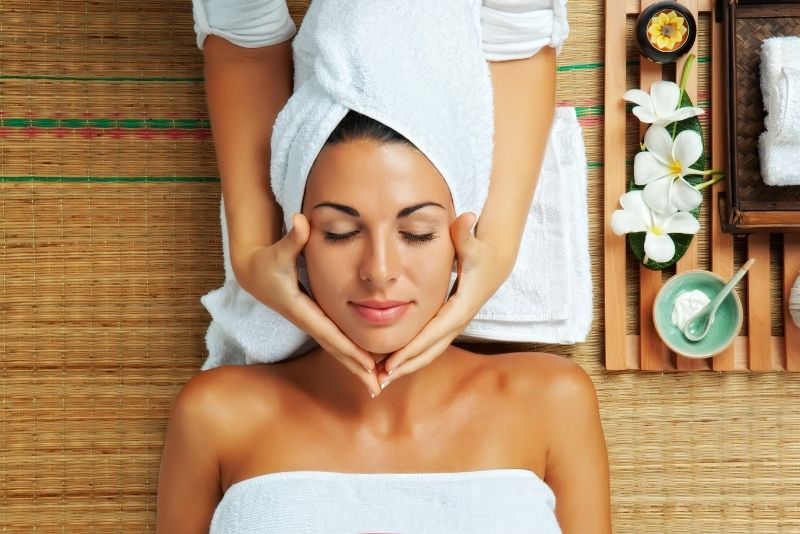 You're on vacation! Don't you think you deserve to be pampered in style with a little dose of self-love?
Treat yourself to a day of luxury and relaxation at one of Louisville's many spas; whether you're after a massage – everything from hot stone to traditional Thai, deep tissue and Swedish – a facial, or even just a manicure and pedicure, you'll find it here.
There are plenty of spas to choose from, so take your pick and let yourself be pampered from head to toe. You'll feel like new afterward!
Hot tip: book online and in advance for significant savings. Depending on your tranquil treatment of choice, you could easily save up to 50% compared to the walk-in price.
64 – Get stuffed at Feast BBQ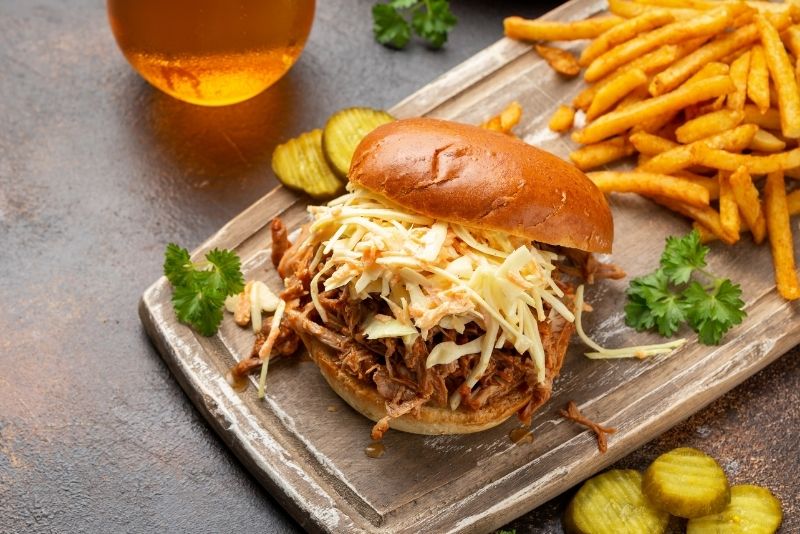 With a moniker like that, it's no wonder this place is all about the food. And what BBQ feast would be complete without some good old-fashioned Southern hospitality?
At Feast BBQ, a local gem in the East Market District, you'll find both in spades. The menu features all your favorite comfort foods – think smoked sausage, pulled pork, chopped chicken, and beef brisket – as well as an impressive selection of sides like mac 'n' cheese, creamy slaw, sweet potato fries, fried pickles, and collard greens.
But it's not just the food (or the Bourbon Slushies) that makes this place special; the staff here are some of the friendliest around and will make you feel right at home from the moment you walk through the door.
65 – Wet your whistle with a distillery tour or beer tasting!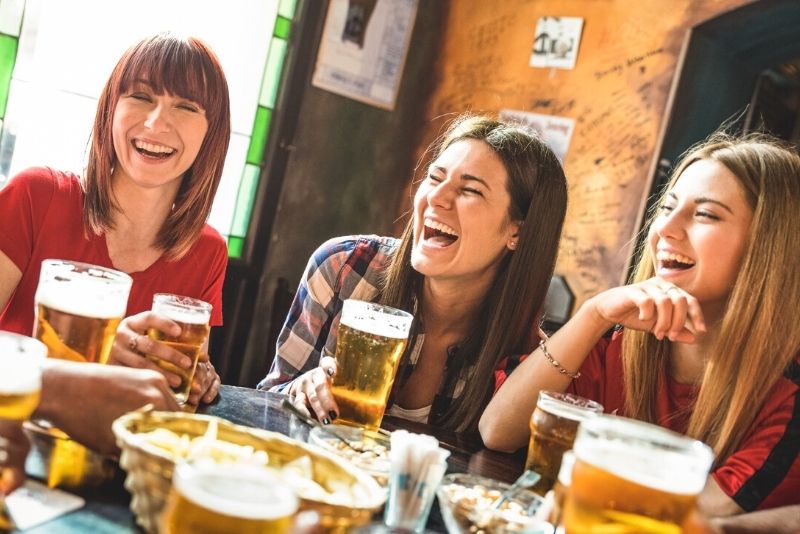 You knew this one was coming, right? As a city that prides itself on its bourbon heritage, Louisville is the perfect place to enjoy a distillery tour or beer tasting.
There are plenty of places to choose from, but some of the city's popular (and underground) favorites include downtown's Evan Williams Bourbon Experience where you can tour the facility; Kentucky Peerless Distilling Co, an urban warehouse distillery that's been dishing up barrel after barrel since the late 1800s;
Copper & Kings, a trendy and modern watering hole that also handmakes brandy, gin, and absinthe cocktails; the Rabbit Hole Distillery, which pours 100% Kentucky-made bourbons and ryes, and the Old Forester Distilling Co., where everything from barrelling to bottling (not to mention tasting) comes as part of the staff-led tour.
No matter which one you choose (or if you decide to hit them all!), you're sure to have a great time, learning a thing or two about Kentucky's most iconic export.
Are you more of a beer person? Then we have one word for you: Germantown. In this historic Louisville neighborhood, you'll find a plethora of local breweries all within walking distance of each other, and all best explored as part of a locally-led guided tour!
Where to stay in Louisville?
Whether you're looking for a bougie hotel full of all the opulent touches, a mid-priced room that's conveniently located, or something a little further from the action that will save a few bucks, Louisville has got you covered.
If you're looking to splash out, the 21c Museum Hotel Louisville is a great option. Located downtown, this hotel boasts not only beautiful and modern rooms but also an on-site contemporary art museum that's free to explore – perfect for those rainy days (see#62).
For something a little more mid-range, the Brown Hotel is a historic century-old landmark that's been given a complete makeover in recent years, resulting in gorgeous Art Deco-inspired interiors, while still retaining all its old-world charm. Located on the corner of Fourth and Broadway, it's one of many centrally-located abodes that will make your visit a breeze.
And finally, if you're on a budget and aren't too fussed by bells and whistles, any of the Radisson Hotel, Rodeway Inn, Country Inn & Suites, or Courtyard by Mariott will do the trick.
Of course, regardless of what you're after, make sure to book online and in advance through a comparison site – you can easily save up to 40% compared to a walk-in on the day.
Final thoughts:
Well, that's all for now, folks! We hope you've enjoyed our selection of things to do in Louisville, Kentucky, the Gateway to the South!
While you're venturing through this part of the country, there's plenty more to see, so make sure to check out our comprehensive lists of things to do in Nashville (great for music lovers), St. Louis (awesome for sports fans), Indianapolis (a museum-filled gem), and Cincinnati (famous for its art culture and chili!).
If you have any other must-see suggestions, feel free to let us know in the comments! As always, happy travels.