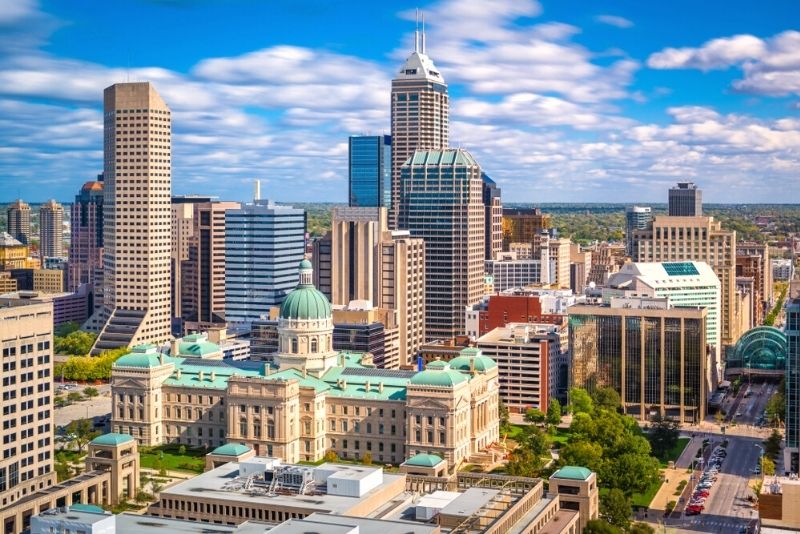 The capital of the Hoosier state and one of the Midwest's most underrated destinations, Indianapolis is a vibrant city full of pleasant surprises. From dazzling art to lip-smacking food (check out the Indianapolis City Market), a rich history and diverse entertainment options, the "Circle City" has something exciting for each and every type of visitor.
Sports fans, make a beeline for a Pacers' game or hear the engines rev at the infamous Indy 500 track. Art lovers, take in the masterpieces at the Indianapolis Museum of Art. History buffs, head to Monument Circle or the Indiana Medical History Museum. And outdoor enthusiasts, you'll be spoiled for choice by the city's sprawling urban parks and nearby forests.
Whether you're a longtime Hoosier or a first-time visitor, the selection of things to do in Indianapolis will never disappoint.
1 – See what the fuss is about at Monument Circle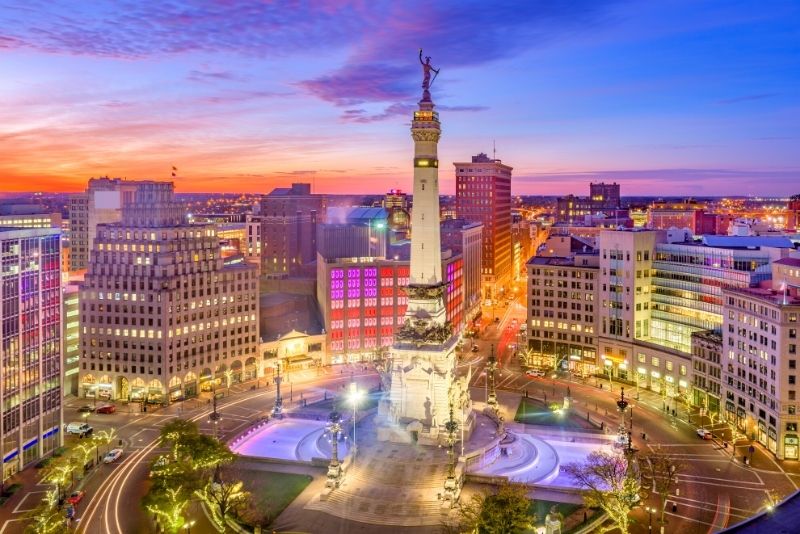 Surrounding the iconic 284-foot-tall Soldiers and Sailors Monument, this iconic spot is the beating heart of Downtown Indi, regularly hosting festivals and never shy of a vibrant and lively atmosphere.
Standing tall in the middle of a traffic circle, the limestone memorial offers striking views from its observation deck and acts as the center point for the city's biggest events, with no shortage of local food trucks and occasional light shows after sunset.
2 – Take the whole family to the Children's Museum of Indianapolis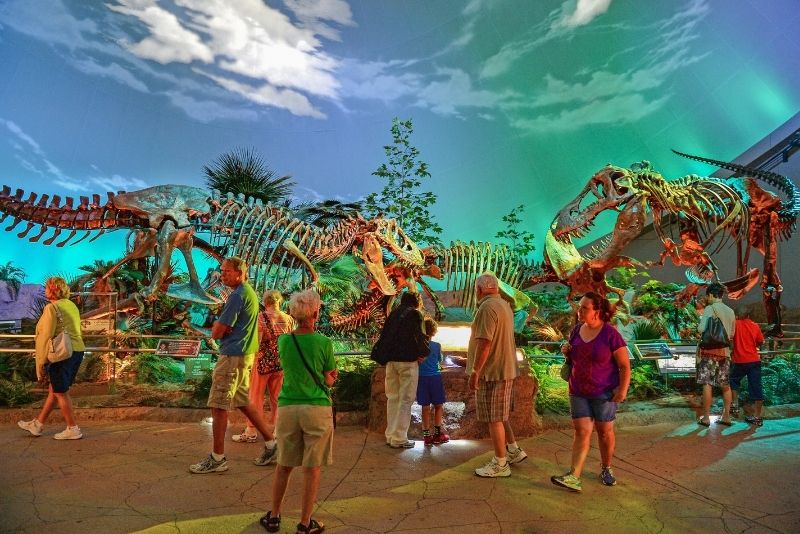 Traveling with energetic kids in tow? Then head straight for the Children's Museum of Indianapolis in the United Northwest Area! As officially the world's largest children's museum, this Indi staple sells itself as a must-see family attraction that'll keep the whole clan entertained and engaged all day long!
With a whopping five floors of interactive galleries and displays, including an impressive railroad exhibition, as well as countless rotating exhibits, there's so much to do at this world-class museum:
Wander through the Dinosaur Park; explore the magic of water; take a trip through Dale Chihuly's Fireworks of Glass; move your body at the Riley Children's Health Sports Legends Experience; learn about geology at Treasures of the Earth, or take a seat for a live, funny, and educational theater show!
3 – Ride along the Indianapolis Cultural Trail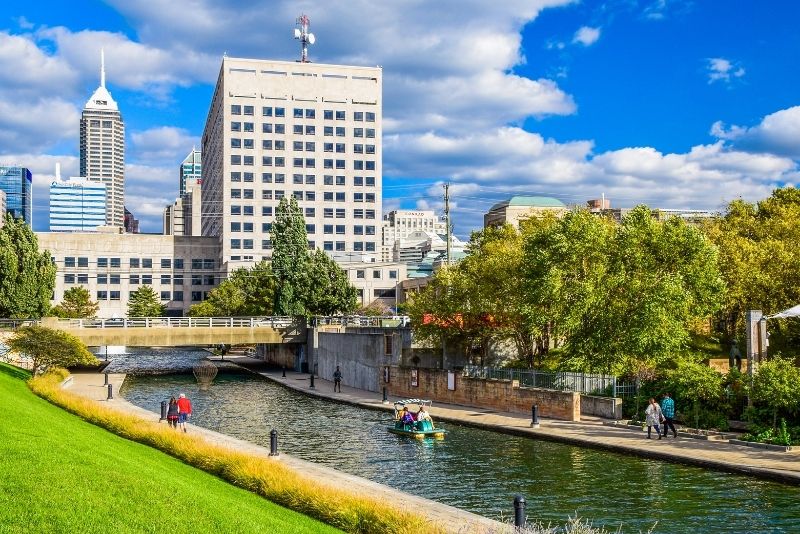 If you've got a bike or are in the mood to rent one (or don't mind a decent walk), then look no further than Indy's very own Cultural Trail — an eight-mile paved route that takes visitors seamlessly past some of the city's most famous attractions!
Whether your taste is for art galleries, parks, monuments, museums, or gardens, a trip down this tourist-friendly route — which passes through no loess than six quirky neighborhoods: Mass Ave, Fountain Square, The Canal & White River State Park, Indiana Avenue, the Wholesale District and Market East — is sure to be a highlight of your trip!
4 – Learn all about Indiana at the Indiana State Museum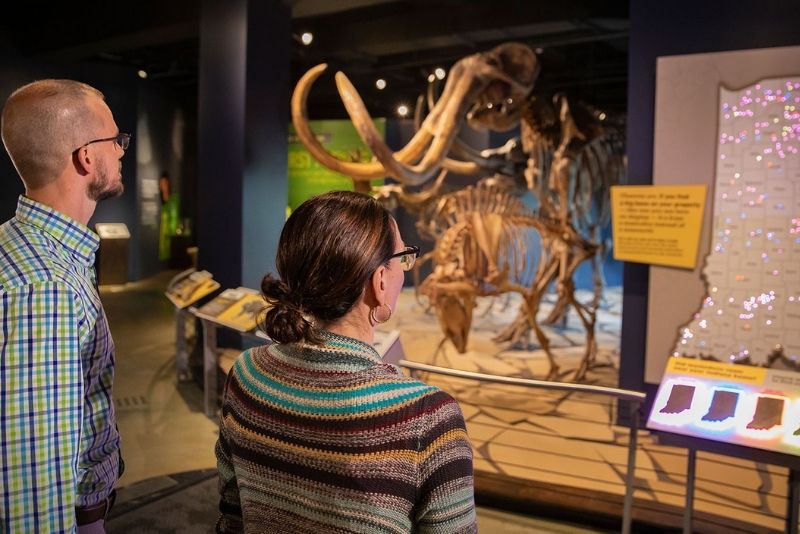 For a comprehensive exploration of the Hoosier state's history and heritage, look no further than the Indiana State Museum — formerly housed inside the old Indianapolis City Hall, the Museum (with over 500,000 objects) became too big and too popular in recent years and has found its new home among the greenery of White River State Park.
With 40,000 feet and three levels of exhibition space, dedicated to everything from prehistoric times through to modern art and natural sciences, this is your go-to destination if you're looking for something educational.
Plus, for a little bonus, the Museum is also home to the state's largest IMAX screen, so grab the popcorn and enjoy a film that's both educational and entertaining!
5 – Make some new furry friends at the Indianapolis Zoo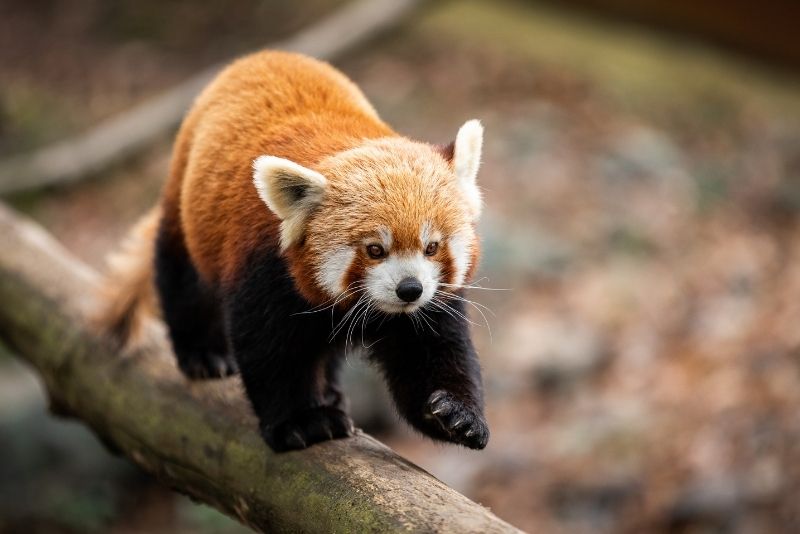 Also in White River State Park, this beloved Indi attraction is regularly atop traveler's list of things to do in Indianapolis, welcoming over a million visitors per year and acting as the home of more than 3,800 cute and cuddly animals (and a few odd).
Spread across 64 acres of land and with twice as many exhibits as any other zoo in the state, you'll find everything from the rare and endangered — including white rhinos, Amur tigers, Guinea baboons, red pandas, and Komodo dragons — to the most common of cheeky monkeys and slithery snakes!
With plenty of relaxation spots like their water lily garden (the perfect place for a picnic) and quiet paths where you can take your time admiring the animals, as well as live feedings and trainer shows, the Indianapolis Zoo is one of those places that makes you feel like a kid again.
6 – Visit the Indianapolis Motor Speedway Museum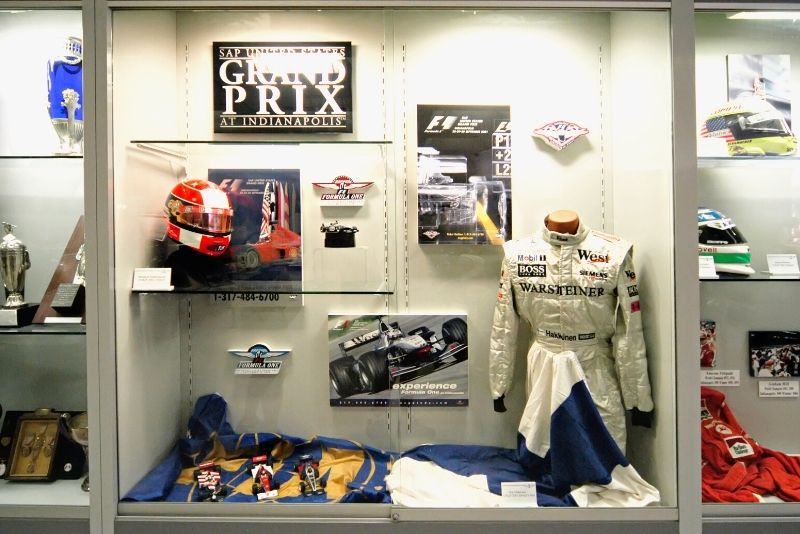 Perhaps best known for its spot on the NASCAR calendar with the Indy 500, Indianapolis Motor Speedway Museum, the home of racing in Indianapolis, is also a must-see for lovers of all things fast and furious!
Sitting inside the middle of the famous 2.5-mile oval track, the Museum covers two whole floors with dozens of historic cars (including those that won the coveted rave), motorcycles, engines and memorabilia dating back to the late 1800s.
While the rotating exhibits come and go, the undisputed highlight is the permanent fixture of the Indianapolis Motor Speedway Hall of Fame — a must for any devout petrolhead.
Hot tip: for the most in-depth experience, consider joining a guided tour.
7 – Put the pedal to the metal with an Indy Racing Experience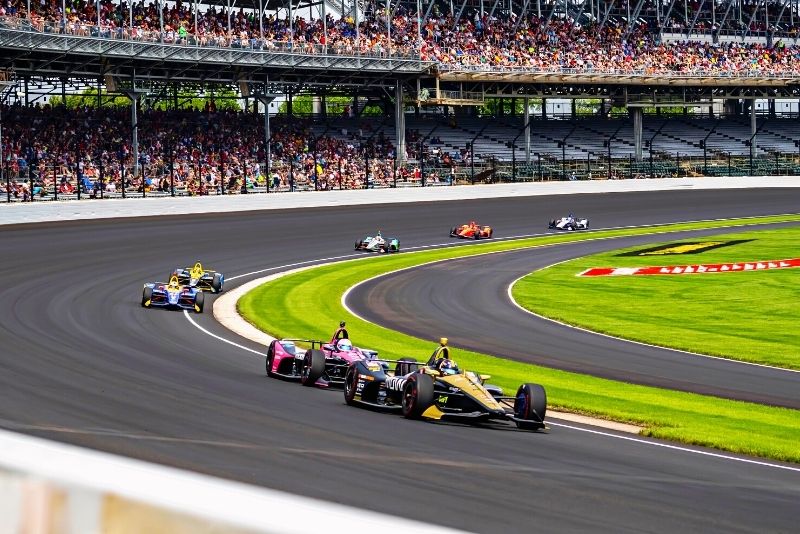 After learning all about racing history, it's time to get behind the wheel of an open-wheel chassis Indycar yourself!
At the hair-raising Indy Racing Experience, you'll be taken for a ride in one of their two-seaters with an expert driver teaching you how to handle it on the track. Prepare yourself for speeds up to 180mph and feel what it's like to race around the famous Oval — or one of the other unique tracks around the city available on certain race day weekends — and hold on for dear life!
8 – Hop aboard a boat tour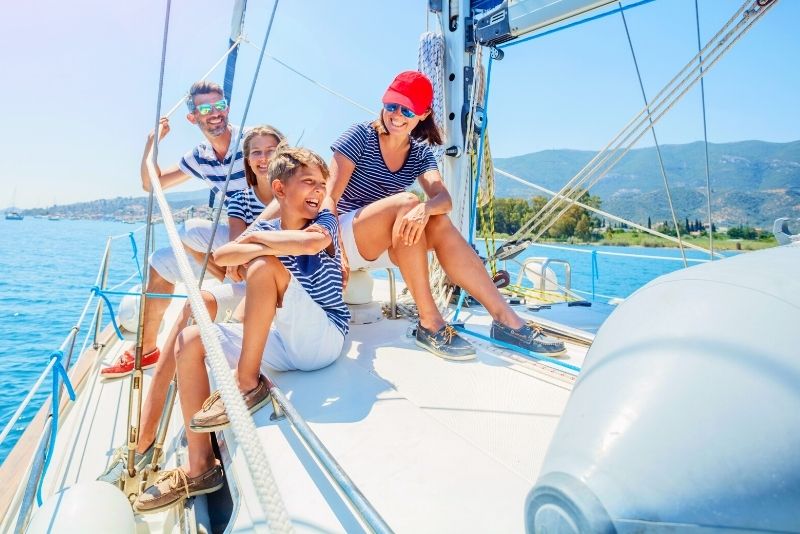 Whether you want to cut through Downtown with a ride along the White River in the center of the action or head out into the suburbs for a peaceful day on the Geist Reservoir instead, it's hard to go wrong with an Indy boat tour, especially on those sizzling summer days.
With several different options available (including historical trips, dinner cruises full of live entertainment, and after-dark fireworks cruises), there's something for everyone here, from the family looking to get out on a budget all the way up to those seeking a truly luxurious sailboat experience.
9 – Visit The Eiteljorg Museum of American Indians and Western Art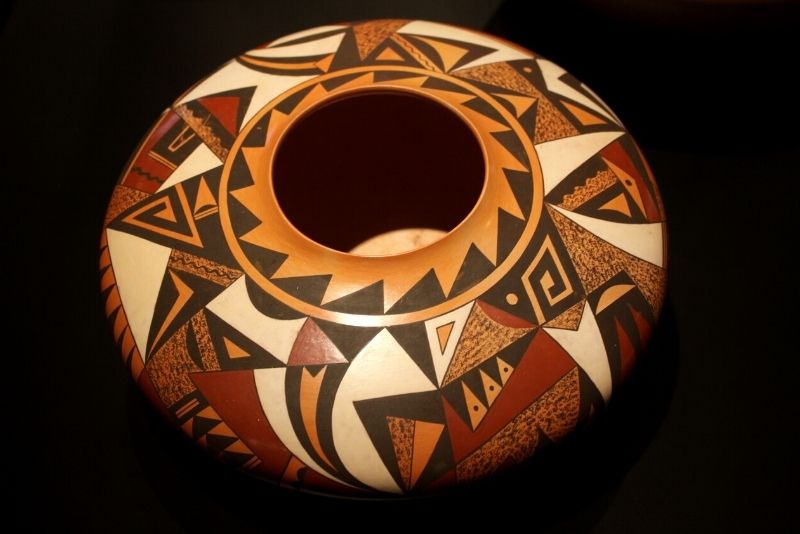 Found on Washington Street, right next to Military Park, this very unique museum in downtown Indianapolis is all about celebrating and displaying the cultures of Native Americans across North America, with a special focus on painting, sculpture and jewelry-making.
With over 74,000 square feet devoted to beautiful art (and even an outdoor amphitheater), this wonderful Eiteljorg Museum of American Indians and Western Art — housed within an award-winning building — has something for everyone, from young children who'll love the colorful fine art, to history buffs who'll revel in the fascinating stories of America's ancestors.
10 – Step back in time at the Lilly House and Gardens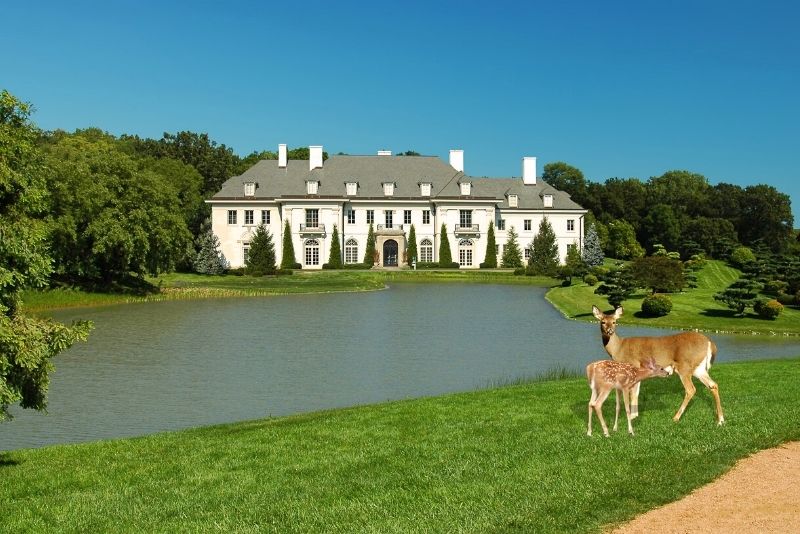 An absolutely stunning example of an early 20th-century country estate, this extraordinary French chateau-style home is filled with antique furniture, classic paintings and Victorian decor to match its grand exterior.
The Lilly House has been lovingly restored and is considered a National Historic Landmark, but you can still step inside for a guided tour of this unique piece of history and learn all about what life was like over 100 years ago (complete with old-school cars loaned from the Speedway Museum for that finishing touch).
Hot tip: if you're looking to save a few bucks, free guided walks through the sprawling gardens are offered on Saturdays and Sundays at 1 pm between April and September.
11 – Learn about a great author at the Kurt Vonnegut Museum and Library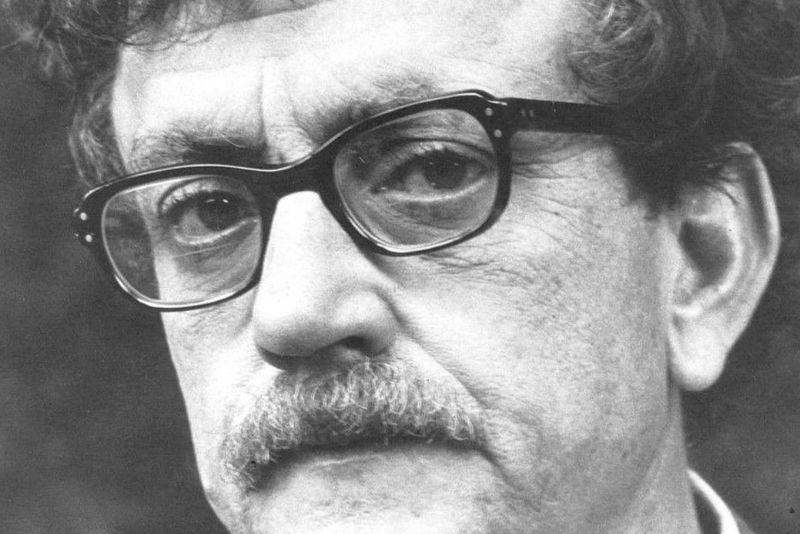 One for the literature lovers, this underrated attraction just around the corner from the Canal Walk dives into the life, work, and times of one of America's finest satirical authors.
From the man who brought you Slaughterhouse-Five, Cat's Cradle and Breakfast Of Champions comes a museum dedicated to Vonnegut's legacy as an author and social critic.
Even if you're not an avid fan of the man, this museum is still well worth a visit for its insightful collection of memorabilia and personal items — all best appreciated with an expert-led guided tour of the old building.
12 – Pay respects at the Indiana War Memorial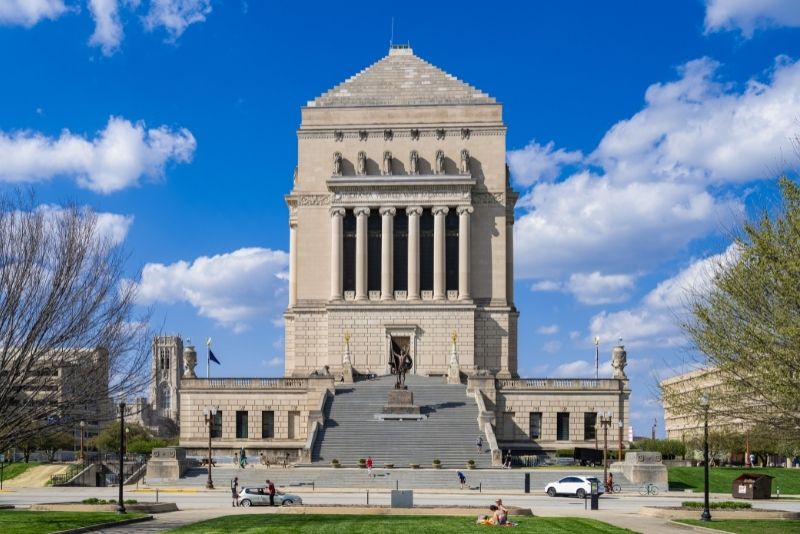 Another not-to-miss place in the heart of Downtown Indianapolis, the incredible Indiana War Memorial museum and shrine pays tribute to all those who served (and sacrificed) for American freedom over the years, originally built in 1924 to honor the veterans of World War I.
Besides the foreboding mausoleum-style memorial that often finds itself on postcards, the landmark is just as famous for its museum: inside the building itself, you'll find 30,000 square feet of military artifacts spanning the Revolutionary War to the modern day.
13 – Jump around at DEFY trampoline park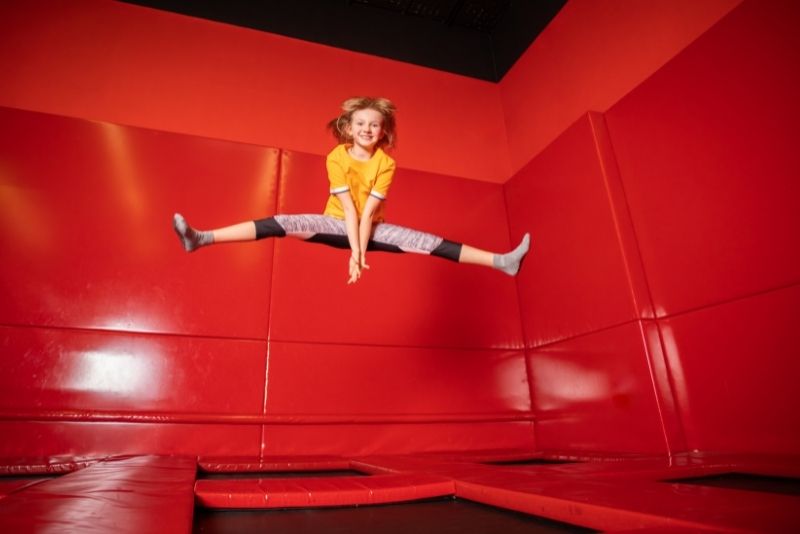 A surefire way to burn a few calories, Indianapolis trampoline parks are great fun for kids and parents alike.
With multiple locations across the city, the indoor play zones have something to keep everyone occupied: from trampoline dodgeball courts to foam pits, slam dunk hoops, Ninja Warrior obstacles, balance beams, and freerunner zones — not to mention special birthday party packages that'll make your little ones feel like real stars.
14 – Get cultured at the Indianapolis Art Center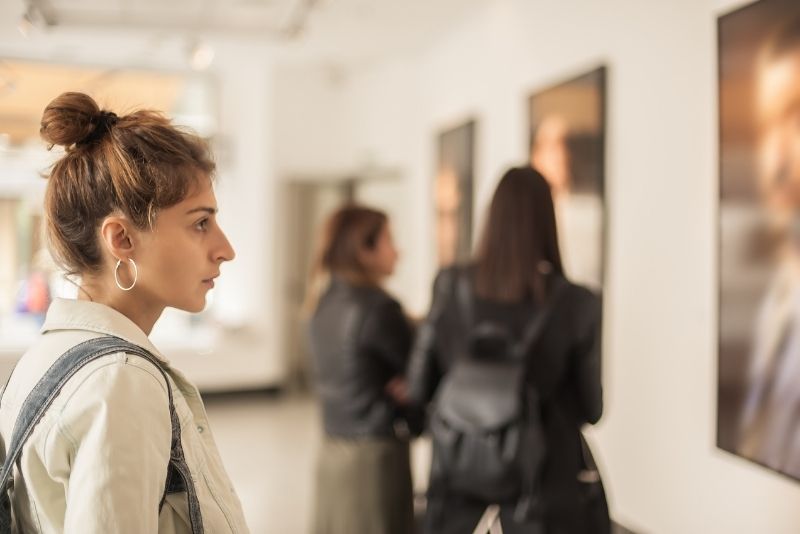 Another great city attraction that's always free to enjoy, this local gallery has been curating the best of modern and contemporary art for over 100 years, offering classes, workshops, and regular events along the way.
The Indianapolis Art Center is home to some truly stunning exhibits (especially if you're into photography or sculptures), but it's also a wonderful place just to walk around in: don't miss the outdoor sculpture garden or the peaceful cafe, where you can grab yourself an alfresco lunch while admiring some of the center's best pieces.
Despite being a 20-minute drive from the main haunts of Downtown Indy, with over 50 annual exhibitions to choose from, it's well worth the trip.
15 – Get competitive with an ax-throwing outing!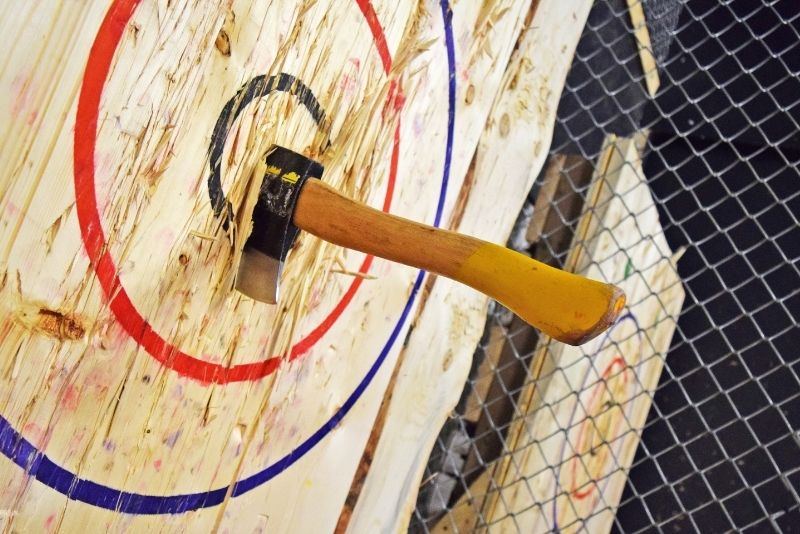 It's time to unleash the inner lumberjack!
At Bad Axe Throwing Indy, you can learn the basics of throwing sharp hatchets at wooden targets (in a safe and friendly environment) — it's like darts or bowling, but with axes!
With safety-focused instructors on hand to show you the ropes and orchestrate competitive games, plus a good selection of wines and beers to enjoy after hitting the bullseye a few times, it makes for a fun outing with friends or a quirky date night activity!
16 – Saddle up at the Natural Valley Ranch!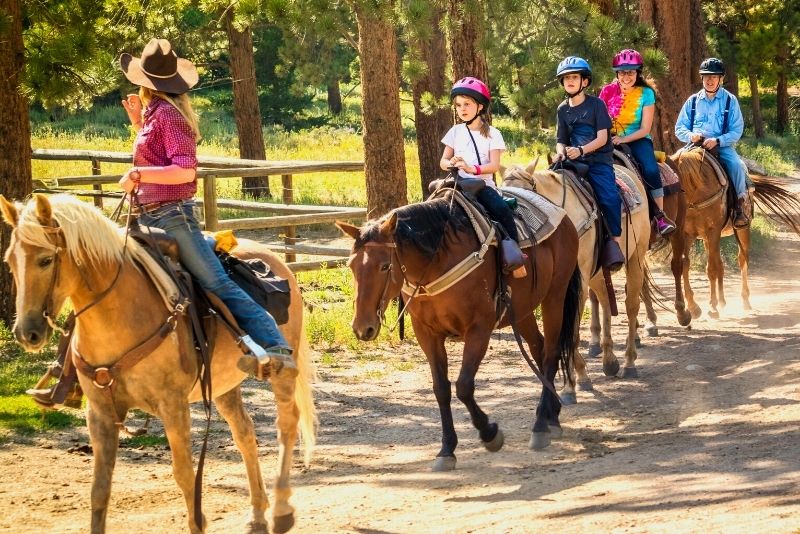 Just a short drive outside of Indianapolis in scenic Hendricks County, the beloved Natural Valley Ranch is home to diverse horseback riding trails and an onsite campground that provides a perfect change of pace from the hustle and bustle of big city life — plus, it's one of the few places in the region where you can see certain wildlife species up close (keep your eyes peeled!).
For families looking for some summertime fun, choose from guided rides through the woods, first-timer lessons, trots along White Lick Creek, and even birthday parties.
17 – Lace on the roller skates
At fan-favorite spots like the Fun Factory (formerly Wheels of Wonder), you can enjoy a night out on the rink with friends, turn the nostalgia into overdrive, or let your kids burn off some energy at one of their many themed nights.
In addition to all-ages skating sessions, there are a handful of arcade games, all-you-can-eat pizza nights (typically on Sundays and Wednesdays), and skating lessons.
Hot tip: while the Fun Factory is affordable any night of the week, head there on Tuesdays for $2 admission!
18 – Get lost in the Indianapolis Museum of Art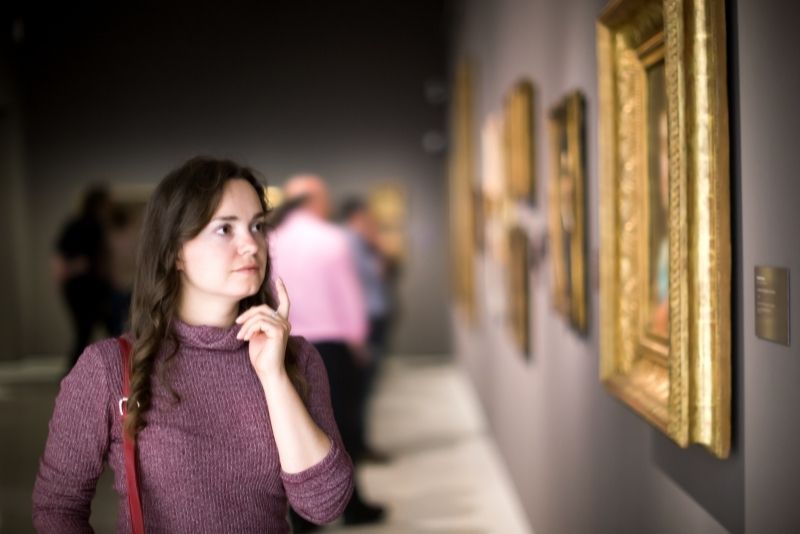 A treat for local art lovers, the Indianapolis Museum of Art has been hosting fascinating exhibitions since its opening in 1883.
Sitting on over 150 acres of pristine grounds in Newfields (the same location on which you'll find Lily House and The Virginia B. Fairbanks Art & Nature Park), the Museum is home to an impressive collection of more than 50,000 pieces highlighted by the spectacular Asian art display.
Whether wandering around at your own pace or following an expert guide, you can easily spend days exploring pieces from Egyptian mummies to impressionist masterpieces, not to mention the sprawling surrounding gardens.
19 – Stroll along the Central Canal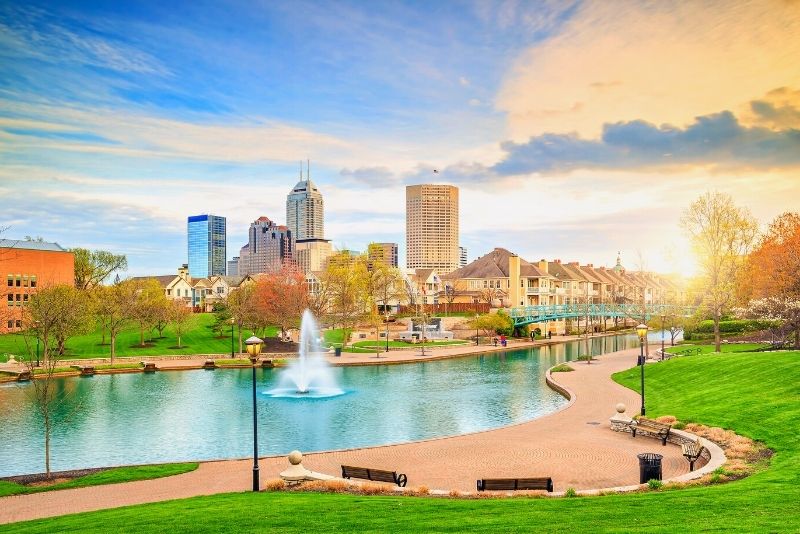 Tracking through the heart of Downtown Indy and up to the north, the Central Canal is more than just a pretty waterway — it's also one of the city's most scenic spots for exercise (walking, jogging, or bike-riding) and people-watching.
The view of the downtown Indianapolis Skyline from the canal is impressive, the walk at and just after sunset is romantic, and the array of shops and restaurants branching off from the main route is diverse and welcoming — all up, a non-negotiable destination for a late afternoon stroll.
Of course, with a range of boats sailing through the canal, you can jump aboard a cruise for a new perspective altogether.
20 – Go Dragster driving!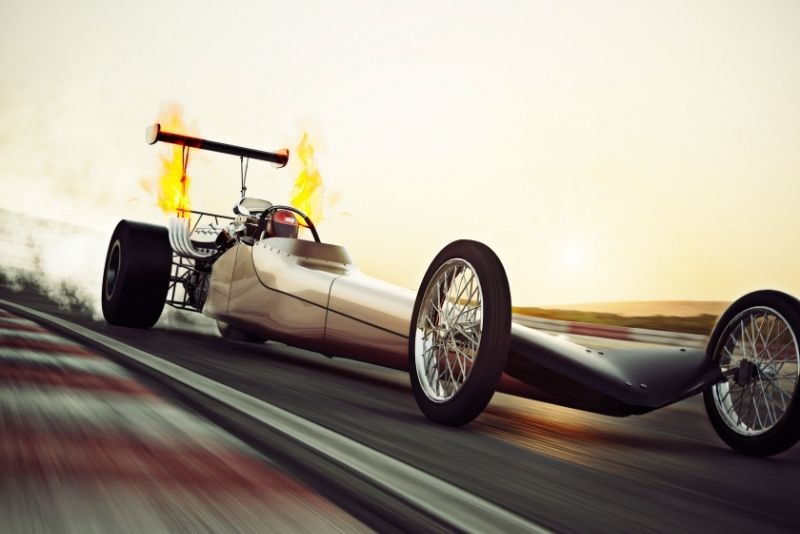 Craving an insatiable need for speed?
Head out to the Lucas Oil Raceway, where you can rev your engines at a test track in a 2-Seated Dragsters, reaching mind-numbing speeds of well above 140 mph!
Rubber will be burning, the adrenaline will be pumping, and — regardless if you opt for the passenger or driver package, or even the 1/4 mile runs — you'll have memories to last a lifetime.
21 – Check off the attractions in White River State Park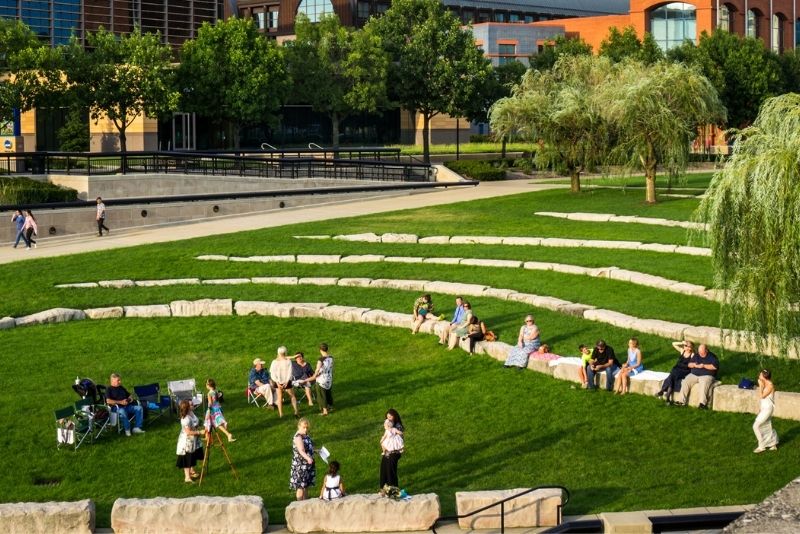 This massive park in the heart of Downtown Indy is so much more than a green space — White River State Park is an experience full of cultural events and a lively atmosphere, and it's officially the only urban state park in Indiana.
With attractions like the Indianapolis Zoo, The Eiteljorg Museum of American Indians and Western Art, and Victory Field (home to MLB team – The Indianapolis Indians), not to mention the adored Indianapolis Zoo and White River Gardens, you'll be able to spend hours at this beloved destination.
22 – Drift around corners at K1 Speed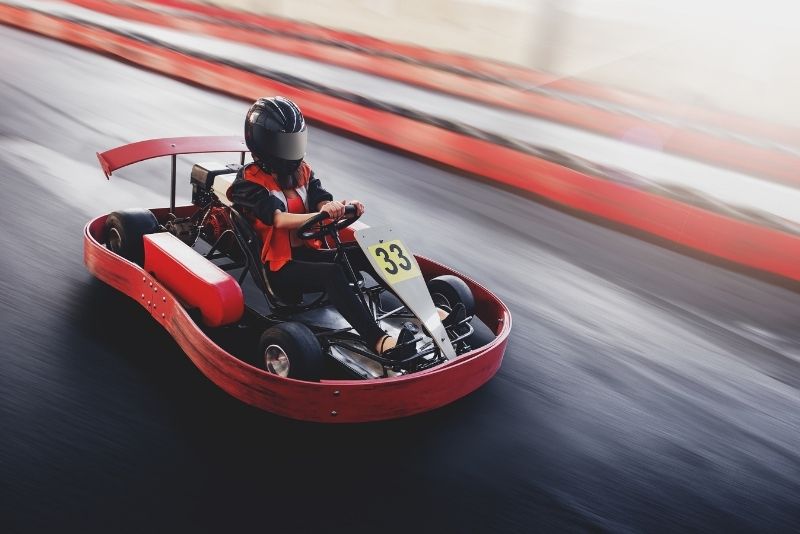 Not quite ready for an actual dragster race or a hot lap on the Indy circuit?
Drawing racers of all experience levels, K-Speed Indy offers an indoor go-kart racing opportunity like no other.
With high-performance electric go-karts capable of reaching speeds in excess of 45 mph (and with custom race packages to make your outing even more fun), this venue is not only the most convenient place to get behind the wheel but it's also the perfect place to bring friends and loved ones for a day of high-speed fun, with racing memorabilia, comfy couches, and plenty of food and drink to boot.
23 – Go sky-high in a hot air balloon ride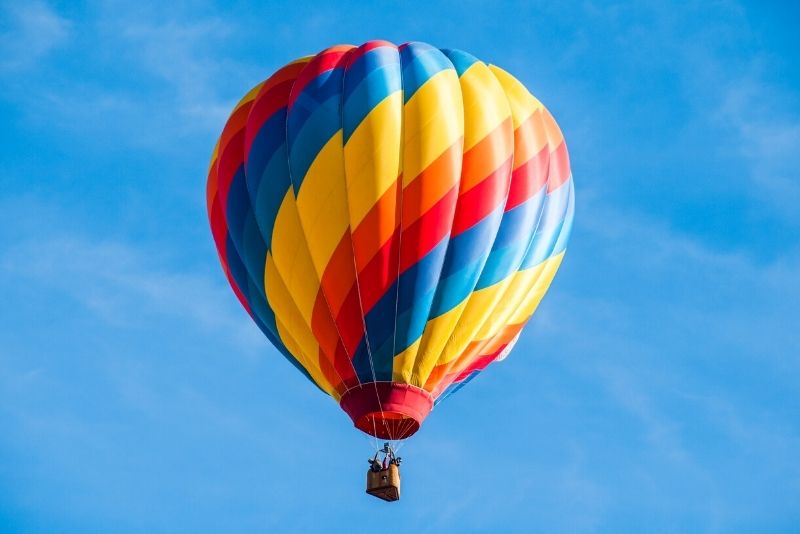 Offering the perfect blend of thrills and relaxation, as you soar above the city skyline, you'll see everything from Monument Circle to Eagle Creek Park in a whole new light.
While the pre-sunset wakeup might be a struggle, as you glide across the sky and the urban landscape morphs into rolling fields and forests, you'll be glad that you put in the effort — and this unforgettable experience is worth every bit of sleepiness.
24 – Go bowling!
A perfect indoor activity for a rainy day, or for when you just want to hang out with friends, bowling is always a good time.
With plenty of lanes spread across multiple locations around the city, and arcade games, retro tunes, there are endless opportunities to have fun at this classic American pastime!
If you're not sure where to start, Action Duckpin Bowl in Fountain Square has been around for almost a century, with eight old-school lanes of duckpin bowling and a sizeable eaterie too!
25 – Peer into outdated treatment methods at the Indiana Medical History Museum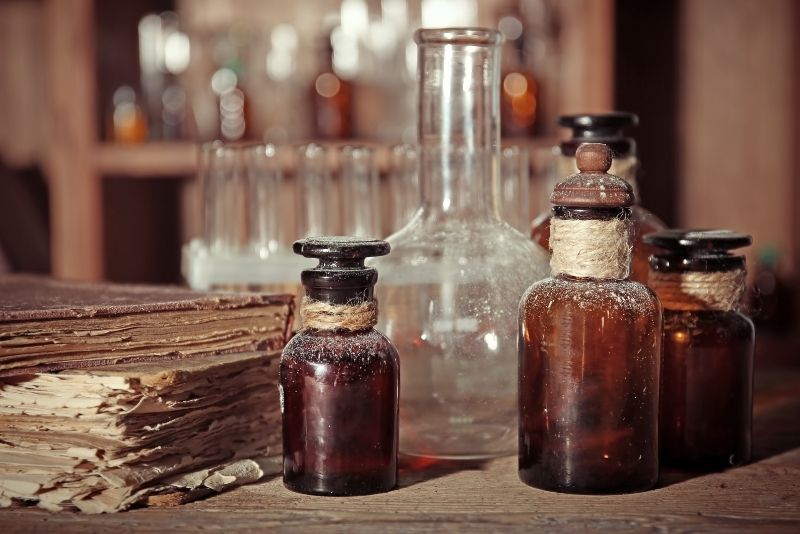 Obscure yet certainly fascinating, the Indiana Medical History Museum is home to some of the weirdest medical memorabilia around with a topsy-turvy history to boot, sitting atop the grounds of what once held the Central Indiana Hospital for the Insane (later renamed to Central Indiana Hospital).
Venturing into the stories and development of psychiatric treatment, with a host of exhibits both eye-opening and gripping — over 15,000 in total including autopsy tables, iron lungs, and chemical laboratory equipment — this museum is certainly not for the faint-hearted.
26 – Check out Greatimes Family Fun Park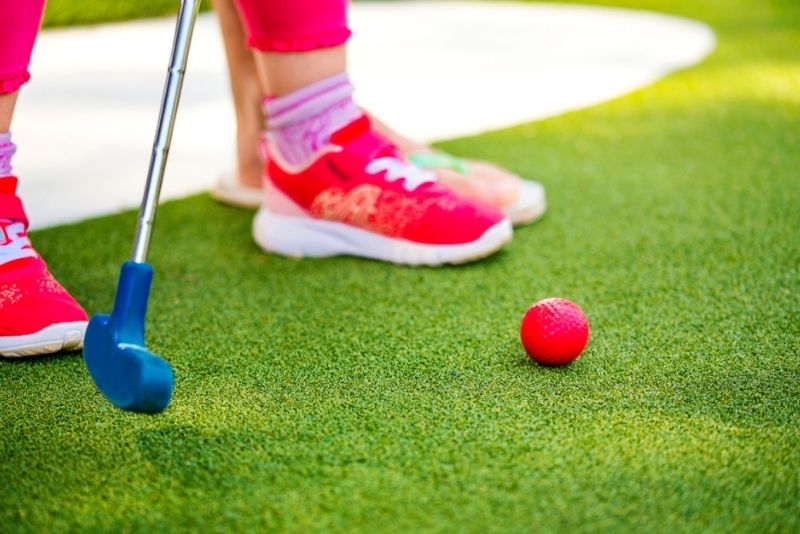 Keeping kids entertained for hours, Greatimes Family Fun Park is a great destination to visit if you're looking for sunny-day things to do in Indianapolis — and, located just 15 minutes drive down the I-65 from Downtown, it's easy to get to as well.
With bumper cars (and bumper boats), go-karts, mini-golf and arcade games galore — not to mention a substantial restaurant area with plenty of options, this amusement center has something both kids of age and kids at heart can enjoy!
27 – Shout "Touchdown!" at Lucas Oil Stadium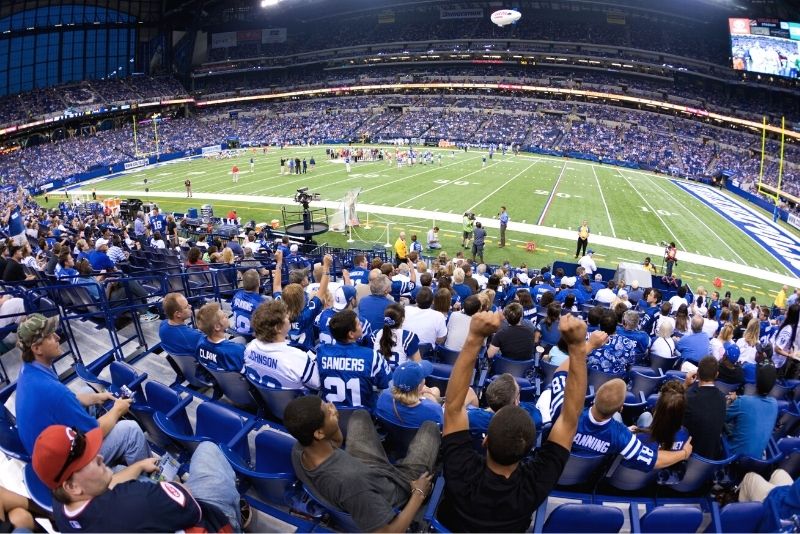 Home to the Indianapolis Colts and a hot-ticket concert venue, Lucas Oil Stadium is an iconic hub of activity in Downtown Indy.
As one of the largest stadiums in Indiana and one of the most impressive football stadiums across the United States, this venue is a must-see for any sporting enthusiast.
With guided tours available throughout the year (and even parking available) to get a behind-the-scenes look at the sport and the stadium, and regular sell-out crowds (and did someone say tailgating?) it's easy to see why so many people flock here every matchday!
28 – Play laser tag (and bowl a round) at Royal Pin!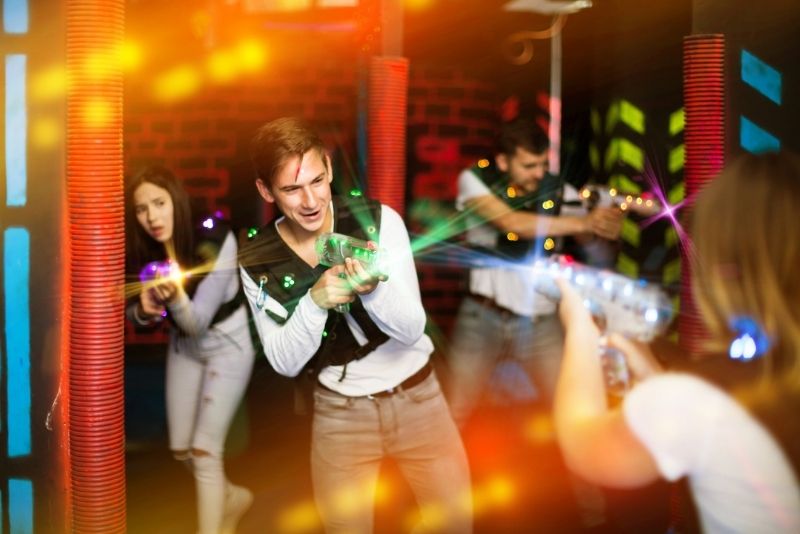 A classic bowling alley with a twist, Royal Pin not only dishes up a handful of ten pin lanes, but also a multi-level, black-lit, maze of lasers and obstacles in its ever-exciting Pirate's Quest Laser Tag!
Throw in arcades, birthday parties and bookable corporate events, and three locations across the city — Woodville, Western, Castlewood and Beech Grove — and you've got simple access to a great couple of hours of competitive fun no matter where you're staying!
29 – Ride the Ferris wheel at the Indiana State Fair Midway!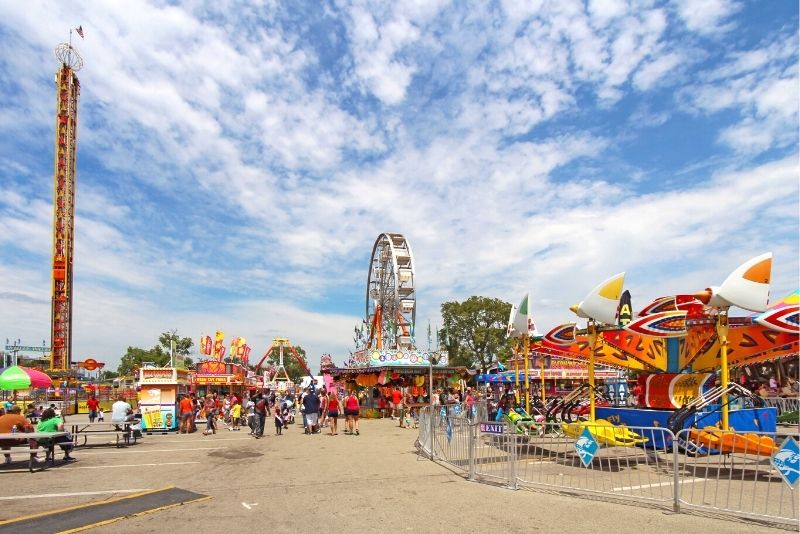 A hub of activity in summer, the Indiana State Fair Midway is a huge attraction for families and thrill-seekers alike, typically running from late July to late August right next to The Track of Champions!
With over 100 rides across 11 acres — including roller coasters, Ferris wheels and plenty more that whirl you around at high speeds — this renowned fairground has been delighting visitors since, believe it or not, the mid-1800s!.
With deep-fried food galore (make sure to try the fried cheesecake), potato sack slides, carnival games, candy apples, and more, so long as your visit lines up, it makes for quintessential visiting.
30 – Hop around all of the Newfields attractions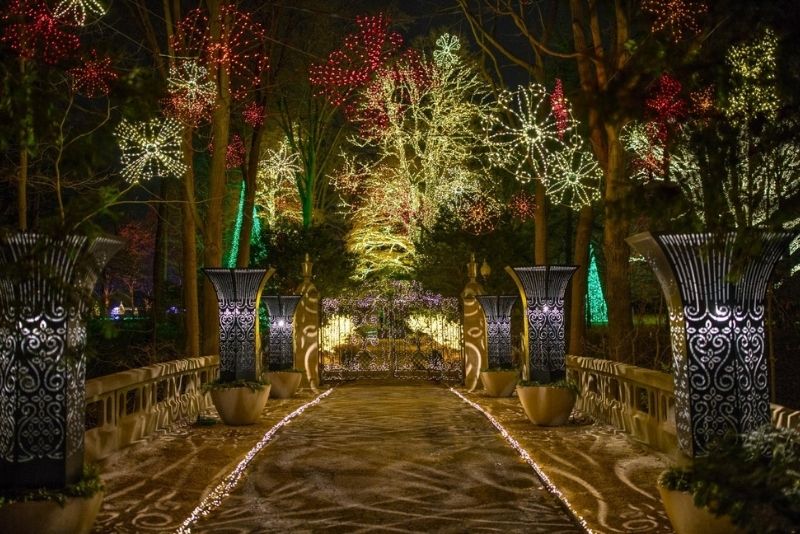 Calling itself "a place for nature and the arts", with a relaxing and picturesque exterior and cultural activities week in, week out, Newfields makes for a beautiful area to stroll around — especially if visiting during the Winterlights festival.
Home to the Indianapolis Museum of Art, Lily House, Fairbanks Park, and no shortage of well-manicured gardens — oh, and a beer garden for all of you thirsty travelers —there's plenty here to see and do no matter the weather forecast.
31 – Take in a baseball game at Victory Field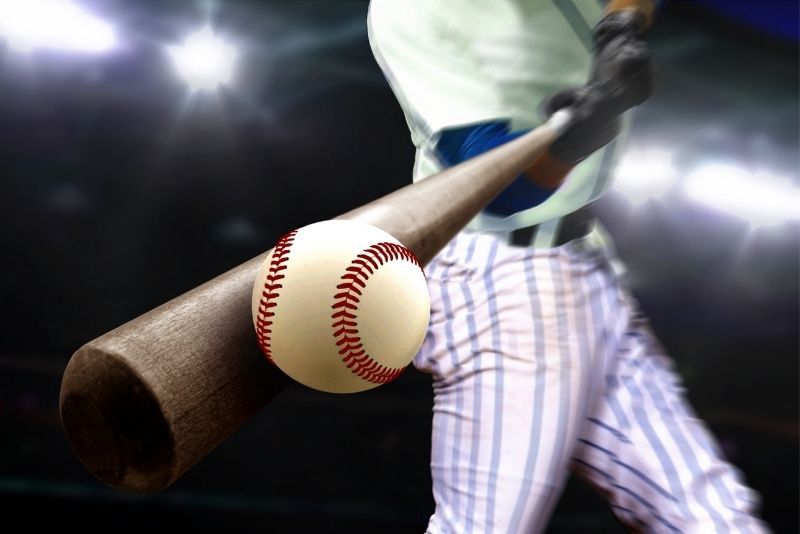 Home to the minor league's Indianapolis Indians, Victory Field is an iconic sports stadium and home-away-from-home for many locals. Tucked away in White River State Park on the west side of downtown, it's easy to get to, an easy walk from the canal, and is constantly full of excitement.
With its own bars on-site (and plenty of other restaurant options surrounding it) there's no shortage of ways to take in an evening here — just be sure you get your tickets early!
32 – Pamper yourself at a spa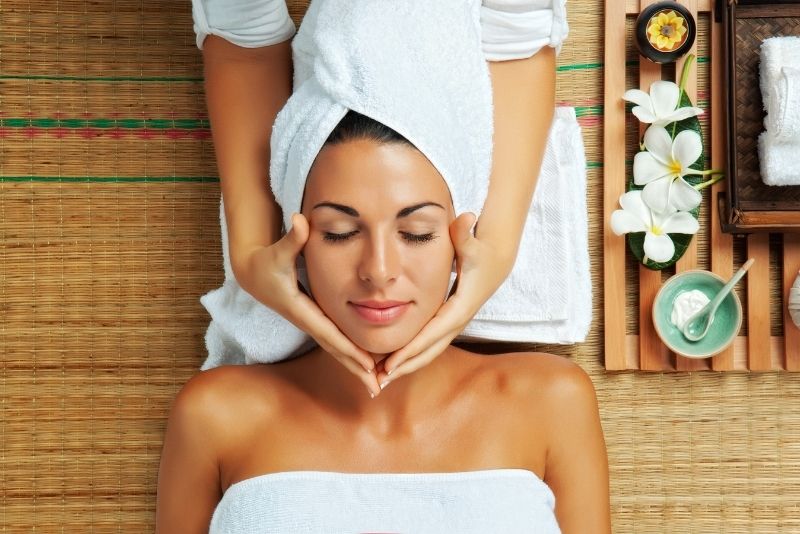 You're on vacation, after all — why not make the most of it?
With a multitude of options available in and around Indianapolis, there's no shortage of ways to look and feel your best: start off with a massage (choose from hot stone, remedial, Thai or couples), pamper yourself with a pedicure, refresh the senses with a facial, and finish up with a manicure.
Take note: you can save a considerable amount of money by booking spa treatments online and in advance!
33 – Swing through the treetops on zip lines at Go Ape!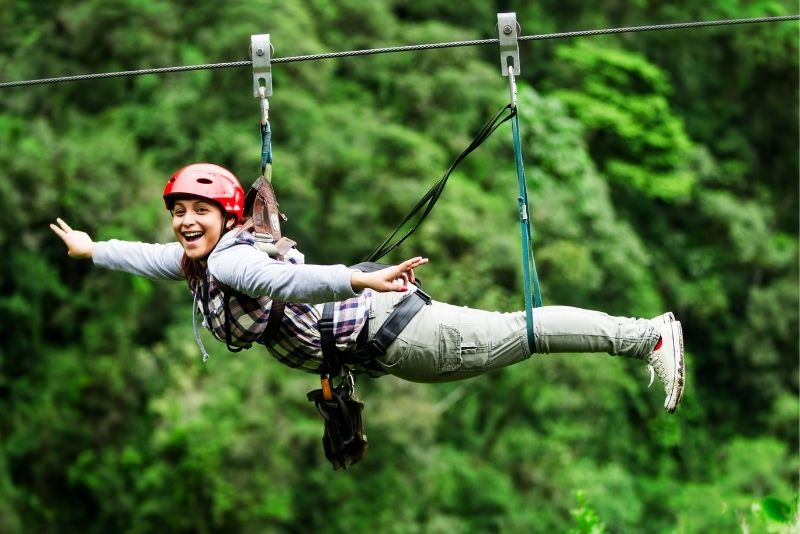 Ready to swing from tree to tree like Tarzan?
Go Ape at Eagle Creek Park is the perfect way to test your limits, with its high-ropes course and collection of zip lines (the longest of which is a whopping 305 feet!), swings and challenges requiring at least two hours to complete — all the while suspended some 40 feet up into the lush woodland canopy!
Outside of the adventure park itself, with ample opportunities for fishing, boating, and hiking, Eagle Creek Park is a hot destination for nature-loving locals.
34 – Whisk away a day at Eagle Creek Park and Nature Preserve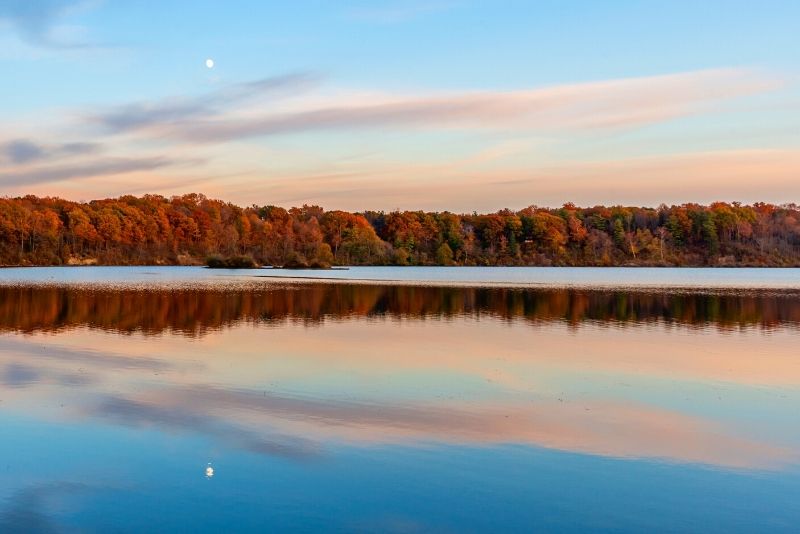 To elaborate on that (#33), the Eagle Creek Park and Nature Preserve is far more than just a fun day out with Go Ape. With over 3,900 acres of stunning woodlands — making it one of the nation's largest urban parks — this is a great place to get back to nature.
There are plenty of trails for hikers and horse-riders alike, along with catch-and-release fishing opportunities in the Eagle Creek Reservoir.
Check out the swimming area, dog park, golf course and sailing club; and then kick up your feet with a well-earned snack from Rick's Boatyard Café.
Keep in mind: there's usually a $5 or $6 entry fee per car.
35 – Watch an NBA game at the Gainbridge Fieldhouse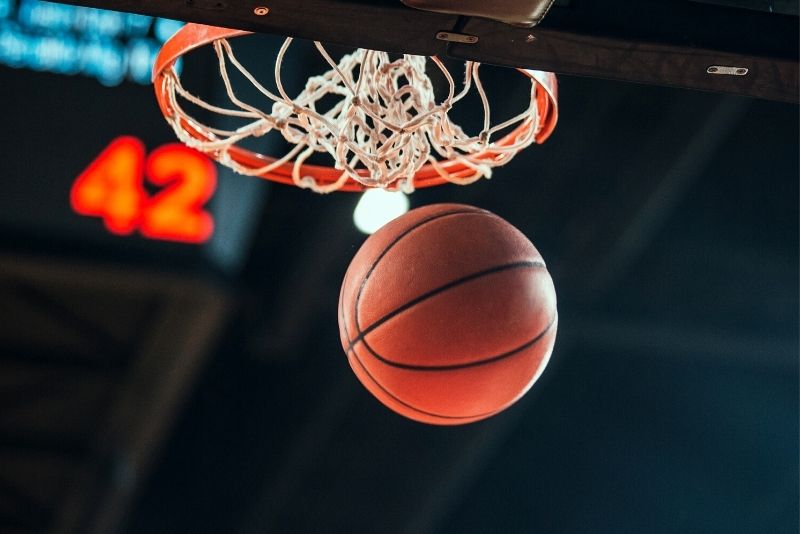 It's a family-friendly sports haven, and one of the best-kept secrets in Indy.
As the stomping ground of none other than the coveted Indiana Pacers of the NBA (plus the WNBA's Indiana Fever), it's no surprise that the Fieldhouse is one of the most famous buildings in Indianapolis, and with good reason.
When the Pacers play, the roar in the 20,000-capacity stadium is deafening, likewise when the long list of A-list performers take center stage. So whether it's for a ball game or a concert, be sure to add this iconic spot to the list.
36 – Tee off on a golf course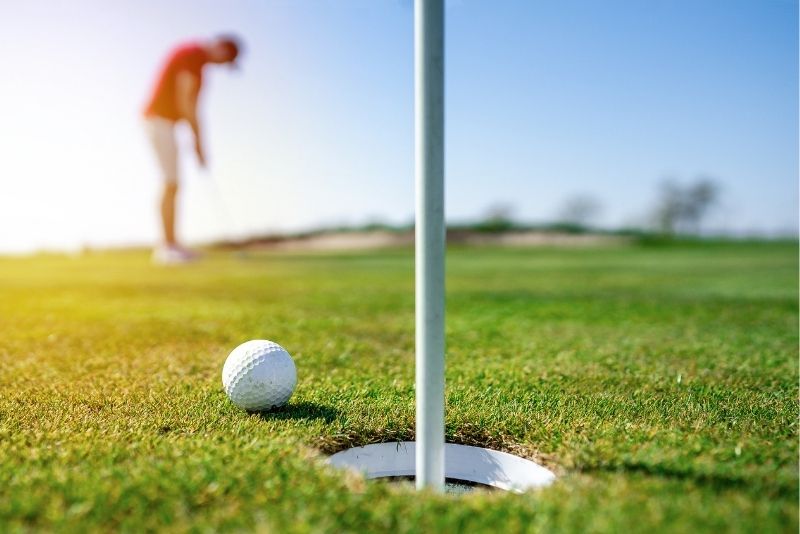 Offering absolutely no shortage of fine fairways, there's a golf course within an easy drive of most anywhere in Indianapolis.
So grab your clubs, and head out to any one of the top-class courses that call this city home: from The Brickyard Crossing, boasting views over Indy's famous racetrack; or Highland Park Golf Course with its picturesque landscape — not forgetting Greenwood Hills, the Maplewood Golf Course, and the South Grove Golf Course too — all of which are stunning in their own right.
Prefer to try something a little different? There's always frisbee golf or glow-in-the-dark mini-golf!
37 – Hit the drums at the Rhythm! Discovery Center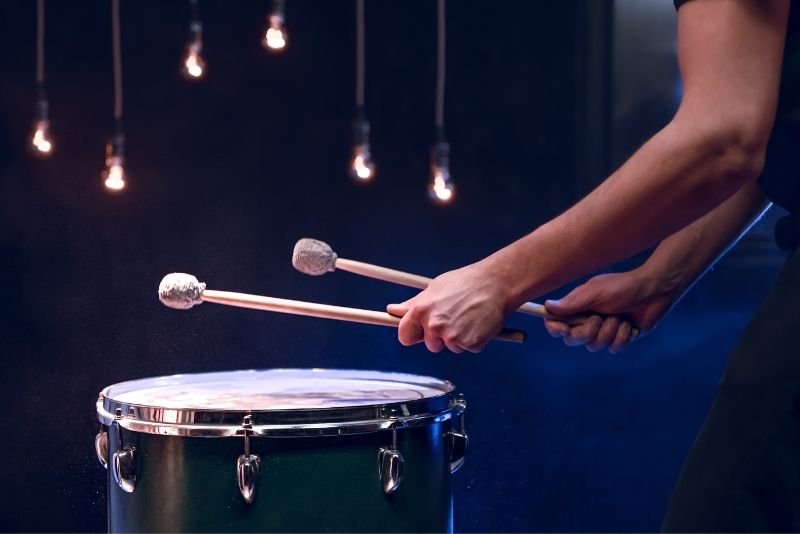 Boasting the impressive claim to fame of being the world's foremost interactive drum and percussion museum, Rhythm! Discovery Center promises to be a world of fun for the whole family.
Smack-bang in the middle of Downtown, with a handful of welcoming educational programs to enhance the hands-on exhibits and musical instrument displays, you'll be banging and tapping away in no time!
38 – Take a drive to the historic Conner Prairie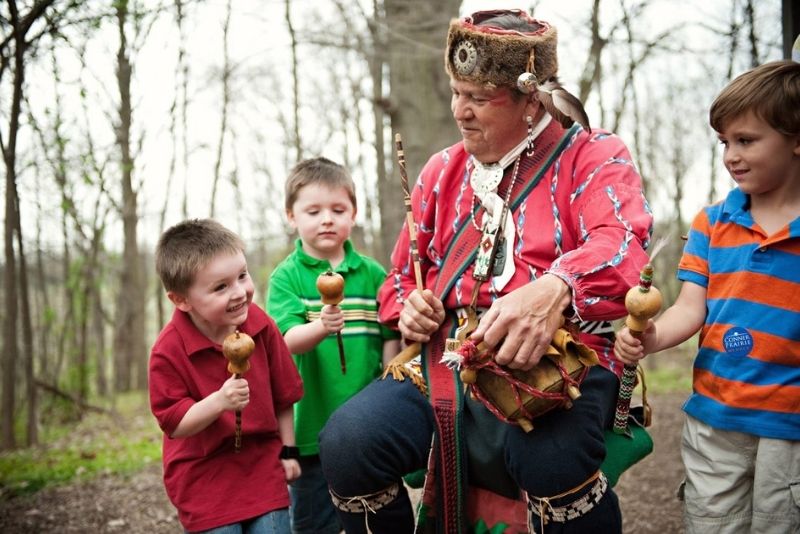 There's always something happening at Conner Prairie, Indianapolis' much-loved living history museum that sits just 40 minutes away by car in charming Hamilton County.
A National Historic Landmark for decades, this 800-acre site is home to a collection of historic structures — including the William Conner home and Indian campgrounds— as well as a kid-friendly corn maze and petting zoo.
Hot tip: after touring the Prairie, if you fancy a drink and an indoor activity, Pinheads Alley's Alehouse is just around the corner with cold beers and bowling lanes to boot.
39 – Run around town with a scavenger game!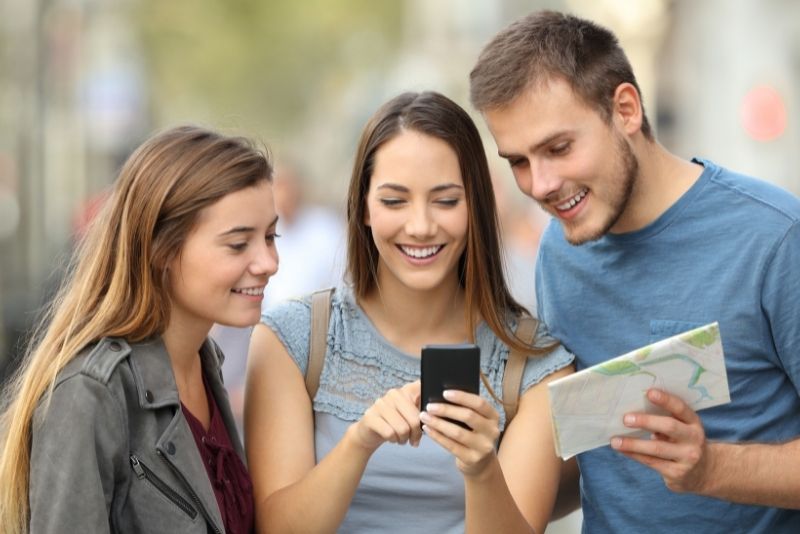 A lively way to see the city and many of its hidden gems that other run-of-the-mill tourists would usually overlook, fast-paced scavenger hunts are a great way to get your heart rate up, put your problem-solving skills to the test and tick off Indy's main landmarks all at once.
Led from the convenience of your phone, the adventures involve solving clues and riddles that ultimately lead you on a path of city sites, with plenty of photo opportunities, local trivia nuggets, and fun competitions along the way.
Best of all? You can even do a zombie hunt!
40 – Feel the shivers on an Indiana ghost walk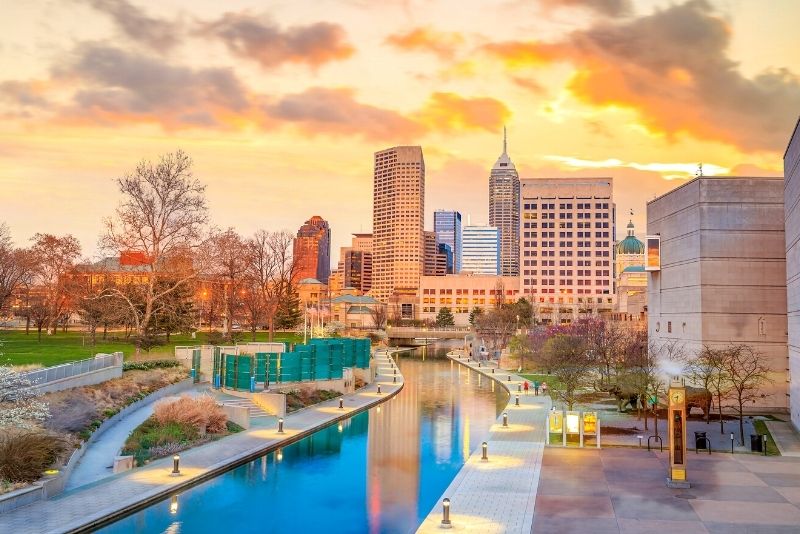 If you've got an appetite for the paranormal and crave a good spine-tingling story, then head out on one of the city's ghost walks to get up close and personal with the darker side of Indianapolis history.
With a vast array of tours running throughout each week, you'll be able to explore the haunted past at your own pace — from popular haunts such as the Allison Mansion and Central State Hospital to less well-known spots such as the Indianapolis Athletic Club (believed to be the home of the ghost of a fireman).
41 – Check out the Indiana State Fair's annual Monster Truck Show!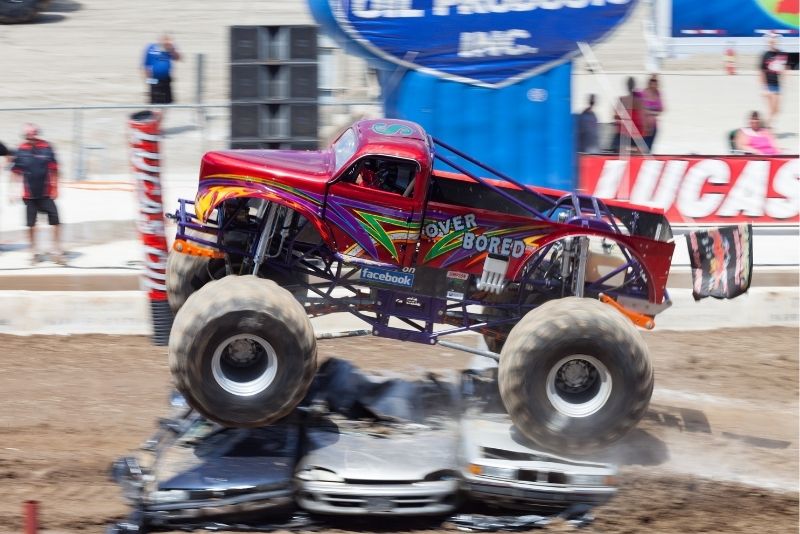 Sink your teeth into the ultimate monster truck experience at the Indiana State Fair, which usually takes place around August (although, fun fact, when it started in the mid-1800s was held in October).
The engines roar, the tires shred and mud flies as these massive beasts take to the dirt in a spectacular display of power! Whether it's your first or fifteenth time at a monster truck show, the heart-in-mouth adrenaline is electric.
Besides the shows, the jamboree is a sight to see in its own right — with some 2,000 decorated 4WDs all congregated in one spot!
42 – Jump in a helicopter!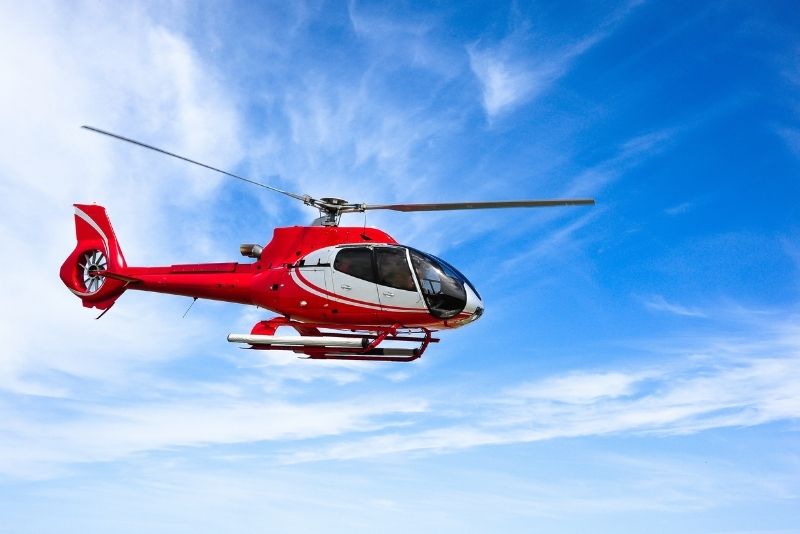 See the skyline as you've never seen it before with a helicopter tour of Indy! By far one of the most thrilling ways to experience Indiana's capital, your bird's-eye view takes in all the key sights and attractions, landmarks and neighborhoods that make up this vibrant metropolis.
For something a little different, why not combine a chopper flight with a day trip up to Fort Wayne, a smaller city known for its surrounding lush greenery?
43 – Check out Holliday Park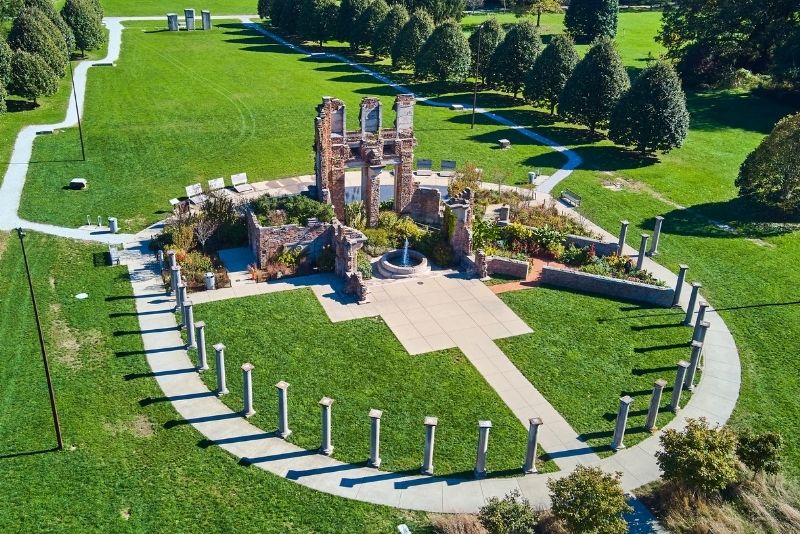 A sublime spot for an afternoon stroll on a sunny summer's day, Holliday Park is a scenic oasis teeming with trees, trails and wildlife.
Located along the banks of the White River, this urban park sees plenty of visitors throughout the year taking advantage of its 95 acres of woodland paths, kid-friendly playgrounds, and 13,000-square-foot Nature Center.
If you happen to be visiting in the fall, the colors are magical; year-round, the historic 19th-century ruins attract plenty of history buffs and photographers.
44 – Head underground to the catacombs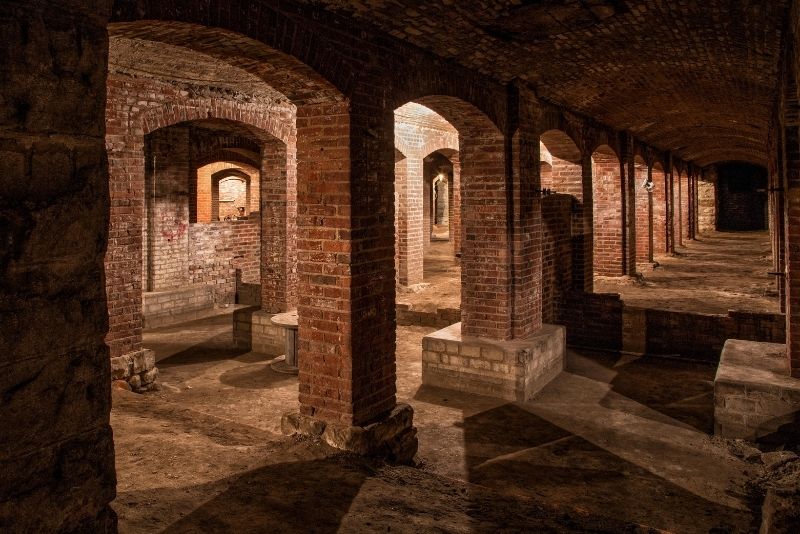 Bet you didn't know Indy had Catacombs! You can explore the city's subterranean secrets on an exclusive underground tour of this former high-trafficked route, which has been transformed into a labyrinth of tunnels and chambers accessible via the northeast corner of Market and Delaware streets.
The catacombs, dating back to the late 1880s, were once used as a means of transporting and storing goods from the overhead market (because temperatures were cool underground and therefore better preserved meats) before it was eventually abandoned, but still boasts remnants of the once-grand Tomlinson Hall.
Take note: tours usually only run the first and third Saturdays of each month, May through October, so be sure to check ahead
45 – Cool off at one of the area's many waterparks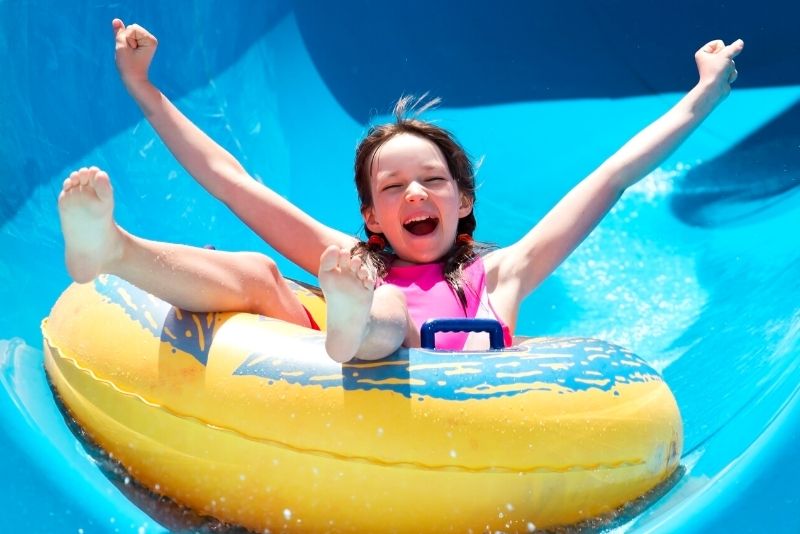 Have fun in the water at one of Indianapolis' many splash pads and pools! From May to September, when the sun beats down at up to 95 °F, there's no shortage of places for you and your family to cool down.
Freedom Springs Water Park over in Greenwood, just 20 minutes south of the city, boasts a lazy river, three notable water slides, and a kid-friendly play zone. The Big Splash Adventure Water Park & Hotel is indoors, meaning you can enjoy the facilities on a rainy day, and offers an adults-only hot tub, slides, water playground, and obstacle course — and, thanks to its location near Hoosier National Forest, makes for a perfect stop on a one- or two-day getaway from Indy.
For something more local, the Kokomo Beach Family Aquatic Center is a popular spot, likewise the enormous Splashin' Safari Water Park at Holiday World which comes with roller coasters and a giant wave pool.
46 – Embrace the college spirit at the NCAA Hall of Champions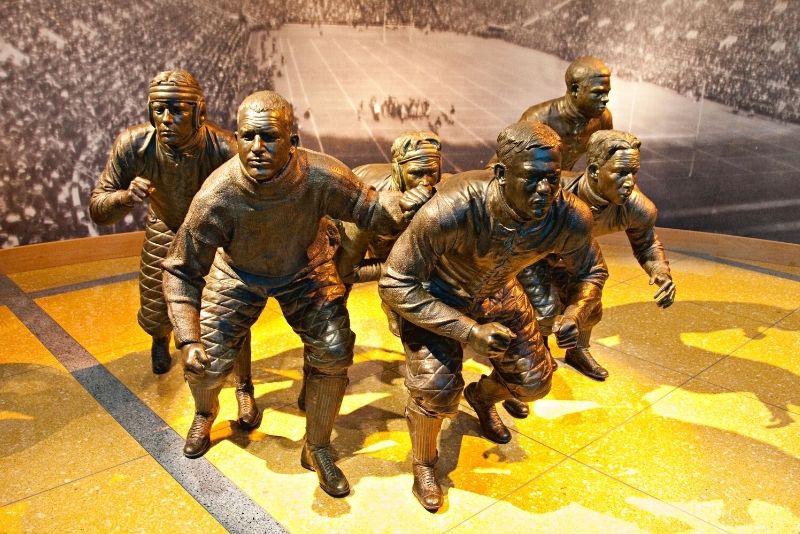 It's no secret that America obsesses over its college sport, and there's no better place to learn about all 24 of them than here in White River State Park.
That's why sports fans regularly love the NCAA Hall of Champions, an exciting and highly interactive experience that puts you behind the scenes at some of college sports' greatest moments and lets you experience first-hand some of the remarkable stories and artifacts that have made these universities and colleges famous.
The Hall also serves as a museum where you can learn about big-name college sports teams, their coaching staffs, players, mascots, cheerleaders and even some popular school traditions!
47 – Grab a bite and souvenir from the Indianapolis City Market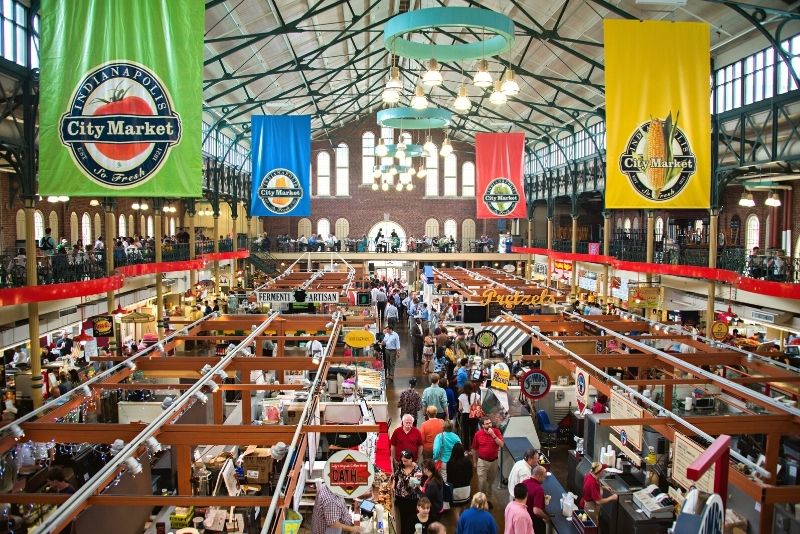 No matter the season, you can't go wrong at this historic downtown destination.
There are plenty of ways to enjoy old-school charm when visiting Indianapolis City Market: grab a beer and take in live music; check out local artisans selling everything from fresh meats to handmade soaps; grab a bouquet of fresh flowers, or sample delicacies from food stands offering up flavors from all over the world.
But, perhaps the most fun you can have is taking a tour through the Market itself. With friendly locals at the helm, guided group tours of this historic landmark teach all about the Market's long and storied history and uncover the hidden gems most tourists overlook.
48 – Learn a new craft at GRT Glass Design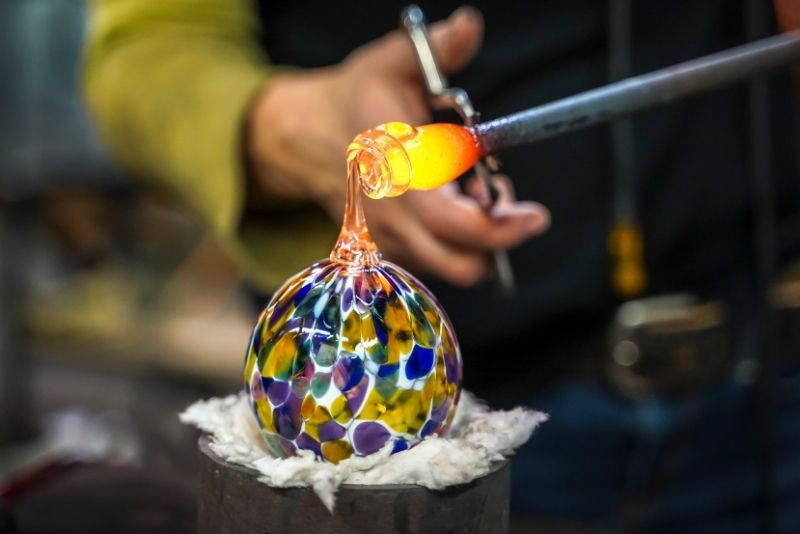 An artistic haven, GRT Glass Design creates hand-blown glass art that is both functional and eye-catching.
Far from just a gallery and workshop, however, they offer a variety of classes to take part in the process for all kinds of ages and experience levels. Of course, you can always simply admire their incredible finished products at the on-site shop.
49 – Secure a table at the Beef & Boards Dinner Theatre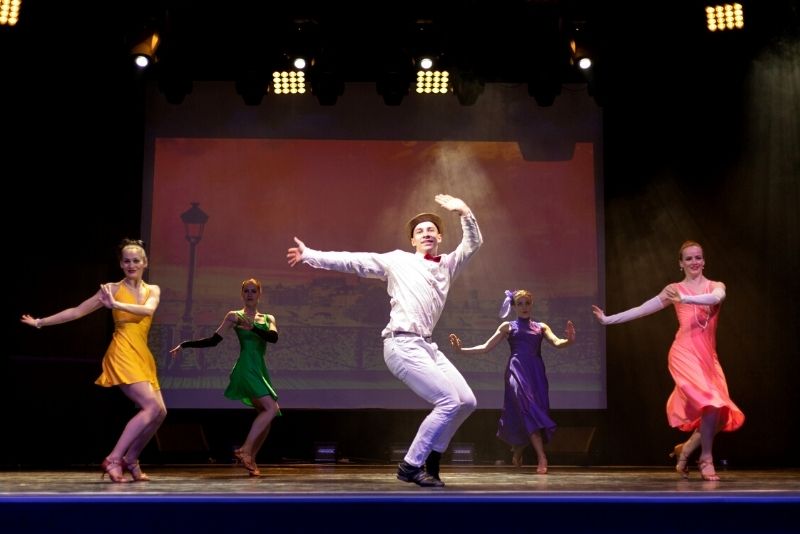 Experience the best in evening entertainment when you visit Beef & Boards Dinner Theatre — from comedy to drama, they have it all!
With a professional stage and an intimate setting, this local landmark's shows are sure to please any type of audience member — especially the peckish kind, with multi-course meals served right at your table so that you don't miss out on any of the amazing action!
Choose from Broadway classics like Kinky Boots or Phantom of the Opera, seasonal spectaculars like It's a Wonderful Life or A Beef & Boards Christmas, or check the calendar to see what's coming up next!
50 – Have a feast at Harry and Izzy's Steakhouse
Recently taking Indy by storm, the three-location (for now) Harry and Izzy's Steakhouse brings an ever-evolving menu in an air of 1930's speakeasy that makes each visit a scrumptious new experience.
With specialties like fried ravioli, sliders, and creme brûlée, and a mouthwatering steak menu that seldom disappoints, their commitment to freshness is obvious in every dish they serve.
51 – Get a little buzzed by going wine-tasting!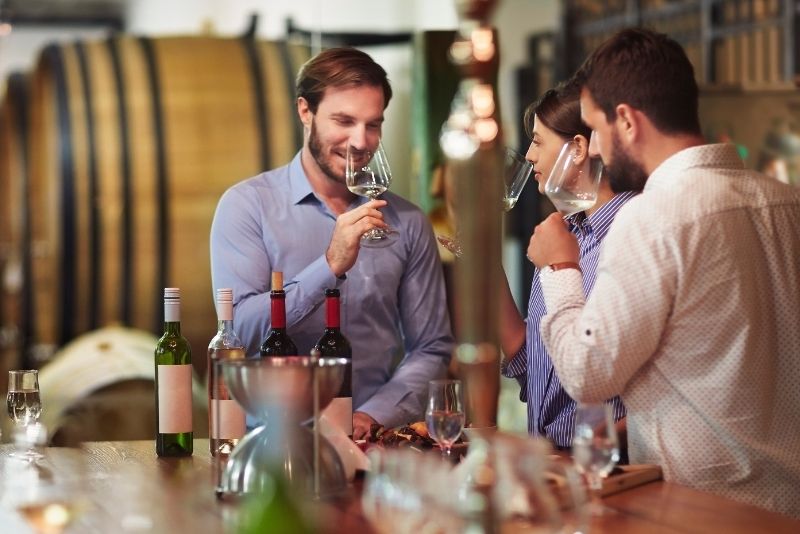 While not widely known among visitors, locals are more than happy to share how Indiana is a top-tier state for wine aficionados, with over 30 wineries dotted throughout the Hoosier State.
The best way to experience this unique culture is going directly to one of these vintner's locations — their tasting rooms are always stocked with bottles ready to sample and the staff and full of stories to share.
Not sure where to start? The Peace Water Winery is a common favorite, likewise the Veteran-owned B Legendary Wine Boutique.
52 – Throw down a picnic rug at Garfield Park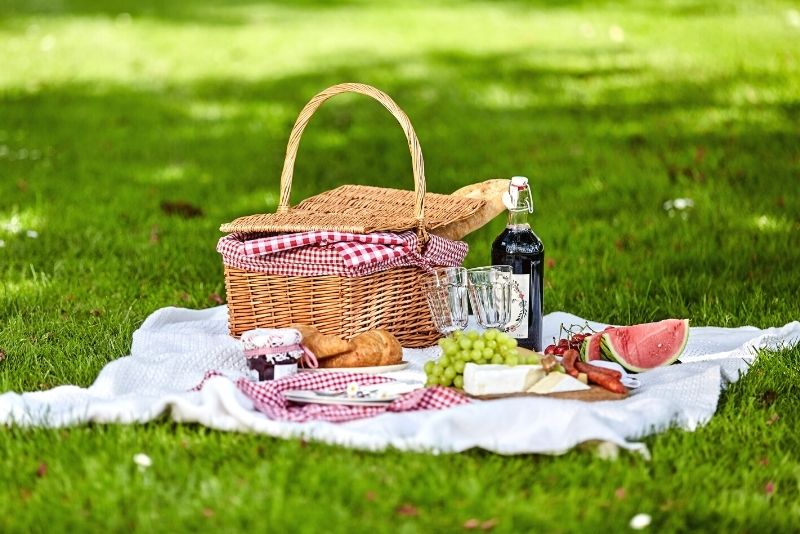 Admire the architecture of a bygone era while enjoying peaceful surroundings at this historic landmark in Indianapolis. And when we say historic, we mean it; the Garfield Park is officially the oldest in Indianapolis, dating back to the late 1800s.
Constructed to feel relaxing in every nook and cranny, the 128-acre Park is best known for its enchanting, 10000-square-foot tropical Conservatory.
However, a leisurely walk along one of its many trails will also reveal the MacAllister Center for the Performing Arts, an outdoor pool, plenty of picnic shelters and sports courts (tennis, basketball, softball, and an outdoor gym), playgrounds, and a sledding hill for the winter.
53 – Grab tickets for the Indiana Repertory Theatre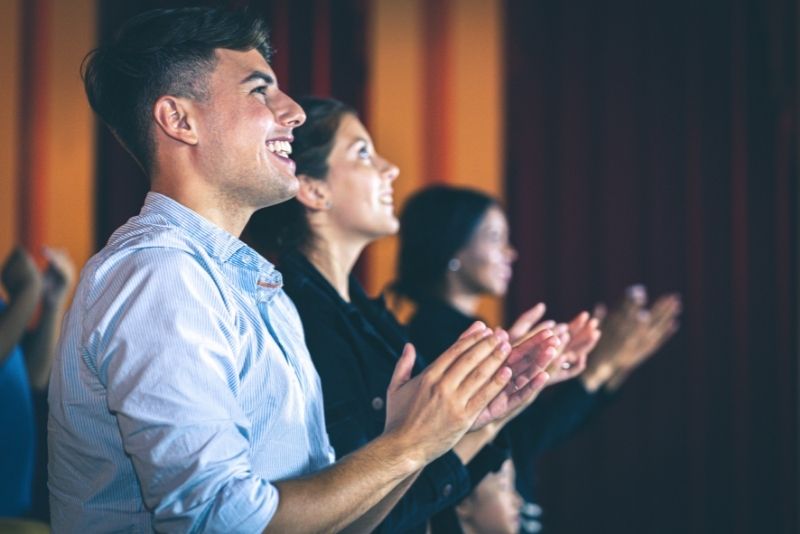 A world-class theatre and stunning building on downtown Washington St, the Indiana Repertory Theatre puts on a vibrant display of top-notch performances by local and national talent year-round.
With a range of shows on the calendar, from Broadway classics to new works being developed right here in Indy and seasonal specials like Charles Dickens's A Christmas Carol, there's always something new and exciting taking center stage.
54 – Get buzzed at some Indianapolis breweries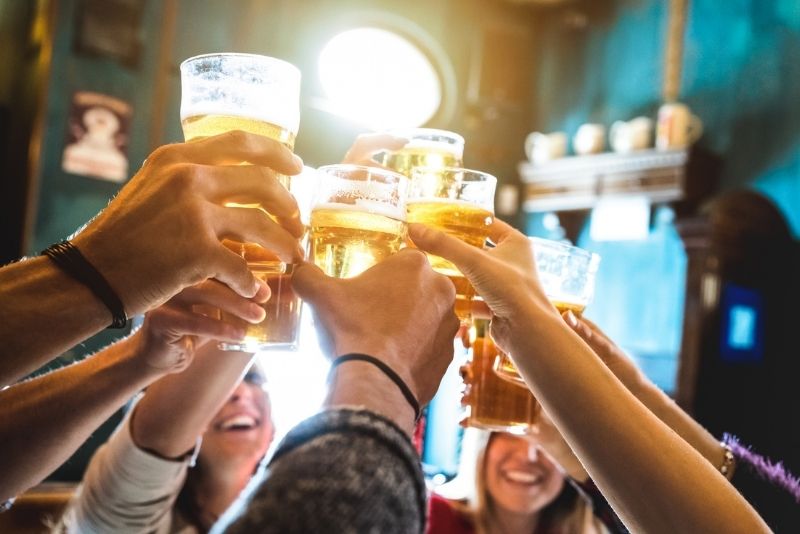 Explore the wide variety of craft beers being created all over Indianapolis by heading to one of the many breweries that exist throughout the city.
Whether you want a light and crisp lager, a dark and malty porter or stout, or something in between — there's likely a brewery on your radar waiting to slake your thirst for all things hoppy.
While you're certainly not short of options, Sun King Brewing Co is the biggest, baddest brewery going around — as the second-largest in the state, its reputation precedes it. The Chilly Water Brewing Company has raked in its fair share of awards. with its Built to Last Pilsner and Hop Wonder IPA two notables brews.
Still thirsty? The Amber Ale or Backyard Porter at Fountain Square Brew Co. comes highly recommended, as do the Belgian dubbels and German hefeweizen at Bier Brewery!
55 – Dine at the coveted St. Elmo Steak House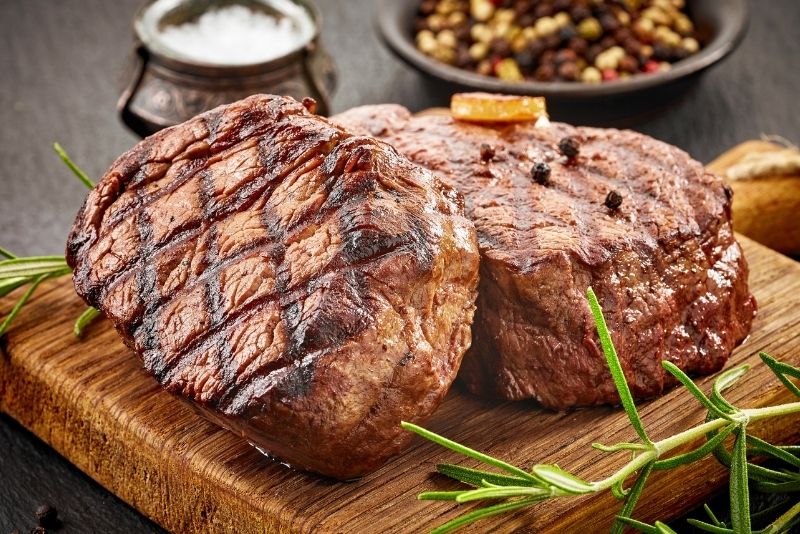 End your foodie treasure hunt with a bang at one of Indy's most iconic dining destinations, St. Elmo Steak House — a 120-year-old locale that boasts the claim as the city's Indianapolis steakhouse
Located inside the Circle Centre Mall downtown, this establishment serves up modern-day cocktails of every which kind, perfected throughout its storied history as a hotspot for politicians and celebrities.
As one of Forbes' 10 classic restaurants in the country, it's certainly one of the essential things to do in Indianapolis.
56 – Stop into the Benjamin Harrison Presidential Site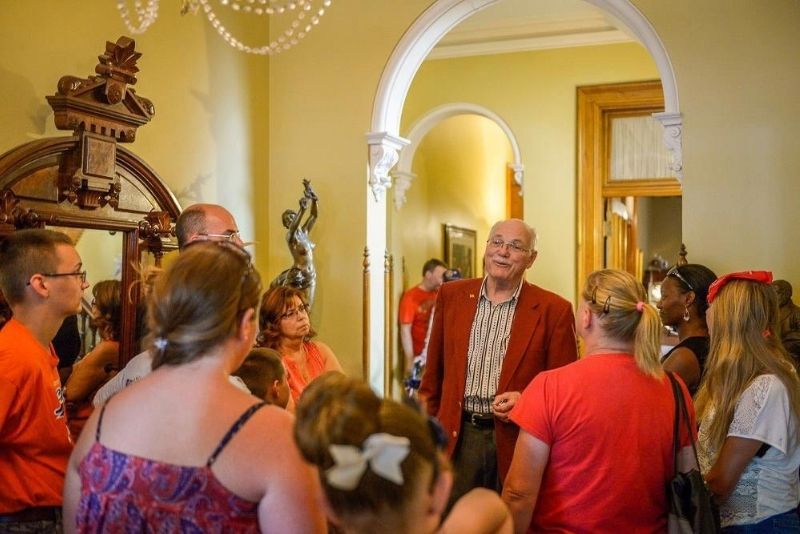 The Benjamin Harrison Presidential Site, found up in the Northside Historic District, is a goldmine for history buffs and those interested in learning about the nation's 23rd president.
With tours that take visitors through all parts of his life in his former home — from his boyhood days to early political career as a U.S senator and role in the American Civil War — it's a comprehensive look at one of the most fascinating men to have led America.
Hot tip: While you're there, make sure to check out the Candlelight Theatre — a unique take on the traditional play, taking place inside the mansion itself!
57 – Get competitive at Tappers Arcade Bar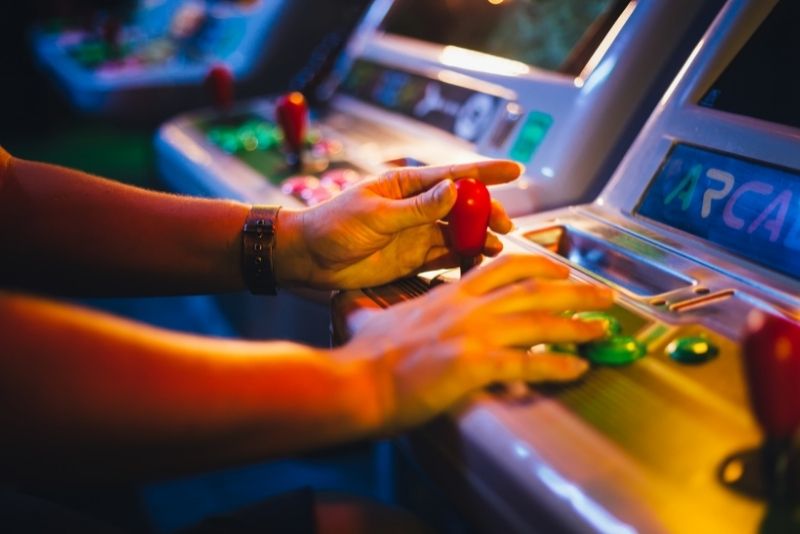 With a huge range of arcade machines from all eras, Tappers Arcade Bar is an homage to the golden age of gaming.
A true ode to classic arcades and pinball machines everywhere, this place has everything you could want for a night of tipsy retro fun.
Throw in the nibbly bar food, a full cocktail menu with nightly specials, and ice-cold beer on tap and you're in for quite the evening.
58 – Become part of the show at White Rabbit Cabaret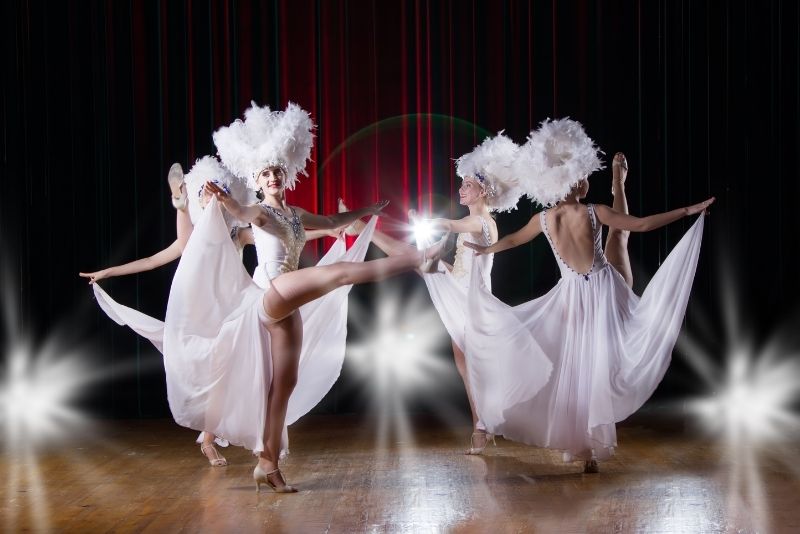 High energy, a brash attitude and the best burlesque talent in town — White Rabbit Cabaret is one of those places that can't be missed.
Taking place in the heart of Fountain Square, it's an immersive experience from start to finish as audience members are encouraged to drink up and get involved with live music, comedy, acrobats and more.
59 – Meet some thirsty friends on a pub crawl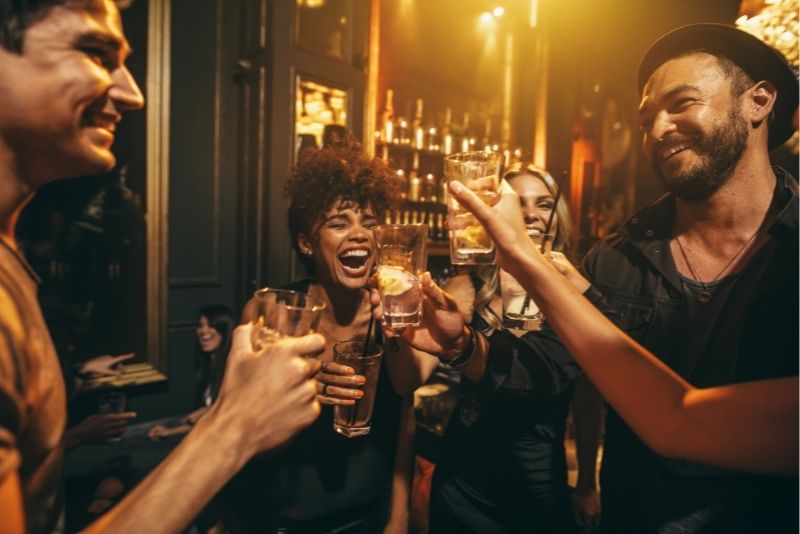 Beer, banter and the best bars in the city? Yes, please! There's no better way to explore Indy than on a pub crawl; led by an in-the-know local, you'll be able to venture away from the overcrowded tourist traps and into the real heart of the city's nightlife.
A brilliant way to meet fellow social travelers, rub shoulders with friendly locals and learn about their favorite haunts, you're guaranteed a memorable (albeit slightly hazy) evening.
Don't feel like meeting people? There's always the option for a private bar-themed scavenger hunt!
How to see everything on a budget
If it's your first time visiting Indy and you're looking to tick off as many of the main activities as possible without breaking the bank, say hello to the Indy Attraction Pass!
Choose from one or three-day passes, and then spend as much or as little time as you like at the long list of included destinations:
Spend a day in White River State Park, go to the Children's Museum, enjoy the old-school Conner Prairie, head to the Indianapolis Motor Speedway Museum, the Indianapolis Zoo, or The Children's Museum Of Indianapolis, just to name a few!
With free entry to dozens of beloved attractions as well as discounts on restaurants, it should at least be considered. Click below to find out more.
Looking for somewhere to stay?
With a diverse selection of hotels, hostels, AirBNBs and couch-surfing options — from budget-friendly bunk-bed joints to 5-star all-inclusive hotels — it's not as easy as you might think to find the ideal place to stay in Indianapolis.
If you're after luxury, all of Bottleworks Hotel, Ironworks Hotel Indy, and Conrad Indianapolis dish up opulent amenities and lavish furnishings. Or, for something a little more mid-tier yet still well and truly trendy, check out the Hotel Broad Ripple.
For more of a historic sleepover, the Crowne Plaza at Union Station is well worth a visit — over a century old!
Here's why you should book an airport transfer:
Forget about trying to figure out how the Indy bus system works — after just hopping off a plane, there's nothing worse than lugging your bags onto a crowded bus. And waiting in line for a taxi? No thanks. Instead, why not kickstart your holiday the right way with a VIP-style pre-arranged airport transfer?
Not only will a friendly driver meet you at the arrivals hall (placard in hand), but they'll whisk you away to your hotel and give you plenty of tidbits and local tips along the way. It's hassle-free — just what you need after a cramped middle-seat flight.
We hope you've enjoyed our selection of fun and unusual things to do in Indianapolis, Indiana! If you have any other must-see suggestions, feel free to let us know in the comments!
Where to next? Make sure to check out our selections of fun things to do in nearby cities including St. Louis, Chicago, Detroit, Columbus, Cincinnati, Louisville, and Nashville.
As always, happy travels!