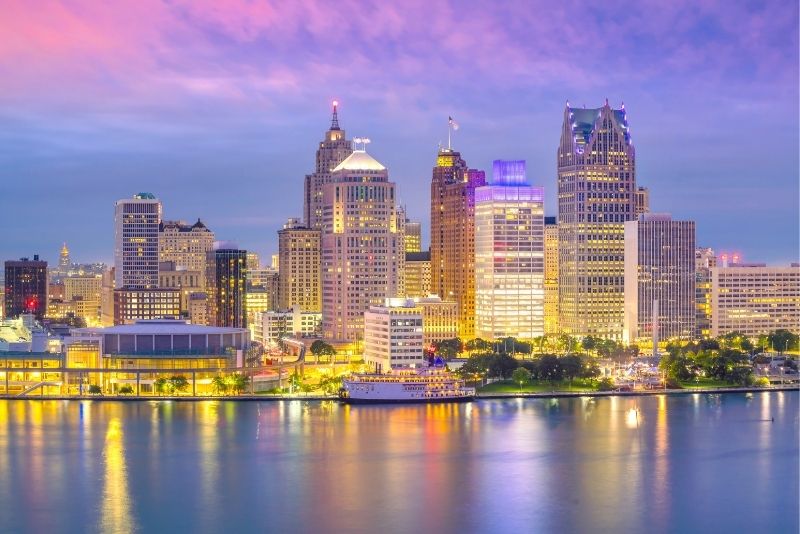 Where automotive legacy comes face to face with a rugged music reputation and a longstanding art culture, Detroit is waking from its post slumber and gentrifying once more.
Motown, Motor City, or the largest city in Michigan — no matter what comes to mind when thinking of this Midwestern metropolis, one thing's for sure: with so many diverse and engaging things to do in Detroit, there's never a dull moment.
From the roaring crowds at football, hockey and baseball games to the educational and one-of-a-kind museums, beautiful parks, and amazing year-round festivals, not to mention the Riverwalk that looks out onto neighboring Canada, Detroit is a city that never fails to make an impression.
So whether you plan on getting in touch with your inner historian at world-famous museums like The Henry Ford, Charles H. Wright Museum of African American History or DIA.
Soak in the buzzing atmosphere and historic architecture of Downtown, or party it up at the long list of craft breweries and funky bars, and you'll quickly realize why Detroit deserves a spot on the bucket list.
1 – Stare into the stars at the University of Michigan Museum of Natural History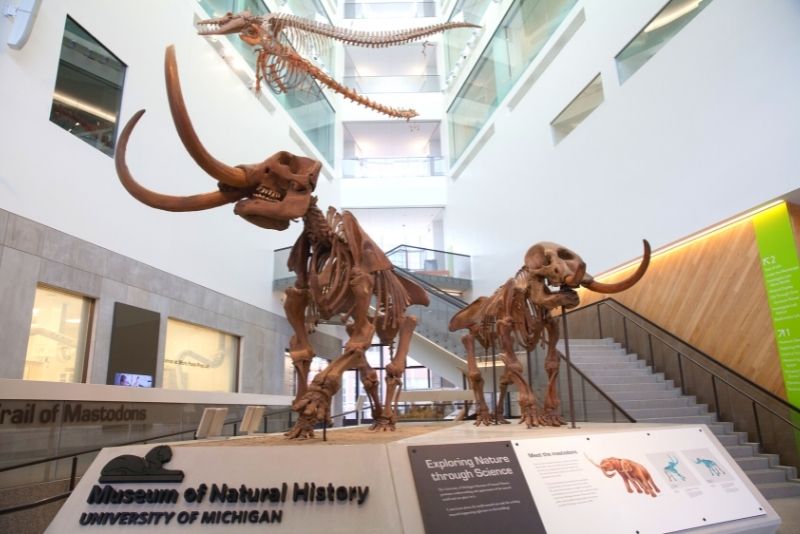 Just a short hop down the road in Ann Arbor, the University of Michigan Museum of Natural History is another great option for visitors looking to get up close and personal with all things scientific.
Boasting everything from dinosaur fossils to taxidermy animal displays, an impressive collection of gems and minerals and interactive exhibits that allow you to explore the ecosystems of Michigan and beyond, the UM Museum of Natural History is perfect for anyone with a thirst for knowledge (or kids who just want to see cool animals!).
Oh, and don't miss the immersive planetarium — an intergalactic adventure awaits!
2 – Meet the sharks at the SEA LIFE Michigan Aquarium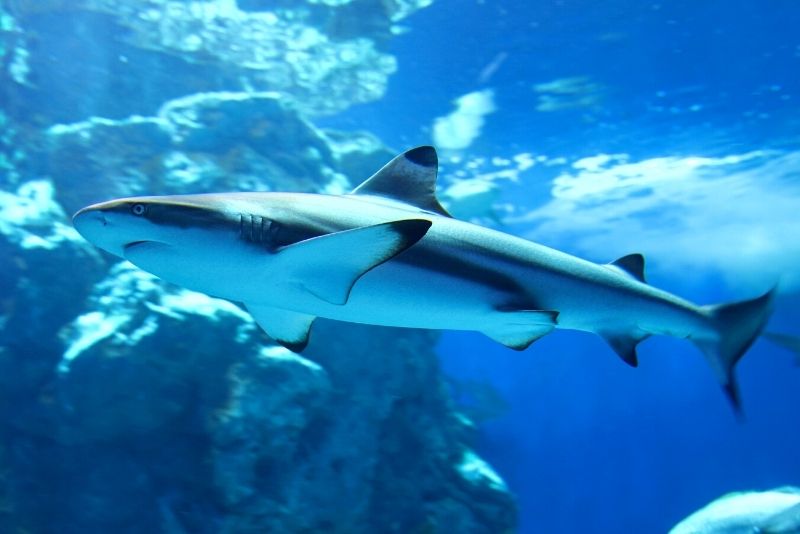 A fantastic spot for traveling families, why head on over to SEA LIFE Michigan Aquarium and dive into an underwater world of colorful fish and coral reefs?
Home to a range of critters big and small — some adorable (seahorses, starfish) and others a little intimidating (sharks, octopi, and the like) — this aquarium is one of the largest in the Midwest and showcases marine life from all around the Great Lakes region as well as other parts of the world.
Be sure to check the times for feedings and trainer demonstrations, and, if you're feeling brave enough, lower your hand into the touch tanks!
Hot tip: To save time and skip the line (and grab a discount), book your tickets online in advance.
3 – Kick off your trip at the Henry Ford Museum of American Innovation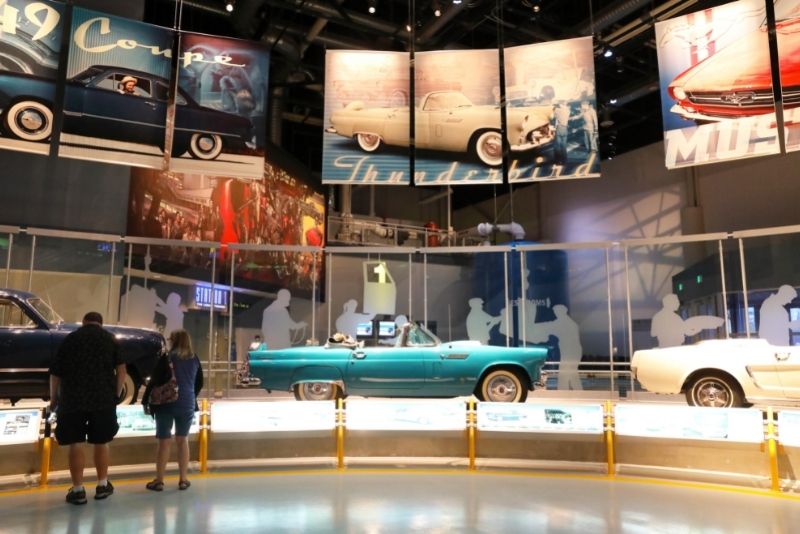 A trip to Detroit — aptly dubbed Motor City – isn't complete without a visit to the Henry Ford Museum of American Innovation! Located in Dearborn, this sprawling, 250-acre museum is dedicated not only to showcasing the legacy and achievements of one of America's most influential businessmen, but innovation and advancement on a much broader scale.
Early inventions like the Model T car and the 1865 Roper line the Driving America exhibit; the Rosa Parks Bus pays homage to the innovation of a different kind, a pivotal moment in the American Civil Rights movement; the Wright brothers' achievements are laid through life-size planes and fascinating education exhibits, and that's just the tip of the iceberg.
With over 300 years' worth of artifacts to explore, not to mention rotating exhibitions that keep things new and exciting for repeat visitors, this is one attraction where it's easy to get swept up in all the excitement!
4 – Spend the day at the Detroit Zoo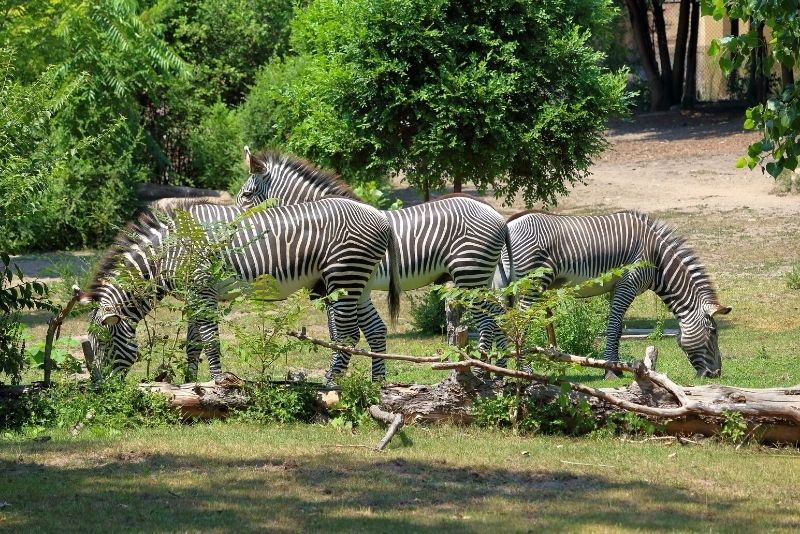 A family-friendly Detroit staple that's been welcoming over 1.5 million visitors annually for decades, Detroit Zoo lives up to its reputation as one of America's top ten zoos.
Spread over 125 acres in Royal Oak (just north of the city limits), this expansive zoo provides a home for more than 230 species (som 2,600 animals all up) and welcomes guests into open spaces that encourage them to interact with creatures big and small alike.
Start your day alongside kangaroos and koalas at Australian Outback Adventure; meander over to the Holden Reptile Conservation Center and Butterfly Garden to get up close and personal with slithery snakes and colorful fliers; feed the adorable critters at the Polk Penguin Conservation Center, and keep your eyes peeled for a wide variety of birds of all shapes and sizes.
5 – Stuff your belly on a food tour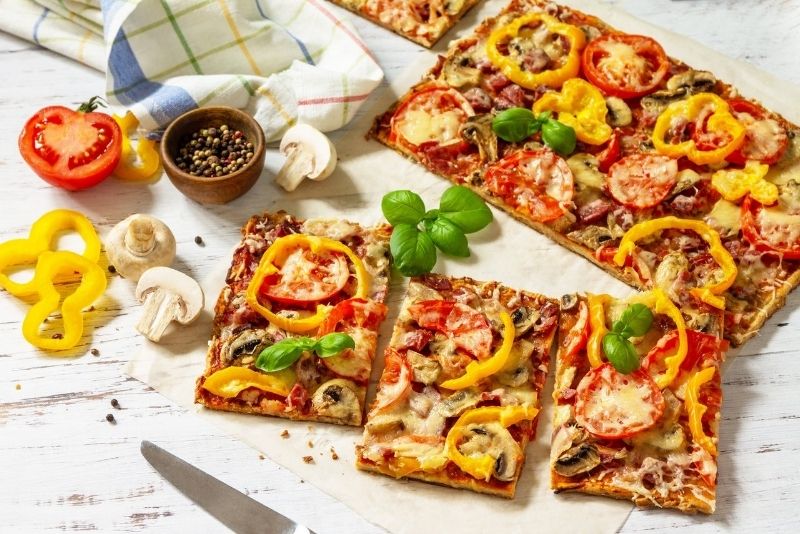 Hungry? Why not grab a bite to eat while getting an in-depth look at the city's diverse food scene?
With foodie-favorite tours available in both Detroit and nearby Ann Arbor, you'll be able to bypass the typical tourist traps and, instead, do as the Michiganders do, sampling the city's very best dishes while escorted around town by an in-the-know local!
While every tour is slightly different, expect to sample local staples like the Coney Island hot dog (we'll touch on this in a second), Detroit-style pizza, Mackinac Island fudge, chapatis and pickled bologna (don't know it till you try it!) — plus plenty of local beers and wine to wash it all down, of course.
6 – Catch a game at Ford Field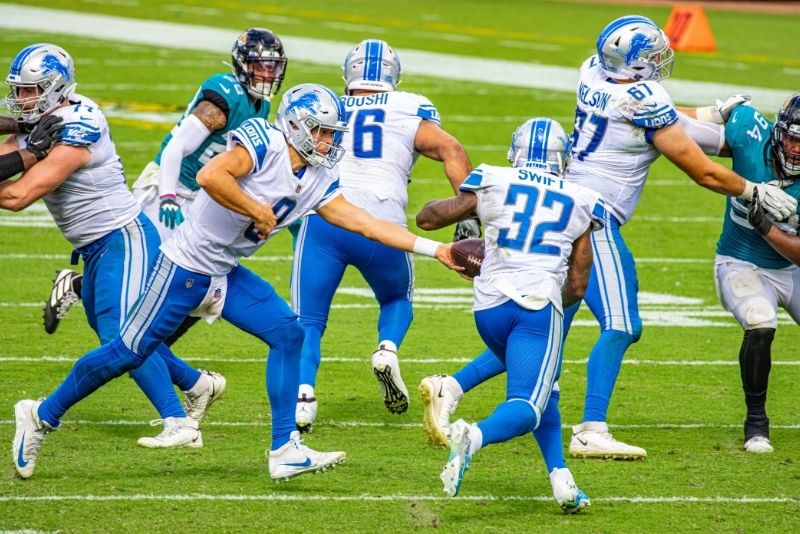 If there's one thing that Detroit is passionate about, it's their sports teams (and cars, of course). So it should come as no surprise that downtown's Ford Field, home to the NFL's Detroit Lions, is one of the most popular things to do in Detroit for sports nuts.
While the official season typically runs from September through to late December (with playoffs in January), the stadium — thanks to its exclusive tours and multifunctionality (think concerts, events, monster truck shows and the like) — sells itself as a worthy destination year-round.
Simply check the website to see what's on the roster during your visit.
7 – Step inside Old St. Mary's Catholic Church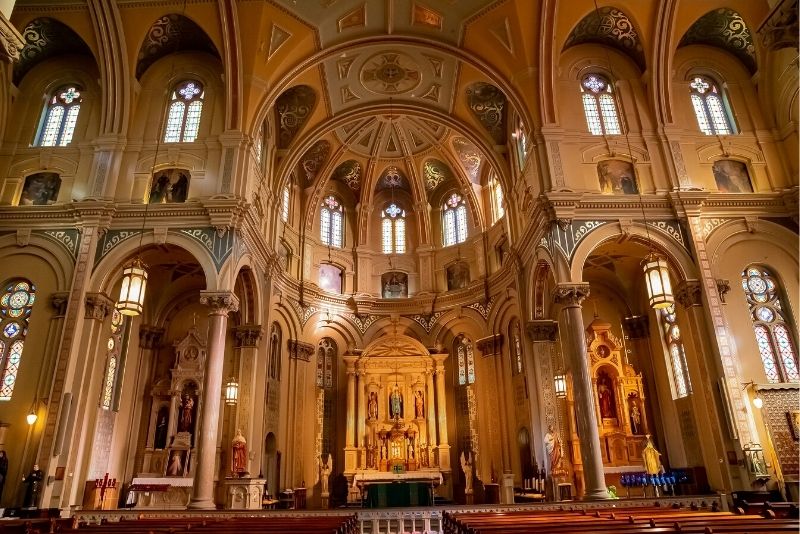 It's near impossible to walk around Detroit's Greektown neighborhood without catching a glimpse of this Monroe Steet church's iconic twin-striped towers — with a longstanding history that dates back to the late 1800s.
The church is styled in true Victorian Gothic fashion both inside and out, so guests are seldom disappointed by the sheer size and grandeur within its walls, particularly the high vaulted ceilings and grand wooden confessionals.
Besides being a must-see for architecture buffs, with regular services, it remains a religious reprieve for many.
8 – Relax and enjoy the atmosphere at some candlelight concerts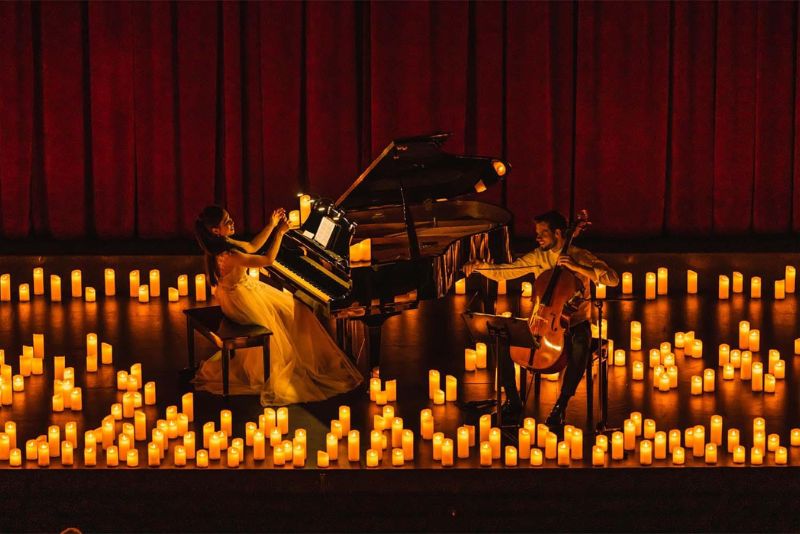 There's certainly no shortage of great tunes to enjoy in Motor City, but few performances offer an experience quite like the Candlelight Concerts series!
As the name suggests, it's the atmosphere that really makes these events special; with a roomful of candles gently flickering throughout the space, you'll feel as though you're the only listener in the world.
But the music itself is certainly top-notch as well!
While the performances are all put on by classical ensembles, the genres they present are always eclectic and engaging.
Along with standard symphonic pieces, you can enjoy reinterpretations of contemporary artists like Adele and Beyonce, or stirring renditions of film scores by luminaries such as Hans Zimmer.
It's all part of an unforgettable night of live music!
9 – LEGOLAND Discovery Center Michigan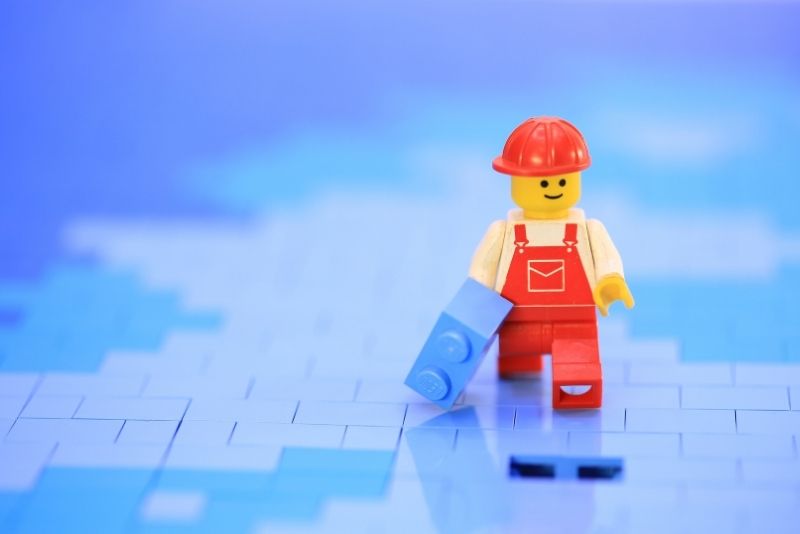 Looking for somewhere to keep the kids entertained for an hour or two? Look no further than Detroit's own LEGOLAND Discovery Center. Filled with all things LEGO, from a MINILAND replica of the Motor City — to creative play areas and rides themed around popular LEGO movies like The Lego Movie and Ninjago, this colorful attraction is sure to please kids (and parents) of all ages.
With special events and a gift shop that will have the youngsters begging for "just one more" — it's a surefire hit for traveling families.
Sponsored placement
Have a coffee at Central Perk
Become the stars of your favorite TV show at The FRIENDS™ Experience!
With incredible set recreations, you can hang out in Monica and Rachel's apartment, grab a cup of joe at Central Perk or dance in front of the fountain. Don't leave until you've taken a photo on that iconic orange couch!
10 – Step back in time at the Ford Piquette Avenue Plant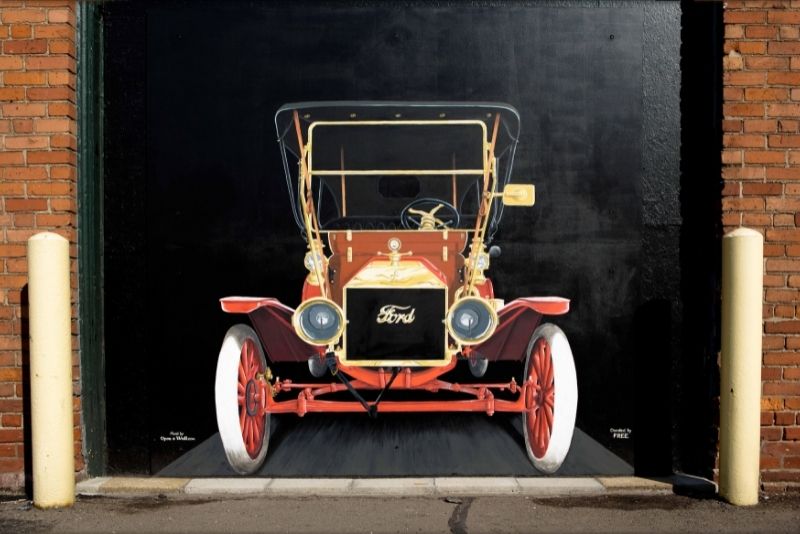 If you're a car buff, the Ford Piquette Avenue Plant is an absolute must-see! Not only is it one of the oldest automobile factories in the world, but it was also the birthplace of the Model T.
Opened in 1904, this historic landmark has maintained in its former glory to a tee, with the floorboards scratched from 12,000 cars worth of production and plenty of stories etched into its walls — with both Fords and other cars on show, it offers visitors a fascinating look into the past of American industry.
Led by funny and extremely knowledgeable former Ford Plant employees who double as tour guides, the behind-the-scenes look is non-negotiable.
11 – Explore the beautiful Belle Isle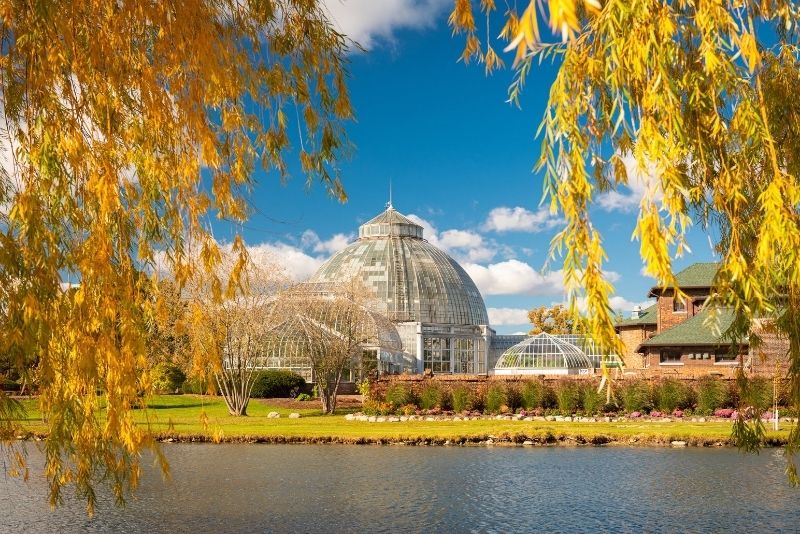 Straddling the Detroit River in between Canada and the US, this island oasis acts as a welcomed breath of fresh air from the big city hustle and bustle, with its ample green spaces, playgrounds and family-adored aquarium.
Its main attraction, the Belle Isle Aquarium is officially the oldest in the country, playing host to over 1,000 swimming critters from near and far. Step outside and take a walk through the trails and you'll eventually stumble upon the James Scott Memorial Fountain and William Livingstone Memorial Lighthouse, two postcard-worthy landmarks.
Last but not least — in addition to the endless picnic spots and viewpoints — make sure to pop by the free-to-enter Dossin Great Lakes Museum, an impressive maritime exhibition that commemorates the history and geography of the Great Lakes.
12 – Stop into the Ford House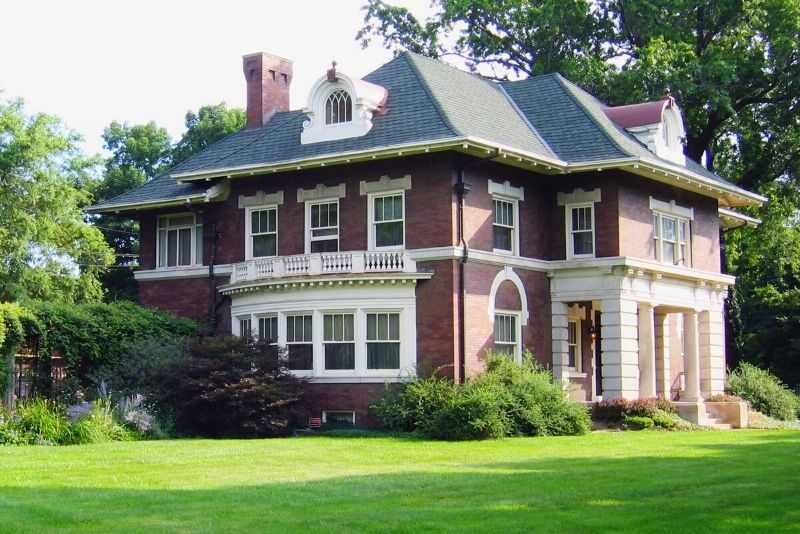 A historical gem dating back to 1927, the 60-room lakeside Ford House earns its stripes as a National Historic Landmark for both its iconic architecture and unique history as the former home of one-time Ford Motor Company President, Edsel Ford (son on Henry, of course).
As a testament to its original owner's love for both European and American art, the house itself is full of neoclassical design elements from across the pond, with decorative touches, fireplaces, and noteworthy furnishings in nearly every room.
Even the grounds on which it sits, complete with gardens, walking paths and peaceful views of Lake St. Clair, make for an idyllic day out.
Keep in mind: While tours are only offered between 10 a.m. and 4 p.m., the grounds remain open till dusk.
13 – Play ball at Comerica Park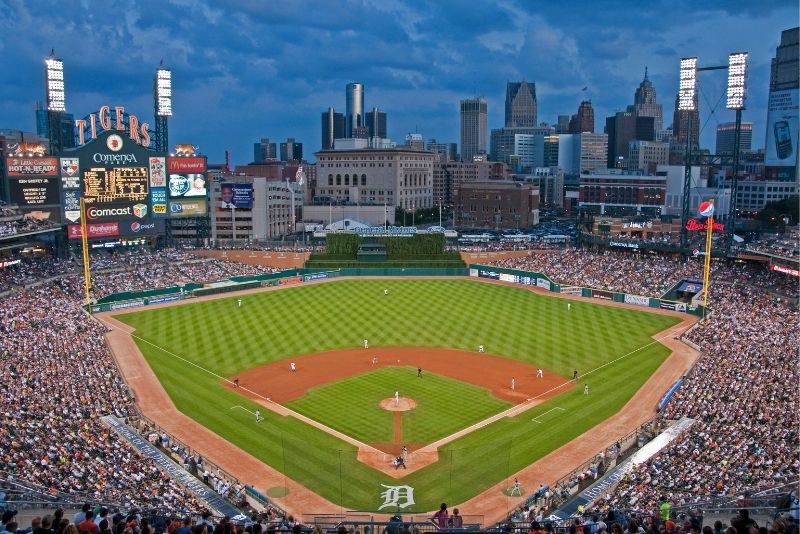 Another biggie on the Detroit attractions list is Downtown's Comerica Park, home to Major League Baseball's very own Detroit Tigers.
This retro-themed stadium (think lots of steel and brick) has a capacity of 41,000 and is one of the most popular places to catch a game. Throw in concession stands, a rowdy and electric atmosphere when at capacity, stunning views of the Downtown skyline over the fence, and plenty of team history on display — and you have a day out that's hard to beat.
Far more than just a stadium, however, Comerica Park invites guests into a world of attractions with its Big Cat Food Court, whimsical Comerica Bank Carousel, beer hall, Fly Ball Ferris Wheel, Walk of Fame, and incredible music-synchronized Liquid Fireworks display!
Looking for a more VIP experience? Consider joining a tour! Running from June through to September typically on Tuesdays and Fridays, guided tours take you behind the scenes and into the heart of the stadium, including locker rooms and dugouts.
14 – Learn a few things at the Charles H. Wright Museum of African American History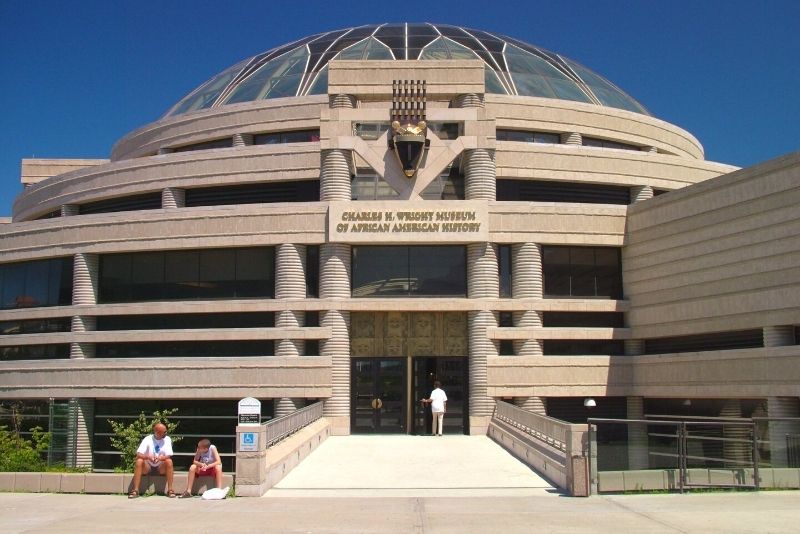 One for the history buffs, The Charles H. Wright Museum of African American History is the world's largest museum dedicated to the preservation, study and exhibition of African American history and culture.
Founded in 1965 by Dr. Charles H. Wright (a local physician and civil rights activist), the museum spans multiple floors and contains over 35,000 diverse artifacts from across the Diaspora – making it an unmissable stop for anyone interested in the multicultural stories of people from around the world.
Perfect for a rainy day, admission is affordable at just $8 per adult, with fascinating docent-led tours available upon request.
Sponsored placement
Revel in the dark side at the Empire Strips Back
This is Star Wars as you've never seen it before. The Empire Strips Back: A Burlesque Parody is a sultry and seductive take on the iconic films, bringing all of your favorite characters to life in a whole new hilarious way! This burlesque show is suitable only for audiences aged 18 and up, and is sure to leave you giggling and titillated.
15 – Race against the clock in an escape room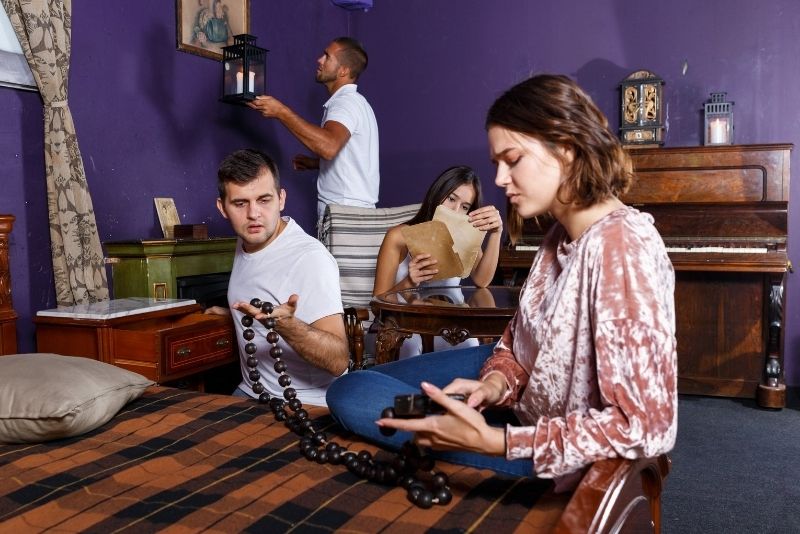 Consider yourself somewhat of a next-generation Sherlock Holmes with wit and intellect out the wazoo? Well, this is your chance to prove it!
With a range of locations and themed rooms spread all over the city, you and your closest friends will need to hustle all your teamwork and quick thinking — as you attempt to solve a series of fiendishly clever puzzles, clues, and riddles to escape the room before time runs out.
From finding your way out of a nuclear power station before the reactor blows to beating the maniacal chess master or needing to diffuse the bomb to save the city, Detroit's many escape rooms will have you scrambling to put together the clues in record time.
Escape Room Novi, Breakout Escape Rooms Royal Oak, The Fifth Wall Escape Rooms, Escape Room Zone, and The Great Escape Room Royal Oak are just some of the many excellent venues where you and your friends can embark on your latest quest.
16 – Admire the palm trees at the Anna Scripps Whitcomb Conservatory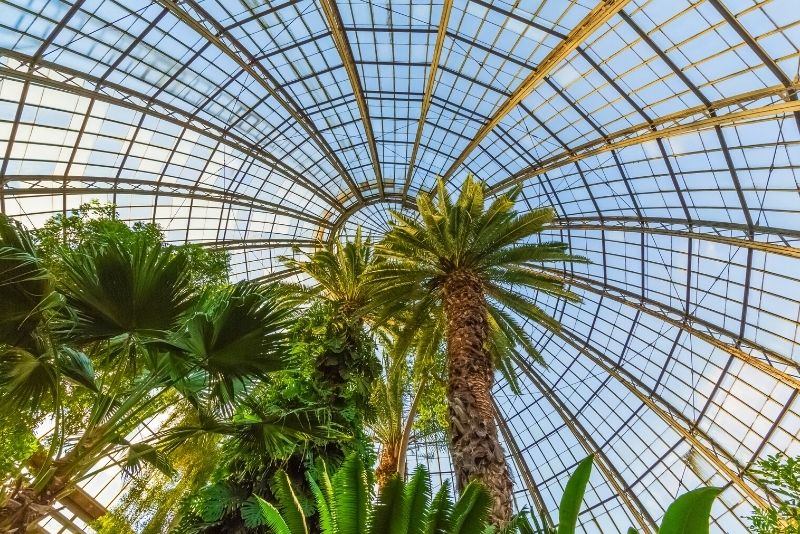 Looking for another spot to soak in the beauty of Mother Nature? Sitting on the stunning Belle Isle with five distinct areas, each built with a different climate, the Anna Scripps Whitcomb Conservatory is the perfect place to cool off and find some peace, quiet, and serenity.
Housing several manicured gardens, including an impressive palm court, this Victorian-style greenhouse has been luring visitors in since it first opened in 1904 — making it officially the oldest continually-running conservatory nationwide.
Even the building itself, reflecting the sunshine and contrasting the bright blue skies with its glass dome, is impressive in its own right.
17 – See what's on at the TCF Center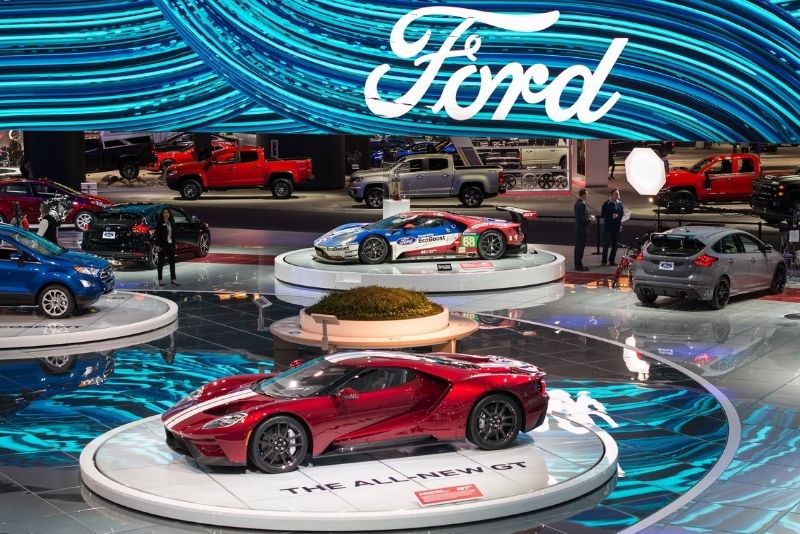 Formerly dubbed Cobo Hall, the TCF Center is undeniably one of the largest convention centers in the country, with an annual list of events, tradeshows, festivals, and concerts that reads like a who's-who of international, national and local talent.
The North American International Auto Show (NAIAS) is a magnet for petrolheads, likewise the Detroit Boat Show and AutoRama-Detroit — while events like the Detroit Spring Home and Garden Show, Hour Detroit Food and Wine Festival, and Cannabis Expocan showcase the true diversity of the annual calendar
Straddling the vibrant Detroit International Riverfront, the center sits a stone's throw from a host of hotels, restaurants and bars, so there's plenty to do to spend an entire afternoon and evening here.
18 – Check out the Guardian Building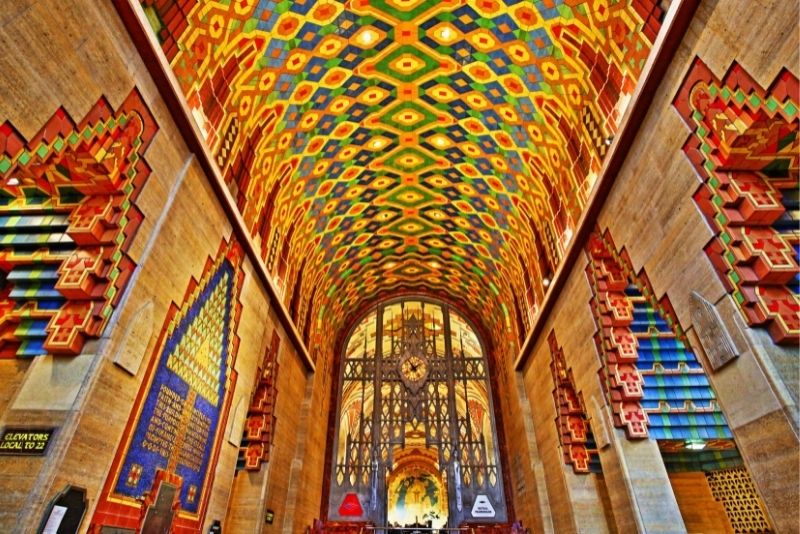 Located downtown at 500 Griswold Street, this sleek art deco skyscraper is one of the most photographed buildings in the city, and it's not hard to see why — at 40 stories and over 633 feet (193 meters) tall (if you count its spire), it looms over Detroit with presence and elegance.
Within its walls, visitors are blessed with stunning and colorful mosaic tiling, exposed brass and metalwork not too dissimilar from Manhattan's Chrysler Building, and a Tiffany-designed clock that falls nothing short of marvelous.
Earning its spot on the National Register of Historic Places, with a variety of businesses and restaurants inside, it's worth visiting this place — one of the essential things to do in Detroit.
19 – Browse the collections at the Detroit Institute of Arts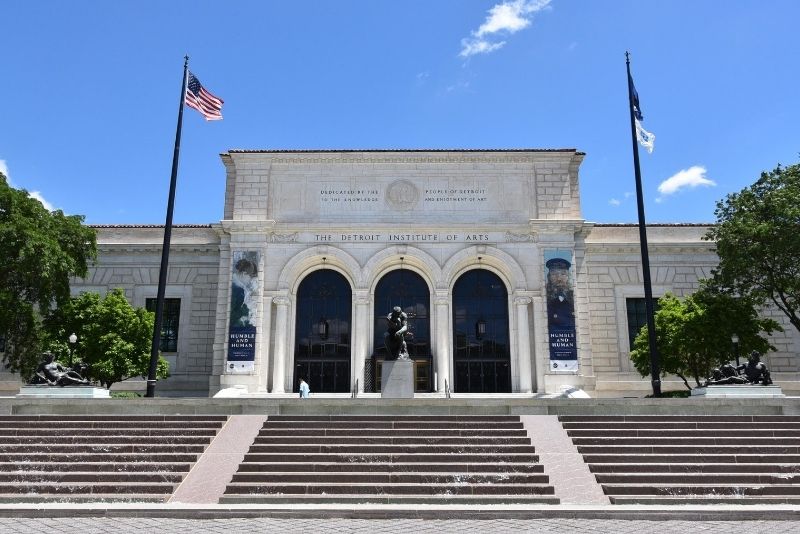 One for the art lovers and culture vultures, the Detroit Institute of Arts is a world-class museum that's free to enter and open seven days a week.
Spread over a whopping 100 different gallery sections, the stately institute houses more than 65,000 pieces of art under its roof, showcasing everything from ancient Egyptian artifacts to European paintings by Rembrandt and Van Gogh.
Plus, with a rotating roster of special exhibitions, there's always something new to see.
20 – Try the Coney Island hot dog restaurants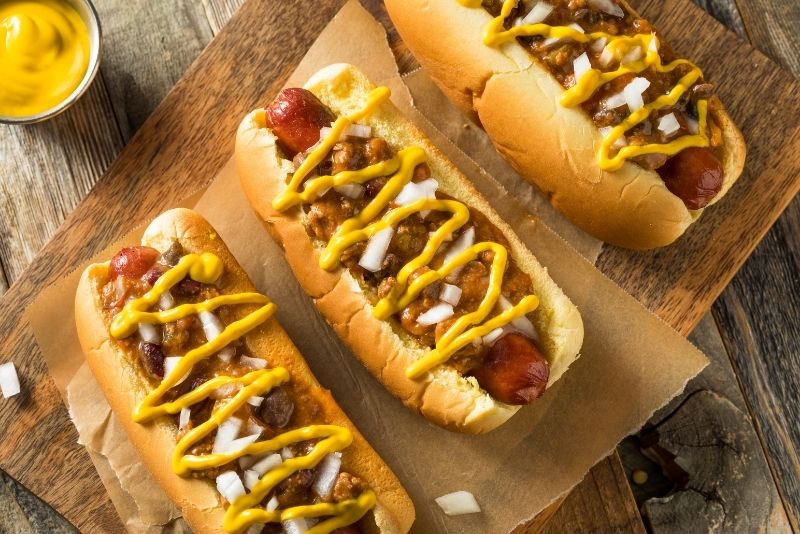 Not to be confused with New York's infamous Coney Island, Michigan's very own Coney Island isn't an island at all, but a moniker for its infamous food: the chili-topped hot dog, typically served with diced onions, and yellow mustard.
So, to be clear, Coney Island kind of translates to "restaurant," and you can find this style of eatery all over the state, but Detroit's Coney Island restaurants — specifically American Coney Island, Woodward Coney Restaurant and Lafayette Coney Island — are some of the most famous in the country.
21 – Make your way over the Ambassador Bridge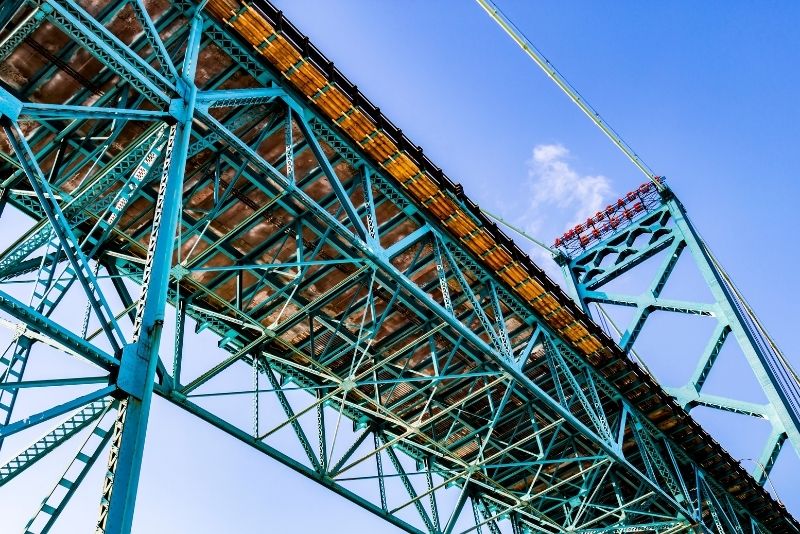 Connecting the automotive mecca of Detroit with Windsor, Ontario — and by extension Canada — the Ambassador Bridge is one of the busiest crossings in North America, and a quick way to tick the Great White North off the bucket list (did someone say poutine?)!
Built in 1929, with celebrity appearances in films like 8 Mile, Gross Point Blank and Four Brothers, at 7,500 feet long, remains the largest international suspension bridge in the world!
22 – Watch the puck fly at Little Caesars Arena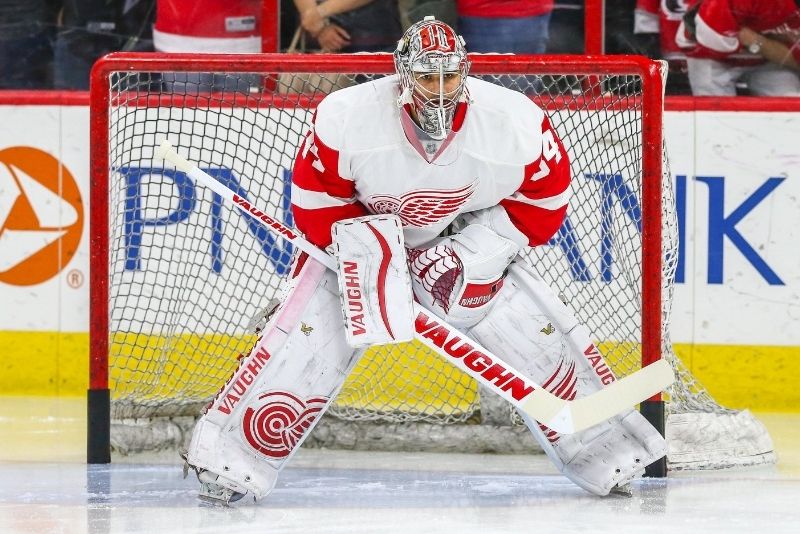 Hockey fans, rejoice!
From the minute you step into Midtown's new Little Caesars Arena to take in a Detroit Red Wings game or catch an ice-skating spectacular by Disney on Ice, it becomes abundantly clear that this is one of the most thrilling live sports arenas around.
With dozens of luxury boxes for those who like to splurge (all the way up to bargain-basement seats in the rafters), multiple bars and restaurants in the area, not to mention a massive team store and state-of-the-art LED displays that line the arena bowl, a good time here is the norm.
Outside of hockey season, you'll find an array of traveling performers too — everyone from Andrea Bocelli to Beyoncé, Elton John and Dua Lipa have graced the center stage.
23 – Get hands-on at the Michigan Science Center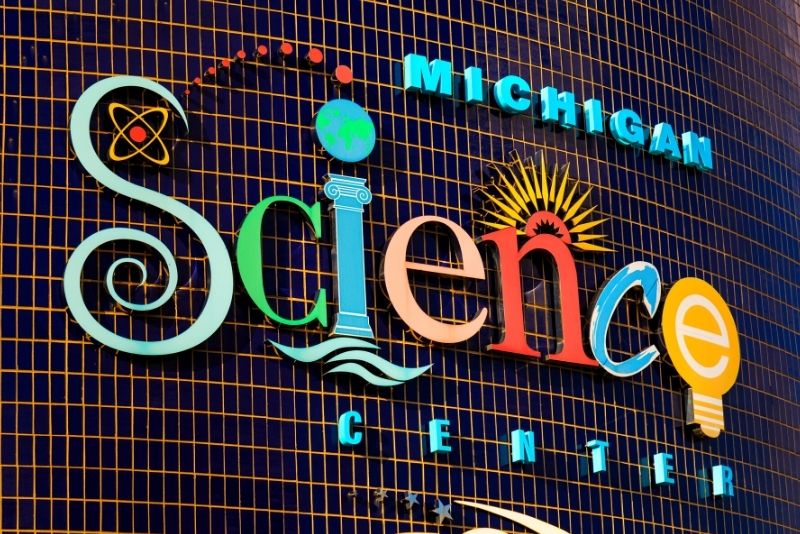 Where education meets hands-on entertainment with an extra dollop of family fun, the non-profit science center offers insightful programming for people of all ages, from out-of-this-world adventure to the most in-depth exploration of space, weather and life science.
Known for its live science demonstrations that dive into all the core STEM (science, technology, engineering and math) fields, the Smithsonian-affiliate museum dishes up over 220 interactive displays designed to ignite creativity, spark joy and kindle the ever-burning curiosity of all who enter.
Hot tip: If traveling with kids in tow, make sure to check out the Toyota 4D Theater, where a range of fascinating movies plays daily.
24 – Chill out at the William G. Milliken State Park and Harbor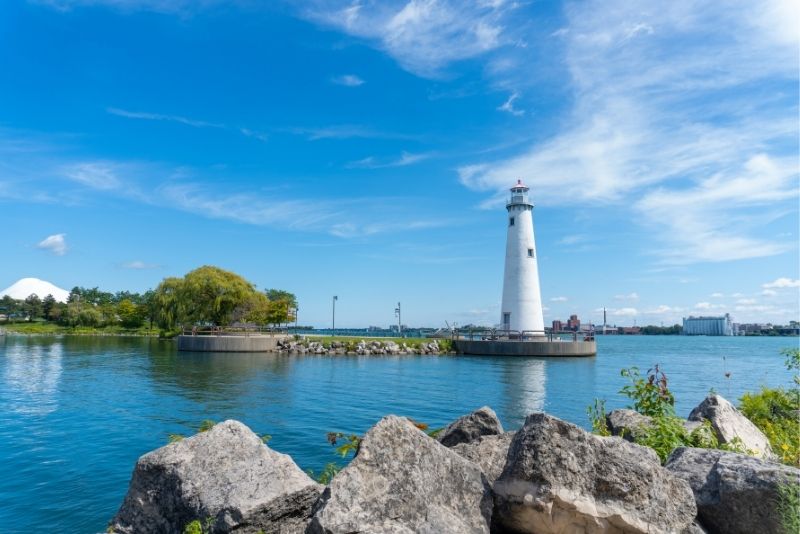 Tired of the hustle and bustle, and hordes of snap-happy tourists? Then make your way over to William G. Milliken State Park and Harbor, a beautiful grassy waterfront spot perfect for escaping the city life — even if it is only for an hour!
Connecting with the West RiverWalk, the area is abundant with nature and wetlands, as well as a marina where you can stroll around at your own pace, admiring the luxury boats as they bob up and down on the water.
Don't miss the lighthouse, and take a moment to check out the Steel Modern Art Man too.
25 – Step into nature at either the Matthaei Botanical Gardens or Nichols Arboretum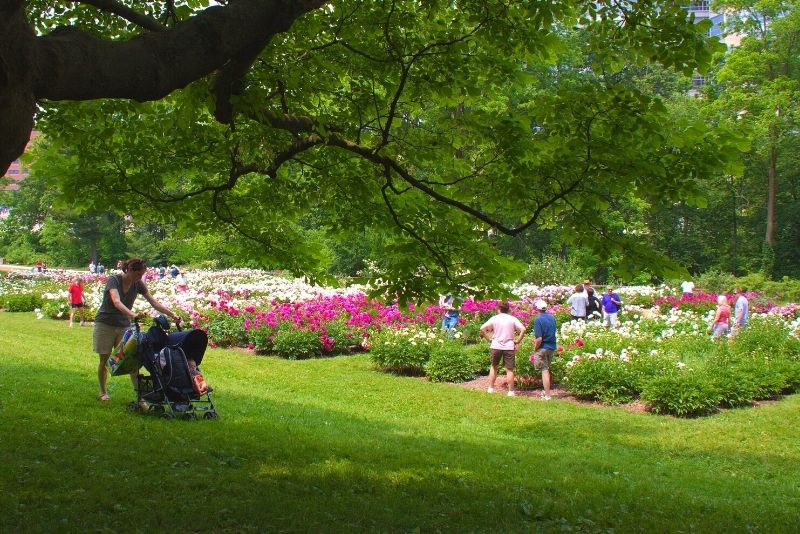 While you're over in Ann Arbor, for those who want to explore the great outdoors without having to leave the city, the Matthaei Botanical Gardens and the Nichols Arboretum, tucked away over on the University of Michigan campus, are just what the doctor ordered.
The former, a lush and immersive garden, is home to over 6,000 plants and flowers with highlights — including a Japanese Garden, the Gaffield Children's Garden, Bonsai & Penjing Garden, and the Great Lakes Gardens.
Meanwhile, the Nichols Arboretum, about 15 minutes away by car and more central, offers acres upon acres of woodland trails where you'll come across enchanting plants and wildlife around every corner.
26 – Immerse yourself in musical magic at the Detroit Opera House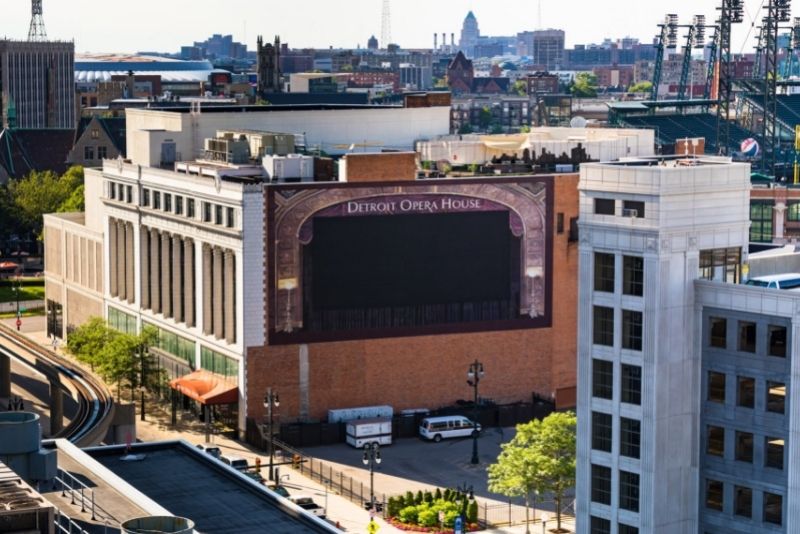 A spectacular historical landmark on Broadway in Detroit's theatre district, the Detroit Opera House opened its doors to the public back in 1922 by architect C. Howard Crane (the man responsible for the Fox Theater and The Fillmore), however, has been marvelously restored to its original grandeur.
Fast forward over 100 years and it continues to be one of Michigan's premier performance venues hosting both touring companies and home-grown talent, as well as a wide variety of special events like galas and weddings.
In addition to its lavish main hall that welcomes top-tier dance troupes, Broadway shows, ballet ensembles and musicians, the Detroit Opera House also houses restaurants, a bar, and several gift shops — making it the perfect place for an evening out on the town.
27 – Grab some lunch at Wahlburgers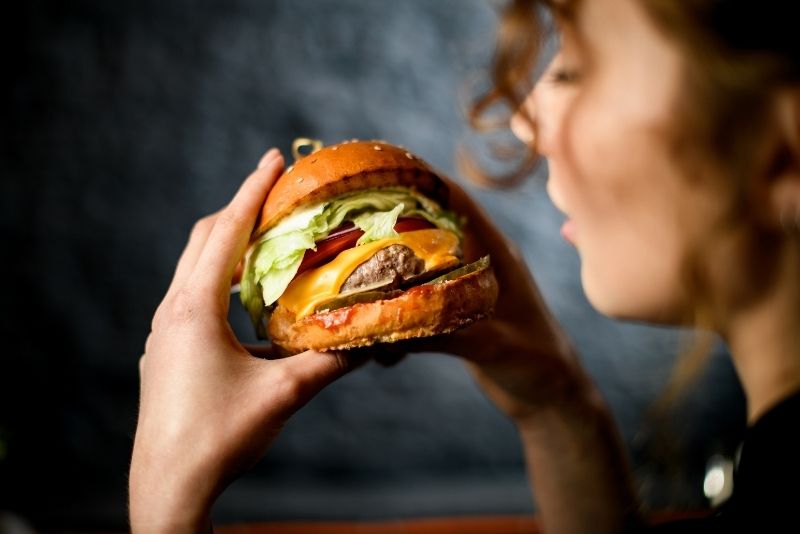 If you're a burger lover (which, let's be honest, who isn't?) then a stop at Wahlburgers is an essential part of any Detroit itinerary.
Found in the Greektown neighborhood, brothers Donnie at Mark Wahlberg (yes, that Mark Wahlberg) first founded the franchise restaurant in 2017 and it's been popping up all over America (and beyond) ever since.
At the Detroit store, just one of many, grab a hamburger with all the works, pair it with an ice-cold milkshake, and don't forget the curly fries!
28 – Get a little buzzed on a pedal bar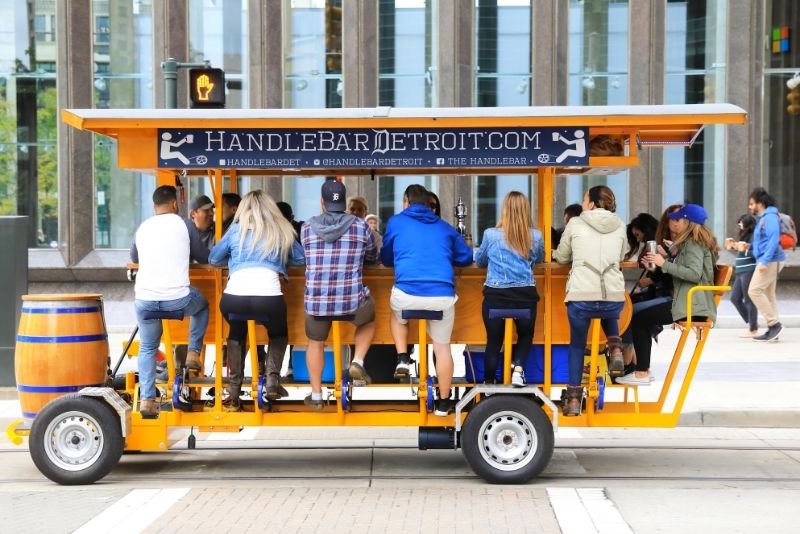 Part bar, part tour bus and part bicycle, Detroit pedal bars pave the way for a mighty fun afternoon in the sun and the chance to meet a host of fellow thirsty travelers.
Choose from companies like Detroit Rolling Pub or The HandleBar Detroit, both of which offer up a three-hour tour (of varying routes) that will take you to some of the city's most famous landmarks, all while you and your pals pedal and drink en route!
29 – Head over to the University of Michigan Museum of Art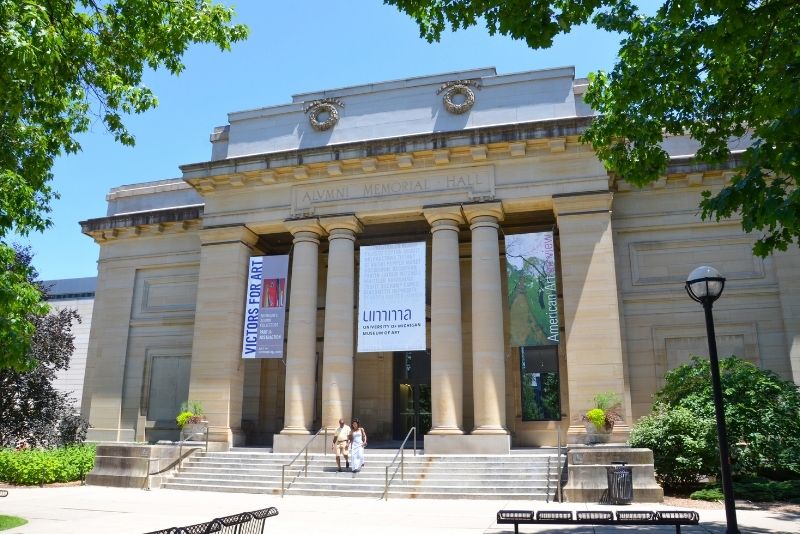 A melting pot of different styles and cultures of near-priceless art over in nearby Ann Arbor, the University of Michigan Museum of Art (UMMA) holds its own as one of the most comprehensive university art museums in the United States, housing over 26,000 objects from antiquity to the present day.
Ranging from ancient Egyptian and Greek sculpture to Impressionist masterpieces, thoughtful photography and contemporary works, there's something for everyone at UMMA — not least because entry is free!
30 – Pick up a novel at John K. King Used & Rare Books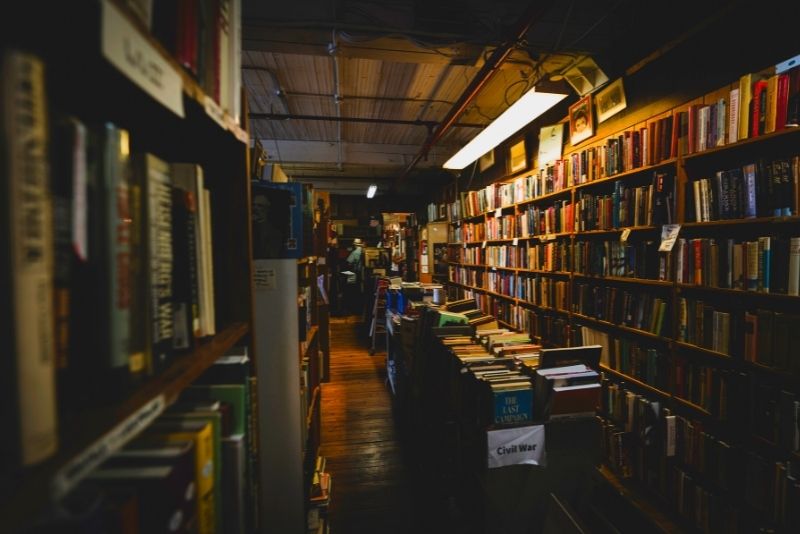 As far as bookstores go, this one is far from your everyday. And that's what makes it so unique and interesting!
Housed inside an old abandoned glove factory, the now-iconic literary heaven houses over a million books of all different authors, origins, and genres.
Across four floors of page-turning magic, you'll uncover priceless signed copies of Ernest Hemingway novels, German erotica, Mao Tse Tung's Little Red Book, old phone books and magazines, and everything in-between — as you can already tell, nothing is out of this bookstore's wheelhouse.
31 – Drive a NASCAR at the Michigan International Speedway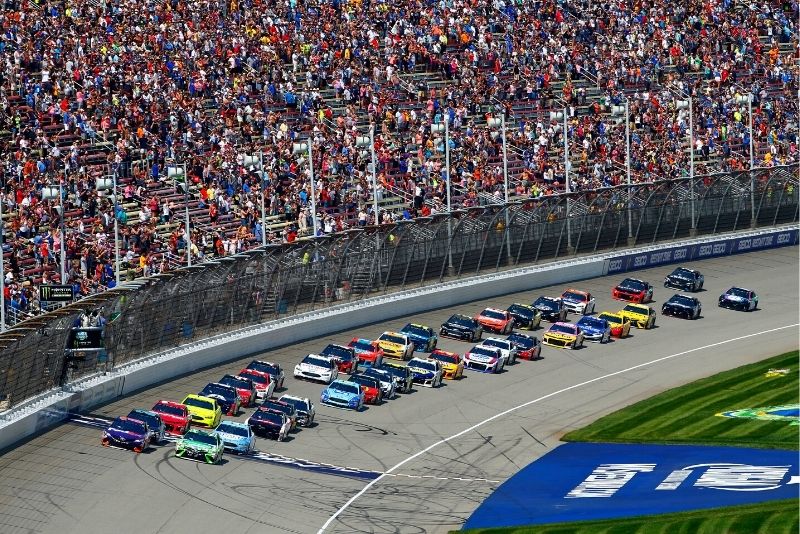 If you're a fan of NASCAR (or just motorsports in general), then a visit to Michigan International Speedway should sit at the very top of your list of things to do in Detroit.
As the state's only superspeedway and one of the largest in North America, it's home to some of the most exciting races around, and with multiple event weekends throughout the year, there's always something happening.
Looking for something extra exciting? Rather than just watch the action, snap up the rare just to get behind the wheel of your very own NASCAR and race around the track at break-neck speeds alongside a professional instructor!
32 – Stare out into Canada from Hart Plaza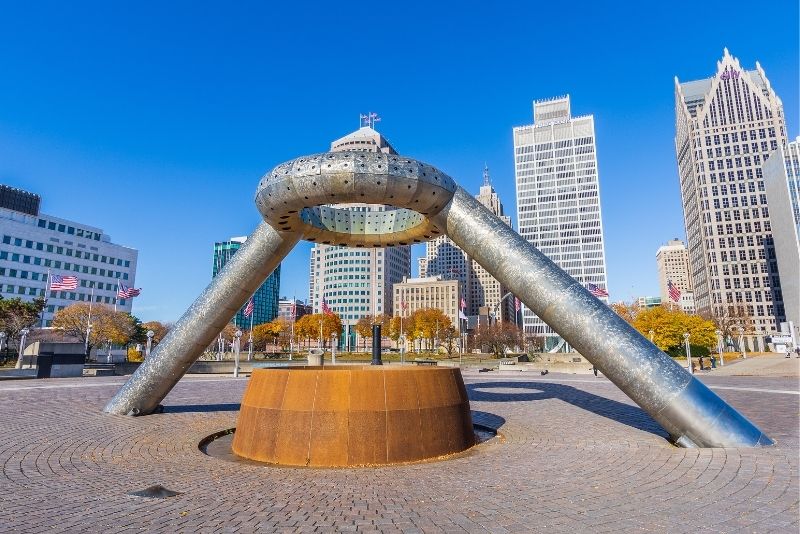 Sculpture-lined Hart Plaza is the perfect place to spend a lazy afternoon, whether you're kicking back on one of its many benches or taking in an impromptu concert by some of the city's talented buskers.
Around the corner from Joe Louis Arena and the TCF Center, this sprawling plaza sits right next to the Detroit RiverWalk and is a great spot to watch the hustle and bustle of both people and traffic.
In addition to being a popular lunchtime destination for downtown office workers, Hart Plaza also hosts some of Detroit's biggest festivals, parades, and gatherings throughout the year – like Movement Electronic Music Festival in May and the firework-heavy Windsor–Detroit International Freedom Festival.
Fun fact: From the plaza, you can see all the way into Canada!
33 – Stare up at the Fisher Building — 'Detroit's Largest Art Object'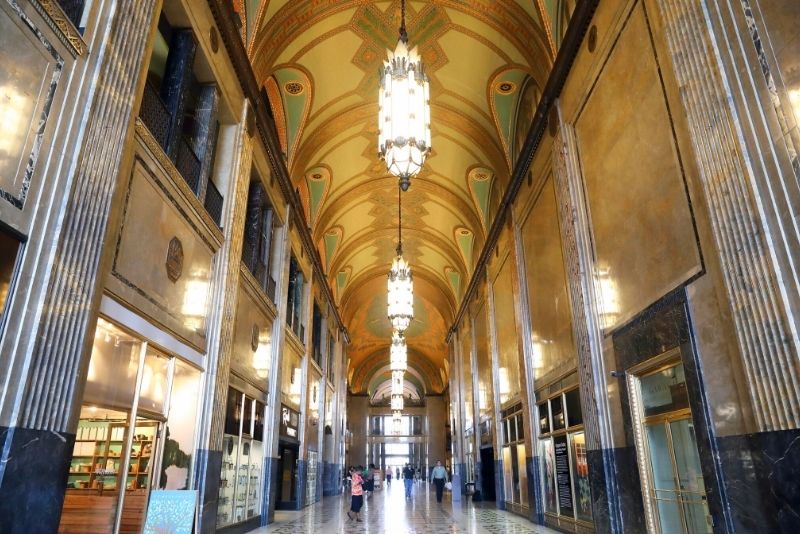 If you're into architecture, Detroit is a veritable playground with more than its fair share of stunning buildings, old and new, to explore.
The Fisher Building, in particular, is a must-see, not just for the Art Deco style that it embodies, but also for the history behind it. Completed in 1928, this iconic skyscraper was designed by architect Albert Kahn and is one of the largest surviving buildings from his career.
Take a walk around inside (it's open to the public), admire the intricate details on the facade, or just enjoy a moment of peace in the lush courtyard garden.
34 – Experience an era of musical magic at the Motown Museum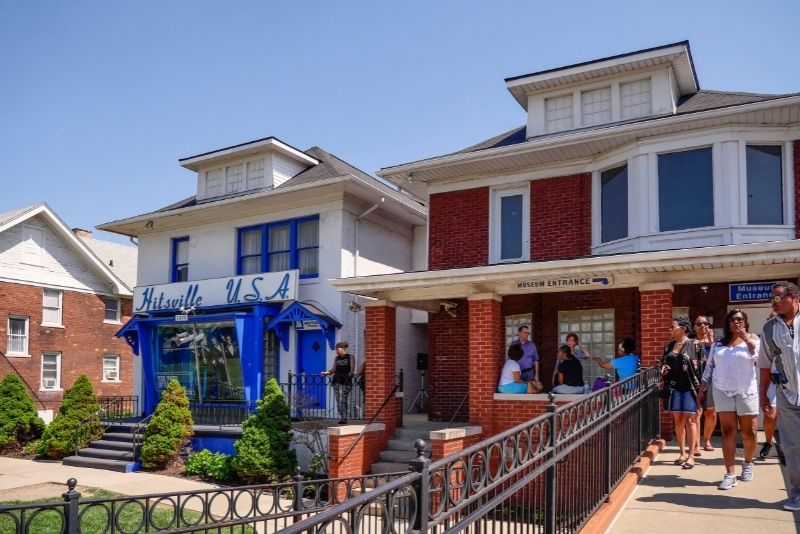 Back in Detroit proper now, visiting the Motown Museum is one of the essential things to do in Detroit for music lovers of all ages — especially those with an inkling for R&B and pop (and Eminem).
Charting the rise to fame of Berry Gordy and the Motown record label, from humble beginnings in Detroit's Hitsville USA garage studio to becoming one of the most successful independent labels in history — the museum is crammed with rare artifacts, photos and videos that'll bring you right back to the golden age of Motown.
The main gallery exhibits change once or twice a year, so you're always in for something new and exciting.
35 – Catch live music at Beacon Park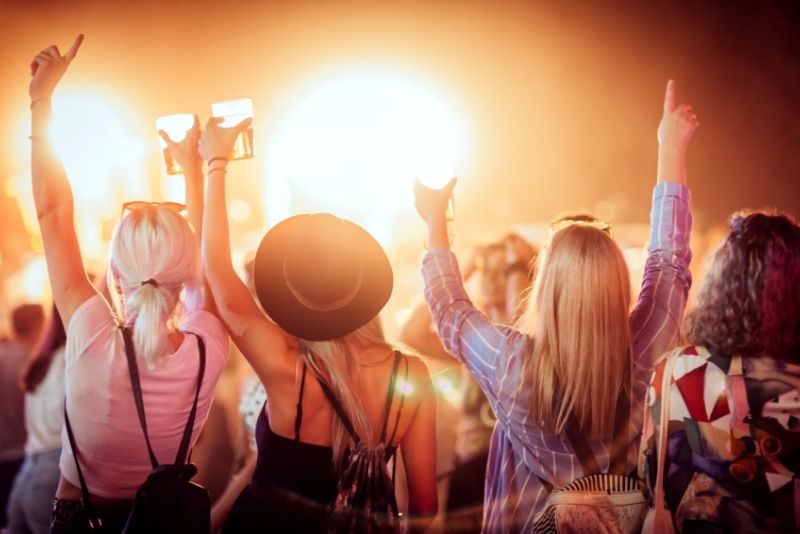 Opened to the public in May of 2018, this new green space is tucked away over on the western edge of downtown and plays host to all kinds of food trucks, live music events, and holiday celebrations.
Shaped like a triangle, smack-bang in between a host of high-rise buildings, Beacon Park — whether you're just after a quiet picnic or are keen to join in on local festivities — often provides a much-needed change of pace from its surroundings.
36 – Go skydiving!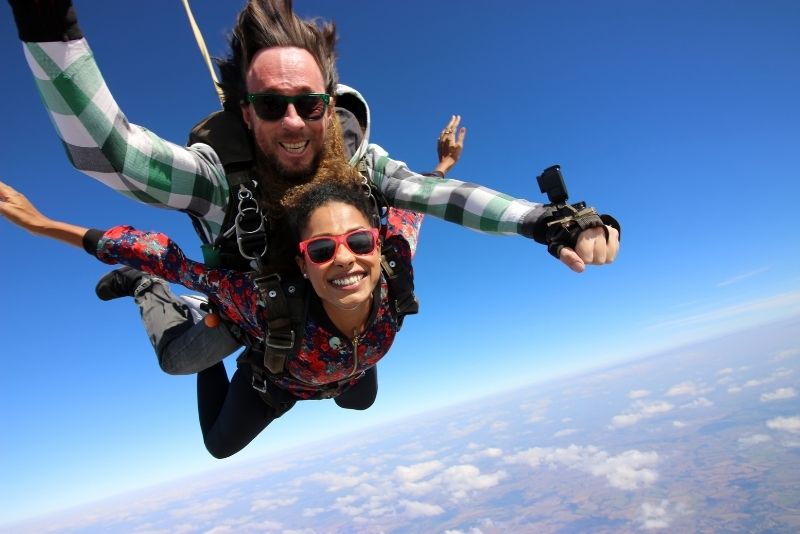 Calling all adrenaline junkies! Nothing quite gets the heart racing like hurling back toward earth at terminal velocity from over 12,000 feet in the air.
So, if you're feeling brave, why not head to one of Detroit's many skydiving facilities and take the plunge? Perfect for first-time jumpers and seasoned experts alike, there's no shortage of operators to choose from.
Whether you head from Fowlerville (great views of open green plains) or the Ray Township (where Anchor Bay shimmers in the distant), the expansive, bird's-eye views are second to none.
37 – Cheer on the Wolverines at Michigan Stadium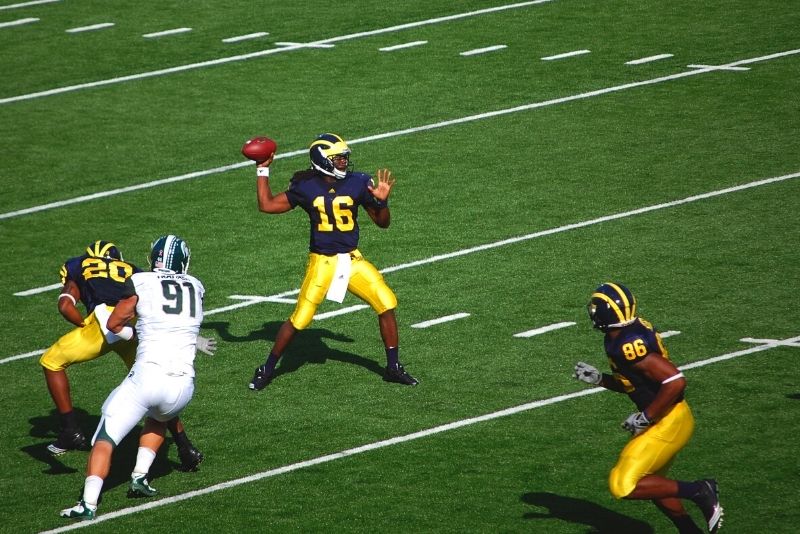 Sports fans, take note!
A visit to the University of Michigan isn't complete without a stop at The Big House, and not solely because it plays host to the university's Wolverines football team.
Officially and remarkable, Michigan Stadium is the largest college stadium in the United States, with a capacity of over 107,000 spectators.
Walk around the outside of this mammoth structure, take a selfie in front of the scoreboard, or even grab a ticket for a game and immerse yourself in what is one of North America's sporting fortresses (and don't forget to join in on the tailgating action!).
38 – Climb around at the Outdoor Adventure Center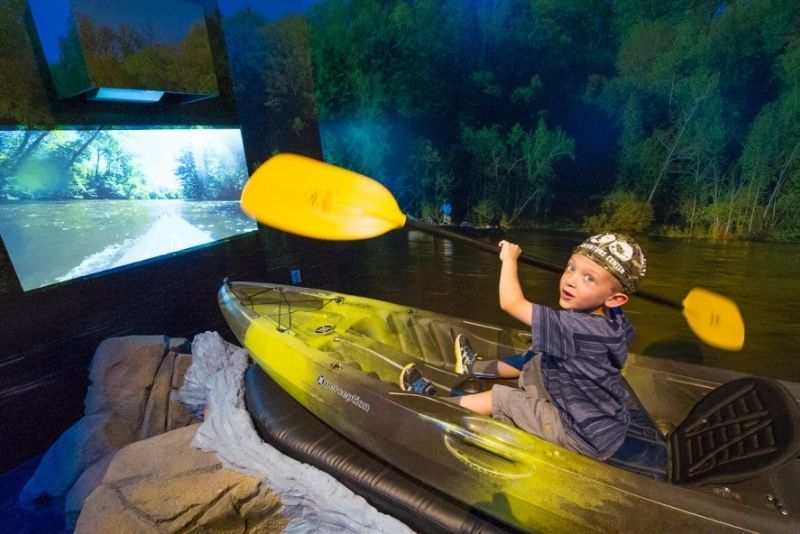 Not too far from the riverfront on the outskirts of William G. Milliken State Park, the Outdoor Adventure Center is a great place to spend an afternoon if you're looking for something active to do that's just as fun for kids of age and kids at heart.
Offering climbing walls, a zip line, snowmobiles, the chance to journey behind a waterfall, fishing boats, mountain bikes trails, and plenty of other outdoor activities to get your heart racing, this place is basically an amusement park for nature lovers.
Take a break from the action and refuel at one of the on-site cafes before heading back out for more fun or learning all about how forest and wildlife preservation.
39 – Spend the afternoon at the Detroit Historical Museum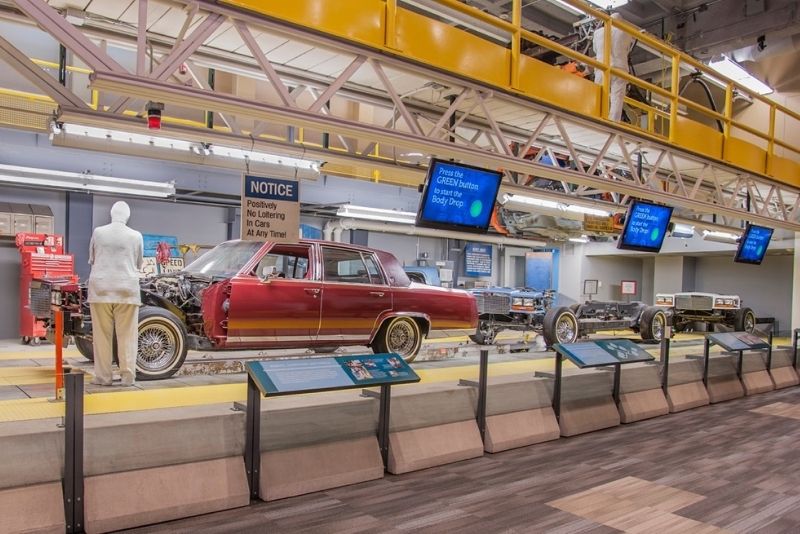 Lest we forget, the Motor City is by no means all about fast cars and showy music! In fact, Detroit has a rich history that goes way beyond Motown.
Nestled in Midtown's Cultural Center Historic District Detroit, you'll find the Detroit Historical Museum teeming with objects, videos, interactive settings, vehicles and more — which together chronicle the diverse life and times of the region.
The Motor City Exhibition that showcases how a Cadillac is assembled, as well as the old-school diner and staged historical town are all crowd favorites, while beer drinkers in particular love the Brewing Heritage section — which provides a thorough overview of all the area's brewing companies over the decades (Stroh's, Pfeiffer and the like).
40 – Ride the world's most exhilarating roller coasters at Cedar Point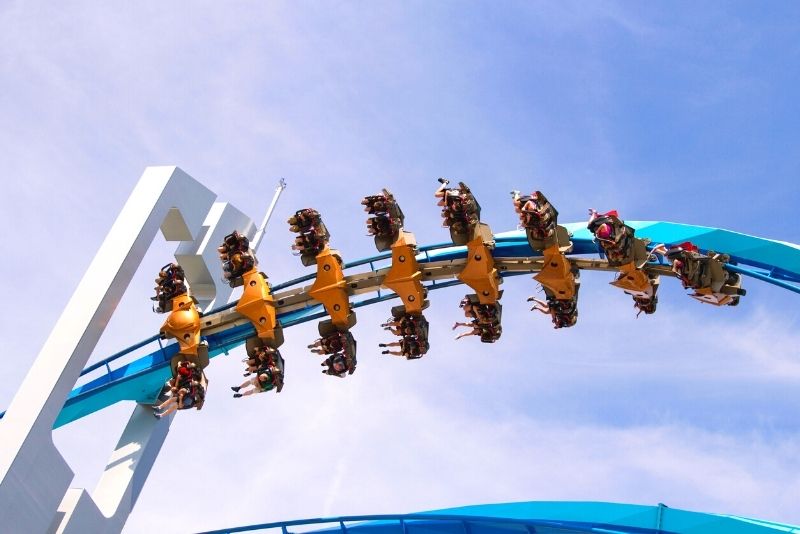 With a nickname like Roller Coaster Capital of the World, rest assured that this amusement park is well and truly worth the two-hour drive to neighboring Ohio.
Offering great views over Lake Erie's shores, this high-octane coaster haven boasts over 70 rides and attractions, many of which are guaranteed to give your stomach butterflies!
Ranging from an old-fashioned carousel and Ferris wheel to heart-stopping thrill rides — like Valravn (the world's tallest dive coaster), Steel Vengeance (the world's tallest, fastest and steepest wood-steel hybrid coaster), and Millennium Force (which drops you over 300 feet and 90 miles per hour and has been voted one of the best in the world) — Cedar Point is a must for any adrenaline junkie.
Far more than just a coaster oasis, the park also offers waterslides at Cedar Point Shores next door, parasailing on the lake, jet ski rentals, and a whole lot more.
41 – Wander around The Heidelberg Project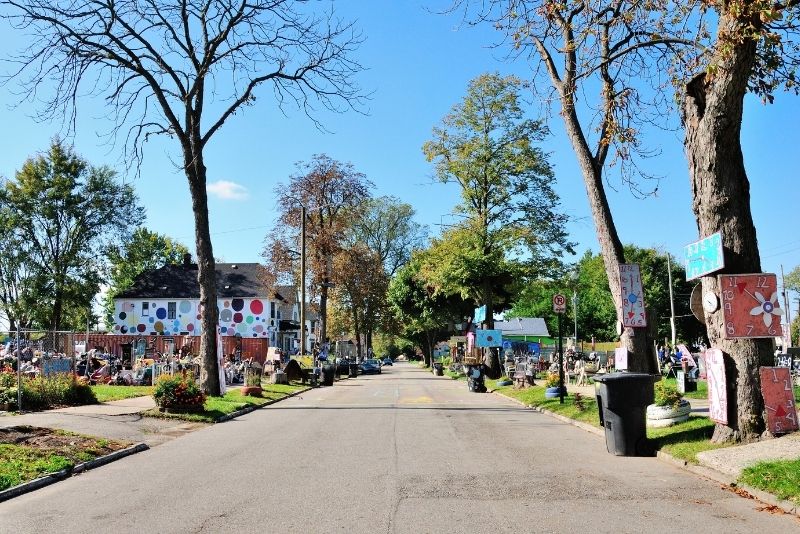 While Downtown and the Riverwalk attract the brunt of the attention, Detroit's suburbs are as diverse as they come, home to outdoor sculpture, murals and a range of local hidden gems.
One such attraction is the eccentric Heidelberg Project over in the McDougall-Hunt neighborhood. Started in 1986 by Artist Tyree Guyton, the project is a series of outdoor art installations on vacant lots and houses that use everyday objects like tires, shoes, televisions and clothes to create an ever-changing display.
The effect is eye-opening, thought-provoking and often amusing — perfect for snapping some interesting social media pics!
42 – See who's playing at The Fillmore Detroit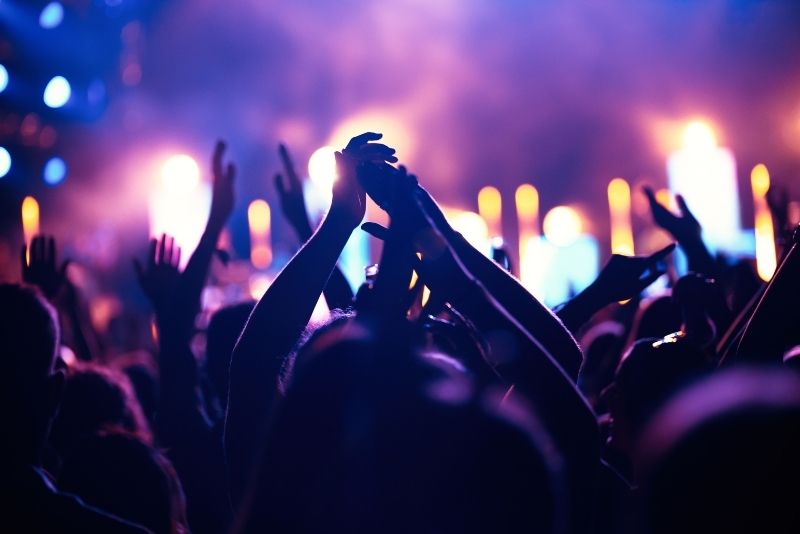 One of the most famous music venues in Detroit, with a storied past that runs almost a century, The Fillmore is a Foxtown landmark (the Detroit Theatre District, specifically) where countless legendary musicians have taken to the stage over its tenure.
A favorite haunt for jazz, rock and blues fans alike, this grand theater — formerly dubbed the State Theatre — has hosted everyone from Jimi Hendrix to Muddy Waters, B.B. King and Led Zeppelin, with tickets at all price points available via the box office or a range of affiliate sellers (StubHub, etc).
Check the website for upcoming gigs, and be sure to take a wander around the impressive art-deco interior before the show!
43 – Let the youngsters loose at the Ann Arbor Hands-On Museum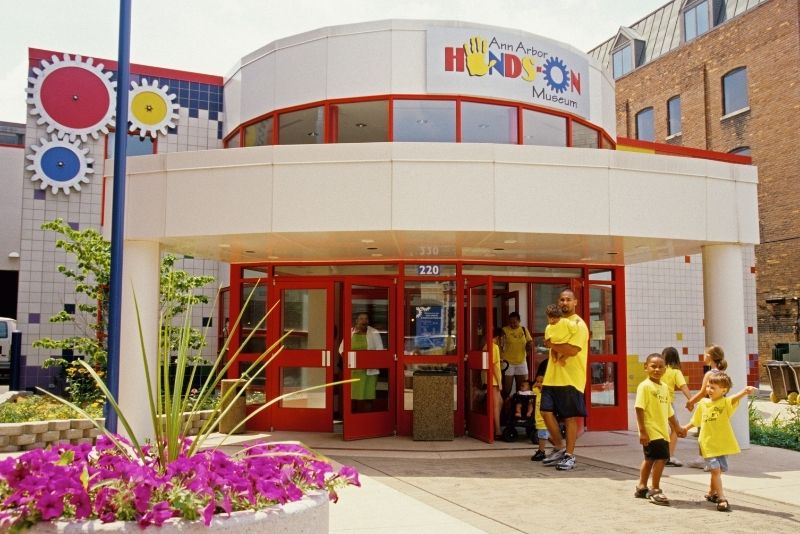 If you've got kids in tow, the Ann Arbor Hands-On Museum — about 40 miles west of Detroit — is an absolute must. With over 160 interactive exhibits that focus on science and art, with an emphasis (as the name suggests) on interactivity and physical touch, there's something for everyone to enjoy!
From tinkering with musical instruments or getting lost in a maze of mirrors to building sandcastles (or even meeting animals in the wildlife rooms), this museum is all about letting kids explore and learn through play.
44 – Splash your way to fun at Adventure Bay Family Water Park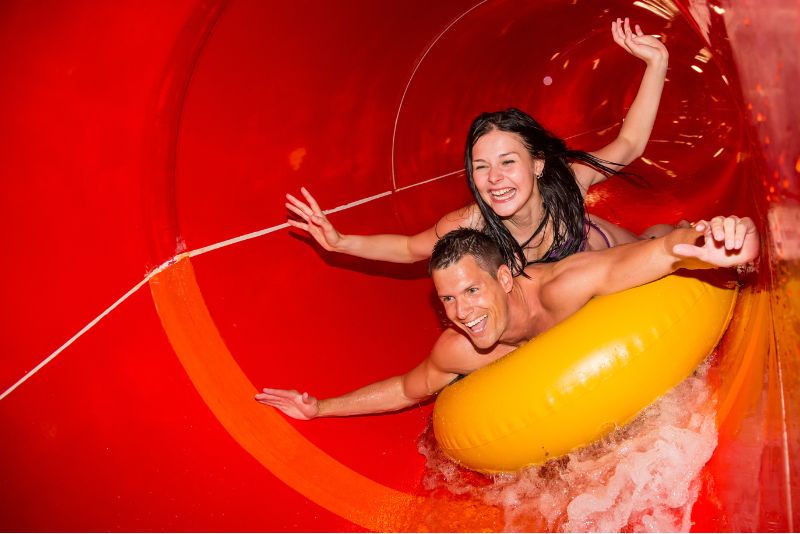 No matter the season, you and the rest of the gang will have a splashing good time at Adventure Bay Family Water Park!
With 35,000 square feet of attractions and adventures, this thrilling spot – which is just across the border in neighboring Windsor, Ontario – offers something for everyone… and best of all, it's entirely indoors!
Whiz down the wild slides, bob around in the wave pool, or hit the FlowRider to test your surfing skills.
If you'd prefer a slightly mellower experience, you can drift around in the lazy river, or take your youngsters over to the play areas for some kid-friendly fun.
It's the perfect place to cure the winter blues!
45 – Explore the historic Fair Lane mansion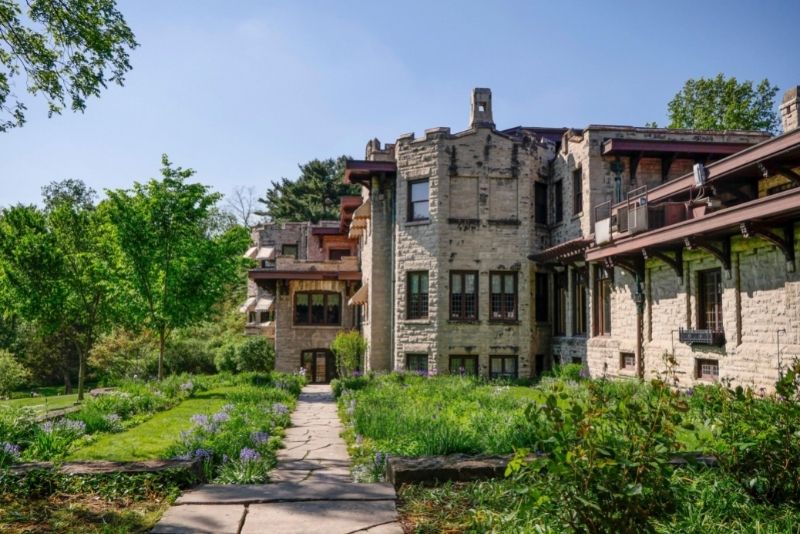 Tuck away in an idyllic spot between the banks of the Rouge River and the beautiful University of Michigan Dearborn campus sits Fair Lane, the historical home of none other than Clara and Henry Ford.
Sitting on lush greenery (don't miss the rose garden, a magical sight when in full bloom), the 1,300-acre estate still boasts most of its original structures, including the main 56-room residence, the powerhouse, the greenhouse, boathouse and the stables — all of which are accessible during both history-themed guided tours s well as special events.
Hot tip: With magical gardens to boot, consider packing a picnic and enjoying the sunshine.
46 – Wander through The BELT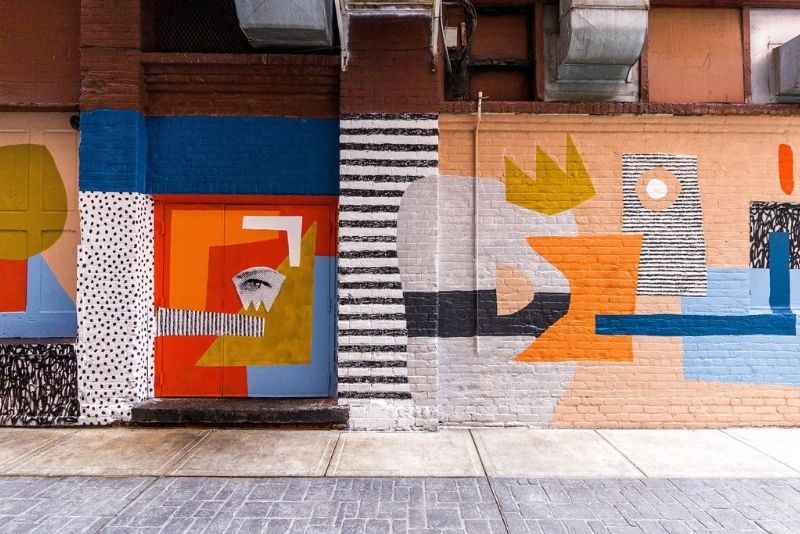 One of Detroit's most clever and spirit-lifting ideas is The BELT, an old, once-run-down alleyway that's been transformed and reinjected with life into an artistic and cultural hotspot.
Acting as an open-air art gallery between Broadway and Library Street, it's now home to rotating art installations, food trucks (the best way to experience Detroit cuisine), pop-up shops and more.
Walk it, bike it or just amble through at your leisure – whatever you do, make sure to add The BELT to your list of things to see in Detroit!
47 – Run around town with a scavenger hunt
Fed up with walking around town without a plan or following around slow-paced walking tours? Take the excitement and adventure up a notch by organizing your own scavenger hunt in either Detroit or Ann Arbor!
Led from the convenience of your phone, with a range of companies, locations, and themes (including zombies!) to choose from, the problem-solving and interactive Amazing Race-styles activities will take you to a list of landmarks and historical sites, uncovering off-beat Detroit facts along the way.
48 – Go to a concert at Saint Andrew's Hall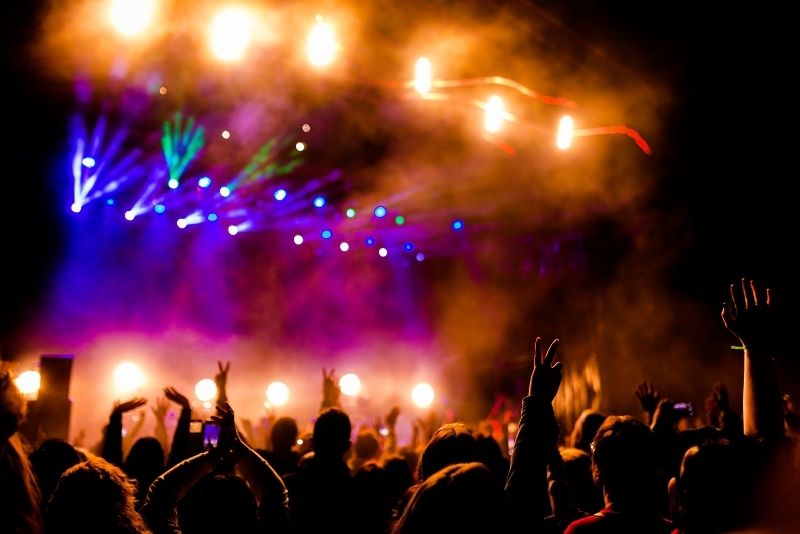 A century-old Detroit music institution that actually began its roots as the humble meeting place for the Saint Andrew's Scottish Society, the esteemed Hall has transformed into a haven for electronic, punk, metal and alternative fans, with a rotating roster of talent of all kinds of genres.
While there have been hundreds of A-listers here over the years — and more to come, so check the website to see who's performing during your trip — it's most famous for being one of the first places Detroit's very own Eminem performed.
49 – Discover the legend about Penobscot Building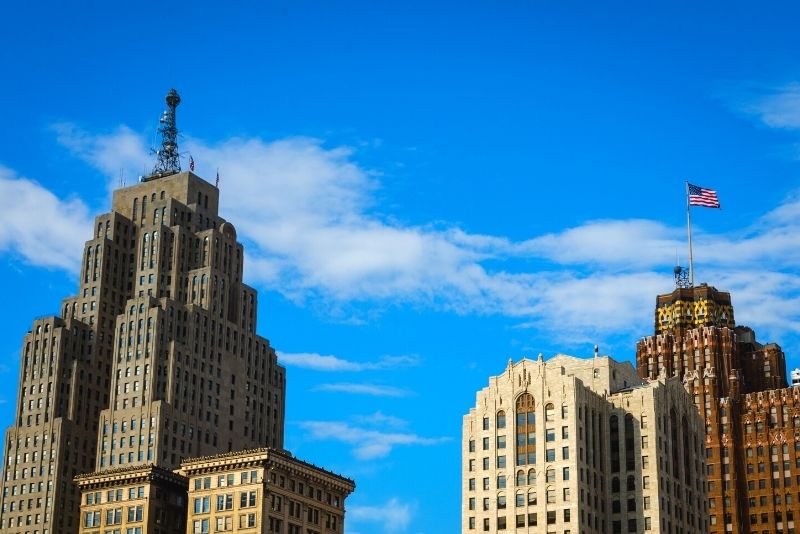 Yet another iconic landmark built in the late 1920s, the Penobscot Building was once deemed to be Detroit's first skyscraper.
Today, the Griswold Street tower stands at 47 floors high and is a beautiful example of art deco design with its iconic glowing rooftop orb visible from across Downtown after sunset.
50 – Admire the exhibits at the Museum of Contemporary Art Detroit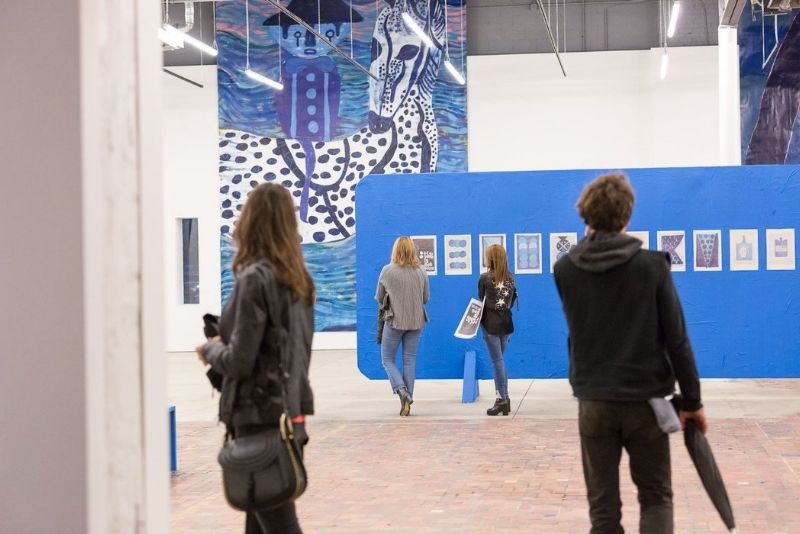 If you're in the mood for a dose of culture, look no further than Detroit's Museum of Contemporary Art. Housing both permanent and rotating exhibitions from some of the world's most cutting-edge artists in the realms of painting, sculpture, video and quirky installations, this museum is constantly updating its displays to keep things fresh and interesting.
Spanning some 22,000 square feet, with the text Everything is going to be alright etched and illuminated onto its facade, the MOCAD has featured exhibits focused on all kinds of unique themes like International Super Fruits, Monsters, Black Art, Underground Detroit, and a whole lot more.
51 – Sit front row at the Fox Theatre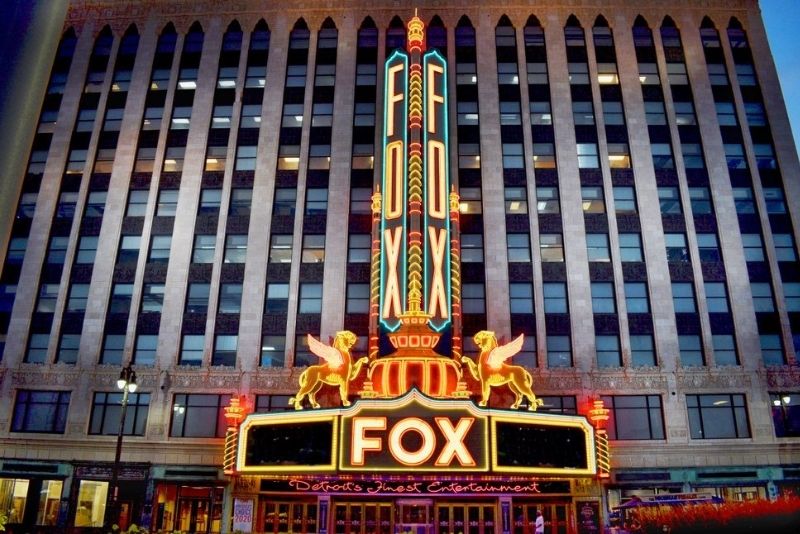 Hunting for a night of indoor entertainment? Detroit's Fox Theatre is a majestic showplace that puts on a dazzling production any day of the week.
Located in Midtown, this historic building has been lovingly restored and transformed from an entertainment venue into one of the city's most popular party spots thanks to its world-class performances – everything from Broadway shows like The Lion King and Wicked to live concerts by the likes of Bob Seger, Alice Cooper and Bette Midler.
Simply check the schedule and book your tickets in advance, as the Fox Theatre often sells out.
52 – Pass by the Spirit of Detroit statue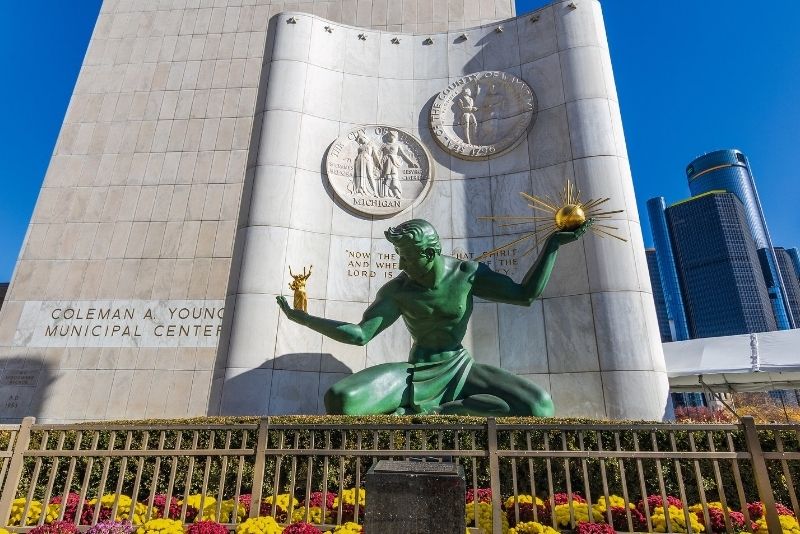 If you're looking for a quintessential Detroit landmark to snap a selfie with, look no further than the Spirit of Detroit statue near Hart Plaza — a more-than-60-year-old icon meant to represent both divinity and human relationships.
Towering 26 feet tall with an original cost of $58,000 ($550,000 in today's terms), the heavily postcarded statue makes for quick yet essential viewing when wandering through Downtown.
Keep in mind that most walking tours will include a visit here.
53 – Craft something unique at Pewabic Pottery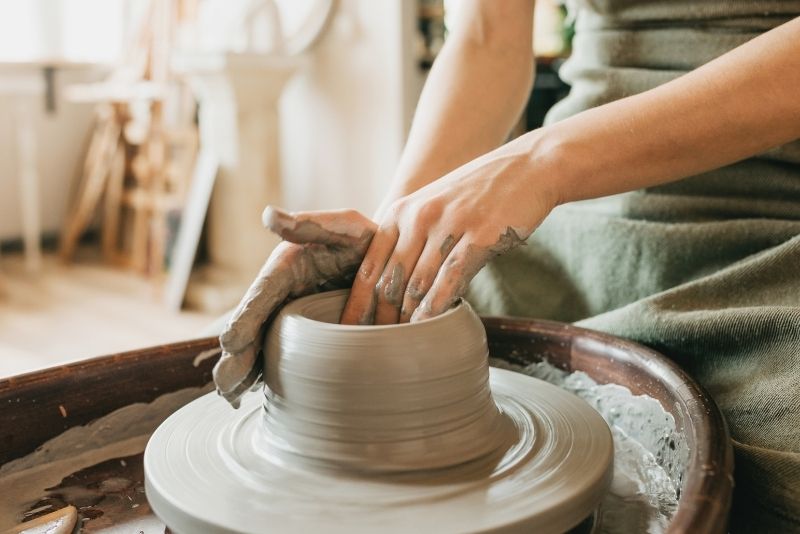 If you're at all interested in ceramics, then a visit to Pewabic Pottery — a nonprofit that's been operating for well and truly over a century — sells itself as a calming activity that's both hands-on and historical.
As one of the oldest and most prestigious ceramic studios in the United States, and a National Historic Landmark, it was founded all the way back in 1903 (the same year as Ford, ironically) and has produced stunning clay molds, equipment and sculptures ever since.
Today, it remains one of the city's most underrated attractions, offering classes and demonstrations for the public.
54 – Lose yourself in the canvases at Digital art exhibitons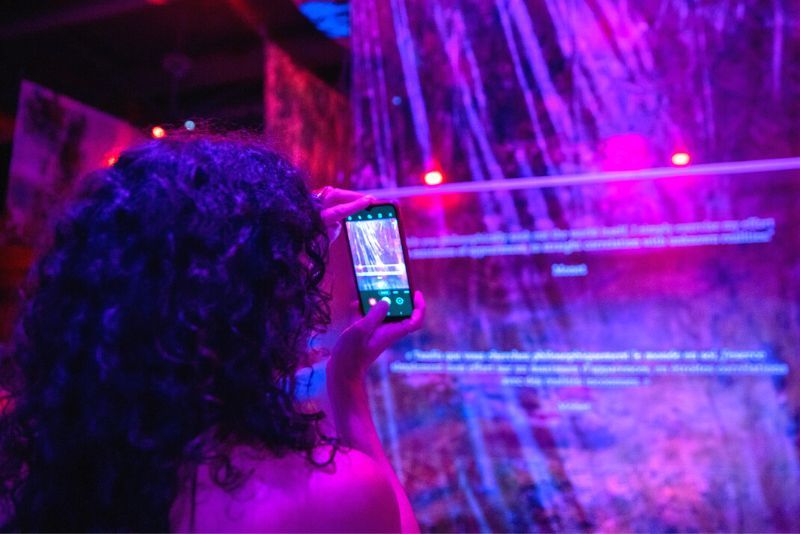 The only thing better than admiring the works at an art gallery? Getting to feel like you're part of the painting!
Digital art shows have been soaring in popularity recently, and for good reason; they combine technical wizardry with stunning aesthetics to create an immersive experience like no other.
Head over to the Monet exhibit, and stroll past massive water lilies and tranquil scenes in the impressionist style.
As you lose yourself in these panoramic canvases, you'll also get to learn more about the people that created them; it's a truly immersive adventure!
55 – Get a multicultural experience at the Dabls Mbad African Bead Museum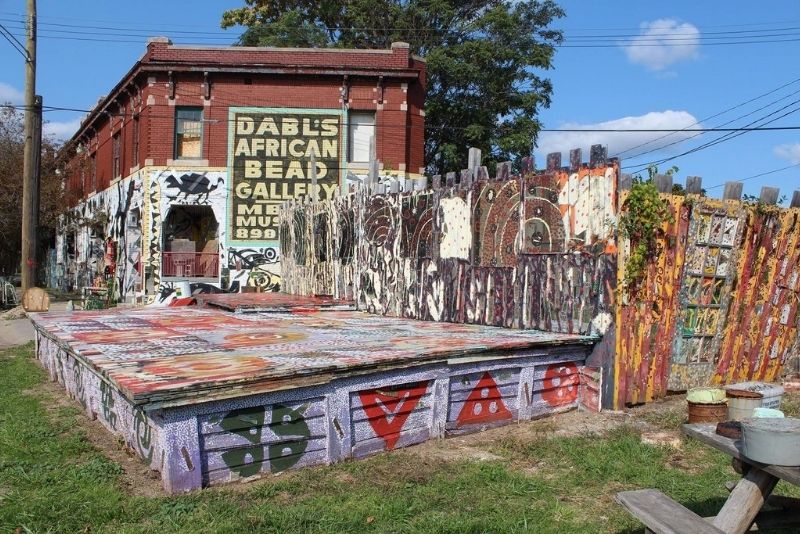 Detroit is a city that has been shaped by immigrants and their descendants from all around the world, and nowhere is this more evident than at the Dabls Mbad African Bead Museum.
Opened in 2002 and taking up nearly an entire city block, the wonderful and insightful locale tells the story of Detroit through its cultural diversity — with an impressive collection of art, beadwork, jewelry, installations and sculptures from all over Africa that provide a colorful contrast to the grey hues to the surrounding area.
56 – Soar over Detroit in a helicopter tour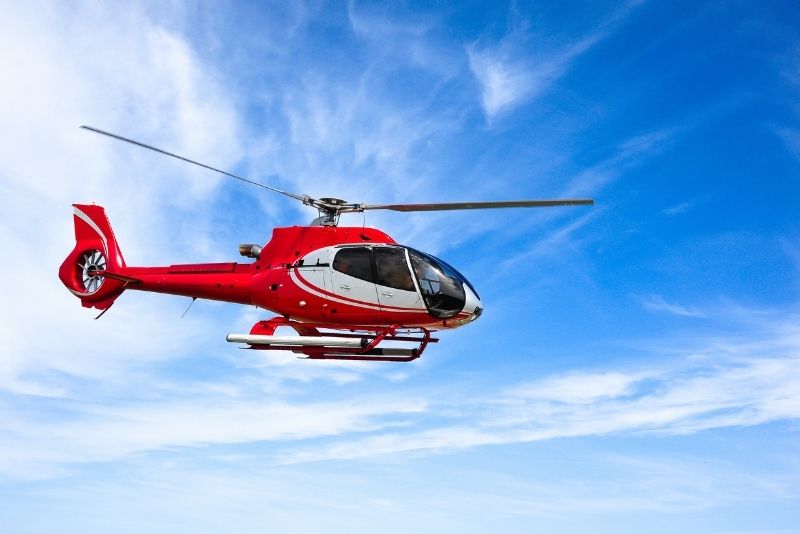 Whether you ride shotgun and soak in the view or sign up for your very own piloting lesson, there's no better way to see all the sights Detroit has to offer than from high in the sky!
From downtown and its towering skyscrapers to famed neighborhoods like Corktown, Brush Park and Greektown, as well as the shimmering Great Lakes as far as the eye can see (not to mention the friendly, knowledgable pilot who'll wax lyrical about all the attractions down below) — a helicopter tour is a must for any visitor looking to really experience a new perspective.
57 – Walk through the Erebus Haunted Attraction … if you dare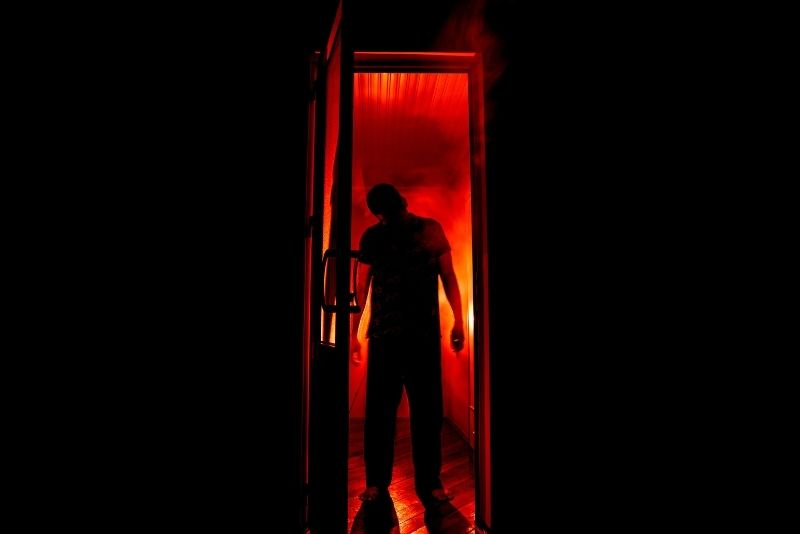 For those with nerves of steel, the Erebus Haunted Attraction in Pontiac — about 30 minutes north of Detroit — gives brave guests the chance to find themselves face-to-face with some of America's most terrifying creatures and characters.
Taking place in a four-story warehouse with all creepy props and sinister special effects designed to send shivers down your spine, Erebus isn't just one of the world's largest walk-through haunted attractions. According to the likes of USA Today, it's one of the best as well.
Make no mistake: This is no kiddy ride. Screams and horrors are around every corner, so it's best to keep anyone under the age of 13 far, far away.
58 – Take a tour of the Historic Fort Wayne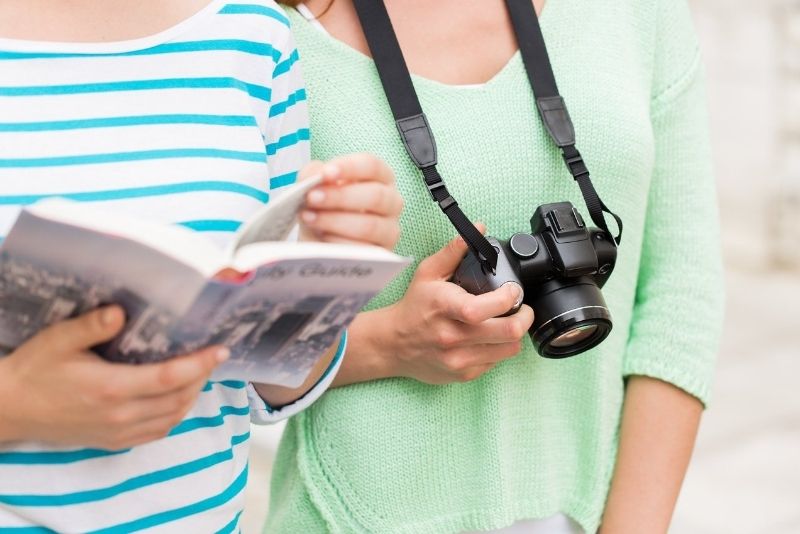 A fascinating peek into Detroit's military past, this 19th-century fort tucked away in the Delray neighborhood has been restored to its true self and now houses a museum and educational center — telling the story of America's defense from the Revolutionary War right up to the present day.
Sitting nearby the bank of the Detroit River, the fort showcases history through artifacts like cannons and uniforms; original buildings like the 1848 limestone barracks, 1845 star fort, and restored Commanding Officer's house.
Costumed tour guides will escort you through the centuries-old mansion and grounds on 2-hour interactive and educational walkthroughs. This is a great place for kids and adults alike to learn not only about the role of Detroit in military history but also about the Native American history of the land long before the fort was erected.
59 – Wet your whistle at Detroit's breweries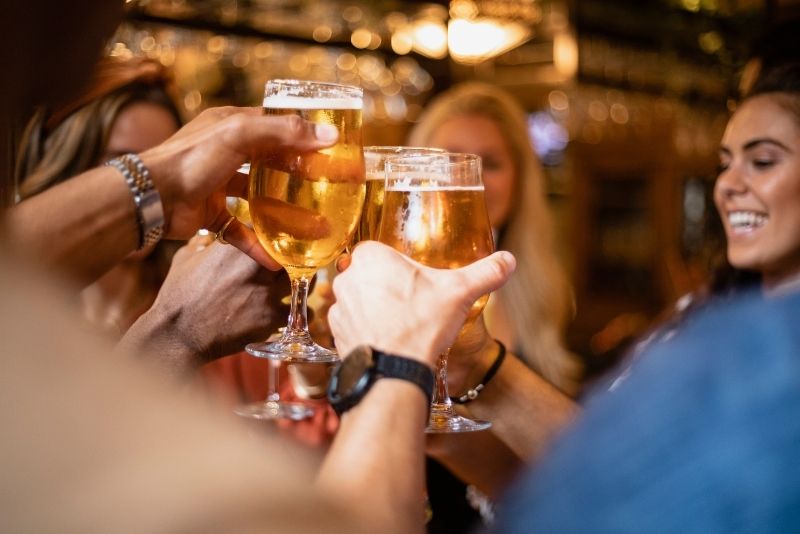 As any local will attest, Michiganians don't mind the odd tipple, and Detroit is home to some world-class breweries, so an ice-cold beer is never too far away. While there's no harm in testing out any bar or brewery — it's hard to go wrong, after all — you could save yourself your time and head straight for the most revered.
Atwater, in particular, is a Detroit favorite that offers tours of its facility (and beer tastings), while Motor City Brewing Works (known for their famous brick oven pizzas) has an expansive rooftop patio overlooking the cityscape where you can quaff a cold one under the sun or stars.
Another spot with a terrific outdoor space, Jolly Pumpkin serves up locally made brews with truffle fries to boot, while the B. Nektar Meadery — not technically beer, rather mead — offers something a little different for the beer connoisseur to try.
Or, of course, you could sign up for a dedicated beer tasting and sample all of the city's best in one shot!
60 – Step inside the Masonic Temple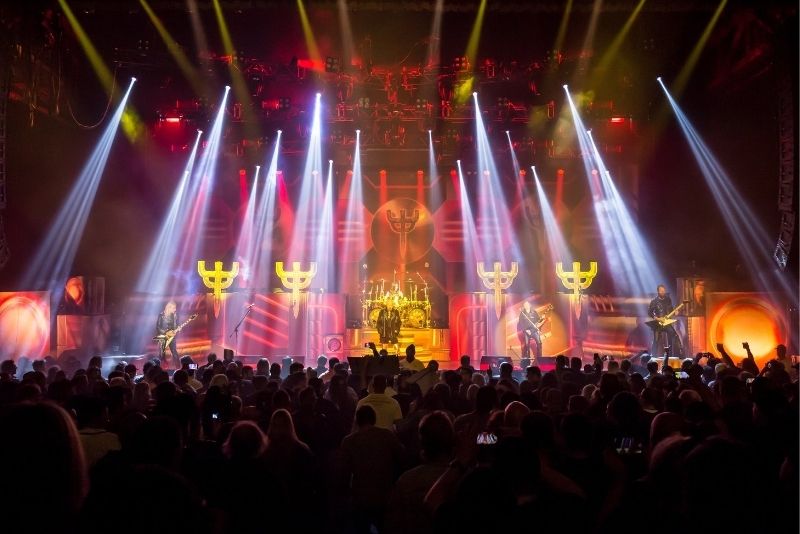 Often overlooked by the run-of-the-mill tourist as just a big old building (to their own detriment), the neo-gothic structure is officially the world's largest Masonic Temple, containing a whopping 1,037 rooms spread across 14 floors.
Designed by George D. Mason who – inspired by his visits to European cathedrals – set out to create one of the largest and most opulent masonic temples in the world.
The foreboding tower which overlooks Cass Park is nowadays mostly used for events (like concerts and conventions in its amphitheater). However, self-guided or guided tours are available if you want a sneak peek inside this architectural beauty.
Far more than just a building and concert hall, it also boasts a swimming pool, gym and multi-lane bowling alley!
61 – Take a break at Grand Circus Park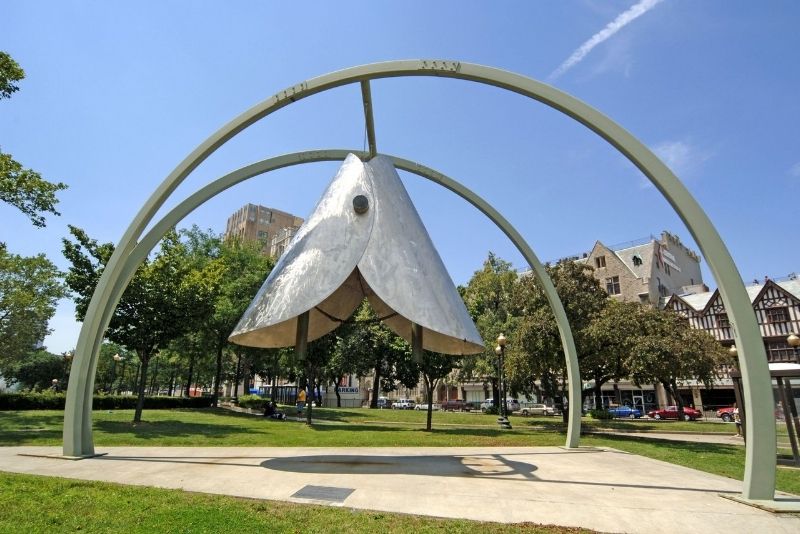 Located in the heart of downtown Detroit, a stone's throw from notable landmarks like Comerica Park, Fox Theatre and the Detroit Opera House, semi-circular Grand Circus Park is a slice of calm surrounded by what is one of the busiest areas in the city.
Topped off with an ornate fountain and plenty of seating space for those who need a breather on their days of sightseeing walkabout, this 5-acre slice of urban greenery central park also boasts a dog park for your furry friends and an enchanting illuminated art installation come wintertime.
62 – Attend a service at the Basilica of Ste. Anne de Detroit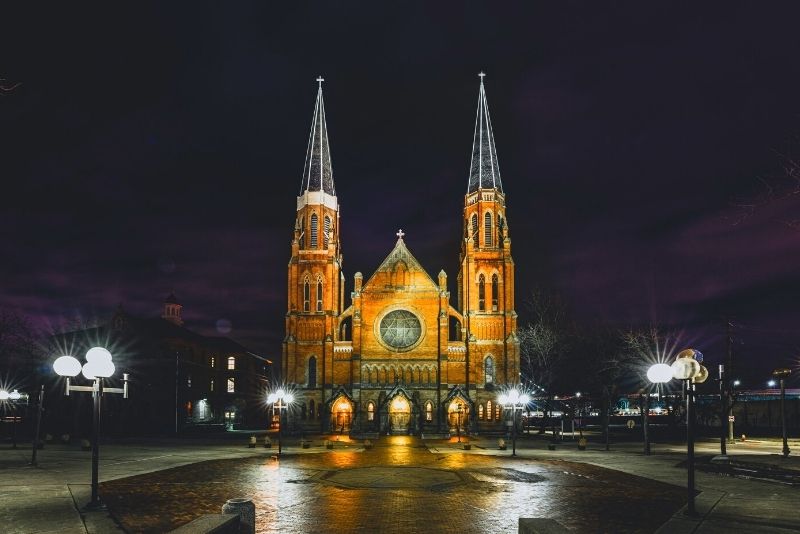 As the first parish church in Detroit and second oldest continually operating of its kind nationwide, this historic landmark is a shining example of French colonial heritage and Gothic Revival architecture and design.
Founded originally back in 1701, the notable landmark sits just around the corner from the Ambassador Bridge as still hold weekly services, making for essential viewing for history and architecture aficionados alike.
63 – Walk down the Dequindre Cut Greenway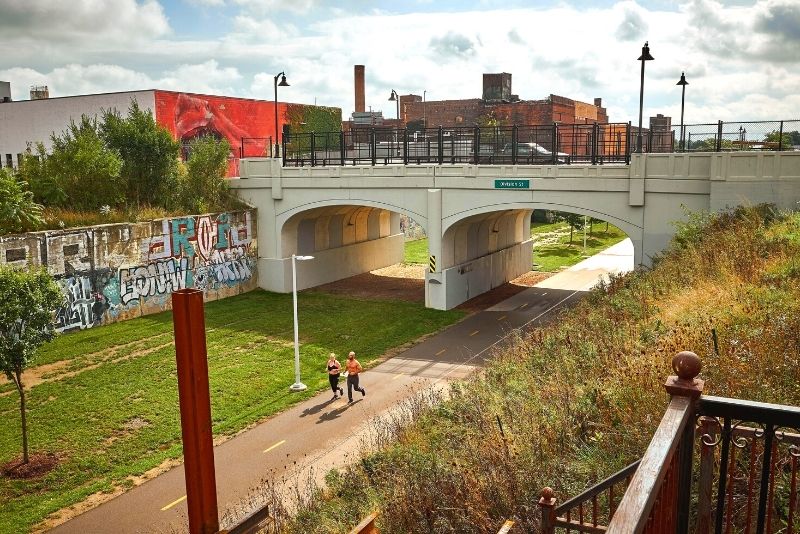 As far as Detroit's hidden gems are concerned, the Dequindre Cut Greenway is probably one of its best-kept secrets. Linking the Riverfront with the Eastern Market (which hosts a six-block farmers market every Saturday), this 2-mile stretch of former railway track has been turned into a thriving green space.
It runs through some interesting parts of town and through varied scenery dotted with graffiti, murals, and quirky sculptures. Whether you jog, walk or rent a bike, so long as the sun's shining it makes for a lovely afternoon stroll.
64 – Check out the famous Monument to Joe Louis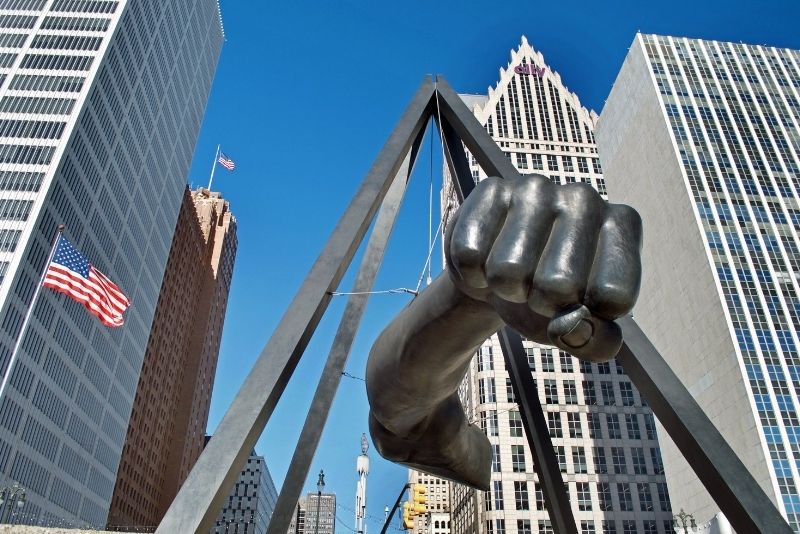 Erected in honor of world heavyweight boxing champion Joe Louis, who was born and raised in Detroit, this imposing sculpture dubbed "The Fist" stands at over 27 feet tall and weighs over 8,000 pounds.
Sitting in the heart of Hart Square, it serves as a popular and common spot for passersby to snap a photo of themselves, adding a bit of Detroit culture to their social media.
65 – Meander down the Detroit Riverfront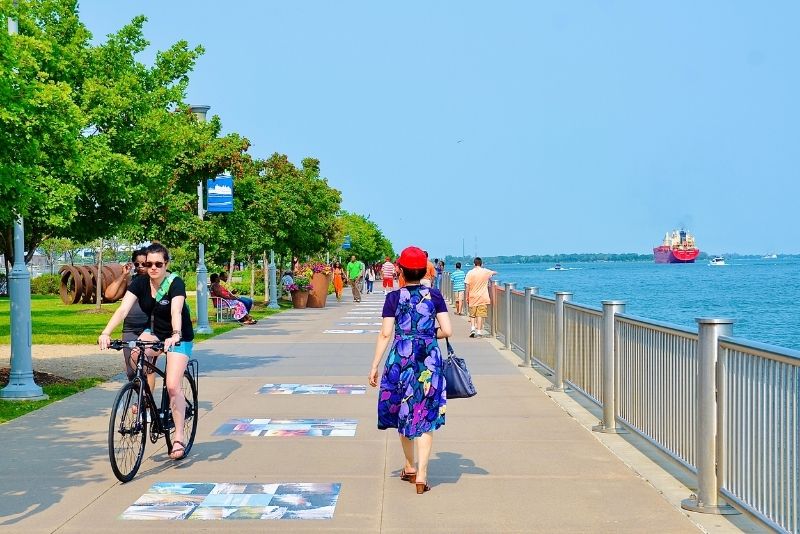 Never shy of entertainment and a bubbly atmosphere, the Detroit Riverfront — spanning close to 5.5 miles from the Ambassador Bridge to Gabriel Richard Park — is a sight to behold, and designed with both pedestrians and cyclists in mind.
Soak up the sun during the day or take a romantic stroll by night along either the West or East River Walk as the Detroit skyline shimmers in the distance. There's also plenty of family-friendly attractions, like the nautical-themed Mt. Elliott Park water wonderland and the treetop climb at the Outdoor Adventure Center.
Hot tip: If your visit lines up, try to check out one of the Riverfront's famous festivals – the Detroit International Jazz Festival and Motor City Pride are two of the big ones.
66 – Get your gamer hat on at Ready Player One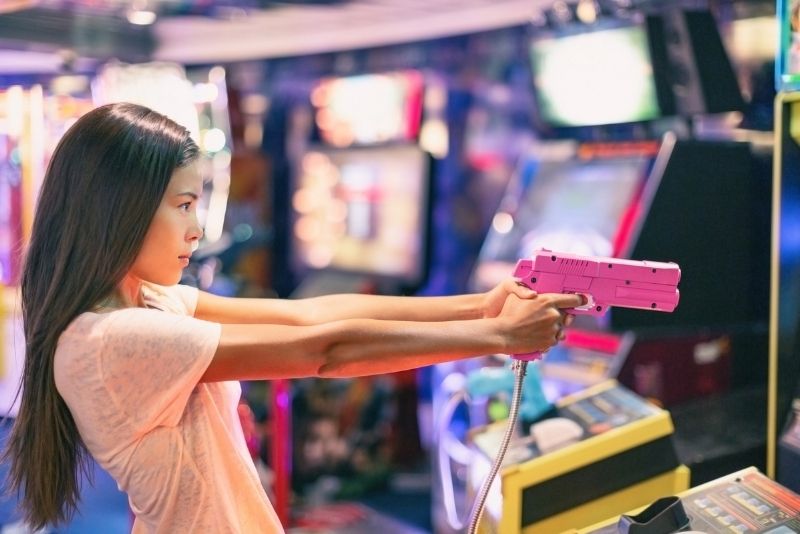 A retro combination of dive bar meets old-school arcade meets cozy restaurant, Ready Player One over on East Fort St is the perfect place to take a break from reality and dive into some good old-fashioned gaming fun.
Spread around the floor you'll find dozens and dozens of nostalgic classics (from Mario to Pacman, Donkey Kong and some pinball options too), most of which are just 25 cents to play.
There's also a full bar serving up craft beers and some tasty bites like burgers, chicken sandwiches and mouthwatering tacos!
67 – Explore the multi-attraction GM Renaissance Center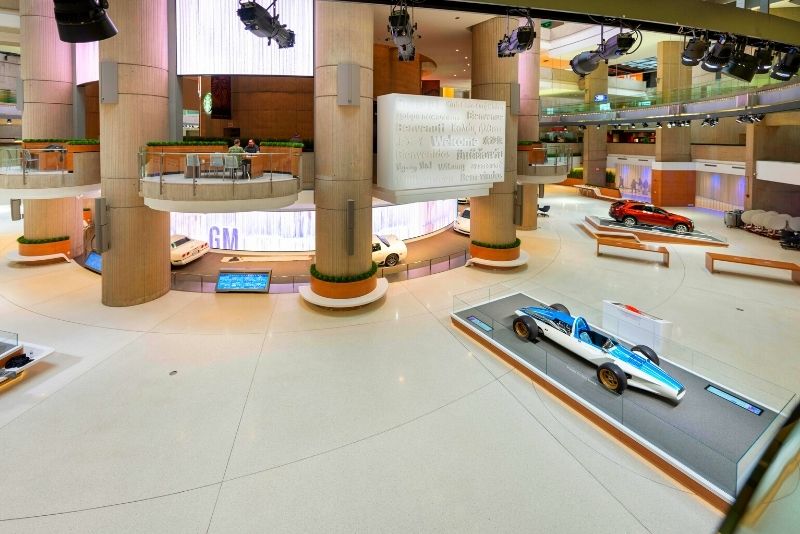 A top-tier destination for shopping, dining, and soaking in the view of the city (from the 72nd-floor observation deck), the GM Renaissance Center towers above glittering downtown and the riverfront with Canada visible in the distance.
Not only is it the world headquarters of General Motors, but it also offers guests a range of shops, restaurants, bars and even a movie theater and hotel throughout its seven connected buildings.
Petrolheads, make a beeline for the General Motors store where cars slowly spin on the world's largest turn-style. Meanwhile, if you're looking for a place to stay, look no further than the lavish Detroit Marriott.
68 – Feel like a million bucks as you wander The Whitney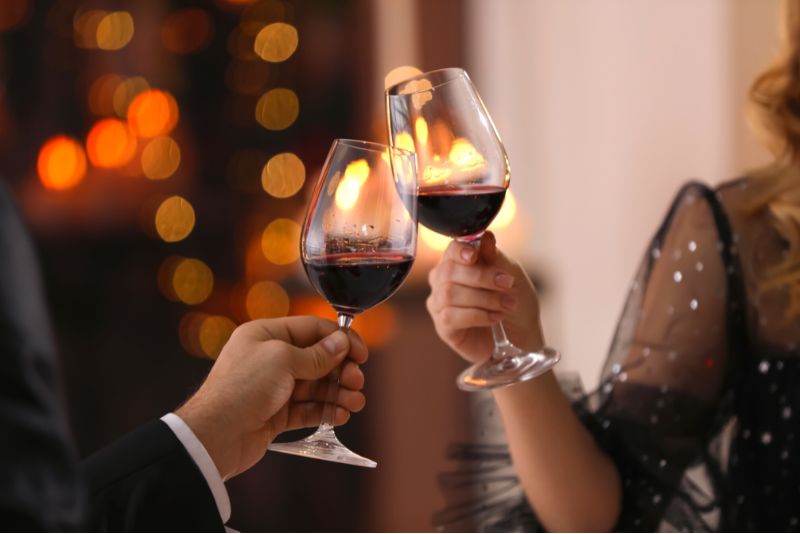 With its stately facade and amazing interiors, the Whitney is a wonderful showcase for the city's decadent past.
Built in 1894, this Neoclassical granite masterpiece once housed lumber magnate David Whitney Jr. and his family, and it is still a crucial part of the local scene, with gorgeous designs and lavishly appointed rooms largely unchanged since the early 1900s.
The main difference is that it's now open to the public… and you can eat there!
Grab a cocktail and unwind at the Ghostbar, then settle into one of the many elegant dining areas, and treat yourself to a fantastic four-course meal, curated by culinary experts and presented with panache.
Dinner has never felt so classy!
69 – Pamper yourself at a spa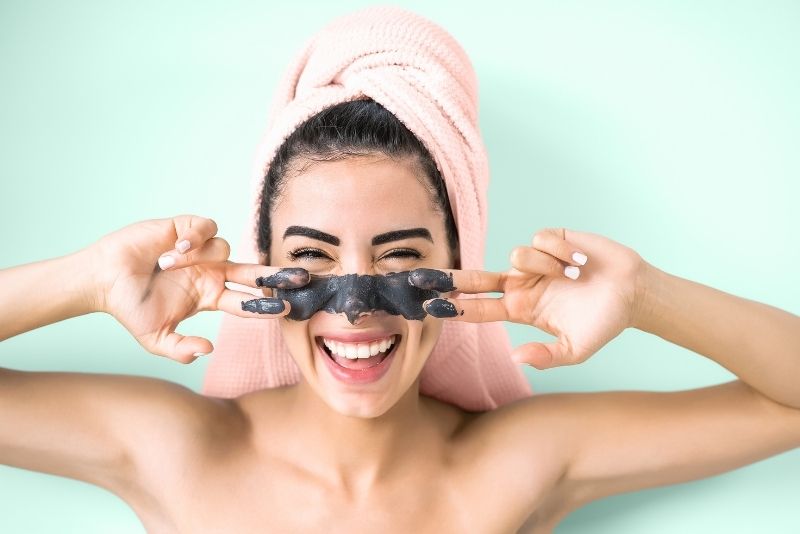 After days of walking around town, you deserve to treat yourself — you are on vacation, after all!
Spread all across the city, Detroit serves up relaxation like no tomorrow, with everything from spas to full-service salons, all offering manicures and pedicures, massages of every kind (from traditional Swedish massage to deep tissue), facials, teeth whitening procedures and more.
Balance your chakra points or settle into a volcanic stone massage at Woodhouse Day Spa Detroit, or top off your scrubs and body wraps with a sit in the sauna at D.Tour Spa.
And at Immerse Spa, you can indulge in some truly unique and decadent treatments – including body mists, aromatherapies, and hot mud massages -, followed with tea ceremonies or salon treatments.
If you're after something a little extra special then consider some of the city's next-generation treatments like aromatherapy or floatation therapy!
70 – See a movie under the stars at the Redford Theatre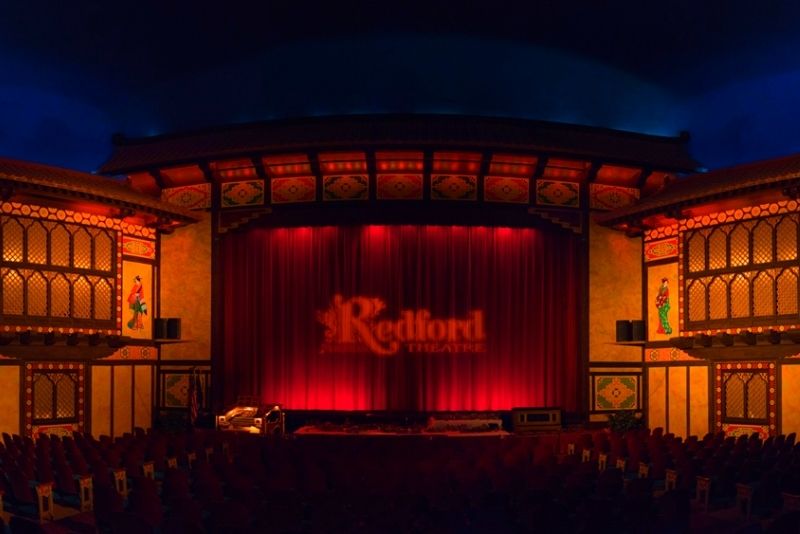 One of Detroit's most iconic buildings, the Redford Theatre opened its doors in September 1928 and has since become an important part of cinema history.
Tucked away deep in the suburbs, offering a glimpse into the real side of Detroit, this beautiful building is now used as one of America's few remaining 'atmospheric' movie palaces, complete with a star-filled sky, twinkling lights and faux clouds.
Check the website for upcoming film screenings (usually classic or independent movies with tickets for at least $5) and enjoy dinner from one of the many restaurants in the area before settling down to watch a flick under the stars.
71 – Party the evening away at the best nightclubs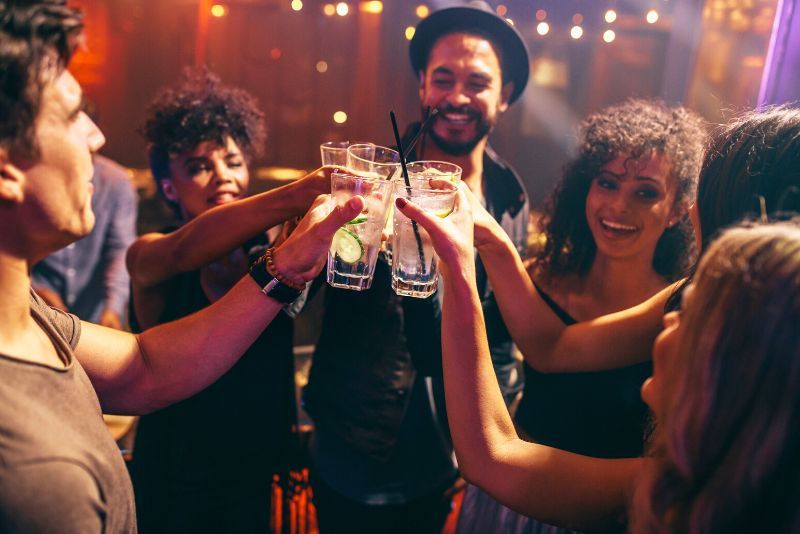 As thrilling as the city is during the day, it really comes alive after dark!
No matter which scene you prefer, you're bound to find a club that fits your fancy – and you're always guaranteed excellent service and a lively night!
Jam out to live DJs and EDM at Elektricity, enjoy the spacious dance floors and world-class talent at hip-hop and dance-focused Bleu Detroit, or catch the next big thing at TV Lounge, another electronic hotspot.
And if you're visiting during the summer, head over to the roof of Exodus, which blends great EDM selections with killer skyline views.
72 – Pay a visit to Campus Martius Park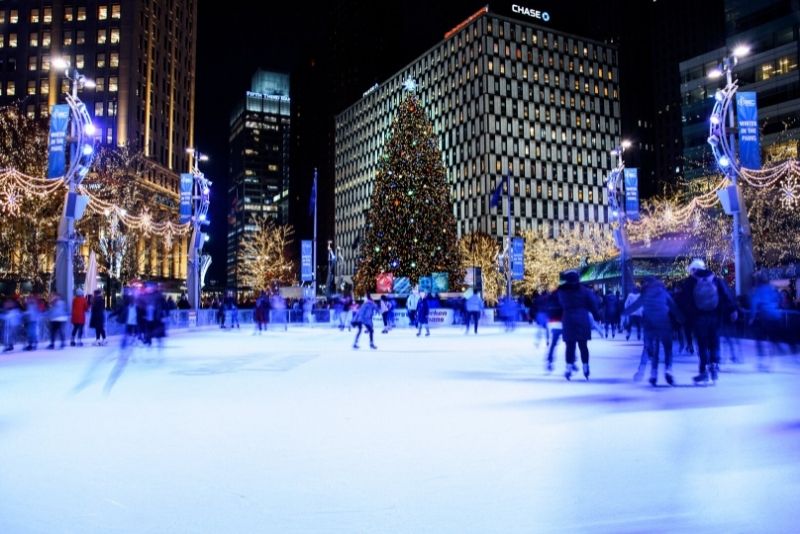 A true Detroit showpiece, Campus Martius Park is a downtown attraction that's hard to miss. This 8-acre public square has been the center of the city since its inception in 2004 and today serves as a gathering place for all sorts of events, from ice skating in the winter to concerts and festivals during the summer months.
Stroll around and you'll find Parc Detroit, winner of a Restaurant of the Year Award, as well as the Cruzan Rum Shack, which puts on one heck of a beach-esque party when the mercury's high.
Two notable landmarks worth checking out are Detroit's Point of Origin Marker and Michigan Soldiers' and Sailors' Monument. The former is a 6-foot-tall post buried underground at the intersection of Woodward Avenue and Michigan Avenue, commemorating the spot where the city was rebuilt after Detroit's fire of 1805.
Meanwhile, the latter pays homage to the 90,000 Michigan troops who fought for the Union in the Civil War.
73 – Head to the Greektown Casino for a lucky night out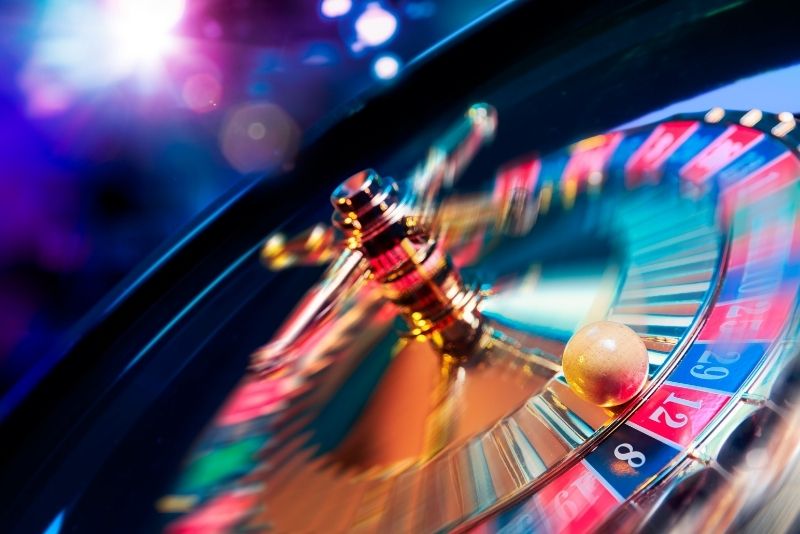 If you're looking to let your hair down and try your luck, then Detroit's Greektown Casino is the place to do it.
Home to 400 lavish guestrooms with floor-to-ceiling windows that (most of which) offer killer views over the area, plus a plethora of gaming tables thousands of slot machines, this massive casino complex is one of the largest in Michigan — and offers something for everyone.
From poker and blackjack to roulette and baccarat, there's a game for all levels of player, while the opulent surroundings and buzzing atmosphere regularly make for an exciting night out.
Feeling peckish? Take your better half and wine and dine at Prism, or opt for something more casual — like a burger or pizza — at the food court.
How to get to Detroit?
Nobody likes to deal with transit headaches when they're first arriving in town, but never fear… Detroit has a solution!
When you're entering or exiting town via Detroit Airport, you can book a transfer and relax; with safe, convenient vehicles and professional service, you'll be able to focus on the vacation itself, and all of the adventures to come!
Where to stay in Detroit?
As soon as you arrive at MGM Grand Detroit, you'll feel like a big shot; from the spa and casino to the luxury lounge and high-end steakhouse, every inch of the property is geared towards relaxation.
Or you can soak up the sophistication at Aloft Detroit at the David Whitney, where you can cap off a round of golf or billiards with a nightcap at the cocktail bar.
Hollywood Casino at Greektown leans into the "stay and play" mentality, with great restaurants, live shows, and world-class gambling all just steps from your room.
And Atheneum Suite Hotel is perfect for those seeking a bit of everything, with conference rooms, a gym, and even a banquet area for your next big feast.
If you like easy access to attractions, Hilton Garden Inn Detroit has got you covered; GM World, Music Hall Center, and other metropolitan delights are just a short walk away.
Where to go next?
When it's time to journey onwards, you're in luck; some of the coolest spots in the country are just a short drive away!
If you pop over to the neighboring state of Ohio, you'll find no shortage of delights to explore, including two of the coolest, most underrated cities in the country!
Enjoy the historical attractions, marvelous gardens, and lively musical scene in Cleveland, another city that has grown past its former industrial life into a revitalized, dynamic metropolis.
Or head south to Columbus, where you can truly eat, drink and be merry, celebrating everything from small local arts groups to the glory of the state fair.
Amble west to Illinois and the big-ticket attractions of Chicago, which is bursting at the seams with art, literature, theater, sports, zoos, and more.
Or head even further east to Niagara Falls, where the beauty of the roaring waters is only matched by the live entertainment, active winery scene, and unique tourist attractions that will have you scratching your head and snapping some pictures.
Final thoughts
With its mixture of old-school charm and modern flair, Motor City is certainly experiencing a comeback!
It offers decadence, accessible fun, elegance, and charm, all in one irresistible package that's at once part of the country's cultural fabric and a delightful destination all its own.
So cut loose a little and enjoy all of the amazing things to do in Detroit… it's a true American success story!