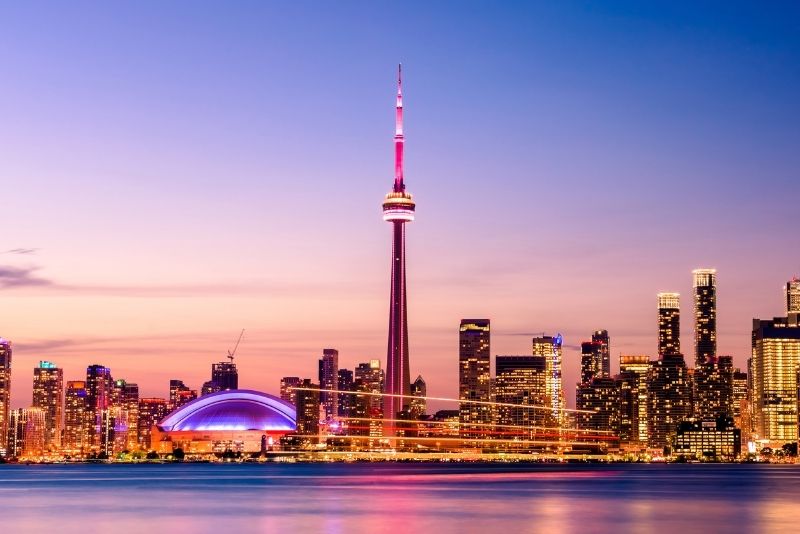 Sitting on the northwestern shore of Lake Ontario, Toronto is a dynamic urban city with lashings of soul. Foodies fall in love with the bustling markets and distilleries, while nature junkies will find that the wilderness is never very far away.
There are enough things to do in Toronto to keep you busy for weeks. Yet if you are only here for a few days, this epic list will help you choose which highlights to include on your vacation.
1 – Soak up the vibes of the Distillery District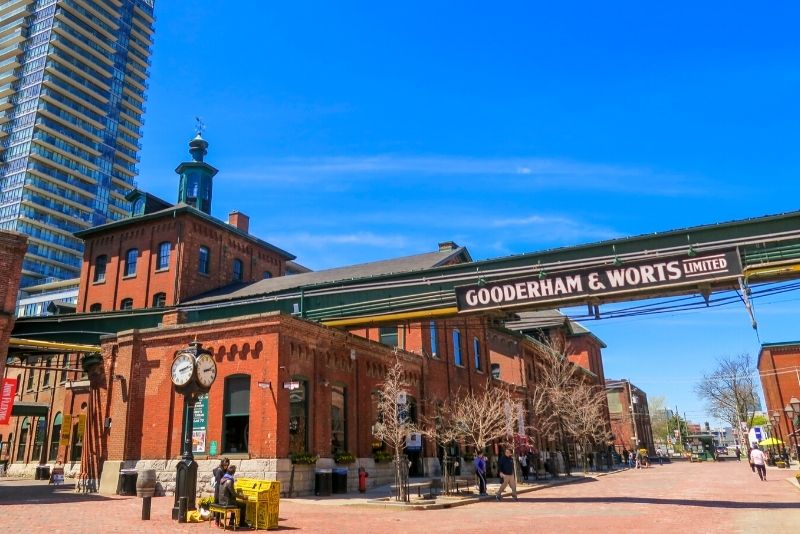 Toronto's Distillery District is the beating pulse of the city where culture is concerned.
The cobbled streets are lined with art galleries, theatres, and restaurants, with 19th-century former whisky warehouses providing a charming backdrop.
Be the envy of fellow visitors as you glide along on a Segway tour, which is undoubtedly one of the most fun things to do in Toronto.
2 – Take a food tour around Kensington Market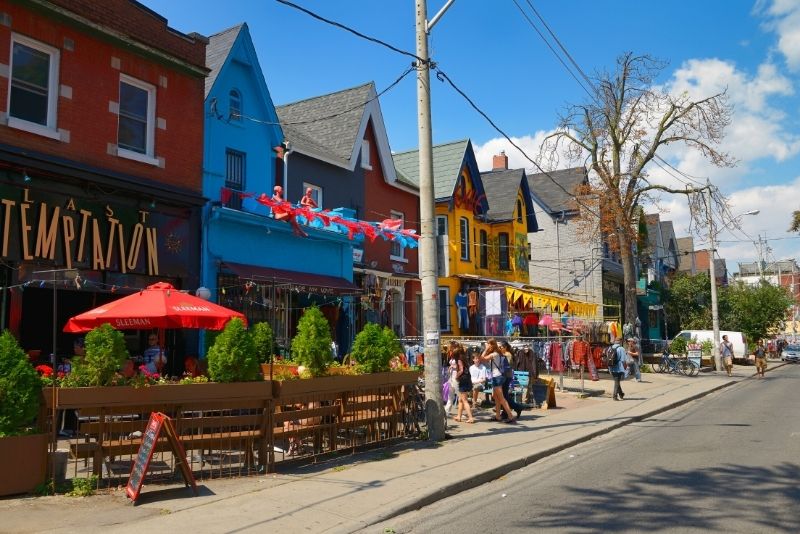 A honeypot in Toronto's already sweet bohemian neighborhood, Kensington Market entices creative types and tourists with tasty treats.
Join a food tour and eat your way through the international food stalls. Will you prefer the Tibetan momos or Jamaican patties?
Rehydrate in one of the trendy bars, then enjoy some downtime browsing vintage boutiques and admiring thought-provoking art displays.
3 – Get active at Toronto Island Park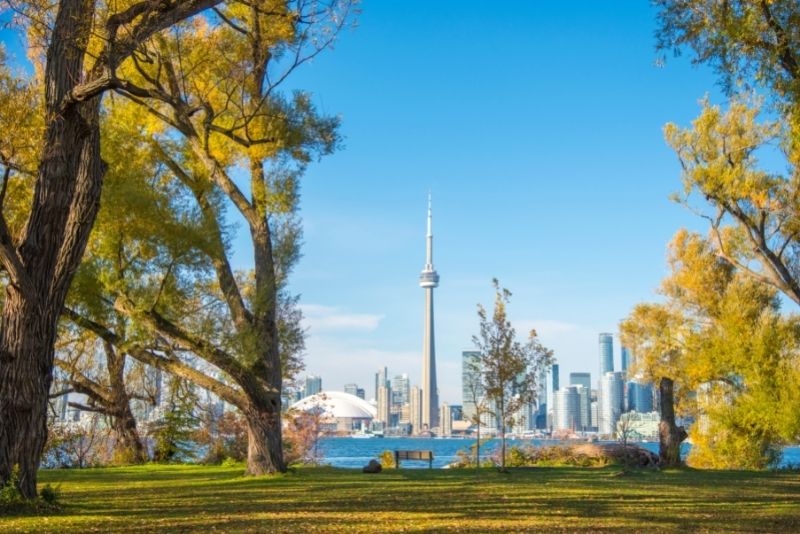 Hop on a ferry and head into Lake Ontario for a day exploring Toronto Island Park. There are several islands to discover, with bridges and pathways making them easy to access.
Feeling energetic? Then hike around the island or hire bikes for easy sightseeing, then head to the beach for swimming and boating. Kids love the amusement park and visiting the 200-year-old lighthouse.
4 – Go on a hop-on hop-off bus tour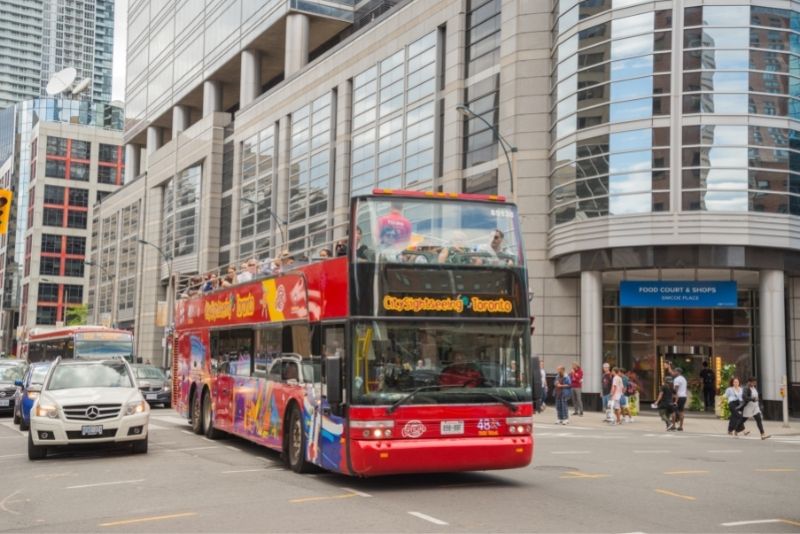 Climb aboard the coolest bus in town and see the best of Toronto on your own terms.
This is a convenient way to take in all the highlights – will you jump off at the CN Tower or Chinatown? The choice is yours.
For the best views, bag a seat on the top deck and cruise the streets in style.
5 – Watch the sunset on a dinner cruise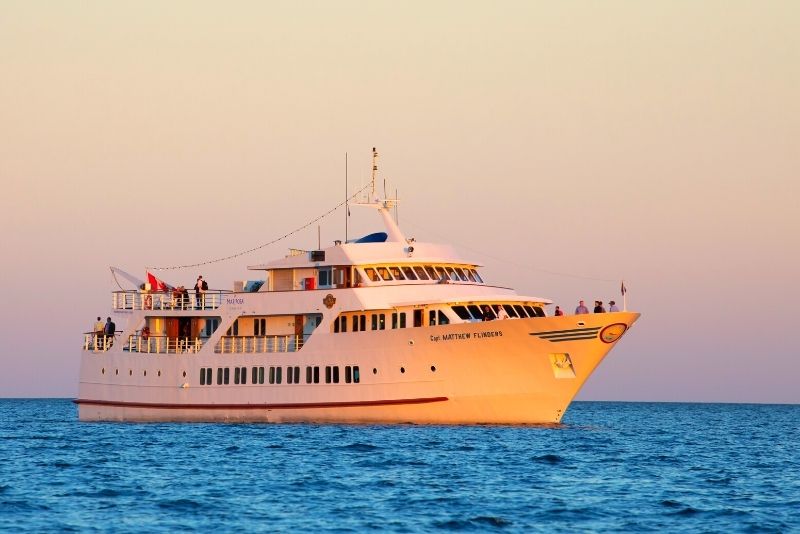 Celebrate your vacation in Toronto with an indulgent evening dinner cruise.
The elegant ship will journey around the harbor, giving you front row-seats to view the illuminated city skyline.
Settle in for dinner in the charming cabin, savoring the unique flavors of locally sourced ingredients. Then enjoy a romantic stroll on the observation deck or dance along to the live DJ tunes.
6 – Feel the thrills at Niagara Falls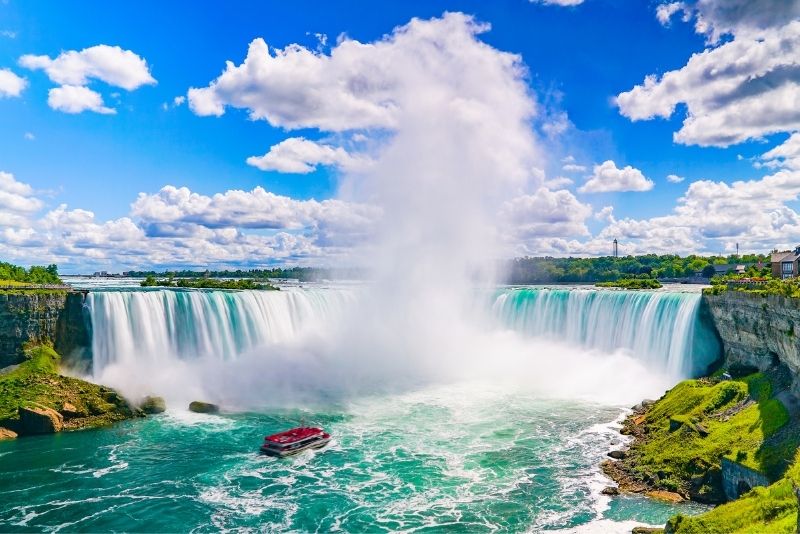 Embrace the full force of nature at North America's most powerful cascade. Want to get up close and personal?
Then take a ride into the mist on a Hornblower Cruise, or explore behind the falls and feel the spray on your face.
For something extra special, a helicopter flight over Niagara Falls and Ontario's surrounding wine country will hit all the right notes.
7 – Discover another world in Chinatown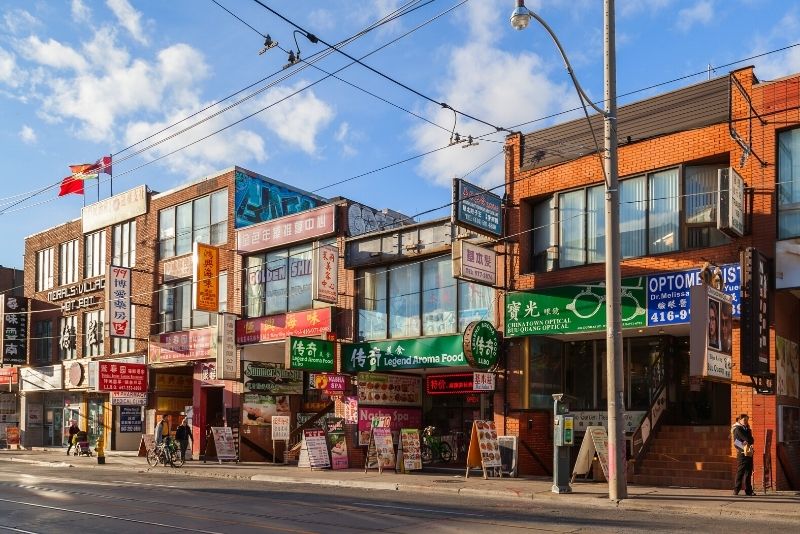 Most world capitals have their own Chinatown, but we think Toronto's might just be the best.
Feel like you are walking the streets of Beijing as you stroll past Chinese supermarkets and shops in this energetic district.
Try dim sum and slurp noodles in one of the family-run restaurants, and watch live dance shows if you are there during Chinese New Year.
8 – Breathe in floral scents at Edwards Gardens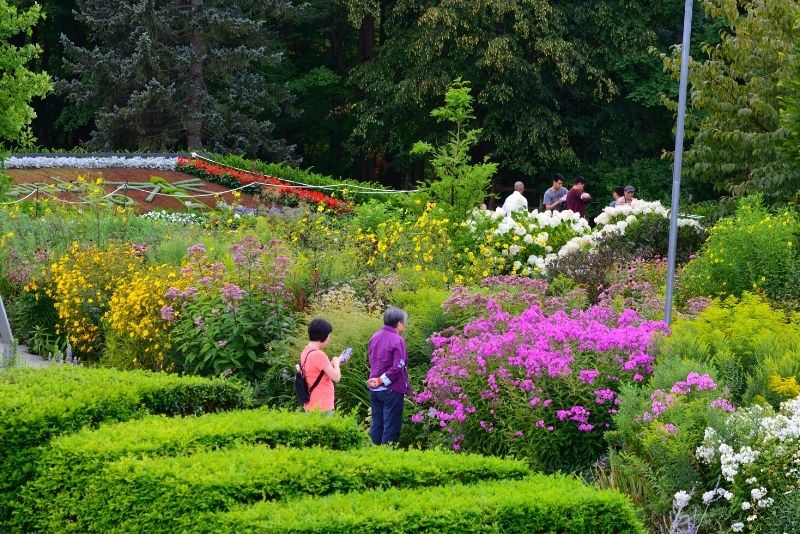 Smell the seductive perfume of summer roses and walk beside towering rhododendron bushes in this former estate garden.
Located next door to the Toronto Botanical Garden, these beautiful grounds feature an extensive arboretum and Children's Teaching Garden.
The upland area is awash with swathes of wildflowers that are always buzzing with bees, while the valley has a particularly impressive rockery to admire.
9 – Take to the skies on a helicopter tour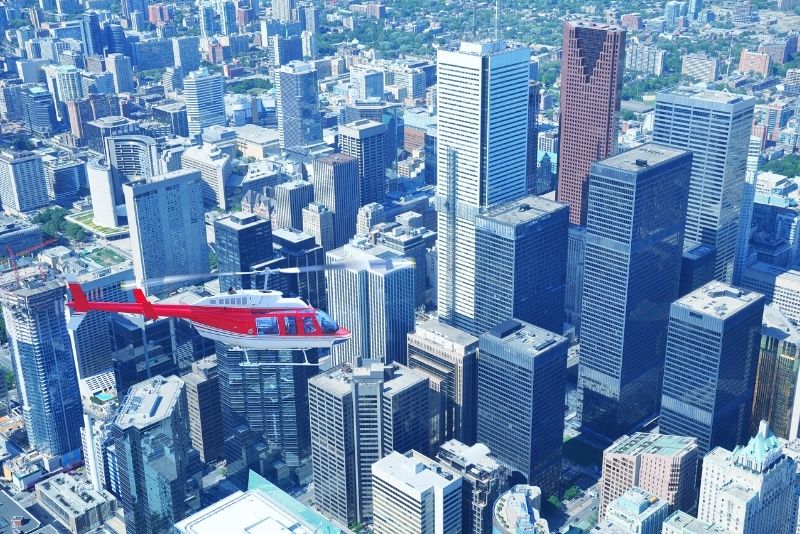 Off all the things to do in Toronto, soaring over the city in a helicopter is by far the most exhilarating.
Enjoy a bird's eye view from your lofty perch, and remember to take your camera for those incredible skyline views.
Up the action with a private helicopter tour of Niagara Falls for a privileged perspective of this roaring cascade.
10 – Pedal around the city on a bike tour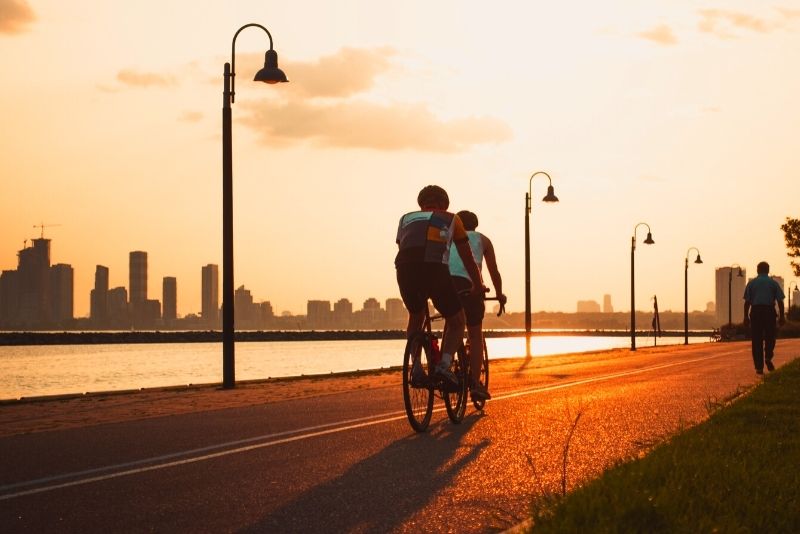 Toronto is a big city with lots to see, so why not join a guided bike tour and visit several landmarks in a short space of time.
Stop at the Distillery District and Island Park, before taking a breather at the beautiful Waterfront.
Cycling between the landmarks is a great way to get to know Ontario's capital under your own steam.
11 – Become an explorer while dog sledding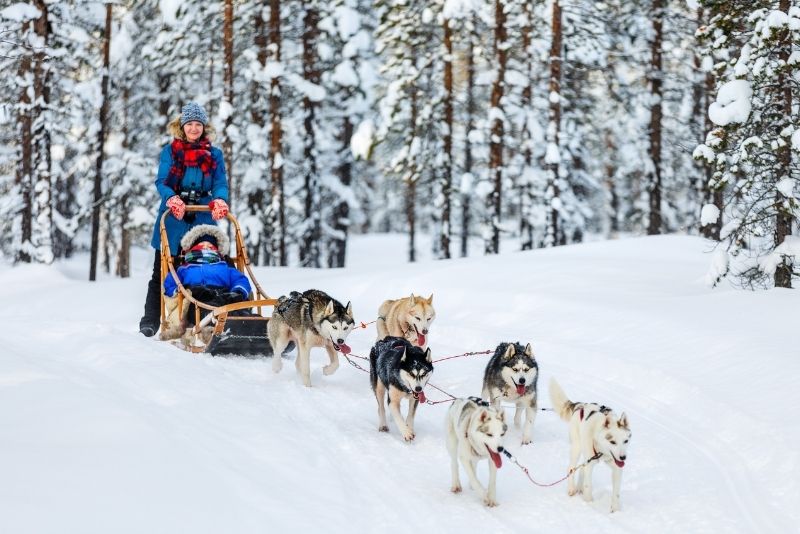 Dog sledding is a popular winter sport in Canada, but did you know you can do it easily from Toronto?
A thrilling day trip whisks you away into the wilds of Ontario to escape the city bustle and embrace nature.
Sit cozily on the sled or have a go at leading the pack as you slice through the snow-covered woodland trails.
12 – Feast on local delicacies at St. Lawrence Market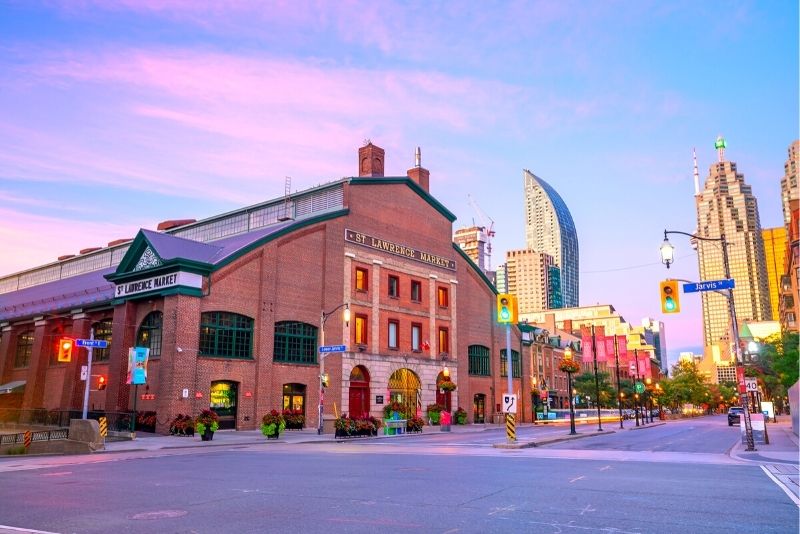 Heralded as the best food market in the world, St. Lawrence has been feeding Toronto for over 200 years.
Tuck into Montreal-style bagels and Portuguese egg tarts, or hone your skills in a farmhouse-inspired cooking class.
Still curious? Then take a guided walking tour to discover the history behind this iconic market. Sightseeing and food in one – what could be better?
13 – Visit the Art Gallery of Ontario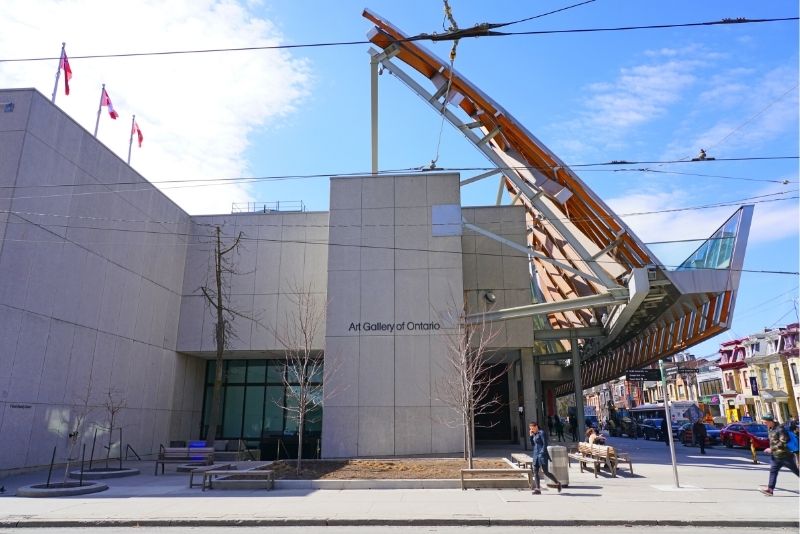 There is a staggering collection of over 90,000 pieces of art in Ontario's top gallery. You will not have time to see everything, but it is fun to try.
Admire everything from cutting-edge modernist pieces by Canadian artists to traditional African displays inspired by life on the warm continent. Keep an eye out for famous European classics like works by Rubens.
14 – Explore the Hockey Hall of Fame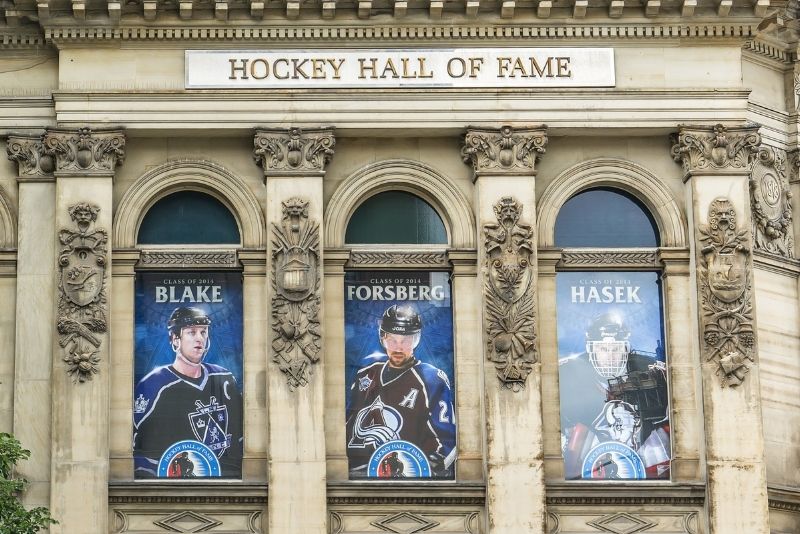 Calling all ice hockey fans – this is the place to come for your sporting fix.
Home of the Stanley Cup, the Hockey Hall of Fame boasts the world's greatest collection of memorabilia from Canada's national sport.
This active experience is one of the most fun things to do in Toronto. Practice your goalkeeping skills with simulation games and discover exhibits dedicated to famous players.
15 – Meet Gordo the Barosaurus at the Royal Ontario Museum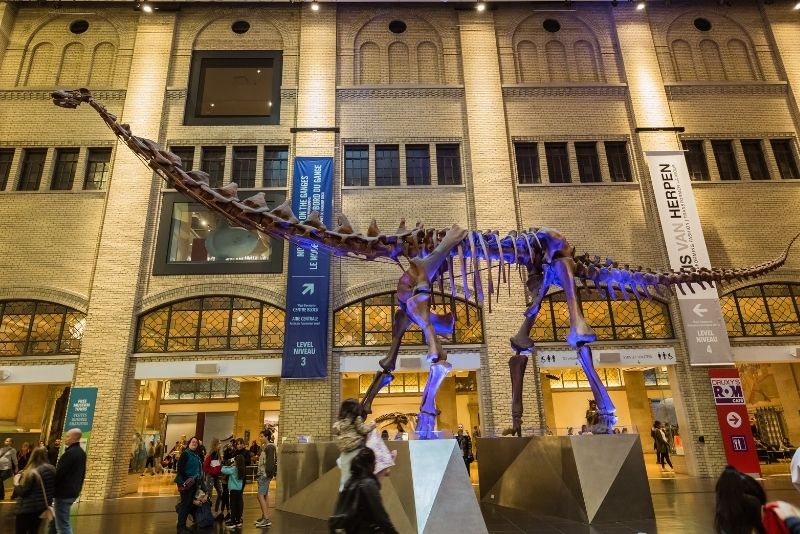 Nature, culture, and art are the stars of the show at the Royal Ontario Museum. For a mind-boggling journey through time, explore the 40 different galleries.
Come face to face with dinosaurs and mummies, work out what indigenous artifacts were used for, and marvel at meteorites. See if you can spot the precious jewels – they add a bit of sparkle!
16 – Go on a wine tour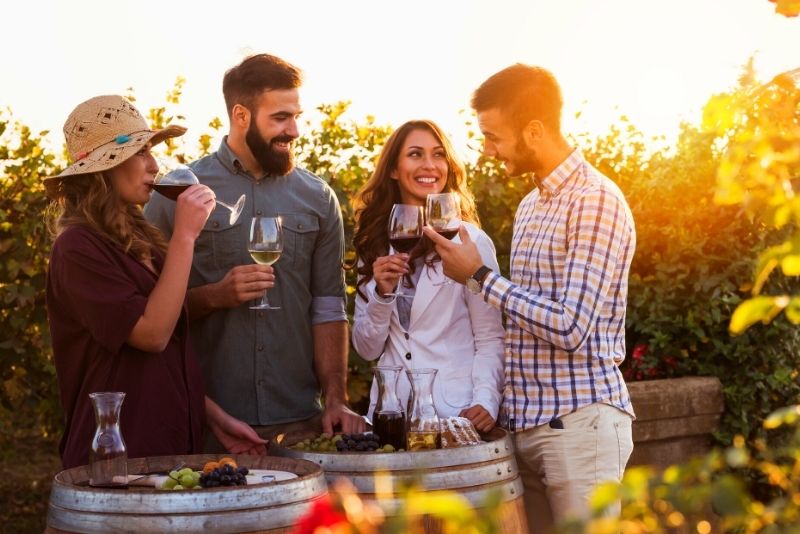 Travel into the heart of Niagara's wine country to discover new flavors while surrounded by rolling green countryside.
There is ice wine on offer at the Pellar Estate, and private tastings in intimate cellars are available in Niagara-by-the-Lake.
Alternatively, search out the finest vintages in the rural landscapes of Prince Edward County, and tuck into a hearty local lunch at one of the vineyards.
17 – Learn about Toronto's food history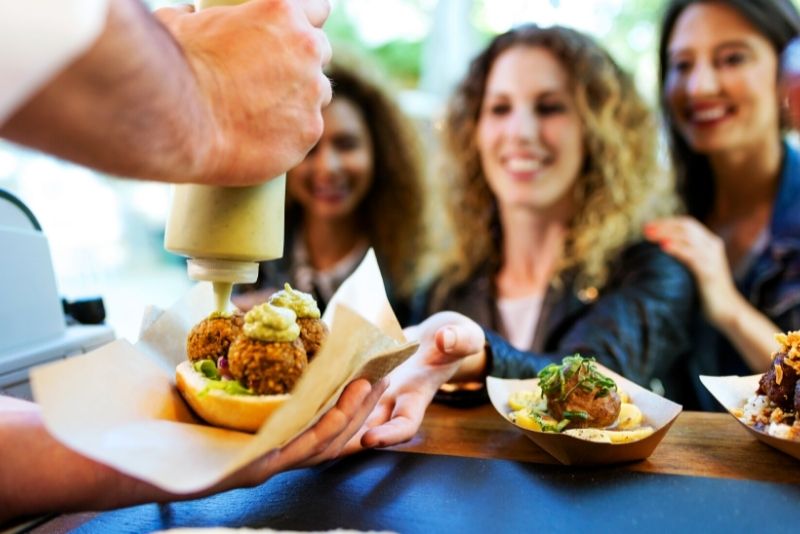 Take a food walking tour around Kensington Market and discover the origins of the mouth-watering deliciousness on display.
The proof is in the pudding, as they say, so dig in and enjoy an international journey through sensational flavors.
Try Canadian frybread, Syrian hummus, and Indian tacos, before wrapping up with an Ontario favorite – the sweet butter tart. Rest assured, maple syrup features heavily!
18 – Taste beer on a brewery tour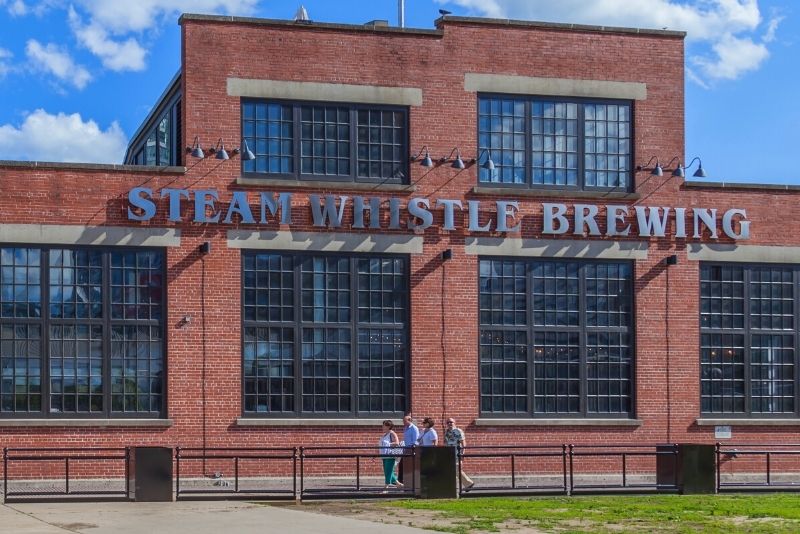 Craft beer is popular in Toronto and taking a brewery tour is a fun way to discover the backstory of this traditional tipple.
Learn insider secrets behind the scenes at the Steam Whistle Brewery, and of course sample the different brews afterward.
Some tours swing by historic pubs and trendy bars too, with plenty of culture and banter thrown in for good measure.
19 – Take photos in Graffiti Alley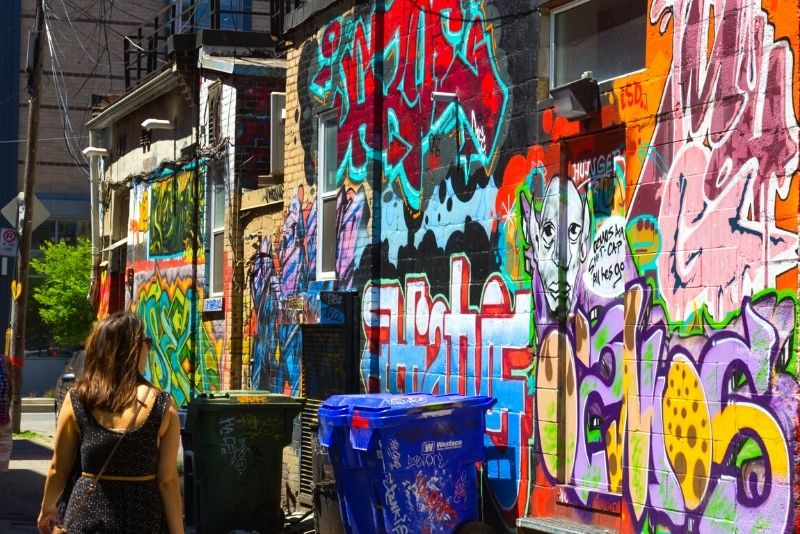 Street art is all the rage at the moment, so urban explorers will love the murals that decorate Rush Lane in Toronto's Fashion District.
The vibrant colors and quirky images bring the inner city walls to life, sending a powerful message to observers.
Visit Graffiti Alley for photoshoots and enviable vacation snaps, and for an insight into the lives of these talented urban artists.
20 – Visit Ripley's Aquarium of Canada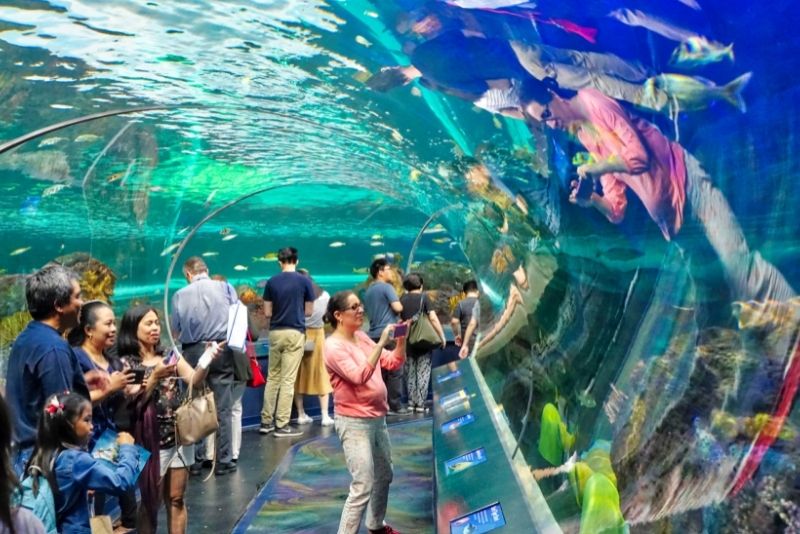 Ripley's Aquarium of Canada is one of the best things to do in Toronto for families.
Explore underwater tunnels and get up close to monsters of the deep, then watch diving shows that will have you on the edge of your seats.
Get hands-on with crabs and sharks at tactile exhibitions, or visit the Rainbow Reef where all the cool fish hang out.
21 – Go camping in Algonquin Provincial Park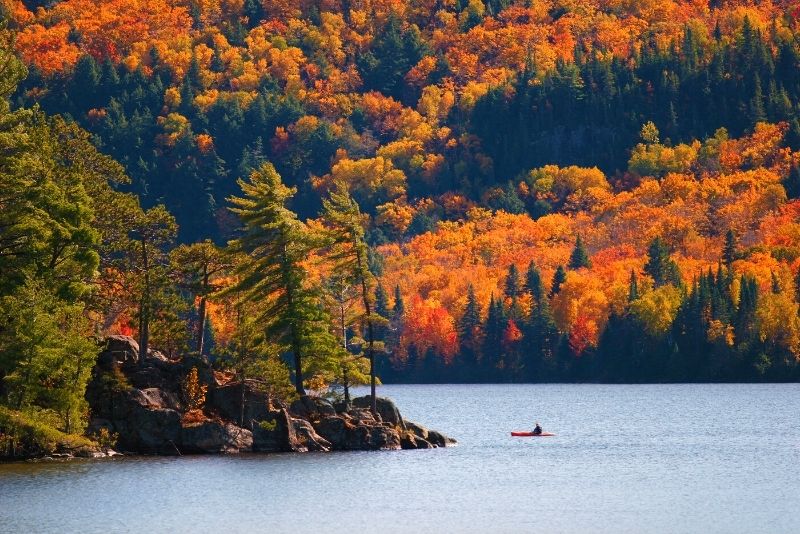 Get back to nature with a wilderness camping adventure in Algonquin. Hiking trails stretch in all directions and you can swim in tranquil lakes, making this park the perfect antidote to city life.
Spend the day canoeing along meandering rivers or hiking to rocky ridges. Then make s'mores around the campfire under a sky of stars before snuggling down in your sleeping bag.
22 – Climb the CN Tower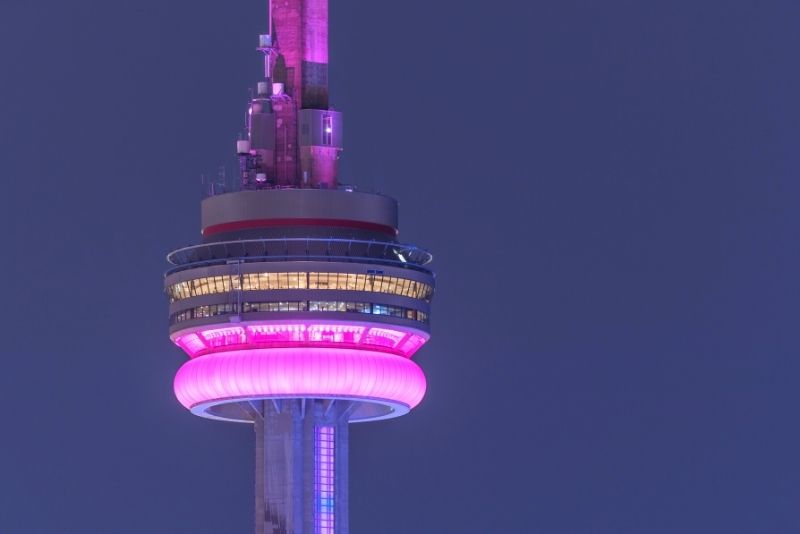 Standing proud on Toronto's city skyline, the CN Tower is one of the tallest buildings in Canada.
Known as an engineering Wonder of the Modern World, the tower is a must-see for first-time visitors.
Take the glass-fronted elevator up to the observation floor and gaze out over the city through giant panoramic windows. Even the floor is made from glass, so remember to look down!
23 – Catch a game at the Rogers Centre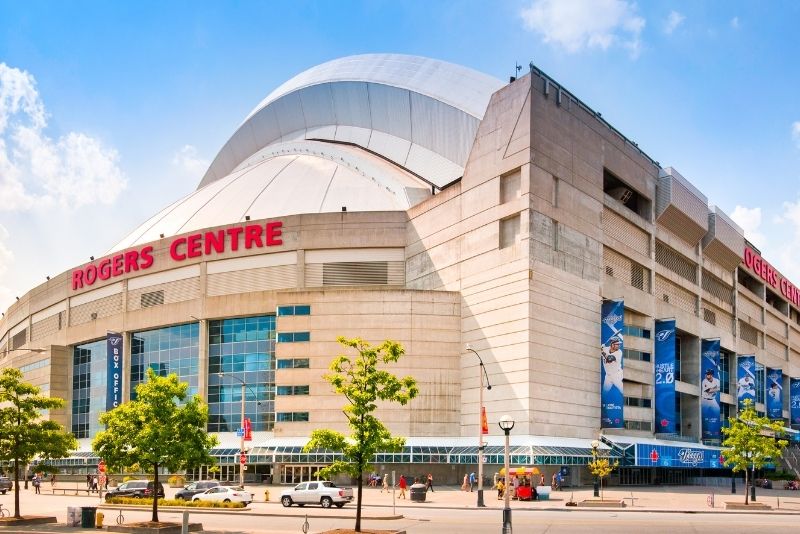 The acclaimed Rogers Centre is home to the Toronto Blue Jays – the city's professional baseball team. Buy tickets for a game and soak up the electric atmosphere as the players show off their skills.
Take a tour of the stadium, exploring behind the scenes to see what goes on before a game. The architecture is pretty special too, so remember your camera.
24 – Go back in time at Casa Loma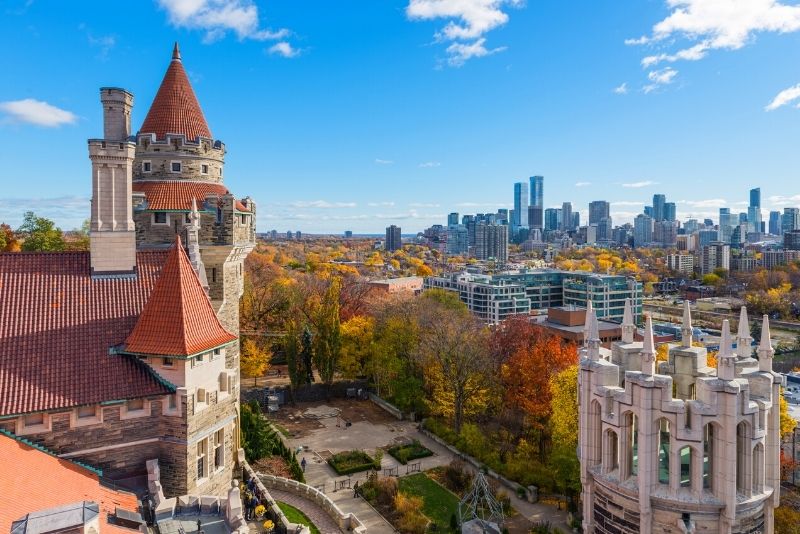 Dive into the elegant Edwardian era at North America's largest castle. Imposing Casa Loma is full of hidden passages, ornate salons, and imposing towers to explore.
Enjoy the pastoral views and take a turn around the immaculately sculpted gardens, where there are plenty of fountains to pose beside.
Exhibitions bring Toronto's rich heritage to life – a firm favorite with history buffs.
25 – Chill out in Yonge-Dundas Square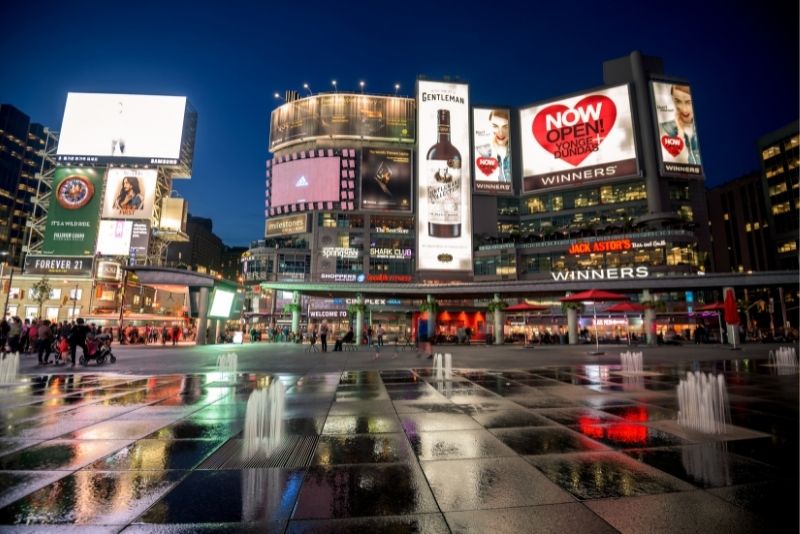 Buzzing Yonge-Dundas Square sits in the heart of Downtown Toronto, where giant billboards, progressive architecture, and buskers combine to create an energetic vibe.
Tourists and visitors flock to this central urban hub for concerts on the raised stage.
Visiting during summer? Then bring the popcorn and settle in for an open-air movie screening beside the fountains. Keep an eye out for festival dates too.
26 – Watch hockey or Elton John at Scotiabank Arena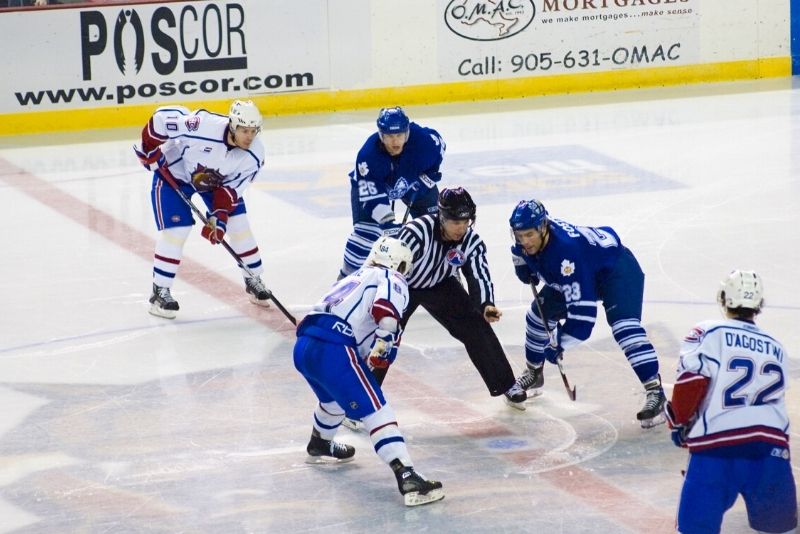 Toronto's prized multi-purpose arena is a real hit with sports enthusiasts and music fans. By day you can see the Toronto Raptors in action on the basketball court, or take in a fast-paced Toronto Maple Leafs hockey match.
Yet when night falls the magic really begins, with international stars like Madonna and the Jonas Brothers performing sell-out tours inside the spectacular Scotiabank Arena.
27 – Relax on Sugar Beach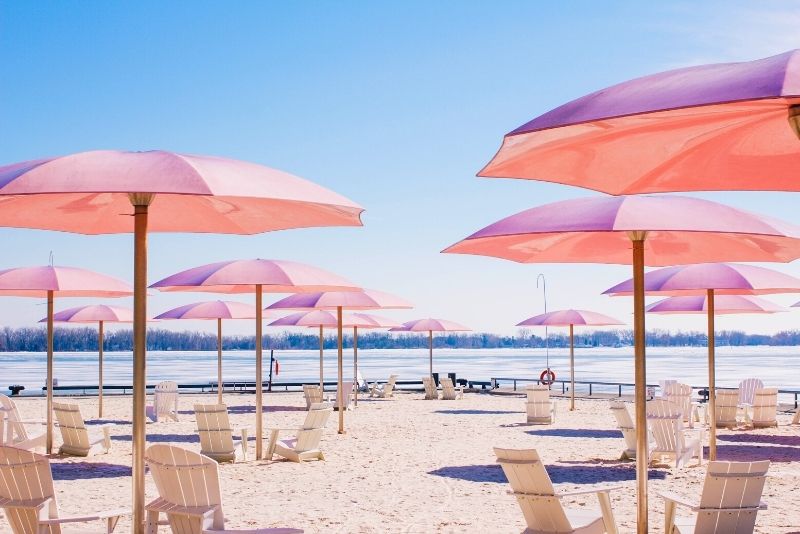 This urban beach on the shores of Lake Ontario is a great place to soak up some rays while watching the world go by.
Named after the adjacent sugar refinery, this is an industrial area at its most charming.
Bag a sun lounger and chill out as the kids build sandcastles beside the shore. Summer concerts and water fountains just add to the fun vibe.
28 – Visit Toronto High Park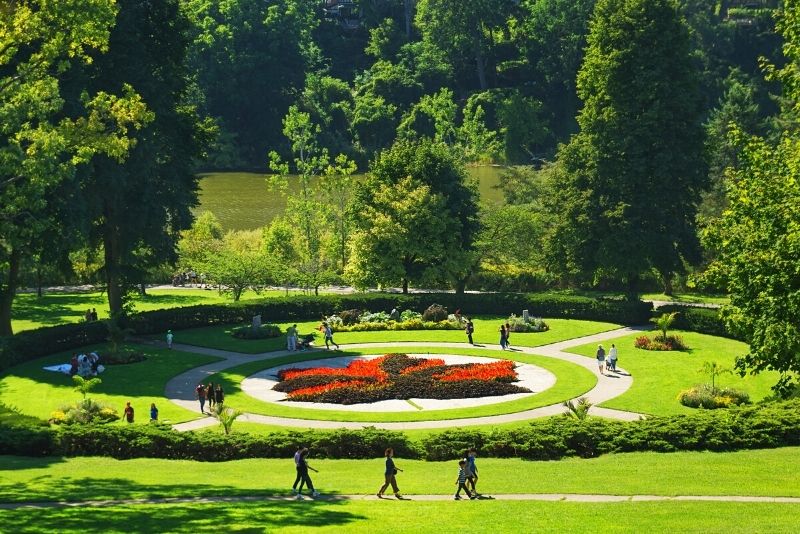 Take to the trails around Toronto High Park for a dose of fresh air and nature.
The largest public park in the city is an idyllic place to unwind, surrounded by lush vegetation and leafy avenues.
Stop by the lake for picnics or admire the giant floral blooms inside the vast greenhouses. Families love visiting the zoo, where bison, llamas, and peacocks rule the roost.
29 – Discover the Bata Shoe Museum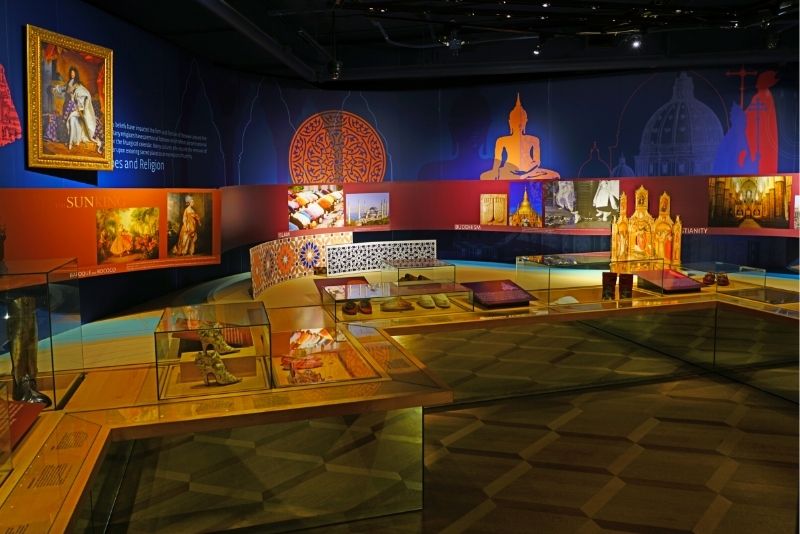 Looking for unusual things to do in Toronto? Then visit the Bata Shoe Museum and prepare to be amazed.
There are over 13,000 shoes in this unique collection, with some dating back 4,500 years.
Check out footwear from around the globe, like ancient Egyptian sandals and bound-foot shoes from China. The building itself is stunning too and is one of the city's architectural treasures.
30 – Walk up walls in the Museum of Illusions
Immerse yourself in an interactive world of vortex tunnels and creepy holograms as you try to separate magic from reality.
Take on the infinity room and challenge perspectives on the impossible chair if you dare.
Where else can you levitate above the floor or swap faces with your bestie? The only limit is your imagination at the Museum of Illusions!
31 – Explore Fort York National Historic Site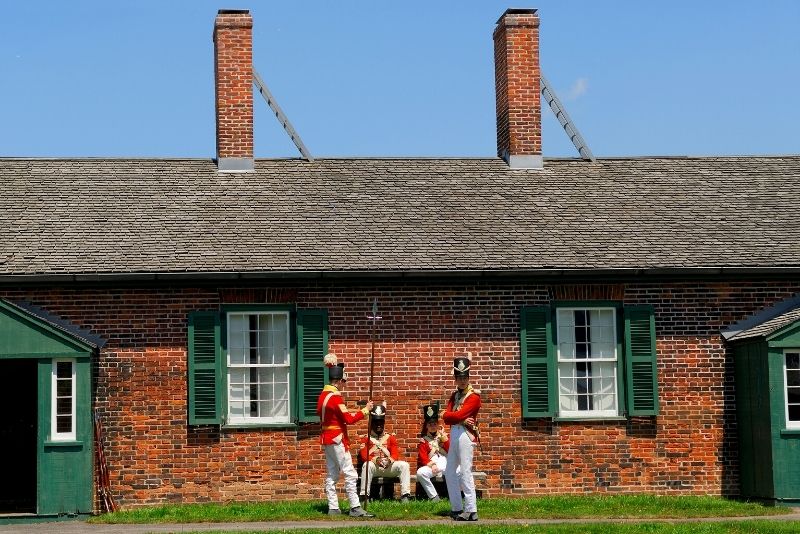 Did you know that Toronto was once called "York"? This fort played a pivotal role in the 1812 War when Canadian militia and the British Army fought against the United States.
Today you can walk through the archaeological park and relive key battle moments. Engaging Indigenous narratives and the Fine Art and Artifact Collection brings the stories of former Toronto inhabitants to life.
32 – Spot butterflies in Humber Bay Park East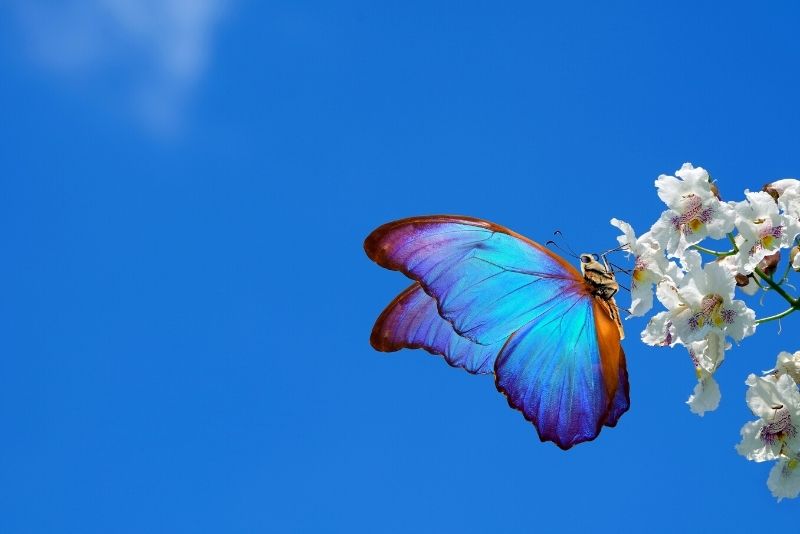 This ecological restoration project is the best place in Toronto to see butterflies in the wild.
Enjoying an enviable location on the shores of Lake Ontario, Humber Bay Park is home to an incredible array of wildflowers, trees, and grasses.
Walk along the winding trails and keep an eye out for wildlife, then reward your efforts with a picnic lunch overlooking the lake.
33 – Catch a show in the Entertainment District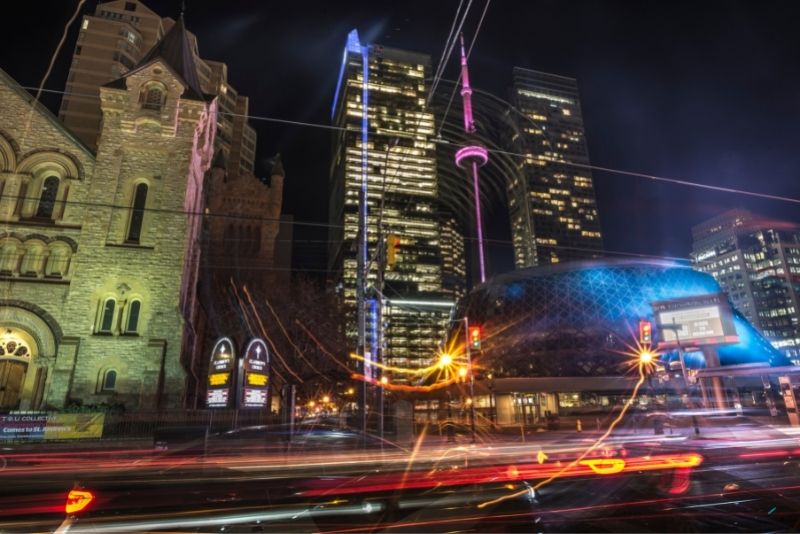 Head to Downtown Toronto for an evening of exceptional entertainment and high-octane revelry. This buzzing district sports everything from an aquarium and the CN Tower to lively clubs and gourmet restaurants.
As night falls, enjoy performances by the Toronto Symphony Orchestra at the Roy Thomson Hall. Or loosen up your vocal cords by singing along to musicals at one of the theaters.
34 – Stroll around Queen's Park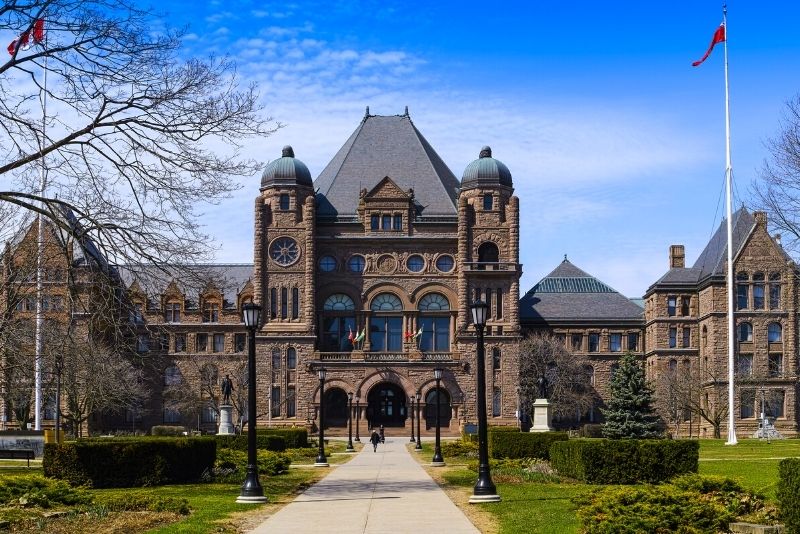 This landscaped urban park in the heart of Toronto was named after Queen Victoria and is home to the Legislative Assembly of Ontario. The imposing building is one of the city's architectural marvels.
Enjoy a leisurely wander along the tree-lined avenues, and keep your eyes peeled for historic monuments and memorials along the way.
Finish up with an alfresco picnic on the green lawns.
35 – Shop till you drop at Yorkville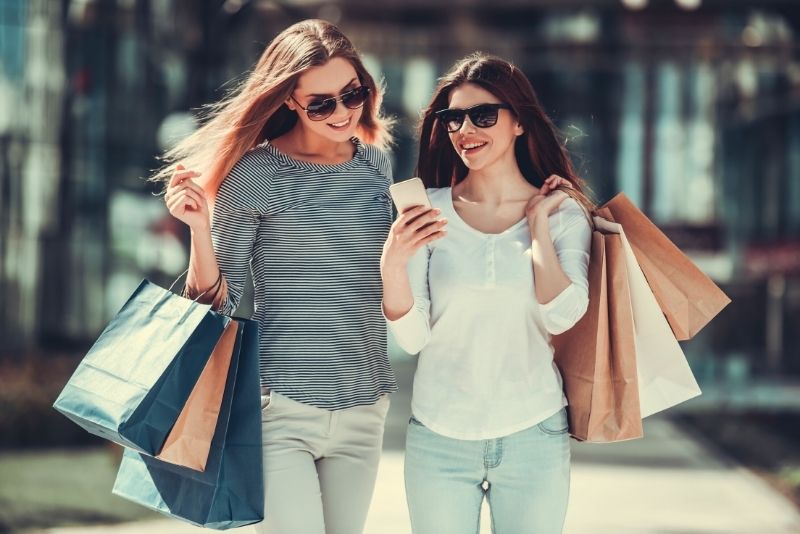 Fancy some retail therapy? Then head to upmarket Yorkville where a diverse range of unique stores and luxury outlets will keep you busy for hours.
Rummage through the rails in high-end boutiques, where designer labels from top brands are sure to catch your eye.
Have a breather at one of the elegant restaurants or pop into a juice bar for a refreshing boost.
36 – Eat pizza in Little Italy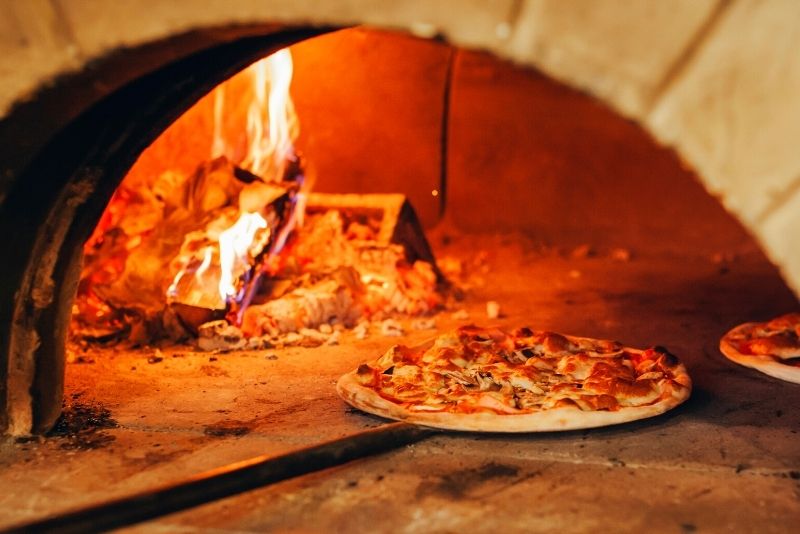 Little Italy is a buzzing enclave of pizzerias, trattorias, and market stalls, where you can while away a sunny afternoon at an outdoor café, glass of wine in hand.
The place really swings into action as evening approaches, with clubs, bars, and restaurants all vying for your attention. Shoot some billiards or strut your stuff on the dance floor – the night is yours.
37 – Plunge down slides at Canada's Wonderland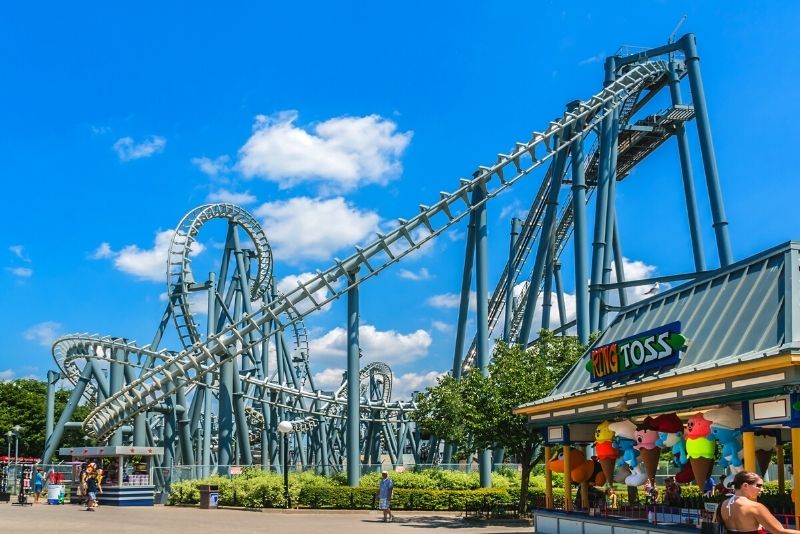 Want to cool off in the heat? One of the top things to do in Toronto during summer is visiting Splash Works at Canada's Wonderland to race down giant flumes and relax in tranquil lagoons.
Back on dry land, you can up the action with hair-raising roller coaster rides – will you dare to take on the Dragon Fyre or Drop Tower?
38 – Enjoy the outdoors at Ontario Place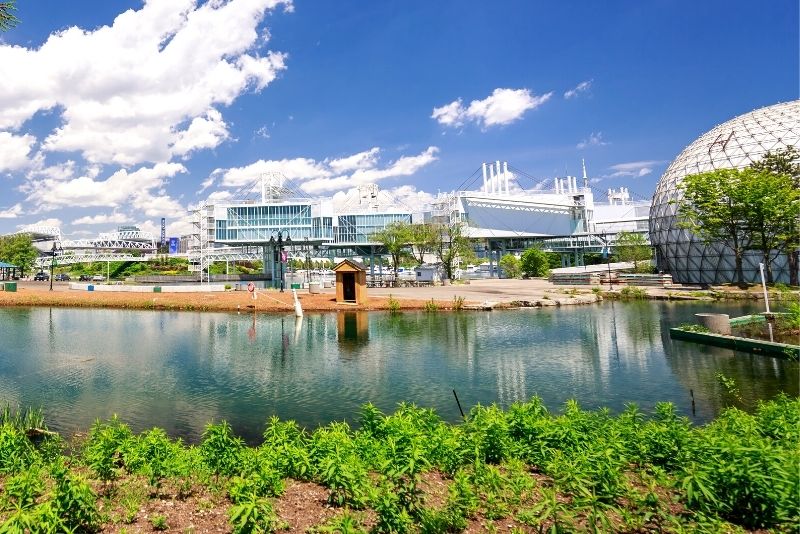 Built on artificial islands along the lake shore, Ontario Place has been redeveloped to make the spectacular waterfront area accessible.
There are walking trails to enjoy among the native trees and plants that thrive here.
The Trillium Park is a popular spot for picnics and there are often outdoor activities taking place in the pavilion. Climb to the summit for iconic city views.
39 – Tuck into Greek food in The Danforth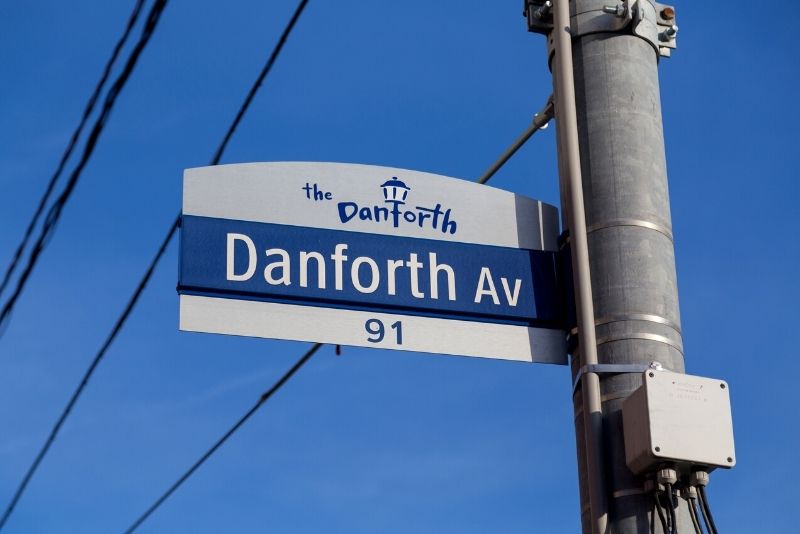 Discover a slice of authentic Greece in the lively neighborhood of Danforth, affectionately known as Greektown.
Here you will find traditional tavernas serving specialty dishes from the homeland, as well as pastry shops and independent boutiques.
In August the streets come alive with the Taste of Danforth Festival, where the combination of live music and Greek food sets hearts racing.
40 – Make new discoveries at the Ontario Science Centre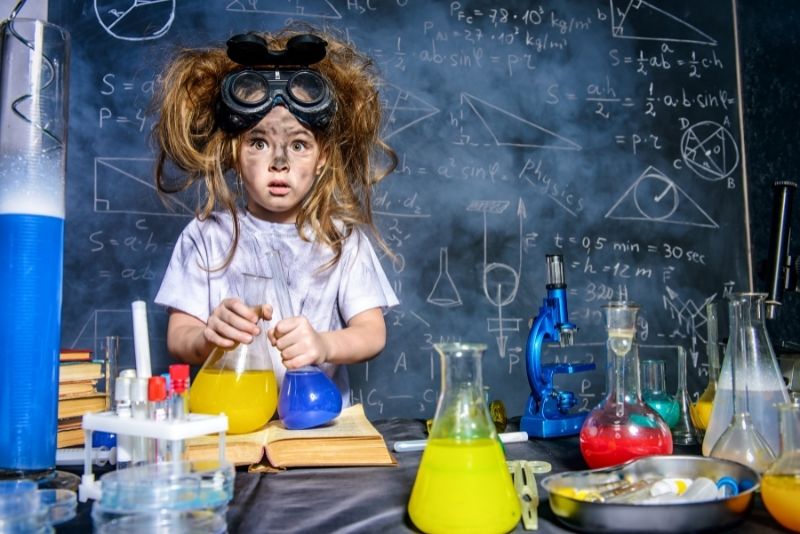 Challenge those brain cells as you tackle hundreds of interactive exhibitions at the Ontario Science Centre.
You will learn what really goes on inside the human body and discover species that live undetected in your own backyard. There is even a real life rainforest to explore.
Live science demonstrations and a state-of-the-art planetarium are the icing on the cake.
41 – Encounter tigers at Toronto Zoo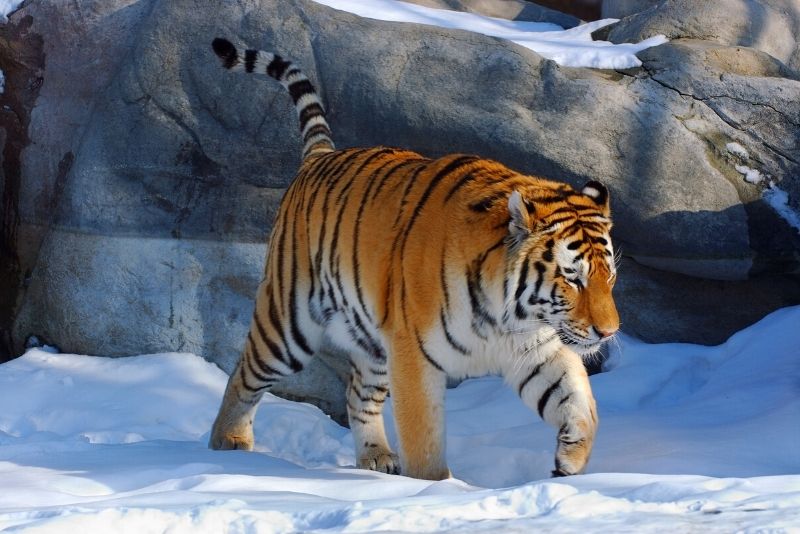 Summon your inner explorer as you come face to face with the king of the jungle at Toronto Zoo.
Meet lowland gorillas and dwarf crocodiles in the African Rainforest Pavilion, and admire polar bears and Arctic wolves on the Tundra Trek.
You can even drive through the lion caves on a scenic vehicle safari and see the residents from a whole new perspective.
42 – Have fun at the LEGOLAND® Discovery Centre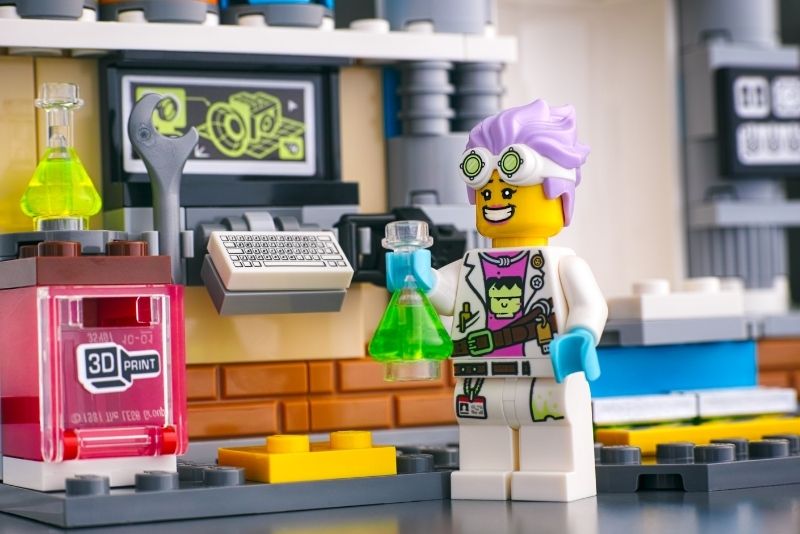 Enjoy hours of family-oriented entertainment at the ultimate indoor playground.
Visit Miniland® to see Toronto's skyline made out of 1.5 million bricks, and see your favorite LEGO® characters at the meet and greet.
Jump in a chariot and battle trolls in Kingdom Quest, then watch LEGO® movies that come with their very own special effects like rain, wind, and even snow!
43 – Stretch your legs on the Philosopher's Walk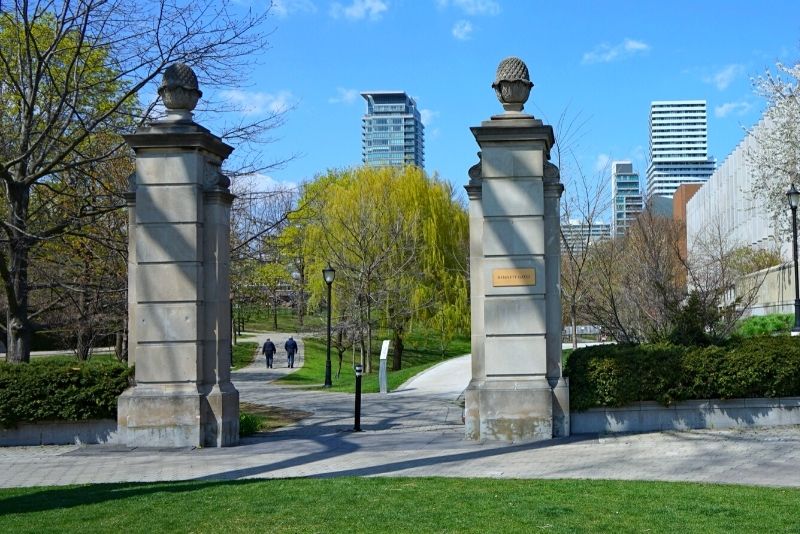 Escape the city bustle and enjoy a scenic stroll along Philosopher's Walk at the St. George Campus of Toronto University.
Running through a picturesque ravine, the trail passes iconic landmarks such as the Royal Ontario Museum and Trinity College.
This natural valley has been used as a meeting place for centuries, and today a stone amphitheater allows visitors to continue the tradition.
44 – Visit the Toronto Botanical Garden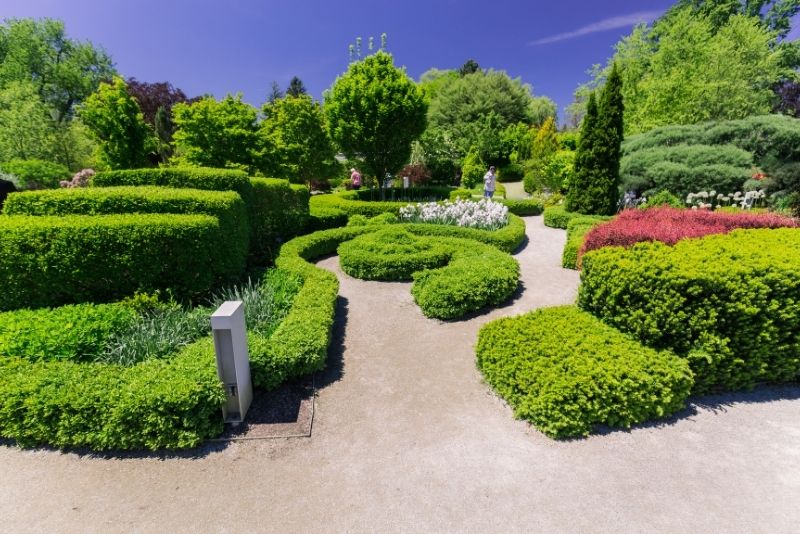 If you are looking for relaxing things to do in Toronto, then the Botanical Garden is the place to go.
This peaceful outdoor space is a haven of floral meadows, woodland wildlife, and cultivated terraces.
Which of the 17 gardens will inspire your green fingers? The Greensward with its babbling creek is a contender, while the knot garden takes pruning to a whole new level.
45 – Set sail on the tall ship Kajama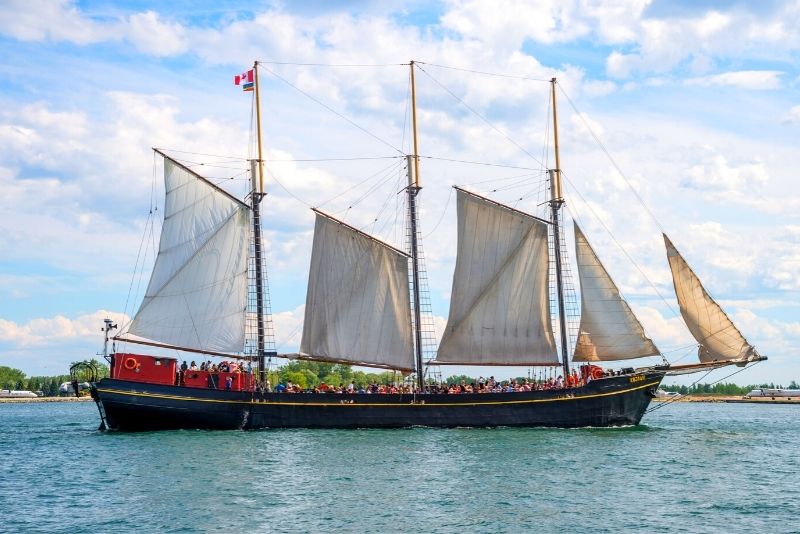 Practice your sea shanties and sail-hoisting skills as you head to the high seas on a tall ship adventure.
The vintage 1930s schooner will give you a taste for life on the ocean wave, as well as some of Toronto's best views.
Relax on deck with a drink and watch as you sail past tiny islands on your journey around Lake Ontario.
46 – Walk around Allan Gardens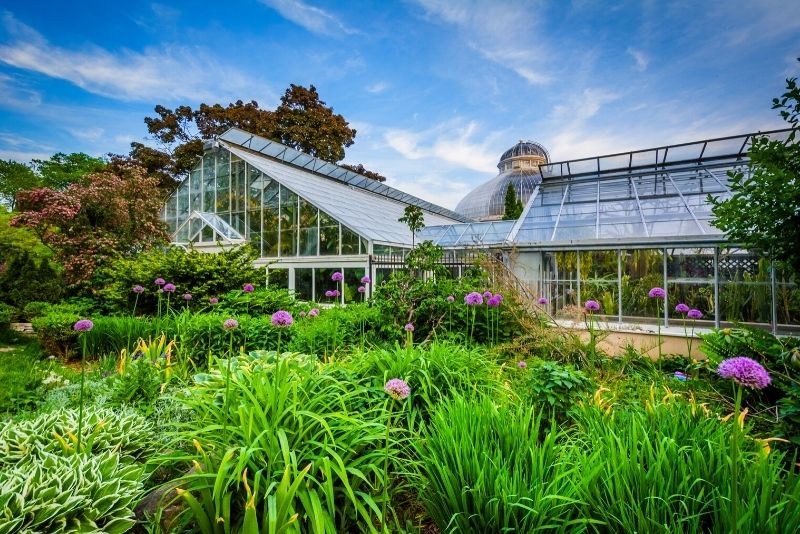 Discover unique and unusual plant species from all corners of the globe in the greenhouses at Allan Gardens.
This urban park and indoor botanical garden is a fun place to visit for keen horticulturalists and anyone who loves seeing colorful blooms.
Make sure you visit the 1909 tropical Palm House and watch out for prickly cacti as you stroll through the enclosures.
47 – Go hiking along the Scarborough Bluffs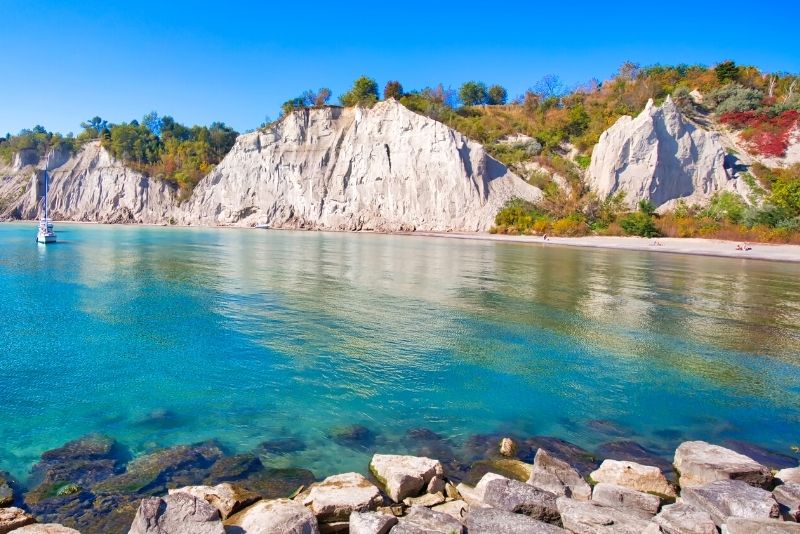 The Bluffs is a sprawling 15-kilometer escarpment in Toronto's Scarborough District with nine different parks to explore.
Take to the hiking trails for spectacular views of the dramatic white cliffs that plunge down into the blue waters of Lake Ontario.
There are plenty of picture-postcard-worthy picnic and barbecue spots, as well as a sandy beach for sunbathing and swimming during the summer.
48 – Admire art at the Aga Khan Museum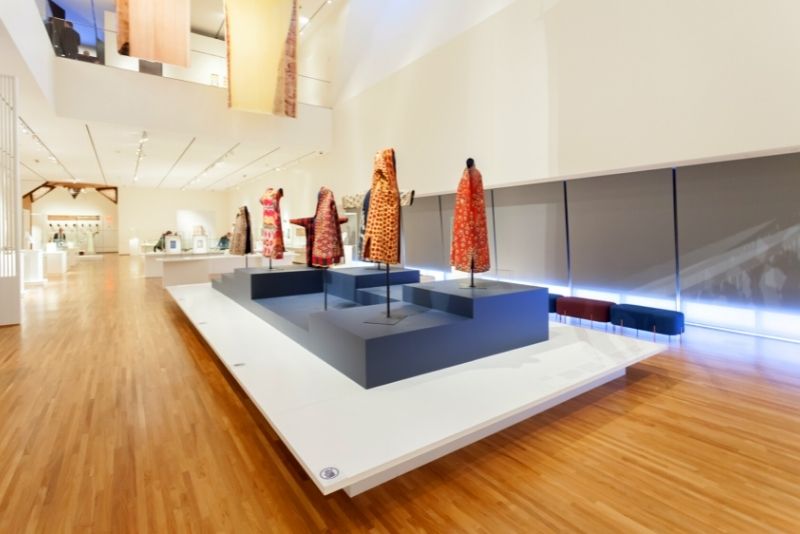 For something a bit different, visit the Aga Khan Museum which is dedicated to Islamic and Iranian art.
Discover how the contributions of Muslim cultures have shaped world heritage through the centuries, and marvel at the futuristic architecture of the Japanese-designed building.
Check out intricately painted manuscripts and ancient jewelry, then enjoy a dance performance or film screening during special events.
49 – Take in a theater show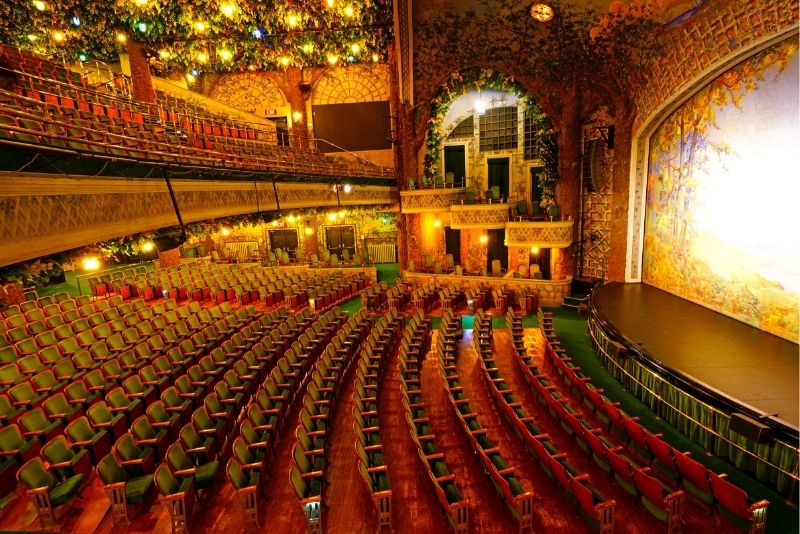 Embrace an evening of live performance at one of Toronto's renowned theaters. For a traditional setting choose the Princess of Wales, Royal Alexandra, or Ed Mirvish Theatre. Here you can enjoy everything from musicals to comic plays.
Meanwhile, the whimsical Elgin and Winter Garden double-decker theatre has an elaborately decorated interior. Want something contemporary? Then visit the Four Seasons Centre for concerts and ballet.
50 – Go shopping at CF Toronto Eaton Centre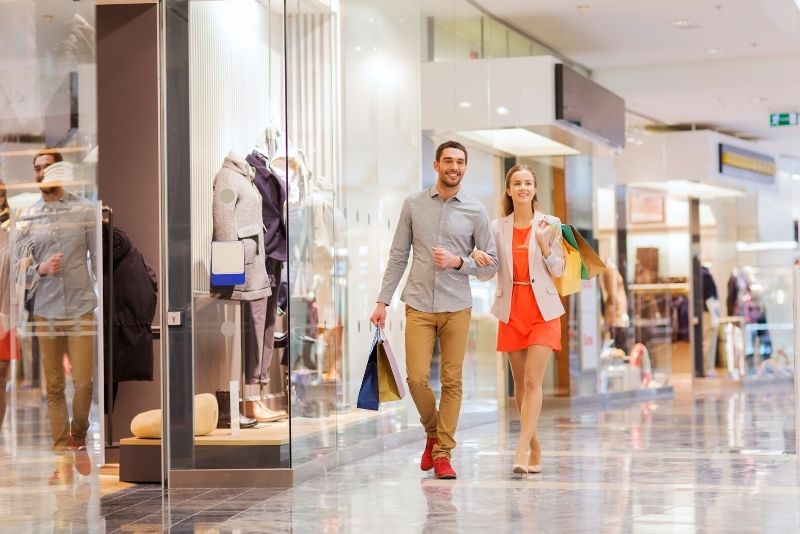 The vast CF Toronto Eaton Centre is one of the best shopping malls in the city, with its own transit hub making it the busiest in North America.
Shop for designer clothing in big-name department stores, or pick up a bargain at the outlets. Then head up to the food court for a well-earned break, and refresh with international fast-food treats.
51 – Visit Nathan Phillips Square
This urban plaza is a popular meeting point for anyone exploring the sights of Toronto. The most distinctive landmark here is Toronto City Hall, which is the seat of the municipal government.
Nathan Phillips Square is famed for its special events hosted throughout the year, so check to see if any coincide with your schedule. Favorites include the Cavalcade of Lights and New Year Celebrations.
52 – Enjoy a concert at the Royal Conservatory of Music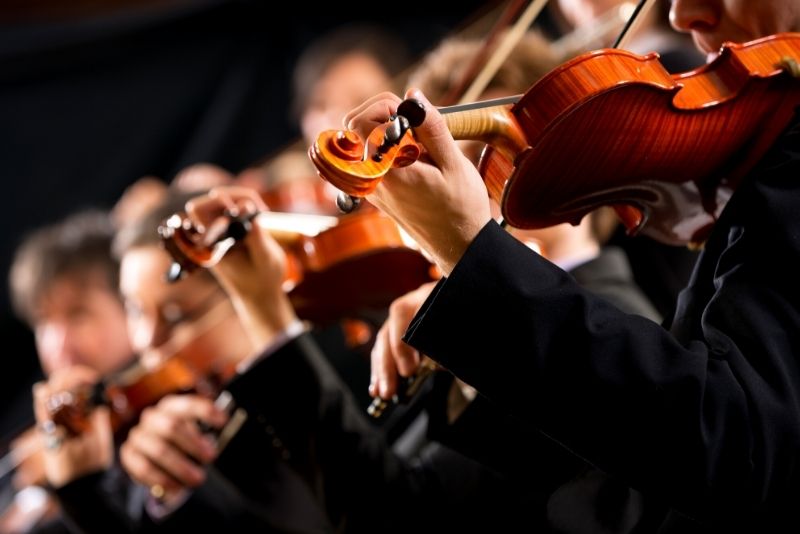 Founded in 1886, the Royal Conservatory of Music is one of the world's top musical institutions. Many famous musicians learned their trade right here in this historic building.
Visitors can discover the power of live music at concert performances throughout the year. Uplifting shows in such a magnificent setting are all the ingredients needed for a memorable evening out.
53 – Watch movies at Toronto International Film Festival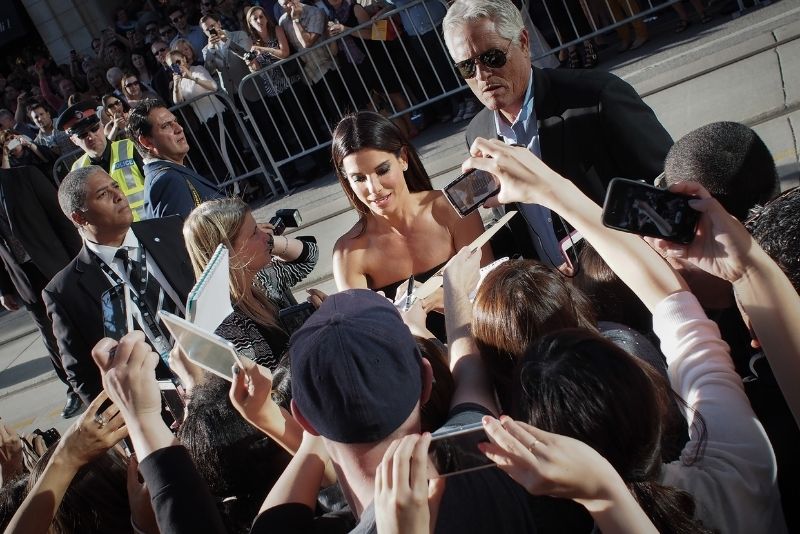 One of the coolest things to do in Toronto is to attend the Toronto International Film Festival, which is held annually in September.
Rub shoulders with industry professionals at screenings of new international movies and see if you can predict future Oscar winners.
Canadian films are given special attention, so this is a great opportunity to see debut features before they go global.
54 – Party on a pub crawl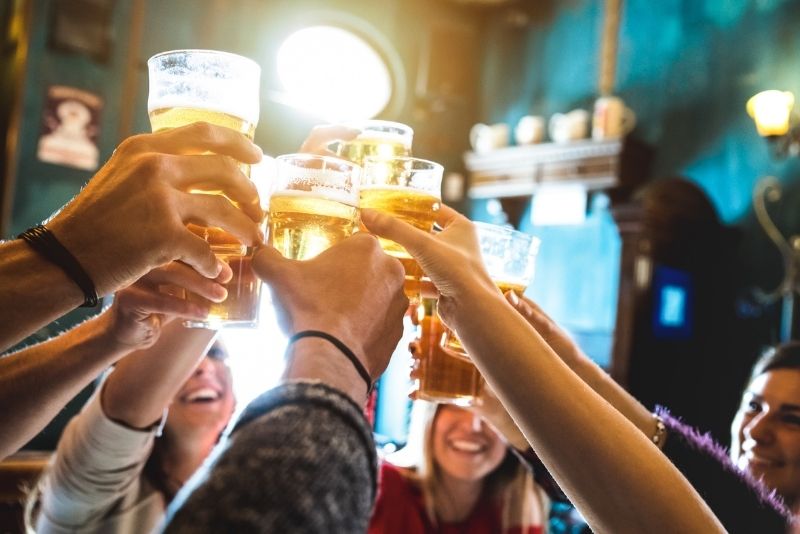 Want to combine sightseeing with drinking?
Then take on a pub crawl – Toronto style. Walking tours tick off the best watering holes in town, with insider knowledge giving you access to gems far from the tourist trail.
Spice up your evening with a scavenger hunt where challenges at landmarks get you in the party mood. Celebrate your mission with some well-earned beers or cocktails.
55 – Attend a world-class concert at the Budweiser Stage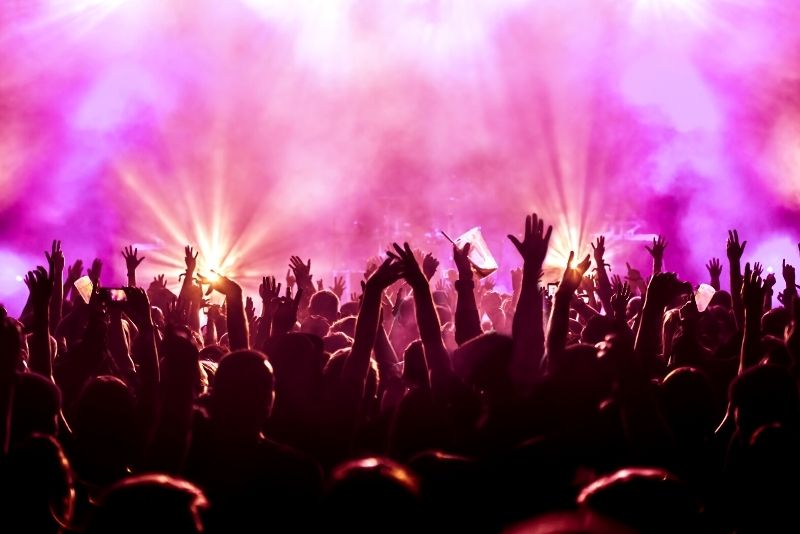 Want to sing along with Rod Stewart or see John Legend on a live tour? Then book tickets for a performance at the Budweiser Stage, one of the hottest music venues in town.
This giant amphitheater has hosted some of the most exclusive names in the music industry, with everything from pop and rock to jazz and blues.
There are some incredible things to do in Toronto, with activities to suit every type of traveler. Hopefully, this epic list will help you decide which attractions to include on your vacation.
Have a look at the best hotels in Toronto if you need to book accommodation – we recommend doing this in advance as the popular spots do sell out fast.
Arriving by plane? Then think about reserving an airport transfer to minimize hassle when you get there. Arranging this before your trip means you can take advantage of the best prices.
Enjoy Toronto!