Capital of French Canada with centuries of history, Quebec City is a cultural hotspot for artists, chefs, artisans, and micro-brewers. Did you know that it is also home to the world's most photographed hotel and the only fortified city north of Mexico? There's no other place like this in North America!
A place where European and American traditions live in harmony, to experience Quebec City's uniqueness, stop by the famous Chateau Frontenac, grab a souvenir at a local art shop or catch a show at one of the storied theater clubs. Dine with a breathtaking view on a Saint Lawrence River cruise and have your first bite of the delicious poutine.
Whether you prefer to explore the charming Old Town and the historic Île d'Orléans or witness the natural wonder of the Montmorency Falls, take a look at the whole list because there is no shortage of fun things to do in Quebec City!
1 – Go back in time in Old Quebec City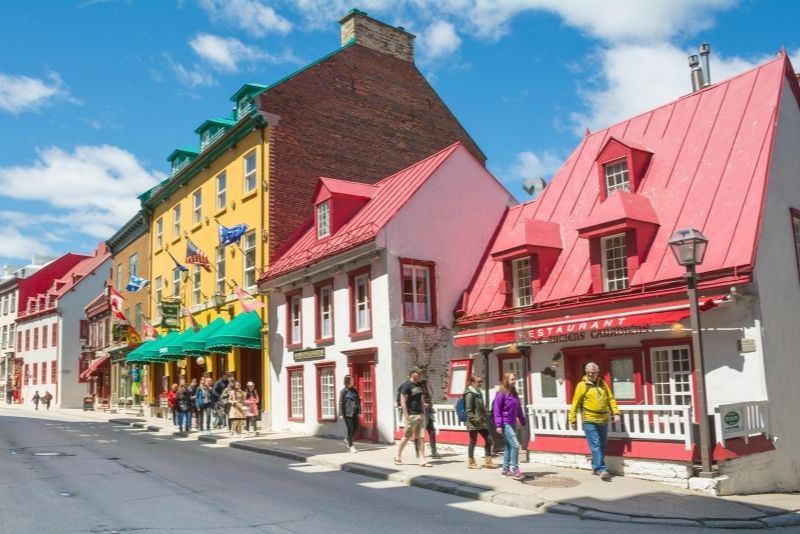 One of the first things you'll want to do is head to Old Quebec City, which is the only completely fortified town in Canada. The architecture here is steeped in history.
Make sure you check out the shops on Rue de Petit-Champlain, where you'll be able to ride the Old Quebec Funicular cable-car, and don't forget to stop by the Plains of Abraham and Parliament Hill.
2 – Take a walk at Terrasse Dufferin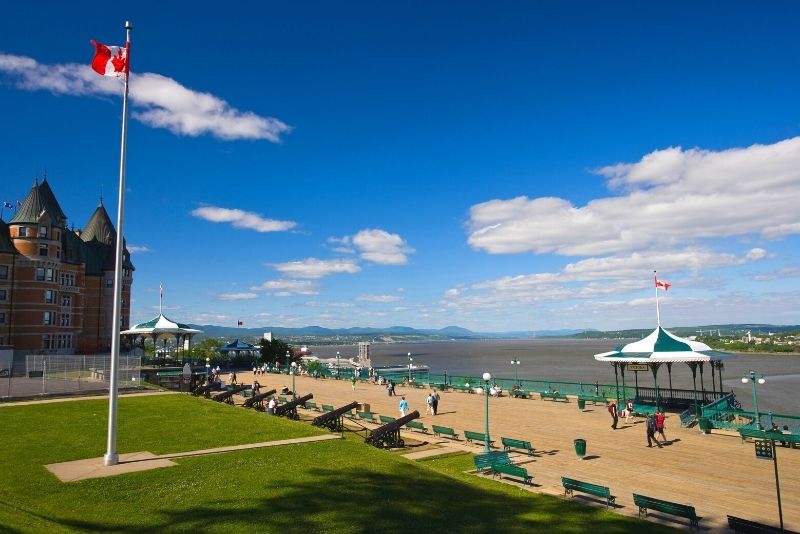 Terrasse Dufferin is a picturesque terrace with hundreds of years of history to its name that sits alongside the Saint Lawrence River and Chateau Frontenac.
During summer and winter, both tourists and locals flock to this popular spot. There are all kinds of things to do and see, including an archaeological crypt beneath the Terrasse. In the winter, there are wooden sledding runs for tobogganing.
3 – Visit the Gorgeous Basilica in Sainte-Anne-de-Beaupré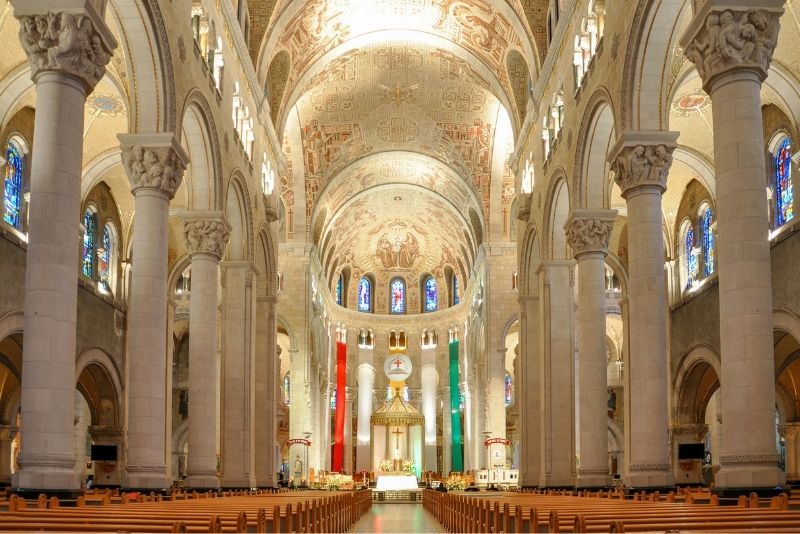 Sainte-Anne-de-Beaupre is a small town close to Quebec City that has a lot of beautiful attractions to visit, including the Sainte-Anne-de-Beaupre Basilica and Shrine.
There are a lot of reasons to visit the Basilica, like a full replica of the Scala Santa of Rome, the staircase Jesus ascended on his way to Pilate's praetorium, or the thousands of votive candles that burn day and night in remembrance.
Don't forget to check out the memorial chapel where French pilgrims stayed hundreds of years ago!
4 – Take to the Saint Lawrence River on a boat tour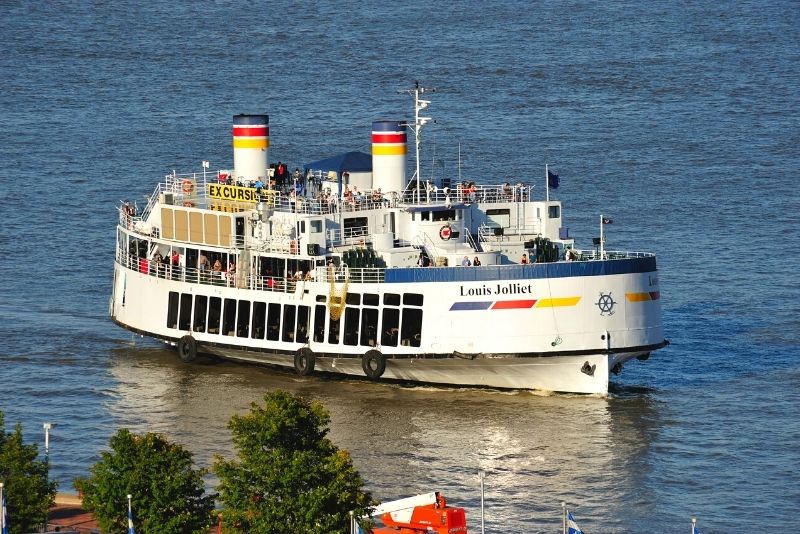 The Saint Lawrence is one of Canada's most beautiful rivers. There are plenty of tours that depart from Quebec City's Old Port and take you along the water to various key parts of the city like Chateau Frontenac, as well as the majestic Montmorency Falls.
Tours generally last about an hour and come with live commentary from an expert local guide.
5 – Check out the indigenous art collection at the MNBAQ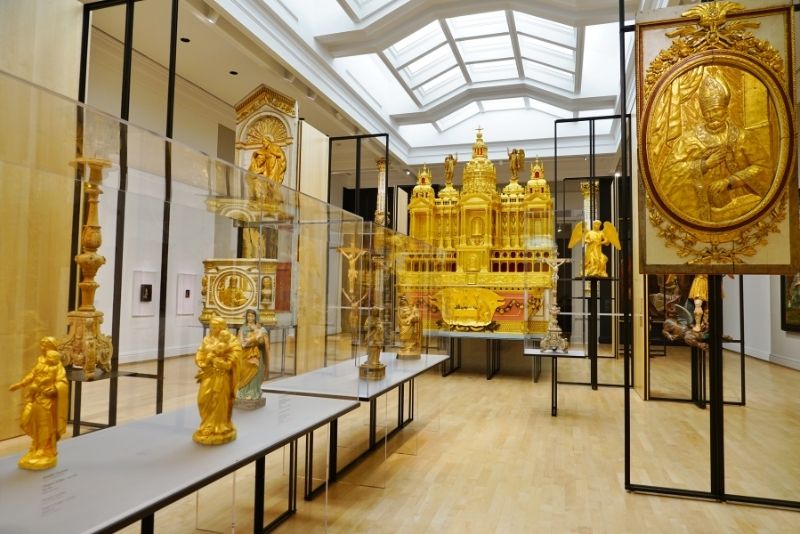 The Musée National des Beaux-Arts du Québec prides itself on being the "living memory of Quebec's art and its artists."
It boasts a collection of over 42,000 unique pieces, including an impressive collection of Inuit art. Their exhibits are always on rotation, so make sure you check out their calendar of events before paying them a visit.
6 – Go from one tourist attraction to another on a hop on hop off bus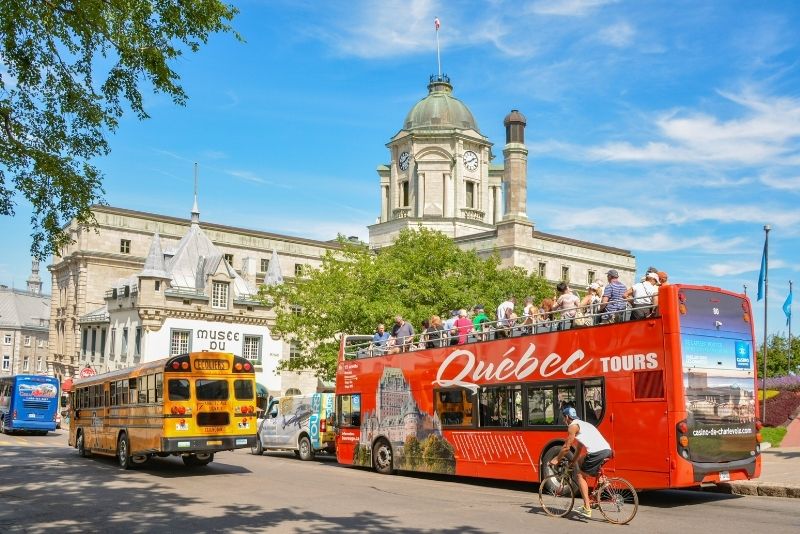 As one of Canada's oldest cities, Quebec City has tons of important historical sights to see. Luckily, the city offers a number of bus tours with flexible itineraries and numerous locations to hop on and hop off.
You'll be able to get from the fortified neighborhood of Old Quebec to Place Royale and still have plenty of time for sightseeing!
7 – See the birthplace of French Canada, Place Royale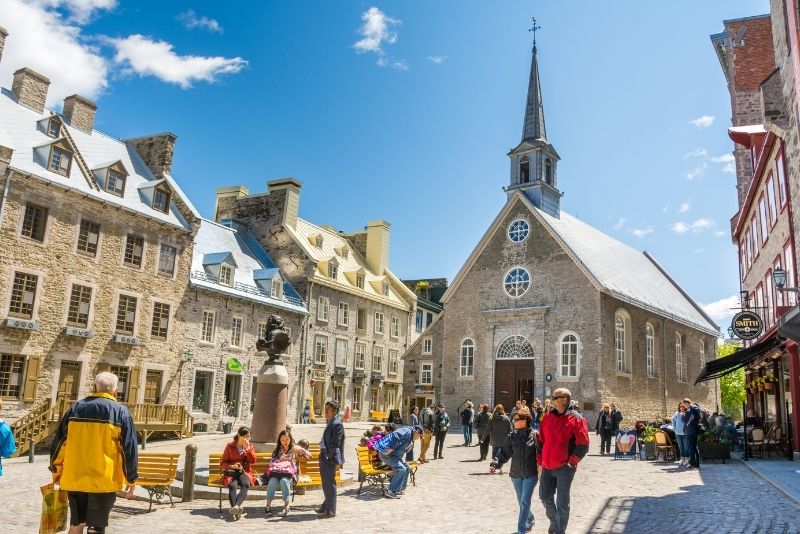 Place Royale is one of the oldest and most important spots in Canada. Often considered to be the birthplace of French America, this popular public square showcases the unique and complex history of Quebec and its place in Canada.
Much of the original architecture is still intact, so you can see the influence of both British and French colonizers over the centuries.
8 – Visit the massive (and massively famous) Château Frontenac Hotel
The Fairmont Chateau Frontenac is probably one of Canada's most famous hotels, and it's often cited as one of the most photographed hotels in the world.
For over a hundred years, the Chateau Frontenac has played host to people from all over the world, and its storied history is on display for visitors to admire. It's, for sure, one of the best things to do in Quebec City!
Guided tours are always available, but who wouldn't want to stay at the same hotel as names like Sir Paul McCartney and Charlie Chaplin?
9 – Visit the Royal 22nd Regiment at La Citadelle de Québec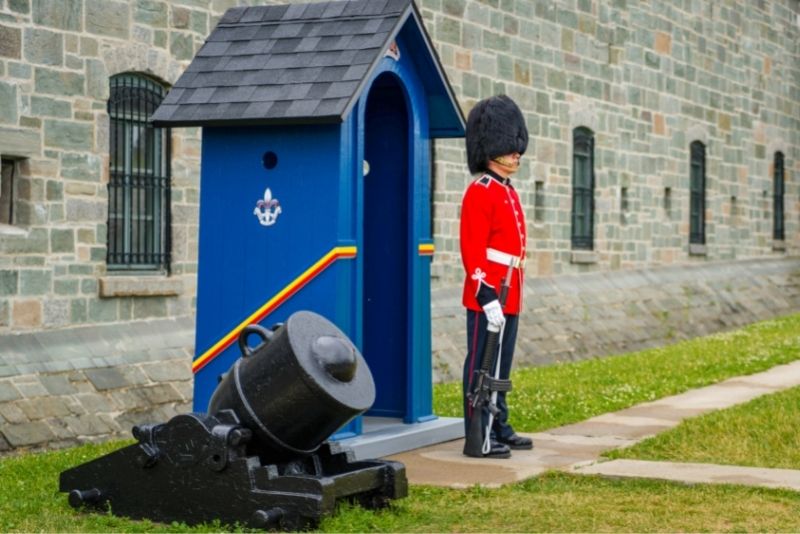 Home of the Royal 22nd Regiment, La Citadelle de Quebec is both a national historic site and an active military base.
Known as "The Gibraltar of the Americas," it's housed French Canadian soldiers through three centuries of proud history.
They offer regular tours of the facilities, and there are permanent exhibitions as well as a regular rotation of special displays.
10 – Walk over the waterfalls at Parc de la Chute-Montmorency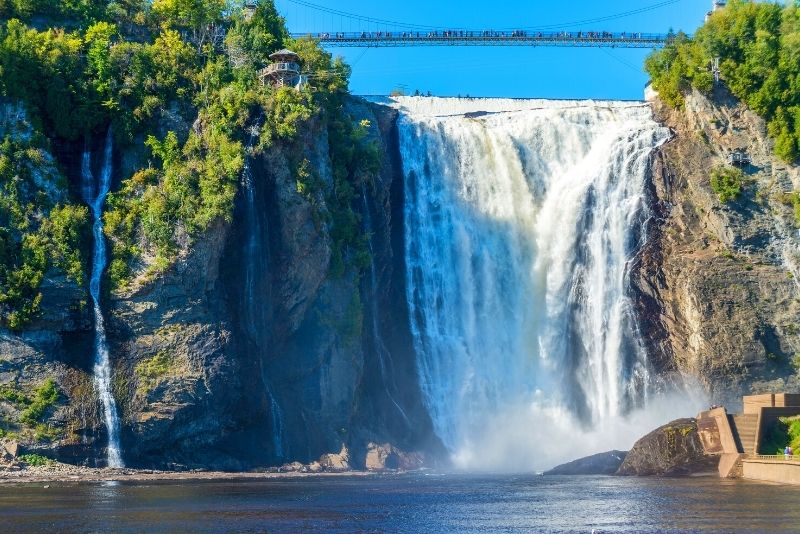 One place you'll definitely want to visit while you're in Quebec is Parc de la Chute-Montmorency, or Montmorency Falls Park. There's a full promenade for you to walk over the majestic falls, which are considerably taller than Niagara Falls, Canada's other famous waterfall.
While you're at the park, don't forget to ride the cable car and check out the zip line, if you're not too faint of heart!
11 – Visit the beautiful religious art at Basilique-Cathedrale Notre-Dame-de-Quebec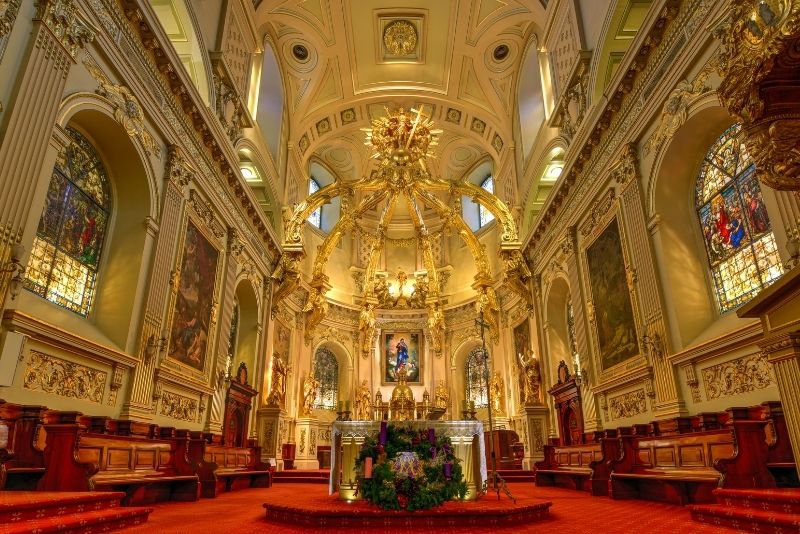 Restored a number of times over the last few centuries, the beautiful Basilique-Cathedrale Notre-Dame-De-Quebec is the primatial church of the Roman Catholic Archdiocese of Quebec. It's home to a number of beautiful works of religious art.
A number of holy figures are laid to rest here, including all the bishops of the diocese of Quebec.
12 – Stop by local shops and markets on a bike tour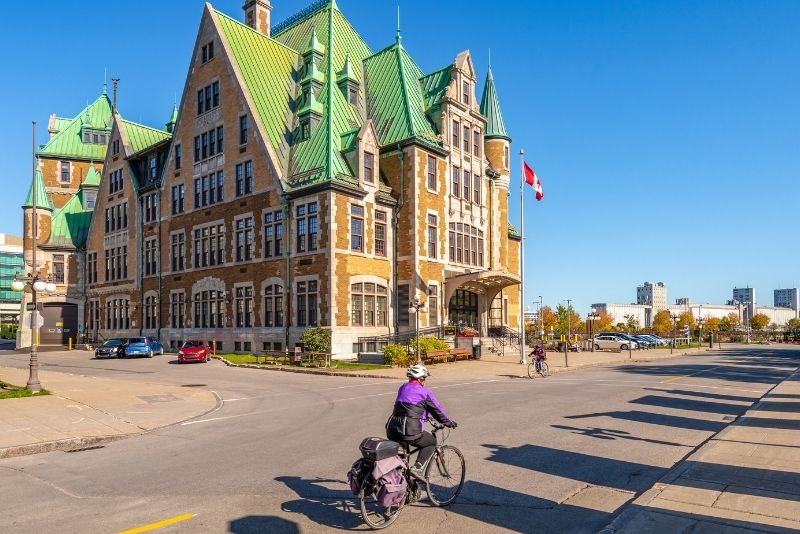 Quebec City is so scenic and full of history that a tour is practically a must, especially for a first time visit.
The city offers a number of bike tours with expert guides that will take you from Old Quebec, along the Saint Lawrence River, through Lower Town, and everything in between.
You'll also get the chance to stop at shops and markets and mingle with the locals.
13 – Learn all there is to know about anthropology at Musée de la Civilisation
Musee de la Civilisation in Quebec City showcases everything you've ever wanted to know about anthropology.
They offer tours, activities, and a rotating schedule of exhibitions that cover from ancient mayan culture to the study of human senses.
When you've had your fill of human history, stop by for a delicious meal at their restaurant, Cafe 47!
14 – Come during the spring and go whale watching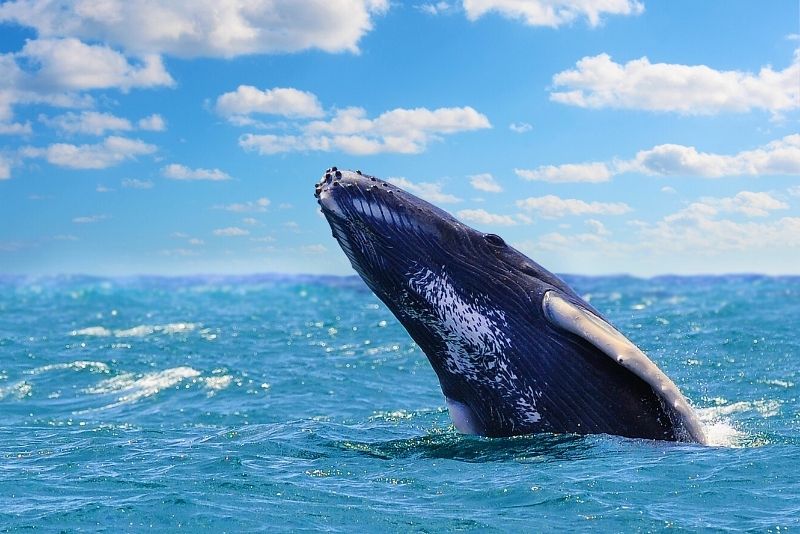 Every Spring, hundreds of whales make their way to the Charlevoix coast and other Quebec areas to frolic and feast on krill.
There are quite a few whale watching expeditions that leave from the Old Port in Quebec City and take you all the way up to close to more than 6 different species, including the mighty blue whale.
These tours fill up quickly, so make sure you check availability often and book in advance!
15 – Learn about the Huron culture at Wendake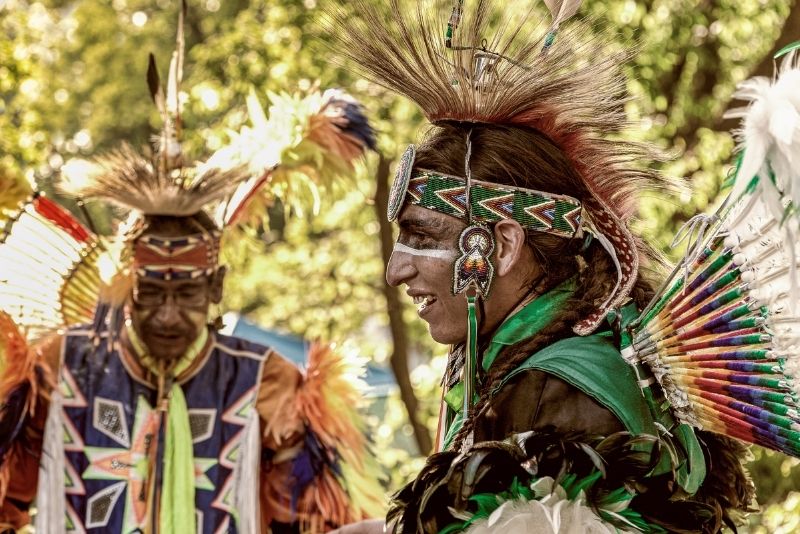 The native Huron-Wendat culture continues to be preserved and promoted at the Wendake Indian Reserve in Quebec.
They offer tourists many different ways to connect with the first peoples of Canada including learning about local legends and crafting Huron implements.
There are also delicious restaurants and luxurious hotels for extended stays.
16 – Get wet at the aquarium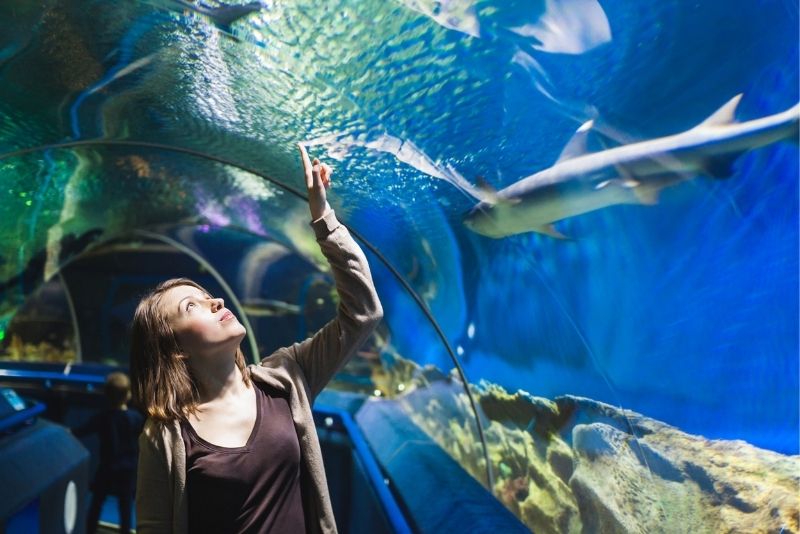 The Quebec Aquarium is an aquatic paradise for both kids and adults. They've got all kinds of animals. Some you can touch, like starfish and horseshoe crabs, but we don't recommend getting too close to the polar bears!
They also offer a number of educational programs and there are water-based obstacle courses and games as well.
17 – Enjoy summer fun all year long at the Village Vacances Valcartier waterparks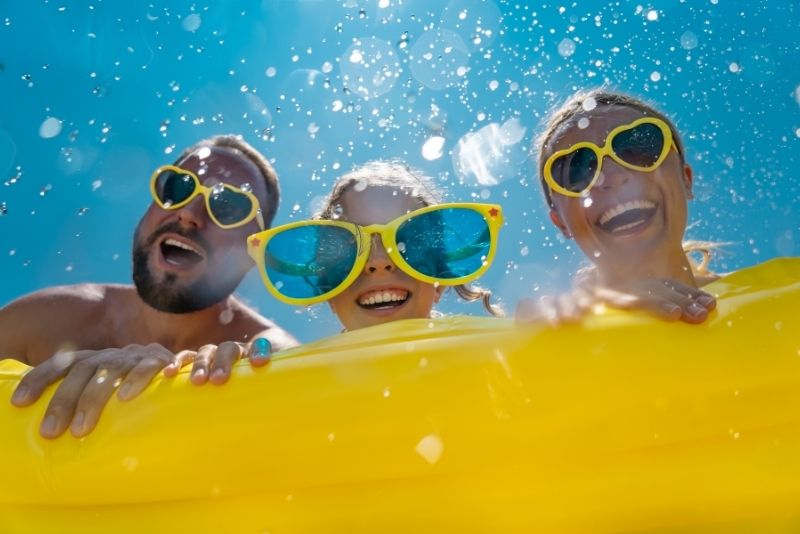 Speaking of aqua-themed adventures, while you're in Quebec, you'll want to visit the Village Vacances Valcartier resort complex which has both an indoor and an outdoor waterpark!
They also have an expansive winter playground for the colder months as well as a full aroma spa.
If you're looking to stay the night, you can do so in the luxurious Valcartier Hotel, or you can try the ultimate Canadian experience and stay overnight in a hotel made entirely of ice.
18 – Visit the library at the Morrin Cultural Arts Centre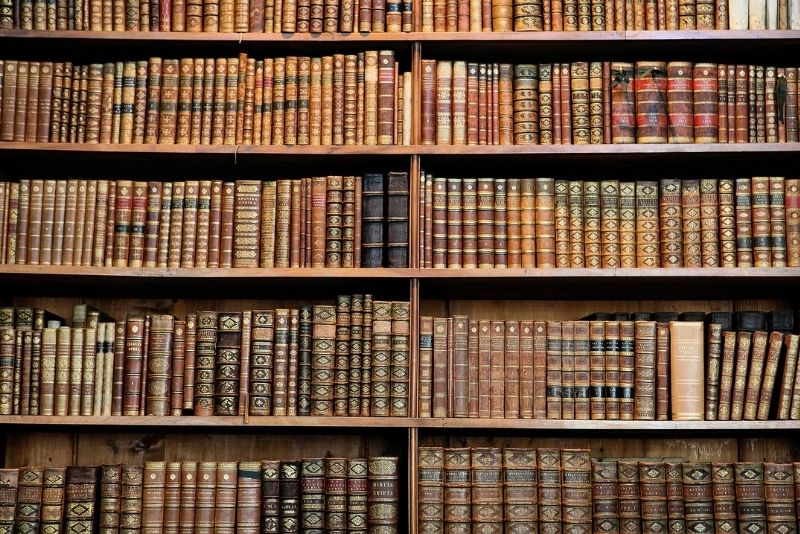 The Morrin Cultural Arts Centre is worth a visit for one very simple reason: it is over 150 years old. This gorgeous, well preserved literary sanctuary boasts a vast collection of books both old and new.
They even boast that stepping into the room will likely remind you of fantasy adventures like Harry Potter and Beauty and the Beast.
19 – Learn about Quebec's major battles at Musee du Fort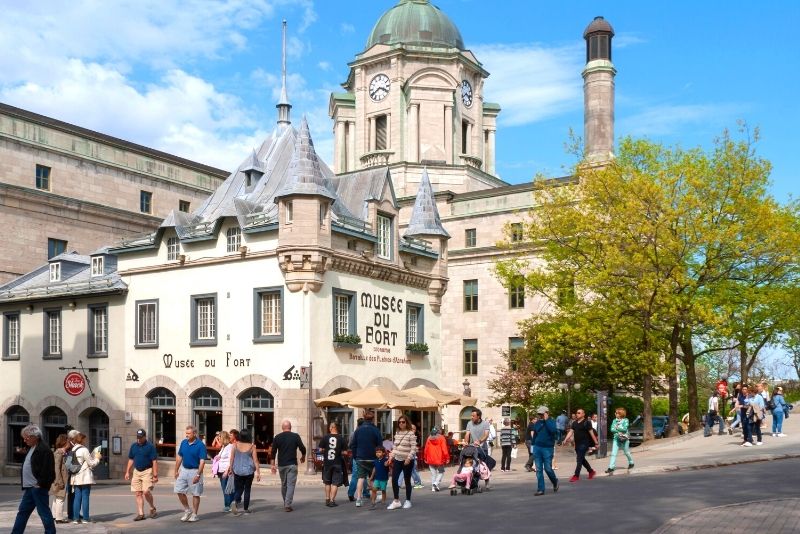 If you're looking to learn about the history of Quebec's military, the Musee du Fort, near the Chateau Frontenac, is where you'll want to make your first stop.
They chronicle major battles in Quebec's history, like the Battle of the Plains of Abraham,  with a booming sound and light show that's guaranteed to be anything but boring.
They also do historical reenactments, and they boast a large scale model of the area complete with an interactive quiz experience.
20 – Try poutine on a food tour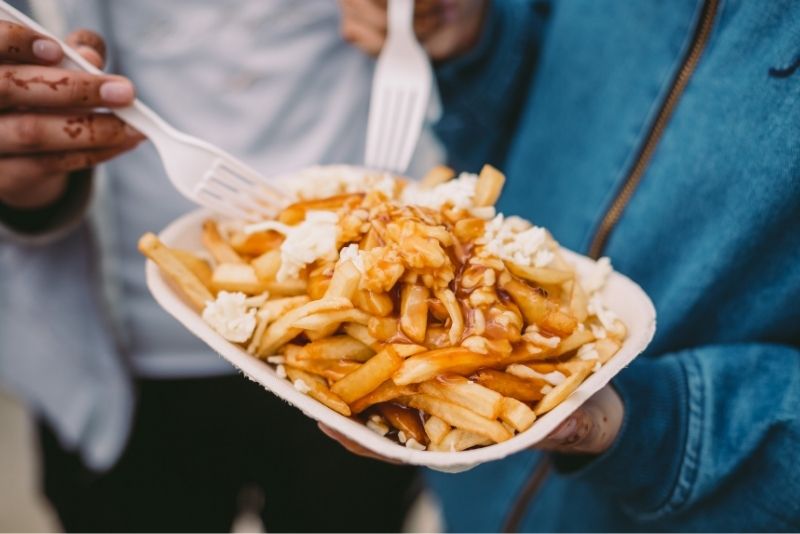 Quebec is famous for many of its regional dishes, including pate chinois, pea soup, and a whole slew of maple syrup-themed delicacies.
Its most well-known dish is definitely poutine, though. This simple but delicious combination of french fries, cheese curds, and gravy has put Quebec on the culinary map.
You'll be able to try all of these and more when you embark on one of the city's numerous food tours.
21 – Visit the Plains of Abraham at Battlefields Park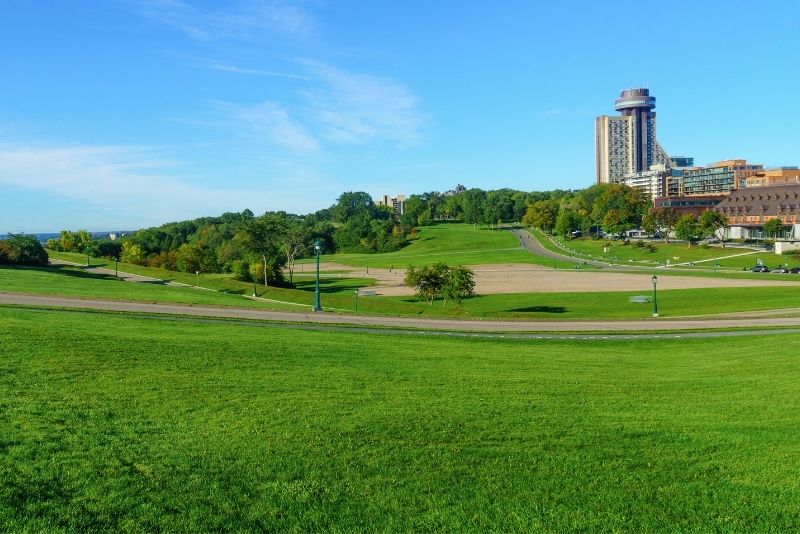 Visit the site of the infamous battle of the Plains of Abraham which took place at this very spot on September 13, 1759, as well as a number of other historic skirmishes between the French and the English.
Learn why this spot served as a pivotal turning point in the Seven Years' War. They do full historic reenactments, complete with costumes and fake firearms.
22 – Climb to the highest point in the whole city at Observatoire de la Capitale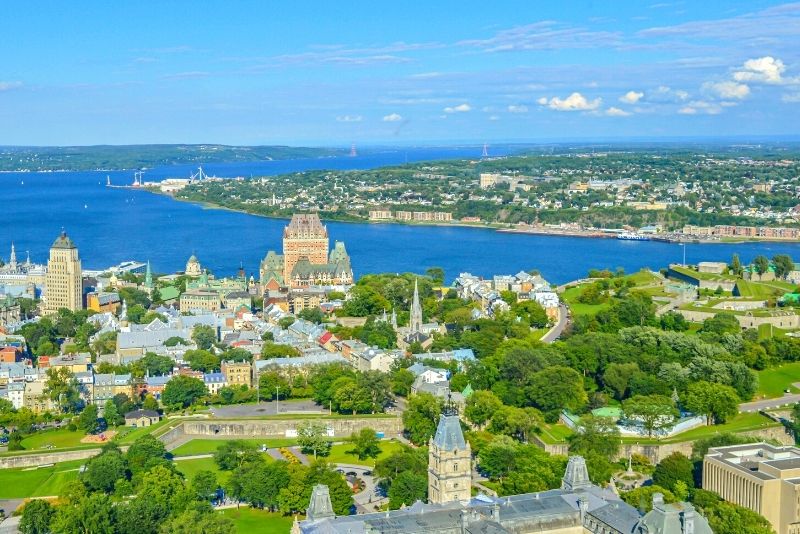 The Quebec City Capital Observatory is the highest point in the whole city. From here, you'll not only get a clear view of Parliament Hill and the rest of the city, but you'll also see the gorgeous nature that surrounds it in the Saint Lawrence River, Island of Orleans, Appalachian Foothills, and the Laurentians.
They also offer quite a few activities on site that will help you learn more about Quebec's history and culture.
23 – Go mountain biking at Jacques-Cartier National Park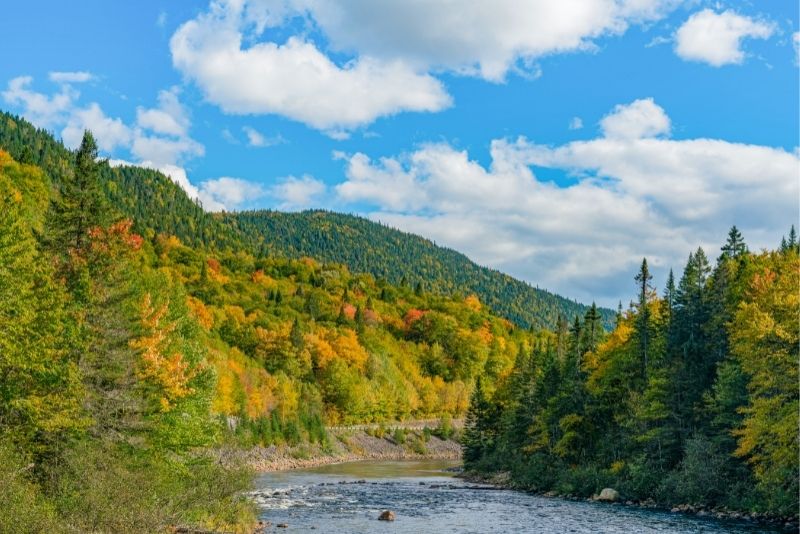 Jacques-Cartier National Parks is one of Canada's many protected nature reserves.
In the Summer, it's a great place to go picnicking, hiking, or even mountain biking.
When the snow falls, it transforms into a beautiful terrain for cross-country skiing and snowmobile.
24 – Have a full day of fun at Méga Parc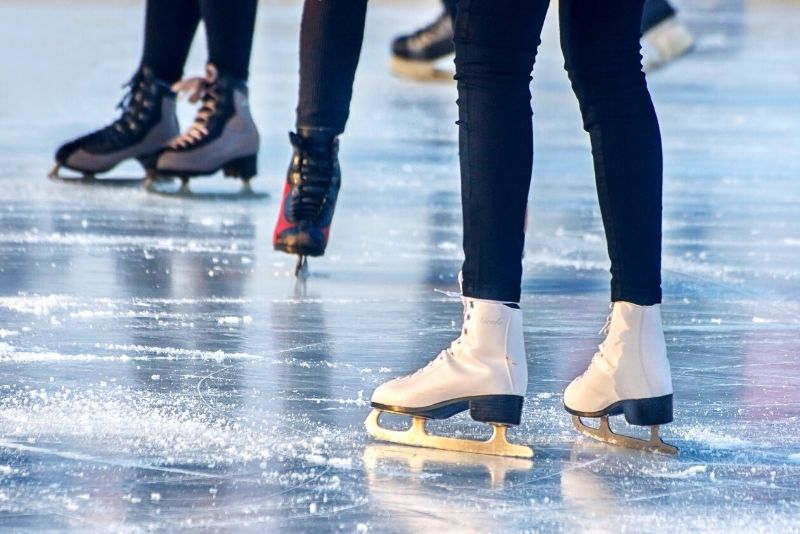 Méga Parc is the largest indoor entertainment facility in Quebec City, and it has rides and attractions for people of all ages.
If you're looking for fun family activities, there's an ice-skating rink, a roller coaster, a ferris wheel, an arcade, and so much more. They even have bumper cars and a laser tag arena!
25 – Walk from one side of the city to the other on La Promenade des Gouverneurs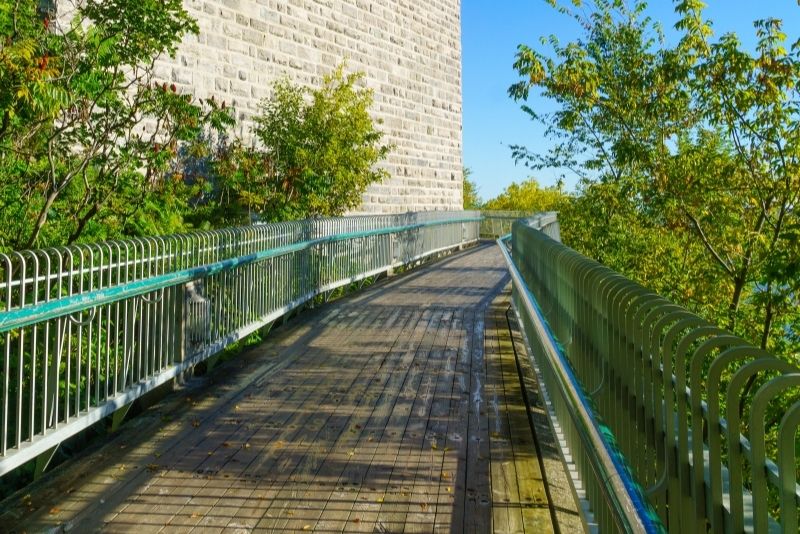 La Promenade des Gouverneurs is a boardwalk that spans the distance from the Plains of Abraham all the way to the Chateau Frontenac Hotel.
It runs parallel to the fortifications surrounding Old Quebec City as well as the Saint Lawrence River, so you'd be hard pressed to find a better vantage point.
The boardwalk also provides access points to quite a few other important sites other than those already mentioned.
26 – Visit the quaint villages that make up Île d'Orléans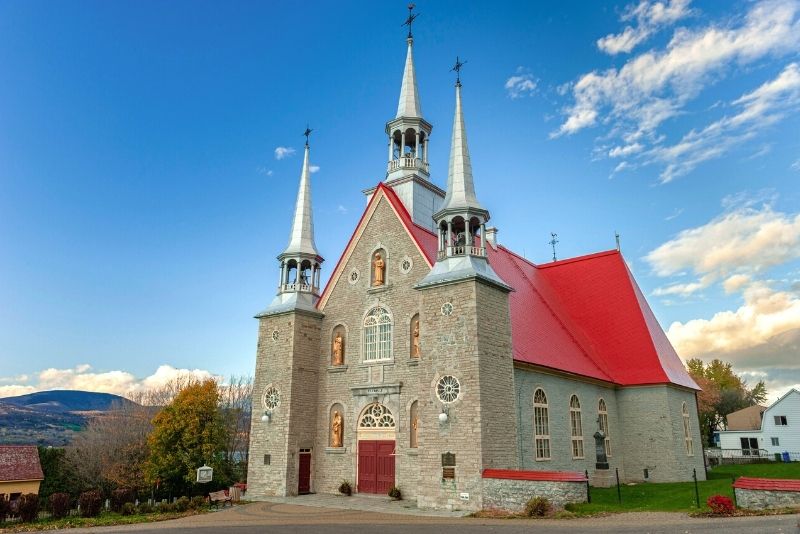 Ile d'Orleans is special because it was one of the first parts of Quebec to be colonized by French settlers. It's split into six small villages that are all connected by a 67-kilometer road.
Around the island, you'll find four wineries, the remnants of a shipyard that once produced hundreds of rowboats, a 300-year-old mansion, and plenty of other things to see and do.
27 – Visit the Quebec National Assembly at the Parliament Building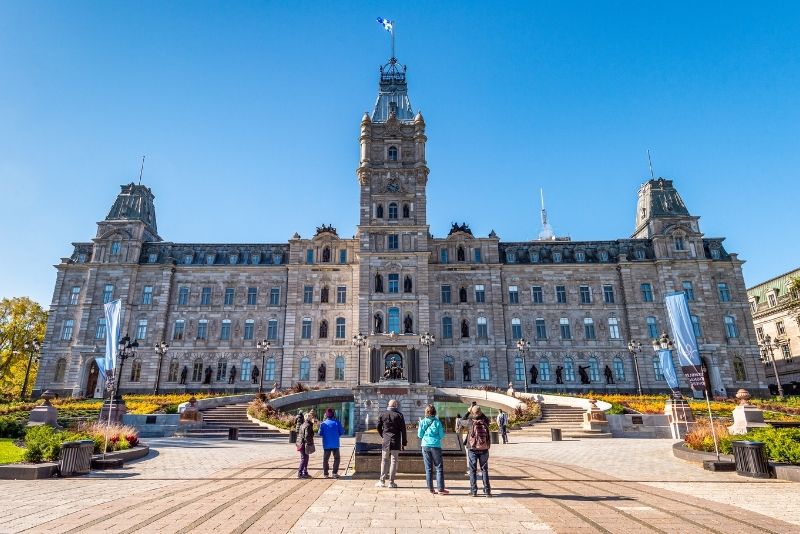 If you've ever wanted to see where Quebec's laws are debated, then you'll want to pay a visit to the Quebec National Assembly at the Parliament Building.
The words "je me souviens," which is Quebec's motto and translates to "I remember," were carved above the above the main entrance over a hundred years ago.
They offer tours of the building and gardens to the public, and they also have a regular rotation of activities and programs.
28 – Spend a day at the beach on Baie de Beauport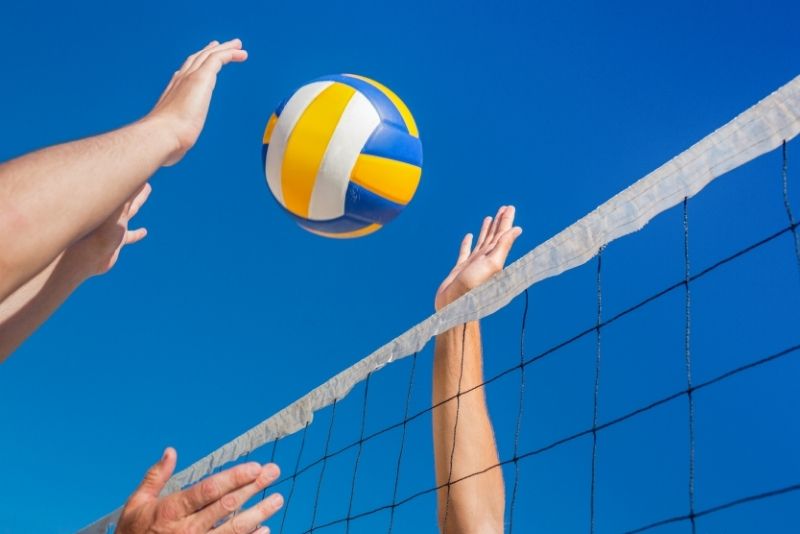 Located on the banks of the Saint Lawrence River, Beauport Bay is a gorgeous beach that offers all kinds of summer activities.
They have a full volleyball court and soccer field, rent out kayaks and canoes, windsurfing lessons and even yoga sessions.
There's also a water park for the kids and, on special occasions, the area becomes a venue for international concert acts.
29 – Squeeze in a round of golf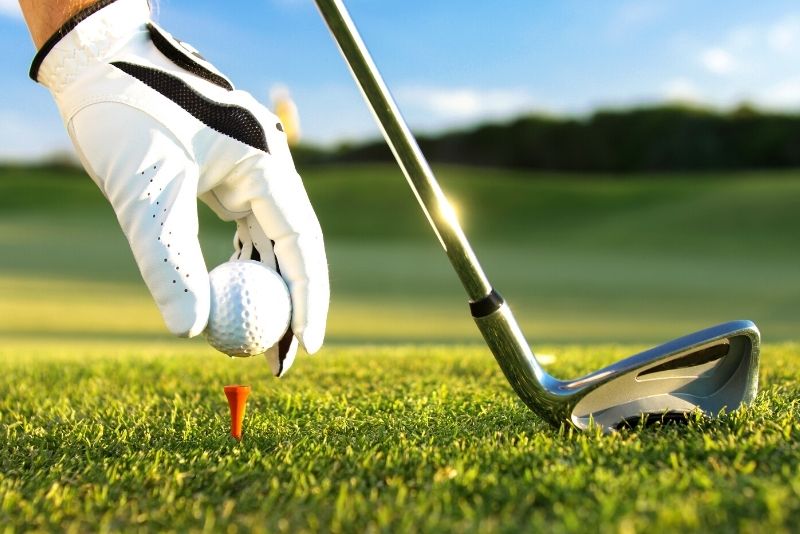 Quebec City has quite a few popular golf courses. There's the Royal Quebec, which is one of North America's oldest golf courses, or La Tempete, which also offers world-class golf lessons through its academy.
Visiting one of these golf courses in the autumn is especially magical as you'll be able to play your 18 holes surrounded by the gorgeous colors of the changing leaves in the trees.
30 – Go ziplining at Arbraska Chauveau Adventure Park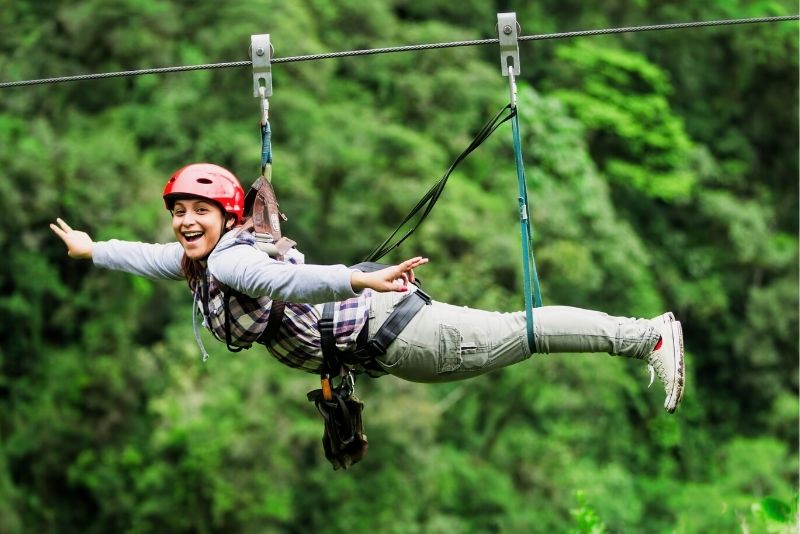 Chauveau Park is Quebec City's largest nature park, full of gorgeous trees and hiking trails. In the middle of the park is a series of adventure courses run by Arbraska Adventure Park.
From zip lines and suspended bridges to Tarzan swings and much more, there are plenty of activities to discover with your friends and family. The best part is that there are courses tailored for people of all ages and ability levels.
31 – Work your way through the city solving clues in a scavenger game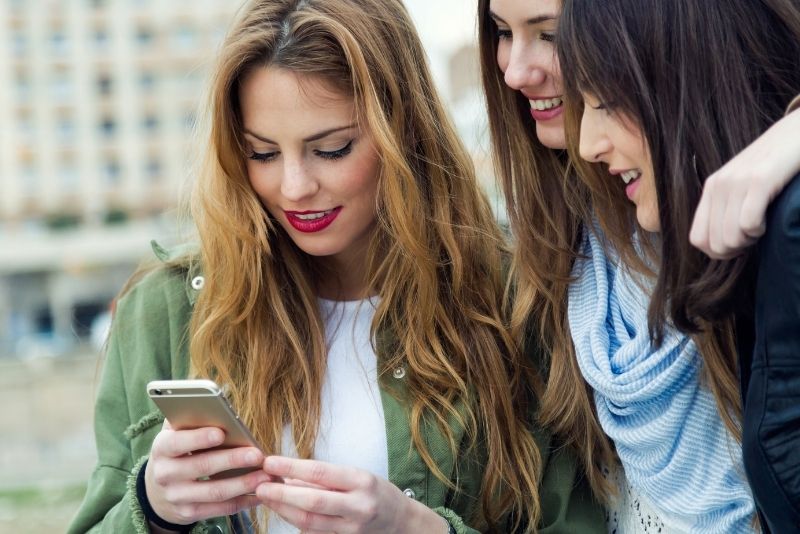 Quebec City is a very old city, and it can sometimes feel like a maze. That makes it the perfect place for a scavenger hunt!
There are so many distinct neighborhoods to discover, from the centuries of history in Old Town to the cafes and theaters of Montcalm. Work your way through them as you solve puzzles and find clues, and learn everything there is to know about French Canada along the way!
32 – Tike a quick ride on the Quebec City Ferry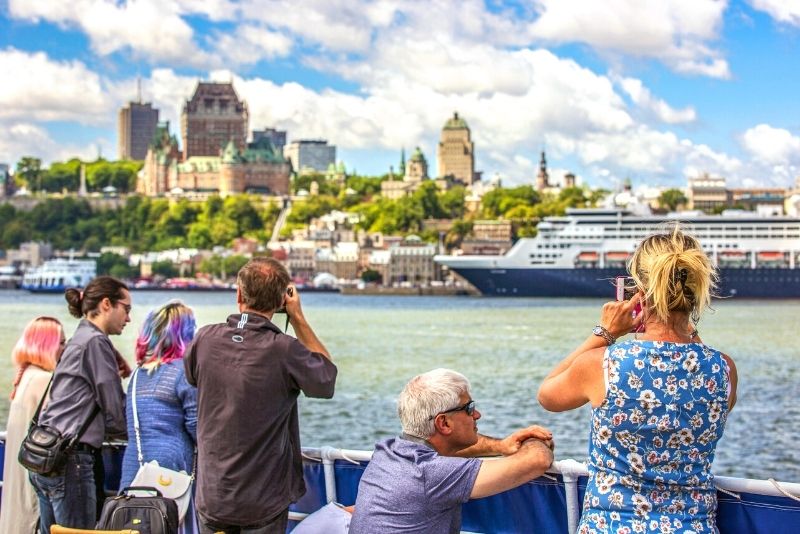 A ride on the Quebec City Ferry is dirt cheap and only lasts about 12 minutes, and you're unlikely to get a better view of Old Quebec from the Saint Lawrence River.
You'll have just the right amount of time to pull out your camera and snap photos of landmarks.
The ferry is open summer and winter, and seeing Old Quebec lit up from the water is especially magical during the holidays.
33 – Go dog sledding!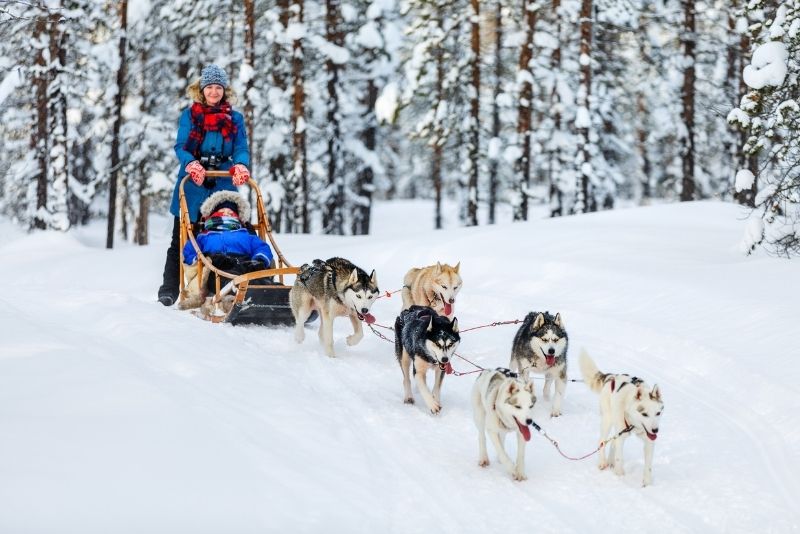 Winter in Canada offers all kinds of opportunities to try things you probably never thought you'd never get the chance to – and dog sledding is definitely one of those things.
Travel to Mont Lac-Beauport, Lac Saint-Joseph, or one of the other small towns around Quebec, hop on a sled, and let the friendly huskies give you the ride of a lifetime.
Most dog-sledding facilities are multi-purpose and also offer other winter activities like snowmobiling and ice-fishing.
34 – Take the kids to spend a day at RécréOFUN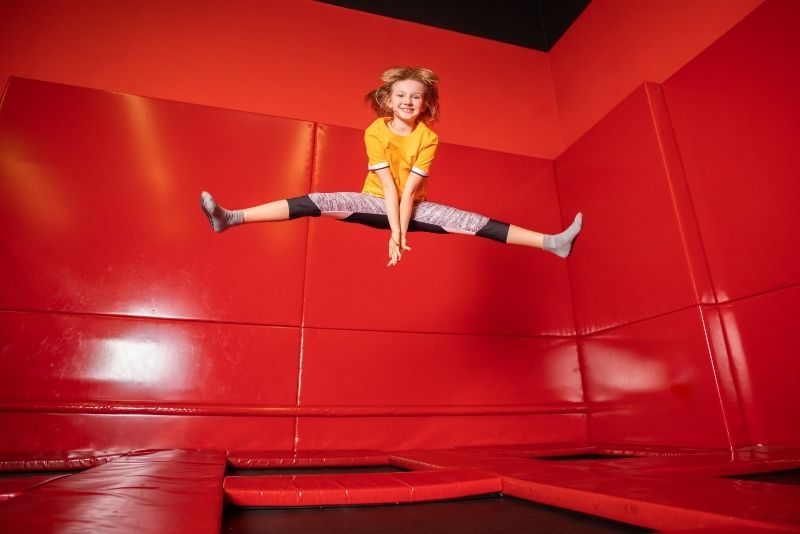 RécréOFUN is a giant entertainment complex in Quebec City designed entirely for kids, so it's a great option for families traveling with children. They've got trampolines, a ball pen, slides, a full arcade, the works.
They also offer summer camps and do birthday parties, so they pretty much cover all of your toddler needs.
35 – Go kayaking on one of Quebec's beautiful lakes and rivers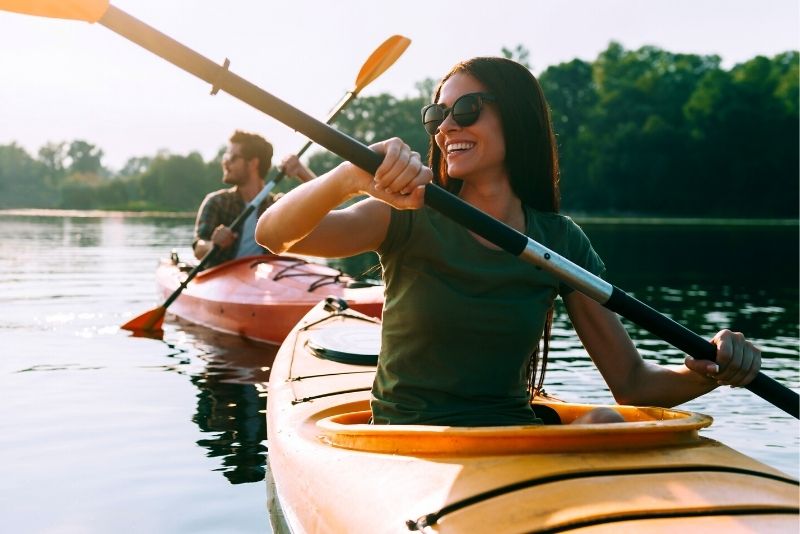 The province of Quebec is practically covered in beautiful lakes, rivers, and forests. Much of it is protected land, but there are plenty of places rent or buy a kayak and hit the open water.
You could even go kayaking along the Saint Lawrence River and get beautiful views of Old Quebec City and its walls.
36 – Have an exhilarating round of Laser Tag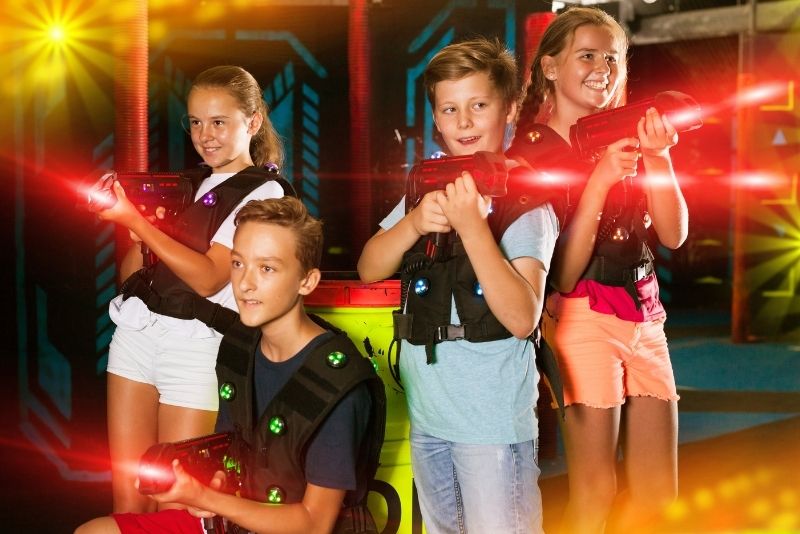 After operating for more than 25 years, Laser Game Evolution is ready to prove that the game of Laser Tag is more than just a silly game for kids.
Their modern and lightweight technology means the game is both comfortable and as accurate as possible, and their animation team is dedicated to making every experience entertaining for everyone. They have quite a few locations in and around Quebec.
37 – Have a spooky time on a Ghosts & Crimes Tour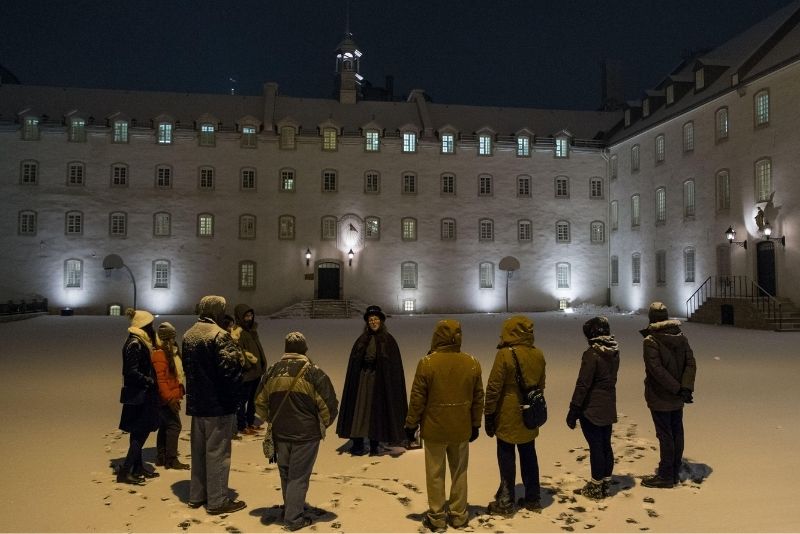 There are parts of Quebec City that are hundreds of years old, and the streets are full of ghost stories.
Take a tour of the city that involves interactive street theater and live some of the area's grisliest crime stories firsthand.
This is a really fun activity if you're looking to get to know Old Town a little better.
38 – Try food made of "chemistry and poetry" at Laurie Raphaël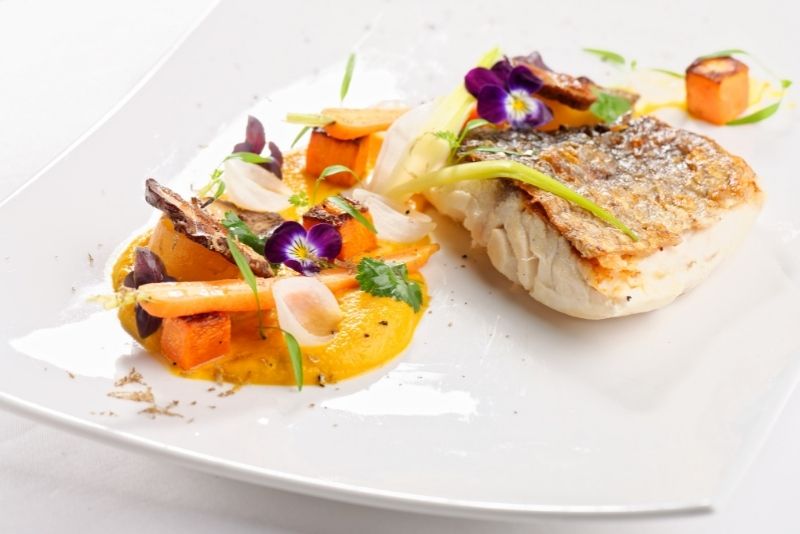 This high-end Quebec City restaurant describes its food experience as "chemistry and poetry."
They set themselves apart from other restaurants in their niche by also functioning as a workshop and boutique, highlighting work from local artisans and designers.
Laurie Raphael has become an internationally recognized name, and they now have a sister location in Montreal.
39 – See the city from the sky on a helicopter tour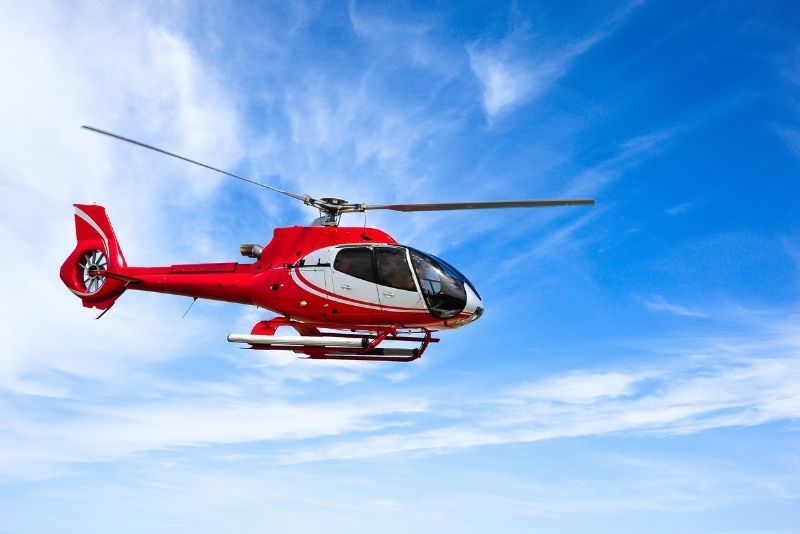 Climbing from Lower Town to Upper Town to try and see all of Quebec City can seem like a daunting task. Luckily, there are a number of helicopter tour options available to give you an aerial view of this storied Canadian city.
If you're looking for unique things to do in Quebec City, this one is for you! Don't forget to bring a camera to take pictures of the fortified walls around Old Town from up above!
40 – See the massive fortifications that surround the city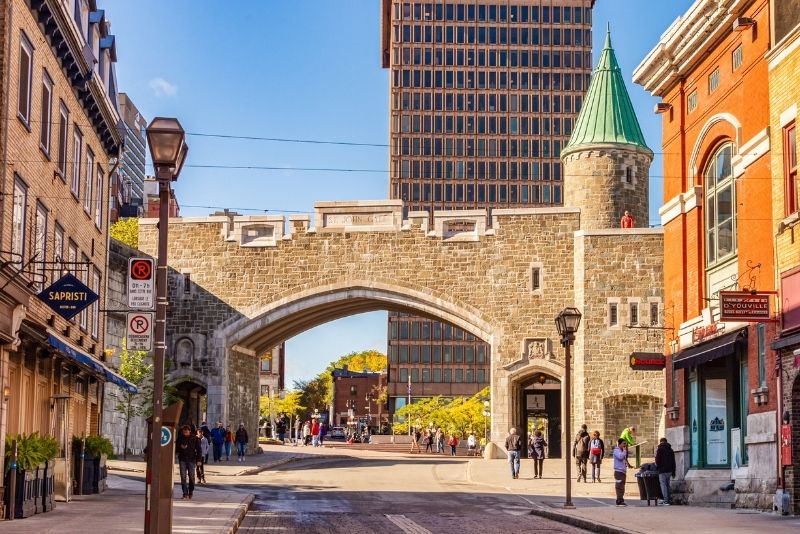 Old Quebec City is Canada's only fortified city, and it is truly spectacular to view the 400 year old walls first hand.
The fortifications circle the Upper Town for 4.6 km, with ornate gates built into them. The original four still exist, and others have been added throughout the centuries.
Don't miss an opportunity to snap a photo with these magnificent walls!
41 – Spend a night at the Ice Hotel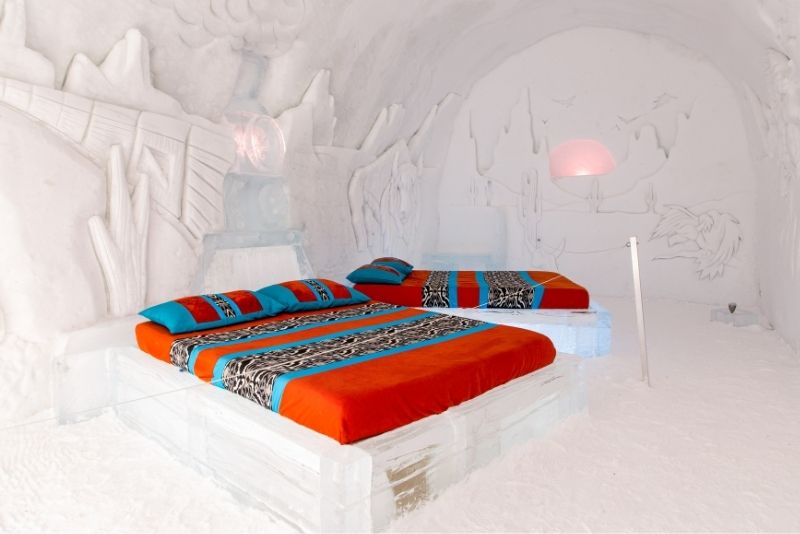 Live the ultimate Canada winter experience when you visit the Ice Hotel in Quebec City, a hotel that is literally made almost entirely of ice, beds and all.
Enjoy a luxurious evening with dinner, spin on the skating rink, and a dip in the sauna, then retire to your beautifully sculpted room. Sleep comfy next to the fireplace in your sleeping bag, which sits atop a heated mattress.
42 – Put your problem solving skills to the test with Cabinet Mysteriis' Escape Games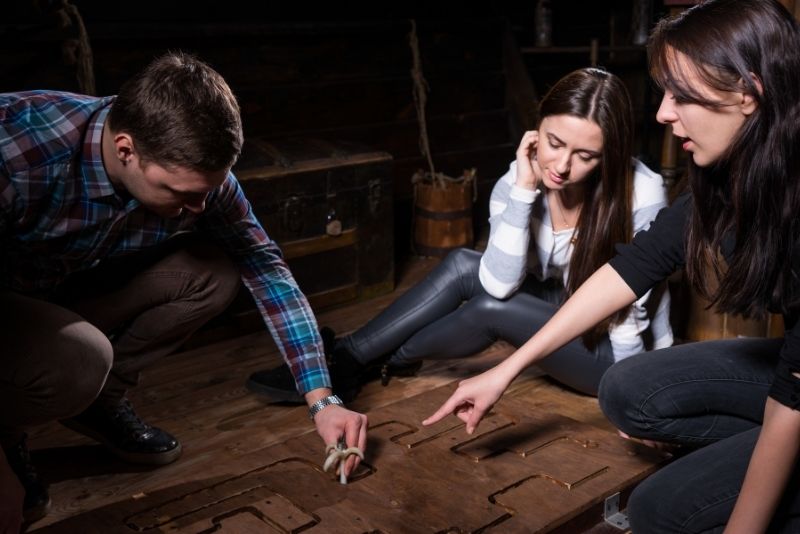 If escape rooms are your thing, Cabinet Mysteriis is ready to put your problem solving skills to the ultimate race agains the clock.  The games they offer have been internationally recognized for their quality.
They offer a number of different puzzle rooms, but they book up fast, so make sure you check their availability often!
43 – Catch a show at one of Quebec City's theater halls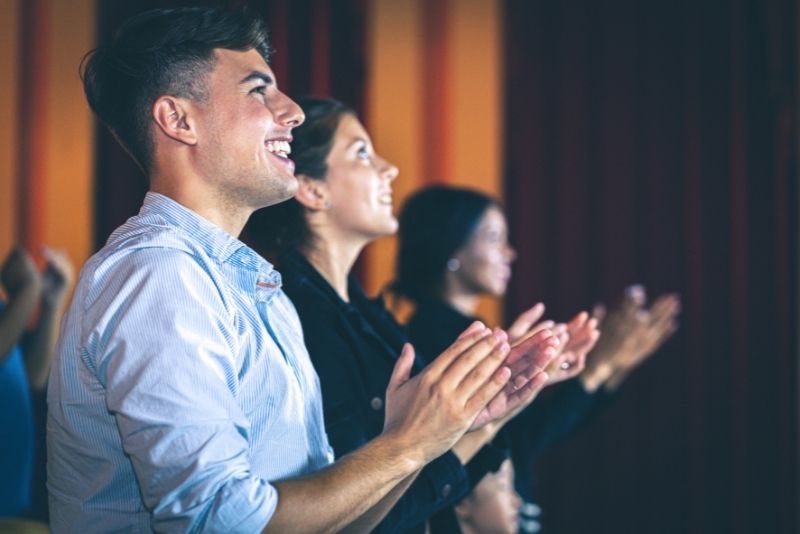 Quebec City is not only one of the oldest cities in Canada, but it's also one of the most populated, which means it has a number of beautiful theater halls and concert venues to host the best local and international entertainers.
While you're visiting, check out the event calendars at the Grand Théâtre de Québec and the Théâtre Capitole. Both are staples of the city's nightlife and always have exciting artists ready to take the stage.
44 – Tour the city's delicious microbreweries on a beer tasting tour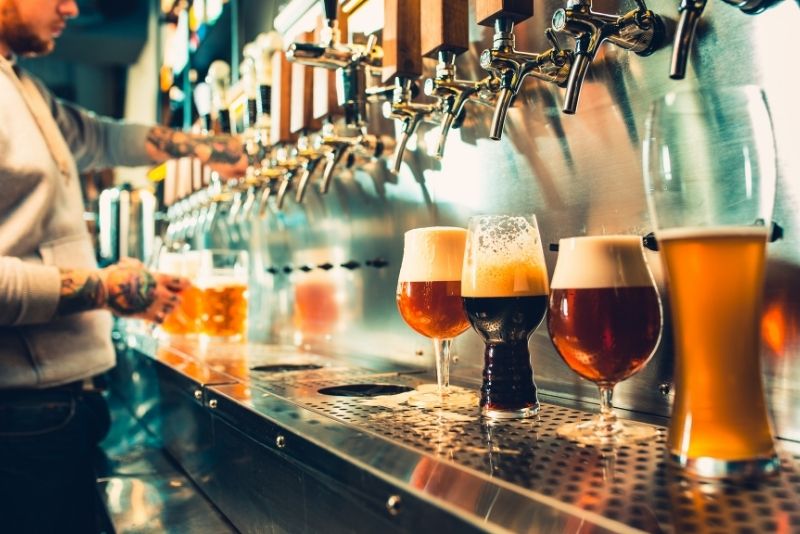 Quebec is well known for its craft brews, and Quebec City especially has some of the finest microbreweries in the world.
Tour the city and discover why microbreweries like La Barberie have been operating for more than two decades. Get to know a small group of other friendly tourists or book a private group, either way, your taste buds will thank you!
45 – Spend a day shopping at Quartier Petit-Champlain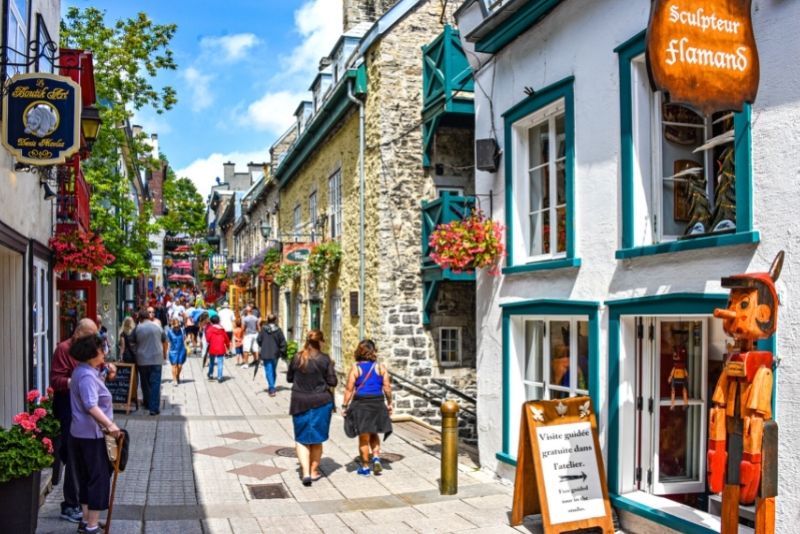 If you love shopping, you'll want to visit Quartier Petit-Champlain.
The narrow streets and century old architecture of this neighborhood house dozens of adorable boutiques just waiting to be perused.
Quartier Petit-Champlain is lit up all year long, and it's especially beautiful around Christmas time.
46 – Have a summer drink at La Cour Arrière du Festibière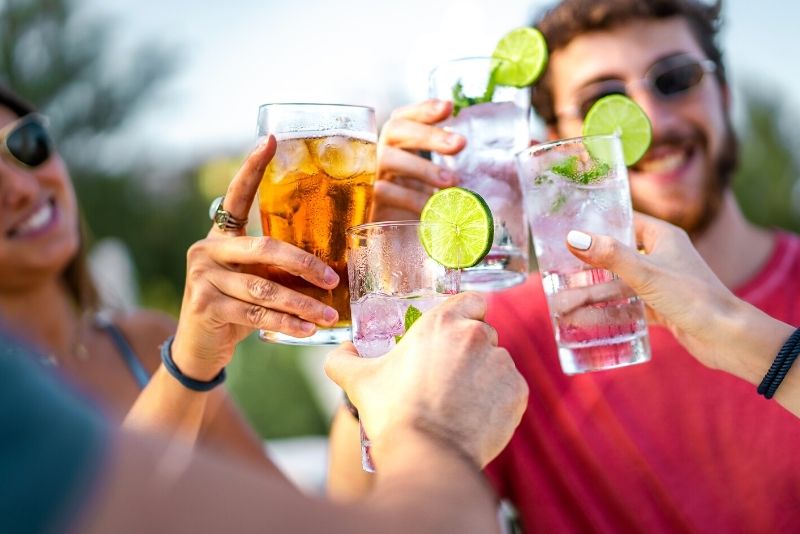 Operated by the same team that puts on the annual Festibiere, which is the Quebec City microbrew festival, La Cour Arrière du Festibière is a huge terrace that sells microbrews from all over the city.
Open all summer long, the terrace is right in the heart of Old Quebec and it's one of the city's best spots to go and socialize. Aside from microbrews, they also offer an exclusive menu of tacos as well as wine, sangria, and hard alcohol.
47 – Be enchanted by a moonlit dinner cruise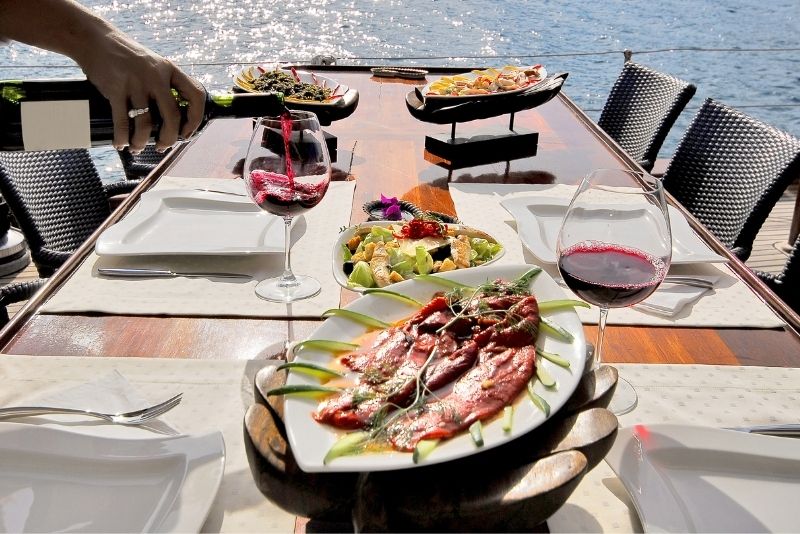 The Saint Lawrence River is even more beautiful by night than it is during the day, and it's the perfect spot for a romantic dinner cruise.
Debark from the Old Port and enjoy a magical evening of delicious food and top-notch entertainment that usually includes music and dancing. Don't forget to take in sites like Chateau Frontenac and the Quebec Bridge, which are lit up at night!
48 – Take a stroll along Grande Allée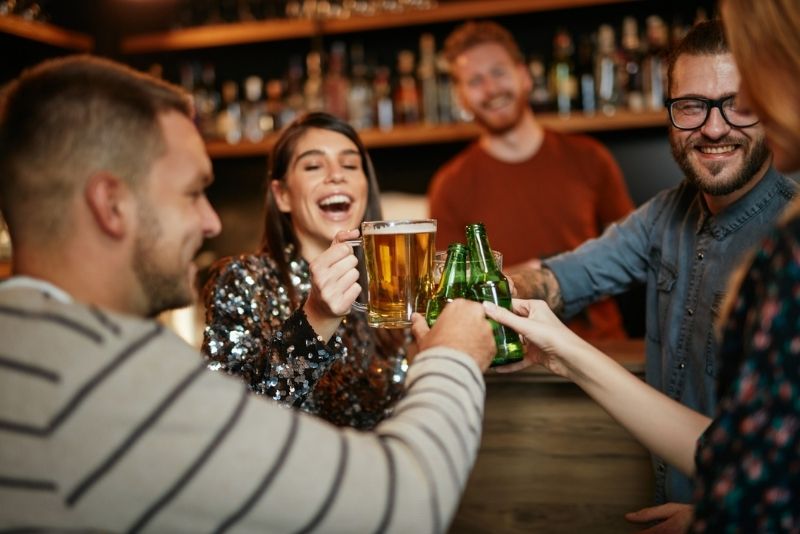 Once thought of as Quebec City's high-class neighborhood, this storied street has become the heart of Quebec City's nightlife.
Take a stroll down Grande Allee and stop by any of the trendy bars and restaurants, and you're guaranteed to have a good time.
Grande Allee is also known for its gorgeous Victorian architecture, and it's close by to quite a few key tourist attractions, including the Plains of Abraham.
49 – Bundle up and take part in the Quebec Winter Carnival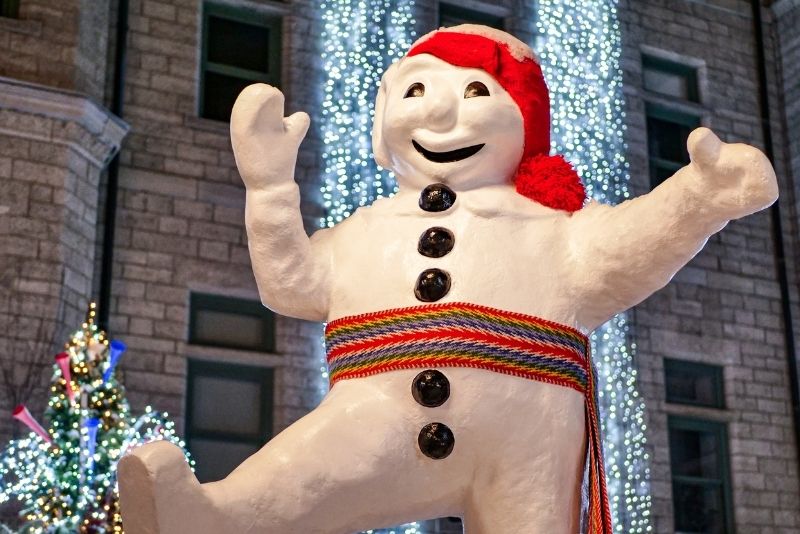 For anyone who really wants to get a taste of just how magical Canadian winters can truly be, the Quebec Winter Carnival is a necessary experience. This winter festival attracts tourists from all over the world, and for good reason.
See incredible ice sculptures, unique art exhibitions, and parades, and sample winter themed food and drinks the way they can only be made in Quebec.
50 – Go for the full thermal experience at a spa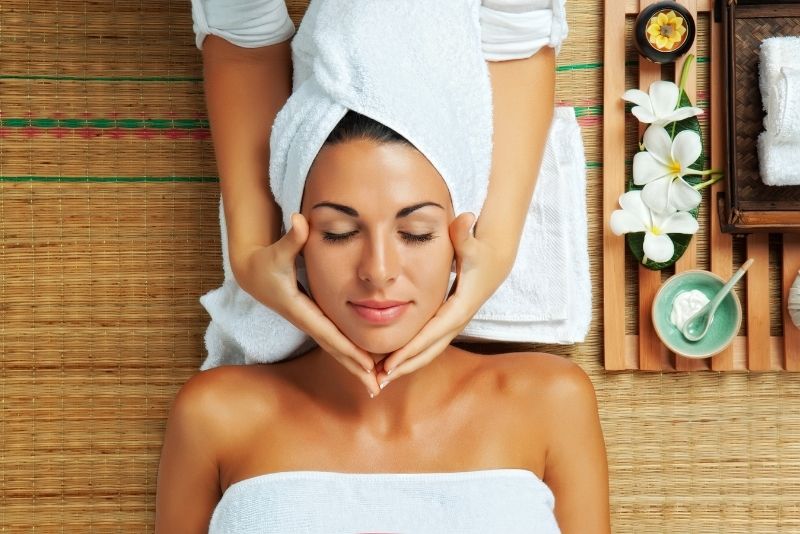 Like most major cities, Quebec City has a number of great spa options for tourists and locals to relax and unwind.
Strom Nordic Spa in Old Quebec, located right next to the Saint Lawrence River and one of the city's most popular spas, offers a relaxing thermal experience you won't want to miss.
Because of Quebec's unique temperatures and ecosystem, a lot of the spas in and around this northern city are winter-themed, meaning many combo packages include winter sports like ice canoe or snowmobiling.
Quebec City may have a reputation for being cold, but it's also full of beautiful buildings, delicious food, and fantastic people.
If you're considering taking a trip there, whether you're looking for luxury accommodations or budget-friendly options, there are many different options.
To reach the city in the most convenient way, make sure you book an airport transfer. Not only it'll help you save time and, but if you're traveling as a group, it can also be an economic option.
As always, stay safe and happy travels!