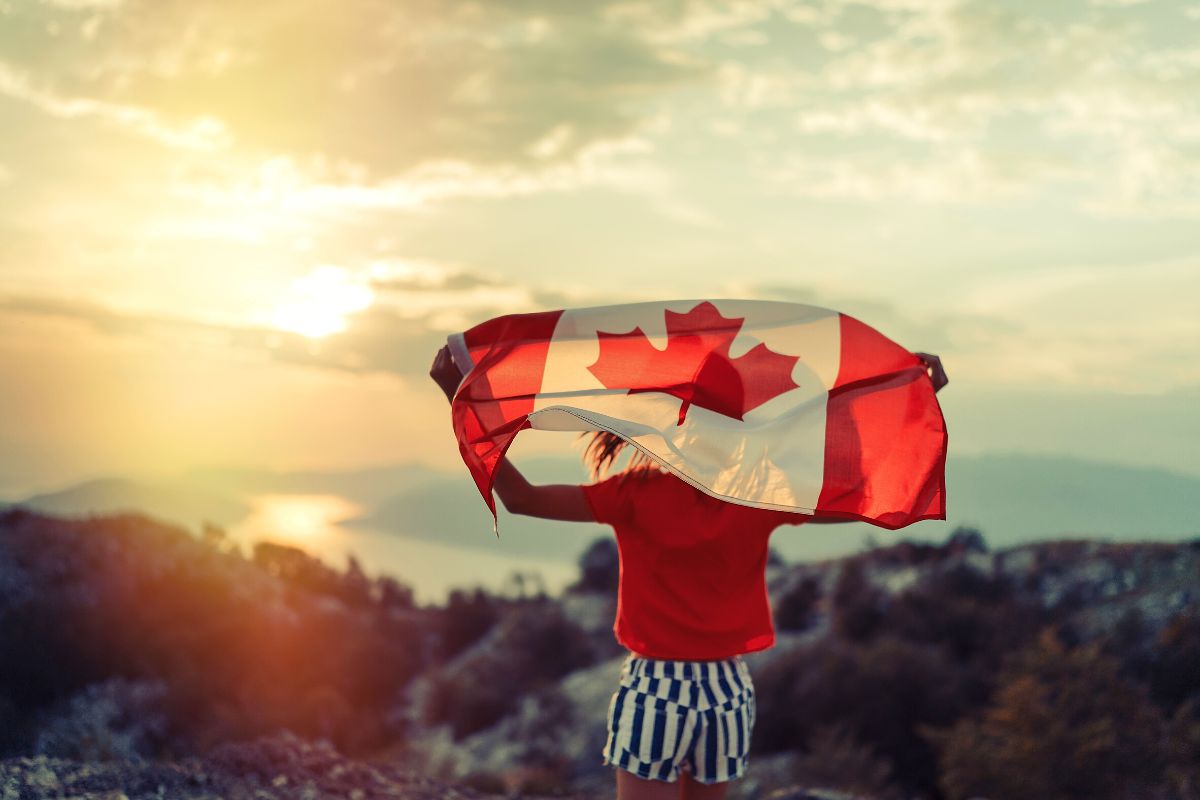 Oh, Canada.
It's no wonder that this country is beloved by visitors all over the world, with its stunning natural landscapes and unique, thriving cities.
From the ski slopes and rainforests of the West Coast to the fossils and cowboy towns of the plains, from wild polar bears up north to beautiful seaside towns out east, it is a place with more wonders and delights than can ever be seen in one visit.
It seems impossible to pick the best places to visit in Canada… but we gave it a shot.
Read on to discover hiking trails, winter wonderlands, thriving metropolises, and more!
1 – Banff National Park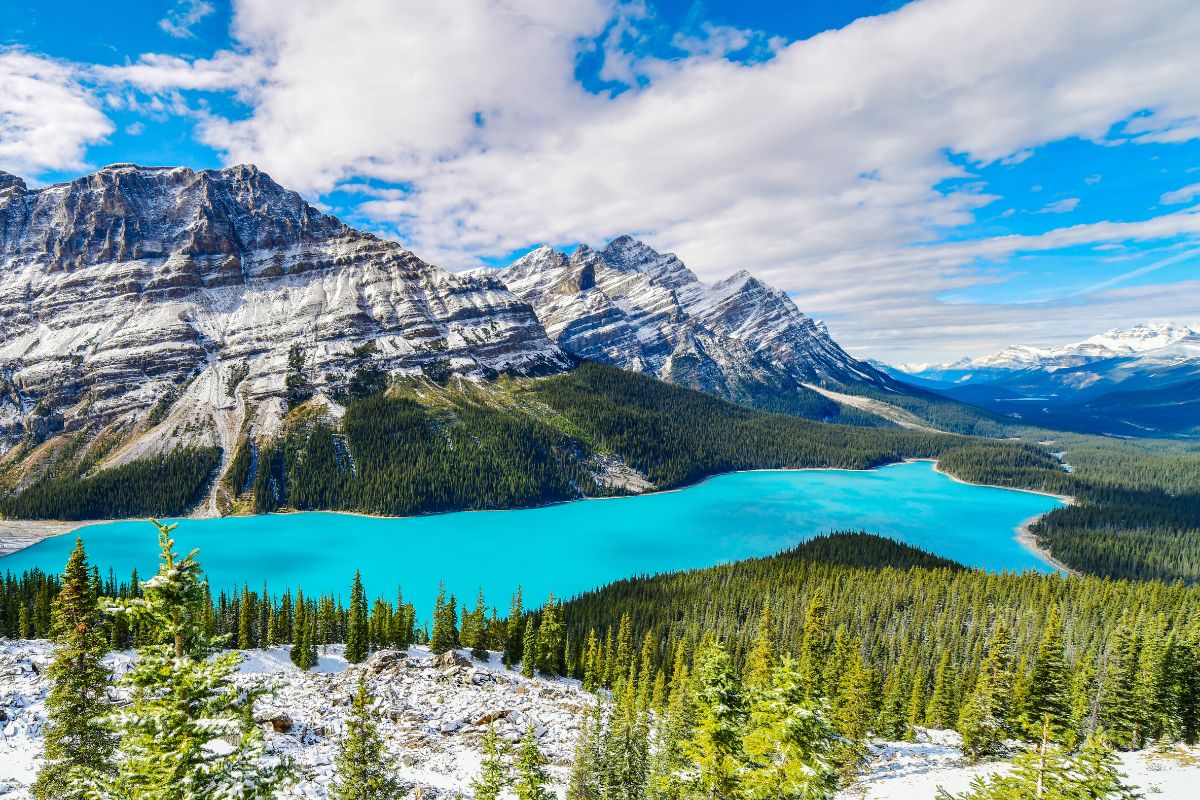 For outdoor lovers, there are few better places to go in Canada than the sparkling alpine wilderness of Banff National Park.
While the mountains and forests are stunning, it's the lakes that make Banff famous.
Whether you're admiring the crystal-clear waters of Lake Louise, gazing at the mountainous backdrop of Moraine Lake, or enjoying year-round sports and fun at Two-Jack Lake or Johnson Lake, you'll be enchanted by the water and its hold on the area.
You can also hike, fish, ski, raft, or ride horses through the stunning wilderness.
If animals are more your speed, take a wildlife-watching tour for a chance at spotting elk and grizzlies, then see some of their taxidermied counterparts at the Banff Park Museum National Historic Site.
And if you're looking for some more culturally-focused things to do in Banff, stop by the Buffalo Nations Luxton Museum to learn about local Indigenous tribes, or take a spin on the thrilling rides at Calaway Park.
There's no shortage of adventures to be had in this picturesque land.
2 – Drumheller, Alberta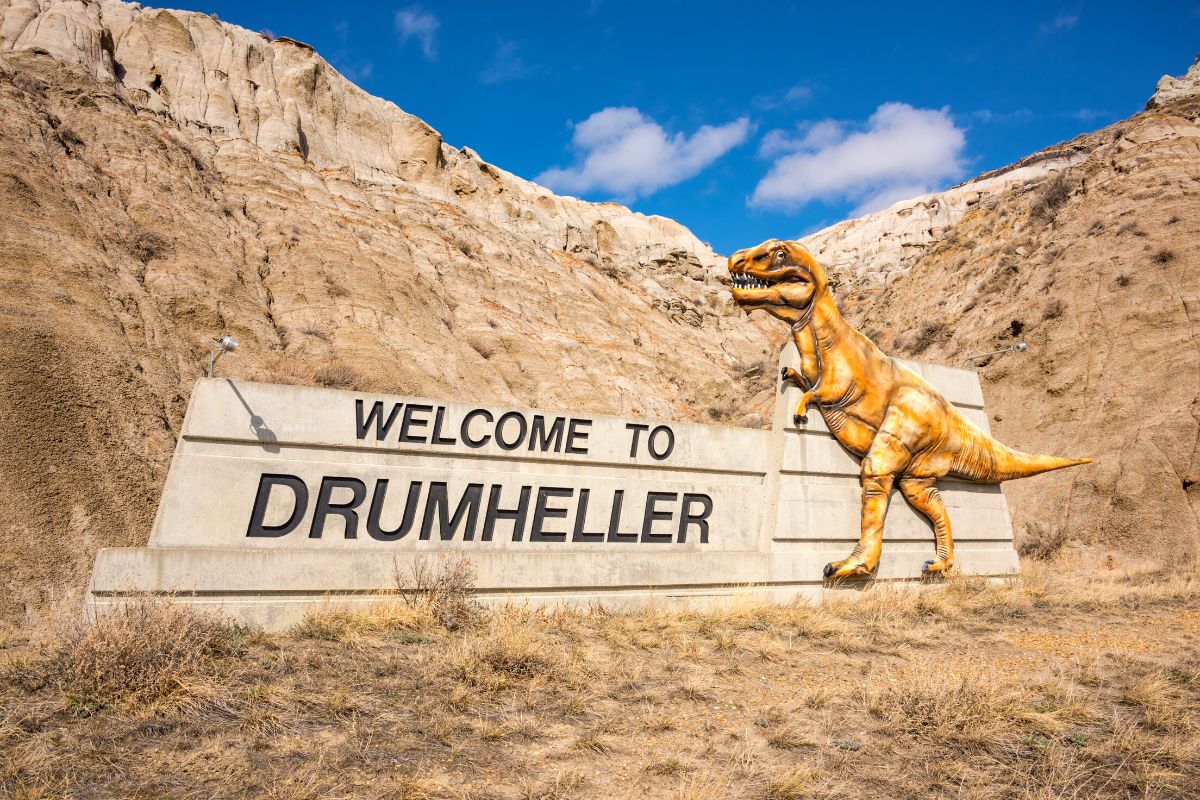 Hadrosaurs amble across the landscape, searching for plants and nesting areas.
Somewhere in the distance, an Albertosaurus – cousin to the T-Rex – utters its fearsome roar.
This may have been the daily scene in Alberta some 65 million years ago, but you can still see some remnants of it in Drumheller, known as "the dinosaur capital of the world."
The town earned its reputation due to its enormous concentration of fossils, many of which can be seen at the Royal Tyrrell Museum.
Get up close with well-preserved skeletons from various prehistoric eras, including triceratops, tyrannosaurus, and ichthyosaurs.
Afterwards, you can head into town to see more dino-themed delights, from fossil shops to souvenir stands.
Don't miss a photo op with the World's Largest Dinosaur, an 86-foot tall recreation of a Tyrannosaurus.
You can even climb a set of stairs to a viewpoint in its mouth!
And be sure to take some time to visit the other sites in town, including the creative play area of Rotary Spray Park and Fountain, the scenic boating paradise of Newcastle Beach, and a variety of beautiful hiking trails.
This beautiful town will satisfy the paleontology nerd in everyone!
3 – St. John's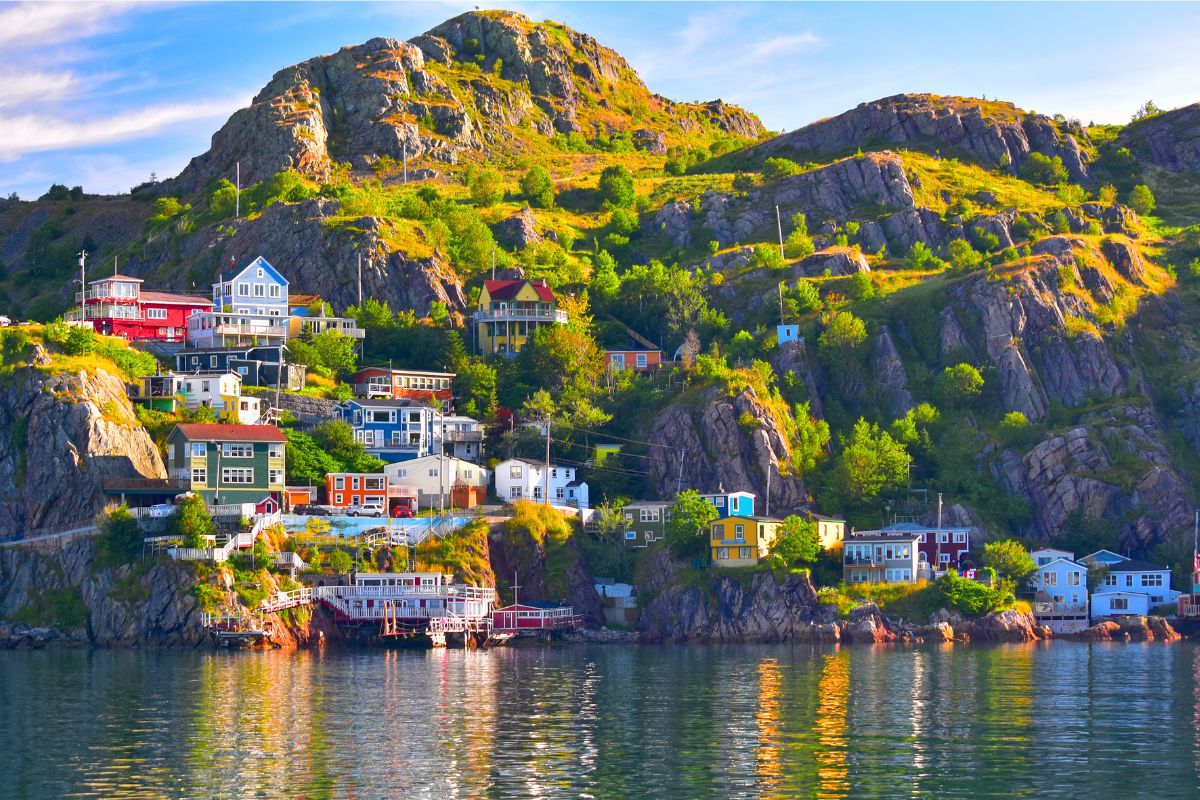 For a little bit of East Coast flavor, St. John's offers charm in spades.
It's not only the provincial capital of Newfoundland and Labrador, but also the most easterly city in the country.
Unsurprisingly for a town that's practically in the middle of the ocean, St. John's has a distinguished maritime history.
You can check out some of the beautiful ships in the harbor, then head over to the nearby restaurants, such as Saltwater Restaurant or Adelaide Oyster House – to sample some of the fresh catches.
But there's more to this charming port than fishing and shipping.
For starters, it has a lively arts scene, ranging from regular concerts and art gallery openings to live theater at Memorial University's Arts and Culture Center.
And hikers will be thrilled, with such solid options as the North Head Trail and the East Coast Trail to choose from.
History fans will enjoy Cabot Tower, an impressive structure built to celebrate the 400th anniversary of Newfoundland's discovery by Europeans, or The Rooms, a multipurpose community space that offers an impressive array of exhibits chronicling the area's past.
Or you can stroll along Jellybean Row to admire the multi-colored houses, which, true to their name, look like an upended box of candies with their many beautiful hues.
Enjoy the coastal atmosphere and charming mix of small-town and city life that St. John's has to offer!
4 – Montreal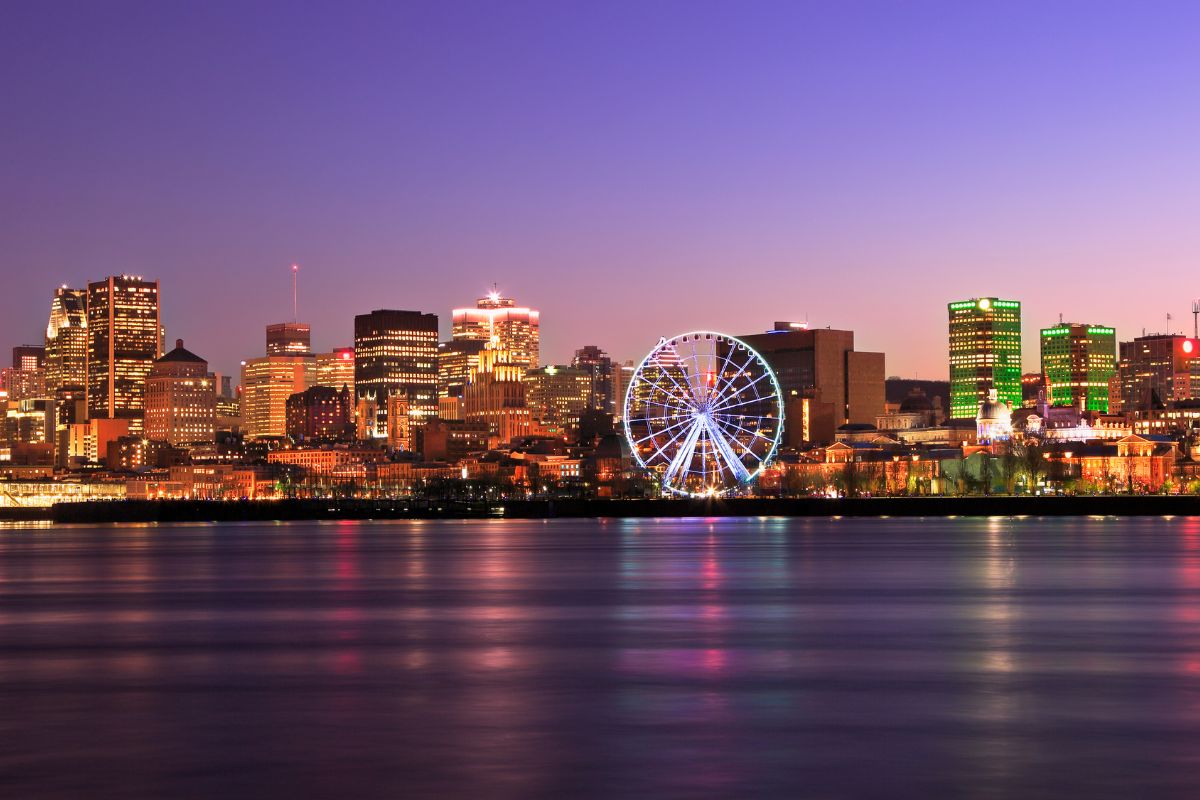 Brush up on your French lessons before heading to one of the crown jewels of Quebec.
Montreal has long been known as one of the most culturally dynamic places to go in Canada. There's no shortage of fun things to do in Montreal for those looking to explore a busy metropolis at length.
For festival enthusiasts, there's a near-constant lineup of massive events, from the iconic Montreal Jazz Festival to the side-splitting comedy of the Just For Laughs Festival.
Nature fans will love the Biosphere, a massive structure filled with perfectly recreated ecosystems, or the Insectarium, where you can get up close and personal with some beautiful bugs.
Museum lovers will thrill to the various institutions in town, including the tributes to the social history of Canadians at the McCord Museum, and the multidisciplinary exhibits at Redpath Museum, which are curated and presented by college students.
Arts aficionados will love catching live music at beloved venues such as Casa Del Popolo, hearing a performance at the Orchestre Symphonique de Montreal, or visiting the galleries of Musee d'Art Contemporain de Montreal.
And of course, like any big city, half the fun in Montreal comes from wandering through the unique neighborhoods.
Stroll the charming cobblestone avenues of Old Montreal, explore the diverse cultures of Mile End, or visit the many restaurants and shops of Saint Laurent Boulevard.
Throw in a mighty culinary scene (poutine galore!), ample day trips (Quebec City is a mere three hours away), and plenty of shopping and sporting opportunities, and you have a phenomenal vacation destination.
5 – Halifax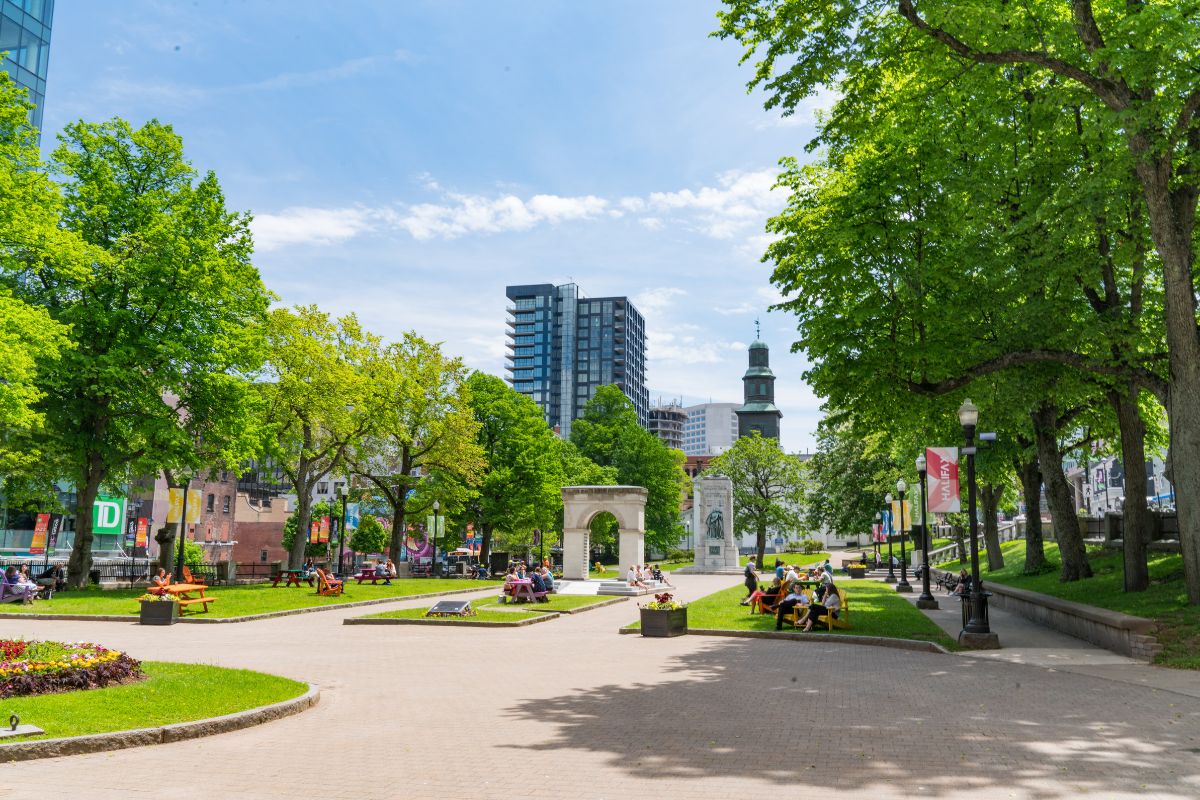 With its picturesque lighthouses and ever-rotating fleet of ships, Halifax has a well-earned status as a nautical destination.
But this delightful coastal town, which is also the capital of Nova Scotia has lots of attractions to offer.
Enjoy the healthy cultural life of the city's many galleries and performance spaces, including Eyelevel Artist-Run Center, which focuses on experimental projects.
Catch some avant-garde films at the FIN Atlantic International FIlm Festival, or see live local talent in action at Eastern Front Theatre.
Or head to the great outdoors to enjoy some of the city's many natural offerings.
Hike or bike on delightful shoreside trails, then head to the water for swimming, kayaking, or even catch a wave with East Coast Surf School.
While you can easily enjoy the town on your own, there are lots of excellent tours available. Head out on foot, or make the trip by bike, boat, or even Segway.
And if all of this exploring makes you hungry, there are plenty of excellent restaurants to try, with cuisine ranging from Caribbean to pastries to sandwiches – and, of course, plenty of fish.
Finally, taking a scenic drive along the coast or joining a whale-watching tour are unforgettable things to do in Halifax for nature lovers.
There's a wonderful blend of big-city offerings, small-town charm, and lots of great outdoor excursions to be found in Halifax, so pack your sailing gear and head over!
6 – Quebec City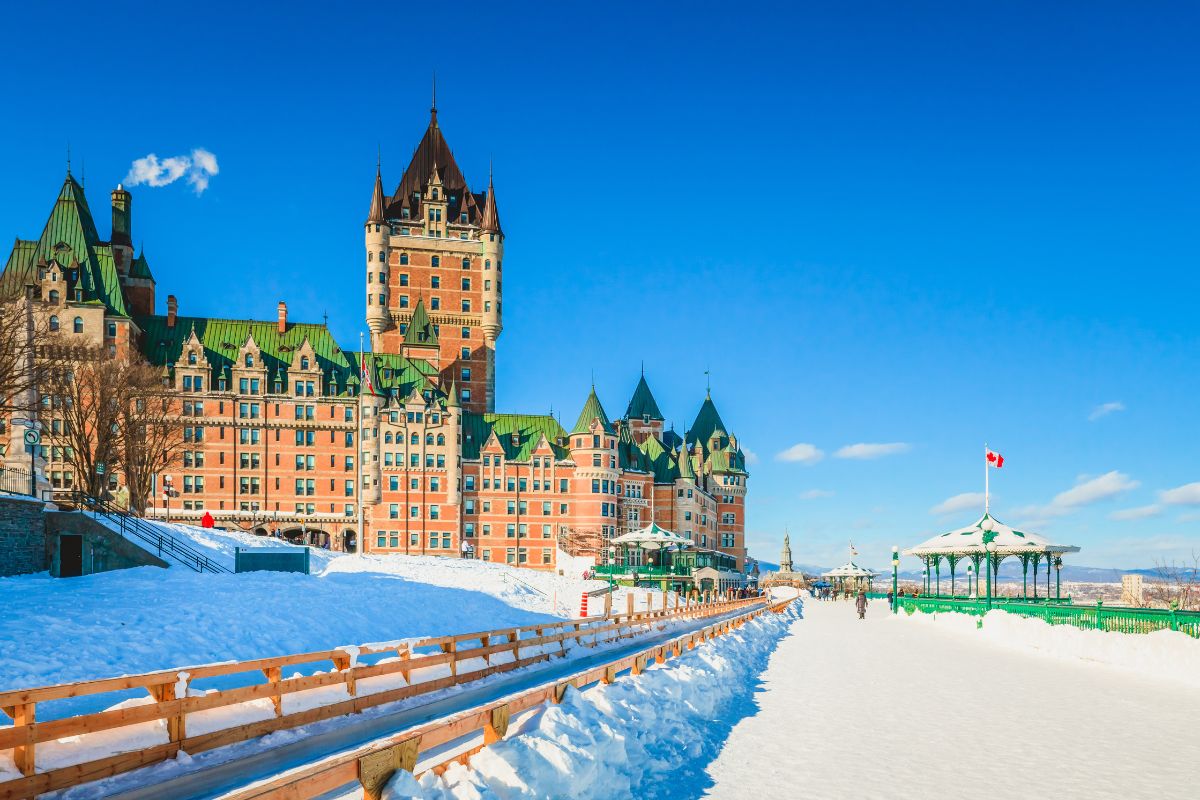 Just up the road from Montreal, Quebec's capital offers a rare mix of European and American culture that echoes that of its neighbor.
History is the main focus here, and you can spend an entire visit just exploring the different buildings and cultural areas.
Check out the classical  buildings and fortified walls of Old Quebec City, or dive deeper into the stories of the human race at Musee de la Civilisation, the local anthropology museum.
But there are tons of other wonderful things to do in Quebec, no matter your interest..
You can enjoy stunning views from the top of the Quebec City Capital Observatory, take in a world-class show at Theatre Capitole, or visit nearby Jacques-Cartier National Park to do some mountain biking.
And even by Canadian standards, the city goes all out for winter!
Take a dogsled team out for a run through the woods, or frolic in the snow, watch parades, and enjoy ice sculptures at the Quebec Winter Carnival, then bed down for the evening in the Ice Hotel, which is made entirely of, you guessed it, ice.
No matter the season, you can spend some time exploring the city's many creative activities, from escape rooms and haunted tours to scavenger hunts and library tours.
Don't miss out on this beautiful city and its plentiful offerings.
7 – Niagara Falls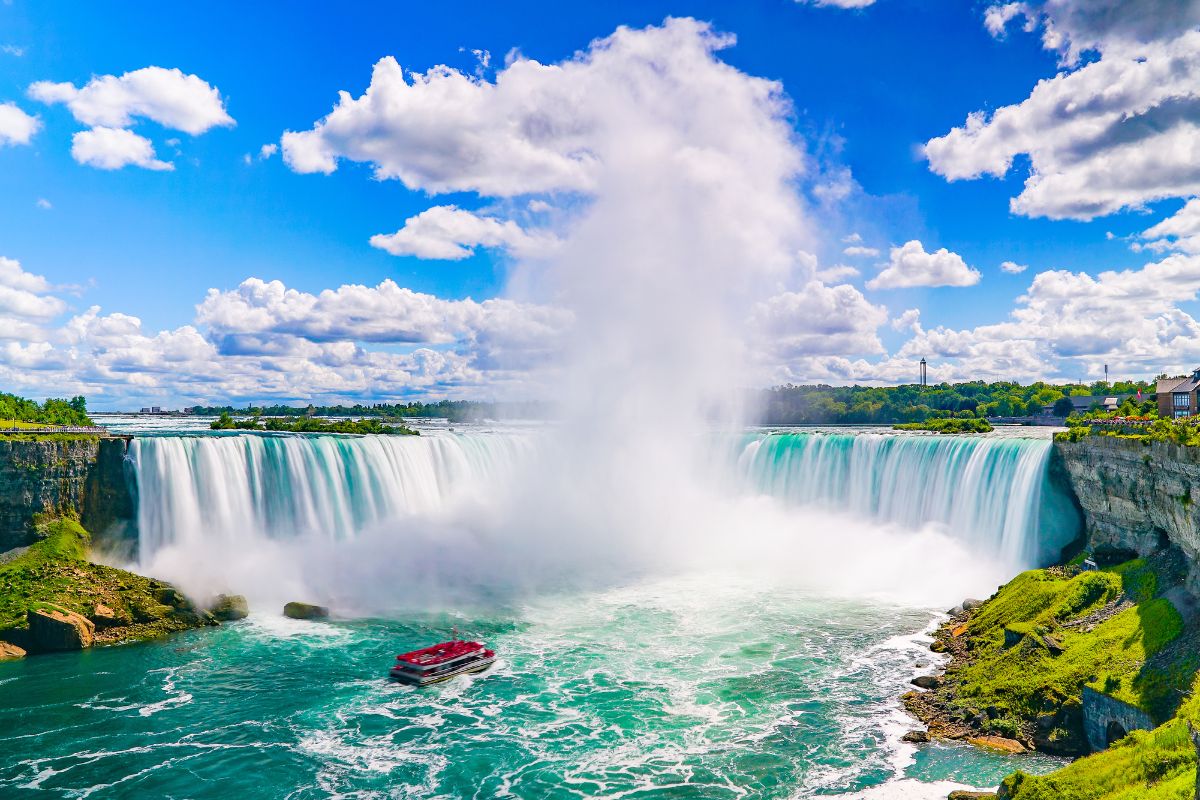 It's one of the most iconic tourist attractions in North America for a reason; with its beautiful, massive falls crashing down into the river, Niagara offers an incredible display.
But there are plenty of things to do in Niagara Falls besides seeing the water – although you should, of course.
Check out the lovely flowers and scenic vistas of Queen Victoria Park, or check out the wax museums, amusement park rides, and putt-putt courses at Clifton Hill.
Or take a stroll across the Rainbow Bridge, which connects the Canadian and American sides of the falls.
Of course, boat tours are some of the best ways to really appreciate the beauty of Niagara.
Hop aboard the famed Hornblower to go up to – and behind! – the falls, or embark on the Maid of the Mist for a day tour to both the Canadian and American sides of the park.
Book a night cruise to see another beautiful vantage point, with the city's neon dazzling and the falls themselves awash in colorful lights.
And if you'd prefer a really unique angle to view the scenery, consider taking a helicopter tour.
As you soar over the falls, you'll be treated to showstopping views of one of the world's great natural wonders, as well as the landmarks on each side.
It will be an unforgettable experience!
8 – Vancouver Island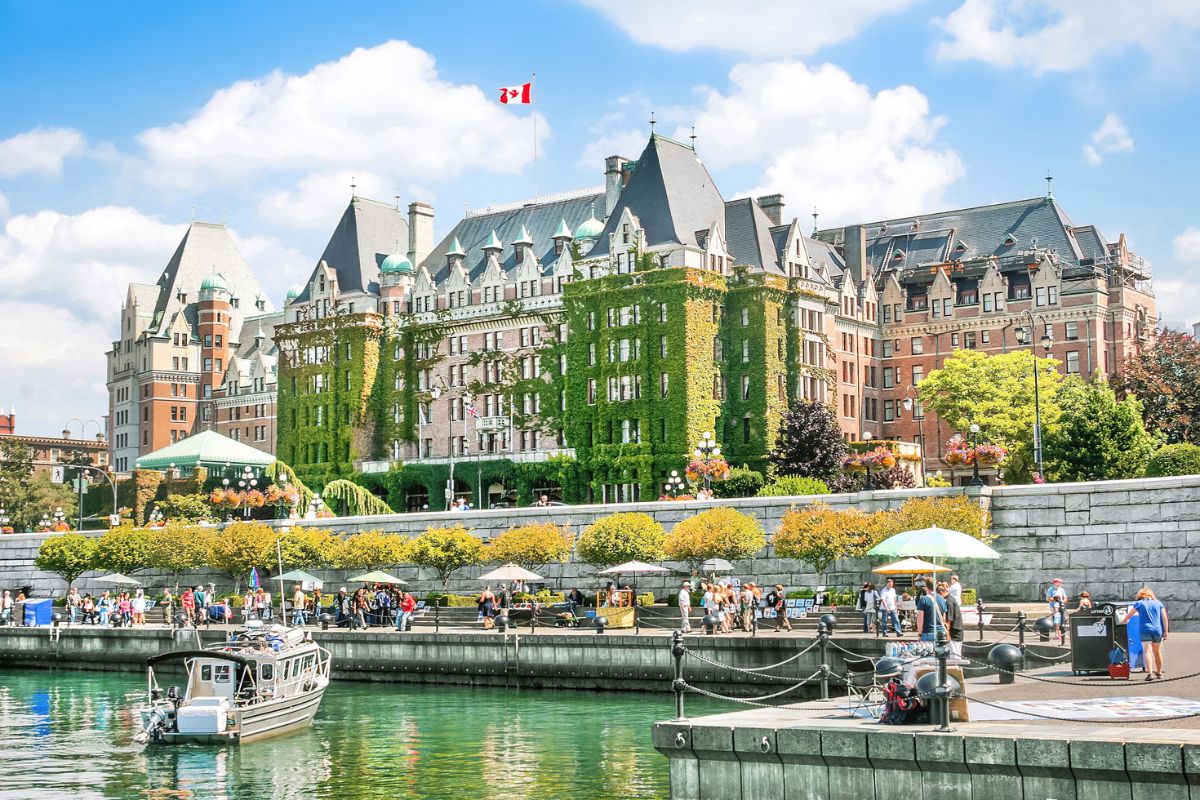 Two hours from the city of Vancouver, and just off the coast of British Columbia, Vancouver Island's striking natural beauty is only matched by its unique cultural offerings.
At the Royal BC Museum, you can learn all about British Columbia's long and exciting history, from the early days of prehistoric beasts to the daily lives of various Indigneous tribes, all the way through the rise of the lumber and shipping industries.
Or you can head out for a day on the water or on the trails at such scenic spots as Elk Falls Provincial Park and Pacific Rim National Park.
And while you're seeing all the sights that the island has to offer, don't miss a trip to Tofino.
This charming village is located in the Clayoquot Sound Biosphere Region, itself a world-class destination.
As you wander the area,  you may suddenly find yourself deep in a peaceful patch of woods, or standing on a beautiful beach as the tide rolls in.
It's all part of the wonderful experience of the area, which teems with life in overlapping environments.
Back in town, you can visit one of three nature interpretation centers to learn more about the unique ecosystem around you, or learn more about the local Indgenous cultures at the House of Himwitsa First Nations Gallery.
Throw in shopping, dining, and plenty of surfing opportunities, and you have an underrated destination that punches way above its weight class.
This is one island you won't mind being stranded on!
9 – Toronto
From its world-renowned skyline to its internationally renowned sports and art scenes, Toronto is one of Canada's most beloved cities for a reason.
No matter what type of vacation you want, you'll be able to find it here.
From the delicious cuisine at Kensington Market to the interactive thrills at the Hockey Hall of Fame, from live shows in the Entertainment District to unique movies at the Toronto International Film Festival, there's no shortage of options to explore.
Check out the thousands of works on display at the Art Gallery of Ontario, or wander past the vibrant murals of Graffiti Alley.
Sample beers or wines with expertly curated tours, or stop by Ripley's Aquarium of Canada to catch a glimpse of some truly dynamic sealife.
For more unusual excursions, try the Museum of Illusions, whose galleries are designed to playfully warp your brain, or the Bata Shoe Museum, which features an eclectic collection of footwear.
As you view the skyline from the top of the CN Tower, you'll be sure to fall in love with the city all over again.
With so many things to do in Toronto, one visit will never be enough!
10 – Ottawa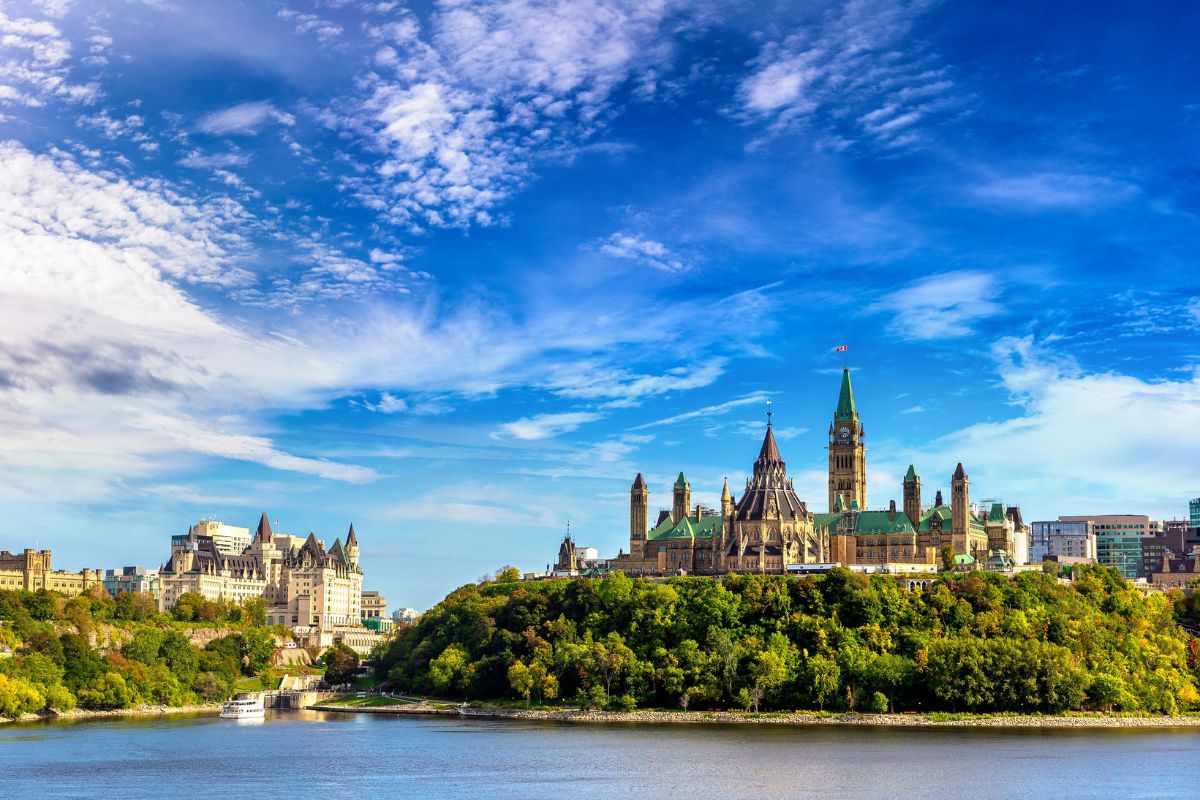 While the country's capital may not always get the same attention as it's more famous neighbors, it boasts a whole variety of amenities for travelers.
If you like museums, you'll be in paradise, with such unique and excellent institutions as the Canadian War Museum and the Bank of Canada Museum.
Are outdoorsy things more your style? Try the beautiful local parks such as Gatineau Park and Confederation Park.
And if you're looking for unusual experiences, try seeing the city with an interactive scavenger hunt, or take a ride on Interzip – the only zip line between two Canadian provinces!
With political tourism, farmer's markets, and fun galore, you'll never run out of things to do in Ottawa.
11 – Churchill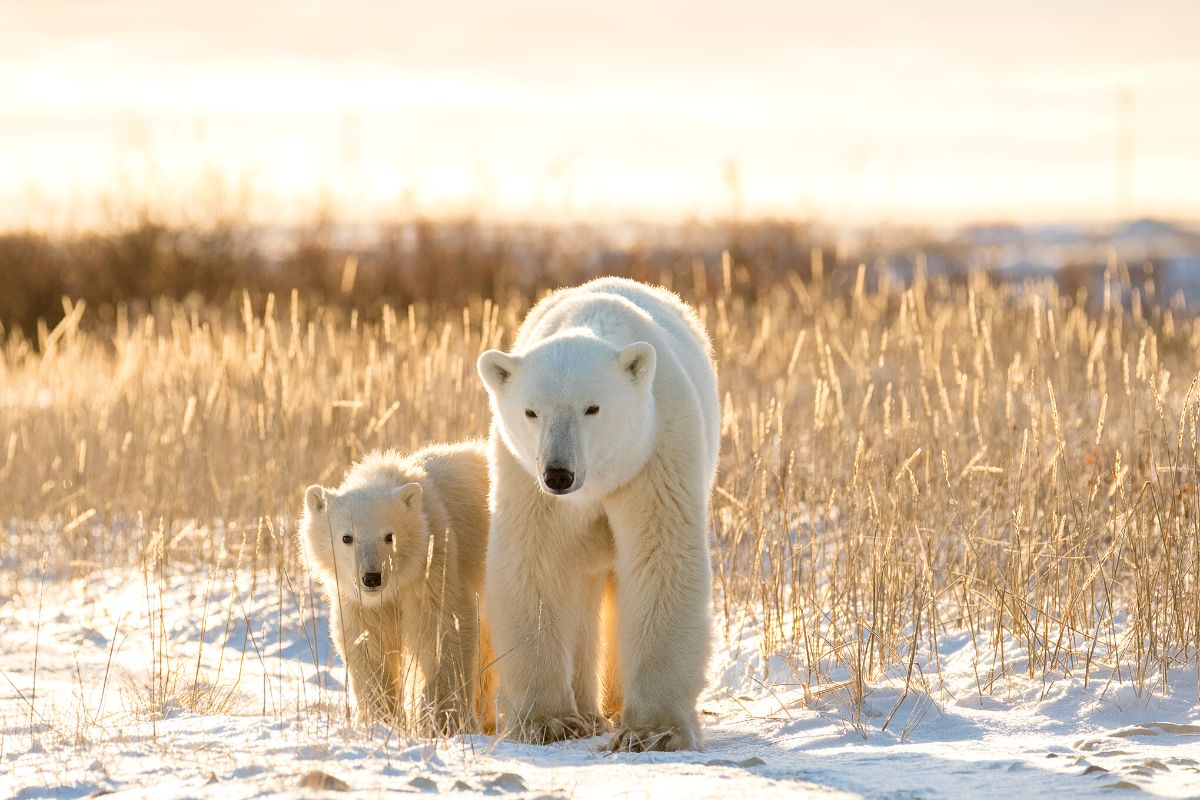 The dinosaur capital of the world is great, but it's not the only town in Canada that boasts some impressive creatures.
If you visit the "polar bear capital of the world" – Churchill, Manitoba – you'll see some more modern-day giants.
In the vast, open plains, you'll easily be able to spot these magnificent Arctic predators as they roam the land, searching for food.
Once you've seen these fantastic animals in action, head to the water for a beluga tour, spend some time bird-watching, or go out in the evening to watch the spectacular Northern Lights rippling across the sky.
Don't miss the chance to see some truly wild landscapes, and their beautiful inhabitants one of the best places to visit in Canada for animal lovers.
12 – Jasper National Park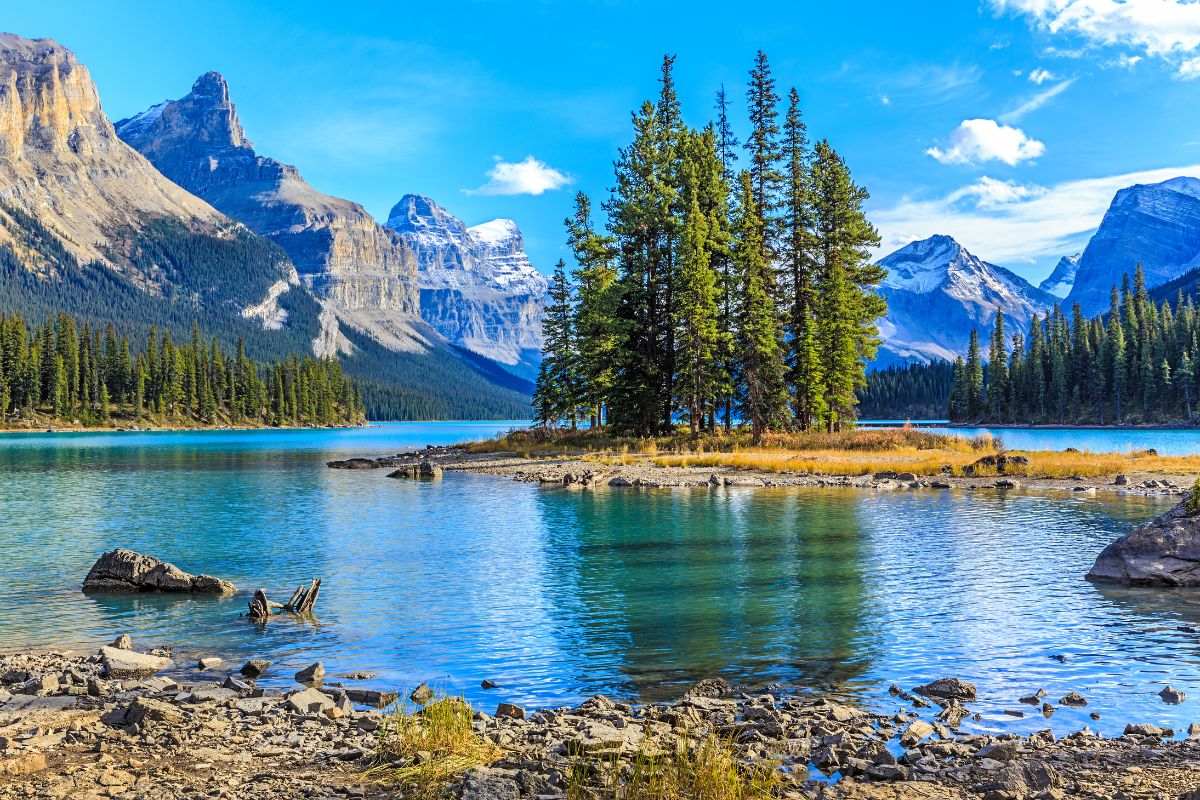 Much like nearby Banff, Jasper National Park is chock full of natural wonders and great adventures for outdoor enthusiasts – one of the best places to visit in Canada for nature seekers.
See the stunning Athabasca Glacier up close, or admire the pure waters of Medicine Lake, Beauvert Lake, and Pyramid Lake.
While the park is the main attraction, there are plenty of things to do in Jasper as well.
This quaint little town is the place to go for great art (Our Native Land offers wonderful works by Indigneous artists), compelling history (the Canadian National Railway Station reflects the region's transportation background), and unwinding at the many excellent spas around town.
With so many adventures to be had in Jasper National Park and the surrounding area, you'll immediately want to book a return visit!
13 – Waterton Lakes National Park of Canada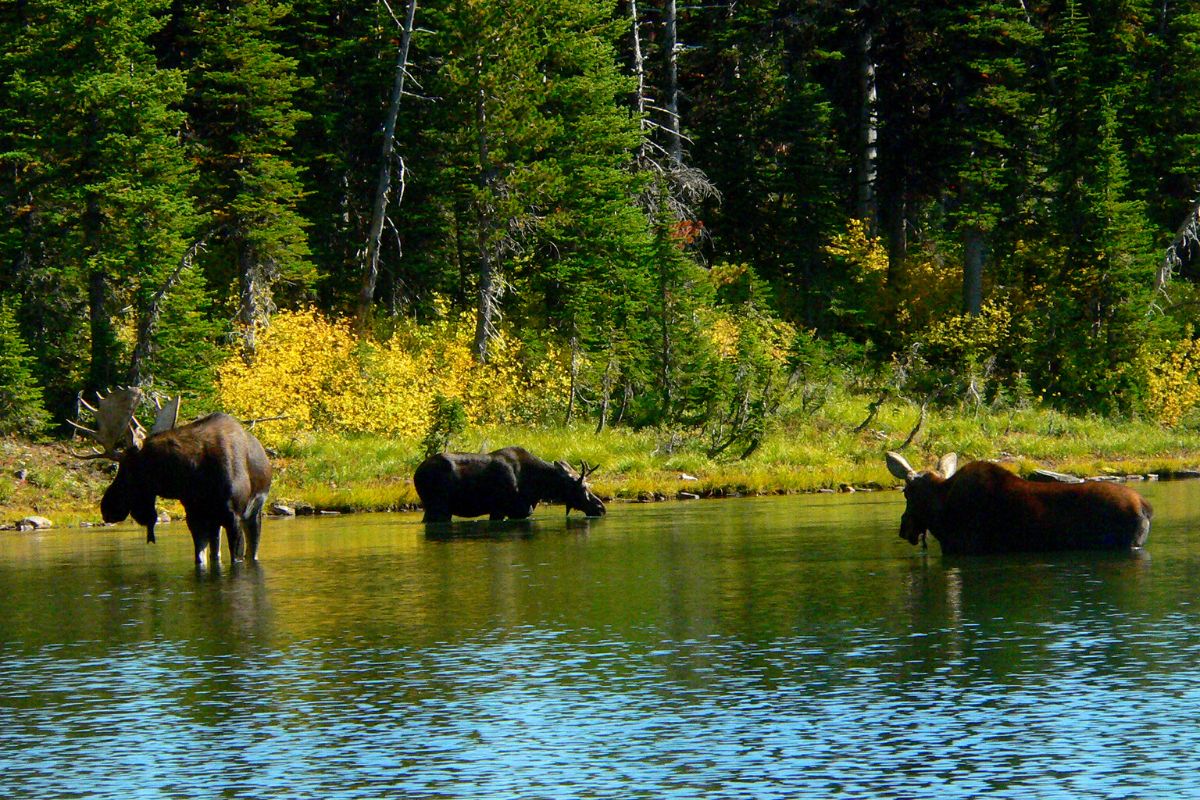 This 195 square mile gem, which is nestled between Alberta and the Rockies, packs a huge punch despite its relatively small size.
Geology enthusiasts will especially love the area; in addition to the mountains themselves, there are an abundance of vividly colored rocks, as well as ample opportunities to see some of the oldest exposed sediment in the area.
Waterton Lakes National Park is also a haven for wildflower fans, with hundreds of species blooming every spring.
And if bear-watching is on your list, this is the park to visit; grizzlies and black bears can frequently be spotted feeding and loafing along the lakeshores.
It's an underrated place with beauty to spare!
14 – Mont-Tremblant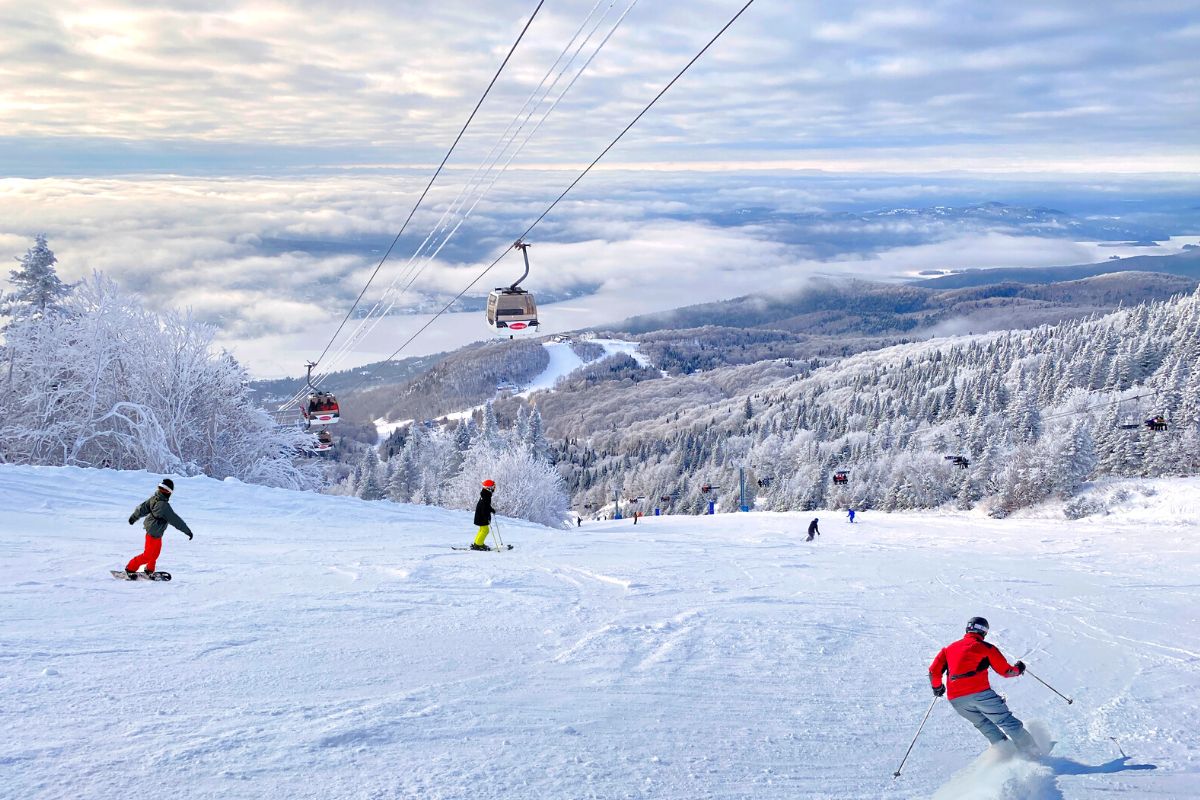 Another charming piece of Europe in the Great White North, Mont-Tremblant is a thriving cultural hub.
You can enjoy contemporary works by renowned artists at the Public Space of Mont-Tremblant, a beautiful town square, or catch one of the many free concerts that take place around town throughout the year.
If you're visiting in the summer, be sure to stop by the Summer Market to browse through some of the freshest produce, finest meats, and best-crafted artisan goods from around the region.
During the winter, Mont-Tremblant is one of the best places in Canada for skiing; head to the nearby mountain for some excellent slopes, or hit the nearby trails for cross-country skiing or snowshoeing.
If you're an adrenaline junkie, be sure to check out the snowparks, where you can test your snowboarding skills on some top-notch courses.
And regardless of the season, don't miss out on the range of unique opportunities available around town, from public art tours to canoeing trails.
You can wind down from all of these adventures with boutique shopping and diverse dining options.
With a lively atmosphere and celebrations galore, this idyllic town will keep you entertained for eons.
15 – Cape Breton Highlands National Park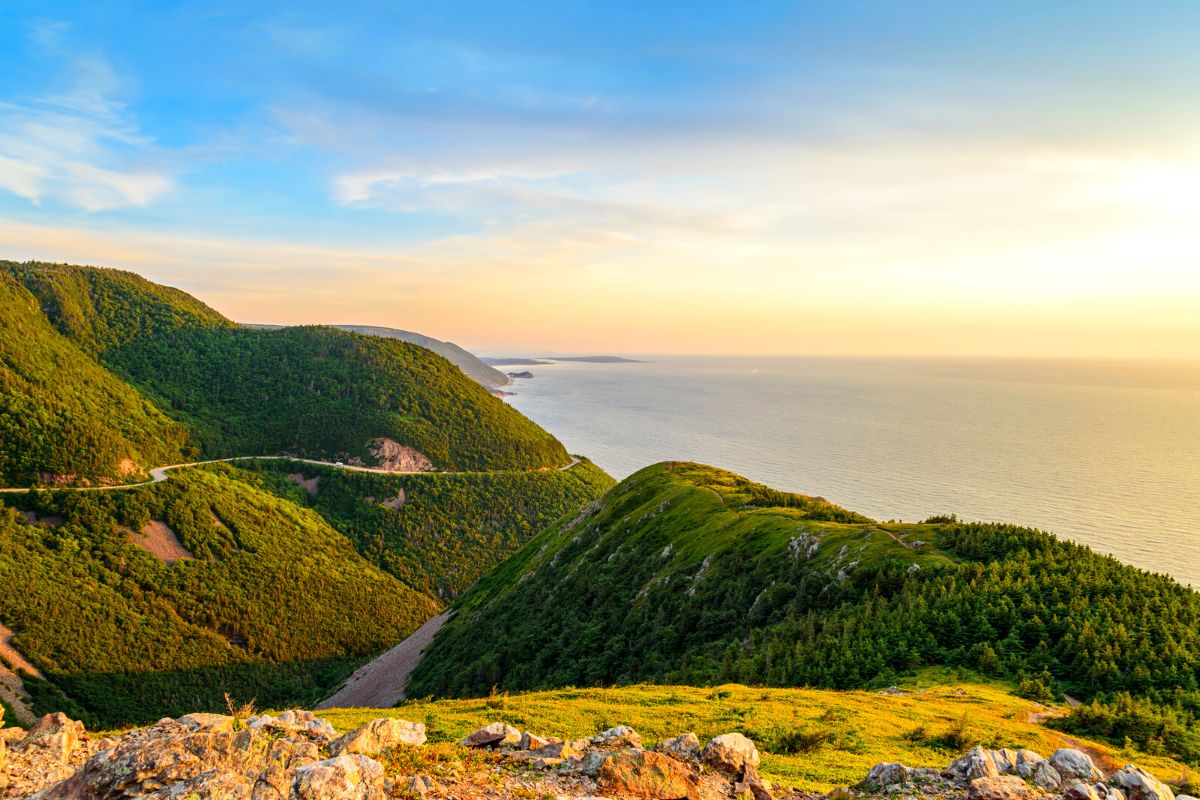 From the mountains to the sea, Cape Breton Highlands offers stunning scenery.
The best way to see it all is by hiking, and the park offers dozens of trails that are suitable for every interest level.
If you prefer to drive, cruise along the iconic Cabot Trail, a popular road that winds along the coast and through the beautiful vistas within the park itself.
Along the way, you may spot some of the local wildlife, such as bald eagles, red-tailed hawks, black bears, and even moose.
But it's well worth taking to the water as well, where you can fish for Atlantic salmon or speckled trout.
You can go even further if you rent a kayak, exploring the gentle waves and bays of the sea up close.
Keep an eye out for breaching whales!
This beautiful conjunction of land and sea makes for a memorable vacation spot.
16 – Whistler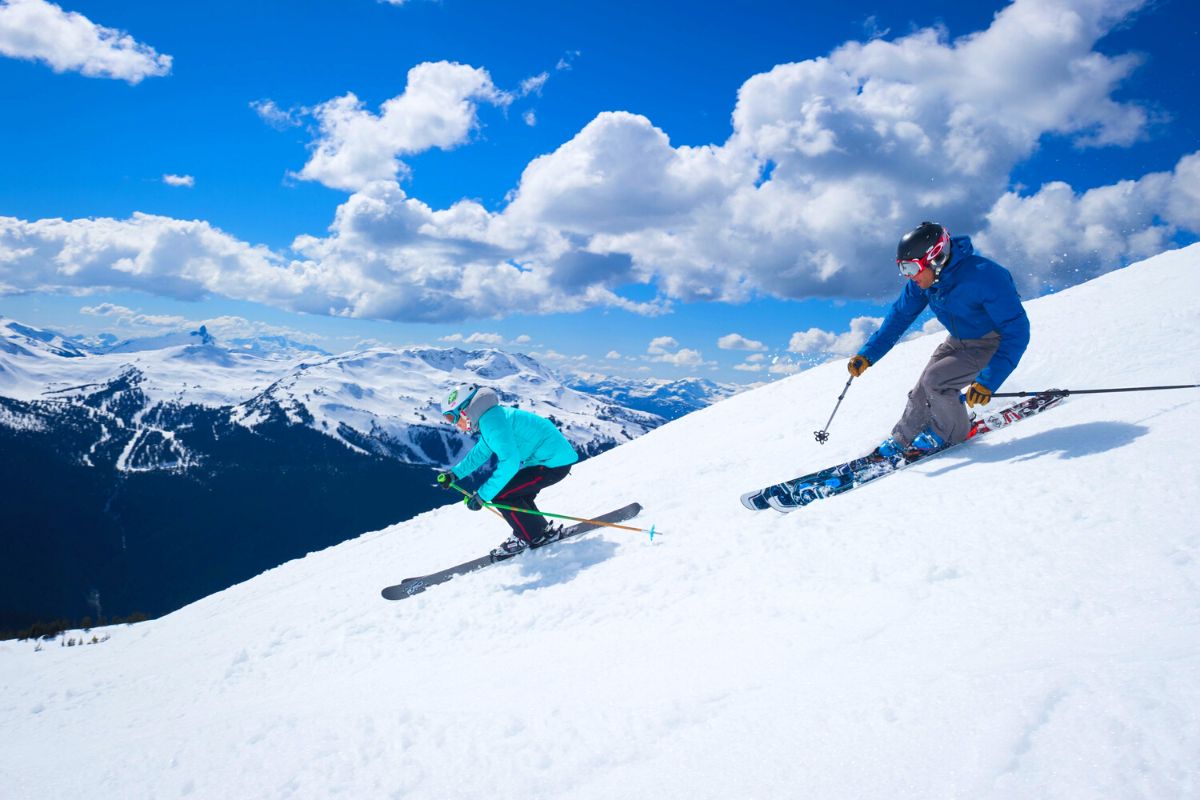 When you think of Whistler, you almost certainly think of skiing.
And it's true that the slopes here are phenomenal, with Blackcomb Mountain and Whistler Mountain offering world-famous courses and stunning terrain.
But there are plenty of other things to do in Whistler no matter what the snow levels are.
You can stop by the free summer concert series at Whistler Olympic Plaza, sample some delicious meals at the Spring Culinary Series, or thrill to the bicycle stunts at Crankworx Whistler.
Don't miss this winter wonderland or its summer splendor!
17 – Calgary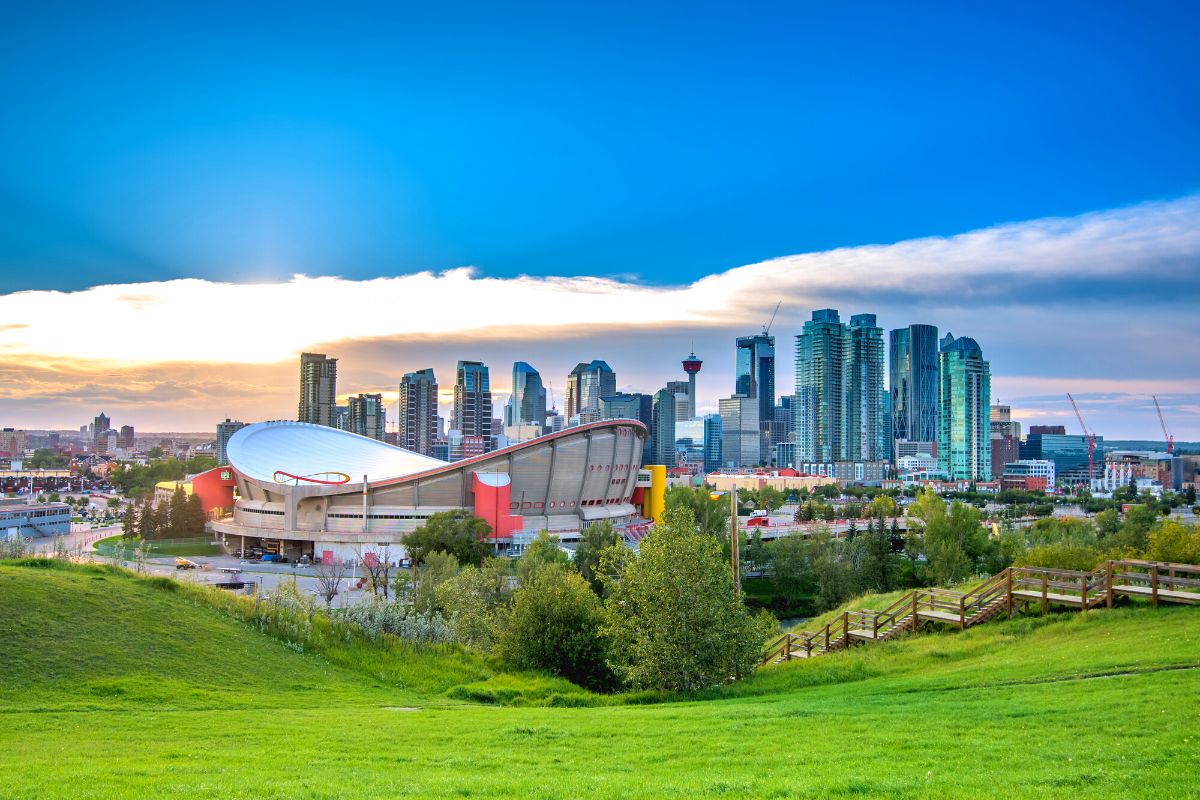 Calgary has long been famous for one thing: the Calgary Stampede. This massive rodeo draws contestants and attendees from all over the world.
But there's a lot more things to do in Calgary than cattle roping!
Explore the massive caverns of Canmore Caves, or jam out to the musical exhibitions at Studio Bell.
Stop by the Scotiabank Saddledome to watch a hockey game, or dive into a world of discovery at the TELUS Spark Science Center.
Visit Heritage Park Historical Village to experience a day in the Old West, or enjoy the fleet of vintage cars at Gasoline Alley.
For a slightly wilder day, take on the rollercoasters at Calaway Park, or race your loved ones in a round of downhill karting.
Or just sit back and relax on a scenic tour in a pretty unique vehicle – a motorcycle sidecar!
And of course, if you're in town in July, you really should catch some of the Stampede – it's famous for a reason, after all.
This wild, wonderful town is full of surprises.
18 – Canada theme parks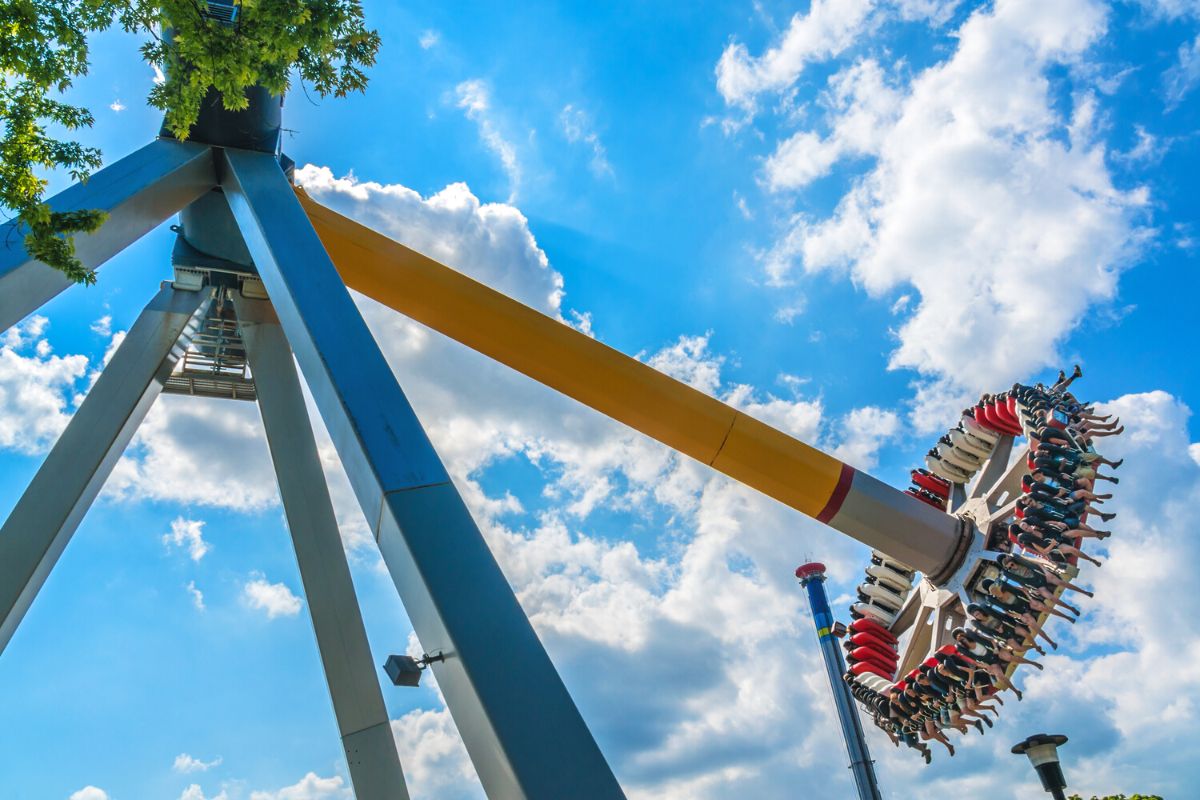 Looking for the best places to visit in Canada with kids?
Canada is a famous destination not only for outdoor activities and incredible natural sights but also for thrilling and fun rides. Check out the best theme parks in Canada to complete your adventures in this vast and diverse land.
Make sure to experience Canada's Wonderland in Ontario, the country's largest theme park with over 200 rides! You can easily spend a day riding the 17 roller coasters, especially when you can't get enough of the Yukon Striker, Leviathan and Behemoth — for the maximum thrill level!
Canada's Wonderland also has two children's playgrounds and Splash Works water park, home to the White Water Bay outdoor wave pool.
Can't get enough water fun? Head to Canada's largest wave pool at Calypso Waterpark in Ottawa! Calypso is suitable for youngsters and adults, with more than 30 slides, two themed rivers and 100 water games. Brave the tallest waterslide tower in Canada, known as Summit Tower which stands at over 90 feet tall!
As you explore the east of the country, pack in as many thrill rides as you can and visit La Ronde, the largest theme park in Quebec. Thrill-seekers can get their adrenaline fix on the Boomerang roller coaster, Titan pendulum and Demon carousel to name but a few.
19 – Okanagan Valley
Does a trip filled with wine tastings, scenic vistas, and unique wildlife sound appealing?
Then add the Okanagan Valley to your travel list, one of the best places to visit in Canada for wine lovers.
Located in British Columbia, this picturesque and adventurous area boasts a variety of delightful festivals, plus great outdoor sports all year round.
Take a ride on the scenic Kettle Valley Steam Train, a historic vehicle that will take you through some of the best vistas in the valley.
Or traverse some of that same terrain on scenic trails.
And don't miss the wonders of Osoyoos, the only desert in the entire country.
Keep an eye out for scorpions, rattlesnakes, and the Great Basin spadefoot toad, which only lives in this unique region.
Looking for a nice little spot to use as a homebase for all of these adventures?
Kelowna, a town of 143,000, combines nature and culture for a thriving city that is a wonderful vacation destination.
The vineyards in the area are top-notch, and you can book a variety of tours that combine delicious tasting sessions with great views of the surrounding land.
Try the West Kelowna Wine Trail, where you'll move between five different wineries packed with unique history and irresistible beverages.
And each tour company offers its own unique spin on the trip; for instance, Metropolis Wine Tours invites guests to come in costume!
Once you're done sampling wines, you can enjoy some of the many other amenities in town.
Stroll along Okanagan Lake, catch a show at the Kelowna Community Theater, tee off on the nearby golf courses, or stop by the many fine dining establishments in the area.
It's the perfect place to stay and play while you explore the wonderful valley!
20 – Vancouver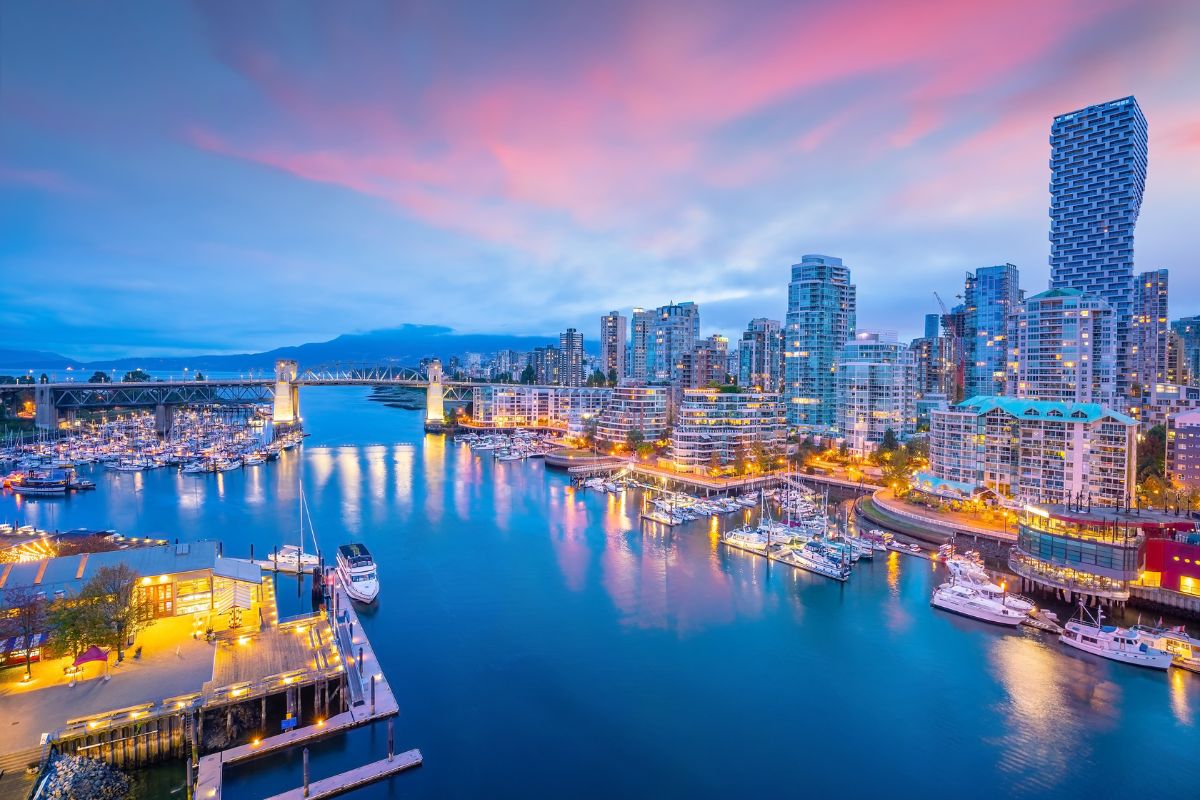 As the biggest city on Canada's west coast, there's no shortage of exciting things to do in Vancouver.
Situated between the mountains and the Pacific Ocean, its natural beauty is perfectly complemented by its many cultural offerings.
Get a fantastic view of the city and the surrounding natural areas from the 550-foot Vancouver Lookout, or listen to an incredible program by the Vancouver Symphony Orchestra.
Check out the latest programming at the Vancouver Convention Center, or try out the delicious, globally-inspired dishes in some of the city's most beloved neighborhoods with a food tour.
Explore the city's seedier past on a "forbidden walking tour," or trek into the wilderness with a hike to Shannon Falls.
And don't miss the chance to take a whale-watching cruise, where you can search for humpbacks, orcas, and gray whales, all in the company of a knowledgeable guide.
In addition to spotting these magnificent creatures in their native habitat, you may catch a glimpse of some of the other local animals, such as seals and porpoises.
There are endless options for an adventurous trip to the city, so start planning!
21 – Whitehorse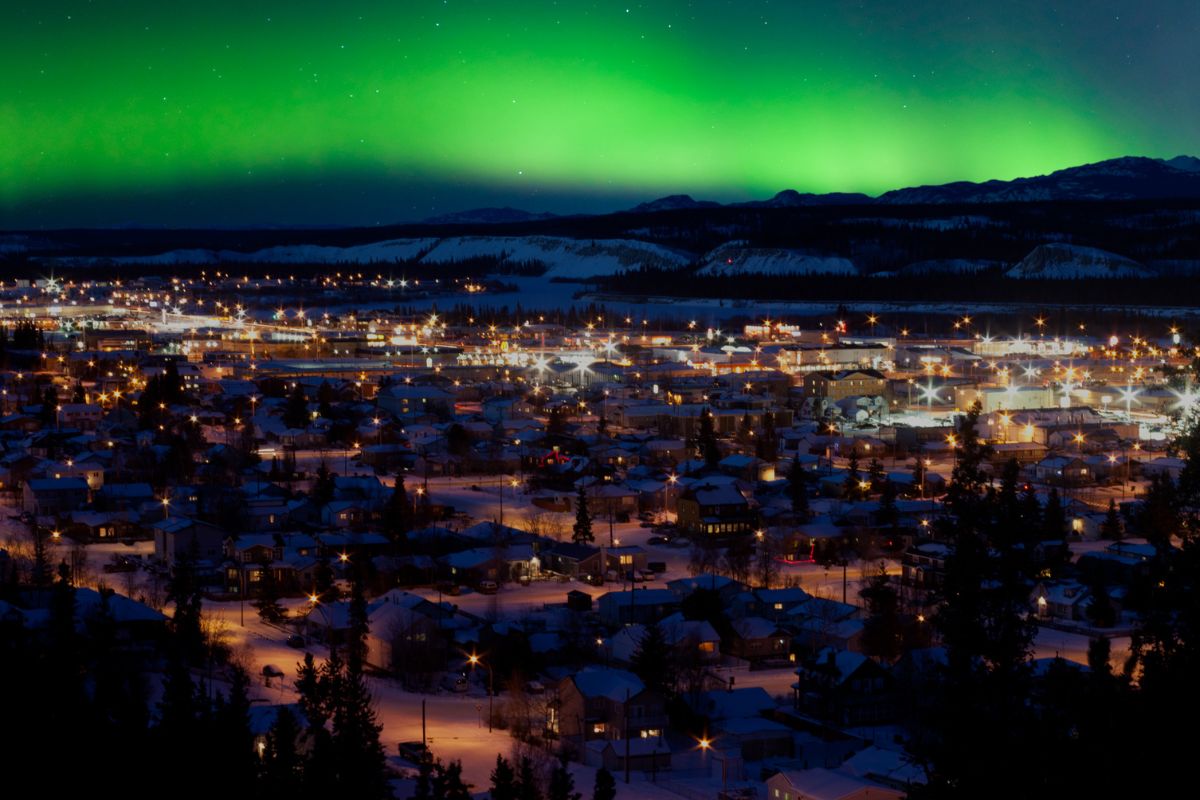 When you think of Canada, you probably picture snow-capped mountains, open spaces, outdoor adventures, and bracingly cold temperatures.
While Whitehorse doesn't quite fit the bill, it comes pretty darn close!
Nestled up in the Yukon, this capital city is surrounded by strikingly rugged wilderness, and boasts a unique history of its own.
Head out into the forests and mountains to explore such classic routes as Spirit Canyon, with striking mountain views, beautiful wildflowers, and potential animal sightings all throughout the canyon.
Or head to the nearby rivers for some whitewater rafting, which combines thrilling rapids with breathtaking views of the rugged scenery. Keep an eye out for wildlife as you paddle!
And in the winter, you can ski, snowmobile, and even take a dog sled out into the beautiful snowy landscapes.
Winter is also the best time to catch a glimpse of the iconic Northern Lights dancing across the night sky, so bundle up and prepare to be dazzled!
Back in town, you can dive into the region's history as a mining hub, as well as home to a variety of Indigenous cultures.
Be sure to check out the Kwanlin Dun Cultural Center to explore the stories of the area's earliest residents, and the MacBride Museum of Yukon History, which features several artifacts from the Gold Rush era.
In recent years, Whitehorse has also become known as a creative hub, with a thriving theater scene, plenty of public artworks, and the beloved Arts In The Park concerts.
This is the town to see if you want a comprehensive Klondike experience!
22 – Winnipeg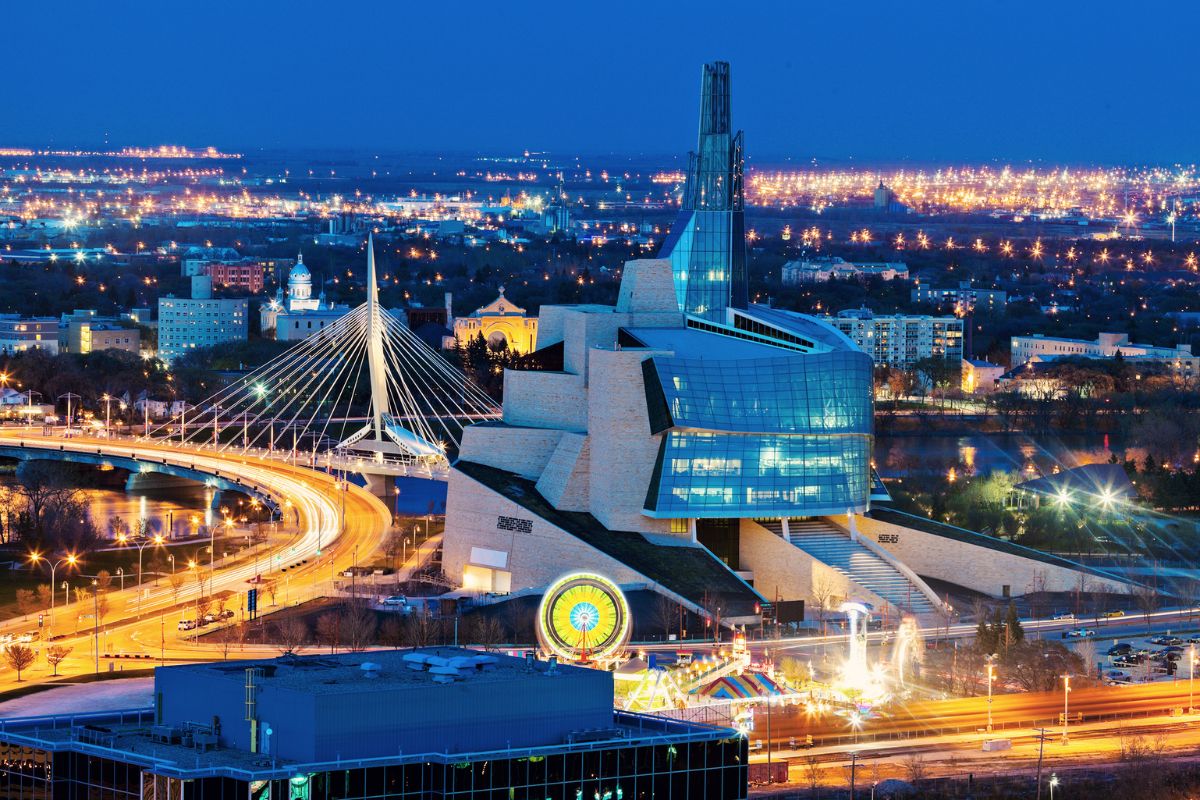 Want to see a Shakespeare play performed in the ruins of an old monastery?
How about exploring the history of human rights movements across the world – and learning what you can do to help?
Maybe you'd rather meet some unusual animals, or search for clues to a centuries-old puzzle in the architecture of a political building.
All of those things – and many more exciting activities – await you in Winnipeg, the capital of the Manitoba province.
The city hums with creative energy, beautiful parks, and fascinating attractions that speak to its long cosmopolitan history.
Shakespeare in the Ruins is one of many beloved festivals that take place throughout the year, offering unique twists on the classic shows in a beautiful environment.
The Canadian Museum for Human Rights, with its distinctive architectural style and 11 exhibits themed around different struggles for peace, is a thought-provoking and powerful space to visit.
Assiniboine Park, which houses over 150 species at its renowned zoo, also features live music, a massive botanical garden, and beautiful sculptures for visitors to enjoy.
And with the Hermetic Code Tour of the Manitoba Legislative Building, you'll spend time exploring the hidden symbols and codes that are tucked throughout the architecture.
These are just some of the many fascinating experiences that you can try in Winnipeg, so start exploring!
23 – Gros Morne National Park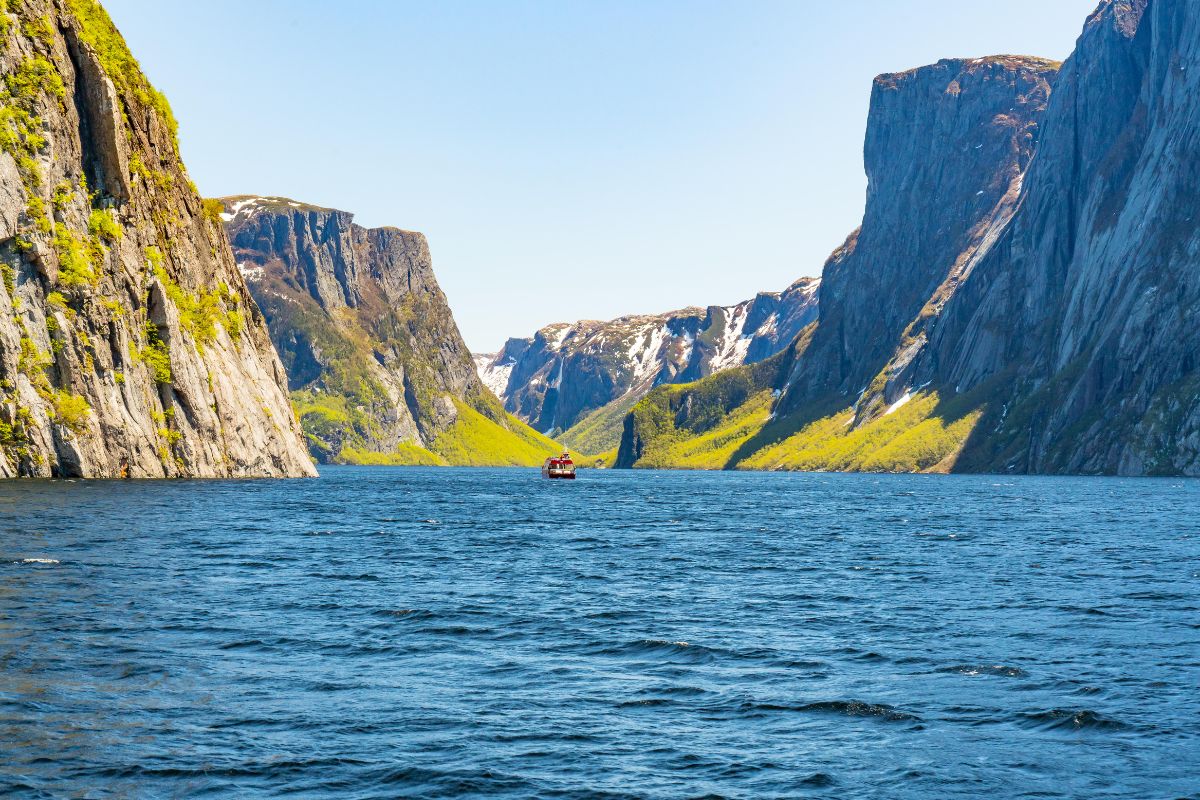 You'd be forgiven for thinking that you've stumbled into Lord of the Rings when you visit Gros Morne National Park.
With soaring alpine mountains, fertile swampland, and sweeping fjords, it has the look and feel of a land out of time.
Spend some of your time exploring its trails and valleys, however, and you're likely to fall in love.
Take a cruise through Western Brook Pond, where you can see the glacially influenced landscapes up close.
Hike through the striking, almost Martian environment of the Tablelands, where barren rock and bleached landscapes offer unique geological insights.
Or summit the challenging, beautiful, challenging Gros Morne Mountain (closed in the spring to protect breeding wildlife) and immerse yourself in the Arctic tundra landscape, taking in phenomenal views and chancing encounters with such dynamic residents as woodland caribou and Arctic hare.
This splendid park is an absolute must when visiting Newfoundland!
24 – Revelstoke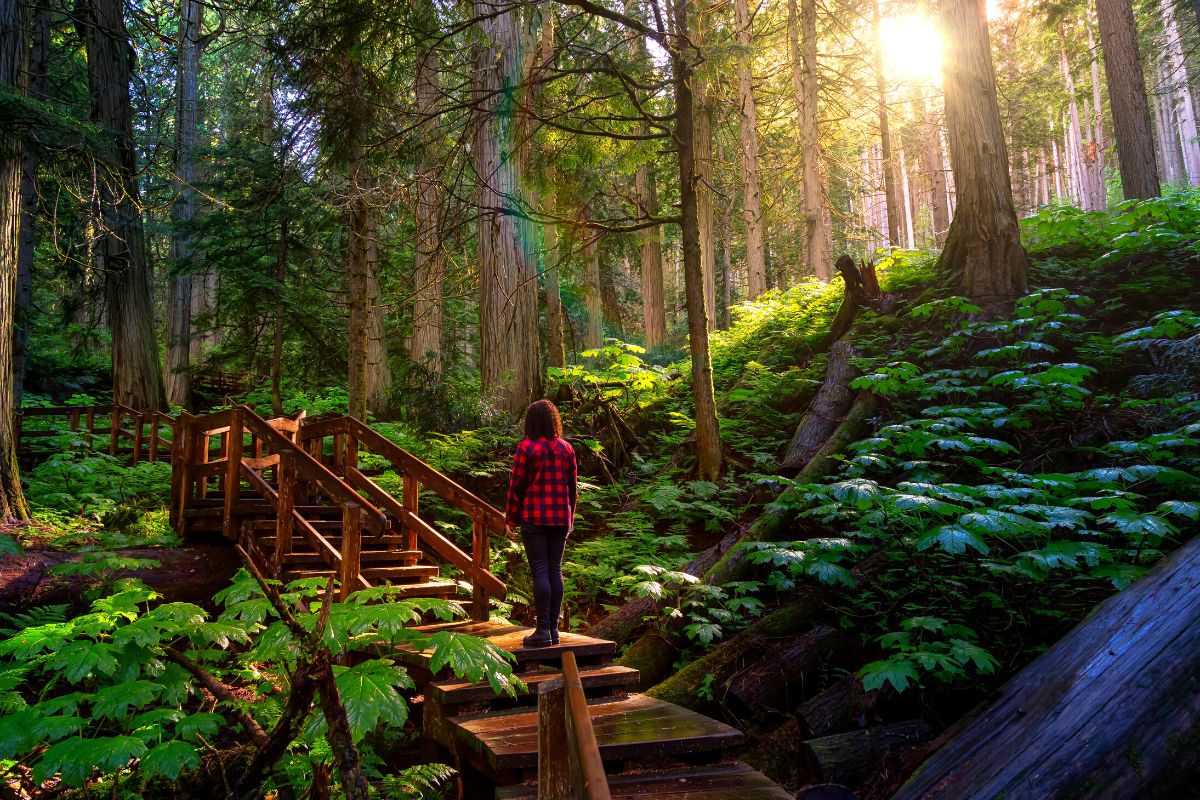 From its earliest days as a rambunctious railroad town Revelstoke has been beloved by visitors and residents alike.
It's home to Mount Revelstoke National Park, which offers spectacular views and a variety of excellent runs for every ability level.
The ski resort is most famous for its massive vertical descent, which, at about 5,610 feet, is the longest drop in North America.
There are tons of other sports available in the region as well; bike along well-groomed trails, snowmobile through pristine powder, raft through wild rapids, or take a team of sled dogs out for a thrilling trek!
And for more outdoor attractions, Glacier National Park is just half an hour away.
Meanwhile, its downtown area features well-preserved historical buildings, fascinating museums, and a lively cultural scene.
Stroll past brightly colored Victorian houses, a Neoclassical-designed courthouse, and the town's former Main Street on a Heritage Walking Tour, a self-guided journey through some of the town's most interesting sites.
And in the evenings, dive into an active nightlife scene that offers everything from hockey games and stand-up comedy to live music and axe throwing!
For a mountain town with fun to spare, Revelstoke's got you covered.
25 – Charlottetown, Prince Edward Island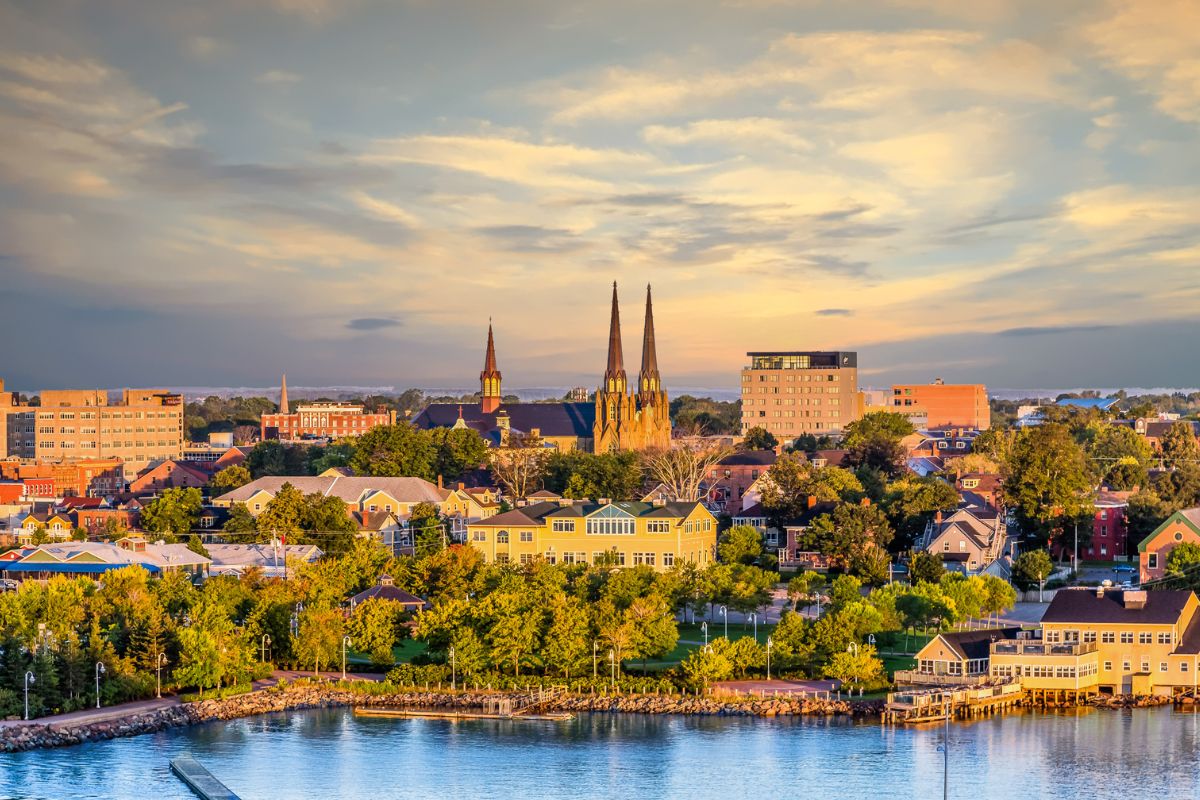 If you read a lot as a child, you may already be familiar with Charlottetown; it's one of the many locales frequented by Anne Shirley (protagonist of Anne of Green Gables) and her friends.
But of course, Charlottetown has changed a lot since then, with beautiful beaches, a thriving theater scene, and some wonderful bars and restaurants to offer visitors.
You can also jam out to live music, learn how to eat oysters like a local, or hop aboard a pedal pub to sip tasty brews while enjoying a scenic trip past the waterfront.
And of course, if you do want to indulge your literary side, you can take a Green Gables Tour to see some of the sites around the island that inspired the books, or stop by the Anne of Green Gables Store to purchase some souvenirs, from snack foods to clothing to dolls.
This fun-loving city is a great homebase while you explore Prince Edward Island, and it offers plenty of delights of its own.
Final thoughts
Canada is the kind of place that could take a lifetime (or two) to fully experience.
It has some of the world's greatest natural spaces, internationally renowned cities, and a whole host of small towns with hidden delights of their own.
While this list is by no means exhaustive, we hope that it helps you with planning your trip to this beautiful and dynamic country! Don't hesitate to comment below and tell us what are your favorite places to visit in Canada.
Happy travels!