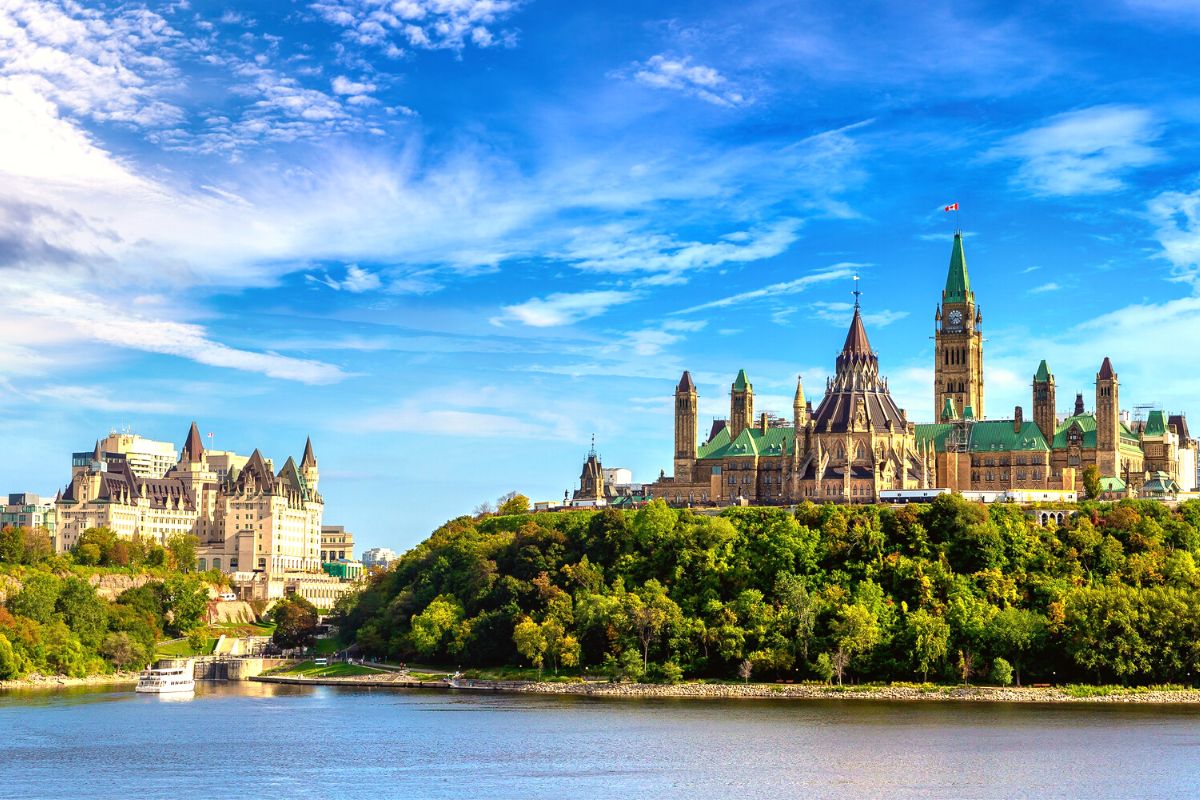 Located on the Ottawa River, just a stone's throw from the U.S. border, Ottawa, Canada, has a charm that extends beyond its ornate Victorian buildings.
The country's capital also features world-class museums, beautiful scenery, and a variety of unique neighborhoods to explore.
Whether you're a history fan, a music buff, or just like to roam around and people-watch, you'll find plenty of things to do in Ottawa.
1 – See world-class art at the National Gallery of Canada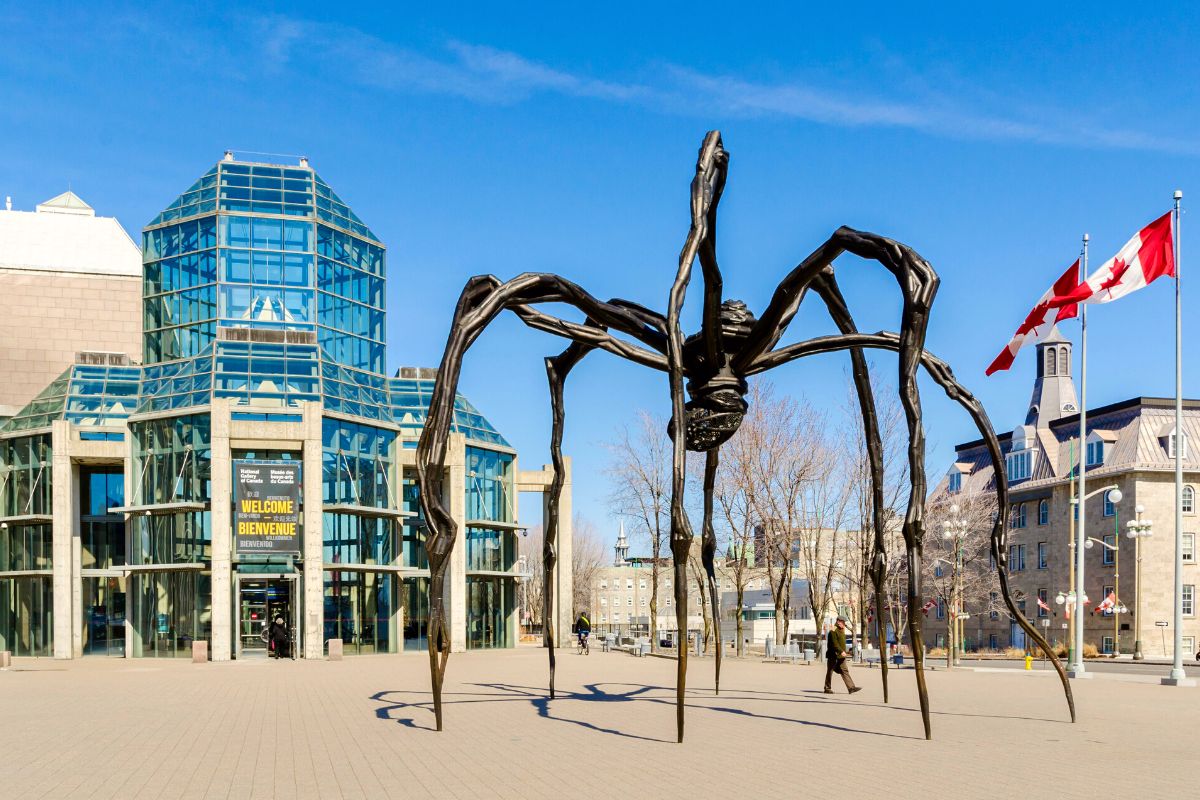 For an equally comprehensive, but more artistically focused, look at the country's culture, check out the National Gallery of Canada.
Established in 1988, the building features two extensive floors of exhibits covering the various movements that have shaped Canada's artistic history.
You'll be able to see European and American works from the Renaissance all the way to the present day, including pieces by such luminaries as Alejo Fernandez, Claude Monet, and Candice Breitz.
The gallery also features an impressive collection of works by Indigenous and Asian creators, and, of course, many Canadian artists.
The mediums that are showcased also run the gamut, from paintings and drawings to sculpture, photography, and mixed-media pieces.
With a constantly rotating catalog of exhibits, there's no shortage of beautiful pieces to admire, so be sure to include the facility in your schedule.
2 – Explore the past at the Canadian Museum of History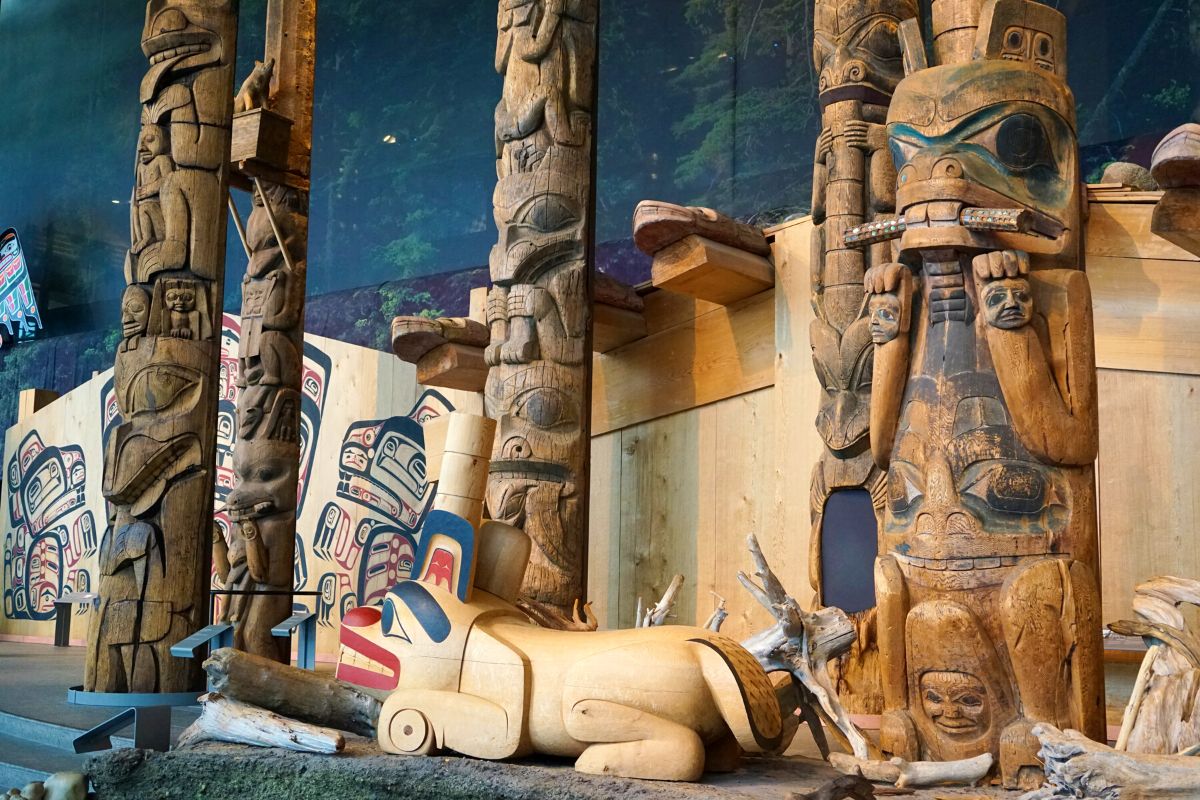 After you've seen a bit of the present-day marvels in town, dive into the past at the Canadian Museum of History.
With four floors of beautifully designed galleries, interactive spaces, and rotating exhibitions, this beloved institution showcases the stories of the country from the earliest stages of human presence to the modern era.
Start on Level One, where you will be able to explore the fascinating cultures and stories of Canada's Indigenous populations.
Then move on to the third and fourth levels to explore the Canadian History Hall, which showcases 15,000 years of history through artifacts and in-depth stories.
As you move through the galleries, you'll be able to see the breadth and depth of Canadian culture, showcased by some truly incredible objects.
And be sure to spend some time in the Grand Hall, which features an impressive collection of totem poles from First Peoples cultures of the Pacific Coast.
The museum is a fantastic place to absorb the complex, ever-evolving story of the nation of Canada.
3 – Hop on (and hop off) a bus for sightseeing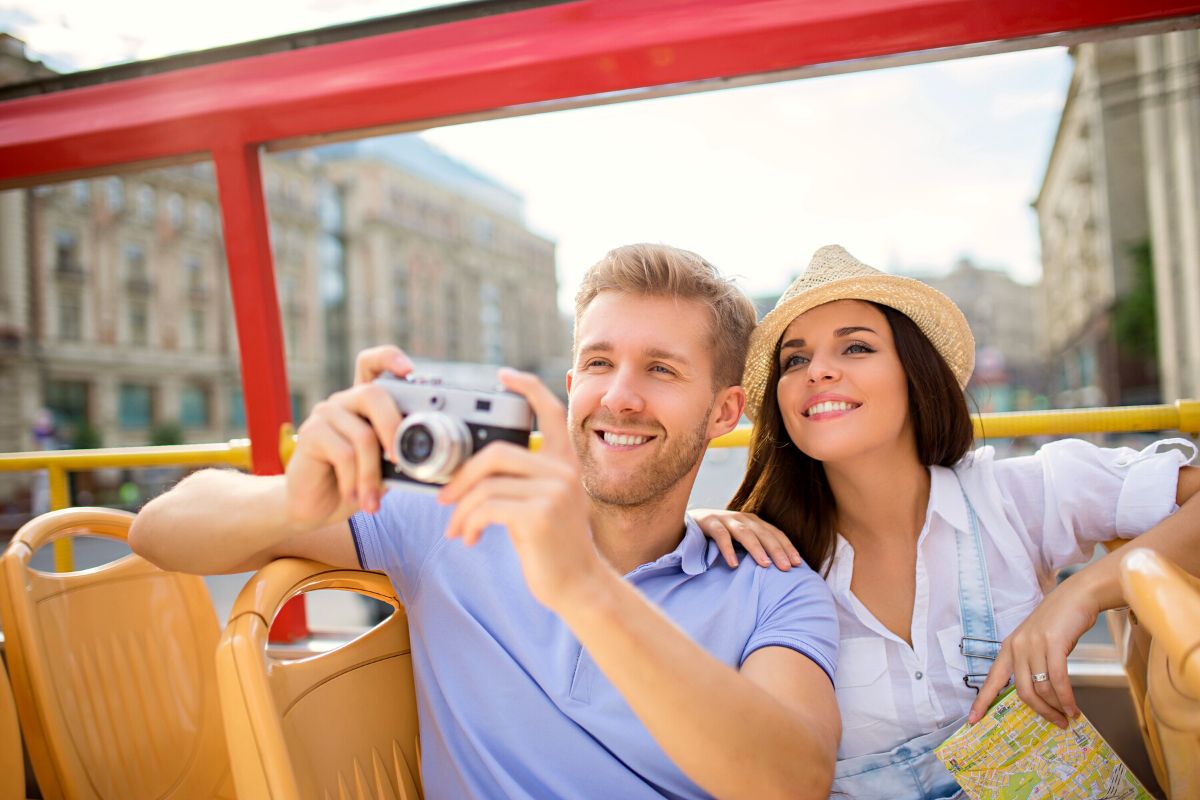 Want to explore the city at your own pace, while still seeing all the best things to do in Ottawa?
Then book yourself a Hop-On, Hop-Off bus tour.
Bilingual guides will provide wonderful information about the capitol's historic sites, museums, and buildings of interest.
If something catches your eye, you can get off the bus to explore further, then catch the next one when you're ready.
On your trip, don't miss Ottawa City Hall, which is famed for its blend of modern and 19th-century styles.
It's also home to several renowned public art pieces, as well as Veterans' Grove, which pays homage to those who served in the Korean War.
For a more unique adventure, try a trip on the Amphibus.
After seeing several attractions from the road, your vehicle will head to the river – and then into the river – for a scenic cruise to see the city in a whole different way.
By land or by water (or both), these tours are a great way to see the city up close.
4 – Visit Parliament Hill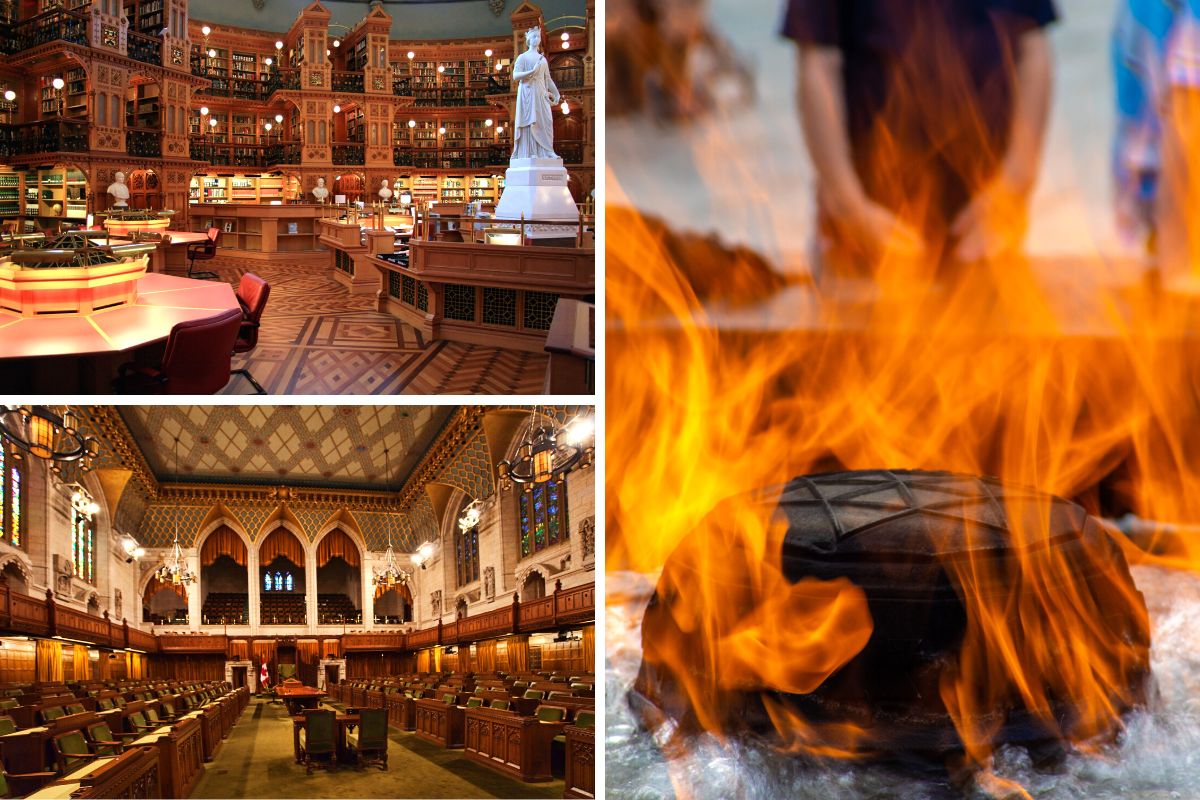 Given Ottawa's political significance, a trip to the capitol building itself is a must.
And fortunately, Parliament Hill offers a wonderful combination of breathtaking architecture and fascinating history, making it an ideal first stop during your visit.
The main Parliament building, which is home to the House of Commons (the Senate building is a block away), is chock full of fun artistic details, including decadent columns, wrought-iron flower designs on the railings, and small dragons carved into the stone facade outside
Add a soaring portico and beautifully designed rooms – including political chambers and a large library -, and you have an utterly stunning building.
In addition to striking visuals, the Parliament buildings offer a fascinating glimpse into the political workings of the country.
Guided tours cover the history of the complex and its many evolutions over the years, while also showing off the rooms where the nation's business is conducted to this day.
You may even be able to sit in on a debate or a  committee meeting!
While you're there, be sure to visit the Centennial Flame.
This simple, beautiful monument honors the 100th anniversary of the founding of the Canadian Confederation, which formed the modern-day country of Canada.
It consists of a fountain that, instead of water, boasts a small and steady gas-powered flame that runs all year round.
You can also include your visit as part of a larger city tour, which takes you to all of the major sights in town.
Other stops include the National War Memorial Monument, the Canadian Museum of History, and the National Gallery of Canada.
Take a half-day trip by bus, boat, or even amphibious vehicle!
It's a great way to orient yourself to the city, while seeing all of the major attractions in a convenient and fun fashion.
5 – Meet some flora and fauna at the Canadian Museum of Nature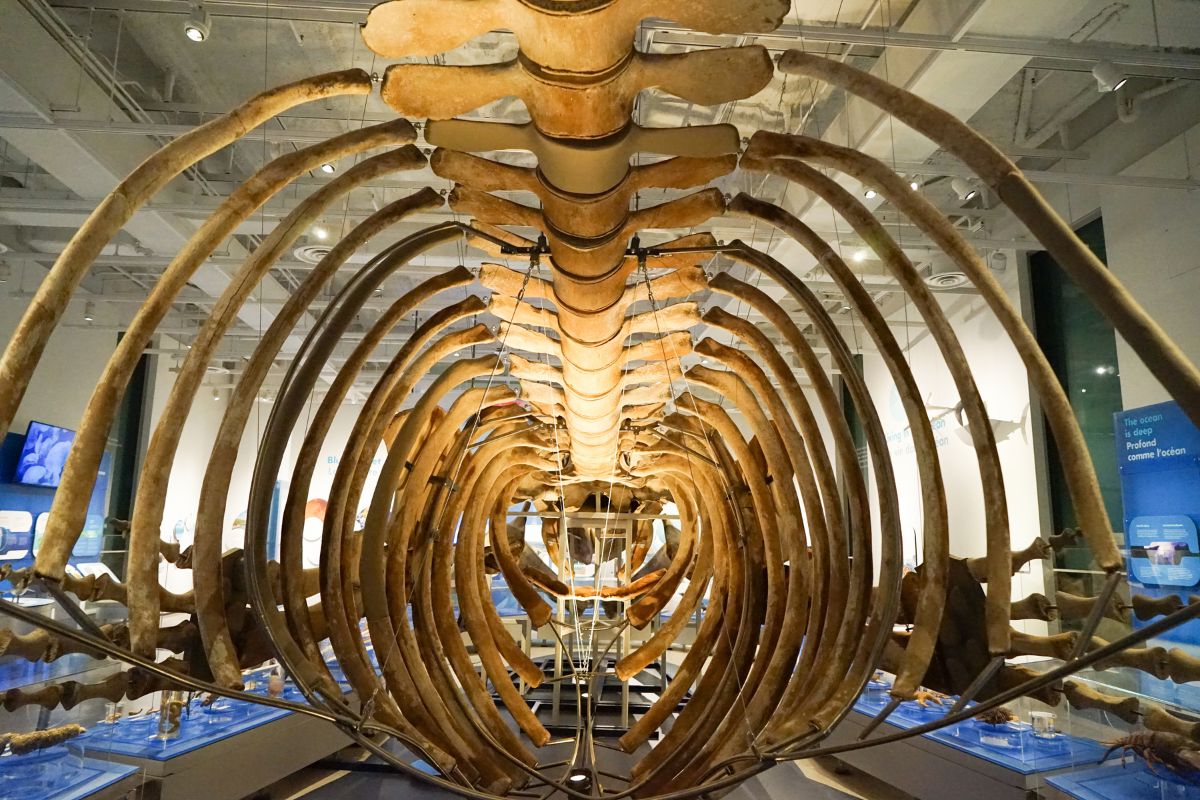 Canada is famous for its natural splendor, and the incredible variety of wildlife that comes with it.
If you'd like to catch a glimpse of these places and creatures without leaving the city, be sure to stop by the Canadian Museum of Nature.
This splendid institution celebrates the country's unique ecosystems from prehistoric times to the present day.
See Ice Age fossils and models of dinosaurs that once roamed the land, then visit gllaeries showcasing some of Canada's more modern biospheres, including the beautiful and mysterious Arctic.
You'll also be able to see taxidermied animals from around the country, from the mighty bison and the impressive grizzly bear to the elegant heron and the iconic Canada Goose.
Then get up close with some live specimens in the Bugs Alive Exhibit – including tarantulas, beetles, and leafcutter ants – and at the Pacific Discovery Tank, where you can interact with anemones, sea stars, and more.
With a wide array of species showcased and some fantastic interactive components, this is one of the best things to do in Ottawa for environment enthusiasts and nature novices alike.
6 – Cruise along the Rideau Canal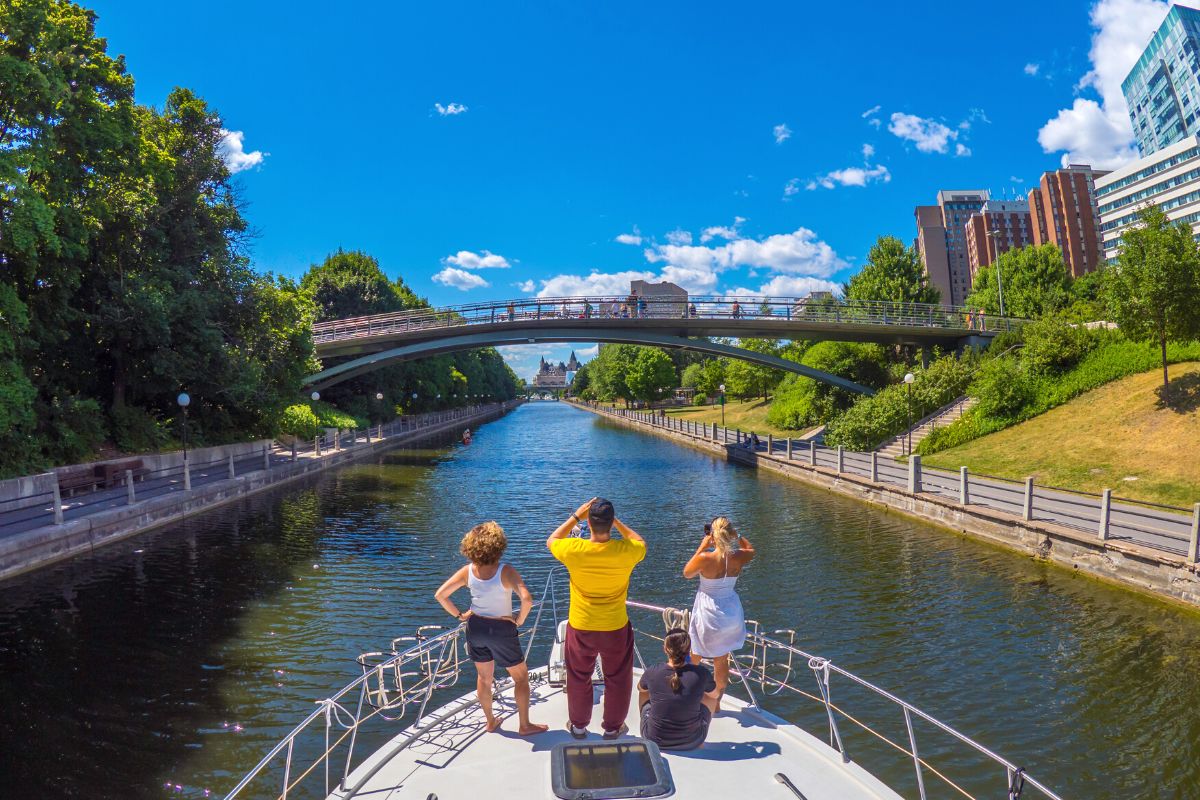 While there are plenty of things to do in Ottawa itself, the nearby countryside also offers plenty of charms for visitors.
And one of the most scenic spots is the area around the Rideau Canal.
The canal got its start in the early 1800s, when fears of a war with the U.S. inspired Canada to better connect its towns.
It was a major commercial hub until the advent of the railroad, when it then transitioned into a waterway for pleasure cruises.
Today, the canal offers a charming route for travelers hoping to see some of the historic buildings and idyllic scenery of the region.
Among the most notable attractions are the Ottawa Locks, a series of locking systems designed to control the flow of water through the system.
While they serve a functional purpose, the locks are also fascinating to observe in action.
Flanked by the Parliament buildings, the Bytown Museum, and several other iconic downtown attractions, their daily operations are part of the whole city-going experience.
You can also enjoy the other sights with a scenic cruise.
Your journey meanders around the downtown area, and offers spectacular views of some of the area's great attractions, from historic architecture to arboretums and public parks.
You'll also pass through Dow's Lake, a tranquil stretch of water that features a lovely pavilion and various boat rental options.
These cruises are a great way to explore the area and learn about some engineering history as part of the bargain.
7 – Pay your respects at the Canadian War Museum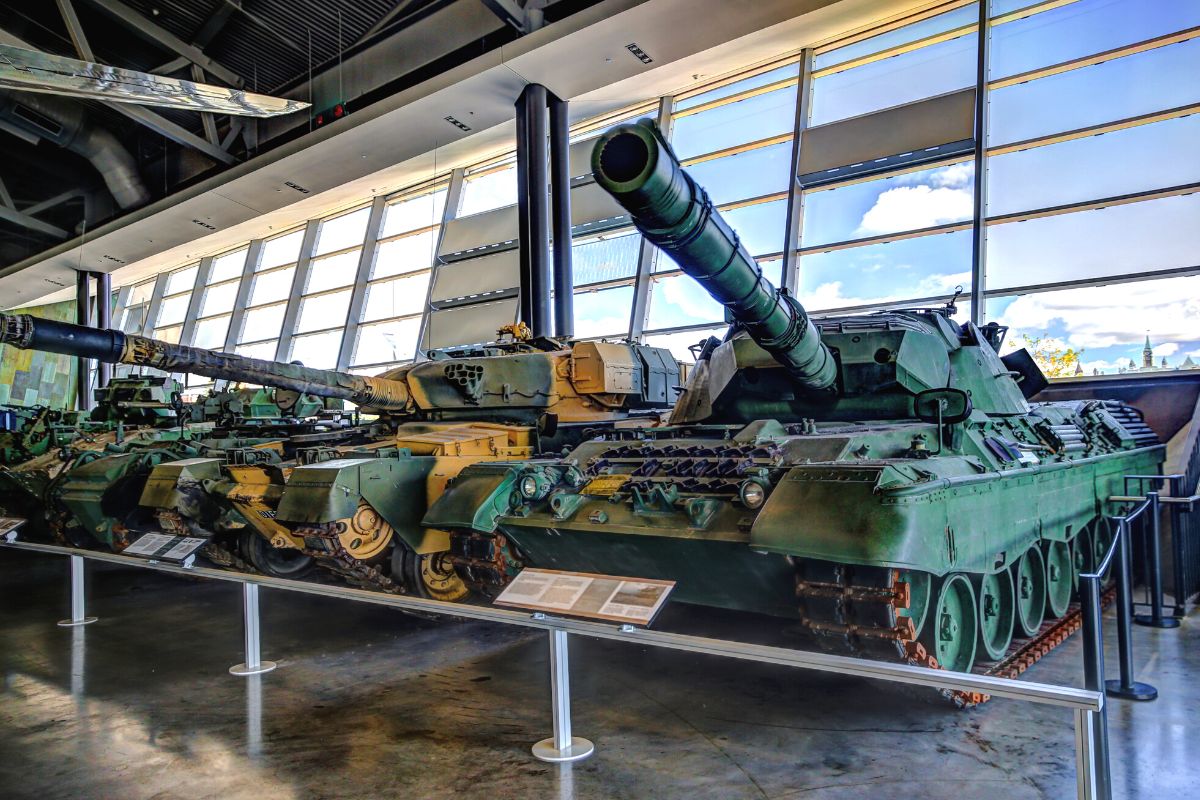 Another excellent historical institution in the city, the Canadian War Museum offers a comprehensive and sobering look at the history of the country's various conflicts over the centuries.
Explore galleries of striking artwork and immersive exhibitions that depict the different battles.
You can also see some of the weapons and machinery used in these conflicts, and read firsthand accounts from soldiers who served.
Perhaps the most powerful experience offered at the museum is the chance to speak with an actual veteran, offering a more intimate recounting of the realities of war.
These moving exhibits tell the story of war in a detailed, personalized way.
8 – Take a bike for a spin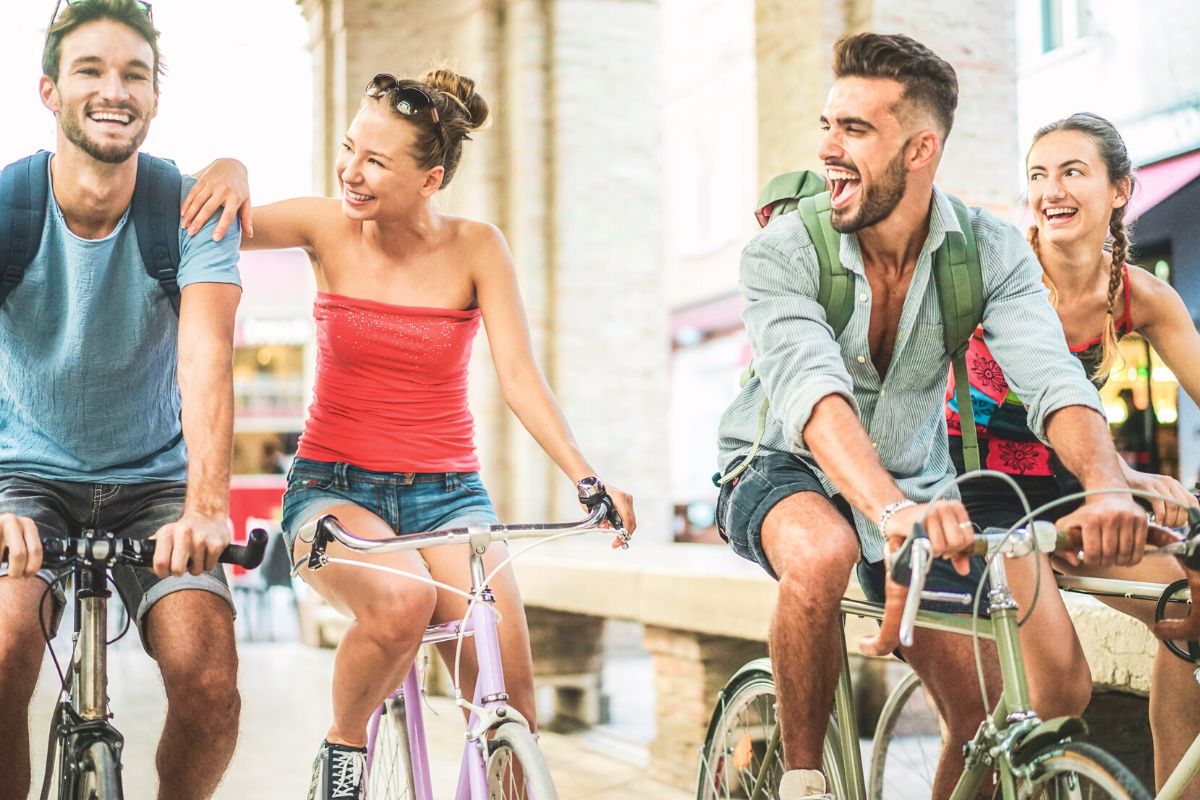 With its pleasant avenues and scenic districts, Ottawa is an ideal city for a bike tour.
There are a variety of routes available for those wanting a more traditional tourism experience, as well as people who would prefer a little more independence.
With a 2-hour or 3.5-hour tour, you can take in all the top spots in town, plus  some of the areas less accessible on foot.
Best of all, you'll get the chance to cycle through two different provinces – Quebec and Ontario. Not bad for an afternoon!
There are also some specific pathways that are ideal for biking.
The Sir John A. MacDonald Parkway, which follows the river, offers spectacular views of various neighborhoods from Westboro Beach to Gatineau.
And for cyclists and pedestrians alike , try the Corktown Footbridge, which stretches over the Rideau Canal.
Keep an eye out for the padlocks along the railings, all left by couples in love; you can even add your own!
9 – Make a splash at Calypso Theme Waterpark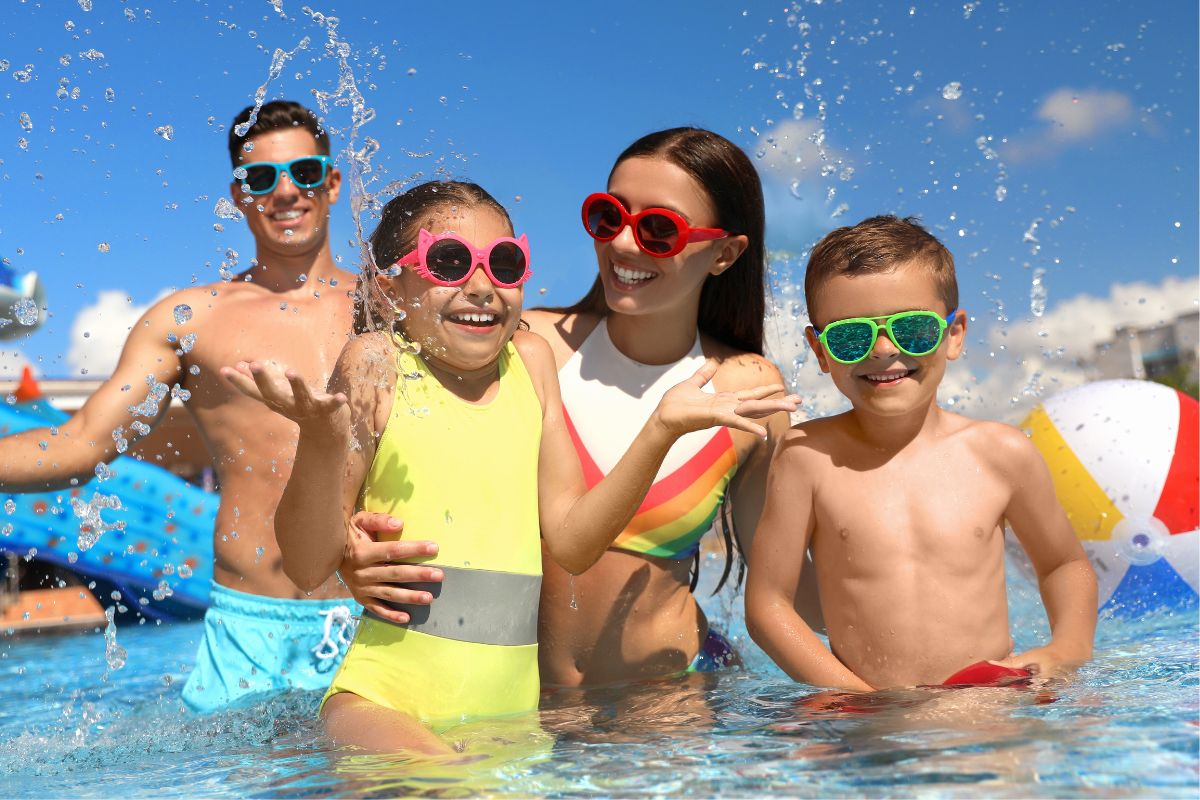 While Canada might be known for its freezing winters, it offers plenty of fun warm-weather activities as well.
And one of the best things to do in Ottawa for the whole family in the summer is taking a trip to Calypso Theme Waterpark.
The largest complex of its kind in the country, Calypso features something for every thrill level.
Take a ride on one of the 35 slides, from the gentle fun of Family Twisters to the heart-pounding curves of Aqualoops.
Float through the two lazy rivers, each boasting a fun tropical theme.
Or try your hand at some of the 100 aquatic games available on the grounds, including the obstacle courses of Jungle Challenge or the swashbuckling adventure of Pirate's Aquaplay.
Throw in beach volleyball, a wave pool, and restaurants – not to mention the tallest waterslide tower in Canada -, and you have all the makings of a wonderful day in the water.
Don't miss out on some splashy fun!
10 – Get curious at the Canada Science and Technology Museum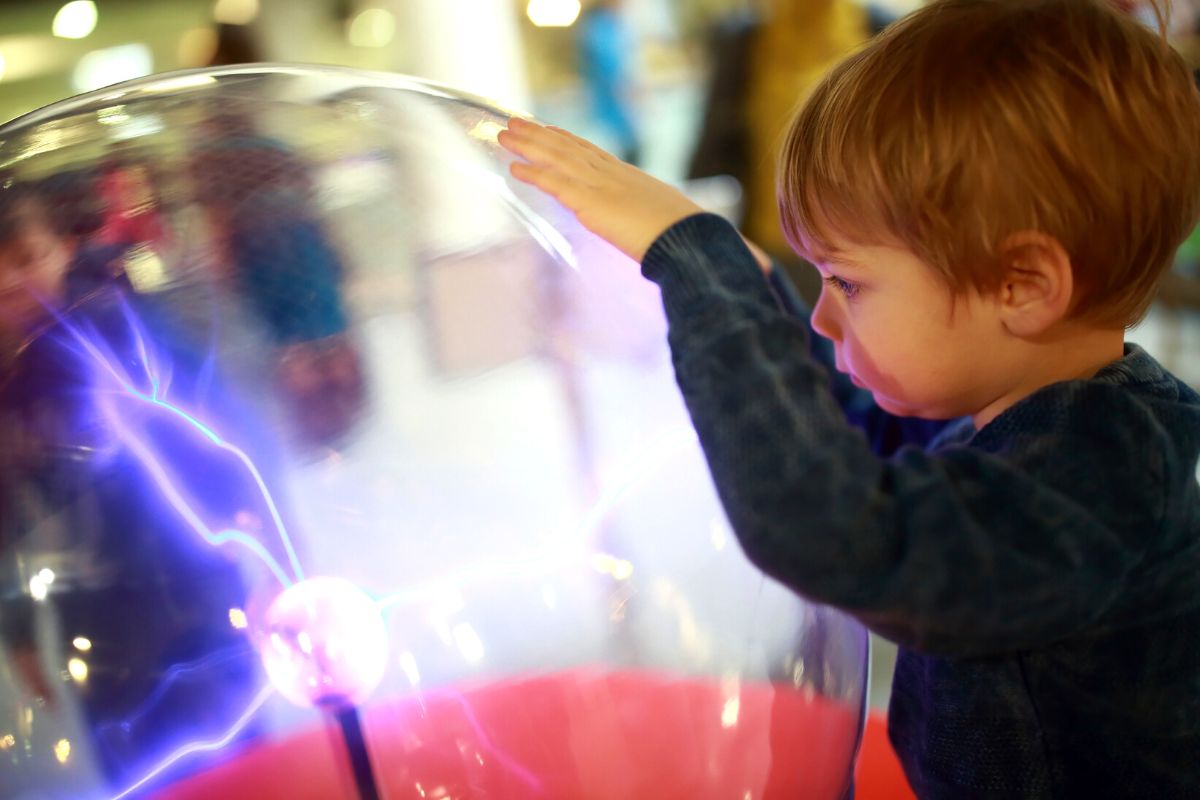 We all remember our amazing science classes in school, but it can be hard to indulge in that same curiosity as an adult.
Luckily, the Canada Science and Technology Museum is one of those places that can spark the same excitement and wonder as the baking-soda volcano days.
With 11 exhibitions spread out over a whopping 80,000 square feet of space, the museum offers plenty of interactive displays and fascinating experiments for visitors of all ages.
Check out the microscopes, telescopes, and multimedia presentations of Hidden Worlds, which explores how we explore the world around us.
Stop by Steam: A World In Motion to explore the history of trains and ships in Canada, and their role in helping to build the nation.
Or play with perception and tricks of the brain in the Crazy Kitchen, one of the oldest and most beloved exhibits in the museum.
You'll also find plenty of fun in experimental labs, special events, and a variety of interactive spaces.
This is the place to go to learn and have fun all at the same time!
11 – Relax at the Jacques-Cartier Park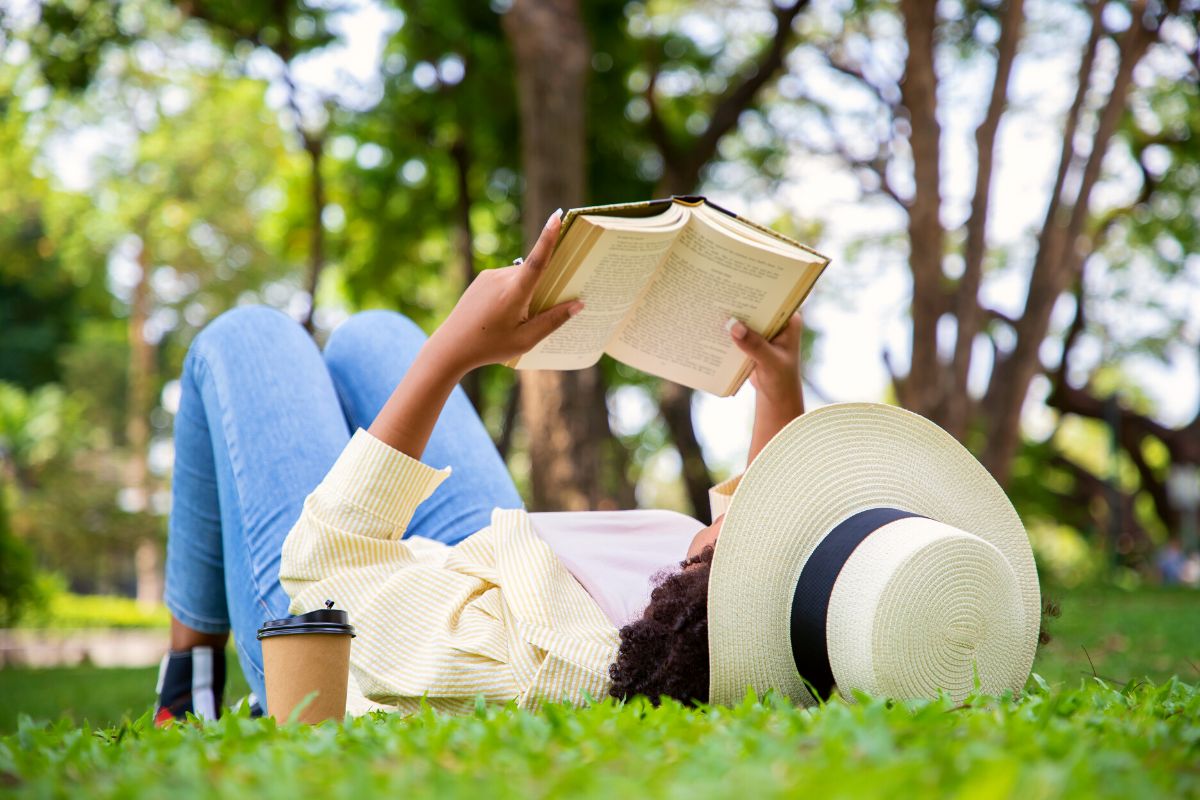 Located alongside the picturesque Ottawa River, Jacques-Cartier Park is a major gem in the city's public infrastructure.
Since its construction in the 1930s, it has offered a variety of activities for locals and visitors to enjoy.
You can rent a bike, take a boat cruise, or visit the Gilmour and Hughson Limited Office and the Charron House, two fascinating historical buildings in the park.
Or just relax in the grass and take in spectacular views of Parliament Hill and the nearby river.
The park also frequently hosts large public events, such as celebrations for Canada Day, so check the calendar before you go to see what's on at the park.
12 – Take to the skies at the Canada Aviation and Space Museum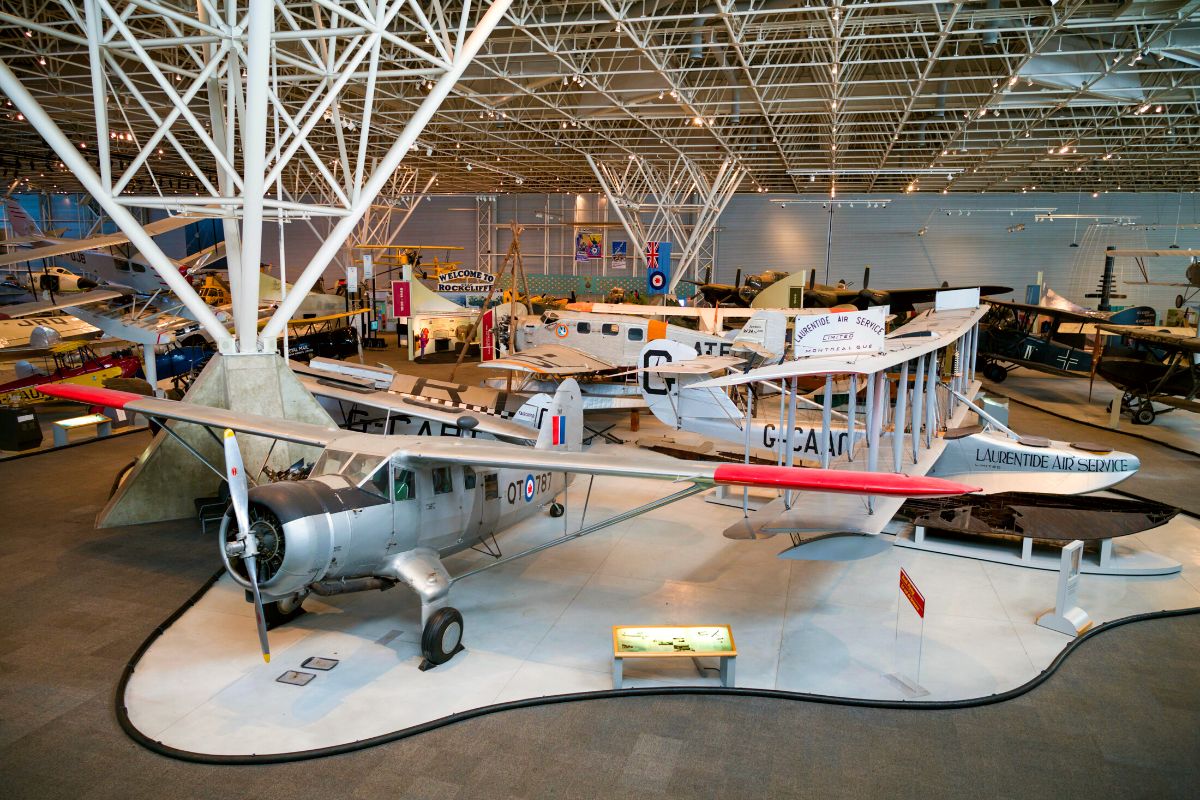 For airplane lovers, wannabe astronauts,and flight enthusiasts of all kinds,  it's well worth taking a trip to the Canada Aviation and Space Museum.
This expansive space celebrates the country's auspicious aviation history.
Check out the Main Exhibition Hall showcasing the remarkable history of flight over the past century, then stop by the other galleries to see how the industry continues to evolve today.
Unsurprisingly, space is a big focus here, with exhibits touching on such topics as life on the International Space Station and how to stay healthy in orbit.
But the museum also explores slightly more down to earth topics, such as air traffic control and how engines work.
If you'd like to take your museum experience to the next level, book a ride in one of the classic aviation vehicles on-site.
Hop aboard a helicopter or a vintage biplane, and take a thrilling ride over some of the city's iconic attractions, while learning all about your flight vehicle along the way.
It's one of the most thrilling things to do in Ottawa!
13 – Visit the National War Memorial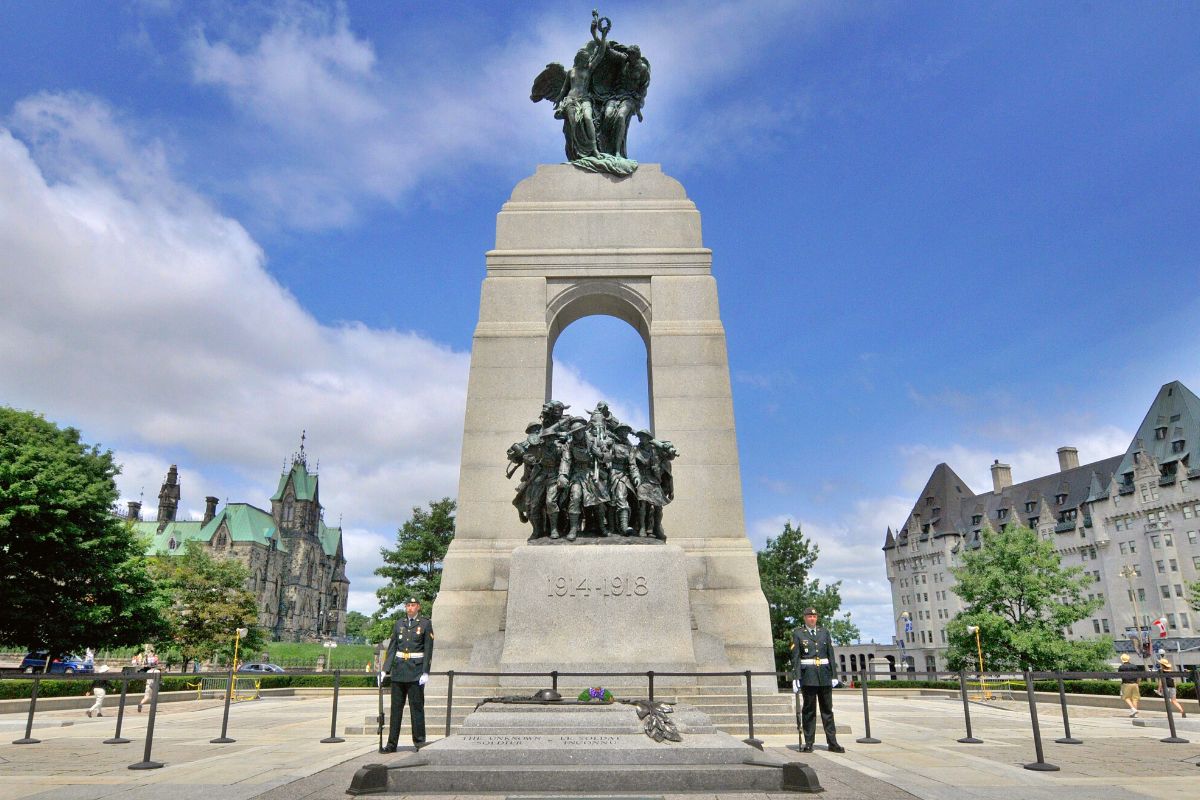 If you're seeking a good complement to the Canadian War Museum, be sure to stop by the National War Memorial.
This striking monument, which was originally created in 1939 to honor lives lost in World War I, now pays tribute to all Canadian Armed Forces personnel who have fought for the country.
It is best known for its impressive granite pedestal and matching arch, bracketed by statues of soldiers from both World Wars and an angel standing overhead
It's a beautiful and moving monument to the sacrifices of Canadian soldiers.
14 – See where the money's made at the Royal Canadian Mint
Are you daffy for dollars? A sucker for cents?
Then don't miss a visit to the Royal Canadian Mint.
Located in a historic building, this branch of the mint produces medals, commemorative coins, and other similar objects.
You can see this fascinating production process up close with a facility tour.
Learn how the gold and silver for these pieces gets refined and reshaped, and catch a glimpse of some iconic pieces, such as the Million Dollar Coin, which was the largest coin ever made.
You'll love money even more after watching how it's made.
15 – Take to the Ottawa River by bus or raft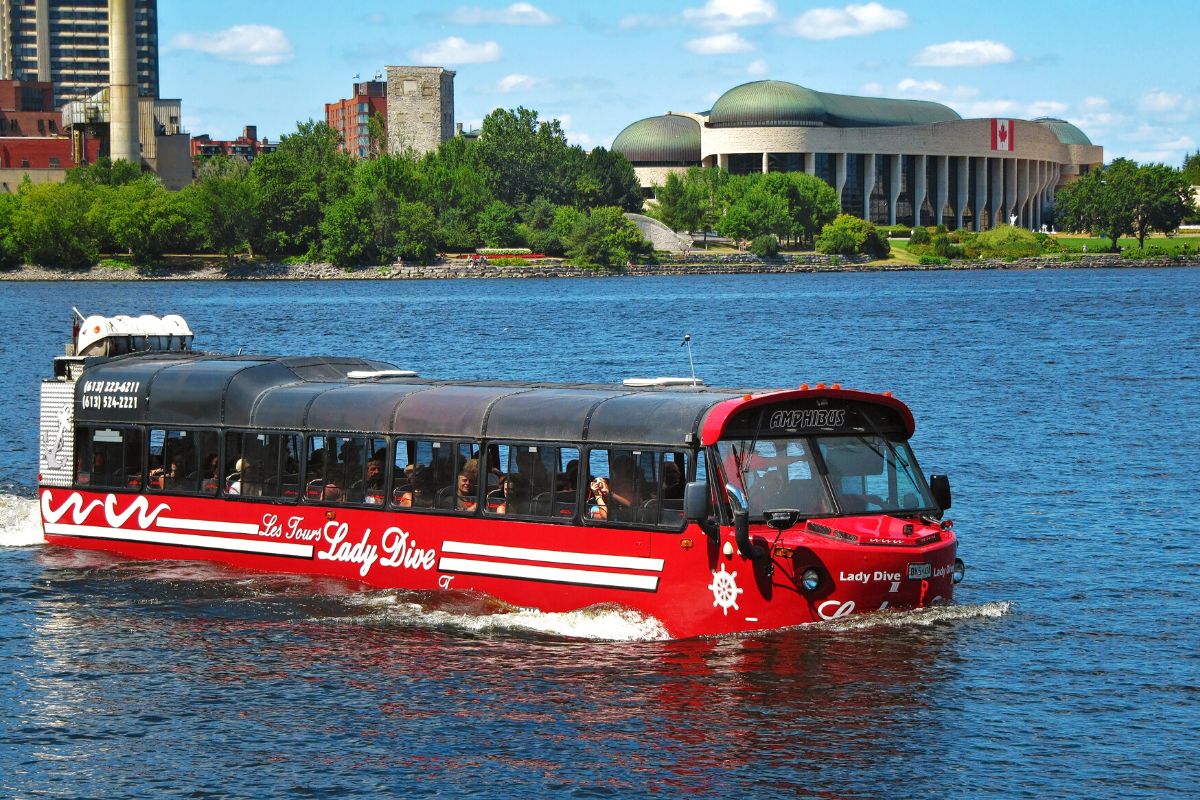 As its name implies, the Ottawa River is a central feature of the city.
And you can see its beauty up close – not to mention some great surrounding attractions – with an amphibious bus tour.
After driving around town, your vehicle will head into the water to continue the tour, cruising past iconic attractions and peaceful riverside spots.
Want something a little more thrilling?
Head a little further out of town to spend the day rafting.
Even though the rapids are only an hour from town, you'll feel like you're deep in the wilderness as you splash your way through the water.
With family-friendly, classic, and adventure options, and a steady combination of Class III and Class IV rapids, there's something for everyone to enjoy on the river.
Enjoy your invigorating trip through the Canadian wilderness, but be warned – you will get wet!
16 – Admire the Notre Dame Cathedral Basilica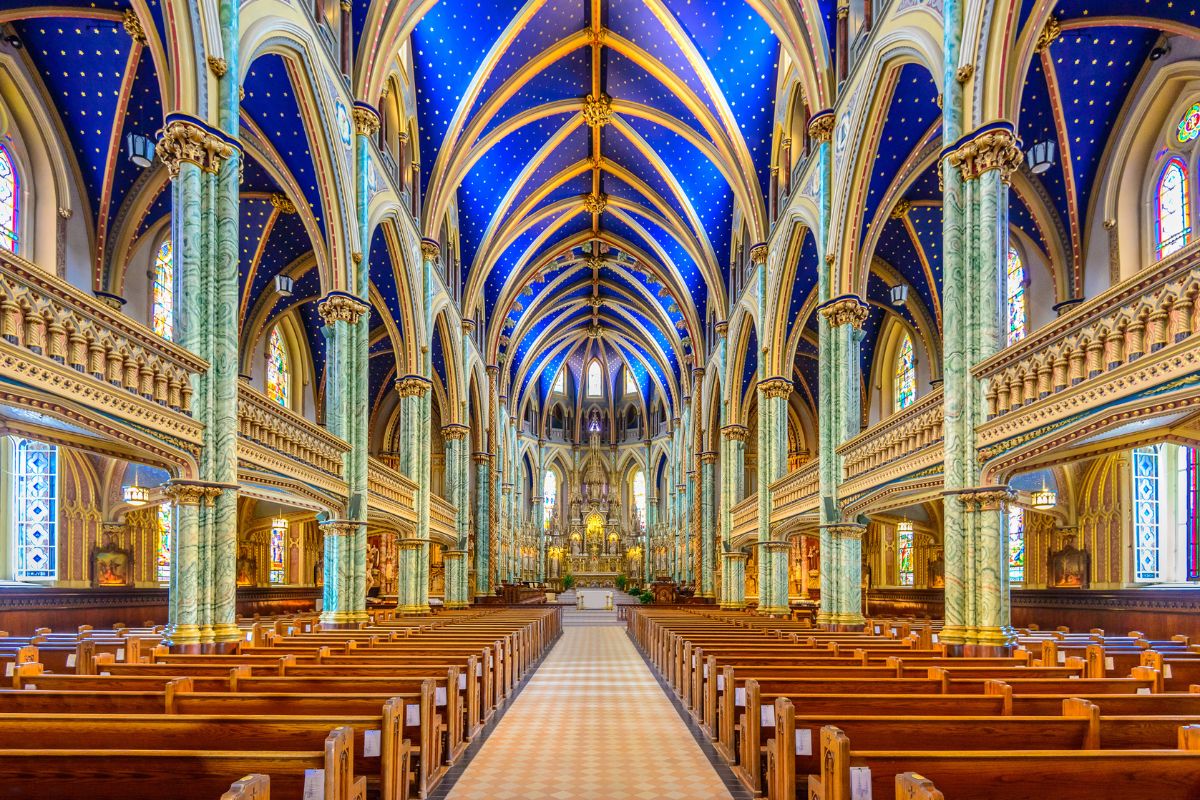 Another beautiful feature in the city's landscape, a trip to the Notre Dame Cathedral Basilica is one of the best things to do in Ottawa for architecture fans.
Built in 1853, the cathedral has long served as a cornerstone of religious life for the community.
It's known for its splendid interior, with large stained-glass windows and ornate wood carvings.
The cathedral also holds several precious relics, including golden chalices and historical religious garments.
And don't miss the chance to see (and hear) the two resident organs, including the towering Casavant organ.
Its visual beauty is matched only by the wonderful sound of its music.
17 – Learn about your meals at the Canada Agriculture and Food Museum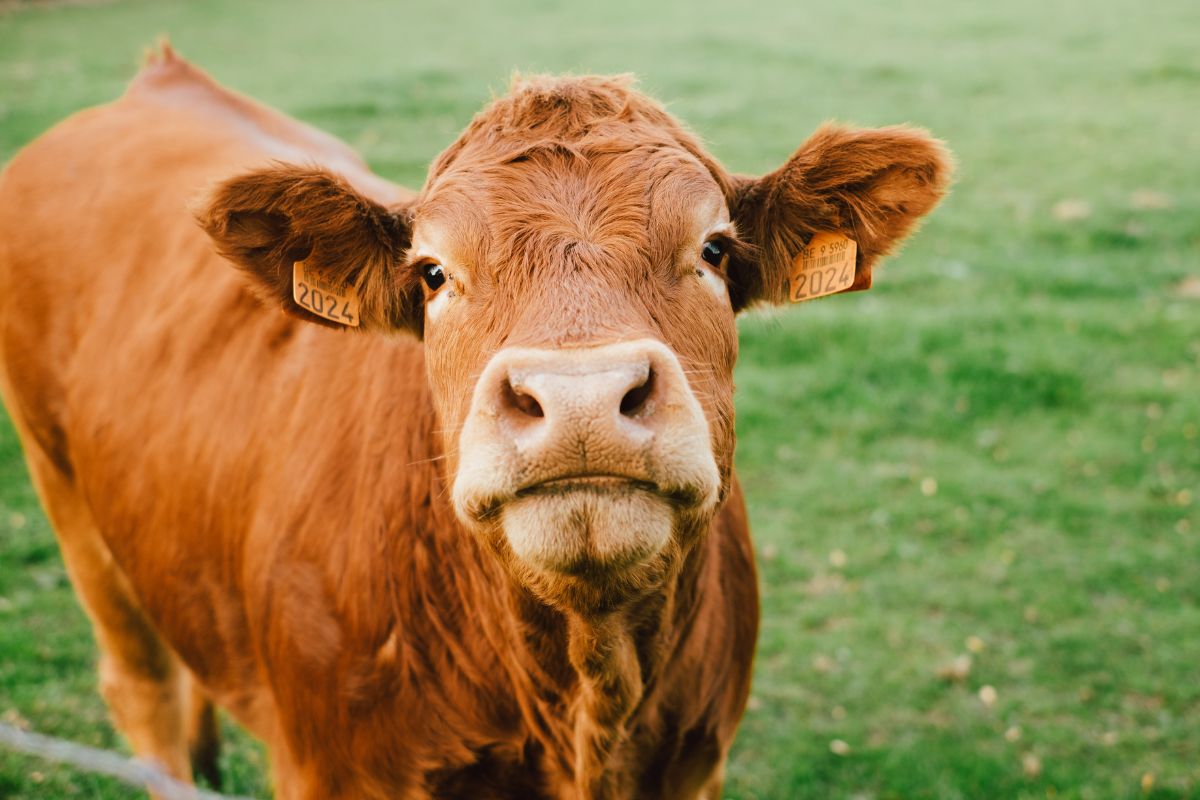 Ever wonder where exactly the food on your plate comes from?
Or what all those fields in the middle of Canada actually grow?
At the Canada Agriculture and Food Museum, you'll learn all of these things and more.
With interactive exhibits on everything from the function of soil to canola oil's production process, the museum invites visitors to learn more about the amazing systems that make our crops grow.
Then head outside to get your hands dirty in the Soil Lab Garden, and visit with some of the resident barnyard animals.
This is one of the best things to do in Ottawa if you want to experience a little bit of farm life near the big city.
18 – See the tulips at the Major's Hill Park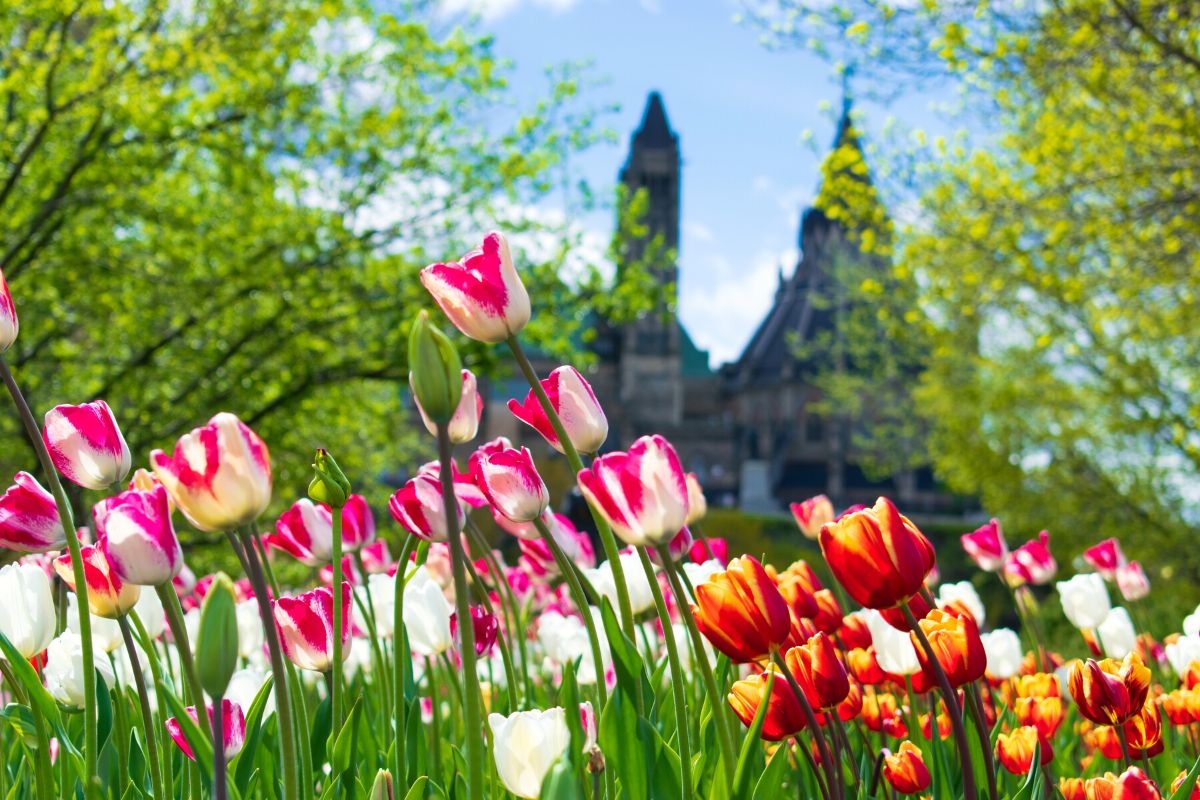 Another beautiful public space in the heart of the city, Major's Hill Park offers great views of the Parliament buildings and the Ottawa Locks.
Its gentle paths and lovely trees make it ideal for people-watching and long walks, and it frequently hosts large events, meaning that there's always some sort of excitement to be found.
If you're traveling in the spring, be sure to dop by to see the tulips blooming!
19 – Explore Diefenbunker: Canada's Cold War Museum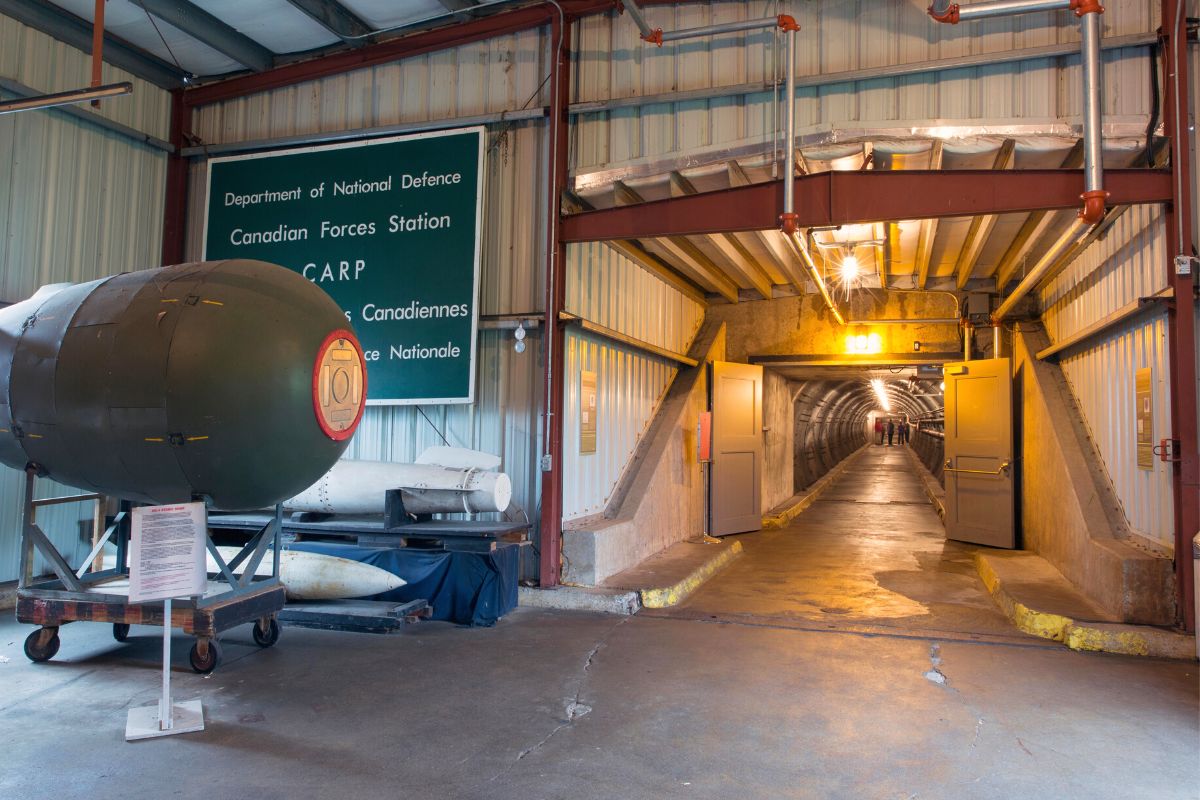 The Cold War was deeply impactful across the world, but there are very few museums that cover the topic in-depth.
Fortunately, the Diefenbunker Museum offers a detailed glimpse into the actual history and consequences of this political phenomenon.
The building that the museum is housed in was originally built as a bunker, designed to protect important military and political leaders in the event of a nuclear war.
Today, you can tour the facility and learn all about its unique, durable designs, while also hearing stories about the Cold War and its impact on those who lived through it.
With its mixture of personal and political elements, it's a striking reminder of the challenges societies face in times of conflict.
20 – Hang out at Hog's Back Park
For a little bit of rural charm in the heart of the city, spend some time in Hog's Back Park.
Its 51.4 acres hold a variety of treasures, including waterfalls, scenic hiking trails, and even a  small collection of historical buildings.
There's also a cafe (open seasonally) where you can relax with a snack and a beverage.
Or you can bring your own picnic, settle down in the grass, and enjoy the fresh air.
With beautiful scenery and a relaxed atmosphere, it's the perfect place to spend an afternoon.
21 – Hear some eerie stories on a haunted walking tour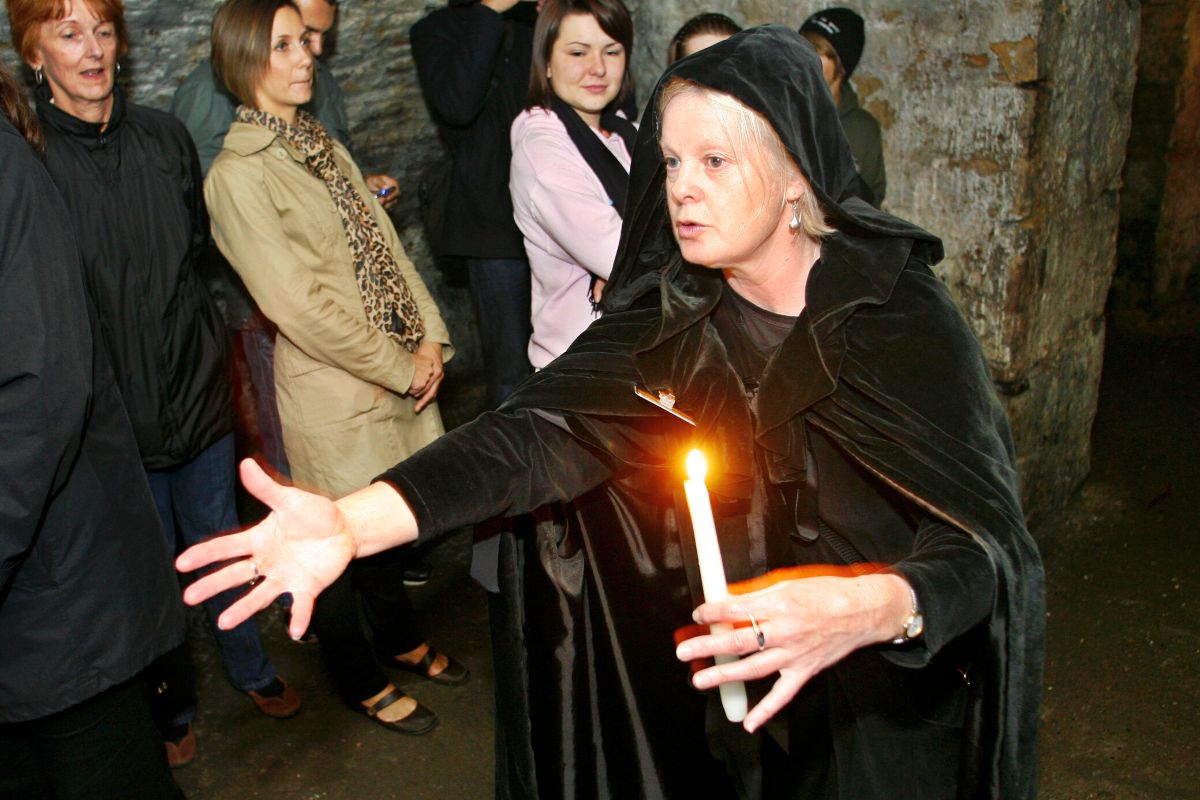 If you're looking for things to do in Ottawa with a spooky vibe, try a haunted walking tour.
With such a long and illustrious history, it's no surprise that the city has plenty of stories.
And, of course, that includes a lot of tales of supernatural events.
Meet up with your tour guide as evening falls, then start your lantern-lit walk to some of Ottawa's most famous attractions and lesser-known haunts.
Along the way, you'll learn about the history of the city and its people, and hear plenty of hair-raising stories of ghostly encounters.
This fun and chilling walk will help you see the city in a whole new light – by uncovering its darker stories!
22 – Stop by the Peace Tower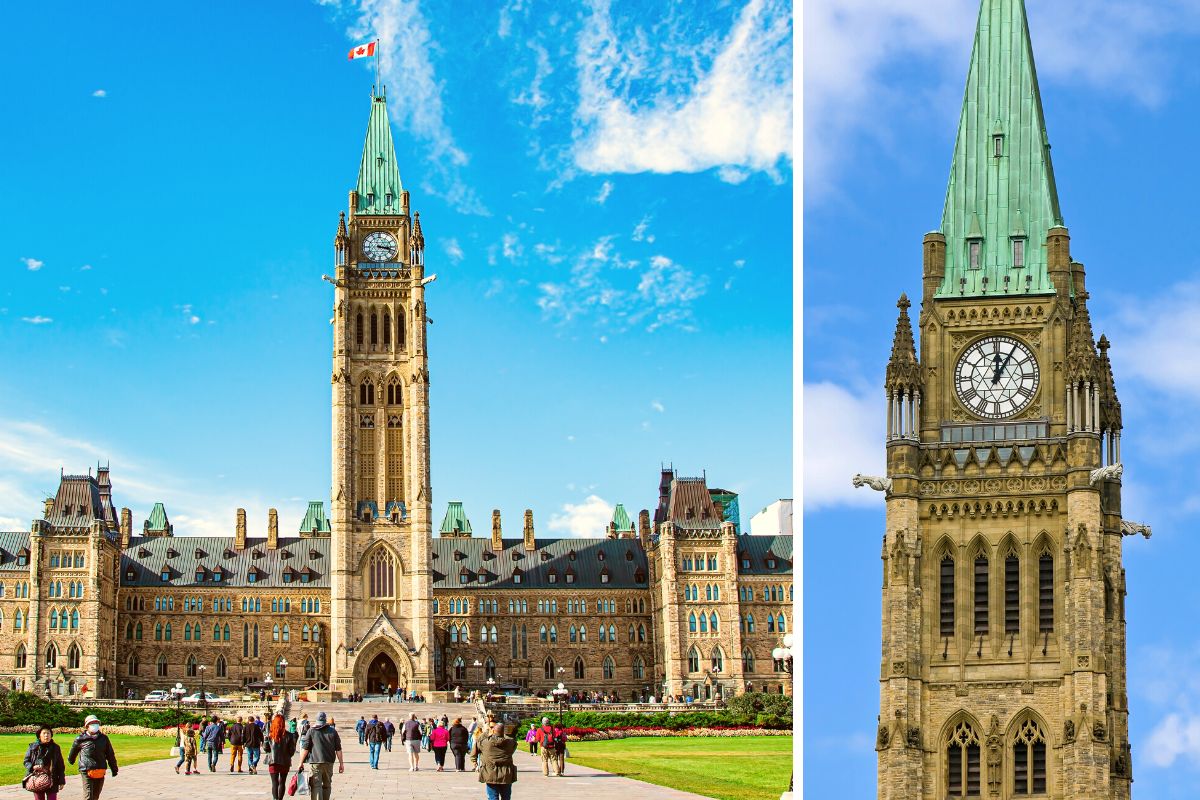 Located on Parliament Hill, this 322-foot structure is known for its beautiful clocks and its massive, chiming bells.
It also features a variety of stone carvings in the Victorian High Gothic style; keep an eye out for the gargoyles!
Inside the structure, you can visit the Memorial Chamber, a beautiful and sobering tribute to Canadians that have died at war.
While you're visiting the numerous attractions in the area, be sure to take some time to appreciate this spectacular piece of Canadian history.
23 – Tap into old playground senses on some canopy tours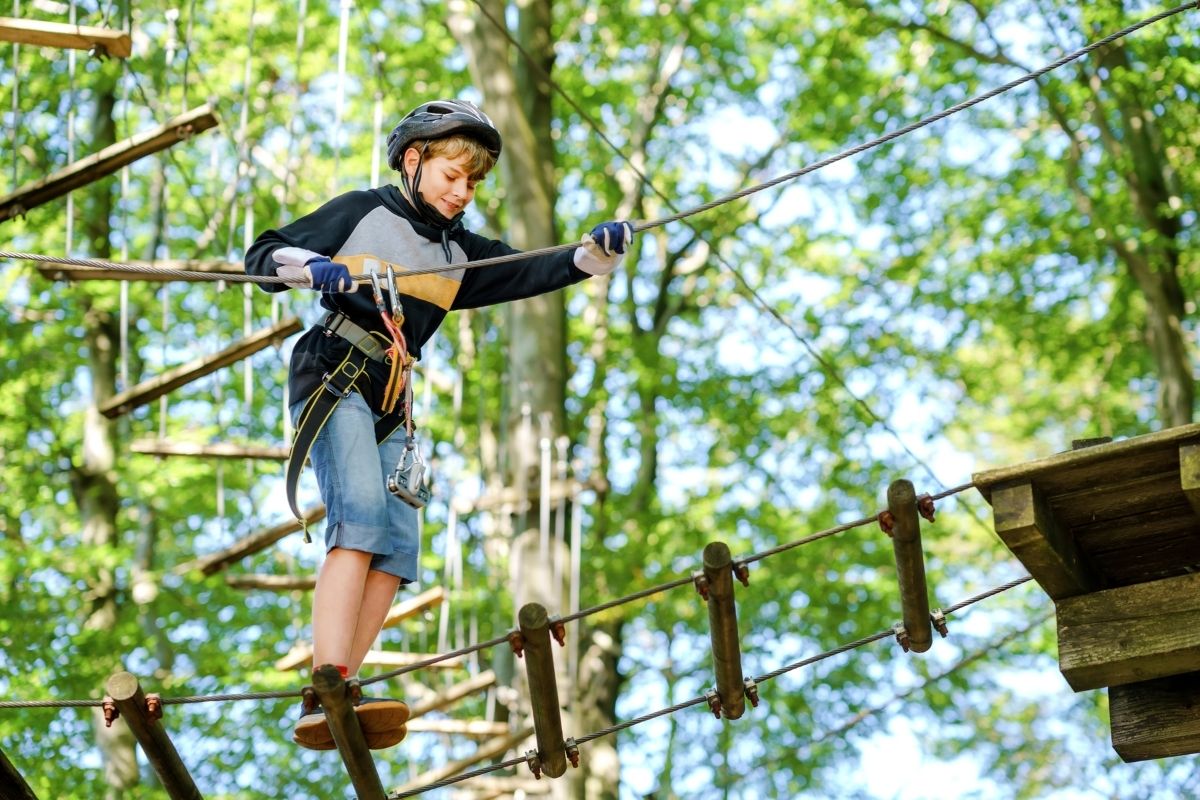 If you've been missing the monkey bars lately, the local adventure parks have got you covered!
Try the swings and bridges of Cité des Bois, or head to Parc des Chutes Coulonge for zip lines and some thrilling climbing courses through the trees.
You'll get to really embrace the forest in a wild, wonderful way!
24 – Find a new favorite plant at Dominion Arboretum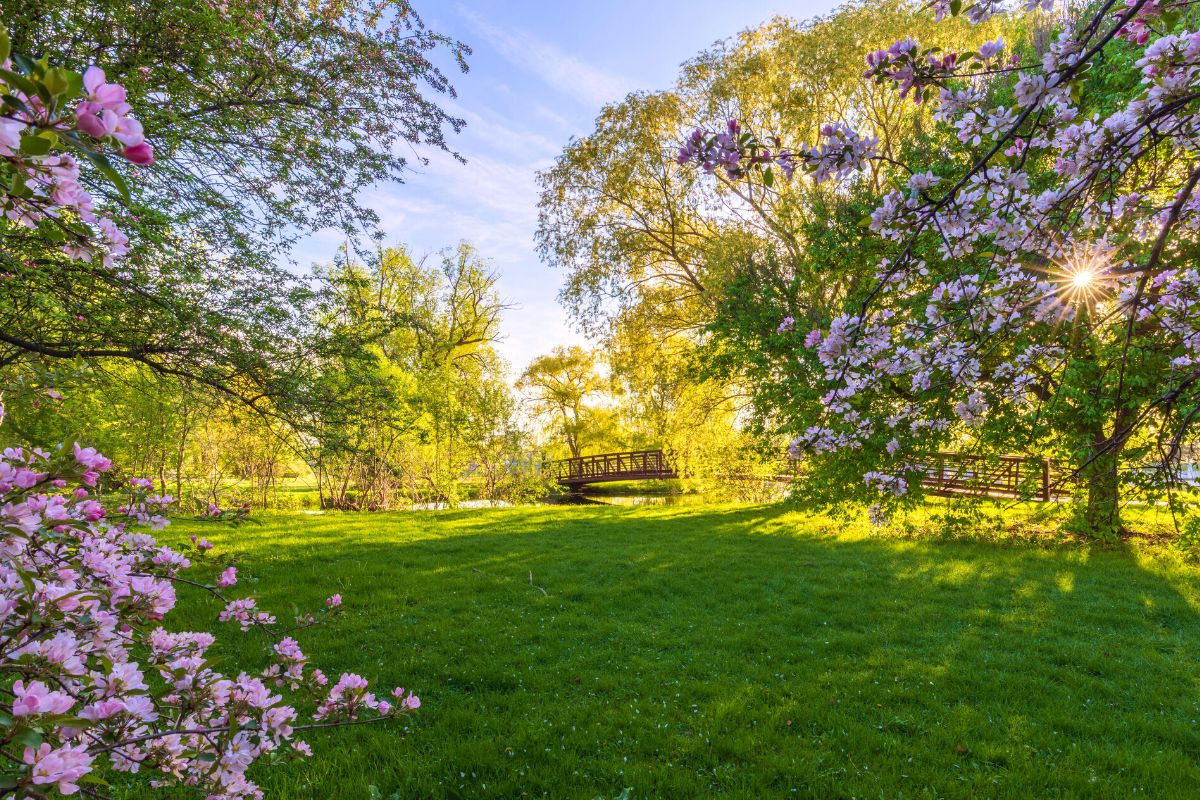 If plants and flowers are more your speed, the Dominion Arboretum is a must.
With 2,000 species of flora spread across 86 acres, this picturesque park is a great place to spend some time away from the hustle and bustle of the city.
Be sure to check out the northeastern section of the garden, which features its own microclimate.
Slightly warmer than the rest of the area, this is the place to go for rhododendrons, magnolias, and other plants that normally don't thrive in chilly northern regions.
The arboretum is part of a larger complex – Friends of the Central Experimental Farm – which also includes a tropical greenhouse, gardens full of ornamental plant varieties, and the Canada Agriculture and Food Museum.
Stop by and visit all of the attractions for a wonderfully tranquil day.
25 – Have an adventure at Saunders Farm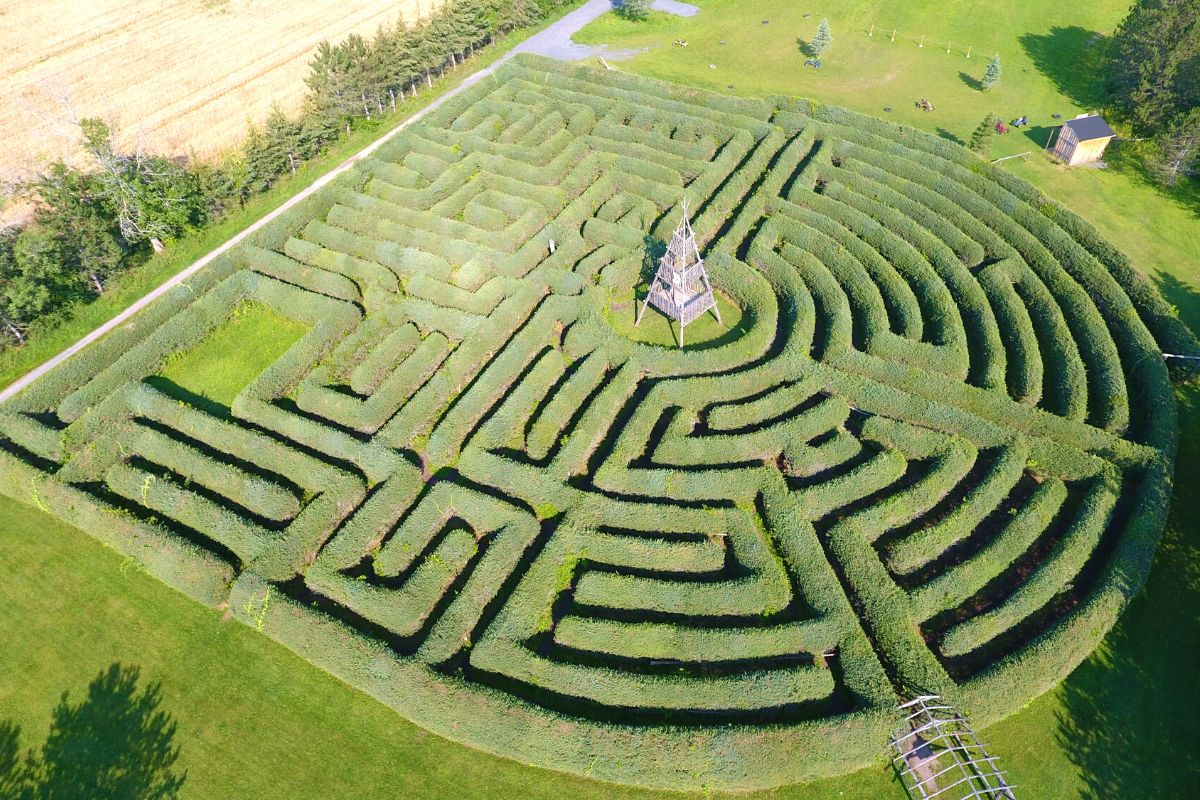 If the gardens and agriculture museum leave you wanting more, swing by to check out some country-themed activities.
Located just outside of the city, this delightful family farm has plenty of entertainment for every season.
In the summer, you can get lost (just temporarily!) in the maze before winding down the evening at an old-fashioned campfire and cookout.
In the fall, sample fresh cider and go pumpkin-picking, then test your courage with the five different haunting adventures of FrightFest…
And if you're a fan of Christmas, don't miss a wintertime visit, where you can shop for christmas trees and wreaths while enjoying charming light displays, snow-covered play areas, and even a visit with Santa!
No matter what time of year you stop by, Saunders Farm offers fun in spades!
26 – Happily hover in a helicopter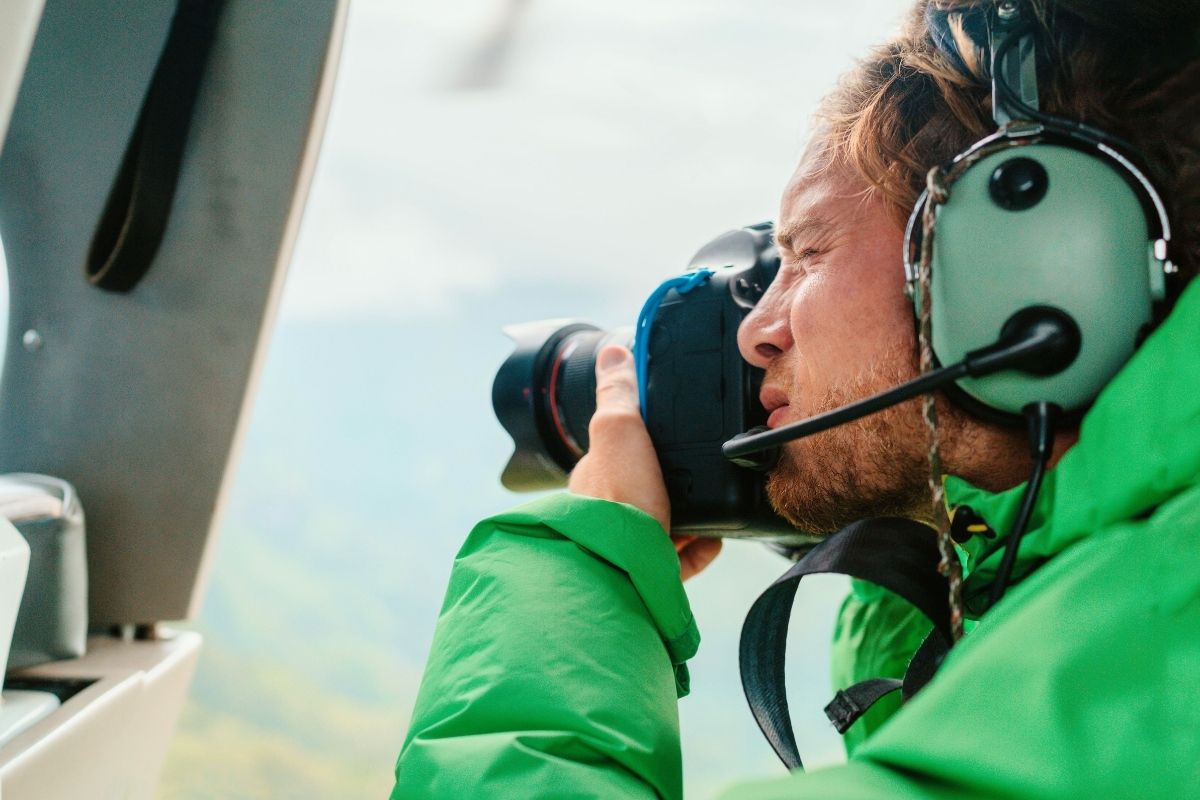 With the capital looking as small and detailed as a model playset, your time on this scenic chopper ride is sure to be exciting!
Follow the path of the Ottawa River and the forests beyond, before circling back to that lovely skyline for a landing; it will really give you a fresh sense of the city and its charms!
27 – Get in touch with nature at Gatineau Park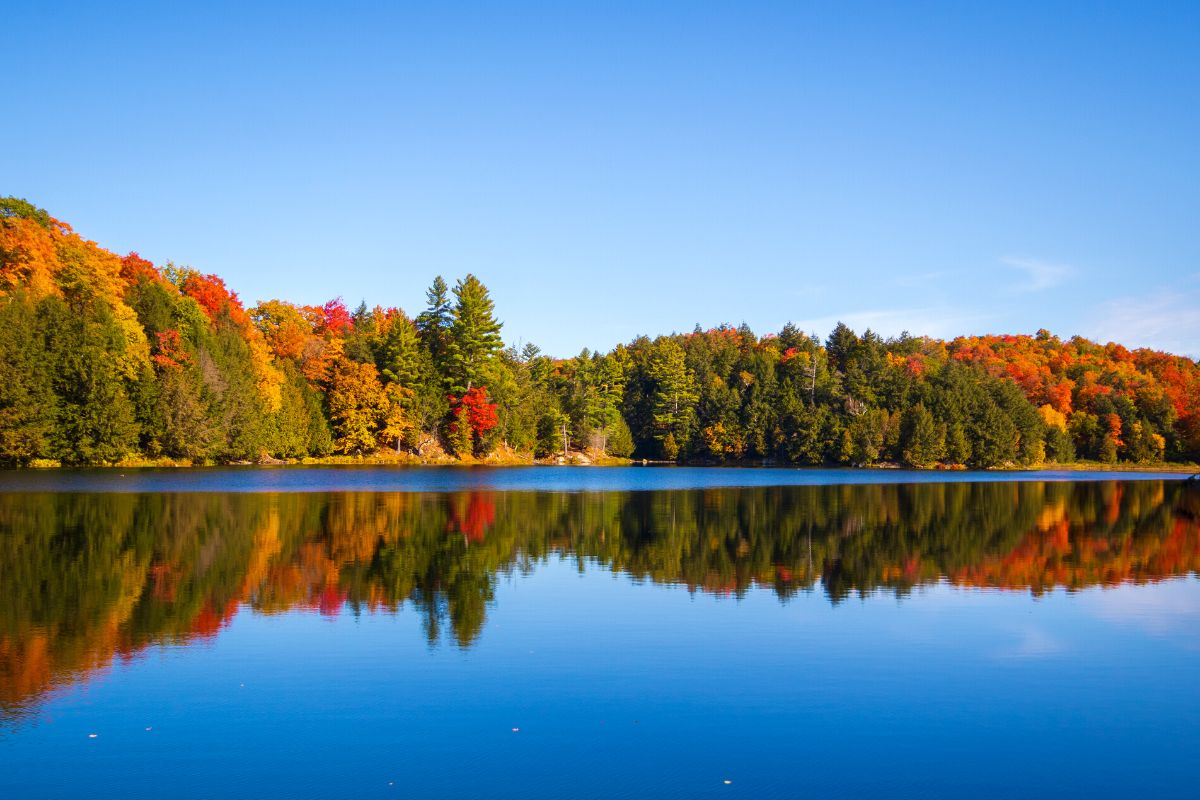 While there are plenty of great green spaces in and around Ottawa, Gatineau Park is by far the biggest.
With 140 square miles of forest, hiking trails, and lakes, it's a popular destination for nature-lovers and fans of outdoor sports.
In warm weather, you can swim, hike, ride horses, or rock climb, then wind down the evening at one of the many beautiful campgrounds.
In the winter, there's cross- country skiing, snowshoeing, and even snow-biking! And for the truly brave, there are even winter camping spots available.
While there are multiple entry points that you can drive to, there are also shuttles and buses available if you prefer a carless trip.
Don't miss the chance to see some prime Canadian wilderness right in the capitol's backyard!
28 – Take a street art tour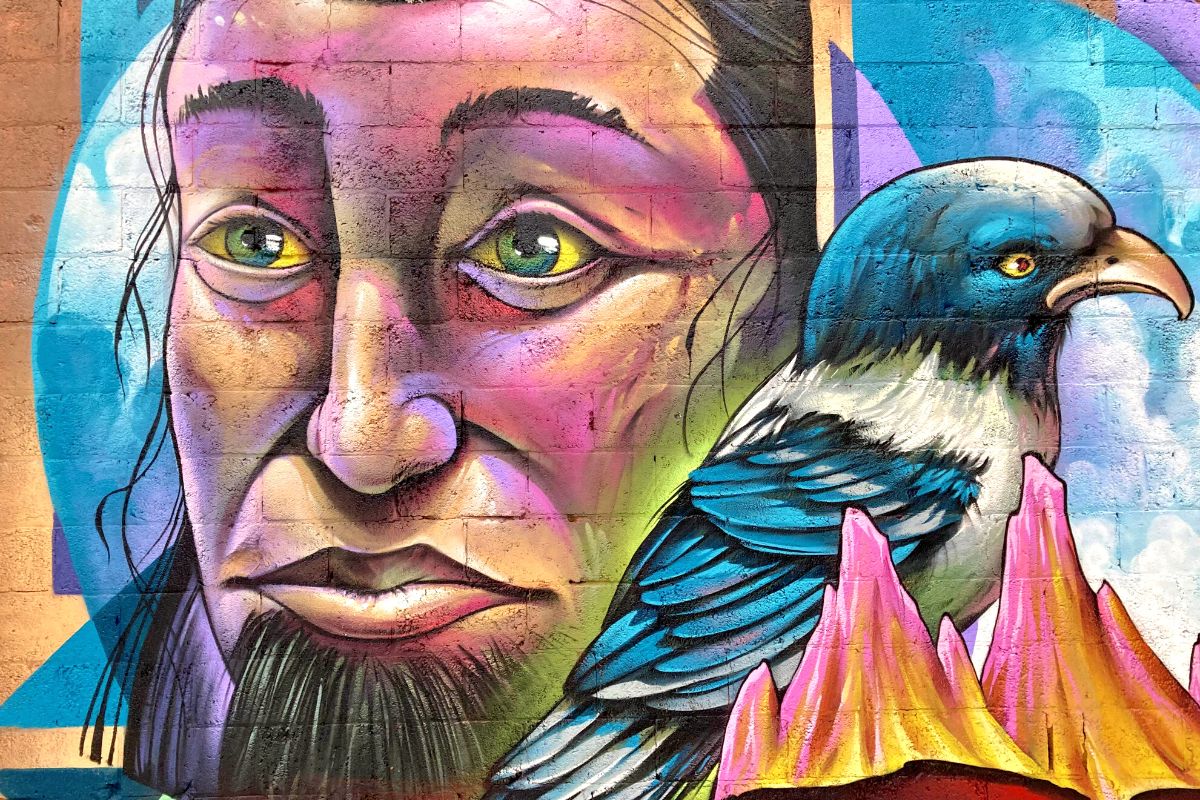 One of the more unique things to do in Ottawa, the Street Art and City Exploration Game is a great way to explore the area more deeply.
A combination art tour and scavenger hunt, this tour involves using your phone to solve puzzles and search for clues relating to some of the city's finest works.
While the game is designed to take between 1 and 1.5 hours, participants are encouraged to take all the time they want to admire the different murals.
This creative and interactive excursion will show you a whole other side of the city's art scene!
29 – Skate your way through some "cool" obstacles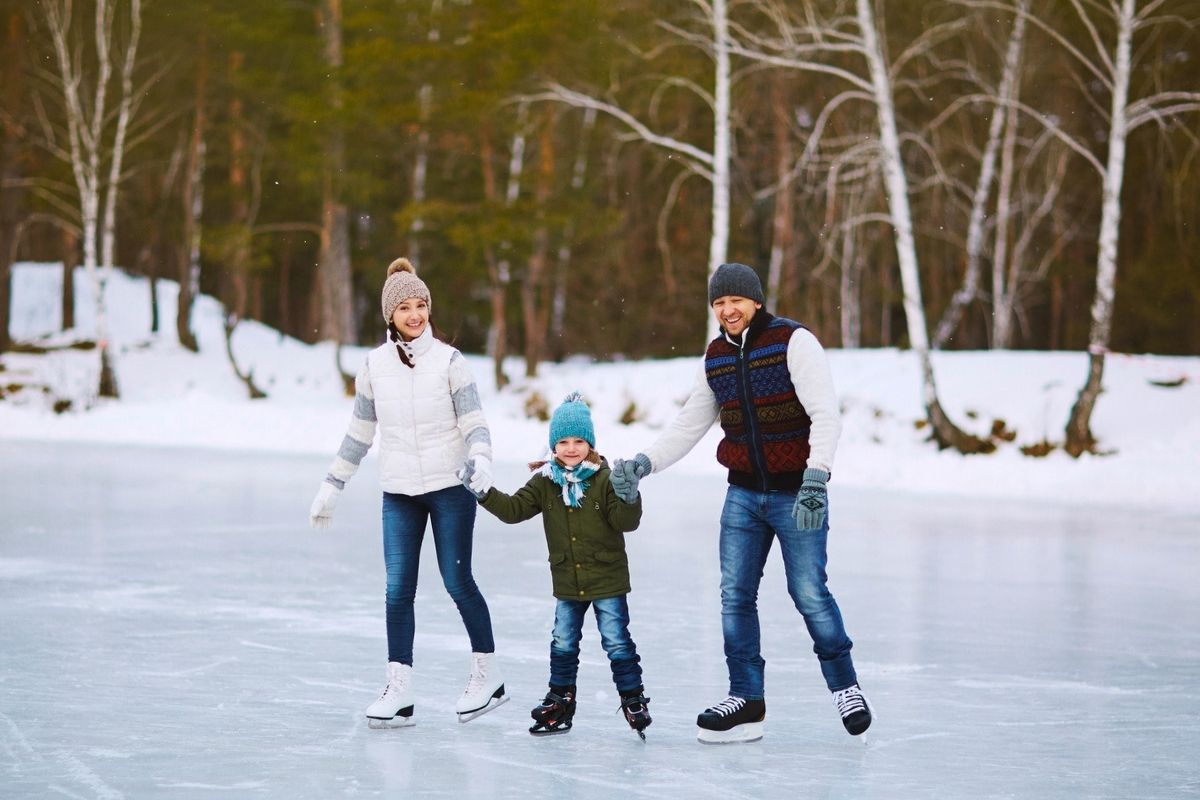 Sure, ice skating is great; but it's even more fun when there are mazes involved!
And the frozen labyrinth of Parc Nature Éco-Odyssée is certainly a fine specimen, with plenty of twists and turns that add a little fun to your session.
Surrounded by lights and trees, you'll have a truly enchanting time on the ice!
30 – Explore the world at the Canadian Children's Museum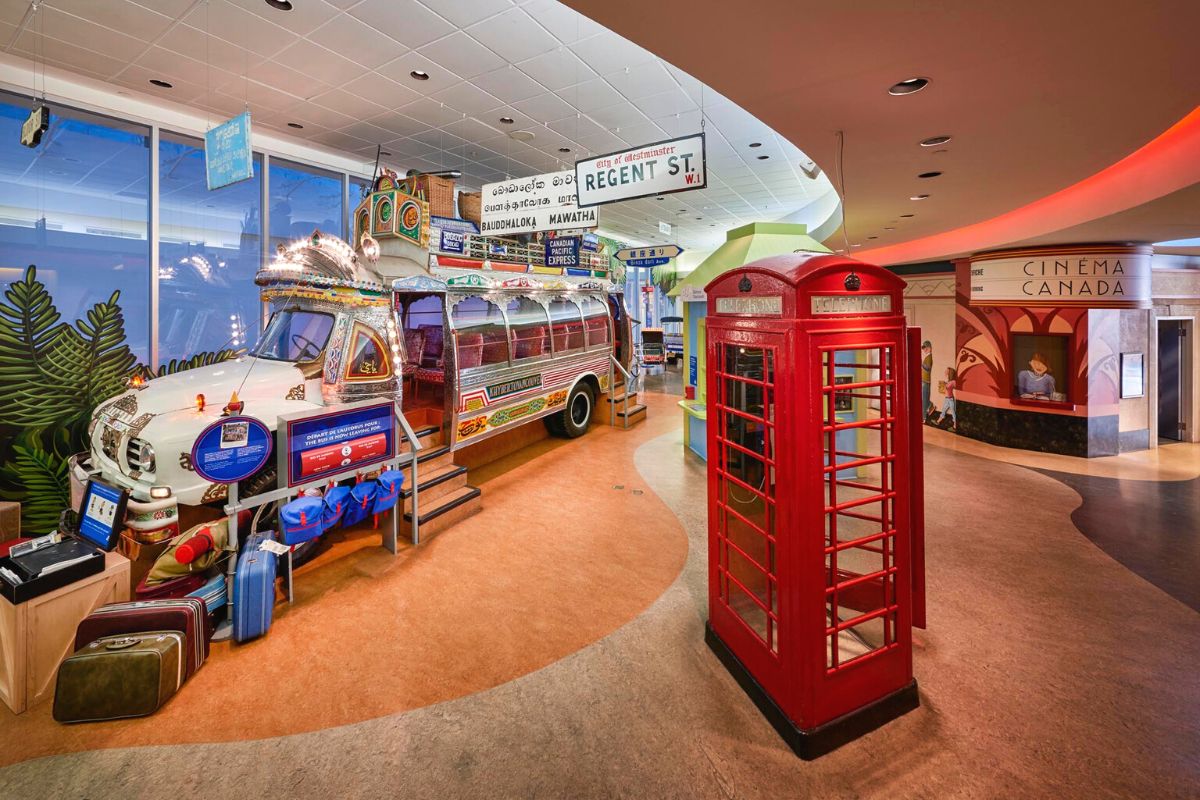 If you want to travel the globe without leaving Canada, take a trip to the Canadian Children's Museum.
Located in the Canadian Museum of History, this beloved attraction takes visitors on an interactive tour around the world – everywhere from a Parisian street corner to the deck of a cargo ship.
Kids can play and learn at the same time, and adults might find themselves having plenty of fun too.
And don't miss the family Studio, where you can practice craft techniques from around the world – and bring your creation home with you!
31 – Hike and watch wildlife at Mer Bleue Bog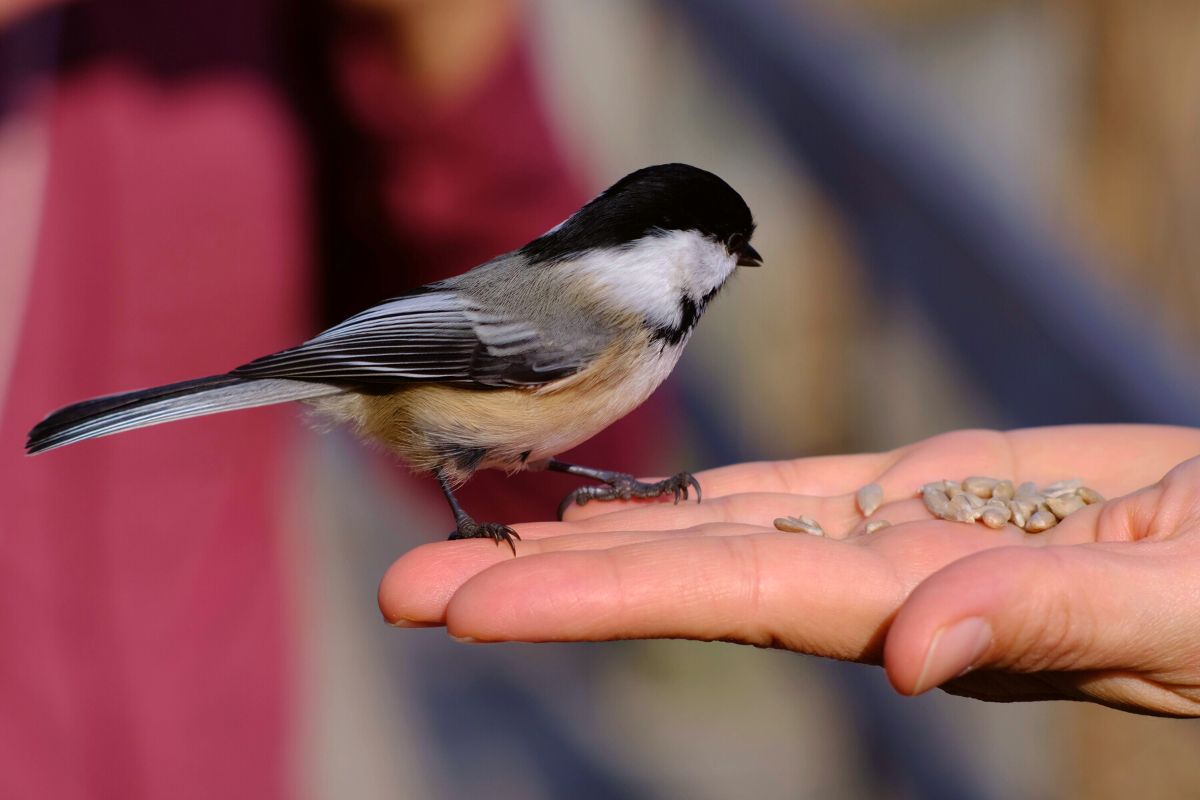 The northern boreal landscape – known for large wetlands and tall, thin evergreen trees FIX – is among the most interesting ecosystems in the world.
And you can see a prime example of it at Mer Bleue Bog.
This striking wetland, which is about 7,700 years old, hosts a variety of unique wildlife, including spotted turtles and minks.
It's also a key climate stabilizer, and as the largest bog in the capitol region, it's an ecological treasure.
Take a stroll along the Bog Trail to learn more about the area's distinctive features, then spend some time picnicking or birdwatching.
If you prefer more strenuous activities, you can also hike, snowshoe, or cross-country ski.
Whether you're interested in ecology or just looking for a scenic stroll, this gem of the natural world is not to be missed.
32 – Explore the Bank of Canada Museum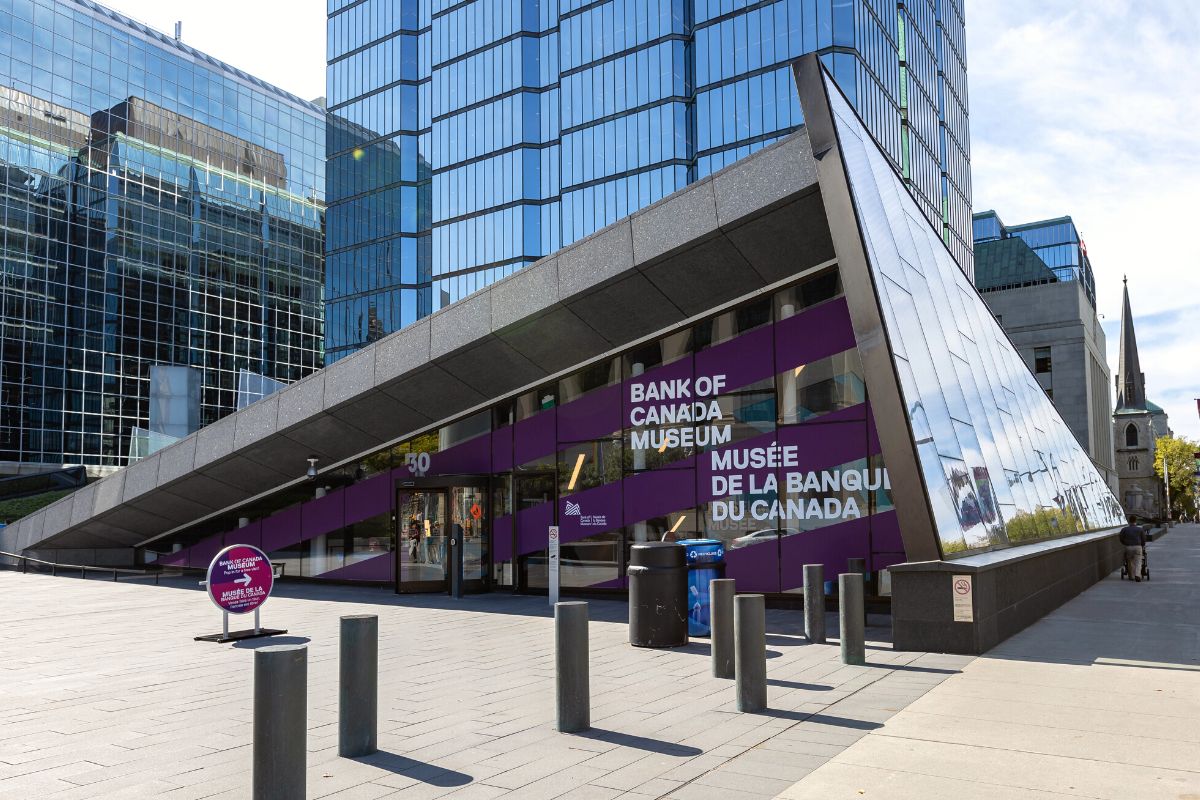 An excellent complement to the Royal Canadian Mint, the Bank of Canada Museum invites visitors to dive into the complex, fascinating story of the country's economy.
It's one of the best things to do in Ottawa if you're looking for a truly unique museum experience.
Explore interactive exhibits covering everything from the process of inflation to the process of routing money, all with your own personalized avatar.
Then check out the museum's impressive collection of global currency – including, of course, some highlights from Canada's history.
You can even try your hand at creating your own bank note!
With a wonderful mixture of hands-on engagement and thought-provoking topics, the museum's exhibits are like the cool Economics class you wish you had in school.
33 – Cut loose at Mooney's Bay Park and Beach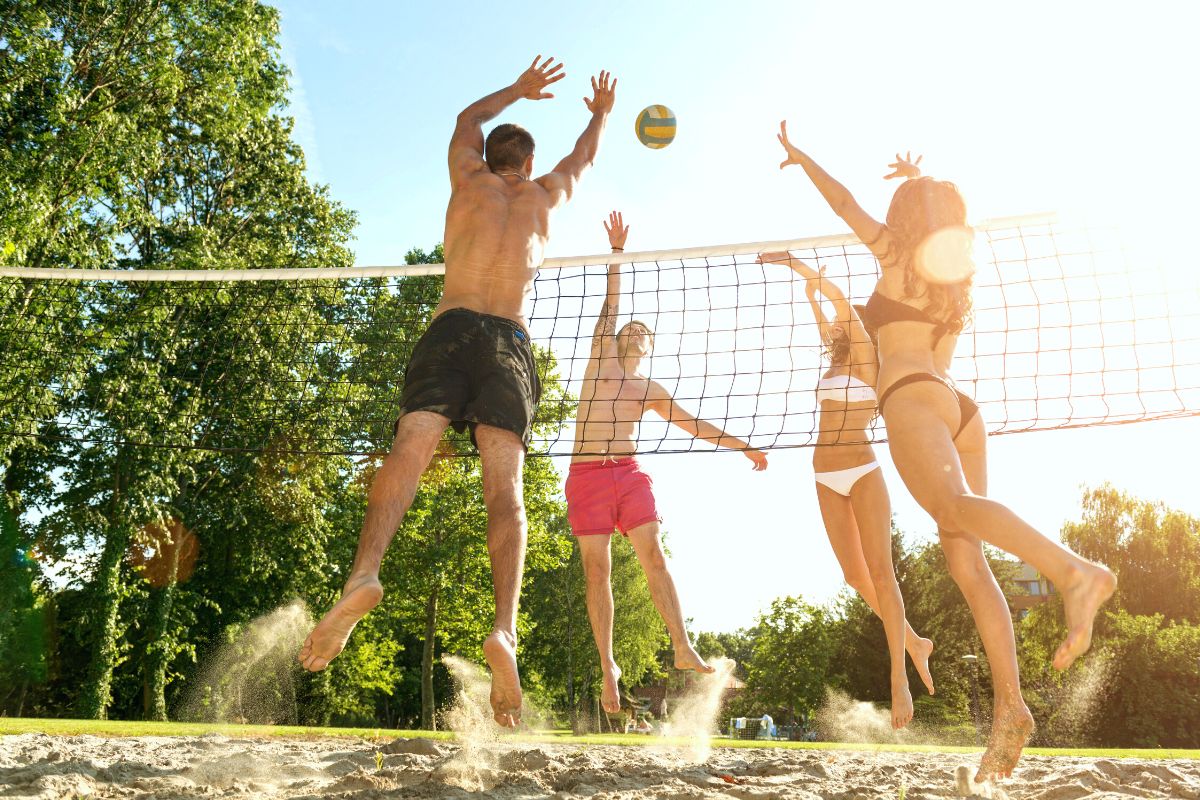 When the sun comes out, the beaches of Ottawa come alive.
And Mooney's Bay, with its picturesque location on the Rideau River and range of activity options, is one of the best.
Whether you want to play a round of volleyball, go for a swim, or head out on a boat, this charming beach has got you covered.
At the end of the day, you can fire up one of the onsite barbecues and enjoy a delicious meal alongside the locals.
Don't miss the chance for some fun in the sun!
34 – Appreciate the works at Ottawa Art Gallery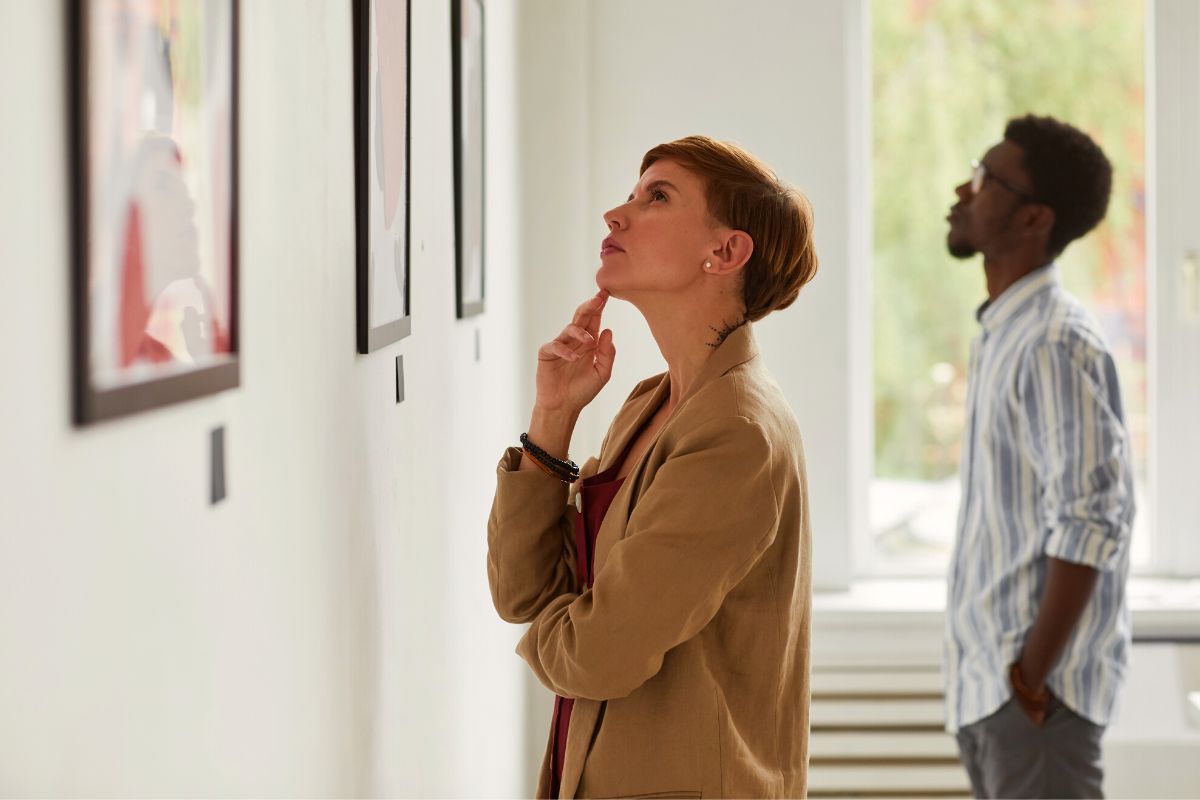 If the street art tour leaves you craving more, stop by the Ottawa Art Gallery to see the impressive collection of works on display.
With a focus on creative responses to societal issues, the gallery hosts a number of rotating exhibitions from Canadian and international artists.
They also have a strong community focus; exhibitions occasionally feature works by community members, and they also offer numerous public programs and an online research library for those seeking to learn more about art.
With over 1,020 pieces and a focus on innovation, this is the place to go if you like unique cultural spaces.
35 – Fly through town with Interzip Rogers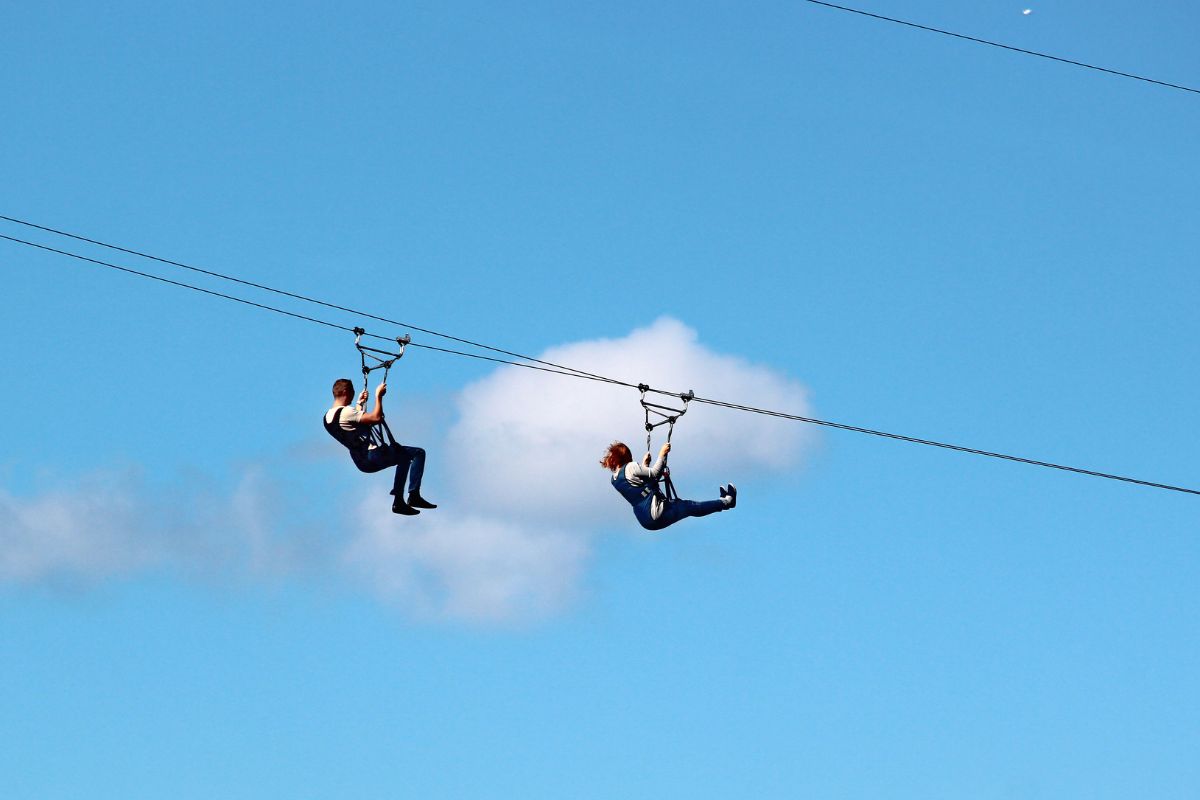 Want to see the sights in a different way?
Then head over to Interzip Rogers, the first interprovincial zipline in the world.
Your thrilling journey will take you past such landmark attractions as downtown Ottawa, Gatineau, and more, as you zoom over the Ottawa River at high speeds.
And, of course, you'll get the unique opportunity to fly through two provinces – Quebec and Ontario.
Not only will you get to see the city from a new vantage point, but you'll have lots of fun, too!
36 – See the bygone past at the Bytown Museum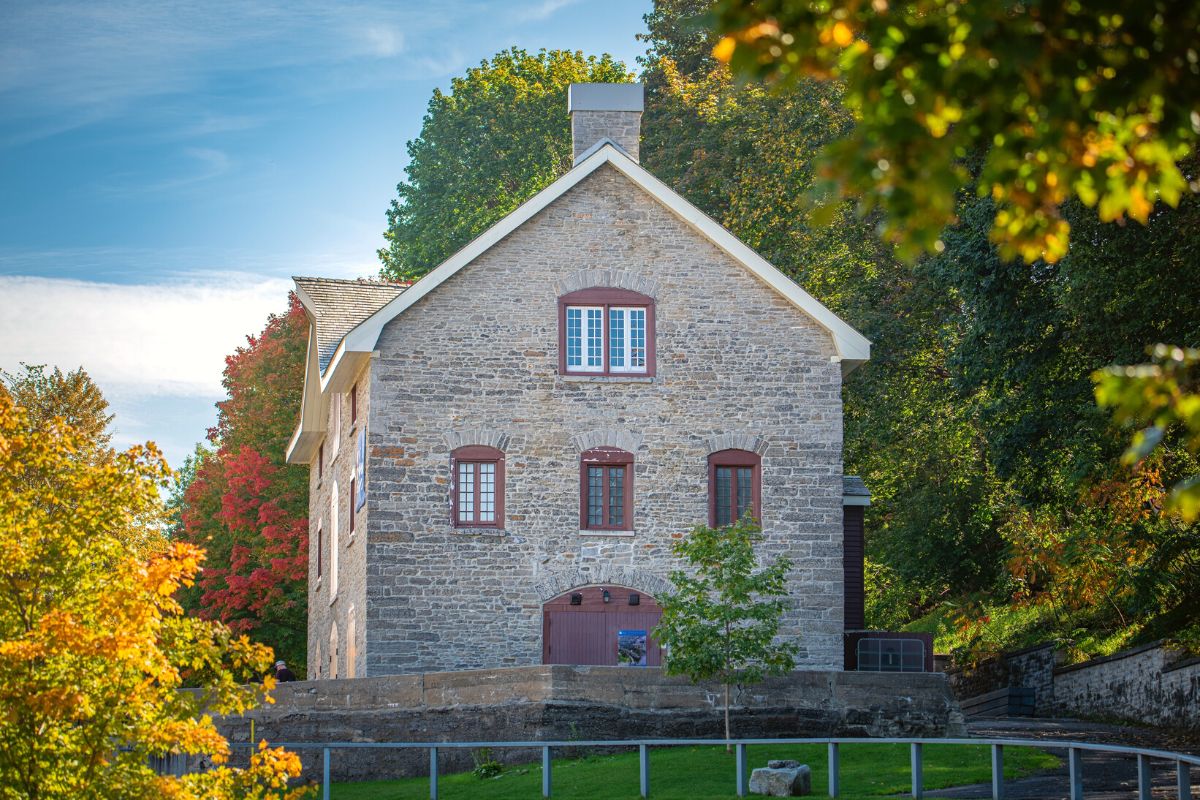 Long before it was known as Ottawa, the city had another moniker: Bytown.
If you're curious about daily life in those long ago days, be sure to visit the Bytown Museum.
Learn the stories of the region from its earliest days, such as the building of the Rideau Canal, the ascent to capitol status, and the many industries that defined the area.
Take a look at the magnificent collection of artifacts from the 19th and 20th centuries, including photos, articles of clothing, and weapons.
At the moment, the Bytown Museum remains closed due to the pandemic, However, they offer a range of virtual programs to keep people engaged with history, including arts and crafts ideas, virtual tours, and short videos about the area's fascinating past.
37 – Enjoy a peaceful canoe trip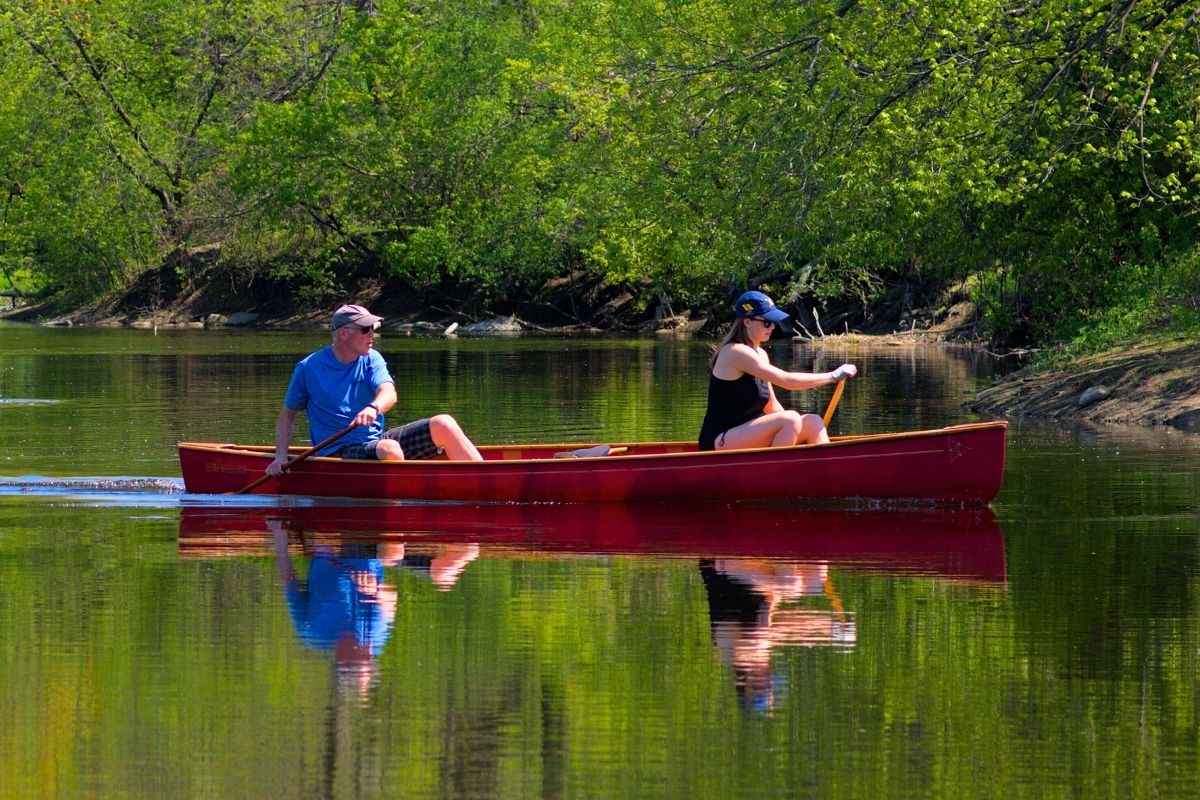 The epic, wooded landscapes of Algonquin Park have long made it a beloved getaway for locals – and with a guided canoeing excursion, you can enjoy it too!
Journey from one picturesque lake to the next, with wildlife moving through the glens, and the endless skies and trees around you.
The tranquility of the area is a nice respite from the busyness of town!
38 – Chill at Confederation Park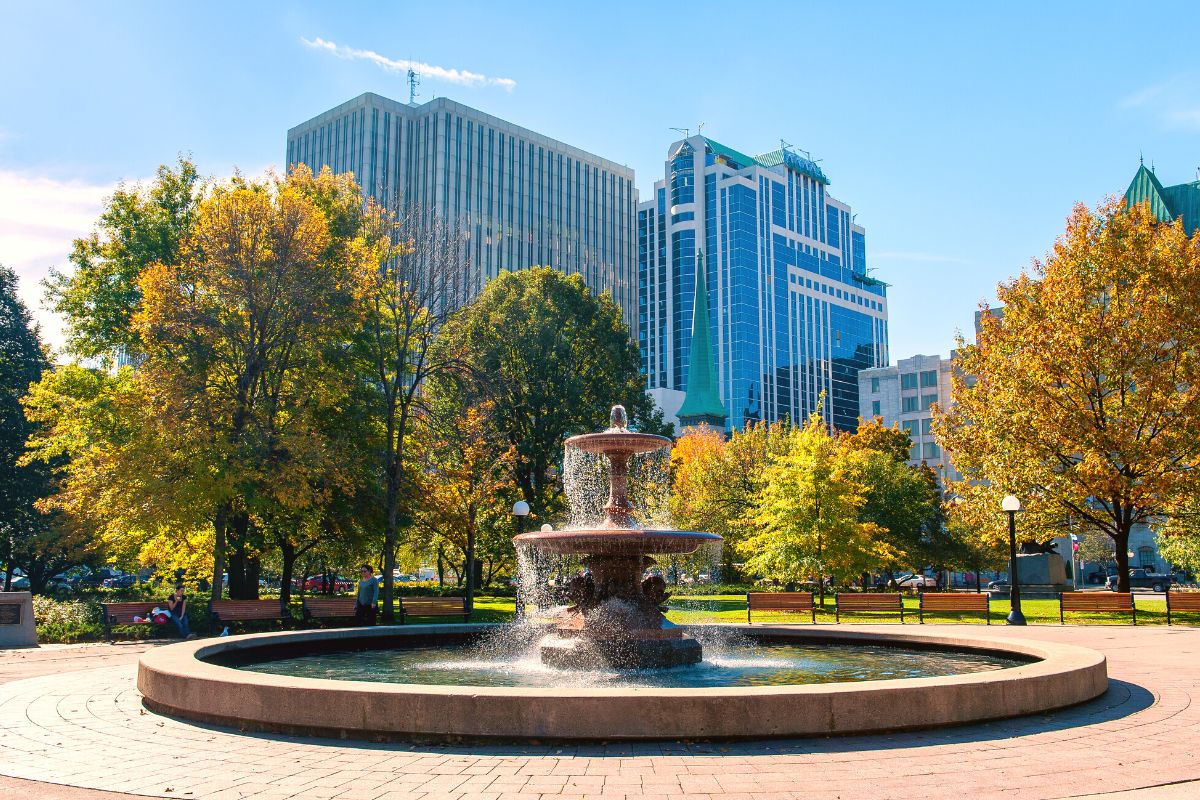 If public celebrations are on your list of things to do in Ottawa, you'll likely be spending some time at Confederation Park.
This small but mighty green space  is known for its beautiful trees, as well as its monuments to Aboriginal veterans and soldiers in the South African War
But it is also a go-to place for large events, including the Ottawa International Jazz Festival, and Winterlude, a snow and ice-focused extravaganza.
For a mixture of nice views, thought-provoking monuments, and wonderful public events, this is the ideal park to visit.
39 – Explore the ornate Rideau Hall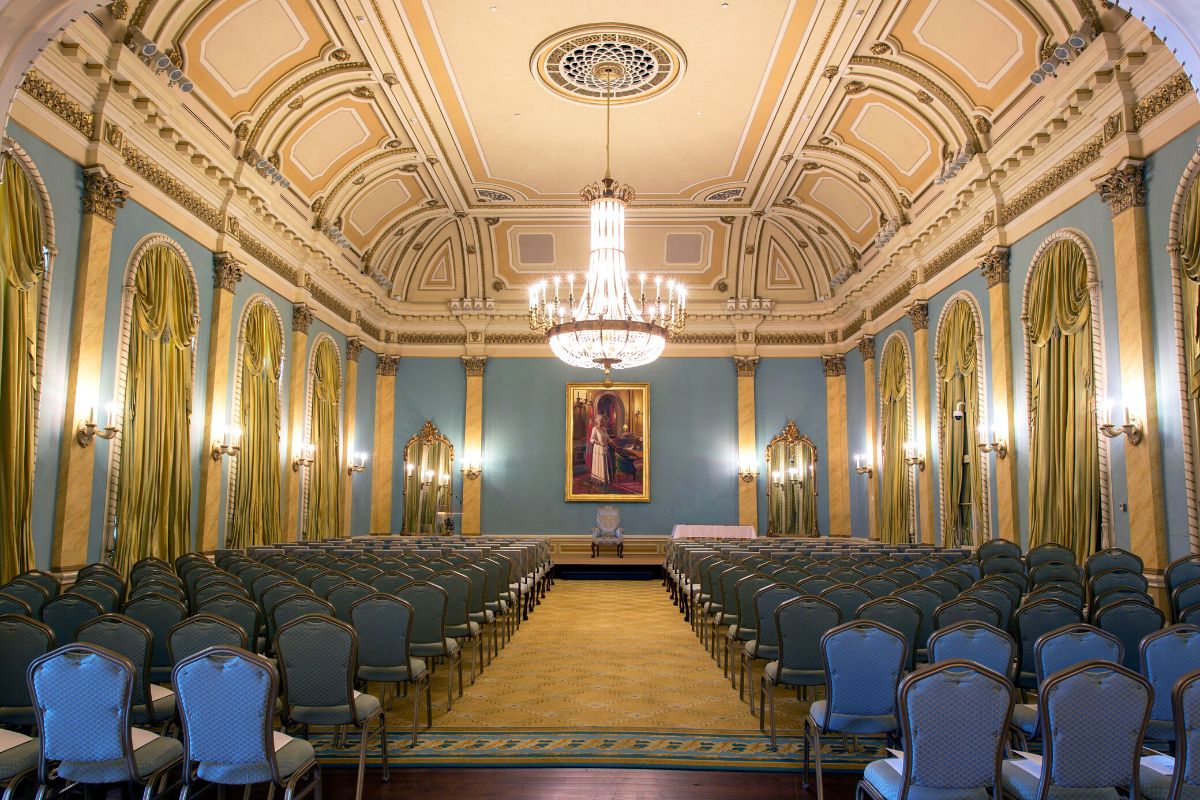 Another beautiful civic building that doubles as a great tourist attraction, Rideau Hall has something for everyone.
As the residence of the Governor General of Canada, it's a wonderful place to learn more about the political workings of the nation.
But the property also includes 78 acres of well-manicured grounds, which feature a variety of trails, gardens, and monuments.
Keep an eye out for trees that were planted by the royal family!
Whether you're seeing the outdoor sites at your leisure, or enjoying a guided tour of the building itself, Rideau Hall is well worth a visit.
40 – Try a paddle board maze
Do you love watersports?
Are you a fan of puzzles and unique expeditions?
Want to learn more about the city?
Then don't miss out on the water maze, one of the most fun and unusual things to do in Ottawa.
Grab a stand-up paddleboard and start navigating the carefully cultivated waterways, which wind their way through farms and woodlands.
You'll feel like you've been transported to another world as you explore this beautiful rural area, following the gentle curves of the innovative labyrinth.
This is an ideal excursion for those that like a little adventure with their sightseeing!
41 – Enjoy a dinner musical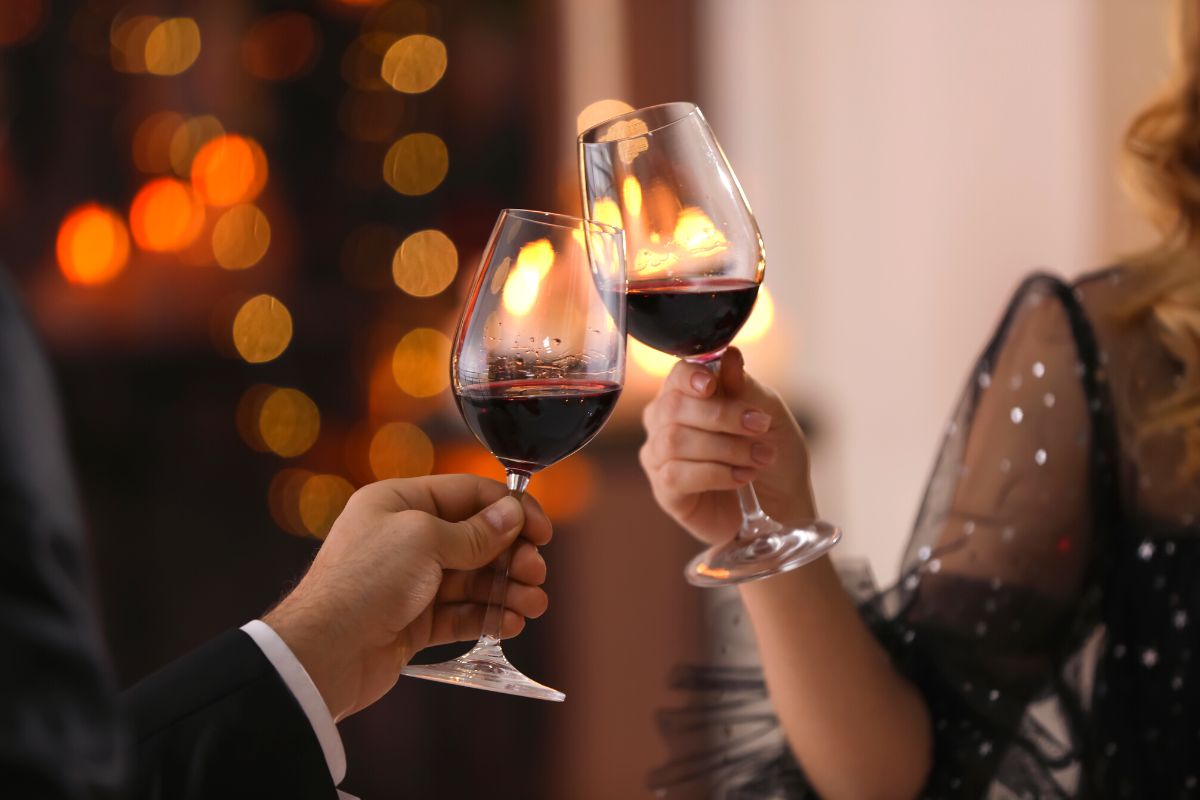 Canada has produced an incredible amount of musical talent over the years, from pop and country to doo wop and show tunes.
And you can enjoy selections from some of the nation's best artists – not to mention a loving showcase of all things Canadian – with the "Oh Canada Comeback, Eh?" dinner theater performance.
Hosted at the Royal Canadian Legion, this energetic show features singing, dancing, and plenty of homages to Canadian literature and culture.
As you enjoy the performances, you'll also be able to taste some delicious national delicacies, courtesy of a five-course meal.
This may be the only place in the world where you can celebrate Anne of Green Gables, Justin Bieber, and poutine all in one place.
For an evening of spectacular entertainment and world-class food, don't miss this fun-filled homage to Canada!
42 – Test your wit at Jigsaw Escape Rooms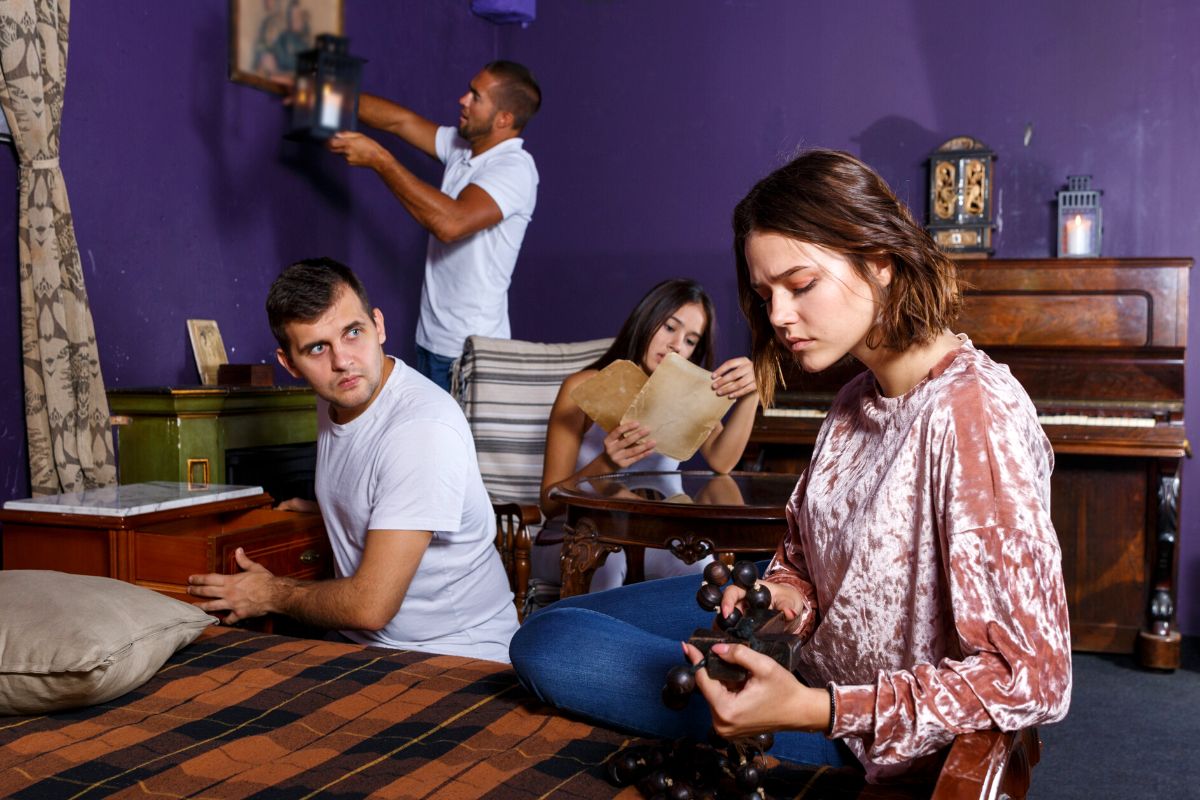 If you're traveling to the city with a group – friends, family, or coworkers – then be sure to stop by Jigsaw Escape Rooms to try some new experiences.
Work on problem-solving, clue-finding, and teamwork as you navigate your way through one of seven immersive environments, each with a different level of difficulty.
Whether you're trying to flee a murderous meatmonger in "The Byward Market Butcher," fighting to save a fantasy kingdom in "The Castle," or exploring a haunted buccaneer's ship in "The Pirate's Code," you'll face plenty of challenges – and have plenty of fun.
So grab a group and test your mettle. You have one hour to find a way out!
43 – Browse through the Ottawa Farmers' Market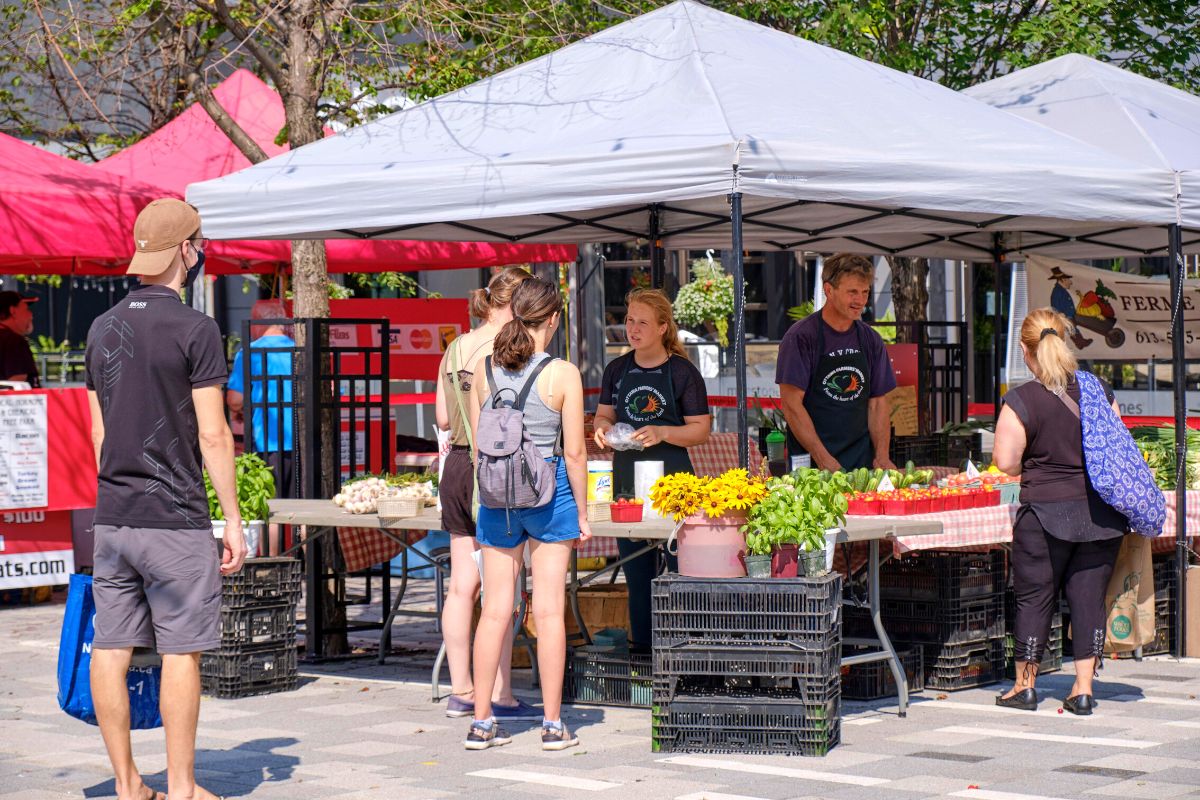 After you've seen some of the lovely farms in the area, take a trip to the Ottawa Farmers' Market to try some of the freshest products from their neighbors.
With four different locations operating in various seasons (including one in Lansdowne Park that operates year-round), there's no shortage of delicious options for you to try.
Browse through over 150 stalls filled with fruits, veggies, baked goods, and more, all while enjoying fabulous music by local artists.
Best of all, because the products are all from within 100 kilometers (roughly 62 miles), you can be assured that they're at the peak of freshness, and that your money goes right back into the community.
A morning at the market is a great way to score some delicious food and have fun along the way.
44 – Snowshoe into the glorious wilderness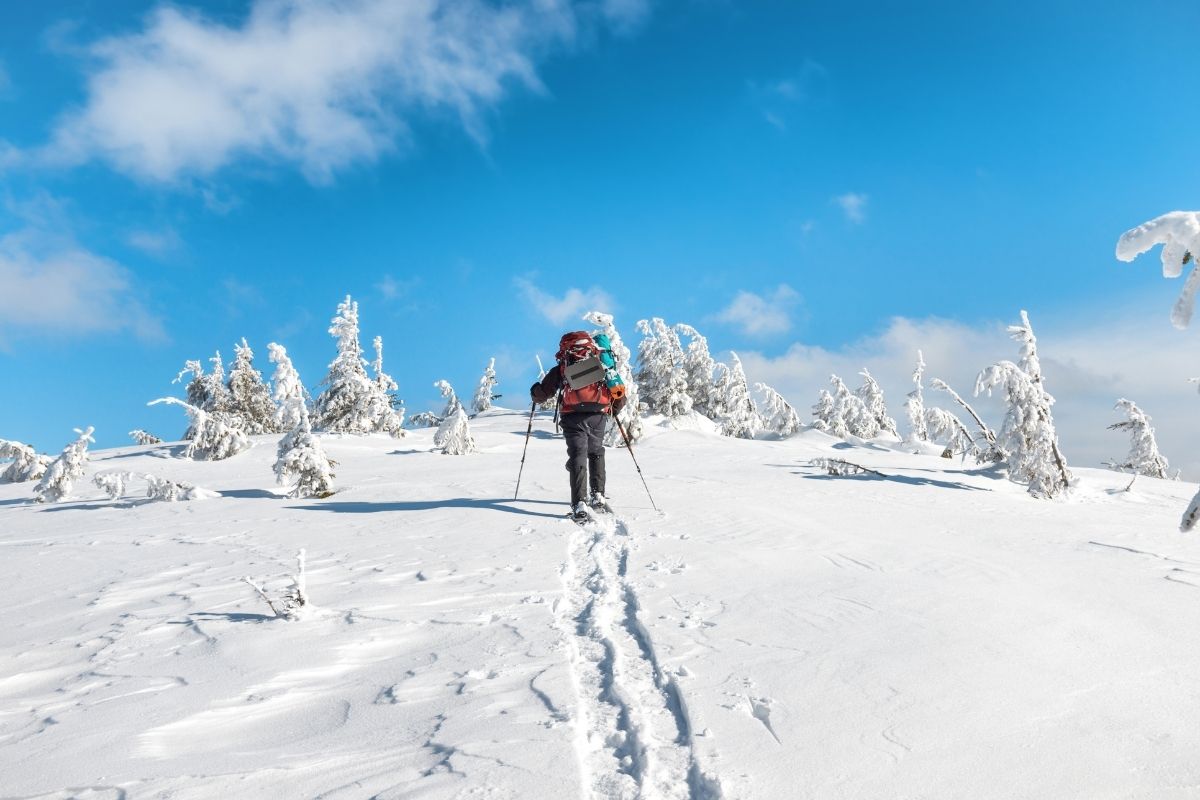 Winter doesn't mean the end of hiking – far from it!
An endless array of trails near the city (particularly in the beautiful Laurentians) offer some of the finest snowshoeing in Quebec, and the beauty of the woods in winter will make even the steepest trails feel invigorating!
Get out and explore in the classic Canadian way!
45 – Head out on a scavenger hunt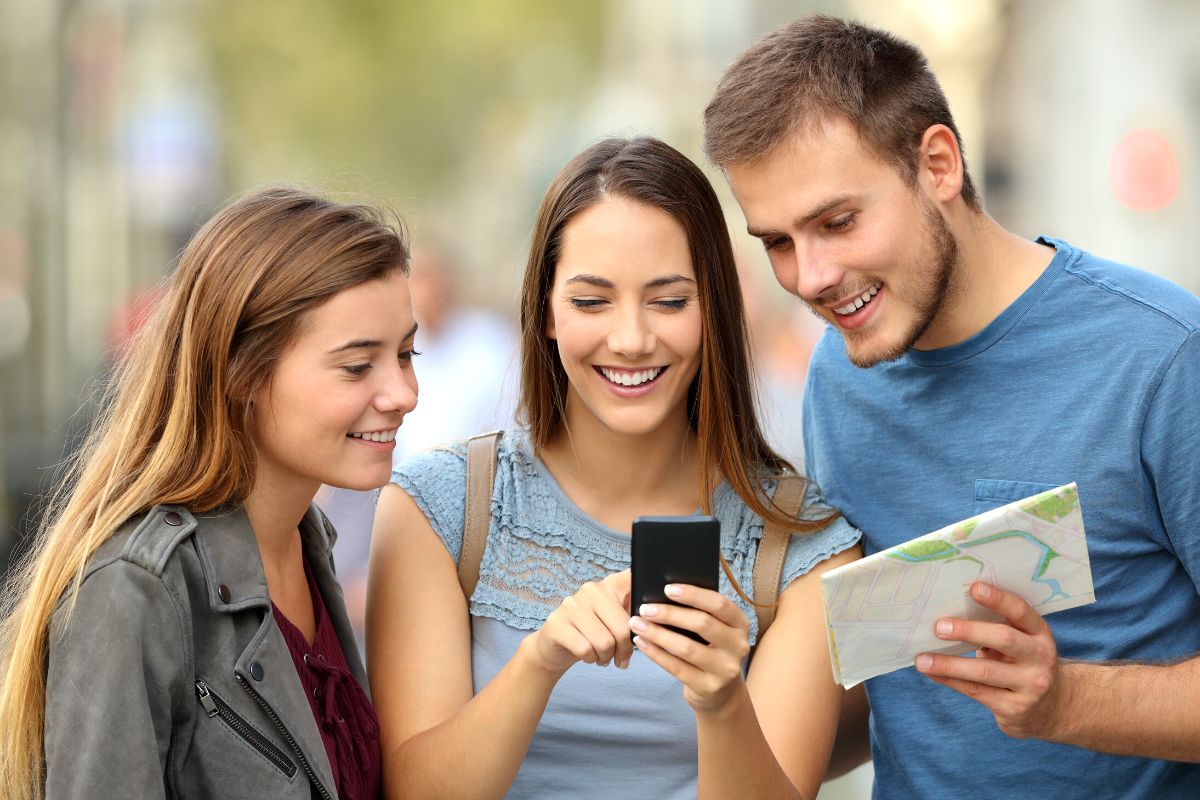 If there's one thing Ottawa loves, it's a good scavenger hunt.
These interactive adventures are a great way to explore the city, while also adding a bit of a treasure-hunt aspect to your tour.
And it's not just the street art version that will keep you entertained; various companies offer different takes on this exploratory game.
With Wacky Walks Ottawa, you'll download an app that guides you towards specific sites, which you photograph and submit for points.
Or try some puzzles from Let's Roam, which focuses on the historic Westboro neighborhood.
And if you'd like a really unique twist on the genre, check out the program offered by Zombie Scavengers.
As the name suggests, your game involves finding all the items and places necessary to make it through a zombie apocalypse.
Search for items and solve puzzles throughout town – but watch out for the undead!
Whichever option you choose, your Ottawan scavenger hunt is bound to be a memorable way to learn about the city.
46 – Skate around the Rink of Dreams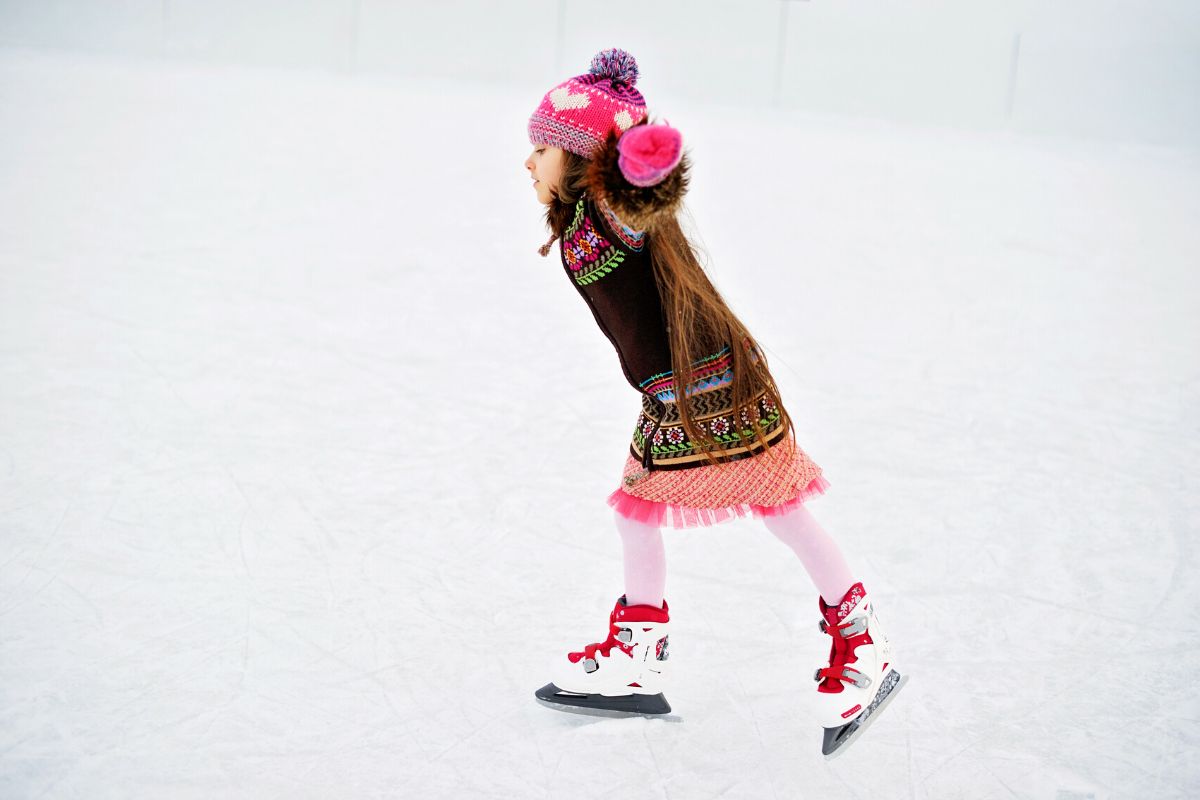 Canada and ice-skating go hand in mittened hand.
And at the Rink of Dreams, you can strap on some blades and try the beloved national pastime for yourself.
Open throughout the winter (weather permitting), the rink is located near City Hall and other downtown attractions, making it a convenient stop on your sightseeing itinerary.
For an extra bit of beauty, stop by at night to see the gorgeous light display.
Skating through these bright rainbow hues is an ideal way to spend a winter's evening.
47 – Enjoy the flowers at Rockcliffe Park and the Rockeries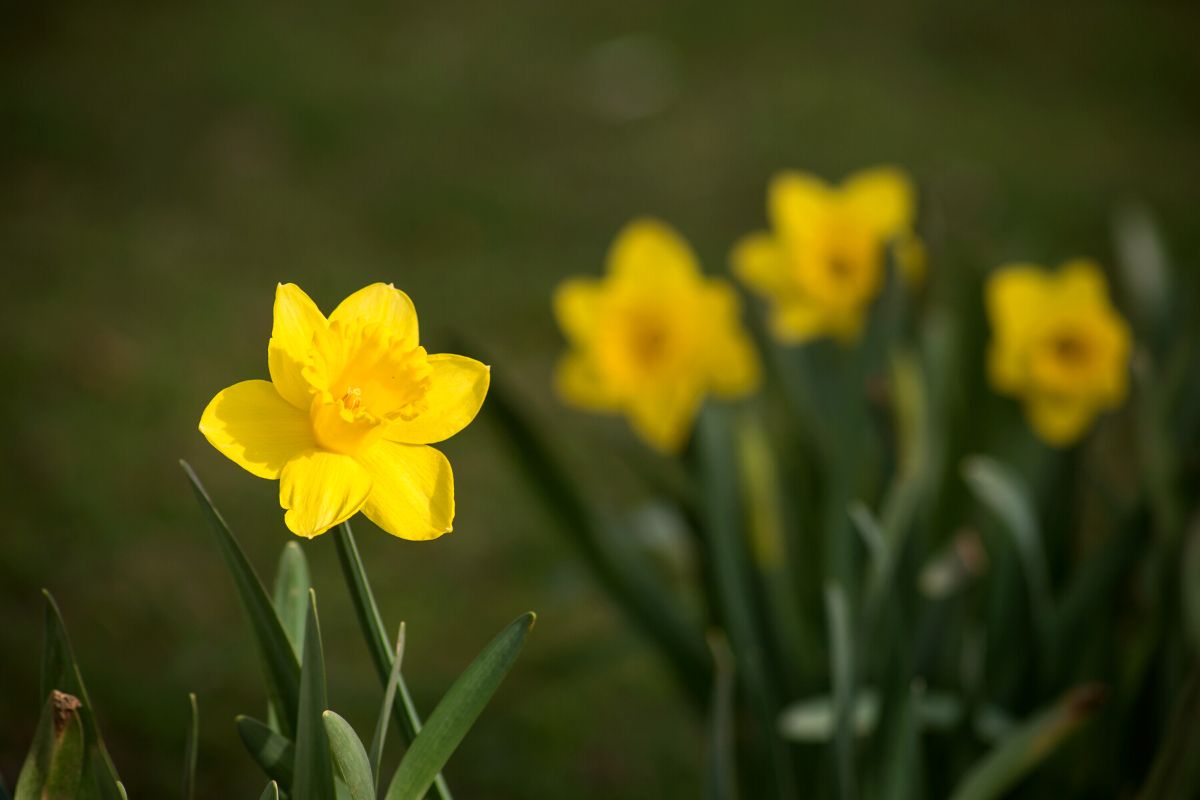 This charming park, which resides on a high cliff with phenomenal riverside views, is perhaps best known for its springtime flower displays, including numerous daffodils.
Stroll among the blooming bursts of color, and you'll be in no hurry for summer to come.
The park also includes the Rockcliffe Pavilion – a scenic building that is frequently used for weddings – and some beautiful ruins of classical pillars.
And of course, you can spend plenty of time just enjoying the overlooks, with great panoramic views of the city.
This hidden gem is well worth stopping by.
48 – Scale the walls at Altitude Gym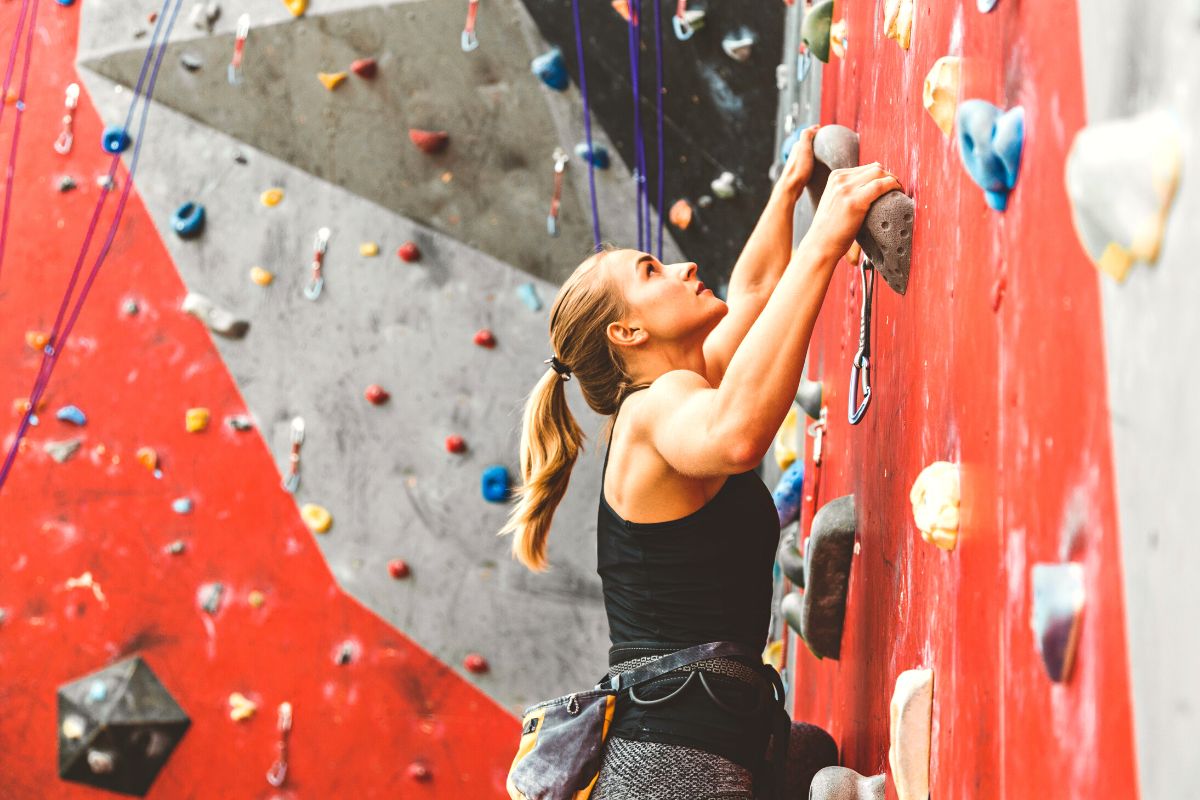 Do you have the urge to climb every rock and mountain face you see?
If so, Altitude Gym should absolutely be one of your top things to do in Ottawa.
With two different locations offering both recreational and competitive-level courses, this world-class rock-climbing gym offers walls for experts and novices alike.
For younger guests, the Quarry Zone features some family-friendly climbing routes, as well as an augmented reality climbing experience and a Ninja Warrior obstacle course.
Check out the rocks at the Gatineau or Kanata locations for some exercise and adventure!
49 – See the Former Geological Survey of Canada Building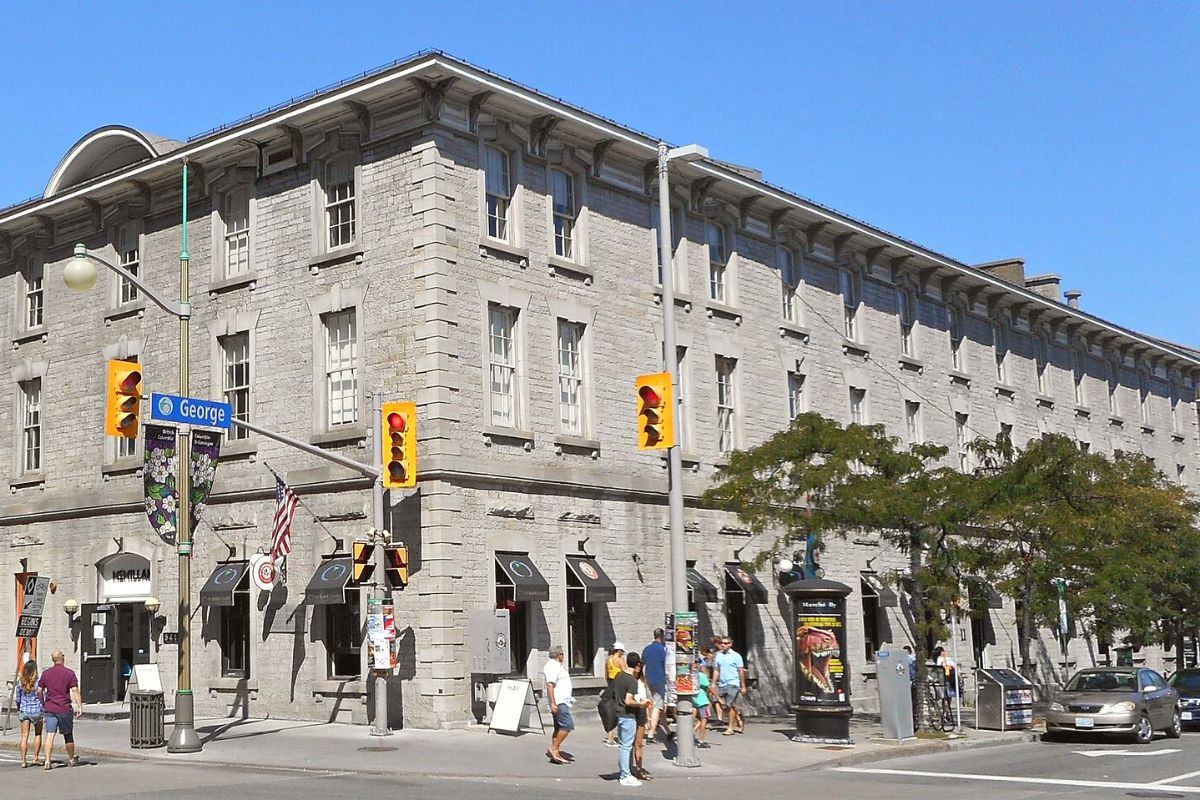 As the name suggests, this impressive building was once the headquarters of the Geological Survey of Canada.
But it's also a valuable piece of the town's early history, dating back to the mid-1800s.
Featuring impressive stonework and classical accents, the building went through several other roles – including a stint as the first major Canadian national museum – before being recognized as a Federal Heritage Building in 1986.
Stop by to see its impressive details for yourself, and to learn more about the early history of geological exploration and preservation in the area.
50 – Pay a visit to Saint Patrick Basilica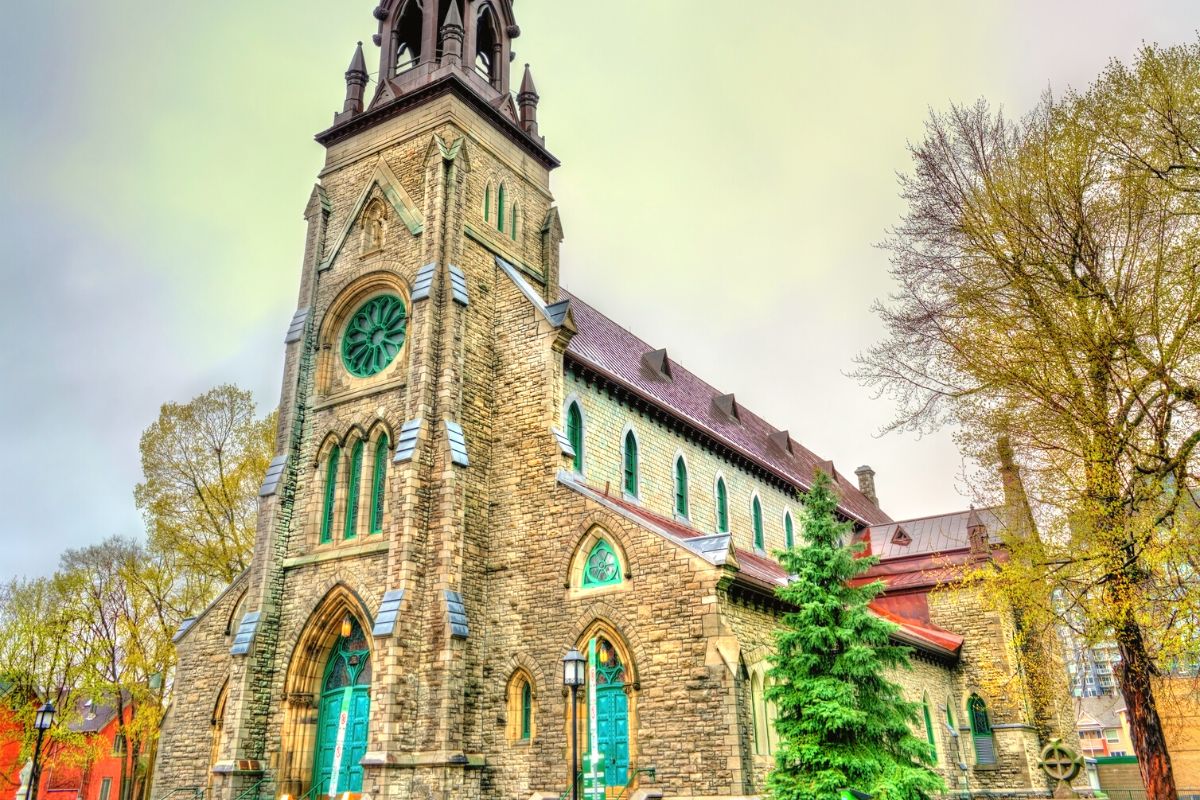 If you're looking for other religious buildings that offer rich history and beautiful designs, be sure to stop by St. Patrick's Basilica.
As the first English-speaking Roman Catholic parish in town, it has long been a popular place for religious services and general touristic visits.
Stop by for thrice-daily Masses (six on Sundays) or to use the confessional, or simply to admire the artwork and architecture of this remarkable structure.
51 – Shop around the ByWard Market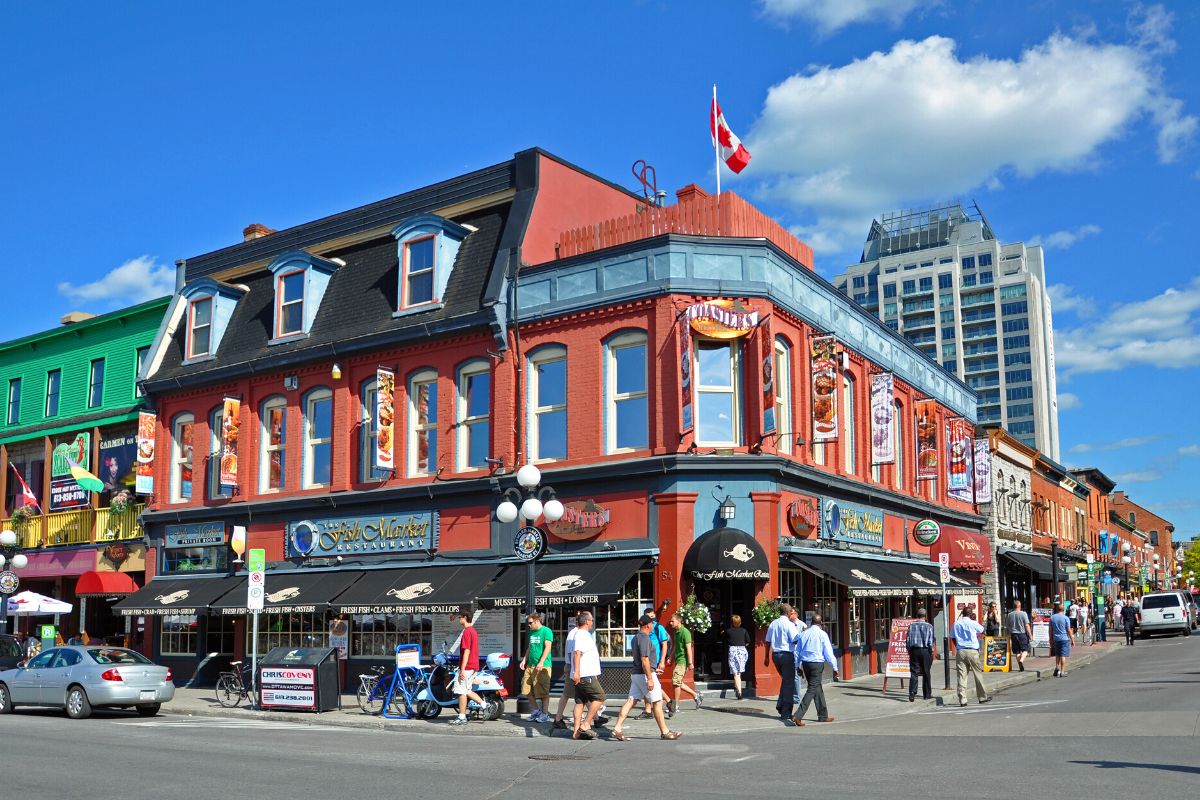 If you want a little bit of local flavor with your souvenir shopping, look no further than the ByWard Market.
This bustling downtown attraction is beloved by locals and visitors alike, with a variety of restaurants, shops, galleries, museums, and more.
Browsing its offerings is one of the most popular things to do in Ottawa, and it's easy to see why; as one of the largest and oldest public markets in Canada, its 600-plus businesses showcase a whole range of local talent.
While it operates year-round, ByWard does feature different attractions at various times of year, so be sure to check the directory before you go.
Regardless of whether you want to shop, eat, sightsee, or party – or all of the above -, you're bound to have a good time at the city's most famous attraction.
52 – Spend some time reflecting at the Memorial Chamber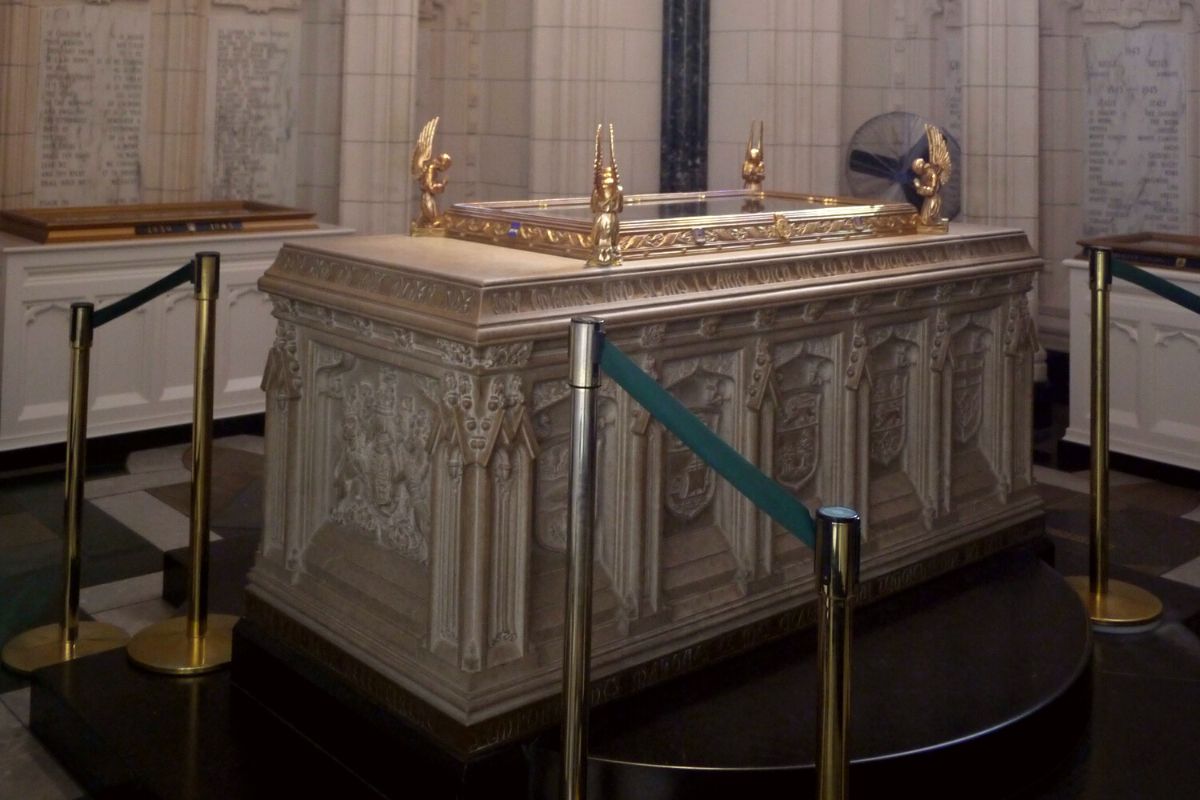 Located inside the Peace Tower, this tribute to deceased soldiers offers lots of time for introspection.
It also reflects its purpose in every element of its design.
Take some time to admire the space's stonework, all of which was quarried from battlefields in Europe.
Then move on to the six altars positioned throughout the chamber, each of which holds a book bearing the names of those that died in different conflicts.
This beautiful and thought-provoking space is a wonderful place to pay tribute to Canadian veterans.
53 – Play around at Petrie Island Park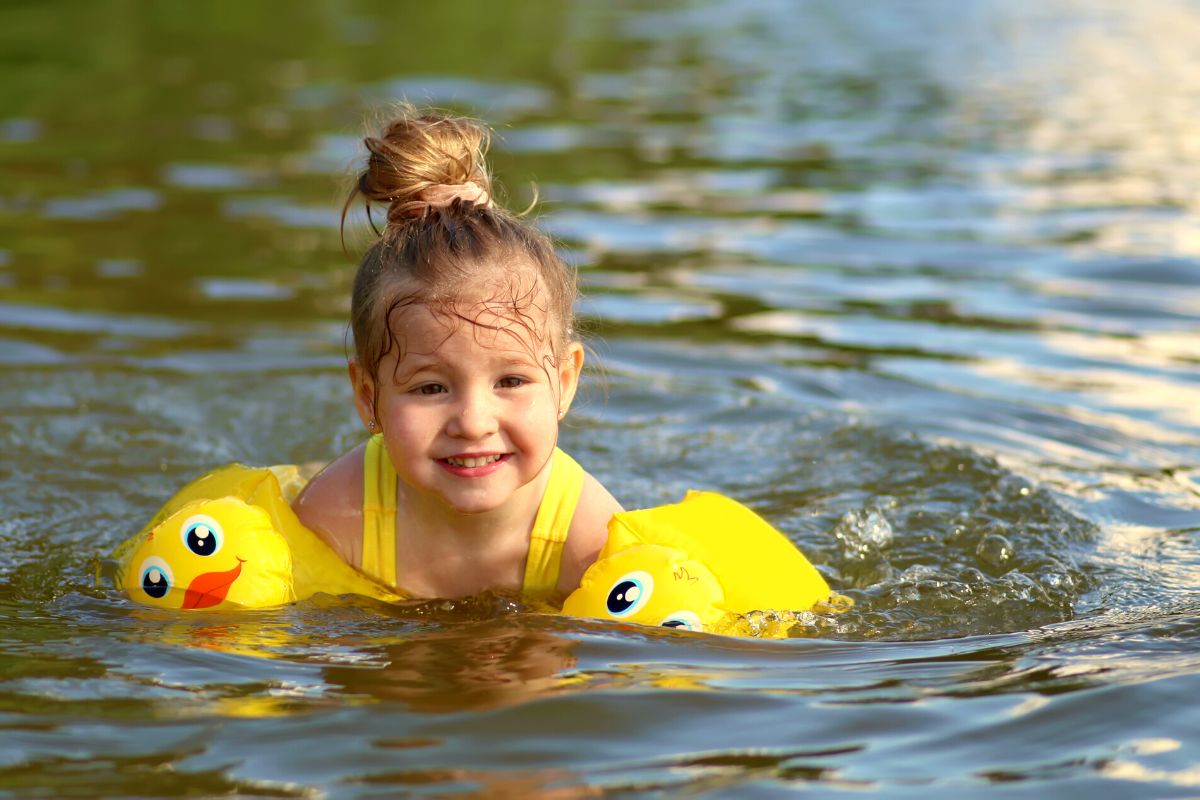 For another area that combines natural wonder with great recreational opportunities, pay a visit to Petrie Island.
Tucked along the Ottawa River, this splendid piece of land includes an acclaimed Nature Center, several trails, swimming beaches, and beach volleyball courts.
You can also fish, boat, or visit the wildflower garden to see some beautiful local specimens in bloom.
It's a wonderful park for the whole family to enjoy.
54 – Try your luck at Casino du Lac-Leamy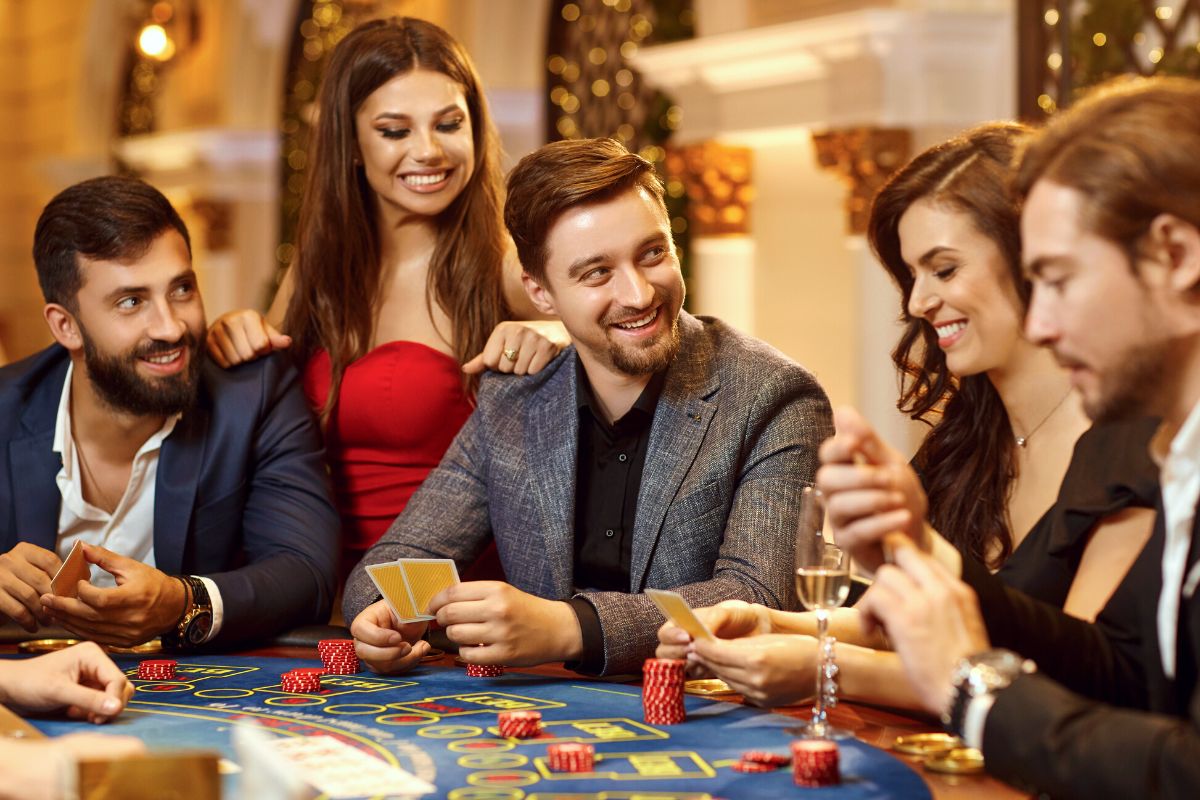 If you're looking for several entertaining things to do in Ottawa all in one convenient location, head to Casino du Lac-Leamy.
With world-class gaming options (including baccarat, roulette, and slot machines), top-notch restaurants, and a variety of shows, this is the place to go for luxurious offerings.
Once you've had your fill of gambling, check out Theatre du Casino to witness incredible musical acts from around the world.
Or stop by Bar 7 to try some fantastic cocktails and beers, all while enjoying DJs, live bands, and an ever-changing schedule of activities.
And if you want to stay a little longer, head to the nearby Hilton hotel to rest in style.
This fantastic resort makes everyone feel like a high-roller!
55 – Go on a pub crawl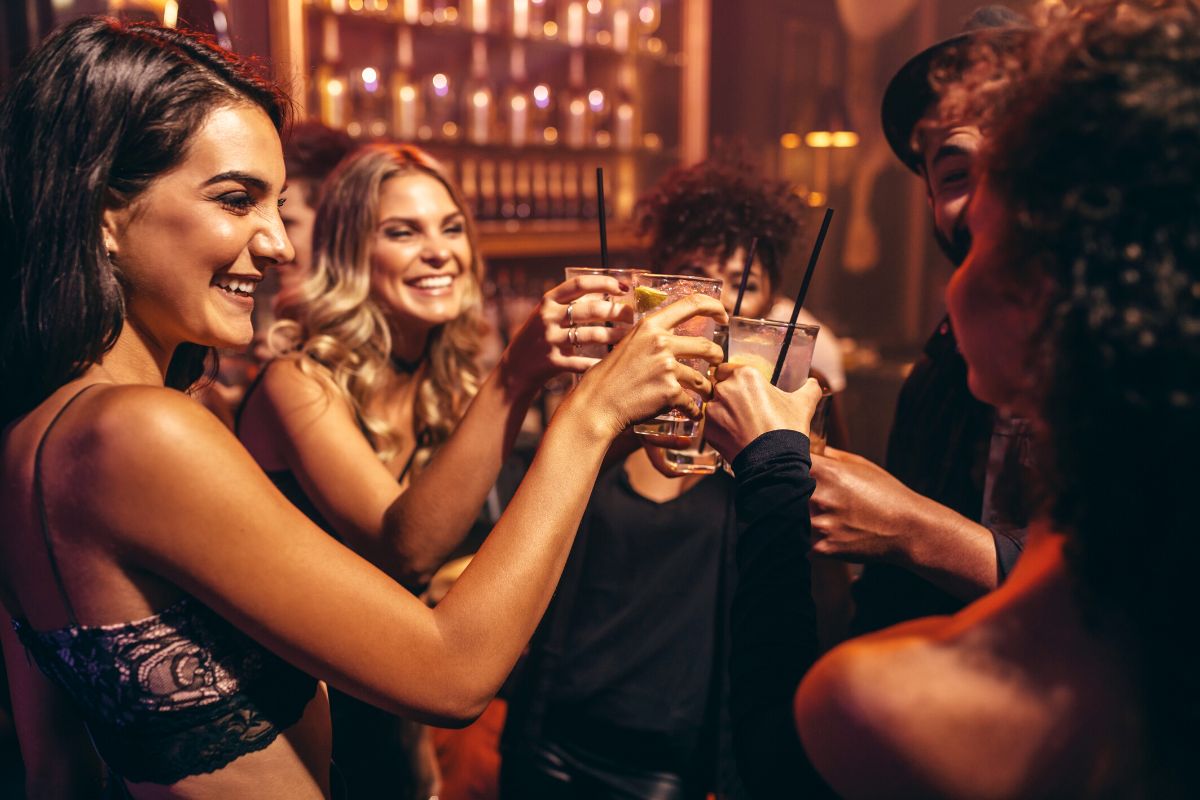 After trying all of the exciting activities around town, you'll want to kick back and reminisce over some drinks.
Luckily, Ottawa has a great bar scene, which you can sample at length with a one-of-a-kind pub crawl.
Presented by Let's Roam, this lively event will take you to bars all over the city, participating in video and photo challenges along the way.
This variation on the scavenger hunt format is a great way to experience the city's nightlife – and taste some of its best beverages in town along the way!
Where to stay in Ottawa?
Searching for somewhere to stay during your visit?
The Fairmont Chateau Laurier is a splurge-worthy spot, with an indoor swimming pool, high-class restaurants on-site, and easy access to the Rideau Canal and Parliament Hill.
Drop by high tea in the afternoon for an extra-elegant experience.
For a classy stay smack in the heart of downtown, you can book a room at Delta Hotels by Marriott Ottawa City Centre.
Start your day with a delicious coffee from the onsite Tim Horton's, then wind down after a day of sightseeing with a trip to the sauna.
And at the ByWard Blue Inn, you can enjoy a delicious complimentary breakfast, in-room work spaces, and easy access to such beloved sites as the National Gallery of Canada.
Book an airport transfer to get yourself straight to the door and started on your adventures.
Where next?
Toronto is four hours to the south, and offers a lively cosmopolitan scene.
Eat terrific food and catch ambitious shows in the Distillery District, or wander through the gorgeous halls of Casa Loma, the biggest castle in North America.
Two hours to the east, Montreal is an ideal destination for those seeking a little bit of European flavor in the heart of Canada.
Dance to electronic hits and savor the winter air during Igloofest, or lean into some thrills and  chills with a haunted tour through Griffintown.
You can also devote whole days just to the city's food and drink scene, from brewery-hopping to bagel-making classes.
And four and a half hours to the north, you'll find Quebec City, another Euro-Canadian burg with a rich history and vibrant culture.
Check out some great exhibits on military history at the Musee du Fort, browse through the shelves in the enchanting library of the Morrin Cultural Arts Center, and, of course, eat plenty of poutine!
Planning a longer trip in Canada? Discover the best places to visit in Canada you shouldn't miss!
Final thoughts
With a thriving creative scene, beautiful natural areas, and fascinating historical attractions, there are plenty of fun and adventurous things to do in Ottawa for people of all ages to enjoy.
So grab your outdoor gear and your best city-walking shoes, and see what the capitol has to offer!
We hope you've loved our diverse list of things to do in Ottawa, Canada. If you have anything you'd like to add to the list, feel free to leave a comment below.
As always, happy travels!