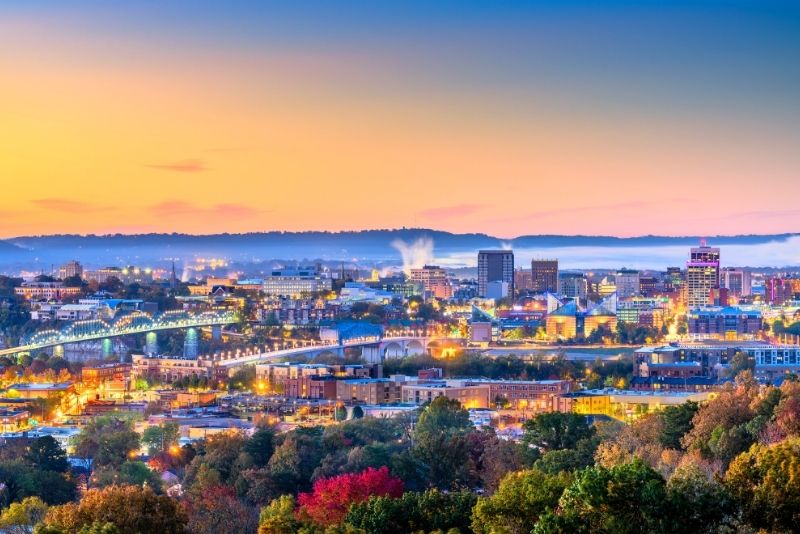 Sitting pretty in the foothills of the Appalachian Mountains, Chattanooga makes an ideal base to explore southern Tennessee. Offering an intriguing blend of outdoor adventure and urban culture, the city itself has a laid-back vibe suited to all types of travelers.
Here's a round-up of the best things to do in Chattanooga to help you plan a stay to write home about. Whether you want to discover subterranean waterfalls, contemplate American art or ride the Incline Railway, there's something here for everyone.
Which will you choose to include on your itinerary?
1 – Spot sharks at the Tennessee Aquarium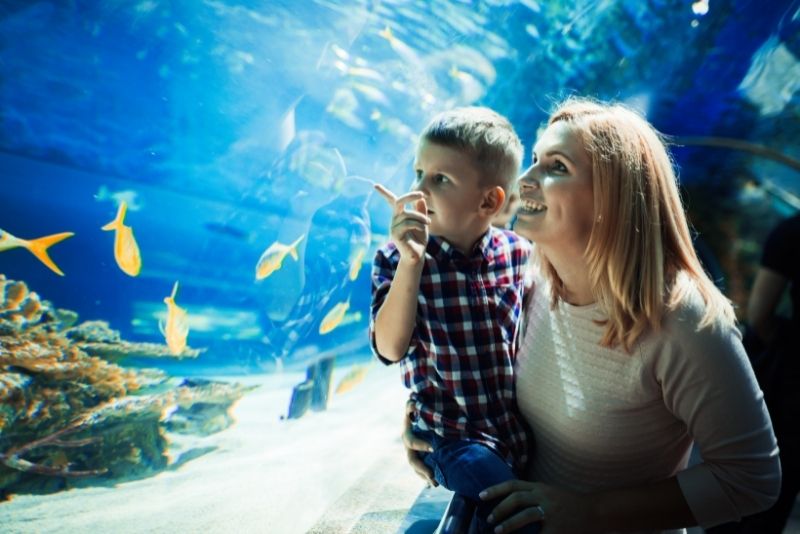 Round up your aspiring naturalists and dive into one of the most famous aquariums in America. It's a firm favorite with explorers of all ages.
The Tennessee Aquarium is home to a mind-boggling array of species, from yellow snappers and southern stingrays to sandbar sharks and the rather illuminating flashlight fish.
Yet it's not all about the creatures of the deep. You'll also discover a steamy reptilian world where poison dart frogs rule the roost. The lemurs and otters will come to say hello too.
Finish the day with a film in the IMAX which will transport you to far-flung underwater worlds.
2 – Get spooked on a ghost walking tour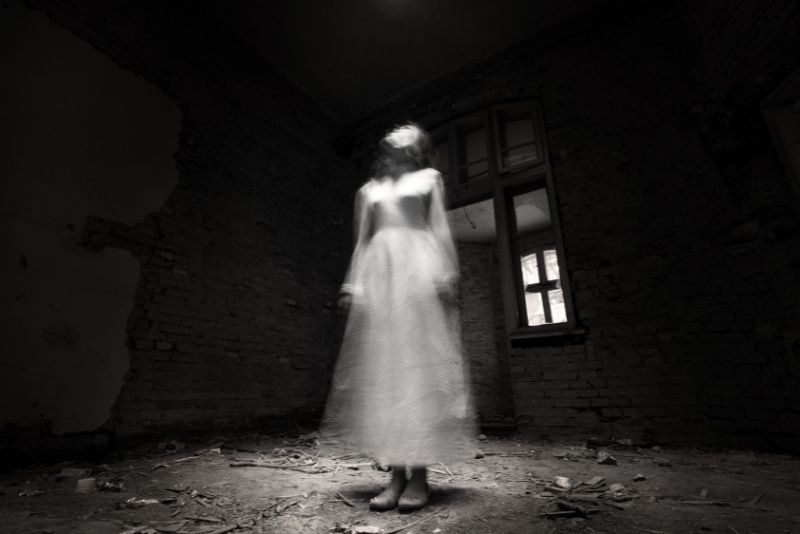 Muster your courage as you head into the unknown on a hair-raising Chattanooga ghost walk. You never know what ghouls you might meet along the way. Some may be the shades of unfortunate Civil War soldiers while others could be cold-blooded murderers.
You'll visit the most haunted locations in the city, including mysterious taverns and the infamous Read House Hotel. Listen as your guide regales you with tales of terror and tragedy and keep your wits about you as you enter the eerie cemetery.
Fancy yourself a wannabe ghostbuster? Some tours use advanced spirit-hunting equipment to bring out the dead. Are you ready to connect with the dark side of Chattanooga?
3 – Discover an underground cascade at Ruby Falls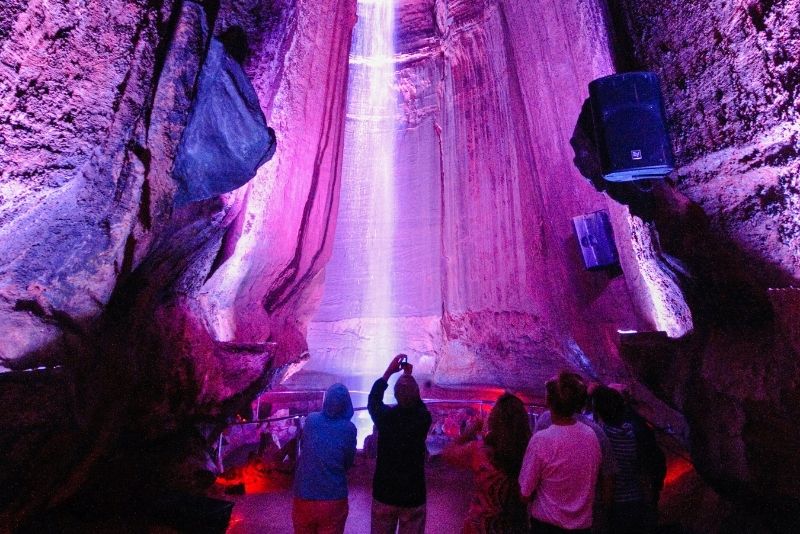 In the heart of Lookout Mountain, a mysterious subterranean realm lies waiting for intrepid adventurers to uncover its secrets. As you journey deep into the caves in a glass-fronted elevator, you'll feel like you're traveling back in time to a pre-historic land.
At the bottom, it's time to follow the cave trail that winds deep into the rock. Check out the age-old rock formations and gaze in awe as you finally reach the tallest underground waterfall in the United States. Don't forget your camera!
Visits to Ruby Falls are all carried out on a guided tour to help you make the most of your experience.
4 – Pedal along on a city bike tour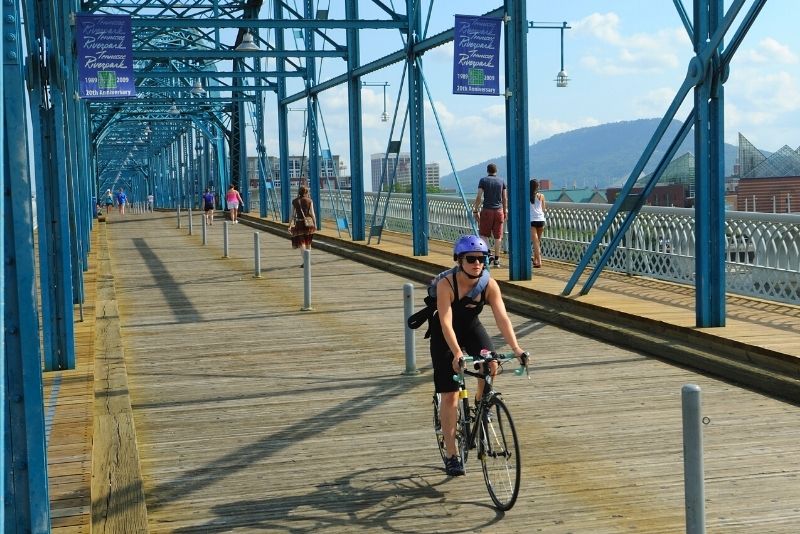 Feel the air in your lungs and the sun on your back as you cycle through Chattanooga's historic streets. Bike tours are a fun and fast way of taking in the major sights, and with a guide at hand, you needn't worry about navigating.
Learn about the city's extraordinary history and the natural landscape along the Tennessee River. There will be plenty of stops for photos and snacks.
To give some extra oomph, the electric bikes do all the hard work for you. So just keep pedaling and enjoy the scenery. Minimal effort, maximum reward – just how we like it!
5 – Picnic and play in Coolidge Park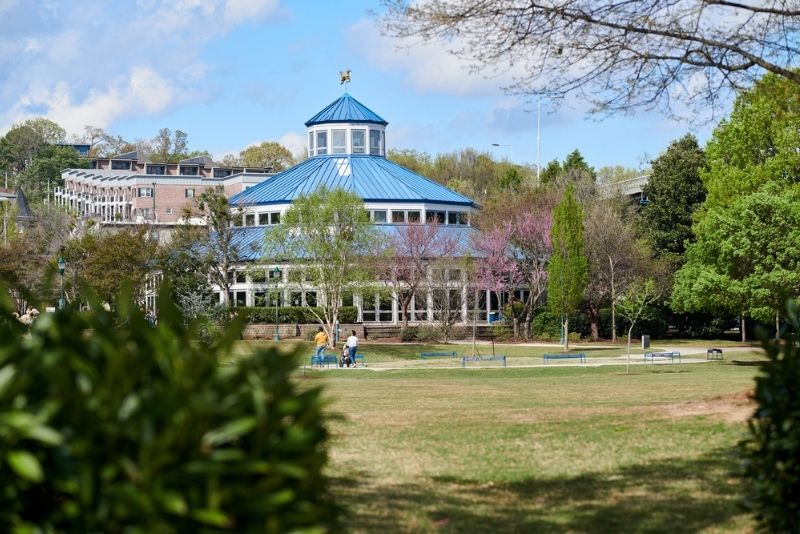 Kick back and relax with an afternoon in Coolidge Park. This green downtown space on Northshore's waterfront gives a welcome respite from the urban bustle of the city, without having to head out of town.
Take a spin on the 100-year-old carousel, listen to a band striking up some tunes in the pavilion, or enjoy a game of frisbee on the lawns. Kids love splashing around in the interactive fountain on hot summer days.
The park is the place to go for outdoor concerts and festivals, so keep an eye on the schedule to see what's on during your stay.
6 – Master your balance on a Segway tour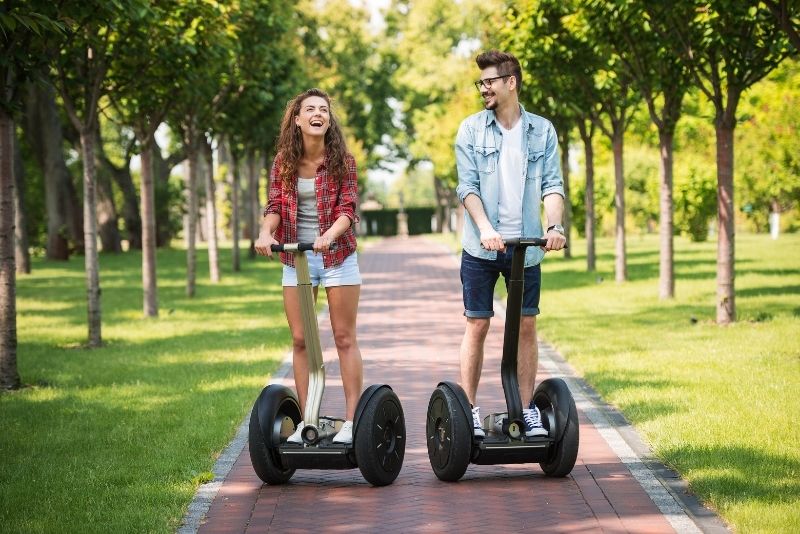 Looking for unusual things to do in Chattanooga? Then a Segway tour might just be the answer. Rolling around on two wheels is a great way to see as much as possible in a short space of time – you cover a lot more ground than on foot!
After a quick introductory session, it's time to hit the streets. As you glide through the city center, keep an eye out for famous downtown landmarks like Miller Plaza, the Tennessee Aquarium, and the Tivoli Theater.
Your guide will give you some insights into the history of Chattanooga, as well as some key sightseeing tips.
7 – Visit the Chattanooga Zoo at Warner Park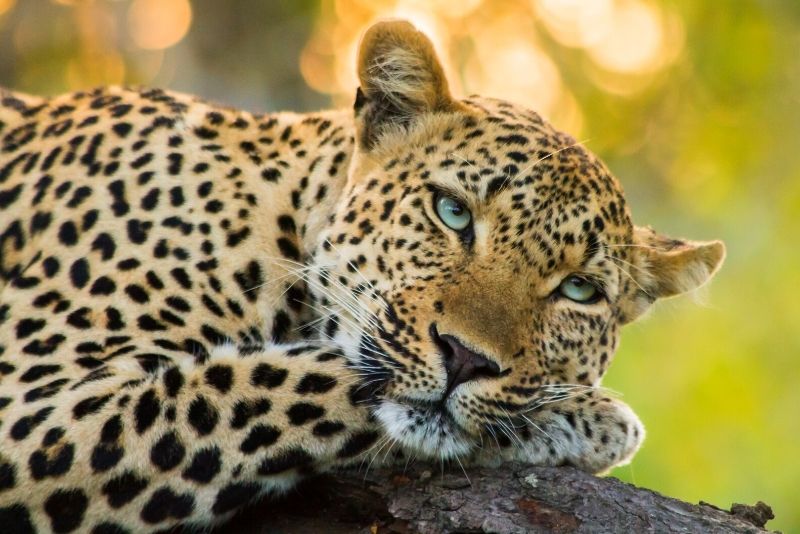 Connect with nature and make some wild new friends at the Chattanooga Zoo. There are over 500 residents here, and more than 200 separate species with everything from cougars to capybaras.
Watch the chimps in action as they forage for lunch and learn all about Komodo dragons during an interpretive trainer chat. You can meet alpacas and porcupines up close and personal, before having a go at feeding giraffes their favorite luscious lettuce.
Kids enjoy scrambling around on the Nature Play area, where a honeycomb jungle gym and giant insects will keep them entertained.
8 – Get back to nature in Rock City Gardens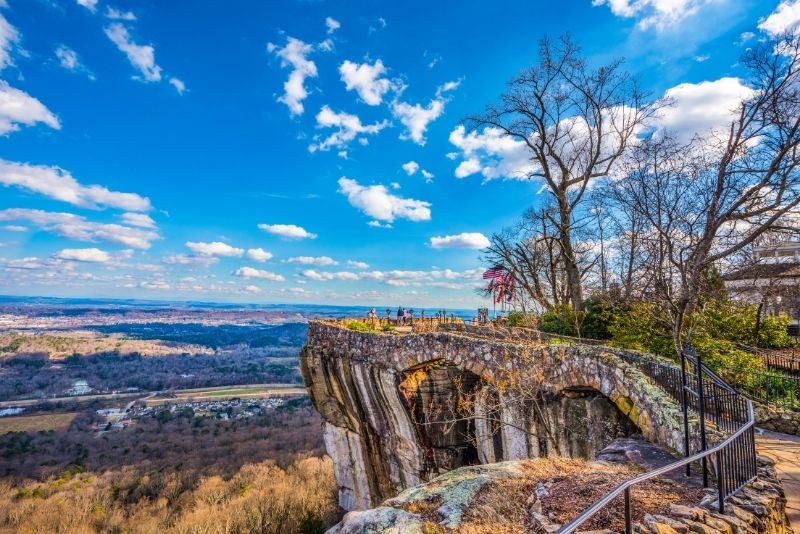 Perched in a prized position at the top of Lookout Mountain, the Rock City Gardens truly show nature at its finest. The enormous ancient rock formations are dotted around the tranquil gardens, which are home to an astonishing 400 native plant species.
The icing on the cake is the panoramic scenery. At the top of the gardens, you can visit the legendary observation point "See Seven States" – will you be able to name them all? Don't miss the views of High Falls either!
Follow the Enchanted Trail through the woodlands, wobble along the Swing-A-Long Bridge, and check out the magical Fairyland Caverns.
9 – Fly high on a helicopter tour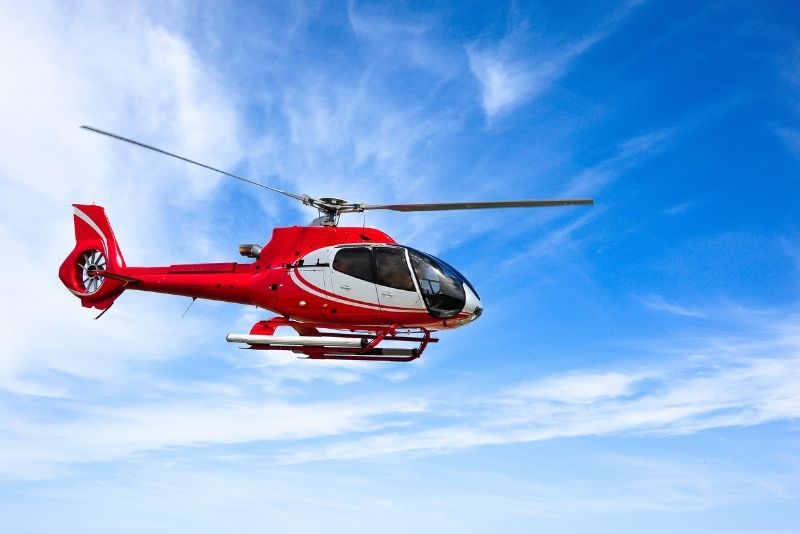 Take to the skies and soar over the city on a thrilling Chattanooga helicopter tour. You'll fly over some of downtown's most famous landmarks, including the baseball field and the aquarium.
Some tours also take in the Chickamauga Dam and Nickajack Lake, before swinging by Lookout Mountain. Itineraries can be customized according to what you'd like to see, so have a chat with your pilot and strap in for the ride.
Helicopter tours are a great way to get your bearings when you first arrive in the city, so try and time one for the beginning of your trip.
10 – Put your thinking caps on at the Creative Discovery Museum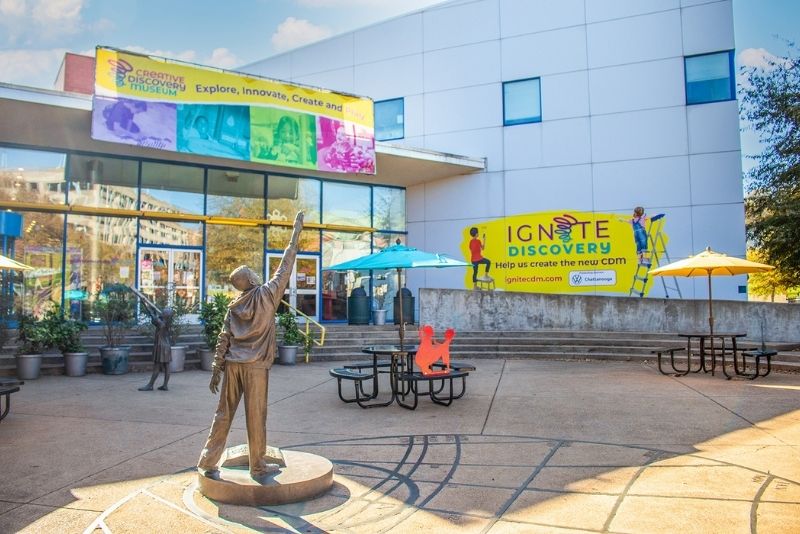 If you have curious kids with enquiring minds, then get yourselves to the interactive Creative Discovery Museum. Aimed at young children, this immersive center encourages mini entrepreneurs to learn through play.
Whether you have a budding scientist, aspiring musician, or future artist on your hands, there's something here for everyone. Get involved in live experiments and go green-fingered in the roof gardens. Then keep active at the Fun Factory and dig for dinosaur bones at the hands-on Excavation Station.
Don't leave without climbing the Lookout Tower for a bird's eye view of Chattanooga from the observation deck.
11 – Walk over the famous Walnut Street Bridge
Built in 1891, the iconic Walnut Street Bridge isn't just an attractive piece of engineering that joins northern and southern Chattanooga. It's the world's longest pedestrian bridge, and this is your chance to walk along it!
Used by automobiles until the 1970s, today the bridge is reserved exclusively for foot traffic, making it a pleasant spot for a waterside stroll. The views over the river and city are pretty impressive too.
The bridge is popular with residents and visitors alike and is a great place for a run or even a dog walk!
12 – Stroll through Tennessee Riverpark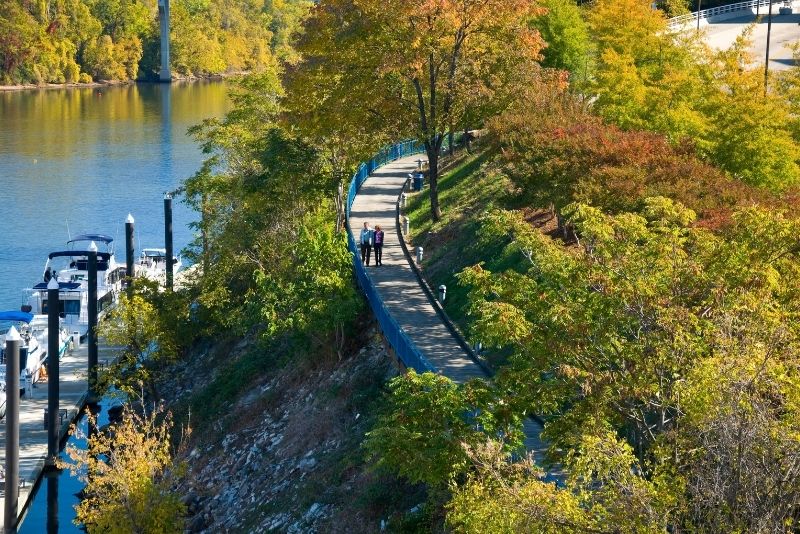 The Tennessee Riverpark is one of the most peaceful green spaces in the city and going for a walk here is one of the most relaxing things to do in Chattanooga.
Keep your eyes peeled for wildlife. Herons often make an appearance as they fish for breakfast along this 10-mile stretch of waterfront. Amble down one of the piers for a better viewpoint! Birdwatchers will enjoy visiting the marsh area, where several local species are often in residence.
There's plenty of outdoor urban art to admire too, and handy picnic tables are dotted about for when you need a break.
13 – Kayak along the Tennessee River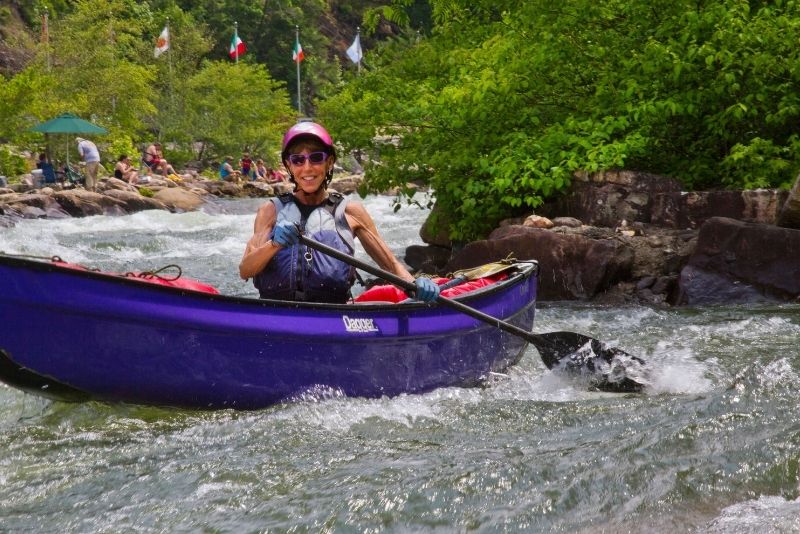 Explore the great outdoors in style as you paddle stealthily along the Tennessee River on a guided kayaking tour. Don't worry if it's your first time, your expert instructor will show you the ropes so you can concentrate on enjoying the scenery.
You'll learn about the riverbank ecology as well as a bit of local history, and there's even time to explore a secret cave. See some of the famous city landmarks from a new perspective, including Walnut Street Bridge, Coolidge Park, and the Tennessee Aquarium.
Some tours take in Maclellan Island where birdwatching and botany will keep you entertained.
14 – Discover the Hunter Museum of American Art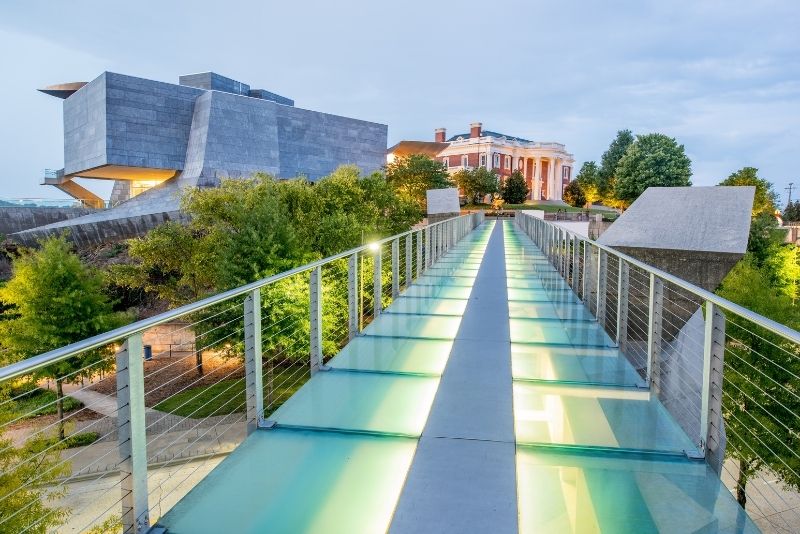 If you're strolling around the Bluff View Art District, make sure you leave time for a visit to this well-regarded museum. Housed inside a revival mansion house from the early 20th century, the Hunter Museum of American Art charts the history of this national genre from the 1700s through to today.
Impressionism and Modernism feature heavily, with a bit of mixed media and sculpture thrown in for good measure. With everything from prairies to portraits, the museum has wide-ranging appeal.
As well as the permanent collection, there are frequently changing exhibitions showing throughout the year, plus several concerts and art shows.
15 – Enjoy a rafting adventure on the Ocoee River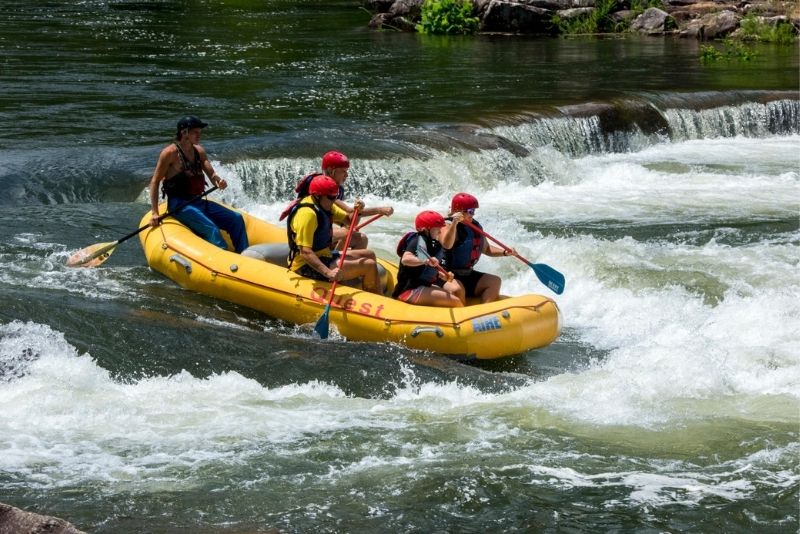 Up the adrenaline with a rip-roaring whitewater ride on the Ocoee River, which flows through the Cherokee National Forest. This is one of the most popular locations for rafting in the region, with a whole day out on the water for those who want it.
Feel your heart pumping as you plunge down the rapids, with Blue Hole and Bush Gardens being real corkers. Try and appreciate the scenery along the way too.
Stop for a breather on the riverbank and celebrate your newfound skills with a picnic lunch. If you're still dry by the end of the trip, you've not been trying hard enough!
16 – Ride the Lookout Mountain Incline Railway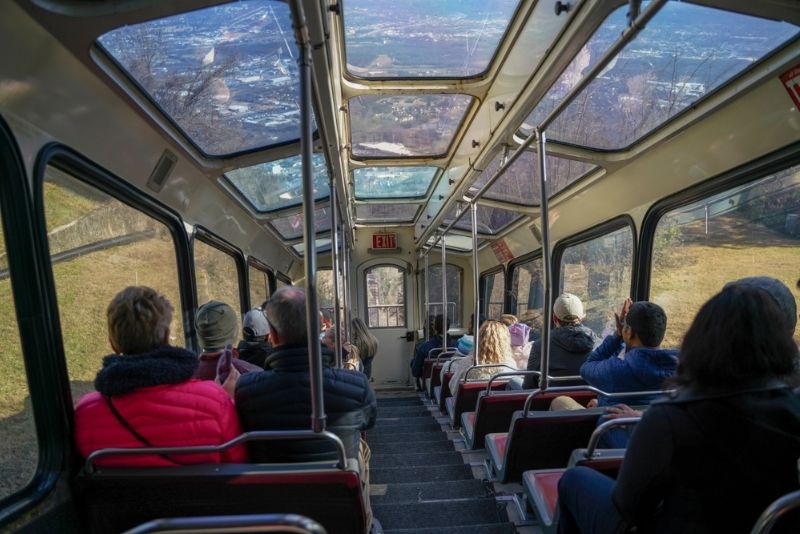 Lookout Mountain looms tall over Chattanooga, keeping watch over the city and separating Tennessee from Georgia. There are some splendid hiking trails to tackle, with waterfalls and rivers providing picturesque backdrops for photos.
If you want to enjoy the views without breaking into a sweat, then climb on board the Lookout Mountain Incline Railway and ascend the mighty peak in style. It's a must when you're in town.
This funicular line has been running for over 125 years, taking residents and visitors on the mile-long adventure to the summit observation deck. It's the world's steepest incline railway with dramatic panoramas to match!
17 – Hike to Sunset Rock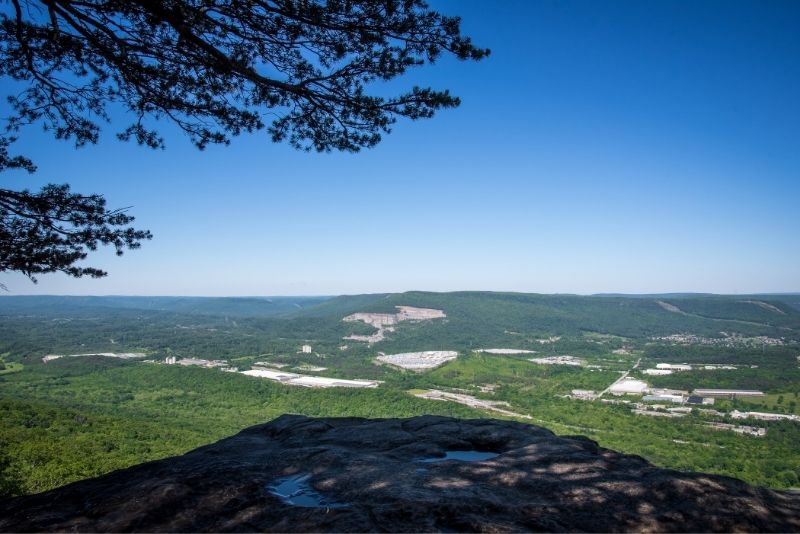 Sunset Rock Viewpoint lies at the end of a popular walking trail on the western bluff of Lookout Mountain. Hikers say this is one of their favorite things to do in Chattanooga. You don't have to go at sunset but seeing it just before dusk is extra special.
The out-and-back route to Sunset Rock is short so you can easily combine it with other hikes in the area for a longer day out. The Bluff Trail is always a good choice. Enjoy the carpets of wildflowers during spring and summer when the route is at its best.
18 – See vintage trains at the Tennessee Valley Railroad Museum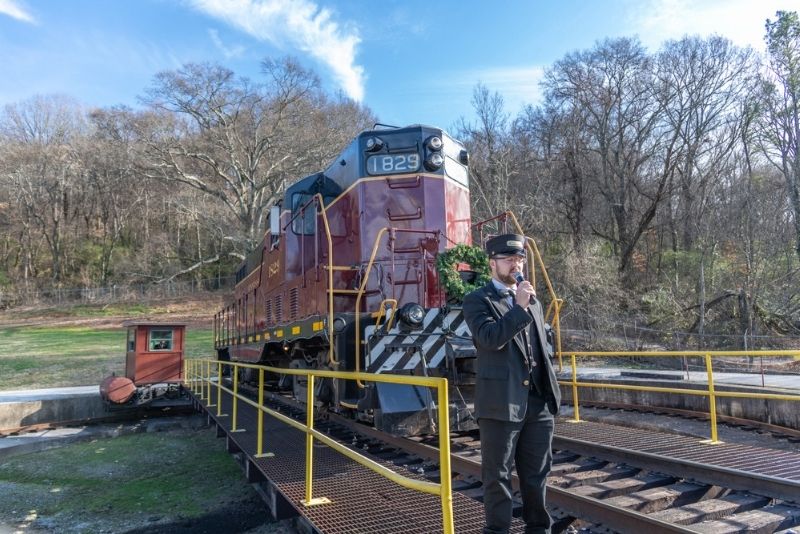 Toot toot! It's all aboard at the Tennessee Valley Railroad Museum for a journey back in time. Discover how trains transformed daily life across the United States as you wander around the fascinating exhibits.
Check out the old post office car, wonder at the railroad artifacts, and join the steam versus diesel debate at this "living" museum.
The highlight is the reconstructed rail track, where you can enjoy a train ride and relive the romance of this historic railroad. For something extra special, why not take a jaunt on the dinner train where you can tuck into a three-course meal with a view.
19 – Go hiking and biking in Enterprise South Nature Park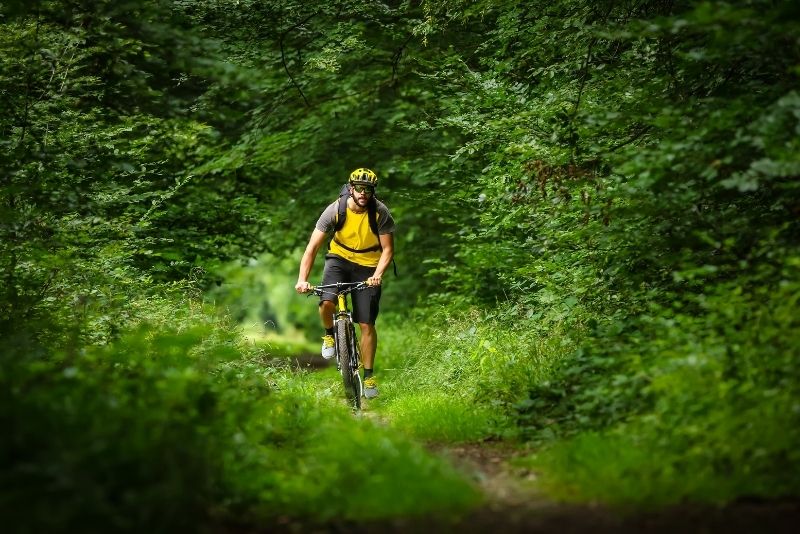 This 6,000-acre park was once the site of the Volunteer Army Ammunition Plant. Today it's a delightful, wooded area that's popular with outdoor lovers of all ages.
Spend the day hiking the forest trails or working up a sweat with a run. Prefer to go a little faster? Then jump on your bike and explore the Enterprise South Nature Park on two wheels.
Stop for a picnic and absorb the sounds of nature in sun-dappled glades, where dragonflies dance and birds show off with a background symphony of song.
20 – Solve riddles in an escape room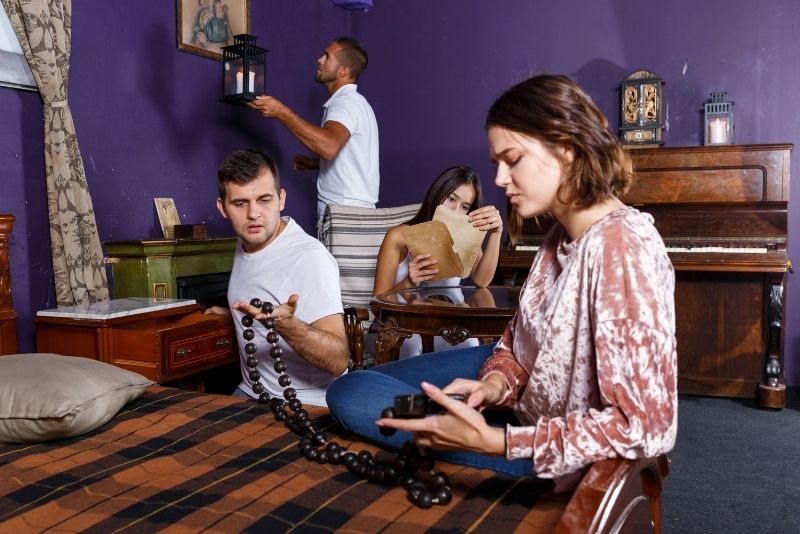 Pit your wits against the masters of espionage as you tackle Chattanooga's best escape rooms. You'll take on challenges and crack codes with your trusty team, while putting your sleuthing skills to the test.
Become an undercover detective and unlock dark secrets at Breakout Games or help take down a notorious mob boss in a speakeasy setting at Escape Mission.
Want that adrenaline working overtime? Then head to the Escape Experience and work out how to abscond from prison, Shawshank-style. Another great choice is Time To Escape which transports you to ancient Egypt for hieroglyphic-cracking puzzles in Tutankhamen's tomb.
21 – Watch some baseball at the AT&T Field
Built on top of Hawk Hill in the city center, the AT&T Field is the home turf of the minor league Chattanooga Lookouts. You don't need to be a baseball fan to appreciate the setting, although sports fans will be thrilled with a visit to the stadium.
Check the schedule and see if you can catch a game while you're in town – get a box seat for the best vantage point. There isn't much shade so take a cap and glasses if it's sunny!
There are some great views of Chattanooga's rolling hills from the seating bowl as an added bonus.
22 – Learn about Cherokee history at Ross's Landing
Ross's Landing is the site that marks the end of the Cherokee's occupation of Chattanooga. It was from here that the Cherokee were removed to Indian Territory on what became known as the "Trail of Tears".
The waterfront landmark is named after Captain John Ross, who set up a trading post here and was later chief of the Cherokee Nation.
Today the park has been renovated for recreation and is a popular spot for concerts and festivals during summer. The views of the river are superb, and there's a natural amphitheater, a pier, and a playground to enjoy.
23 – Go on a food tour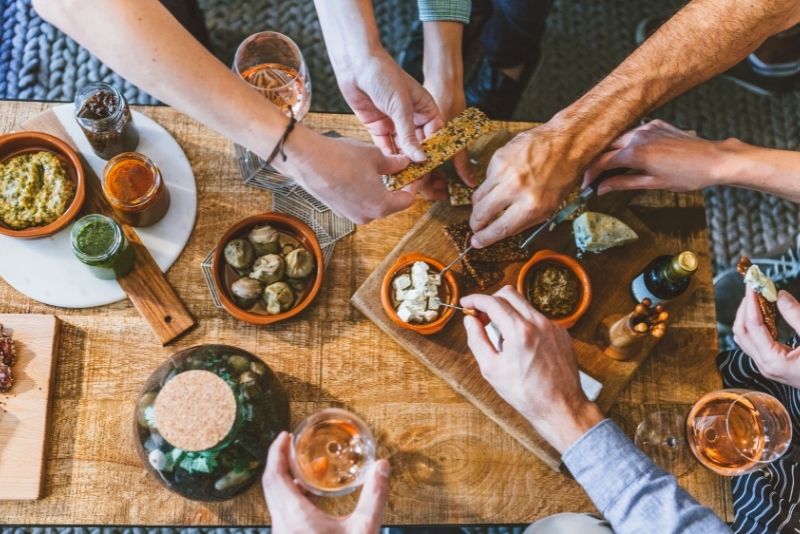 Put your taste buds to work as you munch through some of Chattanooga's local delicacies on a food tour. You'll be visiting several different dining venues in the downtown district on a small-group excursion aimed at aspiring foodies and curious visitors.
Tuck into a feast of famous southern favorites and learn how food lies at the very soul of this inviting region. The city's culinary scene is thriving, and a tour is a great way to get to know what makes Chattanooga tick.
From fried green tomatoes and sizzling slices of catfish to hot sausage po-boy and hickory-smoked chili ribs, it's all utterly delicious.
24 – Visit Lake Winnepesaukah Amusement Park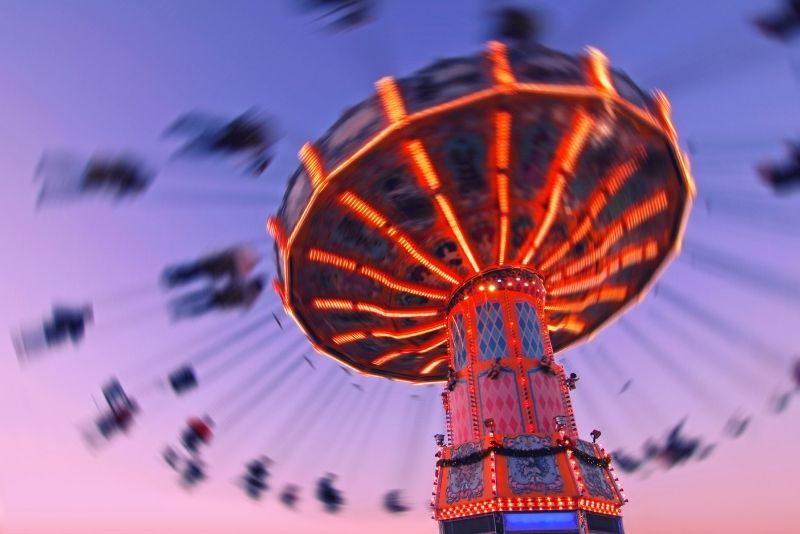 Scream in delight as you plummet down slides at the Lake Winnepesaukah Amusement Park. There are over 40 rides, as well as a waterpark for those who want to have a splash around.
Take on the Cannon Ball Roller Coaster if you dare or test your courage on the 14-story free fall in the Oh-Zone. Kids love riding the traditional carousel and the fun Frog Hopper.
To cool off in the summer heat, enjoy a float down the Crazy River and chill out at the relaxing beach lagoon. Still got energy to burn? Then zoom down the flumes and create a few waves.
25 – See a show at the Tivoli Theater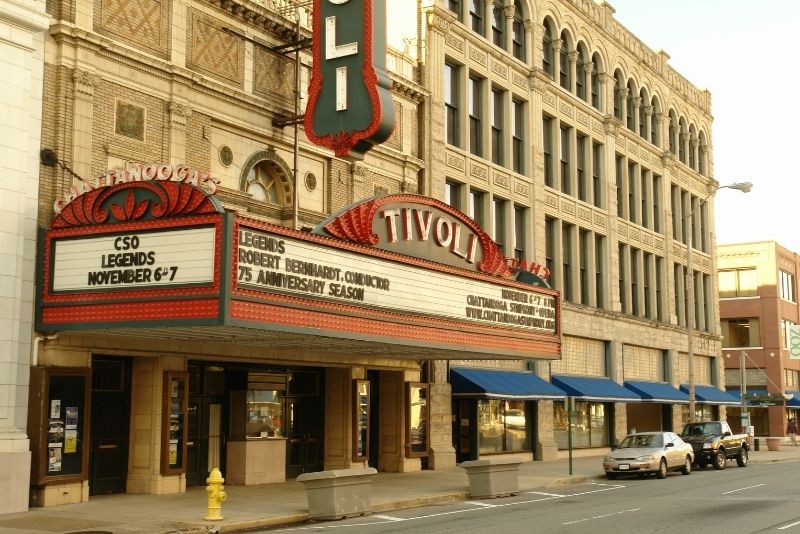 One of the best things to do in Chattanooga for cultural vultures is to enjoy a performance at the renowned Tivoli Theater. With live music and a range of entertainment shows, this historic venue makes for a great evening out.
Whether you want to take in a Broadway extravaganza, or fancy chuckling along to a bit of comedy, there's always something exciting on the schedule. Famous past performers include Louis Armstrong, Mae Murray, and Fanny Brice.
Built in 1921, the building itself is worthy of a mention too, thanks to its eye-catching architecture finished with cream tiles and red bricks.
26 – Stroll through the Sculpture Fields at Montague Park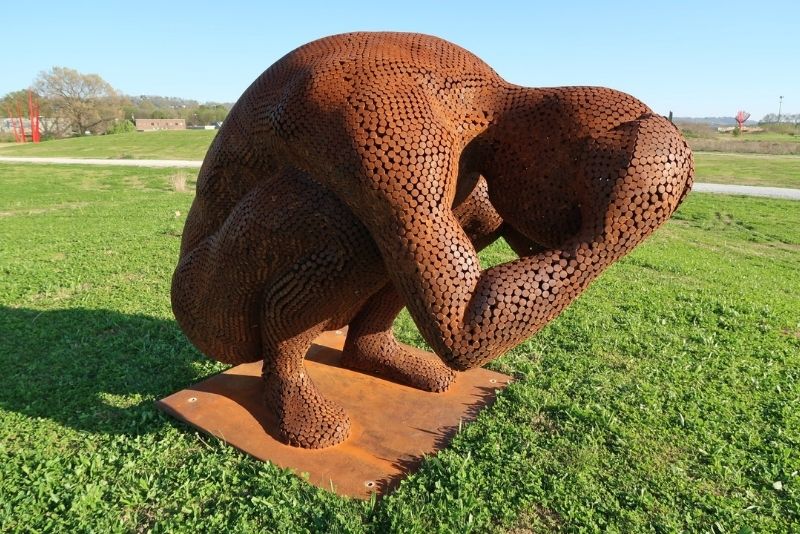 This 33-acre public park on Chattanooga's Southside is a great place for a breath of fresh air and some exercise. You'll find 40 sculptures from international creators dotted around the area, and sometimes you can see artists showing off their skills right here on site.
People come to the Sculpture Fields at Montague Park for walks, picnics, yoga, and even a bit of kite flying. The trail is 1.5 miles long, giving you plenty of opportunity for a leg stretch among the art.
You can take a self-guided tour around this unusual open-air art museum, and it's free to enter.
27 – Visit the National Medal of Honor Heritage Center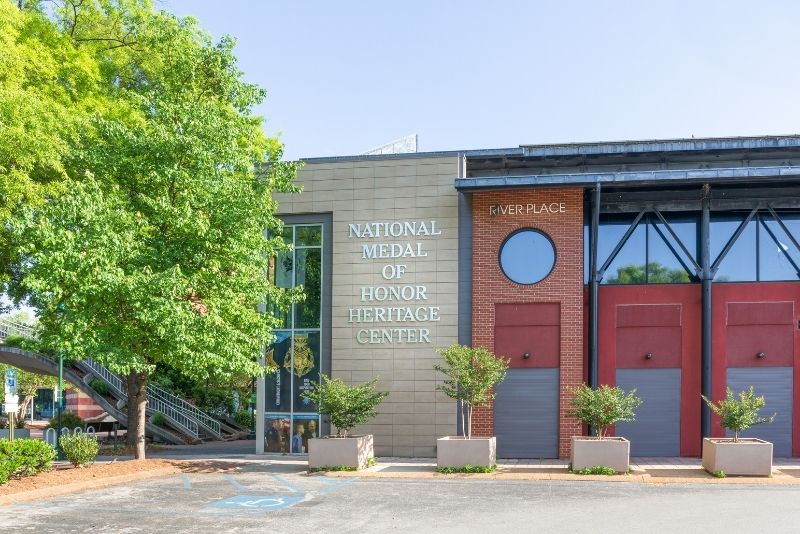 Chattanooga is the birthplace of the Medal of Honor — the first and highest award for military valor.
Here you can uncover the stories of how ordinary people showed courage and patriotism to achieve remarkable things. Their integrity and sacrifice are a matter of national pride, and the National Medal of Honor Heritage Center ensures they will never be forgotten.
You can see some personal belongings from many of the heroes, with everything from weapons and flags to diaries and uniforms on display.
Personalized bricks of honor to remember a veteran or loved one can be arranged too.
28 – Relax with a picnic in Renaissance Park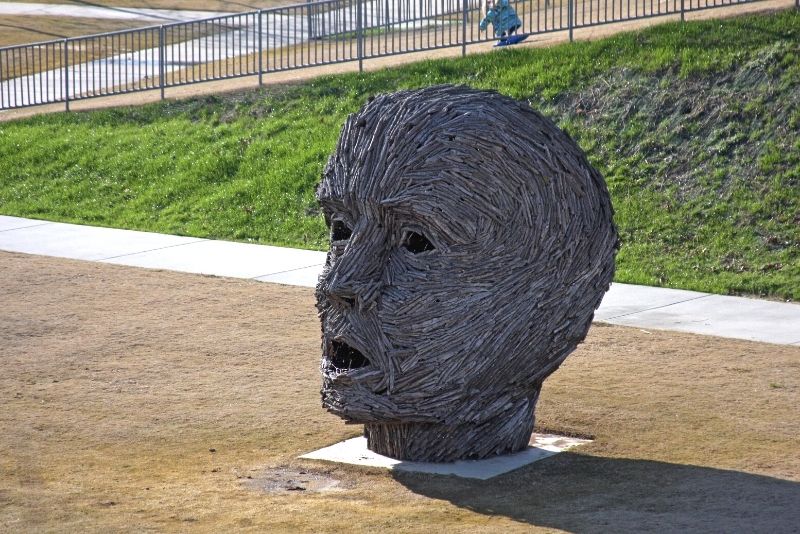 Let off some steam and get close to nature on a wander around Chattanooga's Renaissance Park. This 23-acre wetland site is one of the city's most popular urban green spaces, with small hills, wildlife trails, and river ecosystems to explore.
Watch butterflies and insects buzz around the wildflower meadows and see how many native trees you can identify on the hiking trails.
There are several pieces of public art to contemplate, and plenty of spots to enjoy a picnic lunch. If you're feeling intrepid, you can go canoeing or kayaking on the lake to work up an appetite.
29 – Play games at Sir Goony's Family Fun Center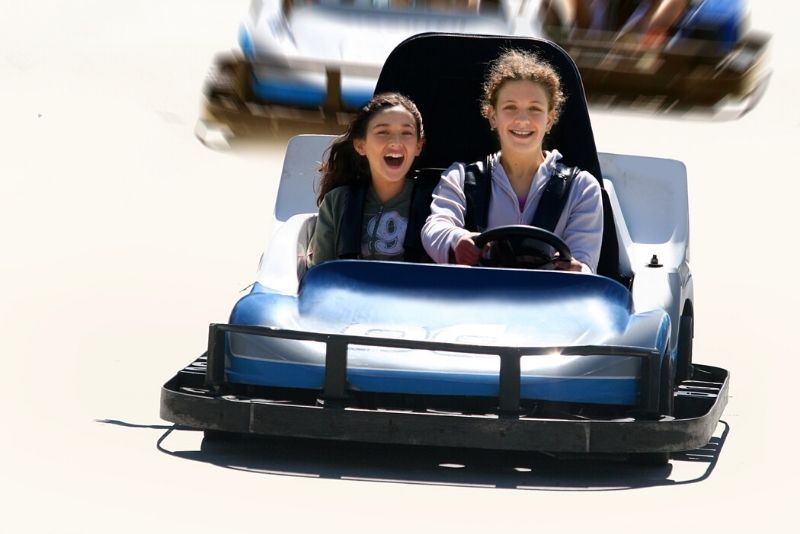 If you're looking for somewhere to enjoy some quality time with your mini explorers, then Sir Goony's Family Fun Center is the place to go. There is a wide variety of attractions and activities to keep everyone entertained.
Show off your driving skills on the thrilling go-kart course and take on the Spin Zone Bumper Cars if you dare. Then practice your swing at Goony Golf where T-Rex and his cronies make formidable obstacles.
Next up it's the arcade for gaming and snacks, or a bit of lighthearted virtual reality play. Meanwhile, older kids will relish shooting targets at Lazer Fury.
30 – Go shopping at Hamilton Place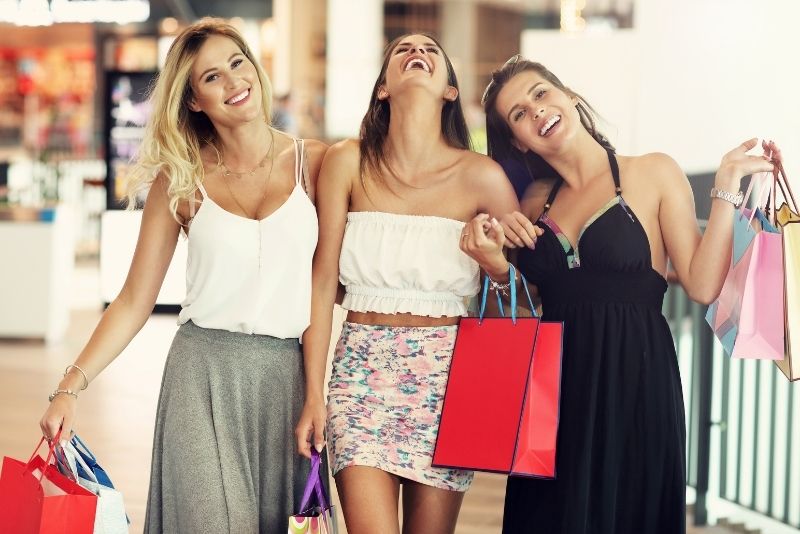 The Hamilton Place Mall is one of the top things to do in Chattanooga for travelers looking for a bit of retail therapy. Spread out over one million square feet, this shopping center boasts several brand name stores, such as H&M, Vans, and Oakley.
You'll find everything from clothes and home furnishings to luggage and jewelry, so be sure to leave yourself plenty of time to explore.
After all, that hard-core browsing, treat yourself to lunch at the food court. You're spoiled for choice with lobster linguine, succulent steaks, and chocolate cheesecake all calling your name.
31 – Discover Chickamauga and Chattanooga National Military Park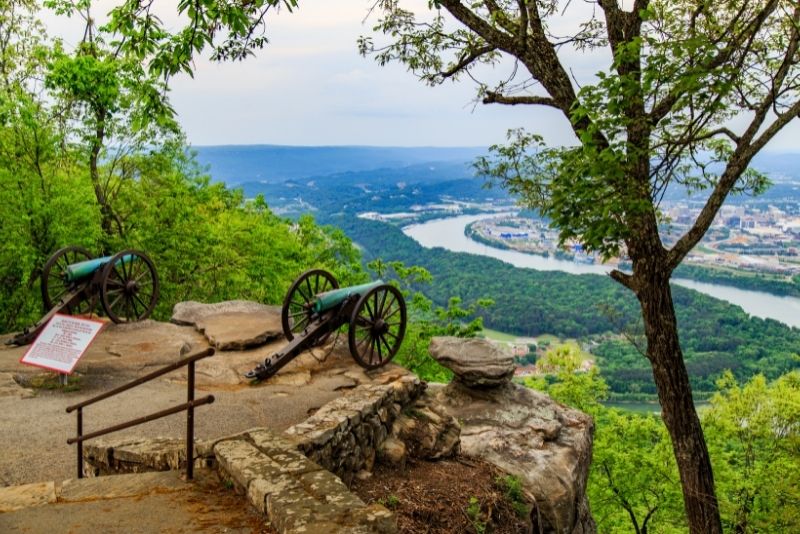 Chattanooga was known as the "Gateway to the Deep South" and during the Civil War saw a lot of action between the Confederate and the Union forces.
At the Chickamauga and Chattanooga Military Park, you'll learn more about the turmoil here and why both sides were keen to get their hands on the city.
A highlight of your visit is the Point Park Battlefield, located up on Lookout Mountain. This was the site of the famous "Battle Above the Clouds" and there's an interesting visitor center with eye-witness accounts to bring it all to life.
32 – Explore Raccoon Mountain Caverns and Campground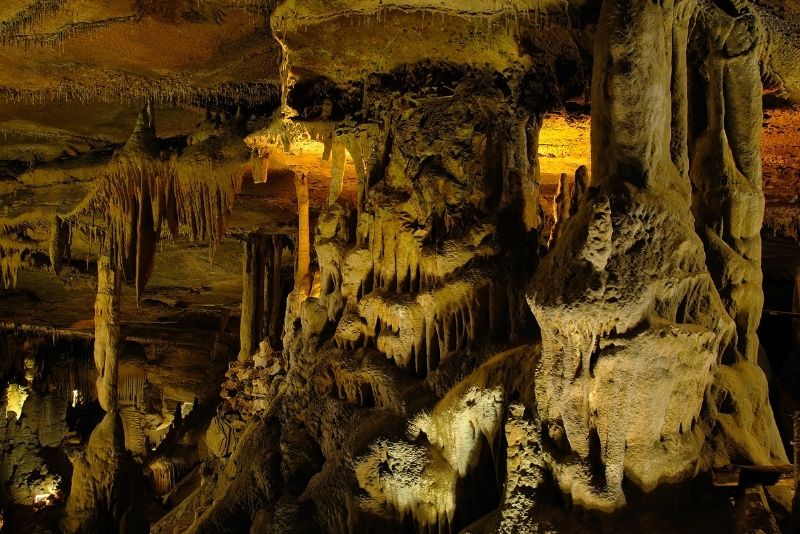 There are over five miles of charted cave systems here at Raccoon Mountain Caverns, with plenty more still to be discovered. What makes this underground adventure so special are the thousands of well-preserved formations – all-natural and all very photogenic.
The cavern is one of the most geologically active in the area, which means you'll see far more than just your usual stalactites and stalagmites! Soda straws and helictites anyone?
You can enjoy the sights on a guided walking tour and have the chance to spot the unique cave salamanders and bats, as well as ancient fossils. Stay overnight in the campground for a longer experience.
33 – Experience Chattanooga by horse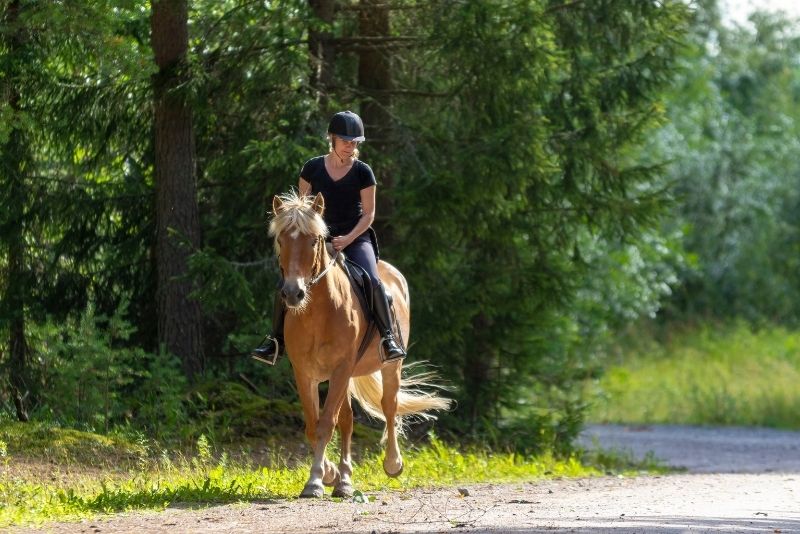 Go back in time and discover a slice of life from back in the day with a horse and carriage ride around Chattanooga. Enjoy a guided tour with commentary from your driver as you sit back and watch the world go by from your prestigious vantage point.
You'll pass some of the popular landmarks like the Chattanooga Choo Choo and the Aquarium, as well as the famous Walnut Street Bridge.
Alternatively, if you want to harness the spirit of your inner cowboy, then saddle up and take to the trails out of town.
34 – Hike to Glen Falls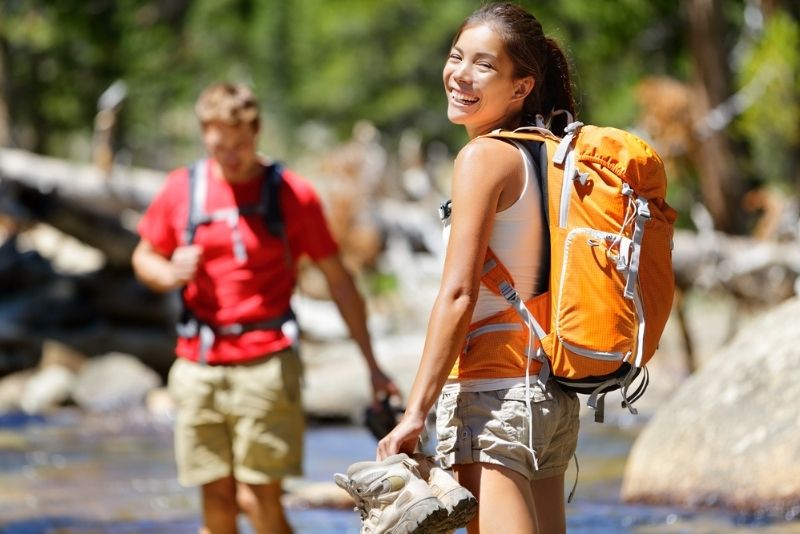 For a picturesque hike suitable for all the family, Glen Falls is a popular choice. This is a short out-and-back trail, with a beautiful cascade at the end as your reward. It's located on Lookout Mountain so can easily be combined with other outdoor activities in the area.
There are bridges to cross, rock tunnels to explore, and several smaller waterfalls to admire along the peaceful creek-side path. Take time to check out the upper pools and enjoy lunch at the picnic site.
The falls are at their best after a period of rain, so it's a good hike even in winter.
35 – Be inspired in the Bluff View Art District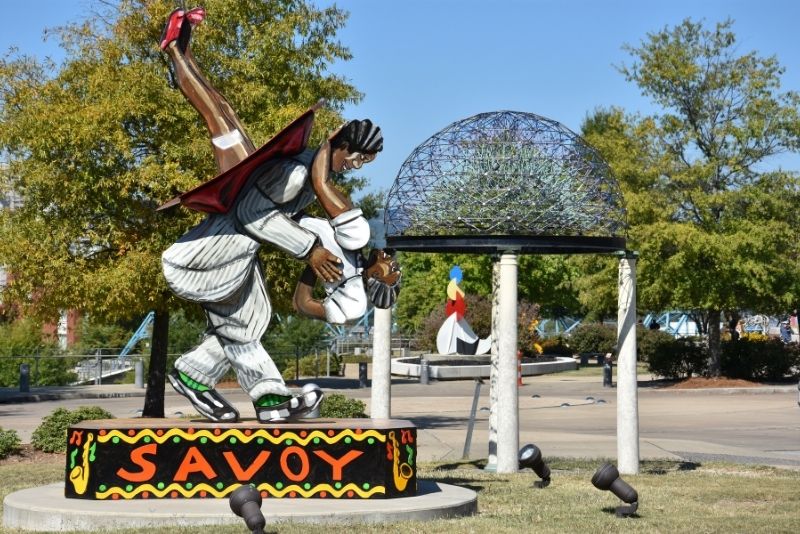 Channel your creative spirit as you stroll through the colorful Bluff View Art District. This historic neighborhood is crammed with independent restaurants, quaint coffee houses, and art galleries. It's the sort of place you could spend hours just wandering the streets and soaking up the atmosphere.
Get some landscaping tips at the famous River Gallery Sculpture Garden, admire the eclectic paintings on display, and pick up lunch at an artisan bakery.
The views from the bluff are stunning too, with the Tennessee River and downtown Chattanooga both vying for your attention.
36 – Visit the Bessie Smith Cultural Center & Chattanooga African American Museum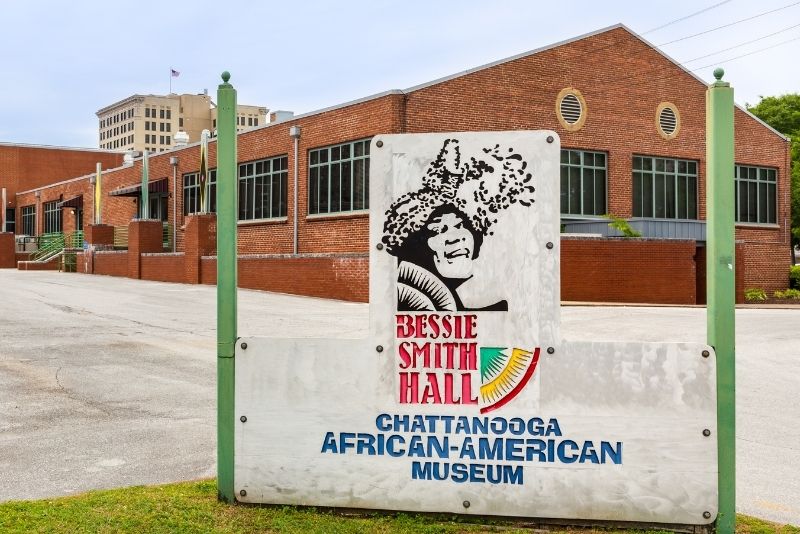 One of the most inspiring things to do in Chattanooga is to pay a visit to the Bessie Smith Cultural Center. Local to the city, Bessie had a legendary singing voice and was known internationally as the "Empress of the Blues" during the 1920s and 1930s.
Learn about her remarkable rise from poverty to stardom at this dedicated museum. At the peak of her career, she was the highest-paid African American artist!
While you are there, pop into the Chattanooga African American Museum. Using interactive displays and provocative photography, the exhibition charts the history of African society in America. Slavery, racial inequality, and the civil rights movement all play a big part.
37 – Walk the trails at Audubon Acres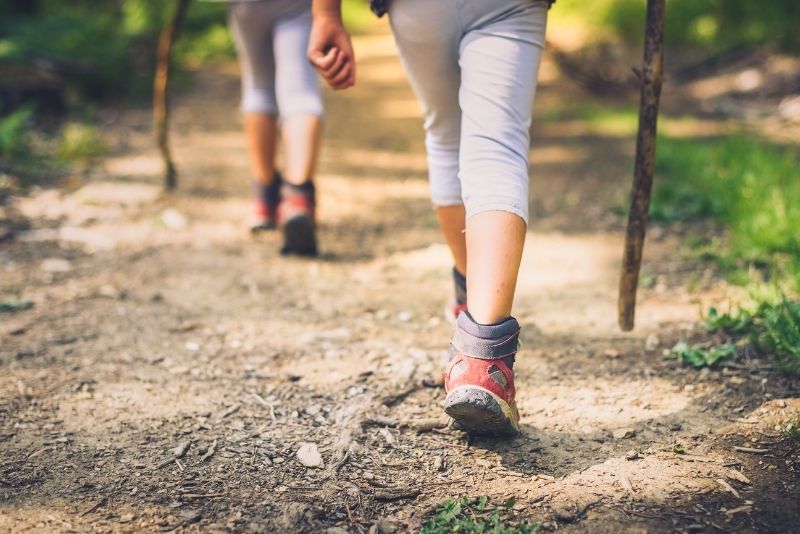 Lace up those boots and hit the trails for a dose of fresh air as you explore Audubon Acres. This tranquil nature reserve is a convenient spot for those who want to enjoy the great outdoors without having to head far out of town.
There are over five miles of walking routes through the woods and along the creek, with colorful wildflowers in spring. The terrain isn't very steep, so this is a great spot for families to burn off some steam.
In summer you can go canoeing on the river or take a refreshing dip to cool off after your hike.
38 – Explore the International Towing and Recovery Museum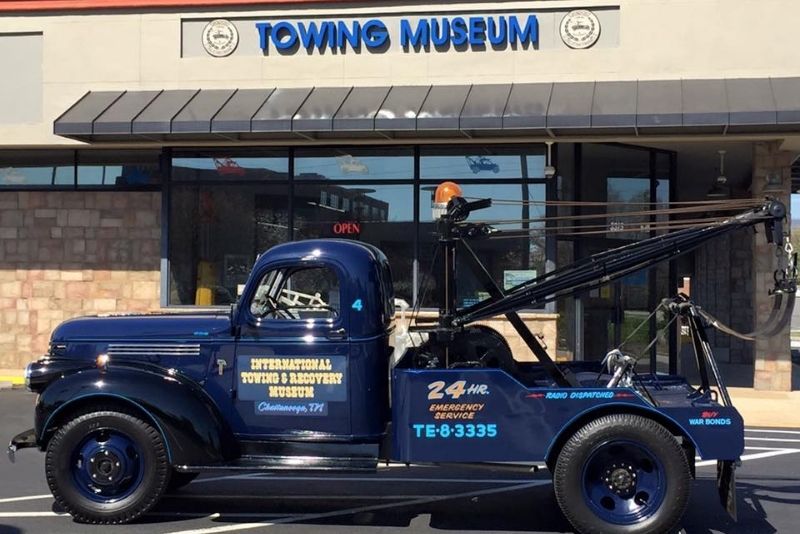 It may not be the most conventional museum you've ever visited, but this place is a mecca for trucking enthusiasts. The International Towing and Recovery Museum is a shrine to antique tow truck equipment, with memorabilia from some wreckers too.
The first tow truck built by the Ernest Homes Company was completed just a few miles down the road, and you can see many of its counterparts here on display.
Check out the tools and toys of the trade and learn about the industry through a series of insightful pictorial exhibits. Pay your respects to people who have lost their lives in the line of service at the poignant "Wall of the Fallen".
39 – Hike to Snooper's Rock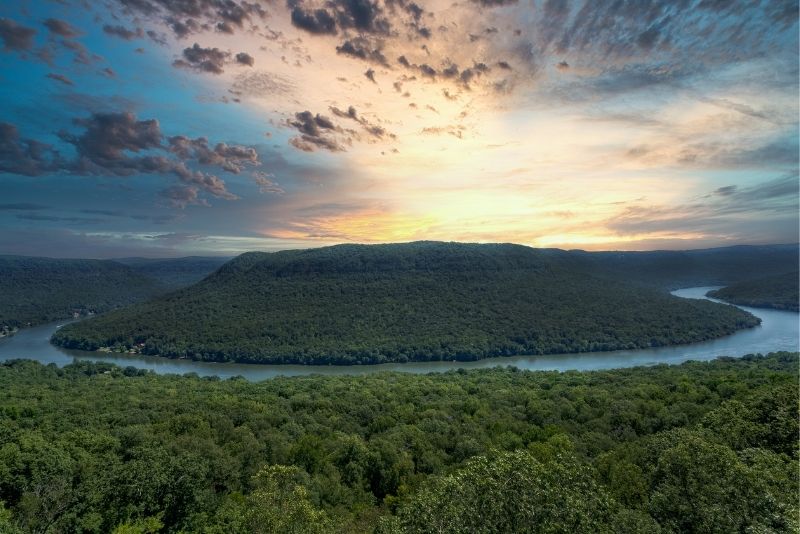 Another popular hiking trail in the Chattanooga area is Snooper's Rock in Prentice Cooper State Forest.
The half-mile linear trail winds its way through woodlands to an impressive overlook with panoramic views of the Tennessee River. It's one of the best photo opportunities in the state and a fun adventure for all the family! If you want to spend longer out and about, there's also a 6-mile trail that takes in Snooper's Rock.
Between March and October, this is a great spot for bird watching, although the route does get busy during summer so go early if you can.
40 – Journey down memory lane at the Classic Arcade Pinball Museum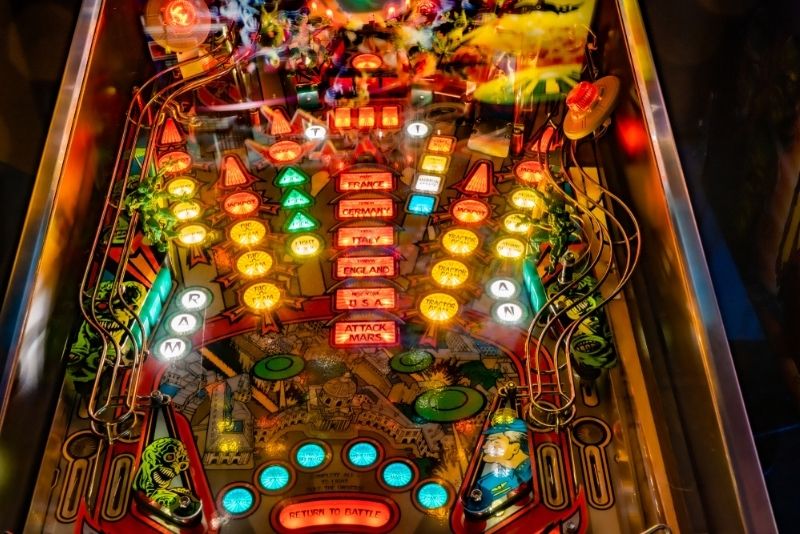 Enjoy a shot of pure nostalgia as you dive into the gameplay at the incredibly fun Classic Arcade Pinball Museum. The lights are flashing, and the balls are pinging, luring you in to see if you've still got what it takes to win.
Prefer a game of Pacman to Pinball? Or maybe you fancy revisiting Dungeons and Dragons and taking on those pesky Space Invaders that used to seem undefeatable. The museum has you covered, with dozens of different arcades and digital games to bring back those happy childhood memories.
There are tournaments held each month if you really want to show off your skills!
41 – Jump around at a trampoline park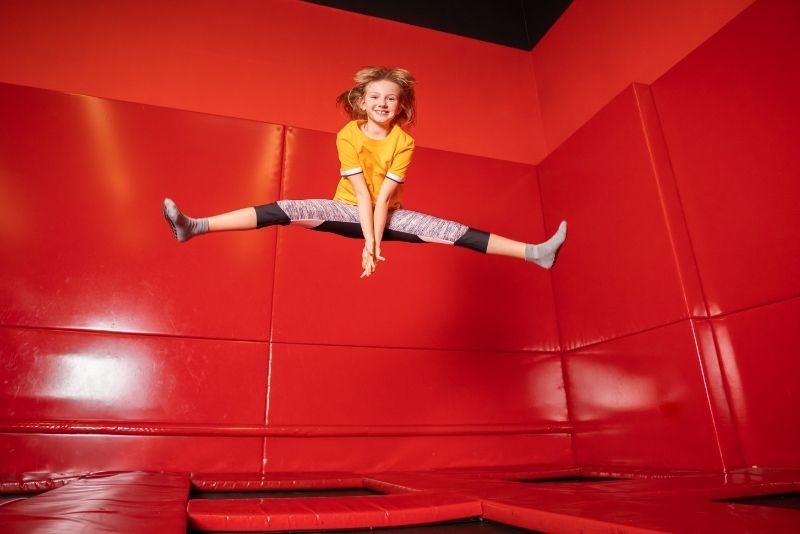 See how high you can bounce as you tackle some of the most out-there trampolines in the south. Head to DEFY for a day of fun – it's one of the best things to do in Chattanooga for families!
Will you have what it takes to complete the Ninja Obstacle course or climb to the top of the Warped Wall? Perhaps Extreme Dodgeball will be more your thing, followed by a swing on the giant Trapeze.
Meanwhile, younger bouncers will love burning off energy at Kid Jump or splashing around in the foam pits.
42 – Enjoy the fresh air in Heritage Park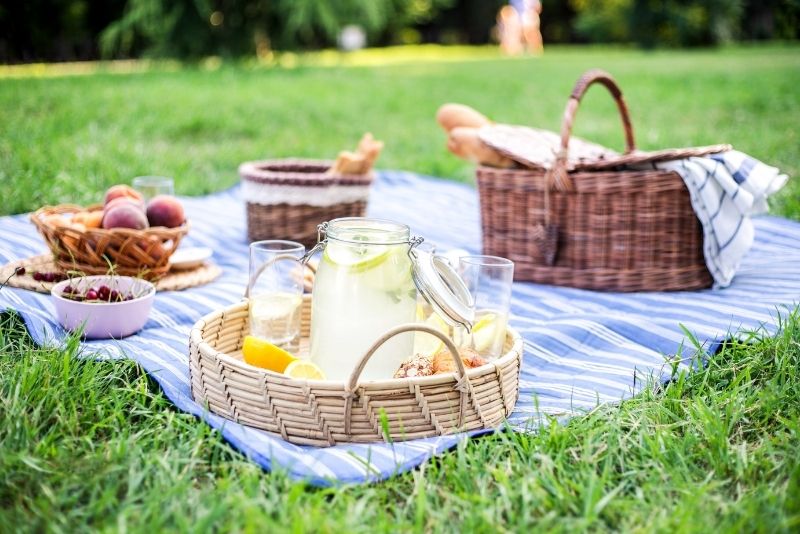 Chattanooga really does know how to do green space, and Heritage Park in East Brainerd is another great example. Here you can stroll along the numerous hiking paths and relax on picnic benches when you want a breather. There's a small playground for children too.
Heritage Park is the setting for several festivals and concerts here on the grounds, so check the schedule to see what's on during your visit.
The grand Heritage House also hosts events throughout there year, so you can be sure there's always something going on.
43 – Tour the historic Cravens House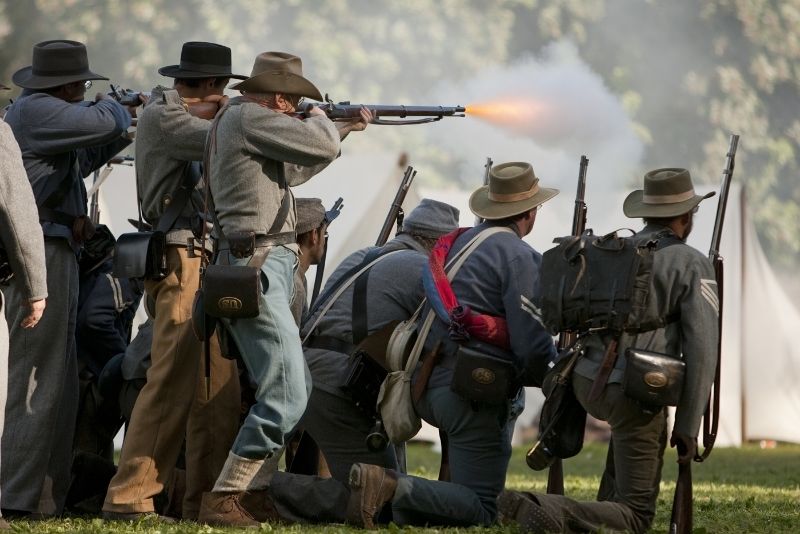 This famous Chattanooga landmark pre-dates the Civil War and is known for being used as the Confederate headquarters during the turmoil. Standing on a natural ledge on the slopes of Lookout Mountain, the dwelling was home to pioneer Robert Cravens, an industrialist from the city.
The original house was destroyed during the "Battle Above the Clouds" but was rebuilt by the Cravens family after the war.
You can take a tour of Cravens House and learn about what happened during the battle. Once you've had your fill of historic anecdotes, take a moment to appreciate the views or do some hiking in the nearby hills.
44 – Learn some new moves at High Point Climbing Gym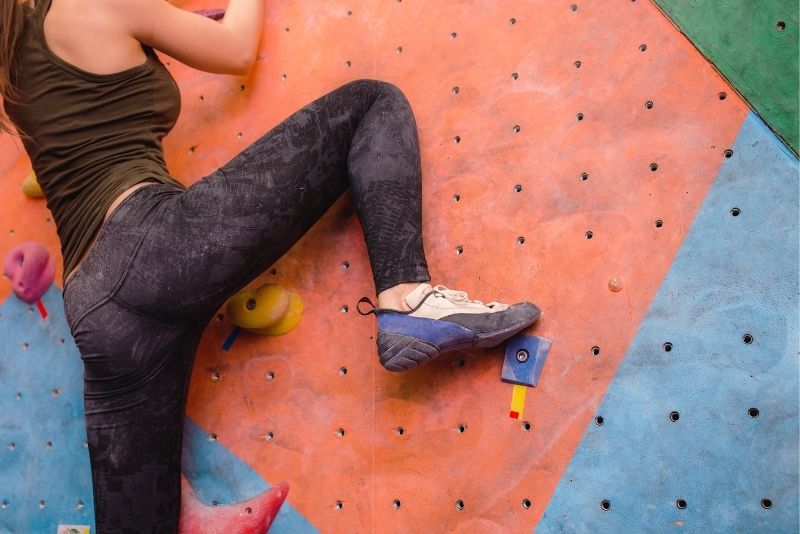 You don't need to head out into the mountains if you fancy having a go at rock climbing. There's a state-of-the-art sports facility that offers a similar experience, right here in the heart of the city.
The High Point Climbing Gym has indoor and outdoor walls, some of which are 60 feet high. Don't look down!
Want to learn how to belay or have a go at a bit of bouldering? There are sessions for both beginners and experienced climbers, with classes for those who want to hone their skills in a safe environment.
45 – Become a super sleuth on a scavenger hunt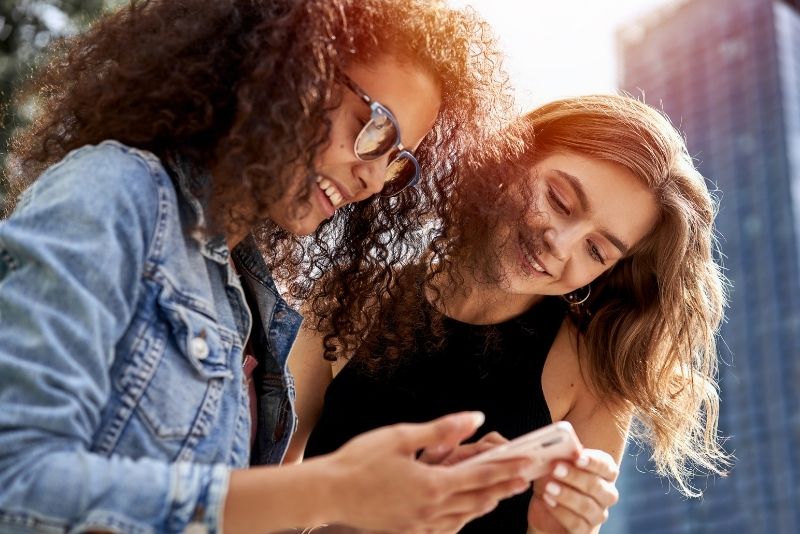 Seen all the major sights and want to do something different? Then get hands-on as you explore Chattanooga in a rather unusual way. Scavenger hunts are interactive quests that will take you well off the beaten track with lots of fun missions to solve.
Put on your detective hat and give Sherlock Holmes a run for his money as you discover mysterious clues, figure out riddles, and complete themed challenges.
You'll visit hangouts favored by locals and enjoy lots of photo opportunities during your mission. Will you make it to the end in time?
46 – View classic cars at the Coker Museum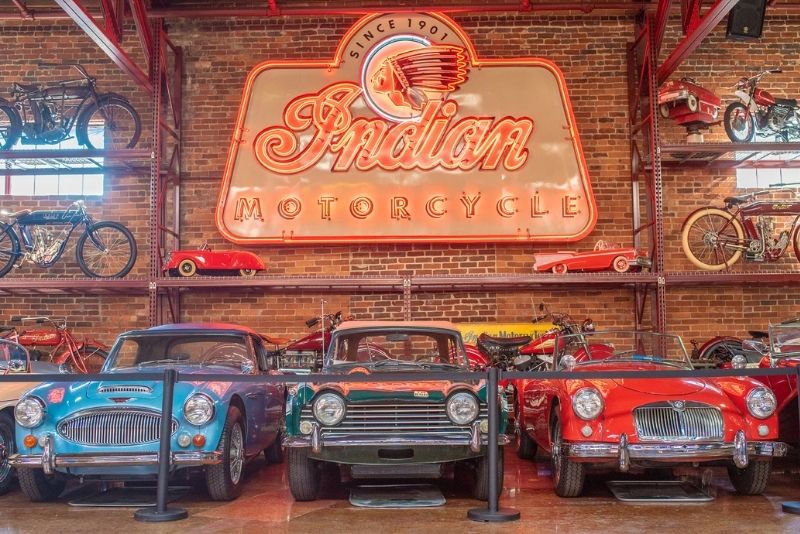 If you're into vintage vehicles, then you'll be right at home in the Coker Museum. Tucked away inside the Honest Charley Workshop, the classic car collection here is one of the best in the southern United States.
There are more than 100 different exhibits, with everything from cars and motorcycles to trucks and even buses. Don't miss the three airplanes dangling up above!
During your tour, you'll get to visit the machine shop (which is still working!), the woodshop, and the paint booth. You may even spot the restorers in action as they bring the latest addition to the collection roaring back to life.
47 – Admire the Basilica of Saints Peter and Paul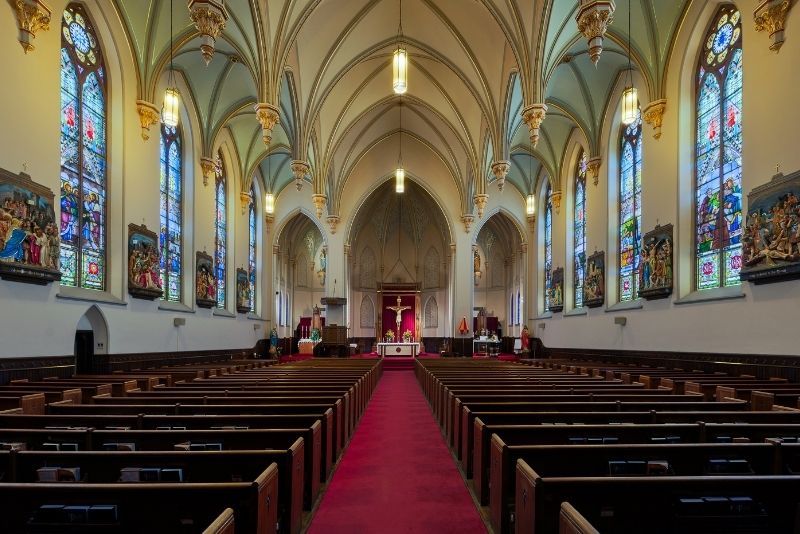 Visiting this charming church is one of the more unusual things to do in Chattanooga and is well worth a slight detour off the tourist trail. Built in the 19th century, this Roman Catholic beauty has plenty of Gothic and Tudor Revival architecture to spark your interest.
Inside you'll gaze upwards to the striking stained-glass windows that were created by Louis Comfort Tiffany, a well-known American artist.
You can take a tour around the Basilica of Saints Peter and Paul for a more in-depth introduction to this fascinating hidden gem.
48 – Go shopping at Chattanooga Market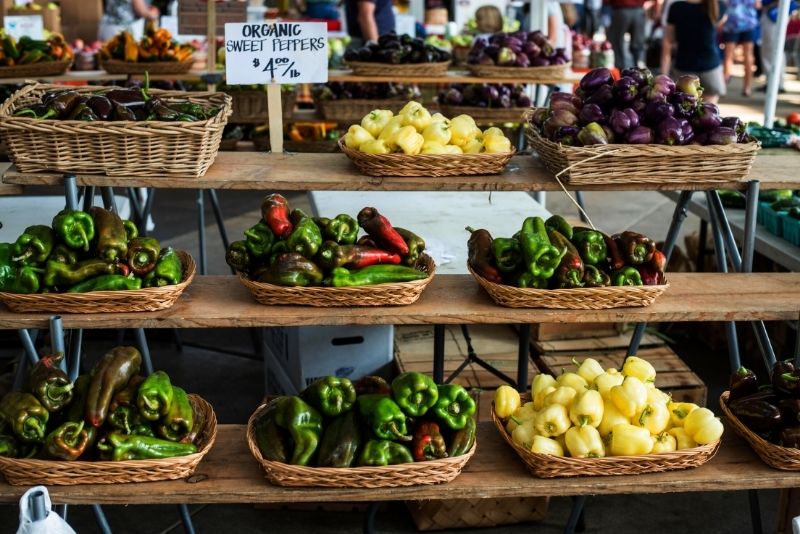 Chattanooga Market is your one-stop-shop for all things local. It's the largest venue in the area for arts and crafts, as well as farm produce, so it's a great way to discover the real Chattanooga.
There are over 300 vendors plying their wares, and everything here is hand-made, or grown, by the sellers themselves. Expect to come away with a bag full of artisan soap, some one-of-a-kind pottery, and maybe a handful of glass-blown jewelry.
Feeling hungry after all that shopping? Then dig into burgers and burritos at the food stalls, while saving rooms for cinnamon buns and crepes afterward.
49 – Celebrate in style on an evening dinner cruise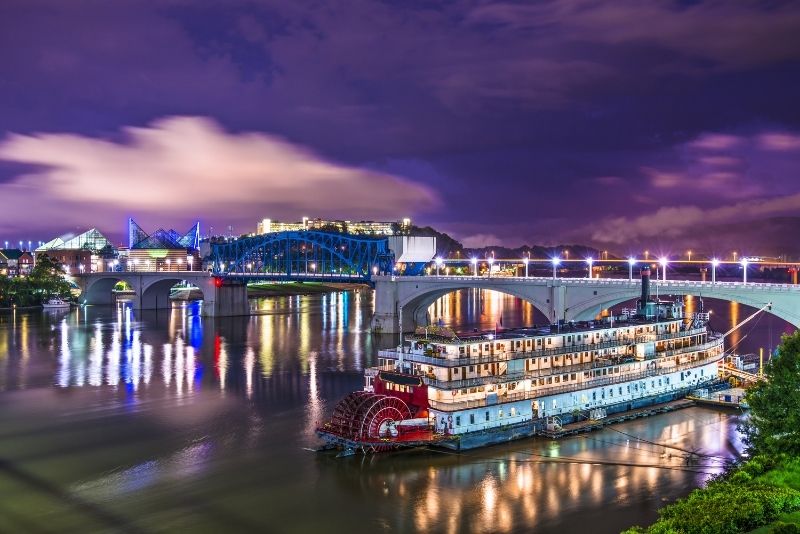 What's better than taking a boat cruise down the peaceful Tennessee River? Tucking into a gourmet dinner at the same time!
If you like a view with your meal, then a Chattanooga dinner cruise on a boat like the Southern Belle is the way to go. After exploring the deck and posing for photos, it's time to head into the restaurant for a delicious buffet-style supper.
Local classics like Cajun chicken and cheesecake are top of the menu, with sweet tea and wine to wash it all down. Jig along to live music and admire the city skyline as you float by.
50 – Grab a burger at Dave & Buster's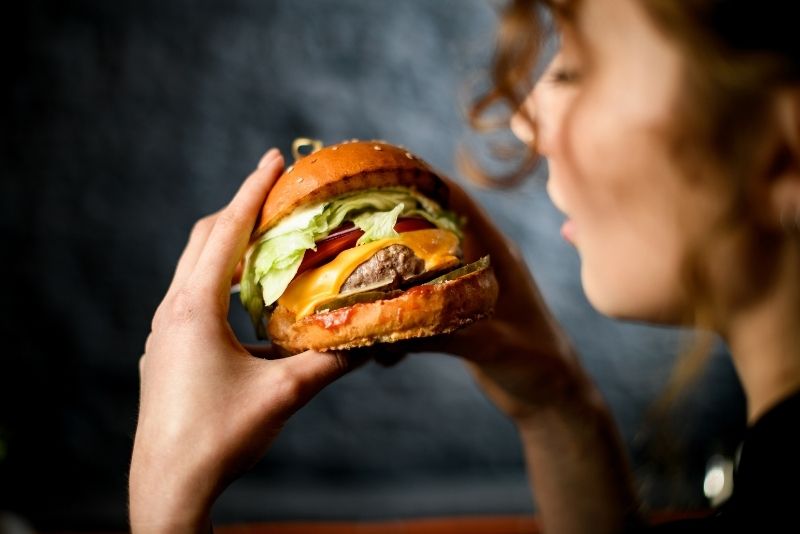 Need a break? Then grab a table and tuck into juicy burgers or sizzling steaks from the delicious fast-food menu of Dave & Buster's arcade and restaurant.
Enjoy an all-American afternoon of fun and frivolity in the setting reminiscent of a sports bar, with a whole host of games to keep you amused.
It's a great place to just hang out, watch live sports, and enjoy some top-notch grub. There's everything from billiards and bowling to Pop-A-Shot and virtual reality challenges on the cards too. Look out for the giant hungry hippo arena before you leave!
51 – Play arcade games at Spare Time Chattanooga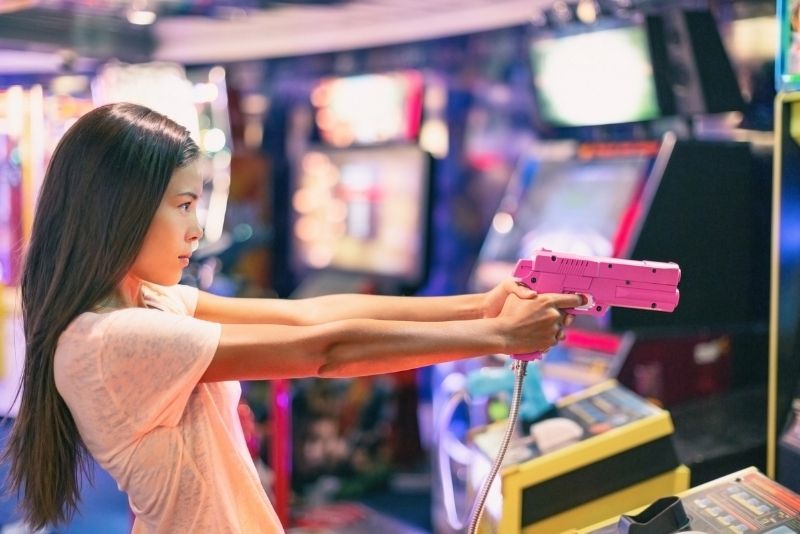 Bowlers of all levels will love playing a few games with their friends at lively Spare Time Chattanooga. State-of-the-art bowling lanes make for super-charged tournaments and are a great option for a rainy day.
There's also a laser tag arena and several themed escape rooms if you want to stay a little longer and prolong the fun. Gamers can head straight to the arcade area where vintage favorites and virtual reality worlds await.
Afterward, slip into a comfy booth and choose some tasty treats from the American-style menu. From wings to wraps, there's something for even the fussiest of taste buds!
52 – See a Songbirds show at Chattanooga Choo Choo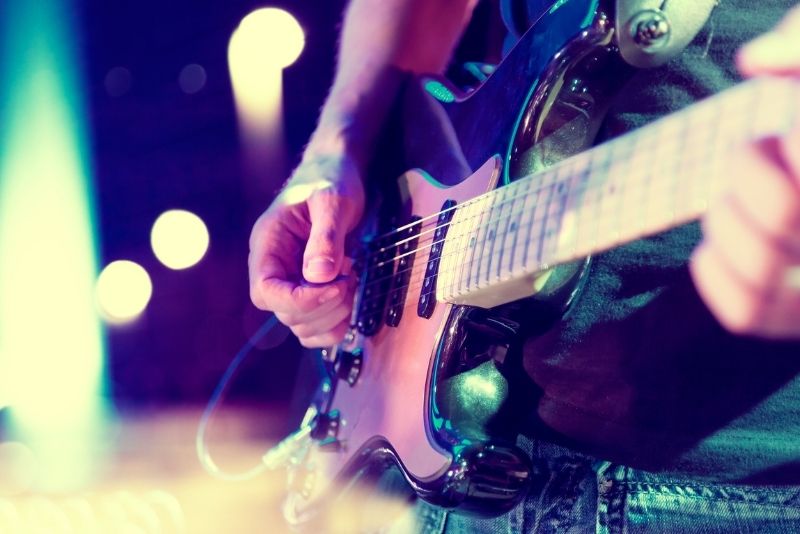 The quirky Chattanooga Choo Choo is a historic hotel complex centered around the very first railway station that opened in the southern United States.
Both guests and visitors can enjoy looking around the eclectic Songbirds vintage guitar museum here on site. Discover how this well-known instrument shaped pop culture and check out the interactive exhibits during your tour.
As night falls, Songbirds transforms into the city's hippest live music venue, with a wide variety of events throughout the year. Headlining local and national talent, Songbirds makes for an entertaining night out in Chattanooga for music fans.
53 – Browse creative works in the Hart Gallery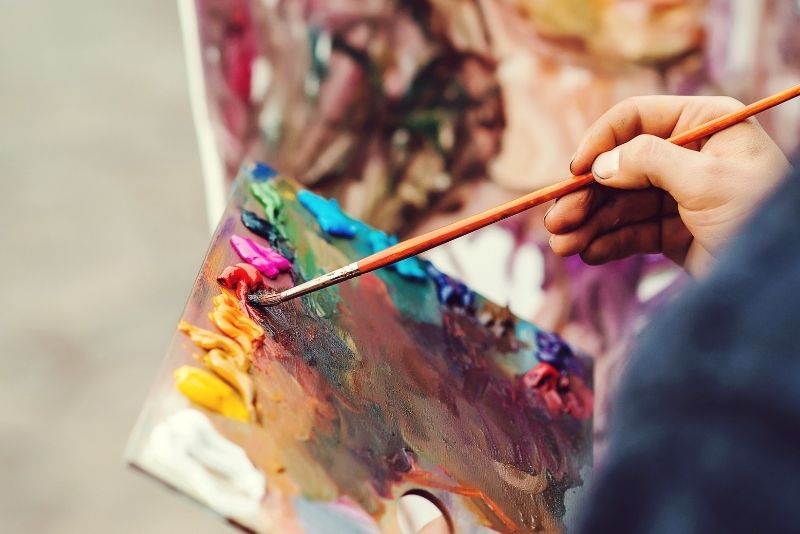 Art aficionados will enjoy a stroll around the acclaimed Hart Gallery. Known for offering hope and opportunity through art, this unique venue showcases the work of talented creators from difficult backgrounds.
Some have experienced homelessness, others are political refugees, and a few live with disabilities, both mental and physical. The gallery provides a safe and welcoming space for the artists to express themselves through a new medium. Their finished work is a real insight into lives that deserve to be brightened.
See a piece you like? You can purchase the artwork here, knowing your money is going to a worthy cause.
54 – Shop and eat at West Village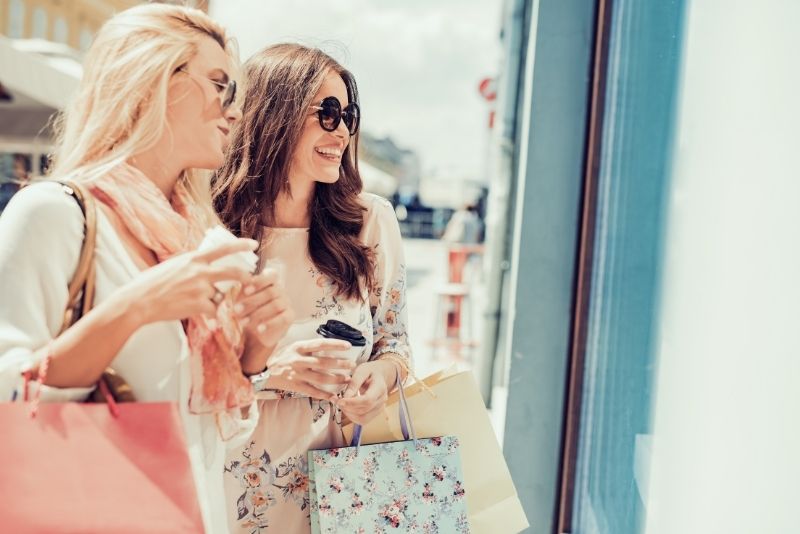 Give the sightseeing a rest for a while and pop over to West Village for a day of shopping in downtown Chattanooga. This regenerated area is famed for its stylish restaurants, rooftop bars, and upscale boutiques. Spend a couple of hours or a whole day here, it's entirely up to you.
There are dozens of things to do in Chattanooga, but West Village might just be the secret indulgence you've been searching for. Treat yourself to a swanky new outfit, get your hair done at the salon, and finish up with a lavish lunch.
You can even stay at one of the hotels here if you want to make the most of the experience.
55 – Take in an event at the Chattanooga Convention Center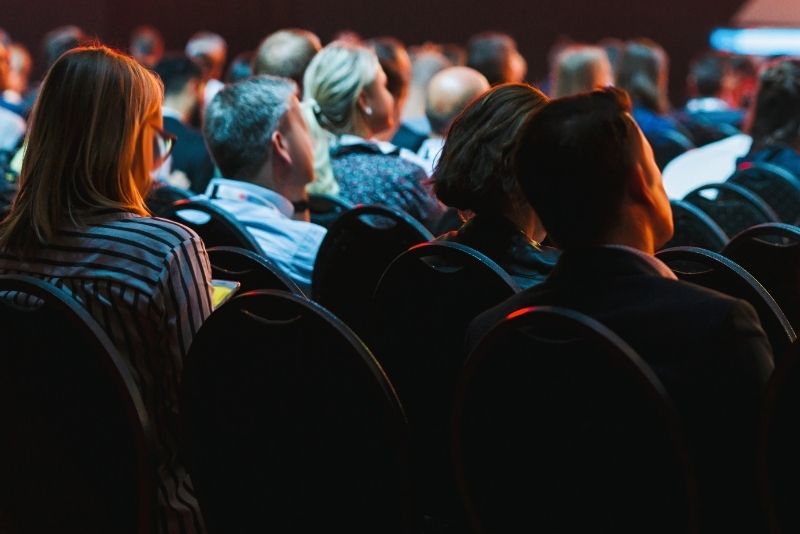 The Chattanooga Convention Center truly is a work of art, and only really appreciated from the inside. Sprawling across 100,000 square feet, it includes multiple exhibition spaces and even its very own ballroom!
Events here are beautifully staged, and there's always something on to draw the crowds, with both national and international guests making an appearance.
From wrestling and the World of Wheels to boat shows and athletic championships, the range of exhibitors is mind-blowing.
Check its calendar to see what's on during your vacation.
56 – Eat all the pizza at Chuck E. Cheese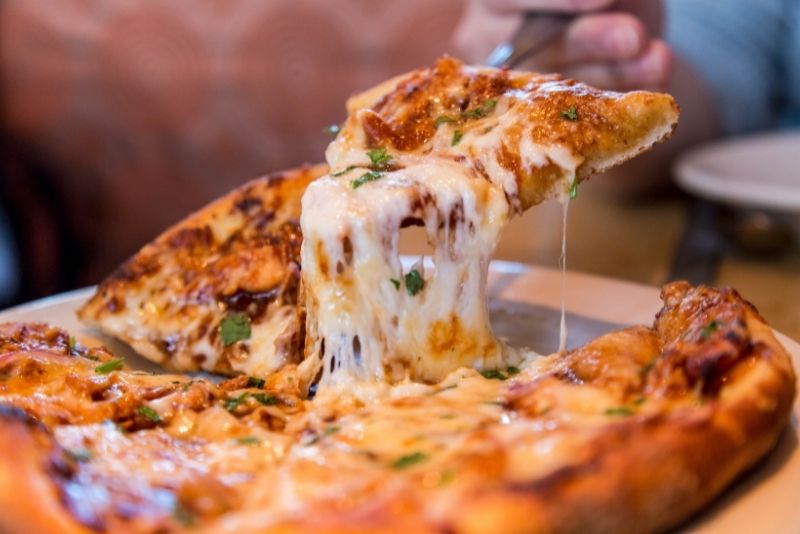 Combine slices of pizza dripping with cheese and some traditional arcade games for a fab family day out. Chuck E. Cheese is an immersive entertainment venue, where playing is as important as eating for travelers of all ages.
Whether you're into retro video games or want to hone your motorcycle riding skills, there's so much to do. Win prizes by triumphing in the arcade or shooting some hoops, and go bowling if ball games are more your thing.
Keep your energy levels high by chowing down on pizzas and fries, all washed down with some soda or beer. Yum!
57 – Watch a live show at Nightfall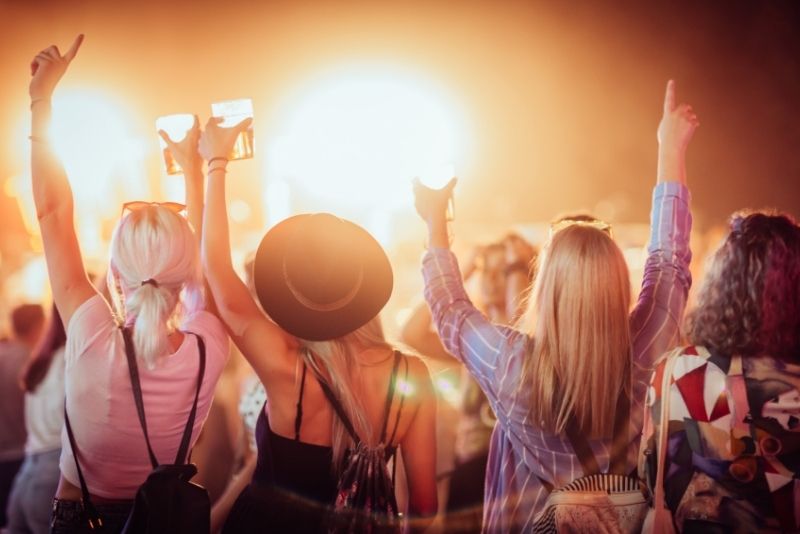 Nightfall is one of the best venues in Chattanooga for live music, with a free concert series that is open to all. Perfectly positioned downtown, the stage is set for a toe-tapping night out.
Shows are performed in the open-air setting of Miller Plaza and Miller Park, so it's a popular place to let your hair down during the warm summer months. Local musicians often headline, so it's a great place to discover new tunes and find aspiring artists to follow.
With everything from pop and rock to jazz and blues, Nightfall really knows how to entertain a crowd. Take a poncho if it looks like rain!
58 – Go beer tasting on a pub crawl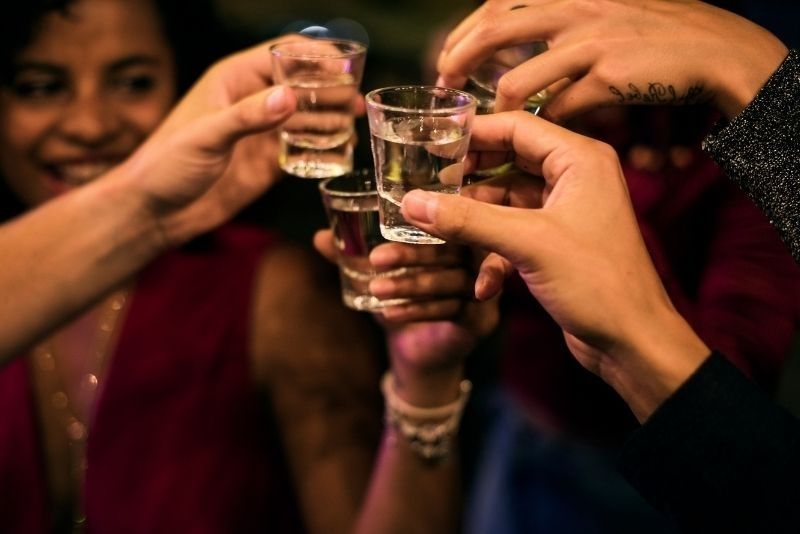 For an epic evening out on the town with your pals, join a local insider on a pub crawl around some of the city's best watering holes. You'll be glugging pints and sipping cocktails with city residents in bars that few tourists ever get to visit. This is the real Chattanooga!
Some tours take in breweries where you can explore behind the scenes and learn about the process behind the signature flavors. Discover how the brewers here are at the top of their game when it comes to creating unique craft beers with a regional twist.
Of course, there are plenty of beer tastings too. Will you be able to work out the secret ingredients?
There are so many incredible things to do in Chattanooga that you'll probably wish you had longer in town. Yet even if you're only here for a weekend, there's a lot that can be packed into a couple of days.
Hopefully, this epic list of activities and places to visit helps you to narrow down the sightseeing options for your trip.
If you haven't yet booked your accommodation, have a look at the top hotels in Chattanooga for the perfect city break. Whether you fancy a boutique waterfront hotel or prefer a family-friendly apartment, the choice is staggering.
Want to prolong your vacation? Then why not consider visiting the nearby cities of Atlanta, Birmingham and Nashville which all have their own exciting sights and activities to discover.
Happy travels!