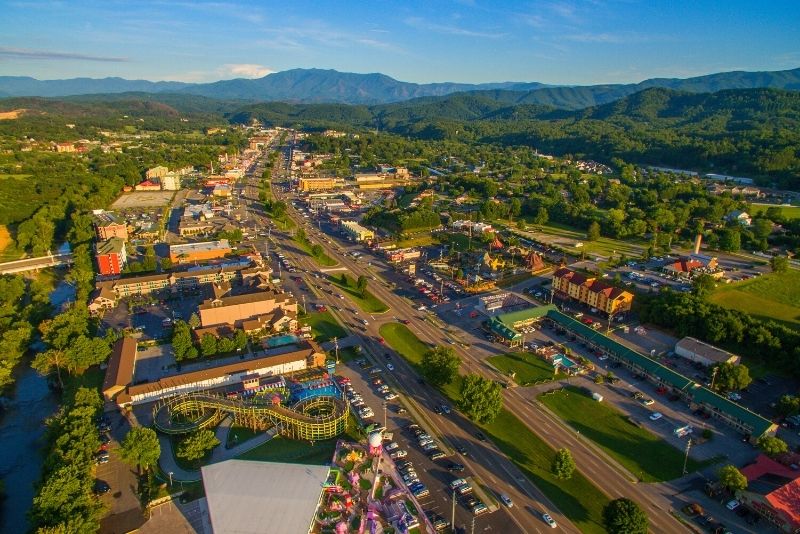 Nestled in the foothills of the Great Smoky Mountains, Pigeon Forge is a small town rapidly gaining steam as one of Tennessee's most exciting tourist destinations.
Despite its size, the Southern city is jam-packed with activities for people of all ages and interests — whether you're a history buff, seasoned hiker, adventure junkie or theme park enthusiast, there's an itinerary perfect for each and every traveler.
From water parks to Civil War tribute shows, haunted houses and historic museums, you have plenty of choices when it comes to things to do in Pigeon Forge. If you're on the hunt for essential Pigeon Forge activities, look no further.
Try something new, or even the unexpected, like snow tubing through the mountains or watch an Elvis tribute show to feel like you're standing in the icon's presence. Stop by an upside-down house for a brain-melting moment, or catch a crazy lumberjack show!
Expect amazing scenery thanks to its positioning… a helicopter tour is a dreamy way to sightsee the landscapes… and get the opportunity to spot wildlife you've never seen before.
Highlighting its fabulous outdoor scene, explore hands-on during buggy tours, while ziplining or zorbing. Southern hospitality at its finest, what are you waiting for?
1 – Visit the world's largest Titanic Museum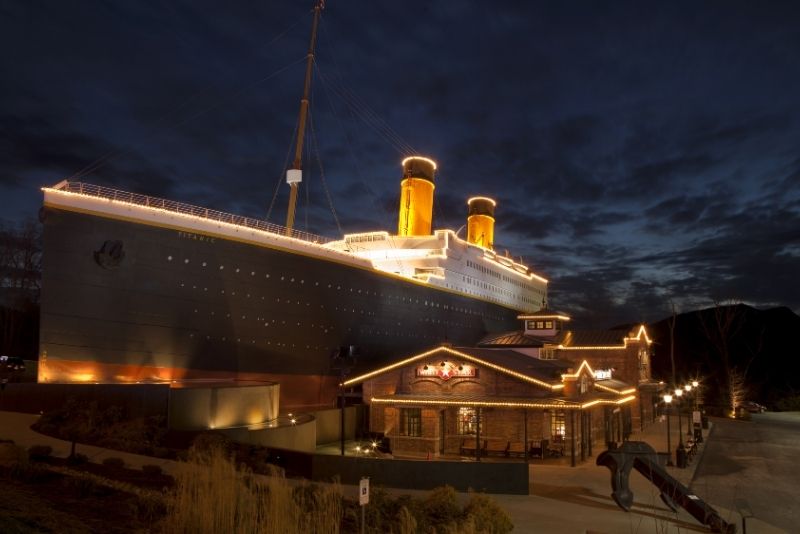 Replicating the shape of the ill-fated RMS Titanic, this museum in Pigeon Forge houses 400 pre-discovery artifacts spread across 20 dramatically-lit galleries (valued at over $4 million).
Far from just a visual experience, guests can touch a growing iceberg, test out the lifeboats, play the century-old grand piano — and experience what swimming in 28-degree-Fahrenheit water really felt like on that fateful 1912 day.
See the biggest Titanic replica made of 56,000 Lego bricks, built by "Lego Boy" Brynjar Karl from Iceland. It took him 11 months to complete it.
Make sure to bring your camera to capture your Titanic moments. Photos are now allowed inside the museum!
We'll never get a chance to walk the decks of this infamous luxury liner, but Pigeon Forge's Titanic Museum is the next best thing.
2 – Ride the thrilling Rocky Top Mountain Coaster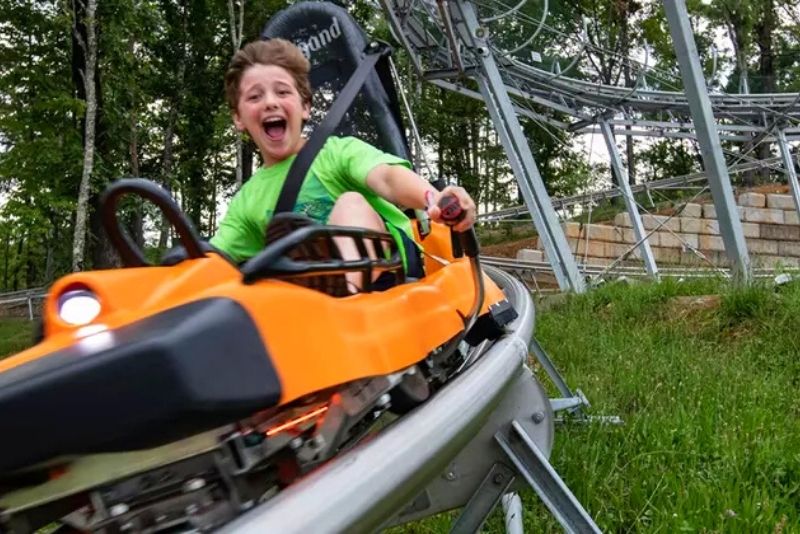 Strap in for over nine minutes of exhilarating twists, turns and tunnels in what is officially the longest roller coaster in East Tennessee. With speeds of up to 30 miles per hour, the Rocky Top Mountain Coaster is no slouch in the thrills department either!
The carts are individually controlled to suit the rider's level of comfort, making this a perfect outdoor experience for visitors of all ages.
Admire the beauty of the Smoky Mountains from a different angle, as you take on 360-degree twists around the large vicinity – the size of 20 football fields combined. You can also have a more thrilling experience by trying the night rides!
3 – Break out of an escape room before time runs out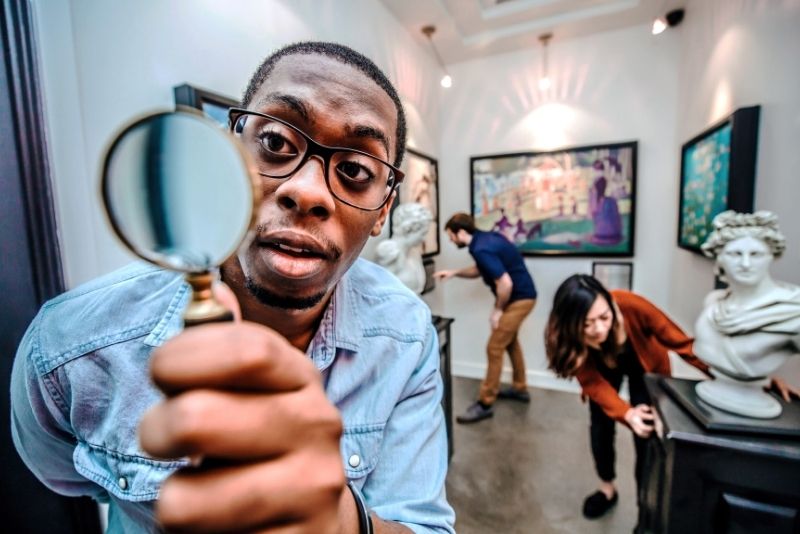 Think you're a cunning detective? Always fancied yourself a puzzle-master? Put your money where your mouth is, racing against the clock in one of Pigeon Forge's challenging, exciting escape rooms!
Visit The Escape Game and immerse yourself and your friends in a fun adventure. Prison Break and Heist are crowd favorites, but there are whopping five total themes to choose from.
Choose from five escape rooms for all skill levels, including Prison Break, The Heist, Gold Rush, Mission Mars and Classified.
Whether you're an experienced escape room enthusiast or a first-timer, there is a game that will challenge and excite you.
4 – Spend an afternoon at WonderWorks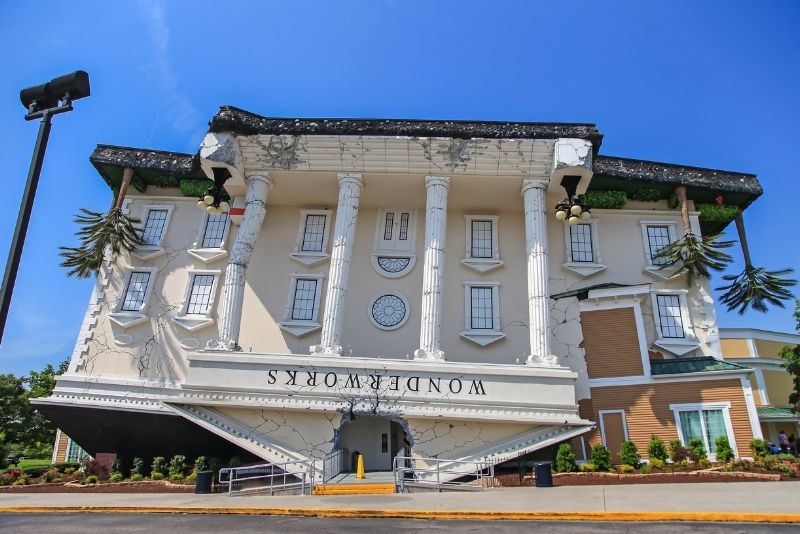 This beloved family-friendly attraction is home to six so-called Wonder Zones — Extreme Weather, Physical Challenge, Space Discovery, Imagination Lab, Light and Sound, and Wonder Art. Wonderworks is overflowing with immersive, amazing activities to keep the kids busy for hours.
Try putting your hand to feel 100,000 volts of lightning from a Tesla coil, or keeping your hand in icy water to know how cold it was for the Titanic passengers. Discover more with over 100 exhibits that amuse your mind and imagination.
In addition to the upside-down house's long list of mind tricks, WonderWorks Pigeon Forge also offers laser tag, an indoor ropes course and a wild 4D simulator.
5 – Spend the day at the Five Oaks Adventure Park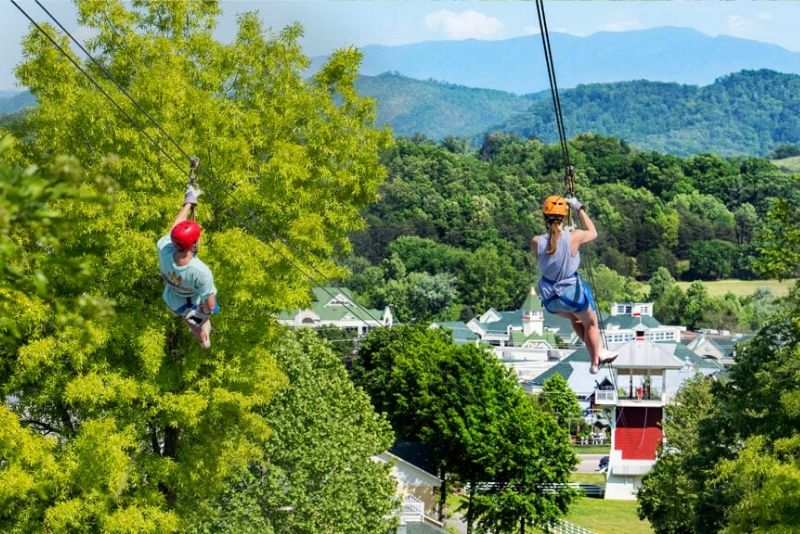 With the perfect balance of high-flying thrills and relaxing, nature activities, the Five Oaks Adventure Park is a constant hit with locals and tourists alike.
Located in Sevierville, about a 15-minute drive from the center of Pigeon Forge, this forest park provides both thrilling and relaxing experiences away from the city noise.
Take a zipline tour over the 70-acre nature park, saddle a horse for a wilderness walk, drift around corners on the go-kart track, or win a prize at the arcade — there's no shortage of things to do!
6 – Admire professional log rollers at Paula Deen's Lumberjack Feud Show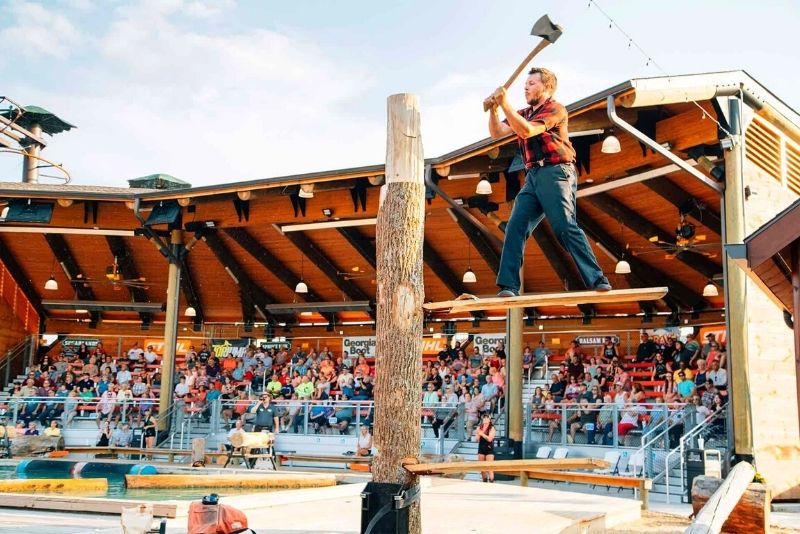 A spectacle that embraces the long-lasting traditions of the South, watching Paula Deen's Lumberjack Feud Show is easily one of the best activities in Pigeon Forge.
Catch the pros in action as they roll logs, throw axes, speed climb trees and compete in the video-viral springboard chop. Once the show's done, try it all for yourself!
If you needed an extra reason to visit, the Feud Show is also home to the world's first zipline roller coaster — the Flying Ox.
You can also take on the challenge with a ropes course, compete in your own log rolls, speed climb and bungee jump from a height of 80 feet. This adventure park offers a fun-filled day for the whole family.
7 – Feed the animals at RainForest Adventures Discovery Zoo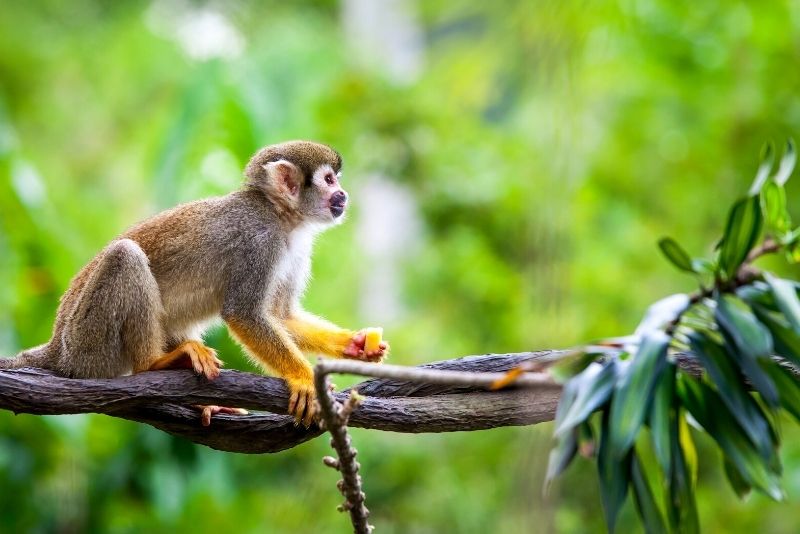 Situated in the heart of the marvelous Smoky Mountains, the RainForest Adventures Discovery Zoo houses over 600 diverse creatures — from lazy lizards to cheeky monkeys, creepy crawlies, and everything in between.
It takes care of over 130 species of reptiles, amphibians, mammals, birds and bugs such as tarantulas and scorpions.
The zoo is about a 10-minute drive from Pigeon Forge and is open year-round. It's an ideal day out for the entire family, with kids going particularly wild for the petting zoo.
8 – Soar over the city in a helicopter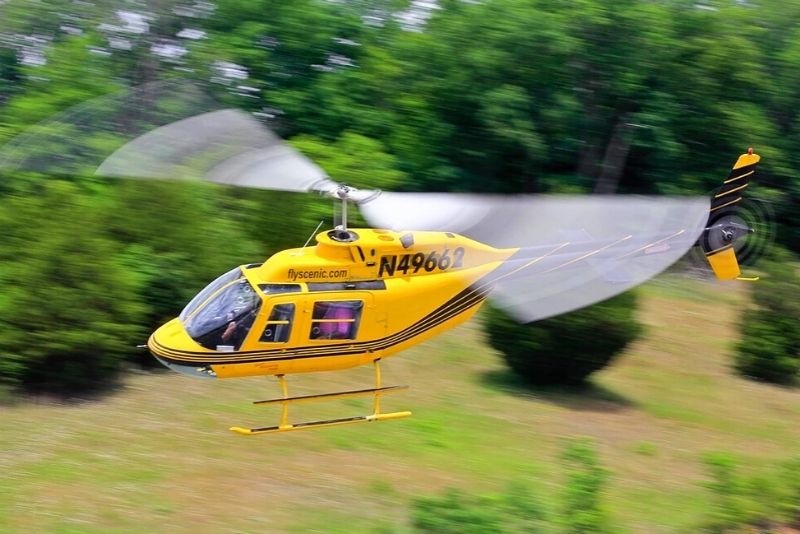 Hiking through the Great Smoky Mountains is a must — however, there's no more spectacular feeling than flying above their seemingly endless forests strapped into the passenger seat of a helicopter!
If time or budget is a concern, take a shorter flight over the French Broad River, an option not lacking in stunning bird's-eye views either!
You can choose to extend your flight to view the spectacular man-made Douglas Lake and then fly near Douglas Dam. This journey usually takes about six minutes or eight minutes if you prefer an extended flight.
9 – Take a Jeep tour through the Smoky Mountains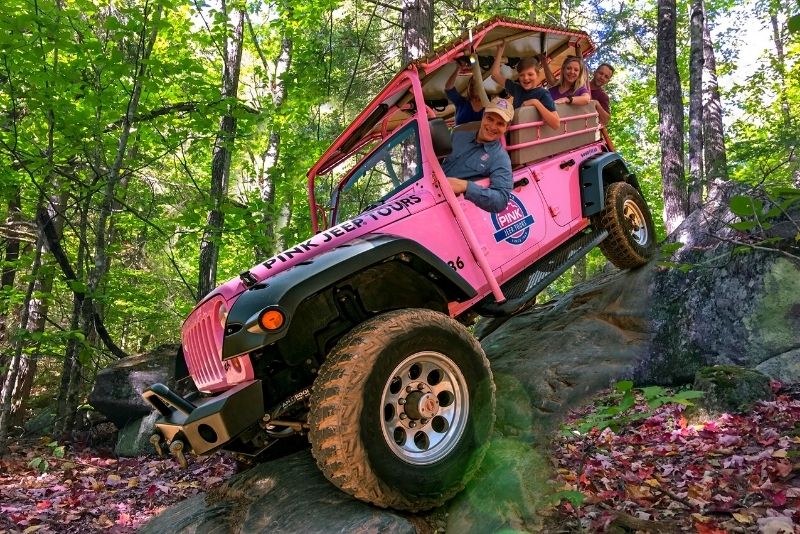 Tackle the rocky terrain on the western edge of the Great Smoky Mountains in the back of an open-air jeep, one of the best outdoor experiences in Pigeon Forge.
The 6-mile Roaring Fork loop tracks through some of the most untouched areas of the wilderness highlighted by a fast-moving stream. The Newfound Gap route covers the mountain-top meeting point of Tennessee and North Carolina.
If neither of these routes sparks interest, tour companies allow you to rent your own 4X4 vehicle for the day too.
10 – Go tubing at Pigeon Forge Snow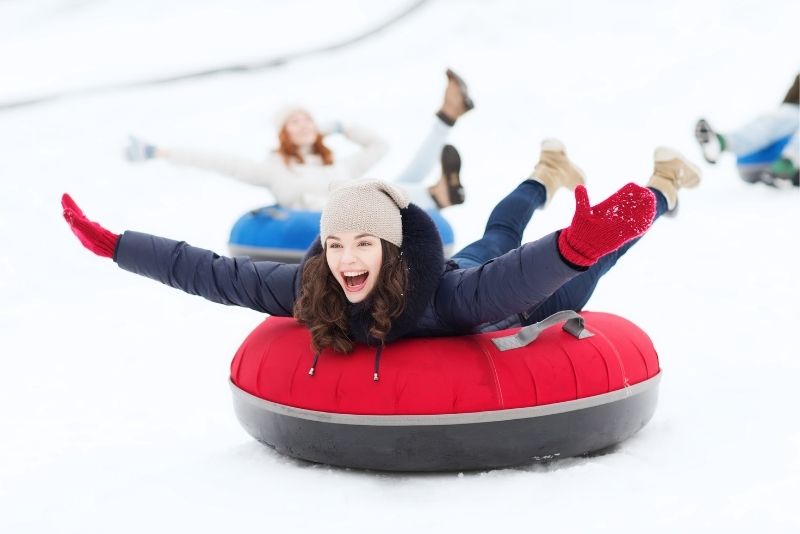 Nearby Gatlinburg is home to a world-class ski resort, however, the wintery fun doesn't need to stop when the snow all melts!
First of its kind in the country, Pigeon Forge Snow features an entire hillside of snow tubing hills. Aside from the snowy hills, it also provides a large snow play area where you can do your winter fun like building a snowman.
It's open year-round, so on those sizzling summer days, there's no better retreat from the baking sun than a couple of hours of family-friendly snow tubing.
Boasting snowy slopes with more than 150 meters long worth of riding lanes, a second option for snow tubing is at Rowdy Bear's Smoky Mountain Snowpark.
Tube, slide and glide through real snow on Tennessee's biggest outdoor snow tubing hill. Adding to the fun, the park has a ski lift shootout coaster ride, outdoor axe throwing activity and kids' playground.
Grab a cup of hot chocolate at the Sugar Bears Café And Creamery and leave feeling elated.
11 – Grab a ticket to the Country Tonite Show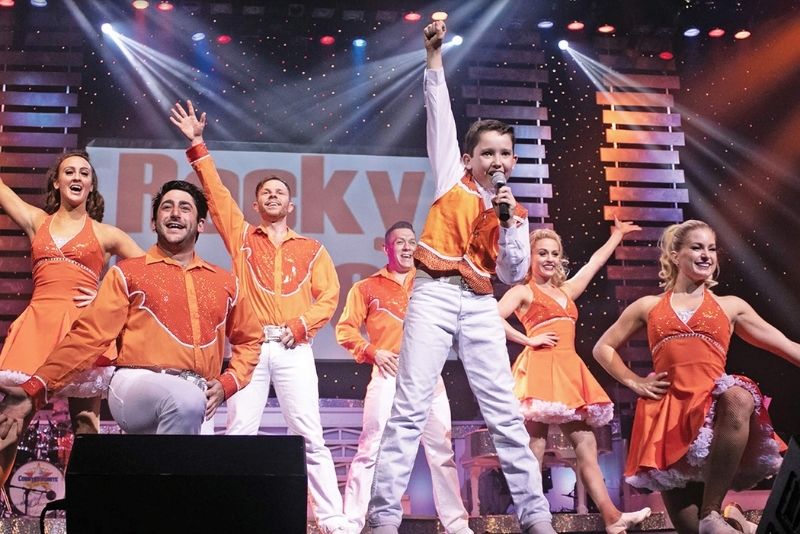 Thanks to its dynamic combination of live music, glittering costumes, non-stop comedy and high-energy dancing, Pigeon Forge's Country Tonite Show has been repeatedly voted as the best show in the Smokies!
The two-hour powerhouse production takes place in a 1,500-seat theater, renovated with state-of-the-art AV equipment and big-screen TVs. No matter where you're seated, expect exceptional views of the impressive talent.
On its 25th anniversary, the Country Tonite has promised brand new productions, costumes and lighting effects, featuring young and experienced performers.
12 – Walk the suspension bridge at Foxfire Mountain Adventure Park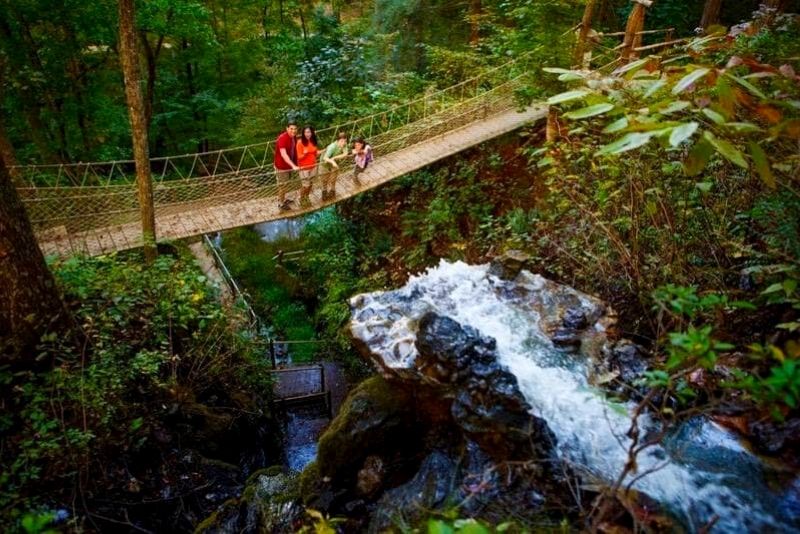 Challenge your skills on ropes courses, ride an ATV and experience thrill rides and a suspension bridge — all immersed in the beautiful Smoky Mountains greenery. Visiting Foxfire Mountain Adventure Park is undisputedly one of the best things to do in Pigeon Forge.
Of all its attractions, the Goliath zipline reigns supreme. At 475 feet high, Goliath is not only the highest zipline in the Smokies but also the longest and fastest. Thrill-seekers, Foxfire is beckoning you.
Get the best deal with your zip line ticket to include hiking along astonishing trails and passing through a swinging bridge of over 100 meters long that goes to Prosperity Mountain.
13 – Visit the interactive Beyond The Lens! museum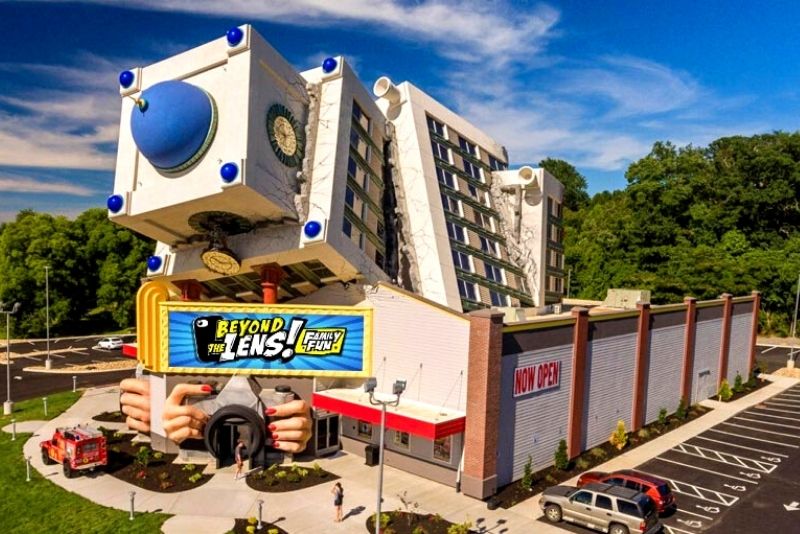 Grab the camera! With its mesmerizing LED displays and immersive neon-lit tunnels, Beyond the Lens is one of the most Instagrammable places in Pigeon Forge.
But it's also so much more than just a selfie spot. The museum offers augmented reality experiences, celebrity-related attractions, a ball pit and plenty of insights into the world of Hollywood.
With over 150 interactive displays, this attraction combines cutting-edge technology with entertainment, offering not just plenty of photo opportunities, but also unforgettable moments of awe.
14 – Grab a seat at Brian Hoffman's award-winning tribute to Red Skelton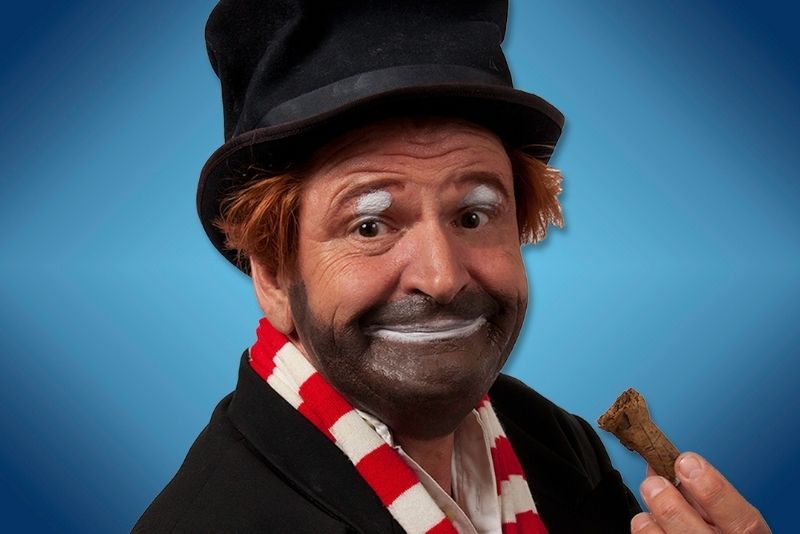 Red Skelton, one of America's favorite clowns from the '50s, '60s and early '70s, had audiences in stitches with his one-man skits and pantomime routines.
Those laughs are replicated to a tee at Brian Hoffman's blast-from-the-past tribute show, "Remembering Red."
The show usually runs for 90 minutes and brings back childhood memories, while the younger generations discover the shared humor and funny experiences of their elders.
This spectacle is a delight for audiences of all ages, regarded as one of the most fun things to do in Pigeon Forge!
15 – Go skiing at Ober Gatlinburg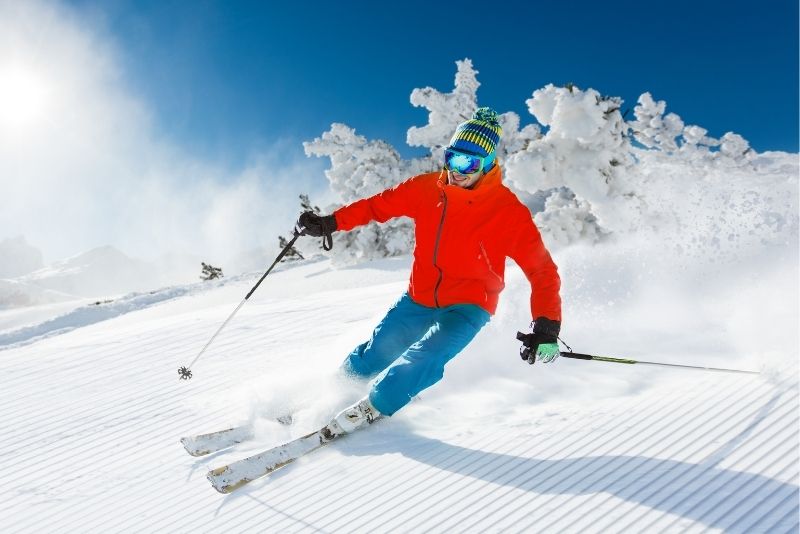 Just a short drive away from Pigeon Forge, the town of Gatlinburg equally boasts several adventures and entertainment activities.
Its focal point, sitting high above the city, is Ober Gatlinburg, a year-round amusement park that transforms into a paradise for skiers and snowboarders in the winter months.
With an ice skating rink, alpine slides and sweeping views of the surroundings, visiting the resort is one of the essential things to do in Pigeon Forge and Gatlinburg.
16 – Explore nature in an off-road buggy, extreme-style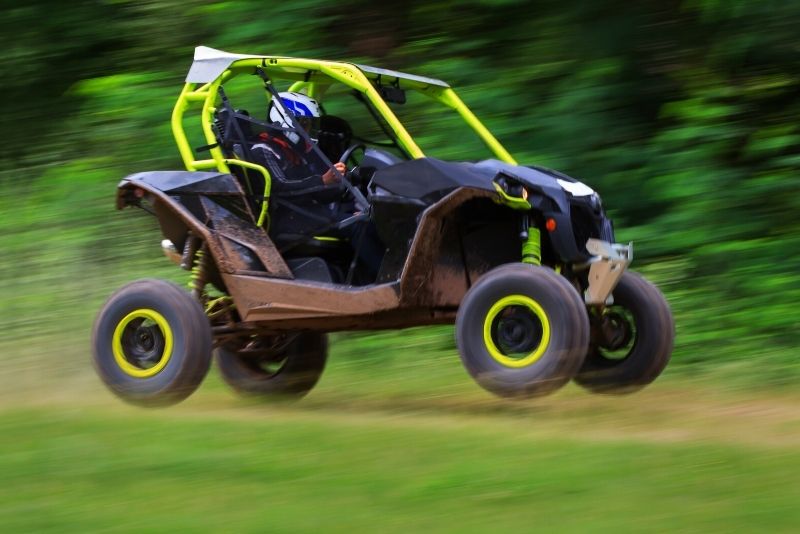 Venture through Tennessee's great outdoors in the back of a buggy, an activity that promises non-stop excitement surrounded by picturesque scenery.
You can rent a UTV for two, four or six passengers for two to 10 hours from Pigeon Forge such as ExoRent located at Wears Valley Road, Wranglers and Razors, and Bluff Mountain Adventures.
Companies usually provide some tips and routes for you to explore the best sights in the Smoky Mountains.
In the neighboring Gatlinburg, companies like KanamFun and Mountain Life UTV Rentals provide guided tours of the beautiful wooded hills while also offering private rentals, allowing guests to explore at their own pace.
17 – Try zorbing for the first time at Outdoor Gravity Park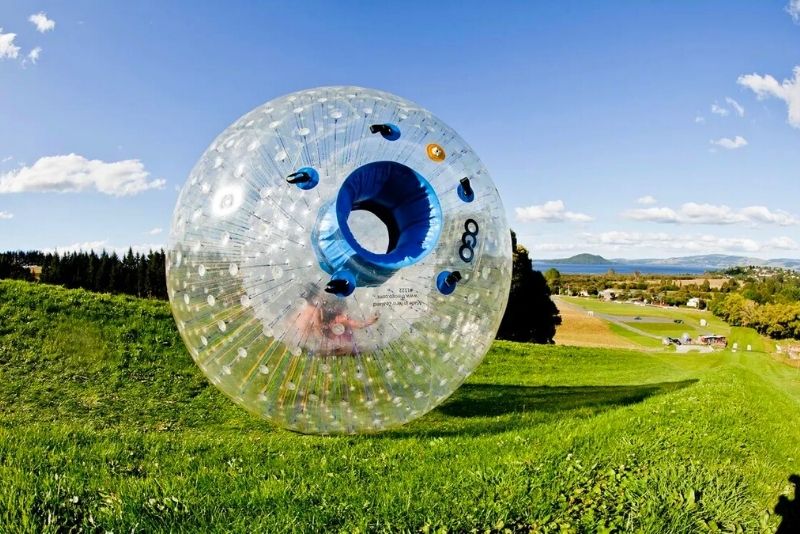 As the nation's only zorbing-focused destination, Outdoor Gravity Park gives thrill-seekers the chance to tumble down a 1,000-foot-tall hill, bouncing and spinning in all directions!
This one-of-its-kind park in the US offers three different types of zorbing tracks. Choose to roll through a combined FUNnel and zigzag course, fast downhill from 1,000 feet high, or an extremely zigzag path.
It's a crazy, heart-racing activity unrivaled by anything else in the area. Adventurers, an afternoon at this place should be atop any Pigeon Forge bucket list!
Make sure to bring towels and extra clothes, as you're surely going to get wet!
18 – Meet celebrities at the Hollywood Wax Museum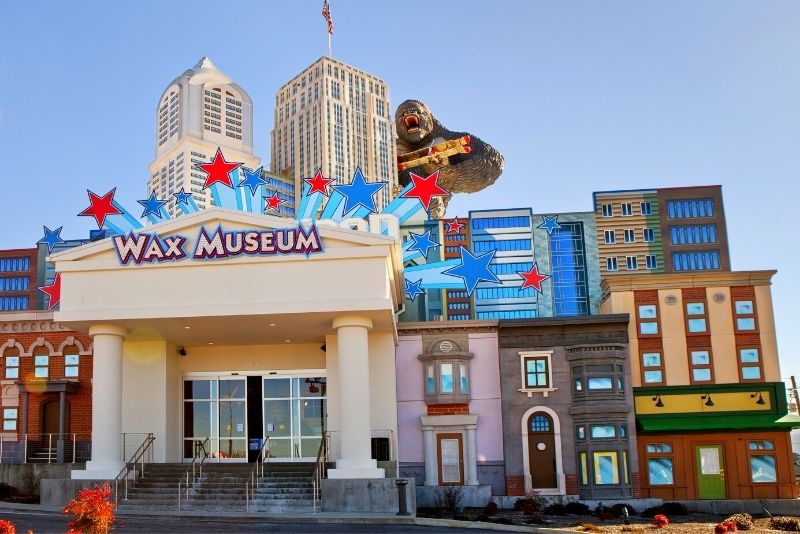 If you're looking for an indoor activity worth an afternoon, one of the best tourist attractions in Pigeon Forge is undoubtedly the Hollywood Wax Museum Entertainment Center.
This isn't your ordinary wax museum, folks. After snapping a few selfies with Tinseltown's rich and famous (wax-style), jump on the action-packed 5D Castle of Chaos ride.
Save a princess as you find a way out of the mirror maze, or face your fears of the undead, as you walk out of the zombie-infested biotech facility.
19 – Putt on the roof at Crave Golf Club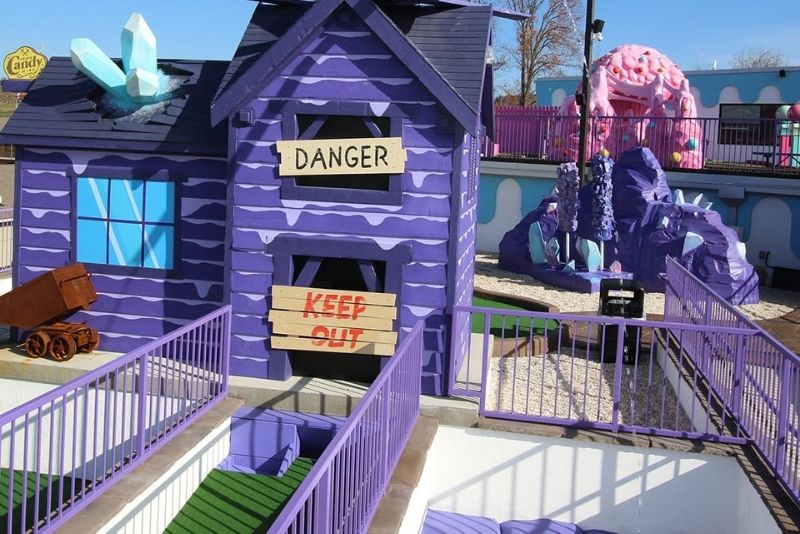 The perfect place to fine-tune your putt, Crave Golf Club proudly boasts its ranking as the No. 1 mini-golf course in the country — thanks to its two-tiered, 19-hole beautifully decorated set up on the roof of the building.
This place offers a space of 18,000 square feet filled with candy-themed holes in both indoor and outdoor golf courses.
Add more excitement and level of challenge to your game by playing "Crave Style" — following a scorecard that indicates a specific action based on the player's icon.
After sinking those final putts, the club also offers a bowling alley, escape rooms, and a mouth-watering sweet shop!
20 – Walk along treetops at Anakeesta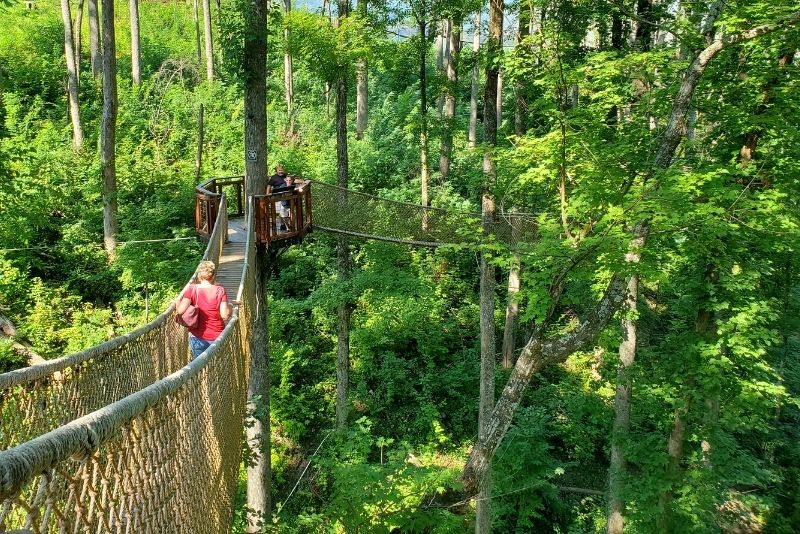 A local adventure hub, the Anakeesta outdoor park sits high above the town of Gatlinburg. With its diverse hiking trails, flowing waterfalls and immersive greenery, this adventure oasis is a must.
Climb the downtown's highest point, the 60-foot tall Anavista Tower to get an aerial view of the Smoky Mountains. Be thrilled on a zipline, relax on a gondola ride, surpass hurdles in the treetop play area or take photos with a (fake) bear.
Don't miss the Treetop Skywalk — an 800-foot-long collection of raised bridges overlooking the beautiful Smoky Mountain forestry. This forest resort has something for the whole family!
21 – Practice your flips at TopJump, the extreme trampoline destination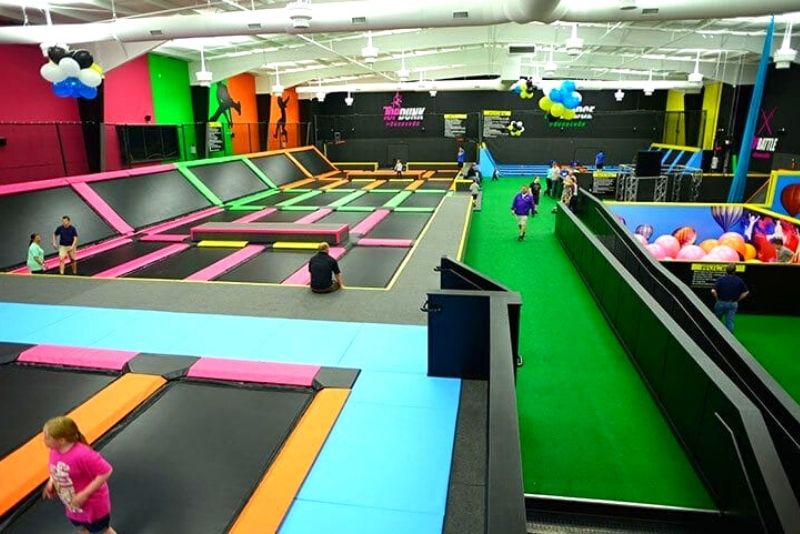 Dunk like LeBron in the slam-dunk zone, master the backflip on the free play trampolines or tumble onto the giant airbag!
Those activities and plenty more fun-packed features await at TopJump, a family-favorite, energy-zapping indoor activity.
This amusement center in Pigeon Forge also offers the Cliffhanger Challenges with 21 different climbing lines, the first of its kind in the country.
There's also an arcade to play classic and new games, as well as an area for parents to relax.
After burning a few hundred calories, replenish the energy levels with a sneaky treat or two at the on-site Sugar Rush!
22 – Meet the fluffy guests at Goats on the Roof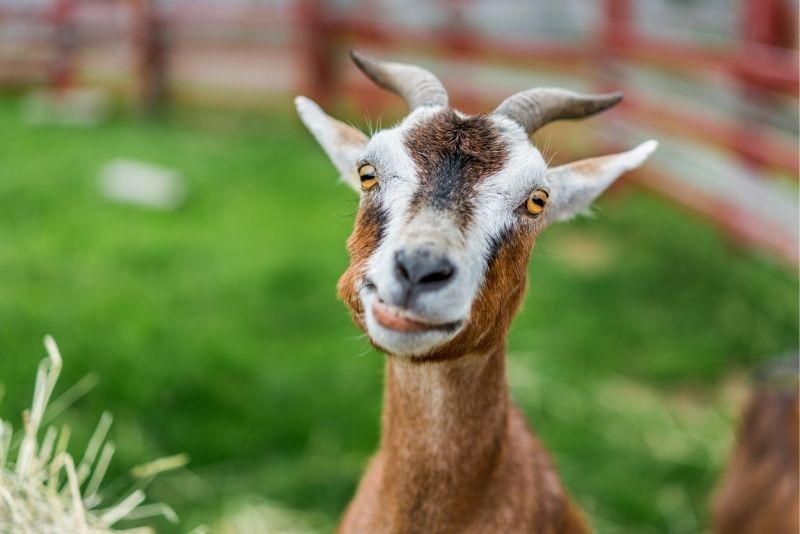 It's officially the only attraction in the Smoky Mountains that allows live goats to roam around on its rooftop.
The aptly-named Goats on the Roof is one of the most unique Pigeon Forge attractions — scratch that, one of the most unique destinations in the country!
The place features an intriguing souvenir shop, ice creamery, fudge store, gem mining experience and even a goat-themed roller coaster. The Coaster at Goats is almost a mile long with a maximum speed of 30 miles per hour, making it a thrilling experience for kids and adults.
Each cart can carry up to two passengers and there's a control of the brake. You can decide whether to go slow or fast as gravity pulls you down coming from the mountain top.
23 – Bring the kids to The Island in Pigeon Forge
Shop till you drop, eat till you're bursting and ride coasters till you're all tuckered out (although probably not in that order) at The Island in Pigeon Forge — the city's latest entertainment and retail center.
Admission and parking are free, and pets are welcome too! You only pay affordable fees for what you want to do — such as riding the seven-dimension adventure shooting game, playing tactical laser tag, or visiting an Alcatraz museum.
Make sure to take a ride on the 200-foot-high observation wheel, tackle the ropes course and check out the multimillion-dollar fountain show. Play in the dark at Gatlin's Maze or Bumper Cars, feel your tummies drop on the Twist 'N Shout (the minimum height requirement is 93 centimeters), and bounce and somersault into the air at ThunderDome.
The little ones especially love the Funny Cars and Lil' Ribbits rides. Designed with attractions and activities for ages young and old, laugh away the hours on the rides and riveting things to do.
After all the action, if you're feeling hungry, there are 20 classic American dining options to choose from. but what's more southern than the family-style restaurant by the TV personality and chef, Paula Deen's Family Kitchen? Indulge in the celeb chef's original southern comfort recipes and understand why these homely meals are such a hit.
24 – Go whitewater rafting on the Pigeon River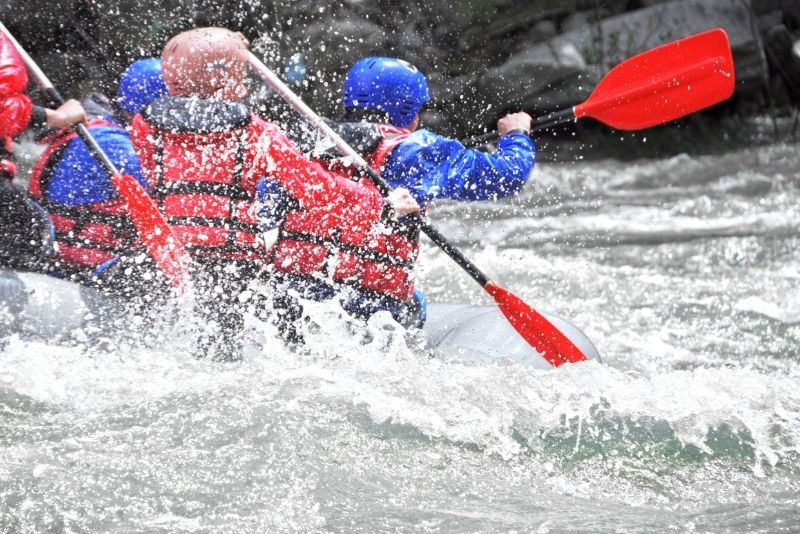 Whether you're looking for a calm, slow-moving stream or a dramatic whitewater river adventure, Pigeon Forge has got you covered. Several companies operate rafting tours, providing all the necessary equipment, plus transport to and from downtown.
Choose from gentle rafting in Lower Pigeon River with Raft Outdoor Adventures or Wild Water Rafting. Or opt for the exhilarating Class 3-4 rapids at Upper Pigeon River with Rafting In The Smokies, just to name a few.
25 – Experience the thrills at Fun Stop Action Park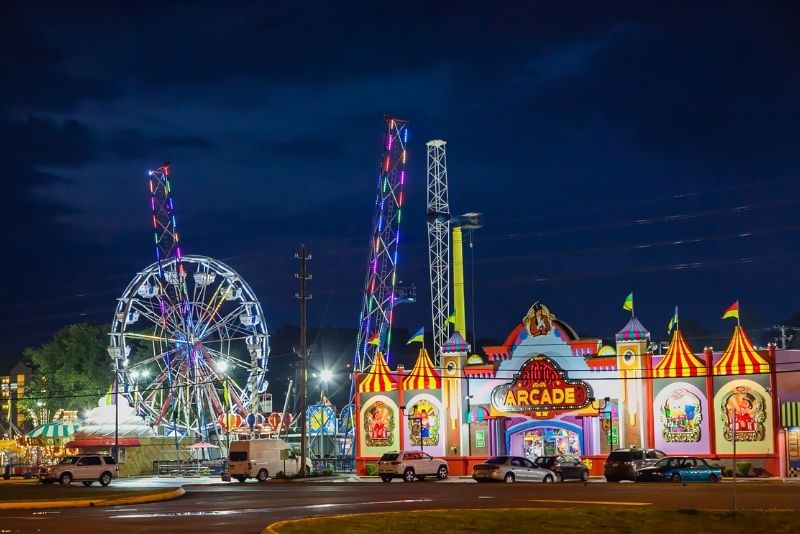 Rocket into the sky, soaring over 120 feet in the air at speeds of nearly 60 miles per hour on Fun Stop's favorite ride — the Slingshot.
While it's the most exhilarating attraction at the park, it's far from the only one. The family-friendly carnival in Pigeon Forge also boasts a zip line, go-kart track, arcade, and the looping SkyScraper.
Looking for an adrenaline fix? Race against your family and friends on any of the three different tracks – elevated, sleek or pro.
If you're up for some prizes and tickets using some skills and luck, play advanced games at the circus-themed indoor arcade.
26 – See a show at the Grand Majestic Theater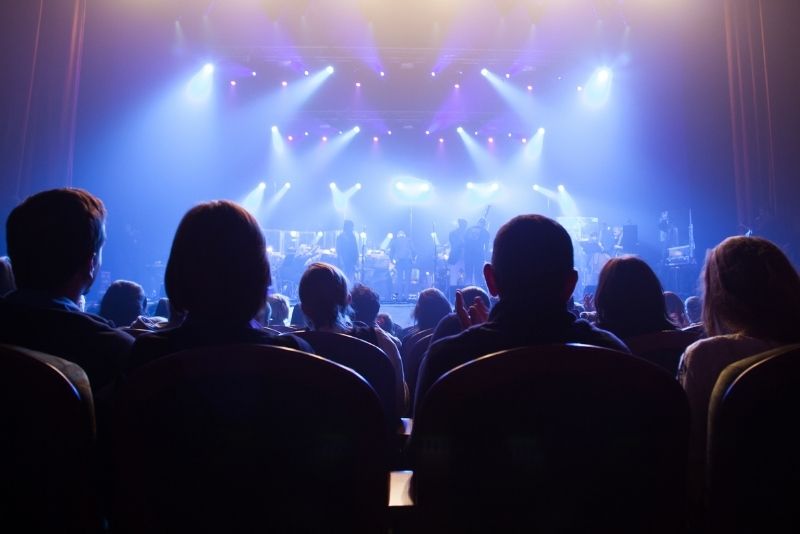 Catch the unbelievably talented magician, Terry Evanswood, and witness the brilliant Soul of Motown performers at the Grand Majestic Theater.
One of the city's premier entertainment venues, it's the only "Dine-In" theater in Pigeon Forge.
Choose from shows like Hit Parade, full of sing-a-long hits or Hazzard Hoedown, which is a hilarious country performance closed out with a tear-jerking tribute to America.
Upgrade your ticket to a VIP experience if you want to celebrate special moments and have extra treats such as flowers, appetizers and cupcakes!
27 – Sign up for an 'old-time' photo session
Transport yourself into decades, even centuries gone by with a staple Pigeon Forge souvenir: the old-time photo!
Choose from hundreds of authentic hats and costumes from a collection of photography studios scattered all over town to make sure your personalized pics are absolutely perfect.
Four Sisters has been dressing up guests for over 30 years, while Old Time Photos offers backdrops like Wild West, hillbillies and 1920s gangsters.
28 – Button-mash at the arcade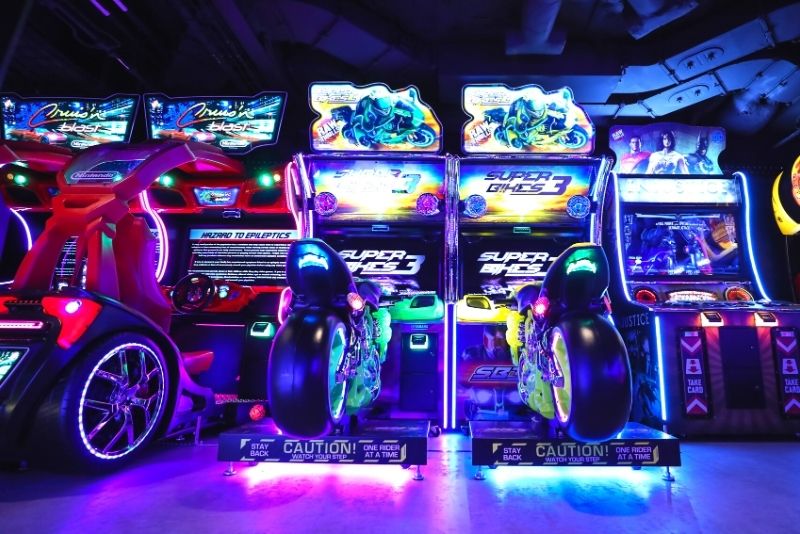 Certainly, one of the best things to do in Pigeon Forge for kids is play at Arcade City. It offers hundreds of retro and modern games, heaps of winnable prizes, and an all-around aura of excitement, with video games, and arcades suitable for the whole family. Choose from over 100 games and win amazing prizes.
If these thrills aren't enough, or you've got some serious gaming aficionados in your traveling troupe, amble on over to Big Top Arcade. With a choice of classic and more modernized and interactive games to get through, feel all the nostalgia or join your kids and help them win some super cool prizes.
At the same location as Big Top Arcade is the Rockin Raceway Go-Kart Track, as well as the famous Downtown Flavortown — where 'playing with your food' is recommended.
All about the experience and headed up by celeb TV chef, Guy Fieri, the massive dining space includes a fun tiki bar and features OTT drink specials, as well as its own bowling alley and arcade!
29 – Wet your whistle on a moonshine and wine tour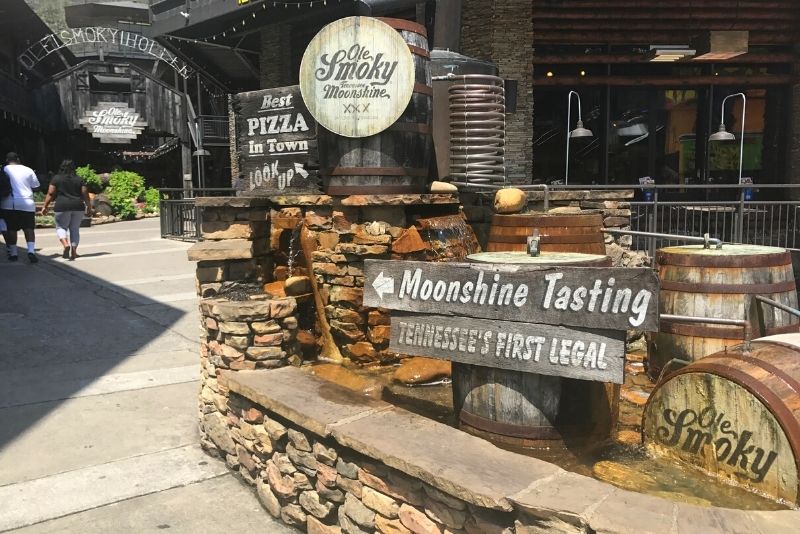 No Tennessee trip is complete without sampling a shot of local moonshine — it's just tradition! On a guided booze tour, guests get the best of both worlds: wine and hooch!
Thirsty visitors can sample some of the area's premier spirits from award-winning distilleries, as well as try some smooth reds and whites from local wineries.
All these delights while learning about the region's history of moonshine and prohibition from expert guides.
Learn more about Appalachian culture, as you sample moonshine and whiskey, and Tennessee wine after lunch which is usually included in most tours.
30 – Meet the sharks at Ripley's Aquarium of the Smokies
A stroll through Ripley's Aquarium of the Smokies is sure to delight kids and adults alike with turtles, penguins and sharks to meet.
Some 10,000 exotic sea creatures of all different shakes and sizes float through the aquarium's massive tanks.
Watch billions of small fish swimming together for miles to avoid predators at the Ocean Realm, and observe the underwater world without getting wet at the Shark Lagoon.
You can also find aquatic creatures from the tropical rainforest such as piranhas, as well as poisonous dart frogs originating from Central and South America.
Besides the typical tanks, this crowd favorite also offers a glass-bottom boat tour and interactive touch pools (if you dare).
31 – Become a suspect at a murder mystery dinner show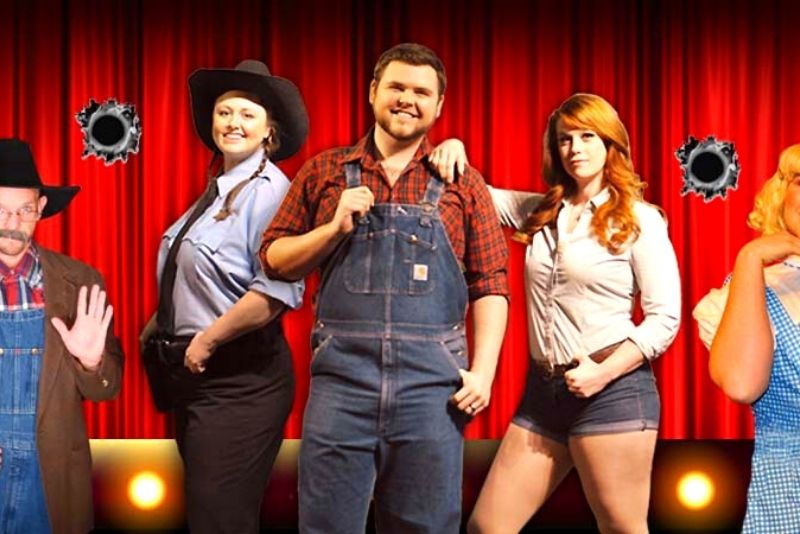 Combining a delectable three-course meal with an interactive, one-of-a-kind murder mystery, this show is renowned as one of the more immersive, exciting dining experiences in the Eastern Tennessee area.
The rotating calendar offers three equally interactive shows: Moonshine Murders, Who Shot the Sheriff, and Marriage Can Be Murder. A front-row seat awaits!
Prepare to laugh all night long and you're also encouraged to participate in the shows. Only one show is PG-13, so don't hesitate to bring the entire family, including the kids.
32 – Dine at Pigeon Forge's Hard Rock Cafe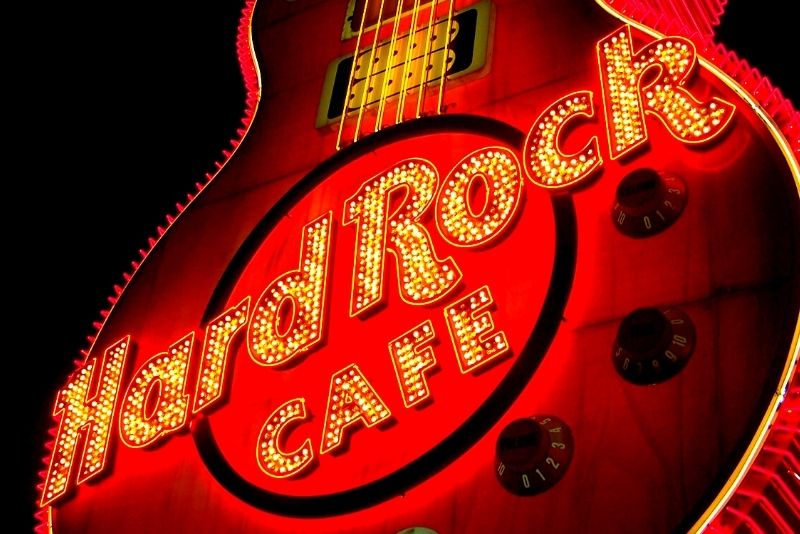 The iconic Hard Rock Cafe has locations scattered all over the country, but even if you've seen them all, the Pigeon Forge franchise is still well worthy of a visit.
Serving the city for more than 15 years, this cafe offers a unique dining experience while tackling the history of music and its future.
It has three dining areas, highlighting three famous musicians, Dolly Parton, Jimi Hendrix and Madonna.
With a live music stage, the classic Rock Shop®, an outdoor terrace and a fully-stocked bar, it's the perfect locale to welcome in the evening with a drink in hand.
33 – Race indoors at The Checkered Flag Slot Car Racing and Arcade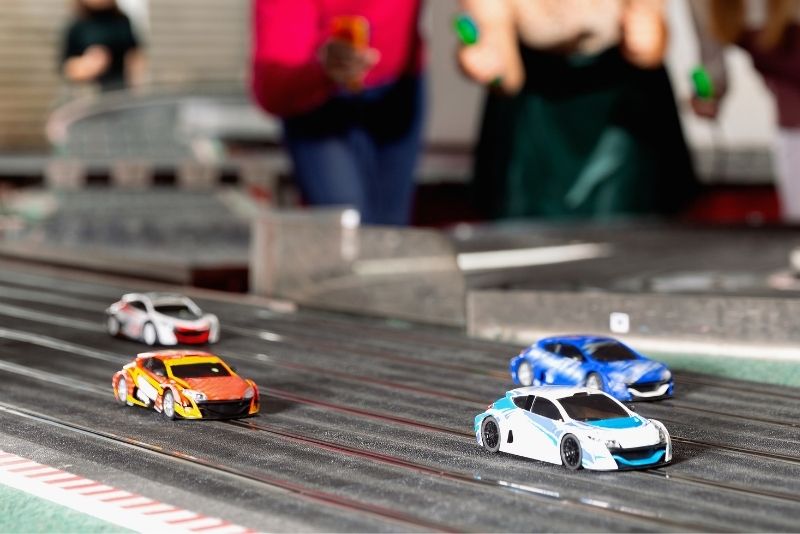 For budding racers or petrolheads, The Checkered Flag should sit high up on any Pigeon Forge bucket list. It's all the excitement of drag racing condensed into an indoor family-friendly miniature version!
Guests can race each other on the two big NASCAR-style tracks, step on the accelerator on the drag track, and maneuver remote-controlled monster trucks on the indoor crawler course. On a rainy day, look no further.
It also features an RC jeep crawling with custom obstacles, including extension bridges and mountain Climb, as well as Tennessee's landmarks such as the historical Harrisburg Covered Bridge and Gatlinburg Sky Bridge.
34 – Ride hair-raising coasters at the Dollywood theme park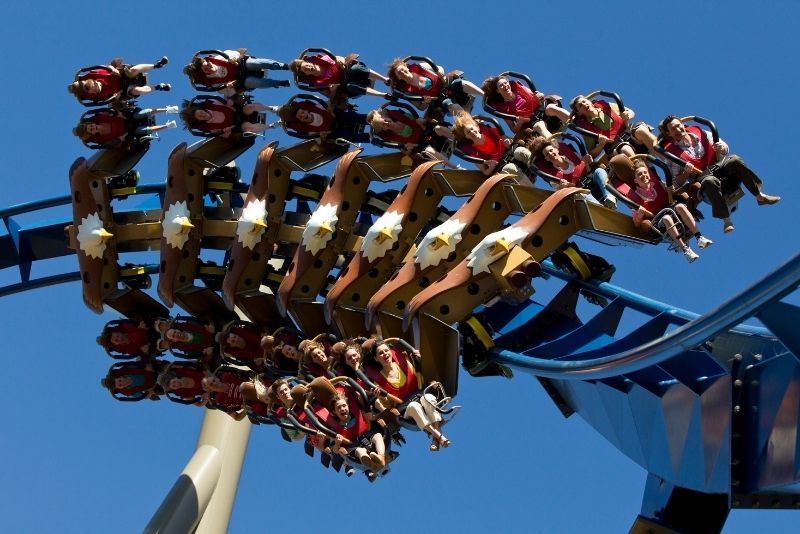 The 150-acre Dolly Parton co-owned theme park is where thrill rides meet Smoky Mountains meet classic Southern charm. Dollywood is jam-packed with great entertainment, typical Southern fare and over 50 high-octane rides.
If you plan on making a beeline to the most hair-raising rides, put Wild Eagle, Tennessee Tornado, and Thunderhead at the top of the list. Aside from rides and attractions, Dollywood also hosts regular live music performances perfect for non-riders and all members of the family.
But wait, there's more… Beat the sweltering heat in the summertime at Dollywood's Splash Country among 15 water slides and play areas. Pretend to go white river rafting down the Big Bear Plunge, enjoy the need for speed on the Fire Tower Falls or whizz around the Mountain Twist.
Let the kids idle away the hours playing amidst seven slides and water cannons at the Bear Mountain Fire Tower®, or bring your tiny tots to Little Creek Falls splash pad. Children of all ages love exploring The Cascades™, and the lagoon-like pool comprises more than 25 interactive features.
Travelers not keen on the action, opt for a scenic 20-minute train ride aboard a steam engine locomotive starting at the Dollywood Express Train Depot. Moving through the grounds surrounding the theme and water parks, chug past the Great Smoky Mountains, snagging in the scenery.
35 – Take a day trip to the Forbidden Caverns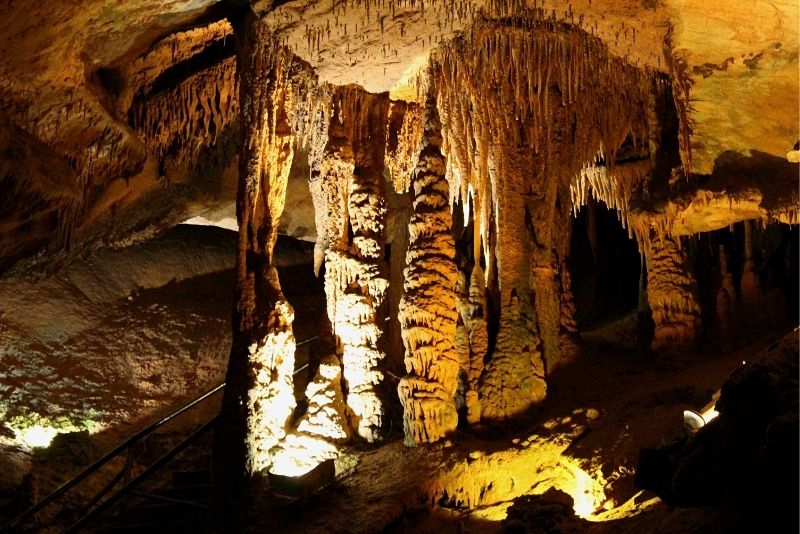 Most of Pigeon Forge's outdoor activities revolve around the wooded hills of the Smokies — not this place.
The Forbidden Caverns, about a 25-minute drive from Pigeon Forge, are simply stunning, jutted with unique rock formations and frequented by bats and other wildlife.
On a guided tour, learn all about the history and creation of the caves, with plenty of great photos to show off when all are said and done.
36 – Play in the outdoors around Rowdy Bear's Smoky Mountain Snowpark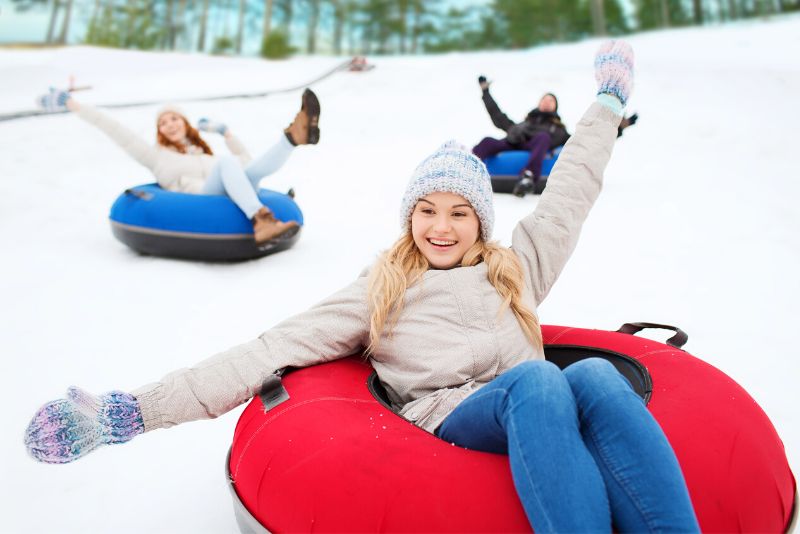 Open 365 days a year, whether it's summer or wintertime, Rowdy Bear's Smoky Mountain Snowpark has appealing outdoor adventures for all ages. Hop into a two-seater flying Ski Lift Shootout Coaster and glide through the ridge of Rowdy Bear.
Put your aiming skills to the test at the Outdoor Axe Throwing activity. After you receive a demonstration from the pros, learn how to throw the axe yourself and see if you can hit the bullseye. There is an age requirement of 10 years and older.
Parents; the Rowdy Ridge Playground is a fun and interactive space for children two years of age and upwards, designed with slides and climbing facilities.
During the hotter seasons, try out the summer outdoor tubing on the dedicated tubing hills with its 21-meter drop, or in winter, the space transforms into the longest snow tubing slope in Tennessee.
With the Great Smokies neighboring the park, its location provides extra ambiance.
37 – Plunge down near-vertical slides at Dollywood's Splash Country water park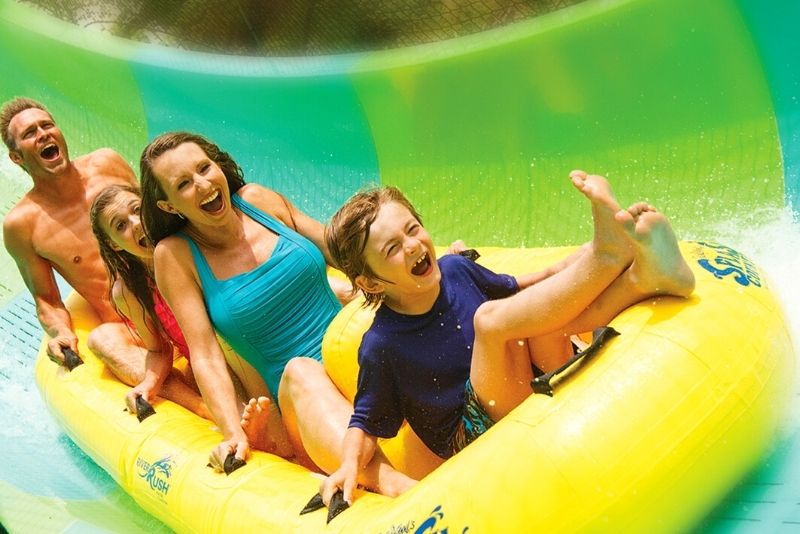 On those blazing summer days, find that much-needed reprieve between May and September at one of America's best water parks: the 35-acre Splash Country.
The park was built around Dolly Parton's childhood memories of swimming in the Great Smoky Mountains' rivers, meaning that there truly is no other place like it.
Thrill-seekers, jump in line for Big Bear Plunge and Mountain Scream. Parents, point your kids in the direction of the Slick Rock Racer.
38 – Go-kart in the Smoky Mountains at The Track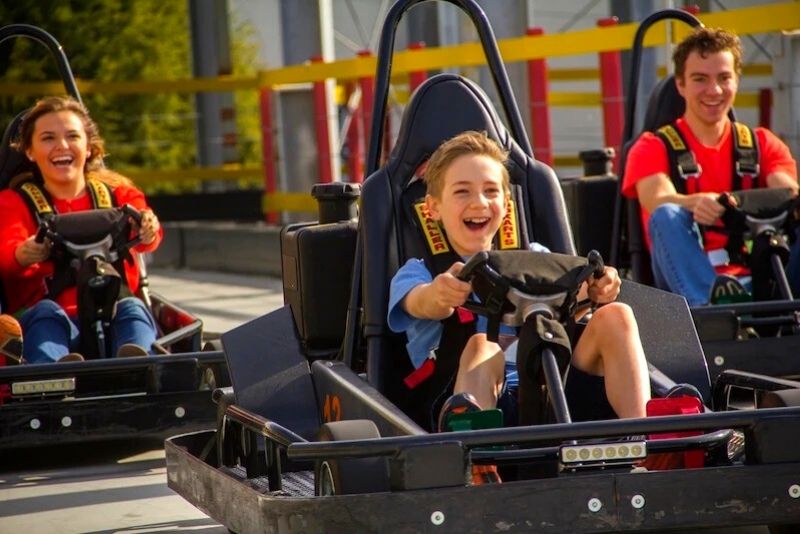 The Track boasts the high-adrenaline SkyFlyer which allows you to experience a skydiving-like thrill with a harness that pulls you up to the air at 75 feet.
However, its crown jewel is undoubtedly its signature three-tier go-kart track, the Wild Woody — after ascending three and a half stories, drivers finish off their laps with an exciting drop at the bottom.
There's no shortage of awesome activities here with mini-golf, blaster boats, bumper cars and an arcade to enjoy with your family and friends.
It also has plenty of rides for kids such as the carousel, Ferris wheel, swings, Noah's Ark, Rio Grande Train and spin tops.
39 – Take the kids to the LazerPort Fun Center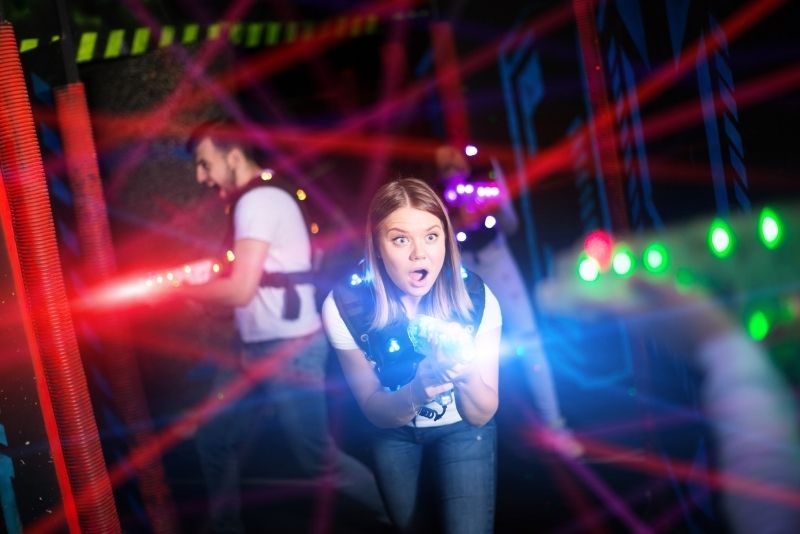 LazerPort Fun Center offers a long list of fun activities — visiting this place is one of the best things to do in Pigeon Forge, without a doubt.
It has laser tag, a blacklight 18-hole mini-golf course, an arcade, axe throwing and go-karting — which boasts a 50-foot-tall spiral tower from which you can race downhill like on a roller coaster.
Kids, in particular, are guaranteed to have a blast.
40 – Feel the moonshine buzz at the Ole Smoky distillery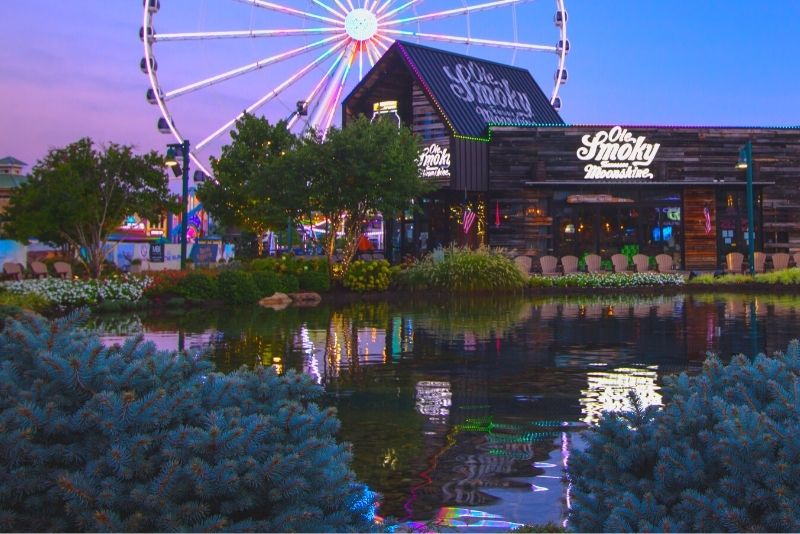 If you plan on tasting moonshine for the first time, there's arguably no distillery more worthy than Ole Smoky Tennessee Distillery.
The main property, dubbed "The Holler" rests up on the hill in Gatlinburg, sporting the claim to fame as America's most visited distillery.
If you don't have time to go uphill, then head to the Barn right in the center of Pigeon Forge. It offers a similar atmosphere filled with fine quality moonshine (have seven samples at $5) and live country music.
Check the upcoming events that you might be interested in at the time of your visit.
41 – Hike through the Great Smoky Mountains National Park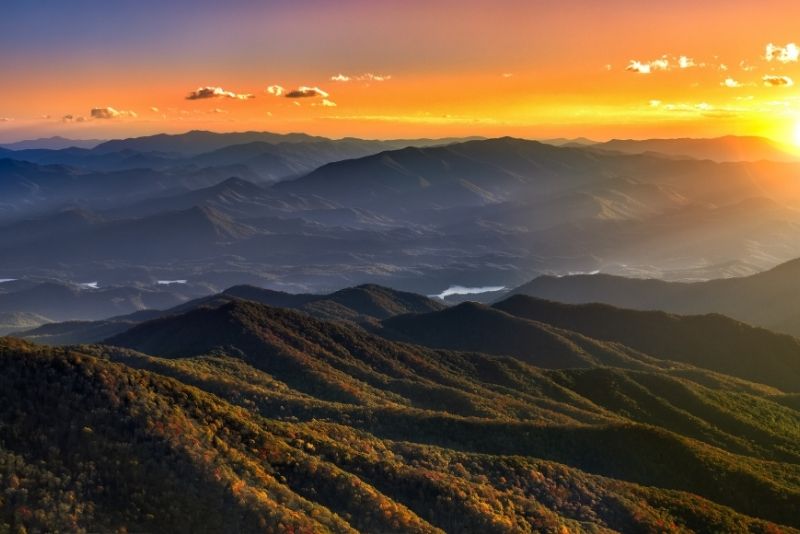 No trip to Pigeon Forge is complete without at least a day or two exploring the gorgeous landscapes of the Great Smoky Mountains National Park. With its cascading waterfalls, colorful wildflowers and abundant wildlife, this slice of nature is regarded as one of the most beautiful in America.
Stroll the 2.6-mile track to the gorgeous, 80-foot-tall Laurel Falls. See an old cemetery, waterfalls and a historic farm site on the Porters Creek Trail. Then, tackle the Ramsey Cascades Trail, home of the tallest waterfall in the Smokies!
Bordering North Carolina and Tennessee, if you're set on sightseeing the famous national park but you're not much of a hiker, or are unable to explore by foot, drive the breathtaking 17-kilometer Cades Cove Loop.
Encompassed by mountains and sweeping valley views, Cades Cove was once home to native Cherokee Indians, and then European settlers who arrived in the 19th century. There are a few structures dating to this time period which you can check out here, including three churches, a barn and log houses.
Plus, this part of the park is renowned for its wildlife-spotting opportunities. Look out for black bears, groundhogs, coyotes and more.
During specific periods of the year, you can trek the Cades Cove Loop, or there are other hikes to pursue in the cove. The Cades Cove Nature Trail is the easiest, or attempt the Thunderhead Mountain and Rocky Top hikes.
42 – Do feed the birds at Parrot Mountain & Gardens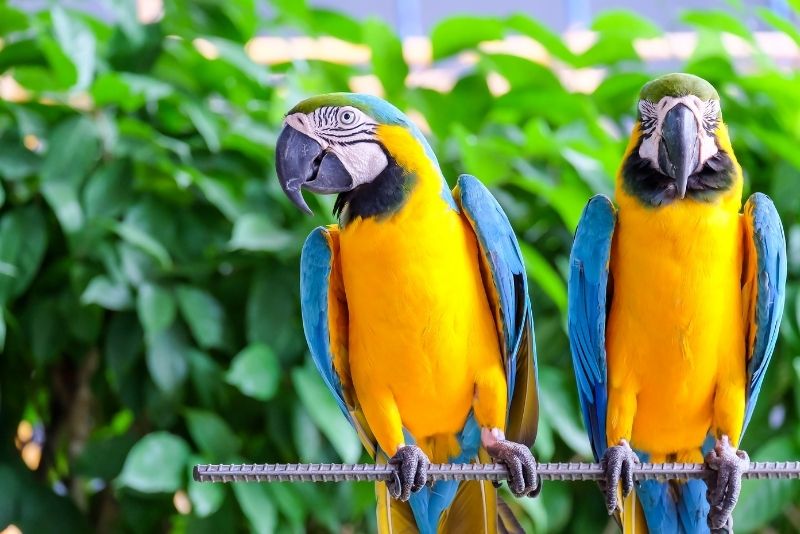 Home to some of the most colorful, energetic birds on the planet, plus thousands of exotic plant species — the Parrot Mountain & Gardens is a joyful day out for visitors of all ages.
In this family-friendly destination, you can see, hold and feed beautiful birds, including parrots, lorikeets, macaws and mohawked cockatoos!
Visiting this 4-acre manicured greenery is one of the best things to do in Pigeon Forge.
43 – Play indoor mini-golf or go-kart racing at Cooter's Place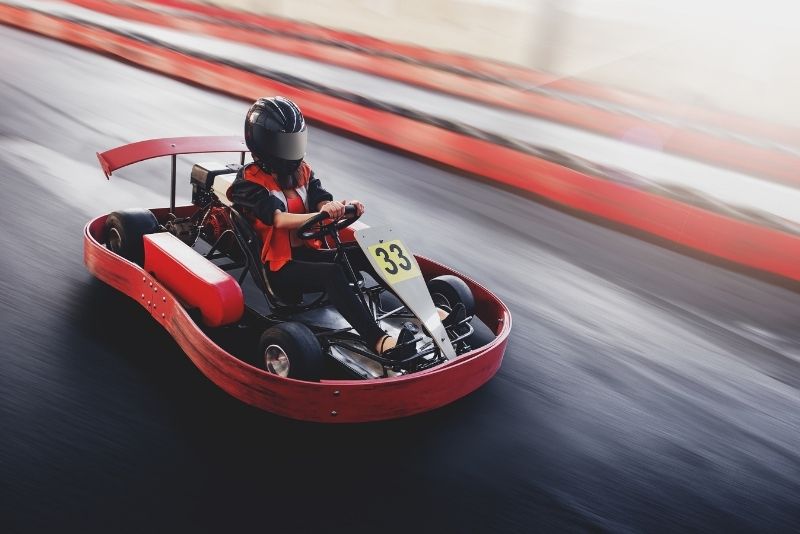 This popular attraction awaits the fans of an American TV comedy series, "The Dukes of Hazzard" — or those who are enthusiasts of outdoor fun but made indoors.
The actor from the TV show, Ben Jones whose role was Cooter Davenport, created the Cooter's Place which houses props and memorabilia of the comedy series — including a classic car, tools, shirts, hats, photographs and more.
Aside from browsing in the museum and shop, have fun with your friends and family at the mini-golf and go-kart racing — all inside the place in Pigeon Forge.
44 – Head to the Gatlinburg SkyLift Park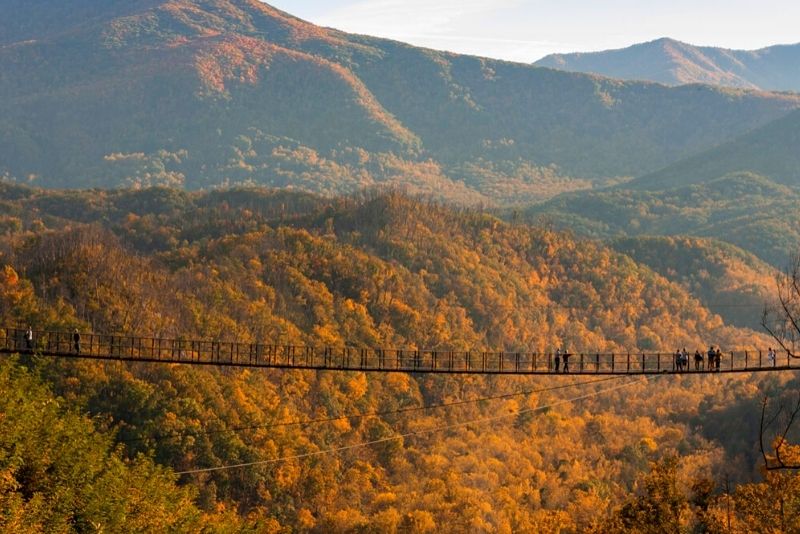 Just a few minutes up the hill from Pigeon Forge, the town of Gatlinburg boasts an array of world-class attractions in its own right.
Headlining the list is the crowd-favorite Gatlinburg SkyLift Park, home to the longest pedestrian suspension bridge in North America.
Make sure to pack the camera! Take the Sky Lift up to Crockett Mountain for unbeatable views of the Smoky Mountains.
45 – From jets to warplanes, see it all at the Tennessee Museum of Aviation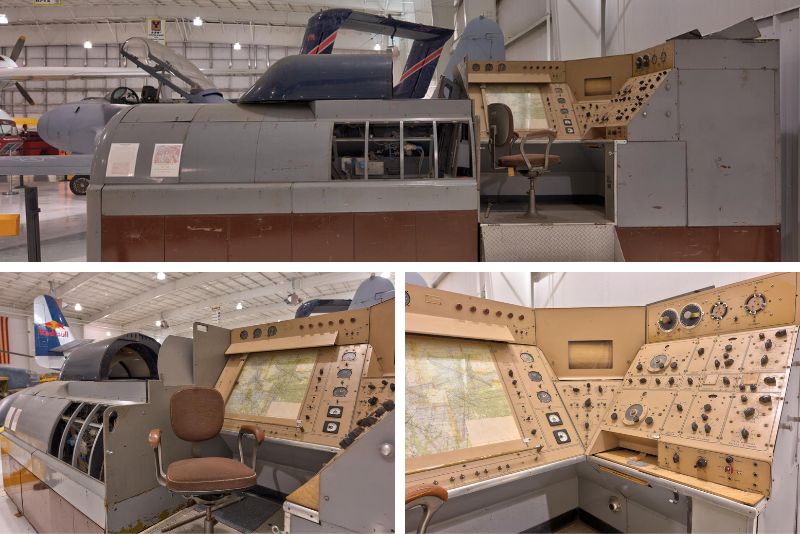 There are plenty of interesting showrooms to visit in this little town, however, the Tennessee Museum of Aviation is one of the most unique as it transports its visitors to eras past from the moment you step inside its hangar.
Paying tribute to the history of aviation, as well as monumental moments in time, such as WWII, there are two main areas set up for you to explore these collections. The hangar is the most awe-inspiring and exciting feature, so let's begin here.
Housed inside the building, get the chance to marvel up close at fleets of vintage "Warbirds" and other aircraft like the fighter Republic P-47 Thunderbolt from World War II, the Douglas A-1 Skyraider utilized from the 1940s to 1980s and the Sikorsky H-34 military helicopter.
Moving from life-sized features to smaller exhibitions, the Exhibit Gallery contains visual aids and provides an understanding of the world of aeronautics, particularly in this part of the USA.
Look through artifacts and collectibles pertaining to both aviation as well as the military. Across one wall is a timeline of aviation through the decades, and glass cases house uniforms and memorabilia.
Some exhibit titles to investigate are the Field Communion Kit, U.S. Army Officer's Field Desk, Link Aviation C-11B Instrument Trainer and Pilots Map of Laos.
46 – Laugh your socks off at The Comedy Barn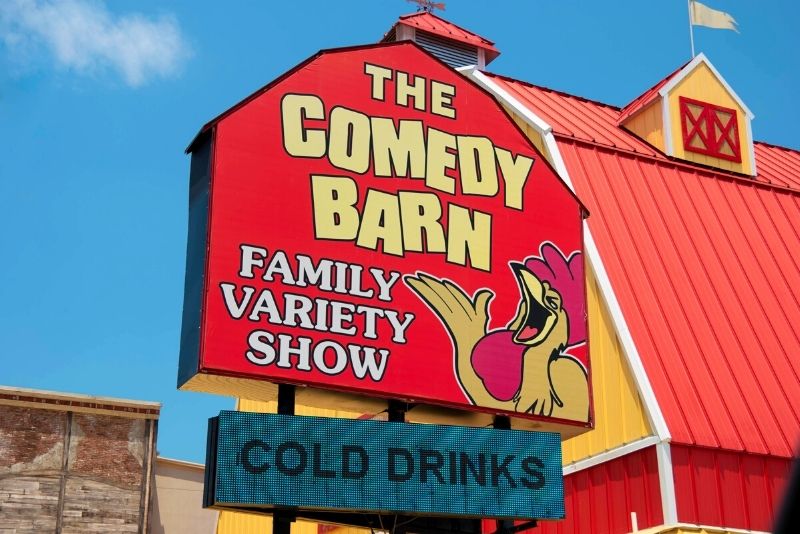 Get ready to laugh your socks off at the locally-adored The Comedy Barn Theater, a family-friendly humor mill that's been deemed the funniest show in Pigeon Forge for 10 straight years and counting!
Enjoy over two hours of entertainment, including adorable animals, jugglers, magicians, country musicians, and many more.
For those traveling through the area around the Holidays, grab a ticket to the Christmas comedy show, a spectacle overflowing with crazy costumes, and North Polean banter!
47 – Sample local blends at the Mountain Valley Winery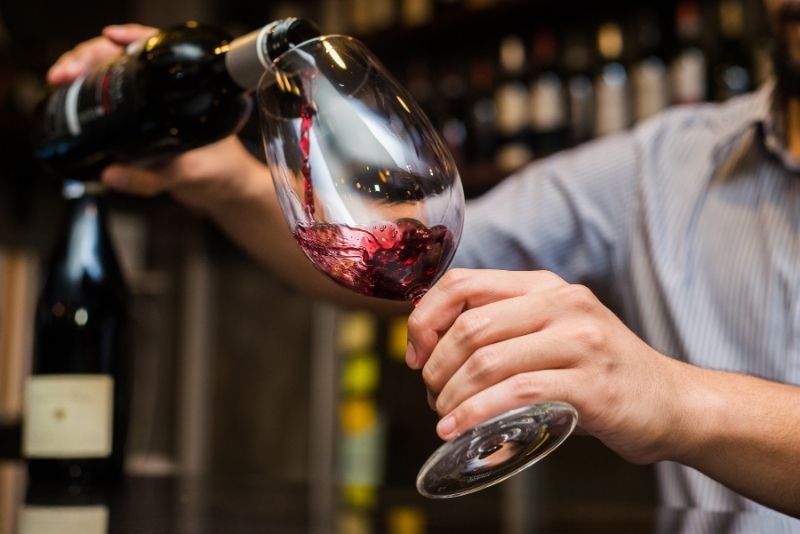 Holding the honor of Pigeon Forge and Gatlinburg's most award-winning winery, Mountain Valley is a must-visit for any traveling oenophiles or wine lovers.
Just outside of the main Rockies tourist area, these winemakers focus on French and German-style blends, while also offering a vast selection of sweet types made from Tennessee-grown fruits. Best of all, tastings are free!
Discover more flavors and history on a wine trail which you can do at your own pace in which you can taste four wines for free at any of the wineries. You can also book a VIP tour, so you can have premium tastings and behind-the-scenes access.
48 – See the world through a fugitive's eyes at Alcatraz East Crime Museum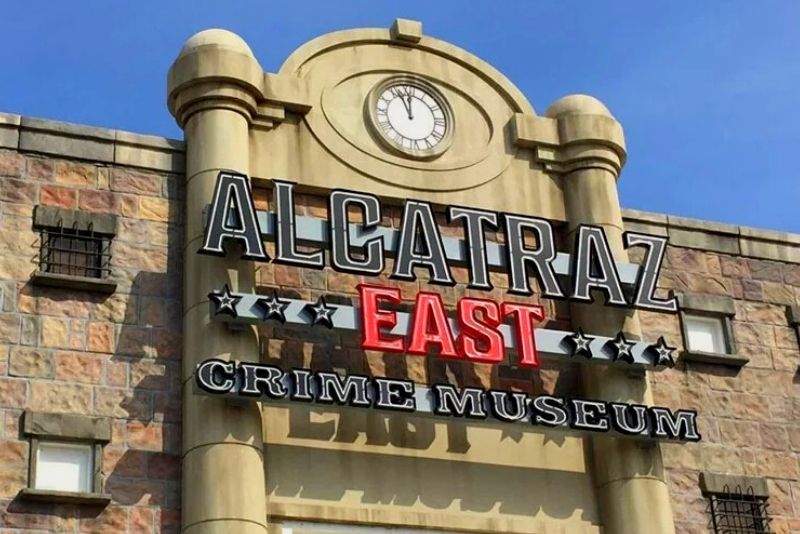 Admire eerie items that belonged to the notorious Ted Bundy, witness the famous white Ford Bronco that carried OJ Simpson during the televised car chase, and learn the motives of hardened fugitives at the Alcatraz East Crime Museum.
This two-story space is 25,000 square feet filled with more than 100 interactive exhibits in five galleries — featuring the history of American crime, consequences of a crime, crime fighting, crime scene investigation, and counterfeit crimes and pop culture.
For a behind-the-scenes look into the diabolical underground world of American crime and its prison system, this museum can't be beaten.
49 – Unleash your inner magician at MagiQuest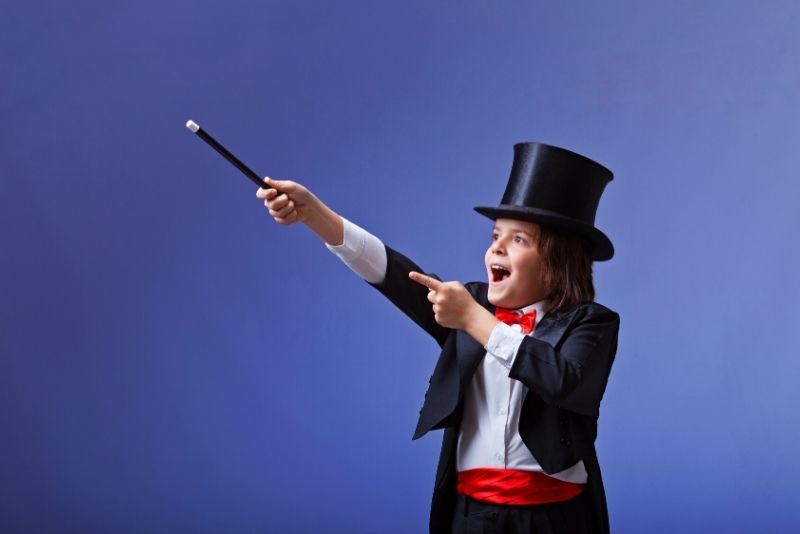 MagiQuest encourages guests of all ages to let their imaginations run wild in an interactive LARP game, visitors tackle challenges — using a magic wand Harry Potter style.
But the fun doesn't end once you've completed your magic quest!
Try your hand at the blacklight Caribbean pirate-themed 18-hole mini-golf, or test your skills in finding a way out at the Odyssey mirror maze.
Win great prizes from playing arcade games with themes like NBA Gametime, Jurassic Park, Mario Kart, Wizard of Oz, and more!
For the best experience, get a combo ticket at $25.99 or an ultimate combo deal at $35.99 that includes a purchase of a classic wand.
50 – Go indoor skydiving at Fly Away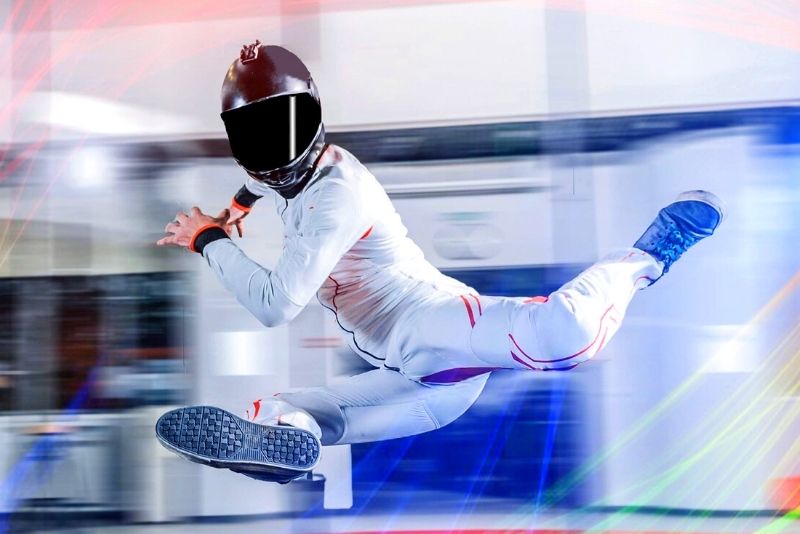 Experience the heart-racing feeling of leaping from a plane without the need to leave the ground!
At Fly Away, thrill-seekers are taught the basics of aerial maneuvering in a controlled and perfectly safe wind tunnel.
No prior experience is required to take a flight in the country's first vertical wind tunnel. After a 15-minute instruction, you'll be flying like a pro skydiver in a three-minute air time.
Spinning, diving and flipping in no time, you're practicing for the real thing when time's up.
51 – Ride seven zip lines at once at Legacy Mountain Ziplines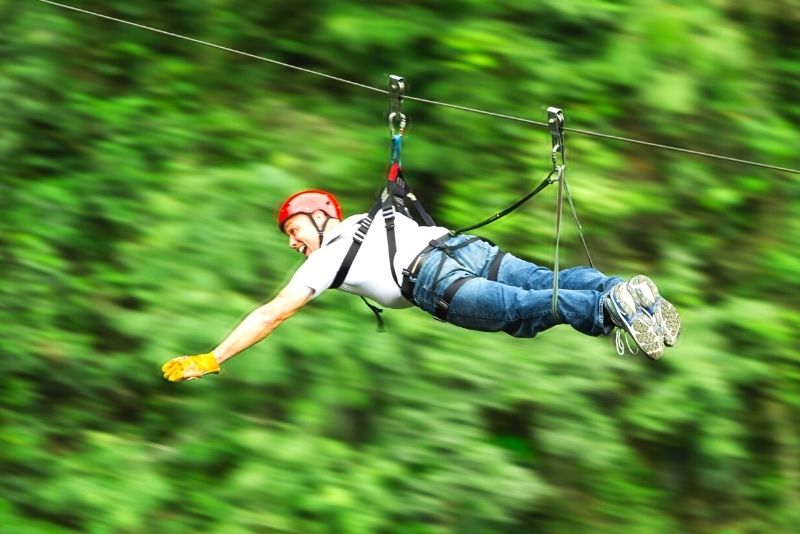 Known as a top-rated zipline in Tennessee, Legacy Mountain is a thrill-seeker's paradise located in Sevierville, about a 10-minute drive from Pigeon Forge.
This outdoor escape offers a seven-line zip course, which zooms riders up to the 500-foot-high mountaintops at speeds up to 50 miles per hour.
It also offers photo packages so your precious memories of this exciting experience – with family or friends – can be captured and treasured.
If you feel like keeping your momentum for more ziplines, the Adventure Park Zipline in Five Oaks Riding Stables is just a short drive from Legacy Mountain.
The views of the Smokies are amazing, and the thrill of the adventure is unforgettable.
52 – Try a new sport at Axe House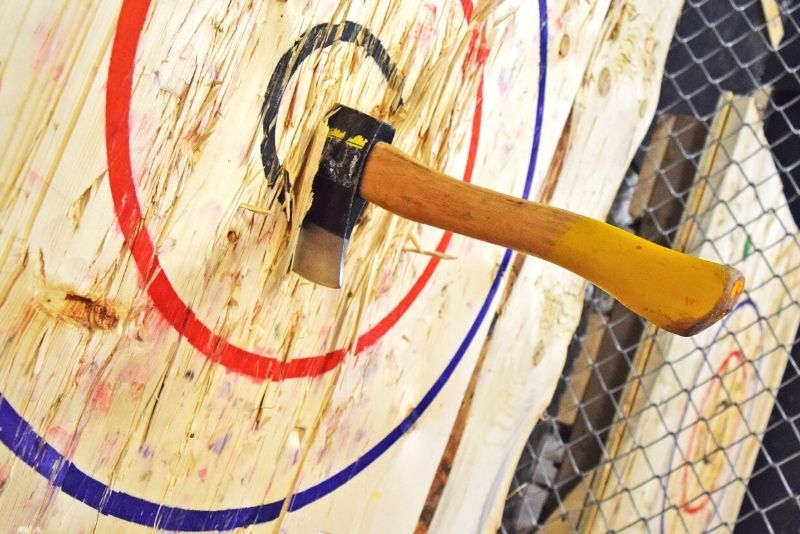 See what the fuss is all about for yourself — had to Axe House to try your hand at axe throwing, one of the fasting growing sports in the country.
While it might seem intimidating at first glance, trained instructors are always around to ensure safety is the utmost priority.
Once your throwing arm is all tuckered out, kick back and relax at the on-site resto-bar which serves pizza, wings and ice-cold beer.
53 – Quench that need for speed at Dubby's Xtreme Go-Karts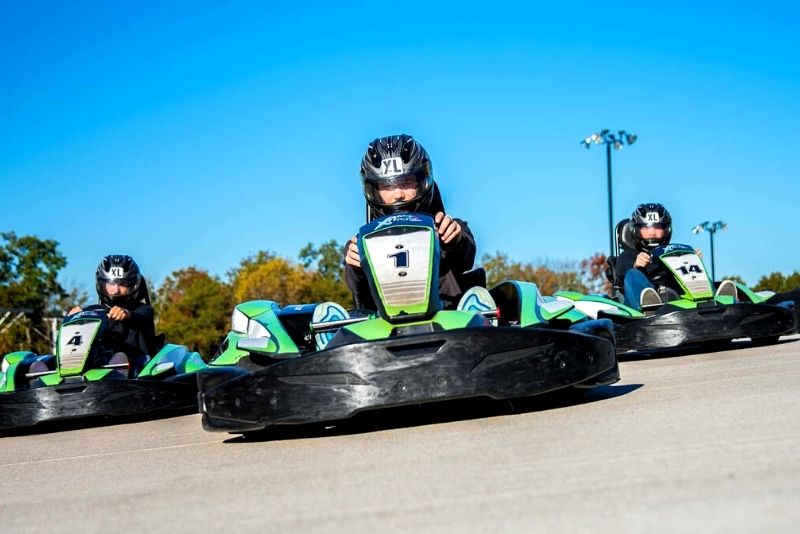 Satisfy that insatiable desire for adrenaline at the Xtreme Racing Center of Pigeon Forge, home of the fastest go-karts in all of Pigeon Forge.
Strapped into height-adjustable karts, racers can tackle one of three outdoor tracks — the 3,500-feet Xtreme Track, the Reverse Track (Xtreme, just backward), and the twisting and turning 1,500-foot-long Elevated Track — each thrilling in its own unique way.
Designed for safety, these extreme karts are made by Honda with precision handling, adjustable height and LED front light. The carts can have one or up to two passengers, allowing parents to drive with their kids.
54 – Saddle up for a horse riding adventure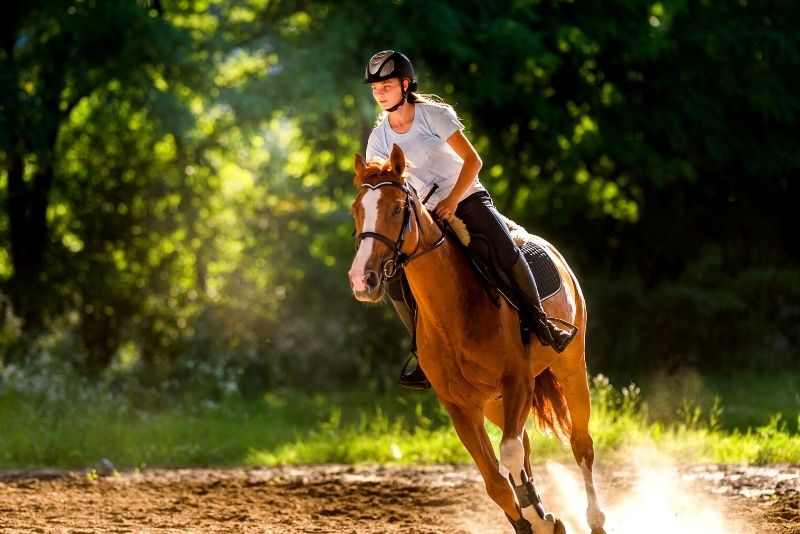 For an intimate experience with mother nature and a brief escape from the frequented inner-city tourist traps, get out of town for an afternoon and check out the Big Rock Dude Ranch at Ponderosa.
A short drive from Pigeon Forge, the ranch offers horse riding trails in the Smoky Mountains all year round.
Discover and experience the way of life of the early settlers in the country when they used to travel through the valleys and mountains on horseback.
Besides being renowned for excellent horse riding adventures, Big Rock also invites guests to feed the llamas and ponies at the petting zoo and reel in a catch at the fishing pond.
55 – Book a tee time at Sevierville Golf Club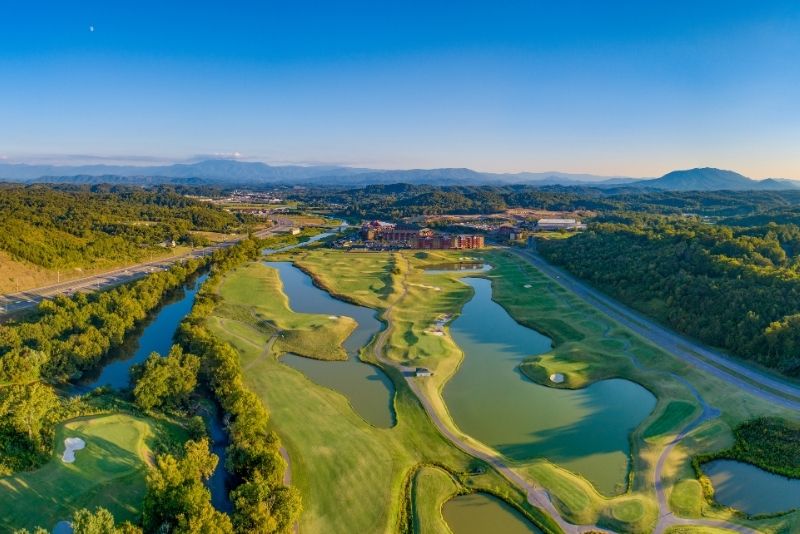 As one of the region's most esteemed golfing destinations, Sevierville Golf Club is a must for anyone hoping to play a couple of rounds on vacation.
The club offers two Championship-grade courses: the River Course and the Highland Course. Both places are beautifully manicured in the foothills of the Smoky Mountains.
You can also enjoy delicious meals and have drinks or desserts at Mulligan's Restaurant located at the golf club.
56 – Catch Conway & Elvis in action at the Main Event Theater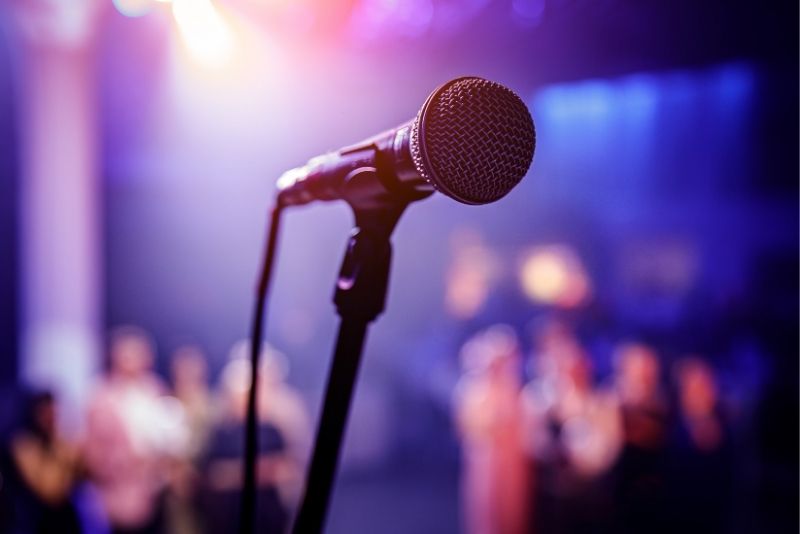 If you're the kind of person who grew up with Conway Twitty and Elvis Presley posters hung on your bedroom wall, this two-hour tribute show by Travis James at the Main Event Theater should be your top priority for any Tennessee vacation.
Located at the Red Roof Mall in Parkway, the center of the Smokies for shopping and dining, the theater offers two shows a day — Elvis at 2 p.m. and Conway at 7:30 p.m. except for Wednesdays and Sundays.
The atmosphere is intimate and electric, the music is powerful, and the drink menu adds the final touch.
Keep your eyes peeled — former music superstars like Neil Diamond, Mickey Gilley and Tom Jones tend to stop by once in a while (impersonation-style, of course).
57 – Race your friends at the NASCAR SpeedPark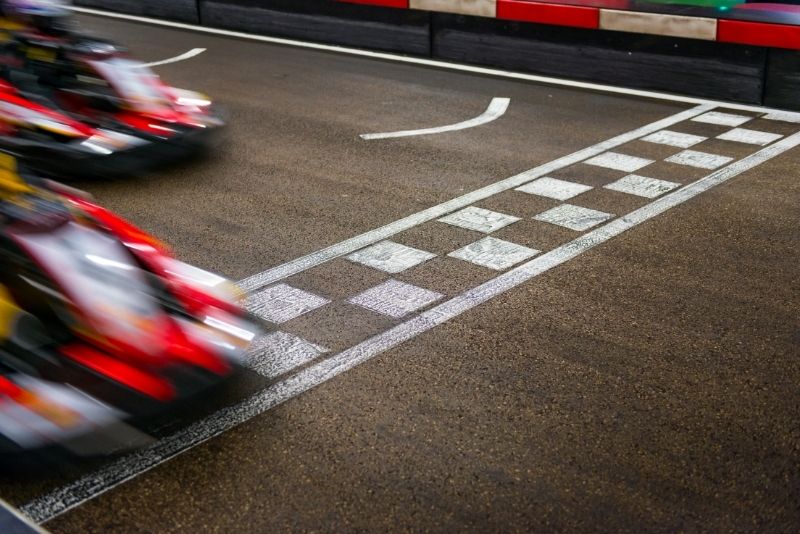 Put yourself in the shoes of Richard Petty and Danica Patrick at the NASCAR SpeedPark, the one-stop destination for everything racing.
The amusement-style park offers 24 interactive NASCAR-themed rides and attractions, all under one ticket.
The youngsters can have a ball on the Kiddie Speedway, while the adults can drift their go-karts around the main attraction — the Smoky Mountain Speedway.
There's also a rock-climbing wall, plus plenty of photo ops with real cars to make your friends jealous!
58 – Compare mullets on the Redneck Comedy Bus tour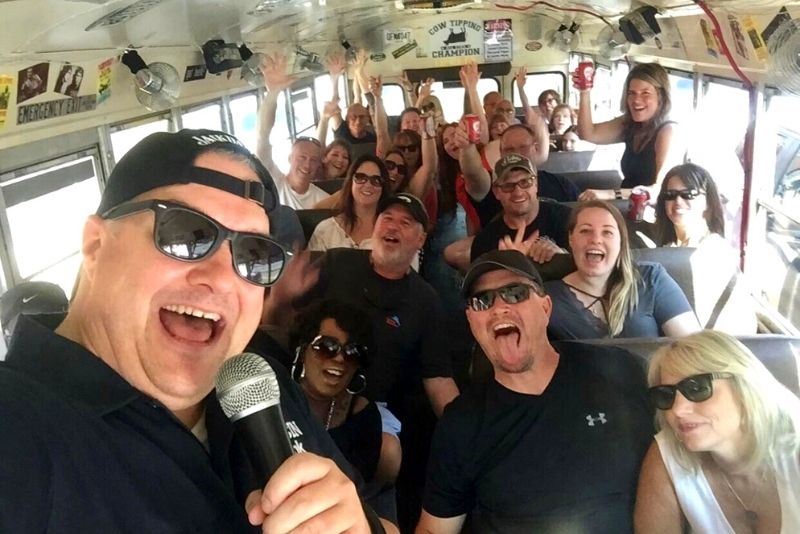 A fresh take on the traditional city tour, the Smoky Mountains Sightseeing Tour with the Redneck Comedy Bus is the best way to explore Pigeon Forge for anyone who loves a good laugh.
The brilliant guides will not only discuss the city's landmarks and history but also answer age-old redneck-flavored questions.
For example, "How big a mullet is too big a mullet?" (spoiler: a too-big mullet doesn't exist).
59 – Grab a front-row seat at the Hatfield & McCoy Dinner Feud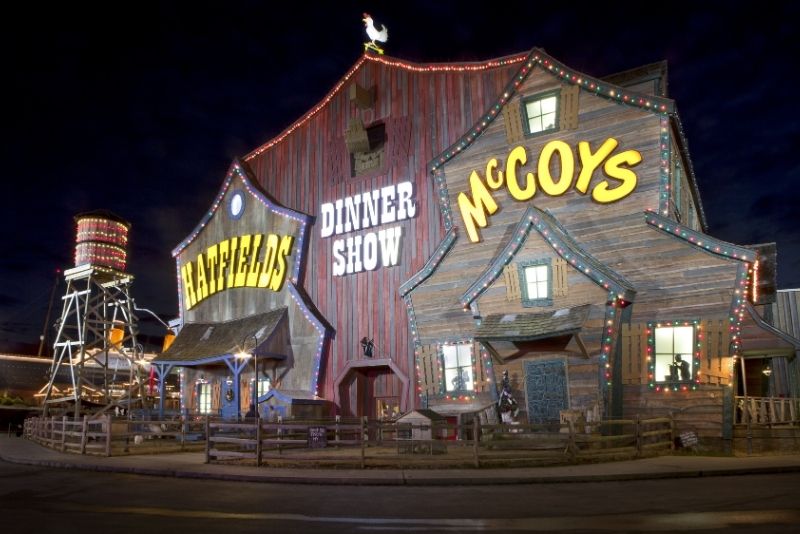 The country-style feast is notoriously good at the Hatfield & McCoy dinner show. But thanks to a talented ensemble of dancing, singing and joke-cracking performers, the entertainment becomes even better!
This hilarious insight into the longest feud in history is great family fun, certainly worthy of a night out.
You also get to indulge in an all-you-can-eat homestyle feast — fried chicken, pork barbecue, creamy soup, buttery corn on the cob, homemade bread, desserts and unlimited drinks.
Gluten-free, vegetarian and vegan options are also available upon request.
60 – Discover a world of crystals and gemstones at Pigeon Forge Gem Mine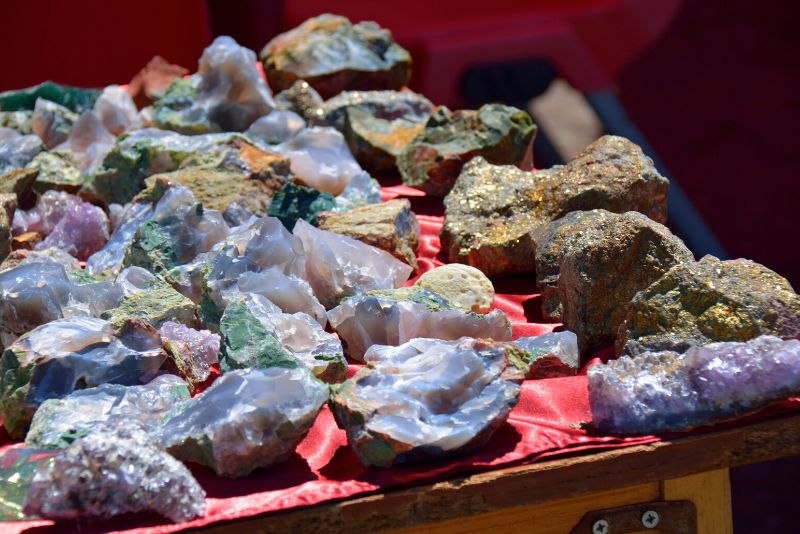 From amethyst to jade, ruby and emerald, unearth a world of stones and crystals at the Pigeon Forge Gem Mine where you get the chance to "mine" your own treasures! Build onto your crystal collection at home or bring the little ones to this attraction and allow them to use their senses to pick their stones.
Arriving at the gem mine, the crystals (in a dazzling array of shapes, sizes and types), are loaded in different buckets and covered in sand. Grabbing a shovel, the digging begins. (Before you start mining, you will pre-select a bucket size.)
Not only limited to precious stones and crystalized geodes, but there are also other earthly artifacts like shells and fossils loaded inside each bucket.
Apart from the mine session, you can also crack open your own geode to find the sparkle inside, or get your collected gemstones and fossils transformed into a piece of jewelry right there on-site.
Stop by the rock and fossil museum before leaving to learn more, and if you want to know what you've mined, there are descriptive placards for each stone to aid you.
61 – Spot the mermaids at the Pirates Voyage dinner and show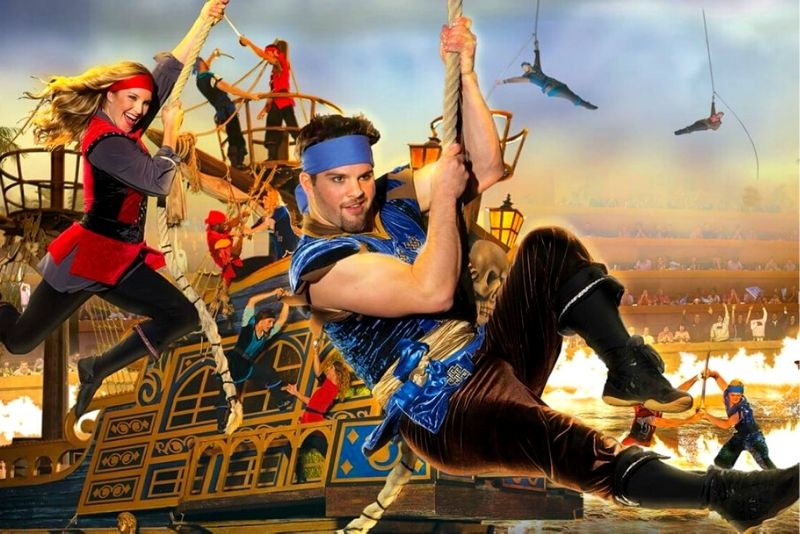 For youngsters and parents alike, the Pirates Voyage spectacle is one of the best things to do in Pigeon Forge.
As guests take a seat in front of the indoor lagoon and dig into the four-course feast, pirates battle it out on land and in water, with mermaids, real tropical birds and Captain Blackbeard headlining the entertainment.
Enjoy a hearty feast of Cracklin' Pan-Fried Chicken, Voyager Creamy Vegetable Soup, Sugar-Cured Ham, Corn on the Cob, Herb-basted Potato, Peach Turnover and unlimited drinks.
Options for vegan, vegetarian or gluten-free meals are available upon request.
62 – Learn and laugh at the Buttonwillow Civil War Theater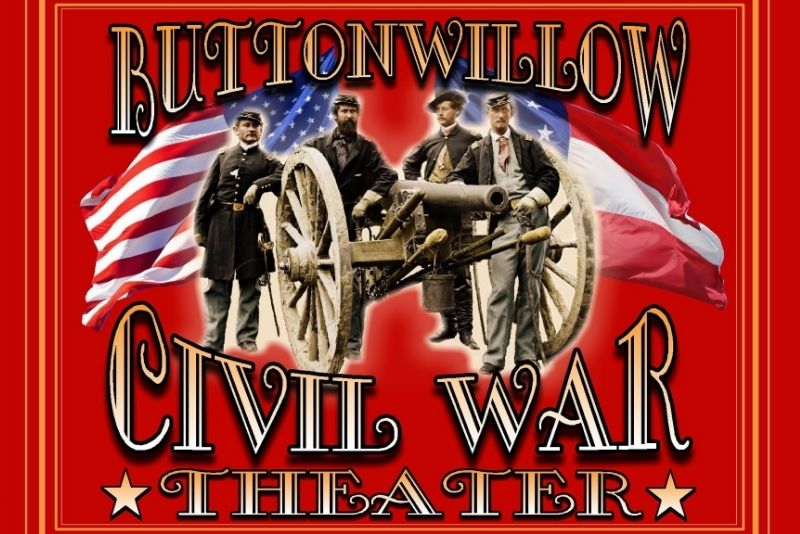 Using humor and drama to recreate crucial events of American History, the two-person play at the Buttonwillow Civil War Theater manages to successfully blend entertainment with education.
It highlights intriguing Civil War events and facts that have otherwise been overlooked in the history books.
Prepare to be amazed by the acting and storytelling talents of the two performers, Steve Gipson who is also the writer and director of the show, and Jodi Moore as Sissy Lynn.
It's a fascinating show, and one of the more historically intriguing things to do in Pigeon Forge.
63 – Test the craft beer from Smoky Mountain Brewery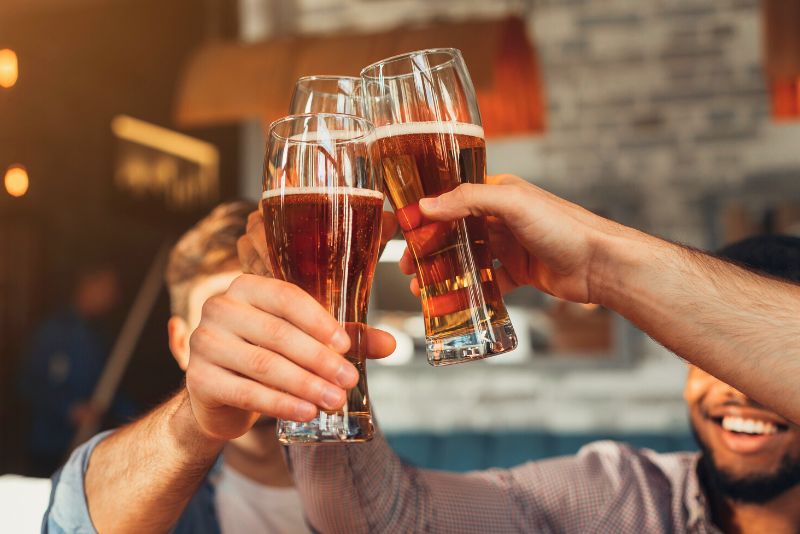 Feeling festive or searching for adult things to do in Pigeon Forge to let your hair down? Scuttle on over to Smoky Mountain Brewery for beer tastings, or a delicious meal and drinks that rotate with the seasons — from beers to cocktails.
Originally established in 1996 in Gatlinburg, East Tennessee's oldest brewery opened three more microbrewery locations, including the one in Pigeon Forge.
Be treated to six of their flagship craft beers on tap at any given time, from red ales to light lagers. If you're here for some serious brew sampling, order from the Brew Samplers. Choose between three to 10 different 140ml-sized beers to test for the best of all.
Arrived at the brewery hungry? Order mouth-watering snacks, appetizers, subs, handmade pizzas and calzones, burgers and brewery wings that all pair perfectly with an iced cold one.
Adding ambiance in the evenings is the live music, or there are 20 televisions placed around the bar to keep guests entertained.
64 – Whizz down the Smoky Mountain Alpine Coaster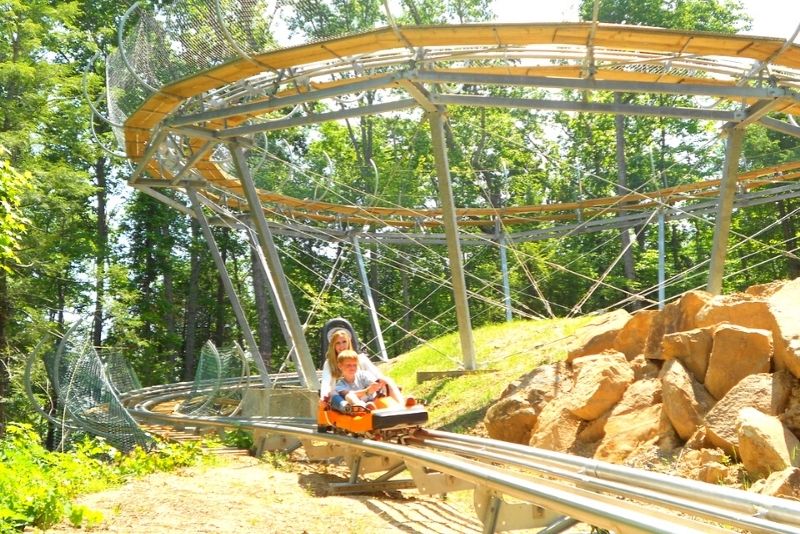 Considered to be the longest downhill track in the country, the 5,400-foot-long Smoky Mountain Alpine Coaster has astonished riders — with its immersive scenery, helix turns and (controlled) fast speeds since it opened its doors back in 2013.
You can control the speed of your ride which can reach up to 27 miles per hour, and the whole ride takes between seven and eight minutes.
You can enjoy this outdoor ride even when it's raining, with its tested braking effect and removable rain shields.
There's no shortage of alpine coasters in the Rockies, but this one very well might just be the king of them all.
65 – Go camping… glamorously — go glamping!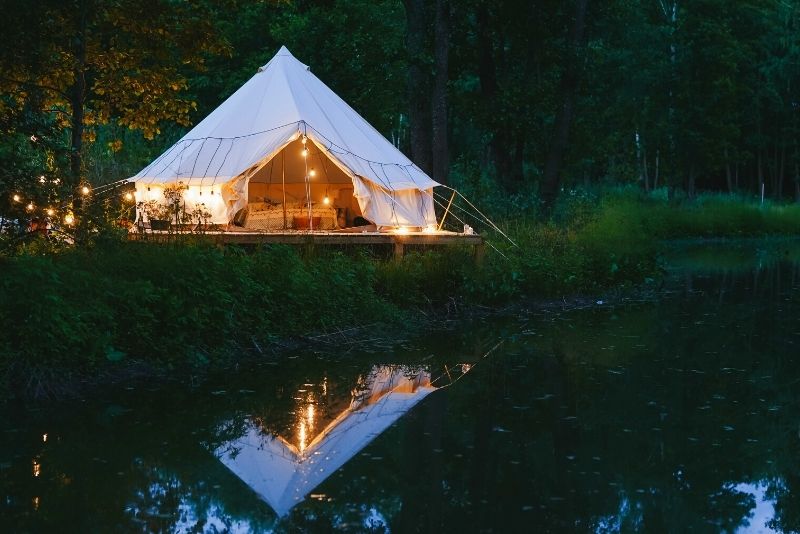 Forget the hassle of folding up tents — make your Pigeon Forge camping experience to the next level with a couple of nights of luxurious, full-service glamping.
Choose your favorite location in the Smokies or its foothills. Pay a few extra bucks for convenience and immerse yourself in nature's beauty — with the bonus of functioning kitchens and toilets!
Pigeon Forge Jellystone Park offers glamping tents, RVs and wooden cabins where you can be closer to the Smoky Mountains.
The Ridge Outdoor Resort in Sevierville also provides luxury camping experiences with canvas glamping tents and tiny home cabins.
66 – Grab breakfast at Sawyer's Farmhouse Restaurant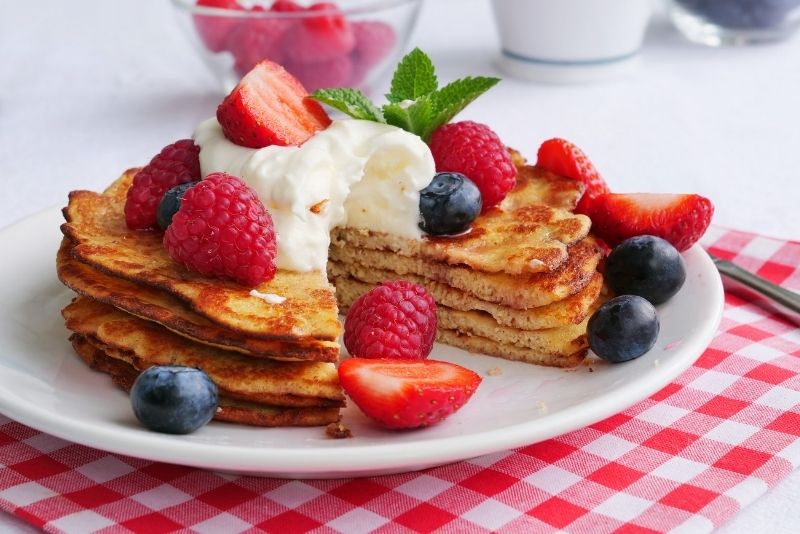 Famous for its crepes, Belgium waffles and hearty pancakes, the locally-owned Sawyer's Farmhouse is a Pigeon Forge staple — feeding hungry guests since 2014.
Its delicious breakfast menu runs all day long, perfect for that much-needed headache cure following a little too much moonshine the night before.
If you want more varieties, you have selections of burgers, salads and sandwiches at lunch, aside from the breakfast menu.
67 – Enjoy the entertainment of Dolly Parton's Stampede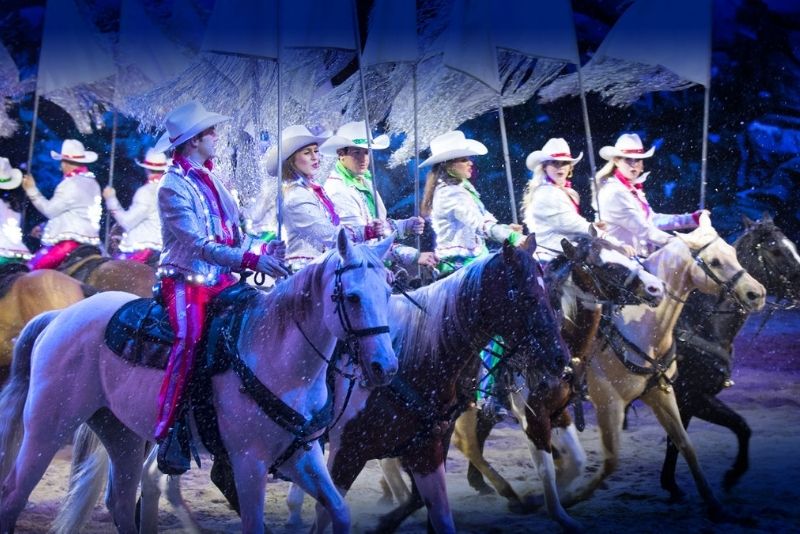 With 32 horses as special guests, Dolly Parton's Stampede is a Tennessee attraction, unlike anything you've ever seen before.
Pick a side: the North or the South, and devour a Southern-style dinner as the performers reenact the famous battle of decades gone by.
The Civil War-themed show of the most well-known dinner spectacles in the country and this is the only place to see it. You can have a closer look at the stars of the show before it begins if you stroll the Horse Walk.
68 – Wander through the historical Old Mill Square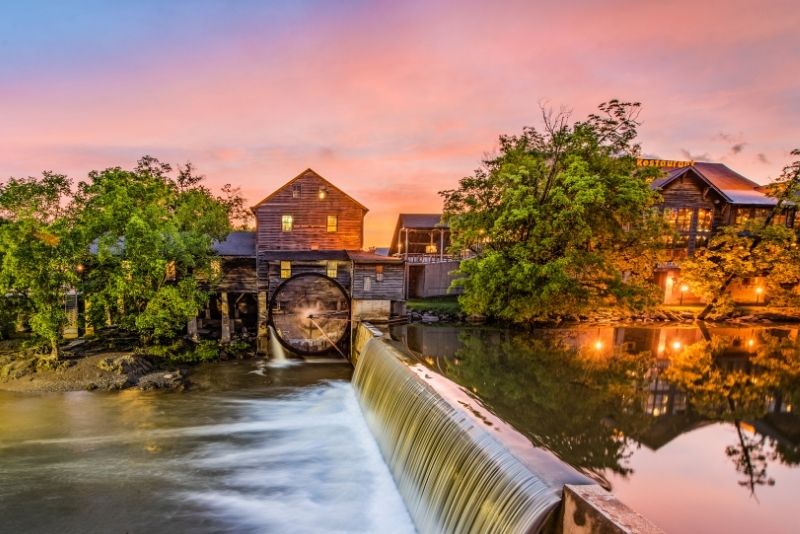 As a family-friendly shopping and dining hub located in the heart of Pigeon Forge, Old Mill Square provides a wonderful insight into decades-old local culture and traditions.
After grabbing a bite to eat at one of the top-notch restaurants (The Old Mill Restaurant is a crowd favorite), browse the unique shops of pottery, handbags and more.
Then, stroll through the pleasant gardens and take an interactive tour of the Historic Old Mill. Parents, send the kids off with a few bucks to the Old Mill Creamery, while you kick back at the Old Forge Distillery.
69 – Catch live acoustic gigs at Listening Room Cafe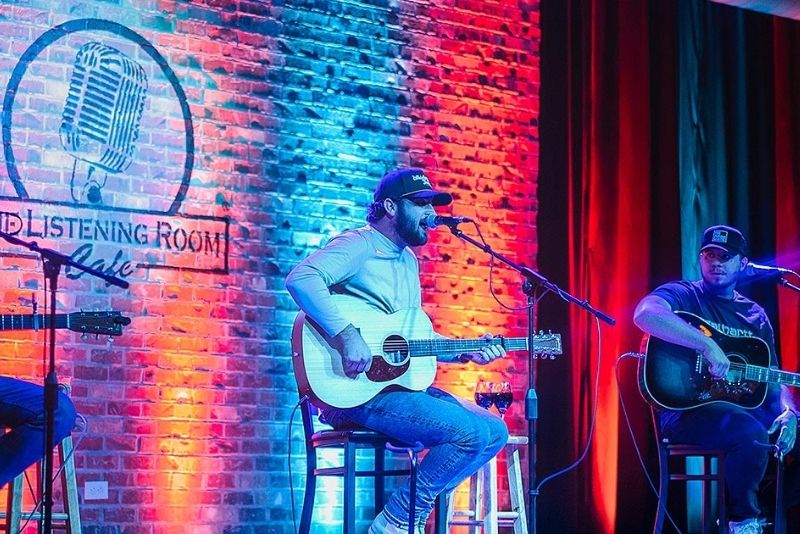 After a full day of adventure, sit and relax at this cool cafe to watch some live performances of local singers and songwriters.
Opened in 2021 at Pigeon Forge downtown, this spot is a new branch of the original cafe in Franklin, Tennessee, which was then moved to Nashville.
Founded by an artist himself, Chris Blair, the Listening Room Cafe has attracted many musicians, including award-winning ones throughout the years.
You can check out its show calendar to know whose playing at the time of your visit. Or, you can simply drop by, have some food and drinks, and enjoy the show.
How to get to Pigeon Forge?
If you're flying into Pigeon Forge, the nearest airport is McGhee Tyson Airport in Knoxville, Tennessee.
To reach the city from here, rent a private car or catch a taxi and travel 75 kilometers (a 50-minute drive). For those driving here themselves, the town of Pigeon Forge is off the Interstate-40 Highway.
Where to stay in Pigeon Forge?
With the Great Smoky Mountains neighboring the town, the places to stay echo the landscapes and there are fabulous hotels, resorts and chalets to call home for a couple of days.
Guests keep coming back for more at the elegant Courtyard by Marriott Pigeon Forge. Famed for its superb service, cleanliness and location, the rooms are comfortable with more modern finishes than most places around.
With plenty of room options to choose from — from a three-sleeper cabin to a two-sleeper penthouse, RiverStone Resort & Spa is loved by those after a touch of glamor and luxury. If you prefer a place all to yourself instead of confined hotel rooms, Foxes' Den cabin holiday home (with its private hot tub) sleeps up to seven guests.
The Inn at Christmas Place feels as if you're somewhere in Europe rather than the US, and the Bavarian-inspired resort is favored by both couples and families. Speaking of, both The Lodge at Camp Margaritaville & Country Cascades Waterpark Resort are also excellent family-friendly options.
Offering balcony views and a convenient location, the rooms, suites and townhouses at Best Western Plaza Inn are all warm, spacious and comfortable. Bright and oozing old-world charm, Sunrise Ridge Resort is a delightful pick that is loved by couples for its peaceful setting.
Equipped with all the on-site facilities and southern spells, Dollywood's DreamMore Resort and Spa is home to Dollywood. For a unique getaway, book a night's stay at Goldilocks' Honey Pot and enjoy the wooden chalet all to yourselves.
Where to go next?
Where next? Make sure to check all of the fun things to do in Gatlinburg, only 15 minutes from Pigeon Forge. Fall in love with all the old-school, classic activities to try, from exploring mysterious mansions to playing at pinball arcades.
Swapping ranges, head to Chattanooga in Southern Tennessee which lies at the foot of the Appalachian Mountains. Built on the riverside, there are plenty of attractions and things to do that center around this location, as well as the mountainsides.
The drive from Pigeon Forge to Chattanooga is under 2.5 hours. Nicknamed the Paris of the South, Asheville in North Carolina is two hours away, and great for a day trip or overnight stay. Or, for more things to do and to explore other parts of the South, head to Atlanta or Charlotte as your next destination.
Final thoughts
From hiking, exploring and tubing the Great Smokies to enthralling amusement parks and enticing museums, Pigeon Forge is a great holiday destination for all ages. What a way to experience true southern hospitality.
What are your favorite things to do in Pigeon Forge? Let us know in the comments, we love hearing your thoughts and travel adventures.
As always, happy and safe travels!