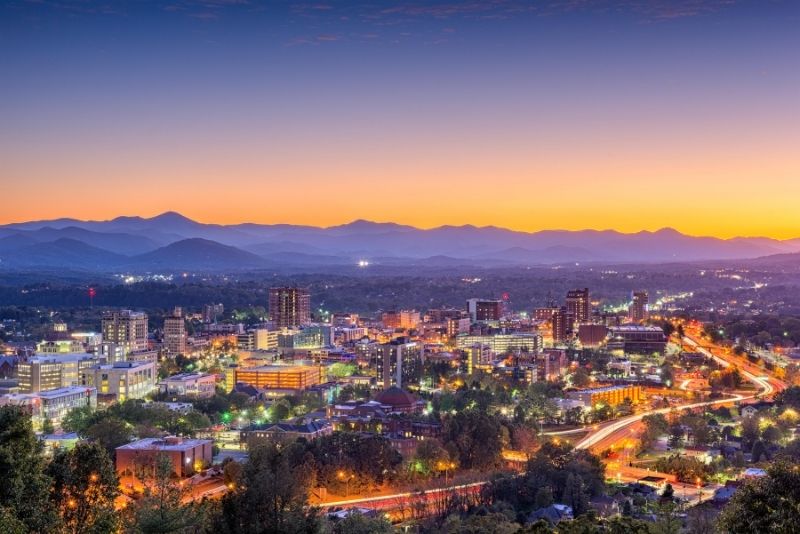 Dubbed the Paris of the South, thanks to its strong independent culture, not to mention the stunning mountain views and picturesque streets, Asheville is no stranger to charming visitors with its laid-back atmosphere.
Whether you're looking for outdoor activities in the Blue Ridge Mountains, wanting to cozy up in an eclectic cafe or down a refreshing beer or two in what is officially the thirstiest city in the United States (read: most breweries per capita), Asheville has a little something for everyone.
It's the kind of place where you can admire a sprawling mansion, then check out works by some of the finest artists and craftspeople in the region; a place where you might be playing a few rounds of pinball one minute, then drive past jaw-dropping, tree-filled vistas the next.
Asheville is a town that's constantly balancing the classy and the quirky, the nature-based and the human-focused; not only do these elements all coexist, but they play off of each other, creating a quirky mountain paradise like no other.
Don't spend your time wandering aimlessly looking for things to do in Asheville, as this list has them all right here!
1 -​​​​​​​ Visit the Biltmore Estate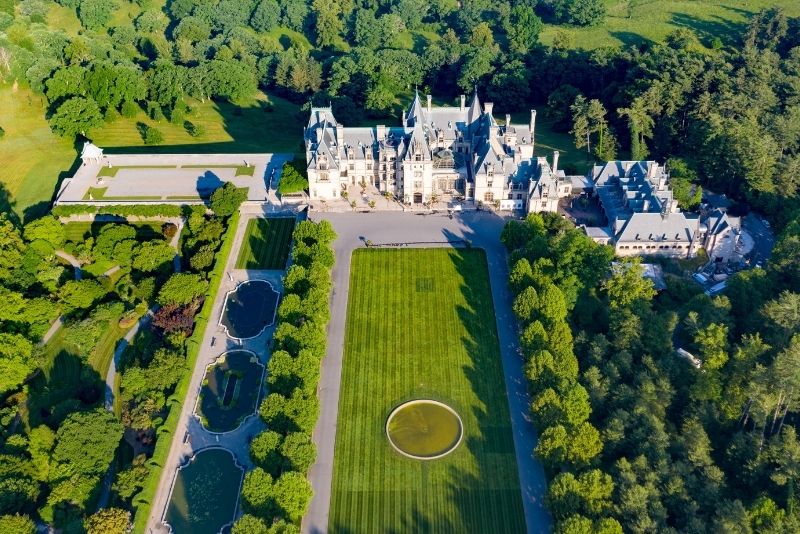 Valued at more than $37 million (and that doesn't even include the land on which it sits), this colossal house stands head and shoulders above the rest in terms of luxury, size and reputation.
Looking like a Hogwarts building, the late-19th-century, 8,000-acre household has the claim to fame of being America's largest home. Visitors can tour the 250-room castle, walk through its expertly manicured gardens and gaze at its impressive collection of artwork.
You can also check out the winery, which produces a record-breaking amount of wine each year and offers traditional tastings, as well as a sweet-toothed red wine and chocolate tasting.
2 – Take a hike in the Blue Ridge Mountains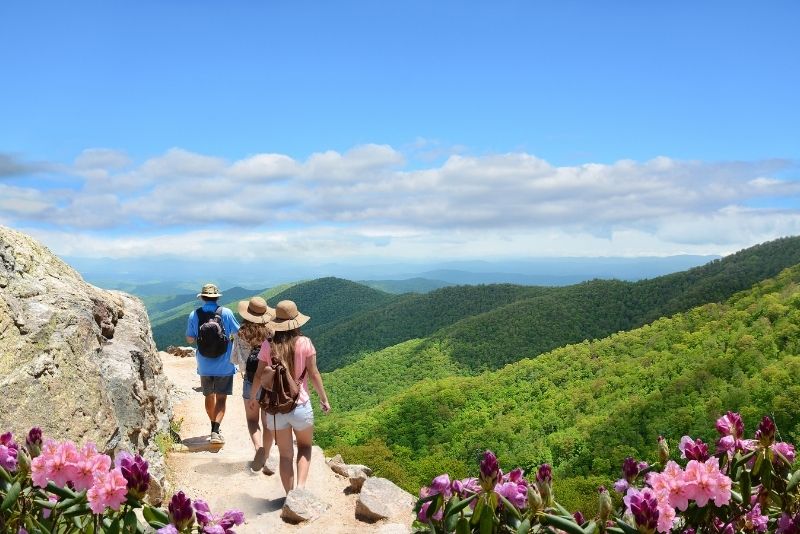 A little further away, but certainly worth it for anyone interested in coming to Asheville and not wanting to feel like they're missing out on anything, is the Blue Ridge Mountains about an hour's drive northeast.
Overflowing with stunning views of rolling hillsides filled with forest-covered mountain peaks — not to mention picturesque cascading waterfalls — these mountains are an excellent place for hikers or those looking at getting some exercise.
While some travelers don't mind organizing their own transport, for those looking to remove all the hassle, a range of pre-organized tours provide transport to and from Asheville as well as lunch and a slice of sightseeing along the way.
And if you need to give your feet a rest, never fear; there are some excellent jeep tours that will help you explore the gorgeous Appalachian scenery at greater length.
3 – Wander through The North Carolina Arboretum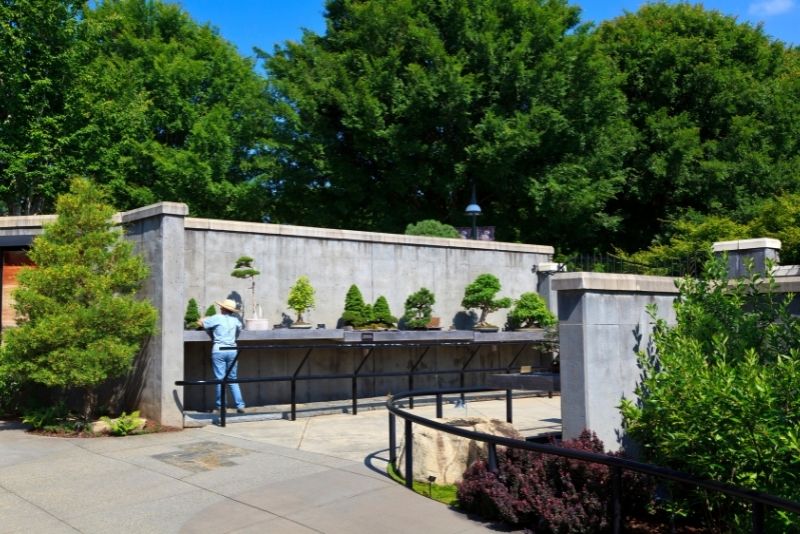 A beautifully decorated 434-acre public garden located about 15 minutes drive south of Ashville proper, the North Carolina Arboretum houses a wide variety of plant species from around the world.
Acting as a natural oasis ideal for any break from the big city, the site features miles worth of hiking trails, multiple gardens ranging in theme and color, as well as art exhibits including and the crowd-favorite Bonsai tree collection.
4 – Wheel around town with a bike tour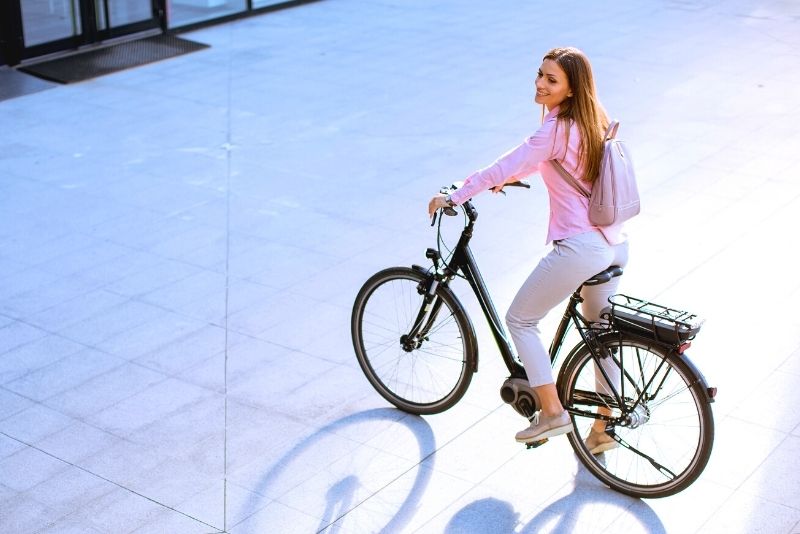 For when walking tours become a little too slow and outdated, a locally-led bike adventure that heads off the beaten track into the lesser-known alleys and vibrant Asheville suburbs is a wonderfully underrated alternative.
Whether you roll around historic downtown on a hassle-free e-bike, head out on a sunset tour that explores the cultural city of the city or head into the nearby mountains for a high-paced downhill adventure. Biking is a great way to learn more about the city and its surroundings.
5 – Hang out with black bears at the Western North Carolina Nature Center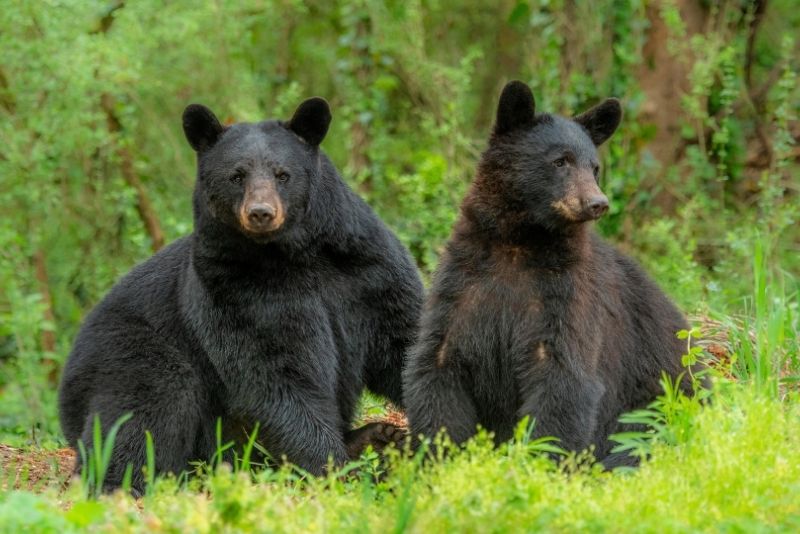 A glorious treat for anyone looking to get up close and personal with the natural world, the Western North Carolina Nature Center is a fun way of learning more about the Southern Appalachian Mountains' flora and fauna.
Located east of Asheville, this site features more than 60 species from around the world including red wolves, otters, black bears, and red pandas; as well as an on-site garden featuring a host of local plants and an educational center.
As a highly respected institution, the Nature Center is heavily involved in animal conservation, with all the animals cared for in wonderful habitats.
6 – Join a walking tour of Downtown Asheville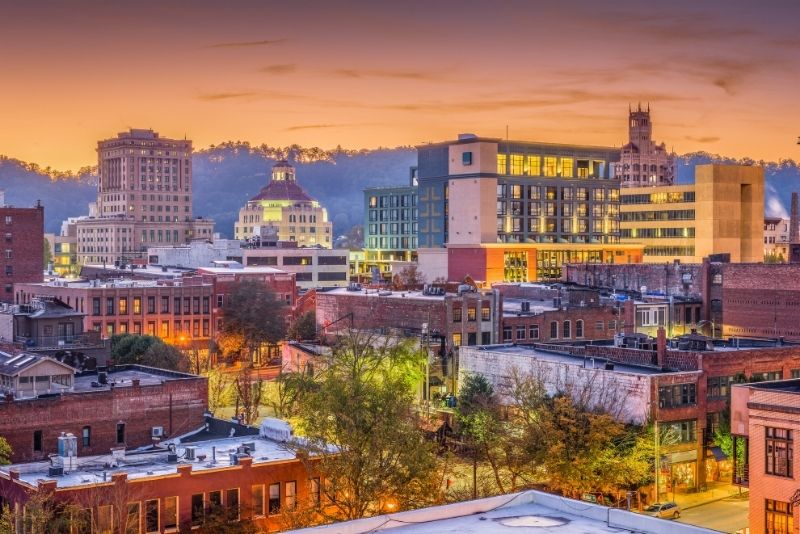 Acting as the main hub of entertainment, culture and shopping, this lively district features dozens of galleries, museums and landmarks, Downtown Asheville is a must-see for any traveler looking to experience what life in western North Carolina has to offer.
While plenty of tours cover all bases, walking past the main locales like the Basilica of Saint Lawrence, Grovewood Village, the River Arts Districts and the Urban Trail, others focus on particular themes. Take a brewery tour, get spooked by a moonlit ghost tour, or dive into the area's history with a "love stories" tour!
Hot tip: Traveling on a budget? There are plenty of free walking tours too! (just leave a tip)
7 – Check out the Folk Art Center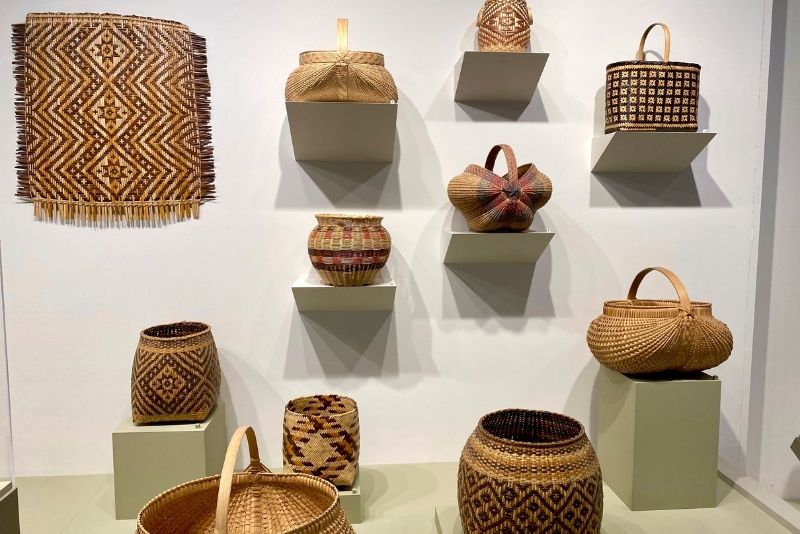 A fan-favorite for culture vultures, the Folk Art Center is a wonderful place to explore, with visitors regularly spending hours getting lost in its winding corridors and discovering some of the most beautiful local crafts, bizarre furniture and quirky folk art from near and far.
Located about 15 minutes east of the city, this center (run by the Southern Highland Craft Guild) features a range of galleries filled with handcrafted pieces depicting animals, families and a whole lot more.
After looking around, make sure to grab a souvenir (or at least browse) from the Allanstand Craft Shop, the oldest craft shop in America. Don't miss the chance to see the craft-making in action either with a live workshop!
8 – Soak in the fresh air of the Pisgah National Forest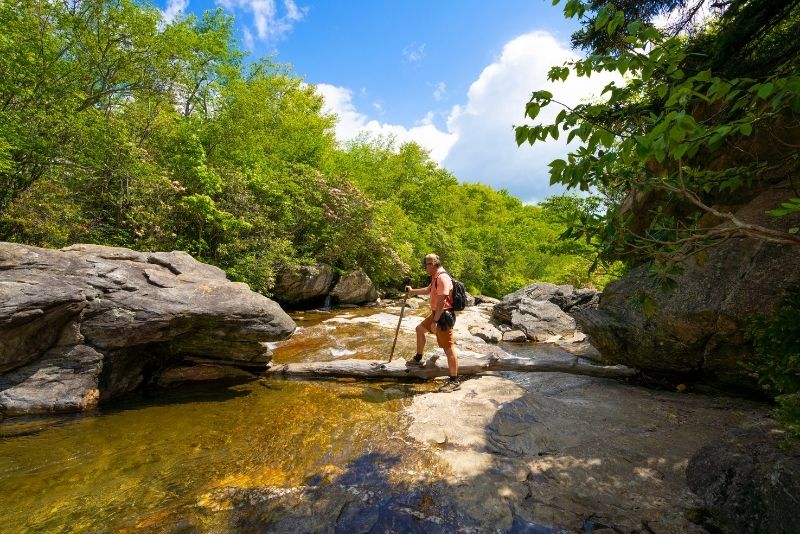 Spread across 500,000 acres of lush greenery, flowing white water and more flora and fauna than you could imagine — and covering much of the north and central western mountains of North Carolina — Pisgah is a haven for hiking and exploring, offering dozens and dozens of popular (and lesser-known) trails suitable for all ages and difficulties.
If you're hunting for family-friendly activities to start with, why not pan for crystals, rubies and emeralds at the Pisgah Forest Gem Mine? Or, if you're visiting on a stinkin' hot summer's day, Sliding Rock is Mother Nature's version of a waterslide!
9 – Climb high at Asheville Treetops Adventure Park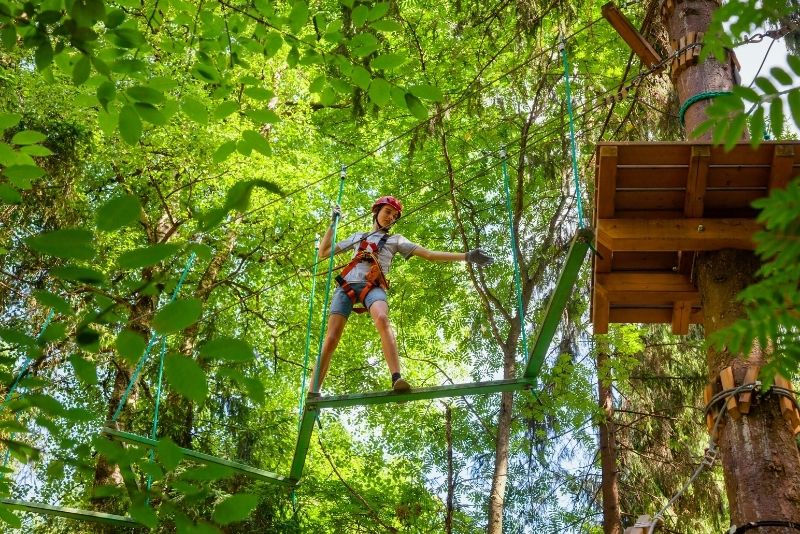 Perfect for adrenaline junkies, the Asheville Treetops Adventure Park delivers outdoor adventure in spades, offering a range of zip lines and high ropes courses.
Just 5 minutes from downtown (and set in an eco-friendly forest), this park offers five levels of difficulty as far as the ropes are concerned (with one dedicated to kids under 10). It also has a treetop canopy zipline that features 11 different lines, the longest of which is a whopping 1,200 feet!
Throw in the KOLO Bike Park, perfect for dirt bikers and it's truly tree-mendous!
10 – Get the road-trip playlist ready for a Blue Ridge Parkway scenic drive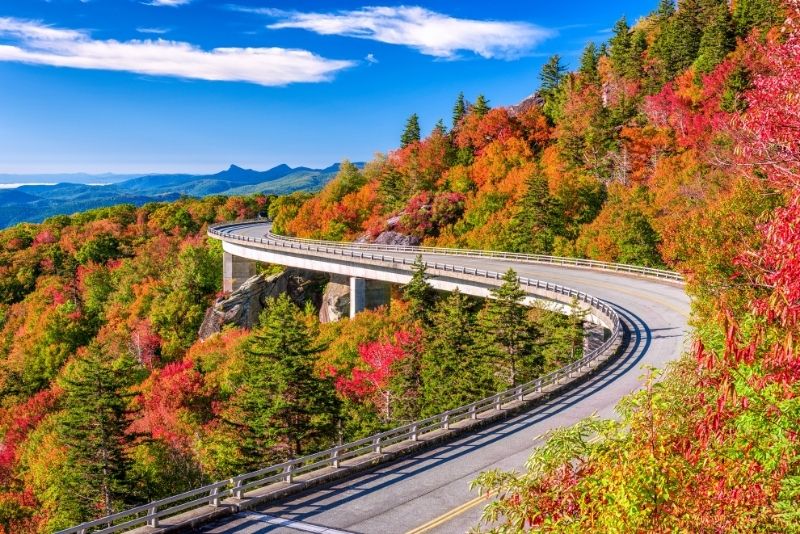 Fancy a bit of a road trip? Then look no further than the Blue Ridge Parkway, a scenic drive that will take you out of Asheville and into some of the most beautiful scenery in North Carolina.
As well as offering unbeatable views (and plenty of photo ops), this road trip also gives you access to hundreds of miles of hiking trails perfect for getting lost among the trees and mountains.
Stretching from Cherokee the Great Smoky Mountains to Virginia's Shenandoah National Park, this road trip is beautiful no matter where you go, whether you drive the entire route or just a sliver.
Don't feel like driving yourself? A pre-arranged scenic drive tour is the way to go, taking care of all the organization, hassle and actual driving for you!
11 – See the main landmarks on a Segway tour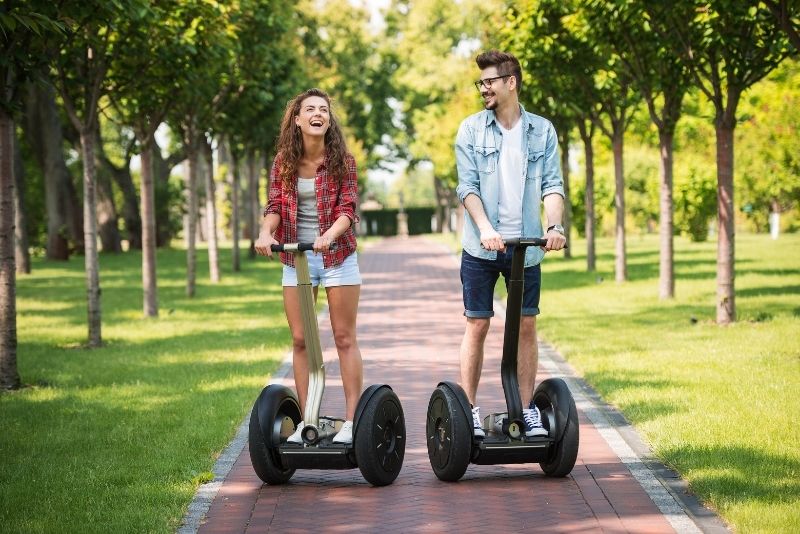 Smooth, faster than walking and admittedly a whole lot of fun, Segways are the perfect way to see all of the main things to do in Asheville in a relatively short amount of time. Tours will take you to the main historic spots and tourist magnets like the Thomas Wolfe Memorial and Basilica of Saint Lawrence.
Segway tours take around two hours and cover all bases, from downtown highlights like Pack Square Park (where a segway tour is often accompanied by street performers), up to the River Arts District and along the French Broad River Park. However, every day is slightly different.
12 – Hop on a Gray Line Trolley tour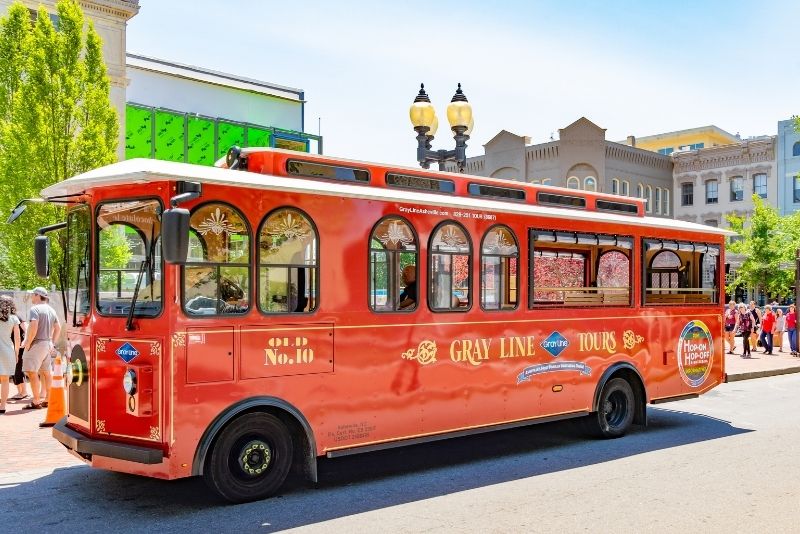 Short on time and want to cram in as many of the main highlights as possible? Then a Gray Line trolley tour is the perfect way to see Asheville, with hop-on/off options available.
With options for day tours, ghost tours, of special holiday tours (like Christmas), these tours take you around the main places of interest, including downtown and Biltmore Estate, as well as providing a bit of background info and plenty of fun facts and laugh along the way.
13 – Admire the collection at the Asheville Art Museum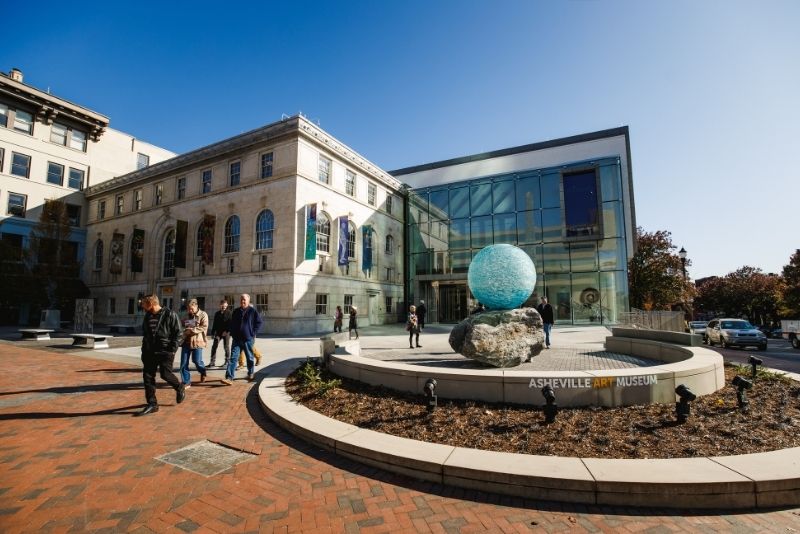 Artists and art buffs, this one is for you!
The Asheville Art Museum is home to thousands of works of local art from the 20th and 21st centuries, so there's something here to suit most tastes.
Having a permanent collection that includes over 7,000 total works (paintings, drawings, sculptures, crafts and photographs), the museum also welcomes temporary and traveling exhibits that dive into some of the most famous artists, past and present.
Best of all? It's totally free! That said, a $5 donation is encouraged.
14 – Check out the Carl Sandburg Home National Historic Site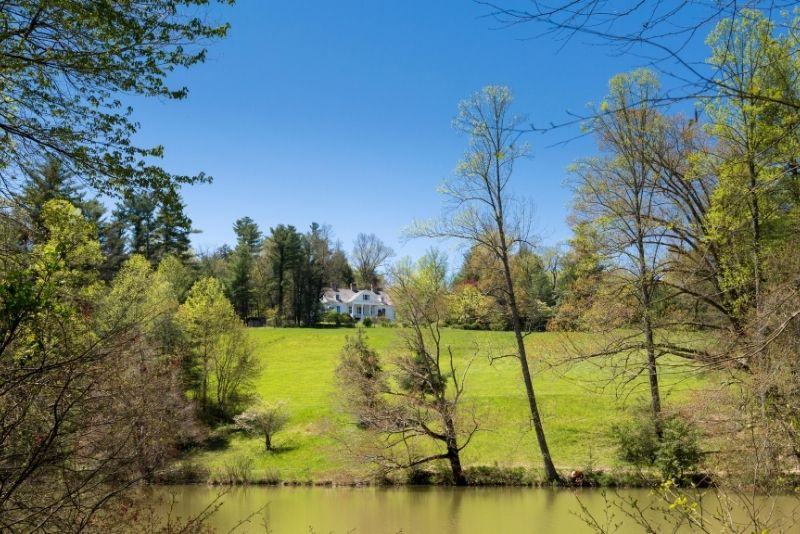 A true American icon, Carl Sandburg is most famous for his poetry (including the ever-popular 'Fog); his life story as a Pulitzer Prize-winning author is one of fascination.
Sitting in the oft-beat village of Flat Rock, about 30 miles away from Asheville, you'll find the great poet's former home — dubbed Connemara — which hosts a range of special programs and events, including an annual poetry competition. It also offers tours that explore the beautiful house and the dive into the poet's life, and sits on acres of land.
Take a walk along one of the trails (over 5 miles of trails in total), visit the farm and meet the animals, and stop by at the gift store for some of his best work.
15 – Grab a quirky souvenir at the Antique Tobacco Barn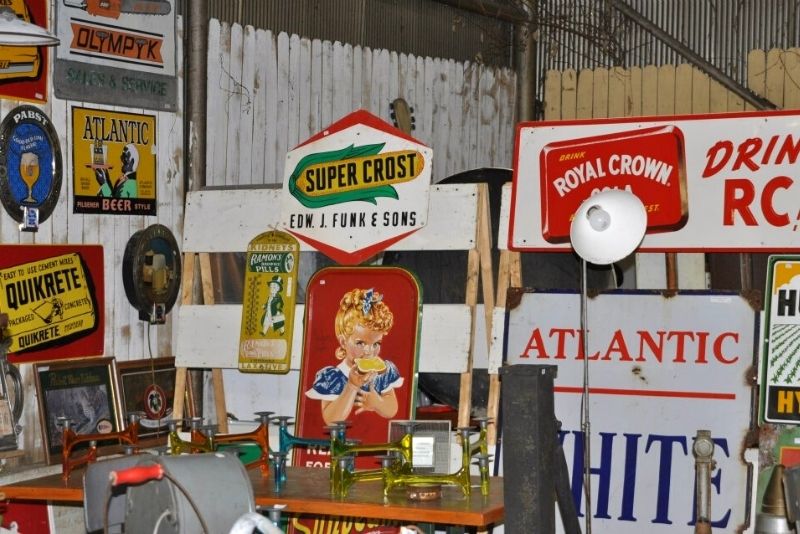 For a true slice of Americana, head to the Antique Tobacco Barn by the Swannanoa River, just a few minutes drive south of Downtown.
A true treasure hunter's paradise, this barn is brimming with over 20,000 different items that have been collected and recycled by over 75 different vendors — everything from furniture and tools to glassware and sports equipment.
With the place sprawling across some 77,000 square feet, seldom do people walk away empty-handed.
16 – Go paddleboarding on the French Broad River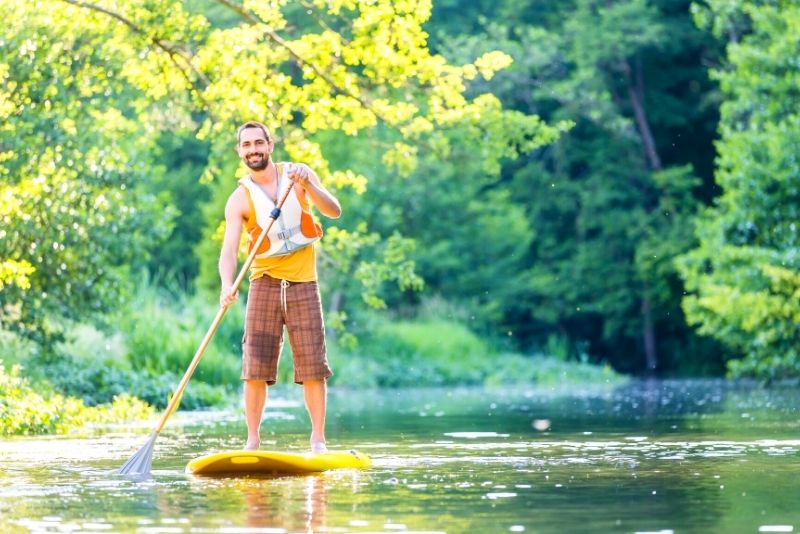 The beautiful and calm waters of the French Broad River make for a great place to paddle along, whether you're an experienced SUPer or just starting out (fret not, once you get the hang of it you'll be flying along.)
While you can rent a board (also kayaks and canoes) from one of several outfitters in town along the river banks, most travelers prefer to join a guided tour that infuses adventure with a little bit of history and background!
For a somewhat more boisterous experience, tackle the rougher sections of the river on a rafting trip, enjoying all of the excitement that whitewater has to offer.
17 – Marvel at the ceiling in the Basilica of Saint Lawrence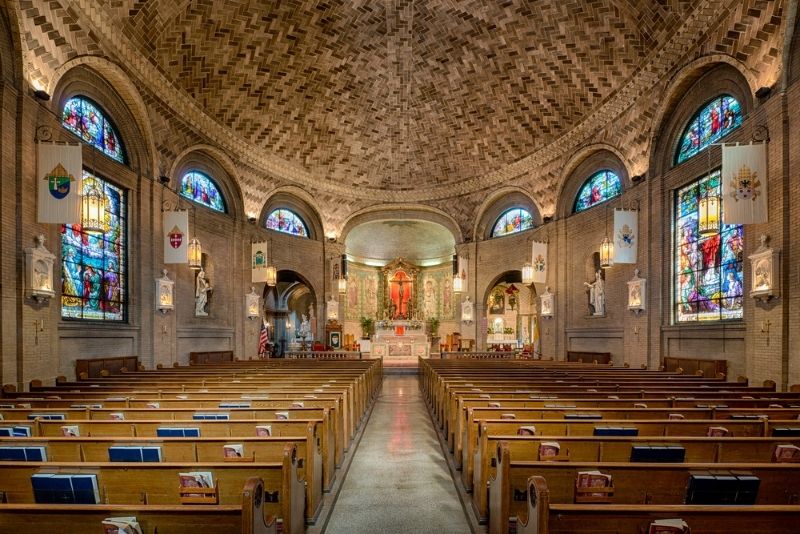 Asheville's own little slice of Italy, the Basilica of Saint Lawrence (officially the Basilica of Saint Lawrence, Deacon and Martyr) is a beautiful example of Romanesque architecture that has been lovingly restored and renovated into one of Asheville's most stunning buildings.
Beautiful arches, terracotta tiles on the roof, ornate carvings throughout — it truly feels like you're visiting a church in Europe. But, above all else, it's the magnificent ceiling dome (hidden from the outside) that steals the show. Decorated and foreboding, it's the largest freestanding elliptical dome in North America.
18 – Spend some time in Mount Mitchell State Park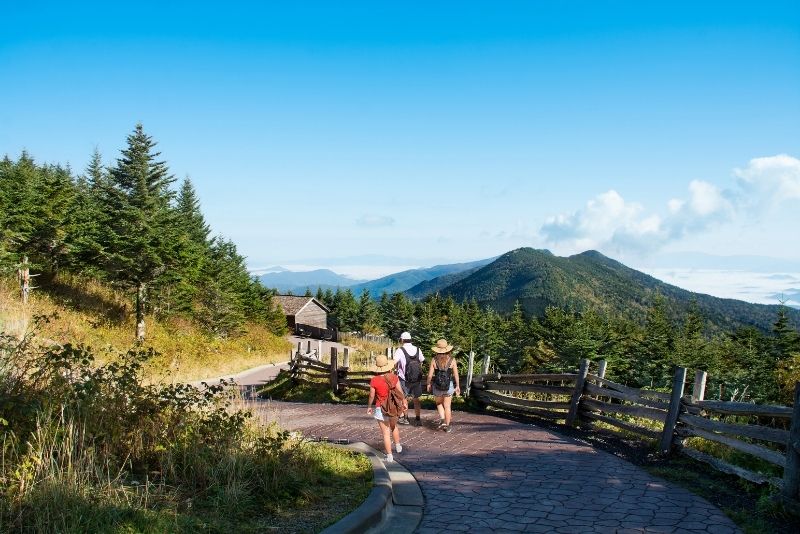 Sometimes, you just want to get out of the city.
No matter what time of year it is, head east about 45 minutes and you'll find yourself immersed in a spectacular environment — covered in lush green or fresh white snow — at Mount Mitchell State Park.
Home of the highest point east of the Mississippi, you can expect some of North Carolina's more challenging and rewarding hiking trails, with spectacular views awaiting — on a good day, the visibility stretches up to 85 miles.
For something more straightforward, the 1.1-mile out and back trail to Setrock Falls is a must, likewise the short and sweet Balsam Nature Trail.
On the other hand, if it's a real challenge you're after, look no further than the Deep Gap Trail.
19 – See what's on in the River Arts District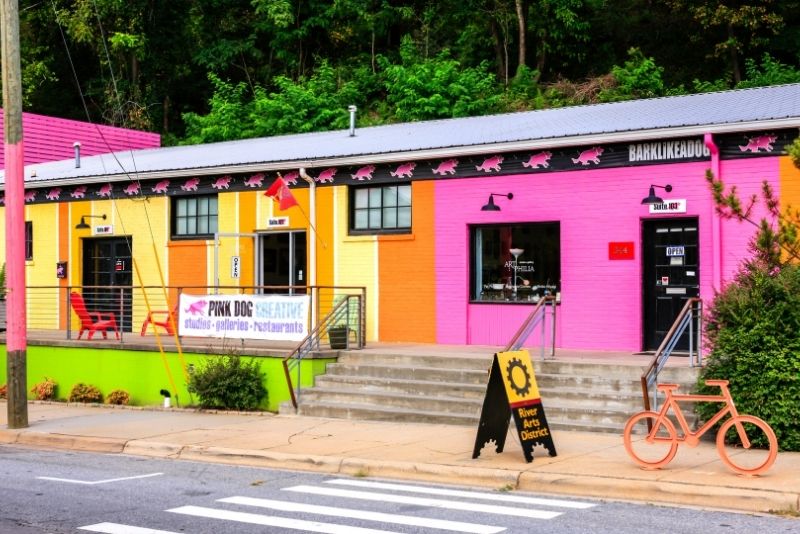 This funky area along the river has become something of an artistic hub in Asheville, with studios and galleries showcasing works from various artists all over town.
There are several studio spaces open to the public every day where you can have a look around at what's on offer or take part in workshops throughout the year, not to mention the beautiful riverbank walkways.
More than just art, there are some delicious cheesy and baked treats to try out at the farmer's market (open every Wednesday afternoon), as well as a range of quirky shops, and live music and workshops on the Second Saturday of each month.
20 – Get educated at the Asheville Museum of Science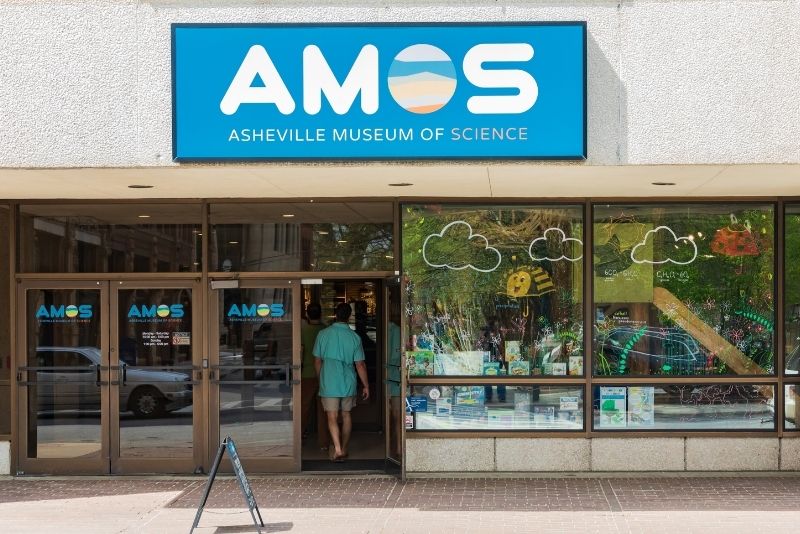 For a fun and educational family day out, head to the Asheville Museum of Science — it's an interactive science center with loads on offer for kids (and adults).
While visiting one of several hands-on exhibits that dive into dinosaurs, gold mining, the weather and the world around us, you can also check out a variety of talks given by science experts. They explore the ins and outs of or the local region thanks to the Southern Appalachian Forest Exhibit.
If you're looking for more nearby activities, since the museum is located smack-bang in the middle of downtown, it's merely a stone's throw from the likes of the Asheville Art Museum and the Grove Arcade (perfect for shoppers).
21 – Take a bus ride like no other with LaZoom Comedy Tours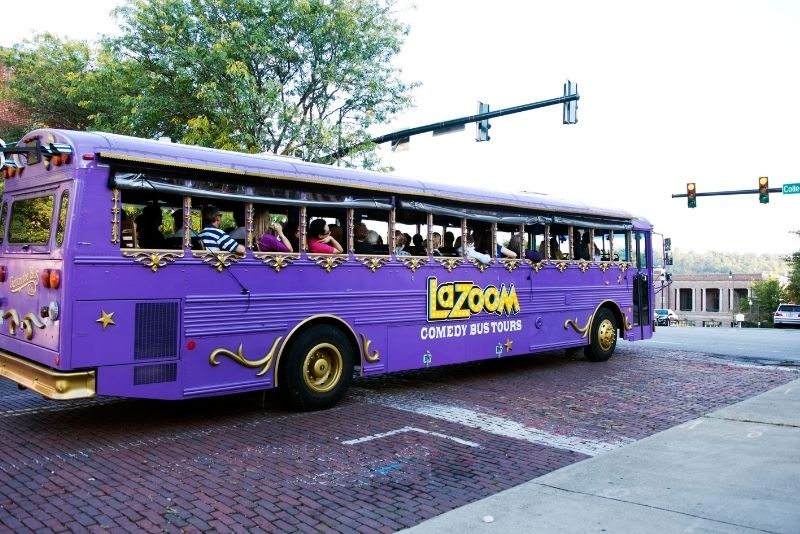 If you're looking for a fun way to take in the sights and sounds of Asheville, look no further than LaZoom — it's an outrageously entertaining bus tour complete with live comedy.
The open-aired buses, which call themselves "the original theatre on wheels", skirt all over town with a variety of different tours on tap. Some focus on the history and culture of Asheville while others are more focused on spooky tales or free-flowing beers!
The guides are professional comedians that engage with guests to create an atmosphere that's funny but also educational, a must for unconventional travelers.
22 – Go kayaking!
For a fun (and active) way to enjoy Asheville's natural side, head down to the banks of the French Broad River and rent yourself some kayaks! Or, better yet, join a tour led by an in-the-know local. It's an easy-going experience that will allow you to see Asheville from another perspective as you make your way down the calm, sparkling waters.
Looking for something a little more off the beaten track? Paddling excursions also take place at Lake James and Lake Lure — two picturesque lakes nestled in the mountains of Western North Carolina.
23 – Walk among the trees at the Botanical Gardens at Asheville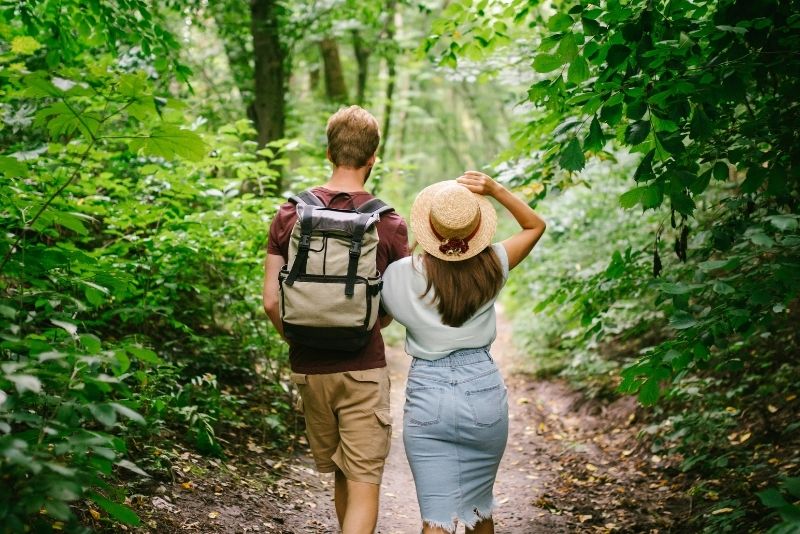 For a relaxing afternoon, head to the Botanical Gardens at Asheville — an enchanting space with over ten acres of gorgeous gardens and plant exhibits culminating in over 600 diverse species.
While seeing some beautiful flower displays, you can also check out the Wilson's Bird Garden that includes water features and, true to its name, no shortage of wildlife.
More than just a pretty face, there's also a range of interactive events and classes on offer where you can get educated about the science and history behind it all.
24 – Play the day away at Carrier Park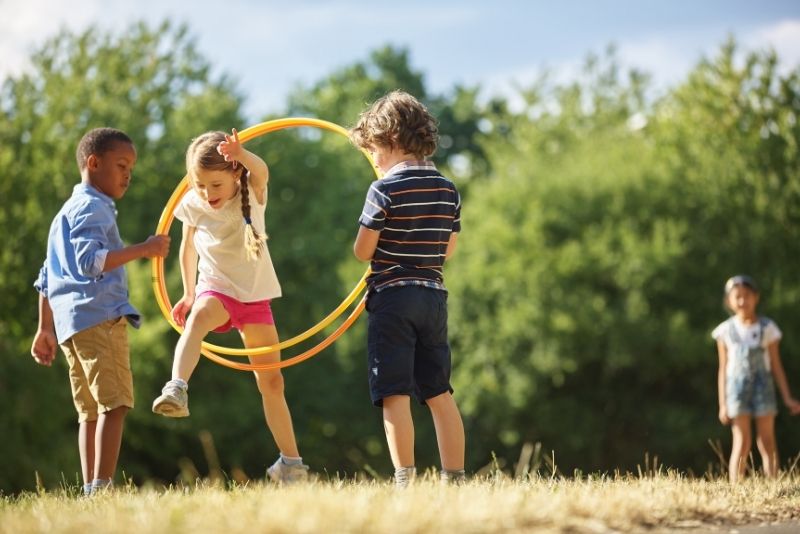 Also sometimes called the MellowDrome because of the Velodrome on its western side, Carrier Park is a lively, family-friendly outdoor space that's home to an abundance of fun.
The park features everything from children's playgrounds and music performances by local artists to community events and holiday celebrations.
Most of the time, however, it acts as a magnet for leisurely outdoor activities. The park offers volleyball courts, a large play zone that kids adore, a roller hockey rink, a basketball court, a lawn bowls area and plenty more!
25 – Jump around at Launch Trampoline Park Asheville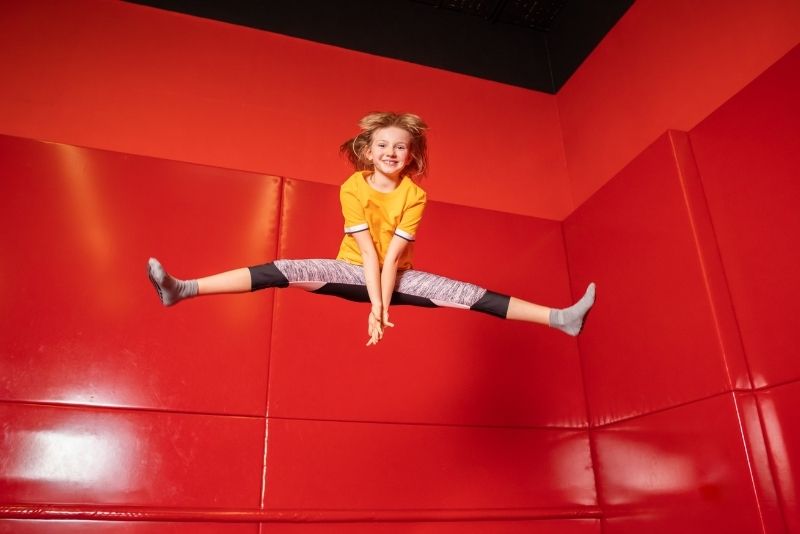 Located next to Lake Julian about 15 minutes south of the city, Launch is a colossal indoor space that's fun for all ages. With dozens and dozens of interconnected trampolines to leap around on, you can perfect your backflips and work off your energy in no time!
With options for the whole family — from toddler zones to high-energy jump classes — there's an area dedicated entirely to dodgeball, some Tumble Traks, a giant airbag (ideal for practicing tricks when you're not entirely confident) and even an arcade!
26 – Find your own dinner on a foraging tour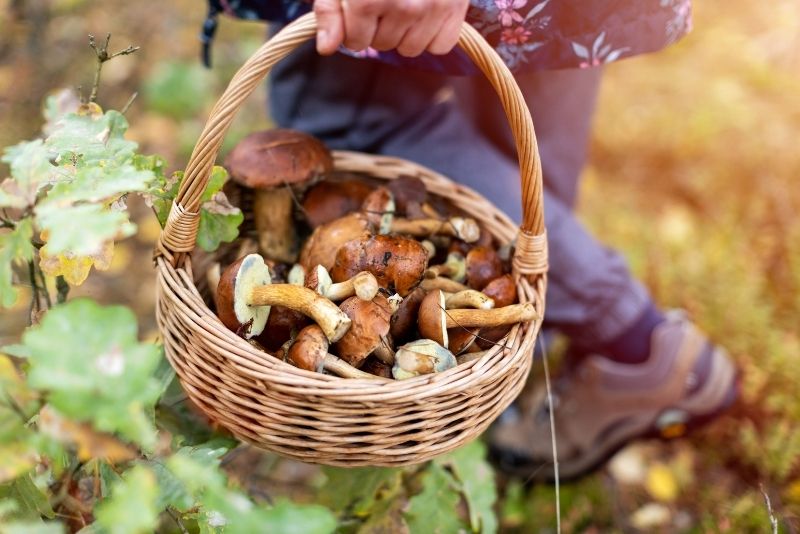 A unique way to find a meal in the Asheville area, foraging tours can guests on expeditions into fields and meadows, forests and woodlands, to discover wild edible plants.
The activity is led by an in-the-know local group who will show you how some of the foliage can be prepared and cooked back at home. It's an easy-going experience that will teach you all about identifying edible greens, berries, mushrooms, flowers, roots and nuts, as well as which native species are and are not safe to eat.
27 – Go horse riding in the Blue Ridge Mountains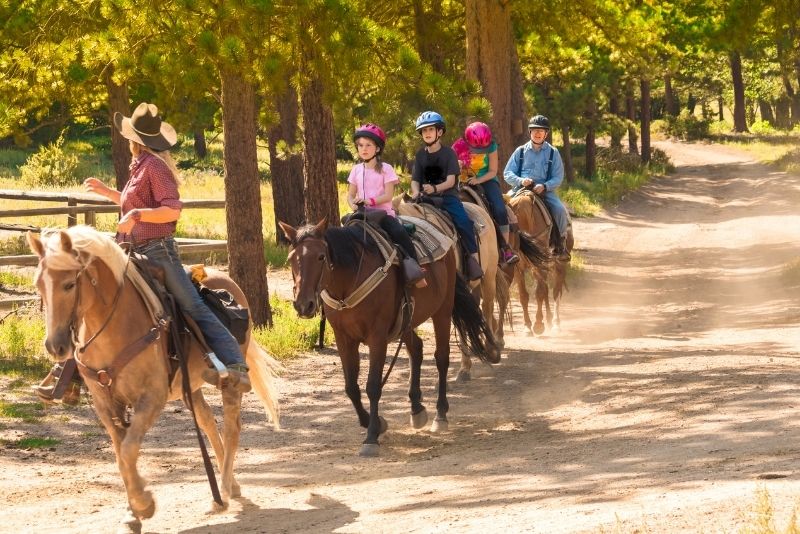 Saddle up! If you want to get a real feel for the Blue Ridge Mountains, a horseback riding tour is one of the best ways to do it. Riding tours typically last about an hour, are perfect for all ages, and take riders past fields and streams before arriving at a destination where they can rest and enjoy the view.
Whether you venture down the Flame Azalea Trail or the Fern Forest Trail — or a host of others — you'll find yourself surrounded by beautiful lush mountain greenery throughout.
Of course, if horseriding isn't your thing, the Mountains boast no shortage of hiking trails too.
28 – Spend the day at Lake Lure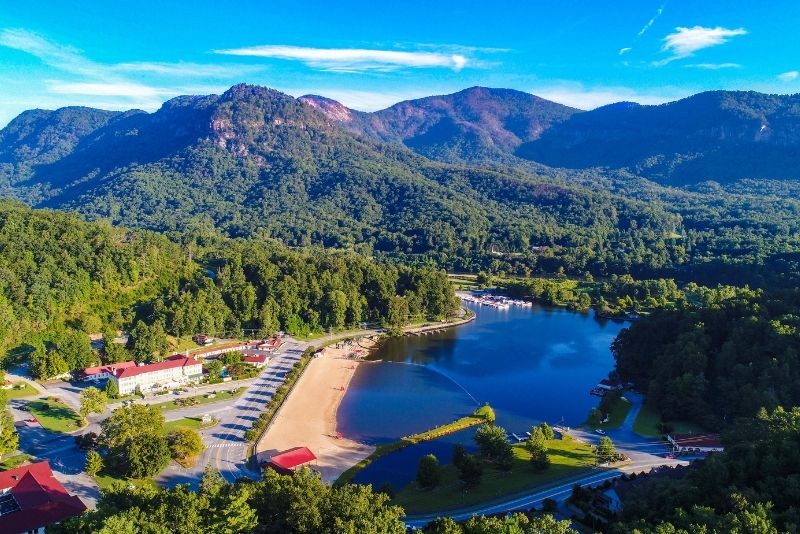 Worthy of a postcard, the real estate in this area is simply stunning — it's no wonder so many people have chosen to make Lake Lure their vacation home!
Lake Lure, which sits inside the famous Hickory Nut Gorge about 45 minutes east of Asheville, offers breathtaking views of the hills in the distance and boasts an abundance of outdoor activities. From boat rentals to guided walking tours and fishing, there's something for everyone here.
Just a short walk from town is Hickory Nut Falls and Chimney Rock State Park, both popular spots for hiking.
For film buffs, the lake was the backdrop for a number of scenes in Dirty Dancing. For sports enthusiasts, you'll also find the Lake Lure Golf Club here too.
29 – Catch the sunrise from a hot air balloon ride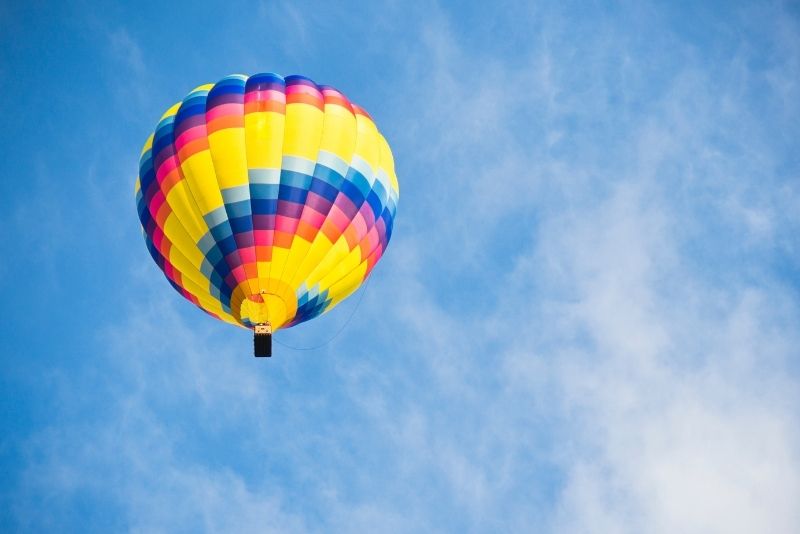 A spectacular way to take in the Asheville area, hot air balloon rides are available throughout Western North Carolina, typically departing in the wee hours of the morning — the glorious sunrise is worth the early wake-up.
The views of mountain ranges and valleys from up above are truly something special, making this one tour that shouldn't be missed by visitors — especially romantics!
When you're ready for adventure, Asheville Balloon Company will help make your dreams come true; they're especially well-known for their autumn flights, where you can view spectacular foliage as you float.
30 – Head to the Smoky Mountains for a day trip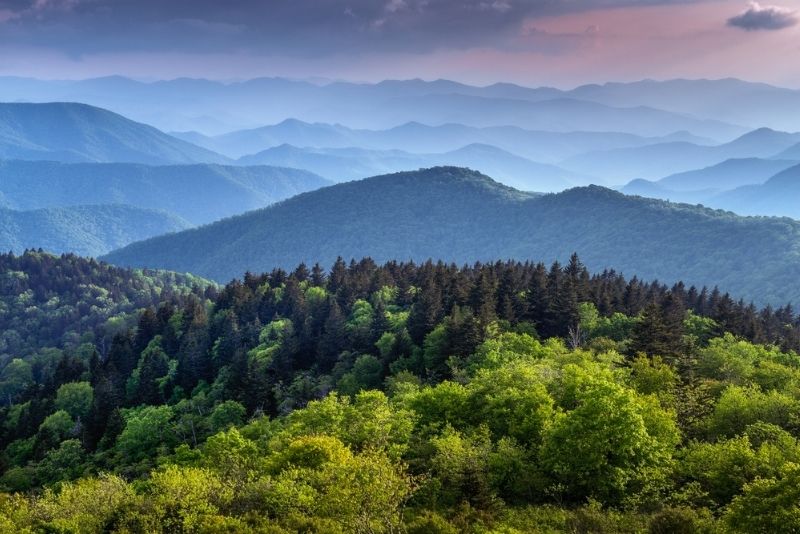 For a day trip that's not too far from downtown, the Smoky Mountains is an ideal option. The area offers multiple opportunities for adventure: whether you're looking to hike through lush forests and waterfalls or venture out on some whitewater rafting action — there's something here for everyone!
A range of companies can arrange full-day guided tours that include pickup and dropoff from Asheville — just remember to bring your camera and wear hiking boots if you plan on leaving the paved roads behind.
Hot tip: Alternatively, if you plan to explore independently, consider one of the Great Smoky Mountains tourist passes that offer discounts on dining, shopping, and the main sightseeing spots.
31 – Rev the engine at the Wheels Through Time Museum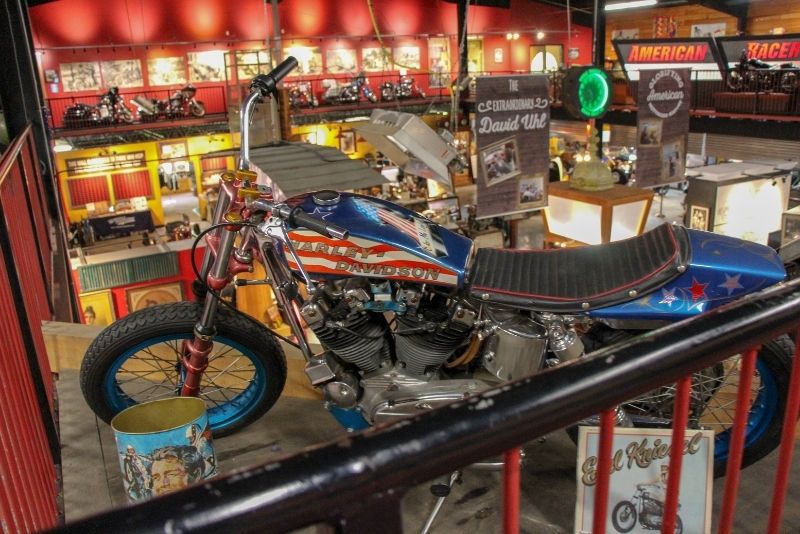 Ride into the past at Asheville's Wheels Through Time Museum, a unique attraction that showcases some of the most beautiful and iconic motorcycles ever created.
The museum is home to over 300 historically significant bikes dating back to the early 1900s, and plenty of memorabilia and artifacts that will give you a fascinating look into the history of this American pastime.
See rare Indian Motorcycles, Harley-Davidsons, and British Triumphs — all polished to perfection!
Located just 5 miles off the Blue Ridge Parkway in Maggie Valley, some 40 minutes from Asheville, it's an easy addition to any day of exploring west of the city.
32 – Get among nature in the Craggy Gardens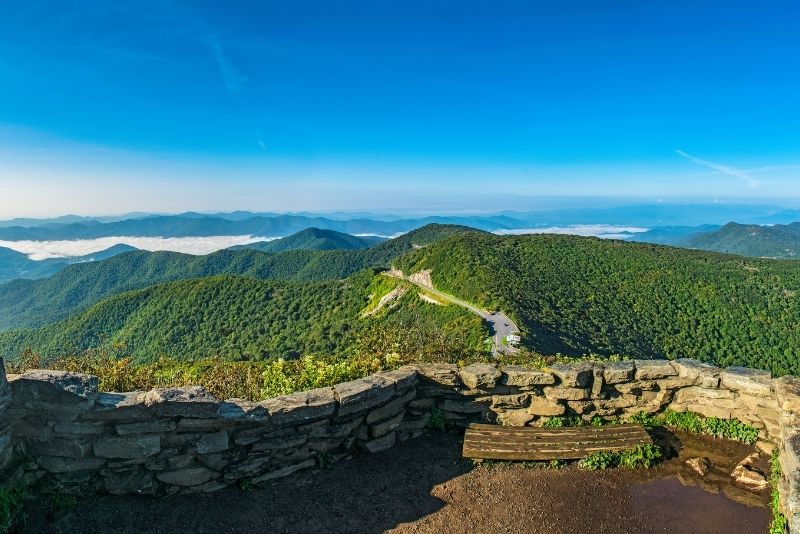 Another attraction in the Blue Ridge area, this time north of Asheville, Craggy Gardens is a prime spot for some jaw-dropping views.
Covered in rhododendron, tall wildflowers and blueberries out the wazoo, the gardens are actually a forest perched on hills. It's home to several hiking trails (the Douglas Falls Trail is an easy option) and incredible photo opportunities, particularly in the summertime when the flowers and berries are blooming.
For arguably the best view of the bunch, head up to the Craggy Pinnacle.
33 – Go birdwatching at the Beaver Lake Bird Sanctuary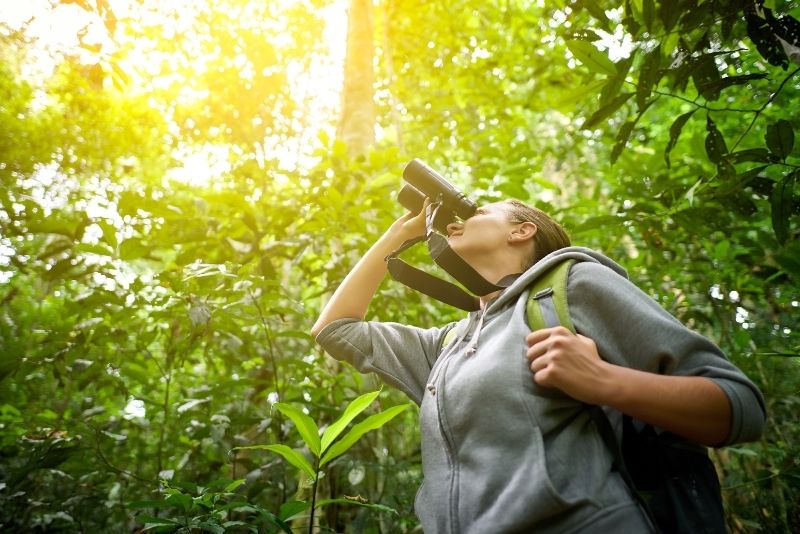 Just next to the lake itself, Beaver Lake Bird Sanctuary is a calm oasis amidst busy North Asheville perfect for those looking to snap some pictures of our feathered friends.
The sanctuary, thanks to its unique combination of wetlands and forest in an urban area, welcomes hundreds of species of birds of all different shapes and sizes — such as great blue herons, hummingbirds, red-shouldered hawks, eastern phoebes, blue jays and Carolina Chickadees.
Even if you're not a bird-watcher, a brisk walk around the lake wouldn't go amiss for most visitors.
34 – Enjoy the summit views at Chimney Rock State Park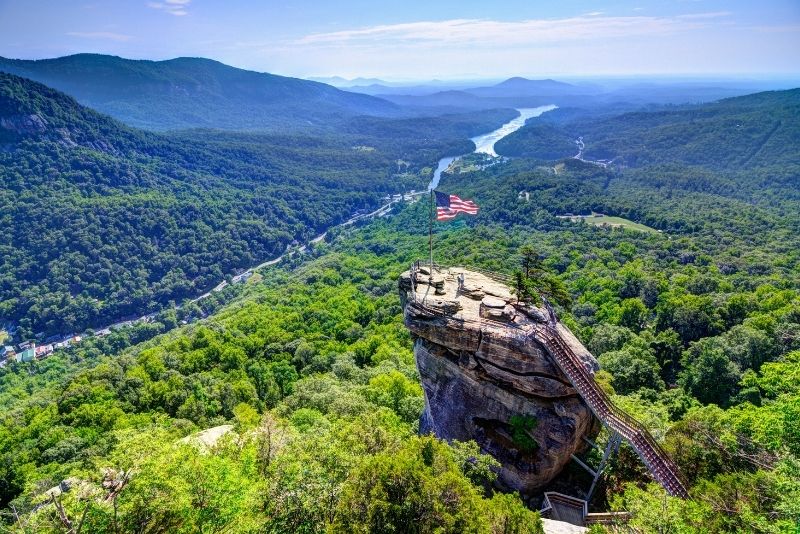 Next to Lake Lure, a 40-minute drive from Asheville, Chimney Rock State Park is a fascinating place to explore.
The park includes the main attraction — the namesake rock formation that rises 315 feet above Hickory Nut Gorge and offers some of the most beautiful views in Western North Carolina, not to mention being 535 million years old. The top also features an observation deck to soak in the 2,280 feet above sea level views as well as several trails for those wishing to get a closer look.
On the way there, don't forget to stop by Lake Lure for a wander around its charming lakeside shops and restaurants!
35 – Make music at The Moog Factory and Moogseum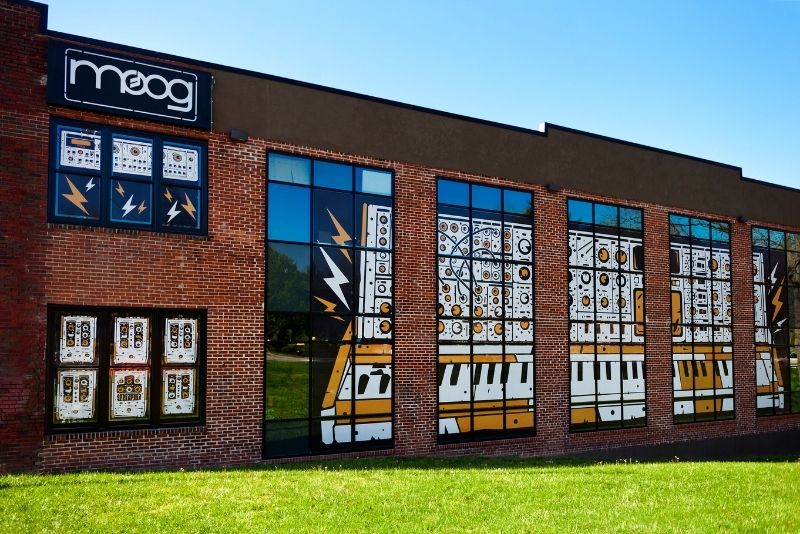 Home of all things electronic music, this duo-attraction sells itself as one of the best things to do in Asheville for anyone familiar with a synth.
Named after the inventor of one of Asheville's most iconic symbols, the interactive Moogseum explores how synthesis works and lets visitors play around with some different sounds to get a feel for the instrument that helped change music forever.
The "How Electricity Becomes Sound" immersive visualization dome is a crowd favorite, likewise the Hands-On Synthesis section where guests can play both theremins and Moog synthesizers!
36 – Tour "The Hunger Games" filming locations
If you're a fan of books or films, this is one attraction you don't want to miss.
Located in and around Asheville, these sites have been turned into pivotal points within Katniss's world — it's easy for locals to spot familiar spots, such as the Henry River Mill Village, they may not even realize were used as backdrops!
Learn all about what went on behind the scenes, get the inside scoop from film-savvy locals, and don't forget your Mockingjay pin!
37 – Head to the Dollywood theme park!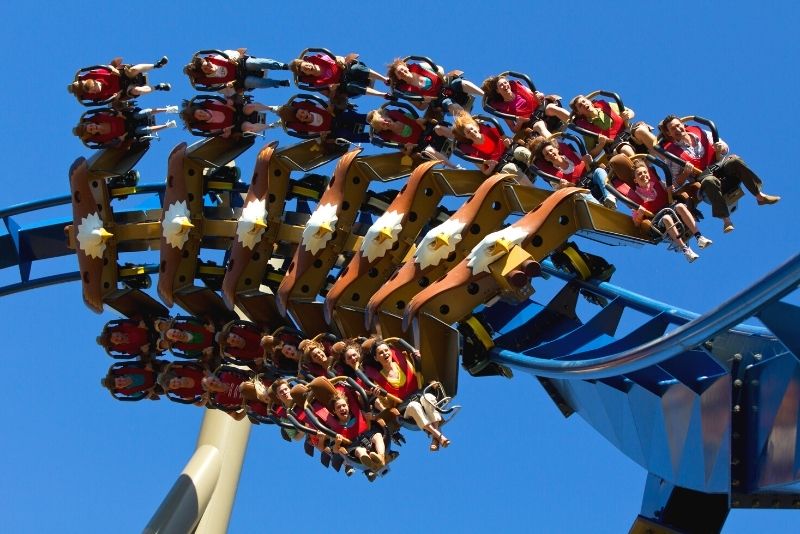 Roughly an hour and 40 minutes by car from Asheville in Pigeon Forge, Tennessee, Dollywood is the perfect place for thrill-seekers and family-friendly entertainment alike.
Once you arrive after the beautiful drive through the mountains, there's no shortage of fun things to do at Dolly Parton's very own amusement park: roller coasters, live shows, award-winning dining, petting zoos and farms, and plenty of memorabilia dedicated to the country music queen herself.
38 – Enjoy a luxury picnic in the garden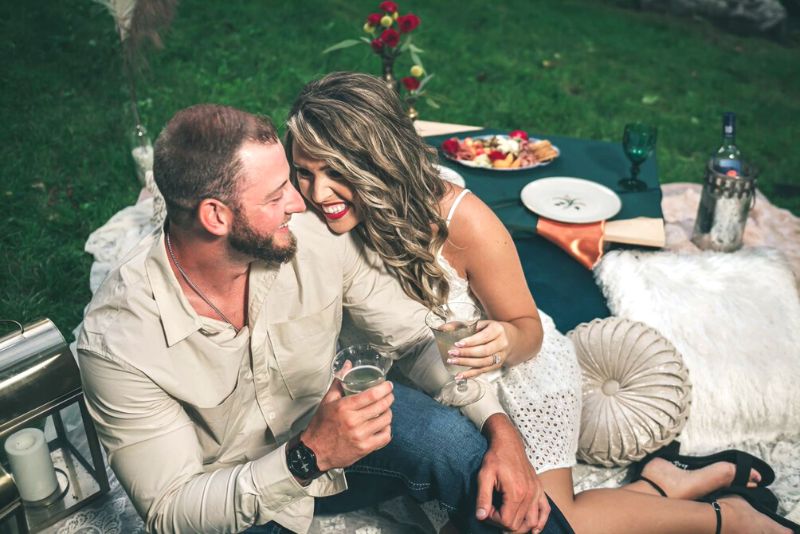 Soak in the beautiful Blue Ridge Mountains views whilst enjoying a luxurious picnic prepared for you. Just sit back and enjoy a selection of charcuterie, local baked goods and accompanying drinks.
If you prefer an even more charming setting, the Picnic in The Block experience at the Foundry Hotel makes it easy to soak in the cool Appalachian air. This hour and a half luxury picnic greets on the hotel's great lawn, located in the heart of The Block neighborhood.
All of the options include a dreamy décor with lighting, a flower arrangement, and you can even play your own music.
39 – Play a round or two on a golf course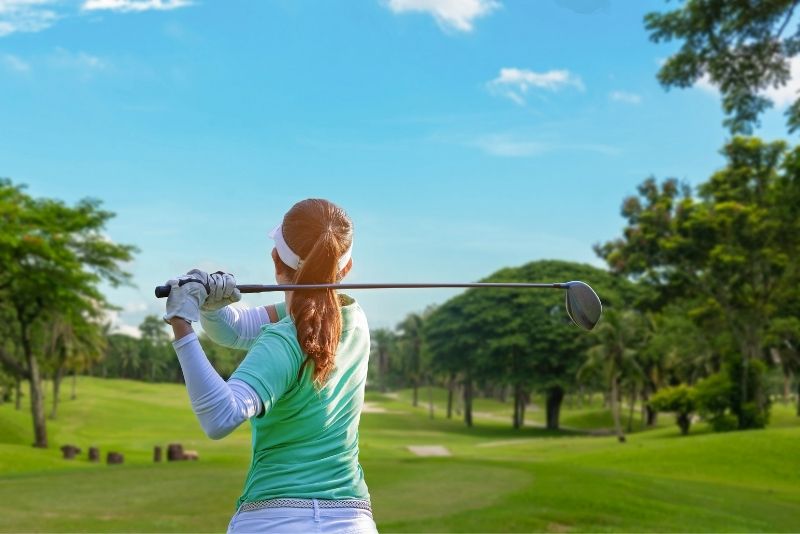 One of the most things to do in Asheville on a clear summer's day, golfing is a great way to spend an afternoon and work up an appetite for dinner.
With several courses around town, there's no shortage of options — from the Asheville Municipal Golf Course to the Black Mountain Golf Club (for fantastic mountain views), and local favorites like the Reems Creek Golf Club and Maggie Valley Resort & Country Club, there's something for everyone.
40 – Kick a ball at the Buncombe County Sports Park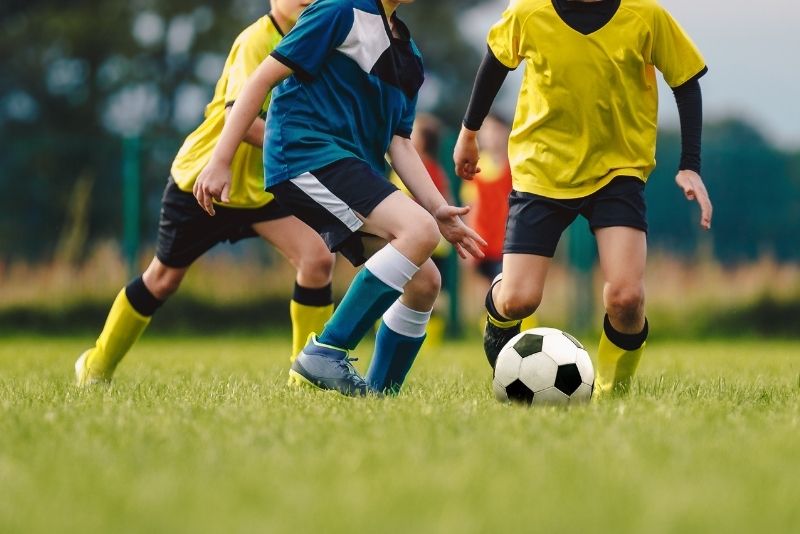 On the outskirts of western Asheville (in Enka, technically, Asheville's neighbor), Buncombe County Sports Park is a hidden gem for those who love to go on adventures out in nature.
The park offers a ton of different attractions — from soccer fields known for pick-up games to picnic areas, disc golf zones and a handful of walking trails — so no matter if you're after something active or low-key, you'll find it here.
41 – Step back in time at the Historic Biltmore Village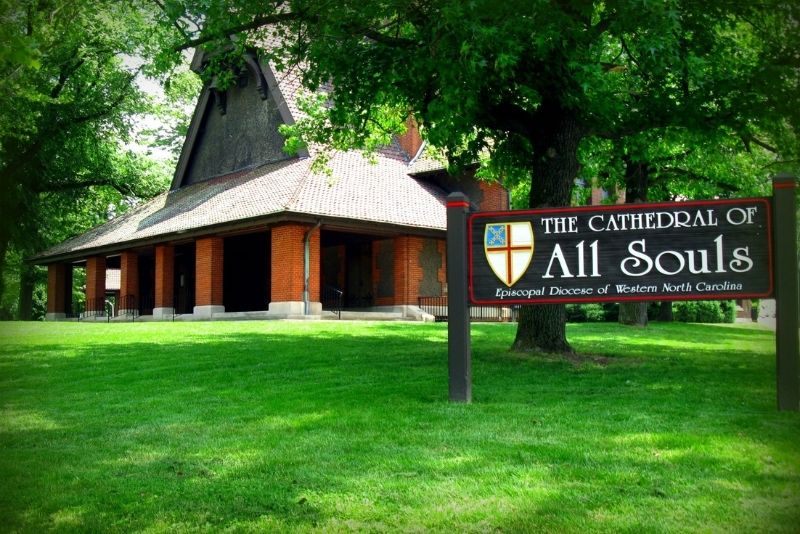 Formerly the center of town, this historic village was once home to George Vanderbilt's Biltmore Estate (the largest private residence in America).
Asheville has embraced its history and preserved many unique homes dating back over 100 years, resembling a small English village. The stately architecture is stunning and the atmosphere is serene. As a bonus, you can grab some delicious local treats at one of the many nearby cafes, bakeries and ice cream parlors for an afternoon pick-me-up!
42 – Sit front row at the Asheville Music Hall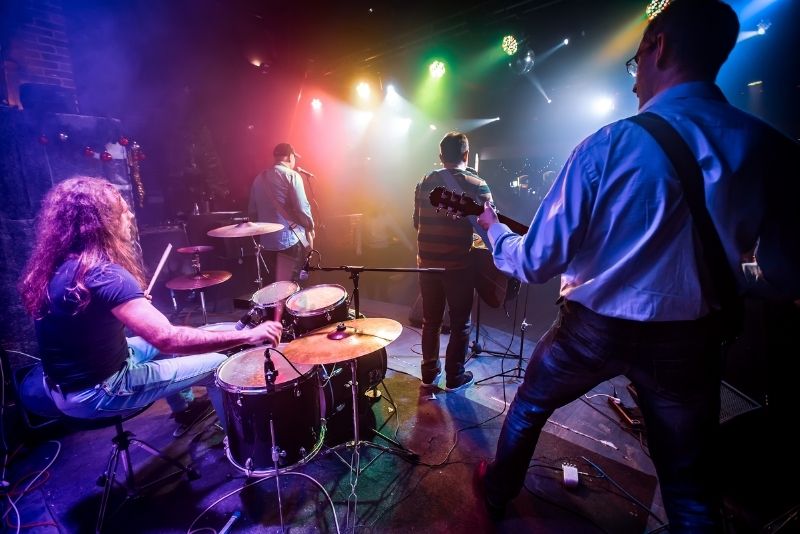 Asheville Music Hall is a great place for catching local and national artists in the heart of downtown, thanks to its intimate space.
Music, performances, concerts, and stand-up aside, the hall is also a popular watering hole: the bar offers a solid selection of beers on tap — including a few from Asheville breweries — as well as an extensive wine list, so it's easy enough to enjoy either sour or sweet while listening to some local jams.
43 – Learn about a local icon at the Thomas Wolfe Memorial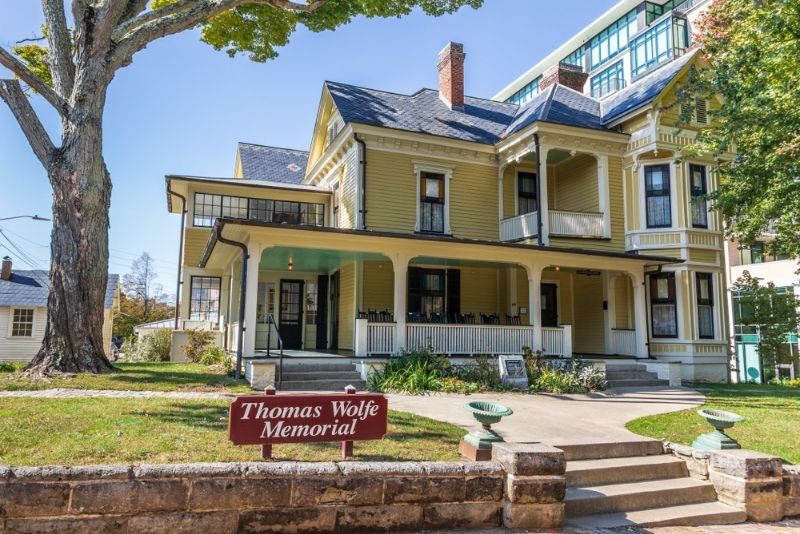 The former home of iconic American writer, Thomas Wolfe, this site on North Market is a great place to learn more about Asheville's history as well as the beloved author.
Wolfe (who authored classics like Look Homeward and You Can't Go Home Again) grew up in Asheville and used his hometown as an inspiration for many of his stories — you can tour the historic house on its own, or join a broader Asheville Literary Tour that skirts around town and dives into the area's rich literary history.
44 – Reel in a big one: go fishing!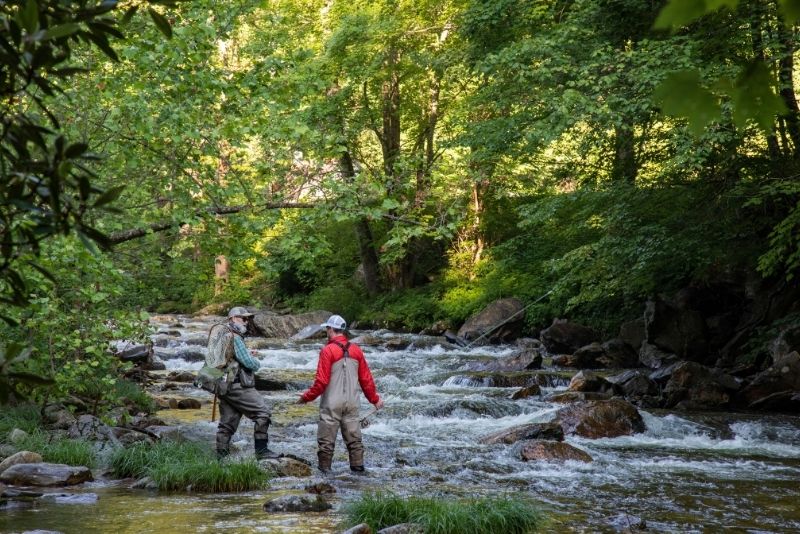 Asheville is surrounded by water — so it's no surprise that there are multiple spots for fishing, kayaking and sailing just outside of town.
Lake Tomahawk in particular offers visitors a ton of amenities to make their experience fun and easy: boat rentals, canoeing, kayaking and even SUP boarding are all available at the lake.
In other directions, the Nantahala and Pisgah National Forests are both hot stops for wild trout fishing, while the Blue Ridge Reservoir and the French Broad River provide great spots for newbies to practice their skills.
45 – See what's on in Pack Square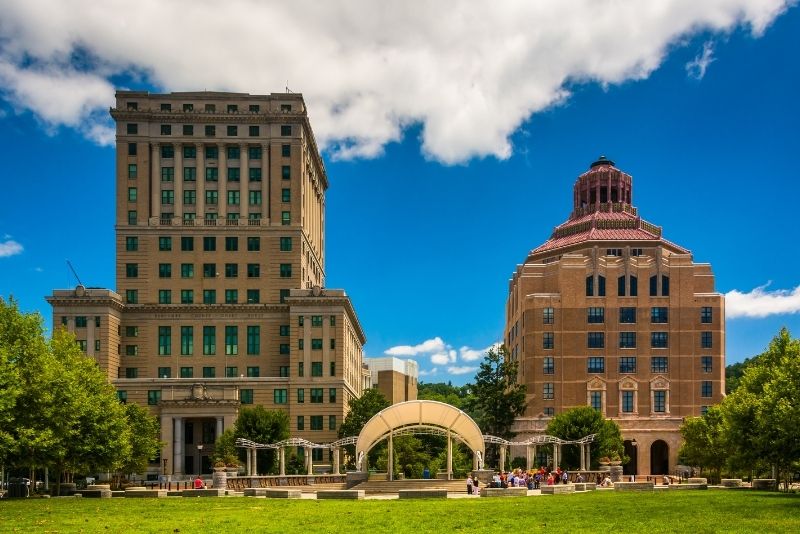 Located in the center of downtown, this city park is a great place to get a feel for Asheville's vibrant arts scene.
Featuring an open-air amphitheater and outdoor stage, it hosts plenty of festivals and events year-round — from original music at Shindig on the Green to Art in the Park and the LEAF Downtown festival!
Culture aside, it's also a history hotspot: the Square showcases a granite Veterans' Memorial and has acted as a focal point of the city since its inception way back in 1797, so a historic walking tour wouldn't go astray either!
46 – Hike (part of) the Appalachian Trail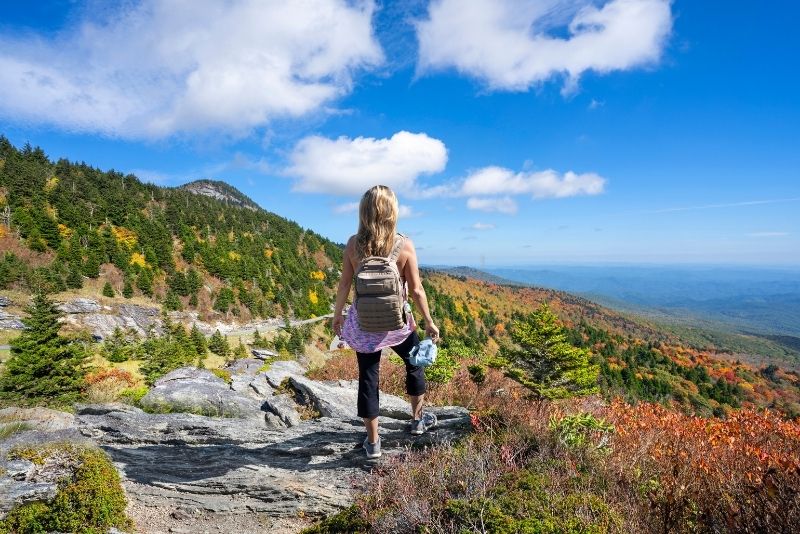 Stretching from Georgia to Maine and covering nearly 2,200 miles through 14 states, the Appalachian Trail is a famed footpath that runs right through Hot Springs, a cute little town just 36 miles northwest of Asheville.
While there is a range of options in the area, the most popular route is the Silvermine trailhead that connects to the Appalachian Trail en route to Lover's Leap Ridge where wonderous vistas await.
47 – See the Asheville Tourists in action at McCormick Field
One for the sports nuts, McCormick Field is home to the local minor league baseball team, the Asheville Tourists, which plays around 70 home games a year.
While it might not draw the same large crowds as the major leagues, the fans are just as (if not more) devoted, the food is just as quintessential to what you'd expect at a baseball game (hot dogs, fries, and oversized drinks), and the games are just as competitive.
Plus, the tickets are cheaper!
48 – Get nostalgic at the Asheville Pinball Museum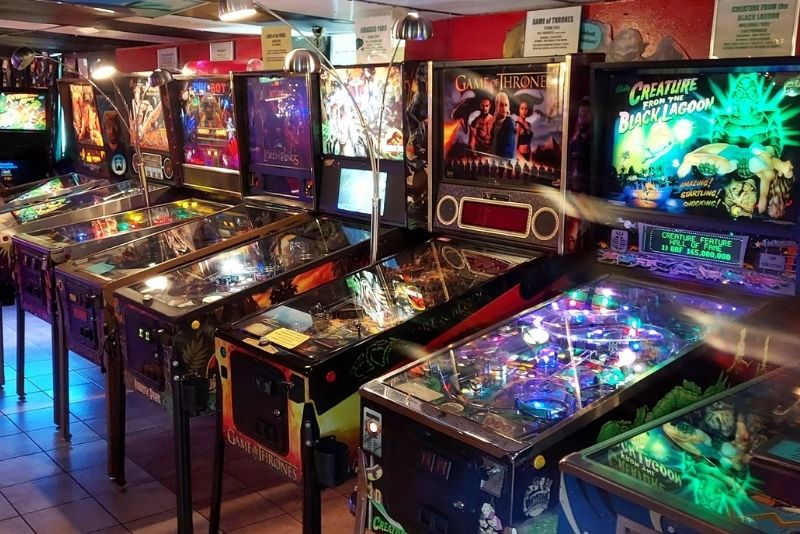 Sitting across the street from the Grove Arcade, Asheville is home to one of the largest pinball collections across the eastern states!
Over 75 classic machines — from Teenage Mutant Ninja Turtles to Donkey Kong and Roller Coaster Tycoon — are ready and waiting for visitors at this unique museum, some of which date back to the late 1930s.
49 – Float along Green River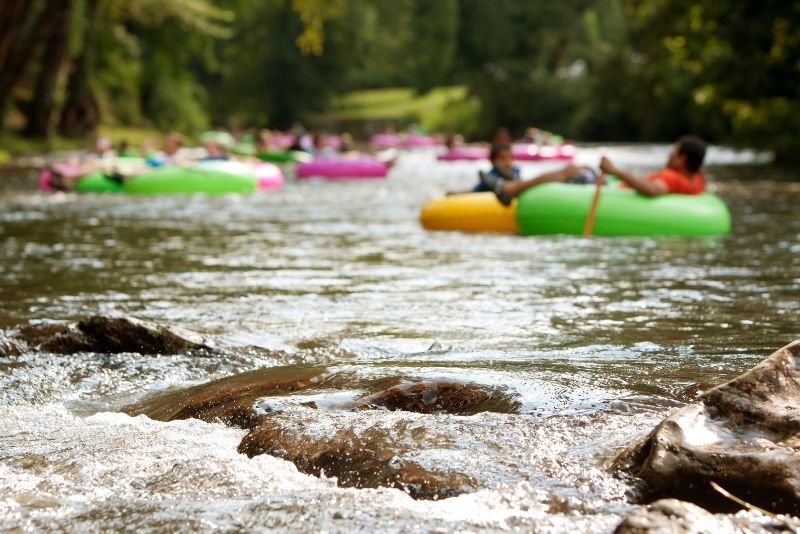 If you're a fan of the great outdoors, then be sure to check out Green River Gorge — a fresh-air recreation area about 45 minutes drive southeast from the city that is home to some fantastic hiking trails, refreshing swimmable creeks, and some of the most popular whitewater rapids in the eastern United States.
There are plenty of guided inflatable kayak trips, but if you're after something a little lazier, just jump in a tire tube and let the current whisk you down the river!
50 – Check off the main landmarks along the Asheville Urban Trail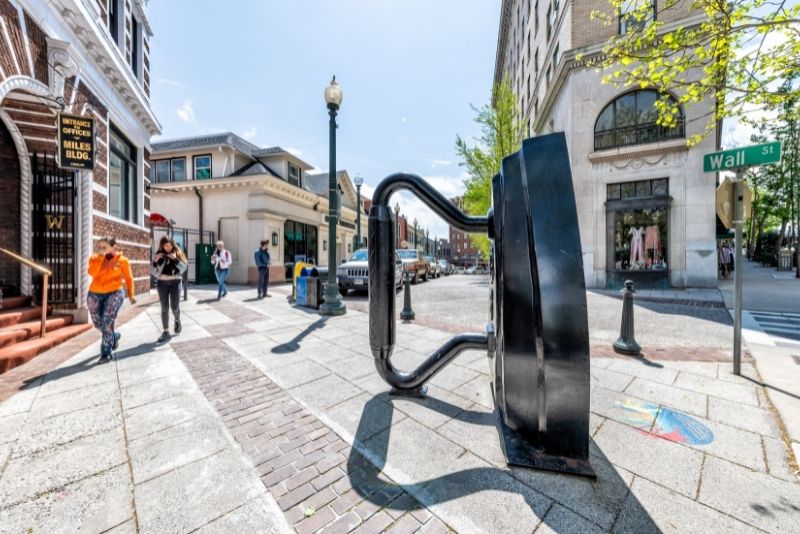 For those who love a good walk, the Asheville Urban Trail is perfect for some gentle exploring as it follows key points of interest through town — from Pack Square and the Basilica of Saint Lawrence to more hidden gems like an old-fashioned fire station!
With some 30 stops in total, each identifiable with a sculptural landmark, this 1.7-mile walking tour is a great way to discover some of the city's most interesting historical and architectural sites at your own pace.
51 – Embrace the atmosphere of Grovewood Village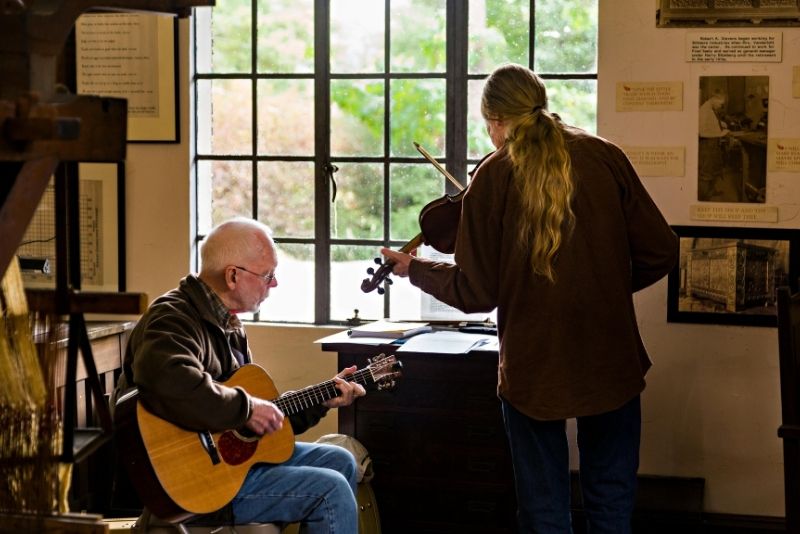 Overflowing with art and history, thanks to its past use as a weaving and woodworking center, the Grovewood Village — listed on the National Register of Historic Places — is a great artsy enclave to get creative yourself at one of its many art studios or workshops.
Check out the Grovewood Gallery, wander around the Biltmore Industries Homespun Museum, and don't miss the Estes-Winn Antique Car Museum either — as you can see, it's easy to spend an entire day here.
And, as far as classes go, choose from pottery painting and glassblowing to candle-making and weaving!
52 – Get cultured (and tipsy) at Lexington Glassworks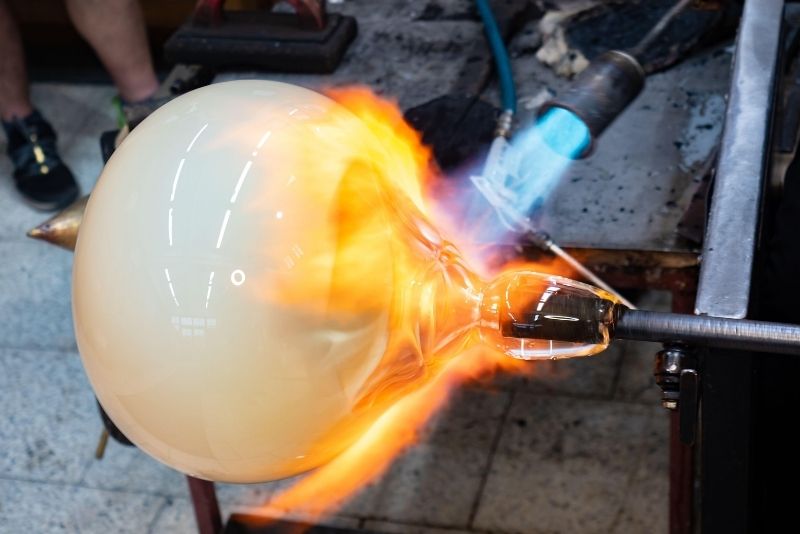 Right in the middle of Downtown, Lexington Glassworks is a whimsical combination of art studio, gallery, and bar; you can sign up for classes and walk away with your own handmade glass creation, admire intricate works handcrafted by experts, or simply knock back a beer or two while other tourists meander around.
Keep in mind that the rotating Asheville craft beers are usually only served Fridays through Sundays in the afternoons.
53 – Try yoga … on a mountain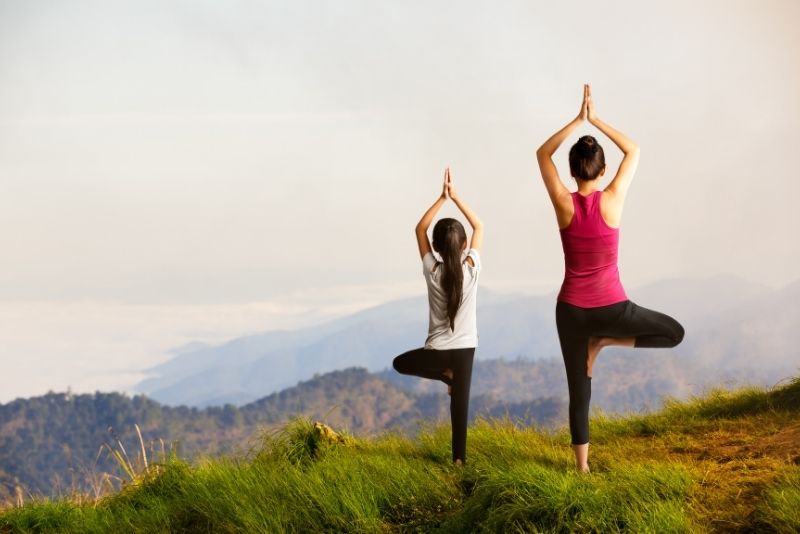 Sore muscles after all that hiking? Head to the Blue Ridge Parkway for some soothing yoga — combined with an easy stroll, blissful views, and the open air, it makes for quite a relaxing activity.
Or, for something a little different, consider a yoga session atop a stand-up paddleboard on the French Broad River.
54 – Walk through the door of the Smith-McDowell House Museum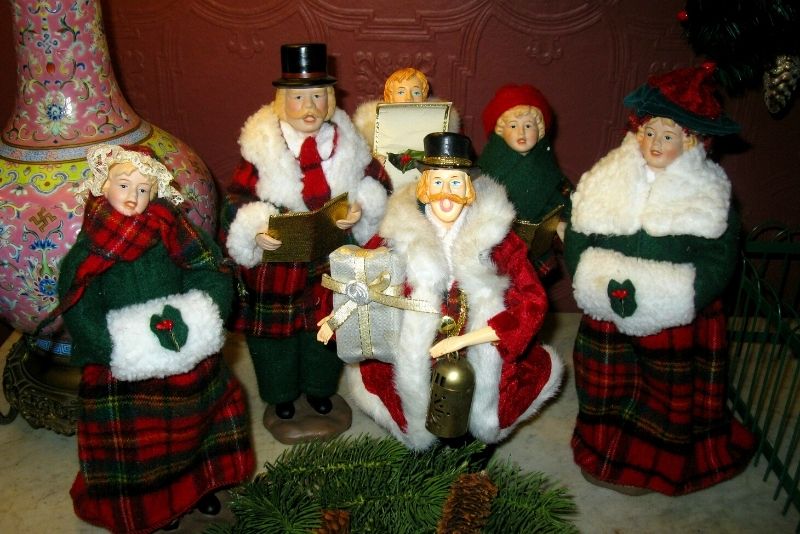 Asheville's very own "living history" museum, the Smith-McDowell House Museum allows visitors to step back in time and experience life as it was lived during the Victorian era, with Civil War-era roots to boot.
As what is officially the oldest house and first mansion in the city, dating back to the 1840s, this National Historic Landmark is also home to some of the most ornate woodcarvings and lush gardens in the area.
55 – Feel the rhythm at the Asheville Drum Circle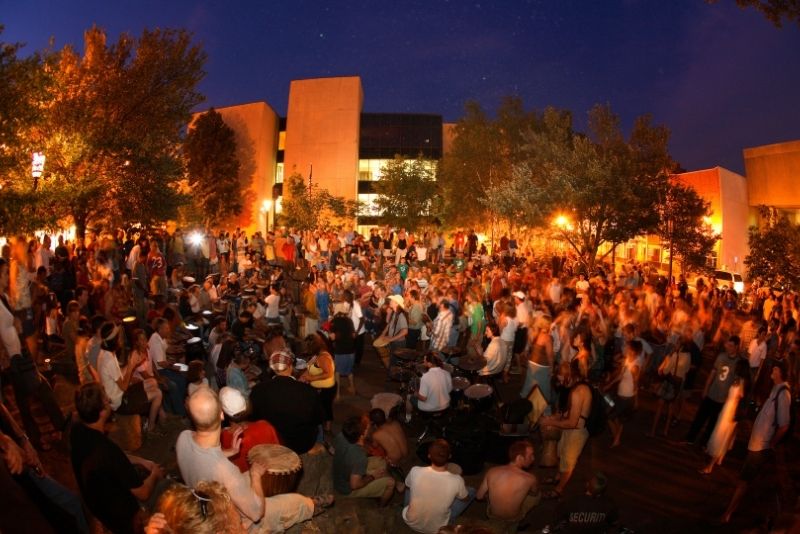 One for the hippies and musicians, the Asheville Drum Circle is a weekly opportunity to let loose and get creative, with locals forming their own impromptu percussion group around the bonfire at Pritchard Park on Friday evenings.
As far as drums go, you can simply bring your own or borrow one from a fellow drummer — just make sure to arrive early for a prime spot!
56 – Admire the art at Woolworth Walk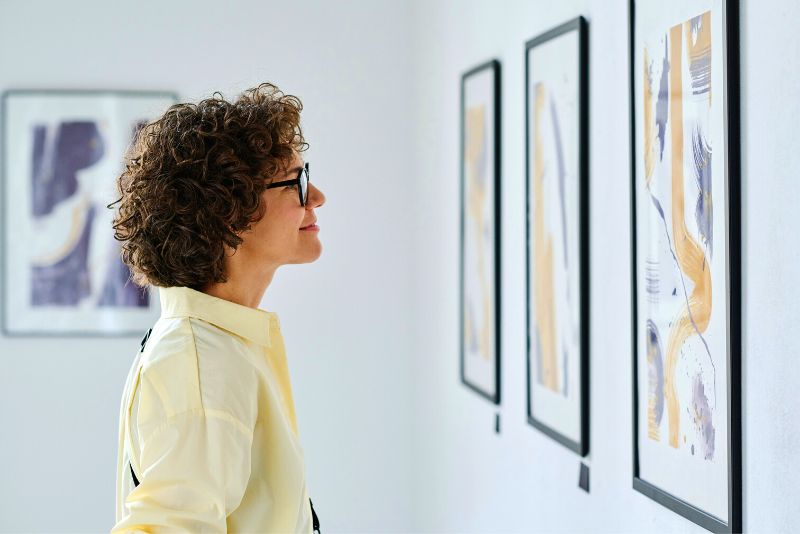 If you're looking for the perfect blend of vintage and modern aesthetics, you're in luck; one spot in town has it all! Woolworth Walk gets its name from its illustrious past as one of the city's most popular stores, complete with its own dining area.
And while it serves as a hip gallery today, it still features many of its old traits, from the classic architecture to a recreation of the beloved soda fountain from days gone by… and yes, you can order drinks there!
Swing by for a malt and some browsing – you'll truly feel like you've gone back in time!
57 – Race around town with a scavenger game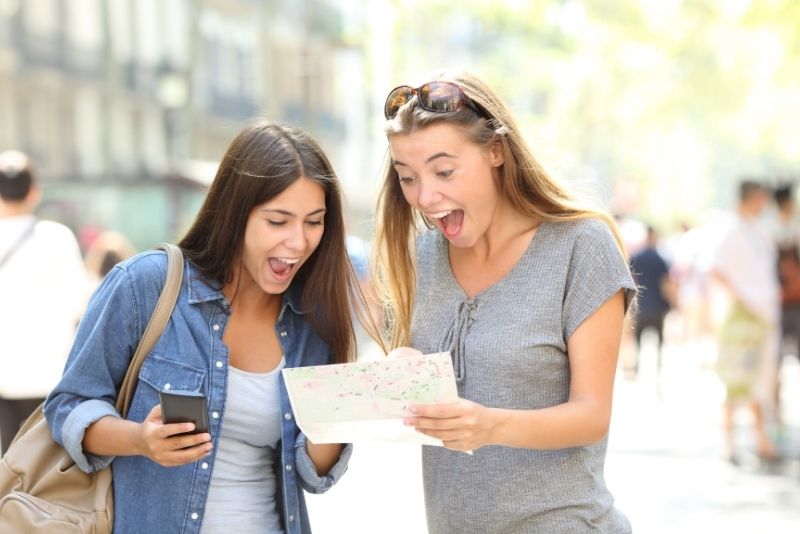 For the future detectives and Amazing Race enthusiasts out there, the hidden secrets of Asheville can be uncovered on a scavenger hunt adventure.
Using an electronic device to guide you, participants are tasked with solving mysteries along the way, as they explore downtown's lesser-known alleyways and interesting nooks and crannies that many visitors simply wouldn't find otherwise.
With a range of options, including a zombie-themed game, there's something for every budget and interest!
58 – Shop 'til you drop at the Grove Arcade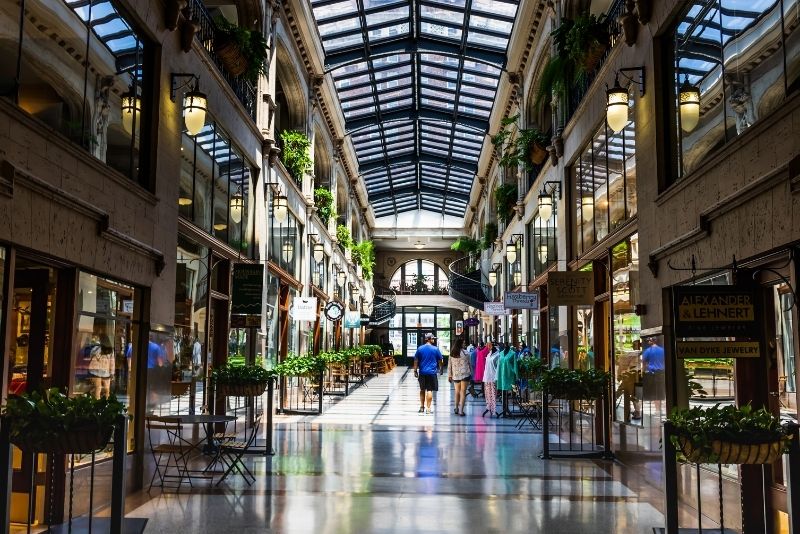 The Grove Arcade — a historic landmark and one of the first indoor shopping malls in America — is now home to more than 100 shops, with everything from art galleries and boutiques to novelty stores.
Walk along the open-air balconies and mezzanines to admire some of Asheville's most impressive architecture, then grab a bite to eat at one of four dining options — including an ice cream parlor.  And don't forget to wander around outside to the Portico Market too, featuring a handful of local independent farmer and crafts stalls.
59 – Grab an egg-ceptional bite at Sunny Point Cafe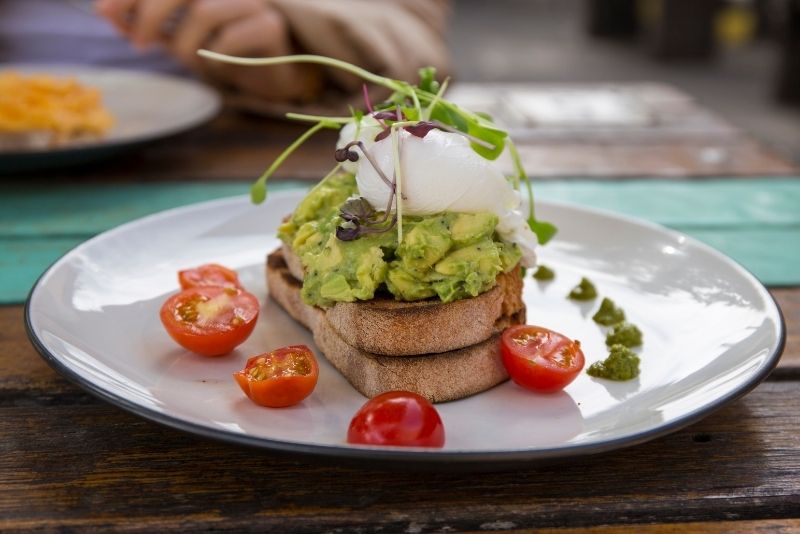 Considered by many locals to be one of the best breakfast joints in Asheville, Sunny Point Cafe is a popular place for a morning meal — and it's not difficult to see why, with lines regularly skirting around the corner.
Featuring an eclectic line-up of sweet (think: stuffed fruity French toast and towering buttermilk pancakes)  and savory dishes (like loaded hash browns and eggs of all shapes and sizes), this bright eaterie is a great place to start the day.
Hot tip: Arrive early to minimize the wait times.
60 – Browse through the offerings at the New Morning Gallery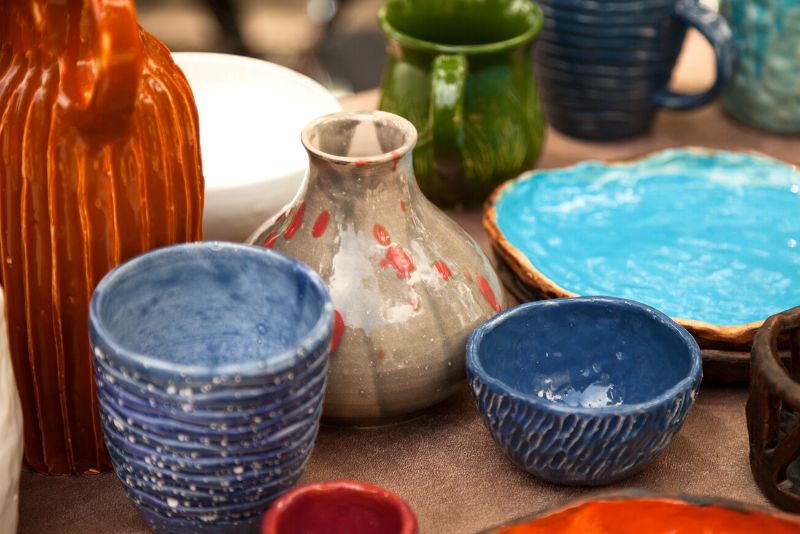 While there's no shortage of cool artistic things to do in Asheville, New Morning Gallery is one of the premier cultural spaces in town. Focusing on domestically produced pieces, the space showcases a remarkable variety of mediums and items.
From elegant home accessories and beautiful jewelry to striking ceramics and objects inspired by Jewish traditions, there's something for everyone to enjoy here. They even carry a popular line of bacon cookers – this is the South, after all!
61 – Take the kids to Mountain Play Lodge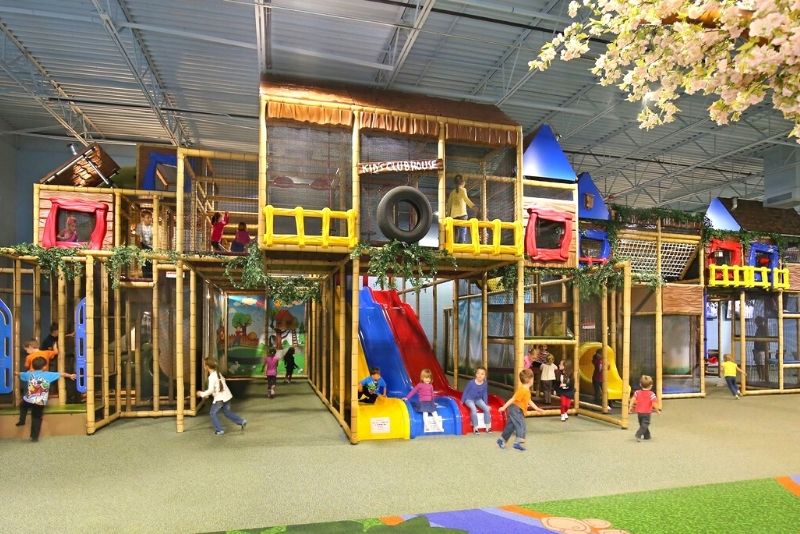 Traveling with youngsters? The Mountain Play Lodge is a great option for family adventures, with an expansive children's play area featuring ropes courses, climbing gyms, and slides that will keep the kids entertained for hours on end — and tucker them out.
With areas dedicated to younger kids, older kids, and a seating area for the parents, it makes for a perfect rainy day activity for the whole family.
62 – Get a little tipsy on a distillery tour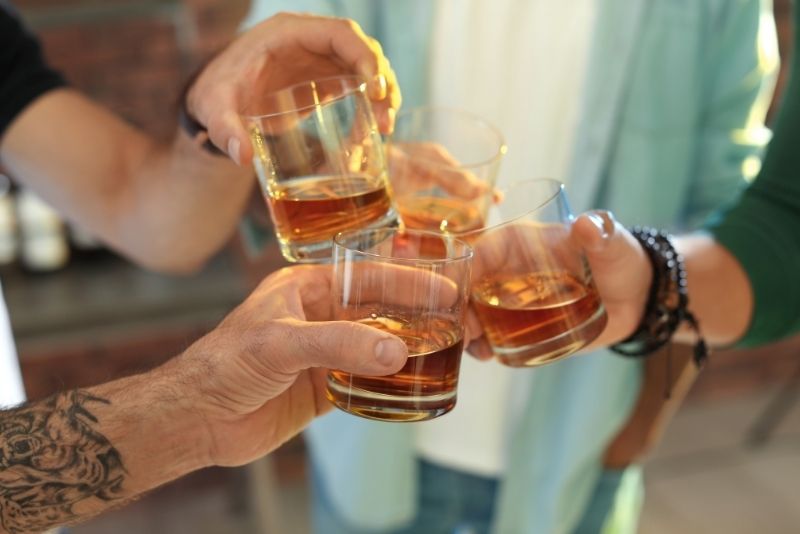 Asheville is a city that loves its craft beer — however, it also loves its harder stuff: whiskey, gin, rum and even moonshine. With that said, it should come as no surprise that Paris of the South is home to some award-winning distilleries.
The Cultivated Cocktails Distillery in East Asheville slings all of the main spirits and sells delicious bitters. Chemist Spirits is all about gin, with the Chocolate Orange Gin Liqueur and Biltmore Rose Gin are rising head and shoulders above the rest.
Dalton Distillery, specializing in vodka and rum, is Asheville's first legal downtown distillery. Eda Rhyne Distilling Company stands out for its use of local plants, famous for its signature Amaro liqueur.
Most of these beloved locales offer behind-the-scenes tours — just call ahead to make sure they're not booked out on the day you plan to visit since numbers might be capped.
63 – Peer into the paranormal on a haunted walking tour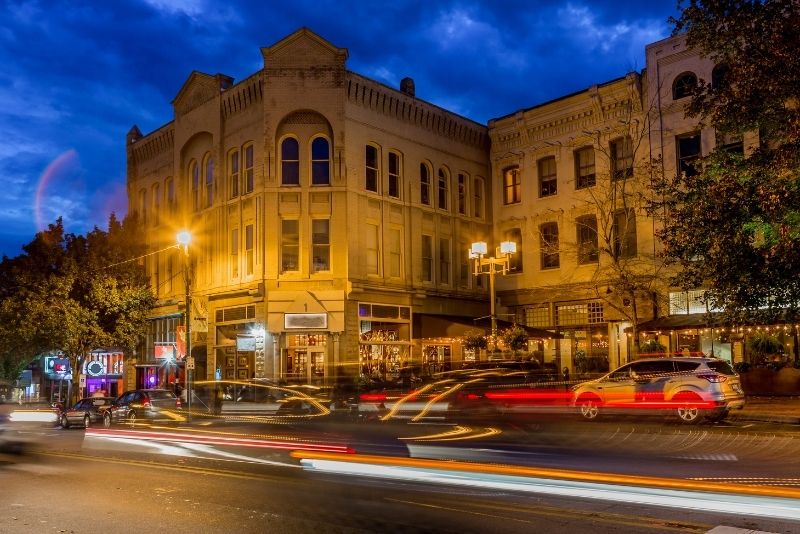 If the idea of ghosts, ghouls, and haunts piques your interest (and we're pretty sure it does if you're reading this), then Asheville offers a host of ghost walking tour options sure to send shivers down your spine.
Covering paranormal places like Helen's Bridge, where it is said the anguished spirit of a grieving mother still resides, as well as the ghoul of the old jail, Thomas Wolfe's ghost, and more.
Warning: This is not for the faint of heart or the young kiddos.
64 – Watch the Montford Park Players put on a live Shakespeare play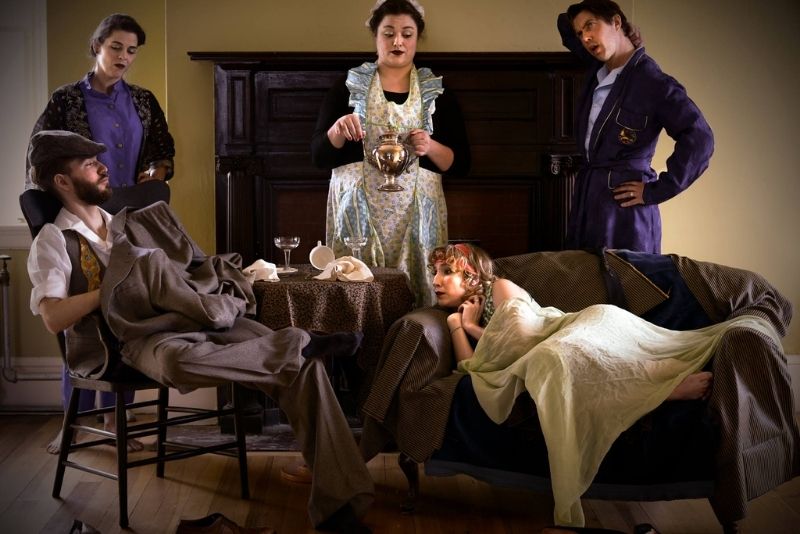 One for the theater enthusiasts, Montford Park Players is a local performing group that puts on an array of high-quality plays and musicals in (yep, you guessed it) Montford Park, made all the more special by the warm summer air.
The shows range from Shakespeare to children's theater, with familiar names such as Romeo & Juliet and James and the Giant Peach taking center stage.
65 – Dine at Tupelo Honey
The go-to eaterie for Southern fare made from scratch, Tupelo Honey is an Asheville staple.
The restaurant, which also has locations in several other states, serves tantalizing Southern dishes like shrimp and grits, fried green tomatoes, honey-dusted Southern fried chicken, mac and cheese waffles, and heaving desserts.
As the flagship Tupelo Honey location, its reputation, atmosphere and service are unmatched.
66 – Catch a show at the Wortham Center for the Performing Arts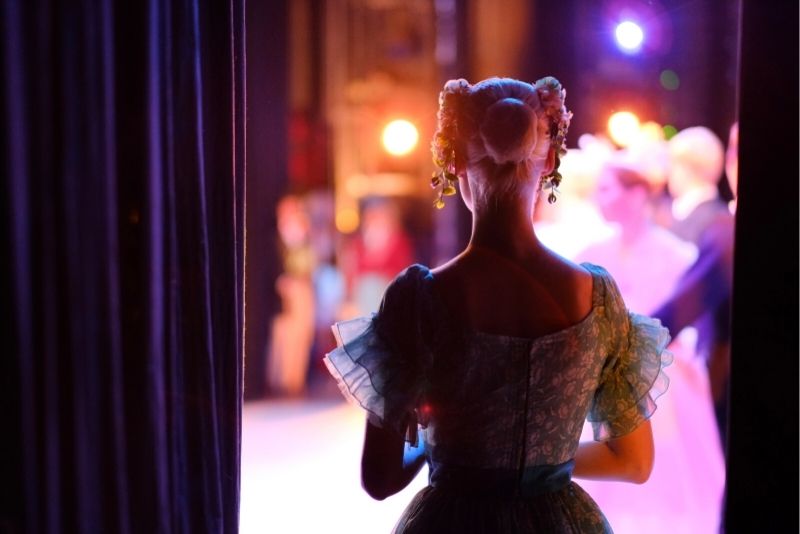 The Wortham Center for the Performing Arts, made up of three different venues and located in Pack Place, is a historic landmark and major performing arts venue.
The center is home to a number of big-name touring musical acts, as well as stand-up comedians and dance troupes.
Whether you end up catching a show at the Diana Wortham Theatre, the Tina McGuire Theatre, or the Henry LaBrun Studio, thanks to the nearby restaurants and bars, a wonderful date night awaits.
67 – Eat something experimental at Jargon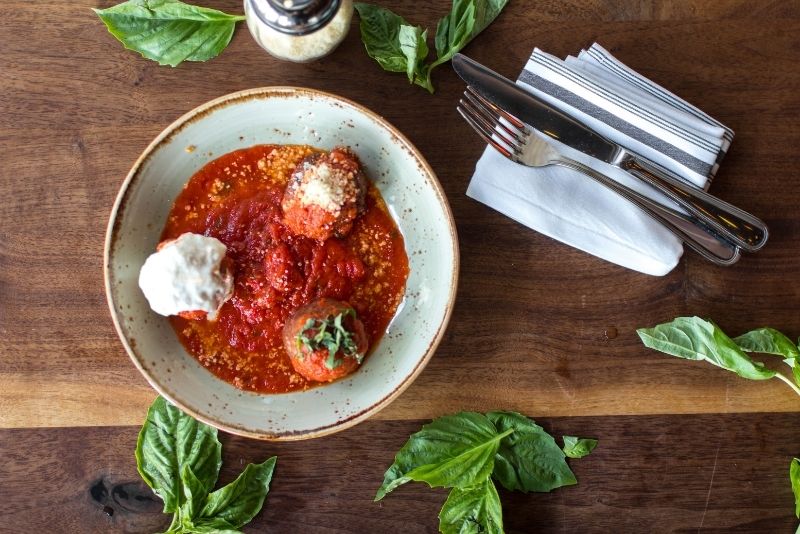 A restaurant and bar located in the eastern suburbs (not too far from Sunny Point Cafe), Jargon is a fantastic place for high-quality and locally sourced food and drinks.
The restaurant boasts an innovative and creative menu that changes seasonally to keep things fresh, kneading its flavorful ingredients into mouth-watering meals like gnocchi, prime rib and potato au gratin.
Hot tip: On those toasty summer nights, grab a fresh cocktail and head for the patio out the back.
68 – Rock out to some live music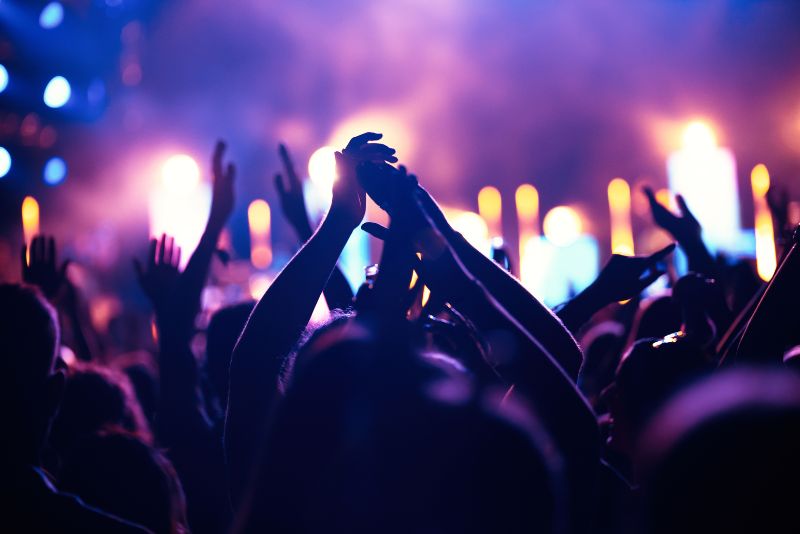 Music is part of the backbone of Asheville, so it figures that there are plenty of world-class venues to enjoy some tunes in town! Check out the eclectic shows at The Orange Peel, or the lively all-ages shows at The Grey Eagle.
Bask in the riverside charms of Salvage Station, or try a trendy meal as you watch the show at Isis Music Hall. And don't miss the fun at Harrah's Cherokee Center, which features everything from traveling performers to the Asheville Symphony.
69 – Meet local vendors at the WNC Farmers Market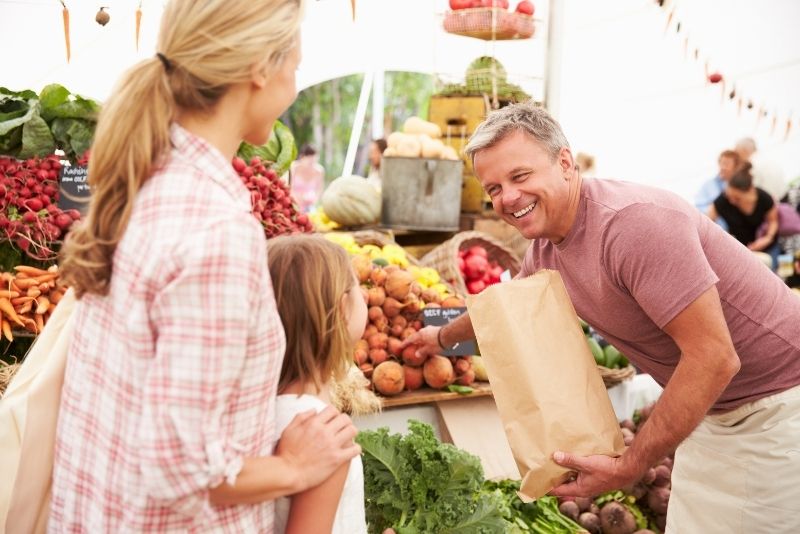 Sitting on a 36-acre site famed for its beautiful panoramic views of the Blue Ridge Mountains in the distance, the WNC Farmers Market is a local market that allows producers of all kinds (from farmers to bakers) the opportunity to sell fresh, high-quality goods directly to consumers.
Located in downtown Asheville every day, all year round, it's an excellent way not only for foodies and locavores alike but also those who are keen to sample all the best the city has to offer in one place.
70 – Wet your whistle with a beer-tasting!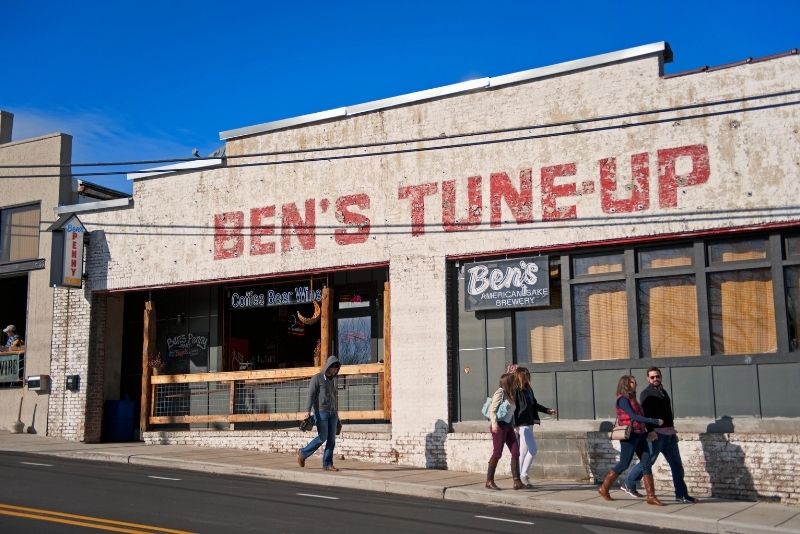 With the coveted claim to fame of having more breweries per capita than any U.S. city, Asheville is a beer lover's paradise.
And while there are loads of bars and restaurants to sip on the good stuff, if you're looking for a truly local drinking experience that offers something new and different each time, head to one of Asheville's many nearby breweries and join an official tasting activity.
But why stop at just one? With both walking and biking tours available, why not hit them all?
71 – Grab a drink at the Off The Wagon Dueling Piano Bar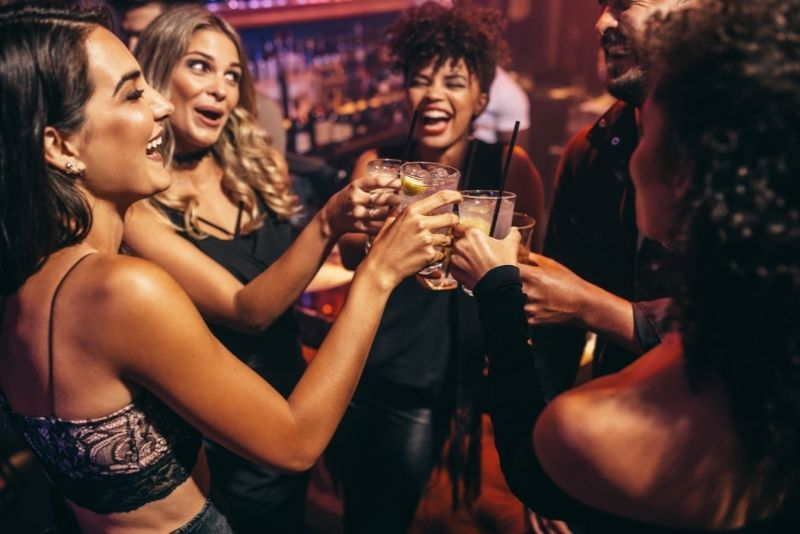 Tucked in the heart of downtown Asheville, Off The Wagon Dueling Piano Bar is undeniably one of the essential things to do in Asheville if you're after a memorable night out with friends.
Picture this: rap battles, but with pianos. That's right — here, expert pianists duel it out on stage, playing some of the best-known songs in their repertoire.
Witty banter and audience participation are all around, meaning you're sure to have a blast at this fun adults-only hangout.
72 – Mingle with thirsty travelers with a 'pubcycle'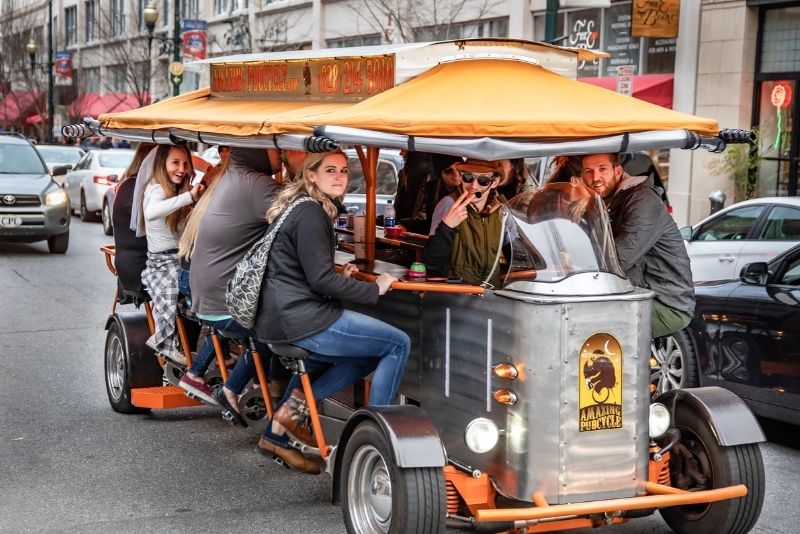 Neatly combining the thrill of a fun-filled city bike tour with ice-cold beer, icebreaker games, and a cool breeze to keep you refreshed, the pubcycle is a fantastic way to experience Asheville and get a little wild along the way.
As you sit on a purpose-built 10-plus-person bike, peddle as much or as little as you like and, after downing a pint or two of liquid courage, make a few new friends!
73 – Dance into the early morning hours at a nightclub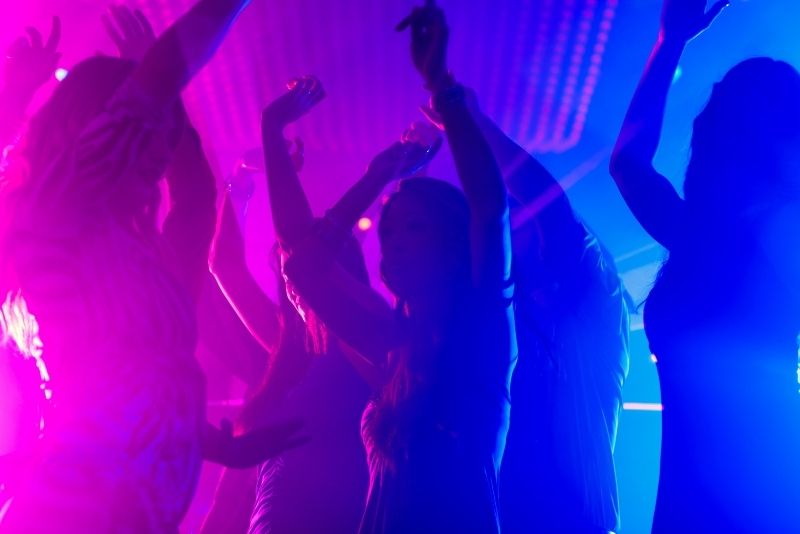 Asheville has something for every kind of nightlife seeker. Hit up one (or all) of these hot spots for a wild night of drinks, dancing and debauchery.
With every night offering a different theme like Thirsty Thursdays or Ladies Night, Room Nine is a unique nightclub with a strict dress code (meaning not too much riff-raff) that's popular with locals and tourists alike.
Known for its live music and craft beers in the evenings, dive-style Lexington Ave venue, Tiger Mountain, takes it up a gear once the DJs hit the floor, with regular themed nights, no cover charge and free-flowing drinks till 2 a.m.
Welcoming a diverse range of on-stage talent from EDM to country music and everything in between, west Downtown club, Paradox, has a massive dance floor perfect for mingling, as well as a VIP section if you're feeling a little swanky.
If it's a drag show you're after, Scandals Nightclub, a decades-old locale in the giant Grove House, is the place to go. And, once the show's wrapped up, the dancefloor starts pumping.
74 – Relax and unwind at a spa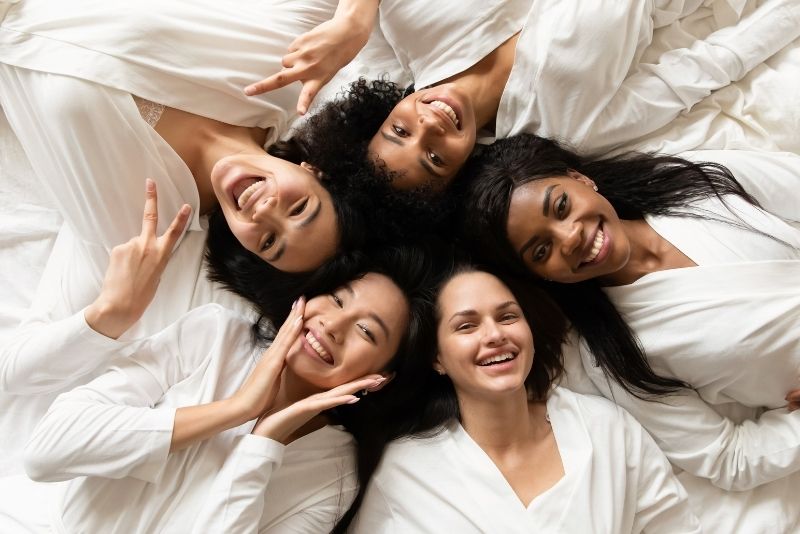 Known for its natural beauty, peacefulness, and seclusion, Asheville is the perfect city to visit if you're looking to relax with a good book or just take it easy.
Channel your inner Vanderbilt at The Spa at The Inn on Biltmore Estate, complete with ingredients from the property itself. Or cycle through the treatments at Poseidon Spa at the Grand Bohemian Hotel, including couple's massages and body scrubs.
And don't miss the unique charms of the Asheville Salt Cave, whose ancient, cavernous walls are said to have healing properties. Be sure to book ahead to get the biggest discounts!
75 – Hop around the rooftop bars!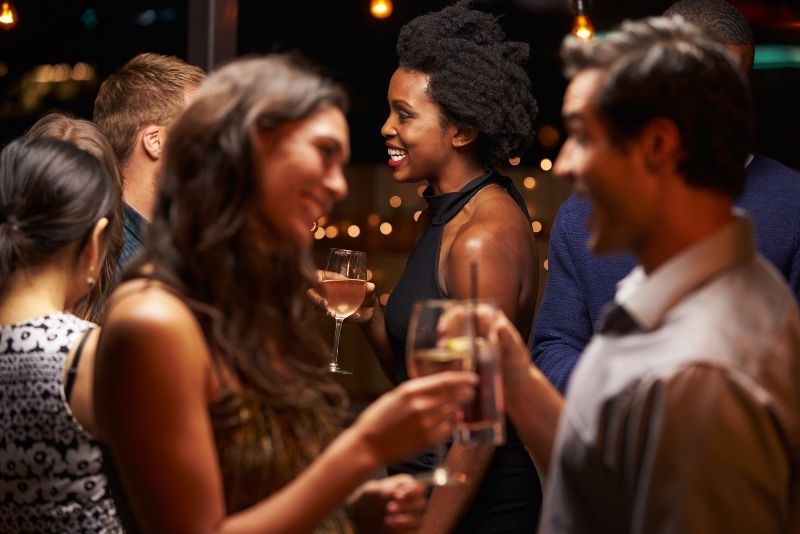 Scenery aside, Asheville is home to a number of amazing rooftop bars that are perfect for spending an afternoon or evening.
Whether you're looking for the best views in town, a chill place to unwind with friends over drinks and snacks, or somewhere great to enjoy live music — there's likely something here for everyone!
If you're after something a little fancy, the Pillar Rooftop Bar at the downtown Hilton Garden Inn is your best bet. With hand-crafted cocktails and views to boot, it screams date night.
Hemingway's Cuba, known for its signature Cuban Daquiri, overlooks the Grove Arcade with the Blue Ridge Mountains in the backdrop. The Great Hall Bar, while not technically on a roof, offers sweeping forest views, and Social Lounge, the city's original rooftop bar, dishes up a popular boozy Sunday brunch.
Arguably the pick of the bunch, however, is Capella On 9 at the AC Hotel by Marriott.
Where to stay in Asheville?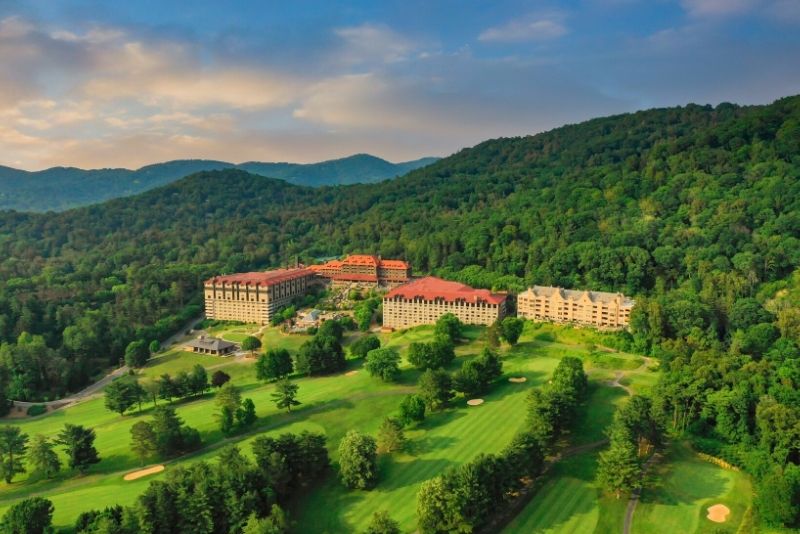 Looking for somewhere to stay? With such a diverse range of hotels, hostels, AirBnbs, and resorts to choose from, deciding where to rest your head isn't as easy as it sounds.
Look no further than the Omni Grove Park Inn. This iconic hotel, which has been standing for over 100 years, is located in a gorgeous setting, just minutes away from downtown Asheville and most of its best attractions.
Hunting for luxury? The aforementioned Omni is a great choice, likewise the Foundry Hotel Asheville and the Inn on Biltmore Estate. Sophistication is synonymous with the Grand Bohemian Hotel Asheville, while The Residences at Biltmore dish up all the amenities you could ask for.
For something a little more affordable, but still with all the basics covered, the Chestnut Street Inn is conveniently located downtown while the Best Western Asheville Tunnel Road offers splendid views of the Blue Ridge Mountains and sits just 10 minutes from the Biltmore Estate.
Regardless of your budget, book early, you can very easily save up to 40% compared to an on-the-day walk-in!
Visiting Asheville on a budget?
If you want to fill your head with knowledge without emptying your wallet, free walking tours are the way to go! Follow your guide through the winding streets and quirky neighborhoods of town, enjoying large landmarks and hidden gems alike.
Remember: while the tour may be free, guides do accept tips, so be sure to bring some extra cash!
Where to go next?
Along with its own distinctive attributes, Asheville's conveniently close to some of the coolest spots in the South, making it easy to keep exploring the region after your time in town.
Heading west into Tennessee, you can visit the tourist meccas of Pigeon Forge and Gatlinburg, with their theme parks, funky museums, and bountiful outdoor adventures; the charming parks, excellent shopping, and historic treats of Chattanooga; or the museums, sporting events, and vibrant nightlife – including plenty of music, of course – in Nashville.
Dipping southwards into Georgia, you have the bustling city of Atlanta, which teems with history, culture, and culinary delights, plus tons of family-friendly entertainment featuring everything from sea life to thrill rides.
And if you'd prefer to go east, you can enjoy even more of what North Carolina has to offer, including the lively arts scene and many outdoor activities of Charlotte, and the great food and world-class cultural institutions of Raleigh.
Final thoughts
Quirky, classy, and comfortable, this marvelous little Appalachian town will quickly make an imprint on your heart.
Everybody can find some fantastic things to do in Asheville, and with so much variety, you may even be able to venture out of your comfort zone and find some new passions.
Rest assured, your first visit probably won't be your last!