After decades of being overlooked by most travelers outside of its neighboring states, Gatlinburg is finally started to get the international attention it deserves, ascending the popularity ranks exponentially over the last decade. With an amusement park and ski resort at its center, plus some of the nation's premier hiking and adventure opportunities, the gateway to the Great Smoky Mountains is a must-visit destination for anyone planning a trip through the charming South.
Gatlinburg might be small in size but it's the furthest thing from small in the entertainment department. With moonshine distilleries and cider breweries, live theater shows, haunted houses, and farmers' markets, there's something for everyone in this underestimated town.
If you're on the hunt for exciting, fun things to do in Gatlinburg, Tennessee, look no further.
1 – Quench that thirst for adventure at Anakeesta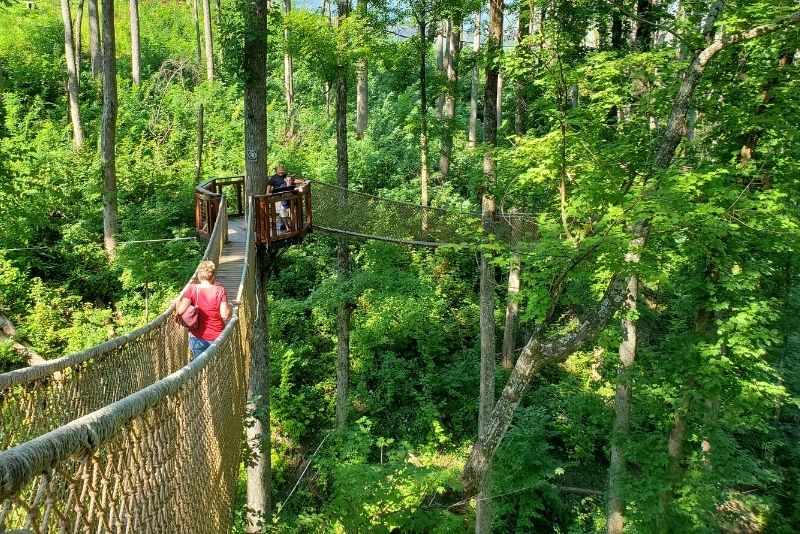 One of the most popular adventure parks in Gatlinburg, Anakeesta boasts a wide array of thrilling experiences. Zoom down the zipline, take a relaxing gondola ride, take a selfie with a (fake) bear, or overcome obstacles in the treetop play area — no matter how strong you're appetite for adventure, it's a great day out for the whole family and one of the most fun things to do in Gatlinburg.
2 – Get spooked on a Gatlinburg ghost tour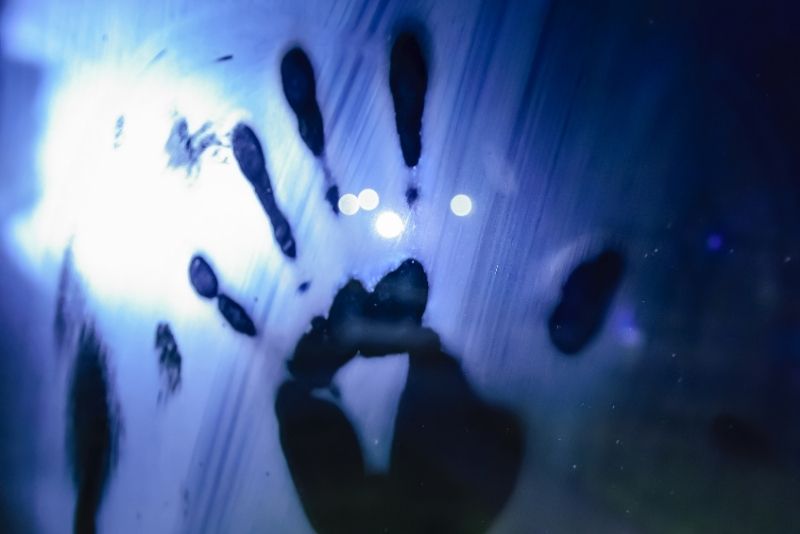 Long has Gatlinburg been known for its paranormal forces, with ghosts and ghouls rumored to inhabit the city's streets. Bask in the supernatural presence with a 1-mile, 2-hour walking tour under the moonlight (a ghost's favorite time of day), hear the sinister stories, view real haunted photographs, and even test out some actual ghost-hunting equipment. It's not your typical tourist activity but it's an unforgettable one nonetheless.
3 – Take a front-row seat at the Iris Theater's Impossibilities Magic Show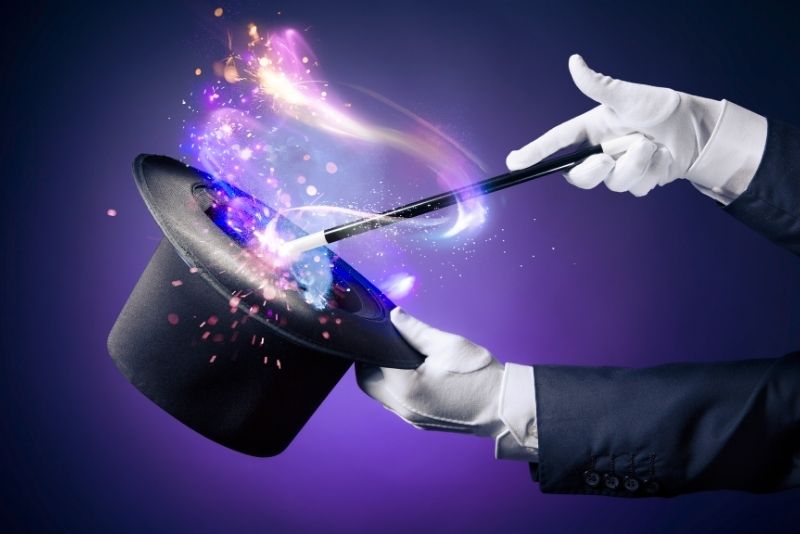 Be amazed at Gatlinburg's number one show, the mind-shattering performance of the internationally-renowned magician, Erik Dobell! The beloved Impossibilities Magic Show combines hilarious mayhem with optical illusions, and thanks to its housing in a small, intimate theatre, there's always lots of interaction with the audience.
4 – Play for hours at the Gatlinburg Pinball Museum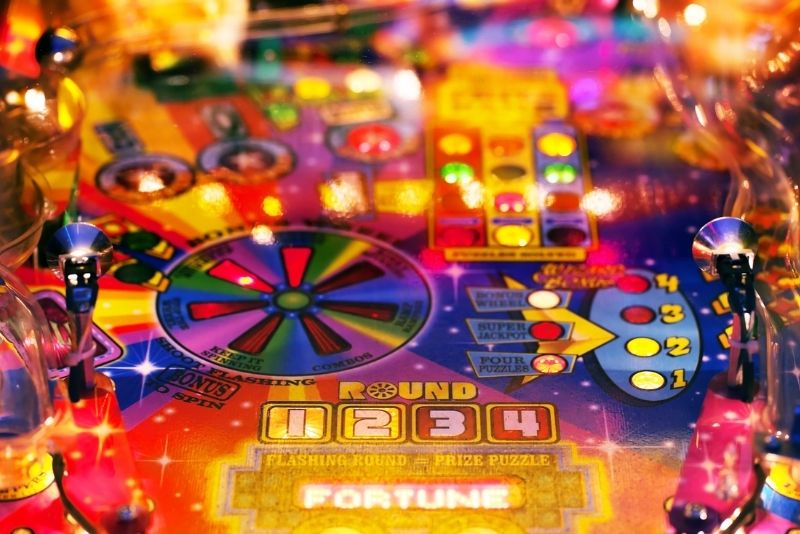 With over 100 nostalgic pinball machines and retro arcade games lining its walls, for any diehard gamer, Gatlinburg Pinball Museum is one of the best activities in Gatlinburg, period. Admission includes unlimited play, no quarters or tokens required, which means that guests can button-mash to their heart's content on classics like Space Invaders, Pacman, Lord of the Rings, and so many more.
5 – Check out the Sweet Fanny Adams Theater Variety Show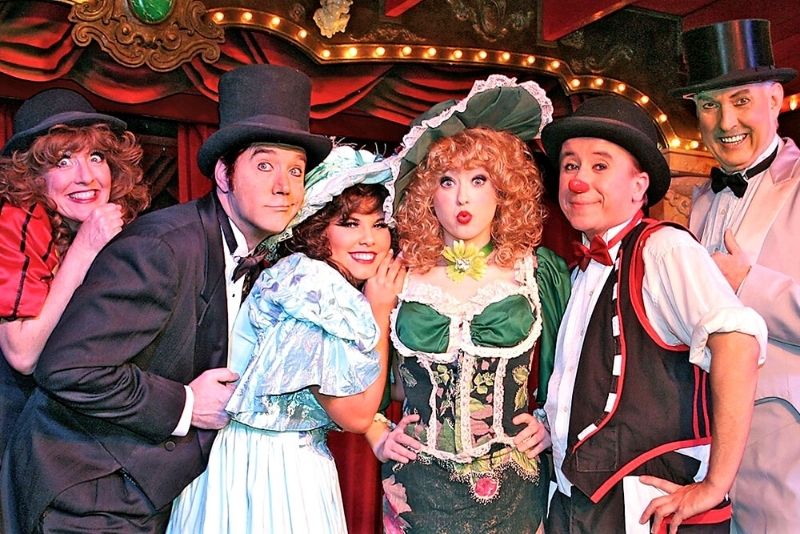 If you're after a night of laid-back entertainment, drink in one hand, snacks in the other, look no further than the Sweet Fanny Adams Theater Variety Show. With toe-tappin' songs, dances, and comedy routines, this vaudeville-style musical comedy show is a regular delight. Brings the kids too — it's family-friendly and promises non-stop laughter.
6 – Hike beautiful trails in the Great Smoky Mountains National Park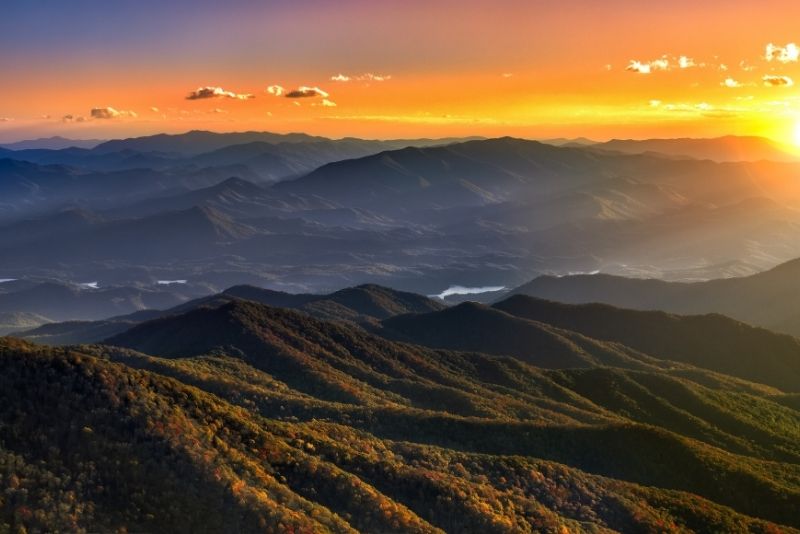 While there's no shortage of things to do within the Gatlinburg city limits, the city's true selling point is its proximity to some of the nation's most beautiful natural hiking trails.
Tackle 1,500 feet of elevation gain on the Rainbow Falls Trail, with a stunning waterfall reward at the finish line; ascend the relatively easy ¾-mile track to Mingo Falls; or take the 5-6-hour Alum Cave Trail to Mount LeConte, a great workout without even greater views along the way.
7 – Zoom around the forests on an off-road buggy tour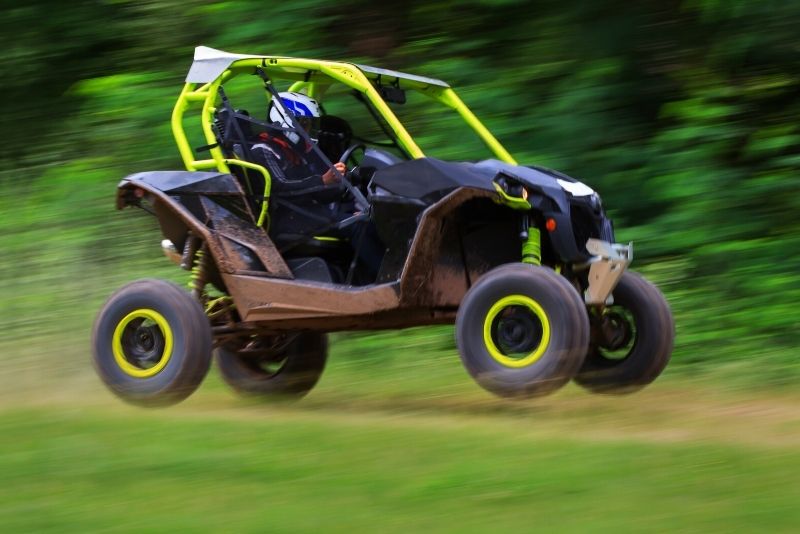 Explore Gatlinburg and its surrounding Great Smoky Mountains in a unique, adventurous way: behind the wheel of an off-road specialty vehicle. These buggies can tackle the harsh off-road terrain with ease, allowing you to witness areas untouched by the majority of locals and tourists.
Two-, four-, and six-seater UTVs are up for grabs at venues like KanamFun and Mountain Life UTV Rentals, including the slick Polaris Slingshot.
8 – Cool off at the Wild Bear Falls Water Park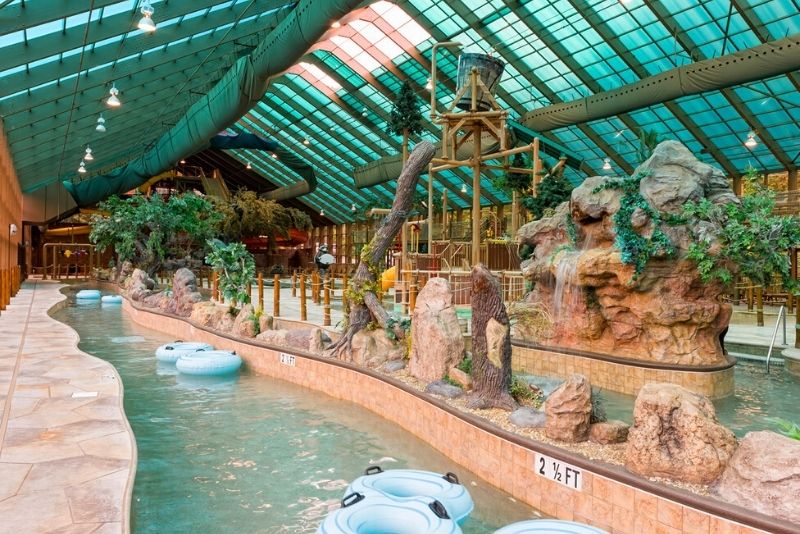 For days when the sun's just refusing to shine, the indoor Wild Bear Falls Water Park is the answer. Boasting rides like the lazy river, a pair of water slides, and kid-friendly pools and splash zones, it's the perfect place to let the youngsters loose for an afternoon. The Wild Bear waters are kept warm year-round, so there's rarely a poor time to visit.
9 – Muster up some courage at the Mysterious Mansion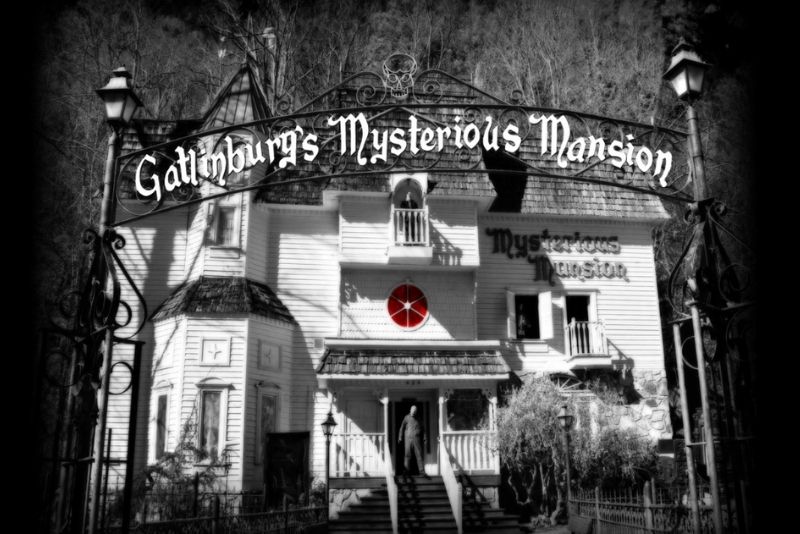 Officially Gatlinburg's oldest and spookiest haunted house, this three-story Victorian mansion on River Road has been welcoming brave visitors for over 35 years. With secret passageways, winding staircases, and creepy dark corridors, if you were planning to release any bottled-up screams, this is the place. Make sure to keep your wits about you — spooky surprises await around every corner at the Mysterious Mansion.
10 – Admire the sharks at Ripley's Aquarium of the Smokies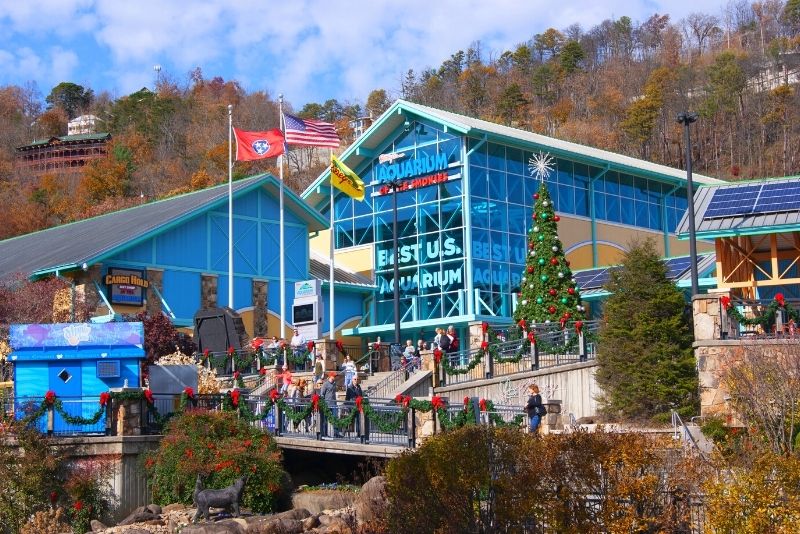 Within walking distance from the Mysterious Mansion (making for the perfect back-to-back itinerary), Ripley's Aquarium of the Smokies takes all the marine wonder of your typical aquarium and fuses it with the amazing interactive experiences of Ripley's museum.
Over 10000 exotic sea creatures scatter the attraction, spread across 10 uniquely themed galleries. For something extra special, opt for a glass-bottom boat ride!
11 – Sample fruity blends at Tennessee Homemade Wines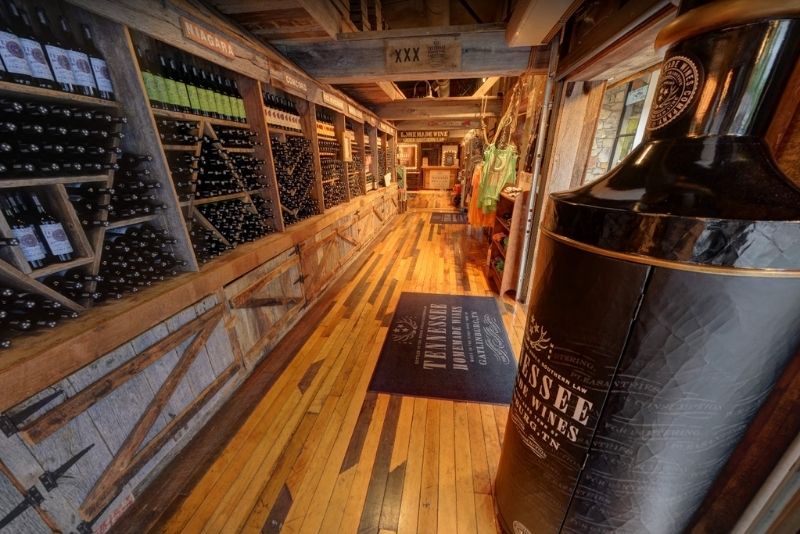 If Moonshine just doesn't cut it, grab a glass or two of some of the state's finest blends at Tennessee Homemade Wines. The winery sells original blends, however, they're known for their soft and delicious fruit-infused wines, namely the Blueberry Bammer, Proper Peach, Fine Blackberry, and White Knuckle Grape.
This watering hole is open 7 days a week, offering free tastings throughout.
12 – Witness the city's best views at Gatlinburg SkyLift Park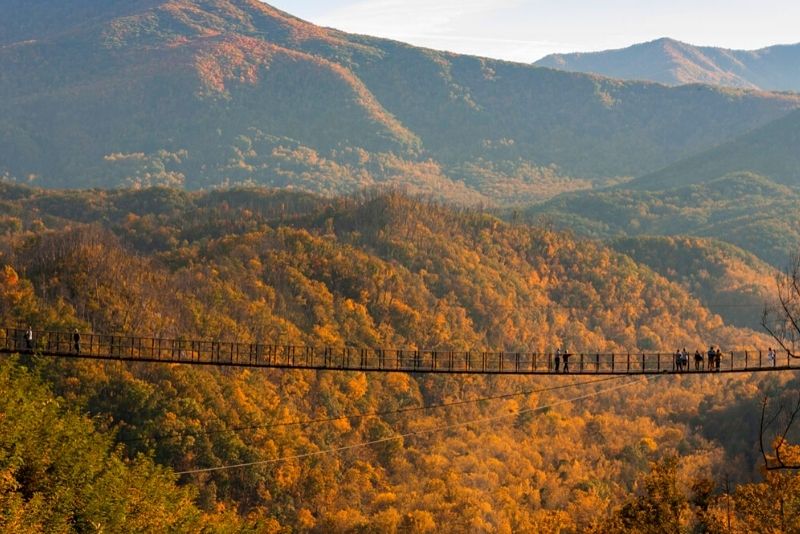 Boasting remarkable and unbeaten views of the Great Smoky Mountains, the Gatlinburg SkyLift Park is an essential spot for any visitor. The spectacular SkyBridge claims the title of the longest pedestrian suspension bridge in North America, with glass floor paneling adding another dimension of adventure.
Meanwhile, the Sky Lift soars five hundred vertical feet to the top of Crockett Mountain, offering even more incredible vistas. It's one of the essential things to do in Gatlinburg, without a doubt.
13 – Ride the Mountain Glider at Rowdy Bear Mountain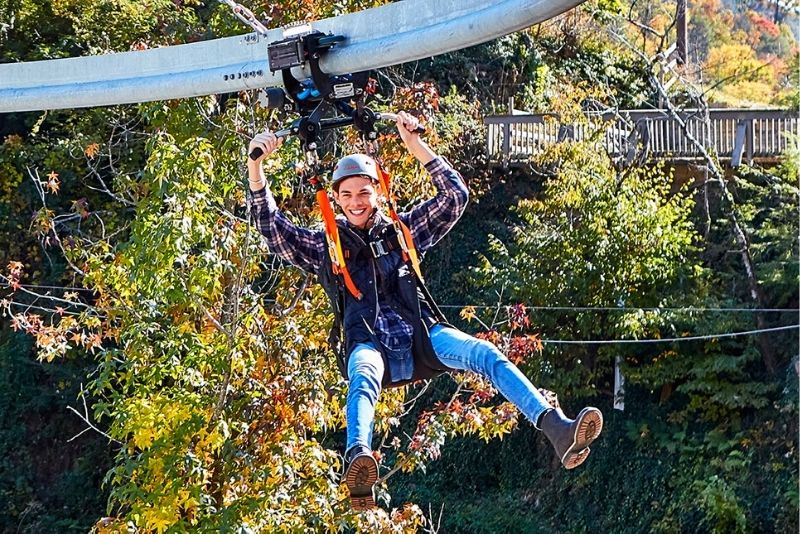 An outdoor destination perfect for adventure seekers, Rowdy Bear Mountain sports two of the city's favorite open-air rides: the alpine mountain coaster that reaches speeds of up to 35mph as it twists through the woods of Rowdy Bear Mountain, and the world-first Mountain Glider (picture a hang glider crossed with a zipline).
Charge those camera batteries — you'll almost certainly spot a few bears along the way.
14 – Shop till you drop at The Village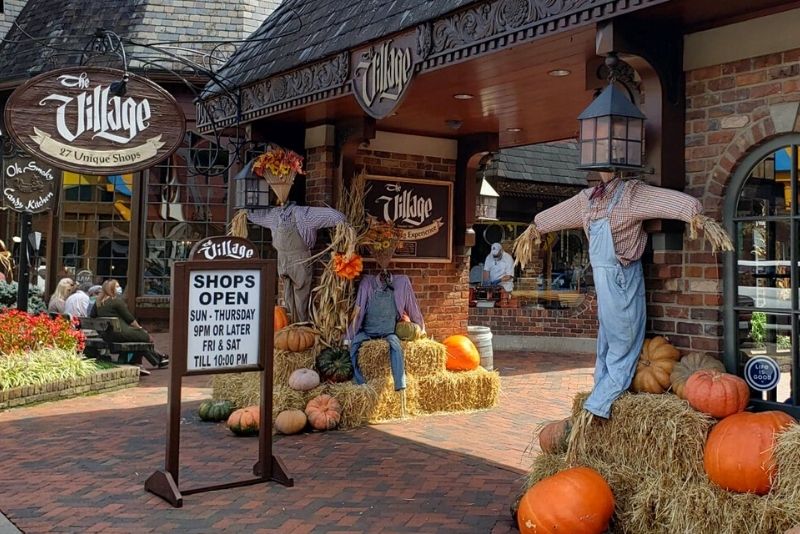 Nested in downtown Gatlinburg lies the Smokies' most unique shopping destination, The Village district. Here you'll discover 27 intriguing boutiques, restaurants, and galleries, all brought together with an old-timey European flare.
Make sure to stop into Coffee & Company, Gatlinburg's oldest roasting coffee shop, and grab a personalized souvenir for your jealous friends at U Name It.
15 – Carve powder at the Ober Gatlinburg Amusement Park & Ski Area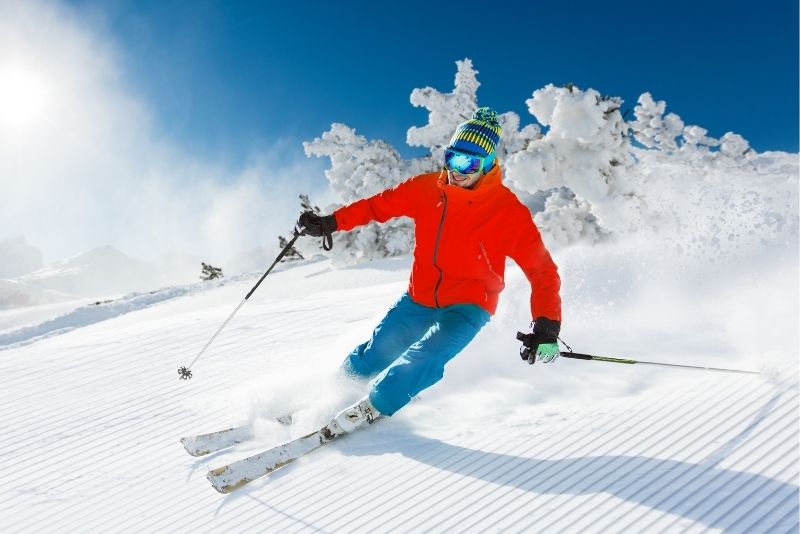 The family-friendly Ober Gatlinburg Amusement Park is worth a visit no matter the season. During the snowy wintery months (typically early December to mid-March), it transforms into a magical skiing and snowboarding resort complete with indoor ice skating and wildlife encounters; throughout summer and fall, choose from a number of beautiful hiking trails, plus an Alpine Slide and water rides.
16 – Get buzzed at the Tennessee Cider Company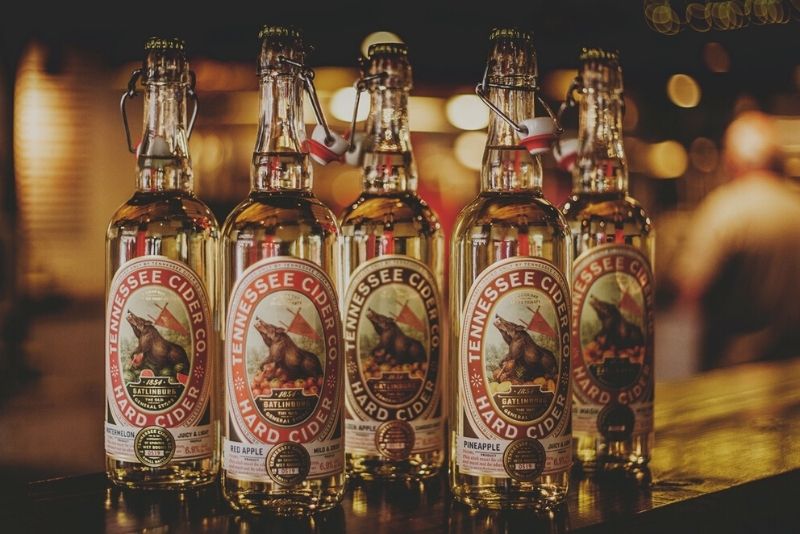 Centrally located on the parkway in downtown Gatlinburg, this watering hole is heaven on Earth for cider lovers. Try a few of the local creations in Gatlinburg's first Hard Cider tasting room, before grabbing a take-home growler or two of your favorite flavor. After perhaps spending a couple of hours across the road at the Ripley's Aquarium, the Tennessee Cider Company is the perfect spot to sit back and unwind.
17 – Check out the Batmobile at the Hollywood Star Cars Museum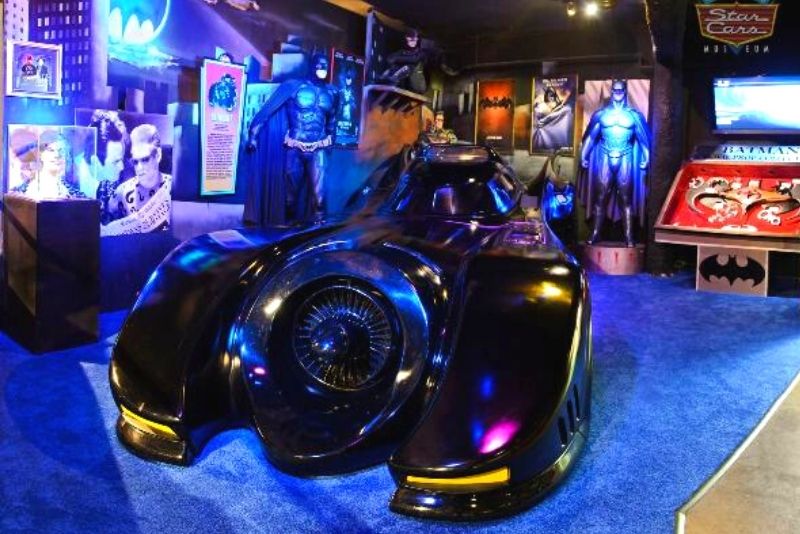 If you're searching for fun things to do in Gatlinburg, it's hard to go past an up-close experience with the real 1966 Batmobile! Transport yourself to the Tinseltown backlot in this unique museum, with 40 authentic vehicles from films like The Dukes of Hazzard and Fast and Furious lining the floor.
Besides the film cars, the museum also showcases the former rides of celebrities like Paul McCartney and Elvis Presley!
18 – Visit the Christ in the Smokies Museum & Gardens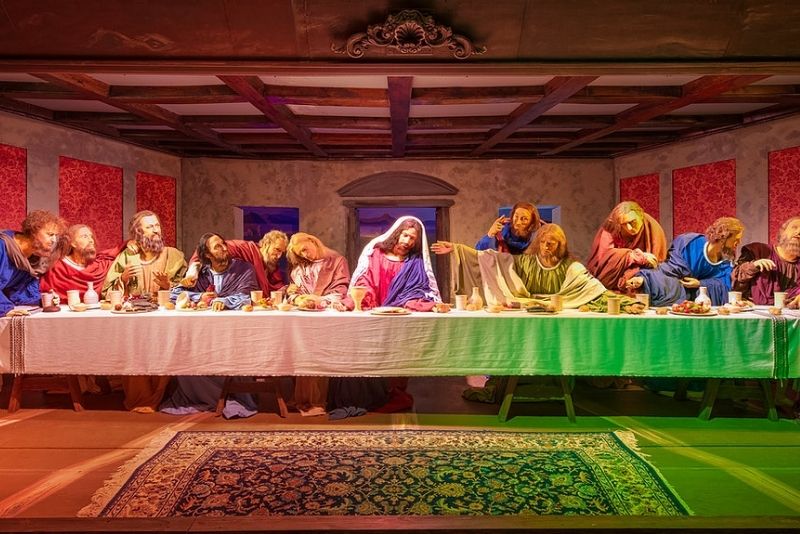 Thanks to life-size recreations, 3D Dioramas, dramatic lighting, and special effects, this Christian-themed attraction brings Bible stories to life in never-before-seen ways. Besides the well-told stories under the main roof, the relaxing and serene sculpture-lined garden is a crowd favorite.
For an unexpected bonus, parking is free, which allows you to wander around other nearby attractions once you're done without having to repark.
19 – Reach speeds of 30 mph on the Gatlinburg Mountain Coaster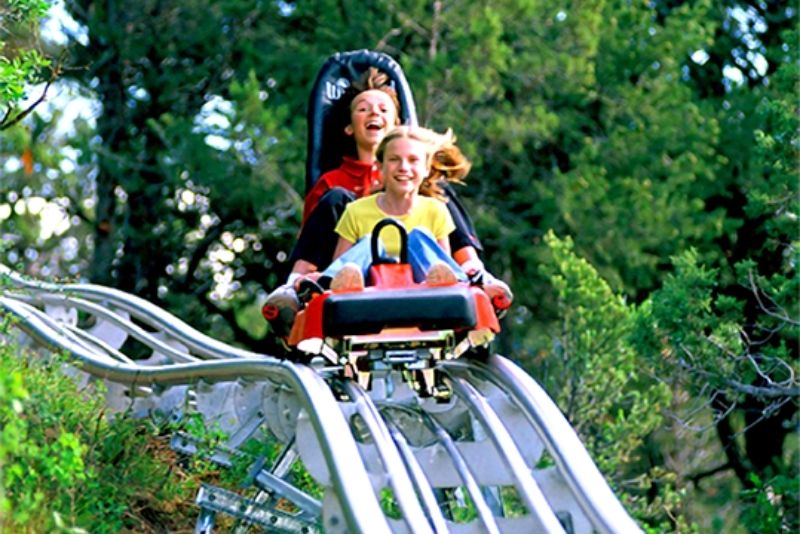 Regularly considered one of Gatlinburg's best alpine coasters, the Gatlinburg Mountain Coaster is a must-do for any thrill-seeker visiting the area. At speeds of over 30 mph, riders twist and turn down the mountainside, welcomed by fantastic views of the Smokies and beyond! When the fall colors are out to play, there's nothing quite like it.
Ride solo or with a partner by your side — either way, it's an incredible experience
20 – Ascend the Gatlinburg Space Needle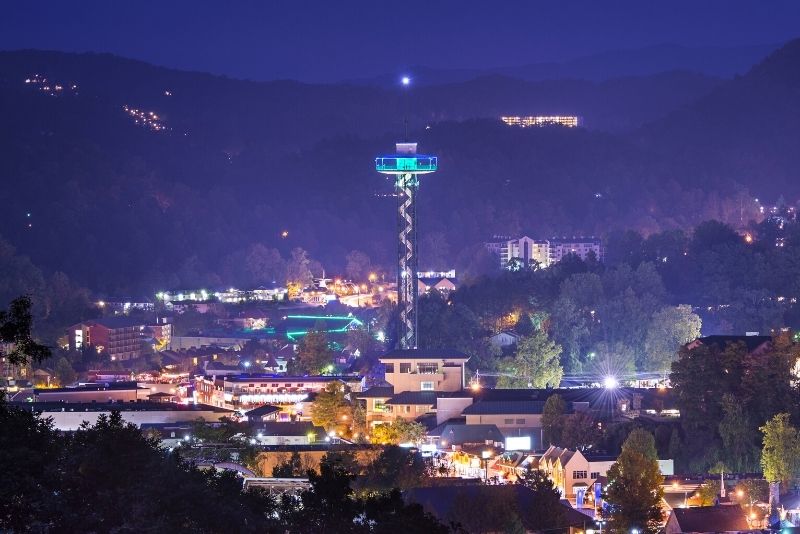 Sporting 360-degree views of the Smoky Mountains, with downtown Gatlinburg beneath your feet, the 407-feet-tall Space Needle is the premier inner-city observation deck. Don't toss-up between the clear day or sparkling night views, head to the top just before sunset for the best of both worlds.
21 – Get weird at Ripley's Believe It or Not! Gatlinburg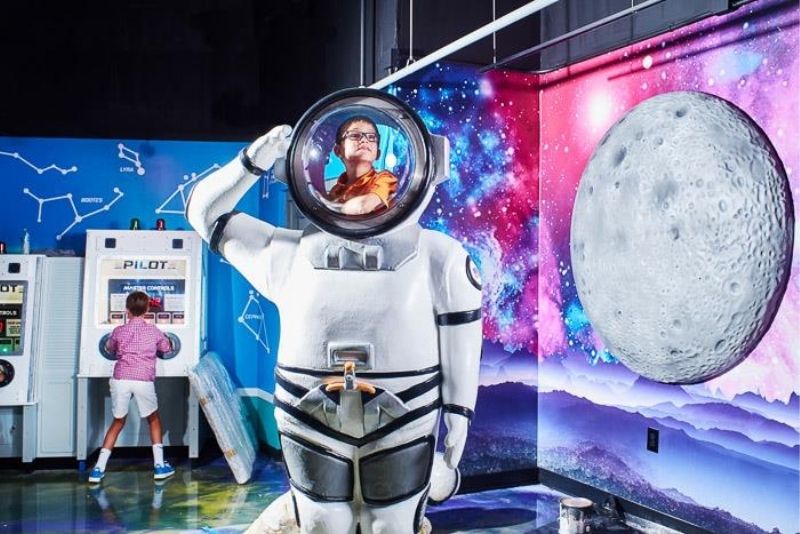 Proudly self-labeled as the "weirdest place in Gatlinburg", Ripley's Believe It or Not! has been delighting, confusing, and entertaining guests of all ages for decades. With over 600 unique exhibits encompassing interactive installations, wacky tidbits, optical illusions, and a space shuttle made from jelly beans, it's easily one of the best things to do in downtown Gatlinburg.
22 – Strap into the 7D Dark Ride Adventure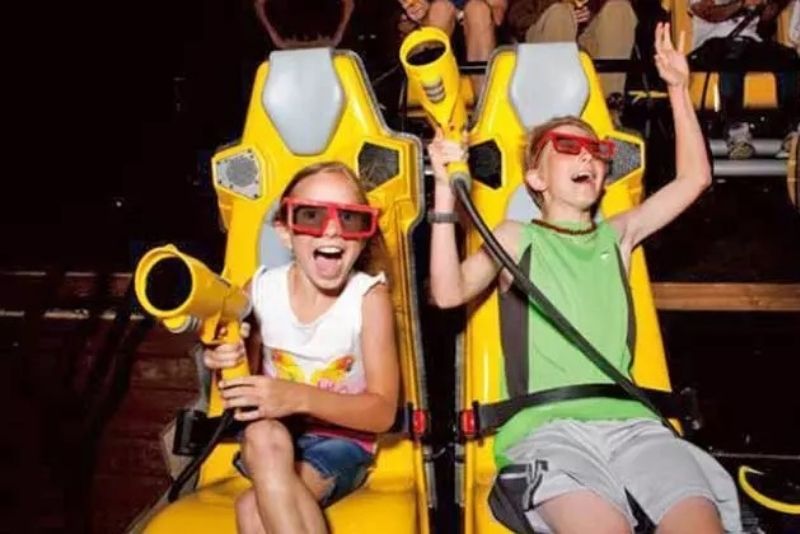 A quick, entertaining activity during any day of exploring the main Gatlinburg strip, the 7D Dark Ride Adventure is an immersive, exciting activity for kids and adults alike. Combining a roller coaster with shoot-em-ups, 3D visuals, sensory triggers, and epic special effects, this ride simply needs to be experienced to truly understood. The staff is notably welcoming and friendly too, which never goes astray.
23 – Wander through Ripley's Haunted Adventure (if you dare)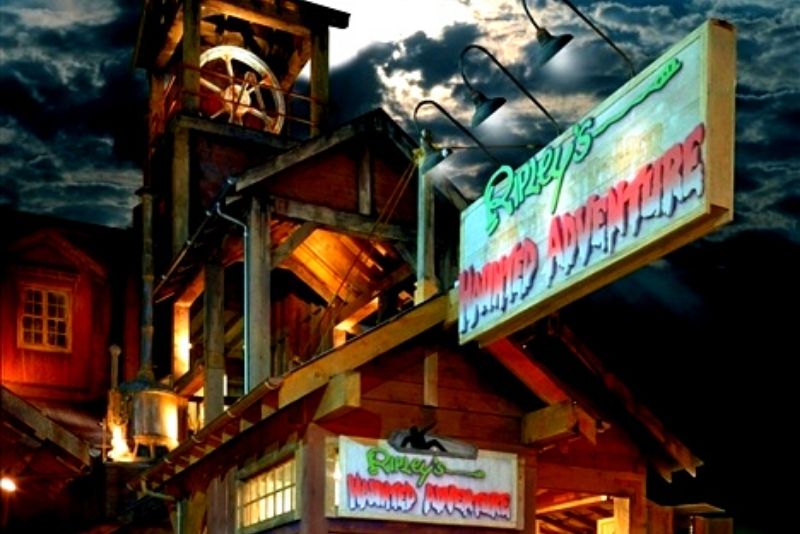 One of a number of Ripley's-branded attractions throughout the city, Ripley's Haunted Adventure is ready to scare the socks off anyone brave enough to enter its doors. The live actors, spooky makeup, and frightening special effects combine to make this one of the scariest attractions in Tennessee. Do you have what it takes?
24 – Get lost in the Amazing Mirror Maze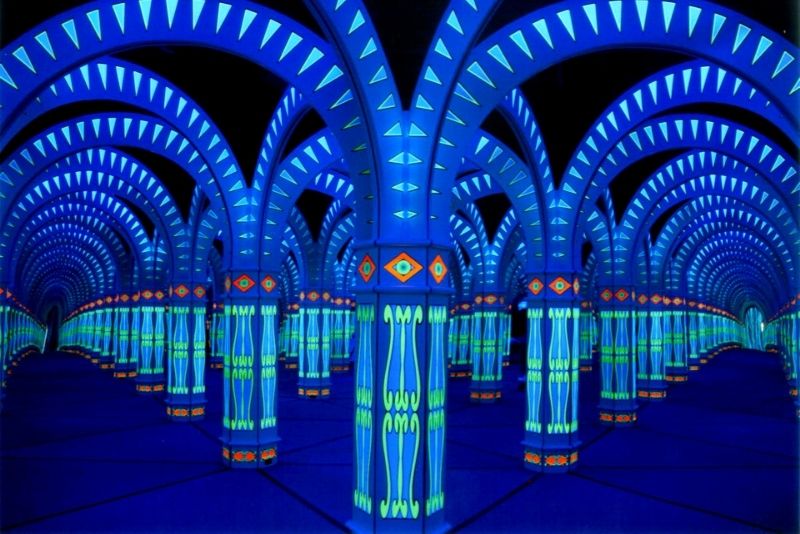 You'll be spoiled for choice at Amazing Mirror Maze, one of the most popular family-friendly attractions in Gatlinburg. As the one-stop-shop for fun, immersive activities, this beloved locale offers a delightfully disorientating mirror maze and a blacklight mini-golf course to go with it. While available separately, grab the combo ticket for the best bang for your buck.
25 – Hold onto your seat in Ripley's 5D Moving Theater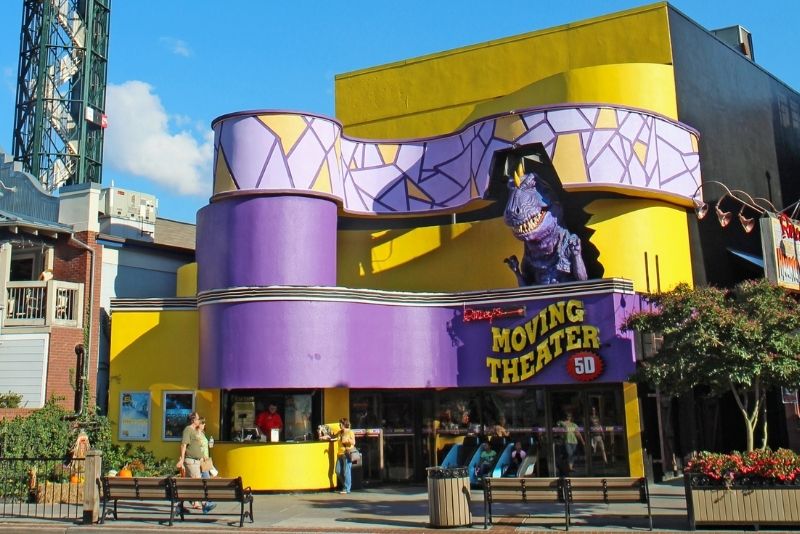 That's not a typo, the theater at Ripley's Gatlinburg really is moving! Take the classic cinematic spectacle to the next level by strapping yourself into one of the motion seats and letting the state-of-the-art digital effects work their magic. After watching either Roadhoggers or Winter Wipeout, you'll never think of movies the same way again.
26 – Try some homebrew at the moonshine distilleries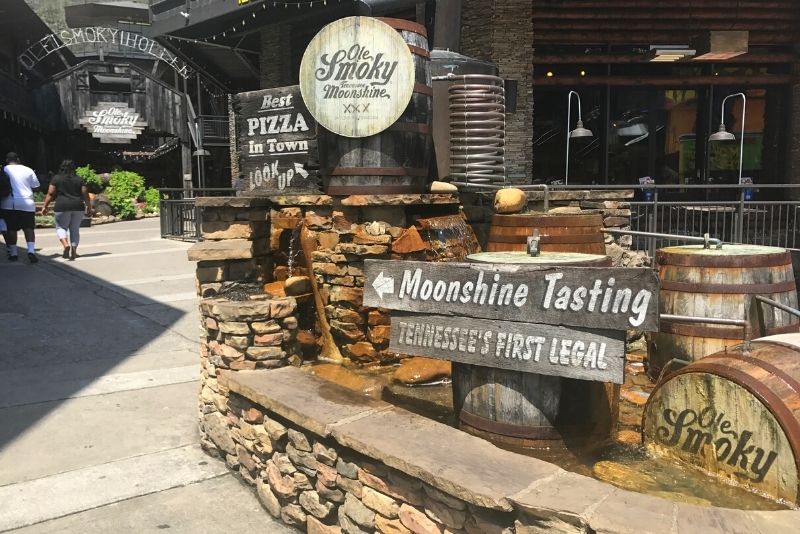 It wouldn't be a trip to Tennessee without at least a taste of the region's infamous moonshine — otherwise known as hooch or homebrew. While there's plenty of questionable brews out there, by far some of the highest-quality samples can be found at America's most visited distillery, Ole Smoky; and the rustic, award-winning Sugarlands Distilling Company.
For those keen to go behind-the-scenes and learn about the drink's distillery process and historical significance, sign up for a walking tour. We'd say it's unforgettable, but that depends on how much you drink…
27 – Practice pirouettes at the ice skating rink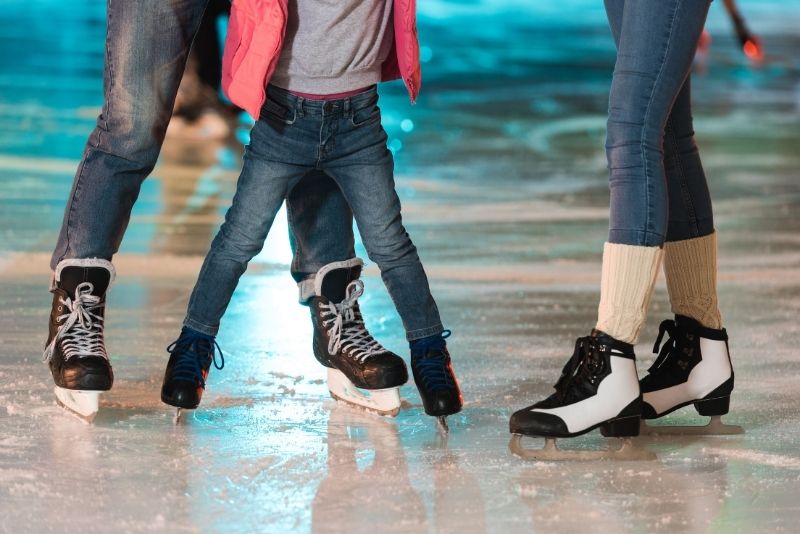 Whether you're a newbie or a seasoned pro, the extra-large ice skating rink at the center of Ober Gatlinburg's enclosed mall is an ideal activity for anyone to spend an hour or two. Skate rental and lessons are available, so just bring yourself and a can-do attitude!
If your visit happens to align with the holiday season, check the calendar for the annual  Christmas on Ice events.
28 – Rocket down Ober Gatlinburg's Ski Mountain Coaster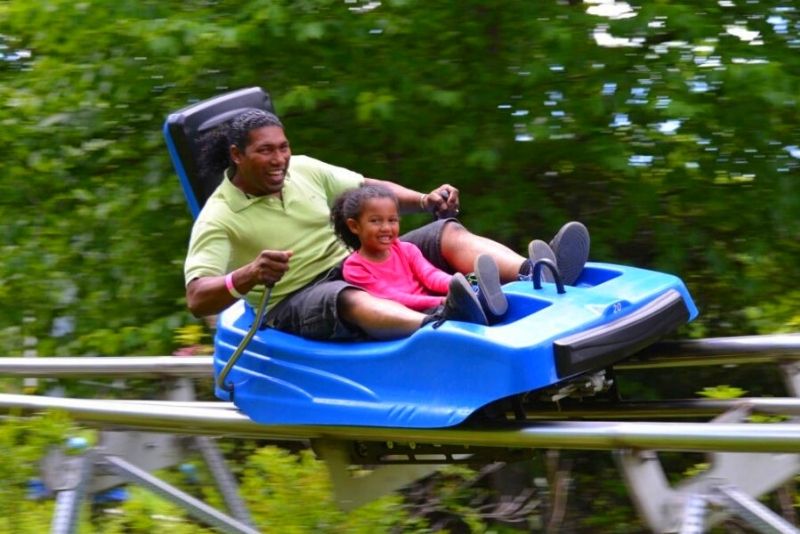 The Ober Gatlinburg resort has plenty to offer year-round, however, two of its thrilling attractions reign supreme: the Ski Mountain Coaster and the Alpine Slide.
On the former, guests twist down 3,750 feet of the mountain at speeds of up to 25 mph (or at their own pace, of course), while on the latter, youngsters race against their friends in sled-like carts across a winding 1800-feet-long track.
29 – Ride bumper cars… on ice!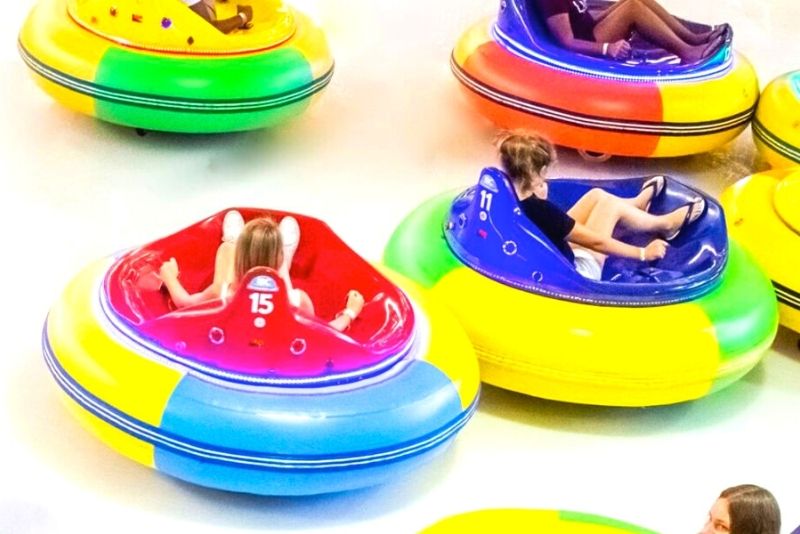 All the fun of the classic bumper car ride, thrown into an ice rink! That's Ober Gatlinburg's Ice Bumper attraction in nutshell — one of the most enjoyable things to do in Gatlinburg for kids and teenagers.
With joystick in hand, rides can spin in circles around the rink or smash (safety) into their friends before finishing off and making a beeline for Ober's Alpine Slide or Mountain Coaster.
30 – Support local business at the Great Smoky Arts & Crafts Community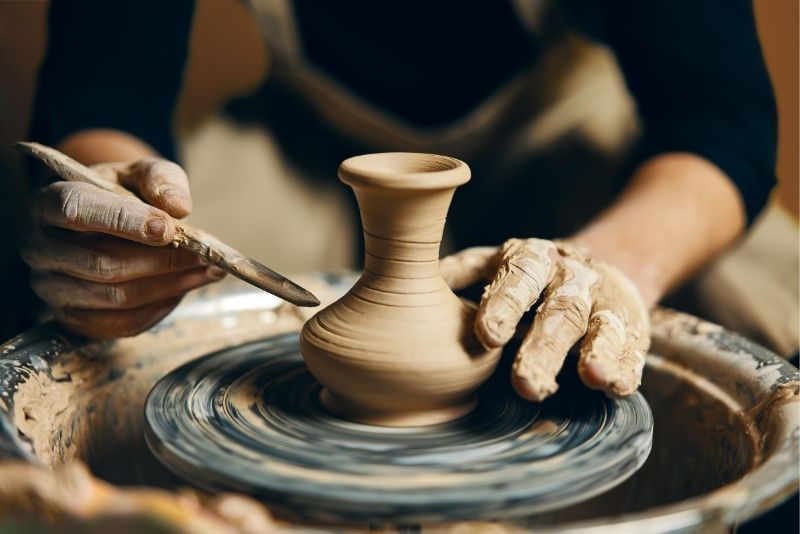 With over 100 artists and craftsmen lining its corridors, the Great Smoky Arts & Crafts Community is officially the country's largest independent artisan organization.
A drive down the 8-mile-loop road will uncover weavers, watercolor artists, soap makers, potters, and so many more unique vendors, making for the perfect selection of handcrafted, Appalachian souvenirs.
31 – Race against the clock in an escape room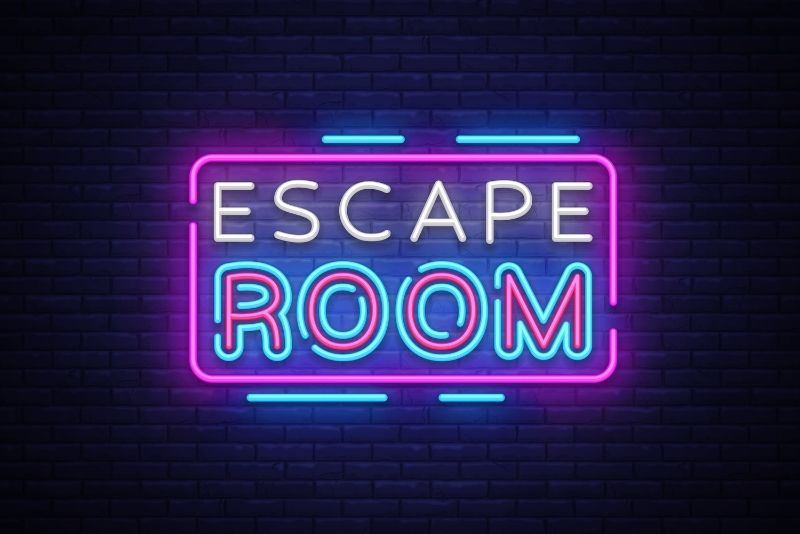 Test your puzzle-solving abilities and prove once and for all who the smartest family member is with a 60-minute detective challenge in one of Gatlinburg's immersive, always-entertaining escape rooms. Pick from themes like the Indiana Jones adventure, the Haunting of Hyde House, the Realm of Illusions, and even the Moonshine Hill Hootenanny!
32 – Conquer Goliath at the Firefox Mountain Adventure Park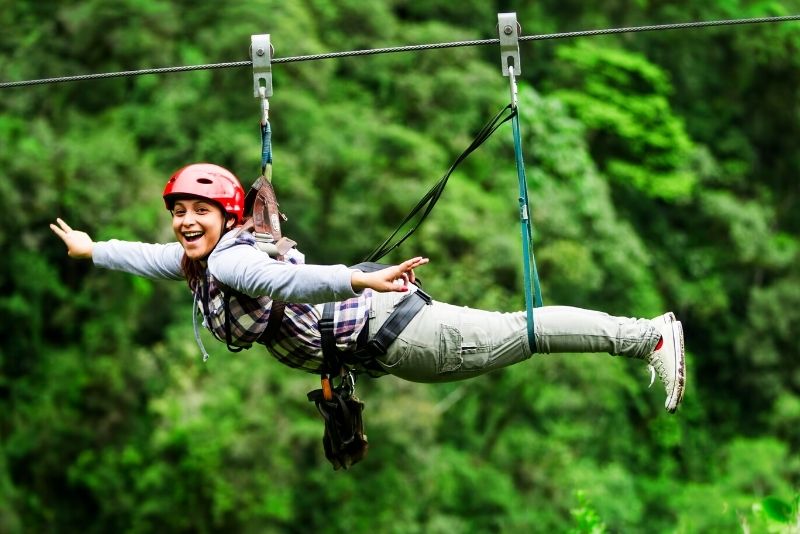 Adrenaline junkies, this one's got your name written all over it. At 475 feet above the earth, and with a scintillating top speed of 55 mph, the Goliath zipline proudly wields the title of highest, longest, and fastest zipline across the Great Smoky Mountains.
After tackling Goliath, there's still plenty more to do throughout the Firefox Mountain Adventure Park: choose from amphibious rides, ropes courses, and a knee-buckling suspension bridge.
33 – Check out Hillbilly Golf, putt-putt like you've never seen before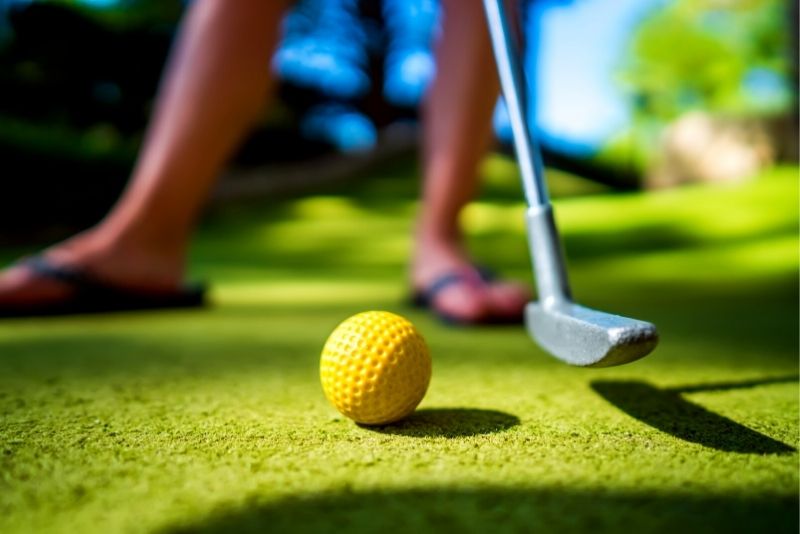 Putt-putt like you've never seen before, the Hillbilly Golf mini-golf course straddles the side of a mountain, requiring a tram ride up the slopes to the top. Spread across the two 18-hole courses are plenty of cliché hillbilly and redneck decor: outhouses, moonshine stills, and farm equipment, to name a few. Don't putt too hard — your ball might roll down the mountain!
34 – Go whitewater rafting in Pigeon River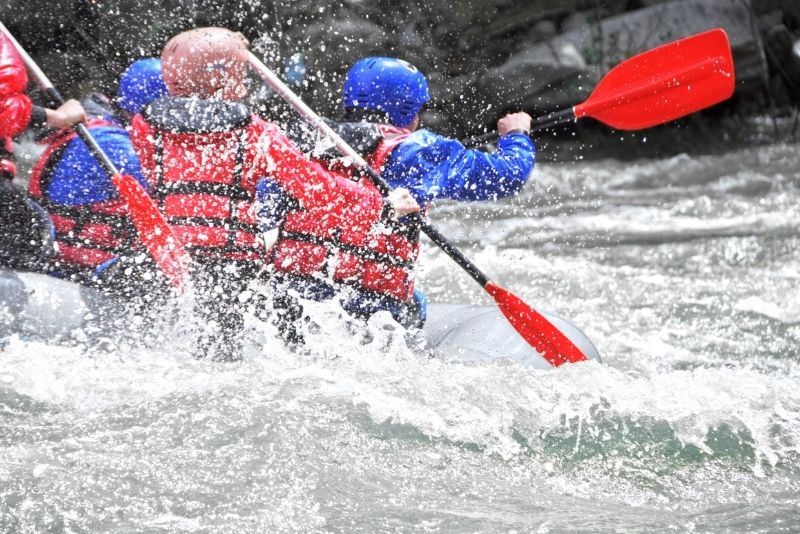 The Great Smoky Mountains are an untouched slice of Mother Nature; its forests provide perfect shade for a day on the upper Pigeon River as you zoom down the class 3 and class 4 with rapids with the water splashing in all directions.
Visit Smoky Mountains Outdoor Rafting, jump into the smaller boat in the "extreme" upper river section for a heart-pumping adventure or for something more relaxing, opt for a Lower Pigeon River rafting tour.
35 – Zip through the Smoky Mountains with CLIMB Works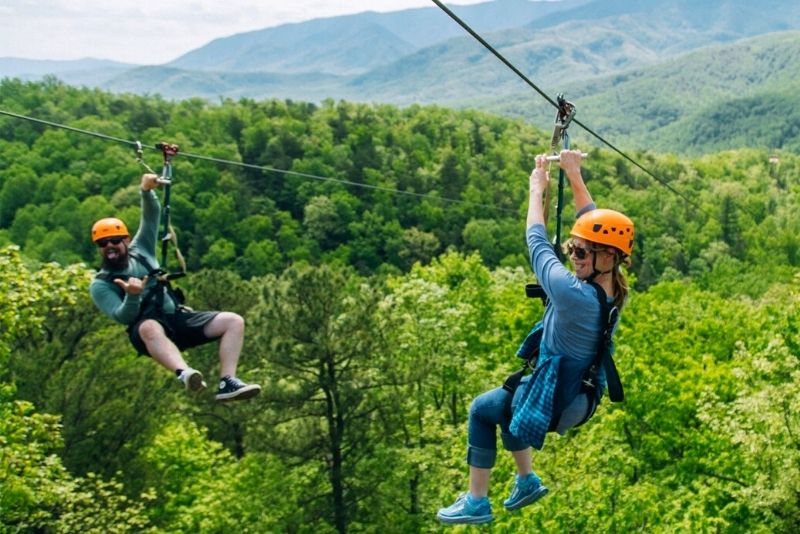 Immersed within the beautiful greenery of the Smoky Mountains, CLIMB Works provides adventurous visits the chance to explore the stunning natural landscape in two equally exciting ways: the breathtaking Mountaintop Zipline and the top-rated Treetop Zipline.
The 2-hour Mountaintop option includes five ziplines, four aerial bridges, a platform rappel, and an ATV tour on the top of the mountain. The Treetop package, on the other hand, includes 9 world-class ziplines, keeping you off the ground and among the trees for 2.5 hours, non-stop.
36 – Go horse riding at the Smoky Mountain Riding Stables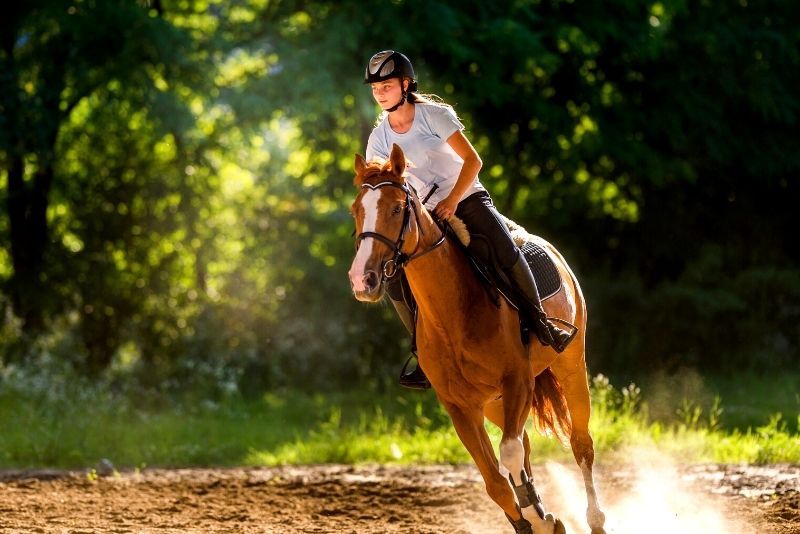 Head to the Smoky Mountain Riding Stables and trott through the vast and rocky terrain of the Smoky Mountains saddled onto a slow-moving, well-trained horse — the way nature was meant to be explored. Without the roar of car engines scaring off wildlife, nature sightings are common; keep an eye out for wild turkeys, deer, and even tree-climbing black bears!
37 – Practice your drive at the Gatlinburg Golf Course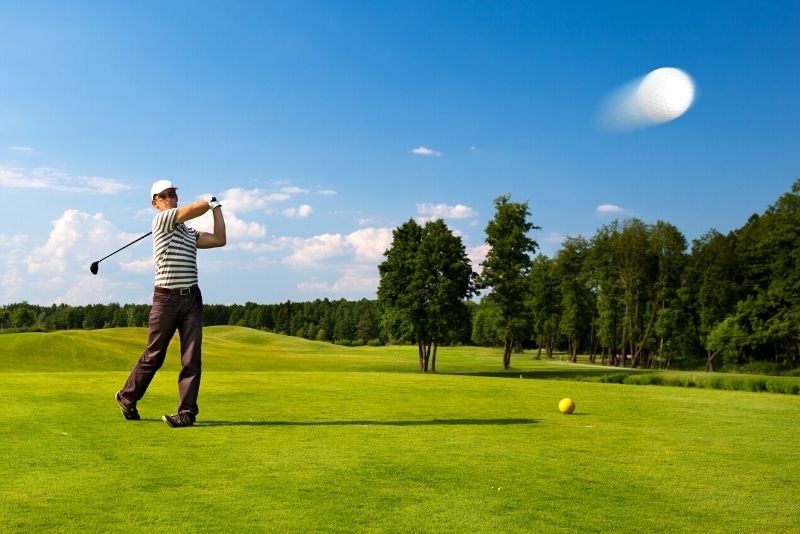 Just five miles from downtown Gatlinburg, the lush, manicured greens of the fairways combined with the fairytale-like atmosphere created by the forest landscapes create one of the state's most celebrated golf courses. Besides the 18-hole and 9-hole courses, the facility also boasts a fully-equipped pro shop to upgrade your kit and an on-site restaurant to refuel after a few hours of practicing your drives.
38 – Go fishing in the Smoky Mountains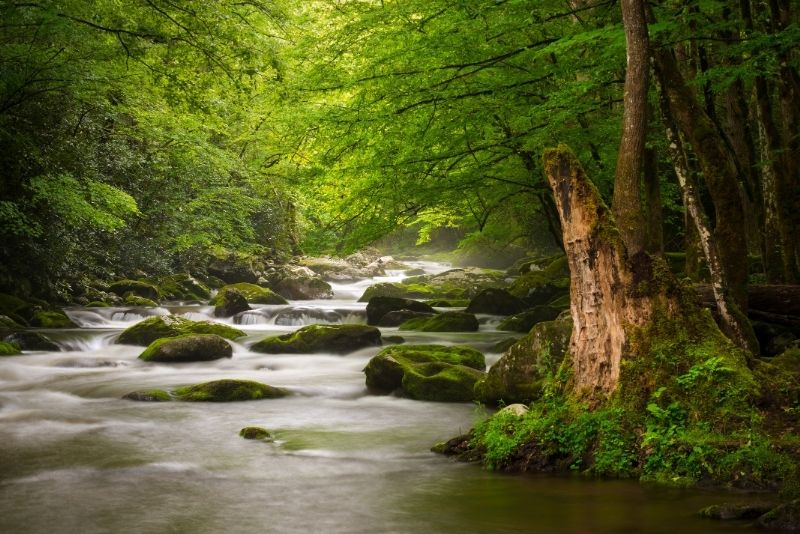 Fishing and mountains might seem like an odd combination, however, the Smoky Mountains are teeming with wildlife-abundant streams. With tour companies like Smoky Mountain Angler, expert guides take guests along the fresh rivers and teach them how to reel in wild mountain trout, or whatever other critter floats along. Depending on how much time you've got to spare, half-day and full-day excursions are available.
39 – Soar above the mountains in a hot air balloon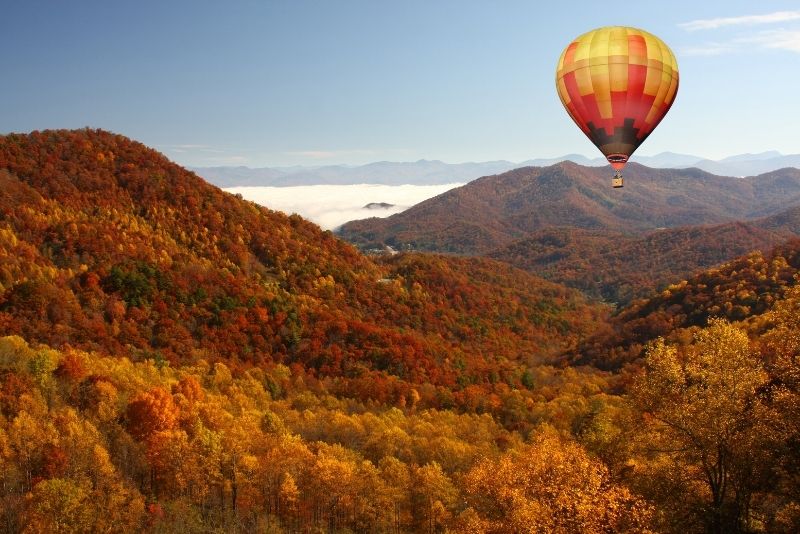 For one of the best outdoor activities in Gatlinburg, soar over the city and the endless greenery of Tennessee's Smoky Mountains on board a hot air balloon — an experience that manages to be exhilarating and relaxing simultaneously. The balloon rides launch just before the sun comes up, providing stunning sunrise views and a thrilling start to any day.
40 – Keep the family entertained at Gatlin's Fun Center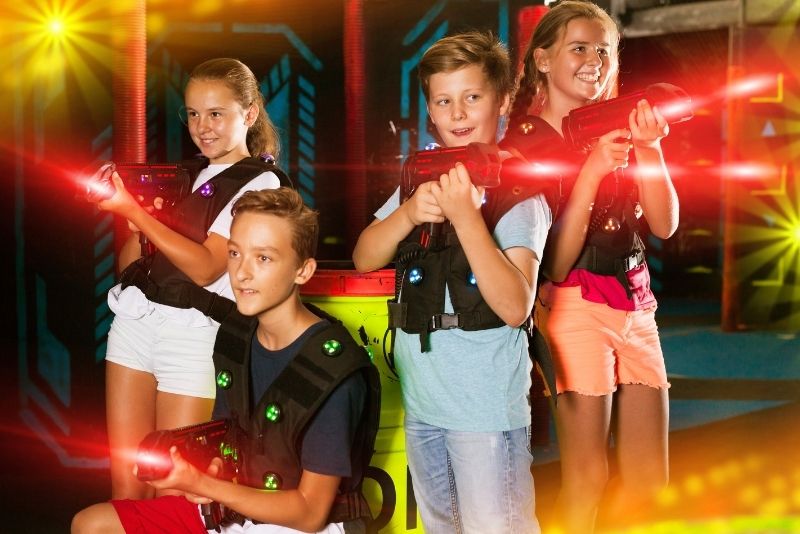 True to its name, this place is hands-down one of the most fun things to do in Gatlinburg. With laser tag, a ropes course, multiple escape rooms, mini-golf, bumper cars, and a high-speed coordination came called Atomic Rush, Gatlin's Fun Center is the one-stop-shop for interactive, family-friendly entertainment.
41 – Escape from ghosts at The Captured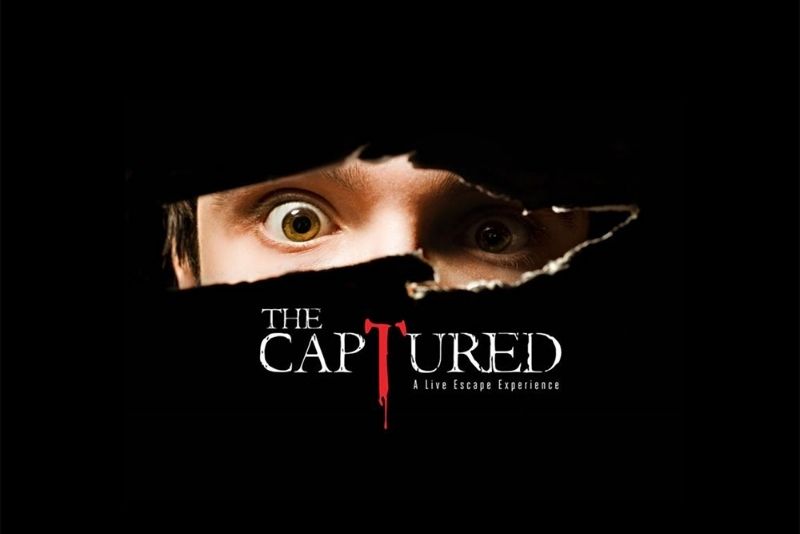 Situated at the base of the Gatlinburg Space Needle, The Captured fuses the challenging detective work of an escape room with the ghosts and ghouls of Gatlinburg's past, creating an atmosphere that's delightfully spooky. With the perfect amount of horror-themed suspense keeping escapees on the edge of their toes, this activity is regularly reviewed as one of the best escape rooms going round.
42 – Sample local produce at the Gatlingburg Farmers' Market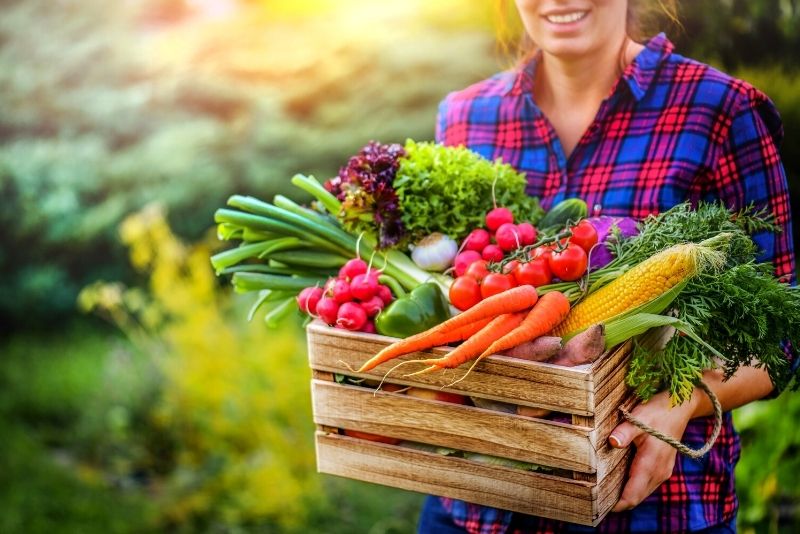 Sample all the best fresh food Gatlinburg has to offer while chatting to the friendly locals and the fan-favorite Farmers Market — a city staple that operates most Saturday mornings. As you stroll through the aisles, expect rows of just-picked fruits and vegetables, scrumptious cookies (Josie's Cookies), dehydrated chili flakes (Olde Virden's Red Hot Sprinkle), lovely handmade soaps (Kulturology Soap Co), and plenty more.
43 – Take to the skies on the Gatlinburg Aerial Tramway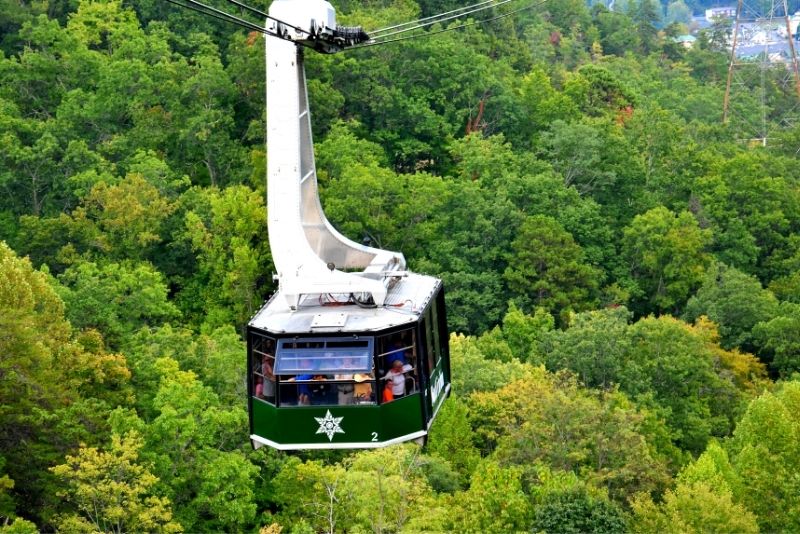 Ascend thousands of feet in one of the more fun things to do in Gatlinburg: the famous Aerial Tramway. The 120-passenger cable car operates year-round, presenting spectacular views of the Great Smoky Mountains no matter the season. The entire journey takes about 10 minutes, dropping visitors off at Ober Gatlinburg, home to must-do activities like ice skating and the Alpine Slide.
44 – Spend a day at the Dollywood theme park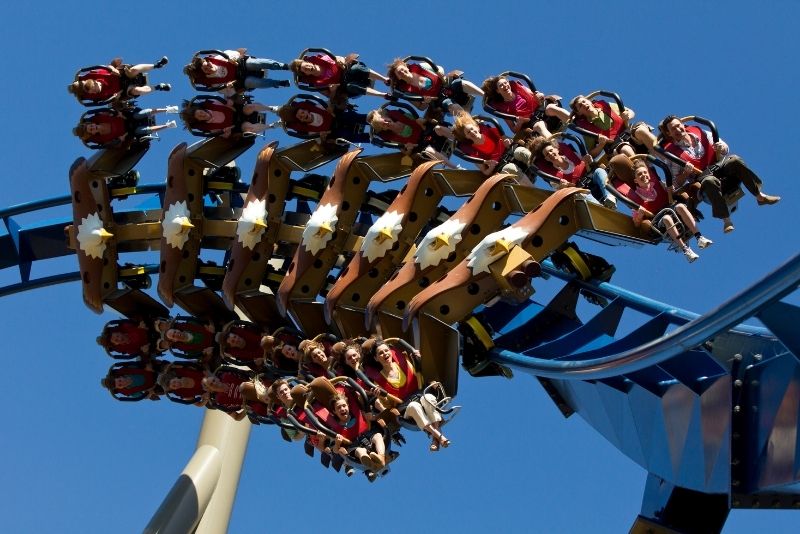 One of the nation's few theme parks built with a dedication to replicating that classic 'Southern charm', the Dolly Parton co-owned Dollywood amusement park features over 50 enthralling rides spread across 150 acres, a number of award-winning eateries, and regular live entertainment. Topping it all off, the entire park sits within the stunning surrounds of the Great Smoky Mountains.
45 – Get soaked at Dollywood's Splash Country water park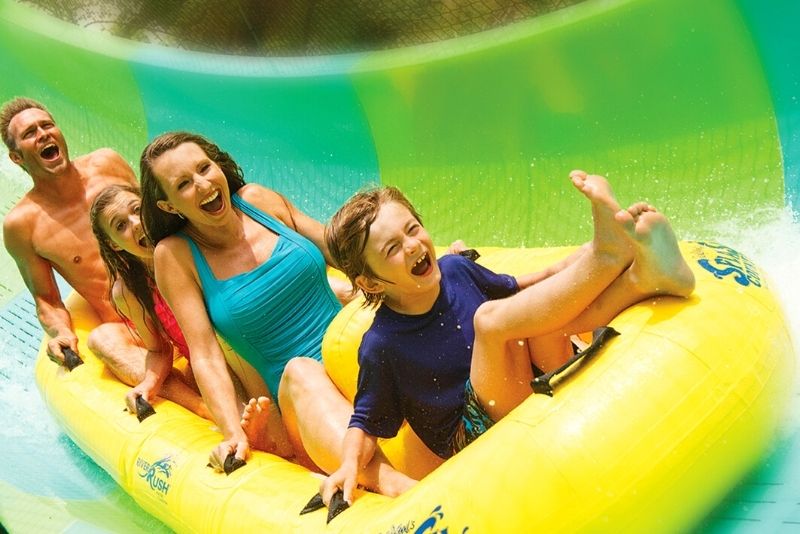 Dollywood's Splash Country water park ranked 4th on USA Today's assessment of the country's best outdoor water parks, which should tell you all you need to know about the array of amazing rides and attractions at this Southern-themed splash zone. For the ultimate thrill-seeker, get in line for the Fire Tower Falls!
Thanks to its location in a mountain hollow, there's plenty of natural shade. Keep in mind, of course, being an outdoor park, Splash Country is only open from May to September (the summer months).
45 – Explore Gatlinburg, Amazing Race-style!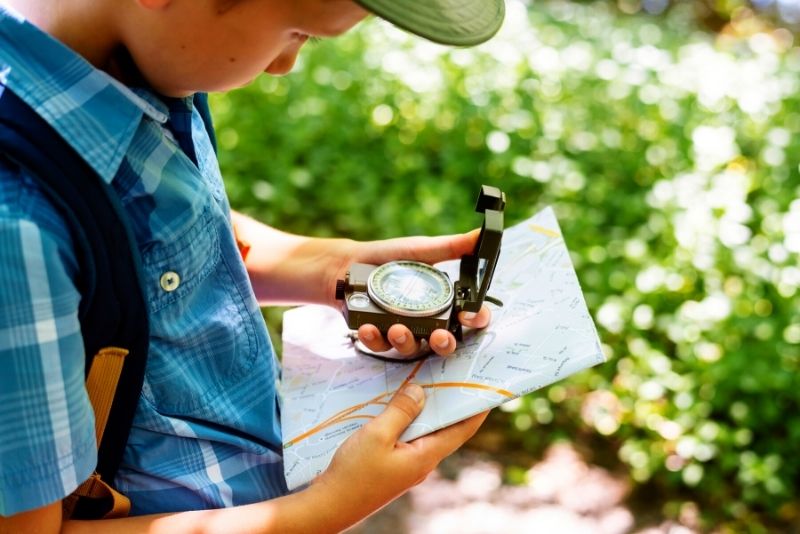 Race against the clock and outwit your competition by exploring this Southern city in a fast-paced competition, one of the best things to do in Gatlinburg. The interactive, puzzle-solving adventure game is jam-packed with exciting challenges that will test your teamwork and creative thinking, taking you all over the city in search of your next clue.
46 – Baffle your mind at Wonderworks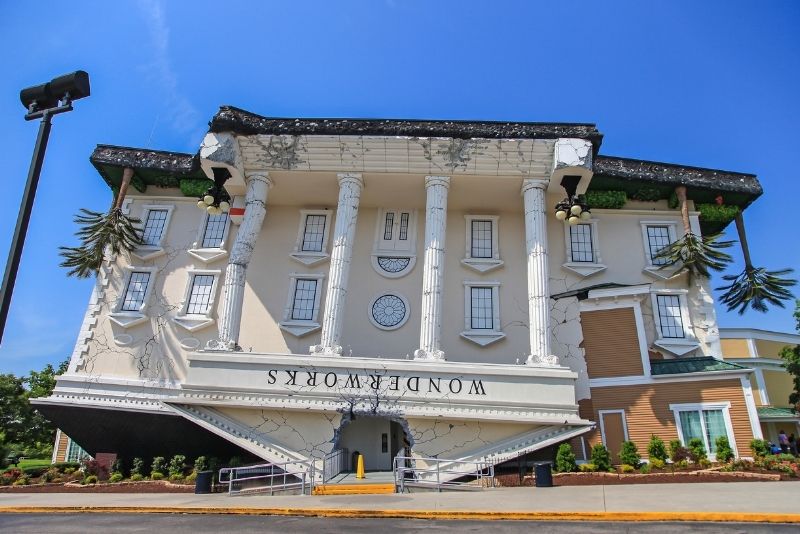 No, your eyes aren't deceiving you — that house genuinely is upside down! The disorientating abode is just one of the many whimsical illusions on display at Wonderworks, self-proclaimed as an "amusement park for the mind". While technically located in Pigeon Forge, Wonderworks is just 15-20 minutes from Gatlinburg, making for an easy afternoon activity that the kids (and adults) will love.
In addition to the six wonder zones, this attraction also boasts laser tag, an indoor ropes course, and a 4D simulator!
47 – See a live springboard chop at Paula Deen's Lumberjack Feud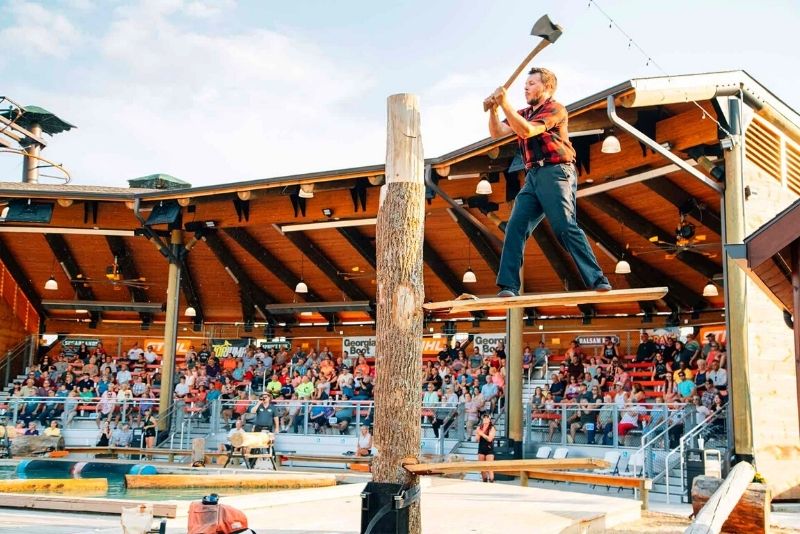 For an amazing show seldom found anywhere else, Paula Deen's Lumberjack Feud puts on a 1.5-hour extravaganza of professional log rolling, axe throwing, speed climbing, and the nerve-racking springboard chop.
After gawking at the pros in action, try log rolling or speed climbs yourself (safely harnessed, of course). Don't miss your chance to ride The Flying Ox either, the world's first zipline rollercoaster!
48 – Be dined and delighted at The Grand Majestic  Theater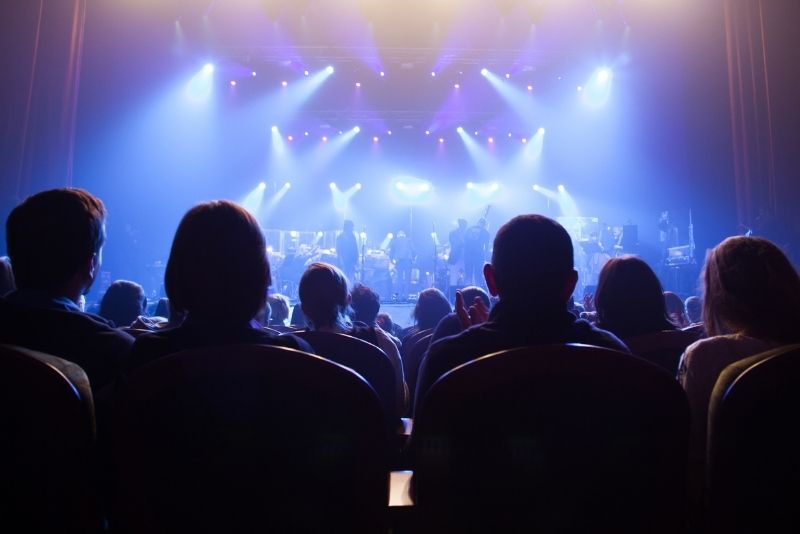 Considered the area's only "Dine-In" theater, The Grand Majestic hosts an array of brilliant entertainment perfect for guests of all ages. The Soul of Motown and Terry Evanswood Magic Show are each high-energy favorites, while the Hazzard Hoedown is a regular comical delight. The fourth option, Hit Parade transports guests into the 50s and 60s with chart-topping hits from the likes of Elvis and Neil Diamond!
49 – Meet the monkeys at RainForest Adventures Discovery Zoo
Home to over 600 critters originating from rainforests all over the world, this family-friendly Smoky Mountains attraction should be high atop any animal lover's bucket list. 140 species can be found within the RainForest Adventures Discovery Zoo's grounds, spanning reptiles to birds, adorable primates, and plenty more.
To keep the kids entertained, the facility offers immersive, educational activities, and even a petting zoo!
50 – Win an awesome prize at Arcade City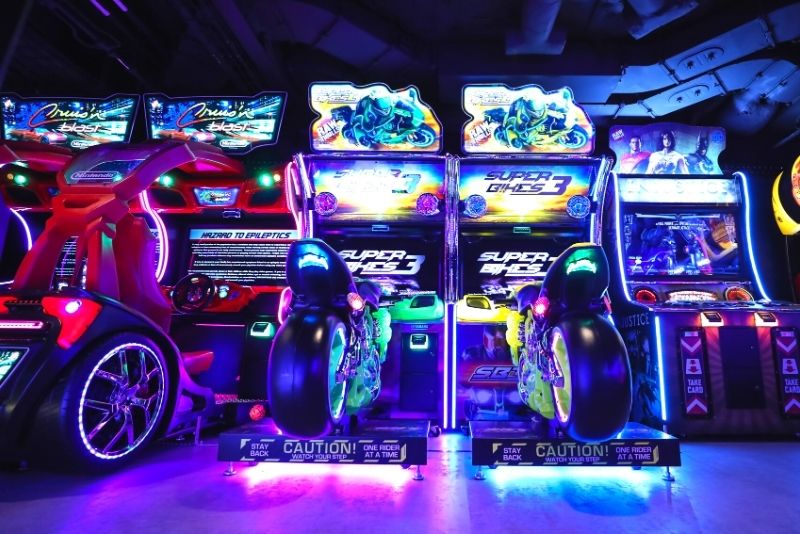 Easily identified by its 200-foot-high observation wheel, Arcade City in Pigeon Forge is a gamer's paradise. Besides the near-endless selection of retro and modern games, the venue also hosts live music nighty, and thanks to its inner-city location, it's an easy stroll from nearby bars and restaurants.
51 – Dress up for an old-time photo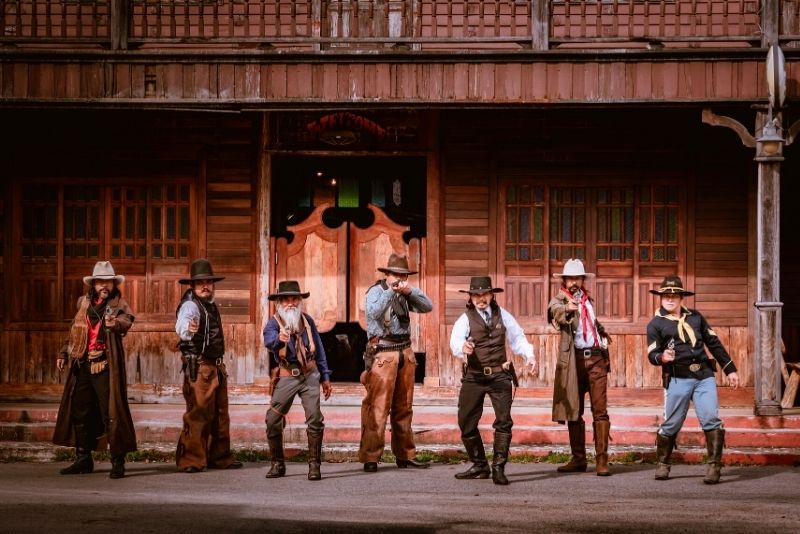 Gatlinburg and the neighboring Pigeon Gorge aren't bustling metropolises or tourist-trodden concrete jungles, they're unique, historical towns that emit a vibrant atmosphere of eras gone by. Capture that essence with a timeless photo by dressing up as a cowboy or cowgirl at Old Town Photos or Miss Sadie's in Gatlinburg, or even bring your pets along to Four Sisters Old Time Photos. Whatever you do, don't leave Gatlinburg without this essential souvenir.
52 – Walk around the summit of Clingmans Dome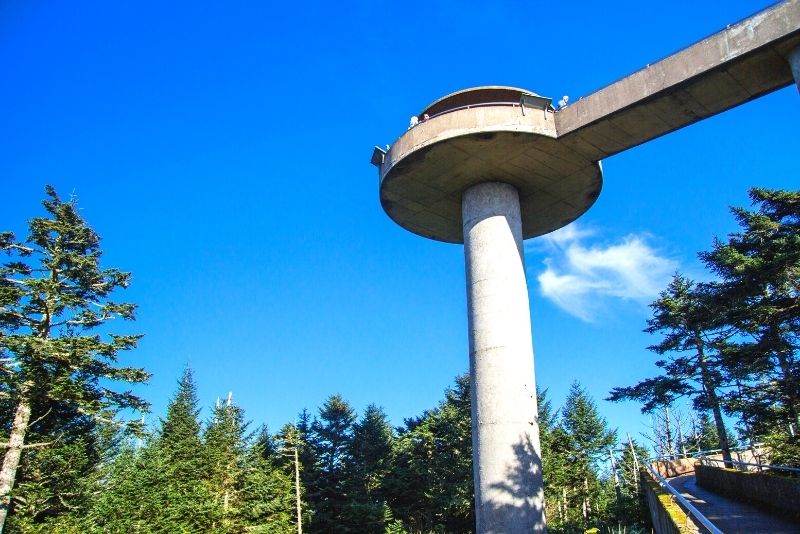 With its peak soaring 6,643 feet above sea level, Clingmans Dome is the third tallest mountain east of the Mississippi River, and there's no better way to appreciate the views it provides than from atop its observation deck.
After trekking the easy half-mile paved trail to the viewing platform, you'll be able to view the expansive wilderness of Tennessee and North Carolina all the way out to the horizon.
53 – Experience the truly unique show at Dolly Parton's Stampede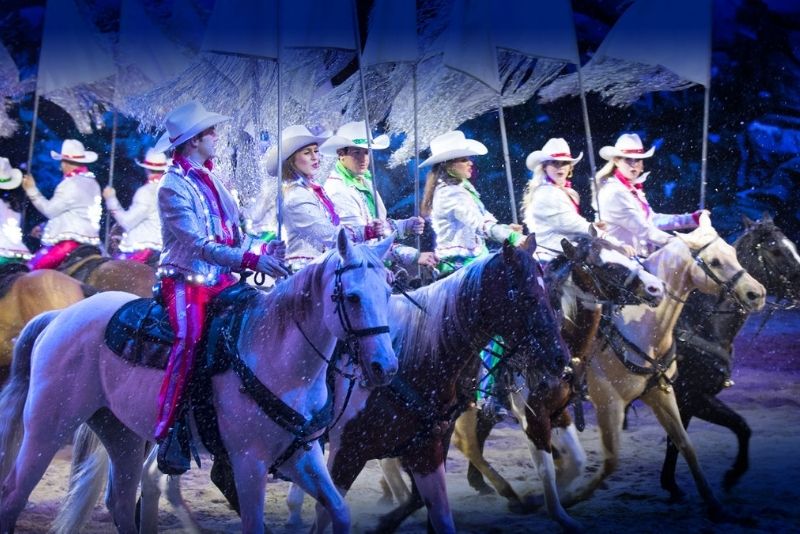 An extraordinary spectacle combining a delectable dinner with a 32-horse live show (plus the riders, of course), Dolly Parton's Stampede is Tennessee entertainment like you've never seen before. This Civil War-themed attraction allows viewers to sit with either the North or the South as the battle plays out and, occasionally, the South wins. If you happen to be visiting around Christmas time, the holiday show receives nothing but glowing reviews.
54 – Get stuffed at Pancake Pantry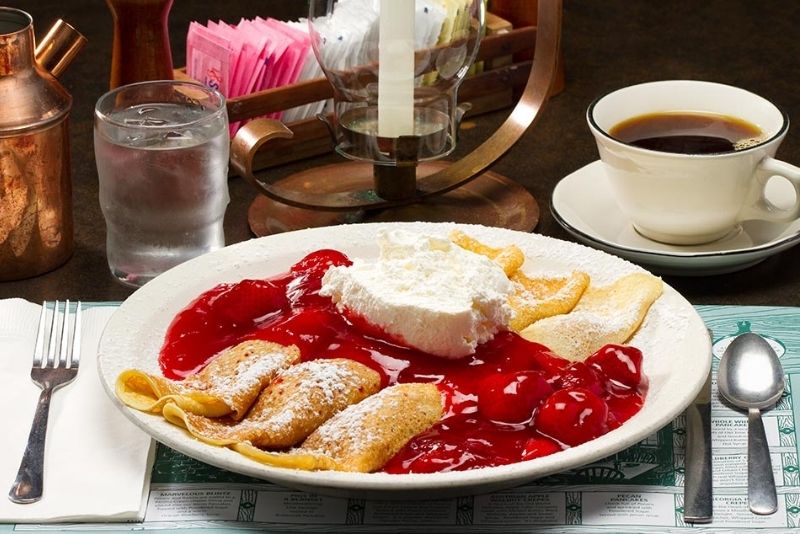 A beloved local eatery for residents and tourists alike, Pancake Pantry has been dishing up piping hot plates for over half a century and is yet to put a foot wrong. With a menu offering both sweet and savory, covering everything from Old Fashioned Buttermilk Pancakes to Sweet Potato Pancakes, Pecan Pancakes, and Georgia Peach Crepes (perfect for the sweet tooth), there's a stack for every palate.
55 – Wander through the beautiful Forbidden Caverns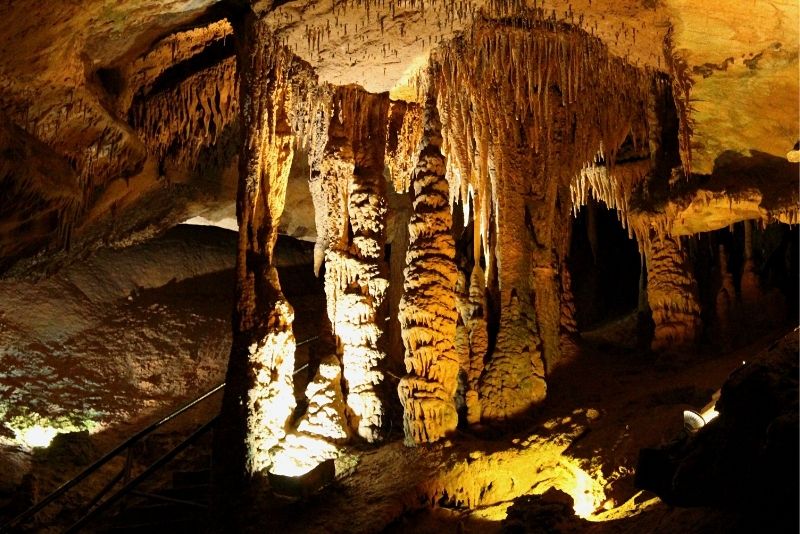 For a terrific day trip itinerary, head to the outskirts of Sevierville, Tennessee. It's only about a 35-minute drive from Gatlinburg but has plenty of shopping, dining, and activities to offer. Arguably its greatest highlight are the stunning, eerily quiet Forbidden Caverns. Friendly, expert guides will explain the significance of the geology, as well as the area's unique history.
As any visitor will share, photos just don't do this place justice; to truly experience its natural beauty, you have to witness its rock formations with your own two eyes.
56 – Go zorbing at Gatlinburg's Outdoor Gravity Park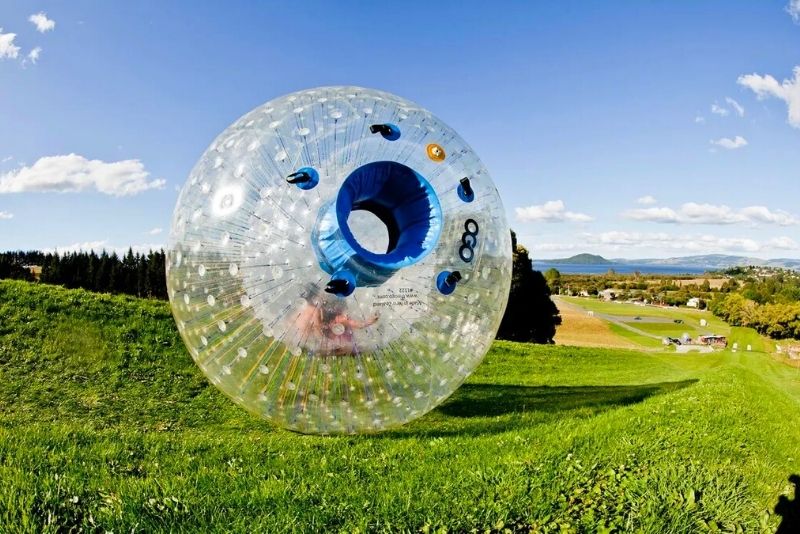 If you've seen videos of people tumbling down the hills in giant bubbles (AKA zorb balls) and always wanted to try it for yourself, Outdoor Gravity Park, the only dedicated zorbing park in the country, is the place to do it.
So long as you don't get too motion sick, tumbling down that 1000-foot hill in a giant bubble is undeniably one of the most fun things to do in Gatlinburg.
Visiting Pigeon Forge? Here is our latest post about fun things to do in Pigeon Forge.