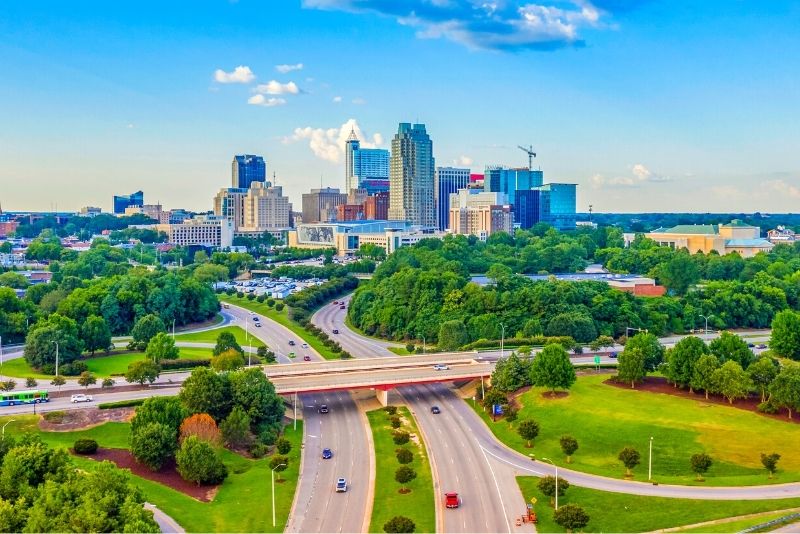 Known to many as the "City of Oaks" because of its huge forested natural parks, Raleigh, North Carolina, has many enticing reasons to visit.
Exploring the hugely popular North Carolina Museum of Natural Sciences will be top of many people's lists, as well as being wowed at one of the outstanding art museums.
A tour of the city's bustling farmers' markets and food halls is a must-do before sampling the world's largest beer collection at Raleigh Beer Garden.
Wandering the streets of the alluring Oakwood neighborhood, with its well-preserved 19th-century houses, is one of the essential things to do in Raleigh for history lovers. Next, take time to tour the historic North Carolina State Capitol Building — as well as the birthplace of a United States President at Mordecai Historic Park.
Sports fans can enjoy the buzz of a college football game as they cheer on NC State University's Wolfpack at Carter-Finley Stadium. Of course, there are also many opportunities to get out in the fresh air, as you check out the city's parks and nature preserves. What will you choose to do first?
1 – Get uplifted at the North Carolina Museum of Art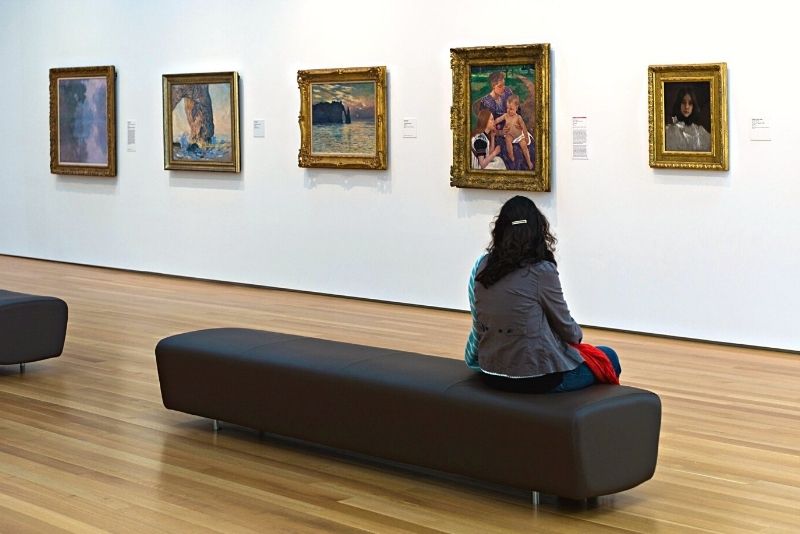 With a collection that spans over 5,000 years of human history, the North Carolina Museum of Art is a must-see for art and culture fans. Founded in 1947, the museum was the first to use public funds to purchase art in the United States.
Its collection includes European and American art, including a significant collection of paintings from the Renaissance to the 19th century. It also has art from Ancient Egypt. Classical Greek and Roman sculptures and pottery, African Art and Ancient American pieces.
The museum sits in a 160-acre park with art and sculptures to explore as well as wooded trails and spaces for performing arts. Definitely check this out during your time in Raleigh.
2 – Ride the pedal boats at Pullen Park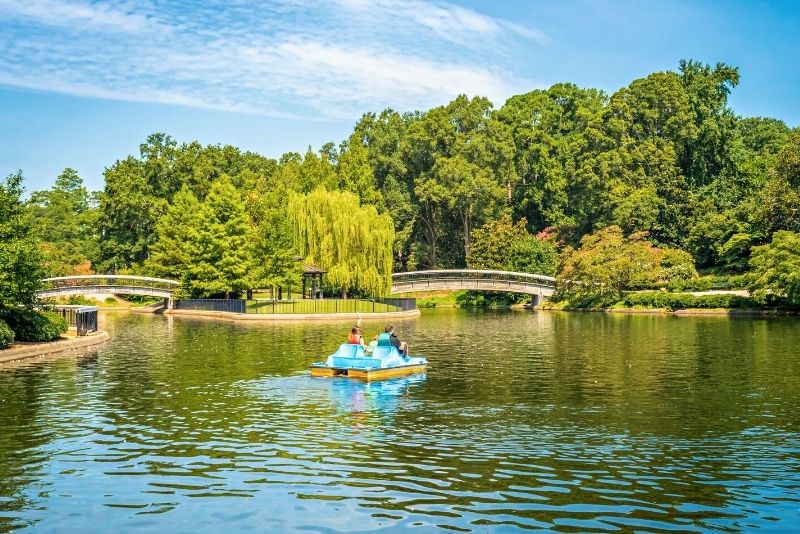 Home to one of the top five oldest amusement parks in the country, Pullen Park has been entertaining Raleighites for generations. The rides are great for younger kids and adults alike and include pedal boats and kids boats, a carousel and a miniature train.
There's much more to Pullen Park than its historic amusement rides though. This 60-acre city park has playgrounds, an indoor swimming pool, a community center and sports fields. You can also find the Pullen Arts Center here which offers classes on painting, jewelry and pottery making and much more.
You can also check out the historic Theater In The Park located in the Ira David Wood III Pullen Park Theatre. It hosts year-round theatrical productions and plays as well as drama classes. You'll find a lot to do in Pullen Park for the whole family.
3 – Visit a tropical rainforest at the North Carolina Museum of Natural Sciences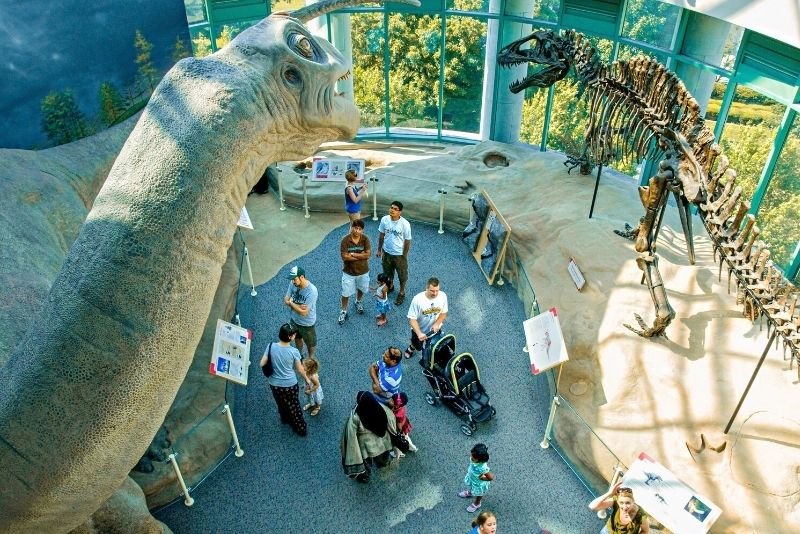 Spread over 300 square meters and three floors of exhibitions and laboratory spaces, North Carolina's Museum of Natural Sciences brings the natural world to life. Here visitors can explore the earth in the time of dinosaurs or virtually venture to the farthest reaches of the known Universe.
The museum's two locations in Downtown Raleigh include the Nature Exploration Center and Nature Research Center which are packed full of dioramas and interactive exhibits to pique your curiosity and answer the big questions in life.
The museum has a miniature zoo with bugs, fish, invertebrates and reptiles and a living conservatory that replicates the environment of a tropical rainforest, It even has a resident two-toed sloth.
4 – See the sights on a trolley tour of the city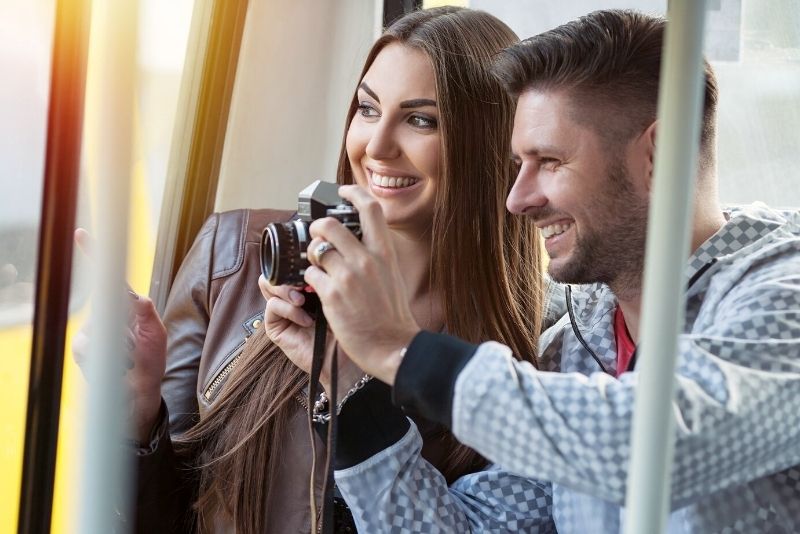 One of the easiest and best ways to explore the city is on one of its unique trolley tours. Hit up Raleigh's major sites and landmarks from the comfort and elegance of an old-fashioned trolley car. Explore the city and learn its history on these fantastic guided tours.
Join one of the themed events to visit the sights that interest you most, including the city's haunted history and hidden history. Visit an abandoned baseball park and hospital as well as the underground tunnels and remains of the old trolley system.
Historic Raleigh Trolley will start you on your way, with its fun, eye-catching vehicles that hearken back to the early days of this unique transportation system.
You're sure to get the best Raleigh trip experience on these privately run tours of the city.
5 – Take a selfie on the Boylan Bridge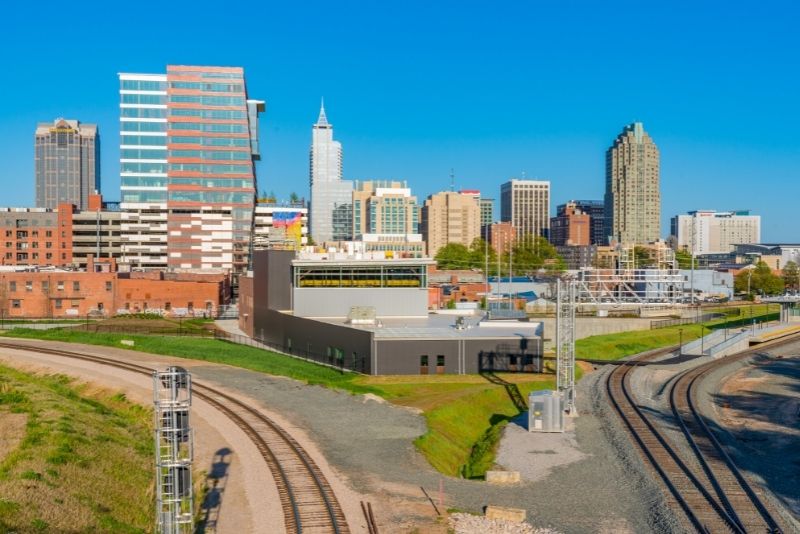 The Boylan Bridge has long spanned the railway between Boylan Heights and Downtown Raleigh. This iconic bridge is a great place to stand and admire the Downtown skyline or even snap some photos.
The Boylan Bridge was one of the first constructed bridges that crossed the North Carolina Railroad and there have been a number of previous bridges on the same site. The first was built in the late 1800s and was made primarily out of wood.
It was demolished in 1913 to be replaced by a steel truss bridge, which was itself replaced by the current concrete and steel bridge in the 1970s.
Check out this historic railway bridge during your time in Raleigh and take a selfie in front of the iconic Raleigh skyline as a souvenir of your time in the city.
6 – Soak in the views at Blue Jay Point County Park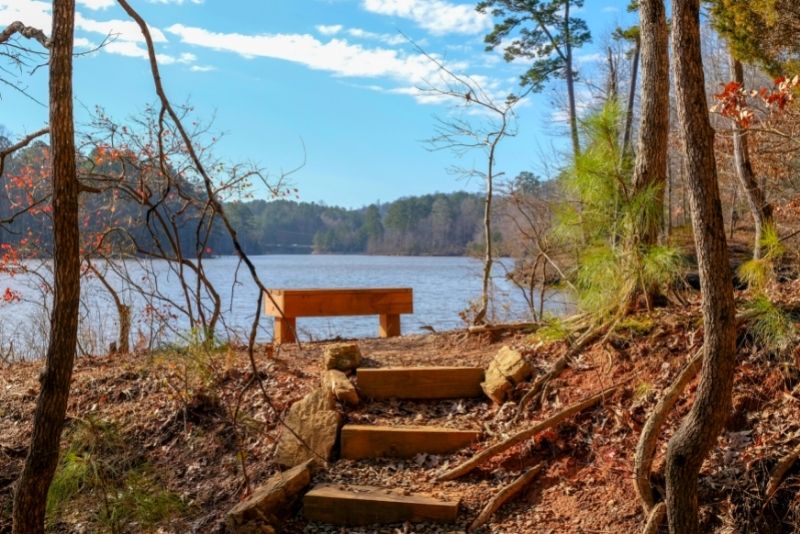 Blue Jay County Park has a ton of great activities to try and outdoor spaces to explore. Hike the extensive trails and gardens, which are part of the NC Mountains to Sea Trail, or try your hand at fishing in Falls Lake.
There are traditional and natural playgrounds for kids to enjoy as well as events including camps and educational workshops. There are even open playfields where you can toss around a ball or frisbee or kick back and enjoy a picnic in the fresh country air.
7 – Tour the North Carolina State Capitol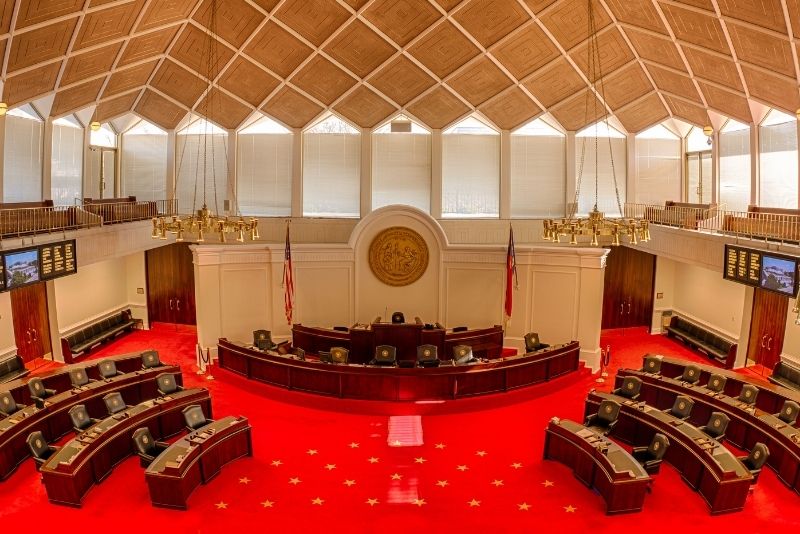 For a long period of time in the colonial era, North Carolina was without a fixed seat for the government. This changed in 1792 when the site, which is now Fayetteville Street was decided upon.
The original State Capitol building was a much more modest affair than the one that currently exists. The first structure was built in red brick before it was greatly extended in the 1820s. It finally opened as the State Capitol Building in June of 1840.
The North Carolina State Capitol is now home to the State Governor's office. Admission to the building is free of charge and self-guided tours are available every day except Sunday.
8 – Try Soul Yoga at the Contemporary Art Museum of Raleigh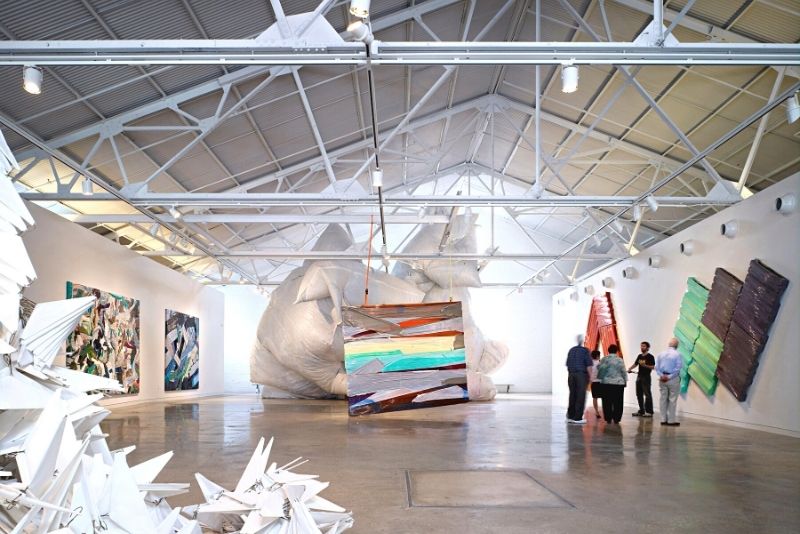 Visual arts fans should definitely check out the Contemporary Art Museum of Raleigh during their time in the city. The museum has no permanent collection so visitors may see different exhibitions on display each time they visit the city.
Its focus is primarily on bold works by living artists and has displayed pieces by Angel Otero, Leonardo Drew and Marilyn Minter. The museum building is a converted warehouse from the early 20th century which blends a traditional brick structure with modern steel and glass to create an attractive new space.
As well as gallery spaces the Contemporary Art Museum also hosts live music performances, educational classes and yoga classes which take place surrounded by inspiring artworks.
9 – Savor some candlelight concerts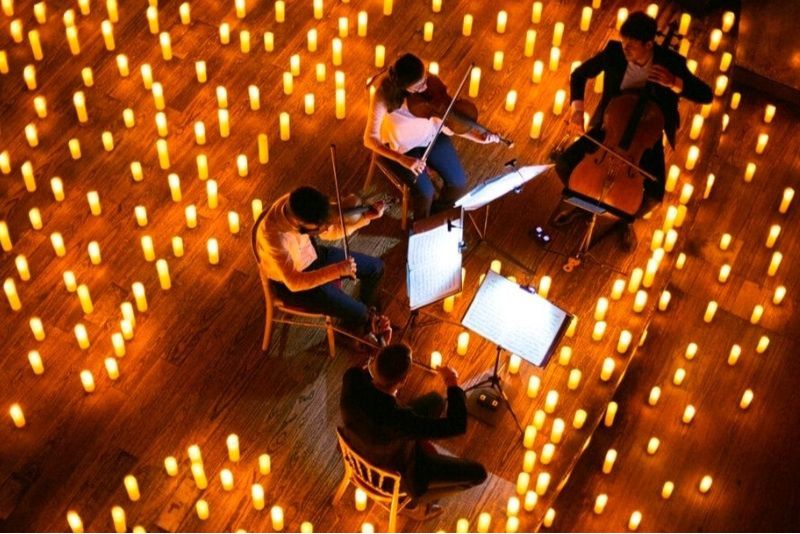 When you're tallying up the various musical offerings in town, be sure to check out the Candlelight Concerts series!
It's an unforgettable event that is at once intimate and epic, with a roomful of candles providing a beautiful backdrop for some stunning musical performances.
While classical music is often on the docket, the series is also known for presenting more contemporary and familiar works reimagined in a symphonic format.
If you're a modern music fan, you can listen to the sweet sounds of Adele, Beyonce, Taylor Swift, or Coldplay, recreated in a new auditory form.
And if movies are more your scene, you can soak up the sounds of anime scores, or a stunning program of songs from the extensive Warner Bros catalog.
Grab some tickets and enjoy!
10 – Play at Frankie's of Raleigh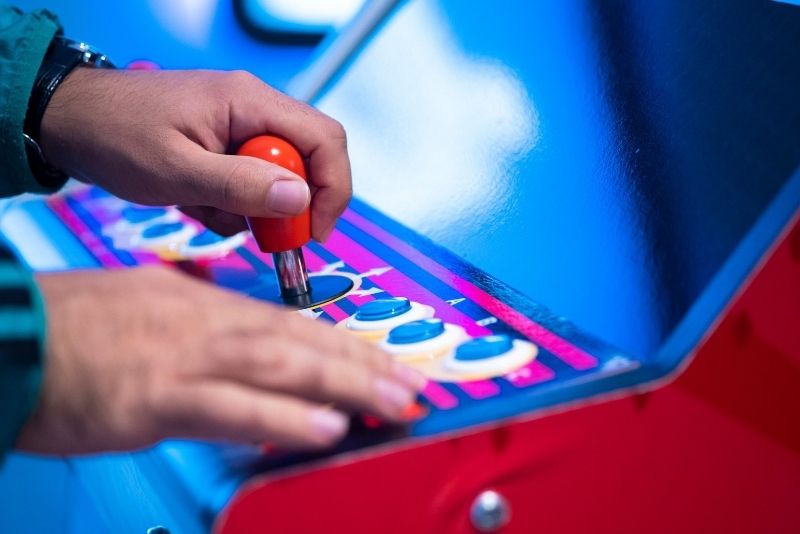 Those looking for an all-in-one amusement arcade and theme park experience should definitely check out Frankie's of Raleigh. This place has it all from the best traditional games and attractions such as bowling, mini-golf, go-karts, batting cages and bumper cars to cutting-edge immersive games. A trip to Frankie's is definitely one of the most fun things to do in Raleigh.
The park has some action-packed thrill rides including the hang gliding-style Windstarz, where you get to control the up and down motion as you spin around and around. Those with a head for heights can explore its four-story rope trail or take time to cool off on the bumper boats.
The park has traditional arcade games too, as well as a bunch of virtual reality immersive games and rides. Team up to fight off hordes of zombies with Hologate or try out the Hyperdeck which combines VR with wind, heat and movement for the ultimate immersive gaming experience.
11 – Experience college football at Carter-Finley Stadium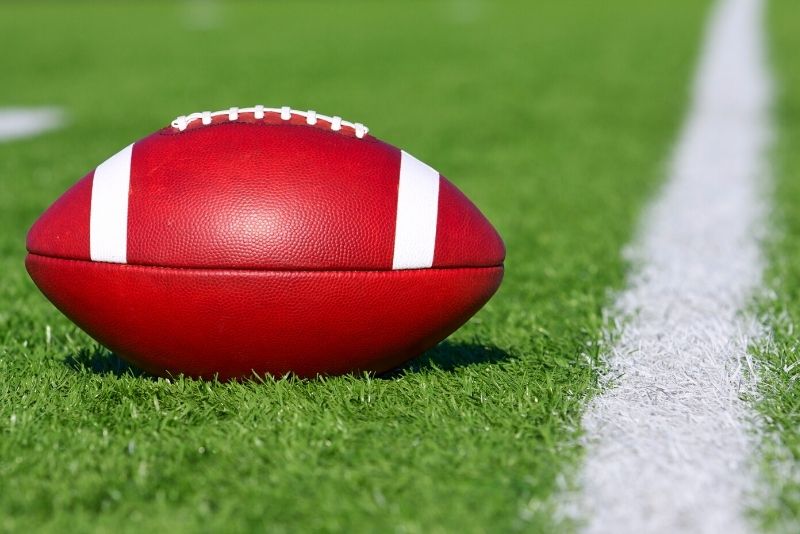 It's still college football that draws the biggest crowds in Raleigh and for that, you have to check out the impressive Carter Finley Stadium.
Home to the NC State Wolfpack Football Team, the arena opened in the mid-1960s and has grown to include a seating capacity of 58,000.
The stadium is known for its dedicated and rowdy Wolfpack fans so it almost goes without saying that game day is a big deal around here. It has been recently renovated and is considered one of the finest football stadiums in the country with an atmosphere and facilities to match.
This is an absolute must for sports fans when visiting the city and even out-of-towners will find the enthusiasm for the home team is contagious. Go Pack!
12 – Sample the city's gastro-scene at the food halls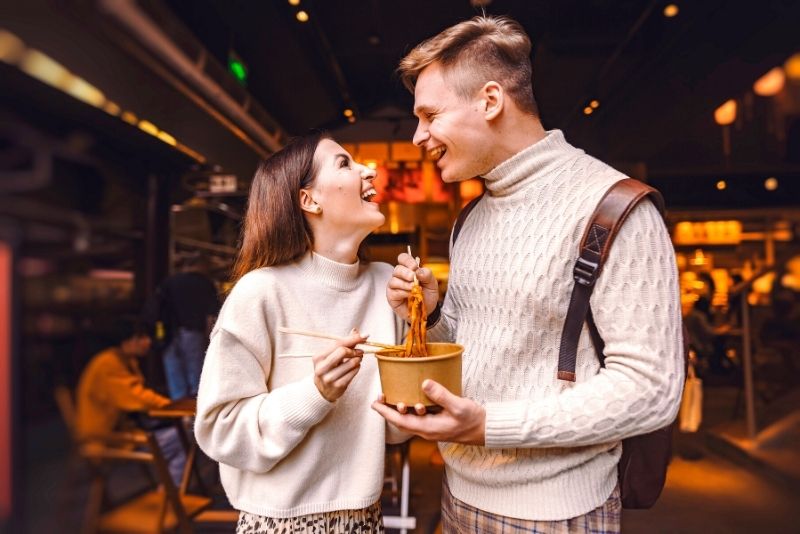 If you're looking for the best street food and diverse global flavors, the city has some very cool food halls to check out. If you love great food, and who doesn't? This is one of the most fun things to do in Raleigh, North Carolina.
Morgan Food Hall is a fun and vibrant place to eat with around 20 vendors selling mouthwatering snacks and desserts. Here you can find crepes and waffles, tacos, wood-fired pizzas, kebabs, curries and much more. There are also traditional southern flavors, lobster dishes and even fish and chips on the menu.
The fun doesn't stop there though. Over the other side of town is the Transfer Co. Food Hall which offers more delectable dishes for the tasting. Here you can try artisan stuffed bagels, burritos, oysters and amazing Indian street food dishes and wash it all down with a craft brew from the super-cool Burial Beer Co.
13 – Explore WRAL Azalea Garden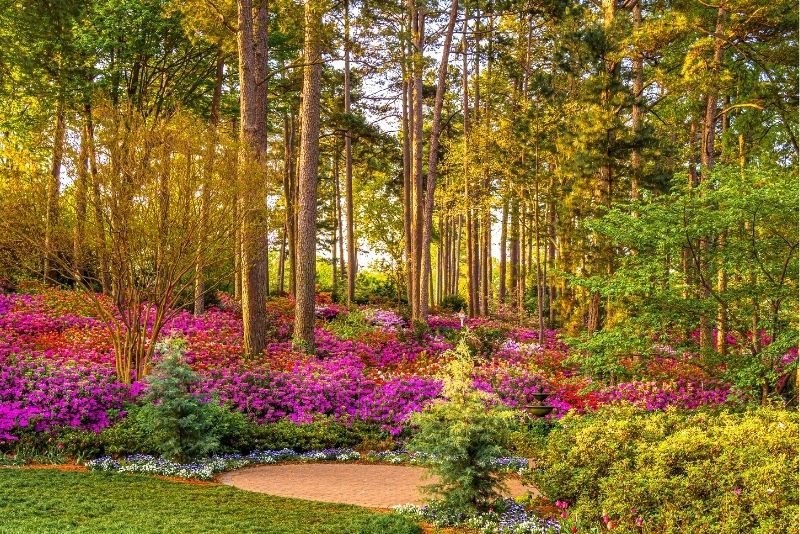 The WRAL Television Studios on Western Boulevard are surrounded by impressive and beautiful gardens and are home to a wide selection of azalea varieties. Created as a service to the local community from the station's founder in 1959, WRAL Azalea Gardens has long been a sanctuary of green in the Downtown city environment.
Though famed for its azaleas, the garden also has many other types of plants including camellias, hydrangeas, palms and vines. Each year in late Summer, the garden gives away 5,000 azaleas to hundreds of non-profit organizations in North Carolina as a positive way to beautify the surrounding communities.
The gardens are free to enter and open to the public year-round from dawn until dusk.
14 – Delve deeper into the region's roots at the North Carolina Museum of History
Discover the fascinating story of the region at the North Carolina Museum of History. Uncover a past filled with pirates, gold rushes and aviation history in a series of fun and educational exhibitions.
Many people are aware that it was in North Carolina that the Wright brothers made their momentous first flight back in 1903. The area's history is way older though and has been the site of human habitation for 14,000 years including the eight recognized indigenous tribes of NC.
Learn about some of the state's most famous residents including the notorious pirate Blackbeard, the gunsmith David Marshall Williams, commonly known as Carbine, as well as North Carolina's biggest sports stars, it's all here.
Sponsored placement
Discover the incredible art of LEGO
See how Nathan Sawaya has turned millions of LEGO bricks into masterpieces at the Art of the Brick: Immersive Experience.
From recreations of iconic paintings by Van Gogh to towering sculptures, you'll be awed by how the artist has transformed the children's toy, and even get to make some LEGO art of your own!
15 – Witness history come to life at the Joel Lane Museum House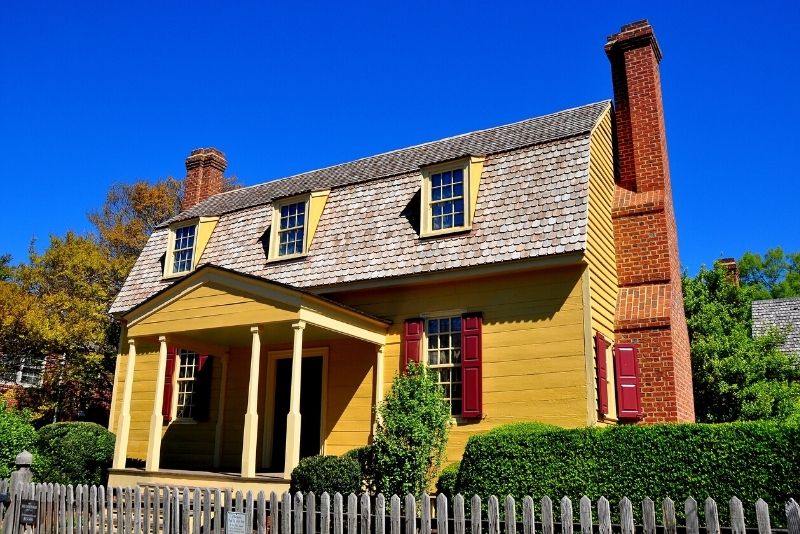 Joel Lane House is the oldest surviving home in Wake County and the city of Raleigh. It was built by enslaved laborers in the 1760s and played host to some significant meetings in the state's history.
Owned by the founding father of Raleigh and Wake County, Joel Lane, the house was once described as the finest in the area. Visitors can tour the formal garden and herb garden to see plants that would have been common to homesteads in the 1700s such as medicinal herbs, grapes, figs and apples.
The house is decorated with furniture and practical items that would have been widely available in the era that it was built. The museum puts on educational open house events with live actors as well as lectures throughout the year. This is a great way to step back in time to the 18th century at the birthplace of the city of Raleigh.
16 – Catch a basketball game at William Neal Reynolds Coliseum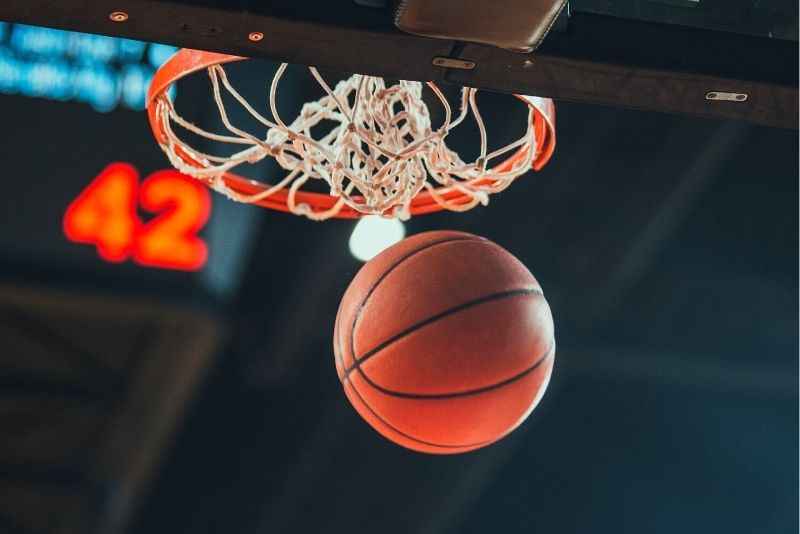 Located on the NC State University campus, William Reynolds Coliseum is home to many of the university's sports teams, known collectively as the Wolfpack.
On any given day, visitors can witness both men's and women's college basketball, volleyball, wrestling and gymnastics.
William Reynolds is also one of the college's major event spaces and has hosted addresses by a number of former presidents including Ronald Reagan, Bill Clinton and Barrack Obama.
The arena has also held concerts by well-known international artists including Elton John, The Rolling Stones and Louis Armstrong.
This is the place to be to see the brightest rising stars in North Carolina college basketball. You can check out the website to see what's on.
17 – Uncover the city's hidden gems on a scavenger hunt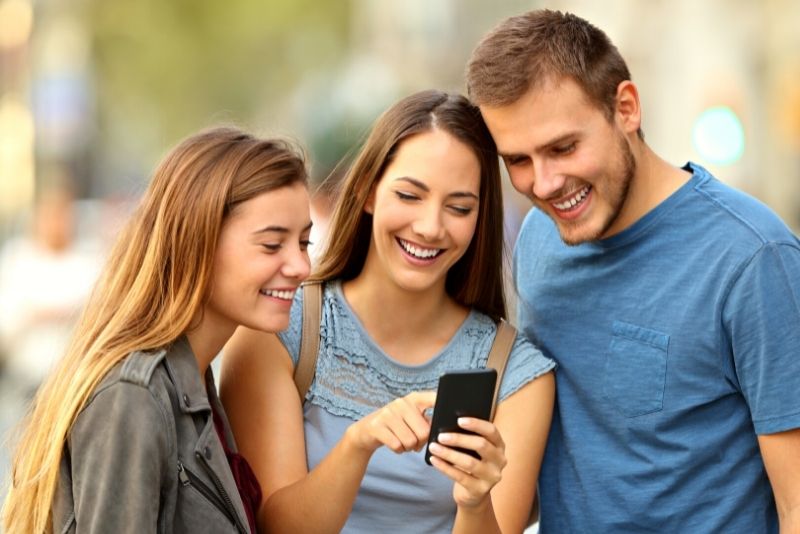 If you're searching for fun ways to explore the city and get the most out of your visit, a scavenger hunt is a great way to do that.
Download the app and gather together your team, or go it alone if that's your style, for an enjoyable brainteasing adventure across the city.
Follow clues and decipher puzzles to find your way around the city. Take photos and complete challenges in these fun immersive exploration games.
You can even check your points against others on the leaderboard to see how you compare. This is definitely a great team activity for families or friends to get you out and about in Raleigh.
18 – Relax at Annie Louise Wilkerson, MD Nature Preserve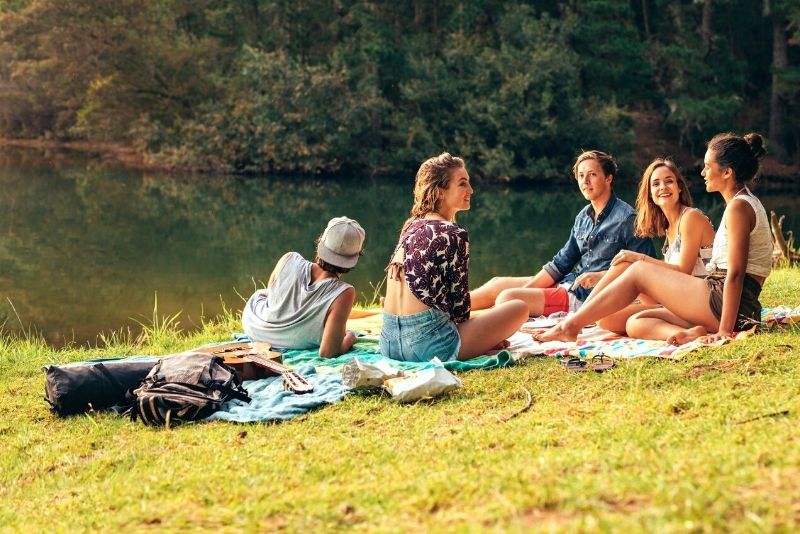 Founded in 2005, the Annie Louise Wilkerson, MD Nature Preserve, is the city of Raleigh's first official nature preserve. It was left to the city by its namesake, a renowned local doctor, under the strict condition that it should be a space for nature and education.
This is a great place to visit with kids and visitors can find natural history displays and crafting tables in the park's education center. In the spirit of exploration and education, visitors can also loan backpacks stuffed with fun activities for children as well as binoculars and even kites to fly within the park.
There are hiking and wildlife watching trails to explore, native plant gardens and several nature play areas where children, as well as adults, can build a fort or fairy house, explore a natural maze and play in a teepee. This is surely something everyone can enjoy!
19 – Discover African-American history at Pope House Museum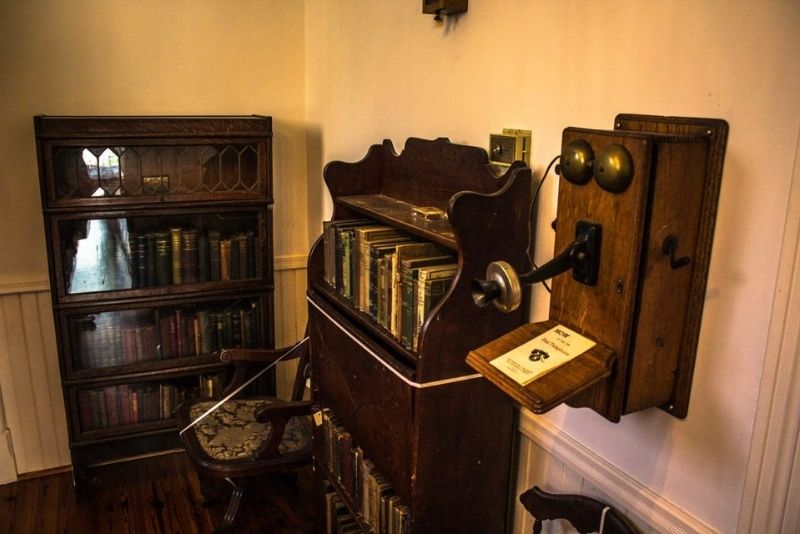 The only African-American house museum in the state of North Carolina, Pope House Museum offers a glimpse into the life of Dr. Manassa Thomas Pope. During the Jim Crow era when racial segregation was legal in the southern states of the US, Dr. Pope was the only African-American to run for the position of mayor in a southern capital city.
The Pope House Museum features more than 3,000 artifacts related to the life of Dr. Pope, considered one of Raleigh's most interesting public figures. These include original furniture and artifacts such as his father's freedman papers, his medical bag from the Spanish-American war and his voter registration card.
The museum is open on weekends and admission is free. Visitors can take a guided tour but it is necessary to book in advance.
20 – Try all the beers at Raleigh Beer Garden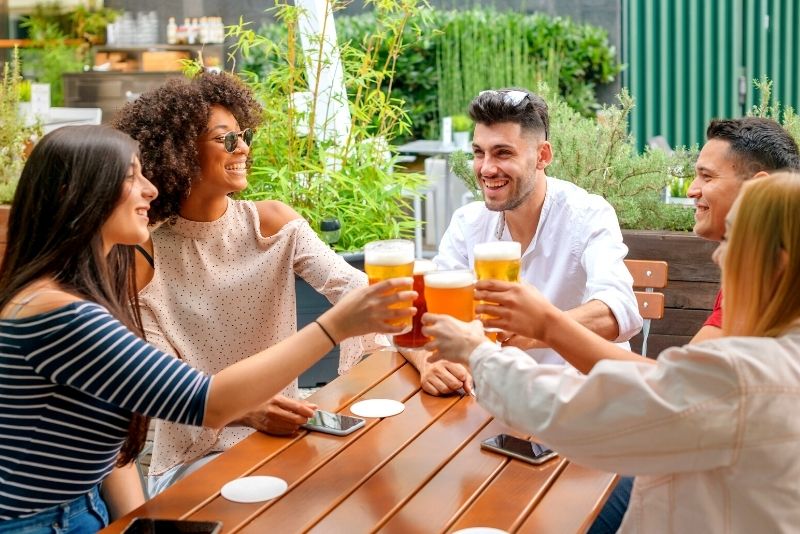 With the impressive claim of offering the world's largest selection of draft beers, where else would you go for a cold brew in the city but Raleigh Beer Garden? With over 350 beers on tap, you are quite literally spoiled for choice in this unique and casual restaurant bar.
Try the latest in local microbrew IPAs or sample the best of imported wheat beers from Europe. The food menu is not as extensive but is jam-packed with modern comfort food brunch and lunch dishes to ready your stomach for sampling some more tasty beers.
This is a great place to start your evening if you're thinking of sampling Raleigh's nightlife. Raleigh Beer Garden is just a stone's throw from the Downtown area and its many bars and restaurants.
21 – Hike on the Capital Area Greenway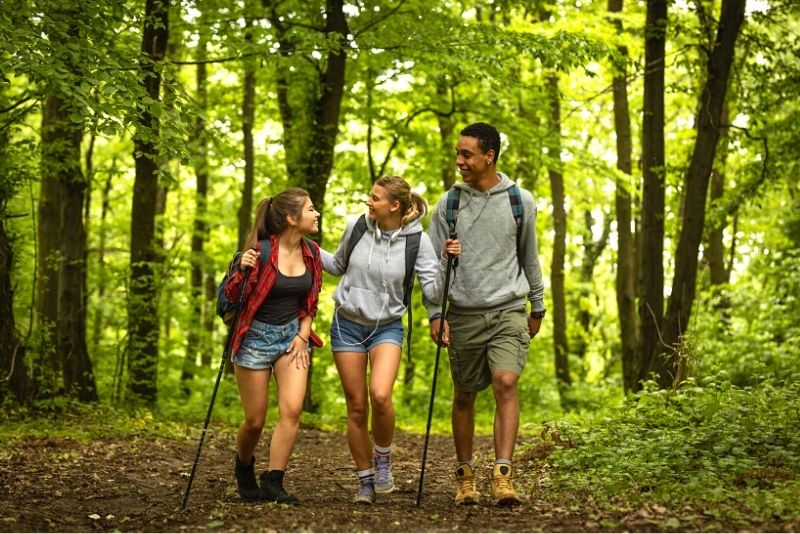 If you love to be outdoors, either hiking, running, cycling or nature watching you'll definitely want to check out the Capital Area Greenway Trails. Exploring this network of open public spaces and pathways is surely one of the most fun things to do in Raleigh for outdoors people.
With 28 trails covering over 100 miles around the city, there is sure to be one you'll really love. Though most of the trails are less than 5 miles in length, there are longer routes for the more ambitious explorer.
The Neuse River Trail is the longest and extends to over 27 miles over boardwalks, wetlands, historic sites and wide-open countryside.
Some of the nicest short routes are the 2-mile hike around Lake Johnson and the Simms Branch Trail which runs from the Abbots Creek Trail to the Durant Nature Preserve.
22 – Delve deeper into the city's history at the City of Raleigh Museum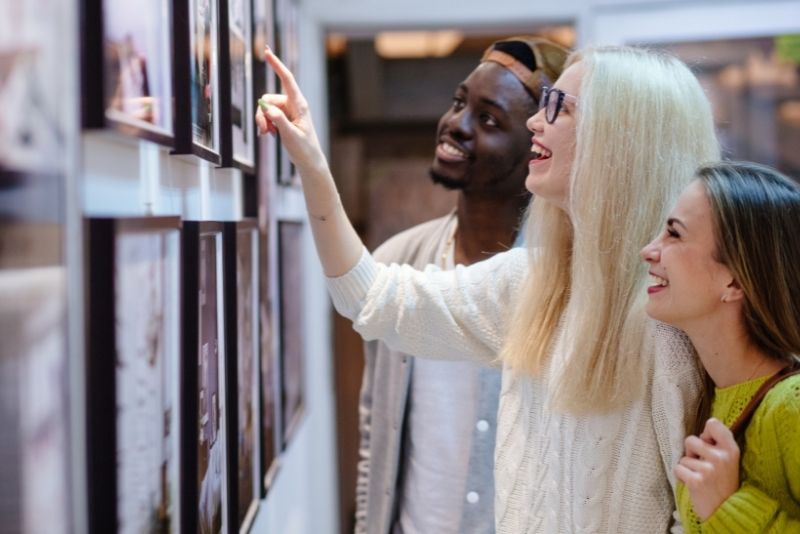 Documenting and preserving the city's history since 1993, The City of Raleigh Museum is an interactive museum that is jam-packed with artifacts, photographs and literature related to the growth and ever-changing face of the city.
The museum is located in the historic building on the city's busy Fayetteville Street which was once occupied by Briggs Hardware. It has information on important points in the city's history including Sir Walter Raleigh, the town's namesake, exhibitions on slavery, and even a diorama of the city.
The oral history booths are a great addition and allow visitors to discover more about the city from the perspective of the people who have lived here. If you're looking to discover more about the history of North Carolina's capital, this is the perfect place to start.
23 – Catch the Carolina Hurricanes at the PNC Arena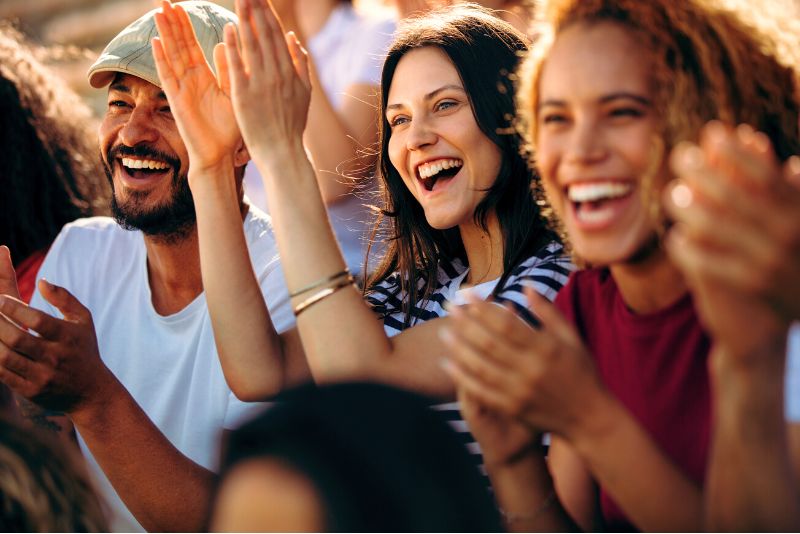 From sports fans to songbirds and everyone in between, any kind of visitor will find something to enjoy at PNC Arena!
The massive venue is most famous as the home of the Carolina Hurricanes, a live-wire NHL team whose matches are always exciting.
But even if you're not watching some teams duke it out on the ice, you're likely to find a spectacular event on the calendar!
Check out some thrilling basketball games, including home games for the NC State Wolfpack, the renowned men's college team.
Want some non-sporty options? You've got it!
Headlining comedy acts, show-stopping concerts, and epic conventions FIX are just some of the diverse programs that fill the space on any given day.
They even host monster truck rallies!
24 – Visit North Carolina Executive Mansion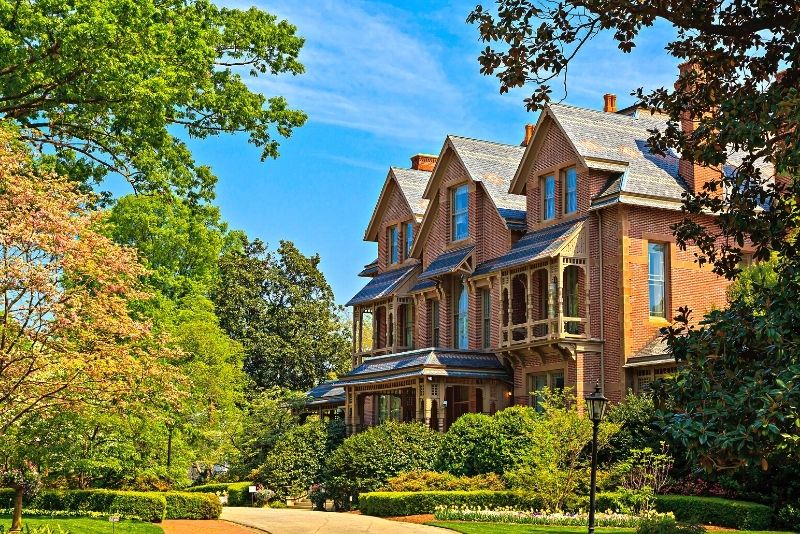 The official residence of the Governor of North Carolina and their family, North Carolina Executive Mansion was built in the 1880s and has since housed 28 of the state's governors.
Also known as "the people's house" its redbrick facade and the extensive use of locally produced materials led President Franklin D. Roosevelt to claim it one of the most beautiful governor's houses in America.
Visitors can take a free guided tour of this historic North Carolina residence and its extensive five-acre flower and vegetable gardens.
25 – Try laser tag at Adventure Landing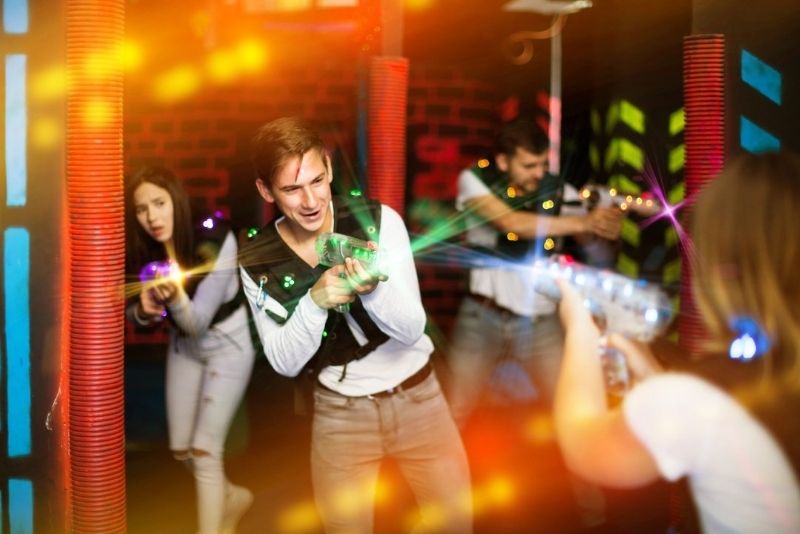 Another of the city's fun amusement parks, Adventure Landing is the place to be for lively indoor and outdoor group activities. Try your hand at mini-golf on the park's 18-hole course or go head-to-head with friends on the curvy quarter-mile go-kart track.
Brush up on your swing in one of the batting cages or fight to the end with a game of laser tag in the indoor battle arena. Gather up your friends and family for this beginner-friendly laser battle game and remember, only one person can emerge victoriously.
Adventure Landing is also home to a "Mega Arcade" with over 75 interactive games to try out, there is something here for everyone.
26 – Step back in time at the Historic Yates Mill County Park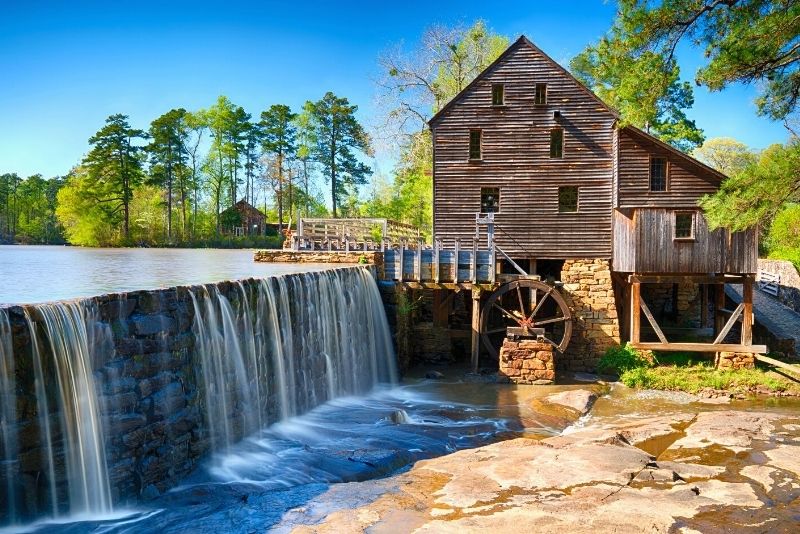 The extensive Yates Mill County Park is home to the area's only surviving water-powered mill. The mill was in operation for over 200 years from the colonial era all the way to the early-20th century when it was used to grind wheat and corn.
Historically, the mill pond was an important meeting point and recreational space in the days before major towns were developed in the region. When the community was just a scattered selection of homesteads and farms, people would gather here to fish and picnic by the edge of the water.
It's still a popular place to visit by Raleigh locals and the park extends to about 170 acres. Here you can hike the trails, picnic and fish to this day and also explore the landscaped gardens and even take a tour of the historic wooden mill. This is the ideal place to grab some fresh air in the North Carolina countryside.
27 – See the murals at Black Main Street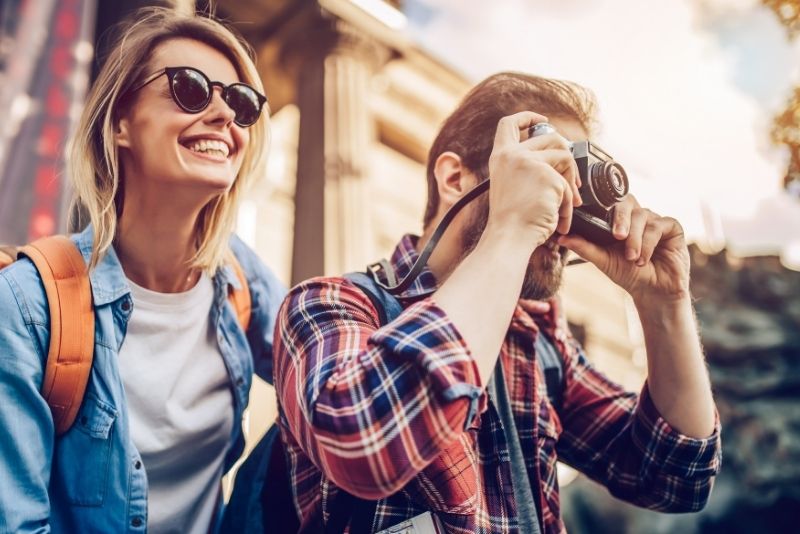 Black Main Street was the bustling center for the city's African-American population during the early 1900s. At this time segregation was part of everyday life for many Black people in the southern states and this forced them to set up their own stores, services and businesses separate from the city's white population.
As desegregation became more widespread during the 1960s the two-block area between Fayetteville Street and E.Hagrett Street fell into decline. Today Black Main Street is undergoing a revival as more Black-owned businesses open and thrive in the area.
Check out the series of murals and artwork that strive to commemorate the area's legacy and what it means for the local population.
28 – Check out the historic J.S. Dorton Arena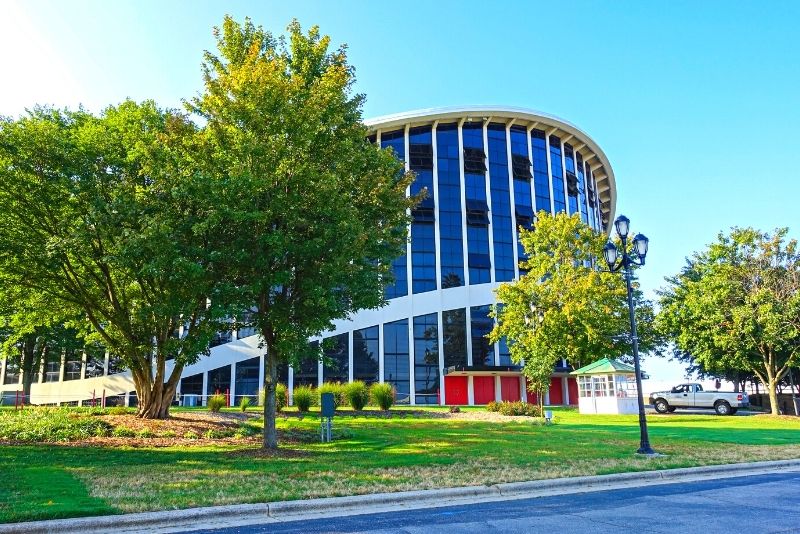 Located on the grounds of the North Carolina State Fair, the J.S Dorton Arena has been at the heart of public events since its construction in 1952.
Its iconic elliptical shape and innovative cable-suspended roof, which was the first in the world, is a popular local landmark that has made it onto the National Register of Historic Places.
It has hosted many sporting events in its 70-year history and has been the home grounds of the ECHL hockey team, The Raleigh IceCaps, as well as the Carolina Cougars basketball team.
More recently, it hosted professional indoor football but has also been used for Roller Derby and NWA Pro-Wrestling.
Before the construction of Walnut Creek Amphitheatre, it hosted major touring music acts including Ray Charles, The Supremes and the Jimi Hendrix Experience.
29 – Sightsee in style with a pedicab tour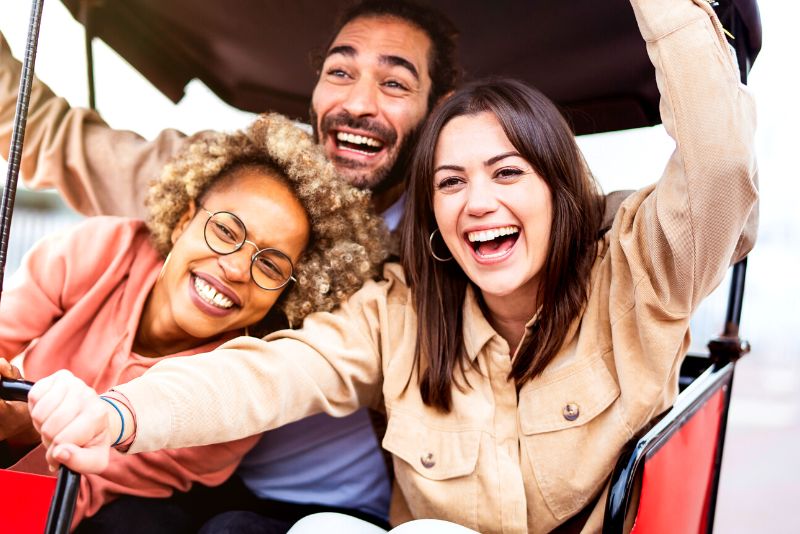 Looking for another great way to see the city sights?
Then be sure to book a pedicab tour during your visit!
If you've never seen or ridden in one of these vehicles before, you're in for a treat; consisting of a bike with seats attached to the back, it's the perfect way to enjoy your surroundings at a slower pace.
Settle into the cozy cushions, and let your guide/power pedaler convey you through town, stopping at various historical and cultural treasures along the way.
Best of all, the itinerary is customizable, so you can plan a route packed with all of your must-sees!
And if you feel like showing off a bit, there's even a karaoke option, where you can pass the time between sites by belting out your favorite tunes.
30 – Indulge yourself at Videri Chocolate Factory – Chocolate Bean to Bar
If one business is actively trying to be the most fun thing to do in Raleigh, it's Videri Chocolate Factory.
As if seeing the production of artisan chocolates and sampling all the delicious flavors wasn't enough, the company creates a warm and inviting atmosphere for the casual observer.
The factory is open to the public to come and witness the handmade magic that goes on behind its doors.
Those with a sweet tooth should definitely pay a visit to enjoy the sights and smells of these lovingly prepared sweet treats. Taste the variety of products made here, preferably with a coffee or soft-serve ice cream.
31 – Sit a while at Dr. Martin Luther King, Jr. Memorial Gardens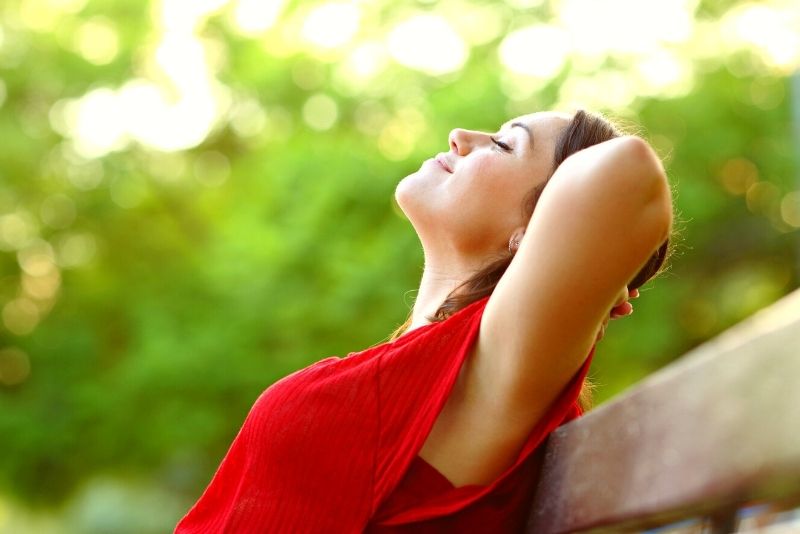 These leafy memorial gardens were developed in 1975 and were the first public park in the country to be dedicated to Dr. Martin Luther King Jr.
Home to a life-size sculpture of the civil rights hero, the garden aims to promote peace and community cohesion as well as a pleasant place to relax in Downtown Raleigh.
The garden is also home to a 12-ton granite monument that commemorates the lives and achievements of notable local civil rights pioneers. It's a great place to escape from the bustle of the city and even has a covered event space with a grill and seating for 130 people.
Take some time while you're in Raleigh to stroll through this tranquil and picturesque park and remember Dr. King, one of the country's foremost voices for unity, equality and peace.
32 – Dive into the canvases at some digital art installations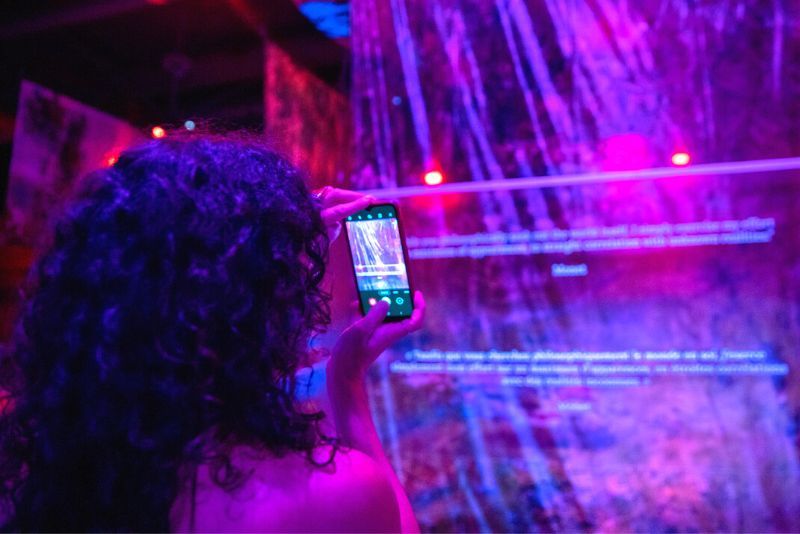 A cross between a traditional gallery and an immersive exhibition, the city's digital art installations are well worth a visit!
Whether you're an art aficionado or a total newcomer, these exhibits will draw you in with their unique ability to make you part of the canvas – well, almost.
At the Monet installation, you can stroll alongside a massive lily pond, or relax in a perfect park – totally rendered in paint, of course!
There's no better way to get absorbed in the works of some of history's greatest creative minds!
33 – Play and learn at Marbles Kids Museum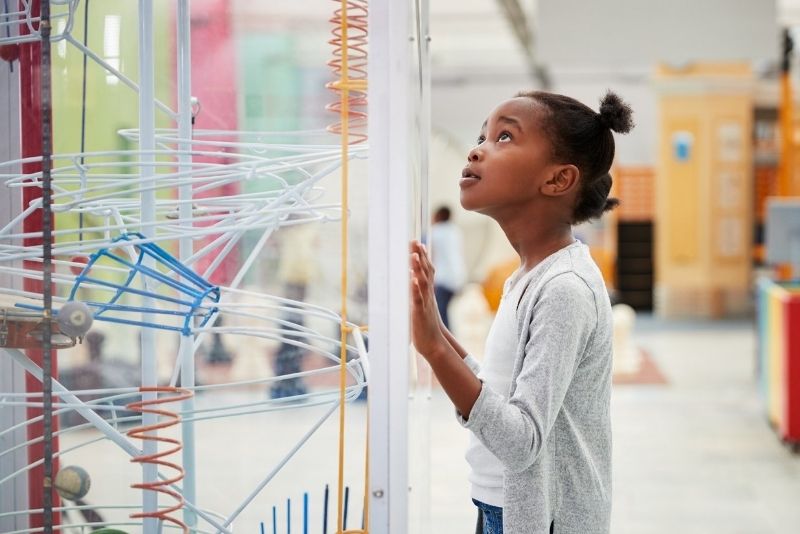 If you're looking for educational and fun things to do in Raleigh, North Carolina with kids, Marbles could be the ideal place. This popular local kids museum blends play and exploration to create an engaging fun environment that children will love.
With tons of activities and events going on throughout the year, including summer camps, sensory play times, princess tea parties and NASA space telescope viewings, there is something to capture the imagination of every young mind here.
There are over 15 full-time exhibits to explore and an IMAX Theater that shows everything from educational documentaries to the latest superhero movies. Kids will really love this place.
34 – Explore Juniper Level Botanic Garden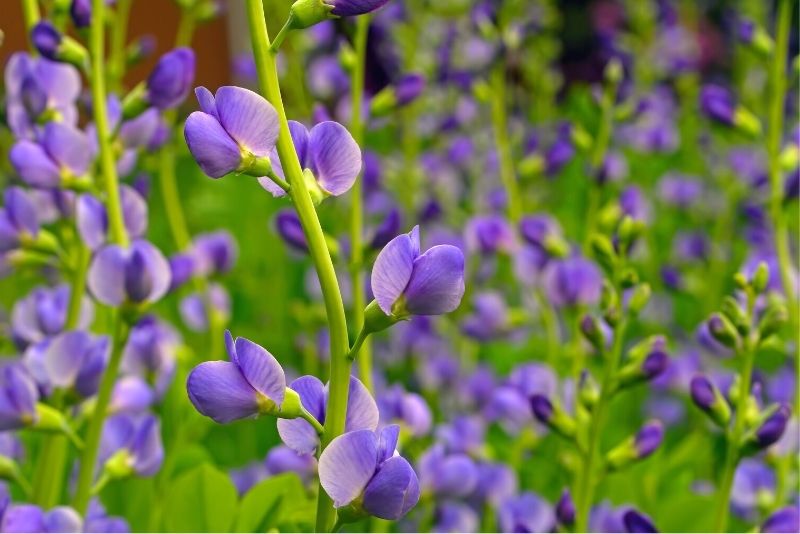 What started as just over two acres of abandoned tobacco fields in the 1980s has extended to one of the region's finest plant collections, Juniper Level Botanic Garden. The facility now covers 28 acres and is run as a research and display garden.
The extensive collection includes over 60 varieties of agave, 80 varieties of ginger, 300 species of fern and much more. Juniper Level is a great place to pick up some rare or specialist plants but is also an ideal spot to escape the city and enjoy the fantastic landscaped areas.
The garden hosts horticultural classes based on the knowledge acquired from decades of research in the field. It also has a Center for Mindfulness and Oneness which offers retreats and classes. Take a look at the website to see what classes are available. Juniper Level is open to visitors from Friday to Sunday each week.
35 – Enjoy a treetop adventure at Go Ape Zipline and Adventure Park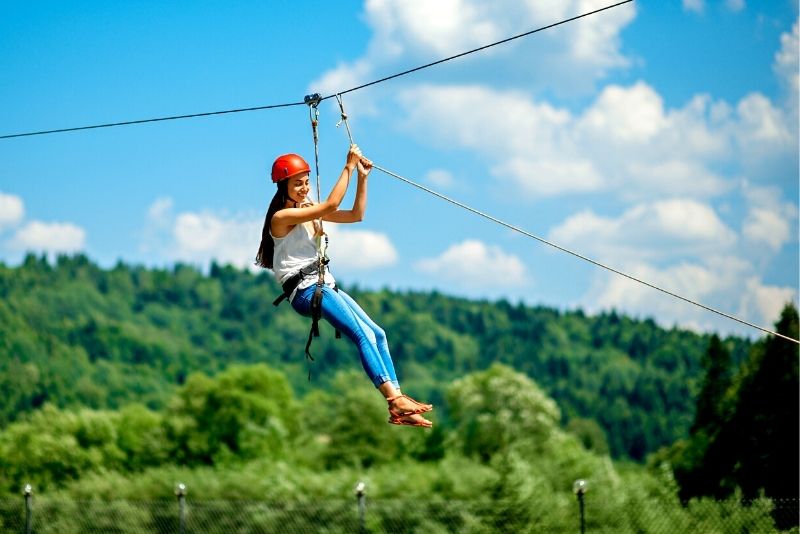 Ever wanted to explore the treetops on a series of dizzying rope bridges, ziplines and Tarzan swings? Go Ape at Blue Jay County Park is just the place for you.
With a bunch of challenging tree crossings suspended in the forest canopy, you'll find all the thrills of a woodland adventure right here in the park.
Strap on your harness and traverse rope bridges and platforms, the highest of which reaches 50ft. Explore 41 different obstacle challenges and hurtle through the forest on super-long ziplines.
The full treetop adventure course takes between 2-3 hours to complete and is suitable for ages 10 and upwards.
Younger kids will enjoy the Treetop Journey which is a shorter course that offers all the fun of the full experience but not quite as high. This is a day out all the family will love.
36 – Wander through a creepier world on some ghost tours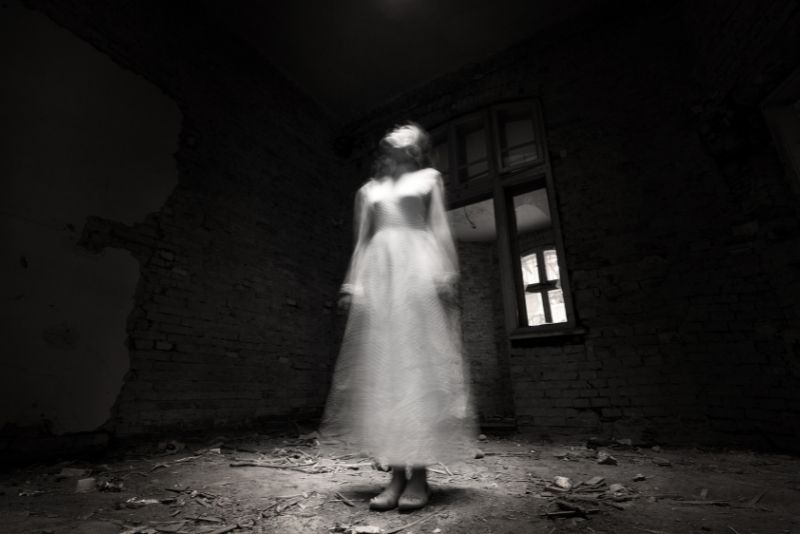 Any city with such a long history is not without its spooky side; and if you go out at night, you can learn all about it on a ghost tour!
Head out on a fascinating, frightful excursion into the eerier side of the capital's past, including some of its most famous (or infamous) deceased residents.
Learn compelling tales about booze-smuggling politicians, strange specters with peg legs, and even potential witches lurking around the area!
Along the way, you'll also get to take in some of the most famous buildings in town, from boisterous community bars to stately mansions packed with their own bizarre secrets.
While you don't have to be a believer to join the tour, you just might become one after hearing some of these anecdotes!
37 – Tour the James B. Hunt Jr. Library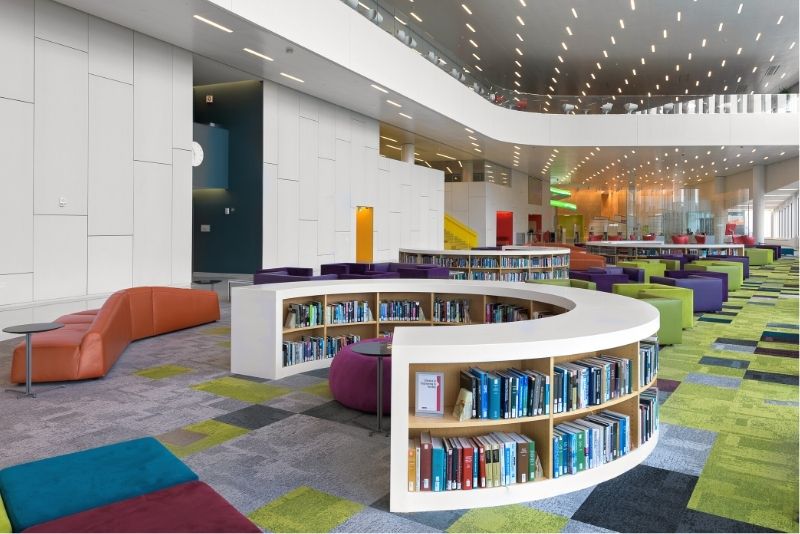 North Carolina State University's cutting-edge facility, the James B. Hunt Jr Library was built with the express purpose of supporting the latest research and its students' progress. This modern and colorful glass-walled library building is quite a sight to behold.
It is the university's second main library and features traditional study and learning rooms, as well as more unconventional spaces and interesting viewpoints throughout the building. It houses a video game testing laboratory and the latest technological devices to try out and experiment with.
Its huge warehouse-style storage facility uses a bookbot to help pick individual books from the library's collection of 2 million volumes. The innovative library has public areas which are open to self-tour by individuals and small groups.
38 – Walk the streets of Historic Oakwood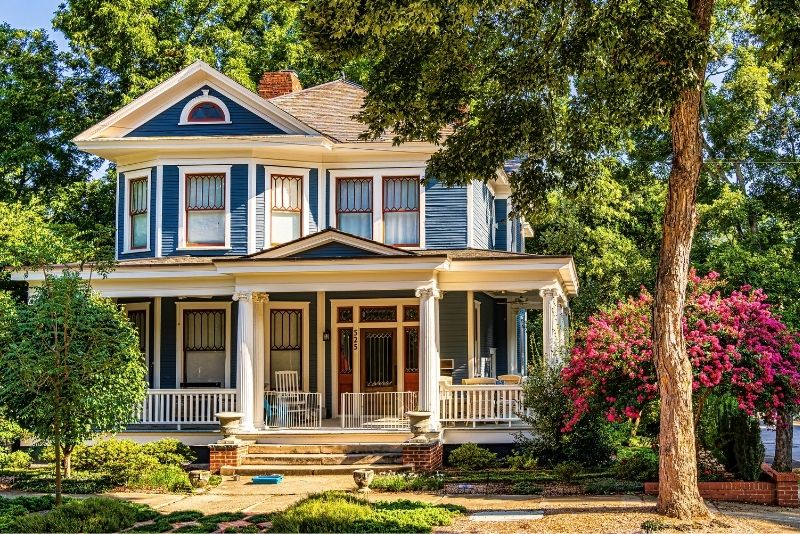 One of the nicest areas of the city to explore by foot has to be the Historic Oakwood Neighborhood. It is home to some of the best-preserved examples of 19th-century houses and buildings in all of North Carolina.
The neighborhood includes hundreds of homes in a wide variety of different styles and sizes and provides a glimpse into the way the city looked nearly 200 years ago.
In December each year visitors can try the Historic Oakwood Candlelight Tour which visits up to a dozen houses in the area. Visitors get the opportunity to see Queen Anne, Victorian and Craftsmen architectural styles up close.
The Historic Oakwood Cemetery is also worth exploring while you're in the neighborhood. The burial ground is 150 years old and is the final resting place for many high profile individuals, including Confederate Army generals, basketball players, governors, senators and congressmen.
39 – Pick up groceries at Raleigh Farmers Market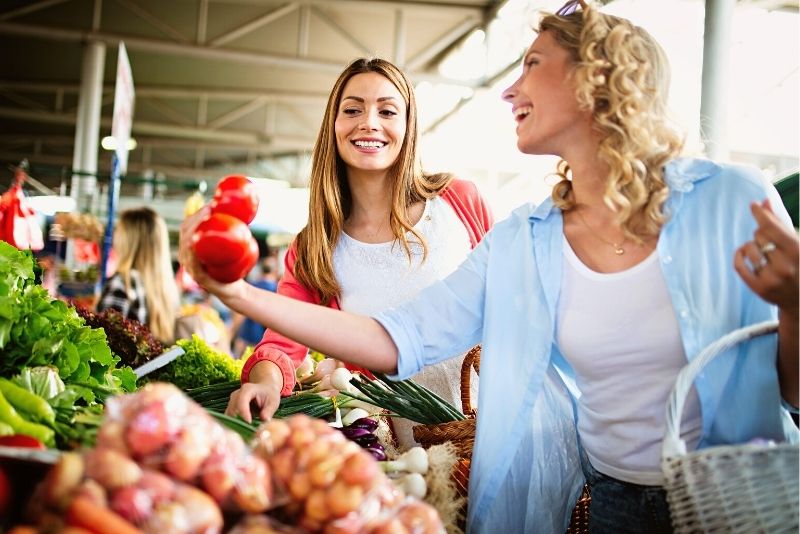 A trip to the Farmers Market is surely one of the top things to do in Raleigh on everyone's list. It is, without doubt, one of the best places to pick up fresh foods and products in the city.
Here you will find locally-produced fruits and vegetables and high-quality meats and cheeses from the surrounding region.
The market is housed in a 15,600 square foot indoor space that has boutique stalls selling everything from soaps and lotions to old-fashioned candies, baked goods, North Carolina souvenirs and gifts and some of the state's finest wines.
If you're on the lookout for home and garden furnishings, check out Market Imports for fountains, furnishings and pots. You can also pick up breakfast while you're here as there are a number of restaurants and cafes inside the market that serve freshly prepared dishes all day.
40 – Go rock climbing at Triangle Rock Club – Raleigh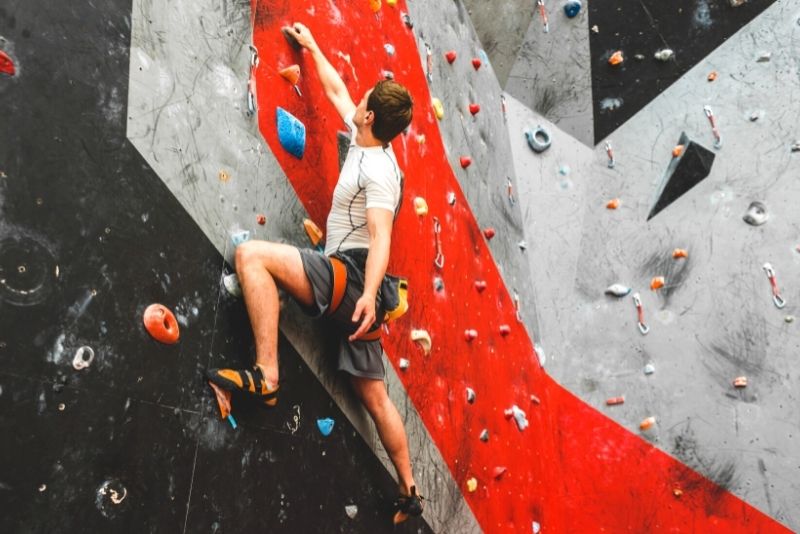 Fancy pushing your boundaries with an adrenaline-inducing adventure sport?
Triangle Rock Club is a great place to start. This well-established rock climbing facility has over 7,000 square feet of bouldering terrain and a freestanding 30-foot climbing wall, so whatever type of climbing you're into, you are well catered for here.
Though the club's climbing walls draw a lot of attention it also promotes general fitness and has daily classes teaching various types of yoga as well as strength training and HIIT courses.
First-timers can take classes to learn the basics of rock climbing and discover what style they enjoy the most. whether tricky bouldering problems or scaling the dizzying heights, you will find plenty to excite and challenge you at Triangle Rock Club.
41 – Explore and learn at Clemmons Educational State Forest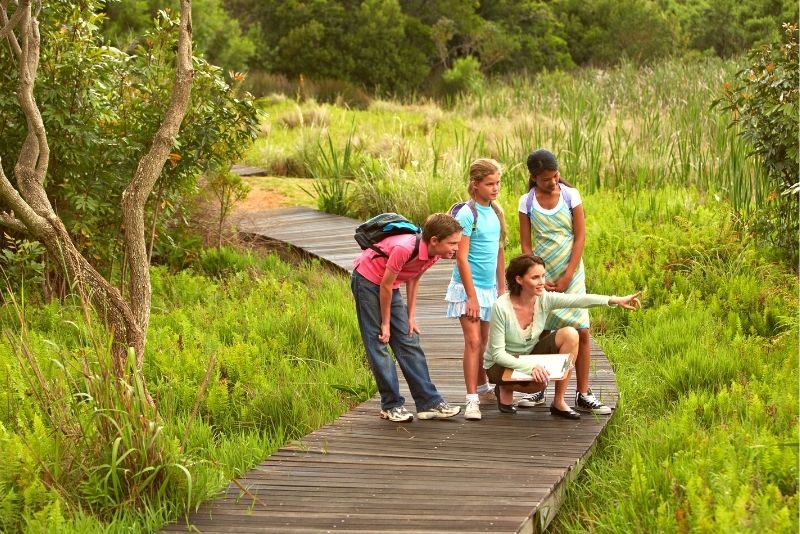 If you've never heard of an educational state forest before you may be wondering how does it differ from a State Park?
Though a state park is primarily concerned with the preservation of a particular habitat, an educational state forest is managed for various uses including timber harvesting.
At Clemmons Educational State Forest, visitors can discover all about the complex interconnected relationships in the forest, from the plants that grow there to the creatures that inhabit it.
The park has lots of trails and routes to discover as well as picturesque places to picnic and barbecue.
Clemmons includes woodland areas of pine and hardwood, streams and wetlands and meadows. You can also find informative exhibits explaining the importance of every organism in the managed forest.
42 – Laugh your heart out at Raleigh Improv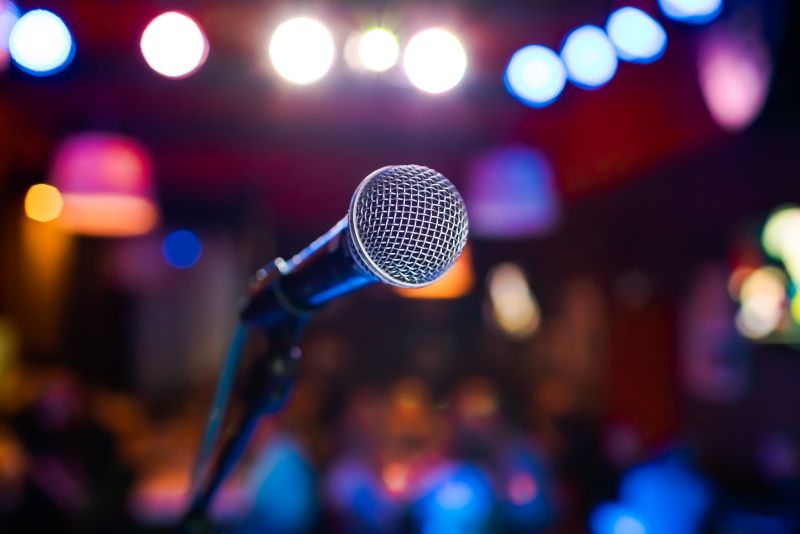 No town's arts scene is complete without a dose of comedy, and if you're in the looking for fun in the capital, Raleigh Improv is sure to keep you snickering!
While it's a relative newcomer to the area, the club has quickly earned its way into the hearts of townsfolk and tourists alike, offering some of the best improvisational work around.
Although they book plenty of fantastic touring talent, the space is also known for its homegrown talent, with a perpetually growing troupe of locals coming out to strut their stuff.
You'll be amazed at the speed and precision with which these performers spin random ideas into fully functional comedy gold!
43 – See the birthplace of a US President at Mordecai Historical Park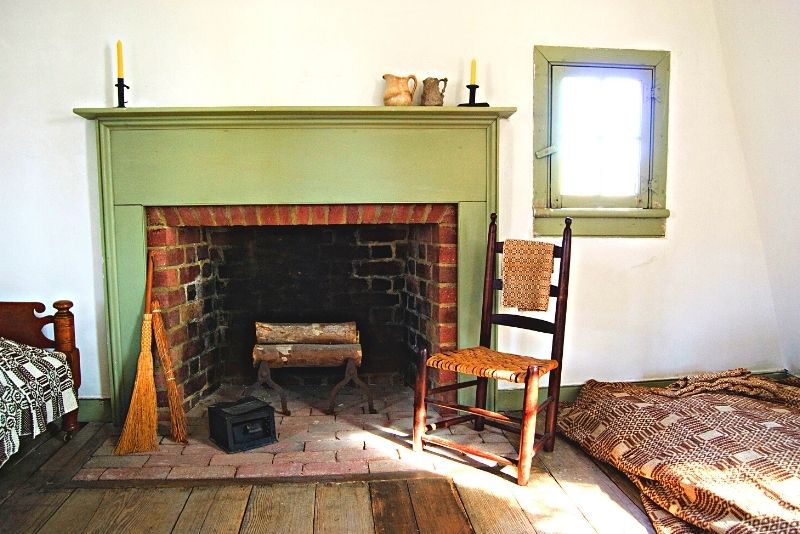 The oldest house in Raleigh in its original location, Mordecai House was constructed in 1785 by the city's founder, Joel Lane, as part of one of the largest plantations in Wake County. It was remodeled in the 1800s by William Nichols, who also redesigned the State Capitol building.
Mordecai House has strong connections to some of the most prominent families in the city's history and, being a plantation house, slavery too. The park has a visitor center and offers tours of the house daily where you can uncover its history and view original furniture and household artifacts from the mid-1700s onwards.
The birthplace of the 17th U.S President, Andrew Johnson, is also located on the grounds of the park. Visitors can learn about the former president's childhood and his meteoric rise from poverty to the most powerful person in the country. There's a lot here for history fans to discover!
44 – Spot wildlife at Hemlock Bluffs Nature Preserve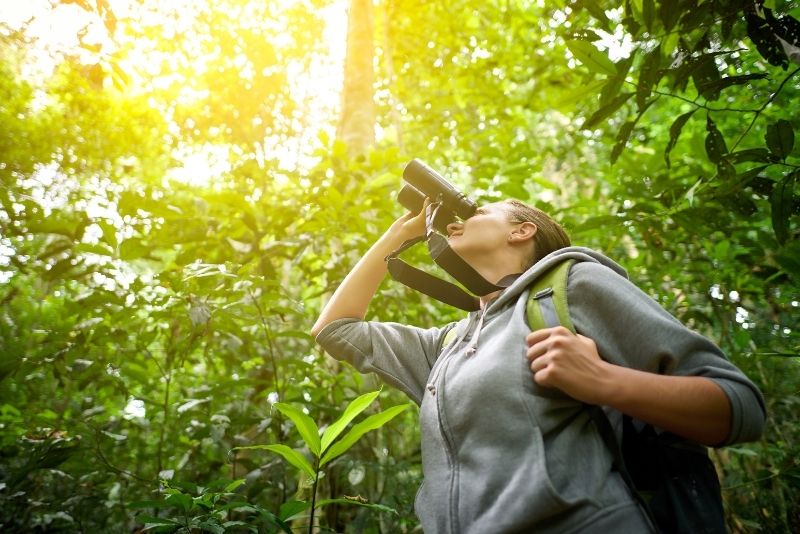 In the nearby town of Cary, Hemlock Bluffs Nature Preserve is a great space for spotting native wildlife and unusual plant species. Home to Eastern hemlock tree varieties, the park is just a stone's throw from the bustling high street.
Here visitors can explore up to three miles of mulched wooded trails and boardwalks. Keep your eyes peeled for deer, lizards, snakes and the rare glimpse of foxes. The park also has the Stevens Nature Center which provides interactive and educational exhibits on the local wildlife.
45 – Play Sherlock in an escape room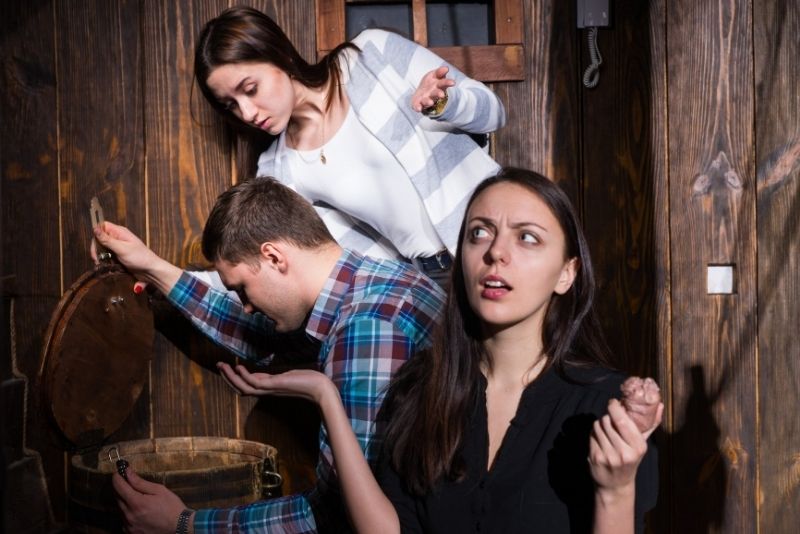 If you're looking for a unique and fun group challenge to take in Raleigh, why not try an escape room challenge? These interactive and immersive games will test your puzzle-solving skills and powers of deduction to the extreme.
Play the part of the master detective in a Sherlock-themed challenge at Raleigh's Room 5280 or join a CSI squad to solve a suspicious death at The Tower Escapes' Castle of Loches.
Work together as a team to decipher clues and crack all the puzzles within the time limit. Try the different themed rooms and choose what kind of adventure you would like to take.
These escape rooms are one of the best things to do in Raleigh for those looking to test their problem-solving and sleuthing skills and are also a really fun group activity.
46 – Smell the flowers at JC Raulston Arboretum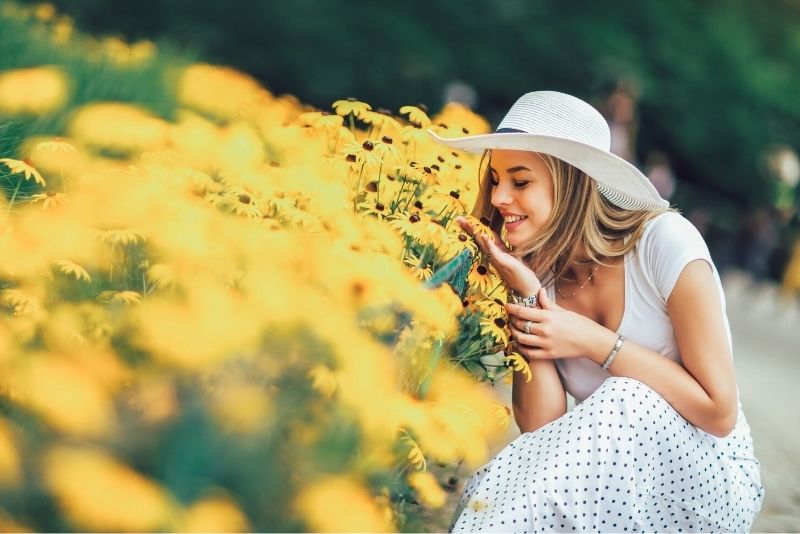 Nature lovers will really enjoy a trip to the JC Raulston Arboretum. Founded in the 1970s as part of the North Carolina State University, the internationally renowned garden has grown from eight to ten acres and features an exceptional collection of plants.
Named for its founder JC Raulston, who was a NC State University lecturer and prominent horticulturist,  The arboretum has a number of landscaped gardens with exotic and native plants. Visitors can explore gardens created different environments and seasons in mind.
Discover colorful and fragrant butterfly gardens, model gardens that show the intelligent use of landscaping in smaller spaces and serene Japanese gardens. This place is a must-see for garden enthusiasts and nature lovers.
47 – Take the chequered flag at Rush Hour Karting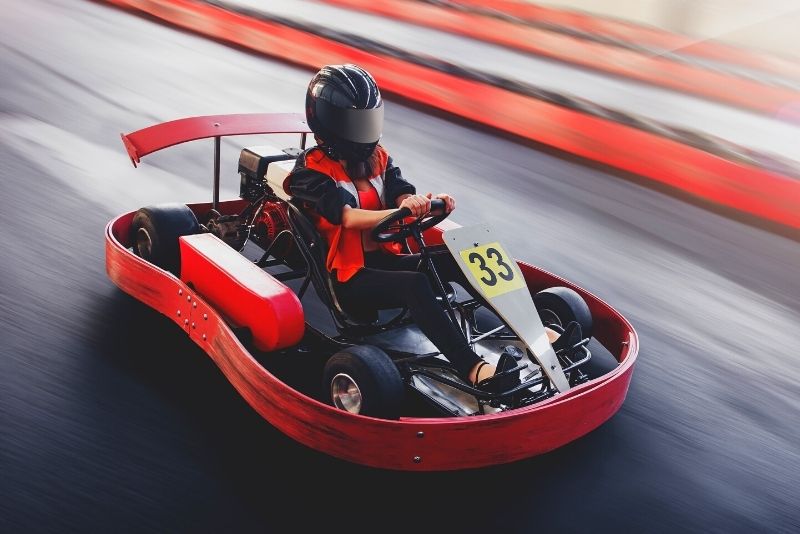 Looking for some high-speed thrills or a fun thing to do in Raleigh as a group?
Rush Hour Karting could be just the thing for you. Hit the track and race go-karts at speeds up to 40 mph through a series of turns, chicanes and hairpin bends.
This high-speed kart track is suitable for adults and youths, and is all indoors so you can race whatever the weather.
This is not your average amusement park go-kart track. You need to use all your skill to race these 200cc karts around the Grand Prix-style track if you want to win that chequered flag.
You never know, if you are really good you might make it onto the leaderboard list of all-time greats!
48 – Kayak at Lake Wheeler Park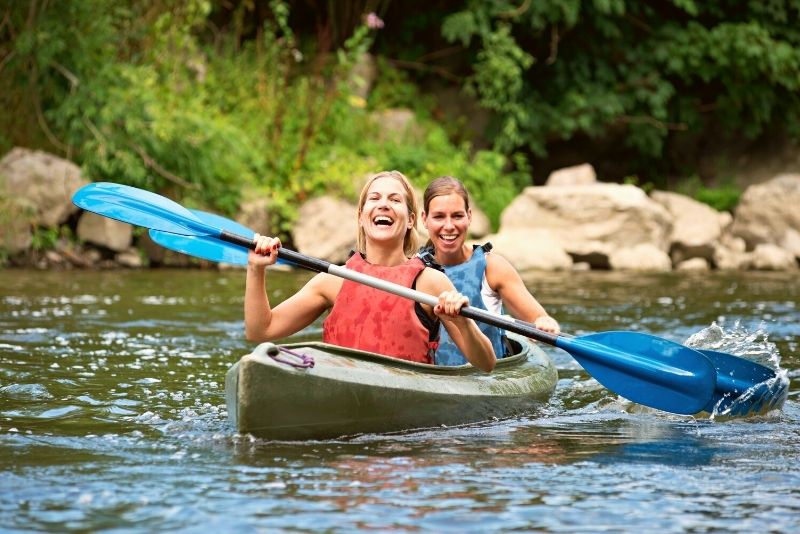 The huge manmade reservoir, Lake Wheeler, takes up more than 3 quarters of the 800-acre park that bears its name. Located just 15 minutes south of Raleigh, it has been a major water source for the city since its construction in the 1950s.
It is also a great place for watersports too and all types of paddle boats and motorboats are allowed. Why not rent a kayak and spend a lazy day paddling the waters, or hire a rod and reel tackle and do some fishing? Those with their own boats are welcome too and can launch for a minimal fee.
The park has a bunch of other amenities to try including volleyball courts, playgrounds and picnic shelters. Everything you could need for a great day at the lake!
49 – Take a picnic at Dorothea Dix Park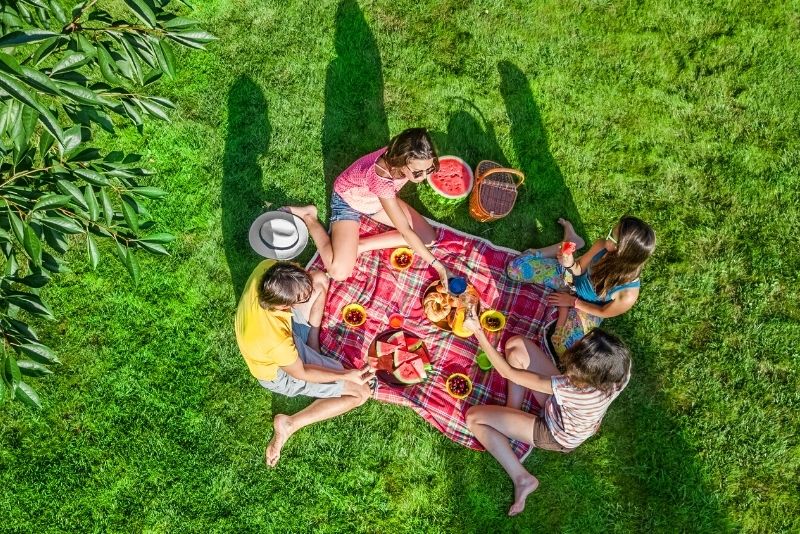 There's always some kind of event happening at Dorothy Dix Park. Whether it be a drive-in Valentine's day movie or a music festival such as Dreamville, curated by local hip hop artist J Cole. You need to put this place on your list of essential things to do in Raleigh.
But it doesn't end there. This community park also hosts picnics and get-togethers, art installations, pop-up museums and much more.
There's no wonder it's one of the most popular places to visit for Raleigh locals. In the summer, months be sure to check out the huge flower fields with their displays of sunflowers and daffodils.
The park is also great for your four-legged friend and has an off-leash area where your dog can bound, skip and play to his heart's content. There's so much to see and do in this exciting city park.
50 – Dine and play at Kings Bowl-North Hills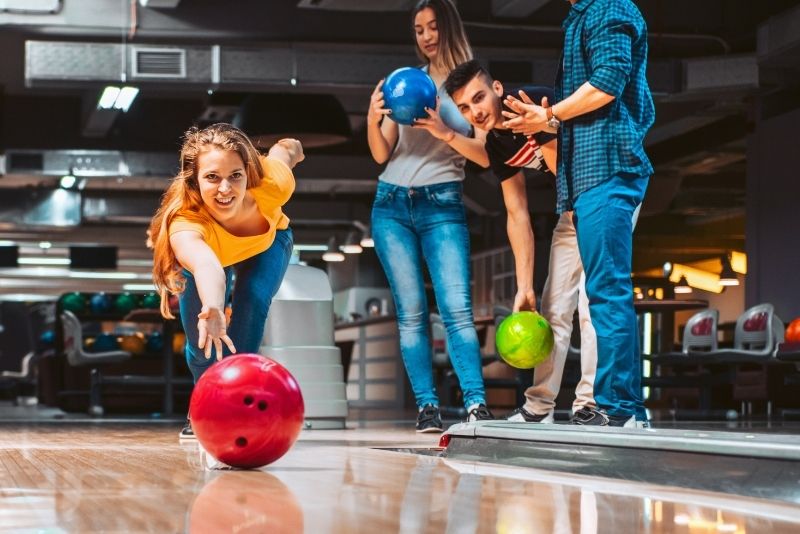 One of the city's best places to go if you're looking for great quality food and entertainment all in one spot.
Kings Bowl has all the classic comfort food favorites you know and love, including delicious pizzas, burgers, tacos and wings as well as a selection of salads, sandwiches and desserts.
You can also check out its range of classic bar games, including bowling, billiards, darts, air hockey and even retro-arcade game favorites. If you're looking for an easy-going place to eat and have fun, Kings Bowl could be just what you need.
51 – Take a shopping spree at Raleigh's best malls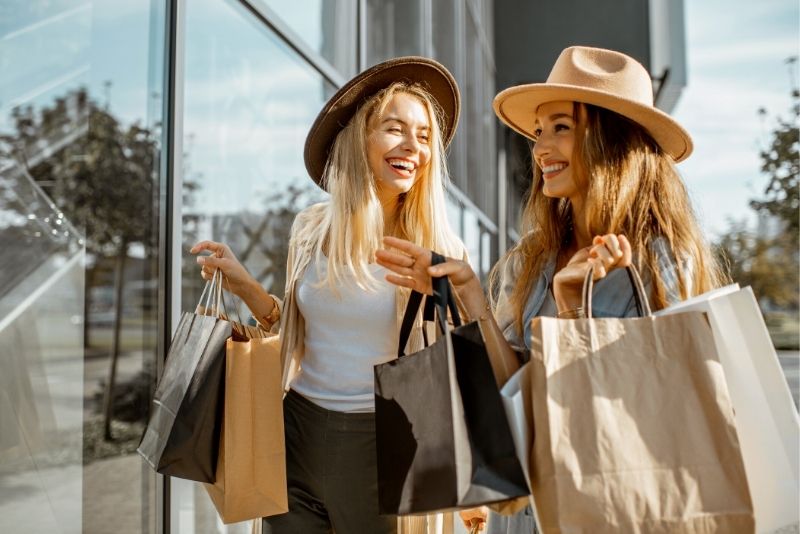 If you're looking for a little retail therapy while in the city or just want to take some time out from sightseeing, why not visit some of the best local malls for a shopping spree?
Crabtree Valley Mall is a great place to visit if you're looking for the biggest high street names. Here you can find major clothing brands such as Hollister, Foot Locker and GAP, cosmetics by Lush and Sephora and electronic items from Apple Store. There are also book and record stores and over 30 restaurants and eateries.
An upmarket shopping center, Midtown's North Hills offers visitors a range of shopping, dining, entertainment and accommodation options. The open-air development has many boutique stores selling clothes and accessories as well as spas, restaurants and cafes, services, a super-modern 60,000 square foot gym and a cinema complex.
52 – See a musical at Raleigh Little Theatre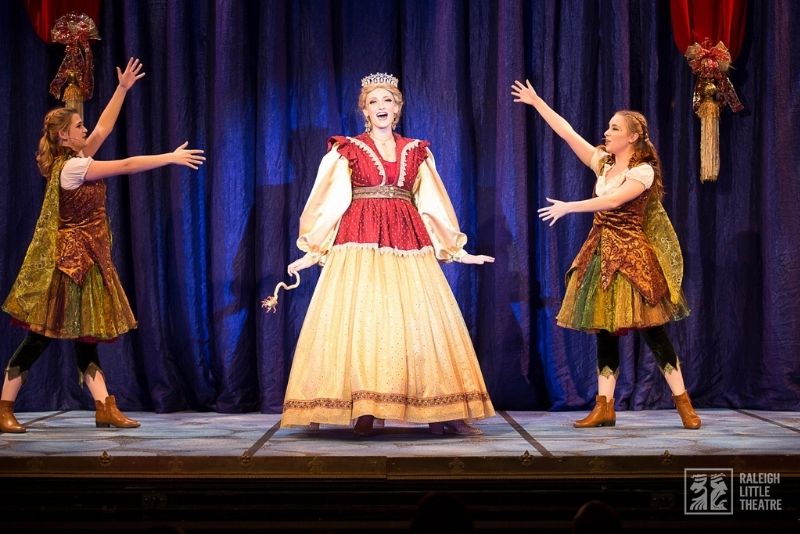 One of the oldest continuously operating theaters in the country, Raleigh Little Theatre has been entertaining locals and visitors alike since 1936. This vibrant community theater puts on almost a dozen productions each year as well as educational programs for youths and adults.
The theater has three performance venues including two small indoor theaters and a large outdoor amphitheater that can seat up to 1700 guests. It hosts a variety of performances including comedies, musicals, dramas and even sensory-friendly performances so everyone gets to enjoy a night at the theater.
Through the summer months you can check out the outdoor movie screening series and, if you're lucky, you might be there for one of the theater's costume sales to pick up some fun, vintage clothing and accessories.
You can also check out the Raleigh Rose Garden which is located just behind the theater and has year-round displays of roses and perennials.
53 – Play interactive golf and party at Drive Shack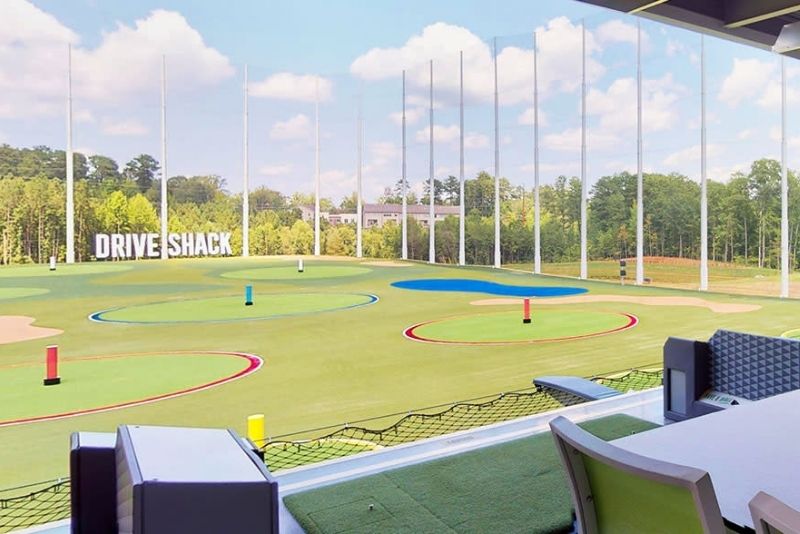 Eager to play golf but you also want to drink a beer? No problem, you can do both at Drive Shack. You'll be pro in no time as you work on your swing in these interactive indoor golf simulators.
The facility has a three-level driving range where you can practice your swing using traditional tailor-made clubs to hit authentic golf balls into the range.
With the latest technology, you can track your ball and know all the information such as launch speed and peak height.
Drive Shack also offers an extensive food and drink menu, cutting-edge arcade games and a program of social events. Whether you're a professional golfer or just want to smack things and have fun, this place is custom-made for everyone to have a great time.
54 – Relax a while at Moore Square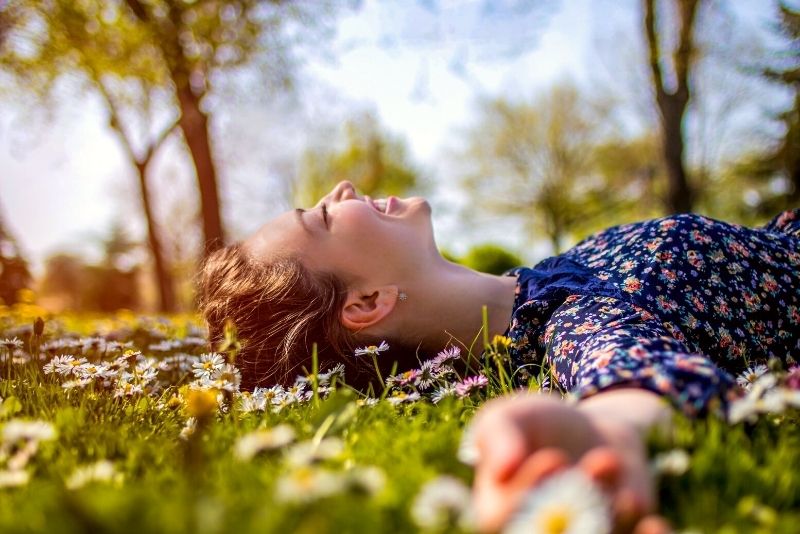 Located in the center of the historic district of the city, Moore Square is right at the heart of the action. This shady tree-lined area is home to many of the city's most popular events and attractions including weekly markets, summer festivals such as Movies in the Park and the Long View Center.
Take some time to relax in this four-acre green space which sits at the center of the Moore Square Historic District. It has plenty of benches to rest on and an interactive water feature. There are also some small cafes and eateries in the park itself including the aptly named Square Burger.
There are a number of vendors who take up residence in the park each Sunday selling snacks, art, plants and locally produced foods. Definitely take the time to check out this city center park while you are in Raleigh.
55 – Delight your senses with fine dining at Second Empire Restaurant and Tavern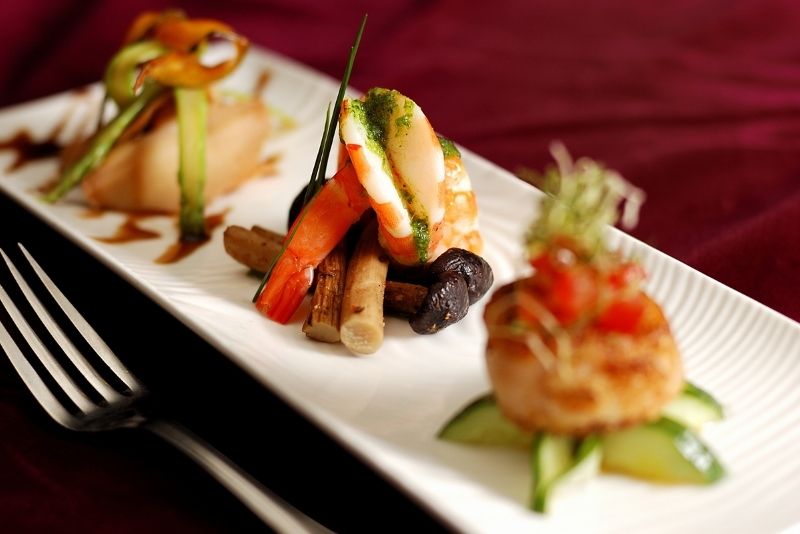 Located in the restored Dodd-Hinsdale House built in the 1870s — the restaurant offers both a historical and gourmet dining experience surrounded by Second Empire Victorian architecture.
Tour the house and see its beautiful staircase and interior design. Discover its various rooms which have become a favorite venue for bridal showers, weddings and birthday parties.
You can choose the Chef's Table option where you have a five-course meal paired with wine in the kitchen — interacting with the chef and crew as they prepare your food.
And if you want to continue your adventures in fine dining, you've come to the right place!
Tuck into some sea scallops or short ribs at Second Empire Restaurant & Tavern, or take a trip across the Atlantic with a bite at Saint Jacques French Cuisine.
You can also try some world-class steaks (plus cigars, if you partake) at The Angus Barn, or enjoy the decadent, New Orleans-inspired flavors at Rey's Restaurant.
56 – Go Camping in William B. Umstead State Park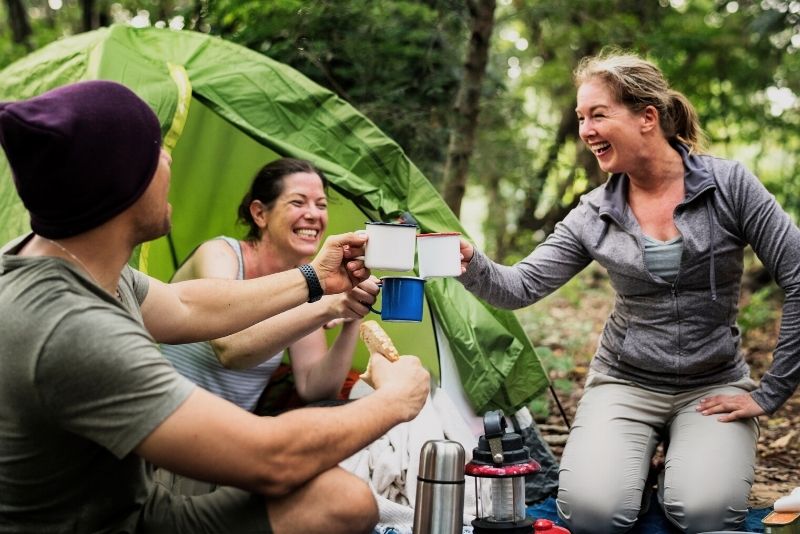 Sitting between the cities of Raleigh, Durham and Cary, is the William B. Umstead State Park. This huge natural space is home to many pathways which pass through dense woodland and alongside a number of lakes.
Its extensive trails are a favorite spot for local cyclists, hikers and runners, eager to escape the city. It has three man-made lakes, the largest of which is the imaginatively titled Big Lake. Fishing is welcome in all of the lakes and surrounding tributaries and there are also opportunities to hire kayaks and canoes in the park.
For those who really like to make the most of the outdoors, the park has some primitive campsites as well as fireplaces and picnic shelters which make the perfect weekend getaway in the warm summer months.
57 – See a concert at Walnut Creek Amphitheatre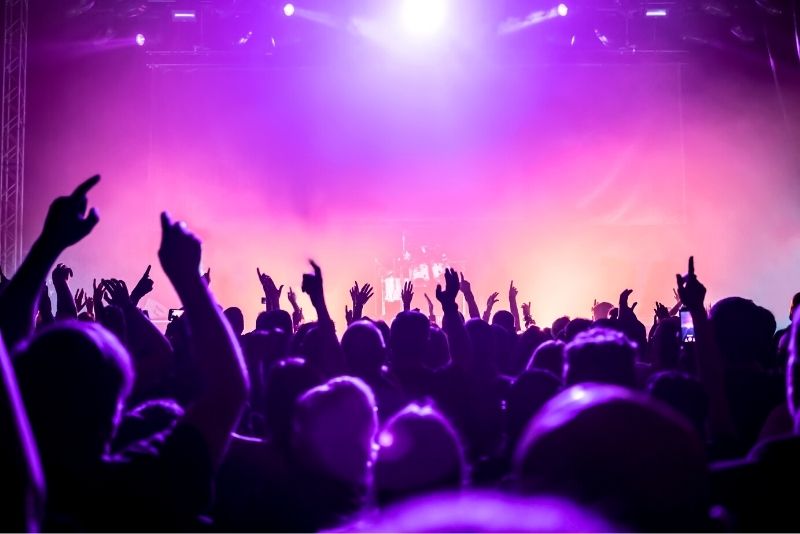 In the summer months, one of the best places to see live music in the city is Coastal Credit Union Music Park at Walnut Creek. This picturesque outdoor venue has the capacity for 20,000 people to enjoy concerts in comfort.
First opened in 1991, Its stage has been graced by some of the biggest names in music, including Bob Dylan, David Bowie and Lauryn Hill. It has hosted huge festivals such as Ozzfest, Vans Warped Tour and the Charlotte Blues Festival.
Snacks and drinks are available on site but visitors are welcome to bring their own picnic blankets, binoculars and cushions for maximum comfort. Check out the venue's website to see who's performing during your time in Raleigh, NC.
58 – Catch an orchestral concert at Duke Energy Center for the Performing Arts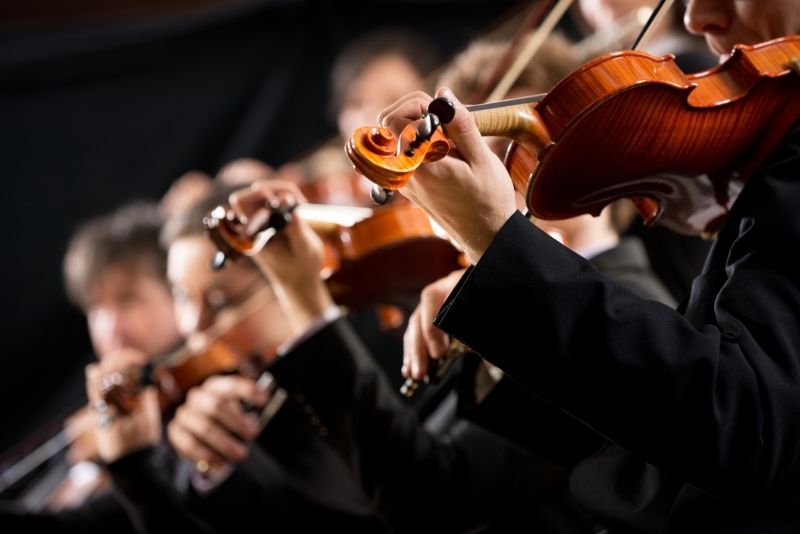 Home to the North Carolina Symphony Orchestra, Duke Energy Center for the Performing Arts is the city's main venue for ballet and dance performances, orchestral concerts and theatre.
The center includes five performance spaces in its complex, including the Meymandi Concert Hall which is the headquarters of the North Carolina Symphony Orchestra. The orchestra performs here regularly during its busy schedule of 300 yearly concerts.
Visitors can also see a range of Broadway musicals, dance shows and live shows here on any given night. The center's largest concert venue, the Raleigh Memorial Auditorium, sits at the southern end of Fayetteville Street and has an elegant Greek-revival facade that you can't miss.
How to get to Raleigh?
Raleigh-Durham Airport hosts plenty of international and domestic flights, and offers the chance to get started on your next trip that much quicker.
And if you want to make the whole thing easier on yourself, book a transfer service!
These convenient, private options will transport you to and from the city at a reasonable price, eliminating some of the usual stress of arriving in a new city.
Where to stay in Raleigh?
Hyatt Place Raleigh Cary combines classy decor with a great set of amenities, whether you want to grab a bite at the snack bar, get some reps in at the gym, or simply lounge around the beautiful outdoor pool.
And at Hilton Raleigh North Hills, you can spend your days hanging around nearby sites like the Capitol building, the Museum of Natural Sciences, and the PNC Arena, then wander back to unwind on the gorgeous sundeck.
Embassy Suites by Hilton Raleigh Crabtree provides a free breakfast and shuttle service, as well as close proximity to plenty of museums and shopping areas.
And at Hyatt House Raleigh/Rdu/Brier Creek, you'll have a little haven just outside of the city, where you can swim, dine, or sip delicious cocktails to your heart's content.
Meanwhile, Best Western Plus Raleigh Crabtree Valley Hotel provides a nice option for those that want to be close to town or the local malls, while still enjoying some in-house amenities like the gym and business center.
Where to go next?
When you're ready to keep exploring, you'll find dynamic cities waiting to greet you around every corner – and some are relatively close by!
Just a couple of hours west and south, Charlotte boasts a quirky cultural scene and fantastic culinary options, with craft beer breweries, historic mansions, exciting amusement parks, and even a NASCAR track to keep things interesting.
And if you keep going north, you'll end up in Virginia, which boasts quite a few great towns of its own.
Check out the lively arts scene and history-soaked streets of Richmond, or the excellent restaurants, beautiful views, and fascinating naval culture of Norfolk.
And of course, sun worshippers will thrill to the sands of Virginia Beach, which offers plenty of museums, outdoor activities, and fantastic musical venues to go with its famously picturesque shores.
Final thoughts
Simultaneously cutting-edge and wonderfully old-fashioned, this capital has coolness to spare!
You may be surprised at all of the different things to do in Raleigh, but you'll quickly realize that it's no ordinary town.
Packed with political power and laidback locals, it offers a trip like no other; so head on over for some of that famous Southern hospitality!