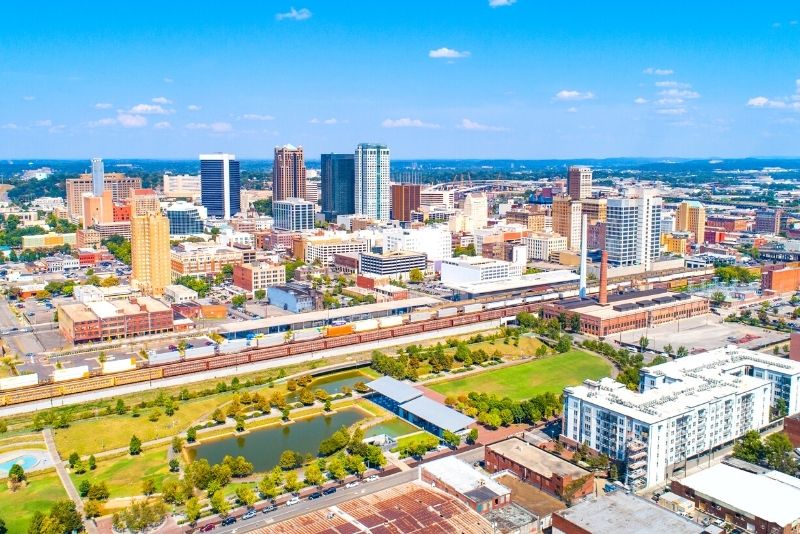 Steeped in rich Civil War-era history, Alabama's largest metropolitan region takes visitors on a fascinating, sobering, and eye-opening journey that few other Southern cities can match.
However, despite its checkered past, Birmingham is now thrusting itself back into the tourism limelight, and donning the wondrous Magic City moniker which once made it famous.
As any former visitor (or local) will attest, this lively metropolis is full of surprises: from its roaring sports crowds and insightful museums to its stunning inner-city nature, vibrant Theatre District and proximity to the Appalachian Mountains, the selection of things to do in Birmingham is far more diverse and exciting than meets the eye.
Throw in at some of the finest motorcycle collections in history, towering statues, and a stack of happening rooftop bars and underground breweries, and you've found yourself a seriously worthy destination.
So, what are you waiting for? Start planning your trip today!
1 – Meet the rhinos at the Birmingham Zoo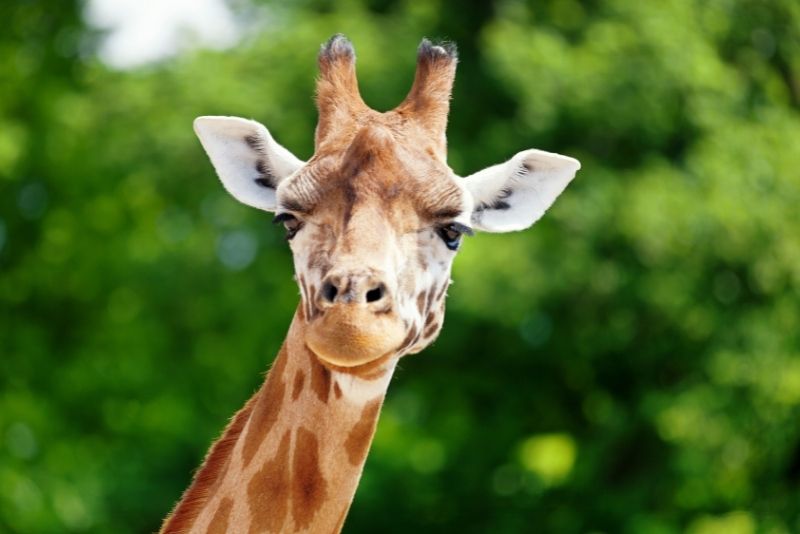 A sprawling, mostly open-air animal kingdom home to over 950 animals of all shapes and sizes (from some 230 different local and international species).
The family-friendly Birmingham Zoo offers curious guests the chance to see some of the planet's most fascinating creatures up close and in person.
This attraction is great for all ages, with something to see at every turn (including a rhino habitat, an aviary featuring hundreds of colorful birds, and even a petting zoo).
If your timing is right, on specific days (check the website), the zoo puts on magical Glow Wild nights where animal-shaped lanterns are released into the sky!
2 – Marvel at the Birmingham Museum of Art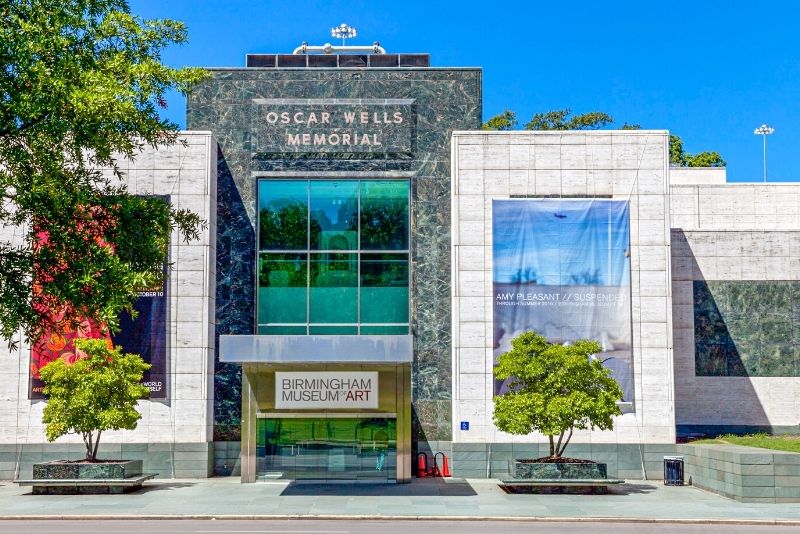 Sitting in the heart of the city in front of Lynn Park, The Birmingham Museum of Art is a wonderful place for anyone who enjoys the fine arts – be that paintings, sculptures, photography, or ancient relics.
Spread across multiple floors and featuring a quaint garden and cozy cafe, the museum displays over 24,000 works in its permanent collection, including an impressive selection of paintings ranging from impressionism to renaissance and contemporary, as well as extensive collections representing a diverse range of cultures and time periods (don't miss the Pre-Columbian masks).
Best of all, admission is free! However, donations are certainly appreciated.
Looking for a hotel near the Birmingham Museum of Art, downtown? The Kelly Birmingham is a popular mid-tier option, while the Elyton Hotel is great for luxury-seekers, just to name a couple.
3 – Walk around at the Birmingham Botanical Gardens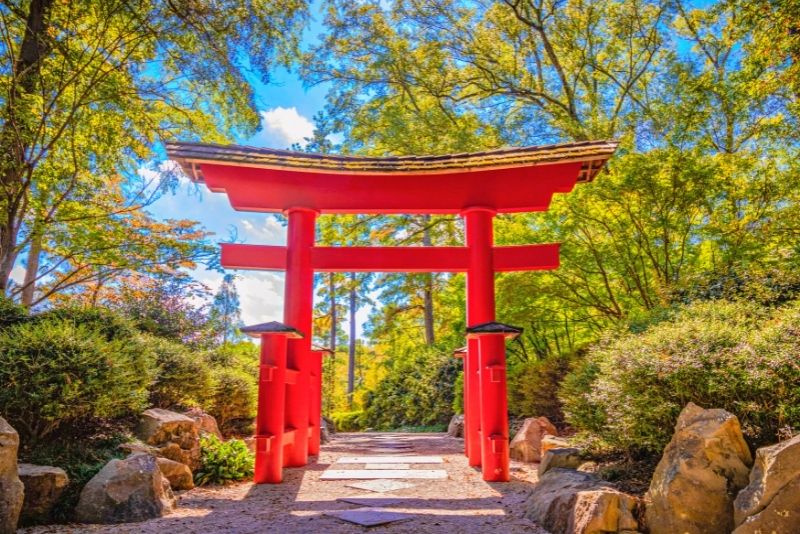 When you're looking for things to do in Birmingham, don't skip over the botanical gardens.
These lush, colorful gardens offer far more than just thousands of blooming flowers and two dozen themed zones (as well as outdoor fountains and winding pathways).
You can take insightful classes, join an expert-led walking tour, explore the on-site Art Gallery, enjoy events such as Earth Day, and plenty more!
It's free to roam around, 7 days a week, and thanks to the location at the foot of Red Mountain, there's no shortage of nearby outdoorsy activities to follow suit.
4 – Explore the McWane Science Center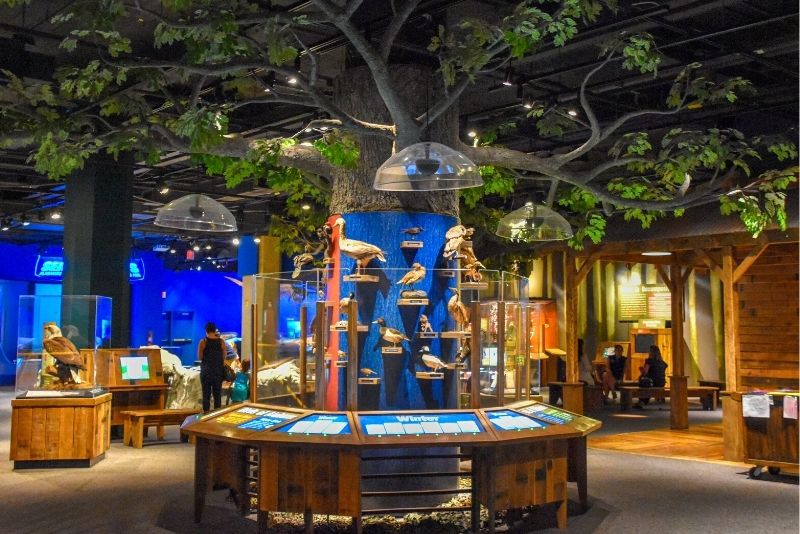 Fun, interactive, and sneakily educational for kids and adults alike, the non-profit McWane Science Center dishes up entertainment in spades.
From the awe-inspiring aquarium (don't miss the Shark & Ray Tank) to the giant IMAX theater, hands-on displays, and expert-led workshops, there's something for the whole family.
Throughout the downtown attraction, you'll find areas dedicated to dinosaurs, tech, art, nature, and even a Bubble Room — the ideal spot to whisk away a couple of hours on a rainy day.
5 – Watch some baseball at Regions Field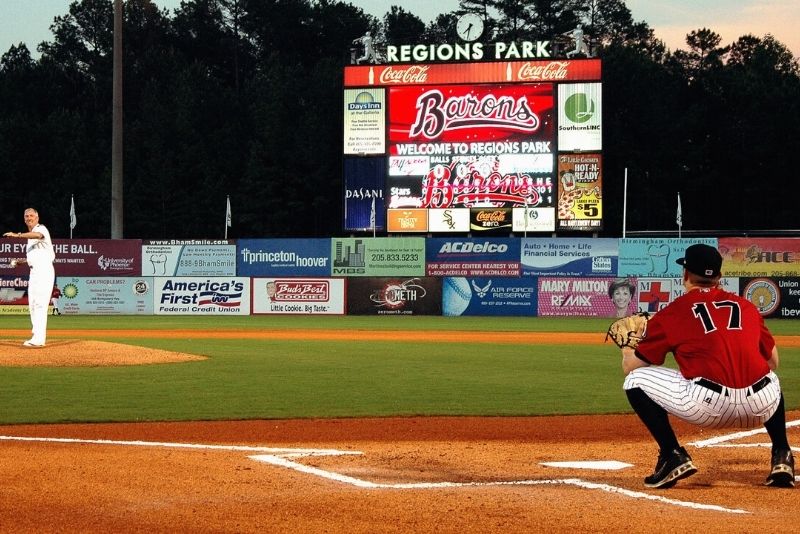 Home to the Minor League Baseball team Birmingham Barons, Regions Field is a great place to spend an afternoon or evening.
The main event aside — being match day, of course — the stadium offers a variety of concessions (including local eats), family-friendly activities like inflatables and face painting, and interactive areas like the St. Vincent's Youth Sports Zone and Foundry Family Park.
The season typically runs from late March to early September, so be sure to check the website for more details on upcoming events.
6 – Lounge about at The Railroad Park Foundation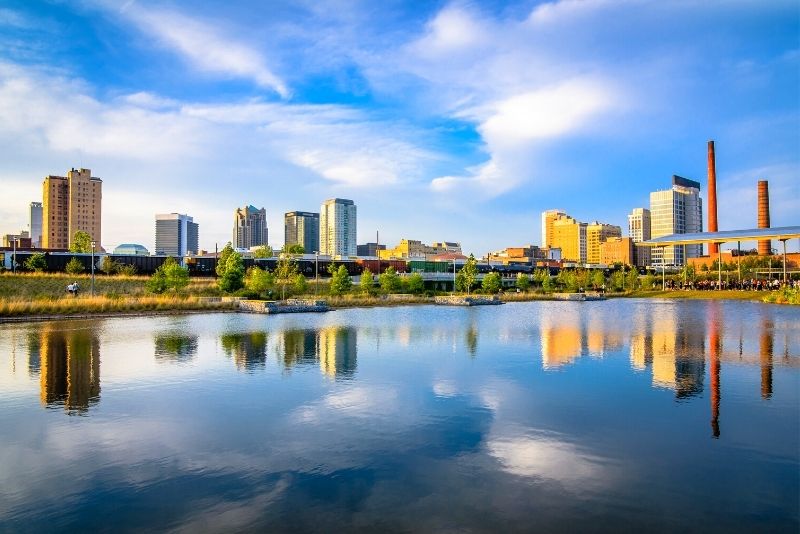 The 19-acre property of Railroad Park Foundation, affectionately known as Birmingham's Living Room, is a natural oasis: it's full of walking, has a lake to sit around (perfect for a picnic), and serves up some spectacular sunset views.
If you're after more than a leisurely stroll or bike ride, you'll be happy to know that the Foundation offers a multitude of classes, including exercise groups, as well as a playground, outdoor gym, and a climbing dome for the youngsters.
Or, just grab a quick cup of tea or coffee at the on-site and simply enjoy the natural surroundings!
7 – Solve mysteries in an escape room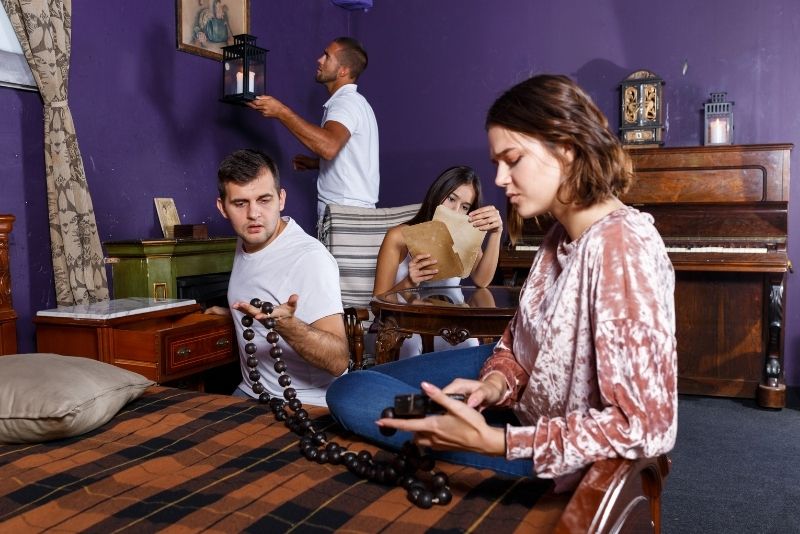 Think you've got what it takes to escape?
Birmingham is home to a whole bunch of places where you can test your skills as an amateur sleuth, whether that's by using logic and reasoning or simply thinking outside the box (or getting lucky).
Your mission: Get out of the room before time runs out! From zombies and serial criminals to gangsters and treasure hunts, not to mention unique rooms set inside train carriages, a host of challenging mysteries await.
Ideal for family and friends in groups of 2, 4, or 6, these rooms will require all the wit and cunning you can muster.
8 – Cheer on the Blazers at Legion Field Stadium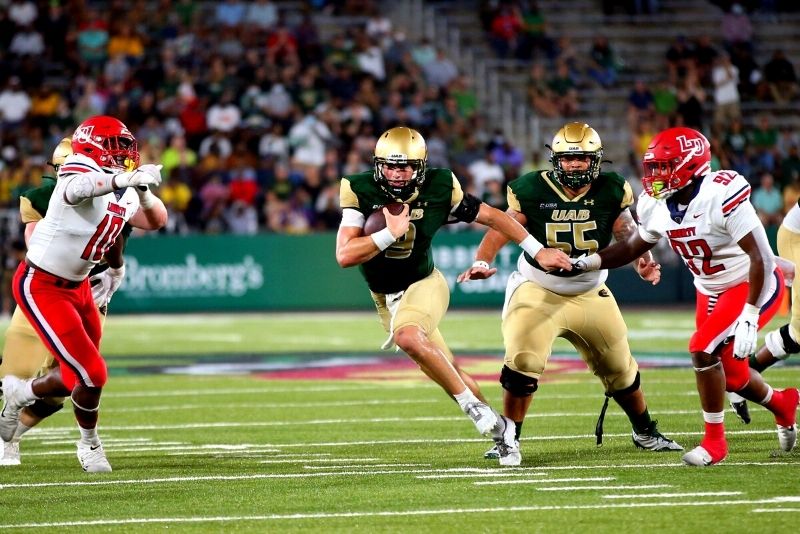 No matter what time of year, if you're in Birmingham and looking for fun things to do — or even just a day trip — make sure you check out Legion Field Stadium.
The historic stadium is home to the University of Alabama at Birmingham (UAB) Blazers football team: it's where they play their games and practice all season round.
Little-known to most, but college football (especially here) can draw larger, most rowdy crowds can most NFL matches. So make sure to join in on the tailgating nation, cheer on the home team, and get into the local sporting spirit!
Affectionately known as the Old Gray Lady, the stadium can seat up to 71,000 people — and when it's filled, the roar and the energy are palpable.
9 – Ride fast at the Barber Vintage Motorsports Museum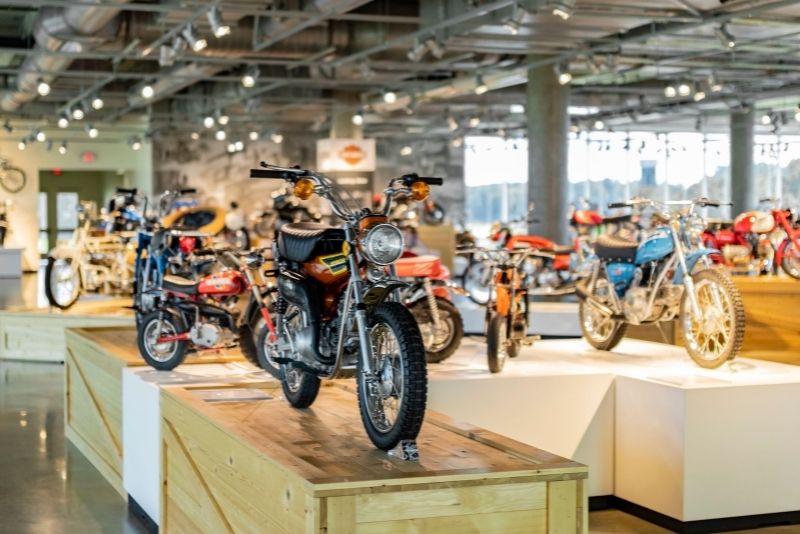 A must for the petrolheads, the Barber Vintage Motorsports Museum is home to a truly astonishing array of motorbikes: more than 1,400 motorcycles, spanning over a century of production are found here, next to the Barber Motorsports Park racetrack.
Named after George Barber himself, who was a visionary who loved the speed and thrill of a great car, notching up 63 Porsche wins under his built.
Barber started collecting sports cars that later expanded into motorcycles – and these days, the collection has grown so vast that it's notched up the official Guinness World Record for the largest motorcycle collection in the world.
10 – Visit the Birmingham Civil Rights Institute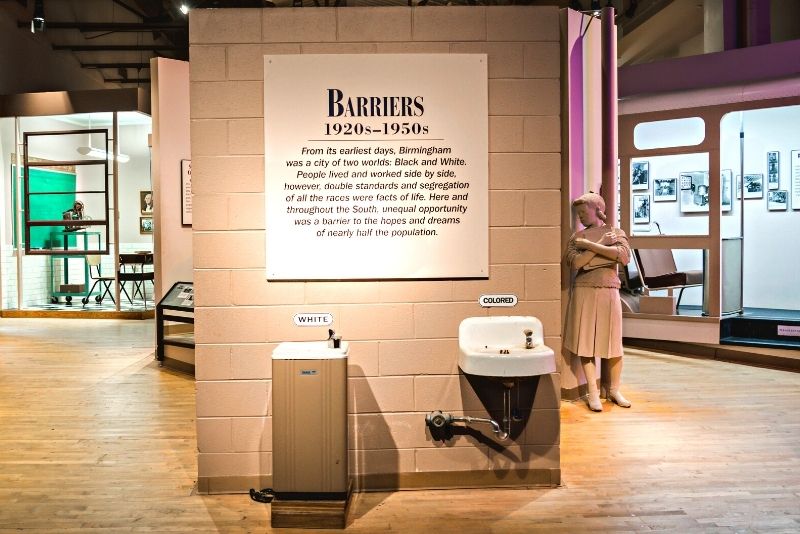 As an affiliate of the Smithsonian Museum, the humbling and sobering Civil Rights Institute keeps the Birmingham Story alive, providing a fascinating insight into not only the local fight for civil rights in the 1950s and 1960s, but the continuous worldwide battle for equality and human rights.
With eye-opening exhibits on areas like Black History Month and Juneteenth, to Martin Luther King. Jr and the 16th Street Baptist Church bombing, the institute is a must for visitors and locals alike who want to gain a better understanding of how far we've come — as well as how far we still have to go.
Out the front, don't miss the Birmingham Civil Rights National Monument — while a little shocking, it's a reminder of a reality that isn't too far in the distance.
11 – Reflect on history at the Kelly Ingram Park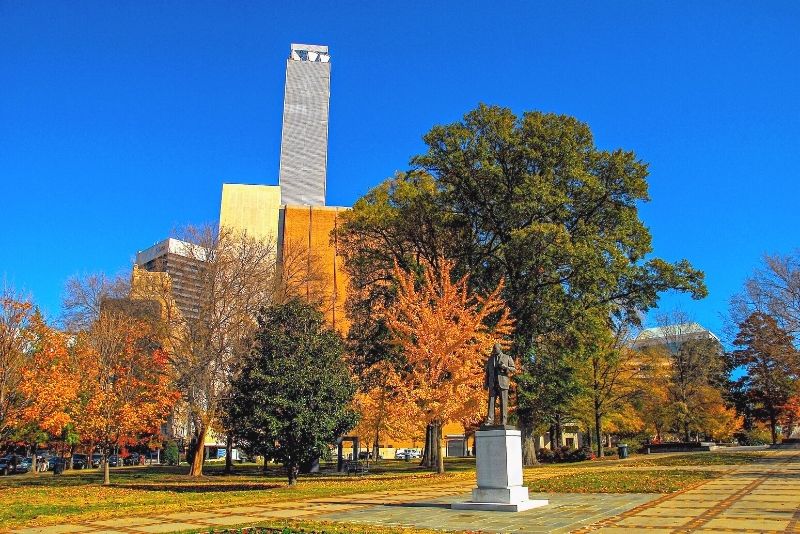 Nestled in the heart of downtown Birmingham, Kelly Ingram Park is a 16-acre haven of green space and serenity.
But while it may seem like an ordinary park at first glance, this place has a rich, complex, and dark history that's worth taking the time to reflect on.
A common stop on most civil rights tours (while confronting, these tours are essential when visiting) that wander through Birmingham.
The park has multiple sculptures that depict the violence and loss of the civil rights movement, including the iconic Bull Connor statue that highlights the former police commissioner's use of attack dogs on protestors.
12 – Hear the story of 16th Street Baptist Church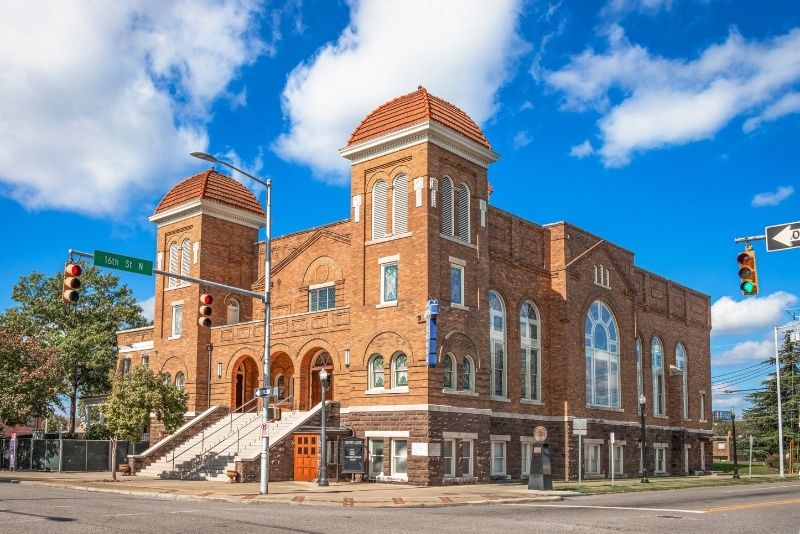 Located in the Civil Rights District, the 16th Street Baptist Church is more than just a church – it's the first colored Baptist Church to exist in the city and the site of one of the most tragic bombings during the civil rights movement.
The September 15, 1963 tragedy galvanized Birmingham into action, with protests popping up throughout the city and state as people demanded racial reform.
One of the best ways to learn about the bygone decades, the Church, and the evolution of the city is on one of the district's many walking tours.
Led by local historians, you'll learn all about the evangelistic perspective of the Civil Rights movement in Birmingham, pass by eye-opening sculptures, and develop a newfound understanding of the struggle for freedom.
13 – Catch a game at the Bartow Arena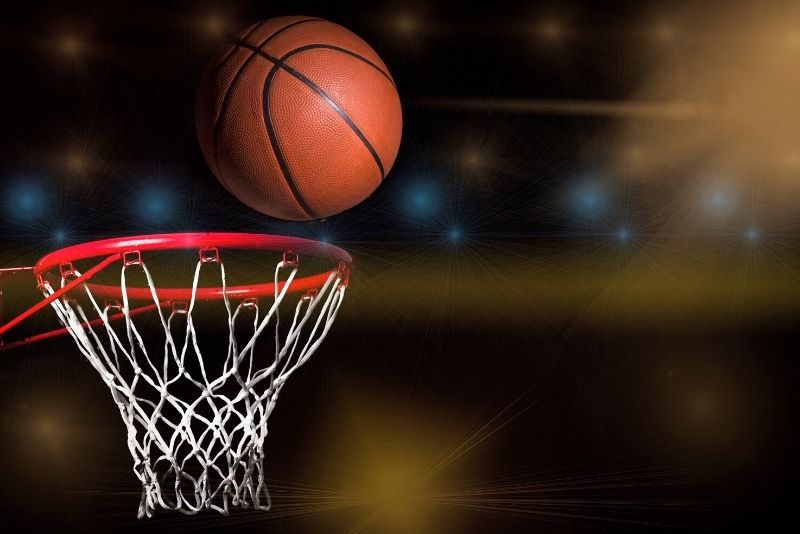 Home to the UAB Blazers men's and women's basketball teams as well as the volleyball team, the Bartow Arena is a great and affordable place to catch a game (or two) when in town and check out the country's up and coming stars.
The arena seats up to 8,500 people and has been hosting games since 1988, locking horns with the likes of Lousiana State, North Texas, Rice, University of Texas San Antonio, and a whole lot more.
And with various events happening throughout the year, there's always a chance to revel in the high-energy atmosphere.
14 – Putt around at the finest golf clubs in town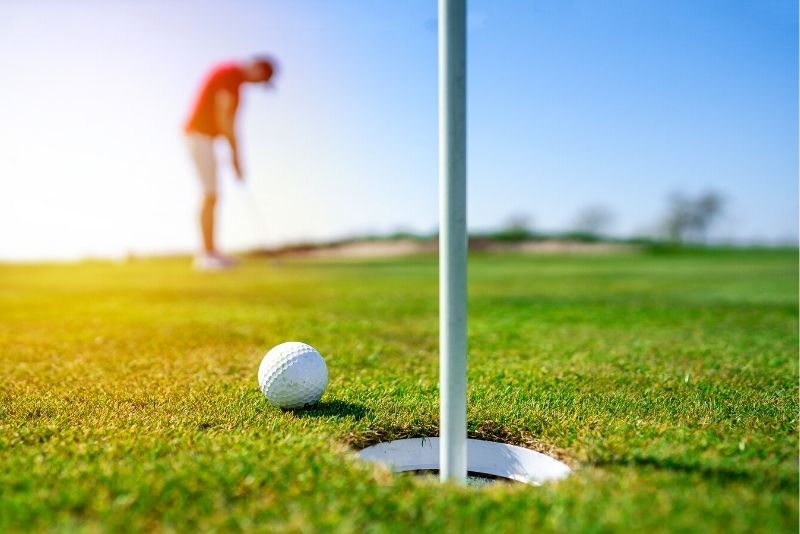 Birmingham is home to some of the finest golf courses in Alabama and, with sunny days nearly year-round, these lush and manicured greens present as a great place to spend an afternoon perfecting your drive.
Not sure where to start? The Highland Park Golf Course, which holds its own as the oldest golf course in the state of Alabama (opened in 1903), has 18-holes just a 5-minute drive from downtown.
The Greystone Golf and Country Club with its 36-holes offer a range of challenging fairways with wonderful scenery to boot, and if you really want to test your skills.
Last but not least, the RTJ Golf Trail at Oxmoor Valley boasts no less than 54 holes, ideal for beginners and experts alike.
15 – Stroll down the Rotary Trail
Once a vacant railroad track that was gathering dust, the Rotary Club has since transformed the eyesore into a marvelous greenspace trail for the locals and tourists to bike, walk, or run!
As a centennial anniversary gift to the city, the Rotary Club poured money and love into the abandoned site and greatly improved the economy and environment of the area, with the half-mile stretch now acting as a central point for many of the city's events.
Even if you don't walk the entire trail, a selfie in front of the 46-foot-tall sign is quintessential.
16 – Strap on your wings at the Southern Museum of Flight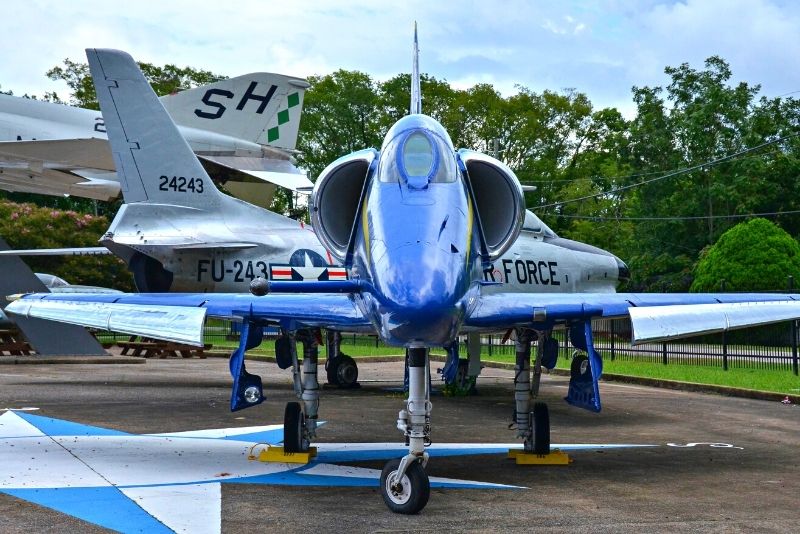 Consider yourself an aviation buff? Then the Southern Museum of Flight is the perfect place to spend an afternoon luxuriating in all things aviation.
With a wonderful collection that includes everything from WWII-era aircraft and helicopters, to rocket ships and even flying saucers (okay, maybe not that last one).
This air museum will take you through nearly 100 years worth of history – all spread across 75000 square feet of – as the Museum puts it – learning possibilities.
The Vietnam War Helicopters Exhibit is a crowd favorite, likewise the sleek A-12 Blackbird which sits on the grass outside.
17 – Pay your respects at the Alabama Veterans Memorial Park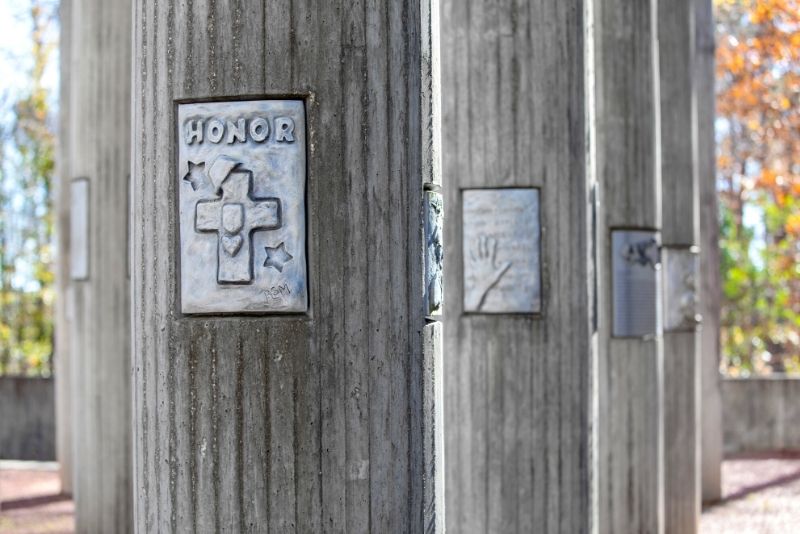 Set up to honor all those who have fallen from the 20th century to today while serving the country, the Alabama Veterans Memorial park is a somber but peaceful place to visit, especially if you're looking for some time away from the hustle and bustle of downtown.
20 minutes east of Downtown, the Park features calming walking trails, powerful memorial statues, and the Hall of Honor temple, which displays over 11,000 names of 11,000 Alabamians who've sacrificed their lives in battle.
While many visitors simply pop by and explore for a half-hour or so, those looking to learn a little more about local history can opt for a guided tour or visit on Memorial Day to watch the Step-Stone ceremony.
18 – Learn about a different side of sport at the Negro Southern League Museum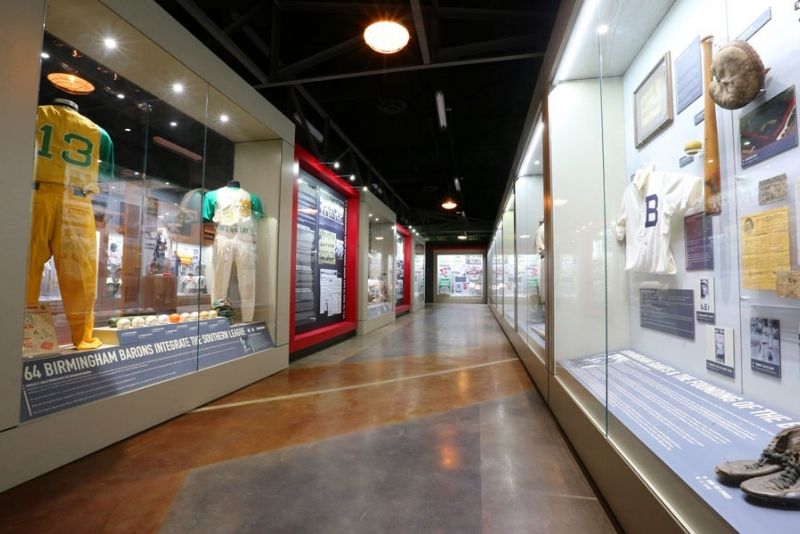 If you're a big fan of sport and history and are looking for things to do in Birmingham, then make sure to stop into the Negro Southern League Museum – an eye-opening look at the little-known history of the Negro American Baseball League.
The museum tells the story of how, in the face of racism and segregation, black baseball players became some of America's most talented athletes, with many going on to play for Major League teams long after the Negro Southern League was disbanded.
There are interactive exhibits, thought-provoking lectures a large collection of artifacts, and guided tours that escort visitors through the halls, telling the stories of the many brilliant baseball players who graduated from the league.
19 – Bowl a strike at Spare Time Trussville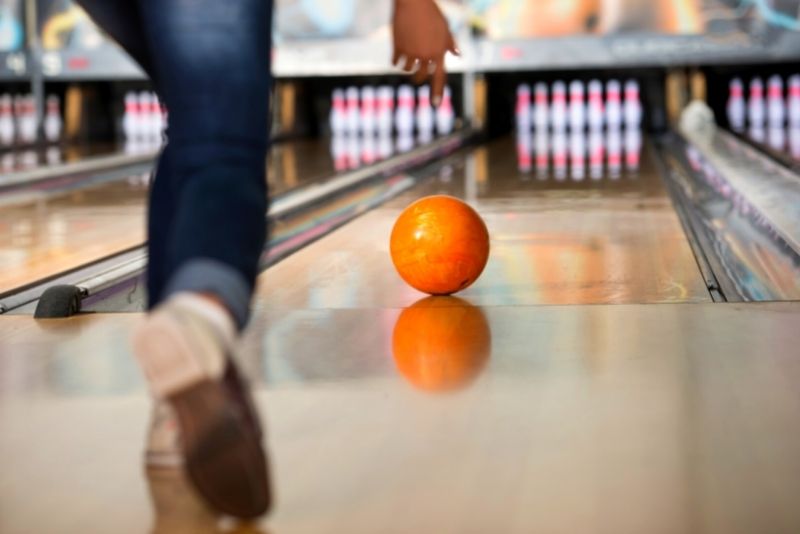 Looking for a fun place to spend an afternoon with friends? Then head on over to Spare Time Trussville, where you can bowl your heart out and have some laughs while you're at it.
With a handful of lanes plus billiards tables, a state-of-the-art laser tag arena, and an arcade filled with all the classics (plus some new favorites), not to mention plenty of food and drink to boot, this is the perfect spot to unleash the competitive beast.
20 – Go skydiving above greater Birmingham!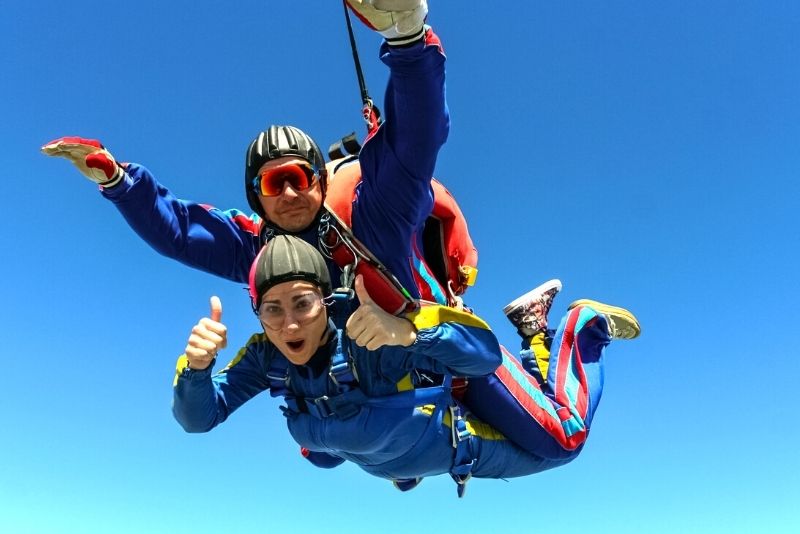 If you're looking for an adrenaline rush, then there's no better way to get it than by jumping out of a plane and soaring through the sky.
Skydiving is available throughout greater Birmingham (and beyond), with names like Chattanooga Skydiving Company and Skydive Alabama (to name just a couple) providing experienced instructors who will take care of everything from getting you suited up to landing safely back on solid ground.
The views during your 14,000-foot freefall are simply incredible, and something that will stick with you forever.
And, if you're wanting to take your experience to the next level, AFF (accelerated freefall) ground courses are available too, which teach you how to skydive yourself!
21 – Take a hike at Oak Mountain State Park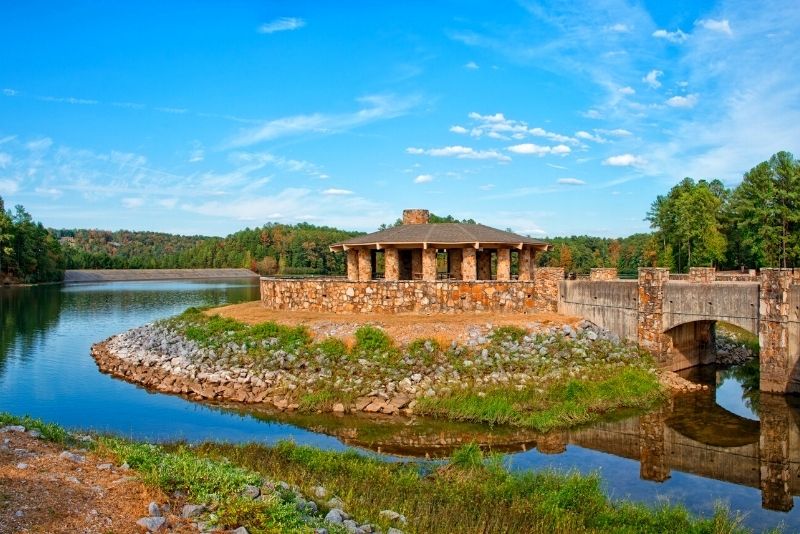 Craving a dose of nature and an escape from big city life? At Oak Mountain State Park — a lush and diverse landscape full of waterfalls and lakes about 20 miles south of Birmingham.
There are more than enough activities to occupy you and your loved ones for hours on end: while mountain biking and hiking are the crowd favorites, thrill-seeking visitors tend to lean toward options like the BMX course, cable skiing, boat rides, or horseback riding!
After you're exhausted with all the activity, you can head on over to the picnic area, enjoy a nice meal, and, if you're up for it, set up camp for the night!
22 – Experience art at the Arlington Antebellum Home & Gardens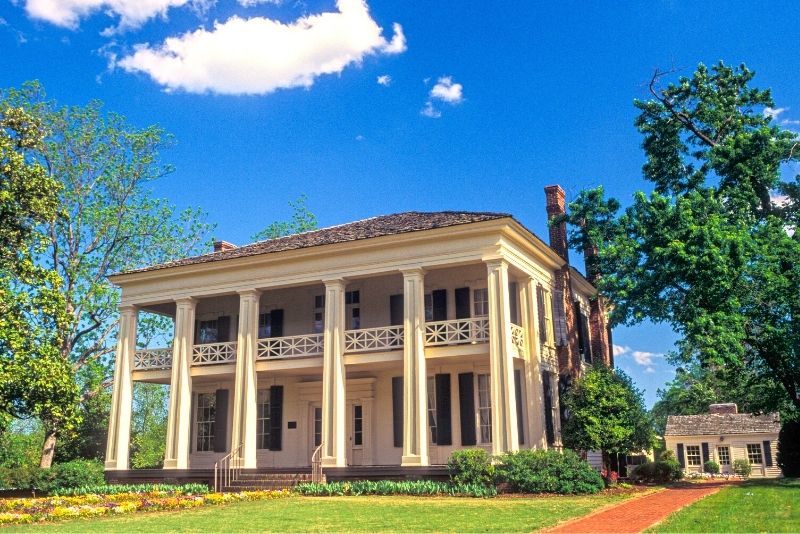 A crowd favorite among architecture buffs, this 1840s construction serves as a stark reminder of the Greek Revival style of architecture and the style of mansion that was oh-so-common during the Civil War era.
Lush grounds and impressive architecture aside, the Arlington Antebellum Home & Gardens also serves as a museum for some of the best decorative arts pieces from the 19th Century and offers a locally-led tour to learn more about the space, its history, and its rare decorative pieces.
If tours and art aren't exactly your thing, maybe one of their special events will be! Attend a masquerade dinner or Valentine's day dinner for a truly unique historical experience.
23 – Spend some time at the Vulcan Park and Museum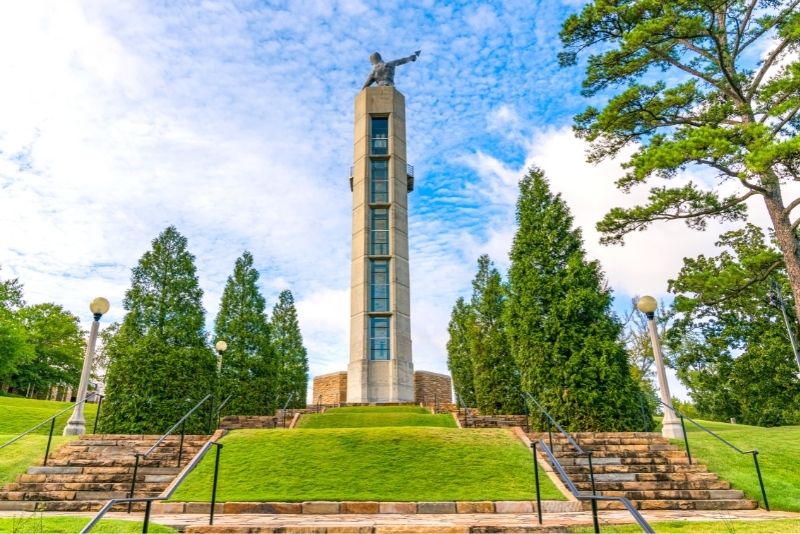 No trip to Birmingham is complete without a stop by the Vulcan Park and Museum, home of the world's largest cast-iron statue: the Vulcan Statue.
At 56 feet tall and weighing in at over 100,000 pounds, this colossal figure has been overlooking the city for over a century, serving as a longstanding iconic landmark of the city.
Surrounding the hero are multiple exhibits outlining the best of Birmingham's timeline, as well as an observation deck that sports an unmatched panoramic view of the downtown skyline and beyond.
24 – Drive around the Talladega Superspeedway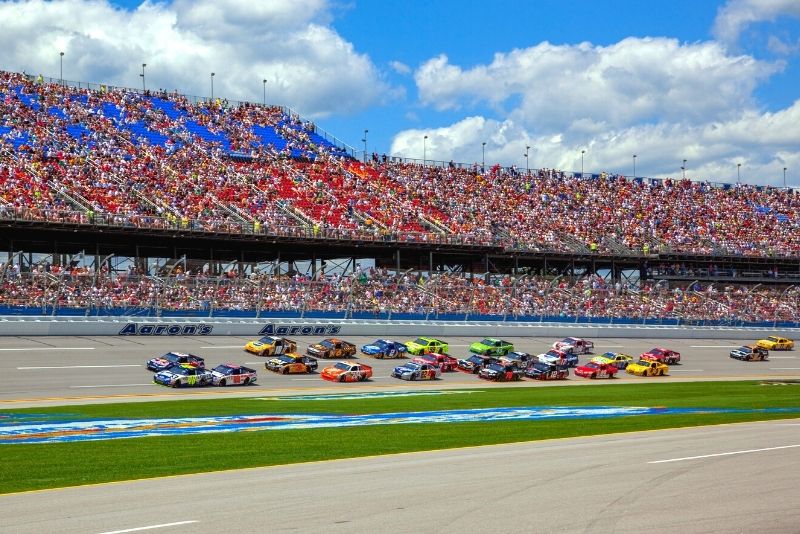 Any true motorhead can't pass up the opportunity to buckle up for the high-octane NASCAR experience.
Here, at the infamous Talladega Speedway (which is less than an hour from Birmingham), you can whiz around the race track at speeds as fast as 165 mph and feel what it's like to be a real-life Nascar champion.
With these packages, you can ride shotgun drive alongside a professional driver (hold on tight!) or take the wheel yourself. Either way, you're in for a wild ride.
25 – Trek through the peaceful Red Mountain Park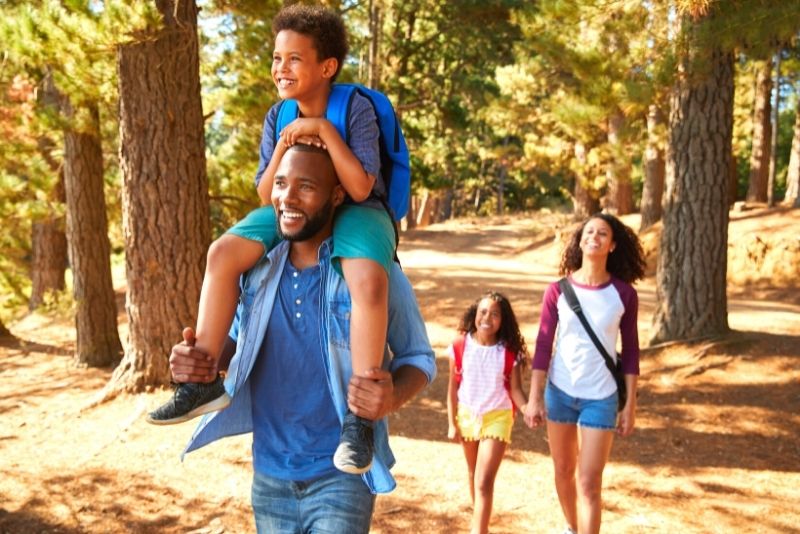 The Red Mountain Park is a haven for runners, hikers, and outdoor enthusiasts of all levels looking to escape the city.
With over 1500 acres of green space and 15 miles of trails (that are well-maintained and clearly marked), it's easy to spend an entire day exploring every nook and cranny this expansive park has to offer.
If you're feeling adventurous, you can even try out the park's zip lines, which offer stunning views of the surrounding area, or spend a night under the stars at the Eagle's Nest campsite.
Hunting for a hotel near the park? The Hilton Garden Inn, Hampton Inn, and Best Western are all affordable options with plenty of amenities. For something more lavish, the Valley Hotel Homewood is a little further but packed with style.
26 – Tour the Sloss Furnaces National Historic Landmark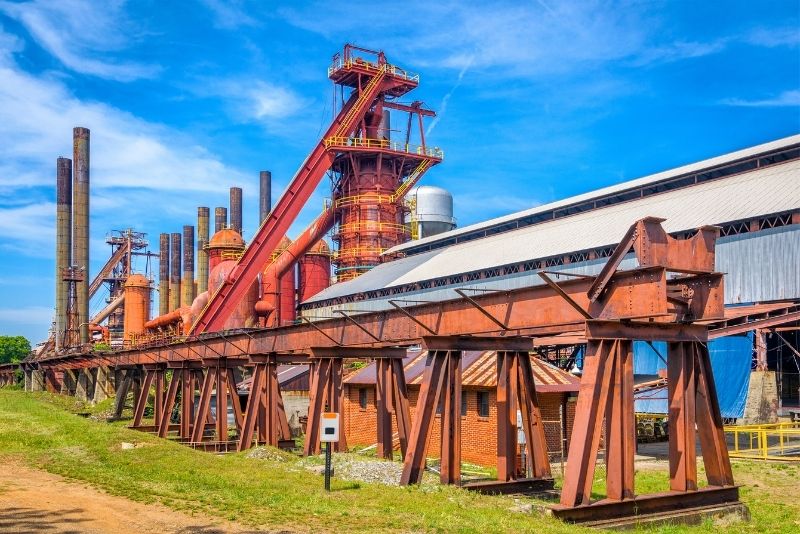 Once a thriving industrial site, this 19th-century landmark is now a popular tourist attraction and has evolved to become one of Birmingham's most unique attractions.
As the former largest manufacturer of pig iron in the South, Sloss Furnaces produced over 30 million tons of iron between 1882 and 1971.
Nowadays, visitors can take guided or self-guided tours of the furnaces, as well as the on-site museum, which contains artifacts and information about the furnace's history and its workers.
27 – Walk around the Ave Maria Grotto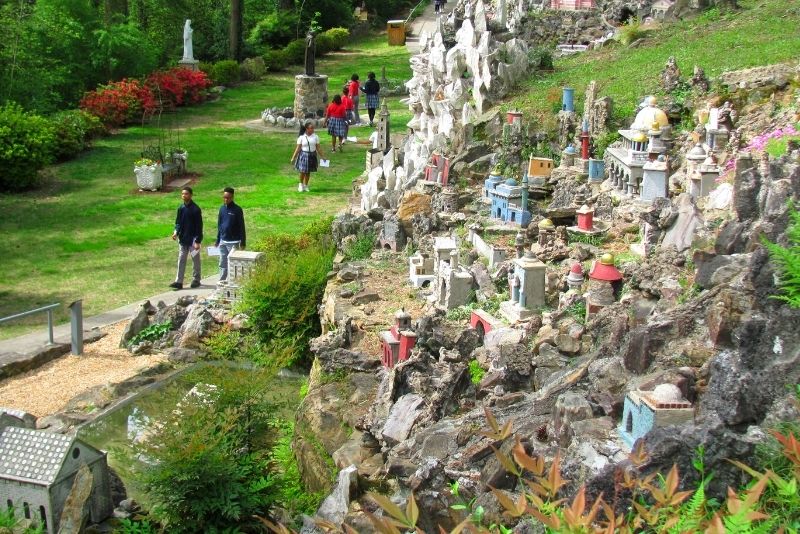 A whimsical wonderland of miniature buildings, shrines, fountains, waterfalls, ponds, and even tiny figurine people.
The Ave Maria Grotto, made from concrete and donated stones, showcases no less than 125 detailed reproductions of some of the world's most renowned religious buildings and structures.
Located just a 50-minute drive from Birmingham in the town of Cullman, and nestled into the landscaped hillside of the St. Bernard Abbey gardens, it makes for a great half-day trip for the big smoke.
28 – Splash around at Alabama Adventure & Splash Adventure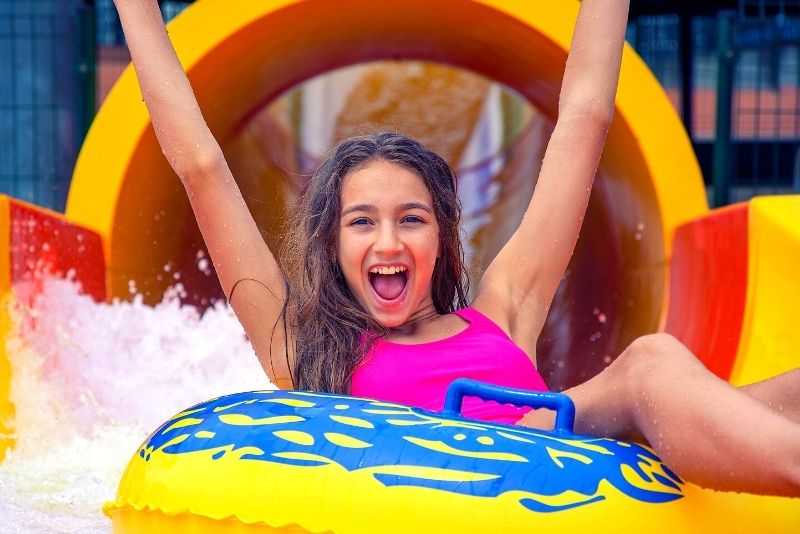 On those sizzling summer days, if you're craving a little cooling-off, look no further than Alabama Adventure!
Tucked away in Bessemer, just 20 minutes from Birmingham, this waterpark is home to a variety of slides and rides for all ages, as well as a lazy river, the Kahuna Wave Park, and plenty of opportunities to dip your toes in the water.
And for those looking to stay dry, the park also boasts has several regular rides like the Little Bumpers bumper cars and high-octane Rampage wooden cooler coaster.
29 – Hear the engines roar at Barber Motorsports Park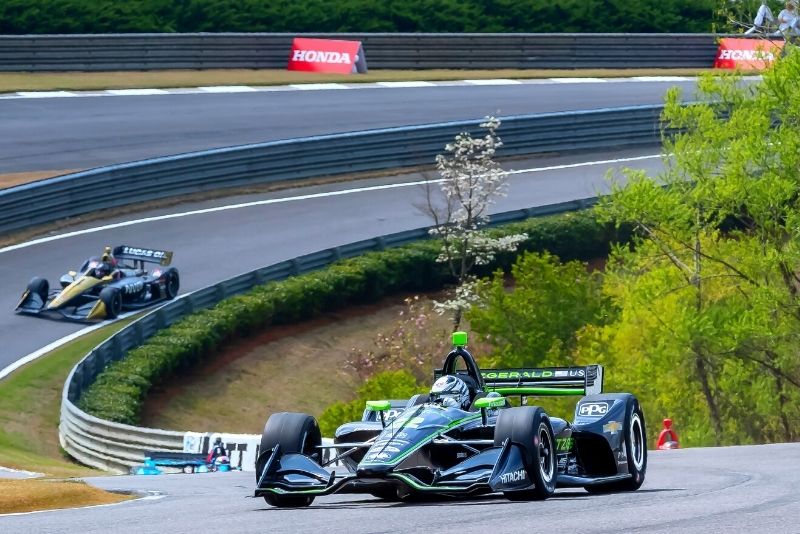 Do you have a thing for motorsports and speed? Well, at the Barber Motorsports Park, passions come to life in the form of the 880-acre, multipurpose racing track!
From regular track days where you can sit front row in the bleachers to the Honda Indy Grand Prix which draws in crowds of thousands, several racing events take place at the park.
And, as the name suggests, it's also home to the Barber Vintage Motorsports Museum. Fun fact: finances permitting, you can even rent out the track for your own event!
30 – See what's on at the Birmingham Jefferson Convention Complex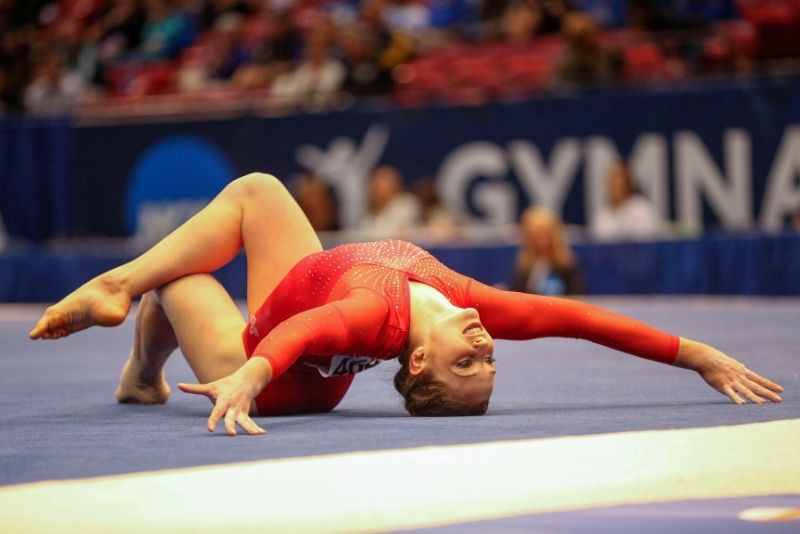 With over one million square feet of exhibition space, the massive Birmingham Jefferson Convention Complex hosts everything from trade shows to concerts and political rallies, not to mention sporting events and no less than seven onsite restaurants.
Located on the northern side of downtown Birmingham, it also makes for an ideal location for networking with friends or clients while taking a break from all the action.
Outside of the halls, there's ample outdoor space to fly a kite, walk a trail, or catch a game just minutes from the convention complex.
31 – Jump around at the DEFY trampoline park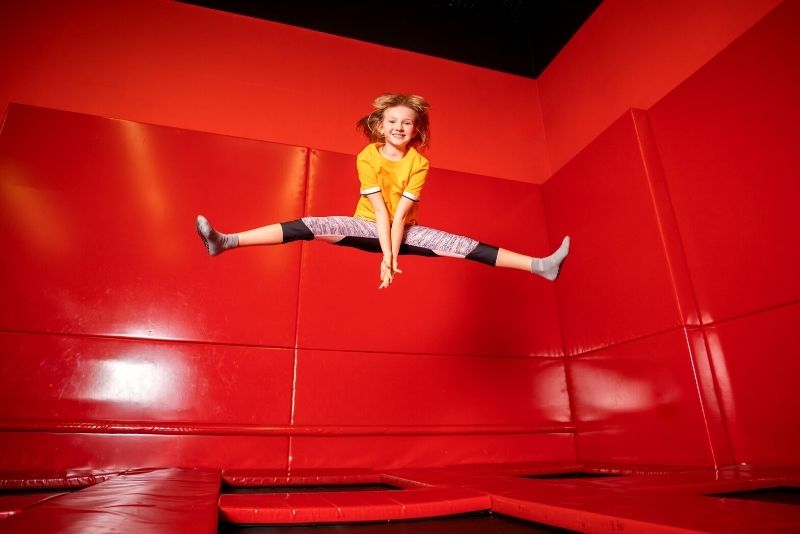 Despite being far more tiring than it looks, there's nothing better than jumping on a trampoline if you're looking to burn a few calories and tire out the youngsters.
Defy heights as you jump through the different activities: kickstart your day at the foam pit before trying out the wall trampolines, extreme dodgeball zone, giant airbags, or freejump area!
Plus, with a cafe on-site, you can refuel before your next jump.
32 – Be environmentally conscious at Ruffner Mountain Nature Preserve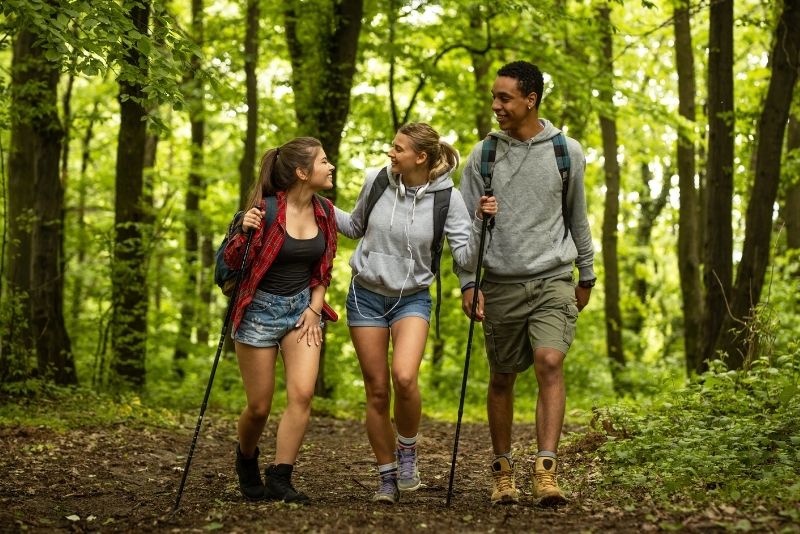 If you're looking for things to do in Birmingham that deliver a much-needed dose of rest and rejuvenation, then visiting the Ruffner Mountain Nature Preserve should be first on your list.
Covering over 1000 acres, this urban nature preserve is home to a wide variety of plant and animal life, as well as almost 12 miles of hiking and biking trails.
What's more, the staff at Ruffner Mountain are passionate about educating visitors on the importance of conservation and sustainability, so be sure to ask them about their work in these areas.
33 – Gaze up at the Statue of Liberty Replica at Liberty Park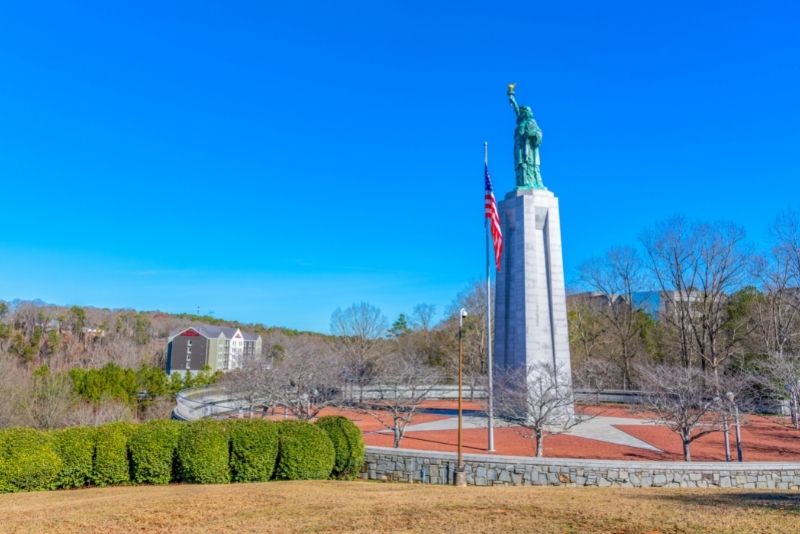 If you've not had the time to visit the actual Statue of Liberty, then no problem – there's one in Birmingham that's 1/5th scale of the one in New York!
Clearly, the city has a thing for statues, as the 36-foot replica is one of three enormous statues in the area.
But, the difference here is that there are real gas flames in the torch that burns through the day (not even the original can claim that)
Not to mention, it's the largest replica around – and therefore definitely worth taking a look at, if only for a few minutes as a quick stop exploring the eastern suburbs.
34 – Catch a movie at The Sidewalk Moving Picture Festival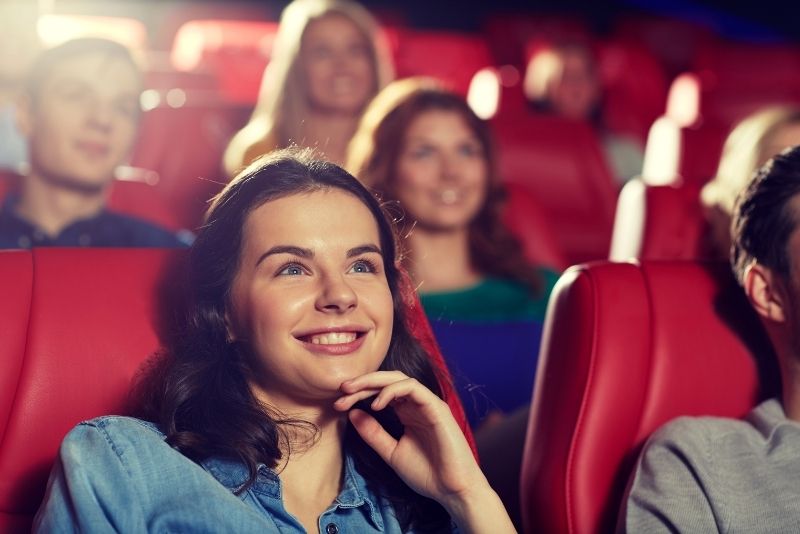 Grab the popcorn! If you're a movie buff, then you'll love the annual Sidewalk Moving Picture Film Festival.
Held by the eponymous NGO since 1999, the beloved festival lasts a week and screens different movies across seven different venues, highlighting all kinds of local filmmakers, independent artists, and international films.
All the venues are found in the theatre district of Birmingham, making it easy to walk from one place to another and catch as many films as possible – or an easy walk to the nearby restaurants and bars for a post-movie nightcap.
35 – Walk around the Alabama Sports Hall of Fame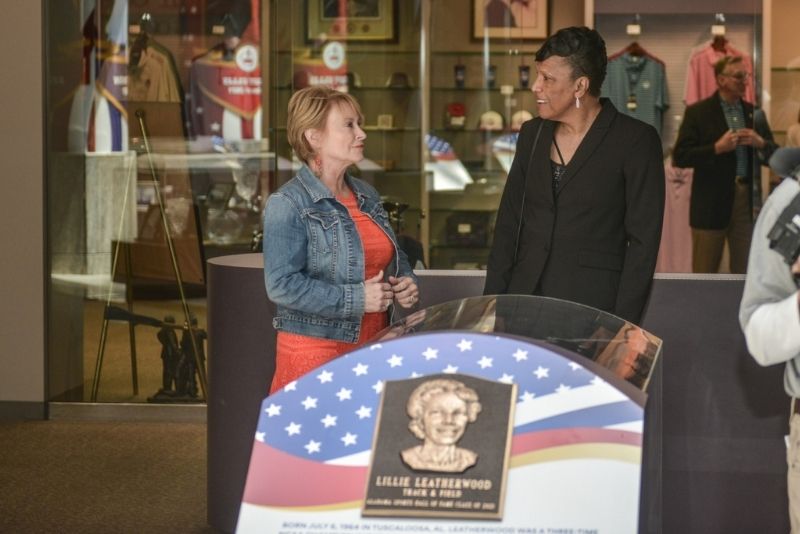 A Mecca for sports fans, the Alabama Sports Hall of Fame is filled to the brim with stories and over 6,000 pieces of memorabilia from all kinds of Alabama athletes, past and present.
From high school players right up to professional sportspeople, there's something here for everyone – including the pair of Heisman Trophies won by Pat Sullivan and Bo Jackson (Auburn University athletes).
Be sure not to miss out on the interactive exhibits too, like the one that lets you test your vertical leap.
36 – Race around the city with a scavenger game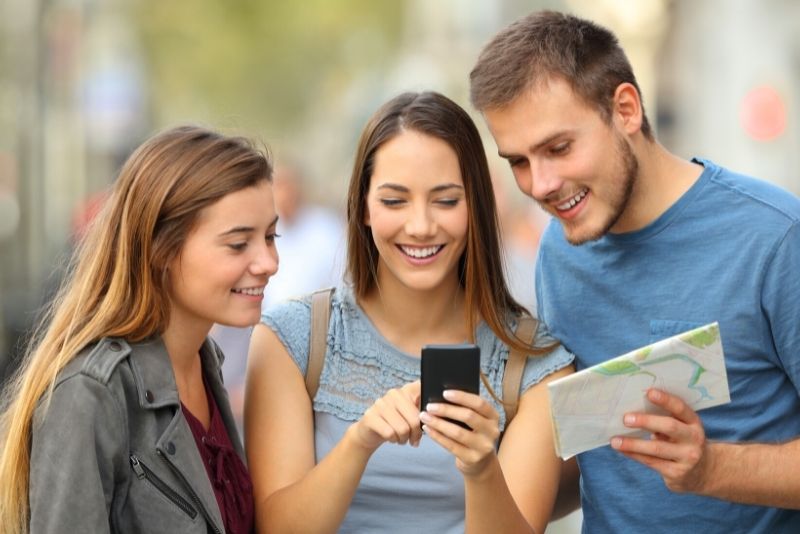 When you're fed up with slow-paced walking tours and run-of-the-mills tourist attractions and are looking for something off-beat to do together with the family, try your hand at an Amazing-Race-style scavenger game!
There are multiple self-guided scavenger hunts available in Birmingham; most of them don't even require you to do more than download an app!
As you scoot around town, checking off notorious landmarks (like Vulcan Park and Museum, the 16th Street Baptist Church, and Railroad Park) and hidden gems alike, you'll be tasked with solving clues, cracking codes, and taking photos – so have your camera ready.
37 – Crane your neck up at the "Heaviest Corner on Earth"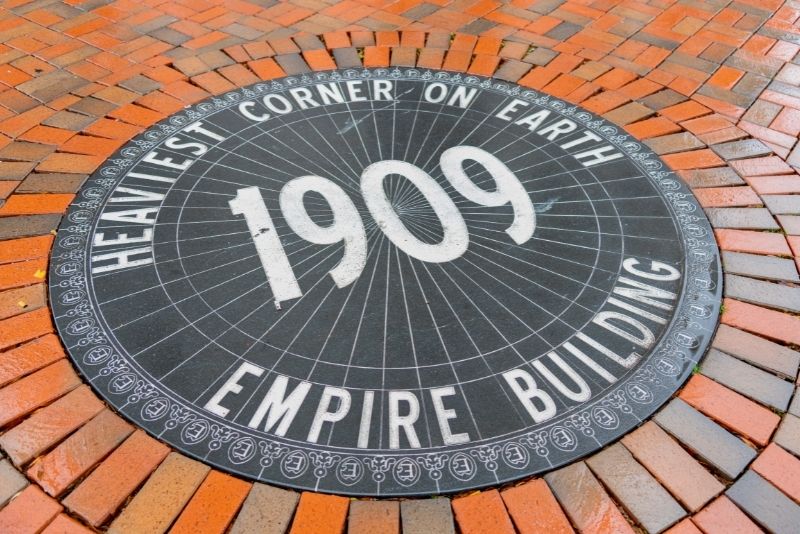 The Magic City was truly an apt name for the city of Birmingham. At the turn of the 20th Century, the city decided to erect several different skyscrapers all in the same area: the intersection of 1st Avenue, North Street, and 20th Street.
Due to the four major skyscrapers — the John Hand Building, Empire Building, Woodward Building, and Marx Building — two of which claimed the title of the tallest in Alabama at their peak, it was affectionately dubbed the Heaviest Corner on Earth.
While those titles have been stripped, the intersection remains a focal point of the city, making it a great place to explore the history, culture, and food of Birmingham, and get some good pictures too.
38 – Take a swing at Topgolf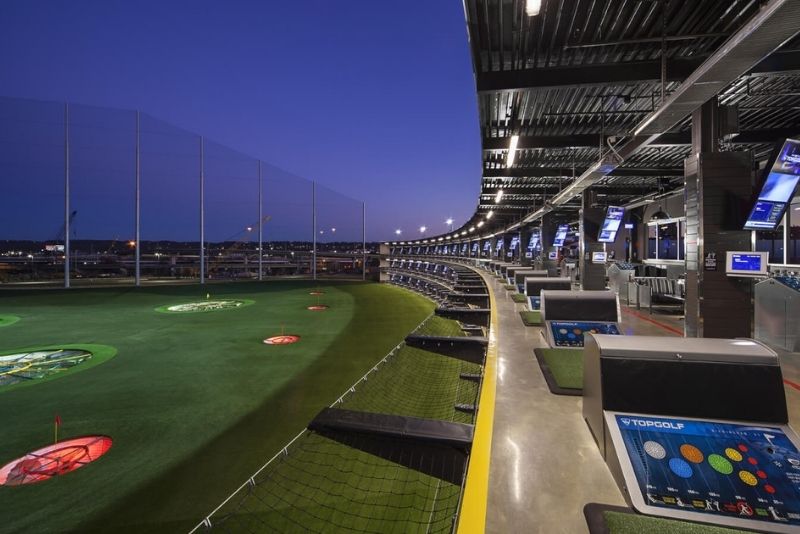 Where VR meets golf meets ice-cold beer (convinced yet?), the Topgolf is one of the most popular tourist attractions in Birmingham.
Families, groups of friends and colleagues can all bond over a game at this unique entertainment complex that has more than 200 games spread across 102 bays over 3 floors – each with their own massive flat-screen TVs so you won't miss out on any sports action while playing.
Bring your own clubs or use the ones available; once you have a bay, just take a swing and the technology will do the rest! And top it off with a tipple at the rooftop terrace for good measure.
39 – Hike the Jemison Park Trail to the Old Mill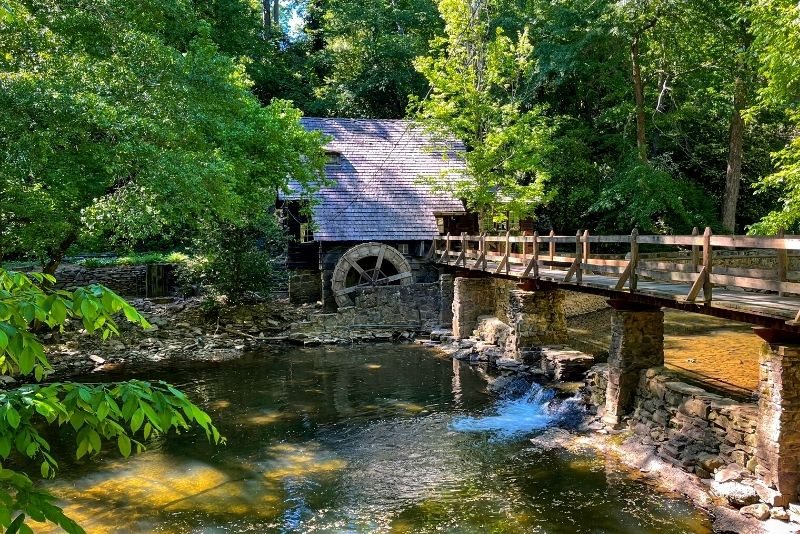 If you're looking for a nature escape, look no further than Jemison Park.
Tucked away in the Mountain Brook area, not too far from the zoo, this park is home to a wide variety of flora and fauna that make it perfect for a peaceful walk or picnic lunch.
Stunning views and immersive scenery along the shaded woodland trail aside, the highlight of the park has got to be the Old Mill: a historical house landmark that remains a symbol of the city of Mountain Brook.
40 – Snap some attention-grabbing photos in the Rainbow Tunnel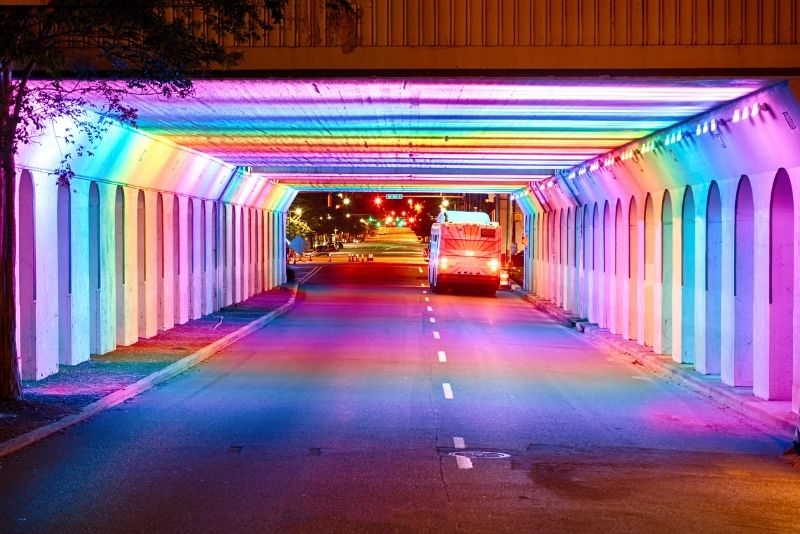 A quirky little spot that is bound to put a smile on your face, this Instagram-famous landmark is just what it sounds like: a tunnel made up of LED lights and multi-colored paint panels.
Found in the city's old viaducts, right next to the Railroad Park Foundation (making for the perfect back-to-back itinerary), the art installation has become a photography hotspot for tourists, 'Grammers, and locals alike.
41 – Peer into the paranormal with a ghost walking tour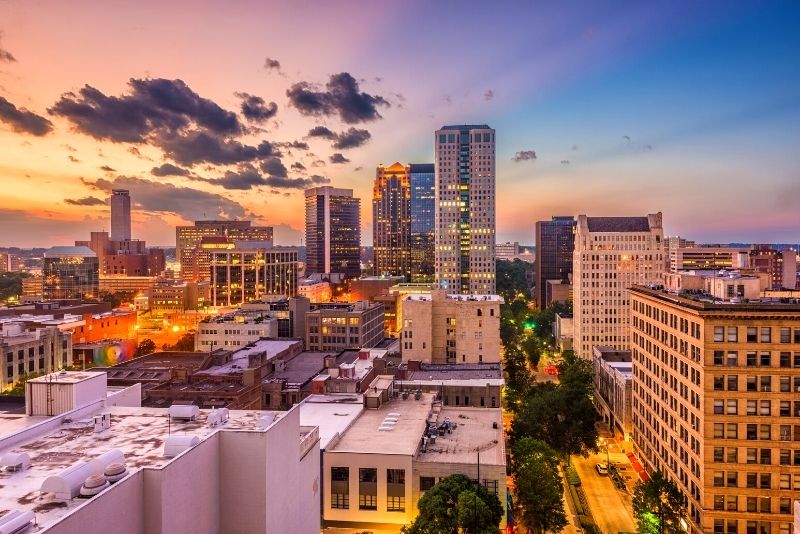 Every city has a dark side, one that only comes out among the shadows of the night.
So why not add an element of fear into your travel plans with a tour that will take you through the spookily twisted and haunted side of the Magic City?
Laced in mystery and folklore, these eerie excursions pass by churches, hotels, and graveyards, sure to conjure up some goosebumps for even the bravest souls out there.
42 – Pick up a peculiar souvenir at the Birmingham Oddities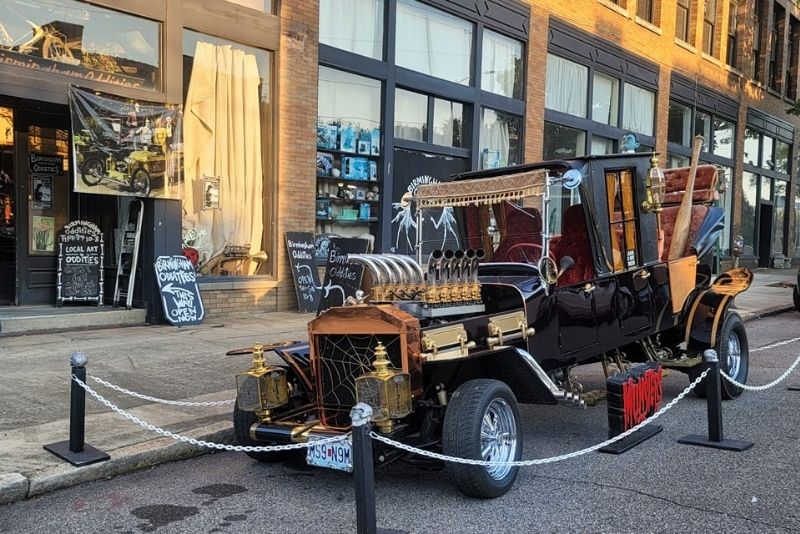 From used doll parts to prosthetic legs, taxidermy, and strangely spectacular local artwork, there's nothing you can't find at the quirky little downtown store of Birmingham Oddities.
Make no mistake, however, this is no regular gallery: all of the weird and wacky objects on display are for sale!
So if you're hunting for some one-of-a-kind souvenirs, this is the place to come – your friends back home will be thanking (or questioning) you for years.
43 – Explore the bleachers at Rickwood Field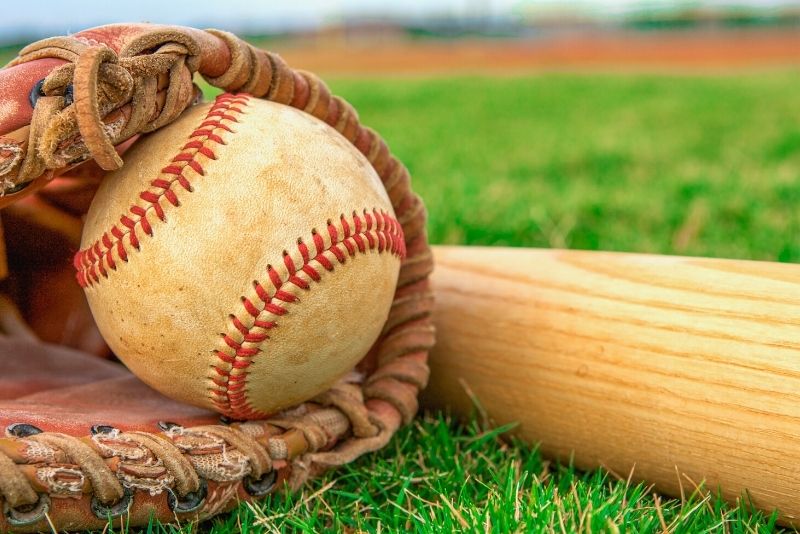 Ask any local and they'll agree: Rickwood Field is a Birmingham treasure.
Originally created for the Barons, America's oldest baseball park has now become a site for all baseball enthusiasts, retaining the longstanding charm of an old baseball field despite undergoing a thorough restoration.
What was once home to some of baseball's most iconic players (including Babe Ruth) now serves as a popular spot for visitors, who are granted access to walk in and explore the grandstands or see how fast they can run between the bases.
44 – Grab the popcorn for a Grand River Drive-In screening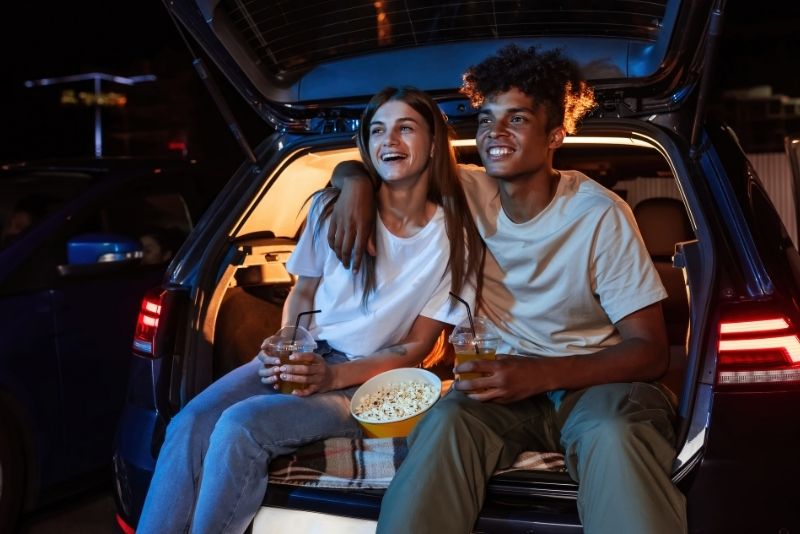 In the mood for a nostalgic night out under the stars? Then head on over to the open-air drive-in for an evening of classic cinema.
With both blockbuster new releases and cult classics playing throughout the week, there's no shortage of entertainment on offer – and outside of the showtimes, the backyard games, mini-golf course, and Snack Shack remain open for casual hangs and bites.
45 – Satisfy your sweet tooth at Cookie Fix

For all the sugar-lovers out there, Cookie Fix boasts three tantalizing locations in Homewood, Cahaba Heights, and Huntsville, each serving up a lip-smacking range of sweet treats that are especially good to share (or not).
From cookie cakes and cookie stacks to gift bags and sampler packs, the bakery has got you covered with a wide-ranging menu of baked goods that will be sure to leave you craving more (thank heavens for the take-home packs).
46 – Sit front-row for a musical at the Virginia Samford Theatre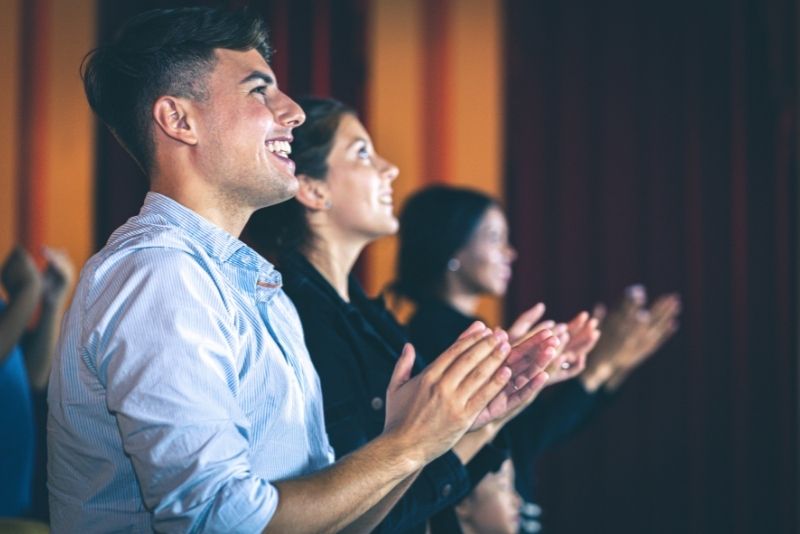 If you've always loved the theatre — classic theatre — then the near-century-old Virginia Samford Theatre, which earns its stripes as officially Birmingham's oldest performing arts venue, is a must-visit.
Featuring classic shows, Broadway musicals, and even children's theatre productions, this intimate venue offers an up-close and personal experience that is perfect for date night or a fun family outing.
Plus, with a wide range of ticket prices to choose from, there's something for every budget.
Hunting for a hotel in the Theatre District? Both the Fairfield Inn & Suites and Redmont Hotel Birmingham are popular choices fitted with luxury touches.
47 – Get a little tipsy at a wine tasting!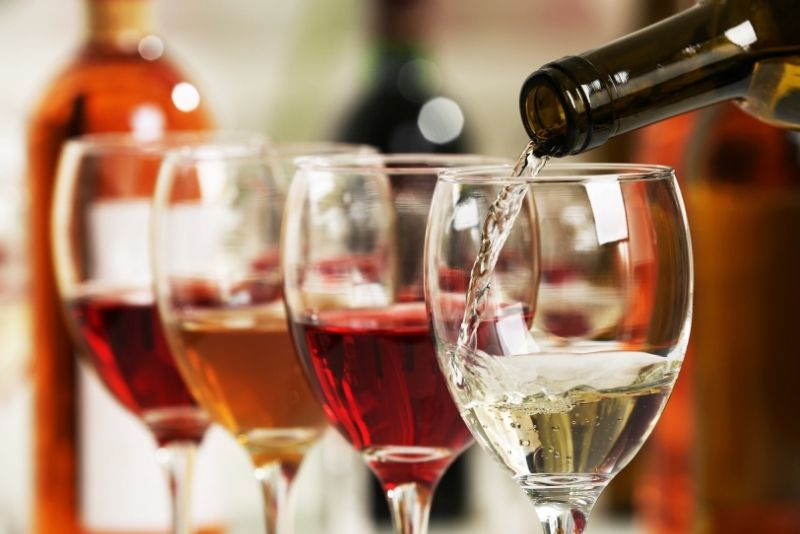 You're on vacation, after all! So take a break from the usual and check out one of Birmingham's many tasting rooms for a little afternoon delight.
From old standbys like the Hidden Meadow Vineyard (known for its fruity and southern muscadine wines) to new favorites like the Cat-n-Bird Winery, there are plenty of places where you can sample the local flavors while enjoying an impromptu tour from the friendly sommeliers.
Hot tip: rather than worry about having a designated driver, consider booking a pre-organized tour that includes transport to and from your hotel!
48 – Spend a few hours at The Summit mall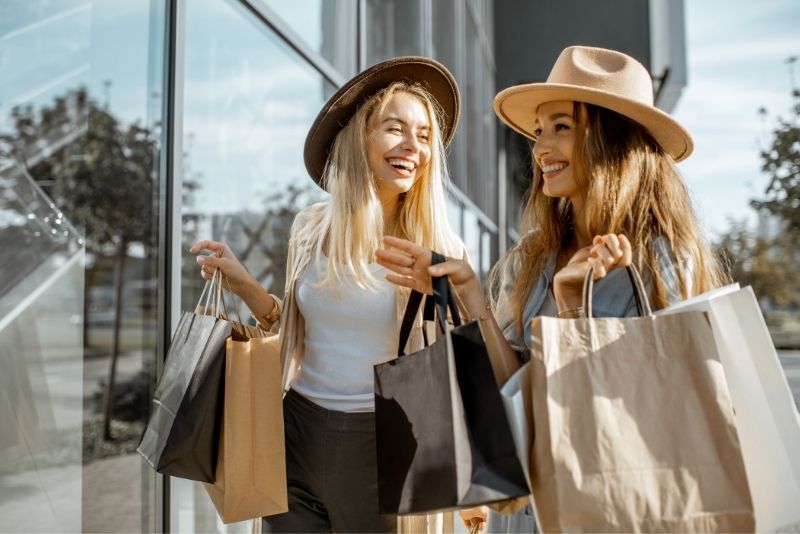 Calling itself an upscale lifestyle center, the 1-million-square-foot Summit mall boasts everything from shopping boutiques (from Saks Fifth Avenue to the Disney Store and Anthropologie) to movie theatres, spa services, and a wide variety of restaurants.
If you get hungry at any time throughout the day, there are a handful of fine-dining restaurants, or, for something quicker, it's hard to go past the easy eats of Shake Shack or The Cheesecake Factory!
49 – Go old-schooling gaming at the Paramount Bar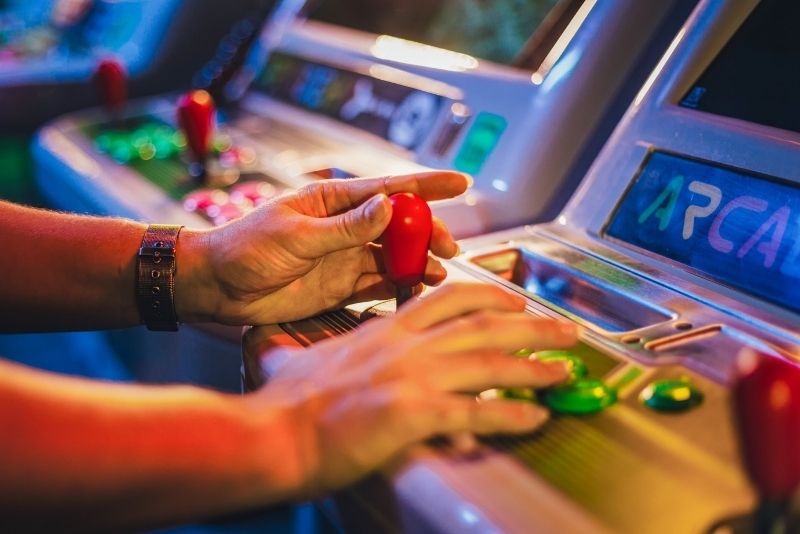 What's better than getting a beer with friends? Hint: getting a beer with friends and a retro bar arcade!
Found over 20th St North in the heart of downtown, Paramount is a rustic, cozy, and popular spot for all-day drinks that also happens to be home to dozens upon dozens of classic arcade games!
With tasty burgers, 20 Beers on Tap, and a full handcrafted cocktail menu, it's time to grab some pals and sink into an evening of nostalgia at Birmingham's most beloved barcade.
50 – See a play at Birmingham Children's Theatre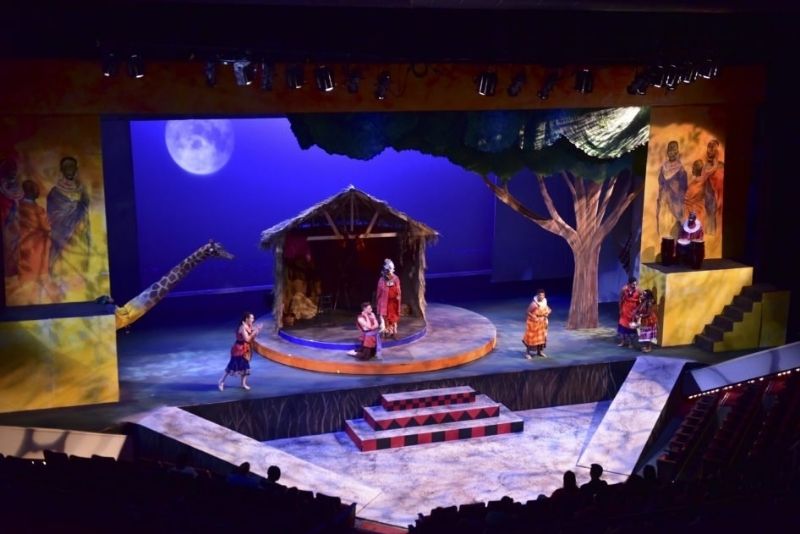 A fixture in the Birmingham community for over 40 years, BCT is a century-old theatre that has been working tirelessly to delight and inspire young audiences through live theatre as well as classes and camps.
Featuring everything from Shakespearean classics to holiday shows and beloved stories like The Little Engine That Could (to name but a few), the list of entertaining performances is diverse and impressive – just check the website to see what's on!
51 – Laugh your socks off at the StarDome Comedy Club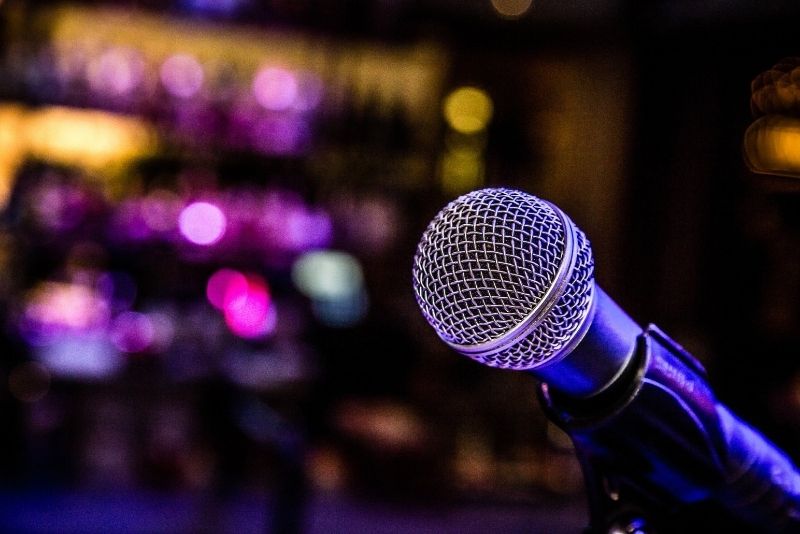 A side-splitting venue on the outskirts of Birmingham in the city of Hoover, the StarDome Comedy Club is just what you need to round out your vacation with a hearty dose of good-natured humor.
Featuring both local and national comedians (and even improv troupes and occasional open-mike nights), there's something for everyone at this beloved traditional venue turned premier hi-tech institution.
So whether you're bringing the family or catching up with friends over a cheeky beer, you'll be grinning ear to ear before night's end.
52 – Feel the rhythm at the Alabama Jazz Hall of Fame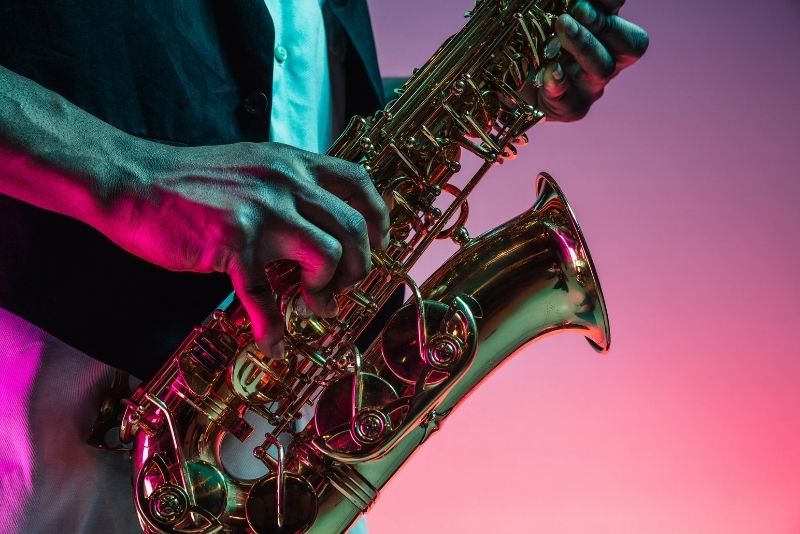 The jazz movement was more than music, it was about humanity, and the Alabama Jazz Hall of Fame sets out to remember and personify that through fascinating exhibits on some of Jazz's all-time greatest musicians.
From Louis Armstrong to Ella Fitzgerald, Dizzy Gillespie to Miles Davis and beyond, the history of jazz is on proud display at this unique Birmingham attraction.
And, apart from the museum itself, the top-tapping love of music is shared by educating the new generation too — from Jazz Master Classes to free introductory programs for school kids, the spirit of jazz runs deep.
53 – Watch a show at the Alabama Theatre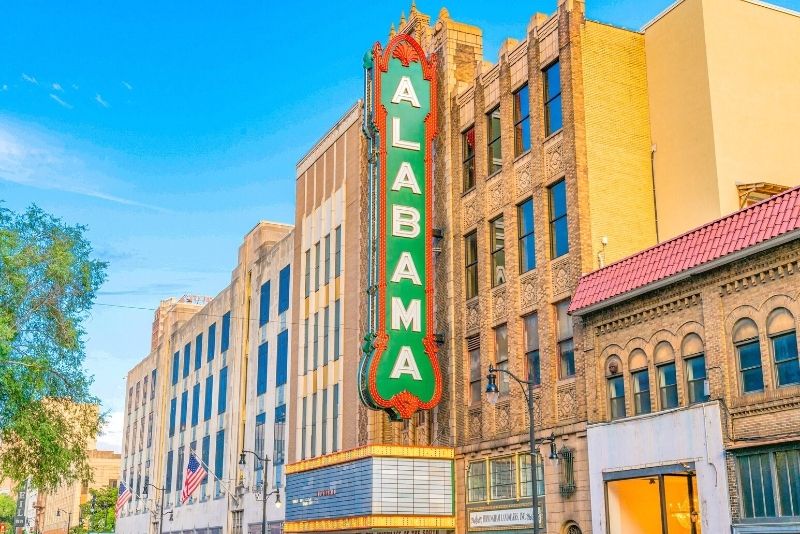 With its grandiose auditorium and art deco design, the Alabama Theatre was built in 1927 as a luxury cinema for those who could afford it—and today, travelers can enjoy that same luxury and a rich history to boot at one of their events or shows!
As well as hosting some top theatrical performances (including popular local musicals like The Phantom), the theatre also regularly welcomes symphony orchestras and operas.
Just pick a show that tickles your fancy, buy a ticket (in advance to get the best price), and let the so-called Showplace of the South dazzle and delight.
54 – Eat your heart out at El Barrio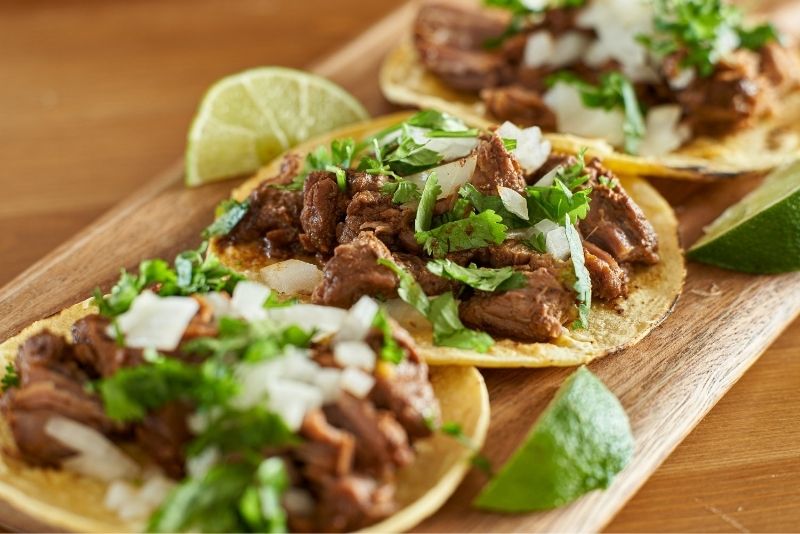 After a long day of sightseeing and traveling, a good, hearty meal goes down a treat. And if you ask the locals, they'll say that few eateries can compare to the Mexican-inspired cuisine at El Barrio.
Sporting a menu full of favorites like burritos, tacos, and quesadillas (plus a smattering of authentic Mexican drinks), this popular Birmingham restaurant is perfect for satisfying any cravings, not to mention its top-notch brunch options.
55 – Meet the locals at the Pepper Place Saturday Market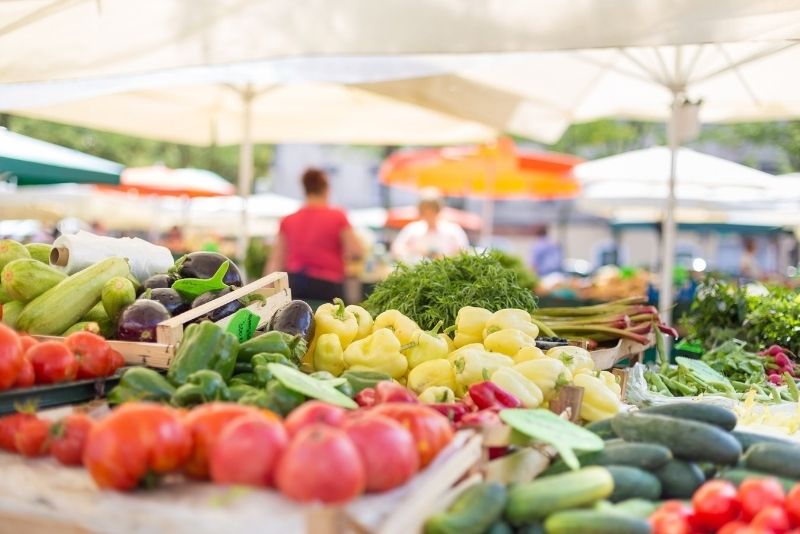 A charming institution in Pepper Place, the Saturday Market is a true community event, held every week from 7am to 12pm (rain or shine) in the Lakeside District.
This market has something for everyone: from fresh produce and artisanal foods to vintage clothing and baked goods, the selection of locally-grown and made treats is second to none
What's even better? With entertainment often provided by local musicians, the market doubles as a fun shopping experience with family-friendly activities on offer too.
56 – Dig into a meal at Highlands Bar & Grill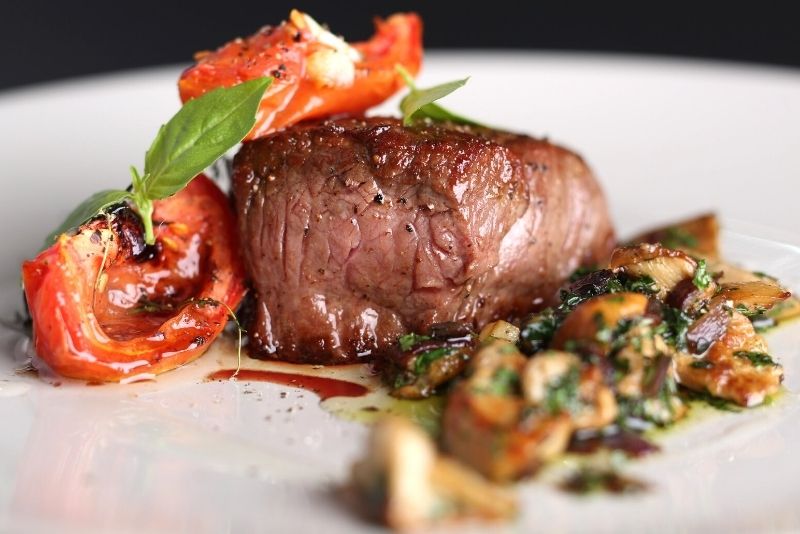 Did someone say all-you-can-eat? Despite dishing up serious quantity, the number-one-rated Birmingham restaurant doesn't skimp on quality either.
Prepared by top-tier chefs, the menu here is always changing, but the defining characteristic of every dish remains: it's delicious.
Highlands Bar & Grill focuses on using local ingredients in their dishes (at least when possible), and with a divine selection like this, there will be no complaints from any discerning foodie patrons! Oh—and did we mention that they also have a killer wine list?
Take note: due to its popularity, it's suggested to make reservations in advance.
57 – Take a seat for a show at the Lyric Theatre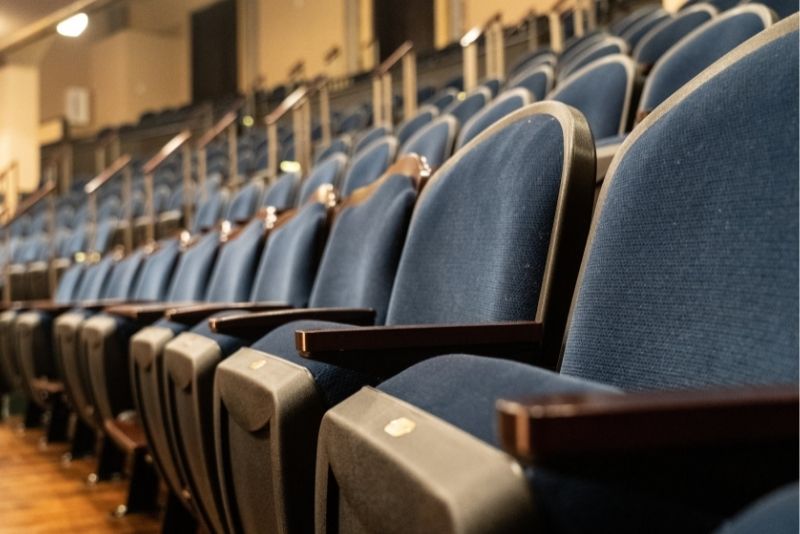 Are you ready for the show of a lifetime in a century-old vaudeville theatre that's been through millions of dollars worth of delicate reconstruction?
Then grab a ticket for a riveting performance at the Lyric Theatre! Undeniably one of the finest theatres for live performing arts in Alabama (and, as expected, located in Birmingham's Theatre District).
The Lyric Theatre showcases a diverse roster that ranges from drama and comedy to dance and music, as well as symphonies, ballets, and operas.
58 – Crack a shell at Half Shell Oyster House of Birmingham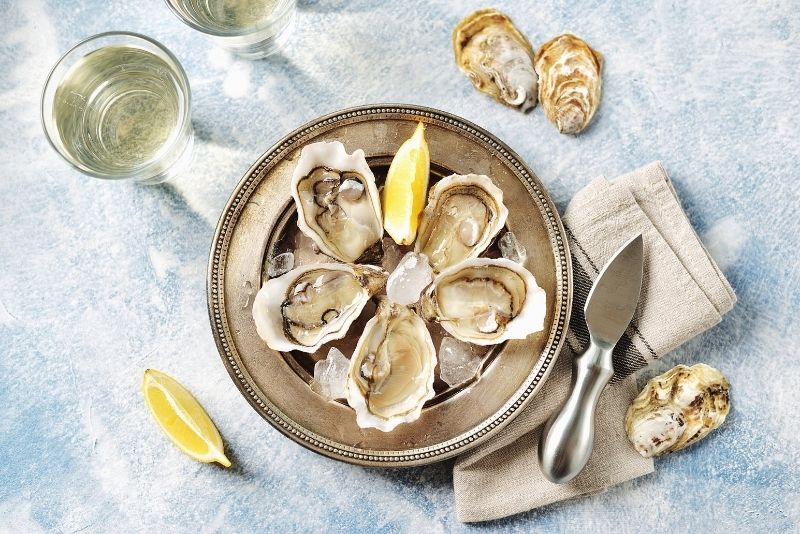 If you're craving some seafood, then head down to Half Shell Oyster House of Birmingham in the Lakeview District.
The restaurant has several original dishes, including Redfish Orleans and Seafood Stuffed Portobellos, along with a selection of more traditional New Orleans-inspired seafood dishes (that is, after all, where the chain originated).
Alongside the tasty entrees, there's also an extensive drinks menu with some truly bizarre (but hey, don't knock 'em till you try 'em) concoctions like the Pink Pearl Martini.
So, if you're hungry and looking for things to do in Birmingham that could classify as an aphrodisiac, add this popular locale to the bucket list.
59 – Join a concert moshpit at Iron City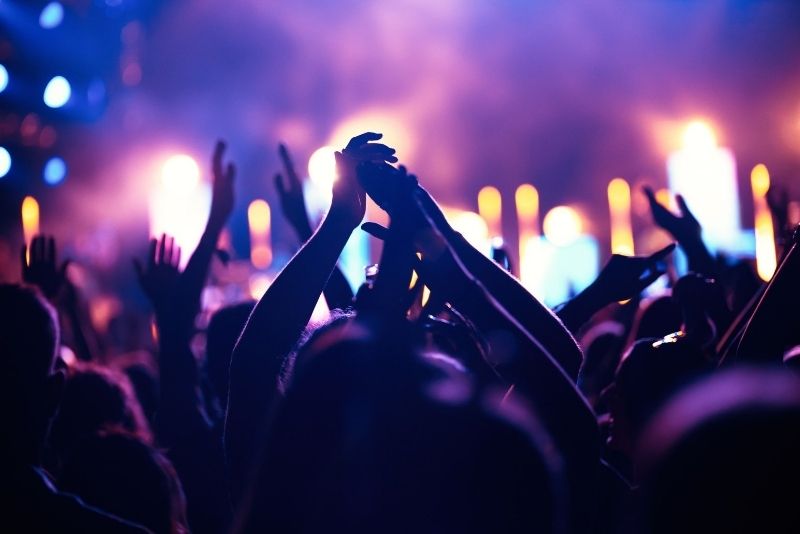 An old-fashioned music hall and live performance venue, Iron City is one of the coolest places to catch a show in Birmingham, hosting local up-and-comers, traveling superstars, and tribute bands to bygone legends.
But don't be fooled by its classic appearance: this place has all the features of a modern concert hall, including excellent sound quality and an impressive lighting system (which make its occasional dance parties one hell of a good time).
For the more low-key events, consider grabbing a table at The Grill, where some incredible food complements the spectacle of musicians on stage.
60 – Journey into the rocks at Desoto Caverns Park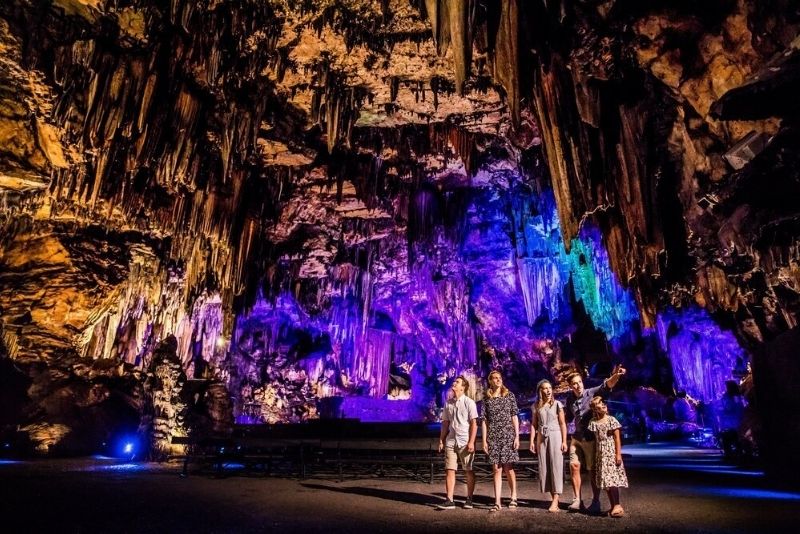 Caves, in Alabama? Yep, you read that right! And they're every bit as awe-inspiring as you might imagine.
At DeSoto Caverns Park, a stunning slice of Mother Nature is tucked away in the foothills of the Appalachian Mountains, visitors can explore a labyrinth of caves with names like the "Onyx Column Room" and "Cathedral Room."
The park also features several activities for kids (and the young at heart), including gem mining, award-winning fudge stalls, regular live entertainment including fire jugglers, and arts and crafts demonstrations.
61 – Roll the dice at the Birmingham Race Course Casino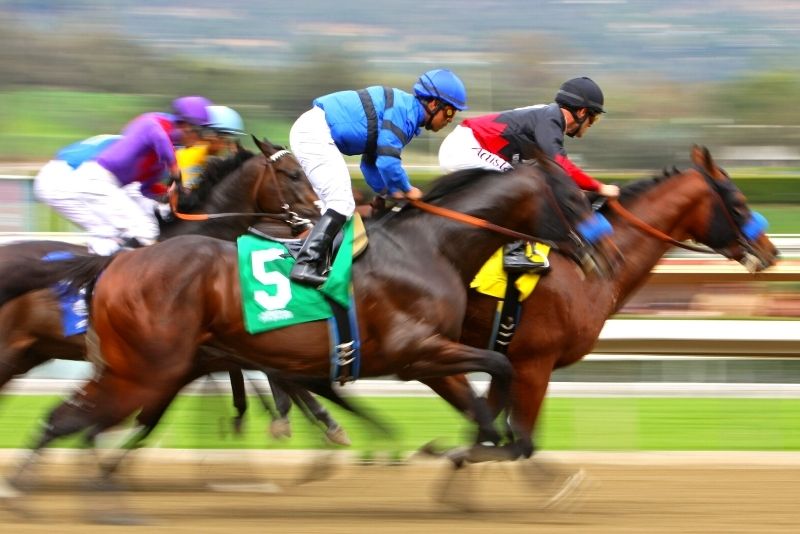 Consider yourself lucky? Recently cracked opened a positive-sounding fortune cookie?
Then test your luck at the Birmingham Race Course Casino, where visitors can throw a few bucks down casino games, horses, greyhounds, or live sports!
Not feeling especially lucky today? No problem! There's also a plethora of restaurants, bars, and live music venues at the casino for visitors to unwind in.
Of course, please set a limit and gamble responsibly.
62 – Grab a drink at the local breweries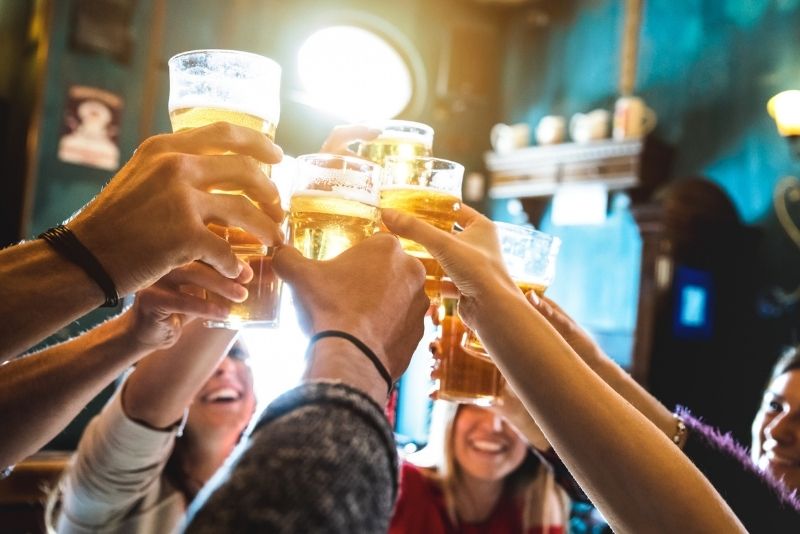 Especially relevant to all your summer travelers, if you're craving a cold and refreshing, then Birmingham's multiple brewing companies are calling.
Surprisingly, Birmingham is home to some of the South's most beloved and underrated breweries. So, where to start? Logic suggests grabbing your first drink at the TrimTab Brewing Company, a beloved staple that was awarded Birmingham's Best Brewery as well as Best Brewery in Alabama (Thrillist).
However, it's far from the only notable watering hole. Good People Brewery, right next to the Railroad Park, offers a great outdoor space to enjoy your beer and some live music while also offering behind-the-scenes tours; while the Back Forty Beer Co. serves up a killer view of the Sloss Furnaces to complement its craft range.
Still thirsty? Avondale Brewing Company's taproom features over a dozen homegrown blends as well as a dedicated sour room!
63 – Dance the night away at a nightclub (or kick back at a speakeasy or pub)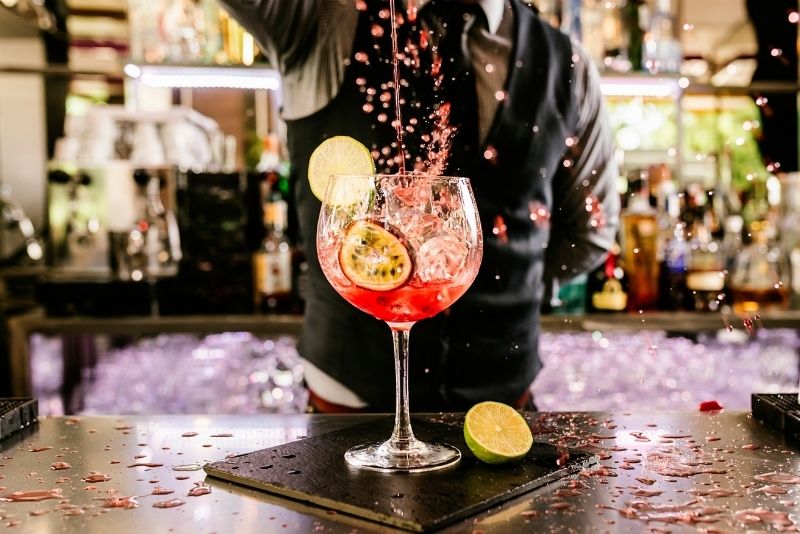 Party animals, listen up: it's no Miami, but there is no shortage of nightclubs in the city of Birmingham that will have you dancing till the sun comes up.
Kickstart the night at Dave's Pub before moving on to something more upbeat Nana Funks, which is all about beats you can boogie to! Locals love Blue Monkey for late-night grub and a more speak-easy kind of atmosphere, while many head Zydeco for the loud and live music acts.
For more than 50 different types of whiskey, Dram Whiskey Bar has got you covered. And if it's reputation you're after, as one of the 33 best bars in America (according to Thrillist), J. Clyde is all about craft beers and smooth ciders.
Whatever mix of bars or clubs you end up at, the one thing is for sure: you won't have a shortage of options.
64 – Party with a view at the city's rooftop bars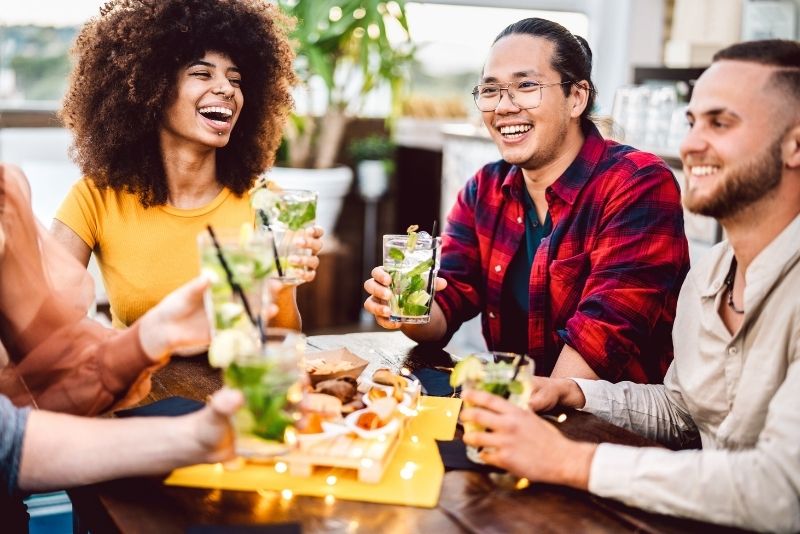 Drinks, views, and city lights: what more could you want? Birmingham's rooftop bars offer all of the above (with plenty of socializing to boot), making for a perfect spot to spend a few hours as afternoon transitions into evening.
Looking over Region's Field, Bar Sebastian is an ultra-secretive rooftop bar that requires a code to get in (text 'CODEWORD' to (855) 782-0225 before you go).
For a more straightforward rooftop experience, check out the Moon Shine Bar at the Elyton Hotel (which boasts sweet views of both downtown and Red Mountain) or the 19th-story Roots & Revelry.
Not to be overlooked is The Roof, an aptly-named watering hole on top of the Redmont Hotel on Fifth Ave, as well as the chic and colorful Habitat Feed and Social over in the suburb of Mountain View.
65 – Relax and unwind at a spa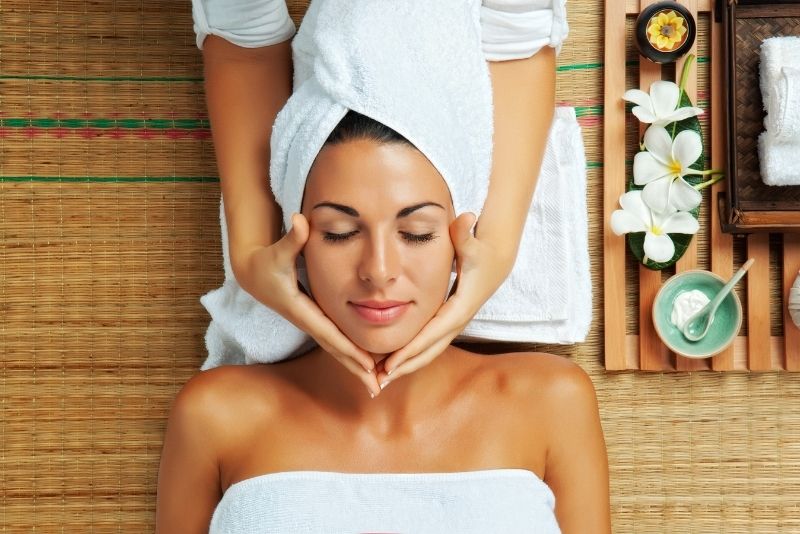 Whether it's a relaxing massage, sauna, body wrap, mani-pedi combo, hot stone treatment, facial, aromatherapy session, or full-body scrub (and that's just the tip of the iceberg), Birmingham has you covered when it comes to de-stressing.
Weary travelers can find these services all over the city, and while walk-ins are always welcome, the best deals (and biggest savings) are scored by booking online, in advance — book at the right time and you can save up to 50% off the regular price.
Thanks for checking out our collection of things to do in Birmingham, Alabama! If you have anything you'd like to add to the list, feel free to leave a comment below.
But before you go, make sure to check out all of the best activities in Atlanta (home to the Coca-Cola factory) and well as all the music-centric landmarks and events in Memphis, Nashville, and Chattanooga!
Now, let your hair down, start locking in your activities, and get ready for a memorable vacation!