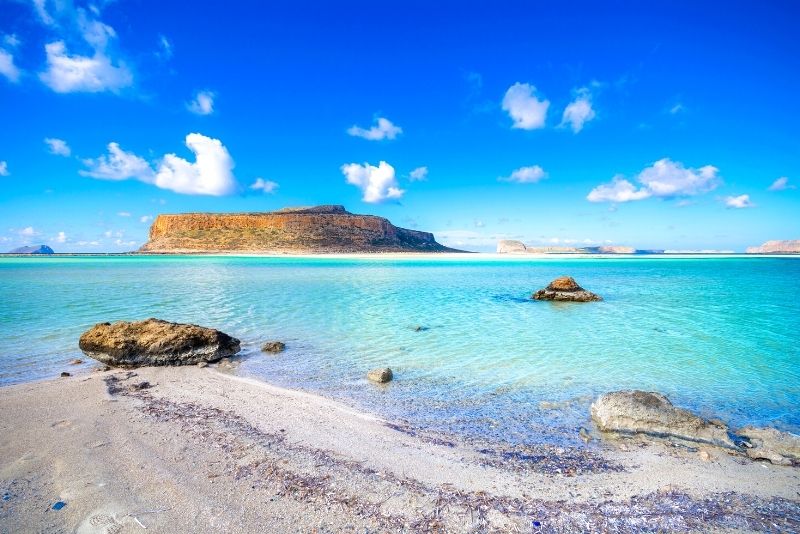 As the largest of the Greek islands, Crete has been welcoming throngs of eager tourists for decades, pleasantly surprising each and every one of them with its near-endless list of immersive, unforgettable activities.
With cruises, theme parks, hiking trails, historic ruins, beaches, and more, the selection of things to do in Crete is nothing short of amazing.
1 – Visit the Knossos Palace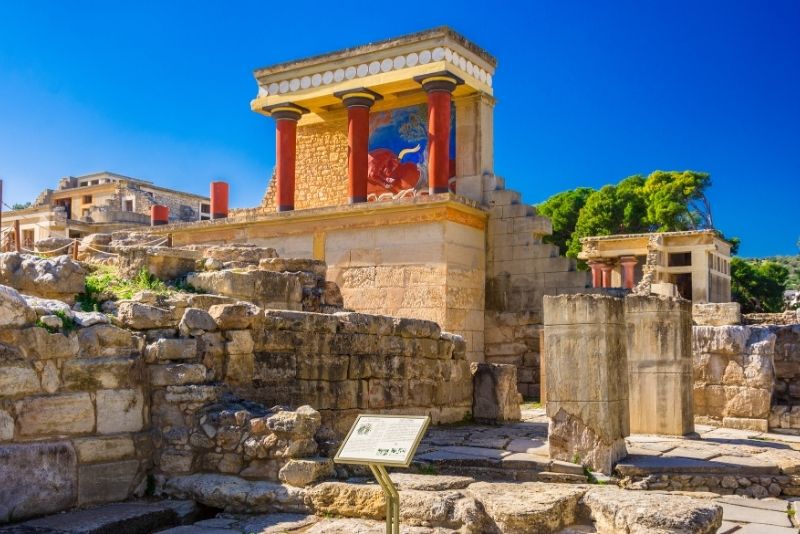 As the most important Bronze Age archaeological site on the island, Knossos Palace has welcomed nearly 600,000 curious visitors per year. The best way to explore the historic site is with an expert historian — they're always delighted to share the real-life and mythical stories associated with this 22,000-square-meter ruin complex.
2 – Relax at Elafonisi Beach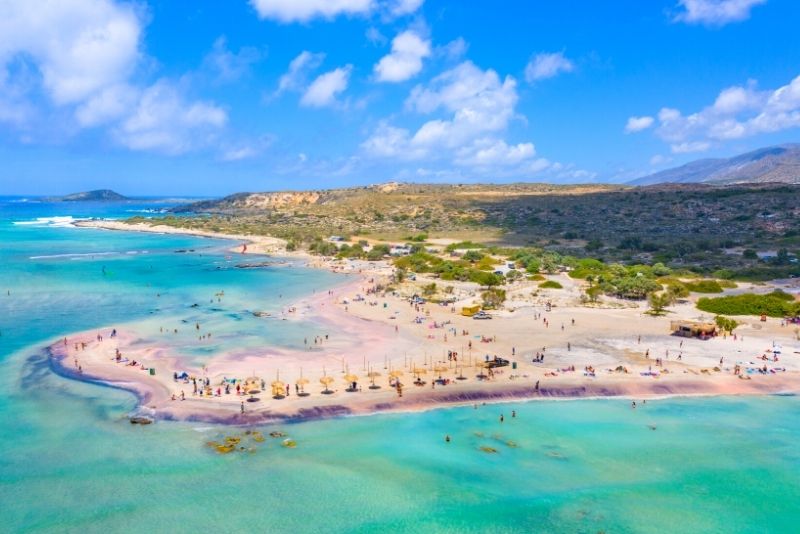 Photographers, rejoice — with its champagne pink coral sand and sparkling crystalline waters, Elafonisi Beach on the island's western shores is the definition of gorgeous. The area is dotted with restaurants and bars, allowing you to turn a laid-back afternoon into a romantic evening with ease.
3 – Tackle Samaria Gorge, Europe's longest gorge hike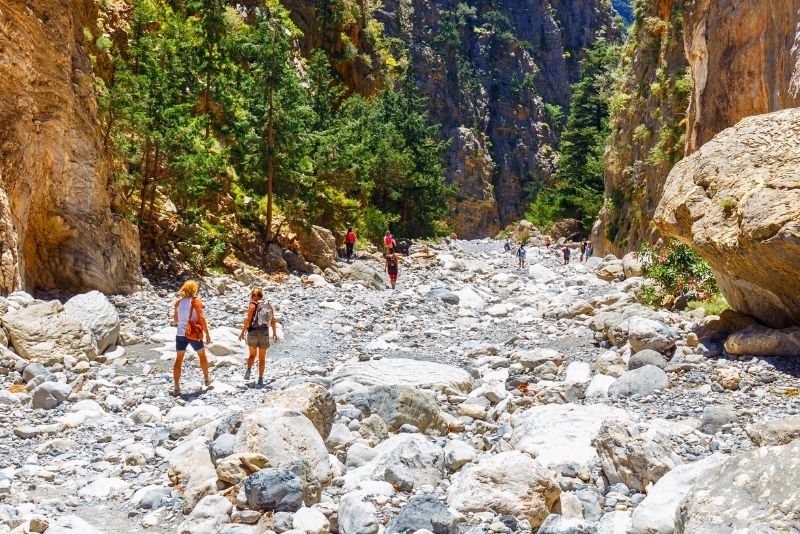 One of the island's most visually stunning hikes on the continent, the main trail in Samaria Gorge National Park is a must for adventure and outdoor enthusiasts. Across the roughly 15-km-long trek, towering rock faces provide both shade and beauty, with flowing streams and unique wildlife popping up along the way.
4 – Check out Spinalonga Island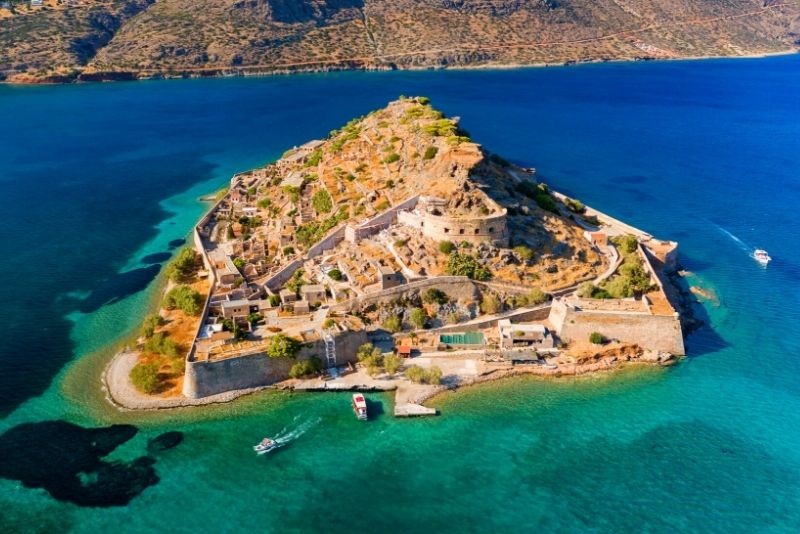 Known for the Venetian-era Spinalonga fortress sitting atop the glistening Mirabello Bay, the postcard-worthy Spinalonga Island is a must for any Crete visitor — if not for the notably dark history, then for the sublime views looking out from the bastion. Guided tours often include time to swim or snorkel, plus a couple of stops at equally impressive nearby attractions such as Agios Nikolaos or Elounda.
5 – Lather on the suncream at Balos Lagoon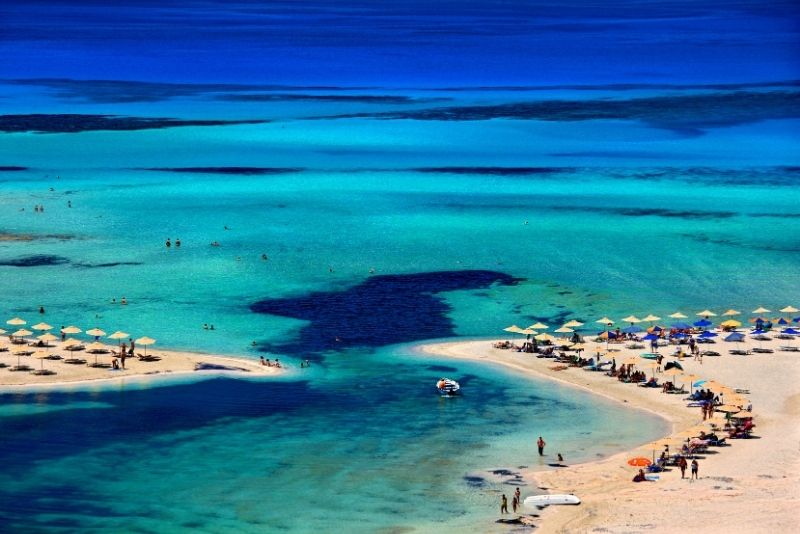 Boasting some of the brightest turquoise waters in the Mediterranean, the Balos Lagoon —about an hour and a half's drive from Chania — is nothing short of delightful. The main beach, while beautiful, is shallow and clear, making it a safe, family-friendly swimming destination. Grab a sunbed, a refreshing drink, and let the serenity whisk you away.
6 – Zoom along canyons and mountains on a jeep tour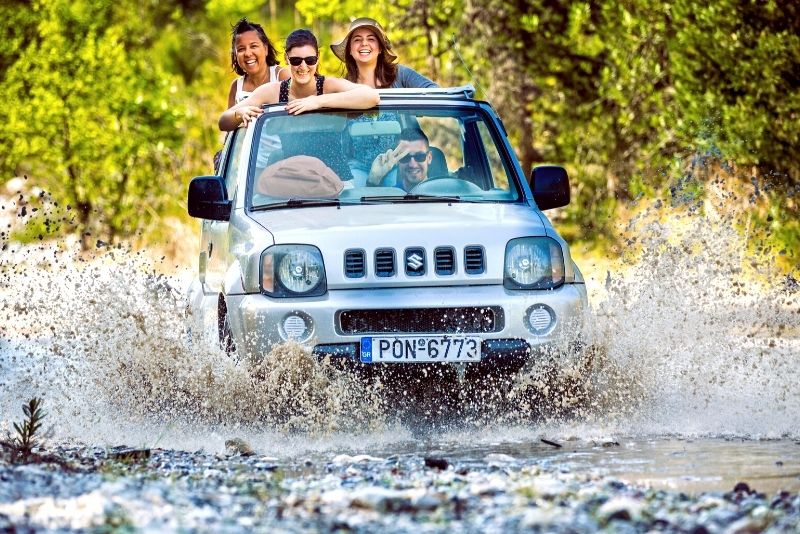 As an island lined with rugged hills and sprawling canyons, there's no better way to explore the great outdoors than strapped into an open-air Jeep, with a seasoned local escorting you to all the most underrated locations on Crete's southern coast. If a private journey to places like Preveli Palm Beach isn't quite your style, rent your own car and explore at your own pace.
7 – Head to paradise on Earth: Preveli beach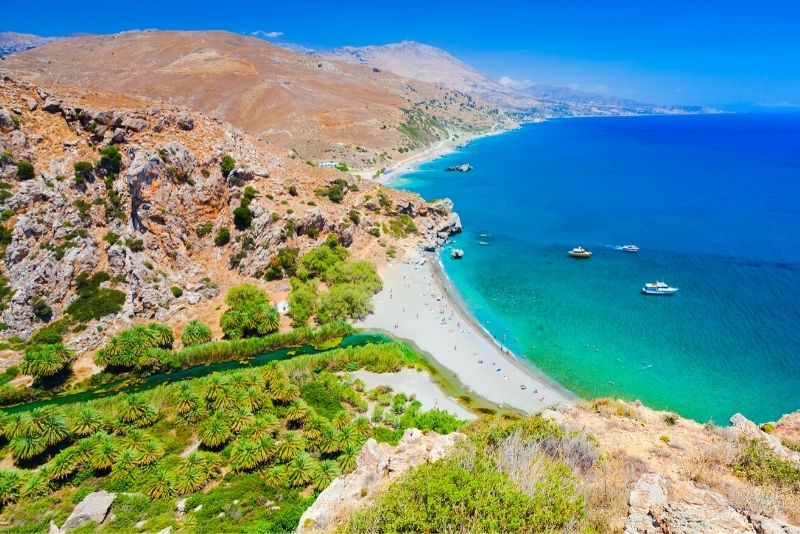 Undisputedly one of the best things to do in Crete thanks to its warm, crystal-clear waters; famous 'Heart Rock'; and its location at the mouth of the Kourtaliotikos Gorge, a day at Preveli Beach is simply non-negotiable.
At first glance, visitors quickly realize why Preveli has developed the reputation as the island's most famous southern beach.
8 – Hike through the imposing Imbros Gorge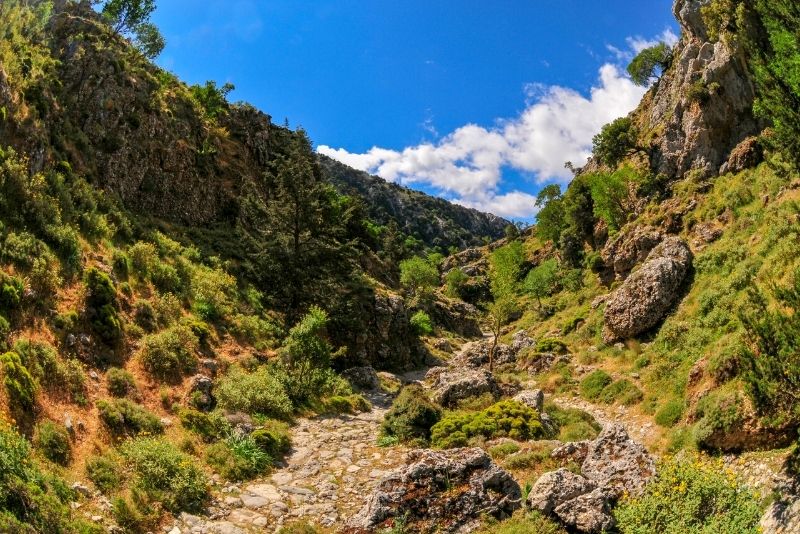 Running parallel to Samaria Gorge, the lesser-known yet arguably more spectacular Imbros Gorge — which starts just below the village of Imbros — runs 11 kilometers through some of southern Crete's premier canyon landscapes. As you hike under the steep, rocky walls, keep an eye out for curious rare birds like ravens, griffon vultures, and falcons.
9 – Sail along the coast on a boat tour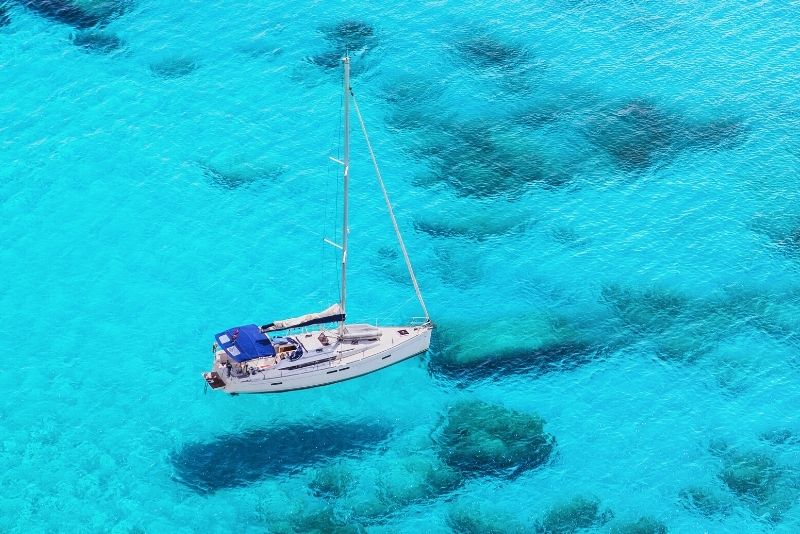 You're in the Greek islands, after all — there's no excuse not to explore the surrounding waters! Whether you're hoping to party like it's 1999, sit back and relax, learn about the island's fascinating history, or dig into a delicious feast on the water, there's a boat tour suitable for every budget and every kind of traveler.
Choose from sailboats, pirate ships, high-speed motorboats, and plenty more!
Hot tip: check out the best boat trips in Crete for the perfect boating adventure!
10 – Take a day trip to Santorini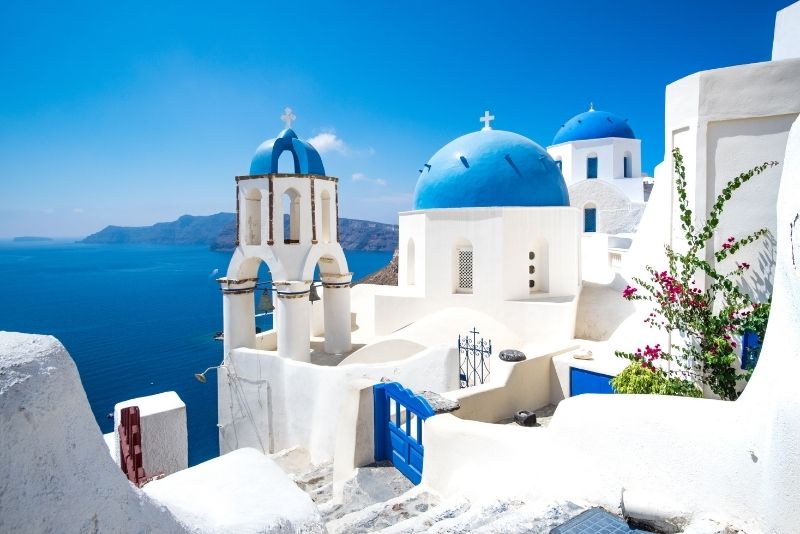 The most renowned of all the Greek islands, Santorini is just as beautiful in real life as it is in the pictures. With the blue water contrasting magnificently with black-sand beaches and whitewashed architecture, it's an Instagrammer's delight; and with fresh seafood available on every corner, it's heaven on Earth for foodies.
To all the traveling couples, a Santorini sunset is the pinnacle of romance.
11 – Explore Rethymnon's Old Town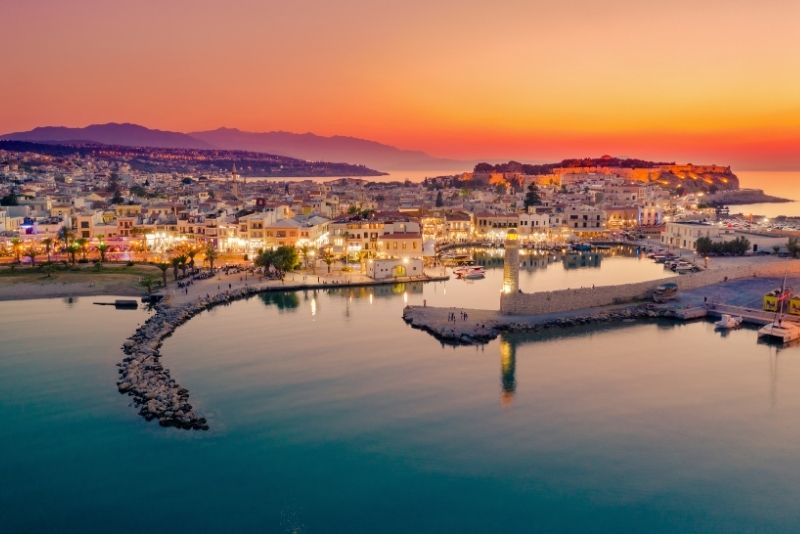 Comprising tiny streets overflowing with amazing restaurants and unique stores, and yet, usually not as busy as the historic areas of Chania, Rethymnon's Old Town is a regular crowd favorite. With friendly locals, an authentic atmosphere (especially compared to the nearby beach strip), and panoramic views of the Cretan Sea, it's not to be missed.
Make sure to check out the Venetian Harbour and the Fortezza Castle!
12 – Sail over to Chrissi Island
Sitting about 15 kilometers south of Crete, Chrissi Island is an untouched slice of Mother Nature — the ideal destination for a day trip in the outdoors that's all about one thing: relaxation. Transfers are available from Heraklion, Ierapetra, and a number of other Crete ports; even the journey itself is beautiful.
13 – Experience 2,000 years of history at the Heraklion Archeological Museum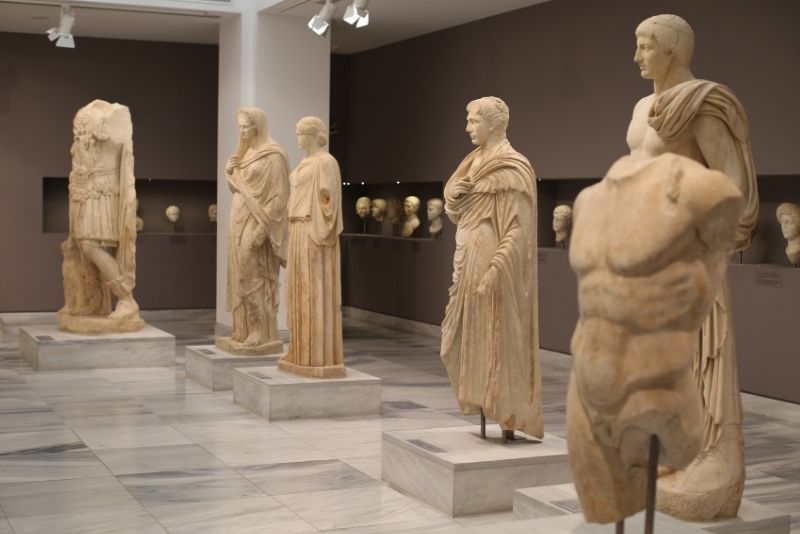 Widely considered the world's best museum for Minoan art, the Heraklion Archeological Museum showcases countless artifacts spanning coins, plates, jewelry, sculptures, and more.
For the best bang for your buck, opt for a tour that also includes a visit to Knossos Palace (another must-see Crete destination).
14 – Meet the animals at the Aquaworld Aquarium & Reptile Rescue Centre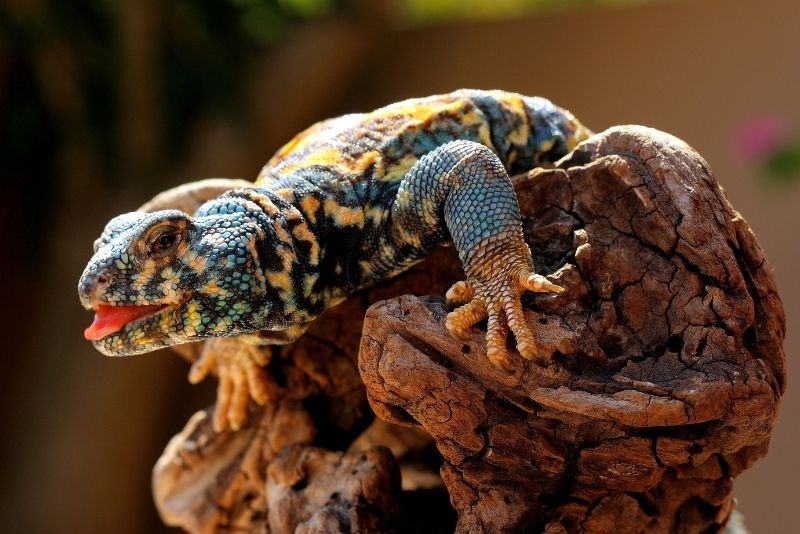 Unlike most aquariums and animal sanctuaries, Aquaworld visitors are encouraged to get up close and personal with the creatures — feed the turtles, stroke the lizards, or (if you're brave enough) grab a selfie with a snake around your neck!
Housing sea life and reptiles from all over the world, a couple of hours spent here is truly one of the most fun things to do in Crete.
15 – Join a wine & olive oil tasting tour!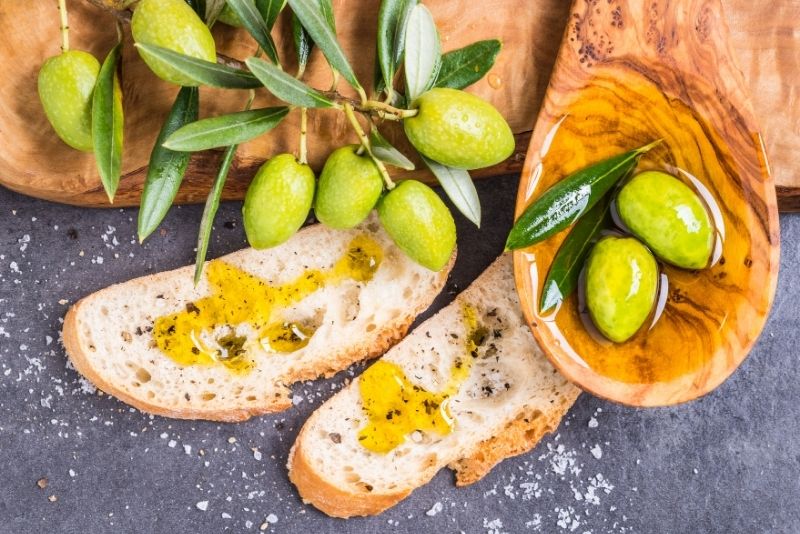 Taste up to 15 wines, see the world's oldest olive tree and learn more than you ever thought you could about the Cretan history of winemaking and olive oil production — all on a locally-led tour. These unmissable tasting experiences venture off the beaten track, exploring family-run vineyard and factories, and showcasing an authentic side of the island.
16 – Climb the Venetian fortress on Gramvousa Island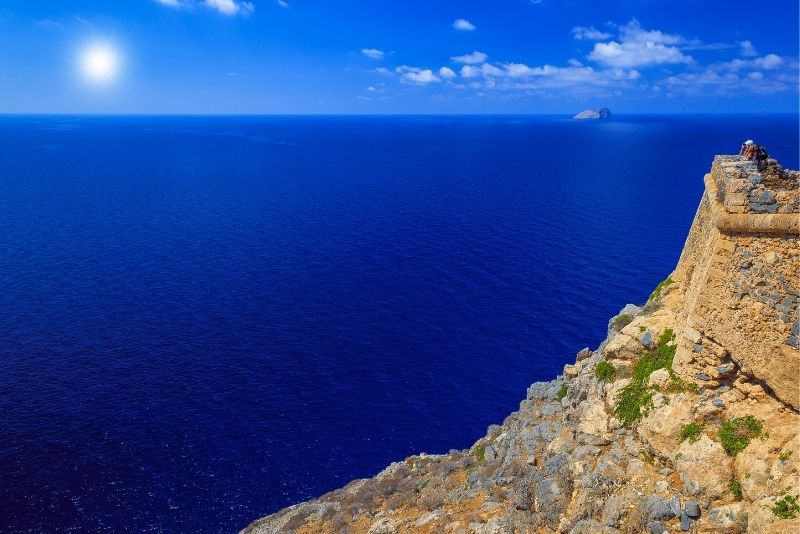 Make sure the camera's fully charged because the views from Gramvousa are second to none. From the island's beautiful white sands and rocky peaks, you'll see shipwrecks, the colorful Balos lagoon, and neighboring islands in the distance.
With seals and endangered sea turtles inhabiting the local caves, it's an unbeatable swimming destination too.
17 – Spend the day at Acqua Plus Water Park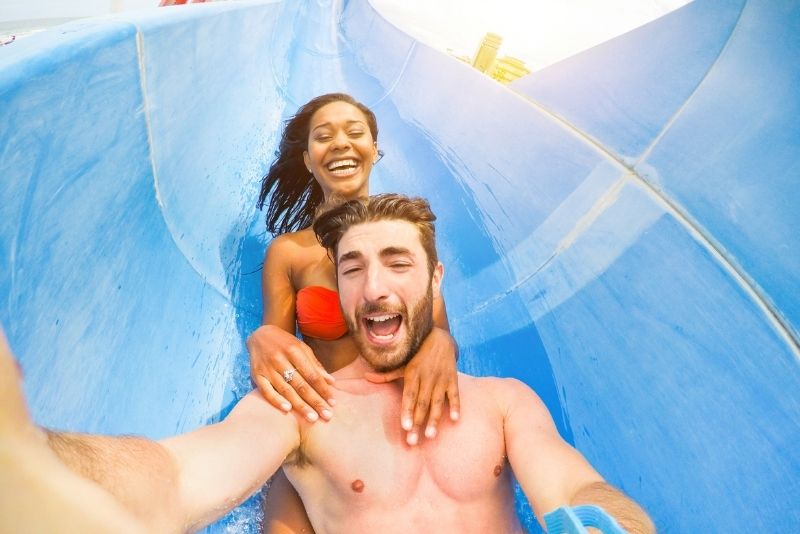 Boasting the title of Crete's largest water park, Acqua Plus plays hosts to the island's tallest, fastest, and most exciting slides. Complementing the high-octane thrills, the park dishes up ample relaxation opportunities, with a lazy river, hydromassage beds, and wading pools all available.
Whether kids of age or kids at heart, it's a perfect place to cool off on a hot day.
18 – Learn how to scuba dive!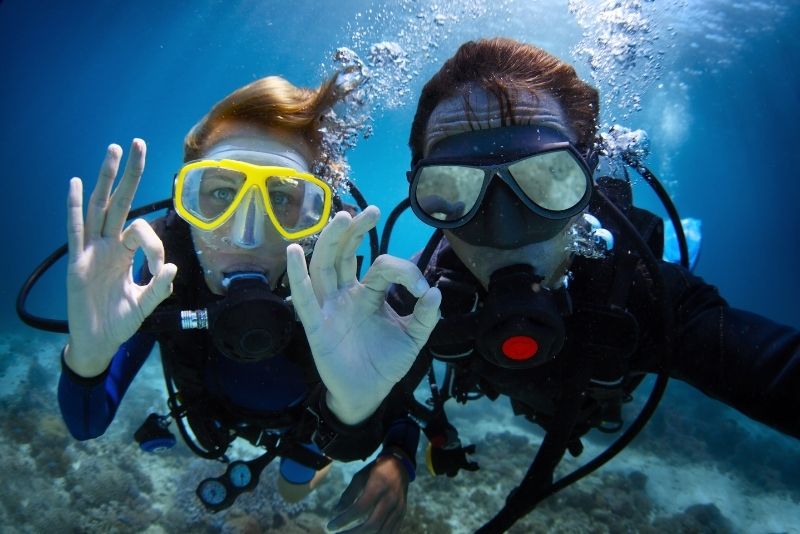 The waters encircling Crete are temperature-perfect and magnificently transparent, making it one of Europe's premier scuba diving regions.
Dives and dive courses are available for newbies and experts alike, with adventures exploring the surrounds of places like Chania (check out the Elephant's Cave), Heraklion, and Karpathos (perfect for shipwrecks),
19 – Visit the 16th-century Arkadi Monastery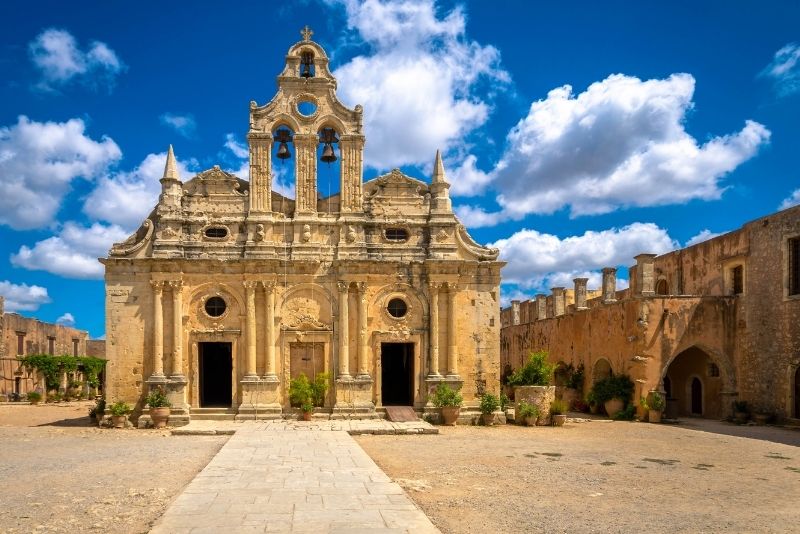 A hilltop structure that boasts a remarkable facade, the Arkadi Monastery is adored by architecture and history buffs alike.
Sitting about 23 kilometers southeast of Rethymno, it presents as a hassle-free activity to squeeze into any afternoon. While unaccompanied visits are possible, due to the monastery's role in the 1866 revolution, an expert guide is often appreciated.
20 – Embark on a quad bike (ATV) safari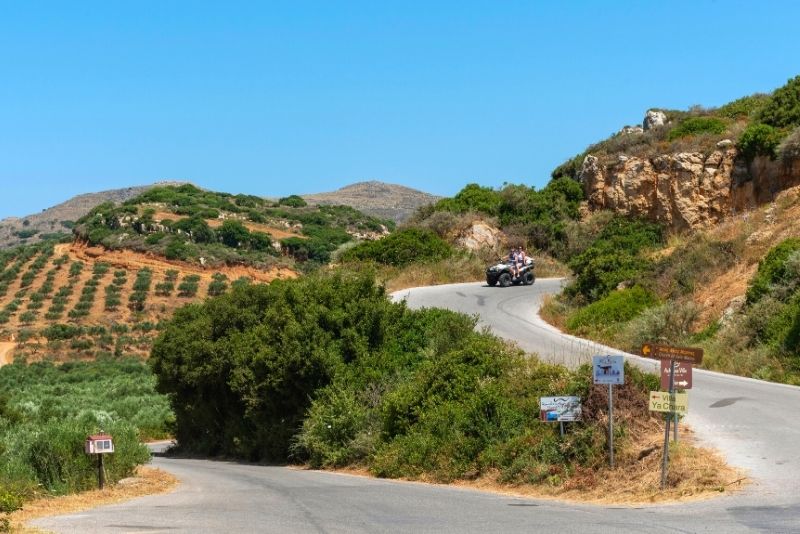 Adventurers, if you're hunting for fun things to do in Crete that will satisfy the urge for adrenaline, then a quad bike safari ought to do the trick. Escape the city, ditch the tourists, and head out to the fresh air of the rolling hills, with departures available from most of the popular visitor cities.
Best of all, a delicious, locally-made lunch is almost always included!
21 – Snorkel with local marine life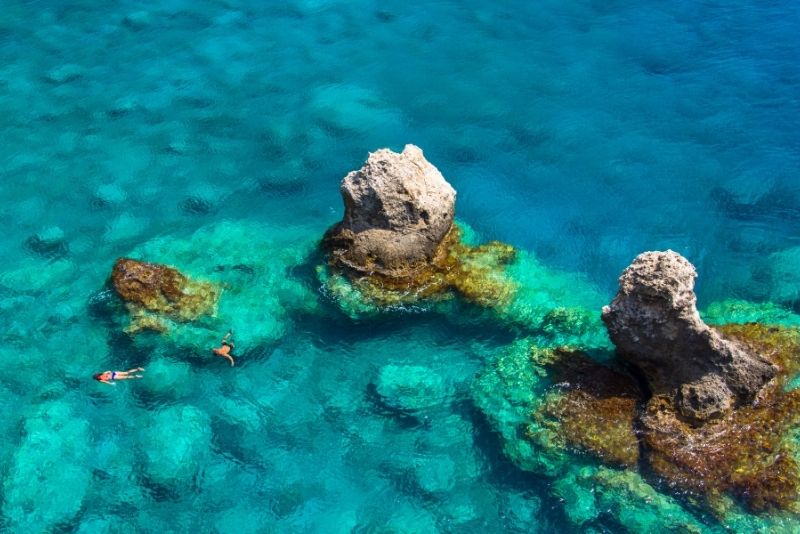 Get up close and personal with colorful sea creatures, witness an underwater shipwreck with your very own eyes, and let the soft momentum of the waves glide you along the surface — all possible thanks to Crete's crystal-clear waters. For an awesome multi-activity experience, choose a tour that includes jet skiing, stand-up paddleboarding, or a boat cruise!
22 – Don the chef's hat in a Cretan cooking class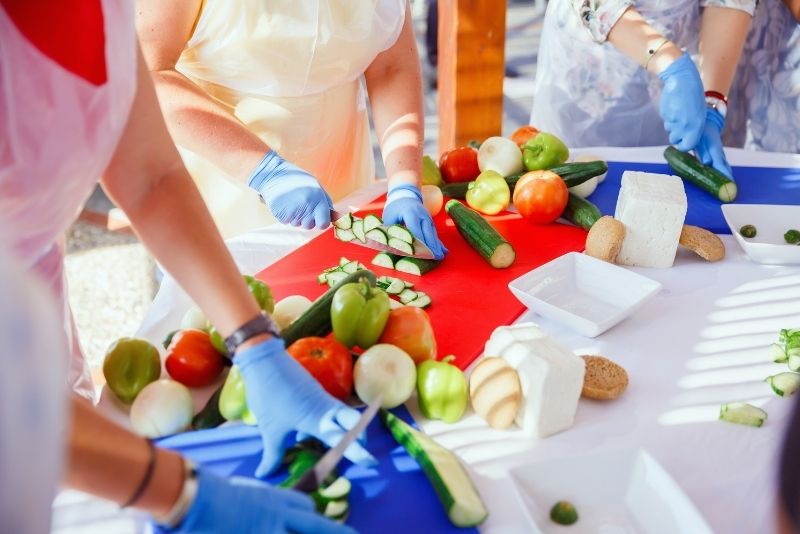 Besides its paradise beaches, if there's anything that the island of Crete is known for, it's its array of tantalizing local delicacies. Despite hundreds of noteworthy restaurants available, the most authentic gastronomy experience is learning to cook the traditional meals yourself.
In a Cretan cooking class you'll be eating dakos and loukoumades all night long — and yes, wine is included, of course…
23 – Hike through the White Mountains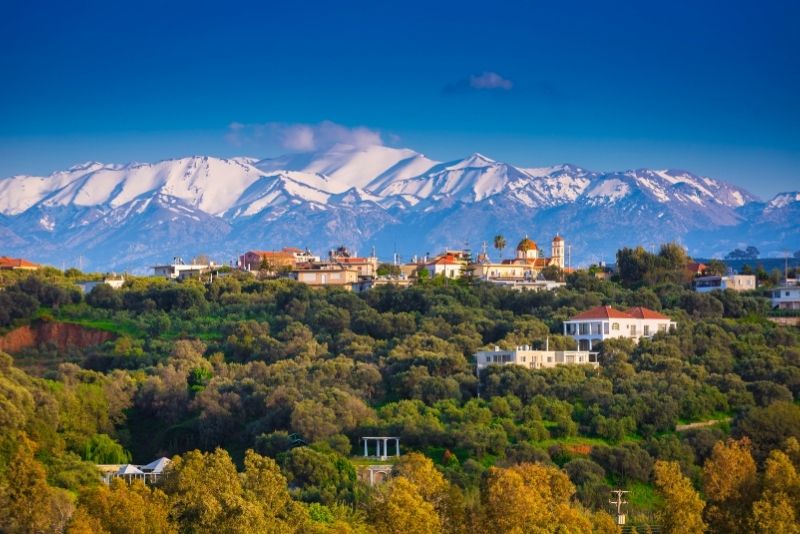 Occupying the majority of central and western Crete, the White Mountains are ever-popular for outdoor adventure, with over 50 rocky peaks to ascend, many soaring over 2000 meters above sea level. Plenty of single- and multi-day trails and tours are available, with something for every level of difficulty.
In winter, when covered in snow, their beauty only intensifies.
24 – Spend a day at Matala Beach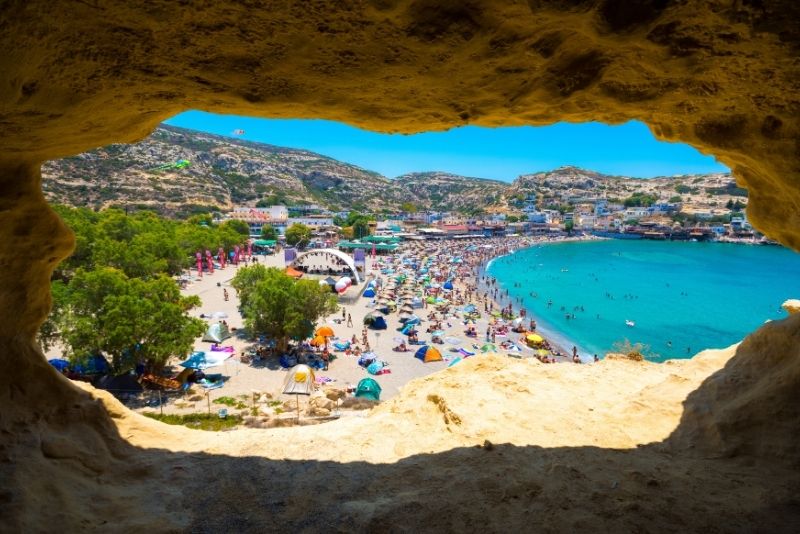 With golden sand, calm waters, and excellent views of the Paximadia islands, a day soaking in the sun at Matala Beach is hands-down one of the best things to do in Crete. Adjacent to the pristine waters of the fishing village are the area's imposing cliffs, and at their base, uniquely-curved prehistoric caves.
25 – Witness glowing jellyfishes swim at CRETAquarium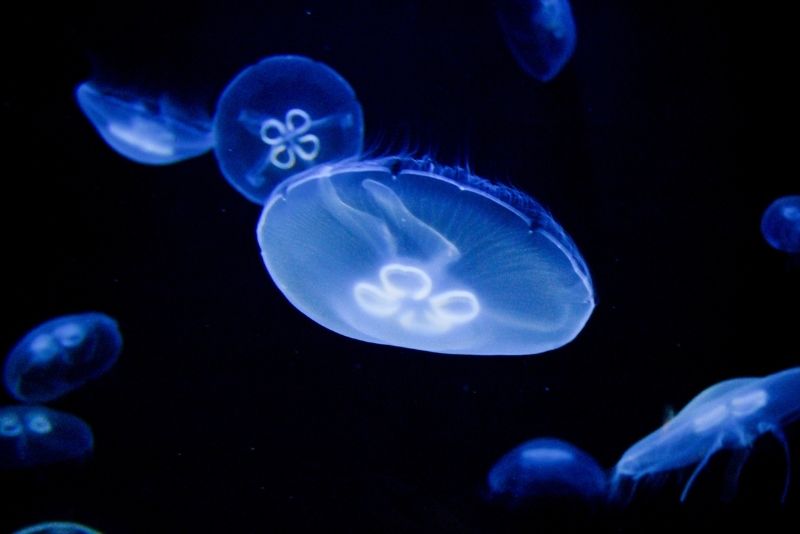 Found in Thalassókosmos, not too far from Heraklion, the Mediterranean-themed CRETAquarium hosts over 2,500 creatures, featuring intimidating hunter sharks, adorable seahorses, glowing jellyfish, and everything in between. It's an immersive indoor activity suitable for the whole family.
After checking out the vibrant sea life, why not make a beeline to the nearby Hani Kokkini beach?
26 – Watch a movie like never before at Minoan's World 9D Cinema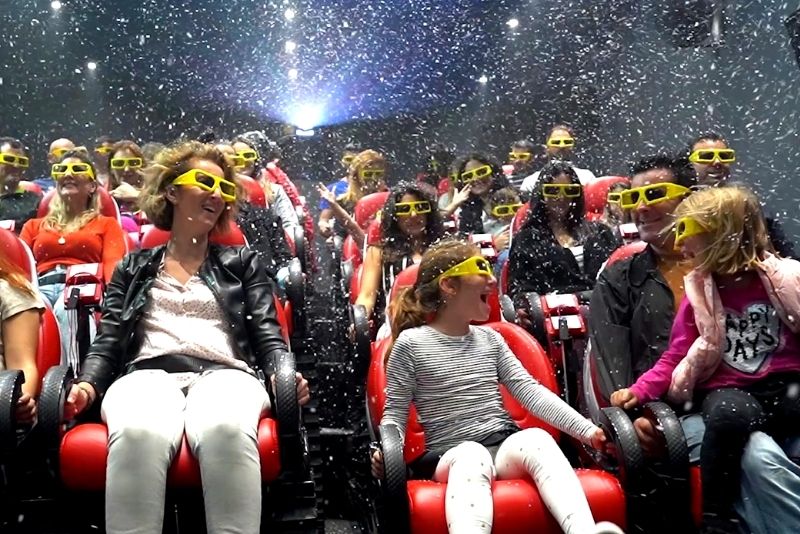 After strolling through the on-site 3D museum (a worthy attraction in its own right, particularly the "I Love Crete" installation), the ultra-immersive 9D cinema awaits, ready to wow each and every Chania visitor. The theater uses high-tech special effects, moving chairs, wind, and more to stimulate your senses for 25 minutes of amazement.
27 – Wander around Chania Old Town & Old Venetian Harbour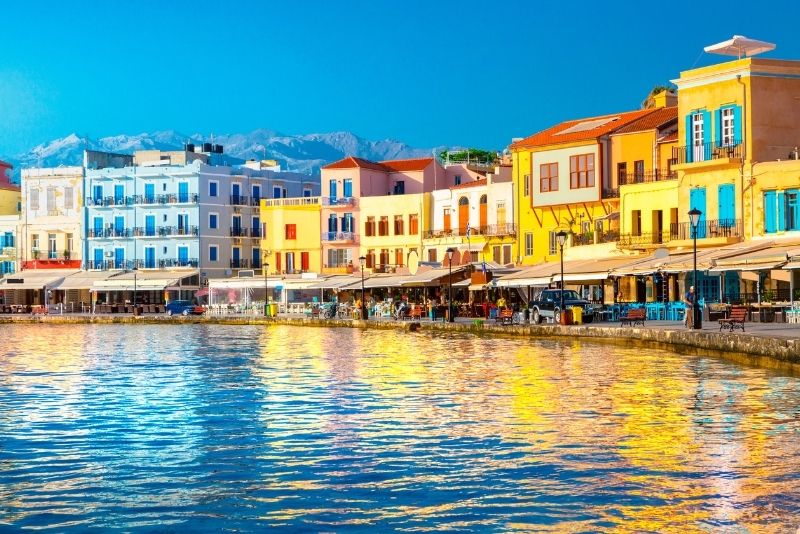 As one of the essential things to do in Crete, a stroll through Chania's Old Town, whether by day or by night, is absolutely magical. Check out the restored lighthouse, grab a few souvenirs at the shops, take a break at any of the locally-adored eateries, and plenty more — all housed on streets dating back to the 14th century.
28 – Swim between the cliffs at Seitan Limania Beach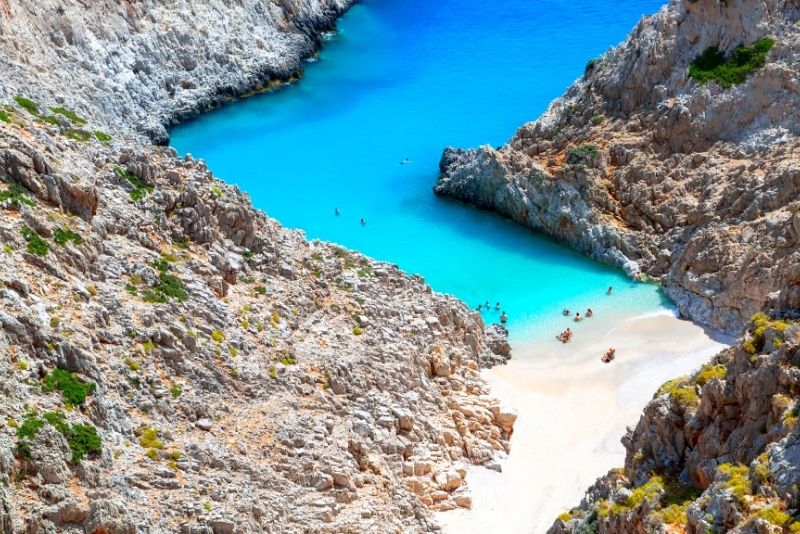 Otherwise known as Stefanou Beach, this glorious cove is as picturesque as they come. The sandy beach feels remarkable remote, however, in reality, it's just a stone's throw from Chania International Airport, making it an easy addition to any Crete itinerary.
To swim in a cove surrounded by towering rock formations, simply put: there's just nothing else like it.
29 – Walk in the footsteps of a god at Zeus Cave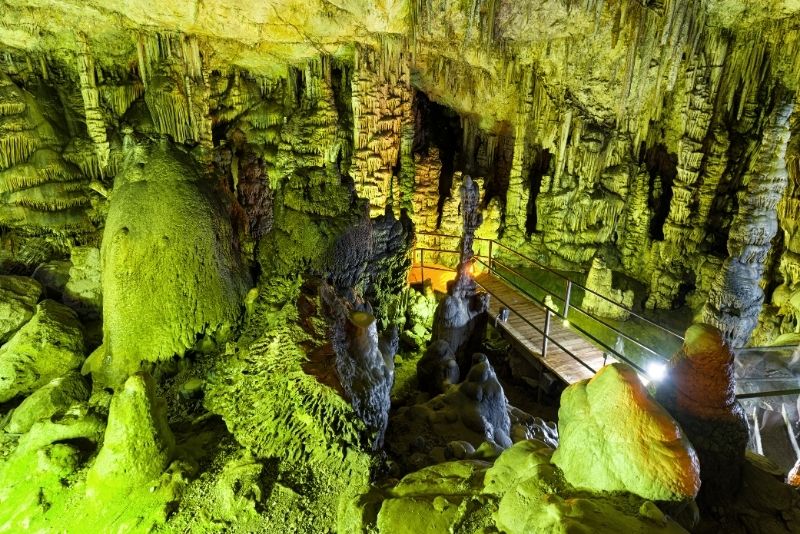 The infamous location where the most famous of all Greek gods was born, Zeus Cave (AKA Psychro Cave or Diktaion Andron) is a stunning portrayal of stalagmites and stalactites, kept cool even on those scorching summer days.
Don't forget the walking shoes — in addition to the entranceway sitting on top of a mountain, there are a few hundred stairs descending into the cavern's depths.
30 – Party non-stop in Malia and Stalis
In Malia and Stalis, two adjacent villages on the island's northeast, the energy is electric and the party never stops. Along Beach Road, bars and clubs (most of which are free) run rampant, with paint parties and 24-hour bars always welcoming tourists from near and far.
If you want to let your hair down and unleash your wild side, this is the place.
31 – Get lost in Labyrinth Park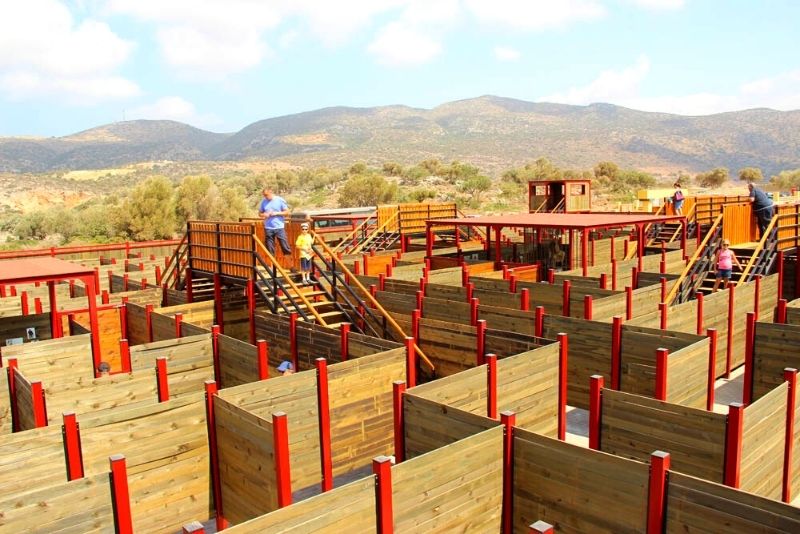 Inspired by Crete's Minoan heritage, the Labyrinth theme park promises fun for visitors of all ages. While the three-dimensional, 1300-square-meter Labyrinth is the undisputed focal point, the enormous park also boasts a high-tech 'laser maze', horse riding, archery, mini-golf, a pottery workshop, eco-garden, and — most impressively — a towering Trojan horse.
32 – Sit back and relax at Vai Beach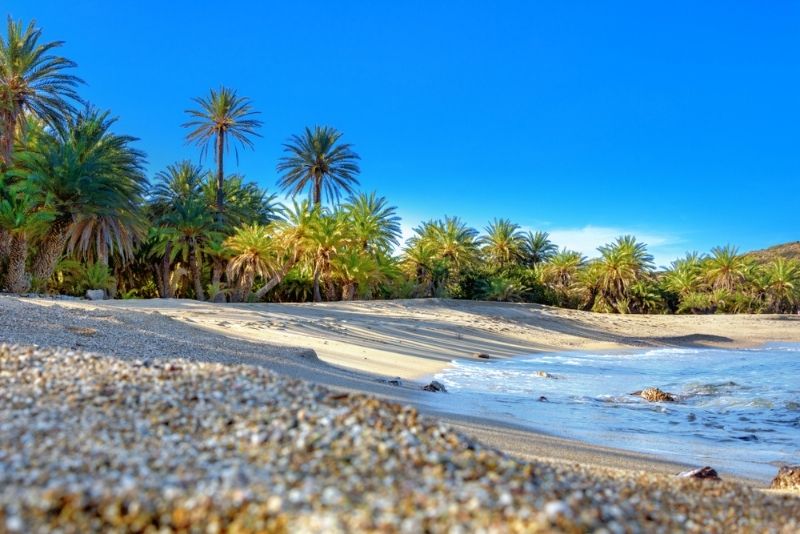 Straddling Crete's eastern shoreline and surrounded by palm trees and rocky cliffs, Vai Beach is as stunning as it is serene, with busy crowds typically few and far between. For those days where you want nothing more than to perfect the tan, cocktail in hand, and relax, there's no better spot than the sands of Vai.
33 – Dedicate an afternoon to kayaking!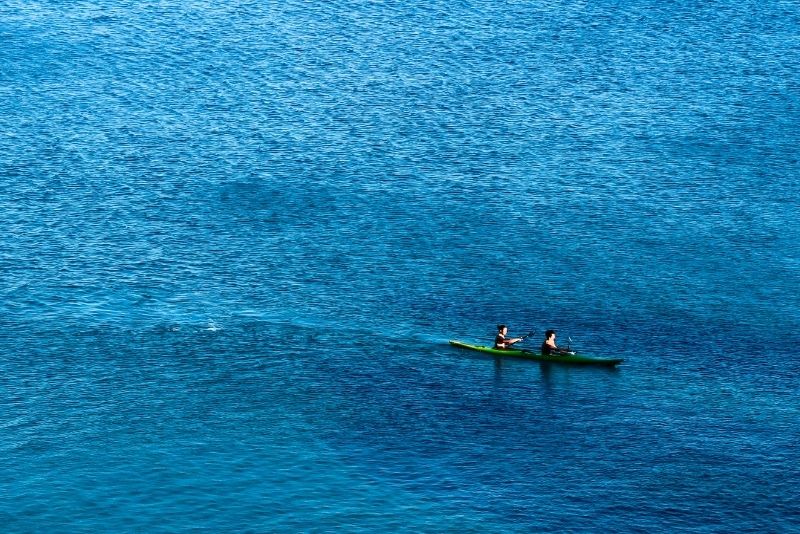 No matter where you're staying — Rethymnon, Chania, Elounda, or anywhere in between — since Crete is an island, you're never too far from incredible kayaking opportunities. Float under caves, through grassy rivers, around offshore islands, or out in the open ocean; whatever floats your boat. All equipment is provided, just bring yourself!
34 – Go horse riding near Heraklion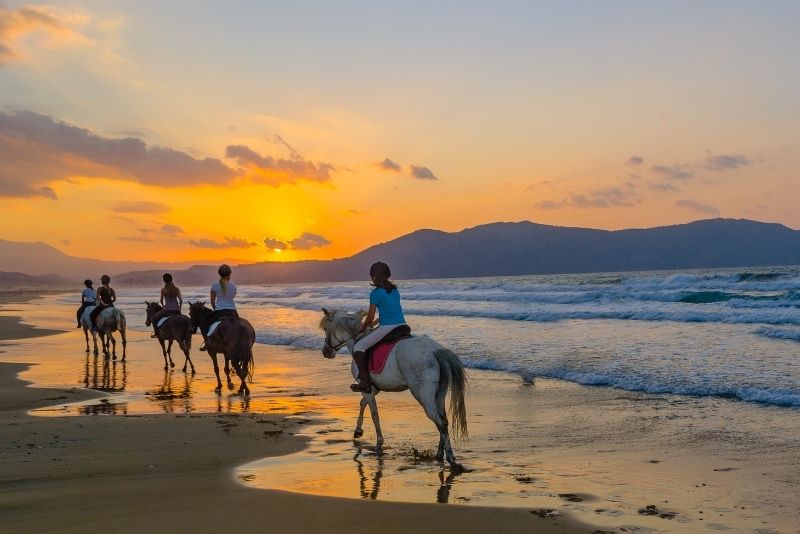 Trot through the scenic landscapes of the Finikia Mountains on horseback, or, if you prefer, sitting in comfort on a horse-drawn carriage — either way, it's a wonderful experience for visitors of all ages.
A freshly-prepared Creten picnic (with wine!) is included too. After a couple of hours of exploring the outdoors, they'll go down a treat.
35 – Take a dip in Lake Kournas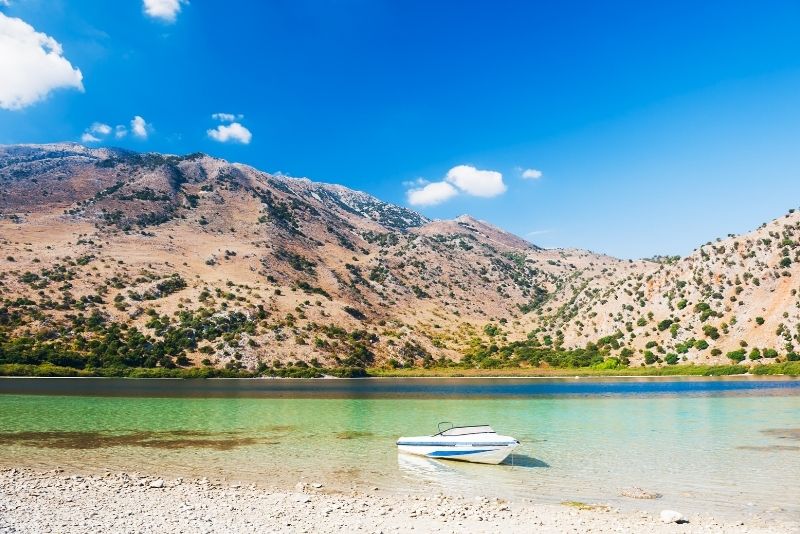 With a host of snorkeling, paddle-boating, kayaking, and swimming opportunities, the calm waters of Lake Kournas are quickly gaining popularity. In recent years, the area between Rethymno and Chania has gentrified, now hosting souvenir shops, restaurants, and bars — and while that can sometimes mean more tourists, it also means plenty more to do and see!
36 – Visit the Rocca a Mare Fortress (Heraklion)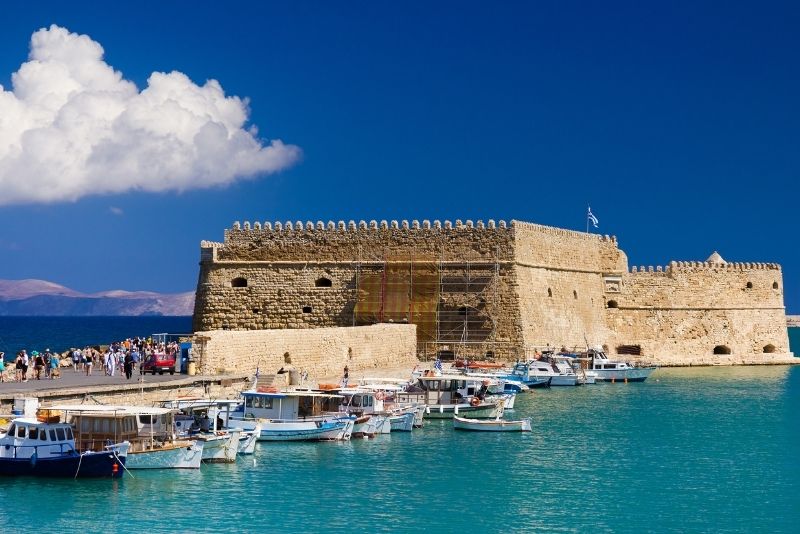 If you're searching for things to do in Crete that combine history with beauty and aren't too far from the main attractions, look no further than the famed 16th-century Rocca a Mare Fortress (otherwise known as the Koules Fort).
Sitting at the mouth of the old port of Heraklion atop a natural rocky outcrop, this imposing medieval structure is a regular tourist favorite and should not be overlooked.
If you're still on the hunt for accommodation on the island, take a look at the best hotels in Crete.