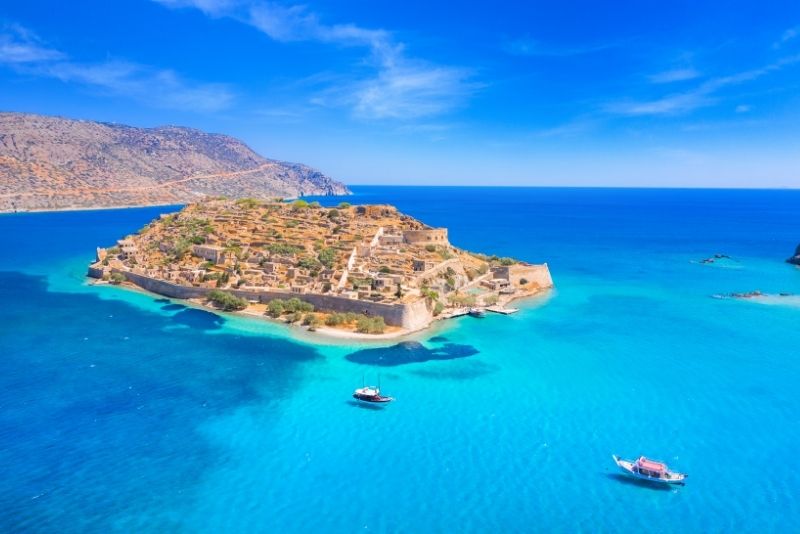 The largest of the Greek islands, Crete is the perfect place to travel if you are looking for sun, sea and beautiful beaches. Though it has plenty of touristic areas, Crete also has parts that have remained untouched, wild and natural.
The island's rugged landscape can make some areas difficult to reach by land, however, many of these beautiful spots can be visited by boat.
From the major towns and cities, you will find many great boat tours available to you. Sail on an old-fashioned wooden ship, cruise on a super-modern yacht or hire a private excursion for just you and your loved ones — there are many fantastic boat trips in Crete to choose from.
Explore the coastal caves and bays, the Lagoon of Balos and spend the day swimming at uninhabited nearby islands, such as Dia, Gramvousa and Lazzaretta. Opt for a longer day trip and explore the dramatic island landscape of nearby Santorini.
Wondering what boat trips are available from popular Crete destinations such as Chania, Heraklion, Agios Nikolaos and Rethymno? Look no further, here's the list of the best boat trips in Crete you need for a fantastic boating adventure!
Don't know where to stay in Crete yet? Check our full catalog of boat tours in Crete
Boat trips from Chania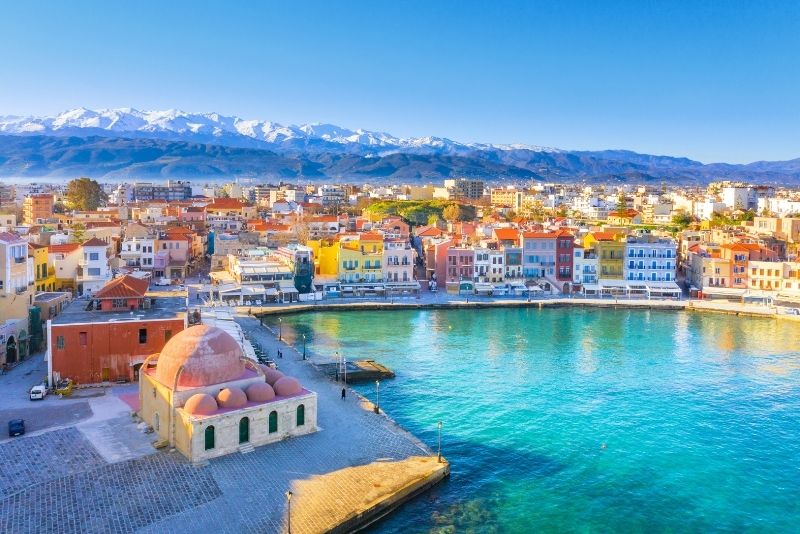 One of the most famous towns in Greece, Chania offers a lot for tourists to see and experience. With its famous beaches, such as Balos, Elafonissi, Falassarna, and many more, water trips and boat rides are one of the best things to do here!
Choose from sunset boat cruises and sailing trips as well as traditional boat cruises to some of the best nearby island destinations such as Gramvousa and Lazzaretta. Choose activity-based tours where you can snorkel, and paddleboard or just relax on deck and soak up the sun.
Wanting a different experience? Boat rentals may be a great choice for you! With various boats to choose from, available both with or without a captain, you can create your own itinerary. Visit all your must-see destinations and have a blast as you cruise around the waters of Chania, Greece.
1 – Traditional Boat Cruise to Lazaretta Island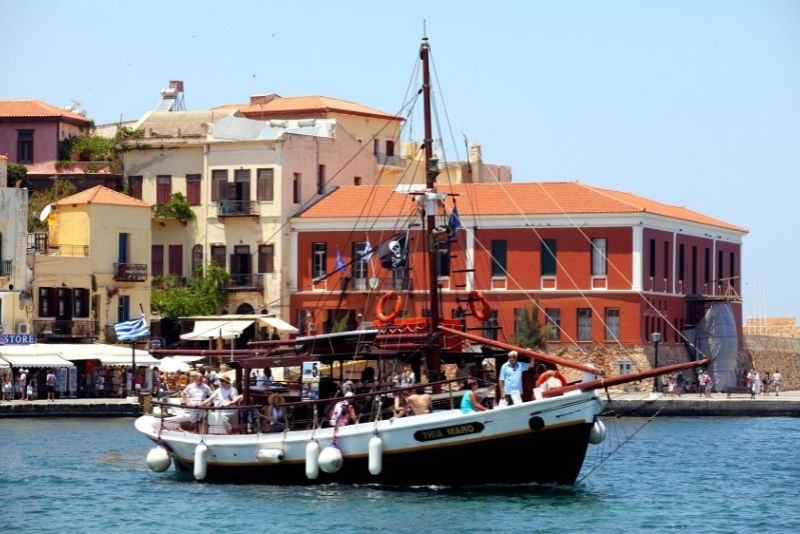 Take a trip back in time as you visit some of the region's historic places on a Traditional Boat Cruise to Lazaretta Island! Visit the uninhabited islets of Agioi Theorodoi and Lazaretta Island which were in use during the Venetian occupation of Crete. Catch a panoramic view of the Old Harbor and swim at small deserted beaches.
These boat trips include a guided tour, use of snorkeling equipment, snacks and beverages, including fresh fruit and a drink of traditional Greek raki. Aside from getting to visit these unique spots on this boat trip, you can also discover their historic significance, visit World War II wrecks and see rare wildlife such as the local goats known as Kri Kri.
The entire trip lasts around 4 hours. It starts depending on availability, and offers full cancellation and refunds up to 24 hours before departure. The islands are visitable mainly by swimming, so if you don't want to get wet or are not a confident swimmer, this tour might not be the best one for you. If you enjoy a bit of snorkeling, island exploring and discovering the local history this could be one of the best boat trips in Crete for you.
So what are you waiting for? Interested to know more about the local history? Book this boat ride and uncover the past — there's a whole lot more than meets the eye!
2 – Sunset Boat Cruise with Guide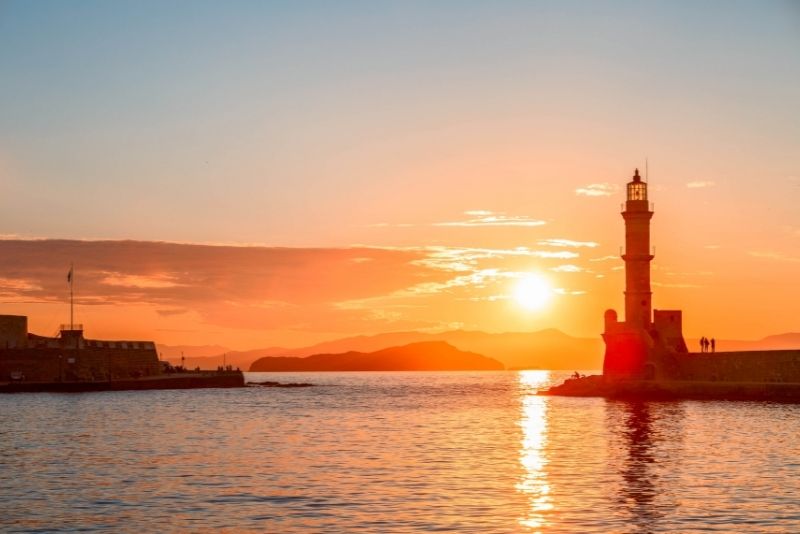 This 1-hour Sunset Boat Cruise might just be what you need to unwind. Gaze upon the beautiful dusky views in this laid-back and relaxing boat tour. In addition, you could also learn about the history of Chania, see its famous lighthouse, and appreciate the sunrise across the Gulf of Chania, as well as the Kissamos Mountains.
Sip on a glass of traditional Greek raki as you get to admire the beautiful views of the town, from onboard the boat.
The boat trip starts in the Old Venetian Harbor, then heads out to the Gulf of Chania. Then it is straight ahead to Lazaretta Island. This is the perfect spot to see the sunset across the Kissamos Mountains, a wonderful sight of nature to gaze upon! As the boat starts its return trip back to the city, look for the beautiful views of the lighthouse's beam reflecting in the water — what is not to love.
Enjoy a guided commentary as well as a drink of traditional Greek raki, which are included in this trip. This is a short trip where you can catch great views of the area at sunset and also learn a bit about the history of the city.
Tours are given in either Greek or English and they also offer a cancellation of the booking with a full refund up to 24 hours before the scheduled trip.
This is a great value short tour for those who just want to experience sailing on the beautiful Gulf of Chania. It delivers a perfect combination of natural beauty and history in a relaxing and romantic sunset cruise.
3 – Boat Trip with Guided Snorkeling & Stand-Up Paddling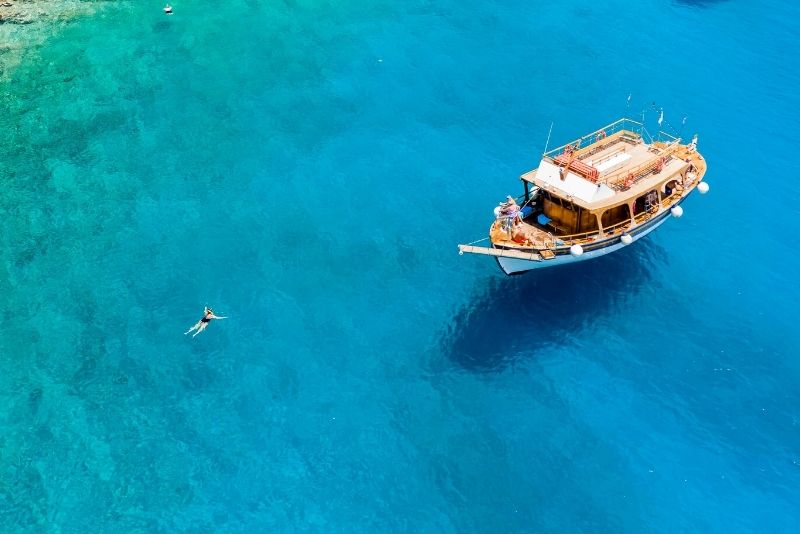 The clear crystal waters and gorgeous beaches of Crete are among the main attractions for those visiting the island. Why not indulge in a boat trip that includes some of the most fun and popular seaside activities? Snorkel in the Aegean Sea and discover its colorful marine life, paddleboard the coves and inlets and sail the waters off the coast of Crete.
This 3-hour boat trip includes a local guide and instructor to show you the area and complimentary standup paddleboards and snorkeling equipment, including wetsuits, floats and toys for children. In addition, you can choose pick-up and drop-off at hotels within the city of Chania to make the whole experience as hassle-free as possible. You will also receive free photos and a short video, as well as a fresh basket of fruits and bottled water, making these tours a great value experience!
The pick-up is done from specific points near your hotel within the city of Chania and is ahead of the starting time (including the areas of Kalyves, Souda, and Georgioupolis). This is perfect for small groups having 10 or fewer members and tours can be conducted in either English, German, French, or Greek. Cancellation of the booking as well as full refunds is available up to 24 hours before the scheduled trip.
This is a great tour for those who want to explore above and below the water while they visit Chania!
4 –  Gramvousa and Balos boat trip from Chania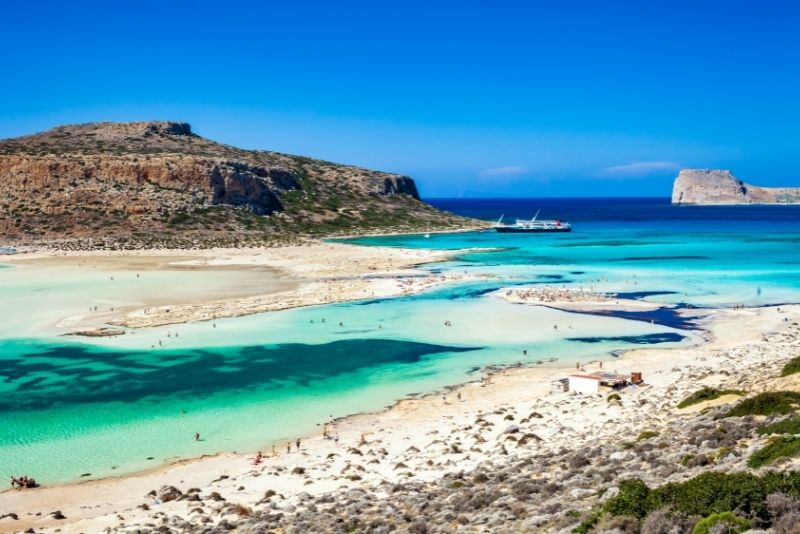 Wanting to visit serene and tranquil islands near the city of Chania? This cruise will take you to where you want to be! Visit the island of Gramvousa and Gramvousa Beach and the famous Balos Lagoon on this island exploration tour.
One reason people visit Gramvousa is because of its historic reputation as a pirate island and the legends of hidden pirate treasure in the region. The Castle in Gramvousa is definitely something you should check out while exploring the coast and it cuts a striking profile on top of the island's highest point.
Balos Lagoon is the other main reason why people love to visit this place. This calm and shallow lagoon has crystal clear waters and is the perfect place to take a dip after exploring the island's historic ruins. The lagoon is a unique natural phenomenon and a place that has to be seen to be believed.
The Gramvousa islands are truly some of the gems of the area and are not to be missed during your time on Crete. They offer the perfect secluded location to grab some peace and relaxation amid nature.
The entire trip takes approximately 10-12 hours, with the itinerary of visiting the two destinations, Gramvousa Beach and Balos Lagoon. Hotel pick-up and drop-off are offered in an airconditioned luxury bus, from selected locations within the city of Chania. A full refund is also available for cancellations made up to 24 hours before the scheduled trip.
Book a trip and set the date to sail off and enjoy the islands near Chania!
Boat trips from Heraklion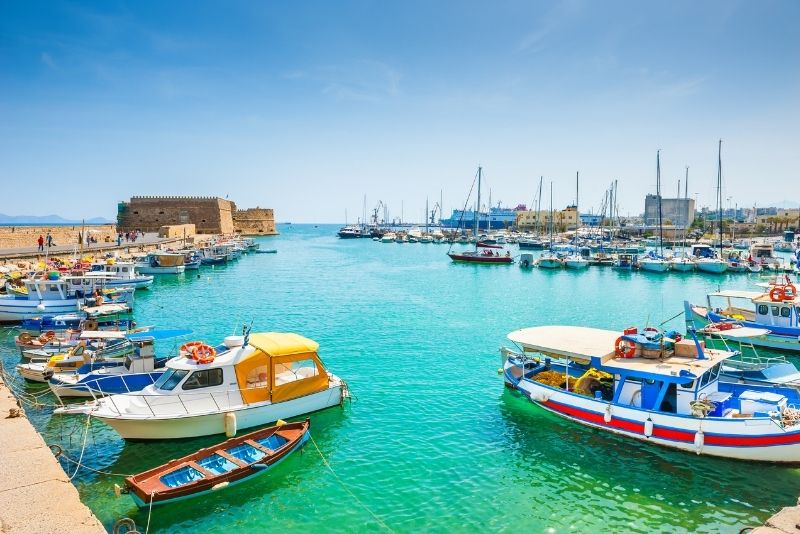 Experience more of Crete by sailing from the island's main port and capital city Heraklion, famous for its archaeological sites and Venetian-style buildings to name a few.
Several boat tours can take you to different towns around Crete such as the bays of St. George's and Mirabello and Agia Pelagia beach as well as popular nearby islands, including Dia, Spinalonga and Chrissi. Take your pick of different sailing experiences including a voyage on an old-fashioned pirate ship or a super modern catamaran.
Those who don't like to follow the crowd can even rent their own boat which gives the freedom to explore at will and under one's own itinerary. There are a lot of boats and cruises that offer rentals, with or without captains as well, allowing you free choice of exactly where you would like to go.
For the adventurers, they may experience scuba diving and explore Crete underwater world.
Capture memories and seize the moments by touring the wonderful island of Crete, from its capital city, Heraklion. Traveling at sea offers a way more different experience than traveling by land, the perfect reason to join one of these great boat trips in Crete.
5 – Sailing trip to Dia Island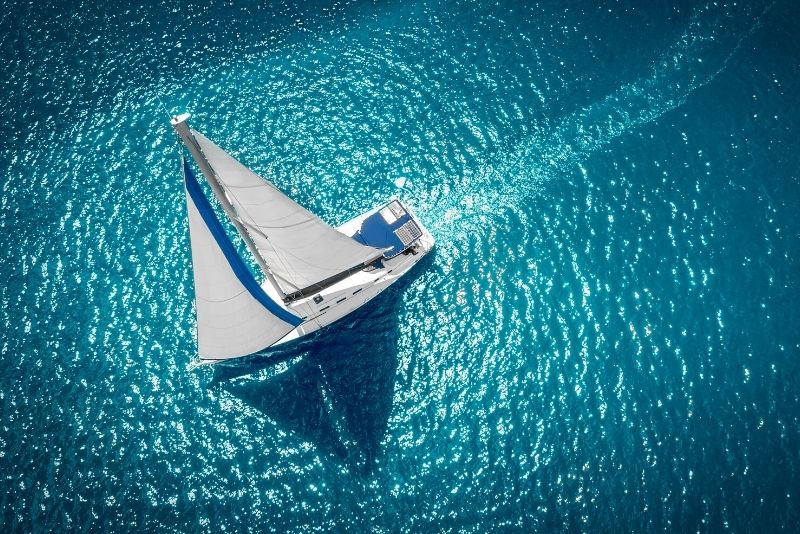 Looking for an island escape for a little peace and tranquility while in Heraklion? This intimate sailing trip to Dia Island may be just what you're looking for!
Perfect for small groups of 8 or fewer members, this cruise includes swimming, snorkeling, and fishing activities with all equipment provided. A full meal is also provided with a menu of Mediterranean dishes to choose from as well as complimentary water, fruit and unlimited drinks.
Unwind onboard and enjoy refreshments prepared by the attentive crew before you reach the small and picturesque St. George's Bay on Dia Island. Here you can take a stroll beneath the island's cedar trees, sunbathe onshore or snorkel in the clear bay waters.
This 4.5-hour cruise offers a great-value experience for small groups. It includes a stop-off at Dia Island, one of the must-see locations near Heraklion, Crete.
The booking includes hotel pick-up within 20 kilometers of Heraklion Port (from Agia Pelagia to Hersonissos) with an English-speaking guide, unlimited refreshments, and an optional hotel or cruise ship transfer. Full refunds are offered on all cancellations up to 24 hours in advance.
This all-inclusive sailing boat trip is a great-value and hassle-free option for those searching for short day trips for a family or small group.
6 – Full-Day Trip with a Pirate Boat Cruise to Koufonissi Island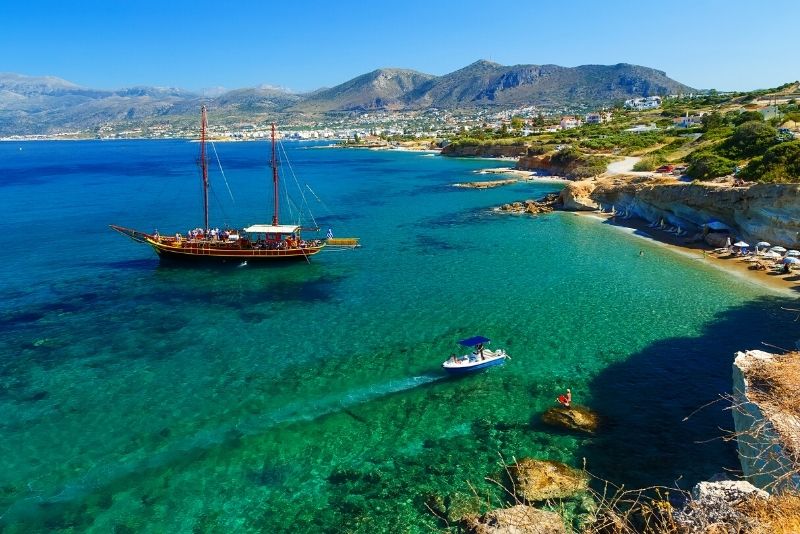 Ever dreamed of sailing the high seas in a vintage galleon? Take this full-day pirate boat cruise to the gorgeous Dia Island!
Live like a pirate captain if just for one day as you cruise the turquoise waters of the Sea of Crete. Get the chance to swim and snorkel —equipment is provided, in the waters of St. George's Bay with this fun day trip aboard the Black Rose pirate ship.
The multi-stop cruise takes passengers from Heraklion to St. Georges Bay on the island of Dia and then returns to Crete to visit the beaches of Sissi, Stalis, and Malia. Keep your eyes peeled for dolphins and turtles as you sail through the open waters and don't forget to grab some fantastic photos. A complimentary BBQ lunch will be served on board, prepared by the pirate crew.
The ship is called the Black Rose, and sails from Hersonnisos, near Heraklion, to the nearby island of Dia in this 5-hour trip. If you're looking for an atmospheric and unique way to tour the Cretan islands with all amenities, services and comfort provided, this could be just the tour for you. Cancel up to 24 hours in advance and receive a full refund.
Live your swashbuckling dreams today and hop onboard the Black Rose pirate cruise. This is bound to be a highlight of your trip and is surely one of the most fun boat trips in Crete for children and young families!
7 – Comfort cruise – sailing boat trips from Heraklion, Crete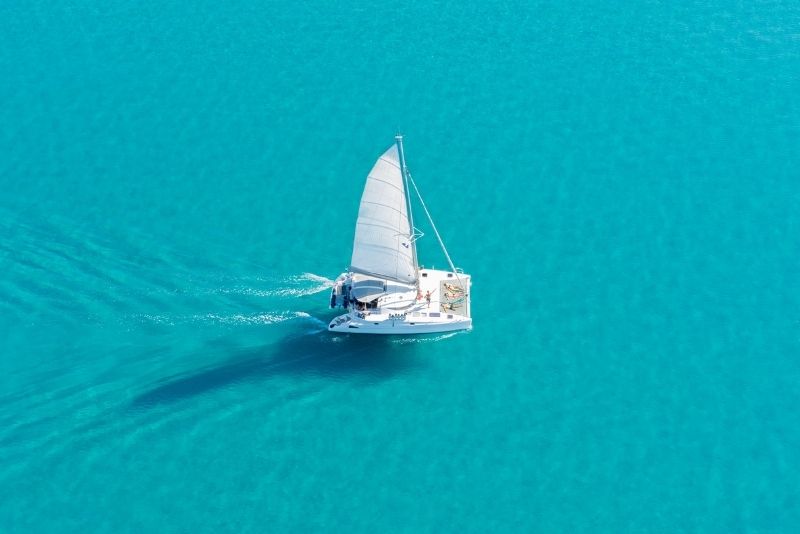 Set sail in style as you experience a luxurious cruise trip, aboard the Lagoon 400 Catamaran. Departing from Heraklion to Dia Island, this inclusive boat excursion is sure to provide you with a leisurely and relaxing trip.
This comfort cruise is perfect for an intimate and classy experience. It allows groups of up to 10 people aboard, making it a perfect trip for friends and family and a more intimate environment for solo travelers and couples.
Cruise to the idyllic Dia Island and snorkel in the pristine waters of the Aegean Sea. Paddleboard in the clear and bay and look for native fish and sea turtles which can sometimes be spotted in the area.
Included in the package are alcoholic beverages, coffee, tea and soft drinks as well as a Mediterranean lunch. The use of snorkels, paddleboards and fishing equipment is also included and there is also free onboard WiFi.
The trip lasts approximately 5 hours and passengers will visit the small uninhabited island of Dia. A menu of tasty Mediterranean dishes and beverages of choice are served on board, so you can be sure of the utmost comfort and enjoyability on your Dia Island boat trip.
Wanting to relax and unwind on a luxurious and classy small boat tour? This comfort cruise may be just what you're looking for! Full refunds are offered on cancellations made over 24 hours in advance.
8 – Santorini Full-Day Tour by Boat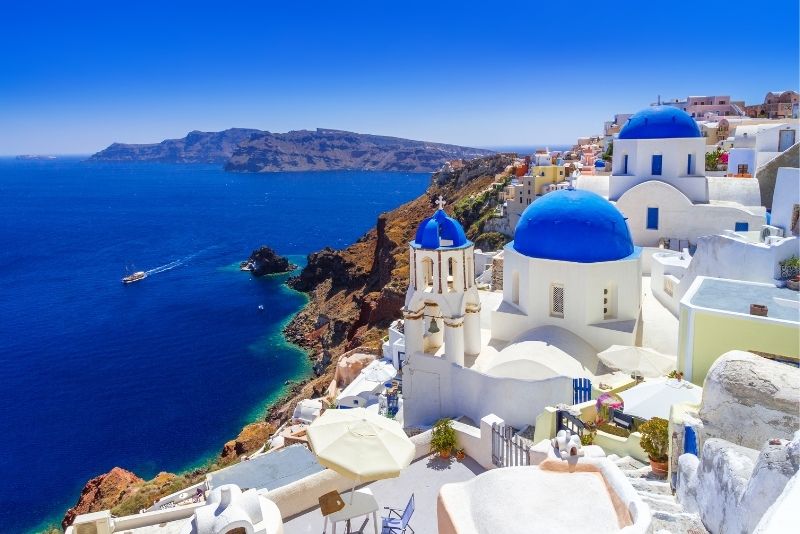 Considering a full-day boat tour to the glamorous island of Santorini? This boat trip could be just what you are looking for.
Located just over 80 miles to the north of Crete, Santorini is one of the most famous Greek islands to visit and just one of the popular boat trips in Crete. Sail the Sea of Crete on a day-long boat trip and get the chance to tour this unique and picturesque volcanic Island. Visit the small community of Oia, the main town of Fira, and indulge your senses at this popular Greek island destination.
The full tour takes around 14 hours and takes you from Crete to Santorini, introducing to you its beautiful islands, its geology and volcanic history, and the beautiful villages and communities that can be found here.
The tour includes hotel pick-up and travel during your time in Santorini. The total sailing time takes just a few hours each way so you'll have plenty of time onshore to explore.
While sailing on the Sea of Crete, you can take the time to relax and admire the beautiful views of the approaching islands. Upon arriving on Santorini island, you will see the traditional whitewashed buildings of Fira rising far over the crater's edge.
You will then get to visit the scenic town of Oia where you can wander the narrow streets and get a taste of the island. Bus travel will be provided for excursions to other places.
Leave your worries behind and relax on a day-long boat tour visiting the beautiful Cycladic island of Santorini.
9 – Chrissi Island Cruise Boat Trip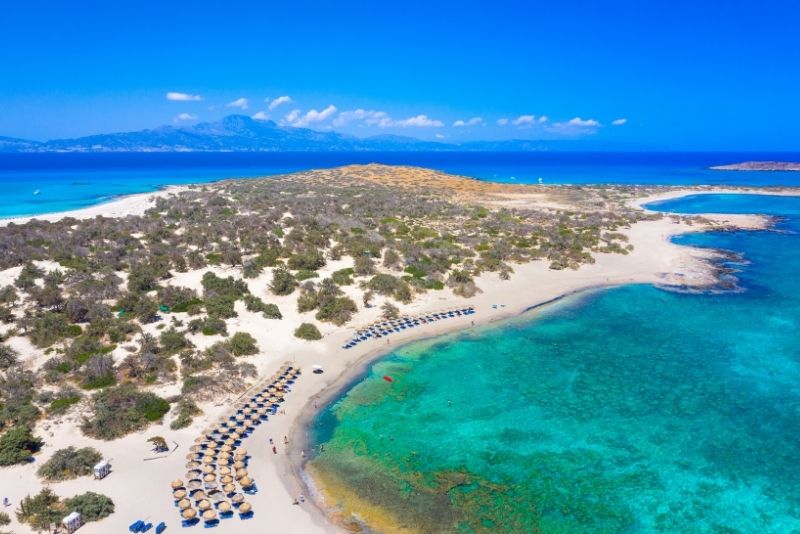 Take a day-long cruise to nearby Chrissi Island to enjoy its clear turquoise sea waters, fine coral sand and unspoiled natural beauty.
Located off Crete's southern coast in the Libyan Sea, this uninhabited island is a popular day trip from the town of Ierapetra. Here you can spend the day sunbathing on the pink-hued sands, swimming at the idyllic beaches and exploring the island's unique locations.
Visit cedar forests that are over 200 years old, hunt for fossils in the island's volcanic rocks and check out the Orthodox Church of St.Nicholas.
For those who like to swim and snorkel, the sea around Chrissi Island is an ideal place. The waters are crystal clear and remain relatively shallow up to a kilometer from the shore — offering excellent visibility.
Visiting the nearby islands is something not to miss out on during your time in Crete. These boat tours offer speedy and reliable transportation allowing you to make the most of your time here.
Hotel pick-up and drop-off are offered at selected hotels and sailing time is approximately one hour each way. This gives visitors plenty of time to relax, explore and get comfortable on the island. This tour offers cancellation up to 24 hours in advance with a full refund.
If you're looking for peaceful boat trips in Crete with minimal time spent sailing, this could be the perfect tour for you.
Boat trips from Agios Nikolaos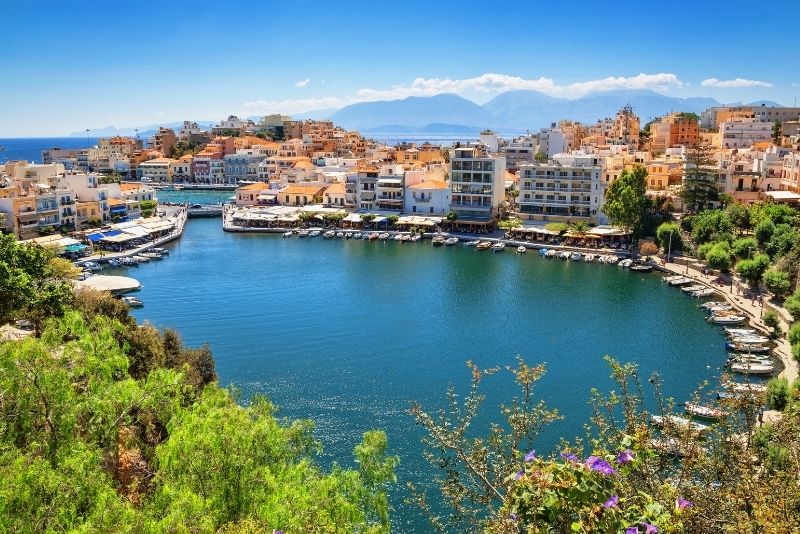 Staying in or around the bustling coastal town of Agios Nikolaos? There are plenty of great boat tours to choose from which are available to suit most budgets.
Take a safari tour for a truly unforgettable adventure where you'll trek over land in a rugged 4×4 before hitting the waves for a thrilling speedboat tour of the nearby islands. Dip beneath the waves for a unique semi-submarine cruise or enjoy a classic sailing experience aboard a traditional wooden sailboat.
Boat rentals are also an option and if you're feeling flush you can charter a yacht to cruise the local hotspots. Opt for a private dinner cruise for just you and that special someone or bring the family on a sailing trip they'll never forget.
10 – Spinalonga and Milatos Cave Safari Excursion & Speedboat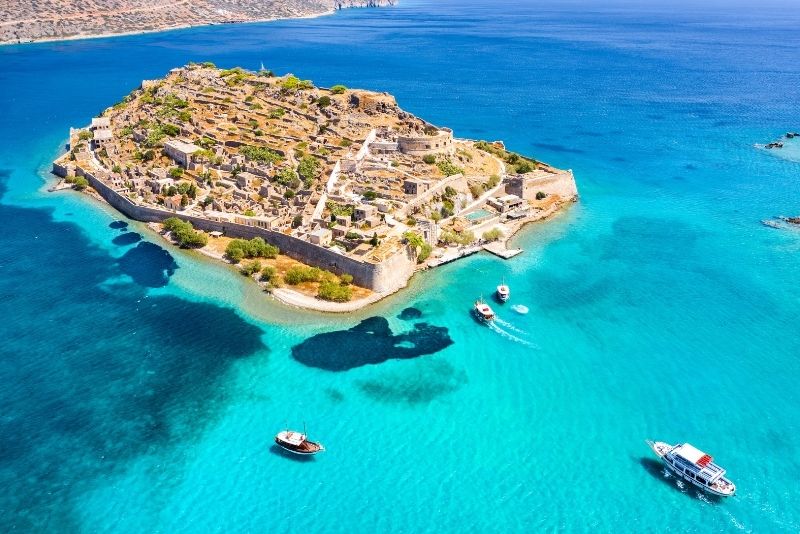 Tour the wildest regions of Crete with a Land Rover and speedboat safari from the town of Agios Nikolaos.
Begin your trip with a 4×4 tour across the island which will take you to a traditional olive oil factory and through the island's rural regions. Tour the traditional small towns and villages and see the picturesque mountains and valleys which characterize this part of Crete.
Explore the Milatos Cave system which was the sight of a historic battle and now houses a small chapel.
See the small islands off the coast and glimpse the superb views over the Gulf of Mirabello. These tours take you off the beaten path and offer an ideal mixture of an adventure safari and boat trip!
From the village of Plaka, you'll jump on board a speedboat that will carry you over to the historic island of Spinalonga. Here you can see the ruins of the old leper colony and a Venetian-era fort from the 16th-century.
The tour is for small groups only and is limited to just six people, ensuring a personalized experience. It is conducted by a professional local guide and is offered in English as well as Italian, French and German so you can pick up a few local facts and some history on your way.
This 7-hour trip is sure to scratch your itch for adventure and introduce you to some of Crete's most attractive natural places. Pick-up and transportation are included in the price.
11 – Agios Nikolaos Semi-Submarine Cruise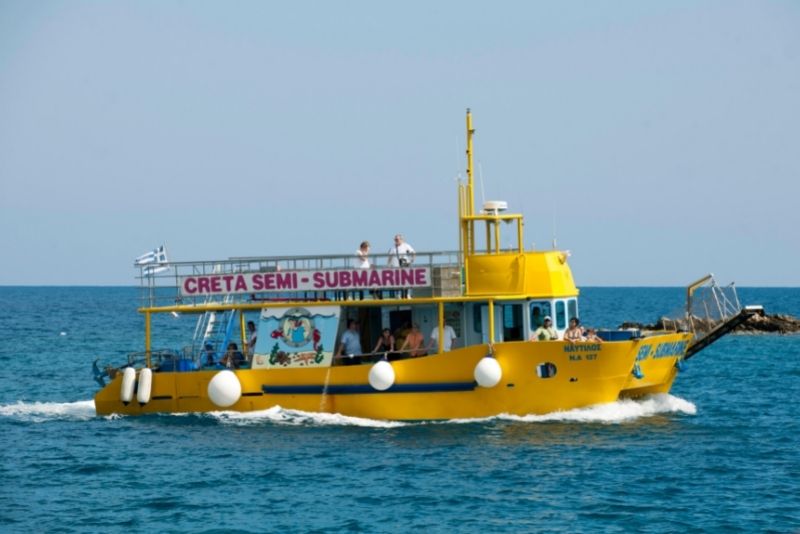 Ever wanted to explore life beneath the waves but don't fancy scuba diving? You can with a Semi-Submarine Cruise in the Agios Nikolaos Bay.
Take a seat in these innovative glass-hulled boats for unbeatable panoramic views of the seafloor. Discover colorful fish species and coral as well as the many other creatures that inhabit the underwater environment off the shores of Crete.
If you're in luck, you may catch a glimpse of curious dolphins or rare sea turtles as they pass through the region. Check out the onboard audio and visual guides — which are offered in multiple languages, to identify the most common fish and plant species on these subaquatic cruises. An experienced and professional crew is also on hand to assist guests on the trip.
Take a seat on the main deck for the return journey and witness the picturesque views of Agios Nikolaos Bay. Relax and enjoy the sea breeze as you admire the sights on your way back to port. Witness the action above and below the waves on these great-value boat tours.
The Agios Nikolaos Semi-Submarine Cruise is wheelchair accessible and offers full refunds on cancellations up to 24 hours in advance.
If you're searching for the most unique, educational and best-value boat tours from Agios Nikolaos, the Semi-Submarine Cruise is a good choice.
12 – Mirabello Bay Full-Day Sailing Trip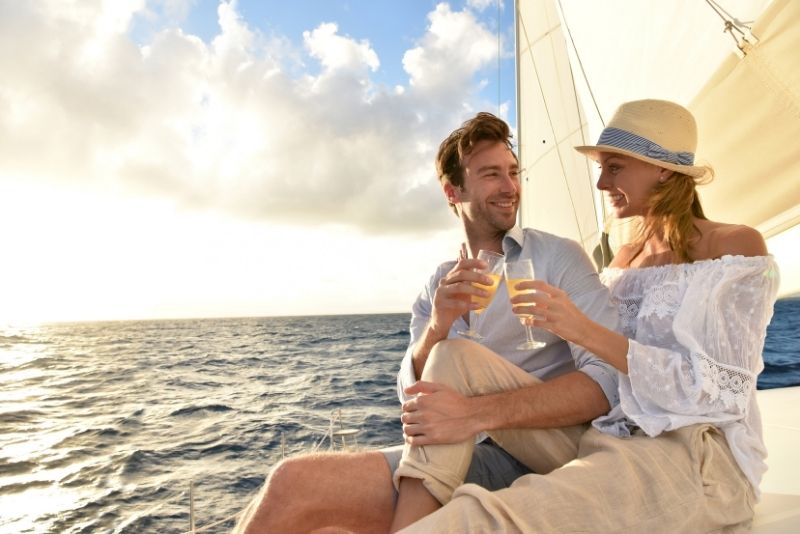 Take a classic full-day sailing excursion from Agios Nikolaos on the northeast coast of Crete.
Board a traditional wooden sailboat and head out onto Mirabello Bay to visit some of its most scenic beaches and tranquil islands.
After leaving the port you will sail the short distance over to the small uninhabited island of Pseira where you can swim and enjoy the calm waters of the bay. You will then head southwest back to Crete and drop anchor near Agriomantra Beach —which can only be reached by sea, for another swim-stop.
The tour continues with a western cruise around Mirabello Bay to Vouliasma Beach at Kalo Xorio before heading back to the marina of Agios Nikolaos.
This sailing boat trip is good for small groups of up to 12 people and offers a leisurely way to tour the beautiful bays, islands, and beaches of Crete!
The entire trip takes around six hours and food is provided onboard. The route can change dependent on weather conditions and your host will also be guiding you throughout the entire trip.
This trip doesn't offer hotel pick-up or drop-off but there is a public transport service near the departure point.
If you're craving sun, sea, sand and sails this tour offers it all. Enjoy a classic sailing experience on a traditional wooden boat in the enchanting region of Mirabello Bay!
Boat trips from Rethymno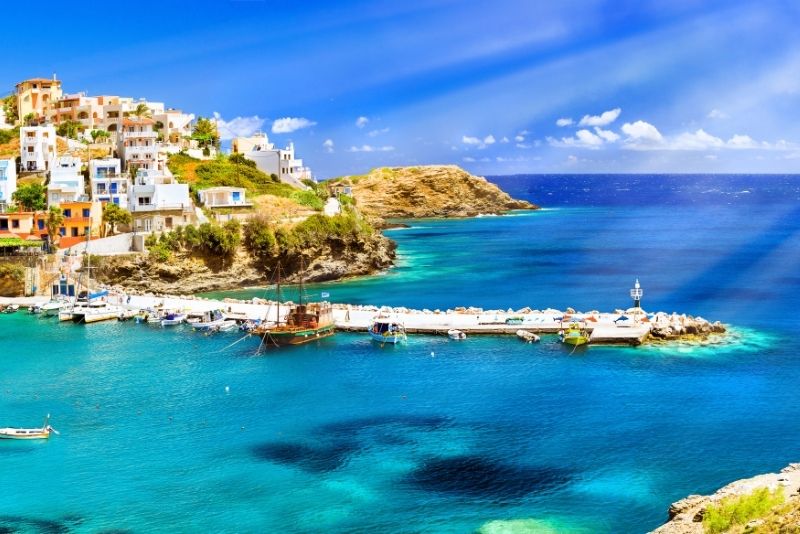 If you're staying in the picturesque city of Rethymno on Crete's northern coast, there is a great selection of boat tours to choose from.
Whether you prefer the steady pace of a traditional wooden sailboat or the invigorating adventure of a self-drive safari boat tour, you can find it here!
You could also opt to rent a boat for the day, with or without a captain, and cruise the shore to your own schedule, stopping when and where you please.
Discover the best of Rethymno on a boat trip to suit your tastes!
13 – Pirate Boat Cruise with Swimming Stops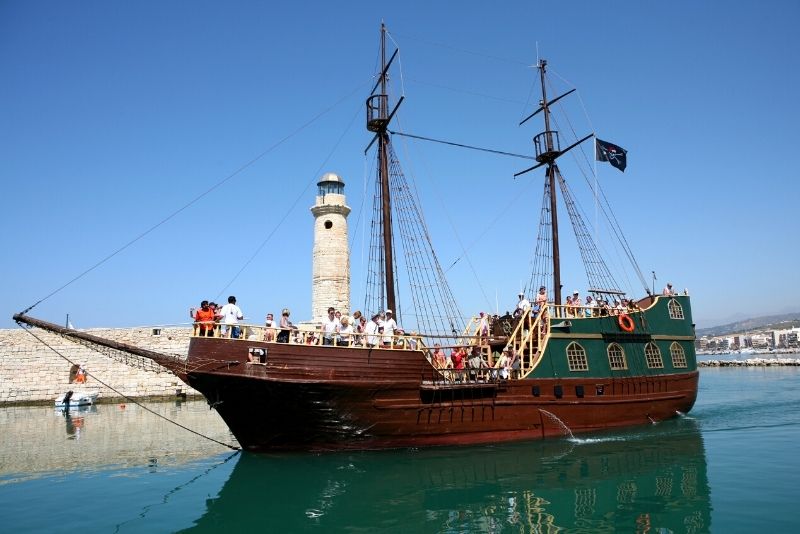 Experience the high-life, if just for a day, on board a pirate boat cruise from Rethymno.
Tour the coastline of Crete and discover its natural bays and hidden caves on a classic-styled wooden boat known as "Captain Hook". On this five-hour trip, you will discover the beauty of the Cretan coast, get the chance to swim in secluded bays and even enjoy a light lunch.
The tour begins by sailing west to take in the scenic views of the Venetian port of Rethymno. Passing by Gerani Bay, the boat will then drop anchor in the Bay of Kefalas giving passengers a chance to swim and snorkel straight from the boat or enjoy a spot of sunbathing on deck.
Next, eat a healthy lunch on board followed by more time for swimming and sunbathing and more opportunity to relax and calm your soul. The boat will then return to the historic harbor of Rethymno taking in views of the caves of Kefalas on the way.
This is a great cruise for families with younger children as well as the young at heart! Hop on board and discover the joys of life at sea on this great-value pirate-themed boat cruise.
Cancellations made over 24 hours in advance will receive a full refund.
14 – Half-Day Small-Group Boat Safari in Crete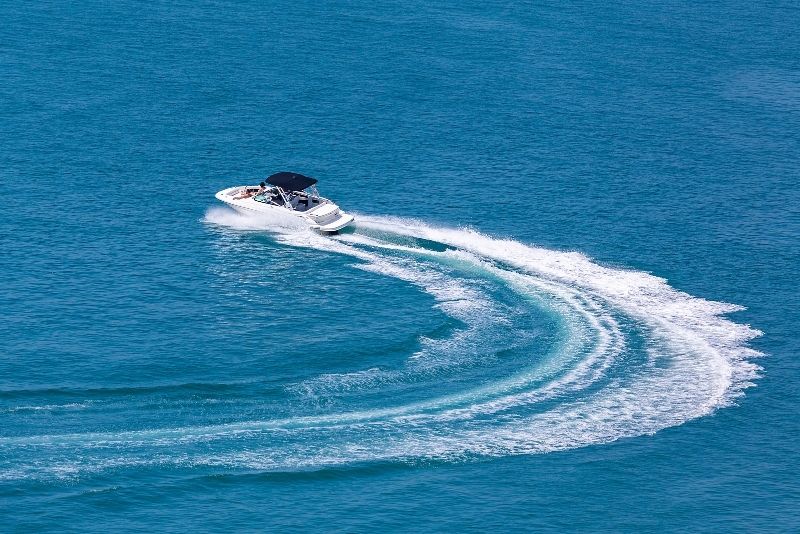 Leaving from Georgioupoli — just a short drive west of Rethymno, this half-day small boat safari offers lots of fun for friends and family! Get the chance to captain the boat yourself while having a safety guide on hand at all times — this is a must-do for adventure lovers while in Crete.
The guide will lead the way and you will follow behind in your own small boat with just your group— no licenses needed.
This 3.5-hour-long trip will allow you to explore the wider area of Georgioupolis, Obrogialos, and discover mesmerizing sea caves and coastal views. There will of course be plenty of time for snorkeling in the cool turquoise waters of the Cretan Sea.
Enjoy a half-day self-drive boat trip where you get a chance to captain a boat on the clear waters around the coast of Crete. Snap some incredible photos of your travel, and let the good times roll on these fun and exhilarating tours.
All you need to bring is your swimsuits, cameras and good vibes! Each boat seats up to 5 people and snacks and water and hotel pick-up and drop-off are included in the price.
15 – Sunset sailing cruise on yacht catamaran from Rethymno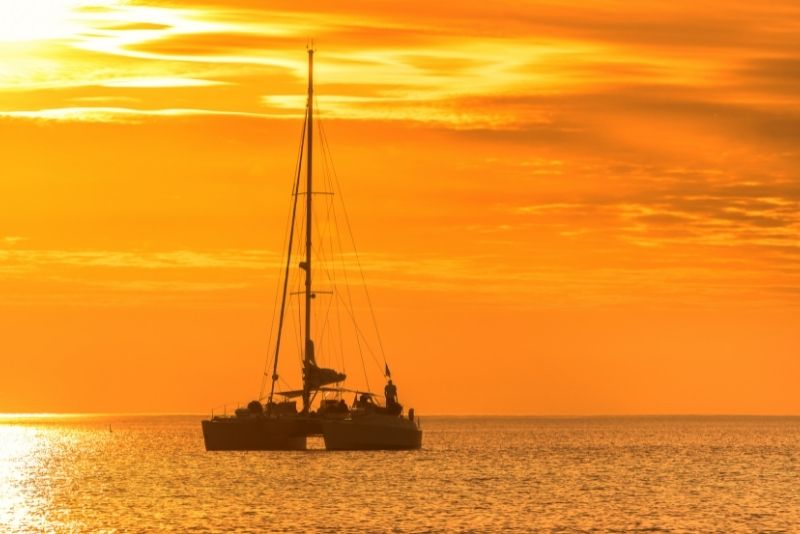 If you're looking for a romantic or relaxing boat tour for couples or families this sunset sailing cruise from Rethymno could be just what you're looking for.
Sail on a modern catamaran yacht from the historic harbor of Rethymno to the island of Dia.  Cruise the northern coast of the Crete past beautiful bays and traditional villages. Take the chance to grab some quality relaxation as you swim or enjoy some relaxing fishing straight from the side of the boat! All equipment is provided and you can enjoy snacks, drinks and WiFi onboard.
The trip is approximately 3 hours and 30 minutes, giving you enough time to admire the views of the island from the sea, as well as try some fun water activities such as stand-up paddleboarding and snorkeling. While on the way back to port, relax on deck and enjoy the views of Crete and Rethymno from the water lit up in the colorful glow of the sunset.
The price includes finger foods as well as drinks, including tea and coffee, soft drinks and alcoholic drinks. Use of water equipment such as snorkels and paddleboards is also included.
Don't forget your swimsuit and your camera for these romantic sunset sailing tours.
Bonus: rent your own boat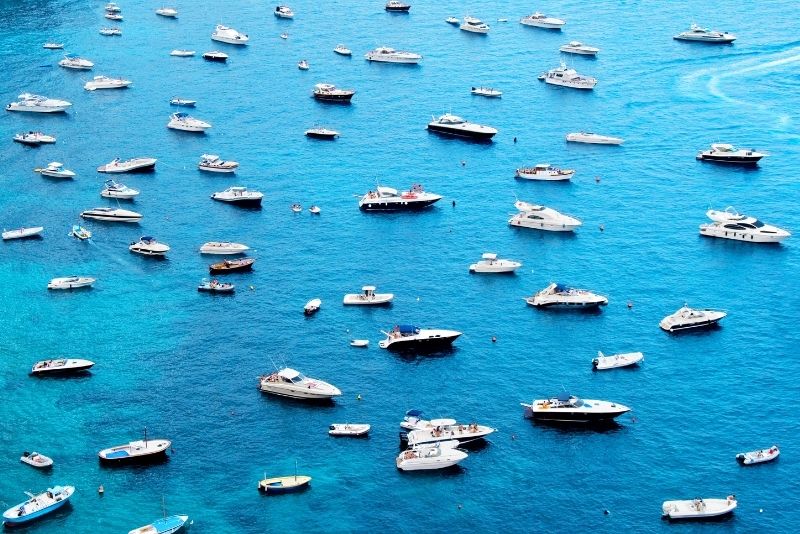 Got a specific tour in mind but can't find it listed here? Consider renting a boat and creating your own itinerary!
Spend the day fishing offshore or cruising the coastline of Crete, stopping when and where you please. Take a private boat rental trip to escape the crowds and choose between captained or self-captained rentals.
Whatever you have in mind, from the smallest motorboats — for up to five people, to large sailing yachts for the whole family, there is a rental here to suit you.
We hope you enjoyed reading about the best boat trips in Crete and find this useful for planning your next trip!
Feel free to leave a comment below if you have any questions.
While you still there, don't miss our selection of fun things to do in Crete.
As always, happy travels!