Of all the Greek Islands, Crete really stands apart when it comes to dramatic coastal scenery and colorful Mediterranean culture. This is one of the best places in the country to explore hidden coves and mysterious islands with bags of history to unravel.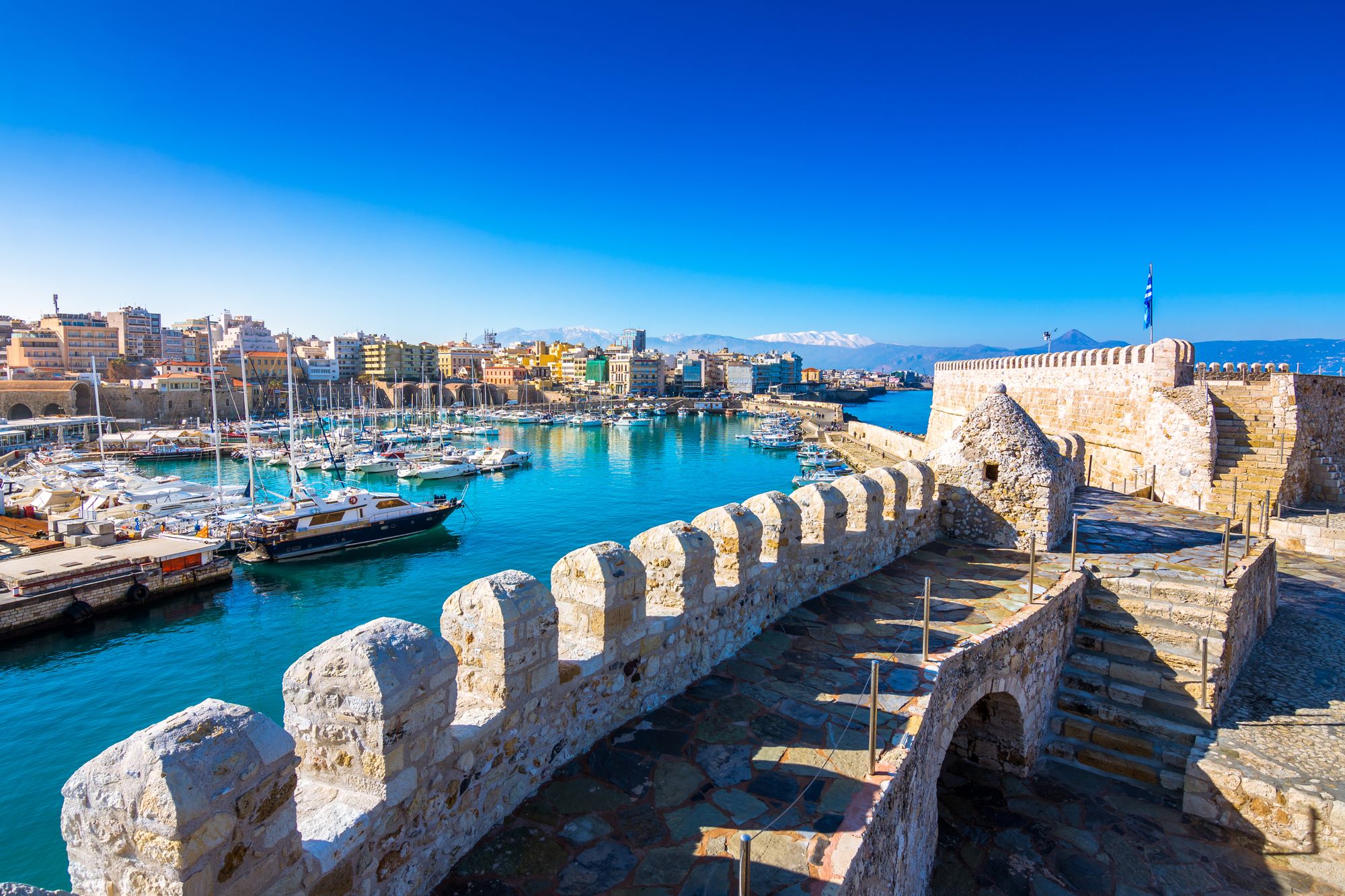 Boat tours in Heraklion will transport you to a world of glinting seas and soft sand, with all the swimming, snorkeling, and sightseeing that you can handle.
What are the most popular boat tours in Heraklion?
There is a dazzling array of boat tours in Heraklion to choose from, including half-day coastal cruises, private charters, and sunset sailing jaunts.
Scenic boat trips
Take to the waves by yacht or catamaran and see the best of Crete's coastal scenery from the sea. Both half- and full-day Heraklion boat excursions are available, taking you to secluded bays and pristine beaches.
Some trips stop off on nearby islands, with snorkeling, swimming, and lunch often included.
Pirate ship jollies
Get into pirate mode with a swashbuckling cruise from Heraklion on board a buccaneering sailing ship. You will be turning heads as you float past beaches and anchor in bays for a refreshing dip. Will you be brave enough to jump overboard?
Heraklion pirate ship tours often include a tasty barbecue lunch befitting all high seas scoundrels.
Sunset sailing excursions
Up the romance with a sunset sailing trip from Heraklion on board a catamaran or motor yacht. You will see the coast in a different light as the sun slowly sinks into the ocean – get those cameras ready!
Drinks, fruit, and snacks are served on board while you relax on deck admiring the view.
Private boat charters
Private Heraklion boat trips are for those seeking exclusivity and independence during their sea voyage. Step on board your catamaran or cruiser and set sail for secret locations away from the busy hotspots.
Swim and snorkel to your heart's content and leave your footsteps on hidden beaches. Then tuck into a delicious local lunch to keep your energy levels topped up.
Jet boat tours
Hang on tight as you power through the waves at full throttle on a jet boat tour from Heraklion. Feel the thrills as you splash and spin around bays in a state-of-the-art stunt boat.
A short swim stop is included during this hour-long tour.
How much do boat tours in Heraklion cost?
The cost of Heraklion cruises and sailing trips varies according to the tour length and boat type. Hotel pick-ups are sometimes included, but most trips ask you to make your own way to the departure point.
The price of half-day scenic boat tours ranges from €16 to €123 depending on group size.
Whole-day Heraklion sailing excursions are priced between €40 and €150, with the different boat types and sizes affecting the price. Lunch is generally provided.
Private boat charters for groups of six passengers cost €333 per person for a full day or €235 for half a day at sea.
Sunset sailing trips cost €74 per person with drinks and snacks provided.
Jet boat tours are €40 for an hour on the water.
Pirate ship adventures cost €53 for 5 hours or €82 for 10 hours.
Day trips to Santorini are €153 per person. An optional volcano boat tour can be added for an extra €16.
Which places are seen on a boat tour in Heraklion?
Dia Island
Lying offshore from Heraklion, Dia Island is the haunt of shipwrecks and ancient settlements. The rocky cliffs and sandy bays punctuating the shoreline of this serene island are a real highlight on a Heraklion boat tour.
You can often see dolphins and turtles swimming in the bay, so keep your camera handy.
Chrissi Island
Famed for its golden beaches and rolling dunes, Chrissi Island is a super spot for snorkeling and swimming if you want to cool off. Keen hikers can walk along the cedar forest trail to Belegrina Beach where millions of seashells cover the sand.
Budding archaeologists love visiting the ancient Minoan settlement and the Agios Nikoloas Chapel, which make for enviable vacation snaps. There is a lighthouse and salt marsh to check out too.
Spinalonga Island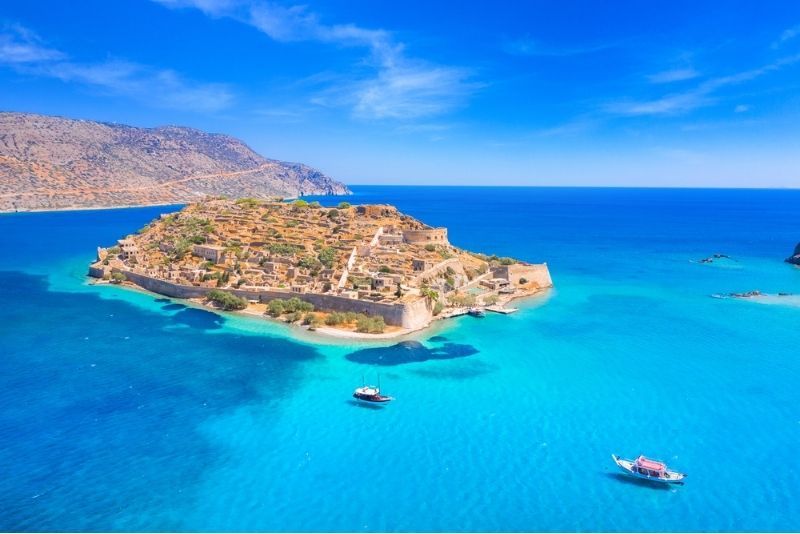 During the 20th century, Spinalonga was a leper colony, where these unfortunate outcasts lived cut off from society. Today you can walk through the old settlement and explore the Venetian fortress. The views over the bay are magical too.
You can get to Spinalonga from both Heraklion and Agios Nikolaos.
Mirabello Bay
This sweeping bay on Crete's northeastern flank is watched over by the popular towns of Elounda and Agios Nikolaos. Mirabello is a popular spot for swimming and snorkeling, as well as spending time relaxing on the golden beach.
Put on your explorer hat and see if you can find Barbarossa's cave – a secret lair once used as a pirate hideout. On a clear day you can sometimes see the ruins of Olous, a sunken Minoan city.
Agia Pelagia
The seaside resort of Agia Pelagia lies west of Heraklion and features a long peninsula with several secluded coves to explore. The sandy beaches, crystal clear water, and palm-fringed shoreline make this an almost mythical tropical paradise.
How long does a boat trip last?
Boat trips from Heraklion last between 3.5 and 15 hours, depending on the destinations and sights visited. To make the most of their vacation time on the island, most visitors opt for a full-day excursion.
Sunset sailing trips in Heraklion are 3.5 hours long, while pirate ship cruises give you 5 - 10 hours at sea. Meanwhile, for private boat charters, allow 4 - 8 hours for your excursion. Jet boat adventures last 60 thrilling minutes.
Santorini day trips from Heraklion are 12 hours long, giving you time for a guided tour of the island on arrival.
Where do Heraklion boat tours leave from?
Pick-ups and drop-offs from local hotels are sometimes included in the price of your Heraklion boat trip, so do check your booking confirmation for further details.
If transfers are not included, you will need to make your own way to the designated departure point. This is usually from the Venetian Harbor at Heraklion Port.
When is the best time for a boat trip in Heraklion?
The climate in Heraklion is Mediterranean so it is warm and sunny for most of the year. Water temperatures are at their best between June and September which is a great time for swimming and snorkeling.
To avoid the crowds, visit during Spring or Fall when the weather remains mild and there are fewer tourists on the island.
Boat tours in Heraklion operate throughout the day, including during the evening for romantic sunset sailing cruises.
Which other activities can be done in Heraklion?
Are there boat tours from other locations in Crete?
Most coastal cities in Crete offer wonderful opportunities for boat excursions. Take a look at our pages if you are looking
Travel tips
Book your boat tour in Heraklion online before your vacation to secure the best deals for your chosen dates.
Wear your swimming costume beneath your clothing if you plan on taking a dip.
Pack sunscreen, sunglasses, and a hat to protect yourself from the heat.
Arrive at the meeting point 30 minutes ahead of schedule – check your booking confirmation for more details.
Take comfortable shoes to wear on deck and pack a windbreaker in case it gets chilly out at sea.
A bit of cash may come in handy should you wish to purchase anything during shore visits.